INSIDE: The Complete Guide to all the best Polar Express Locations in America.
Did you know you can book Polar Express tickets in real life?
YOU CAN!
The answer to the question, is the Polar Express real? is YES.
We first heard an inkling about a Polar Express train ride in Flagstaff Arizona, where you can ride the Grand Canyon Railway's Polar Express from Williams in Arizona all the way to the 'North Pole' – less than an hour away!
It sparked our curiosity and WE WANTED TO KNOW MORE!
Turns out there's LOTS of different REAL Polar Express train ride locations, all over America.
Find the one closest to you, and start a new family Christmas tradition.
Read our guide below to find the best seats for polar express train ride outings, plus heaps of Polar Express party ideas, Polar Express decorating ideas, and fun Polar Express movie facts.
Disclosure: This article contains affiliate links. If you make a purchase after clicking on one of these links, we may receive a small commission at NO extra cost to you.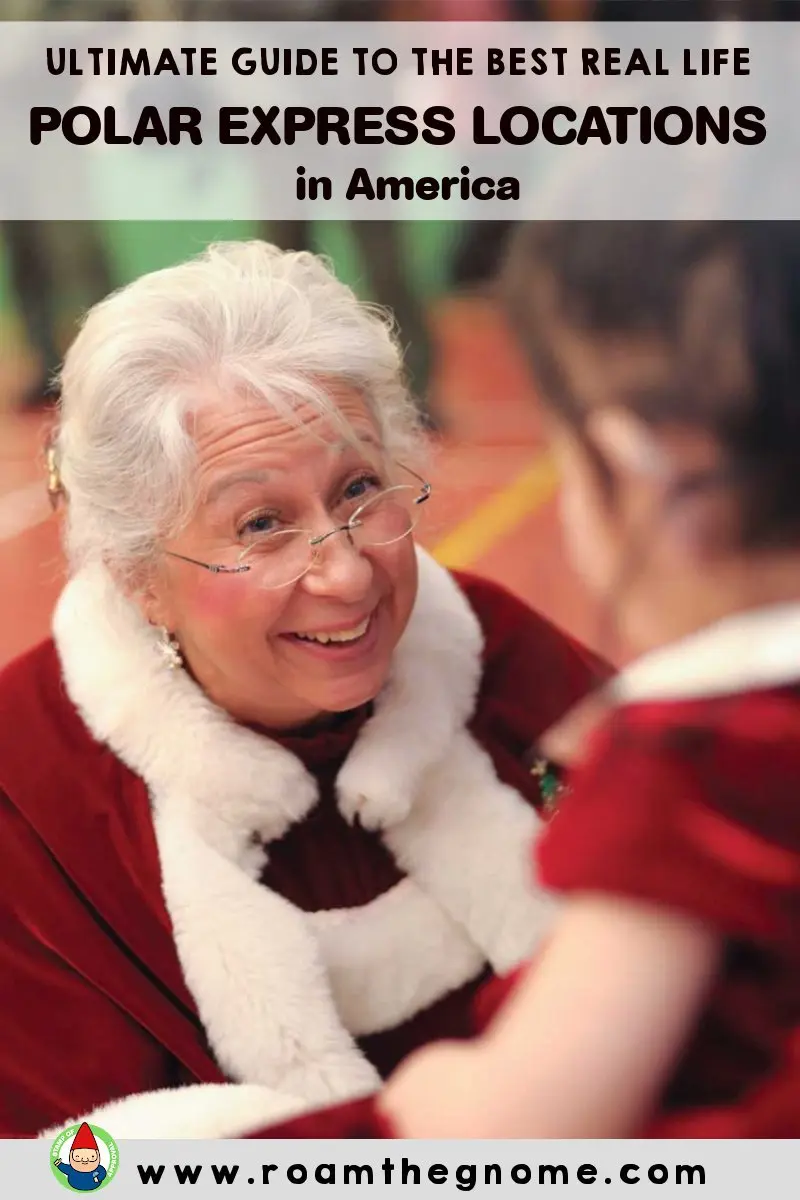 Image credit: Photo by 1st Lt. Bernie Kate (CC BY 2.0) via Creative Commons
THE INSIDE SCOOP: BEST 11 TOWNS TO RIDE A REAL LIFE POLAR EXPRESS TRAIN RIDE!
Correct at time of publication on Roam the Gnome. Please check with venue for updates. We apologise in advance if there have been any changes we are unaware of. All prices in AUD dollars, unless otherwise stated
We've researched all of the different Polar Express Train Ride locations in America, and have selected the best ones with an extra sprinkle of Christmas magic.
Save time and money by reading our guide to the best Polar Express locations in the USA.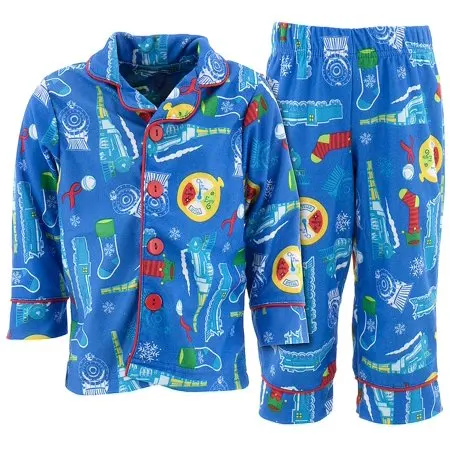 WHAT TO WEAR ON POLAR EXPRESS TRAIN RIDES?
No.1: Polar Express Pajamas!
Hot tip: You can't possibly ride the Christmas train without Polar Express pyjamas!
How about a pair of Polar Express pj's for everyone in the whole family?
It's the only place you can legitimately wear your pajamas outside the house without strange glares.
Buy Polar Express Pyjamas on Amazon below: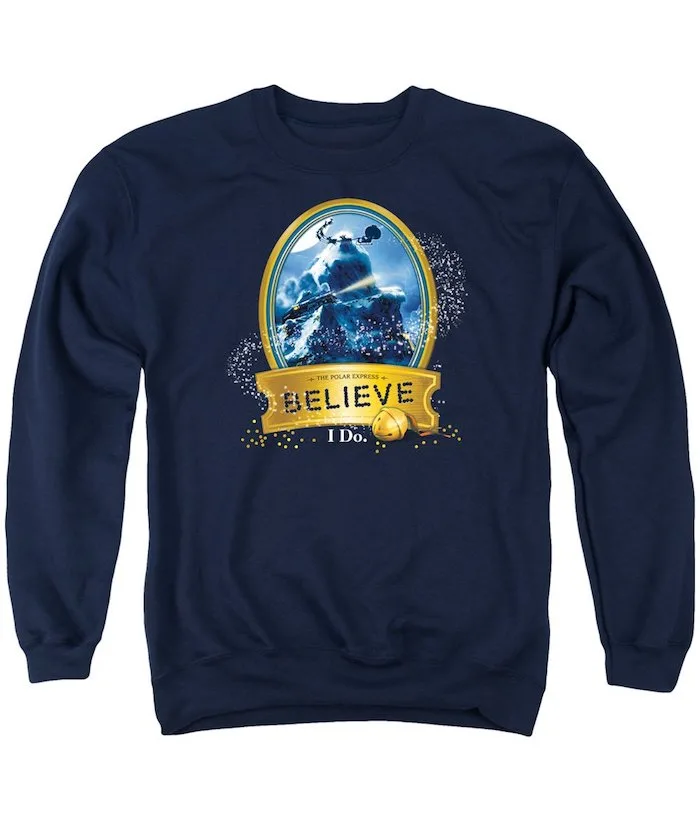 No.2: Polar Express Sweatshirt
If wearing PJ's in public isn't your thing, why not wear jeans and a Polar Express sweatshirt to join in the spirit of Christmas on a magical Christmas train ride?
No.3: Polar Express Train Conductor Costume
Looking for the perfect Polar Express outfit to wear on the real Polar Express?
Perhaps your little one would like to dress up as the TRAIN CONDUCTOR for their North Pole experience!
This Polar Express costume includes:
conductor hat
jacket
pants
waistcoat vest and tie with gold buttons and chain
(This Polar Express Train Conductor dress up costume is super cute.)
The Polar Express ticket man costume comes in two sizes:
Maybe both adults and kids can wear a Polar Express conductor costume when handing out the Polar Express tickets onboard?
No.4: Polar Express Hobo costume
NB: We've not yet been able to find where to buy the Polar Express hobo costume but we'll keep looking.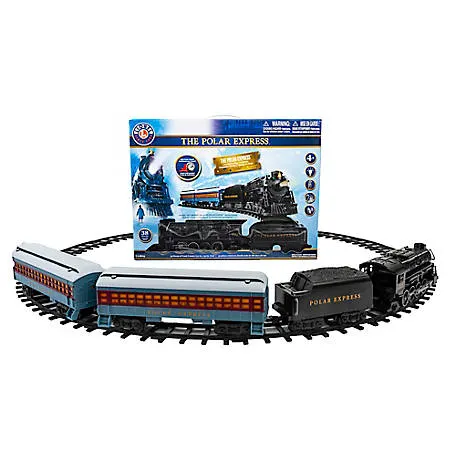 Hot tip: Polar Express Train Sets
You can also find The Polar Express Train Set for sale
This Polar Express village set with the Polar Express train accessories is hard to come by so grab one when you can.
The Polar Express train tracks make a great gift for a Polar Express birthday party too.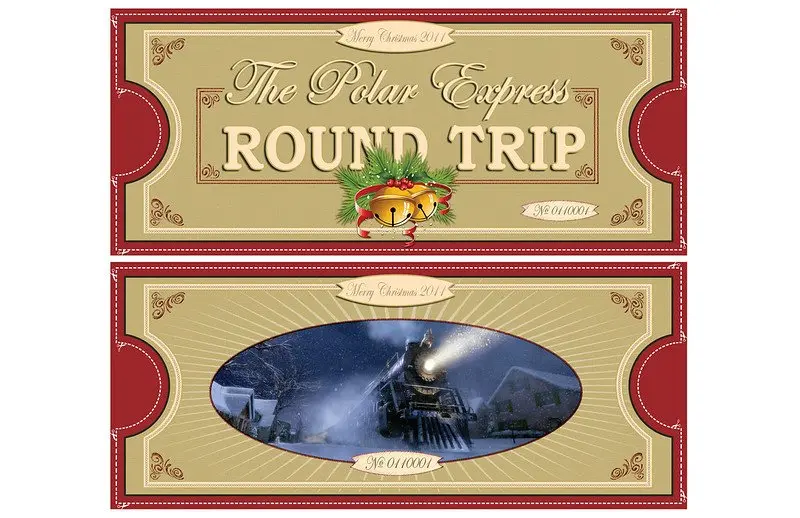 Download this Polar Express ticket printable by Kevin Edwards here.
THE BEST POLAR EXPRESS TRAIN RIDE LOCATIONS!
The best Christmas train rides are ones that are themed around this iconic film.
We've picked the best ones, and hope you can find one near you.
Buy your Polar Express.Tickets quick smart once you've found your ideal location, as if you snap your fingers, the tickets are gone!
Hot tip: Follow your favourite Polar Express train ride on Facebook.
Many companies provide up-to-date info to their followers about upcoming ticket releases, extra dates, and all the best news on Santa.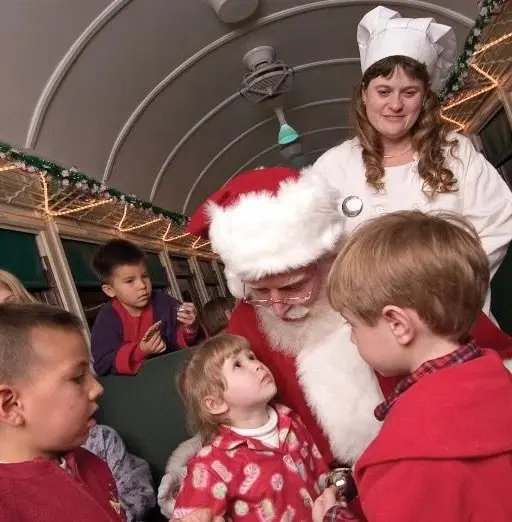 Image credit: Grand Canyon Polar Express Railways
No.1: Polar Express Train Ride Arizona
When you start to research, it's obvious this train should be called the Polar Express Williams Arizona.
Williams is 30 miles west of Flagstaff along Interstate 40.
Just to baffle you a little more, this Christmas train ride is often referred to as the Polar Express Grand Canyon, as it rides on Grand Canyon Railways, or the Polar Express Flagstaff.
Nothing like a little confusion!
But let's get one thing STRAIGHT.
The Polar Express Arizona experience is the Polar Express train ride OF YOUR DREAMS!
A chance to don your favorite winter pajamas, find your seat on the train, and be entertained by onboard waiters serving delicious hot chocolate and choc chip cookies, singing songs, and reading the timeless story aloud to a captivated audience.
But the highlight?
Reaching the NORTH POLE, and seeing the Christmas lights of the town, the "reindeer", and SANTA himself, who may just have the perfect little gift to give each child.
The round trip starts in Williams Arizona, and is a 90 minutes long round trip with two journeys each night.
The Arizona Polar Express leaves at 5.30pm first, and again for the second at 7.30pm.
No.2: The Polar Express NC
The Polar Express Train Ride at the N.C Transportation Museum in Spencer, North Carolina is set to the music of the movie soundtrack.
There's hot chocolate and cookies of course, and singing, dancing and a reading of the book.
There's four ticket options, but the pick of the bunch is the Parlor Class, a four person booth seating in a elegant dining car.
Passengers here receive a commemorative Polar Express ceramic cocoa mug, a parlor treat bag, a souvenir Polar Express book signed by Santa, and of course, a Silver Sleigh bell for all who BELIEVE.
The family pass to ride in Parlor Class costs $325 US on this Polar express train NC style.
Standard class coach tickets start from $38 adults, and $32 kids 2-12 years. Children under 2 are free on the lap.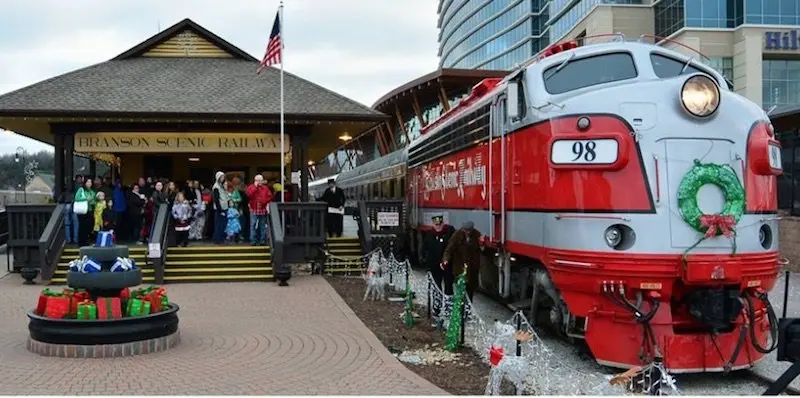 Image credit: Rail Events
No.3: The Polar Express Branson Mo
The Branson Scenic Railway Polar Express train departs on select dates – Friday to Sunday – throughout November and December, right up until Christmas Eve.
Chefs serve all passengers receive hot chocolate and cookies – it's tradition of course – but those in Premium class have access to UNLIMITED HOT CHOCOLATE in a signature ceramic mug!
Santa joins the ride at the North Pole, and visits each car, gifting every passenger a special gift. Join in with the Christmas Carolers for a song or two, and keep an eye out for the Hobo. You never know who you might meet!
On the Polar Express train ride Branson MO, choose from Coach seating, Premium Lower Level or Premium Dome seats.
Prices start from $44 adults, and $34 children aged 2-12.
Kids under 23 months are $2 on the lap.
Expect to pay more for the Branson Polar Express dome seating.
The Polar Express dome car is pretty spectacular.
Hot tip: Book your Branson Polar express premium seating early.
No.4: Polar Express Bryson City NC
Over 90,000 guests rode this Great Smoky Mountains Railroad Christmas train during the Christmas season last year, and you can join them this year.
This adventure is a 75 minute round trip from Bryson City depot through the local wintery forests.
Take a sneak peek on the video above!
Once again, there's warm cocoa and a treat to eat as you chug along the tracks to the North Pole, and Santa is there to greet you when you arrive at the North Pole.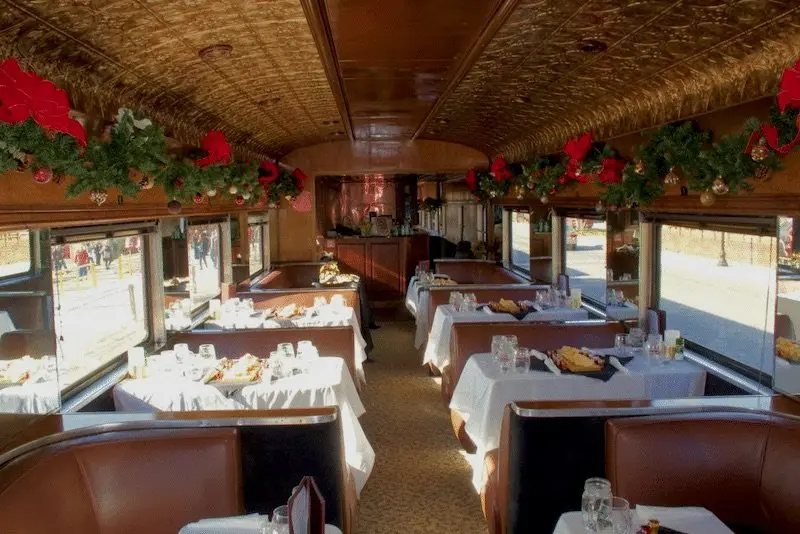 Image credit: Great Smoky Mountains Railroad
Four coach classes
There's four coach classes to choose from.
Both First Class and Premium Crown class have booth seating.
Crown Class and Coach class have seats arranged in pairs, with two pairs facing each other.
If you are traveling with kids, the best train car for Polar Express Bryson City is definitely Premium Crown with a booth.
Image credit: Chicago The Polar Express Ride
No.5: Polar Express Chicago
Step on up to Chicago Union station for this magical trip on board the Polar Express.
There's one class of tickets here, so everyone enjoys the same experience – a one hour trip where the train conductor will punch your golden ticket before you set off.
(You get to keep the ticket as a memento)
Fill your bellies with the hot chocolate and a cookie served mid trip.
Enjoy your supper in the surrounds of this festive holiday decor adorned carriage, while one of the hosts reads the classic story to you all.
This is immersive theatre, so you'll recognise some of the characters who join you in your coach car for the ride.
Santa and his elves board the train to hand out a keepsake sleigh bell.
The point of difference is the grandeur of the historic Chicago Union station.
There's no other station like it.
Rides start mid November, and continue until end of December.
Value tickets start from $48 adult, and $38 child (2-12).
Standard tickets are:
The Polar Express Chicago best seats are the peak tickets – this in the the week leading up to Christmas.
Peak tickets are: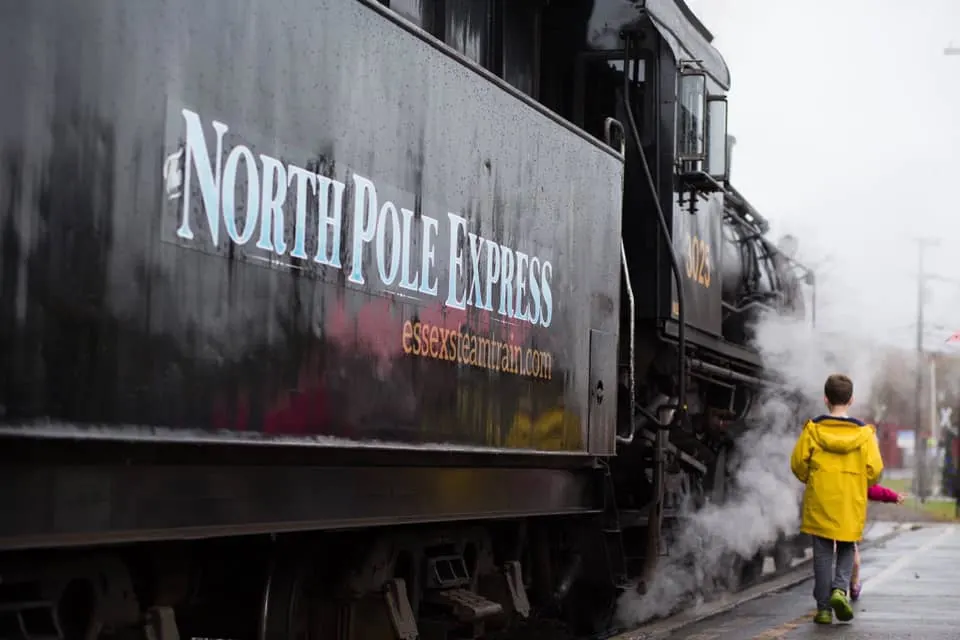 Image credit: North Pole Express Facebook
No.6: North Pole Express Essex Connecticut
On the the Polar Express Essex CT, the regulation hot chocolate, festive sing-alongs, a gift for each passenger from the man in red, and sugar cookies to tide you over, but here's a Polar Express ride with a difference.
Not only does the Essex Polar Express train become the stage for a live musical performance of "The Night Before Christmas" fable, you also meet MRS CLAUS, as well as Santa himself.
That's a bonus in our book.
Round trip is approximately 90 minutes,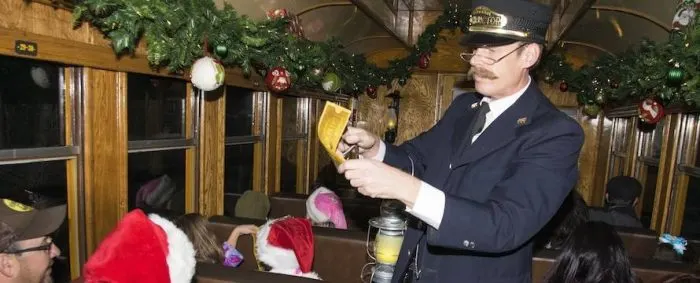 Image credit: Visit Durango Train Polar Express
No.7: Polar Express Train Ride Colorado (Durango)
Arrive at least 30 minutes before your scheduled departure on the Polar Express Durango so you don't miss the spectacle of what happens when the train steams into the station.
(Look out for the hobo in the box car!)
Once aboard the Polar Express Colorado Christmas train , the magical journey to the North Pole begins.
The award-winning book comes to life through the chefs, hobo, conductor, the Hero Boy, Billy, Santa and all the elves on this historic steam train that is specially decorated!
Chefs serve hot chocolate and a special treat as you steam along, then get down to business reading The Polar Express story.
Soon enough, the Polar Express train Colorado will reach the North Pole to pick up Santa.
Look out the window of the Colorado Polar Express to see the brightly lit shops of the North Pole as you pass by.
He then visits all the children in the train carriages on the return journey.
He may even deliver a special gift as he goes.
Get ready for Christmas carols, laughter, and fun!
Upon return to Durango, walk through the seasonally decorated D&S Museum to see Santa's LIVE reindeer, chat further with Santa himself, and snap your annual Christmas Card pic with Santa.
Make it your holiday tradition to bring the whole family to take the magical journey to the North Pole!
Be sure to wear your pajamas, AND your snow boots!
There's three types of seating on this train ride, Coach, Deluxe and First Class.
Take a look below for more information.
Kids under 2 are FREE!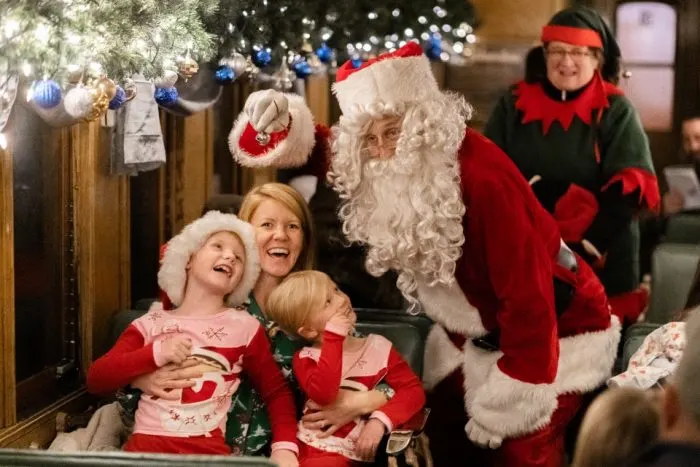 Image credit: Durango Train
Seating choices
Coach – Standard Class Seating
Seats face forward; two people per seat; up to 40 passengers in each car.
Coach tickets go up in price depending on the date and season.
Value season:
$32 adults
$22 child 2-11 years
Peak season:
$50 adults
$40 child 2-11 years
Christmas Eve:
$55 adults
$45 child 2-11 years
Deluxe Seating
These carriages have 'flip-over' seating so families can face each other.
Ticket price includes your own take-home souvenir ceramic THE POLAR EXPRESS™ Train Ride mug.
Deluxe tickets cost:
$47/$37 value season
$65/$55 peak season, and
$70/$60 Christmas Eve.

First Class Seating
The best way to enjoy the Polar Express Ride is at table and chair seating in historic, first-class style.
Ticket prices includes your own take-home souvenir ceramic THE POLAR EXPRESS™ Train Ride mug.
Plus there's special 'themed' Christmas decor in each First-class car!
Online booking for The Polar Express™ Train Ride is available or you may book by phone 1-888-872-4607.
Trains start running in mid November until the 2nd January.
Hot tip: Don't delay. Seats for all seating types sell out quickly for this very special event.
Image credit: Colorado Railroad Museum
No.8: Polar Express Golden Colorado
There's a second Polar Express in Colorado.
The Polar Express Golden Colorado is one with a difference.
The experience starts when you enter the doors to the museum to see the festive Polar Express decorations.
Train conductors hand you your Golden Ticket to ride and directs you to a seat to watch a live theatre performance of the Polar Express.
Dancing chefs and waiters will bring you hot chocolate and cookies to nibble while you watch with eyes wide open.
When the storytelling finishes, it's time to assemble on the platform to board the steam train on the way to the North Pole.
Pay attention and look outside your window when the train stops, as the ending of the story comes to life when Santa presents the First Gift of Christmas to the young hero.
Santa boards your train for the return journey and may just have a Christmas gift for all with a golden ticket to ride.
Be sure to check your pockets for holes before he gets to you.
There's LOTS of different seating options on board the trains.
Take a sneak peek at the Polar Express real life carriages here.
(Blue First Class is our pick.)
Ticket prices vary, but start from $75 adults and $60 children for Red Standard Class.
No.9: The Polar Express Michigan
Looking for Polar Express train ride locations in Michigan?
The Michigan Polar Express is pulled by the world-famous Pere Marquette 1225!
Head to the Steam Railroading Institute in Owosso, Michigan and jump on board for a Christmas outing to the Village of Ashley's Country Christmas.
Start the silly season with a vintage Christmas party with a difference.
The Polar Express Owosso has:
live entertainment
Christmas arts and crafts, and
meet and greets with Santa himself.
Train Class options on the Owosso Polar Express:
Historic Caboose class with a private conductor
Cocoa Class in a vintage 1940's/50's coach
Deluxe coach in a vintage 1940's/50's coach
Coach class, riding in a Double Decker coach
The North Pole Express operates on weekends from mid-November until late December.
Board the train at405 South Washington Street, Owosso for a four hour round trip.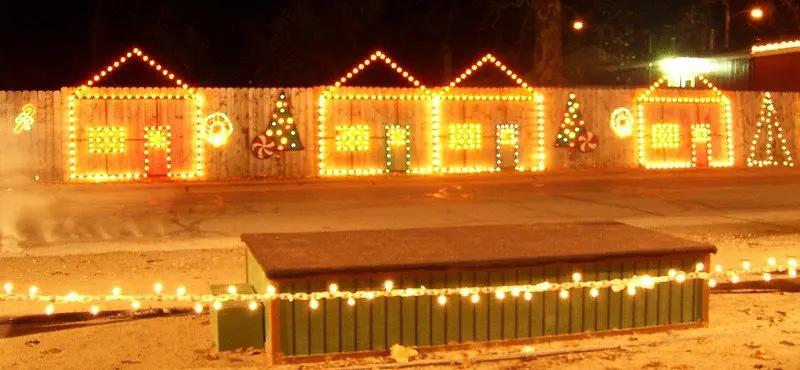 Image credit: Andrew Borgen via Flickr CC BY ND 2.0
No.10: The Polar Express Train Ride Ohio
The Polar Express train ride Ohio style travels on the Cuyahoga Valley Scenic Railroad departing from either Akron Northside Station, or Rockside Station.
North Pole in Ohio is spectacular, with hundreds of lights decorating a make believe town, full of props and magic to make it truly alive for visitors who are looking out the window to spy Santa himself.
Santa joins the Polar Express Ohio train here, and greets passengers in each car.

Image credit: CVSR.org
Hot tip for the Polar Express Train Ohio trip:
Book an Upper Dome for a magical one-of-a-kind train journey.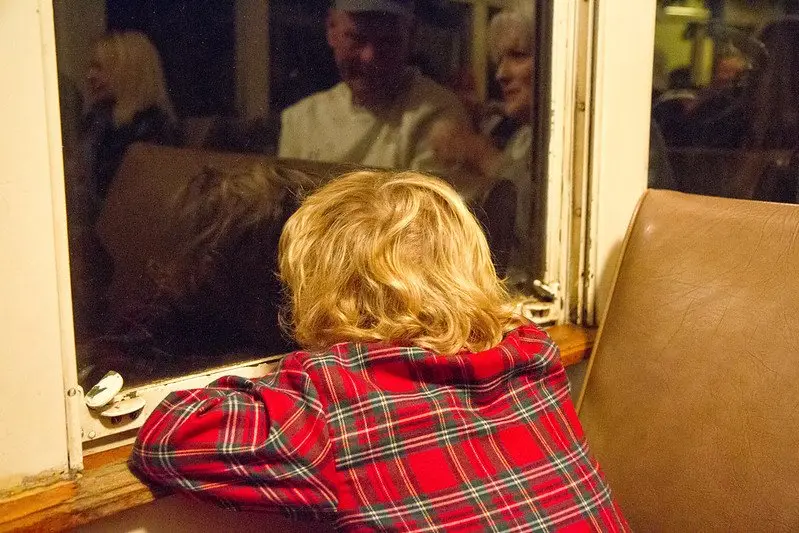 Image credit: Josh Grenier via Flickr CC BY 2.0
No.11: Polar Express Grapevine Texas
Looking for Polar Express Texas locations?
Here's one.
The Polar Express Texas style aboard the Grapevine Vintage Railroad is presented by Great Wolf Lodge.
Visitors begin the journey after boarding with a Memory Mug of Santa's special Frosty Chocolate Snow Milk in hand.
Guests are served a delicious Christmas cookie to enjoy on the way to Reindeer Ridge.
Mrs. Claus joins the train at Reindeer Ridge, and while the train chuggs on to the North Pole, she presents each child with a "We Believe" silver bell gift.
At the destination, visitors stroll through the snowy North Pole Forest towards Santa's Workshop.
The highlight here is the Broadway-style Christmas performance led by Santa, Mrs Claus and their merry band of elves.
Following the Polar Express stage show, North Pole Express guests are invited to sit for a complimentary photo with Santa.
This Polar Express Grapevine TX is the best value for money, and a great choice for families on a budget.
Tickets are $28-38 per person, depending on your choice of coach.
Ride in an authentic First Class coach from the 1920's, decorated for the season.
Or, choose the Touring class coaches with floor to ceiling windows.
This is the best polar express train ride in Texas!
MORE POLAR EXPRESS TRAIN RIDES!
Polar Express Train Indiana
Book your ride on the Polar Express French Lick Scenic Railway, departing from French Lick Scenic Railway at 8594 West State Road, French Lick in Indiana.
This Polar Express train ride Indiana style opens November 6th and runs through December 23rd.
Each ticket on the Polar Express Indiana includes:
fantastic entertainment
delicious hot chocolate
a scrumptious cookie, and
a keepsake sleigh bell to bring home.
Better yet, buy a First Class ticket to receive a souvenir ceramic hot chocolate mug.
Dome Class guests also receives the annual souvenir ceramic hot chocolate mug.
But even better, your hot chocolate will be served to you in the iconic cup and saucer as shown IN THE MOVIE!
(Plus you get to choose from a selection for cookies!)
Both mugs are your to keep forever to remember this fun experience.
Of course, families are encouraged to wear their pajamas for the ride!
Polar Express Miami & Fort Lauderdale
There's two in Florida.
weekends in Fort Lauderdale, and
weekdays in Miami.
The train has both standard seating, and table seating.
The performance takes place in the aisles and ends of the entire car, and every passenger receives the same immersive experience. Place children in the aisle seat for the best view.

As an estimate for 2020, prices for the 2019 season were:
Value: $55 Adult, $50 Child (2-11)
Standard: $65 Adult, $60 Child (2-11)
Peak: $70 Adult, $65 Child (2-11)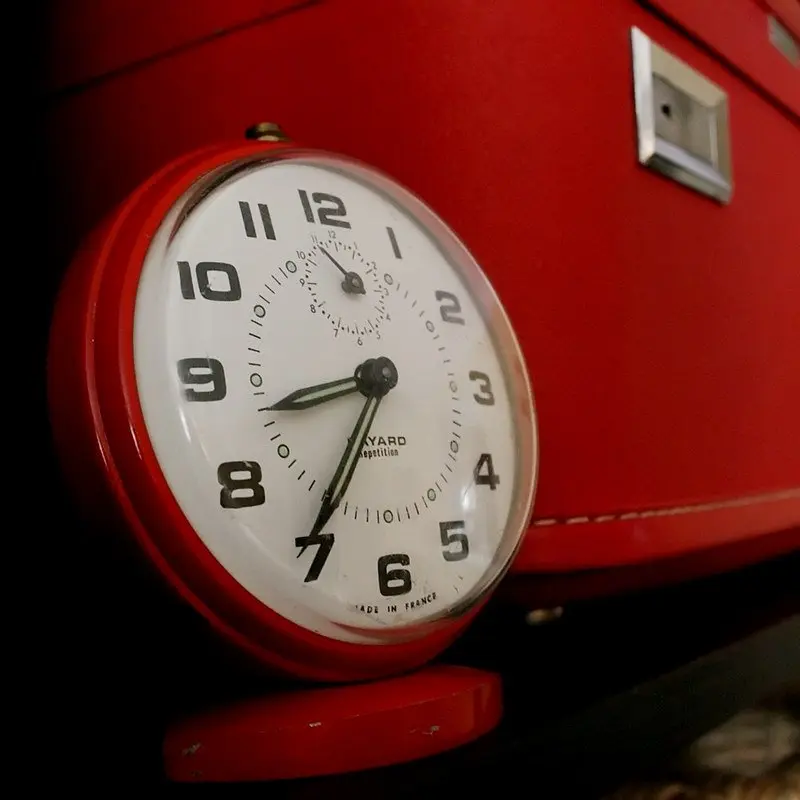 Image credit: Rachel Demsick via Flickr CC BY 2.0
The Polar Express New Orleans
The New Orleans Polar Express ride is run by the same company and departs from the New Orleans Union Passenger Terminal.
Prices for the 2019 season were:
Value: $48 Adult, $38 Child (2-11)
Standard: $58 Adult, $48 Child (2-11)
Peak: $68 Adult, $58 Child (2-11)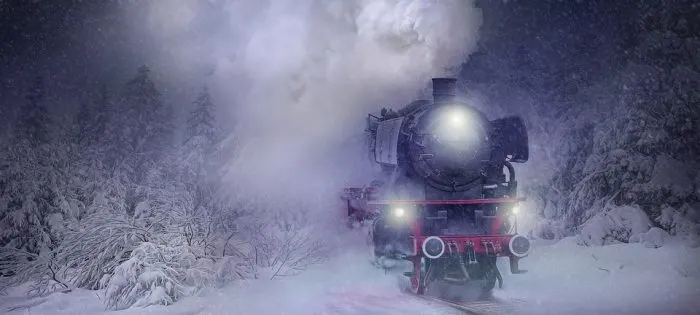 The Polar Express Train Ride Oregon
Book one of these:
No.1: Holiday Express Train Portland
Holiday Express Train in Portland is run by the Oregon Rail Heritage Center.
This is a 45 minute round trip on a train lit up in lights.
Details of the Polar Express Oregon here.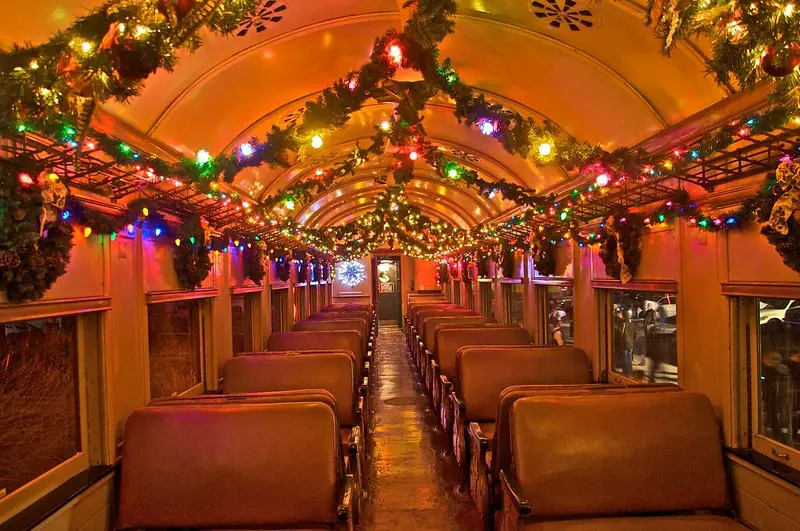 Niles Canyon Image credit: Moyerphotos via Flickr CC BY 2.0
No.2: The Santa Train
The Santa Train, a Christmas train trip from North Bend to the 1890 Snoqualmie Depot, is run by the Northwest Railway Museum.
The highlight is arriving at the restored 1890 Snoqualmie Depot, beautifully adorned for the season in holiday decor, for a visit with Santa Claus and perhaps a small gift.
Visitors are invited into the Museum's restored railway kitchen car for refreshments of cookies and hot cocoa or coffee.
The Santa Train has been in operation every year since 1969 and is a popular Christmas tradition for local families.
Hot tip: Make a reservation on the special Victorian Santa train on Friday December 20th, where Santa will be dressed in his traditional Victorian Father Christmas outfit.
No.3: More Christmas Railroad Journeys in Oregon
These three offer the syndicated Warner Bros program too.
(Links to Santa Claus Train Rides are updated closer to Christmas)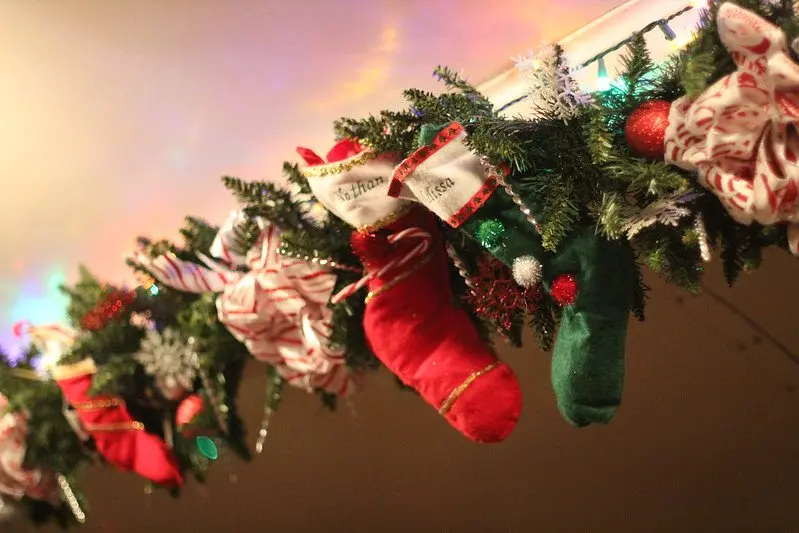 Image credit: Aaron Anderer via Flickr CC BY ND 2.0
Polar Express Train Ride NJ
No.1: Polar Express Phillipsburg
The Polar Express in Phillipsburg New Jersey at the Delaware River Railroad Excursions is the place to sing songs with the roaming hobos, be amazed at the Juggling Chef and make your wishes in person to Santa himself!
All on a one hour & 45 minute ride in a beautifully decorated train, with over 2 miles of lights.
Details of the Polar Express NJ ride here.
No.2: The Polar Express New Jersey Whippany
Here's another of the syndicated train rides:
The Whippany Polar Express Ride New Jersey.
It's the best polar express train ride NJ style!
Click here to find the best seats on Polar Express Whippany NJ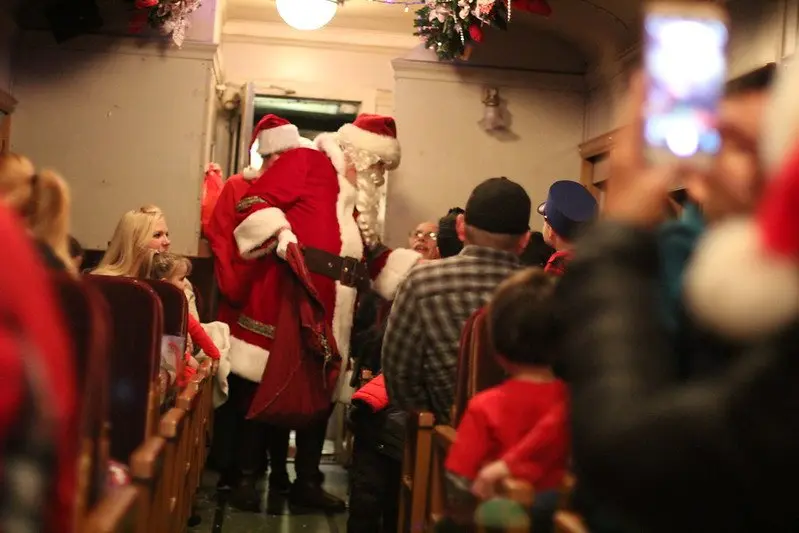 Image credit: Aaron Anderer via Flickr CC BY ND 2.0
Polar Express Train NY
There are SIX different Polar Express trains in New York.
Take your pick of the Polar Express NY train rides.
There's something for everyone.
No.1: Medina Railroad Polar Express
Ride the Santa Reindeer Train and visit Santa with his Reindeer and sleigh at the Medina Railroad Museum Polar Express experience.
Find tickets for the Medina Polar Express here.
No.2: North Pole Train Arcade & Attica
The North Pole Train on the Arcade & Attica train line is a 2 & a half hour round trip excursion starting at 278 Main Street in Arcade, New York and ending up at Santa's House.
Kids receive a wish list, gift from Santa, toy, and magic bell.
Every family will receive a map of the North Pole activities including:
Christmas Tree lighted lane
the Elf House
Santa's giant red sleigh for pictures, and
Santa's Reindeer!
No.3: Cooperstown & Charlotte Valley Railroad Christmas Train Ride
The Santa Claus express is a 2.5 hour afternoon train ride.
Santa Express Trains depart from the Milford, NY Train Depot on NYS Route 166 (East Main Street).
Santa and Mrs. Claus entertaining kids of all ages on board our beautifully decorated train, with holiday music, goodies and refreshments for everyone's enjoyment.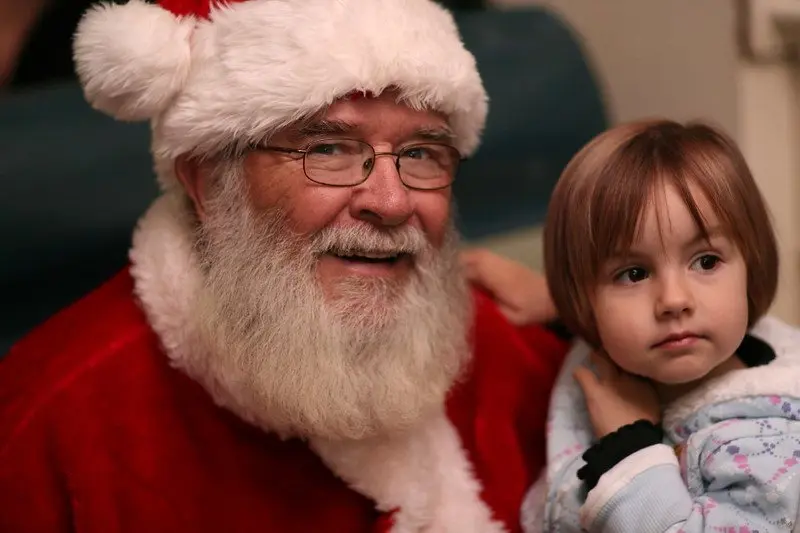 Image credit: Joe Osterioh via Flickr CC BY 2.0
More Polar Express New York trains
No.4: Catskill Mountain Railroad
Catskill mountain railroad is another syndicated rail trip with the standard inclusions.
Prices start from $41 USD for adults and $32 for kids 2-12 for off-peak tickets.
No.5: Adirondack Scenic Railroad Polar Express
Adirondack scenic railroad has a similar Polar Express experience on offer. There's both coach class, and the more expensive Cocoa first class tickets to choose from.
First class tables on the Polar Express Adirondack seat four.
Prices start from $46 adults and $38 kids for coach class.
No.6: Adirondack Christmas Train
Our choice of Christmas train rides in New York is their Adirondack Christmas Train, scheduled to run in conjunction with Christmas on Main in the picturesque town of Old Forge.
This is the best polar express train ride NY style.
Departing Utica Station, travel on vintage train coaches through the scenic winter countryside scenery to Old Forge, Thendara.
Enjoy:
shopping in the holiday decor covered shops on "Christmas on Main Street."
take a horse drawn carriage ride
listen out for the melodious carillon bells
join the Gingerbread House contest, and
be present for theChristmas Tree Lighting before returning home.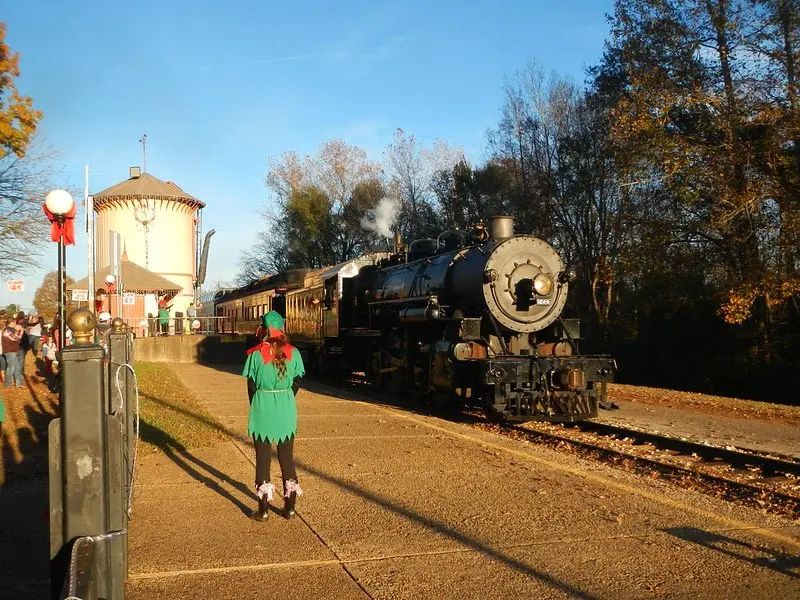 Image credit: Michael Gras MD via Flickr CC BY 2.0
Polar Express Palestine TX
Booking the sky-high Dome Class in the doubledecker Dome Car.
Passengers in this class of carriage receive:
keepsake POLAR EXPRESS™ mugs
hot chocolate and
cookies too.
Or take this train ride in the Open-Air Coach!
There's NO glass in the panes so the outside air flows freely through the car. It's very, very cold and icy, but the atmosphere is heart warming.
Hot tip: Wear your warmest clothes & jackets, hats & gloves.
BYO blanket too.
All cars have large viewing windows so no-one misses out on the first glimpse of Santa and the North Pole.
All Polar Express™ train rides depart from Texas State Railroad's Palestine depot located at 789 Park Road 70, Palestine, Texas.
Polar Express interior image credit: California Railroad
Polar Express Sacramento
No.1: California Railroad Polar Express
California State Railroad Museum has one too.
Hot tip: Ride in the new Sleigh Ride open air car, or New Orleans inspired French Quarter Car, a dusty pink colored ode to the elegant days of old.
Details of this Polar Express Train California adventure here.
No.2: Southern California Railway Museum Polar Express Perris
Southern California Railway Museum in Perris, CA has a Polar Express train ride too.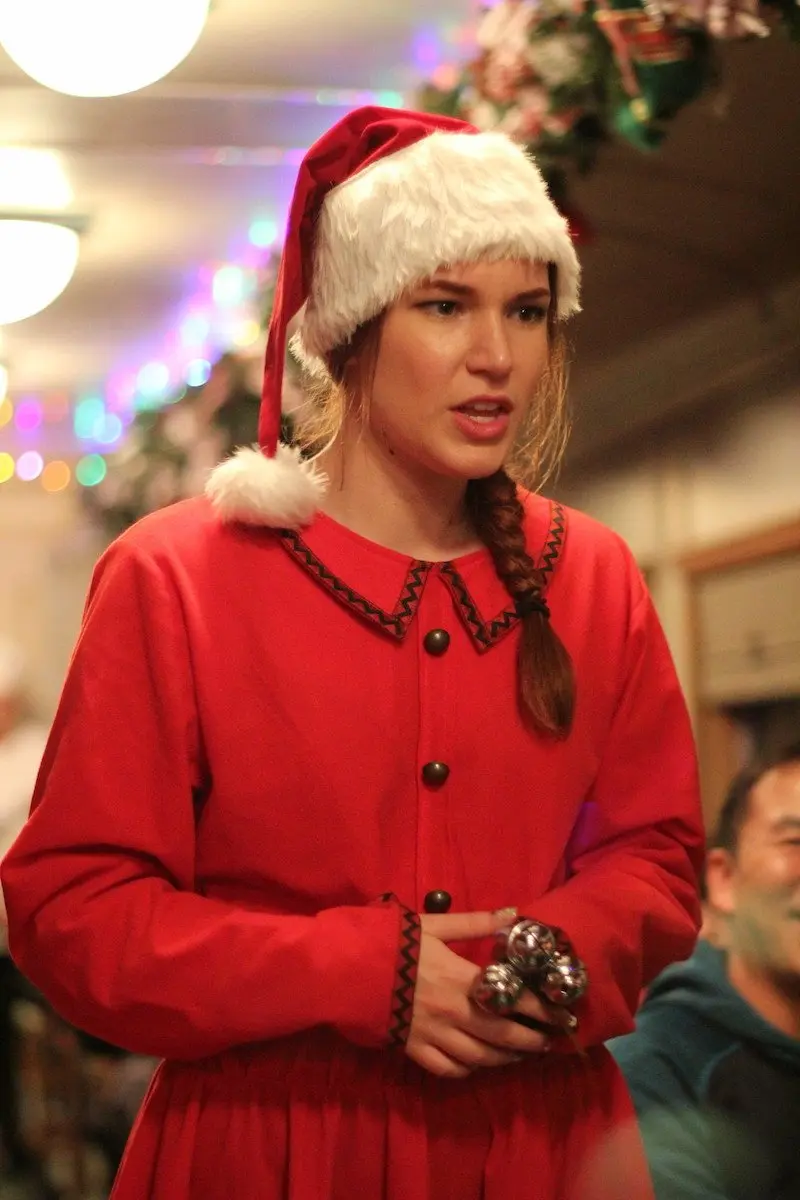 Image credit: Aaron Anderer via Flickr CC BY ND 2.0
FUN FACTS ABOUT THE POLAR EXPRESS CHARACTERS & ICONS
No.1: Who is in the Polar Express Cast?
The Polar Express is a computer-animated adventure film directed by Robert Zemeckis.
Tom Hanks is the voice of the Father, Polar Express Conductor, The Polar Express Hobo, Scrooge AND Santa Claus!
Tom also voices the Polar Express Kid when he's all grown up.
No.2: Who Plays the Annoying Kid from Polar Express name?
The know-it-all kid with glasses, wearing the yellow Explorer Pajamas?
Eddie Deezen voiced the annoying kid in Polar Express.
(You'd be amazed how many people search for the Annoying Kid Polar Express voice actor's name!)
Peter Scolari voiced Billy, the lonely boy.
The Polar Express Girl (Hero Girl) is voiced by actor Nona Gaye.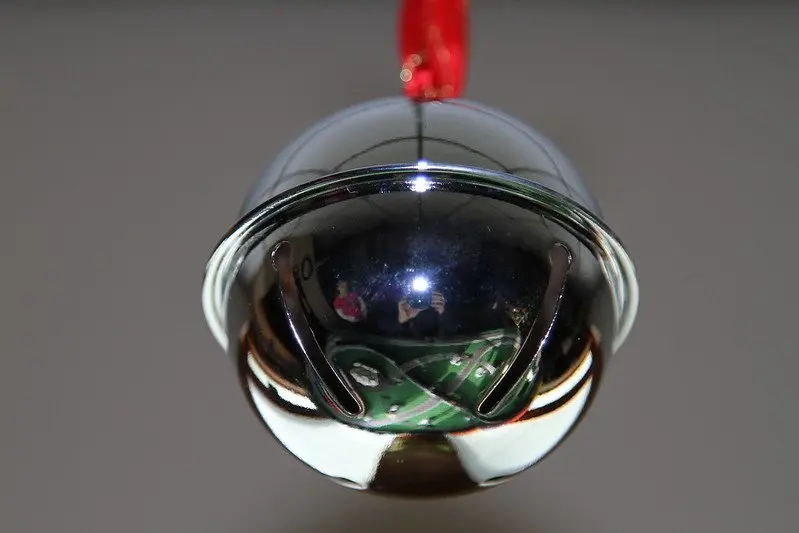 Image credit: Jim the Photographer via Flickr CC BY 2.0
No.3: The Polar Express Bell
The Hero Boy is gifted a bell from Santa at the climax of the film when he is chosen to receive the First Gift of Christmas.
The Polar Express Silver Bell has a delightful ringing sound but it can only be heard by people, young and old who truly, deeply believe in Santa Claus and the magic of Christmas.
POLAR EXPRESS SONGS YOUTUBE
No.1: What is the Polar Express Theme Song?
The song "Believe" written by Glen Ballard and Alan Silvestri, and performed by Josh Groban, was nominated for Best Original Song at the 77th Academy Awards.
It won a Grammy award in 2006!
The alternative Polar Express theme song is the title track "The Polar Express" performed by Tom Hanks himself!
Youtube Hot Chocolate Polar Express Song
No.2: The Polar Express Hot Chocolate Song
Another song performed by Tom Hanks.
It's THIS very scene that is brought to life by the singing dancing chefs on Polar Express train rides at all of these Polar Express train ride locations around the world.
How magical it is that you can ride in a Hot Chocolate Car like this too!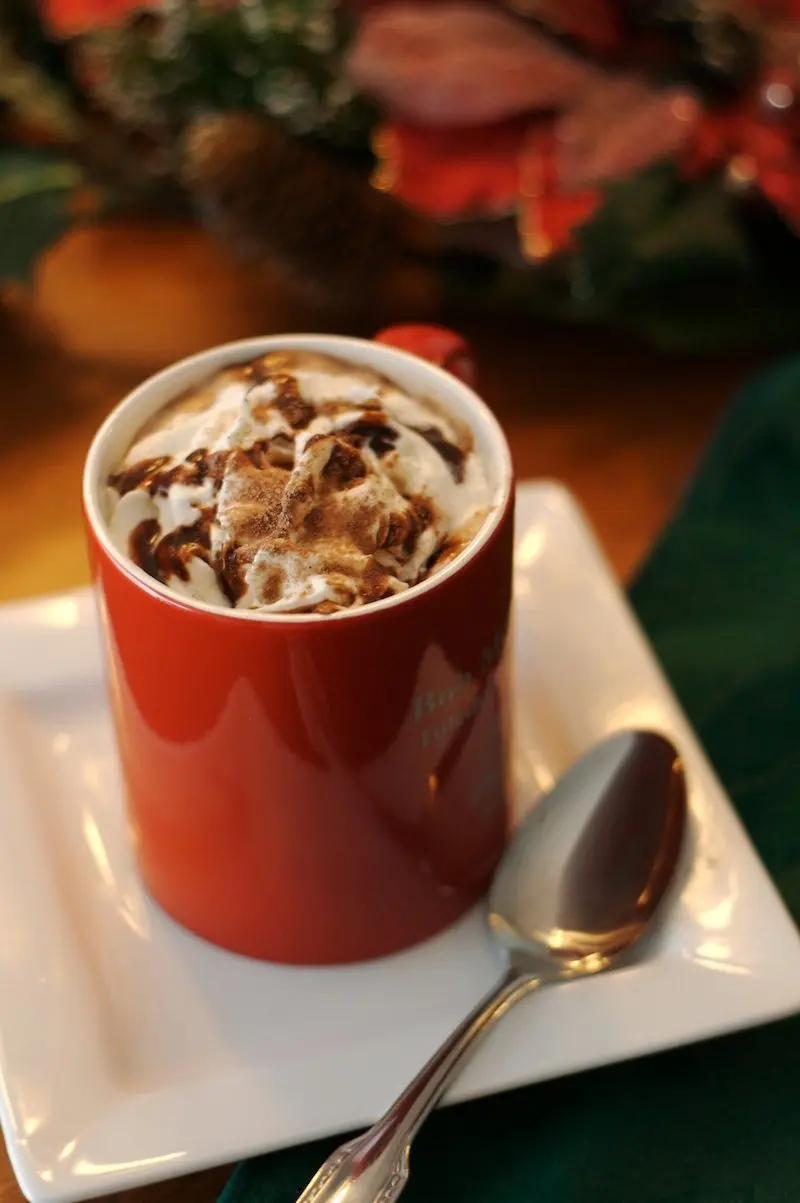 Image credit: Kevin Marsh via Flickr CC BY 2.0
The BEST Polar Express Hot Chocolate Recipe
Slow Cooker Hot Cocoa is THE recipe you need if you want to make the best Polar Express Hot Chocolate at home.
Here's our favorite recipe:
Slow Cooker Hot Chocolate by BBC GoodFood Mag
It's the combo of double cream and real dark chocolate that hits the spot.
A mug of hot cocoa is one of the highlights of purchasing a Polar Express ticket for any one of these Polar Express train ride locations.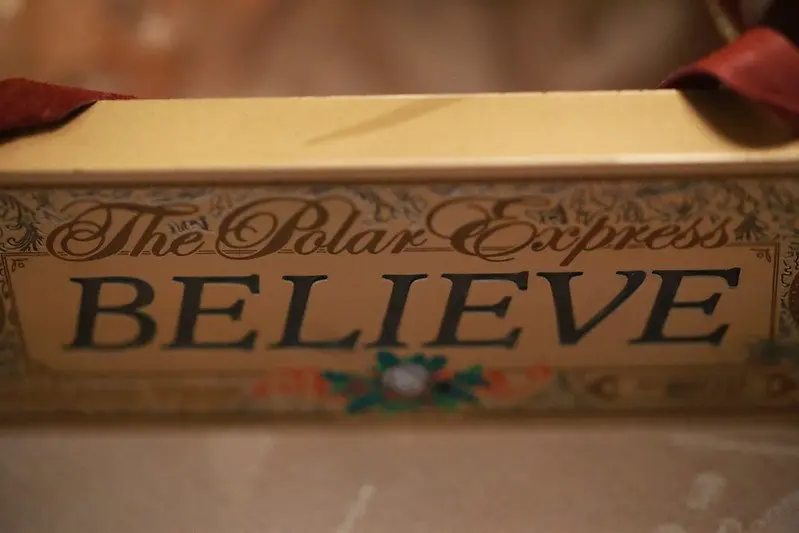 Image credit: Carol VanHook via Flickr CC BY SA 2.0
Book the Ultimate Christmas Train Ride!
Taking any one of the Polar Express train rides anywhere across America will be a memory with your kids that you'll never forget.
This holiday season, pick one of the Polar Express train ride locations, any one, and book now!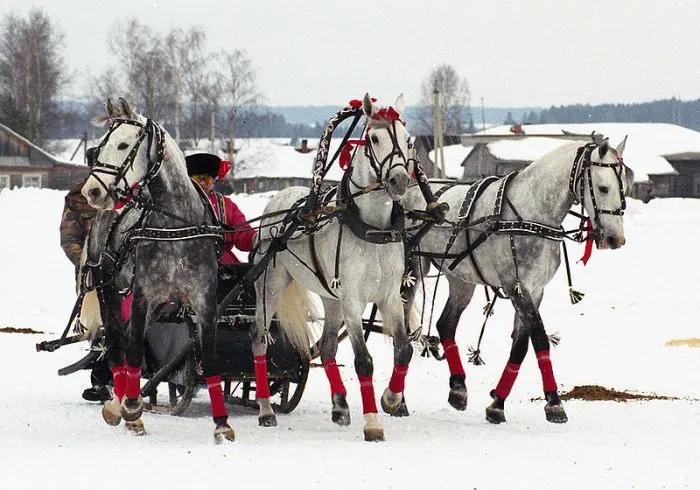 Want to know about More Fun Christmas Experiences?
If you enjoyed reading about these Polar Express train ride locations, here's more Christmas ideas for you.