INSIDE: Roam the Gnome's Guide to the Best Australian Food Gifts & products including the Aussie crowd pleaser, Vegemite.
Australian food culture is continuously evolving.
There's new Australian food recipes being created every single day, but there are some Australian food traditions that will never die.
Try telling the average Aussie that there's no such thing as typical Australian food, and you'll have a riot on your hands.
Australia has a growing list of fabulous food products that are beloved by its' people.
There's also some Australian recipes that cannot be replicated properly without the right Australian ingredient.
Lots of people ask us:
What are the national foods of Australia?
What are some popular foods in Australian for gifts?, and
What are your favourite Australian foods?
So we've collated the best Australian food products list of what to buy in an Australian supermarket.
You'll find the best things to buy in Australia including:
Australian chocolate
Chocolate biscuits
Australian lollies & Australian candy
Australian snacks
Australian cereals and desserts
There's also 5 FUN FACTS about Aussie food too!
Take a look below at our monster guide to what to buy in Australia for ALL the details.
Disclosure: This article contains affiliate links. If you make a purchase after clicking on one of these links, we may receive a small commission at NO extra cost to you. Main image credit:Charlotte in Australia
THE BEST AUSTRALIAN FOOD GIFTS
Correct at time of publication on Roam the Gnome. Please check with venue for updates. We apologise in advance if there have been any changes we are unaware of. All prices in AUD dollars, unless otherwise stated
The best gifts from Australia for foodies is something from the supermarket aisles, or a hand-crafted gourmet food gift from the local markets, so you can make these classic Australian dishes and drink up the local faves.
First up, let's take a look at the most popular Australian food for breakfast, lunch and dinner.
Below that, you'll find a list of the best Australian food gifts & Australian snack souvenirs to buy for friends and family.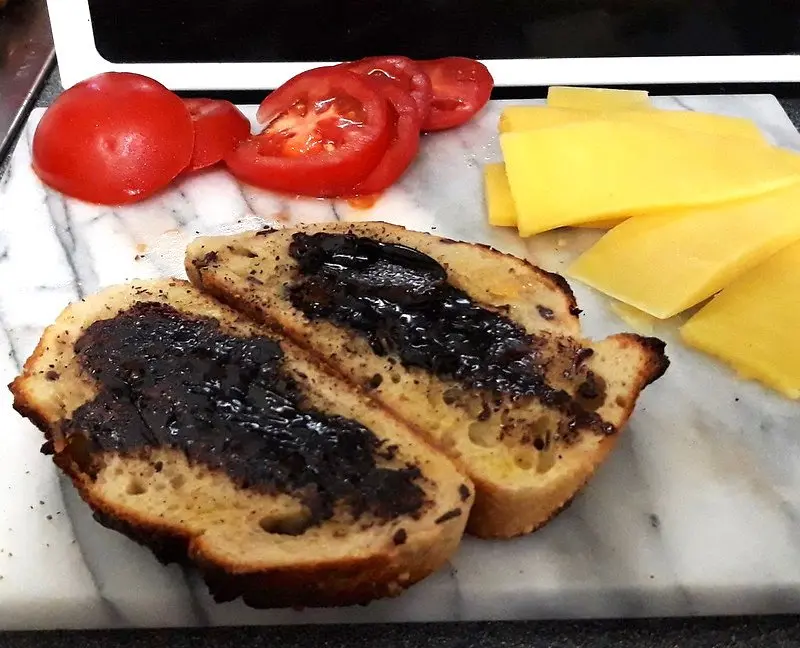 Image credit: David Jackmanson via Flickr CC BY-2.0
POPULAR AUSTRALIAN FOOD LIST
Here's a traditional Australian food list, starting with how Aussies begin their day at breakfast time.
No.1: Australian Breakfast Foods
No.1: Vegemite on toast
Vegemite on toast (otherwise known as the Australian brown food paste) is an acquired taste!
Vegemite is an original Australian food you won't find anywhere else.
But one Australian babies grow up on.
Nothing beats a scraping of vegemite on toast, with a hot cup of tea, first thing in the morning.
It's also the equivalent of chicken soup in medicinal terms for Aussies.
No.2: Smashed avo on toast
A bit of avo, smashed over white toast or fancied up on thick cuts of sourdough, is another Aussie fave, especially with the twenty-something set.
Rumour has it that if young Aussies stopped buying smashed avocado on toast at their local cafe, they might even be able to afford to enter the Australian housing market. Best to make it at home to save the dollars!
No.3: Aussie Big Brekkie
Bacon, eggs, grilled tomato, baked beans, a sausage or two, with toast is called a "Big Brekkie" or Fry Up.
Find it on every country town's motel menu.
No.4: Nutella on toast
Every kids dream, but sometimes, it's mum's favourite sweet breakfast treat too.
No.5: Cereal
Cereal, is another Aussie breakfast staple, especially:
Weetbix
Special K
Rice Bubbles and
Kelloggs Cornflakes
Kelloggs Coco Pops
---
READ MORE: BEST AUSTRALIAN SOUVENIRS – Monster list of fashion, culture, toys, art, & homewares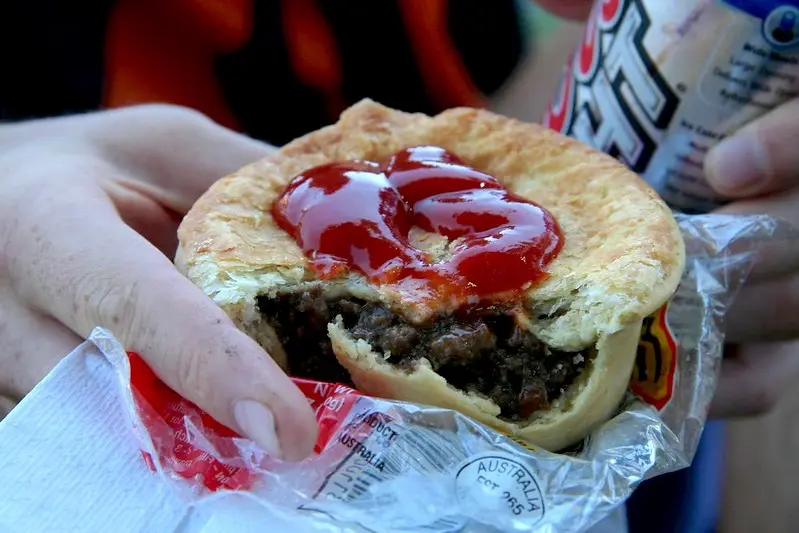 Image credit: Irene via Flickr CC BY-ND 2.0
No.2: Popular Australian Food for lunch, dinner & dessert
Have you tried any of these classic Australian foods?
Typical Lunch food in Australia
Meat pies
Sausage rolls
Chiko roll
Spaghetti jaffle (toastie)
Cheese, ham and tomato toastie sandwich (toasted sanger)
A Burger with the lot, with a slice of tinned beetroot, tomato and lettuce included
BLT burger
Chicken burger, made with a chicken pattie
Arnotts Sao biscuits with cheese and tomato, or ham and cheese
Egg salad sandwiches (egg and mayo, or curried egg sandwiches too)
Sausage sizzle (alt: sausage sanga, sausage in bread, snag in bread) – a standard staple at a Saturday lunchtime visit to Bunnings, or any fete, country fair, country show, or garage sale
Typical dinner meals in Australia (especially at a pub or club)
Barramundi and chips
Chicken parmigiana
Spaghetti bolognaise is an Australian home staple (add a dash of vegemite for flavor)
Sunday Roast at the pub/club
Fish and chips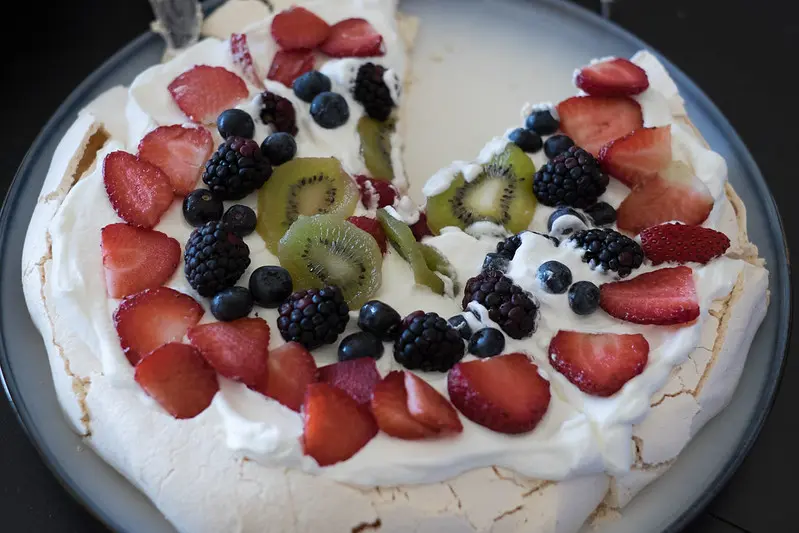 Image credit: Dru Kelly via Flickr CC BY-2.0
Popular Australian desserts
A meal is not a complete meal without a slice of pavlova, or apple pie and ice cream.
BUY NOW ON AMAZON: Hungry for Australian snacks right now? Buy the Best of Australian Snacks & Chocolate Food Box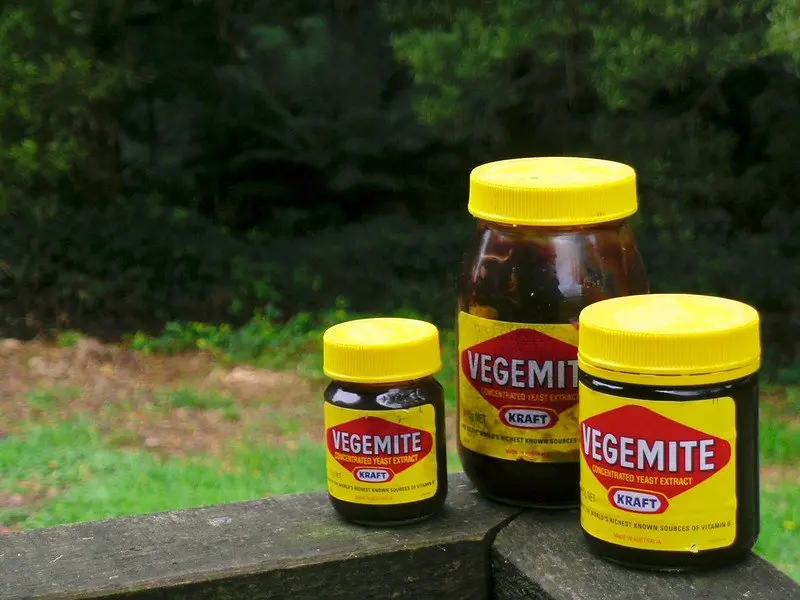 Image credit: S2art via Flickr CC BY-SA 2.0
FAMOUS AUSTRALIAN FOOD PRODUCTS
Here's the guide to the best Australian foods to send overseas.
Start here with authentic Australian food products to use in home cooked meals.
No.1: Savory Australian Pantry Products
Vegemite spread or the newish Vegemite Cheesybite spread
Dick Smith's Ozenuts crunchy peanut butter
ETA original or BBQ sauce, or Masterfoods BBQ sauce
Maggi 2 minute noodles
Anchor chicken 'chippy' salt
Masterfoods Chicken salt
Edgell sliced beetroot in a can
Gravox traditional gravy powder
Byron Bay Chilli sauces
Continental cup a soup packets
Fountain mustard sauce, or thick mint sauce
Bega Cream cheese spread
Bega peanut butter
All of this most common food in Australia can be found in almost every kitchen or pantry.
They make unique Australia souvenirs for foodies.
BUY NOW ON AMAZON: The BEST EVER Vegemite spread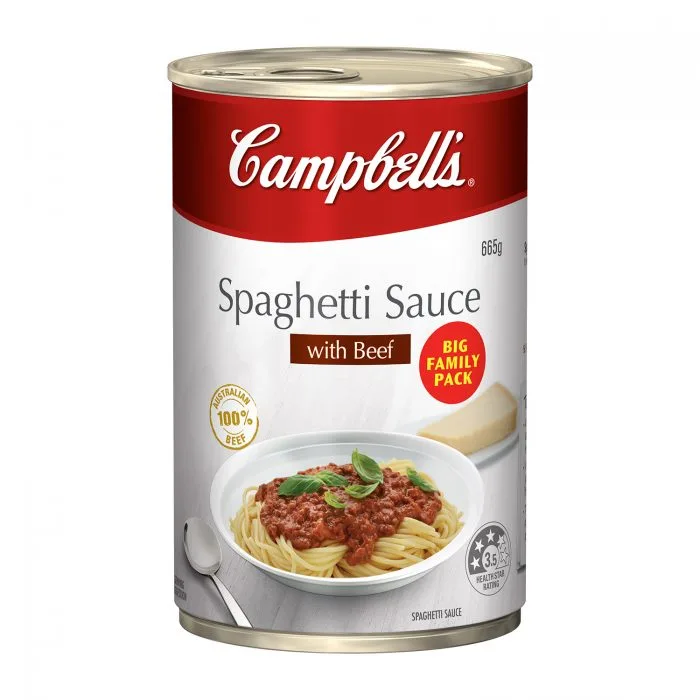 Special mention: Campbells spaghetti sauce in a tin
I cannot live without this stuff.
It's a childhood memory flashback of good times with the cousins.
BUY NOW ON AMAZON: Campbells spaghetti sauce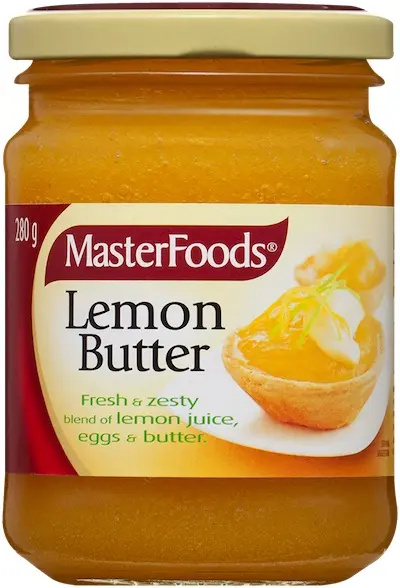 No.2: Sweet Australian Pantry Supplies
These are some more famous Australian products loved by Aussies.
IXL jams
John West passionfruit pulp
Capilano squeeze honey or Capilano creamed honey pots
Rosella fruit chutney
Masterfoods Lemon Butter (find handmade versions of this popular Australian spread at fetes and fairs)
Aeroplane Jelly packets in all the flavors
Zooper Dooper Ice blocks
Golden syrup squeeze bottle
100's and 1000's sprinkles in a shake jar (for your fairy bread!)
BUY NOW ON AMAZON: Masterfoods lemon butter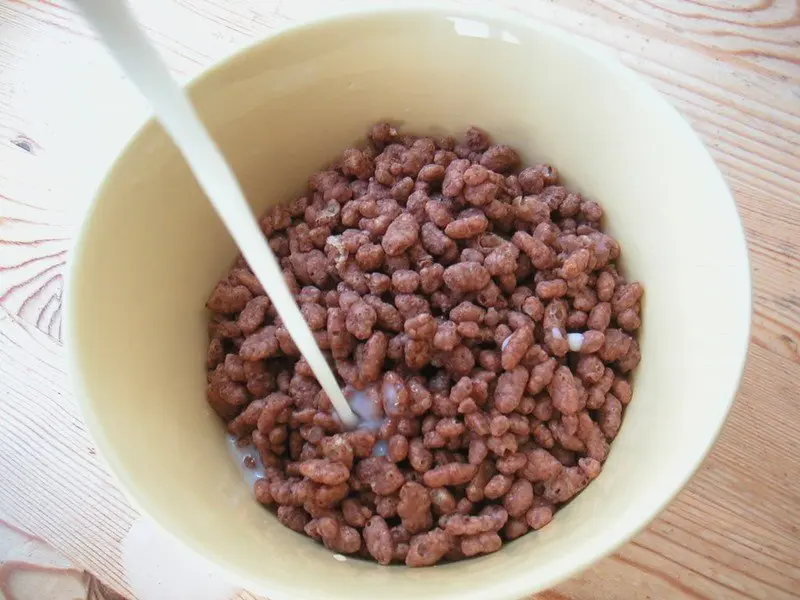 Image credit: Cyclone Bill via Flickr CC BY-SA 2.0
No.3: Popular Australian Cereal
Pick your favourite.
Kelloggs Corn Flakes (with a sprinkle of sugar)
Kelloggs All Bran
Carmen's Muesli
Uncle Toby's Oats
Special K
Uncle Toby's Cheerios
Kelloggs Sustain
Sultana Bran
Just Right, and
Kelloggs Crunchy Nut
Kids love Nutri-grain, Rice Bubbles, and Milo cereal, but the winner of all breakfast cereals in Australia is:
Kellogg's COCO POPS!
Coco Pops are "Just like a chocolate milkshake, only CRUNCHY!"
BUY NOW ON AMAZON: Coco Pops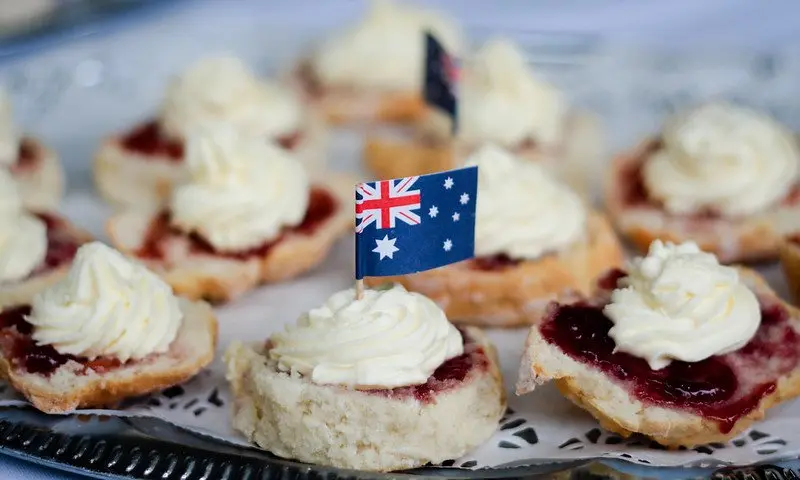 Image credit: Matthew Kenwrick via Flickr CC BY-ND 2.0
No.4: Popular Australian Snacks
More of the best Australian snacks include:
Fruit toast
Cabanossi, cheese, and Jatz biscuits
Cheese and bacon rolls (from the supermarket or bakery)
Cheesymite scroll
Fried Dim sim
Fried potato scallop
Hot chips with chicken salt (or in any country town, hot chips with thick brown gravy)
Freshly made scones with jam and whipped cream
You can't say you've tasted Aussie food until you've eaten these snacks in Australia.
Hot tip for scones: Always put the jam first, then the cream. That's the unspoken rule.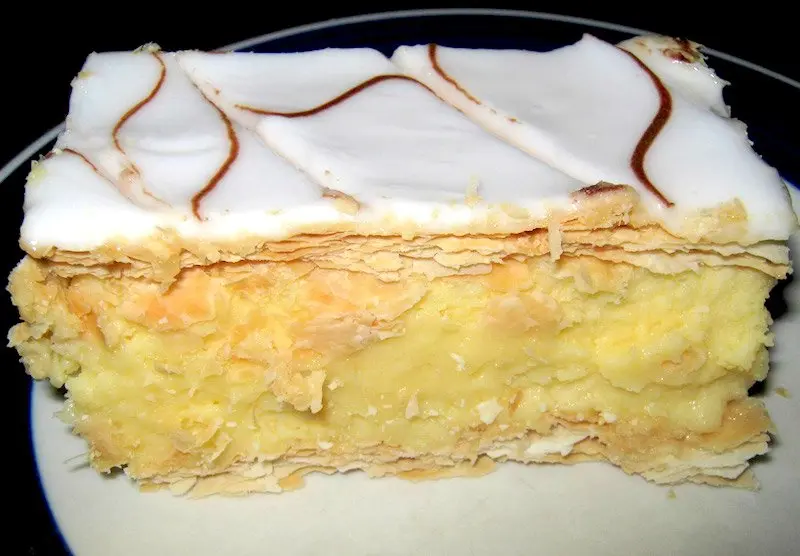 Image credit: Sharon Apted via Flickr CC BY-1.0
No.5: Popular bakery items in Australia
If you head to a bakery in Australia, choose one of these for a real Aussie treat:
Vanilla Slice
Lamingtons
Jelly Slice
Caramel Slice, or Caramel and Macadamia slice
Bee Sting pastries
Nutella croissants
Custard tarts
Fruit tarts
Chocolate eclairs filled with fresh cream
Jam donuts
---
RELATED: Brunswick Heads Bakery near Byron Bay has huge servings of ALL the Australian cakes & desserts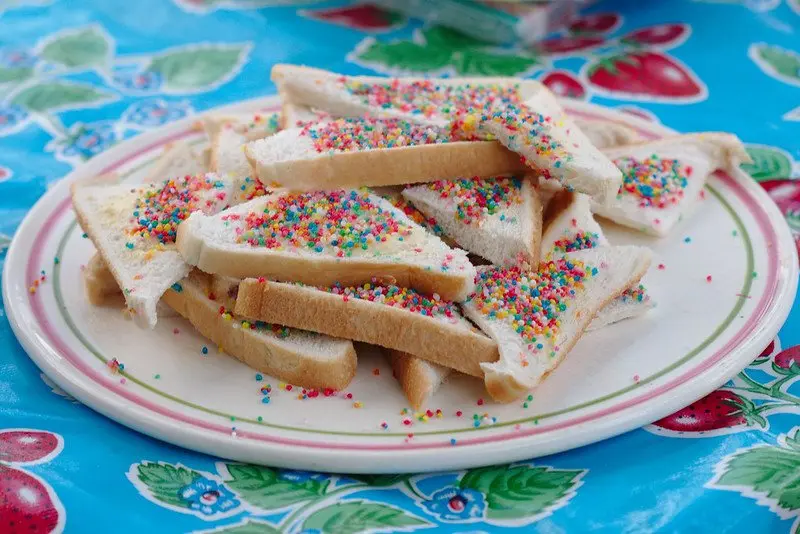 Image credit: Mary and Andrew via Flickr CC BY-ND 2.0
No.6: Popular Australian Party Food
Special Mention: Fairy Bread
You'll find "Fairy Bread" at every Australian birthday party for kids, except in Byron Bay.
There you'll probably find a raw vegan cake on the table.
To make fairy bread, buy a fresh white loaf of bread, spread each slice with a good layer of butter, and generously sprinkle on the '100's and 1000's until the bread is covered.
Hot tip: Cut the bread on a diagonal, so you make four small triangles.
More Party Food in Australia
Chocolate Spiders made with Chang's original fried noodles, and chocolate melts (here's the recipe)
Chocolate crackles made with Kellogg's rice bubbles, cocoa and copha (here's the recipe)
Allen's Party Mix of lollies
Shapes biscuits (see savory biscuits below)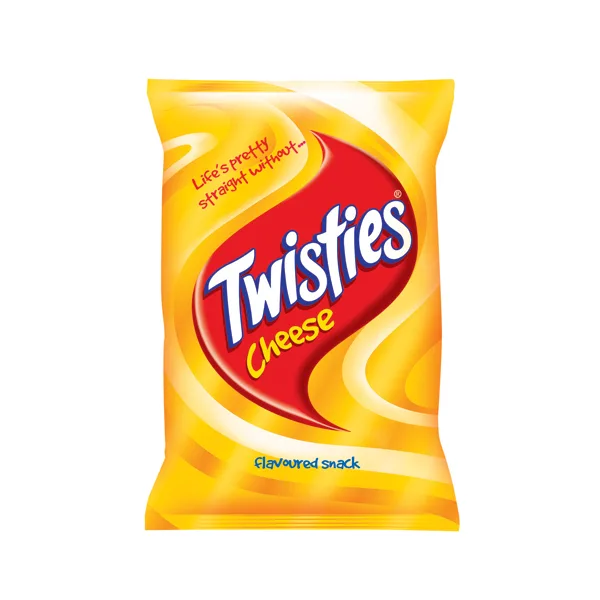 No.7: Popular Australian Chips (Crisps)
Cheese Twisties are always in the top 3 when you rank the best Australian chips.
The number one request for Australian food sought by expat Aussies with visitors on the way is TWISTIES.
Cheese flavoured Twisties and Chicken Twisties are unique Australian food gifts.
You should also buy, and TRY these Aussie snacks:
Burger rings
Cheetos cheese and bacon balls
Vege chips – original, salt and vinegar
Smiths Crinkle Cut chops – plain, chicken, salt and vinegar, cheese & onion, and salt and vinegar,
Samboy chips – all the flavors!
Red Rock Deli chips – artisan range
CC's corn chips in original, nacho cheese, or tasty cheese
Cheetos puffs
Cobs popcorn – the cheddar cheese popcorn is the best!
But we'll always come back to the old favourite and vote Cheese Twisties as the number one item to put into your suitcase anytime you leave these golden shores.
BUY NOW: The One & Only CHEESE TWISTIES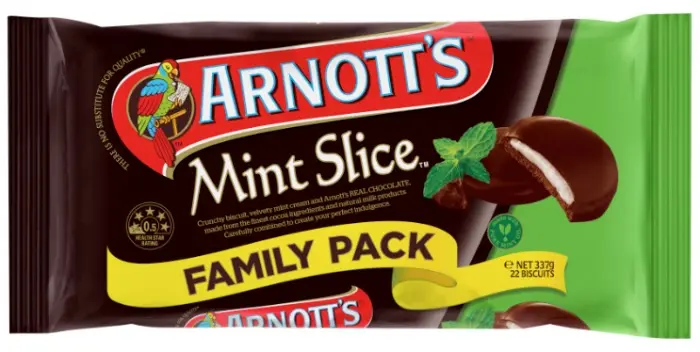 No.8: Popular Australian Biscuits
Tim Tam Biscuits are by far the most well known biscuit in Australia but take a peek in any Australian trolley, and you'll find these Aussie biccies too – Arnotts Mint Slice.
(Arnott's is Australia's favourite biscuit company, and one of our iconic Australian food brands. Don't stand for the imitators.)
Tim Tams biscuits come in all the flavors: white chocolate, chewy caramel, dark chocolate, choc mint, honeycomb and double chocolate.
Buy at least one pack of each of these well known Australian food treats!
TimTams and biscuits are good Australian snacks to send overseas.
Put these Australian biccies in your shopping trolley too!
Arnotts Kingston
Arnotts Royals
Arnotts Iced Vovo biscuits – biscuit base with sweet pink fondant, topped with coconut, and a raspberry jam filling sandwiched on top
Arnotts Mint Slice biscuits (pictured above)
Arnotts Wagon Wheels
Anzac biscuits by Unibic, the most authentic Anzac biccie from a shop
Arnotts Hundreds and Thousands
Arnotts Monte Carlo
Family Assorted by Arnotts
Arnotts Monte (my fave)
Arnotts Teevee Snacks
Nestle Dunkaroos
Arnott's Honey Jumbles
Arnotts Scotch Finger biscuits (dipped in a hot milky cup of tea)
BUY NOW: The Iconic Arnotts Iced Vovo
Try the TIM TAM SLAM!
THIS is how you eat Tim Tams in Australia.
It works with any flavor Tim Tam biscuit.
Go on.
It's the Aussie way!
PS: Biscuits make great Australian food to send overseas, along with snacks, and lollies, so don't be shy. Pack more Aussie treats than you think you will need.
Make up a care package for your besties overseas today!.
BUY NOW ON AMAZON: The Original TIM TAM biscuits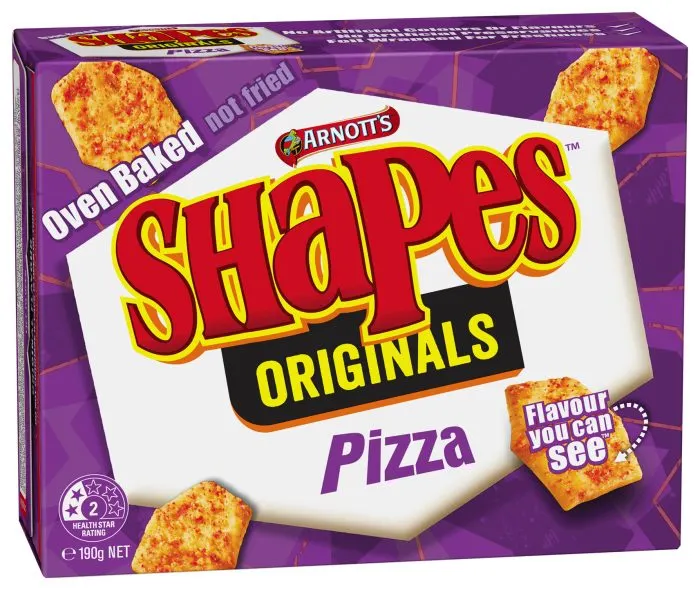 No.9: Popular Australian Savory Biscuits
Try these savory biscuits in Australia too.
Cruskits
Vita-Weat
Jatz crackers
Salada orginal
Sao biscuits (a staple in kid's lunchboxes with cheese and vegemite)
Arnotts Cheds cheese biscuit
Arnotts Shapes biscuits
Arnotts Sao biscuits with vegemite and cheese are good for kids lunch boxes too.
As mentioned, Arnotts Shapes biscuits are a party staple.
They are one of the top Australian foods you'll see at any kids party, bbq, or picnic.
Try Arnotts Shapes biscuits in:
Original pizza flavor
Barbeque flavor
Vegemite and cheese
Nacho flavor
Chicken crimpy flavor
Savory
Cheese and bacon, and
Cheddar cheese.
BUY NOW: Arnotts Shapes biscuits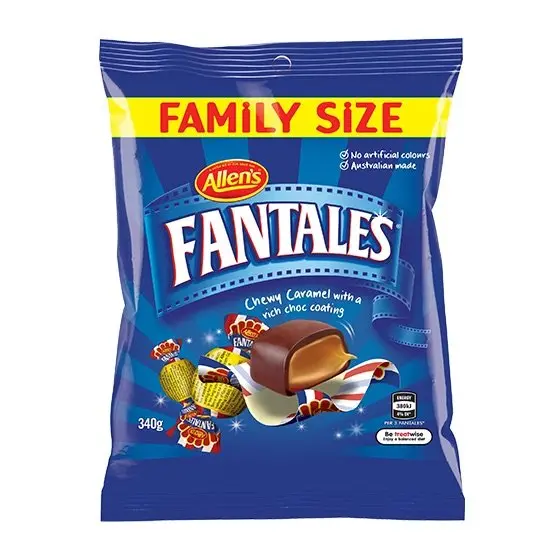 No.10: Popular Australian Candy and Snacks (Lollies)
Australian lollies are SO good!
They make wonderful Australian gifts for overseas.
FANTALES (pictured above) are individually wrapped pieces of chewy caramel fudge cubes coated in delicious rich choc. There's a story on each wrapper!
Try these popular Australian sweets at least once.
Musk lifesavers
Allens RedSkins
Allens Snakes Alive
Allens Cool Mints
Allens Strawberries and Cream, or Ripe Raspberries
Eucalyptus drops hard candies
The Natural Confectionery Company – various (try them all)
Banana lollies
Life Savers fruit pastilles, and Life savers fruit tingles
Uncle Toby's Roll Ups (promoted as a lunch box food, but really a sweet treat)
Buy enough of these sweet Australian food products to share around, and a few more for late night nibbles.
BUY NOW ON AMAZON: Fantails chocolate treats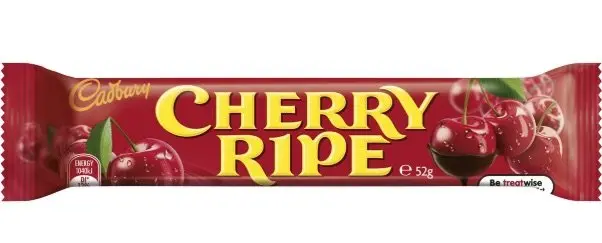 No.11: Popular Australian Chocolate
Cherry Ripe, mushed up cherries covered in milk chocolate, is made by Cadbury but only sold in Australia.
You either like it or you don't, but if you do, buy up big.
Fill your suitcase with Australian chocolate bars like this too, and you have the perfect Australian souvenirs for everyone:
Cherry Ripe Chocolate Bar (pictured above)
Violet Crumble bar – the popular Australian honeycomb candy
Cadbury chocolate block ( in all the flavours – dairy milk, peppermint, top deck, tropical pineapple, caramello, roast almond, fruit and nut, . SNACK is the best!)
Cadbury Flakes
Crunchies
Chomp
Boost
Curly Wurly
Fry's Turkish Delight
Twirl
Time Out
Mars Pods
Darrell Lea Licorice bullets (covered in chocolate) – this Australian licorice brand sells lots of different flavors.
Allens Freckles (the kids' favourite!)
You can also buy Aussie chocolate share packs, with 12-20 treat size pieces of your faves.
BUY NOW ON AMAZON: Cherry Ripe bar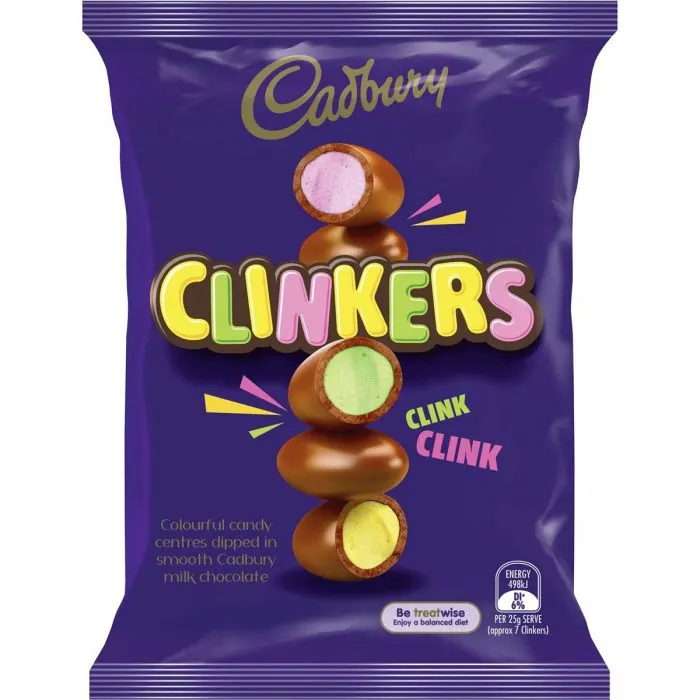 Special mention: Clinkers
CLINKERS are pink, yellow or green crunchy candy covered with milk chocolate.
OMG kind of GOOD.
Hot tip: Make THIS Clinkers Slice.
It's Australia's version of the the New Zealand Lolly Cake.
BUY NOW ON AMAZON: Clinkers chocolate treats
---
READ MORE: The Ultimate Guide to the Best New Zealand Candy (& Lolly Cake recipe)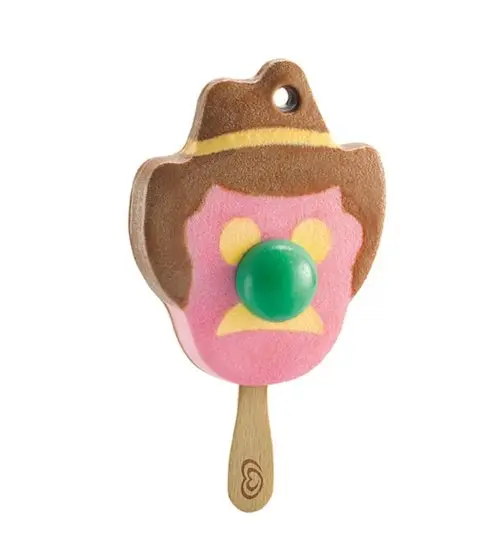 No.12: Popular Australian ice blocks
Golden Gaytime ice blocks and Bubble o'Bill ice blocks are winners of the best ice creams in Australia.
Followed by Paddle Pop ice blocks in these flavors:
Paddle Pop chocolate
Paddle Pop banana
Paddle Pop rainbow
Paddle Pop Choc Mint Paw Print
Made by Streets, these Paddle Pop ice creams are iconic!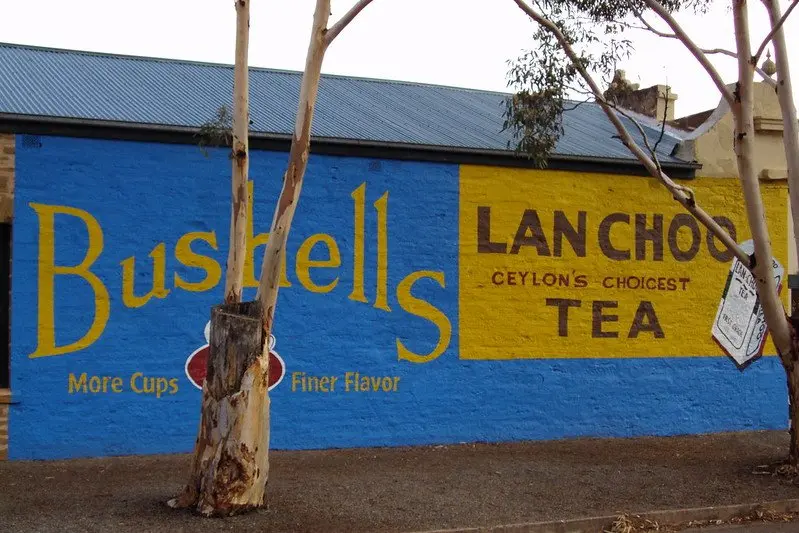 Image credit: Denisbin via Flickr CC BY-ND 2.0
POPULAR AUSTRALIAN DRINKS
No.1: Tea, Coffee, Fizzy Drink & Drinks for Kids
These are the most popular Australian drinks, for both summer sipping and rugging up on a winter's night.
Soft Drink
Bundaberg Ginger Beer
Lemon Lime Bitters
Lemonade
Passiona soft drink
Kirks Creaming Soda
Kirks Lemon Squash cans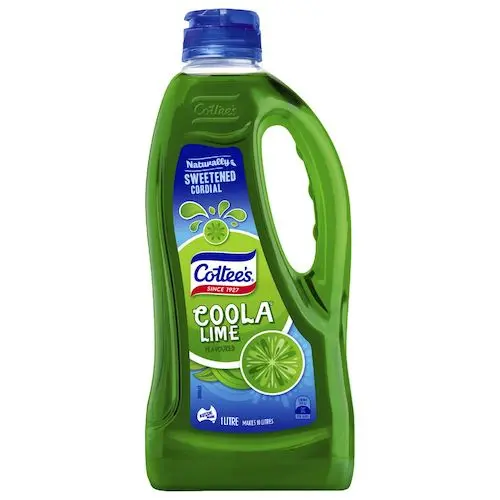 Cottee's Cordial & Ribena
Cottee's Cordials (apple and raspberry, apple and blackcurrant, orange, pine lime, raspberry but Cottee's LIME cordial is the best)
Ribena blackcurrant juice
Coffee & Tea
Australian's are MAD coffee drinkers, and you will find a QUEUE outside any good coffee shop from around 6am to 9am. Some people do brew their own beans at home, but it's now part of the culture to buy a good coffee on the way to work.
Very rarely, and only when left with no other option, Aussies will drink an instant coffee.
But expat Aussies will not say no to a jar if it means a taste of home.
It's the nostalgia that does it.
Tea on the other hand is a very popular drink to make at home for many people, a habit adopted from the big English migration here in the 1950's and 60's.
Blend 43 instant coffee
Bushells Blue Label Tea Bags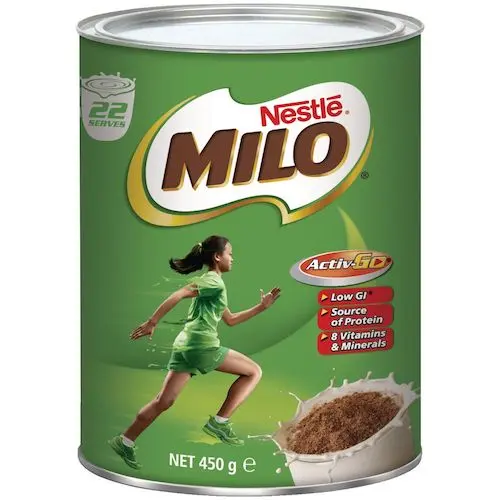 Chocolate Drinks
Nesquik milk flavouring – strawberry, chocolate
MILO chocolate malt drink (Hot tip: try eating it straight from the tin!)
Cadbury Drinking Chocolate
Saunder's Malt extract
Take a bottle of Australian made Cottee's cordial home for the kids, or a BIG tin of MILO and you will be a hero!
Kids need Australian treats every now and then, don't they?
BUY NOW ON AMAZON: MILO crunchy chocolate malt powder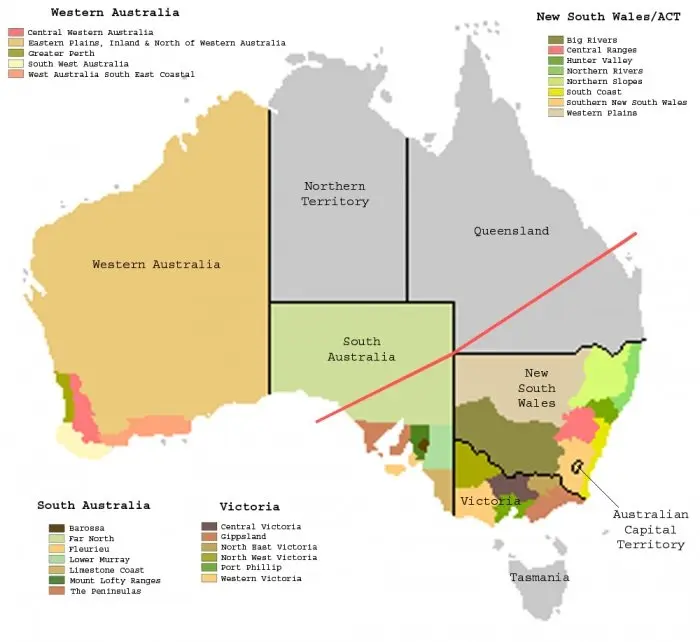 Image credit: Froggydarb
No.2: Australian Wine
Here's a link to the best 50 Australian wines of 2018, as voted by Wine Selector magazine.
This is as good a place as any to start your wine tasting journey in Australia.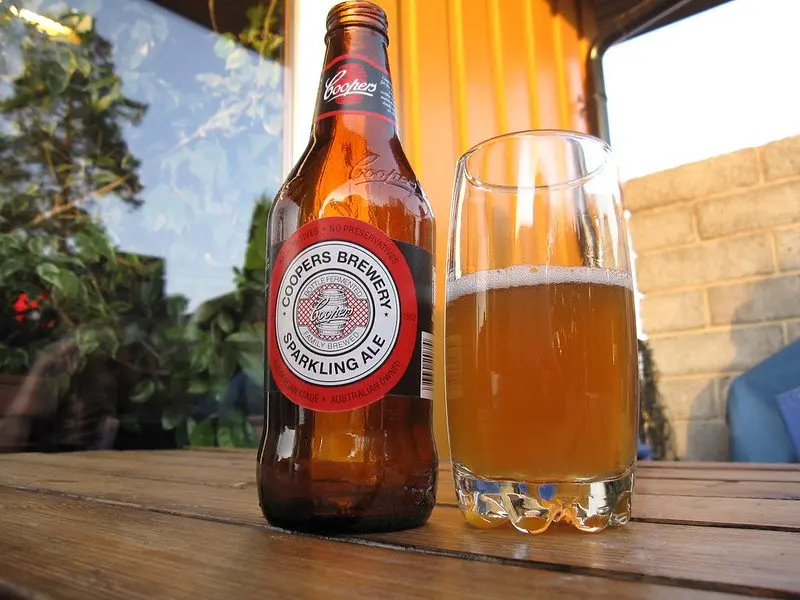 Image credit: Bernt Rostad via Flickr CC BY-2.0
No.3: Australian Beer
These are the most popular beer brands in Australia.
Stone & Wood Brewery in Byron Bay is a boutique beer brewery with a growing reputation as one of Australia's best craft beers producers.
Stone and Wood, Byron Bay
Tooheys New Can & Tooheys extra dry
XXXX Gold
Coopers Pale Ale
Victoria Bitter VB
Carlton Draught & Carlton mid
BEST AUSTRALIAN FOOD GIFTS
Some of the best souvenirs from Australia are food!
If you want to make up care packages of the best Australian food to send overseas, be sure to include:
Violet Crumbles, Cherry Ripe bars, Caramello Koalas
Minties, Jaffas, Chiko babies
Twisties, Cheezels
Arnotts Mint Slice biscuits, Arnotts Tim Tam biscuits, Tee Vee snacks
Jar of Vegemite
Tin of MILO
Jar of Lemon Butter
Box of Twinings Australian Afternoon Tea Bags
Pizza and BBQ flavoured Shapes biscuits
That's a good all-round box of Australian food souvenirs for starters.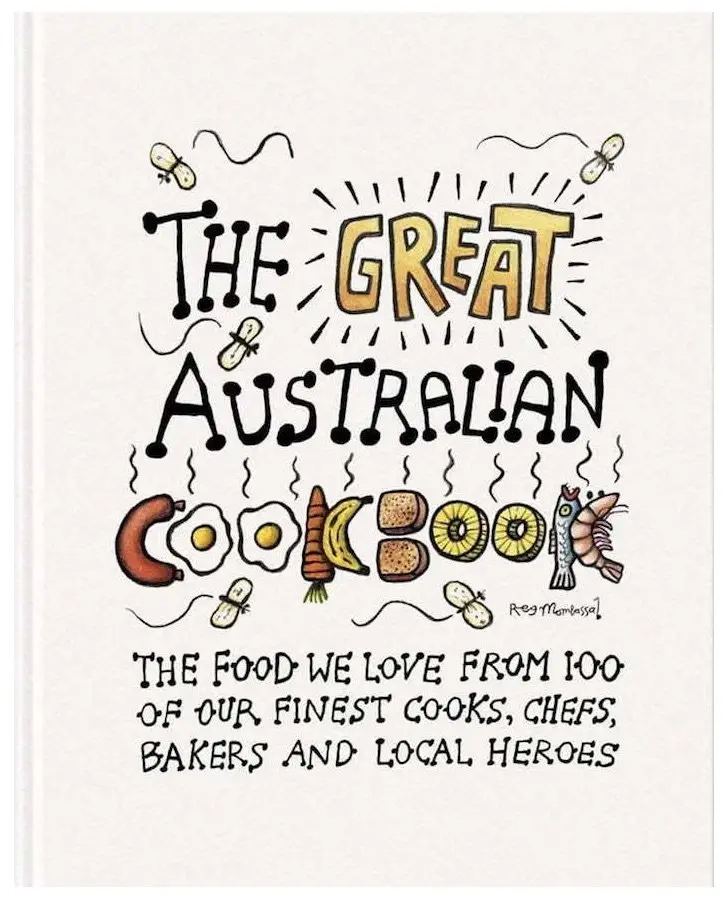 THE GREAT AUSTRALIAN COOKBOOK
165 recipes, including tried and true Aussie classics, as well as contemporary cuisine that showcases Australia's multicultural heritage.
These recipes were all cooked in the kitchens and homes of the recipe makers and photographed in situ.
The Great Australian Cookbook is a joyful collaboration of more than one hundred of Australia's finest:
cooks
chefs
bakers, and
local food heroes.
BUY NOW ON AMAZON: Click here for latest prices

5 Fun Australian Food Facts
No.1: Australia was the first place to taste Peanut Butter
Peanut butter was first released commercially in AUSTRALIA by Sanitarium Foods back in 1898, the first country in the world to taste this new spread!
No.2: The Lamington is the National Cake of Australia
The Lamington, named after Lord Lamington (a former Governor of Qld) is known as the 'National Cake of Australia'.
The vote was cast by the National Trust of Queensland.
No.3: Pavlova is named after Anna Pavlova
Pavlova was first created in the 1920's as a gesture of goodwill towards visiting Russian ballerina, Anna Pavlova.
Australia and New Zealand fight over who made it first, but we can safely say it's a draw.
It's the national dessert in both countries!
Want to have a go at making it yourself?
Start with the magic Pavlova egg
It's the trick to a perfect meringue base.
No.4: ANZAC biscuit got its' name in WWI
The famous ANZAC biscuit, made from rolled oats, butter, sugar and desiccated coconut were made famous as the biscuit of choice for the Australian and New Zealand soldiers fighting World War I.
These were baked by the women at home, and sent via ship to the fellows in the front line, a welcome treat and sustenance for war-weary battlers.
No.5: Best Australian Bush Foods
There are over 5000 native food species in Australia that fed the Indigenous Australian population before white settlement, including the aforementioned Macadamia nut.
You can now buy some of these bush foods in local supermarkets and deli's, including:
aniseed myrtle
wattle seed
native mint
finger limes and
Davidsons plum.
Playing with Fire is another distributor.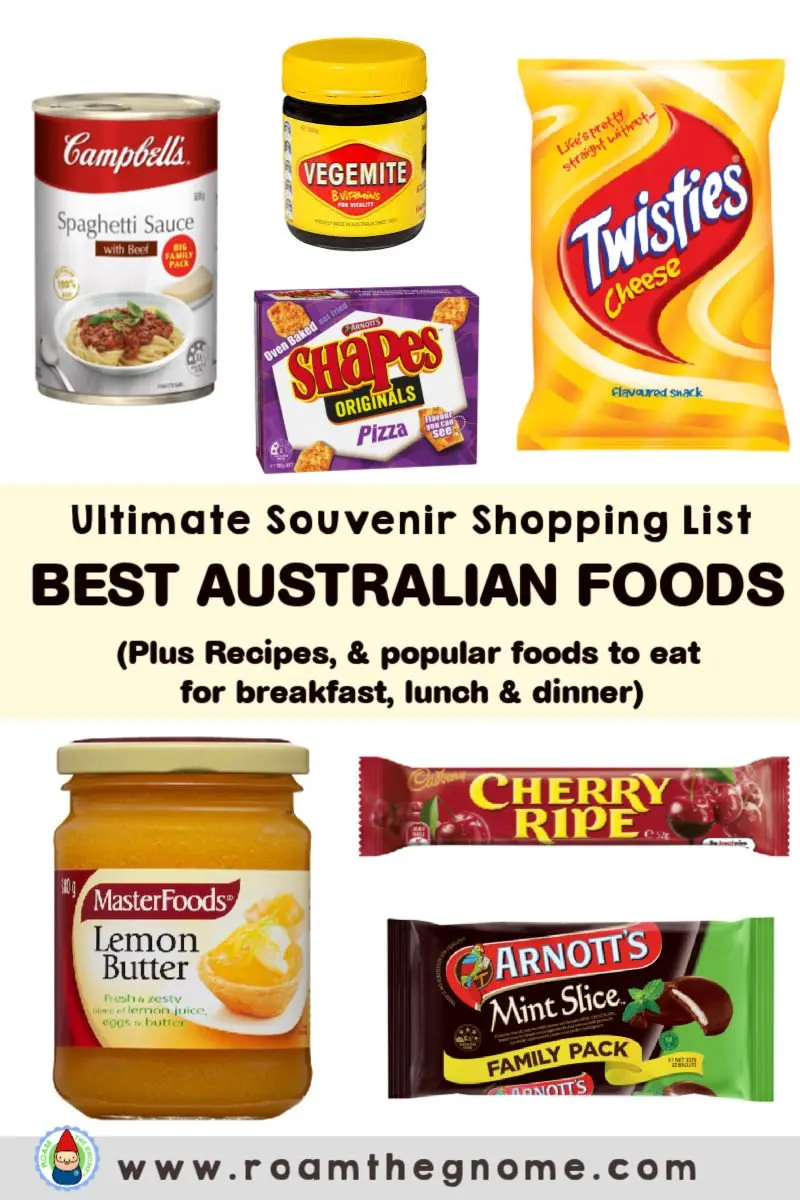 Now go and write your Australian Foods List so you know what to bring home from Sydney, Brisbane or the Outback!
Looking for fun things to do in Australia with kids?
Click the link below for more Sydney Australia tips