INSIDE: Roam the Gnome's Family Guide to Parsley Bay Beach Sydney.
Sydney is full of surprises!
Just 20 minutes from the CBD, there's a thick jungle of bushland that buffers a sweet little swimming area and grassy parklands that is a favourite of local families.
Save money by bringing your own picnic and drinks, as once you arrive at Parsley Bay Beach in Sydney, you won't be leaving for a while.
At least, not if the kids have anything to do with it.
Read our guide below, including details of how to get there.
Disclosure: This article contains affiliate links. If you make a purchase after clicking on one of these links, we may receive a small commission at NO extra cost to you.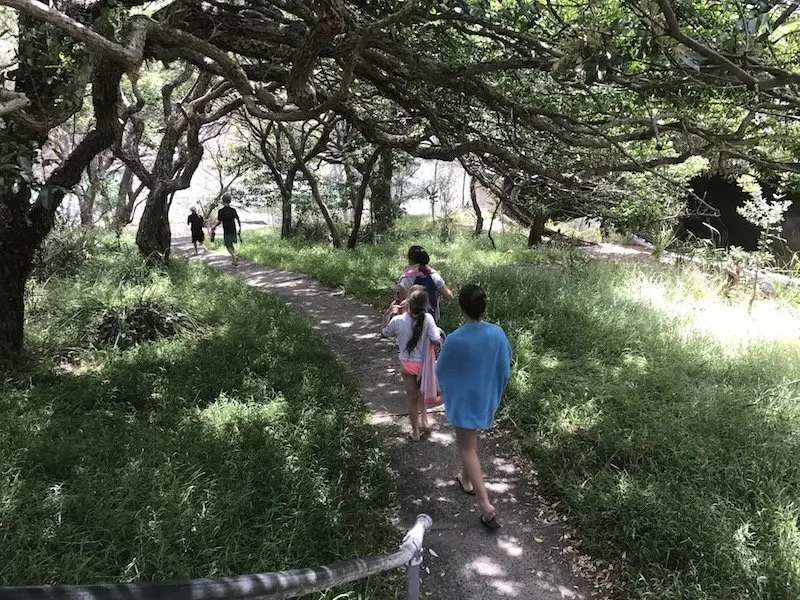 Things to do in Sydney with Kids – Parsley Bay Reserve
Our gang of six (Ned, Jack, Roam the Gnome, our cousins Imy and Holly, and myself) wandered down the Parsley Bay bush track from the roadway, after the parking fairies helped us out with the ideal spot on The Crescent avenue.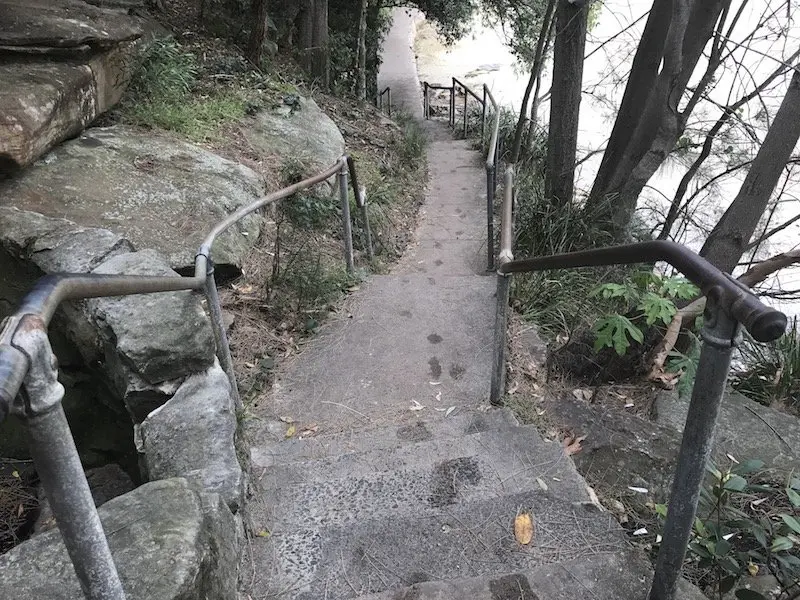 Staircase
Tucked away, at the end of the path and staircase, there's a flat-water bay of turquoise colour.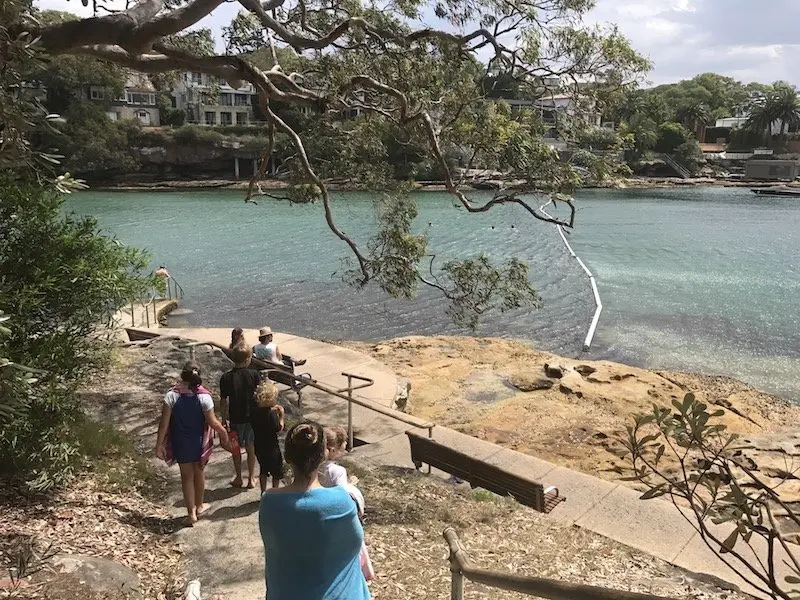 Arriving at Parsley Bay Reserve
With rocky sandstone outcrops, a short boardwalk jetty, and views of the harbour, Parsley Bay surprised us all.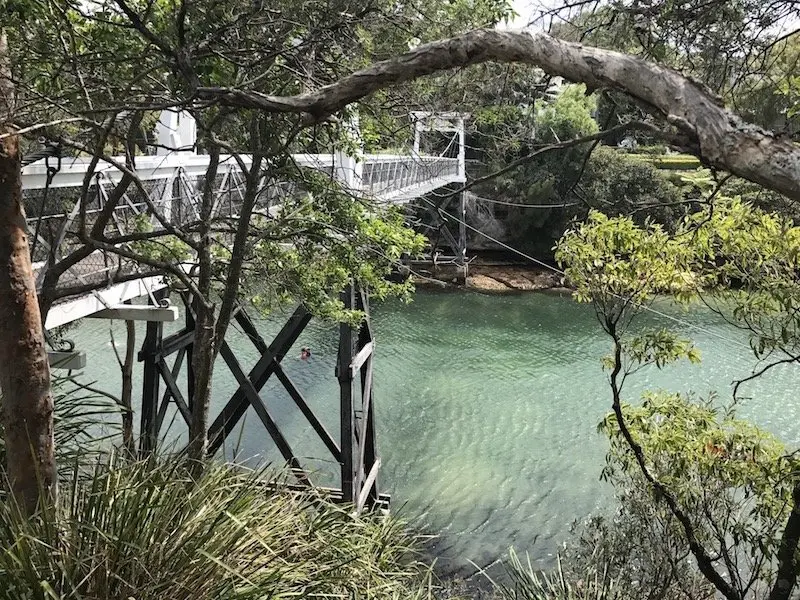 Family Friendly Sydney Harbour Beach
Who would know this inner city nature spot is hiding away down here?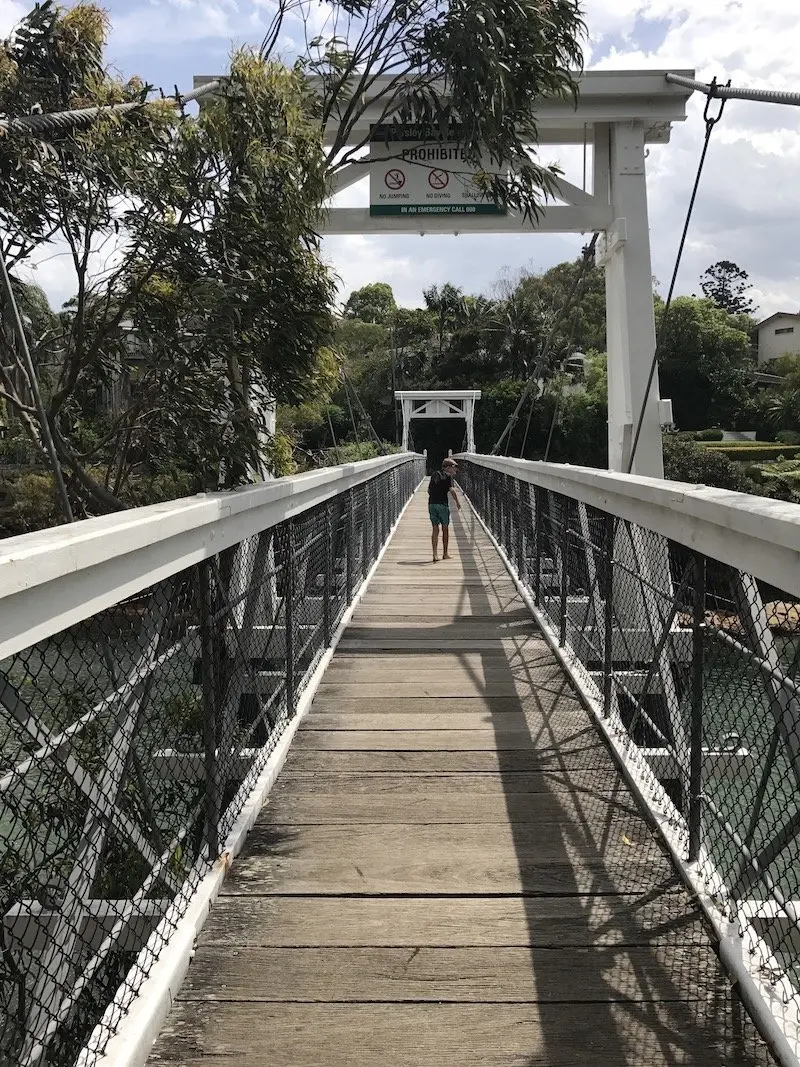 Parsley Bay Suspension bridge
Overhead, a picturesque suspension bridge beckons, and to the left, the path continued around craggy rock faces.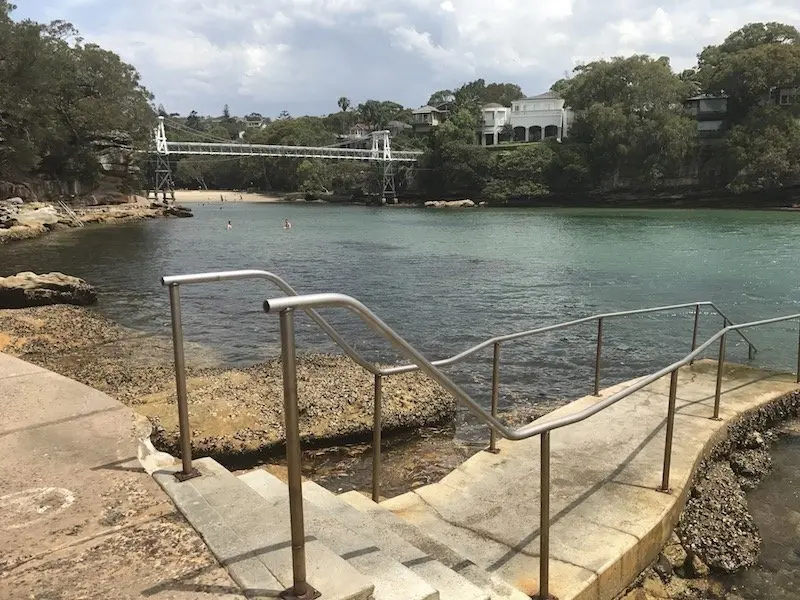 Ramp
Peppered along the walk, stood a concrete ramp leading down into the deeper water.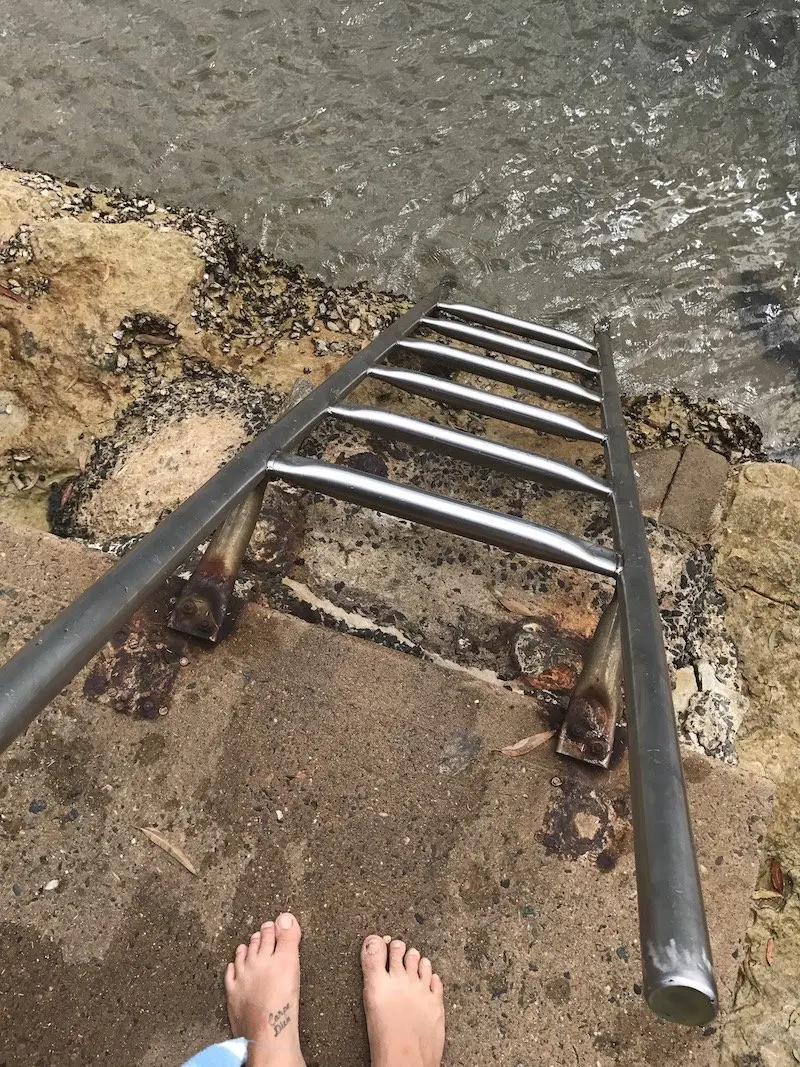 Ladder entry
A few metres further, there's a metal ladder positioned for access to the water for those who want to swim in the deep.
But we headed for the shallow end, and the sandy beach.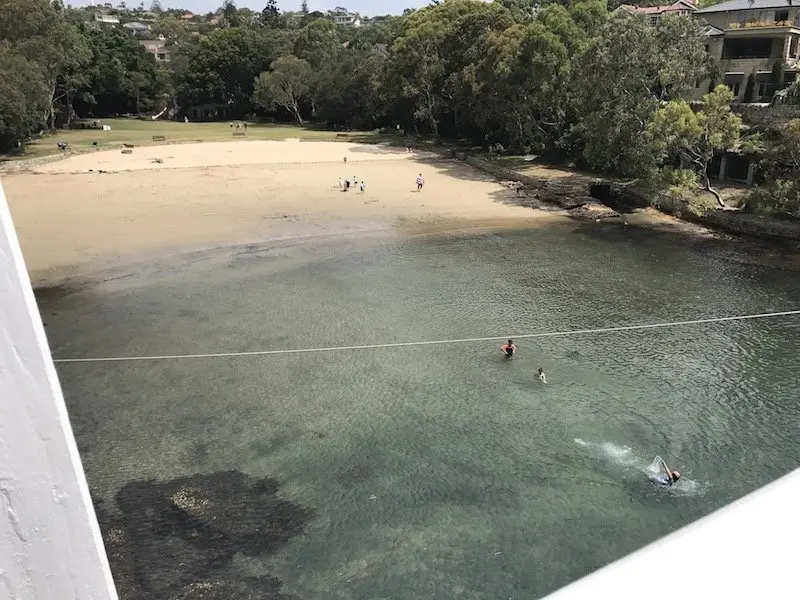 A place to put our towels and paraphernalia.
---
RELATED: Ultimate List of the Best Things to do in Sydney with Kids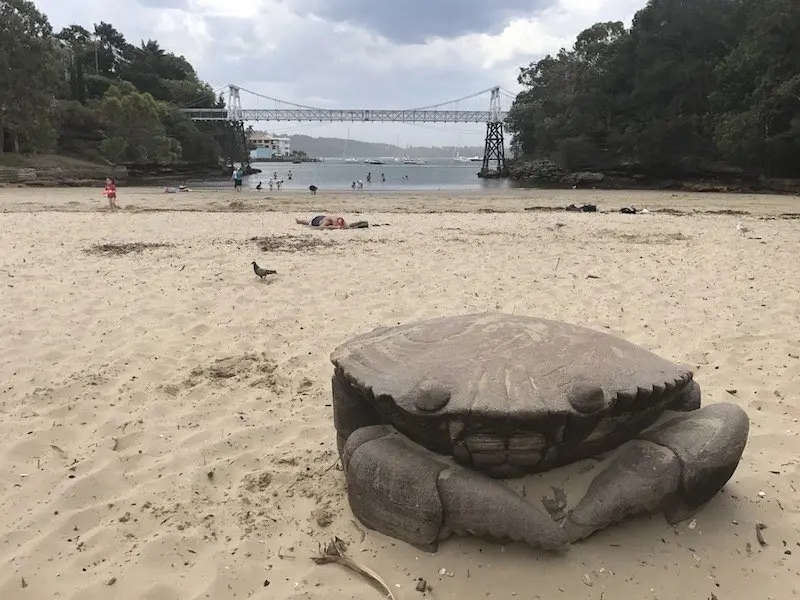 Parsley Bay Beach Sydney
The netted enclosure provides an approximate swimming area 150m long and 95m wide.
The kids wasted no time in jumping in.
While subject to tidal variations, when we visited, the water height was navigable by everyone from 4 years to 12.
Behind the beach, there's shady green parklands, and a decent playground (recently upgraded by Woollahra Council) to wear out the most hardy of kids.
NB: Harbour swimming enclosure is available during summer only.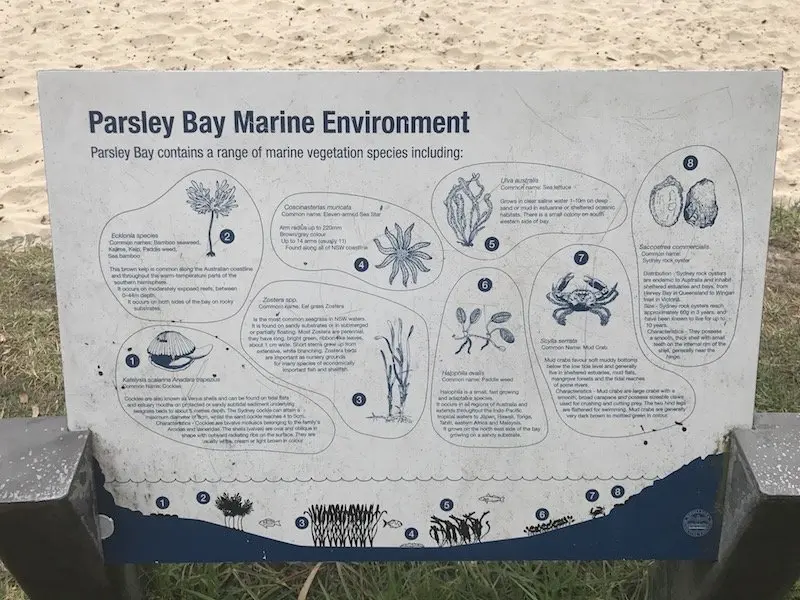 Parsley Bay Marine Life
There's lots of marine life in the area, including common native mud crabs and Sydney rock oysters.
Keep your eyes open.
Watch out for water dragons too!
Parsley Bay Reserve has it all.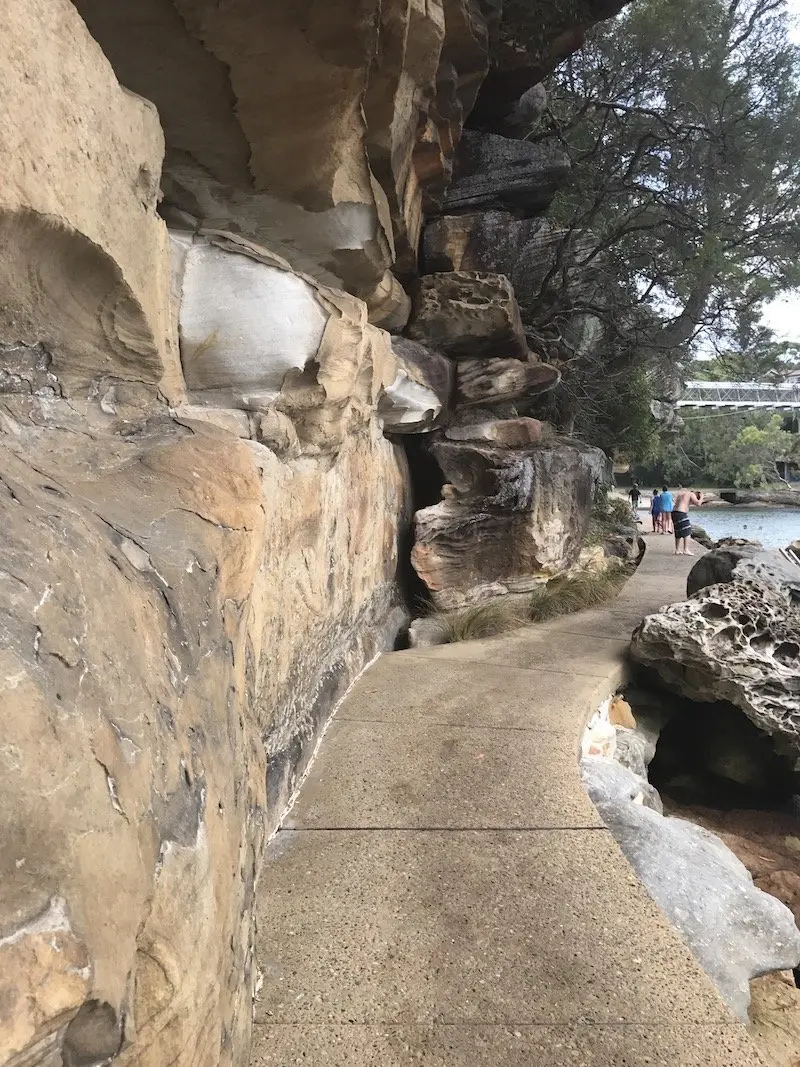 Parsley Bay Fishing
Parsley Bay is a top spot for land based fishing.
Conditions are good, as the headland keeps you protected from the winds and currents of the harbour.
Common catches are baby snapper, eels, bream, and flathead.
Bring your own camp chairs.
Watch out for oyster cuts.
The Parsley Bay Walk
Look out for the bushland walking circuit. It leads you to the waterfall at the entrance of the gully.
It's a 15-20 minutes return walk.
Image credit: Azura Lowe
Parsley Bay Kiosk
Parsley Bay ticks all the boxes, with new toilets on site, and a kiosk just in case you need it.
The Parsley Bay cafe is close the car park, and opposite the children's playground.
They have all your fave drinks, including coffee, chai, hot chocolate, bottled drinks, milkshakes, fruit smoothies and more.
Try something from the menu:
Banana Bread
Homemade muffins
Homemade dark chocolate goji berry and macadamia brownie
Toasted sourdough
Ham and cheese croissant
Bacon and egg sandwich
Beef burger
Grilled barramundi
Garden salads
Kiosk is open 9am to 4pm.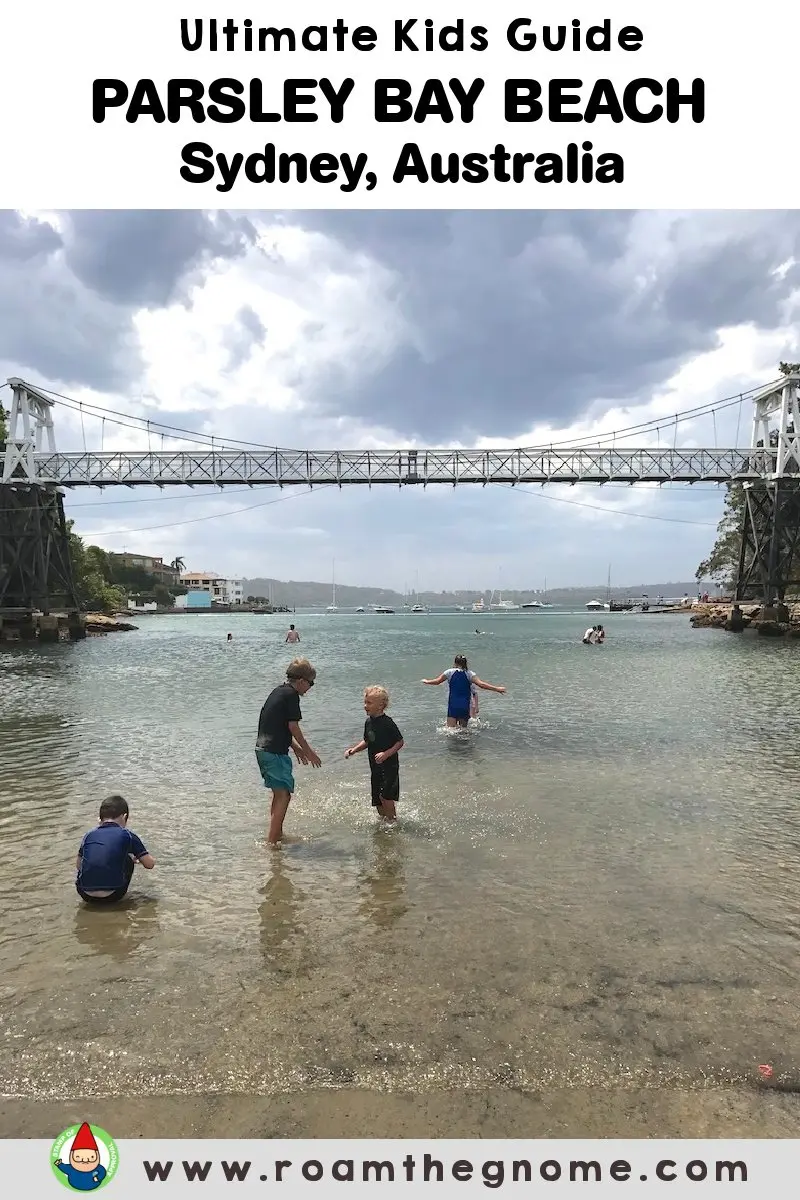 THE INSIDE SCOOP: Parsley Bay NSW
Correct at time of publication on Roam the Gnome. Please check with venue for updates. We apologise in advance if there have been any changes we are unaware of. All prices in AUD dollars, unless otherwise stated
Address: Parsley Rd, Vaucluse NSW 2030
Opening hours: Dawn to dusk
Entry fees: FREE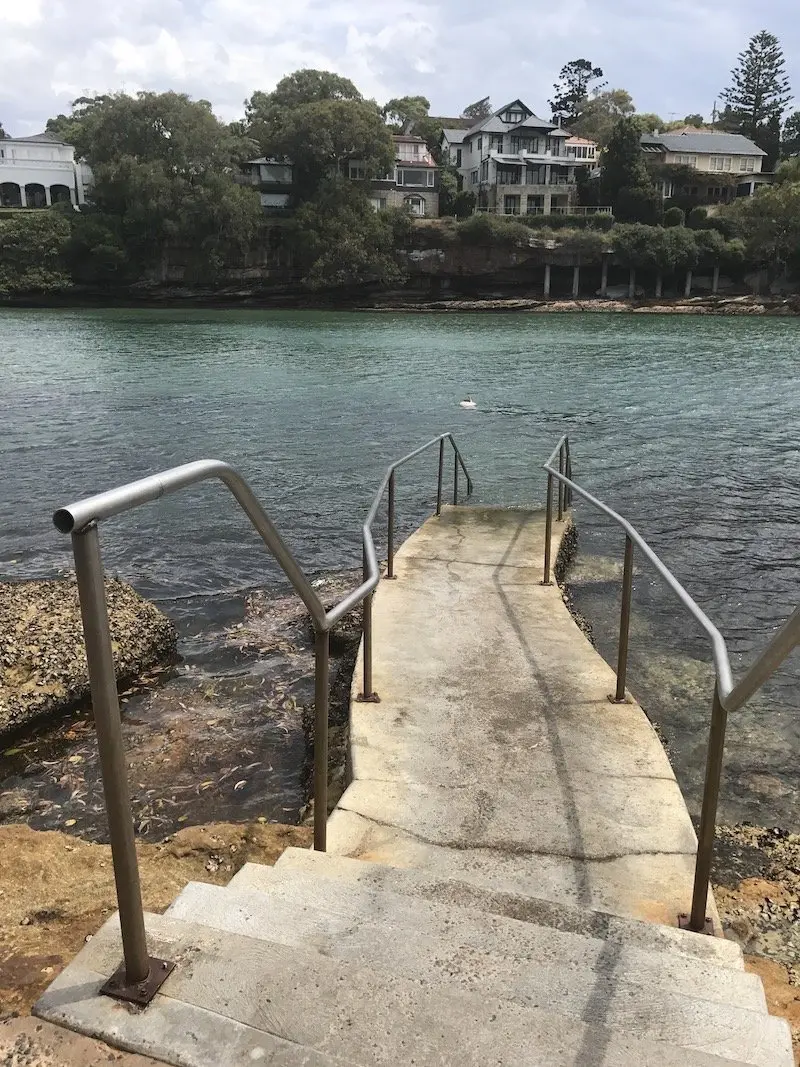 How to get to Parsley Bay Sydney
By Bus:
Catch a bus from Town Hall station towards Watsons Bay & The Gap. Buses 324 and 325 will get you there.
Disembark at Fitzwilliam Rd at Parsley Rd (Bus 325)
Disembark at New South Head Rd near Serpentine Pde (Bus 324)
By car:
There's two access points to Parsley Bay Beach:
Horler avenue car park
The Crescent and Hopetoun Avenue street parking (via bushwalk)
Click here for google map directions
Parsley Bay Parking
A small carpark is available from Parsley Road (Horler Avenue). Car park opens at dawn. It closes at approximately 6.00pm (non-daylight saving) and 8.00pm (daylight saving).
Pedestrian access available from The Crescent and Hopetoun Avenue via two concrete pathways through the bush. These pathways are hot! Wear thongs.
Parsley Bay Map
Facilities
Picnic tables: Yes
Public toilets: Yes. Ambulant toilet available too.
Dogs: Not allowed
Accessibility: Disabled facilities
MORE Spectacular Sydney Harbour Beaches near Parsley Bay
Check out our list of 10 MORE Sydney Harbour Beaches in the local area while you are here.
Shark Beach, Milk Beach and Camp Cove are must-visit spots.
Toadstool Rating:

NB: Parsley Bay Boat Ramp
Strangely, Parsley Bay Boat Ramp is NOT at Parsley Bay Reserve in the Eastern Suburbs near Vaucluse.
It's located at McKell Park, George St on the northern side of Sydney at Brooklyn and nearDangar Island.
Looking for More Places to swim in Sydney?
Click the blue links for more Sydney city attractions