INSIDE: Roam the Gnome's Hong Kong Public Transport challenge for families who travel!
Our hometown is in regional Australia and so we spend most of our travel time in a car.
So you can imagine what a big deal it is to have the opportunity to try out a whole bunch of OTHER TYPES OF TRANSPORT in a foreign country, including ones we've NEVER SEEN BEFORE.
Hong Kong is our favourite destination for this kind of adventure.
For very little outlay of time or money, it's really easy to take the kids on a BIG journey of on-road escapades..
How many types of public transport in Hong Kong can you catch in one day?
Take a look below!
Disclosure: This article contains affiliate links. If you make a purchase after clicking on one of these links, we may receive a small commission at NO extra cost to you.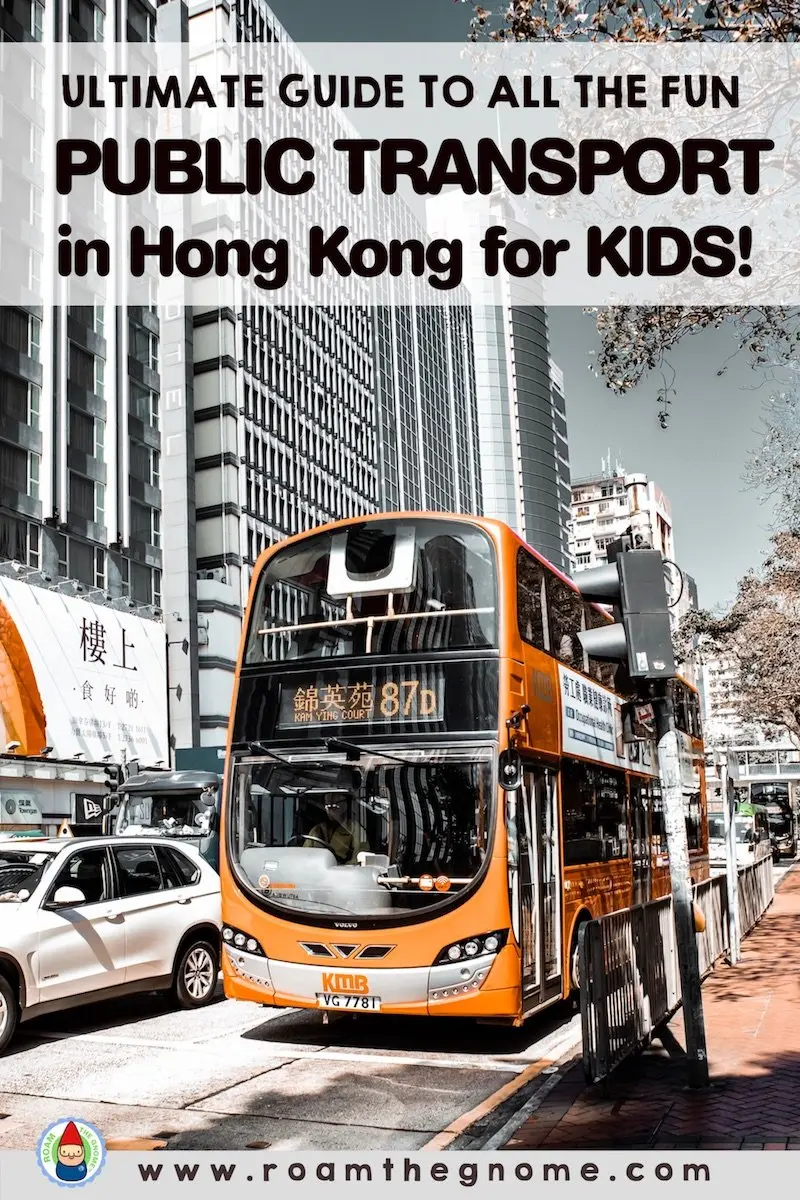 TAKE THE HONG KONG PUBLIC TRANSPORT FAMILY TOUR ADVENTURE!
First up, download the Hong Kong public transport app, here in the App store, and here on Google play.
This app is designed to:
do convenient searches for routes of different transportation modes including driving
show journey time and fares, and
keep you up to date with real-time traffic news so you can plan the most appropriate travel arrangements, and avoid congestion.
You can also access a good Hong Kong public transport map here to help you plan your itinerary and routes.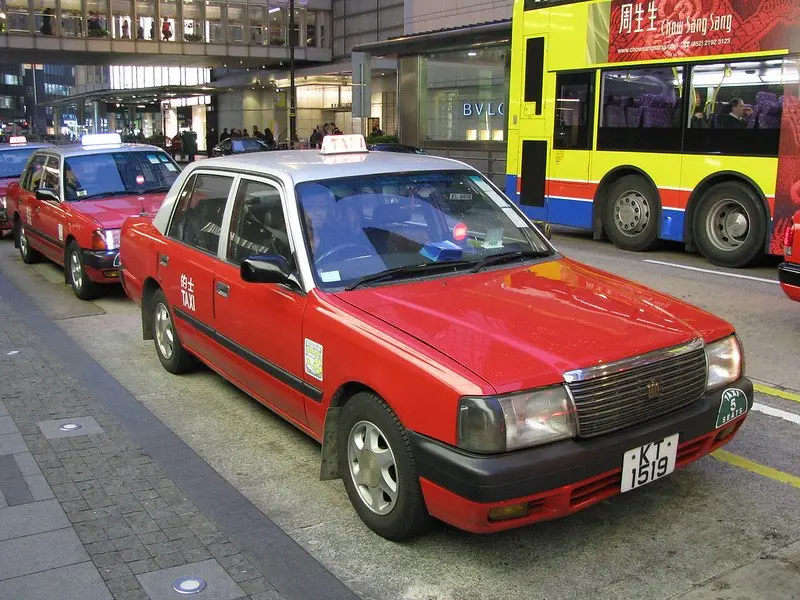 Image credit: Shankar S via Flickr CC BY-2.0
No.1: Hail a Red Hong Kong Taxi
Red Hong Kong taxis are probably the sweetest looking taxi's in the world!
Old school retro styling give them a certain charm.
You must catch a Red Taxi at least once to feel like a real Hong Kong local.
Red taxis are the most common taxi transport in Hong Kong, and are legally entitled to operate throughout Kowloon, Hong Kong Island, and the New Territories, including Hong Kong Disneyland.
Public transport is so cheap in Hong Kong that hailing a taxi in Hong Kong is an everyday event for those who live here.
Be sure to check out the taxi interior.
Never have you seen a taxi look so clean and elegant!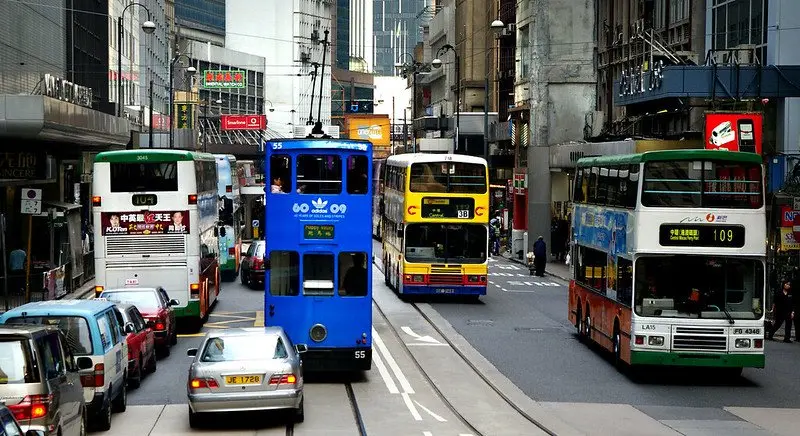 Image credit: Bernard Spragg, NZ via Flickr Public Domain
No.2: Hong Kong Buses
For those non-city dwellers like us, a bus ride is almost as good as the destination.
Buses in Hong Kong are clean and prompt, and can take you just about anywhere you want to go.
Why not hop on a bus to visit the Hong Kong Heritage Museum and spend time at the Children's Gallery there?
The bus stops right outside.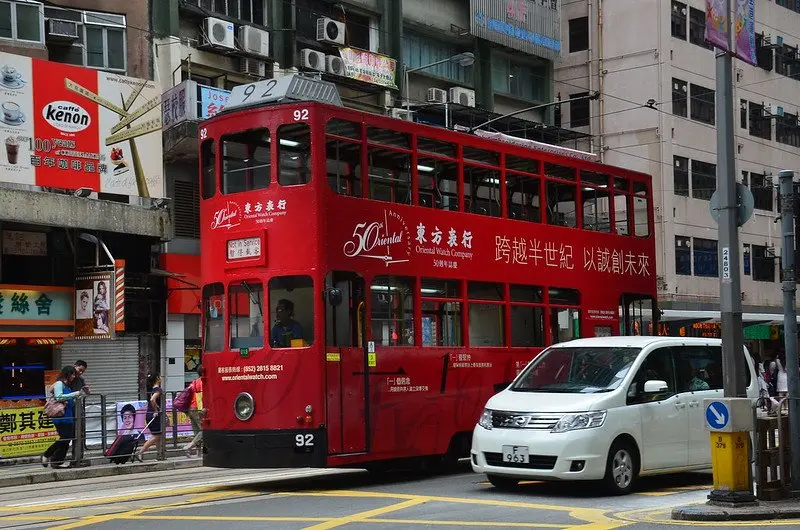 Image credit: RabunWarna via Flickr CC BY-ND 2.0
No.3: Travel in a Ding Dong Tram Hong Kong style!
Operating since 1904, the Hong Kong Trams run along a 13km length in the urban area of Hong Kong Island from Kennedy Town, through the central business and shopping districts of:
Sheung Wan
Central
Admirality
Wan Chai
Causeway Bay
Happy Valley,
The ding dong tram in Hong Kong service then goes all the way to Shau-kei-Wan.
There are 6 main overlapping routes and services that circle the city on 30km of tracks.

The 'Ding Dong' trams, as they are affectionately known, are the cheapest transport in town, costing a flat rate of $HK 2.60 for adults and $HK 1.30 for children under 12. (Check current fares here)
Pay by putting correct coins in the fare box when hop on board or when you disembark, or tap your Octopus card.
NB: No change is available on board, so come prepared either way.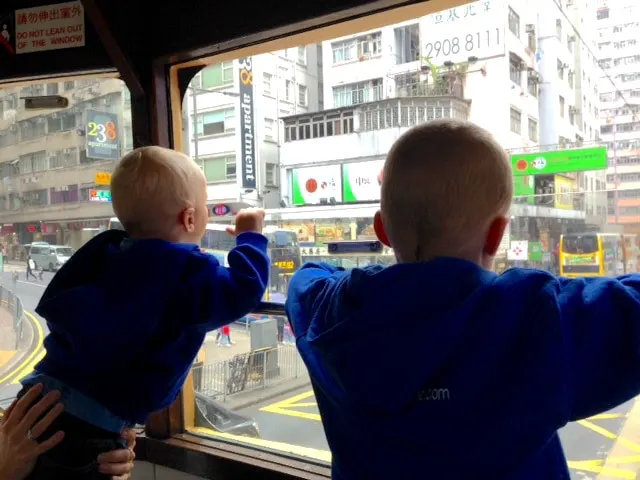 Watch the windows!
Be sure to keep a close watch on the kids near the Ding Dong tram windows.
The windows do open and scarily, the distance between your tram, and the one passing next to you, is miniscule.
Just enough for a breath of air to pass through.
Keep hands and fingers OUT of the way!
Hot tip: Head upstairs! It's not often you get to see a city from so high up, or from such a narrow vehicle.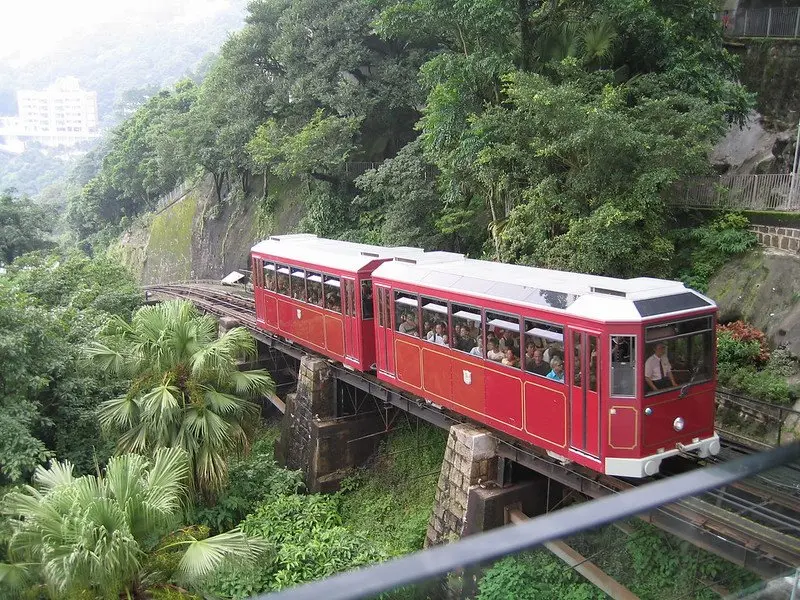 Image credit: Glenn Strong via Flickr CC BY-SA 2.0
No.4: The Peak Tram Funicular
Taking the world's steepest funicular railway all the way up to Victoria Peak in Hong Kong is a must if it's a clear day, for the best views of the city from up high.
But the Peak Tramways itself is heaps of fun.
Popular with tourists and locals alike, it's the quickest and most scenic way to get to the top.
Just seven minutes in duration, the Peak Tram also an opportunity to show your kids a bit of magic!

The optical illusion* created when you sit aboard the tram while reclining backwards makes the high rises on the right side of the tram look like the Leaning "Towers" of Pisa!
Be not alarmed.
It's just your mind playing tricks on you!
*The study is published in Psychological Science, a journal of the Association for Psychological Science in 2013.
Fun Things to Do at the Peak Hong Kong
There's plenty to do at the top too, so put this Hong Kong transport ride on your list.
Be sure to visit Monopoly Dreams, the World's First Monopoly theme park!
And Madame Tussauds in Hong Kong to see ALL the best celebrity wax figures, and more!
---
Save Money: Buy a Hong Kong Pass with entry to 10 popular Hong Kong attractions (including Peak Tram Sky Pass)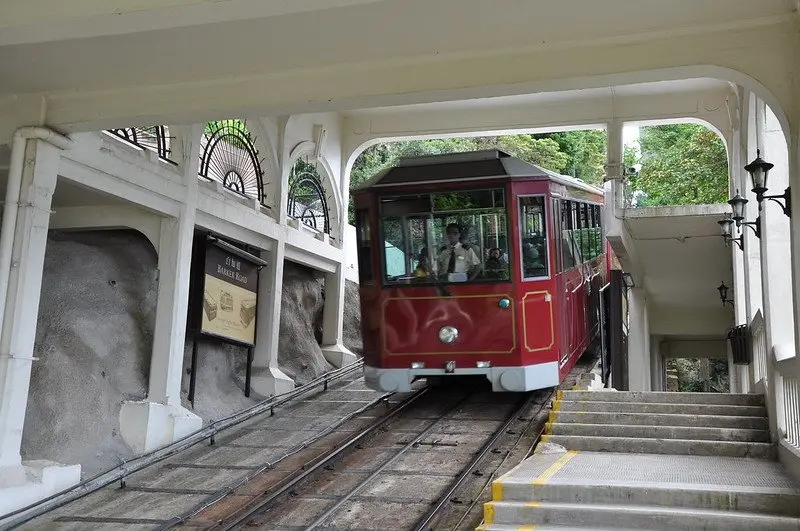 Image credit: RabunWarna via Flickr CC BY-SA 2.0
Peak Tram tickets
Return tickets for The Peak Tram are $HK 52 for adults and $HK 23 for kids aged 3 -11.
Single tickets for the Peakways tram are $HK 37 for adults and $HK 14 for kids aged 3 -11.
Note: Peak Tram Upper Terminus (The Peak Tower) sells Peak Tram tickets only.
Peak Tram Sky Pass
The Peak Tram Sky Pass, which includes the Peak Tram and Sky Terrace 428, the highest 360° viewing platform in Hong Kong, costs:
HK$99 for adults return, or HK$84 one way
HK $47 for children 3- 11 years return, or HK $38 one way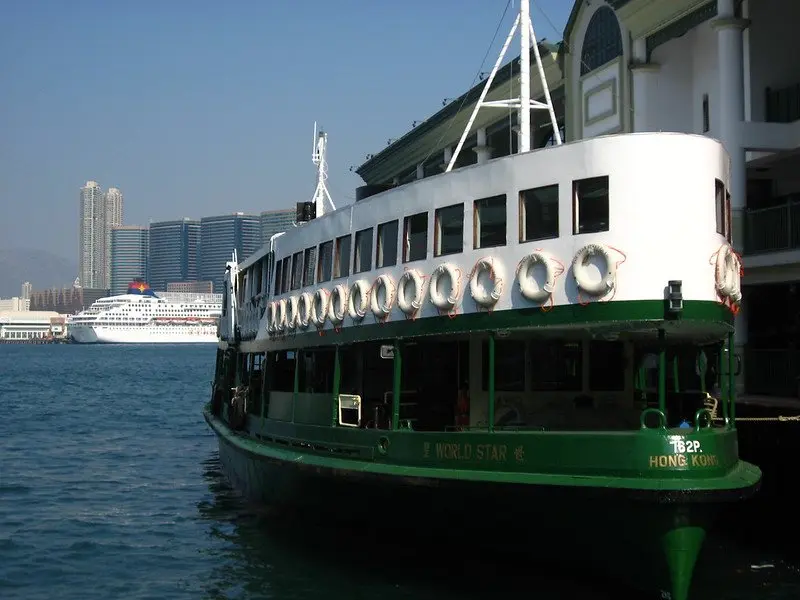 Image credit: SnickClunk via Flickr CC BY-SA 2.0
No.5: Star Ferry
One Hong Kong public transport ride you must put on your list is a trip across Victoria Harbour on the world famous Star Ferry.
For HK $2.70 for adults for the upper deck, or HK $2.20 for the lower deck, you can travel on these Star Ferry fares between Hong Kong Island and Kowloon ferry terminal, all day long from Monday to Friday, without putting a dent in your wallet.
The Star Ferry ride fare is equivalent to US 35 CENTS!
Star Ferry childrens fares are:
HK $1.60 (upper deck, Monday to Friday)
HK $1.50 (lower deck, Monday to Friday)
HK $2.20 (upper deck, weekends and public holidays)
HK $2.10 (lower deck, weekends and public holidays)
Adult ferry services fares on weekends, and public holidays cost:
HK $3.70 (upper deck)
HK $3.10 (lower deck)
(Check latest Star Ferry prices here)
This ferry trip must be the cheapest public transport in the world.
Even better, kids under 3 are FREE!
Read our review here.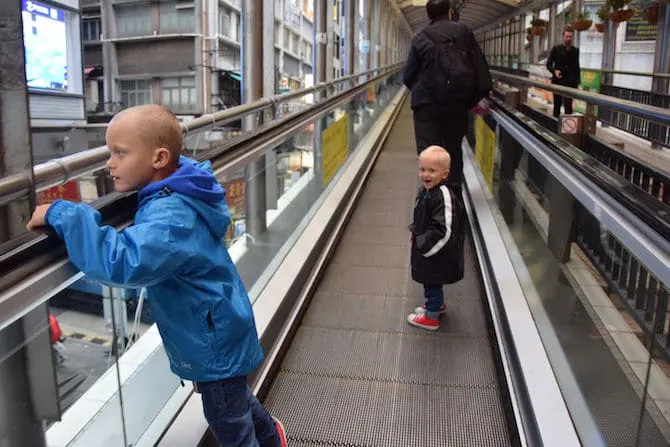 No.6: Longest Escalator in the World
Did you know that the WORLD's LONGEST outdoor covered escalator and walkway system in the world can be found in HONG KONG?
The world's longest escalator runs through the whole length of Cochrane Street, between Queen's Road Central and Hollywood Road.
Then the Central Mid-Levels Escalator runs along the entire length of Shelley Street.
Here's a fun fact: They filmed scenes for the Batman Film, the Dark Knight, here in 2007.

If you go all the way to the top, turn left and walk for a short while to come to the Hong Kong Zoological and Botanical Gardens.
There's a fabulous playground area at the very top of the park that will be a welcome relief from all that walking.
Hot tip: Leave the stroller behind for this one. Bring the Ergo carrier, or your favorite backpack carrier for the toddler instead.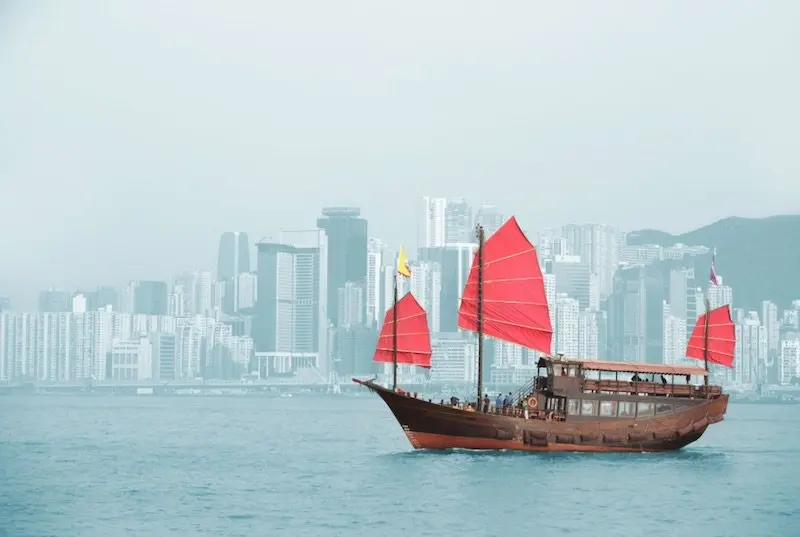 Image credit: Patrick Foto via Flickr CC BY- 2.0 (25-5-16)
No.7: Sail Victoria Harbour on the Aqua Luna Red-Sailed Junk Boat
You can't miss the odd junk boat as they meander in amongst the bigger boats.
It's a romantic sight in Hong Kong, and one Ned was mesmerised by.
We didn't know at the time, but you can TAKE A RIDE on one of these.
The Aqua Luna, one of the last remaining junk boats in Hong Kong, sails Monday to Friday from Tsim Sha Tsui and Central, as a hop-on hop-off cruise with four stops including:
the Maritime Museum, and
the Hung Hom neighbourhood.
From start to finish, you'll sail the Victoria harbour circuit in around 45 minutes.
But if you do stop off, they'll be back within the hour to collect you.
Weekend trips take 90 minutes, and incorporate a stop at the Stanley Markets.
(Did someone say 'market'? We're booking our next trip to include a weekend stay in Hong Kong so we can visit.)
This is one adventure for the Hong Kong bucket list.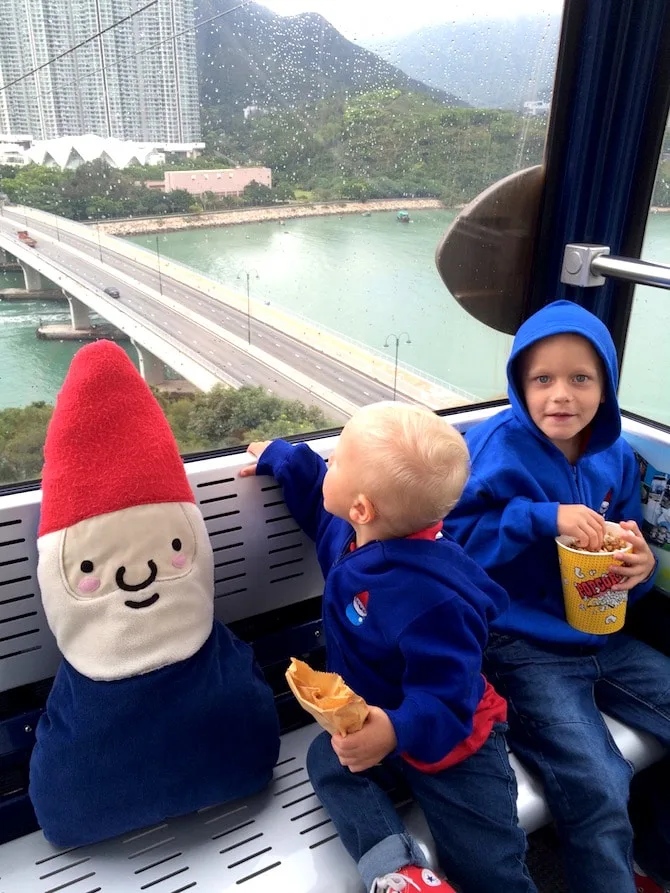 No.8: Catch a Ngong Ping Crystal Cabin Cable Car to the Giant Buddha
Yes, a clear-bottomed, see-through crystal cable car at Ngong Ping can take you from Tung Chung station, and the Ngong Ping Cable Car Lower Terminus, right up to Ngong Ping 360 village, and the Giant Buddha.
My kids LOVED this 1 day itinerary in Hong Kong, and the Ngong Ping Cable Car journey, swaying in the mist and wind, was the highlight.
Take a peek at our video here.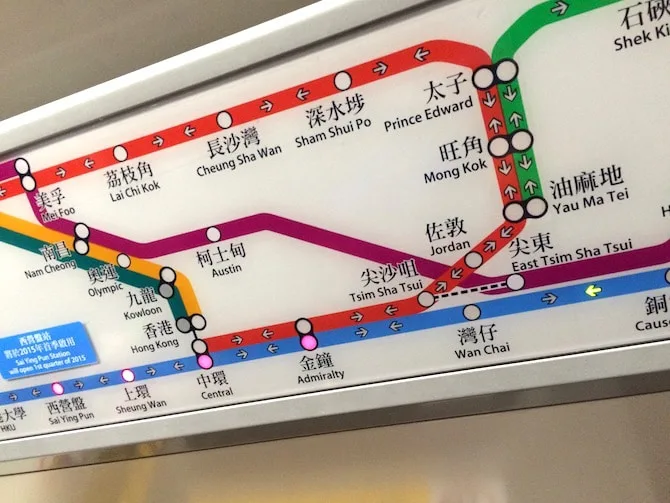 No. 9: Take the MTR train in Hong Kong (Mass Transit Railway)
The MTR rail network is a convenient way to get around Hong Kong.
Created in 1979, the MTR has ten main commuter lines serving Hong Kong Island, Kowloon and the New Territories.
Download the Hong Kong MTR map here.
Take the MTR to Sunny Bay Station, and change to the Disneyland Resort Line.
This will take you all the way to Hong Kong Disneyland to ride these extra-fun "modes of transport" below!
Image credit: Shankar S via Flickr CC BY-2.0
No.10: Airport Express Hong Kong
The Hong Kong Airport express train is the fastest way from the Hong Kong international airport to Central.
It takes just 24 minutes on this Hong Kong transportation from airport grounds.
They operate from 5.50am to just after midnight daily.
Catch this fast train at least once, to knock it off your Hong Kong transport checklist.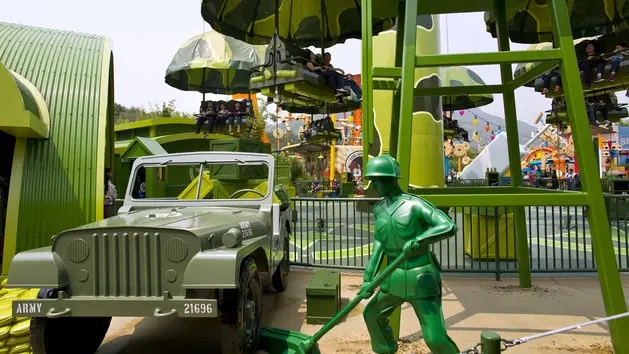 No.11: Green Army Toy Soldier Parachute Drop at Hong Kong Disneyland
Ok, we admit it.
This ride might not quite classify as public transport in Hong Kong, but IT IS OUR GUISE to include Disney magic in the Hong Kong fun!
We LOVE Disney and any opportunity we have to share Disney magic with our readers, we'll take it.
This Hong Kong Disneyland ride replicates a parachute training drill, dropping from up high in the sky, so we HAD to include it in our list.
It's somewhat similar to a scenic Hong Kong airplane flight.
No?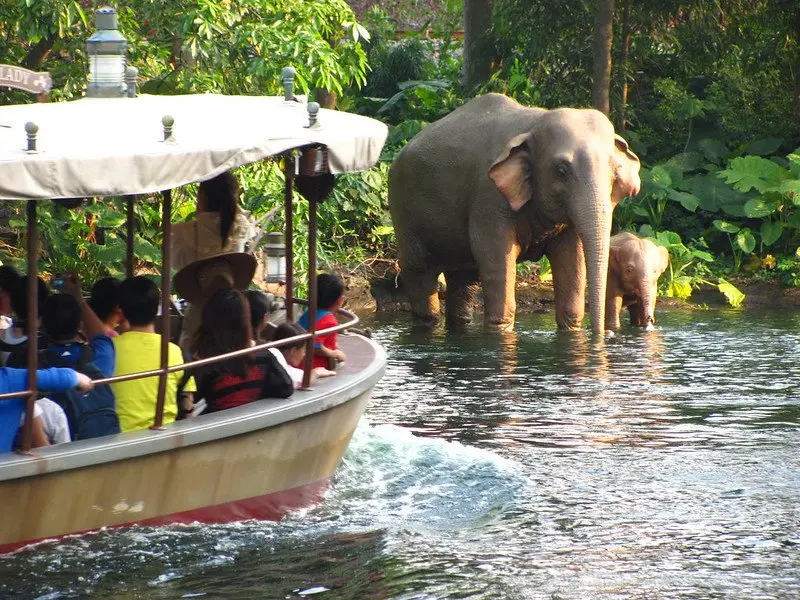 Image credit: Jeremy Thompson via Flickr CC BY- 2.0
More Hong Kong Disneyland Rides that involve transport
Actually at Disneyland, you can try out another whole bunch of transportation you can ride:
sail through the forests on a Jungle River Cruise
catch a Raft to Tarzan's Treehouse
ride Cinderella's Carousel
travel on Dumbo's flying elephant
hop aboard the Disneyland Railroad
spin in one of Mad Hatter's Tea Cup
Or if you are brave enough, there's even Big Grizzly Mountain Runaway Mine Cars to take your breath away!
Who's coming?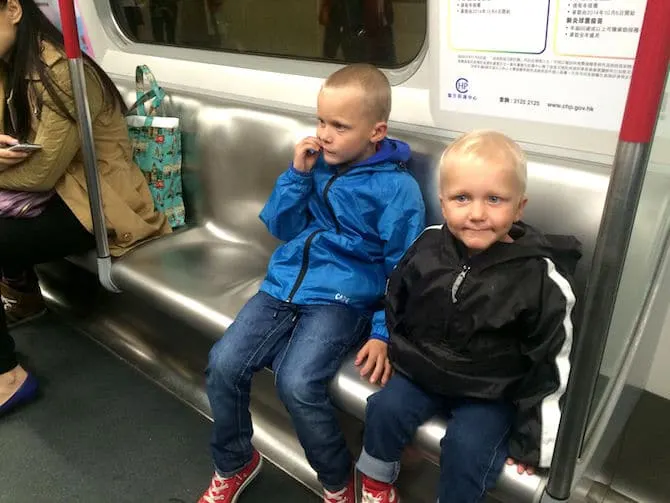 Looking for more fun things to do in Hong Kong with kids?
Correct at time of publication on Roam the Gnome. Please check with venue for updates. We apologise in advance if there have been any changes we are unaware of. All prices in US dollars, unless otherwise stated
Click the blue links below for more Hong Kong attractions on Hong Kong Island, Kowloon, The New Territories and Lantau Island