INSIDE: Take a sneak peek inside the best Hong Kong museum for kids, the Heritage Museum in Sha tin.
Kids LOVE the innovative and interactive Children's Gallery at the Hong Kong Heritage Museum, and it will keep them occupied for hours.
There's multiple levels, and a surprise around every corner.
Take a look inside below.
Disclosure: This article contains affiliate links. If you make a purchase after clicking on one of these links, we may receive a small commission at NO extra cost to you.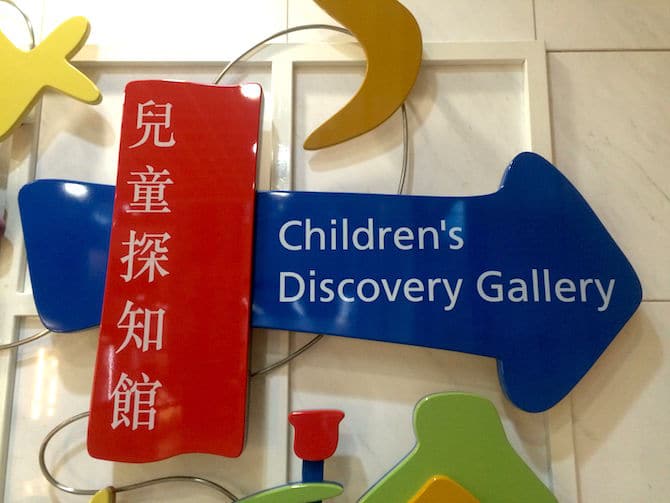 Best Hong Kong Museum for Kids!
Hot tip: If there's two adults travelling together, the layout of the Heritage Museum children's gallery makes it easy to supervise single-handedly, so one of you can sneak off to explore the museum proper.
Then swap.
The Hong Kong Heritage Museum has six permanent exhibition galleries for the display of the museum's collections, and six thematic galleries for temporary exhibitions.
I always secretly prefer the kids section though!
Children's galleries at museums are full of hands-on fun, they are BRIGHT and colorful which appeals to my inner child, and there's no need to shuush the kids to keep quiet.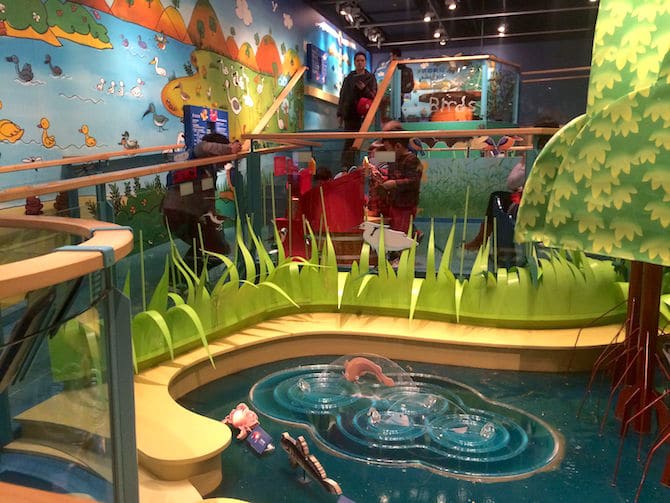 Hong Kong Heritage Museum Children's Discovery Gallery!
This place is geared towards kids 4 to 10, but Jack (aged 2 at the time) was just as entertained as his big brother, until he went to sleep in the pram!
But that was easy too.
On the bottom floor, I just rolled him along with us, and when Ned wanted to explore the upper level via the ramp, I could keep an eye on both kids easily.
There's only one door in and out too, so the kids are pretty safe in here anyway.
When we arrived, it was quiet and peaceful and we had the place almost to ourselves.
But less than 20 minutes later, two school groups arrived and that all changed.
The atmosphere was more jovial when the school kids were there.
Ned had kids to play with, even though most of them couldn't speak a word of English and he couldn't speak Cantonese. Didn't matter a bit!

The Children's Gallery includes opportunities to learn about nature, archeology and history of Hong Kong.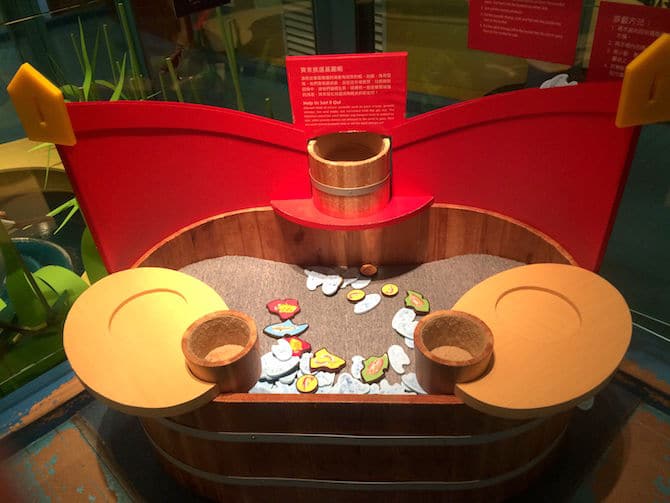 Play and Learn Zones at HK Heritage Museum
There are EIGHT play and learning 'zones' inside the Hong Kong Heritage Museum's Children's Gallery.
Here's a quick overview of the activities in each section: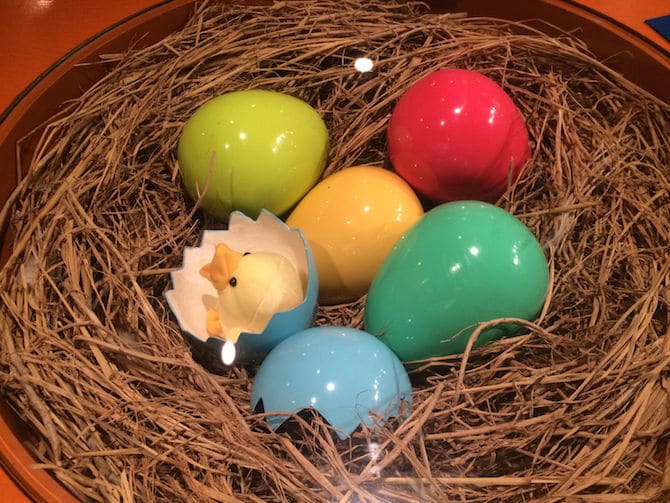 No.1: Roam through the Mai Po Marshes
Fisherman's Catch
Kids can:
play fisherman, and sort out the adult shrimp from the other marine life in the Gei Wai (shallow pond), so that they can be transported to market to sell.
sort out the different types of marine life and return the juvenile shrimp back to the 'pond' (via a rolling tube – fun!).
The Fiddler Crab, Mudskipper and Shrimp are dancing ambassadors from Mai Po Marshes.
Egret babies
Hear the Egret babies call by pressing a green button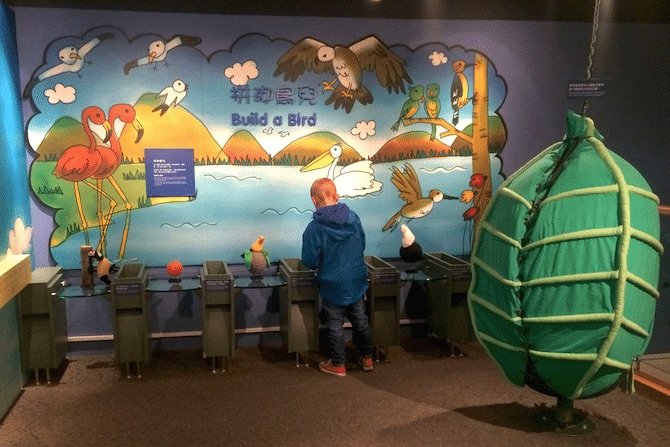 No.2: Animals and Birds Section (up the ramp walkway)
Build a Bird
There are different bird parts from six different birds. Children are tasked with assembling the parts into the right bird according to the features of each bird.
Take a spin in the swing cocoon
Kids can hop inside the cocoon for a ride.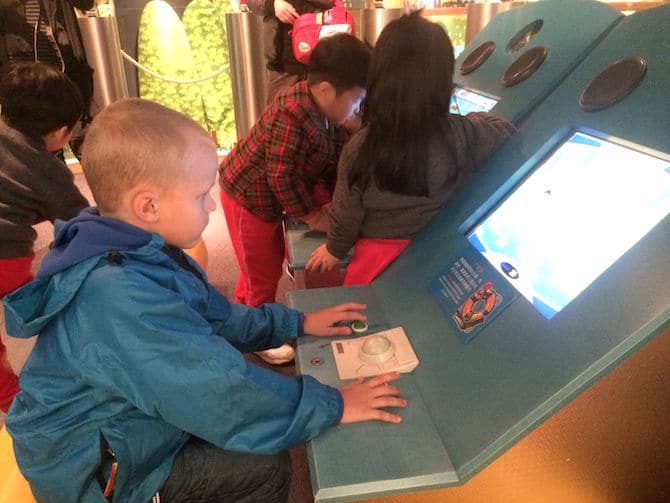 Animal Games
Kids can interact with technology and learn about animals through computer games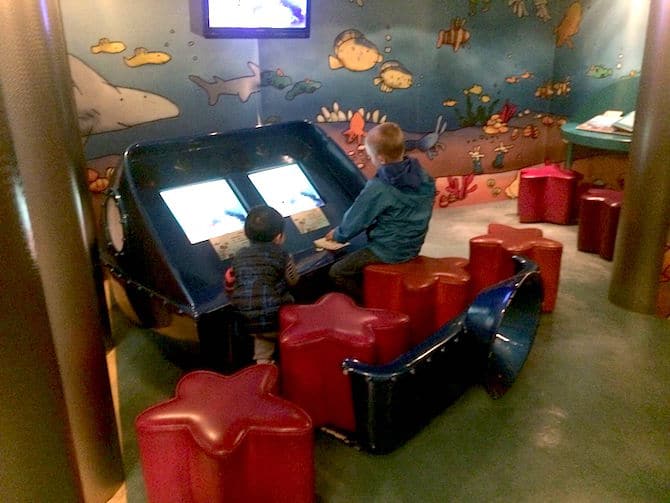 No.3: UnderSea Garden
Interactive Video
There's interactive video screens where children can learn more about marine life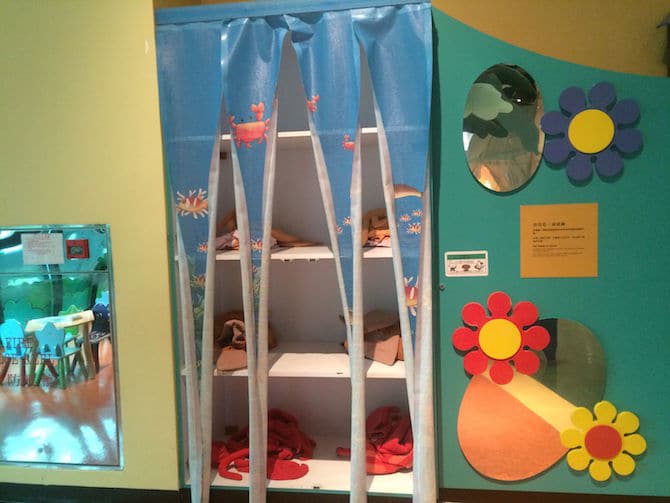 Dress Up Zone
Dress up as a crab or some other kind of sea creature and twirl about in the mirrors in this zone.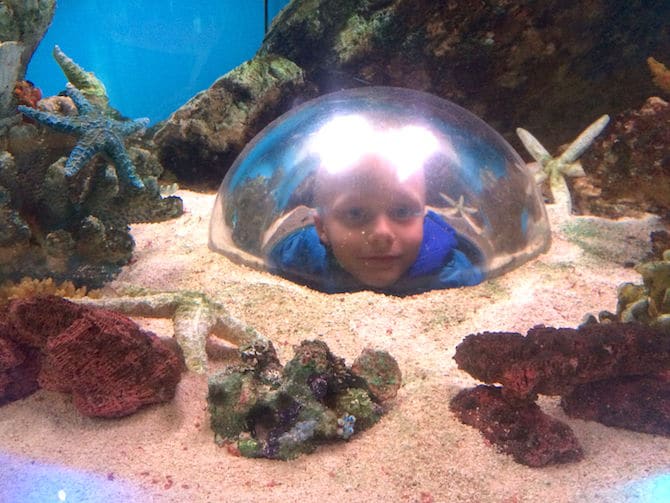 Undersea bubble!
Pop up in a under-sea bubble to say hi!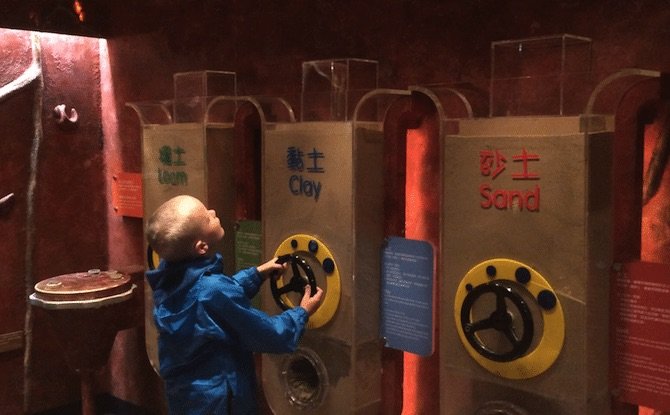 No.4: Penetrate the Deep Underground
Meet the Insects
Kids can watch a giant ant nest and see them scramble.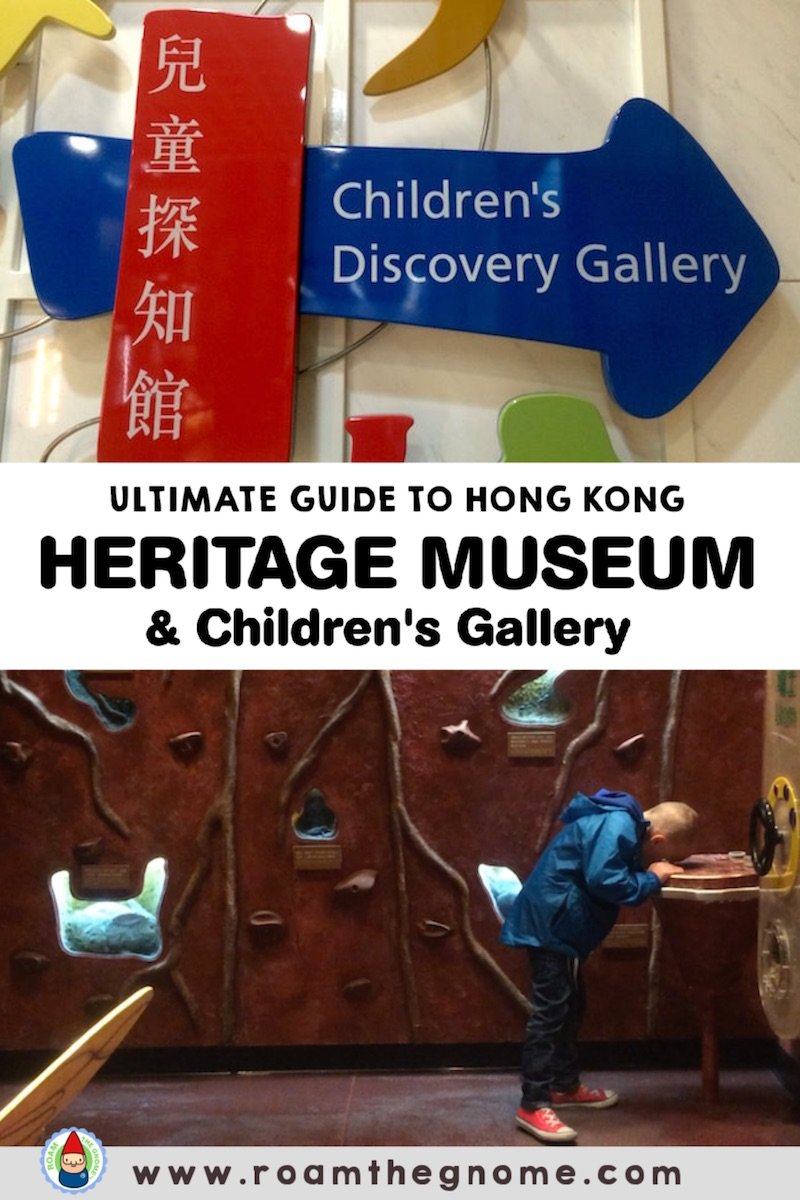 Check out the Soil Laboratory
Children can learn about the composition of soil in this exhibition, using magnifying glasses, and turning wheels to show what might grow in sand, silt and clay.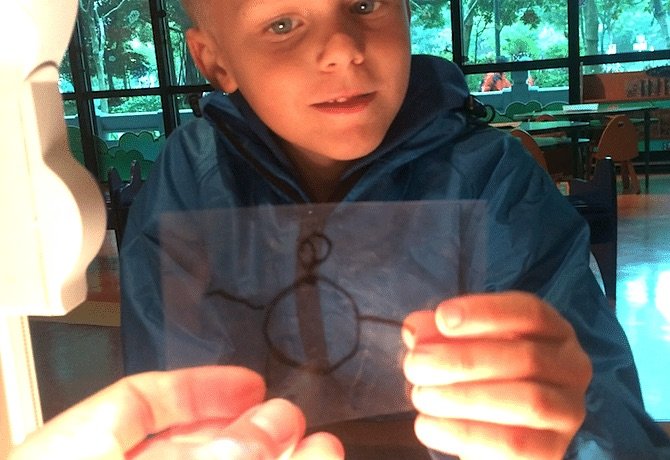 5. Archaeologist's Dig
Kids can discover historical artefacts excavated in Hong Kong
Design your own Pottery, just like in Wun Yiu.
Wun Yiu in Tai Po was a place for the manufacture of blue and white porcelain 500 years ago.
Archeologists have discovered a workshop, two kilns, and numerous porcelain pieces there.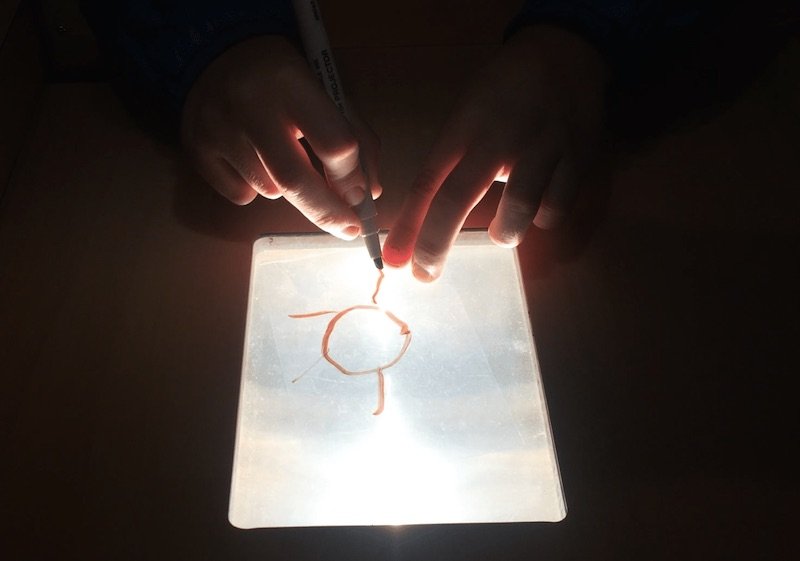 In this fun activity, kids can take a pen and draw their own design on an overhead projector sheet and then see what it looks like on a piece of pottery!
Ned LOVED this exhibits activity.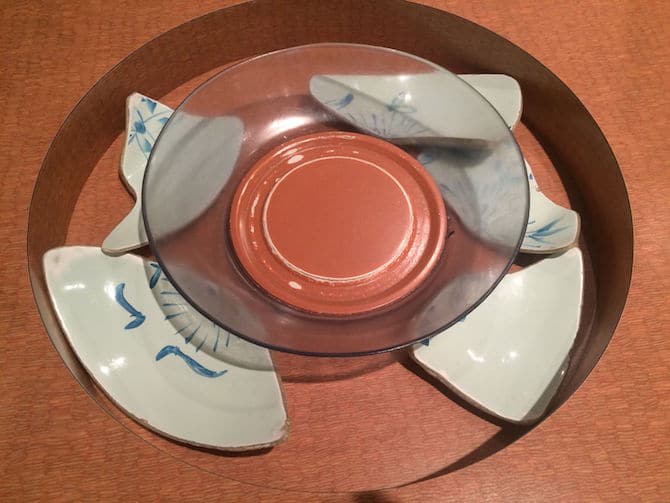 Restoration Activity
There's also an area where children are invited to 'restore' objects piece by piece.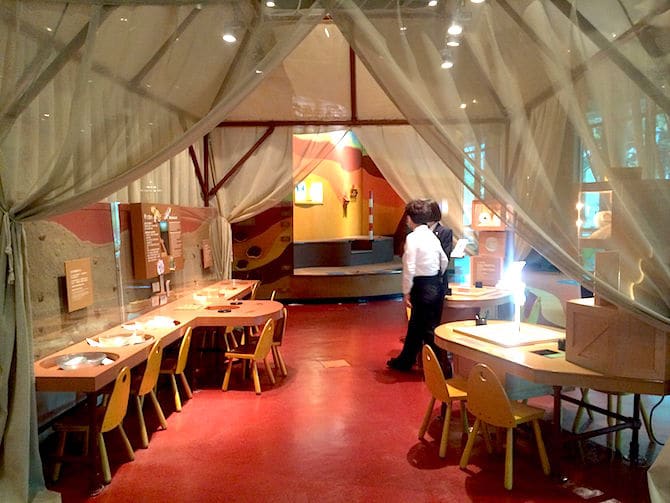 This is what archeologists in Hong Kong do, in their quest to learn more about early societies and the people who lived there.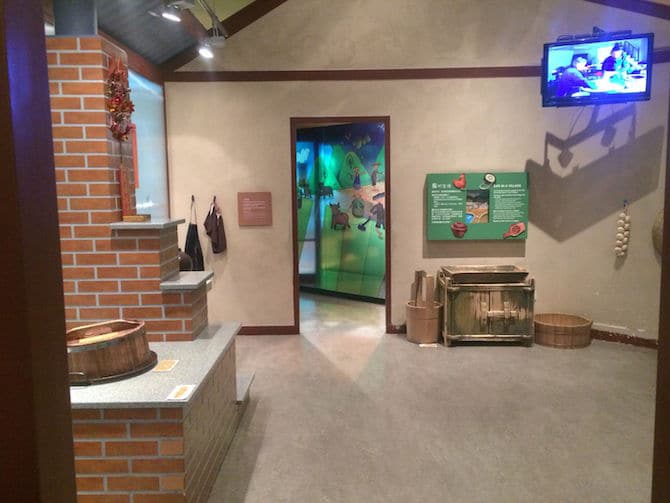 No.6: Explore life in a traditional New Territories village
Children can explore rooms with traditional cooking and washing facilities and can have a go at 'cooking a traditional meal'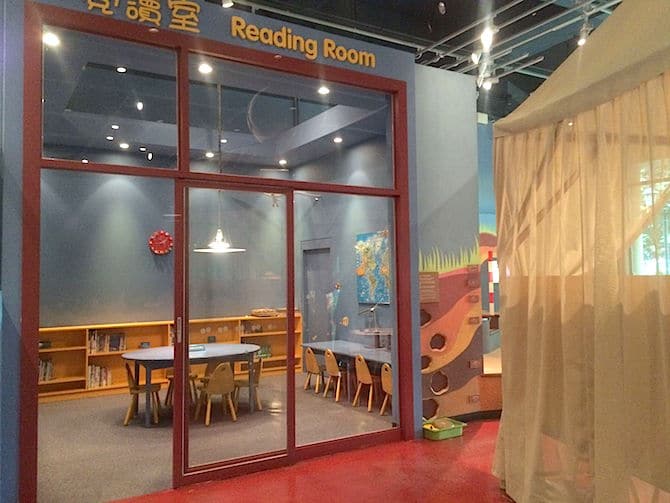 No.7: Reading Room
For a moment's peace and quiet, children can pop in here.
There's plenty of picture books & books about Hong Kong culture to browse.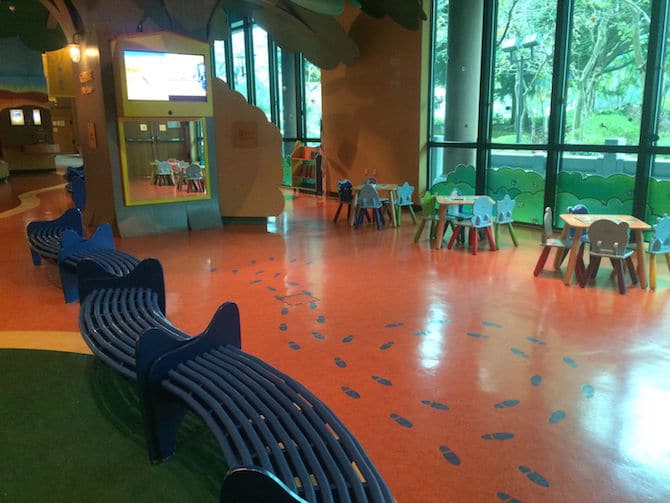 No.8: Creativity Spot
Hands-on staff provide drawing and colouring activities for children at these tables.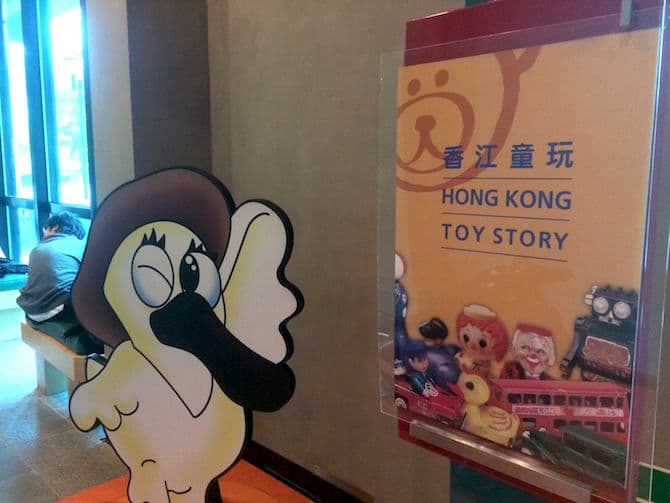 No.9: Hong Kong Toy Story
Just around the corner of the main exhibit is the Hong Kong Toy Story exhibition.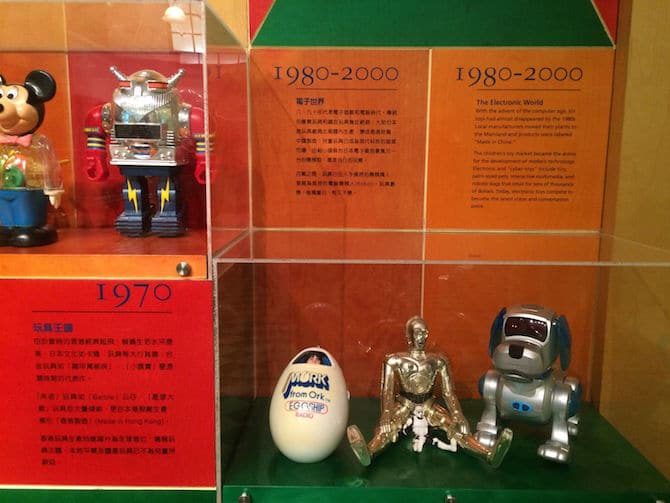 Hong Kong Toy Display
This large space includes glass-fronted cabinets with displays of local toys from the 1950's to today.
Ned was surprised (as were Roam the Gnome and I) to see so many familiar things:
Mickey Mouse characters
Star Wars characters
Robot dogs.
---
RELATED: Ultimate Guide to Toy Street Market, Hong Kong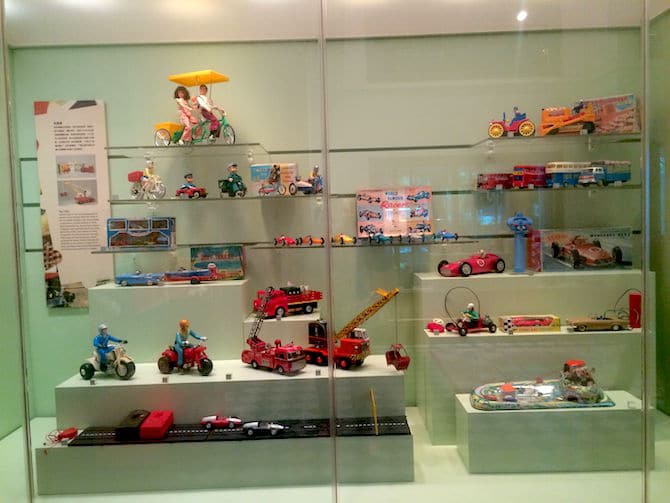 Retro vintage toy showcase
Lots of things are making a comeback and what was new for him was old for us!
Ned and I spent ages here, telling stories to one another about our childhood memories and favourite toys.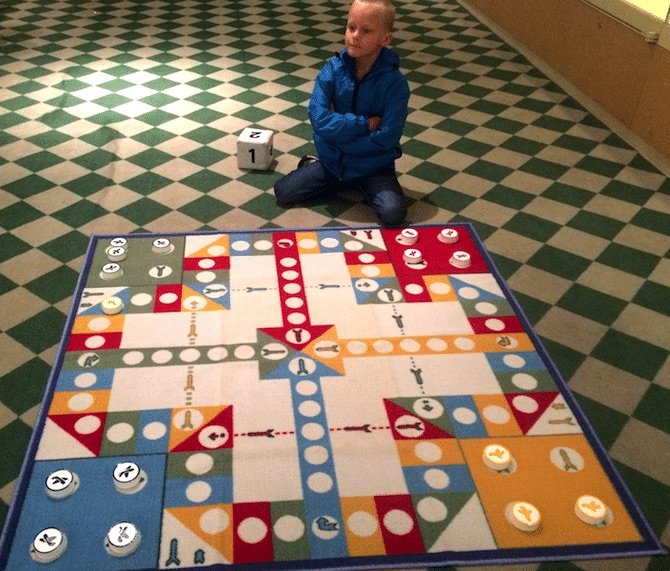 Boardgames to Play
There's also a whole bunch of toys and games in the gallery that you can play with.
(Remember to take off your shoes!)
Ned and I tried this game.
We had NO idea what to do, so we kind of just made it up.
That worked for us!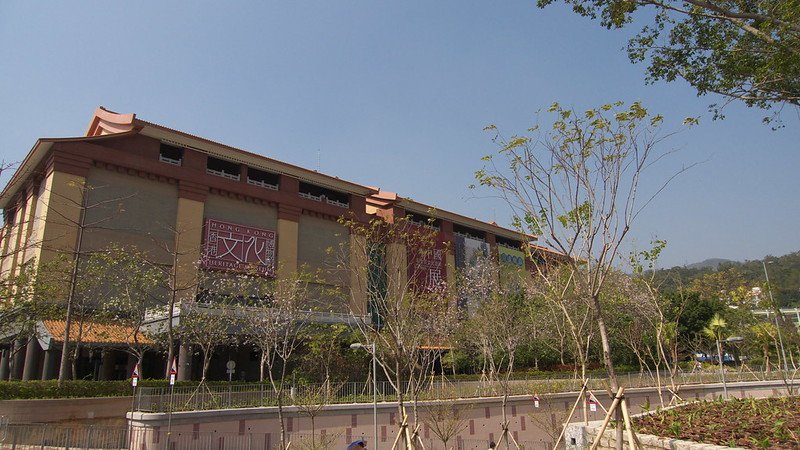 Image credit: Nekotank via Flickr CC BY-ND 2.0
What to eat at the Heritage Museum HK
There is a restaurant onsite, The Alchemist Mail Cafe
Monday to Sunday
Public Holidays: 10:00 – 22:00
Closed on the first two days of the Chinese New Year
(We didn't visit either this time, but brought snacks and drinks with us which we ate in the park outside.
Museum gift shop at Heritage Museum HK
There's books on history, art and culture.
Plus, a huge selection of cultural and creative products from Hong Kong, and fun unique souvenirs.
Heritage Museum gift shop opening hours
Monday, Wednesday to Sunday & Public Holidays: 10am – 5pm
Christmas Eve and Chinese New Year's Eve: 10am – 5pm
Closed on Tuesdays (except public holiday) and the first two days of the Chinese New Year
THE INSIDE SCOOP: Hong Kong Heritage Museum – Children
Correct at time of publication on Roam the Gnome. Please check with venue for updates. We apologise in advance if there have been any changes we are unaware of. All prices in HK dollars, unless otherwise stated
Address: 1 Man Lam Road, Sha Tin Hong Kong
Telephone: 852 2180 8188
Website:
Email: [email protected]
Hong Kong Heritage Museum Opening Hours:
The Hong Kong Heritage Museum is open from:
10am to 6pm Monday, Wednesday, Thursday and Friday
10am to 7pm on Saturday, Sunday and public holidays'
Christmas Eve and Chinese New Year from 10am to 5pm.
The museum is closed on Tuesdays, and the first two days of the Chinese New Year.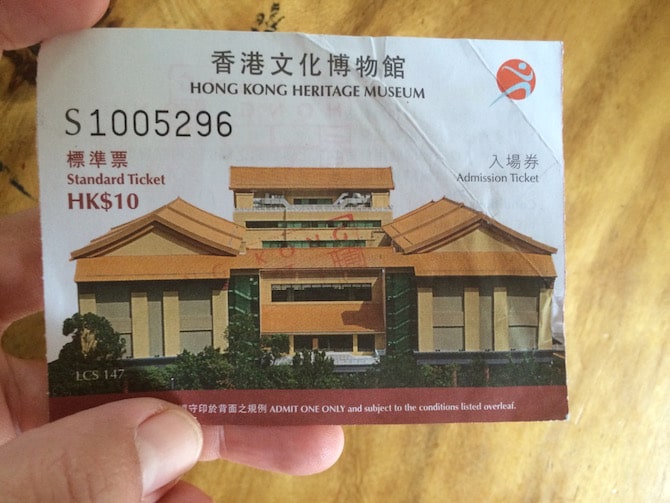 Hong Kong Heritage Museum Fee:
HK $10 adults
HK $5 for children
Children under 4 are free!
Special exhibitions charge an extra admission fee.
Visit on Wednesday and it is FREE entry for all!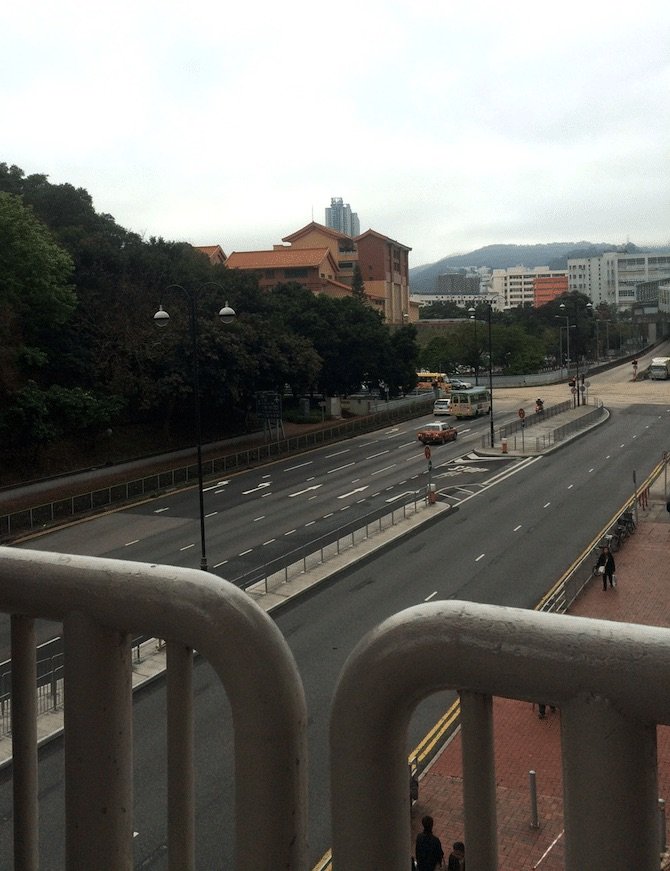 How to get to Hong Kong Heritage Museum
By MTR:
Alight at Che Kung Temple Station (Exit A) and then a 5-minute walk or at Sha Tin Station (Exit A) and then a 10 – 15 minute walk that includes a few sets of stairs.
Beware if you are carrying a stroller!
The picture above shows the Hong Kong Heritage Museum (brown and tan building at top left) from the pedestrian walkover you take as you walk outside from the New Town mall.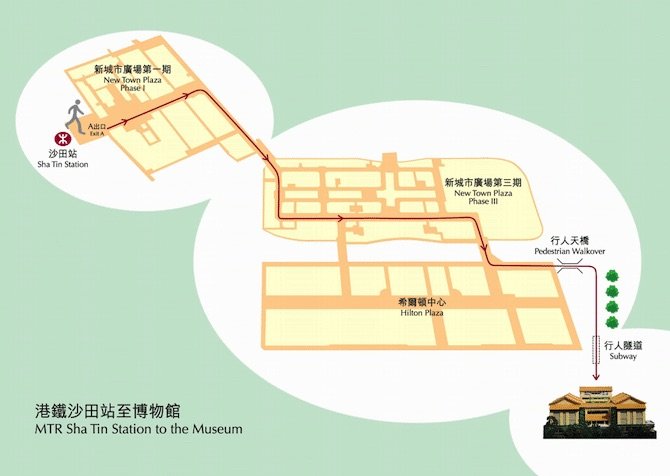 By Foot from the Station: Follow the walking map above.
By Bus: Click here for a bus route map.
By Bike: There's parking space for 8 bikes.
By car:
Due to the limited spaces at the public carpark of the Hong Kong Heritage Museum, visitors are advised to come by public transport on peak days, i.e. weekends and public holidays.
Facilities at Heritage Museum HK
There are toilets and baby feeding areas inside the museum
Map of Hong Kong Heritage Museum
Toadstool Rating: Hong Kong Heritage Museum Review
You'll need at least 2 hours here. There's plenty to see and do, including the Children's Discovery Gallery.


Looking for More Things to Do in Hong Kong with Kids?
Click the blue links below for more Hong Kong attractions on Hong Kong Island, Kowloon, The New Territories and Lantau Island