INSIDE: Roam the Gnome's Guide to Getting Around Hong Kong
Want to be surprised at every step, and street corner?
You've come to the right place.
Fashion, culture, history. It's all here in Hon Kong.
Along with an abundance of SUPER DOOPER FUN for family-friendly adventures, accessible by public transport.
Hot tip: Public Transportation in Hong Kong is CHEAP!
Most expats don't bother with cars and have no qualms about catching a taxi whenever they need one.
Public transport in Hong Kong is clean, safe, reliable AND fun for the kids.
There are SO MANY different forms of transport you can ride – it's almost an adventure in itself. (See our story on that right here!)
Here, we've gathered all the necessary info about how to get around Hong Kong in one spot, starting with a Hong Kong overview.
Hope it's helpful. Enjoy your stay!
Disclosure: This article contains affiliate links. If you make a purchase after clicking on one of these links, we may receive a small commission at NO extra cost to you.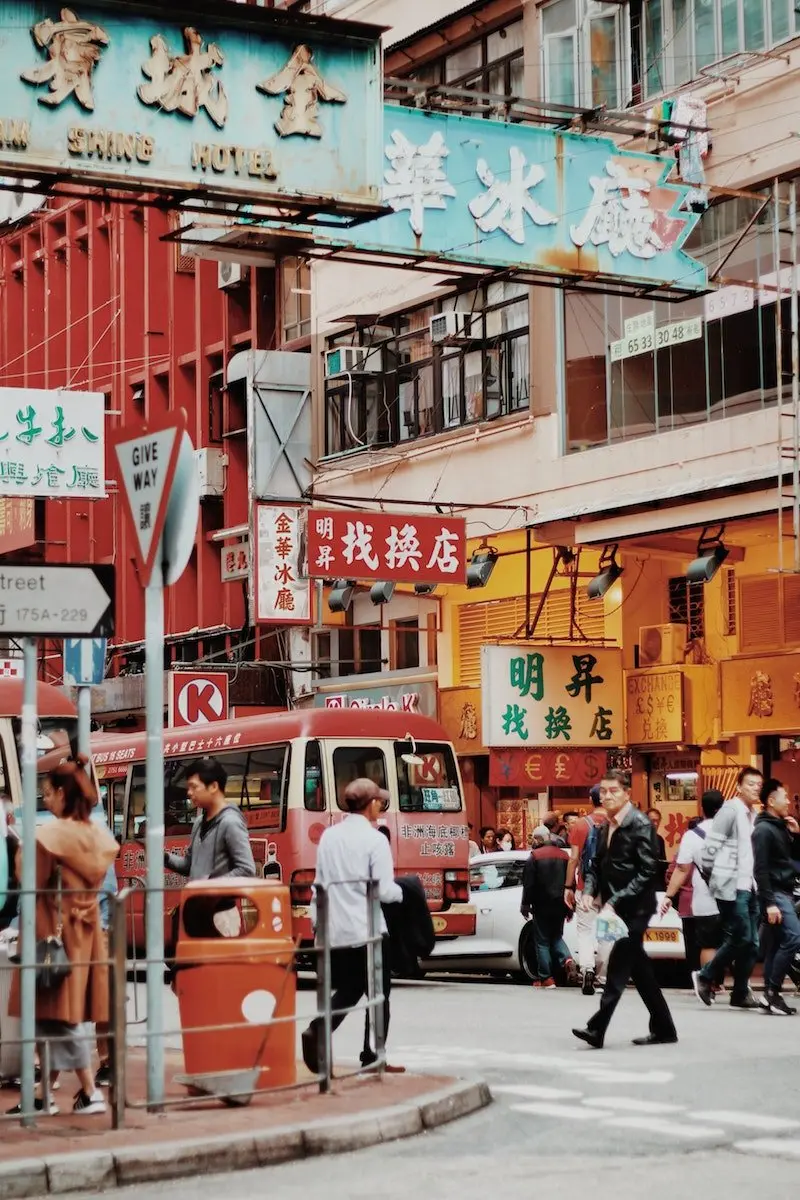 Image credit: Sarah Arista via Unsplash CC0
Where is Hong Kong?
Correct at time of publication on Roam the Gnome. Please check with venue for updates. We apologise in advance if there have been any changes we are unaware of. All prices in HK dollars, unless otherwise stated
Need to learn about Hong Kong before you go?
The country is in East Asia on the southwest coast of China, and is made up of four parts:
Hong Kong Island
Kowloon
Lantau Island
New Territories and outlying islands
Wondering can you get around Hong Kong with english? The answer is yes. No problem.
Hong Kong Island
Hong Kong Island is the city centre, located on Victoria Harbour across from the mainland.
It comprises Central district, Causeway Bay, Happy Valley, Stanley, Central Mid levels, Aberdeen, Admiralty Wan Chai and Victoria Peak.
Peak tramways to Victoria Peak park, Ocean Park, the HK Zoological and Botanical Gardens, and lots of big shopping malls can be found on HK island, along with:
---
BOOK NOW: Symphony of Lights Evening Cruise on Victoria Harbour (Bestseller)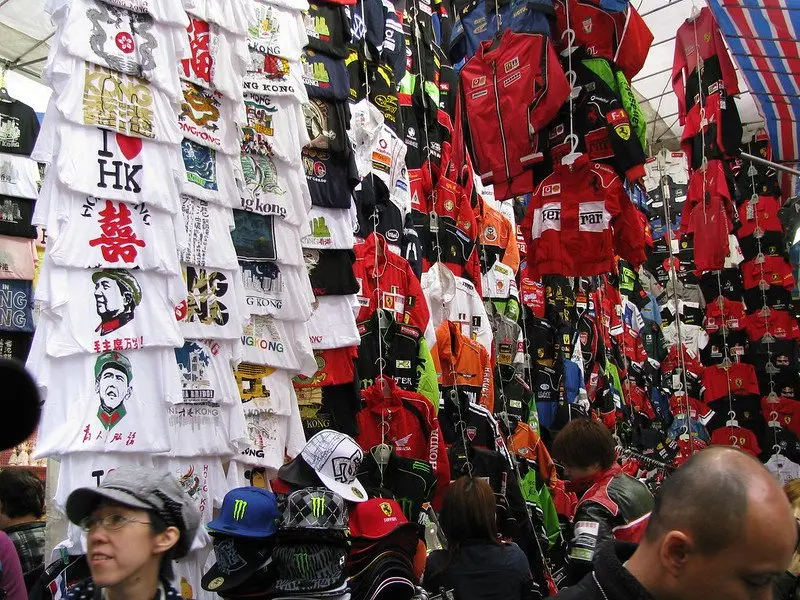 Image credit: Shankar S via Flickr CC BY- 2.0
Kowloon
Kowloon is on a peninsula on the southern edge of the mainland, opposite the city centre.
Kowloon is home to Tsim Sha Tsui, Sham Shui Po, Mong Kok, Jordan, and Prince Edward.
Famous tourist attractions can be found in Kowloon, including:
Ladies Market
Tung Choi street market
Kowloon Walled City Park
HK Space museum
Jade market in Jordan
Avenue of Stars on the Tsim Sha Tsui promenade waterfront & the Bruce Lee statue
Sneakers Street
Superpark
Avenue of Comic Stars & Toy Street
Apliu Street Flea Market
---
BOOK NOW: Kowloon Private markets tour and street food experience (Get your Guide)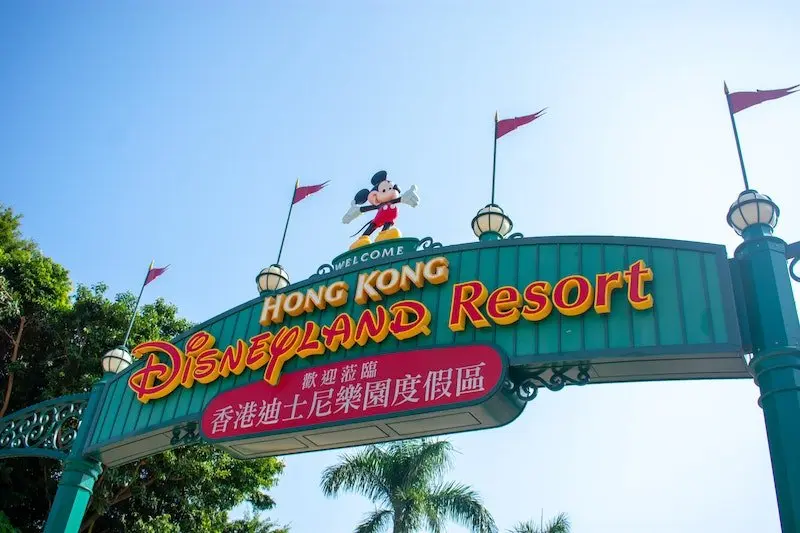 Image credit: Kon Karampelas via Unsplash CC0
New Territories & Lantau Island
The largest part of Hong Kong is known as the New Territories and is on the mainland too.
There are also small populations located in rural environments on a bunch of smaller islands in the South China Sea close by.
Find these attractions there:
Hong Kong Disneyland
Tian Tan Big Buddha
Po Lin Monastery
---
RELATED: Ultimate Guide to the Best Places to Visit in Hong Kong with Kids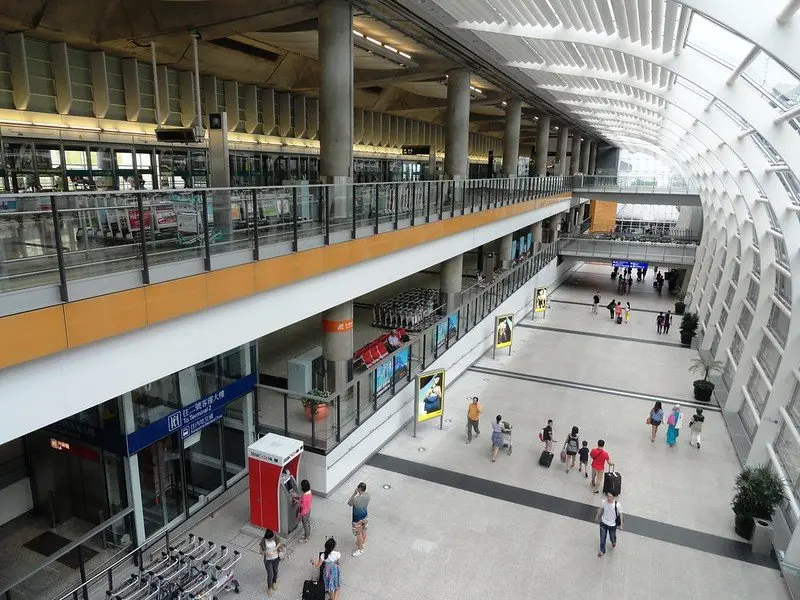 Image credit: Fabio Achilli via Flickr CC BY- 2.0
Getting to Hong Kong by air
The country is right smack-bang in the middle of the world, making it an important midway point stopover for many flights to and from Asia and North America.
It's on the flight path for many Australian routes too.
Several airlines including Qantas and Cathay Pacific fly from:
Sydney (9 hours)
Melbourne (9 hours)
Adelaide (12 hours)
Brisbane (8 1/2 hours)
Cairns (7 hours) and
Perth (7 1/2 hours)
There's a fairly good chance you can get a flight to Hong Kong almost any day of the week.
---
Book Now: The Best of Hong Kong tour with a local – Customizable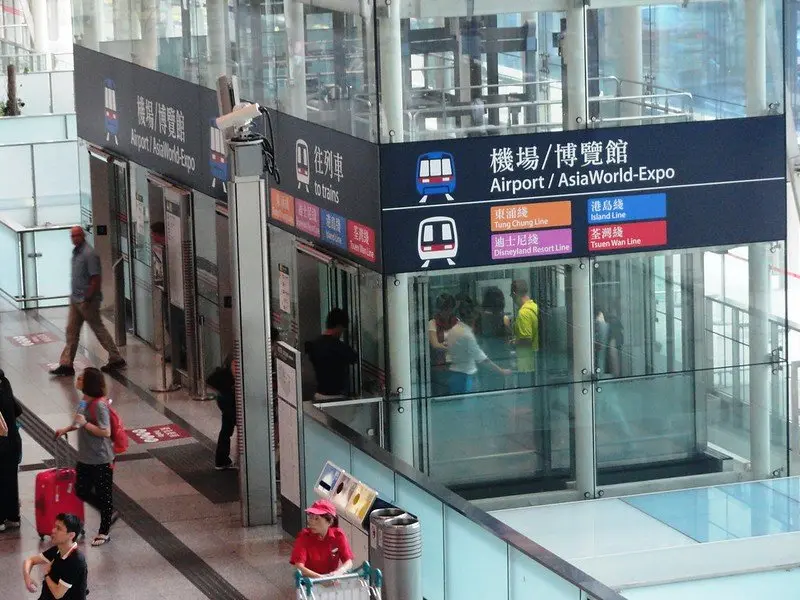 Image credit: Fabio Achilli via Flickr CC BY- 2.0
Arrival via Hong Kong Airport- First things first!
There's no need for a personalised airport pick up .
It's safe, and affordable to get around, even with kids.
If it's late and the kids are stuffed, don't delay.
Head straight out the door and grab a red taxi, door to door.
But, if it's daylight, and you are all still feeling the love for travel, hop straight onto the Airport Express.
It's super fast, clean, safe, and affordable.
The AIRPORT EXPRESS from the International Airport will give you time to catch your breath before the adventure begins.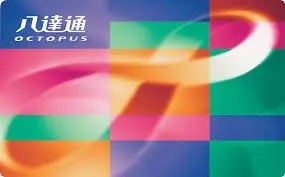 OCTOPUS CARD HONG KONG
You WILL need to purchase an Octopus Card for use on the MTR network (including Airport Express).
Do yourself a favour and put it top of the list.
Octopus Cards cost $150 HKD with an initial $100 HKD stored value for an adult, and $70 HKD with an initial stored value of $20HKD for a child aged 3 -11 years.
Children under 3 travel FREE!
When you arrive at the Hong Kong airport, head straight to the special kiosk near the exit to the express train to buy your Octopus cards for several reasons:
The kiosk staff speak English well.
The staff will let you know about any promotions that reduce the price of transportation from the airport into Hong Kong.
When you depart the city, this kiosk can refund any remaining balance on your card, but so will a lot of MTR stations.
These cards include a refundable deposit of $50 HKD ($9 AUD) when you leave the country.
You can add value by using a 'Add Value' machine or topping up at a Customer Service Centre.
Airport Express Travel Pass Hong Kong
Kiosks at the airport sell Airport Express Travel Passes.
You can also buy this online.
An Airport Express Travel Pass includes:
one ride (or two depending on the type of pass purchased ) on the Airport Express train from and/or to HK International Airport,
plus 3 consecutive days of unlimited travels on the MTR. (72 hours from recorded time of first use.)
This Ticket is restricted to tourists (non-Hong Kong residents) who have been in Hong Kong for less than 14 days.
User can receive HK$50 when returning the used ticket card to any MTR or Airport Express Customer Service Centres.
Ticket is valid within 180 days from the date of issue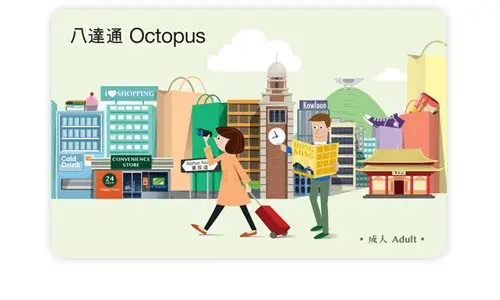 Tourist Octopus
The "Sold Tourist Octopus", at a cost of only HK$39, might be of interest too.
This Octopus has some Hong Kong iconic landmarks featured on the card face.
You can easily get it from:
the major convenience stores within the airport (7-Eleven, Circle K, Relay)
at the MTR Ticket & Octopus selling machines at Airport Station or West Kowloon station,
or in the city
You do not have to pay any deposit, and you can take it home as a souvenir afterwards and use it again when you travel to Hong Kong next time.
Find out more here.
All Octopus cards contain a built-in microchip that can communicate with different fare or payment processors.
You simply tap your Octopus over the Fare Deducting Readers as you pass through the ticket gates and enter the MTR system.
Tourist Octopus cards are for sale at any Customer Service Centre.
Once you have an Octopus, you don't have to worry about scrabbling around in your pocket or purse for coins ever again.
The "Octopus" is a rechargable and contactless 'smart card' can be used on most forms of public transport ( Airport Express, Bus, Minibus, Ferry, Peak Tram, Light Rail, Tram & MTR Trains), as well as making payments at:
all major convenience stores like 7-Eleven
fast food restaurants
Starbucks
supermarkets
bakeries
self-service vending machines
personal care stores
major photo service outlets, etc.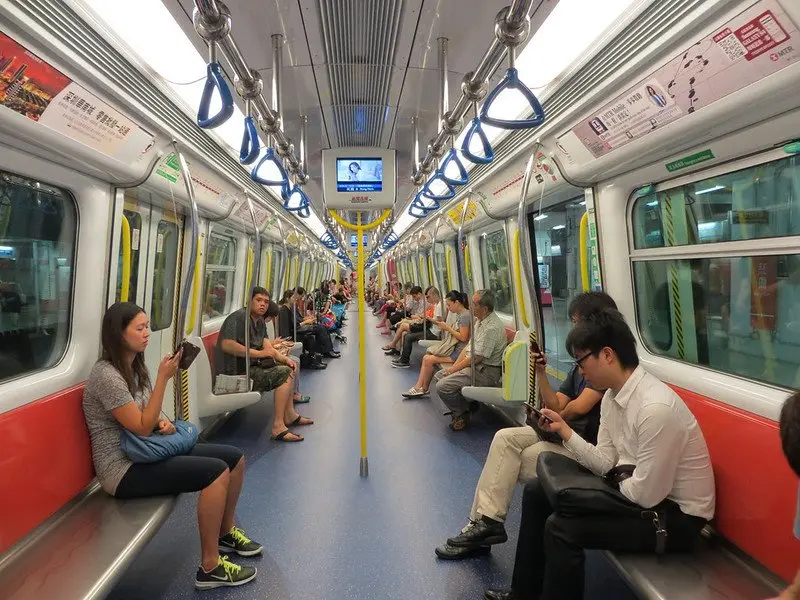 Image credit: Galio via Flickr CC BY-SA 2.0
MTR (MASS TRANSIT RAILWAY) APPS
Download the MTR Mass Transit Railway app for Iphone here OR Android here.
Don't forget to do this… the app for this public transport network will make life so much easier! Check out what the app can do.
Comprehensive Journey Planning
Search for your route along the MTR by simply tapping on the MTR route map and choose your starting location and desired destination.
These things will be displayed:
Fare information and Hong Kong transportation cost
recommended routing
estimated journey time
interchange station
interchange guide
platform guide
first and last train schedule
station services and etc.
Planning for your ride becomes much easier with the expanded point-to-point search for landmarks around exits.
On top of MTR stations, you can also select station exits and popular locations near the MTR network.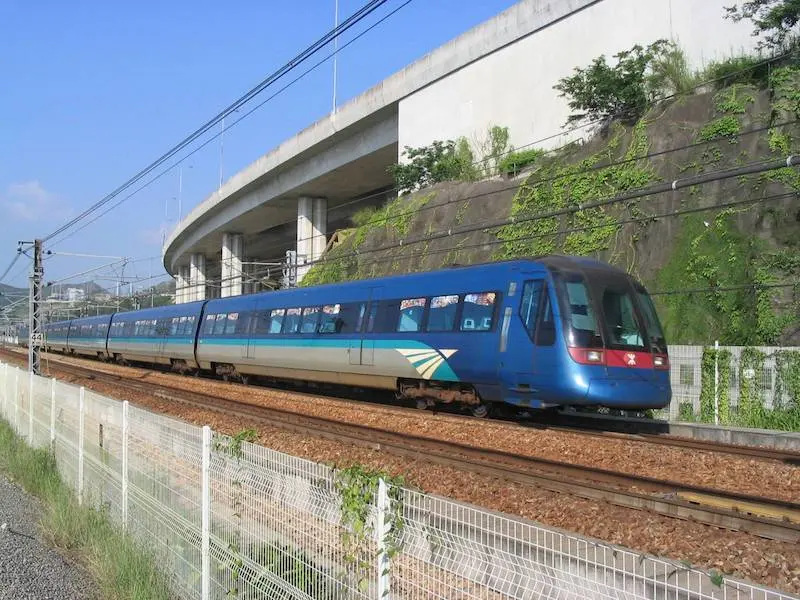 Image credit: Baycrest via Wikimedia CC BY-SA 2.5
GETTING AROUND HONG KONG AIRPORT TO HONG KONG CITY
No.1: Airport Express
The Airport Express takes passengers to Central in just 24 minutes.
Quick and comfortable, trains depart at about 10-minute intervals from 05:54 to 23:28 and approximately 12-minute intervals from 23:28 to 00:48 daily.
For detailed schedule of the Airport Express, please click here.
You may also download the MTR "Next Train" app to keep track of the real-time update of the train schedules.
Fare (HK$)
Hong Kong Station <> Airport Station $ 110
Kowloon Station <> Airport Station $ 100
Tsing Yi Station <> Airport Station $ 65
AsiaWorld-Expo <> Airport Station $ 5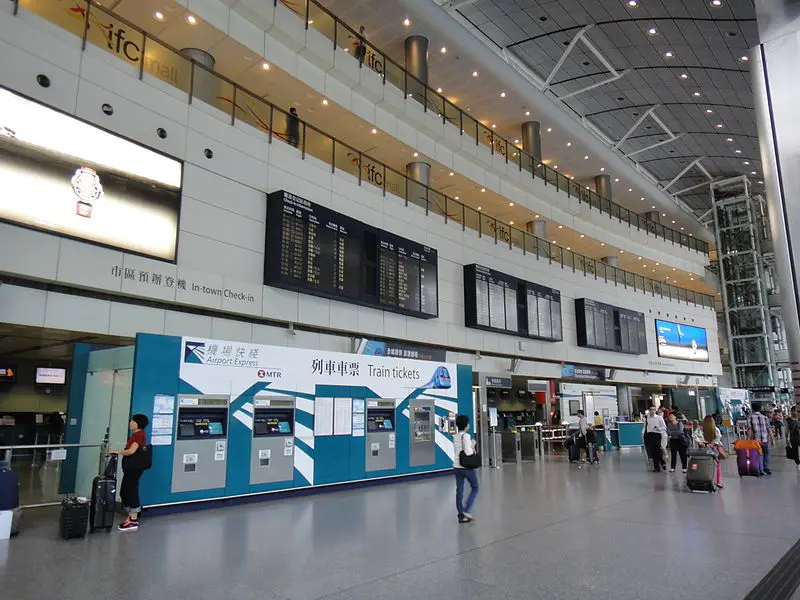 Image credit: Dirk Ingo Franke via Wikimedia CC BY-SA 3.0
In Town check in facility
Passengers taking the Airport Express can enjoy the free In-town Check-in service in Hong Kong and Kowloon Stations to check in.
Check in between 90 minutes and one full day ahead of the scheduled flight departure time.
Leave your luggage and enjoy your last day without worry of your bags.
Yay!
NB: If you do want to go back to the city after checking in, remember to go to the Information desk to ensure your Octopus card is not charged twice.
Please click here or contact your respective airlines for further information.
(Our friend Tania, a HK expat for 14 years, gave us the heads up and so we used the In-Town Check In. I loved leaving our luggage and getting on the train to the airport sans-bags when travelling with kids. Wish they had it in every country!)
There is a free shuttle bus service from the Kowloon and Hong Kong Stations to many of the major hotels.
Many major hotels in both Kowloon and Hong Kong Island have arrangements for this service but its up to you to find out.
Click here for details on where the free Airport Express Shuttle Bus services stop
Services are:
every 12 minutes for most routes leaving from Kowloon Station, and
every 20 minutes for routes leaving from Hong Kong Station.
If your hotel is not on the list, grab a taxi from either station.
It's worth it.
Passengers can also enjoy free porter service at all Airport Express stations.

Group Pass Discount
Hot tip: Groups of two or more passengers can avail of a Group Pass discount.
For example, families of up to four people can buy a Group Pass for (HK$250 to Kowloon Station) or (HK$280 to Hong Kong Station).
Hong Kong Disneyland Resort
Passengers wishing to visit the Disneyland Resort can change to the Tung Chung Line at Tsing Yi Station, and alight at Sunny Bay Station for the Disneyland Resort Line.
Please click here for route details.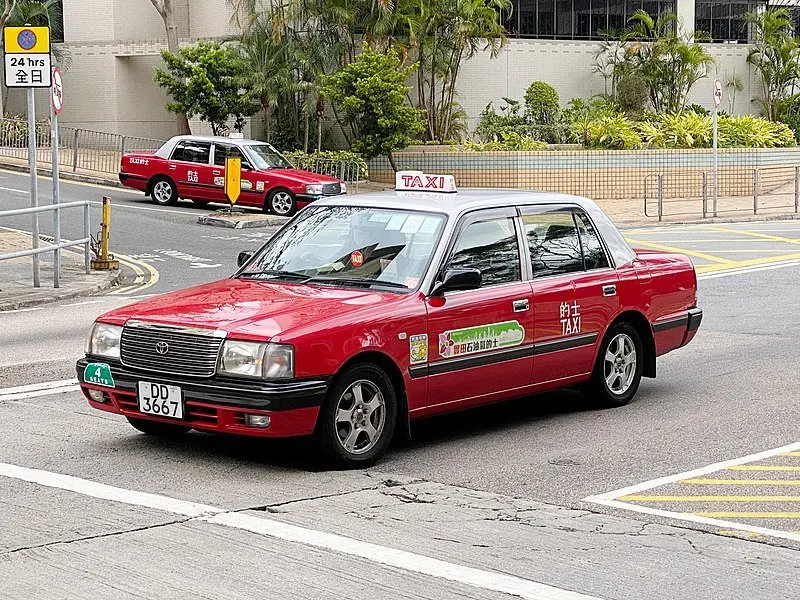 Image credit: LN9267 via Wikimedia CC BY-SA 4.0
No.2: Taxi
Taxis offer a FAST and flexible way to and from Hong Kong International Airport (HKIA).
Arriving passengers can pick up a taxi at the Taxi Station, which can be reached by the left-hand ramp outside the Arrivals Hall.
Taxis in Hong Kong are colour-coded according to their operating areas. Separate rows are designated for different types of taxi:
Urban taxis (Red) serve all destinations throughout Hong Kong including the airport, except Tung Chung Road and roads in south Lantau.
New Territories (N.T.) taxis (Green) serve only the New Territories and specific roads in Lantau.
Lantau taxis (Blue) serve all destinations in Lantau and the airport.
Approximate Taxi Fares in Hong Kong dollars from the Airport to your Chosen Destination
HONG KONG ISLAND (all by Urban Taxi)
Aberdeen $320
Causeway Bay $285
Central $295
Chai Wan $340
North Point $310
Quarry Bay $315
Stanley $350
Wan Chai $290
Western District $315
KOWLOON (all by Urban Taxi)
Cheung Sha Wan $225
Hung Hom MTR station $235
Jordan $225
Kowloon bay $260
Kowloon Tong $230
Mong Kok $240
Tsim Sha Tsui or Tsim Sha Tsui (East) $240
NEW TERRITORIES
Clear Water Bay $315
Fanling MTR station $345
Ma On Shan Town Centre $300
Tai Po Market MTR station $310
NORTH LANTAU ISLAND
AsiaWorld-Expo $22
Hong Kong Disneyland $125
Tung Chung MTR station $55
Click here for more options on Hong Kong destinations via taxi to find their price guide**
Please note:
Baggage charge may be levied on every piece of baggage that is carried inside the baggage compartment, and every piece of baggage with total dimensions (length + width + height) exceeding 140cm that is carried inside the passenger compartment.
In addition, there is no limit on the number of baggage carried by passengers inside a taxi in Hong Kong.
A taxi can normally carry about three suitcases of regular size (1.7m length x 0.7m width x 0.5m height) in a baggage compartment.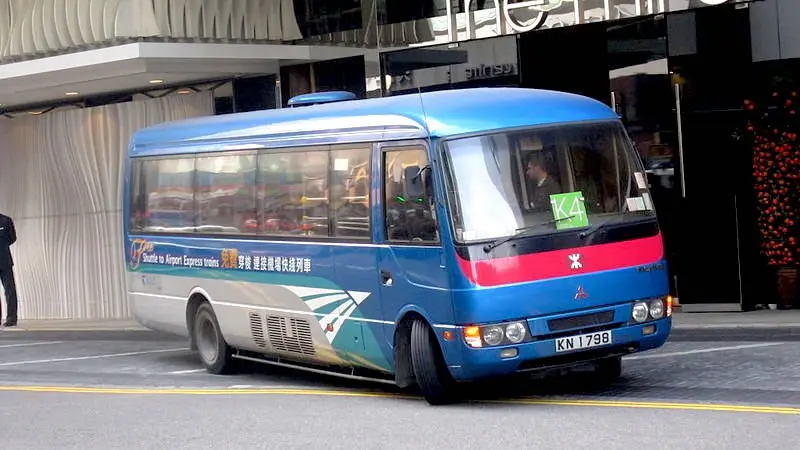 Image credit: T1NH0 via Wikimedia CC BY-SA 3.0
No.3: Airport Bus Service
If sticking to a budget is more important than convenience, you'll love the airport bus service into Kowloon and Hong Kong Island.
These routes take more time but will bring you closer to your hotel or accommodation.
(Be sure to know where your accommodation is located so you disembark at the right stop!)
Popular bus services include:
Route A21 (HK$33 for adults, HK$16.5 for children) which takes approx. 45-50 minutes into central Kowloon, and
Route A11 (HK$40 for adults, HK$20 for children) which takes approx. 50-65 minutes into central areas of Hong Kong Island.
See this link for published bus routes and numbers from the airport to various locations around the city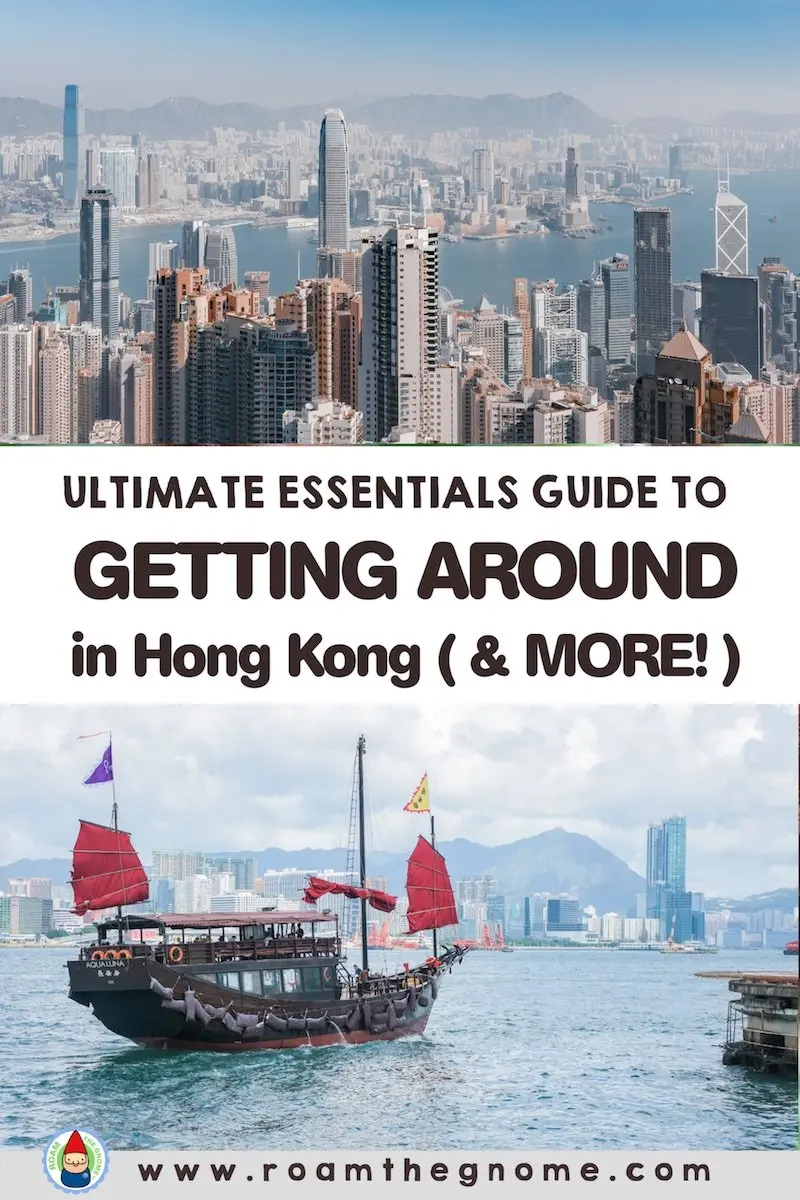 No.4: Hotel coaches
Hotel coaches are available to take passengers to and from major hotels in Hong Kong.
If you want to use this service, approach the following Commercial Services Counter in Arrival Hall B, Terminal 1.
Vigor Airport Shuttle Services Limited. Reservation/Enquiry + 852 2738 9500
Service counter +852 2186 6883
Email: [email protected]
Location: Counter B01, Arrival Hall B, Terminal 1
Boarding Point: Coach station, Terminal 2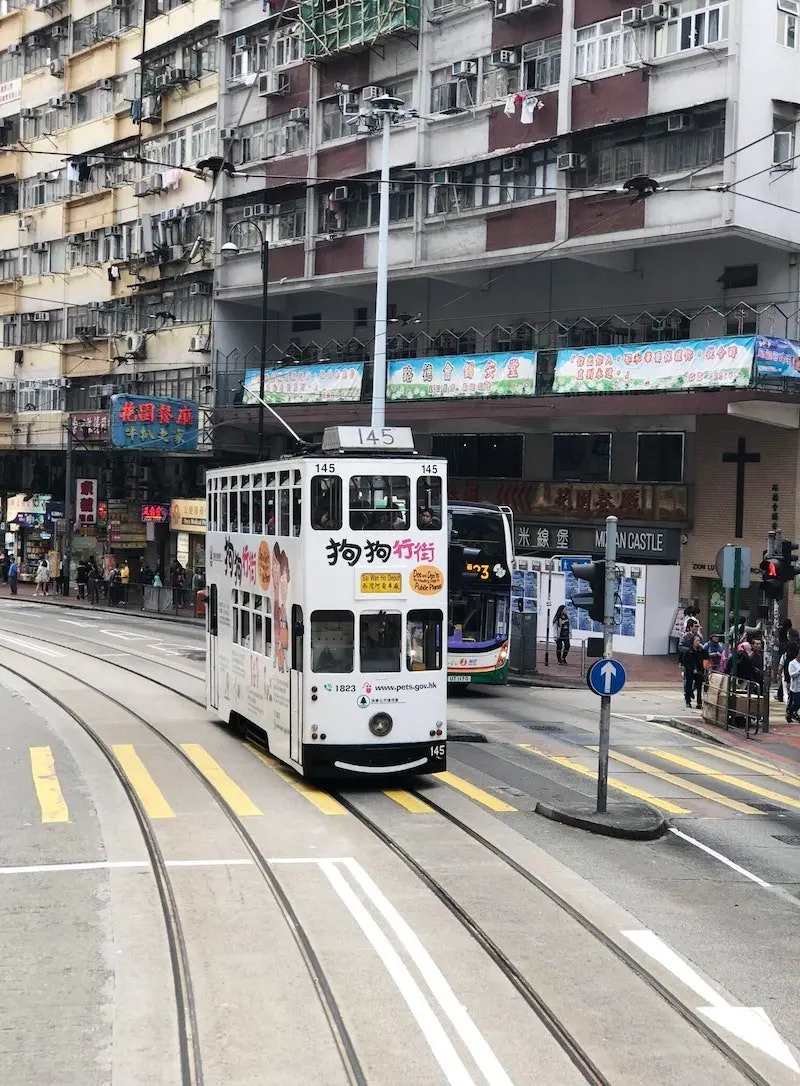 Image credit: Pop & Zebra via Unsplash CC
PUBLIC TRANSPORT IN HONG KONG
No matter where you want to go in Hong Kong, there's public transport to get you there.
Just use that Oyster card, and jump on.
Ding Dong Tram
At least once, take your kids on the tram line (HK$2) with rattling double-decker trams. Be sure to have the exact change.
The Ding Dong tram runs through Central and Causeway Bay.
Trams take a little bit more brain power than trains or buses.
You have to have some idea of where you are going before you jump on, and you need to keep watch so you get off at the right place.
Watch the kids don't poke their arms out of the tram windows… there's NOT MUCH SPACE between the tram you are in, and the one coming from the other direction.
Don't risk a squashed limb!
Ferries in Hong Kong
Ferries run to various outlying island and also connect Central with Kowloon.
One must-do "Hong Kong with Kids" activity is to take the famous Star Ferry at least once.
It's an eight-minute ride across the harbour, with views all round.
Tickets cost just HK$2.20 on the lower deck or HK$2.70 on the upper.
(I know! SO cheap!)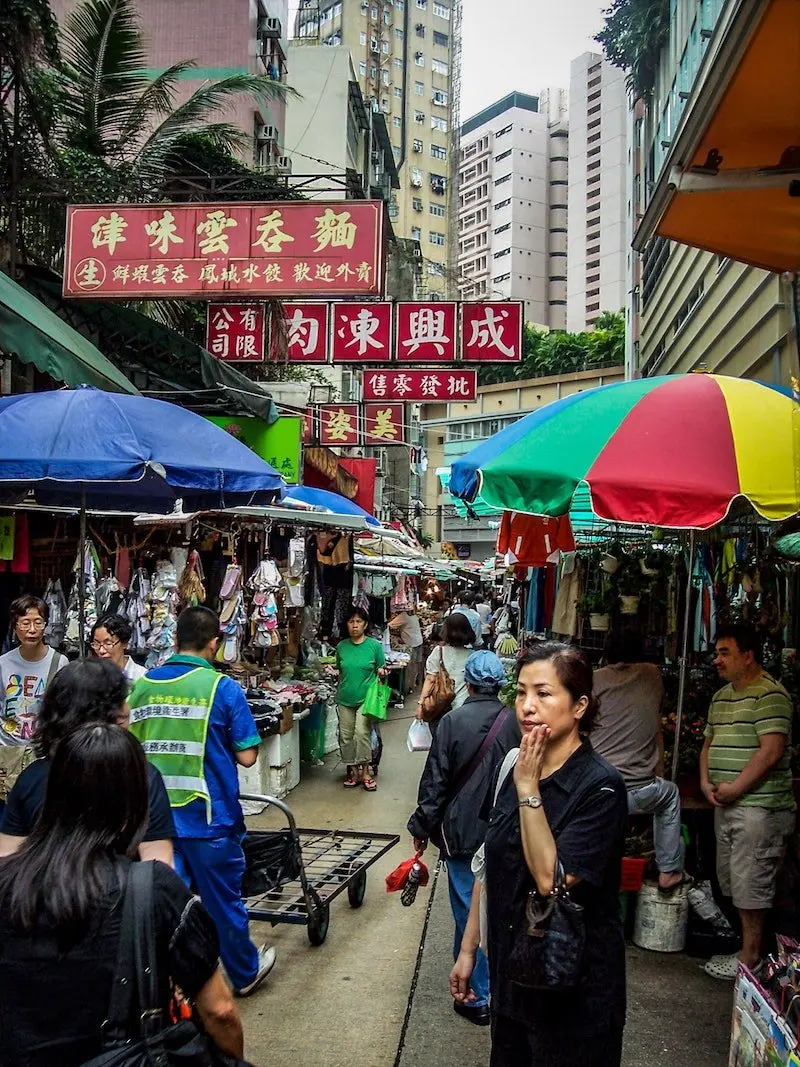 Image credit: Joshua J. Cotten via Unsplash CC
WHERE TO STAY IN HONG KONG WITH KIDS
My best bit of advice as someone who has explored Hong Kong with kids in tow?
Choose to stay somewhere relatively close to an MTR station (Hong Kong Subway) or tram station.
Transportation in Hong Kong is REALLY easy to follow, with some of the most up-to-date technology I've ever seen on the trains.
The neon signs on the trains with the flashing lights and arrows pointing in the direction of travel make it really easy for families to find their way around! The kids can help keep track too.
Train transport is quick, safe AND clean.
The bus service is really good too but we didn't ever use it. With the MTR, there's really no need!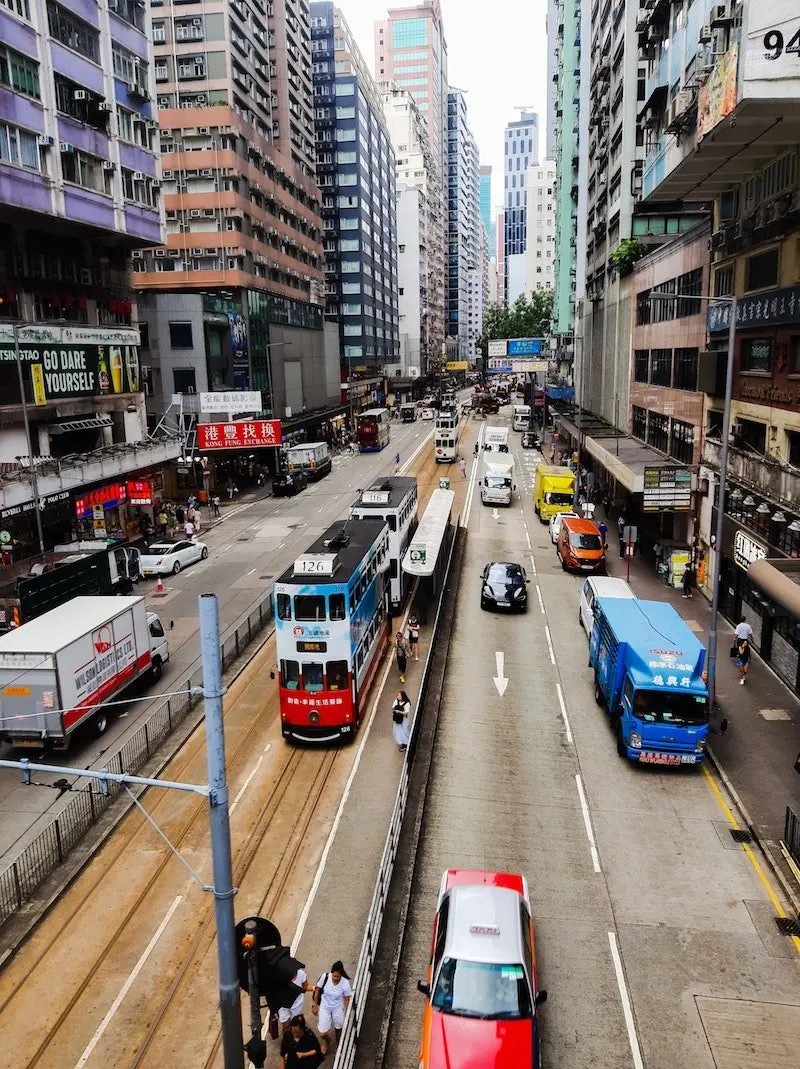 Image credit: Gantavya Bhatt via Unsplash CC
The Best Area to Stay in Hong Kong with family
No.1: Causeway Bay on Hong Kong Island
On Hong Kong Island, Causeway Bay is Hong Kong's shopping mecca.
It's busy and hi-energy but SUPER FUN for the kids.
Just be sure to keep them close by!
There are people EVERYWHERE, and tonnes of beeping traffic too.
Wanchai neighbourhood is next door (literally just a few kilometres up the road), and Central, the financial district, a little further past that.
Anywhere close to the main thoroughfare of Hennessey Road and Queensway will be walkable for kids.
No.2: Tsim Sha Tsui in Kowloon
In Kowloon, the Tsim Sha Tsui area is popular with visitors and families.
No.3: Mongkok in Kowloon
Mongkok is another winner – more 'local' in style for those like a neighbourly experience.
The night markets are great fun too.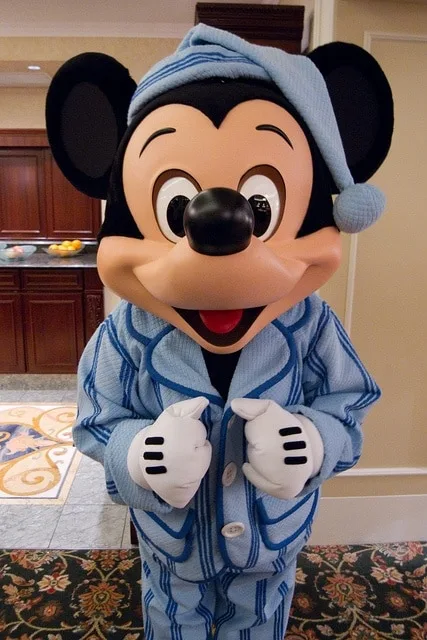 The Best Family Hotels in Hong Kong
Take a look at this list of 8 of the best hotels in Hong Kong for families.
There's Hong Kong hotels with kids club, Hong Kong family hotels with themed rooms, and of course, the HK Disneyland hotel.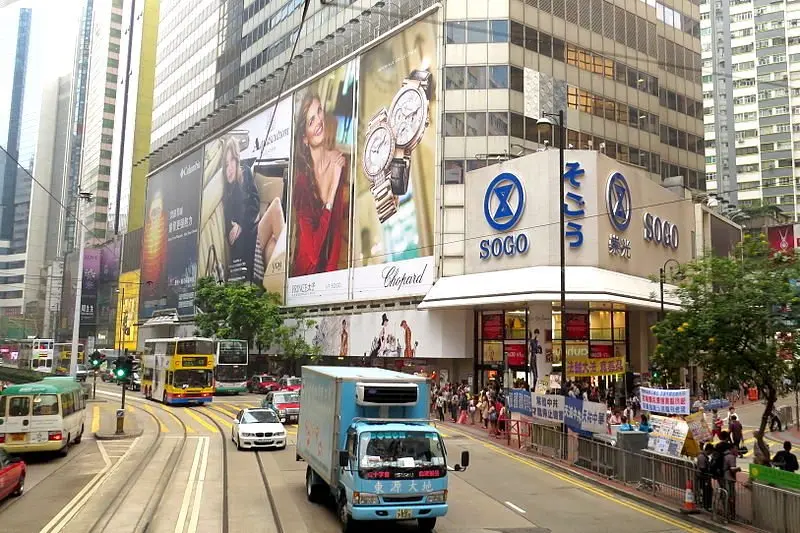 Image credit: Mk2010 via Wikipedia CC BY-SA 4.0
HONG KONG ATTRACTIONS THAT LOCALS LOVE
CAUSEWAY BAY – THE SHOPPING DISTRICT
Google "Yee Woo street", at the intersection with Great George Street and Jardine's Bazaar, and find your way there.
This is the hub.
SOGO Department Store
If you fancy braving a 13 storey department store with your kids, head to SOGO (on Yee Woo Road).
It's Hong Kong's biggest department store, and a local institution.
It's not your bargain basement shop at all but dig deep enough, and you'll find some goodies.
Times Square on Russel Street
Times Square on Russel Street is the main shopping mall and where you catch the train.
This place is huge too, with 16 floors and 230 shops.
We suggest heading straight up to the food on the upper floors.
If you feed the hungry hoards, you might have a few minutes to browse your way down.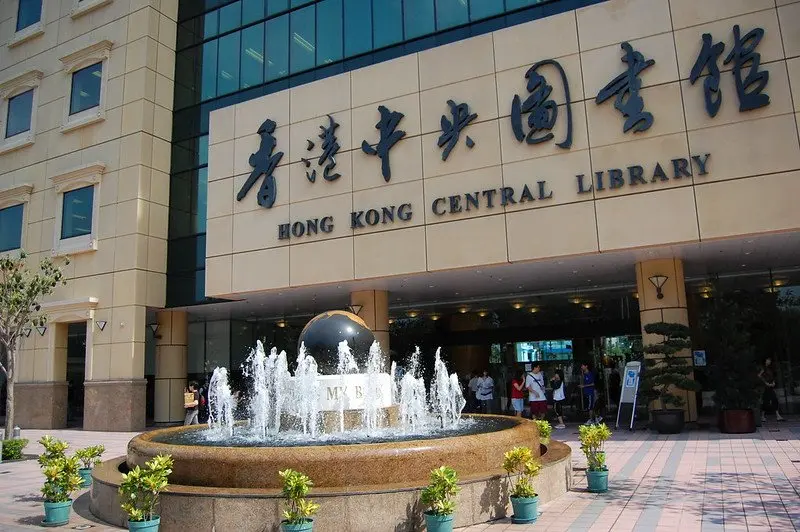 Image credit: Edwin.11 via Flickr CC BY- 2.0
Toy Library at Hong Kong Central Library
Head to the Toy Library in the Hong Kong Central Library (2/F Hong Kong Central Library, 66 Causeway Road, Causeway Bay) – you must be sure to book in advance.
(Some sessions include craft activities and games)
It's heaven for the kids!
Toys, toys, and more toys to play with while you rest your feet.
The toys are a bit rough and tumble, but who cares?
They are toys!
Spend some time in the picture book section, and don't forget to stop into the Book Lovers shop on the ground floor.
Reservations (For 1 -8 year olds): +852 2921 0386. Book one week in advance.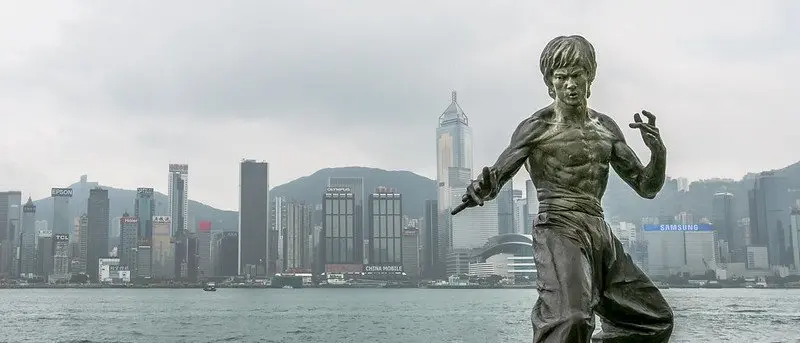 Image credit: IQ Remix via Flickr CC BY- SA 2.0
TSIM SHA TSUI – MUSEUM TOWN
Tsim Sha Tsui reminds me of Darling Harbour in Sydney.
harbour views
an esplanade (the Hong Kong Avenue of Stars) along the harbourfront where you can watch the boats go by, and
an abundance of shops, markets and malls.
Oh and museums!
If you have time, visit them all.
Nathan Road
Nathan Road and the streets that run off it, is a must-do.
They call this the "Golden Mile" but there's plenty for the kids to see and do, that won't cost you a small fortune.
Keep an eye out for Bollywood-themed memorabilia, and old school clothes tailors.
Beware the touts spruiking their restaurants.
Shopping
For shopping, try iSQUARE, The One and K11.
For the Kids
Kowloon Park has fun playgrounds.
The Hong Kong Heritage Museum has a Children's Discovery Gallery.
There's EIGHT play zones just for kids 4 -10 years old!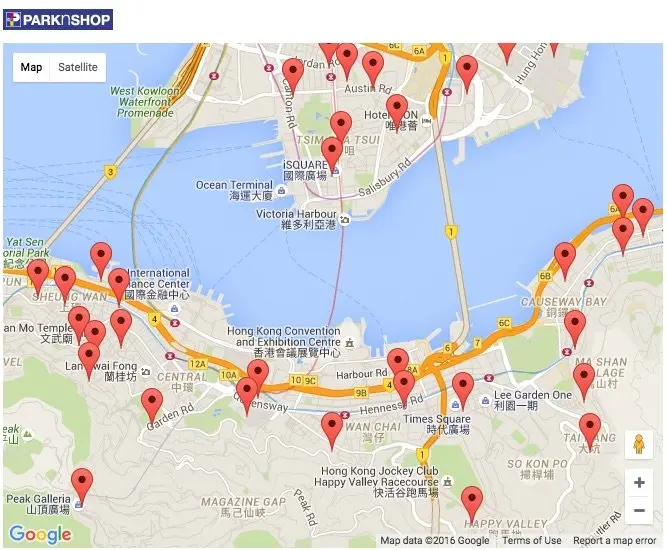 FOOD SHOPPING IN HONG KONG
If you want to save your pennies for fun, rather than forking out for extortionately overpriced food, stay away from all 'convenient' stores including City Super and Circle K.
Convenient can be another word for 'rip off'.
Instead find the big Hong Kong supermarkets and stock up there.
In Hong Kong, the two main supermarkets are:
PARK N SHOP – common throughout Hong Kong and the larger ones are fine for the weekly shop, and
WELLCOME (they are all over the place).
Locate a Park N Shop by clicking here. (As you can see above, finding a Park N Shop in the main parts of town is pretty easy.)
Locate a Wellcome by clicking here.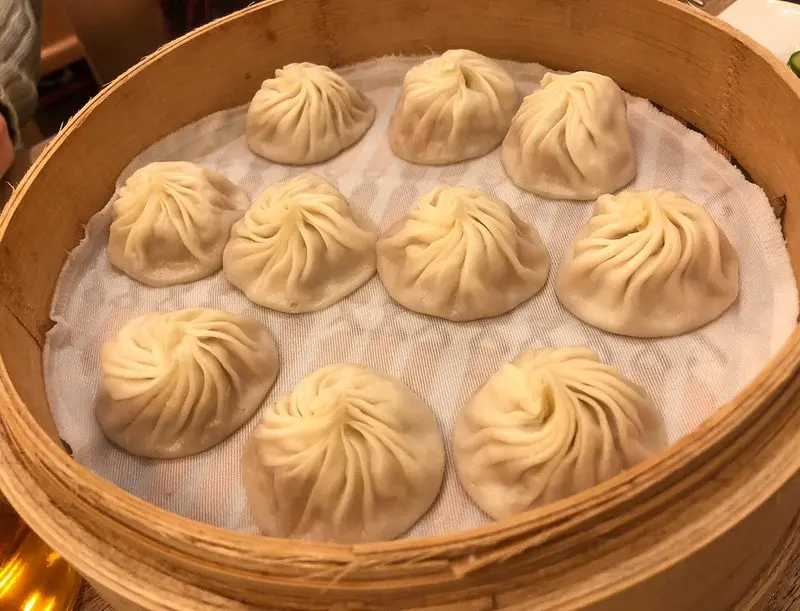 Image credit: Greg Tavares via Flickr CC BY- 2.0
EATING OUT IN HONG KONG
Dim Sum Restaurants
Try a dim-sum restaurant with the kids. Find one where you can watch the chefs through the window while you wait. prepare where you'll be presented with a hundred different steamed foods in bamboo baskets.
With such a wide choice, it's also a great place to have a family meal.
Google 'Family Friendly Dim Sum Restaurants in Hong Kong' to find one near you.
My pick?
Din Tai Fung in Causeway Bay is stroller friendly with high chairs. Find it at Shop 3-9, G/F, 68 Yee Wo Street, Causeway Bay, Hong Kong.
This was our FIRST EVER experience of Dim Sum and dumplings in Hong Kong, and what a way to begin!
My boys LOVED it, even when juice dribbled down their faces!
Hong Kong Street Food & Department Store Food Halls
On Hong Kong Island, you'll find family-friendly eateries along the main road and in side streets.
Do check out the food halls in the basements of most Department stores, especially near closing time as there are great specials to be had.
Supermarkets too, sell lots of 'ready-to-go' meals if you can't bear another meal in public!
Nathan Road Restaurants
In Tsim Sha Tsui, Nathan Road is your one-stop shop for family friendly food finds – restaurants and quick eats.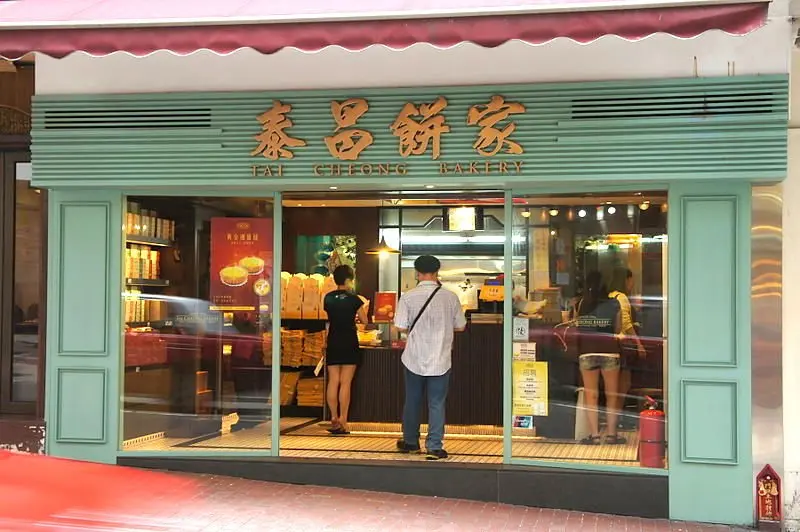 Image credit: Mk2010 via Wikimedia CC BY-SA 3.0
Chinese Desserts & Cakes
Do treat your kids to a Chinese dessert.. or three!
There's so many sweets to taste including custards, jellies, and egg tarts!
Try:
Tai Cheong Bakery at 35 Lyndhurst Terrace, Central, Central and Western District
Labmade – a speciality icecream shop, and
for real local's desserts, don't miss Auntie Sweet at 13 Tsing Fung St, Causeway Bay for tofu desserts and green tea shakes.
Fussy Eaters in Hong Kong
If you are stuck and wanting something familiar, try Pizza Express at Soho or Jollibees (Central).
Trust your nose, AND the amount of bustling families in attendance.
No families = no go.
---
RELATED: The Best BIG list of must try food in Hong.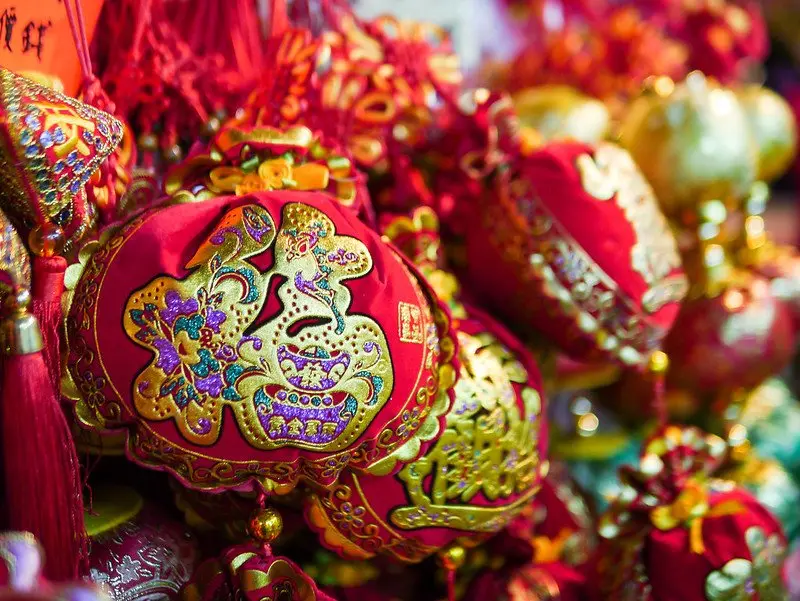 Image credit: Warren RM Stuart via Flickr CC BY- 2.0
Popular Events in Hong Kong
One could argue that the Hong Kong Chinese are not as 'celebratory' as mainland Chinese but they still manage a bit of festival fun.
Chinese New Year
Chinese New Year is celebrated in late January or early February.
It's usually a four-day holiday for feasting and fun ( a bit like our Christmas/New Year time.) But like our Christmas break, it means tourists are plentiful.
If you can bear being surrounded by people, there's a fun spirit and plenty of activities to do, watch, and join in – parades, light shows, over-the-top street lighting, music.
Fantastic!
Tin Hau Festival
The Tin Hau Festival in late April or May is particular to Hong Kong, and this festival is all about the Fishermen.
Think boats, decorated junks, and prayer time.
Dragon Boat Festival
The Dragon Boat Festival in held in early June.
Watch local and international teams race each other at various locations.
Hong Kong Shopping Festival
The HK Shopping Festival – one for the shoppers!
Visit in July.
Think sales, discounts, late-night openings, and eating out – all with bright lights!
The Moon Cake Festival
The Moon Cake Festival in late September is almost as big as Chinese New Year, with processions, cultural shows, performances and dragon dances.
It's a political festival, commemorating the 14th century revolution and the sneaky way leaders snuck notes to one another, hidden in moon cakes.
The perfect excuse to eat up and be merry!
Festival of Asian Arts
The Festival of Asian Arts in October or November is a major international event, with visiting troupes and artists from overseas. There is a whole variety of concerts, exhibitions and other shows.
WinterFest in Hong Kong
WinterFest is Hong Kong's attempt to recreate a Wintery Christmas! Like many warm countries who strive to bring Santa and his merry ways to tropical outposts, this recreation is much loved by the people of Hong Kong and runs from late November to early January.
Think Santa, Christmas trees, and Snow!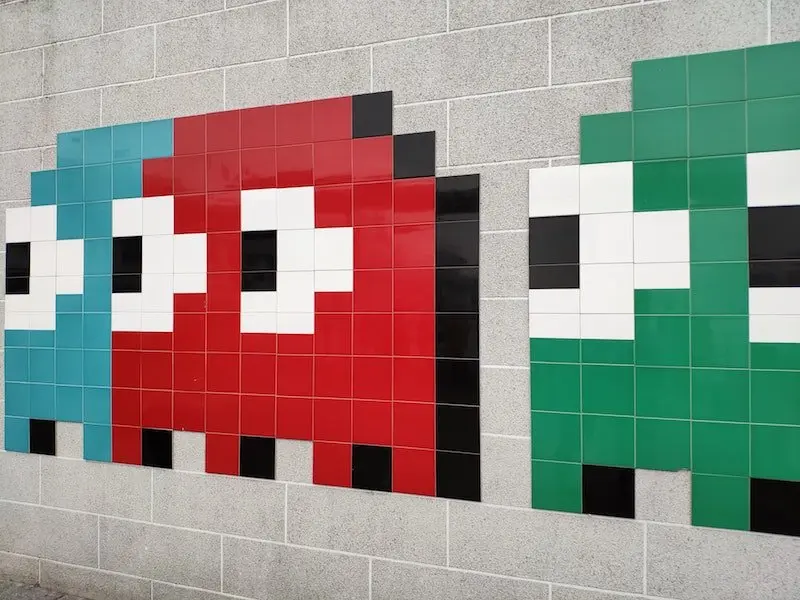 Image credit: Kirill Sharkovski via Unsplash CC0
Family Fun & Discounts in Hong Kong
Hong Kong Tourist Brochures
Discount vouchers can be found in most tourist brochures.
Playtimes Magazine
The Playtimes Mag is a fun HK resource for parents.
Open Rice
For discounts on restaurants, Open Rice is the place to go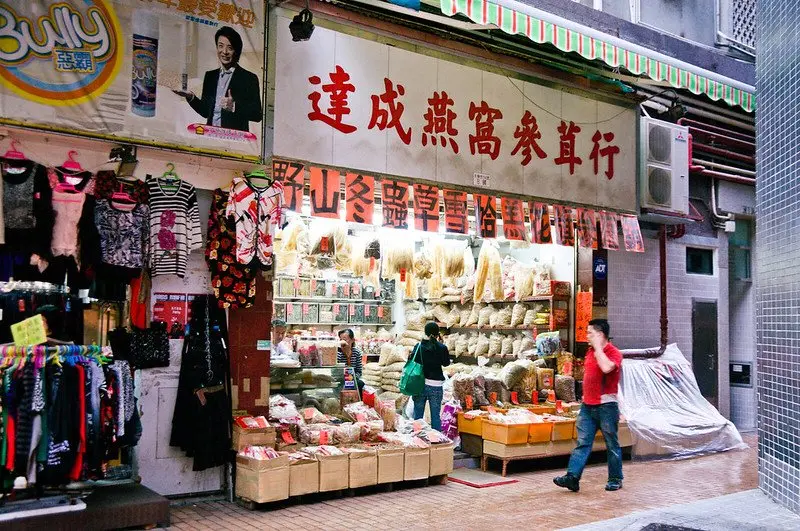 Image credit: Mitch Altman via Flickr CC BY-SA 2.0
THE INSIDE SCOOP: HONG KONG ESSENTIAL INFORMATION
Do I need to pack a raincoat?
You never know!
January and February are cold and rainy, March and April can be unpredictable.
May is pleasant.
Typhoon season is typically June to September.
If your hair is not compatible with humidity (oh, the dreaded frizz), plan your adventure for another time.
Our pick?
October to December except for the fact it is peak season. Our last trip was in early March and it was delightful!
What is the time in Hong Kong?
The city is 2 hours behind Eastern Standard Time and in the same time zone as Western Australia.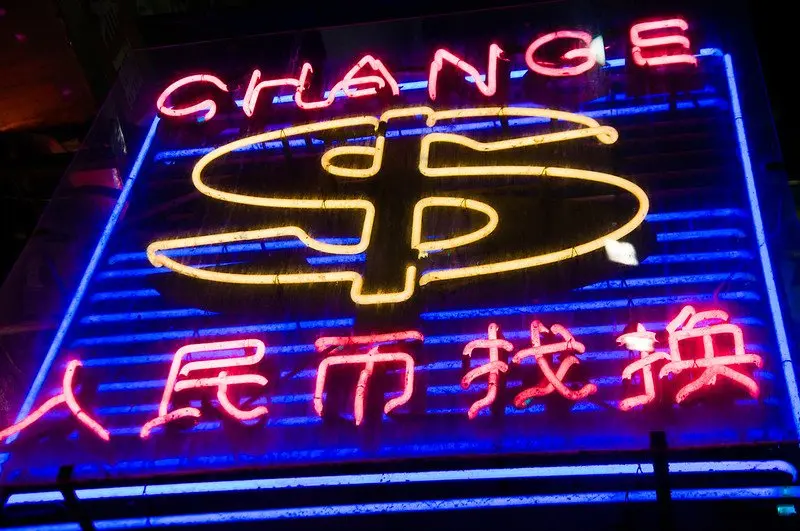 Image credit: Mitch Altman via Flickr CC BY-SA 2.0
What is the currency in Hong Kong?
Hong Kong Dollar.
For up-to-date currency conversions, click here
Traveller's cheques and major credit cards are accepted at most hotels, shops and restaurants.
Most banks are open 9am to 4:30pm weekdays and 9am to 12:30pm on Saturdays.
ATMs are everywhere, with instructions in English.
Tipping in Hong Kong
It is usual to leave a 10% tip in restaurants, hairdressers and taxis. No need to tip for uber in Hong Kong.
Hotels and high-end restaurants add a 10% service charge, but leaving your small change for the staff is good manners.
Electricity Plugs in Hong Kong
220 volts AC, with some outlets taking three round prongs and others two square prongs.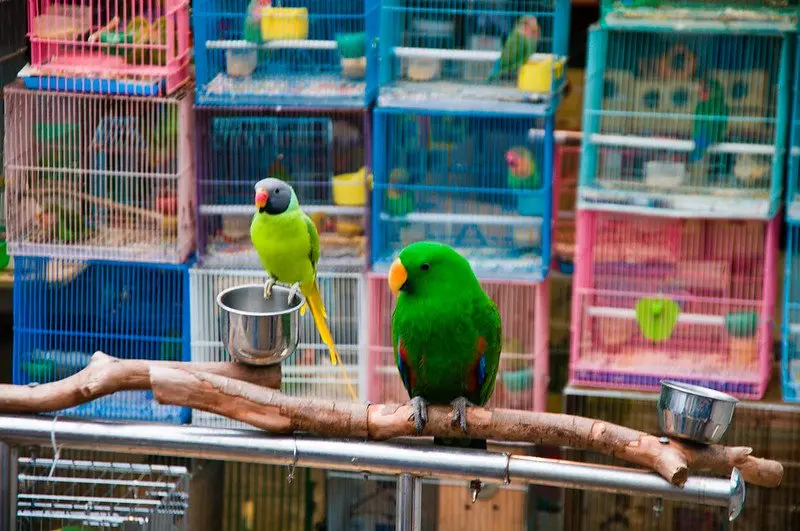 Image credit: Mitch Altman via Flickr CC BY-SA 2.0
Staying healthy in Hong Kong
No vaccinations are required to enter Hong Kong but ask your GP what precautions are recommended. The city is clean and healthy.
Be wary with the kids touching animals though.
Carry wet wipes with you . When you travel with kids, they are UBER-helpful!
Tap water in Hong Kong
Tap water is considered safe but we stick to bottled waters out of habit.
Passport and Visa Requirements for US Citizens
U.S. Citizens visiting for not more than three months/90 days are not required to obtain visas.
While other territories in the region require a passport with six months of validity remaining, Hong Kong generally requires that visitors hold a U.S. passport valid for at least one month and evidence of adequate funds for their stay and onward transportation.
Passport and Visa Requirements for Australia
Australian passport holders don't require a visa to enter HK as long as the passport is valid for 6 months from the date of departure, and the stay is no longer than 3 months.
You will need a visa for mainland China if you are continuing there after Hong Kong.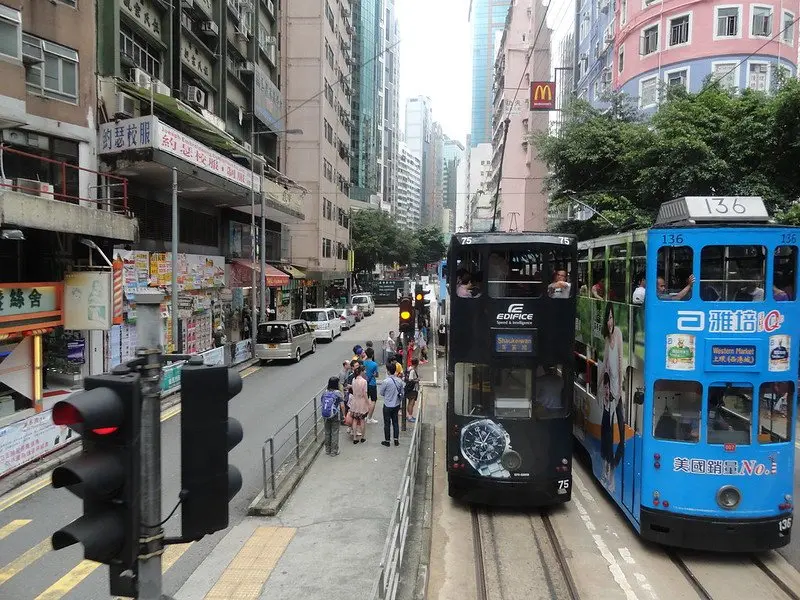 Image credit: Fabio Achilli via Flickr CC BY-SA 2.0
MORE HANDY HONG KONG TIPS
Click here for more handy tips, and things to do in Hong Kong with kids.