INSIDE: Ultimate Guide to the Hong Kong Zoological and Botanical Gardens.
If you've LOTS of time to spare in Hong Kong, the Hong Kong Zoo and Botanical Gardens is a leafy green place to hang out with the kids in the middle of a busy city.
The best thing about the Hong Kong Zoo and Botanical Gardens for families is the chance for the kids to stretch their legs and run about in a natural green space filled with:
hydrangeas
camellias
poinsettias
bamboo and
tree ferns.
There's a zoo, AND one of Hong Kong's best playgrounds too.
Take a look.
Disclosure: This article contains affiliate links. If you make a purchase after clicking on one of these links, we may receive a small commission at NO extra cost to you.
Hong Kong Zoological and Botanical Gardens Central
The Hong Kong Zoo and Botanical Gardens cover quite a large area, and it's free!
Bring a picnic and enjoy a peaceful break away from the crowds, the vehicles and the noise of the city.
---
READ MORE: 16 Best Things to do in Hong Kong with family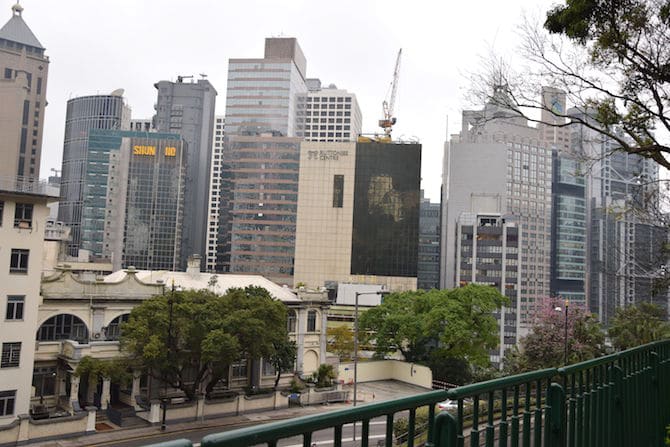 If you enter (as we did) from the bottom, the walking pathways incline all the way to the very top.
Thankfully, zoo displays are on flat ground.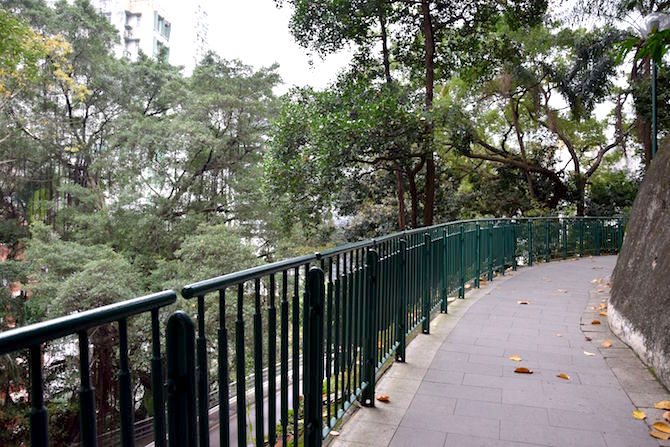 Be prepared to huff and puff your way up and around!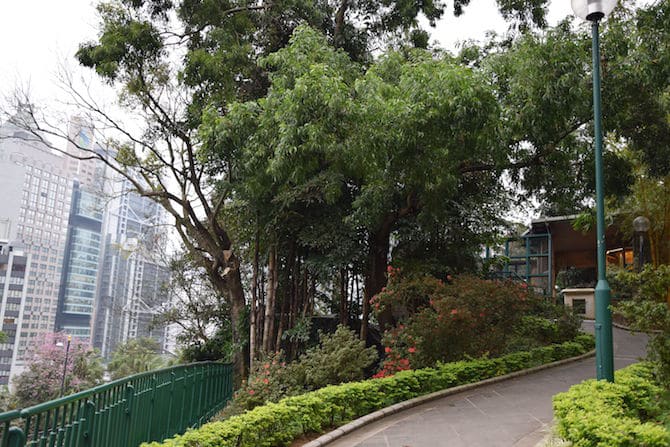 Luckily, there's plenty of seating in the playground at the very top, as you'll need a pitstop to rest those feet when you get there.
---
Book Now: Hong Kong Symphony of Lights Chinese Cruise Tour with drink (Bestseller)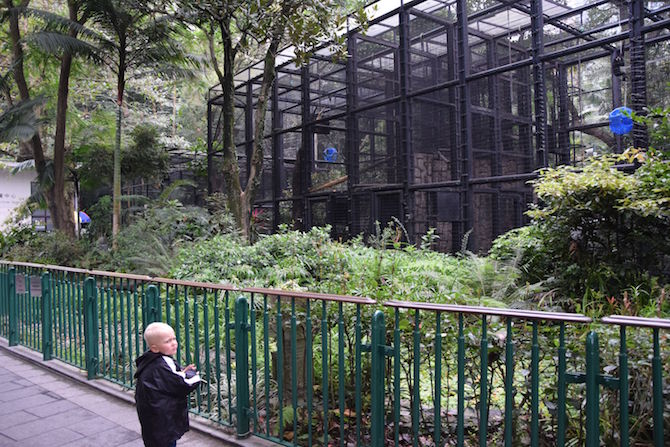 What you'll find at the Hong Kong Zoo
The Zoo itself is a fairly bleak and uninspiring destination.
The monstrous black metal-barred cages retain the antique mood of the Victorian period in which they were built but make it difficult to see the monkeys, orang-utans and chimpanzees moving about.
The animals seem happy enough.
Cages are large and filled with modern playful equipment, but we couldn't help wishing they were allowed out to roam in the forest jungle surrounding us!
---
Check latest prices: Private Hong Kong Foodies Tour with 10 tastings (Get your Guide)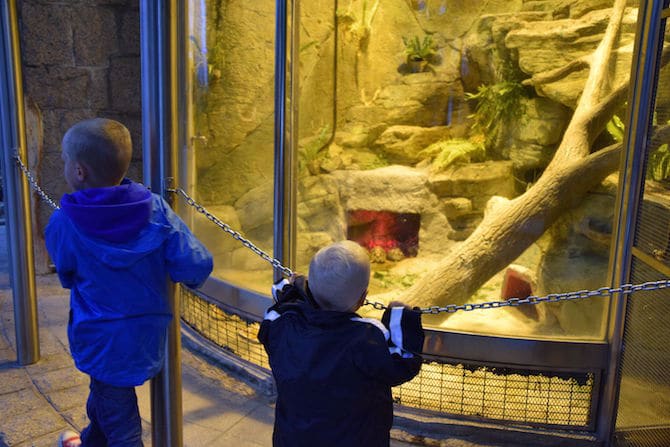 Reptiles on vacation
The Reptile enclosure was the biggest let down of all for Ned.
The snakes and lizards must have been on holiday.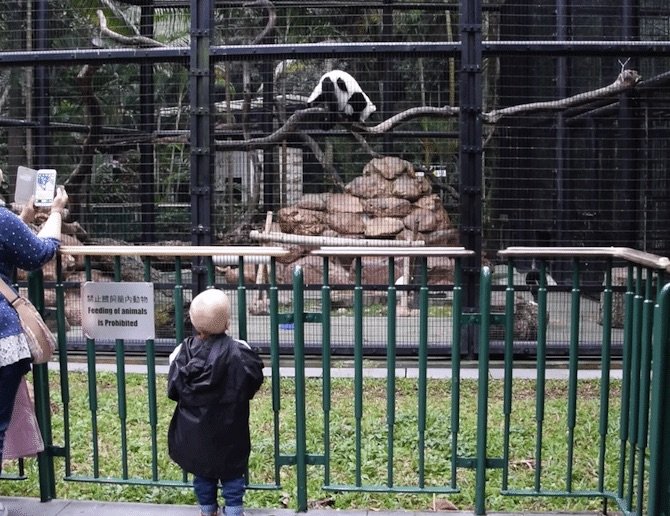 Botanical Garden Animals at Hong Kong Zoo
Look out for these animals bouncing around the place:
Black-and-white ruffed lemur, the highly entertaining characters!
Buff-cheeked gibbons, and
Emperor Tamarin
Meerkats
Bornean Orangutan
Golden headed Lion tamarin
Ring tailed lemur
White-faced Saki
Hoffman's Two-toed Sloth
De Brazza's Monkey
Common Squirrel Monkey
There were quite a few empty cages and displays when we visited, so all up, NOT that much to see.
Image credit: Brad via Flickr CC BY-ND 2.0
Cotton Top Tamarin
Be sure to look for the Cotton-Top Tamarin.
These look like something out of the Dark Crystal movie!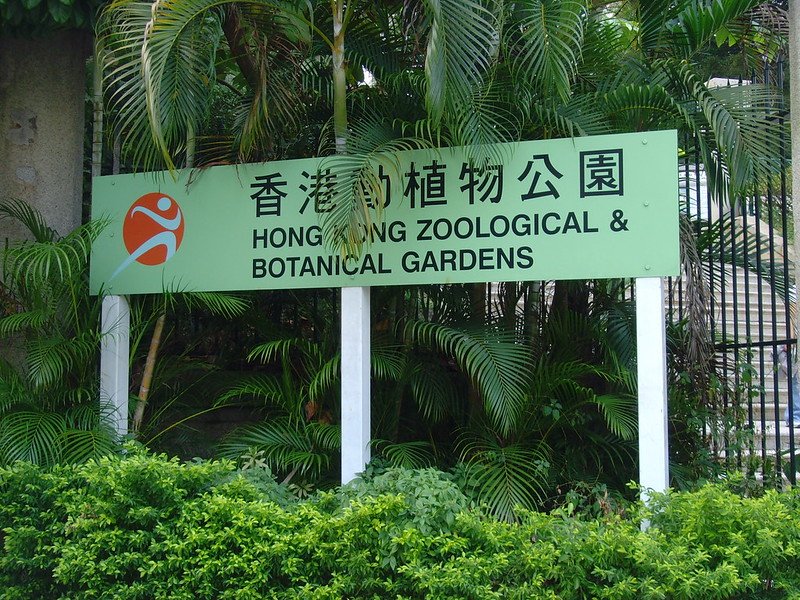 Image credit: Klaus Nahr via Flickr CC BY-SA 2.0
Birds at Hong Kong Zoological Garden
Birds at the Hong Kong zoo include:
Bali Mynah bird
Blue and yellow Macaw
Red-billed Hornbill
American flamingo
Hawaiian goose
and so many more birds from Hong Kong and mainland China!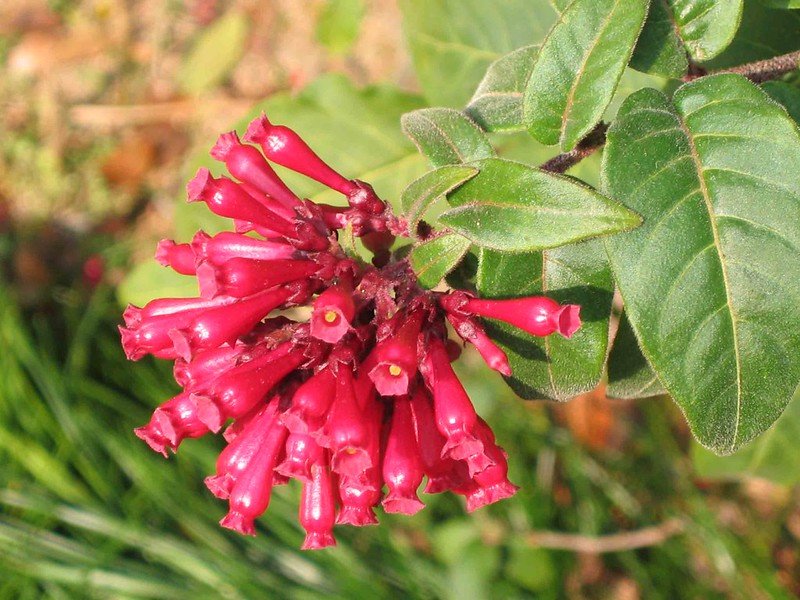 Image credit: HQ via Flickr CC BY-SA 2.0
Species at the Botanical Gardens of Hong Kong
Stroll the gardens and you'll stumble upon:
Old and valuable trees
Special and rare species
Chinese Flowering plants
Blossoms around town
There's also 7 themed gardens including:
Bamboo garden
Camelia garden
Magnolia Garden
Palm Garden
Azalea Garden
Herb Garden
Pollinator's Garden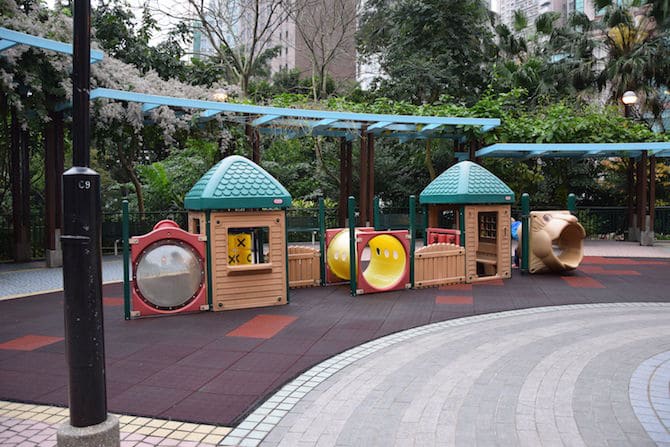 One of the Best Hong Kong Playground Spots!
This HK playground is located at the very top of the Zoo.
It was a slog to get here!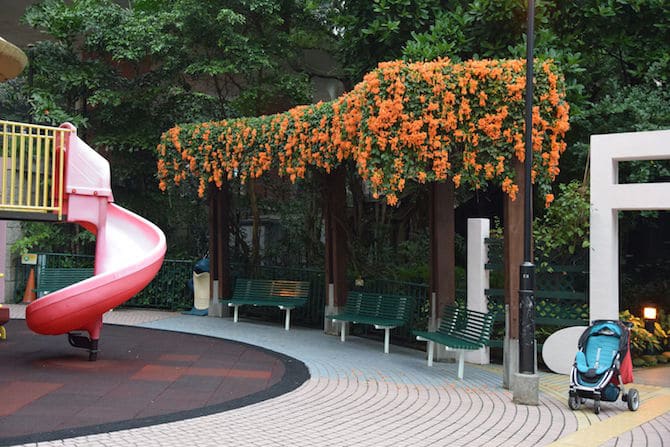 Pretty gardens
While the equipment is lacking in imagination, the playground is HUGE by Hong Kong standards.
It's pretty too, being in the Botanical Gardens, and full of local Hong Kong flowers like ones we saw at Hong Kong Flower Market.
Only one entry/exit point makes it ideal for family travellers, locals and other visitors with toddlers too.
---
RELATED: Another Good Hong Kong playground for kids – Middle Road playground in Tsim Sha Tsui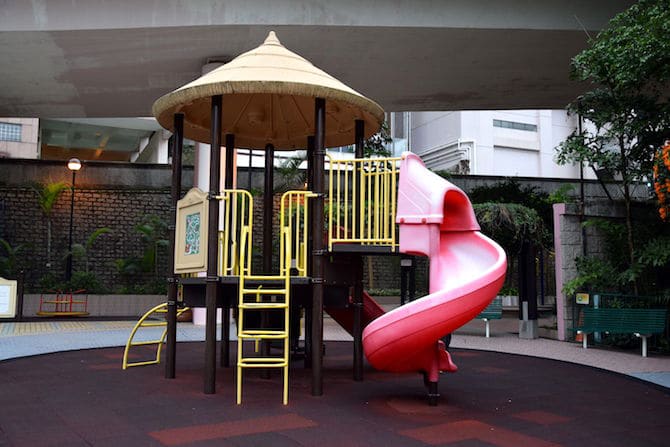 Fun Playground at Hong Kong Botanical Garden and Zoo
Kids will find:
standard hard-plastic prefabricated cubbies
climbing ladders
tunnels
twirly slides, and
forts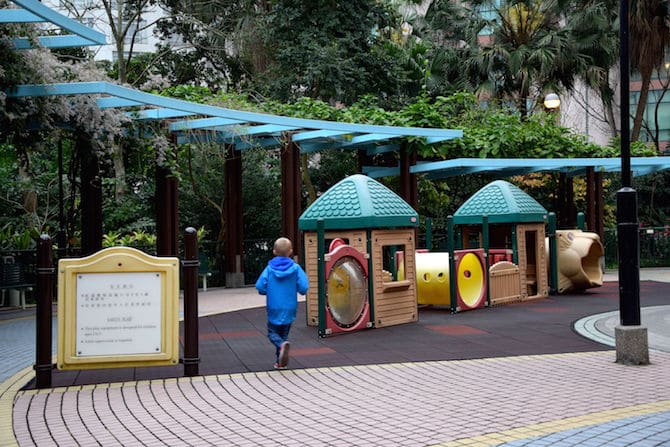 Toddler Playground at Hong Kong Zoo Gardens
There's a toddler play area to the left too.
This consists of two ground level cubby houses, with connecting tunnels.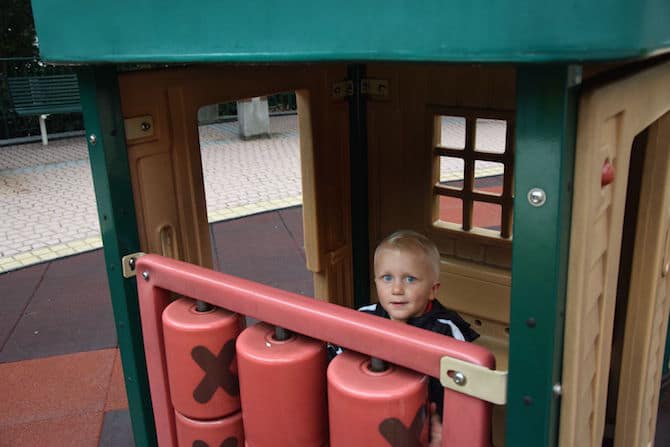 Hong Kong Botanical Gardens playground swings
There's swings and a set of exercise equipment placed down one wing to the side of the main playground also.
Parents love the huge amount of seating, and undercover shade.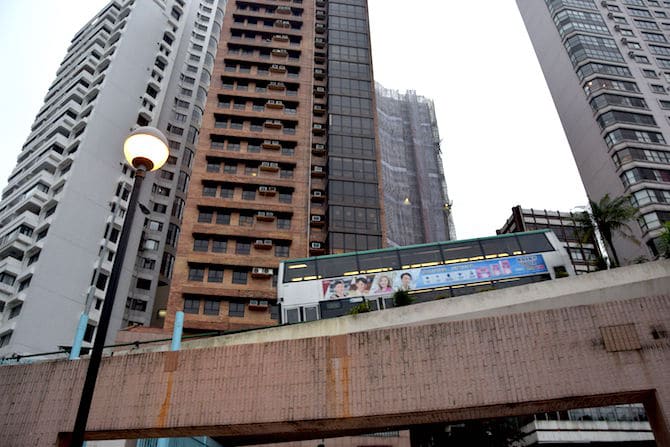 Views from the HK playground
My kids LOVED that they could look UP and see BUSES overhead!
Yes, buses that drive by on the overpass road.
Now, that's something you don't see everywhere!
We've never seen a playground view like it anywhere else.
It's these kinds of adventures and journeys that let the kids experience how children live in other countries too.
(I'm sure they won't take their local playgrounds by pretty rivers and beaches for granted anymore!)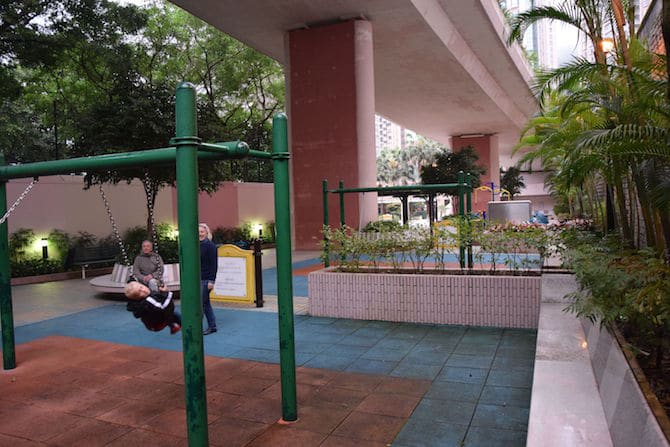 What to eat at the Hong Kong Zoo & Botanic Gardens
We wandered the Hong Kong zoo grounds for quite some time, and barely saw another soul.
We also did not see any places to buy food or drinks within the zoo or gardens themselves but there is a light refreshment kiosk on site somewhere.
In any case, bring your own healthy snacks and drinks.
Or stock up on the must try food in Hong Kong on your way, and sample those yummy treats for morning tea!
There's lovely spots to have an on-the-go picnic throughout the leafy grounds, so make the most of the crowd-free vistas and enjoy the space and quiet.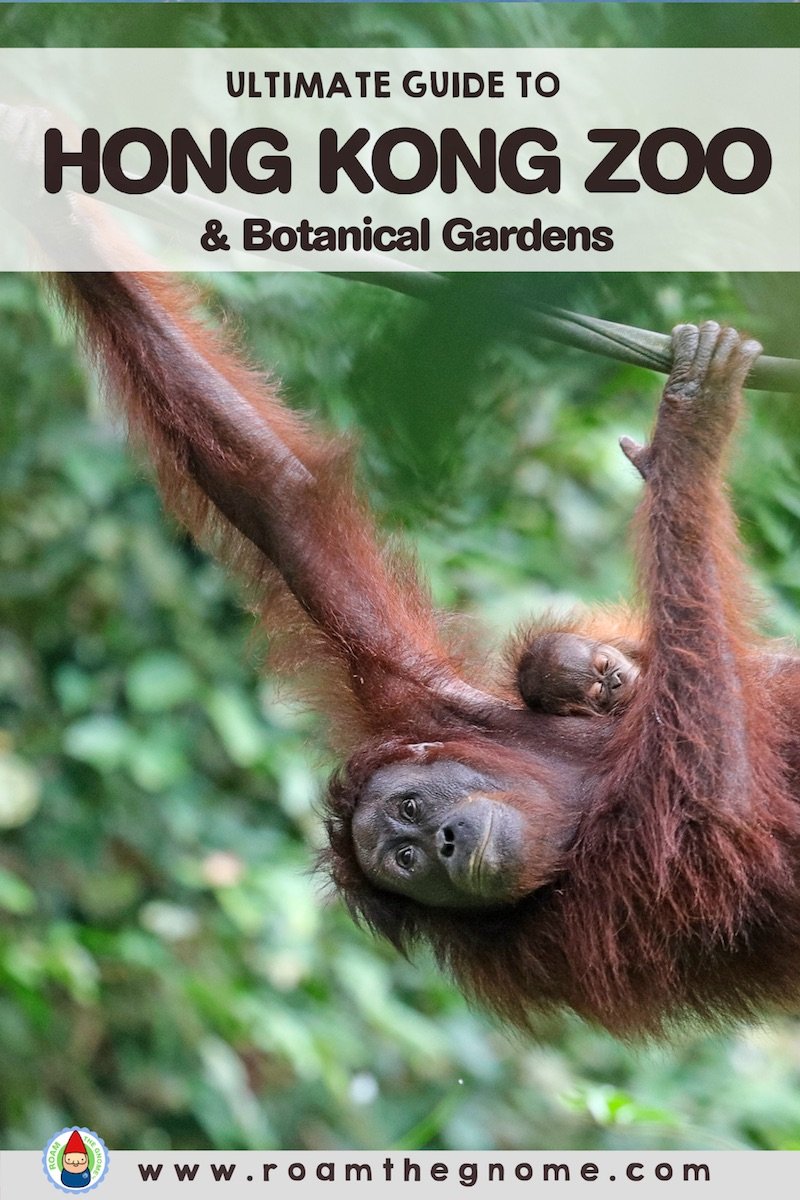 Facilities at the HK Zoo and Botanical Gardens
Check out the Hong Kong Zoo and Botanical Gardens website to find details of FREE classes and workshops being held.
Tai Chi in the gardens starts at 7am daily.
You can book a guided visit, or Meet the Zookeepers on a weekend once a month, between 2pm and 4pm at the Education and Exhibition.
There's also the Green House to wander.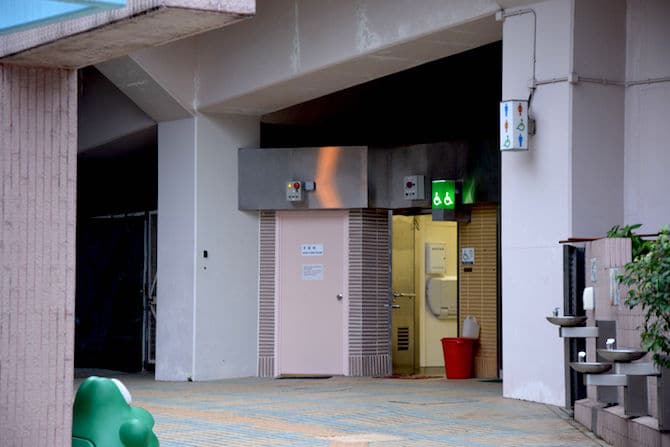 Amenities at the Zoo & Botanical Gardens
Amenities at the HK Garden playground include:
very clean nappy change room and
bathroom/toilets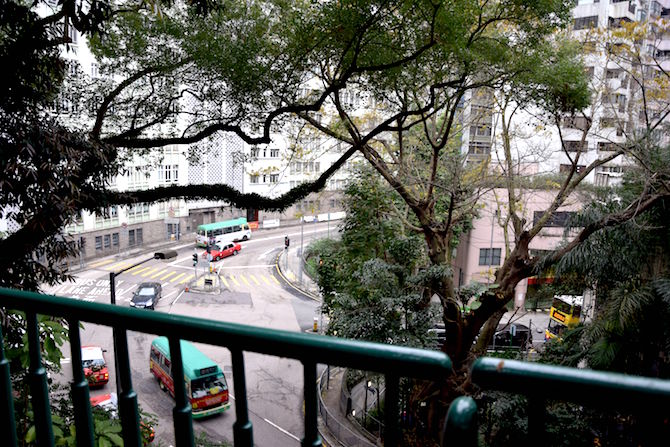 THE INSIDE SCOOP: Hong Kong Zoo and Botanical Gardens
Correct at time of publication on Roam the Gnome. Please check with venue for updates. We apologise in advance if there have been any changes we are unaware of. All prices in HK dollars, unless otherwise stated
Address: Albany Road, Central, Hong Kong
Telephone: +852 2530 0154
Website: Click here
Botanical Garden Opening Hours:
The Hong Kong Zoo and Botanical Gardens Fountain Terrace Garden is open from 5am to 10pm.
The Green House/ Education and Exhibition Centre is open from 9am to 4.30pm.
All other areas of this Hong Kong garden are open from 6 am to 7 pm.
Hong Kong Zoological and Botanical Gardens Entrance Fee: FREE!
How to get to Hong Kong Zoological and Botanical gardens
By MTR: The nearest stations are Admiralty or Central (Walk along Upper Albert Road to enter)
Take Hong Kong Zoological and Botanical Gardens MTR Exit D2 from Central.
Or, MTR Admiralty Station exit C1. Take the covered footbridge across Queensway, enter Pacific Place Shopping Mall and take the escalators on the right to the very top then cross Supreme Court Road into Hong Kong Park.
The gardens are about 10 minutes walk uphill along Garden Road from Hong Kong Park (Cotton Tree Drive exit near Lower Peak Tram Terminus). The route from Hong Kong Park is well signed.
By Bus:12 (from Central Ferry piers), 12A, 12M (from Admiralty MTR Station)., 13 (from City Hall), 23, 23B, 40, 40M, 103
By Minibus:1A, 22, 22S, 28
By Peak Tram: Kennedy Road / MacDonnell Road
Map of Hong Kong Zoo & Botanical Gardens
Toadstool Rating: Longest Escalator in Hong Kong
This Hong Kong park on Albany Road is not really worth the time or effort UNLESS you are a plant specialist, or simply adore trees, or need to escape the pollution, or have a spare day to wander Hong Kong city with kids.
The playground was the highlight.
If you are looking for things to do in Hong Kong with kids, we strongly suggest heading to Hong Kong Disneyland, Snoopy World, or Ocean Park theme park instead.


Looking for More Things to Do in Hong Kong with Kids?
Click the blue links below for more Hong Kong attractions on Hong Kong Island, Kowloon, The New Territories and Lantau Island