INSIDE: Roam the Gnome's Family Visit to the Hong Kong Goldfish market.
If you have animal-mad kids, you MUST VISIT the Hong Kong Goldfish market.
Did you know it's NOT just filled with Goldfish?
Ned was given the best surprise of the day when the Goldfish Market turned out to be the Goldfish/Turtle/Lizard/Frog/Iguana market too.
While we weren't in the market to purchase any goldfish, tropical fish, or iguanas that day, Ned would say this place was better than any zoo.
There's so many bizarre, colorful and intriguing things to look at, study, and observe.
We visited the Hong Kong Goldfish Market, and Ned cried when he couldn't take a baby turtle home!
If you are wondering, what should I make sure to see and do in Hong Kong, take a look below.
Disclosure: This article contains affiliate links. If you make a purchase after clicking on one of these links, we may receive a small commission at NO extra cost to you.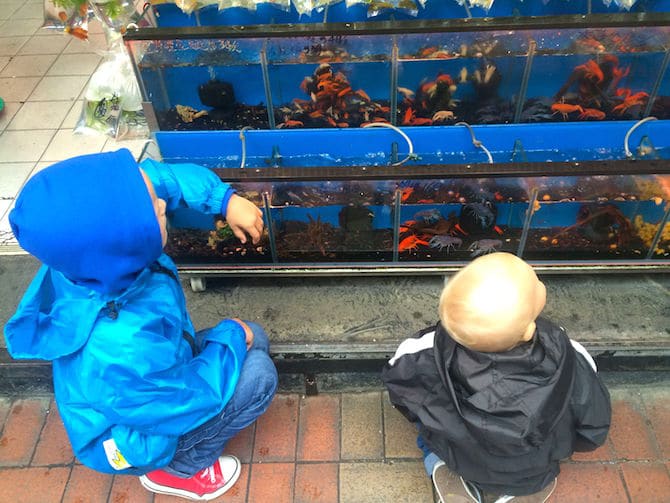 What you'll find at the Hong Kong Goldfish Market
A Goldfish market is a somewhat strange kind of market, but the obvious reason for visiting the Goldfish market in Hong Kong is to see GOLDFISH.
Why are Goldfish so popular in Hong Kong?
Goldfish are popular in Hong Kong because of Feng shui.
Feng shui is the Chinese philosophy where it's important to harmonize and balance yourself with the environment for austerity (simplicity and style) and prosperity.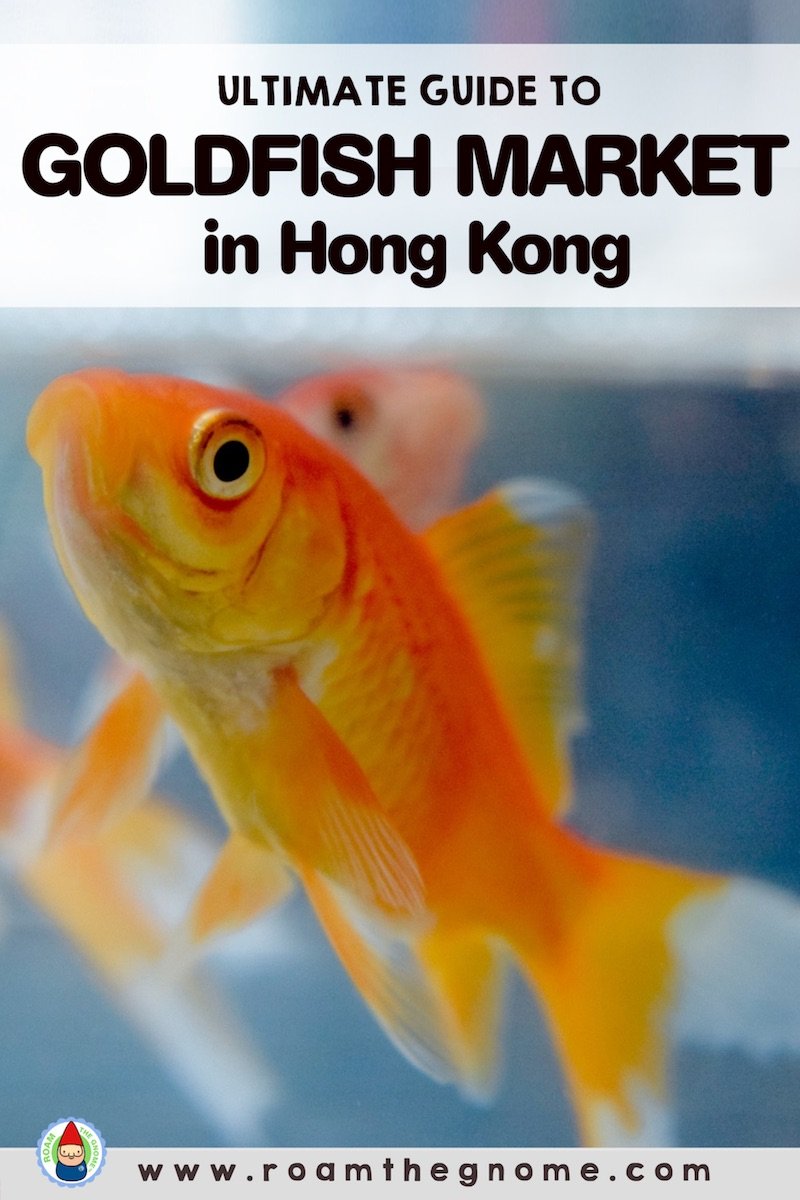 Goldfish and Feng Shui in Hong Kong
Goldfish are seen as a totem for bringing good luck (and wealth!)
Hong Kong locals, as part of their culture, buy fishtanks and goldfish, and place them in particularly auspicious spots inside their homes.
The placement of goldfish in their houses pays homage to their goal of increasing their luck.
Fun Facts about Goldfish
Goldfish can tell different faces apart and are able to distinguish between different shapes, colors and sounds.
Goldfish have been known to live in captivity for 40 YEARS!
Goldfish sleep with their eyes open!
That's because Goldfish don't have eyelids.
---
Book Now: Popular Kowloon Markets Walking Tour with Get Your Guide (Visit & browse the best Kowloon markets in one day)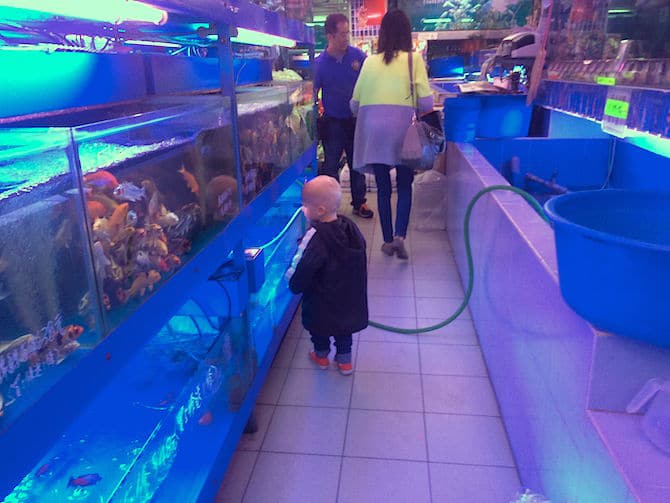 Inside the shops at the Goldfish Market in Mong Kok
While the shop owners were happy enough for the boys to browse out the front, some of them were not so keen for the boys to enter their aquarium shops.
We learned to smile LOTS, and be overly friendly, and the Mong Kok shopkeepers were friendly back.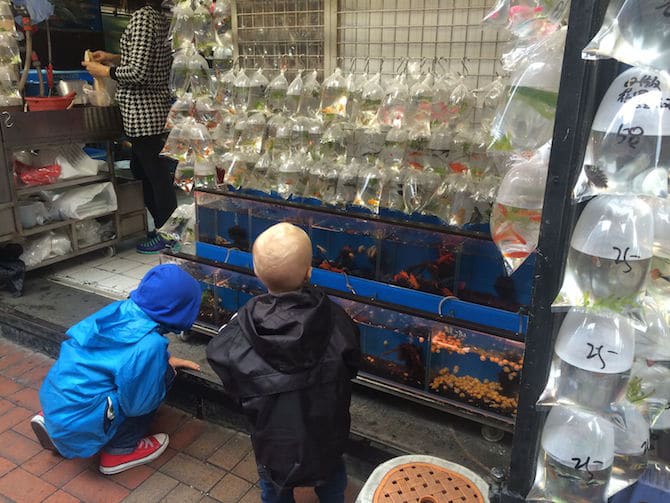 Fun Family Day Out in Hong Kong for Toddlers
Jack thought all these fish and fishtanks were the best thing since sliced bread!
His giggles at the funny things he was seeing was an icebreaker for many of the shopkeepers, who couldn't help but laugh along.
(Hot tip: BYO toddler)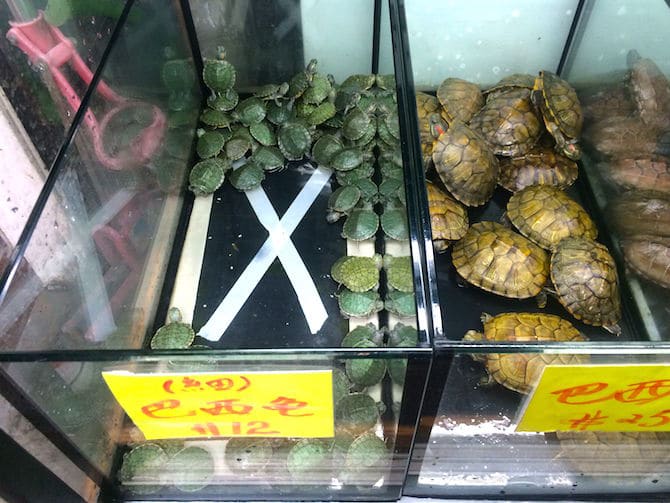 Animals at the GoldFish Market in Tong Choi street
You'll find ALL kinds of animals including:
turtles of all shapes and sizes
aquarium fish of all colors, both common and unusual
iguanas
snakes
spiders
You may even see other pets like dogs, cats, hamsters, and guinea pigs.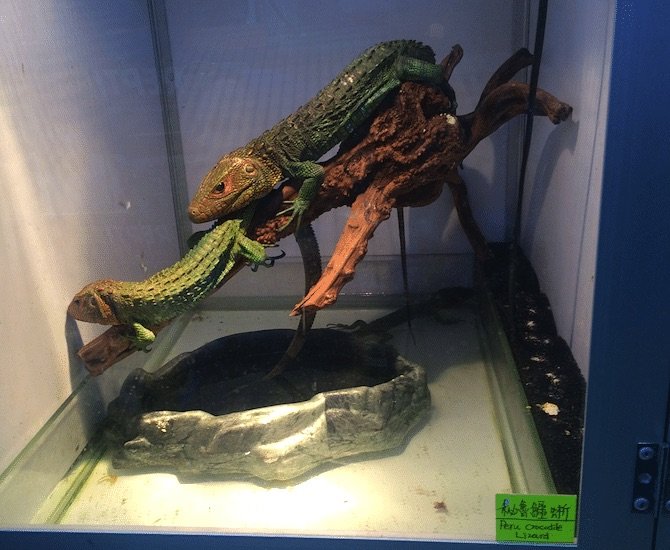 Lizards for sale at the Goldfish Markets
Ned's No.1 favorite were these Peru crocodile lizards.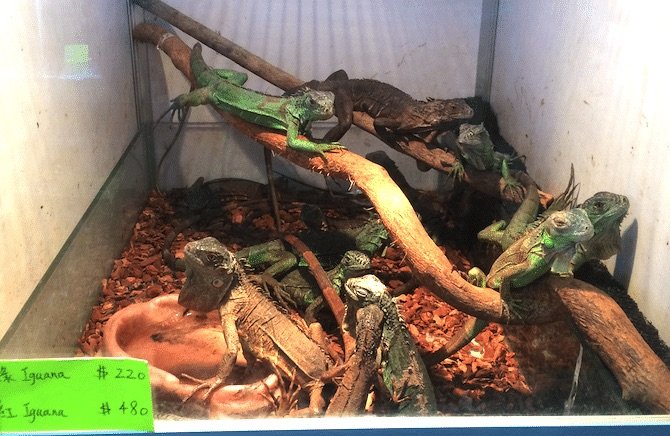 Taking photos at Goldfish Market (& video footage)
Be mindful when taking photos, so you don't find yourself in trouble, or angering the shop keepers.
As you can imagine, some shopkeepers are not keen for tourists to take videos or pictures of the animals they sell.
If you do want to take a souvenir picture, be as discreet as you can.
Some shops have signs asking you not to take pictures or videos.
Respect this.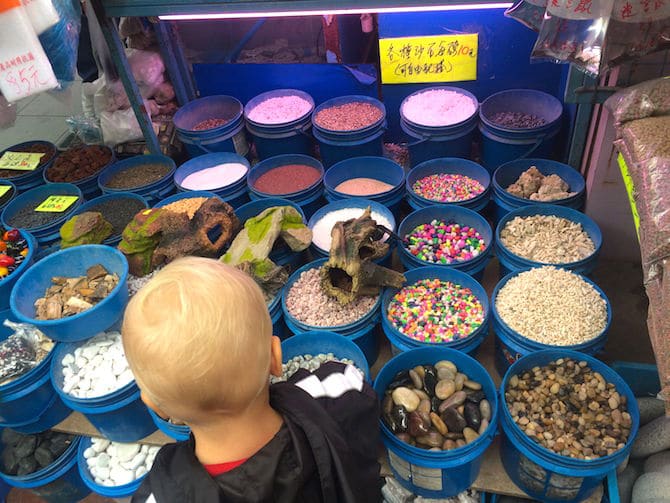 Shopping at the Gold Fish Markets
Interspersed among the aquariums, you'll see a number of shops selling ornamental supplements for fishtanks.
Find supplies of:
fake plants
greenery
shrubs
rock caves
stones
colorful pebbles
coral
slate, AND
rope bridges!
Buy something to show for your travel adventure!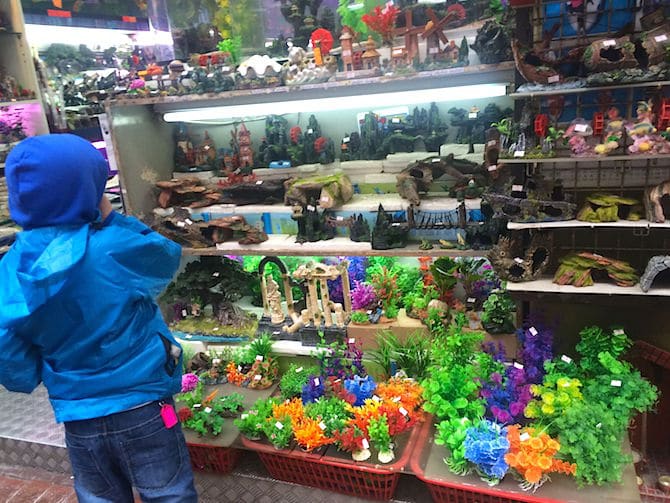 Best Hong Kong souvenirs from the Goldfish Markets
If the kids are really keen for a souvenir of their visit to the Hong Kong Goldfish Market, a fish tank ornament is your only legal and waterproof option!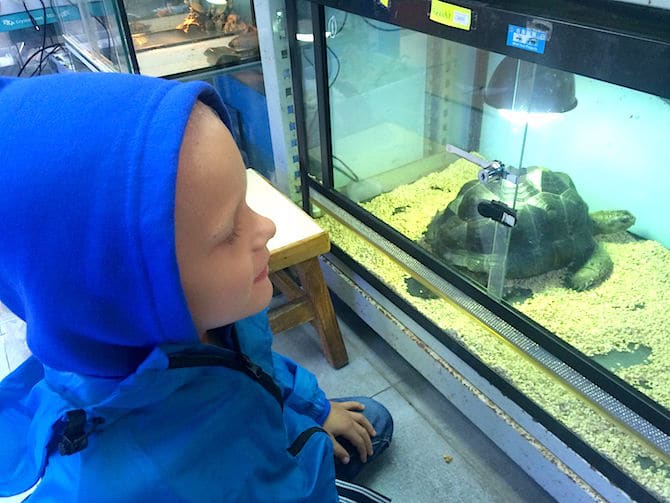 THE INSIDE SCOOP: Goldfish Market Hong Kong
Address: The Hong Kong Goldfish Markets are located on 43-49 Bute Street at 175 Tung Choi Street North, Mong Kok in Kowloon.
Website: Click here
Email: [email protected]
Hong Kong Market Hours
The official Goldfish market Hong Kong opening hours are 10am to 9.45pm.
Most shops in the Goldfish Market area of Tong Choi Street, Mongkok, open in the mid morning time, around 10:00, but maybe closer to 10:30am.
The street itself is quite quiet at this time, as most visitors do not arrive until later.
So there's not much atmosphere if you go too early, but it's good for the kids.
Most of the Goldfish market shops stay open until 8pm-ish
Visiting after dark is impressive too – the lights change the whole look and feel of the place.
Hong Kong Market Entry Fees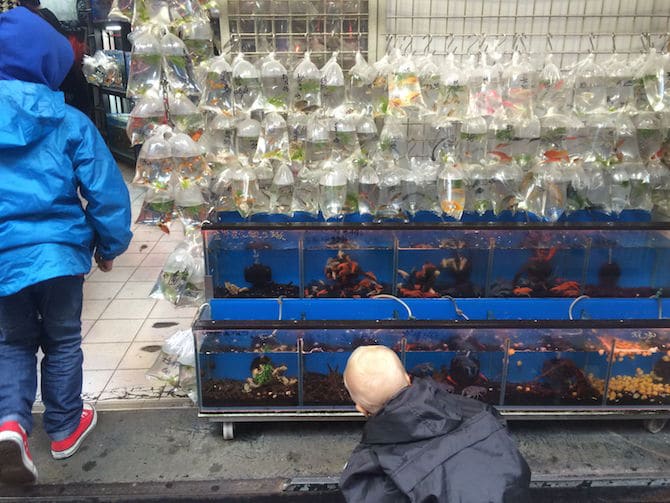 How to get to Goldfish Market in Hong Kong
By MTR:
MTR Prince Edward Station, Exit B2. Walk east along Prince Edward Road West until you reach the market; or,
MTR Mong Kok East Station, Exit C. Walk to Sai Yee Street via the footbridge and follow the signs.
The Goldfish street market starts just a few shops along the road after you leave the bridge.
Where to eat in Hong Kong near the Goldfish Market HK
Click here for a list of places to eat near Hong Kong Goldfish Market – Tung Choi Street.
Read our guide to the must try food in Hong Kong before you go, so you can hit more than one goal.
Map of Hong Kong Fish Market
Toadstool Rating: Gold fish Market in Hong Kong

More Things for Kids to Do near the Goldfish Market?
Correct at time of publication on Roam the Gnome. Please check with venue for updates. We apologise in advance if there have been any changes we are unaware of. All prices in US dollars, unless otherwise stated
Click the blue links below for more Hong Kong attractions on Hong Kong Island, Kowloon, The New Territories and Lantau Island