INSIDE: Roam the Gnome's Guide to the Peak Tramways Funicular & things to do at the top!
Take the The Peak Tram from the Lower Terminus to Victoria Peak at 554 metres high, see the most spectacular view of Hong Kong and Victoria Harbour from anywhere in the city.
Even if it is foggy or overcast, the Peak Tramways ride itself is a fun ride.
Be sure to sit on the right side facing forward to capture the best views as you weave through forests before arriving at the Peak Tower.
Trams depart every 10-15 minutes.
Take a look at our guide below.
Disclosure: This article contains affiliate links. If you make a purchase after clicking on one of these links, we may receive a small commission at NO extra cost to you. Main Image credit: Elyob via Flickr CC BY-SA 2.0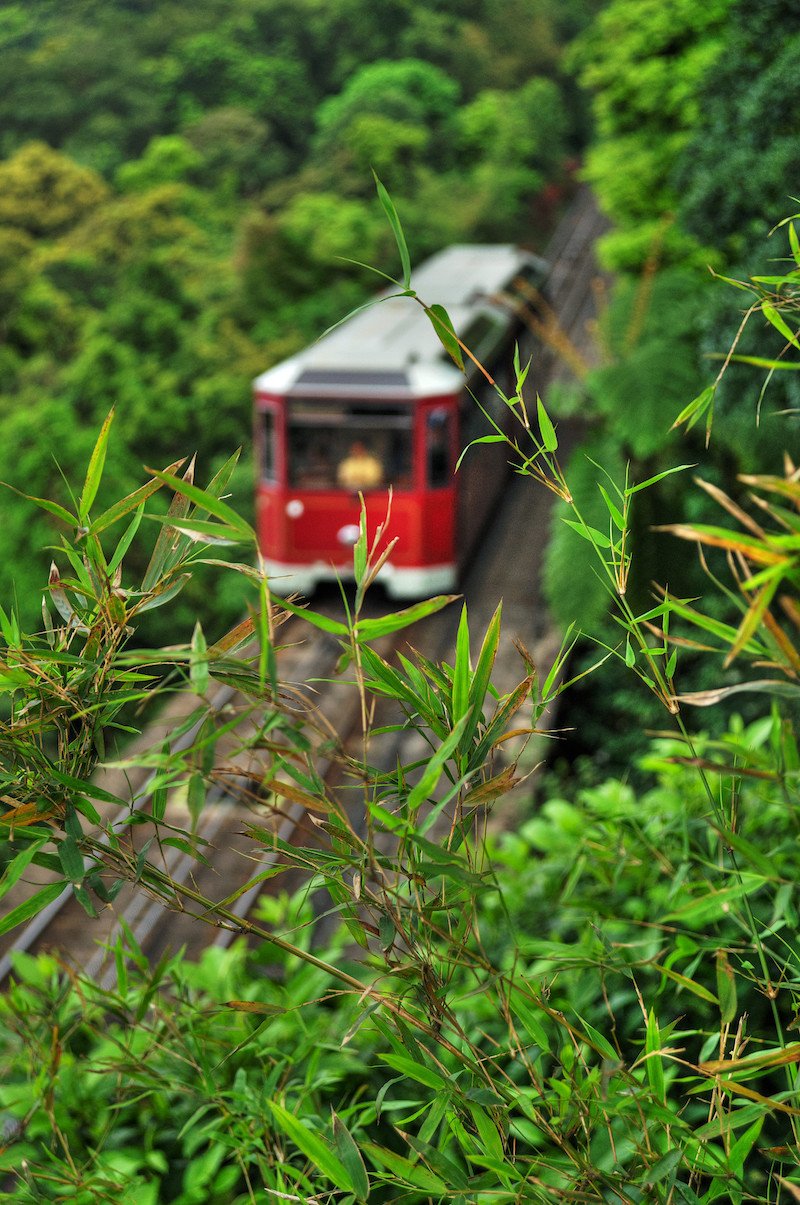 Image credit: Colin Tsoi via Flickr CC BY-2.0
Visit Hong Kong's most popular attraction, The Peak Tramways to Victoria Peak!
Hong Kong Peak Tram History
Firstly, visit The Peak Tram Historical Gallery, located also at the Garden Road Peak Tram Lower Terminus
It's a time tunnel with more than 200 memorabilia exhibited across 15 theme sections, taking you back to Hong Kong in the 19th and 21st century.
Then jump on board the Hong Kong funicular railway.
That's the best way how to get to Victoria Peak.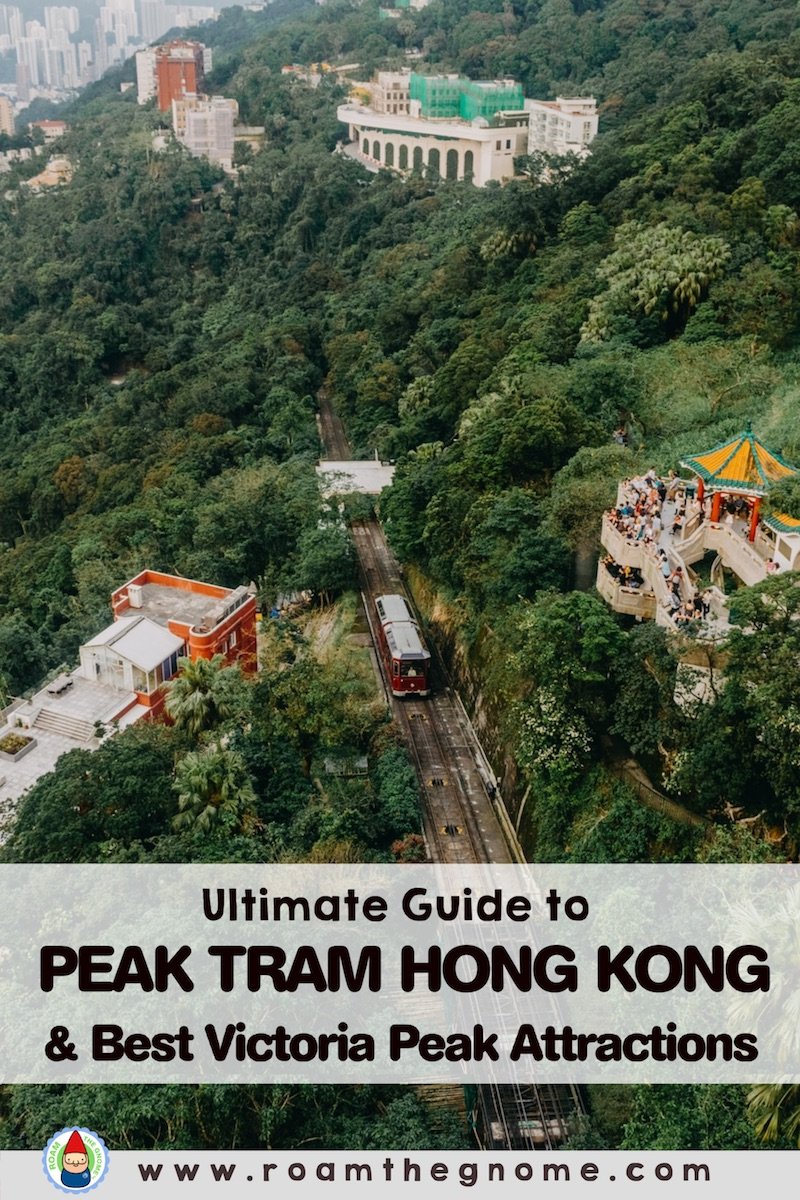 Peak Tram Funicular Railway Height
The Peak Tramways is one of the world's oldest and most famous funicular railways, rising to an epic 396 meters above sea level.
That's about 1,300 feet!
Did you know that the tilt of the Hong Kong funicular tram makes you feel like the buildings on the right side of the tram look like the Hong Kong version of the Leaning Tower of Pisa, multiplied!
(There's even a study to understand how this Hong Kong mountain tram illusion happens!)
---
RELATED: Ultimate Guide to MORE of the Most Fun Public Transport you can ride with kids in Hong Kong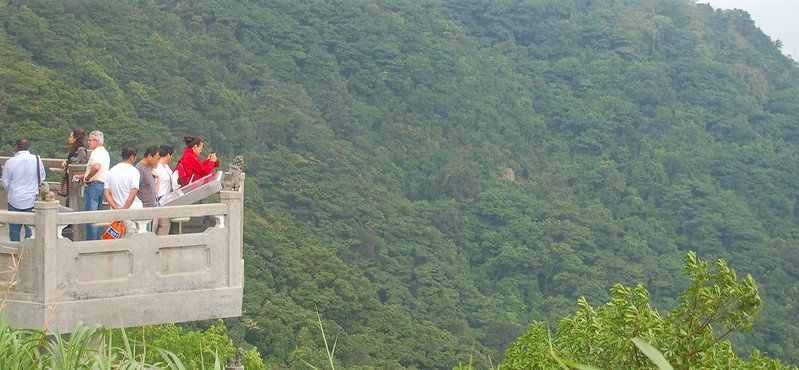 Image credit: Ian Bruce via Flickr CC BY-2.0
Things to do at Victoria Peak in Hong Kong
At the top, the view of Hong Kong from the Peak is only ONE of the attractions.
There's plenty of other things to do at the top of the Peak in Hong Kong.
Here's a sample.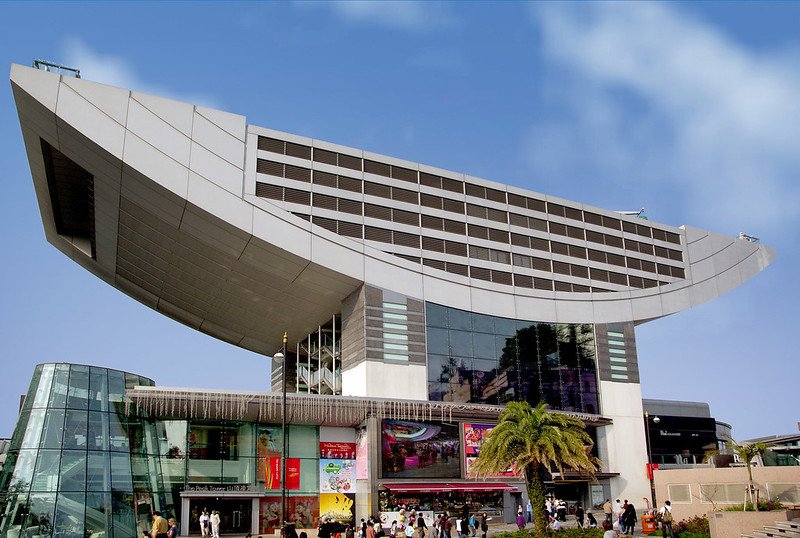 Image credit: Bernard Spragg NZ via Flickr CC BY-1.0
No.1: Visit the Peak Tower
At 396 metres above sea level, The Peak Tower is one of the most stylish and recognisable architectural icons in Hong Kong.
Inside, you'll find a whole lot of entertainment options including the Sky Terrace 428, and other options below.
Open 10am to 10pm, Monday to Friday.
Open 8am to 10pm, weekends and public holidays.
---
BOOK NOW: Check latest prices of the Hong Kong Pass – Visit 10 popular attractions in Hong Kong, included Peak Tram Sky Pass at a discount!
Image credit: David Wiley via Flickr CC BY-2.0
No.2: Sky Terrace Hong Kong
Visit the Sky Terrace 428.
Named in honour of standing at 428 metres above sea level, the Sky Terrace the highest viewing platform in Hong Kong offering a stunning 360-degree panoramic view across the Hong Kong.
Open daily from 10am to 11pm from Monday to Friday, and 8am to 11pm on Saturday, Sunday and Public holidays.
Hong Kong Sky Terrace Audio Tour
The "Hong Kong Sky Tour" is a personal and interactive touch screen audio tour available in six languages.
Visitors can explore Hong Kong's architecture, neighborhoods, cuisine, culture and history while enjoying the spectacular views of Hong Kong Skyline at the top of Hong Kong.
This audio tour is included in your entry ticket.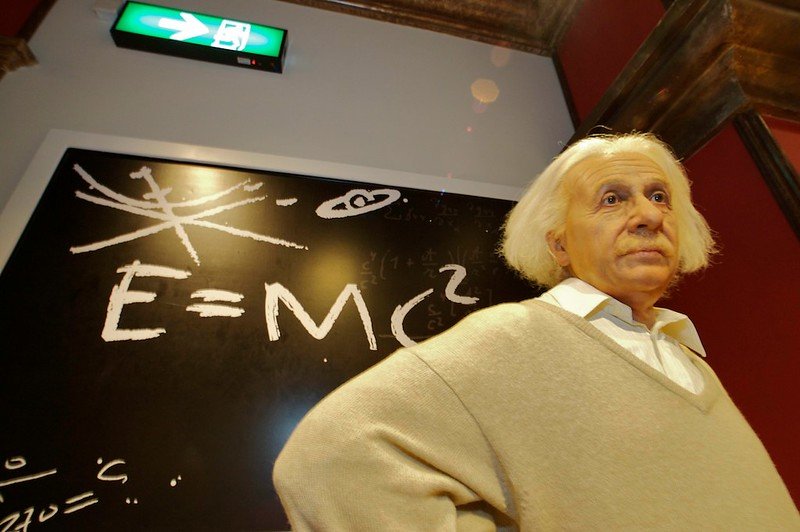 Image credit: Glen Johannes via Flickr CC BY-2.0
No.3: Madame Tussauds Hong Kong
Visit Madame Tussauds Wax Museum inside the Tower.
See all the famous faces including:
Artist Yayoi Kusama
Chinese pop stars and actors
David Beckman
Ariana Grande
Lady Gaga
Donald Trump
Benedict Cumberbatch
Plus, there's lots of hands on opportunities to sing, dance and more.
Open daily from 9am to 10pm.
Find it at Shop P101, Level P1.
Book Now: Madame Tussauds Priority Ticket & Photo Option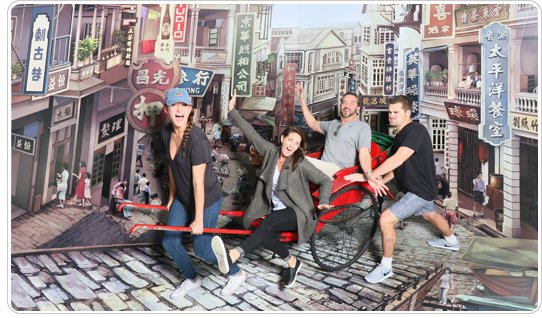 Image credit: Madness 3D adventure via Flickr CC BY-2.0
No.4: Trick Eye Museum Hong Kong
Visit the Madness 3D Adventure on Level 1, The Peak Galleria 118 Peak Road Hong Kong.
Trick Eye Museum is an interactive museum where you get to play the role of actor, director and photographer!
Trick Eye Museum features oversized optical illusion paintings and installations that trick both your eyes and the camera lens.
The paintings are painted onto plain surfaces to make them come alive through the use of optical illusions.
Plus, some paintings have 3D props for that extra touch!
Open daily from 10 am to 11pm, 7 days.
Free entry!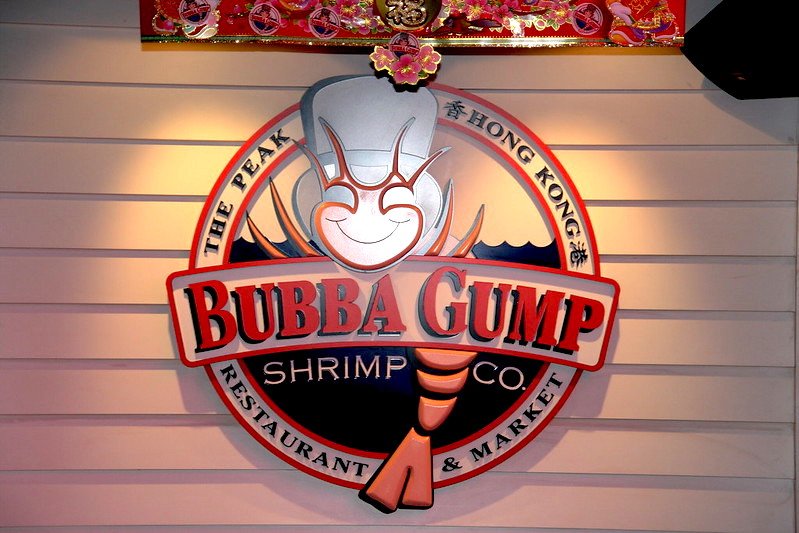 Image credit: Alexander Meins via Flickr CC BY-2.0
No.5: Bubba Gump Shrimp Restaurant
Stuff yourselves with Seafood at Bubba Gumps (kitsch but fun!)
Spot the memorabilia and photos from the Forest Gump movie.
Plus, enjoy fun dining for the whole family surrounded by reproductions of script pages, storyboards, and costumes!
Try one of the signature dishes:
Dixie-style baby back ribs
Accidental fish and shrimp
Shrimper's heaven
Open daily from 11:30am to 9:30pm
Last order: 8:30pm
Other Restaurants at the Peak Hong Kong
The other restaurants at Sky Terrace include:
Wildfire Pizzabar and Grill
Lu Feng dumplings and dim su,
Fujiyama Mama sushi
Burger King
Mimi Desserts
Pacific Coffee
Hong Kong Day Cafe
Try the Hong Kong cafe for signature Hong Kong food you must try including Hong Kong style milk tea, french toast, luncheon meat and egg instant noodles, and stir fried rice noodles with sliced beef.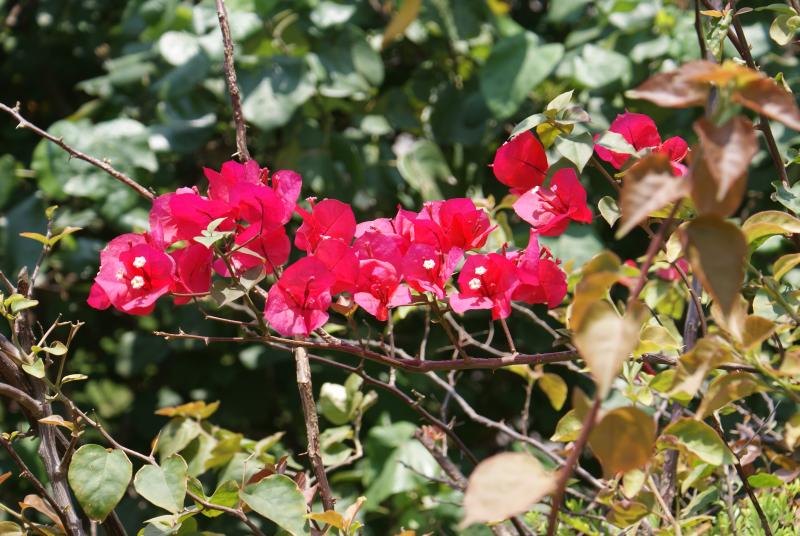 Image credit: David Bailey via Flickr CC BY-SA 2.0
No.6 Victoria Peak Hiking Trails
Go for a 40 minute bushwalk on the Victoria Peak Garden trail, a mountain track through the Victoria Peak gardens to the summit.
At the top, you can circumnavigate around the peak too, a walk of about another 60 minutes on the Peak Circle walk experience. It's called the Hong Kong trail.
Bring the Ergo carrier for your toddler!.
Here's details of these two walks, plus two more.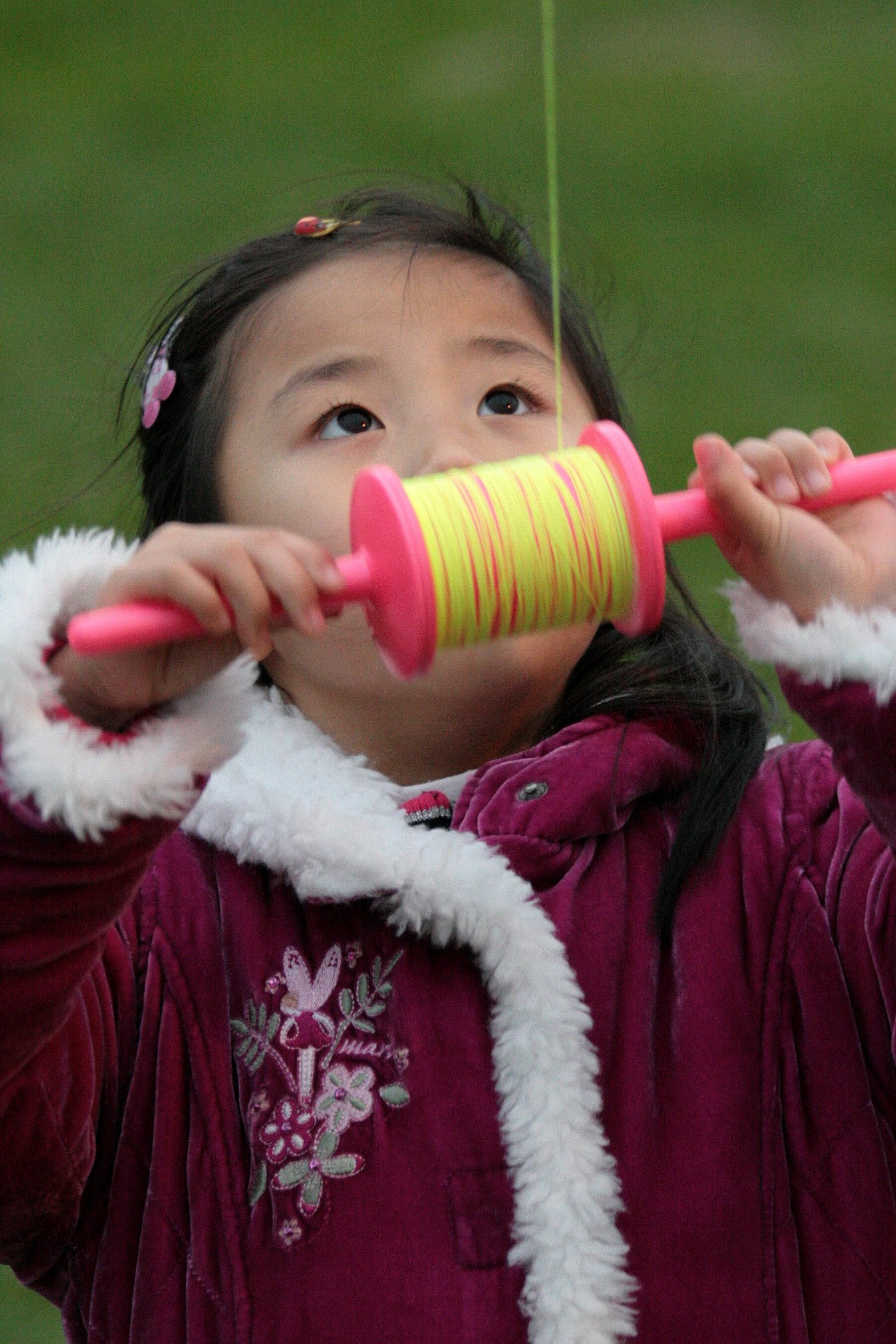 Image credit: Tommy Wong via Flickr CC BY-2.0
No. 7: Kite Flying
Watch locals flying Chinese kites from the summit.
No.8: Visit the Mount Austin Playground at the Peak
Let the kids loose on the Peak Playground, a popular playground for local families.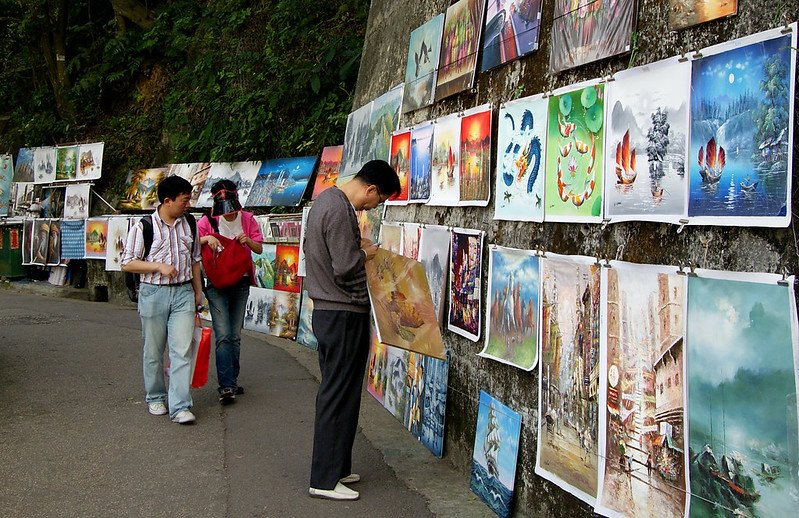 Image credit: Bernard Spragg NZ via Flickr CC BY-1.0
No.9: Shop for art
Wander the gardens to pick up a piece of Hong Kong artistry.
This is a unique souvenir to take home from Hong Kong.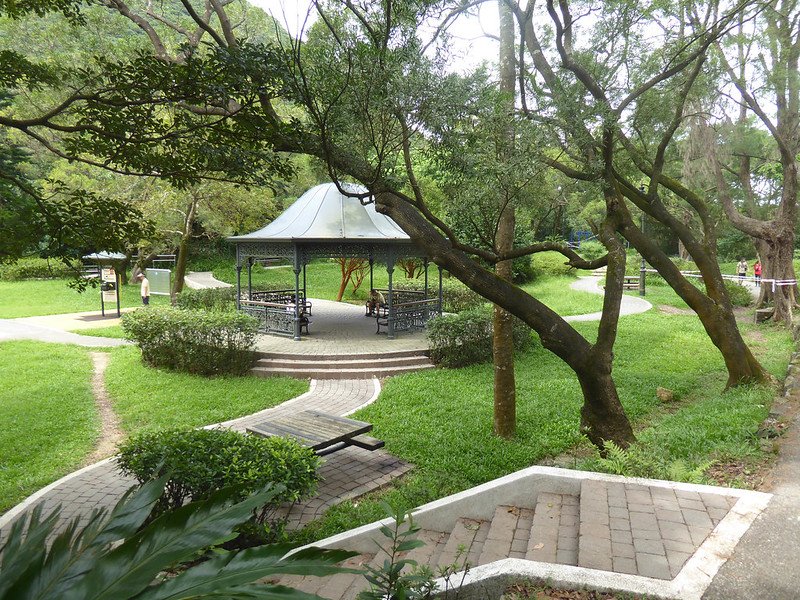 Image credit: Mikel Santamaria via Flickr CC BY-SA 2.0
No.10: Chinese Gardens in Hong Kong
Wander round the Chinese Gardens to enjoy some sunshine, away from the city fumes.
No.11: Catch the Hong Kong bus down the bends
Return to central Hong Kong via the bus.
The windy streets around the Peak tramways line are super fun!
Bus Number 15 runs from 6am till midnight back to the Star Ferry Terminal in Central.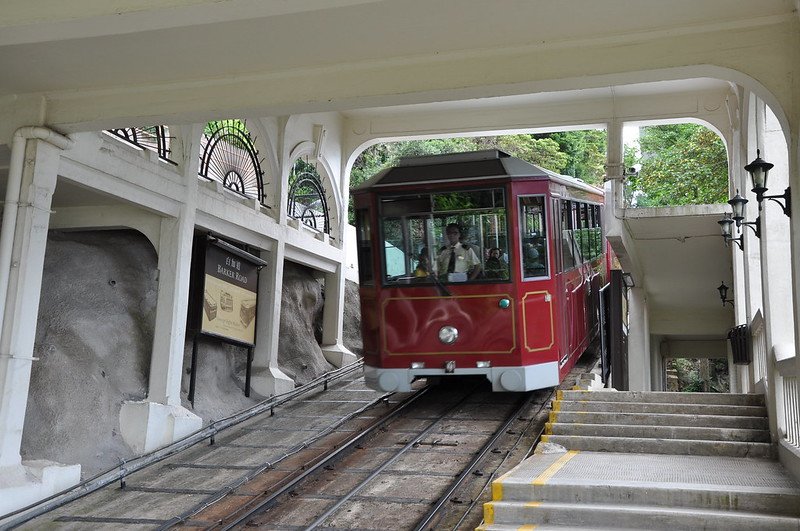 Image credit: See Inside via Flickr CC BY-2.0
THE INSIDE SCOOP: The Peak Tram Hong Kong
Correct at time of publication on Roam the Gnome. Please check with venue for updates. We apologise in advance if there have been any changes we are unaware of. All prices in HK dollars, unless otherwise stated
The Peak Tramway Address: Find the Peak tram in Hong Kong at 128 Peak Road, The Peak, Hong Kong
Phone: (852) 2522 0922
Email: [email protected]
The Peak Tram Opening Hours (Lower Terminus)
Open daily from 7am to 10pm.
All tickets are sold at Garden Road Peak Tram Lower Terminus or appointed travel agents.
Board at Lower Terminus on 33 Garden Road.
How much is the Peak Tram?
Prices 2020:
Peak Tram Sky Pass ( Peak Tram and Sky Terrace)
Adult return HK$99
Child (3-11 years) return HK$47
Adult single HK$84
Child single HK$39
Peak Tram only.
Adult return HK$52
Child return HK$23
Adult single HK$37
Child single HK$14
Children under 3 FREE!
Note: Peak Tram Upper Terminus (The Peak Tower) sells Peak Tram tickets only.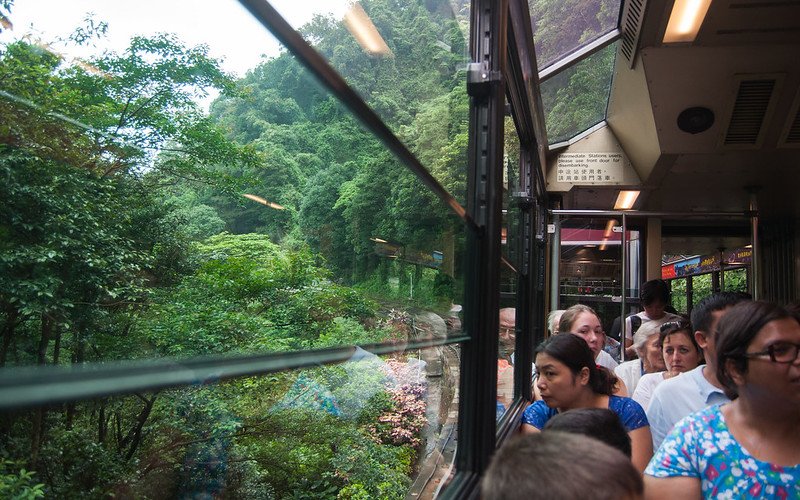 Image credit: Meraj Chhaya via Flickr CC BY-2.0
How to get to the Peak Tram
Click here and type in your location to get directions to the Peak Tram lower terminus.
Map of the Peak Tram Departure Point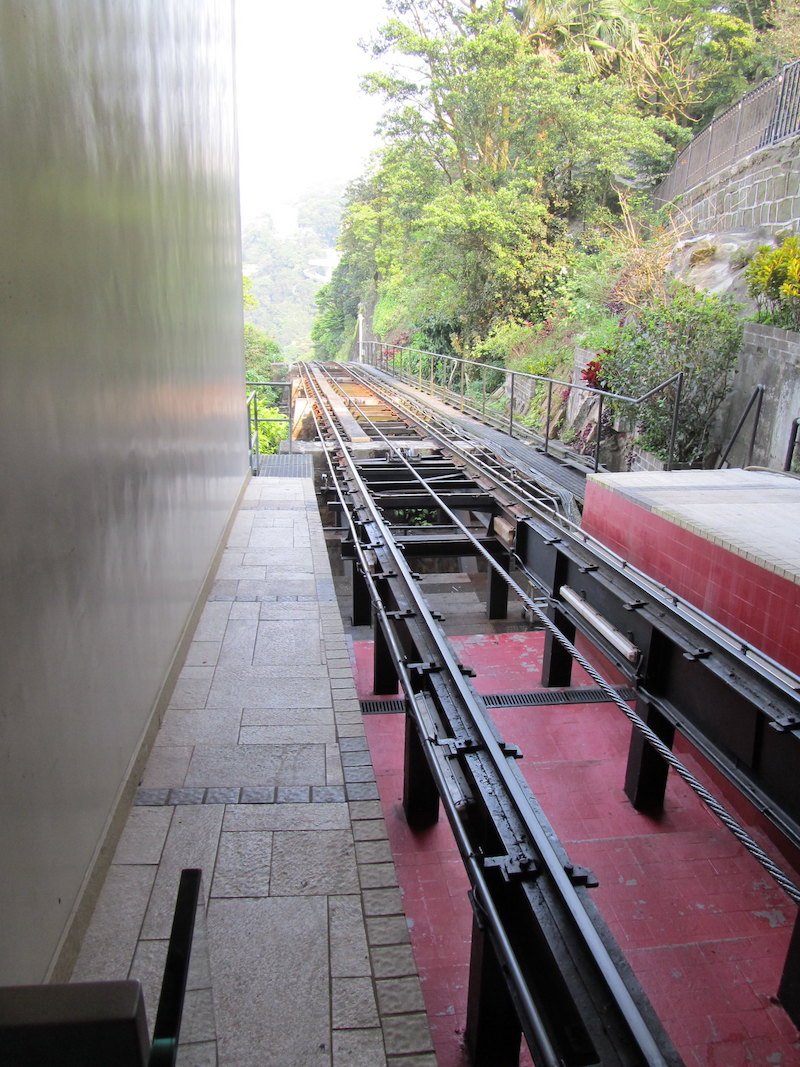 Image credit: Andrew Baron via Flickr CC BY-2.0
Toadstool Rating: The Peak Tram Hong Kong

Looking for Hong Kong Tourist Attractions ?
Click the blue links below for more Hong Kong attractions on Hong Kong Island, Kowloon, The New Territories and Lantau Island