INSIDE: Take a look at the fun Gloucester Gate Regents Park playground in London for kids.
We stumbled upon Gloucester Gate Regents Park playground by accident, and had a fabulous time hanging out with locals and their kids.
This is not an adventure playground in London that tourists frequent very often, so you can be assured of real-life interactions with British folk.
That's exactly the kind of immersive, real life experience we love to find when we travelling in London with kids.
Take a good look at this playground in Regents park below.
Disclosure: This article contains affiliate links. If you make a purchase after clicking on one of these links, we may receive a small commission at NO extra cost to you.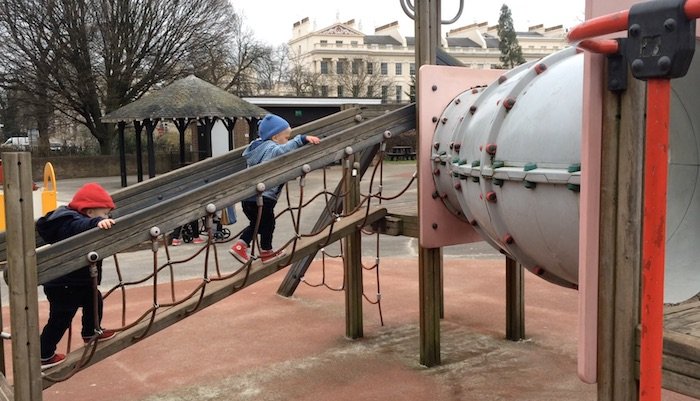 Guide to Gloucester Gate Playground Regents Park
Gloucester Gate playground has super fun retro-style playground equipment, including one of those quirky spin-around merry go rounds that were everywhere when I was a kid.
I adore retro playground equipment with all my heart, and love to show it to my boys.
It's not often you find old-school playground equipment anymore, so I treasure those retro playgrounds when we do.
---
READ MORE: The Ultimate Guide to the BEST London Playgrounds for Kids (NEW)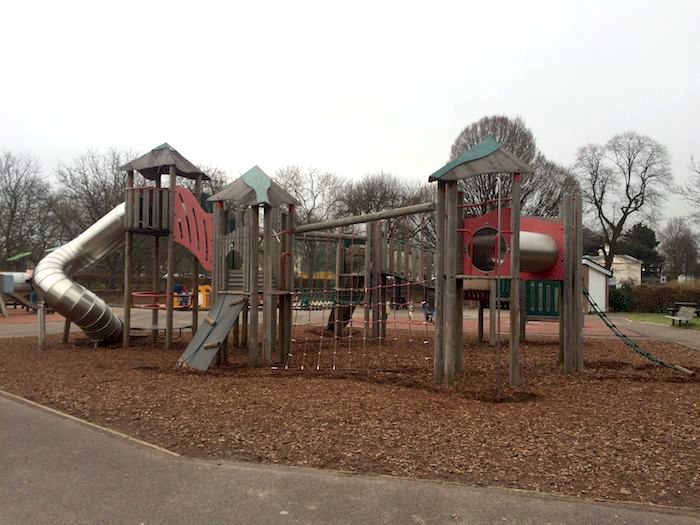 Gloucester Gate Regents Park playground equipment
Set of four swings for big kids
Set of four bucket swings for toddlers and babies
Turnstile swing-arounds
Toddler fort playground with firemans poles, climbing nets, tunnel and slides
Giant fort for bigger kids with giant silver slide
---
RELATED: Ultimate Guide of Things to do in London with kids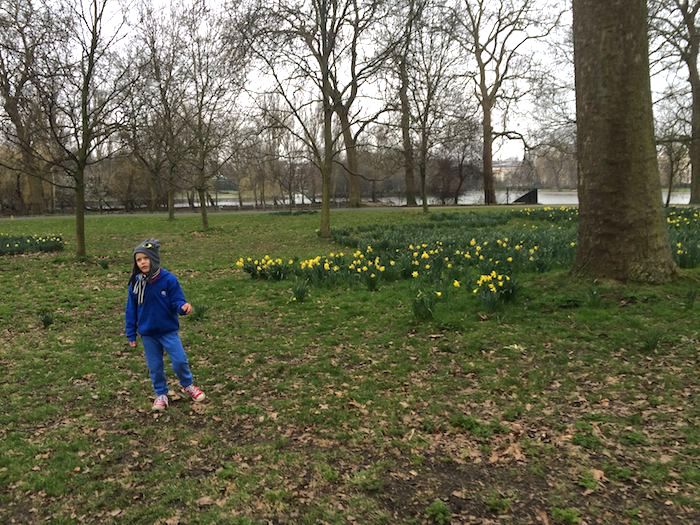 Best Regents Park picnic areas
This Regents Park children's playground has a modern toilet block inside the gates, is fully fenced, lots of bench seating around the perimeter, and a rotunda with picnic table.
It's metres away from a fun nature playground in London – a stack of monster logs to climb on and scramble over.
The best bit for mums and dads?
The views of the classic English terrace homes on the other side of the hedging and trees.
We can dream.
But that view makes this one of the best playgrounds in London!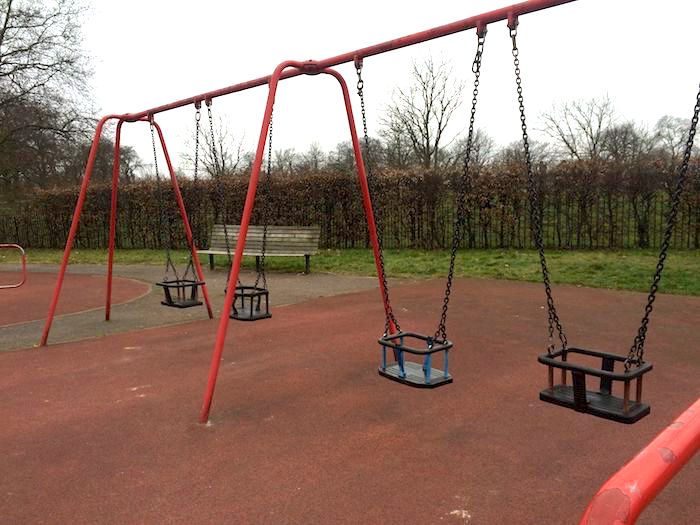 Best parks in London for toddlers
If you are visiting London with toddlers, make a beeline to Gloucester gate playground.
This is one of the best parks in London for toddlers and preschoolers, and it's safe too.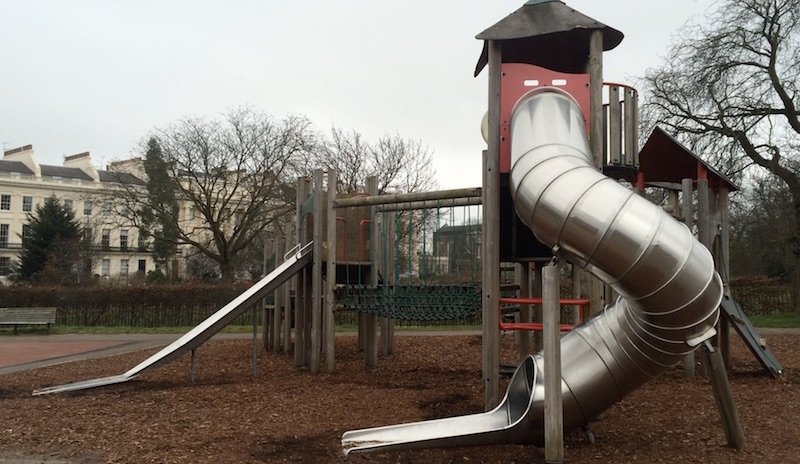 Latest News about this London Playground Makeover
Since the 1930s, children have been swinging, sliding and climbing in Gloucester Gate Playground, just to the east of London Zoo.
The playground is currently under renovation, and will open shortly.
The change will be a move to a more natural inclusive playground – removing the metal slides, tired forts, and old equipment that is in need of repair and renovation. New elements will be incorporated into the playground to honour the history of the Regent Park play area in Royal Parks.
The designers have worked hard to overcome the barren look of the current playground with natural materials and inspired design.
New additions will include:
small hills to mimic the nearby mounds formed from rubble during the Second World War.
new hedges, trees and flowers to help the new playground to blend seamlessly into the historic landscape of The Regent's Park
updated architecture landscape featuring natural materials such as wood, rope, bark and willow
a 50-metre zip wire
bespoke climbing equipment and climbing frames
water pumps
swings, slides, and sandpit of a traditional playground.
Accessibility has been at the forefront of the design, and a wheelchair accessible roundabout and bridge will feature, as well as a wide slide and raised tables for water and sand play.
The project has been made possible thanks to a generous donation from the London Marathon Charitable Trust and a mix of public and private donations.
The Trust has also funded a Play Co-Ordinator to work across The Regent's Park and Greenwich Park.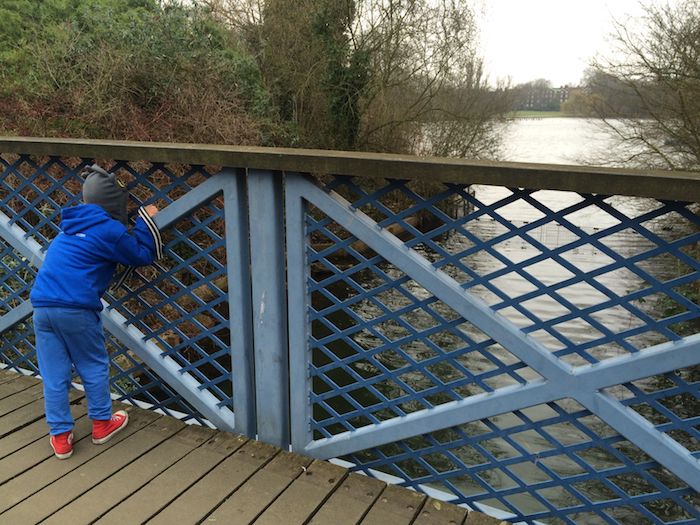 Visit other Regents Park Playgrounds during the Renovation
Whilst the playground is closed, please visit one of the remaining three playgrounds in The Regent's Park and Primrose Hill:
Hanover Gate playground
Hanover Gate playground in Regents Park
Climb the wooden fort tree house!
Marylebone Green Playground
This is our favourite park in Regent's Park – it has THREE playgrounds in one!
Primrose Hill playground
It's just a hop, skip and a jump from London Zoo!
Current photos of Regents Park Gloucester Gate Playground for comparison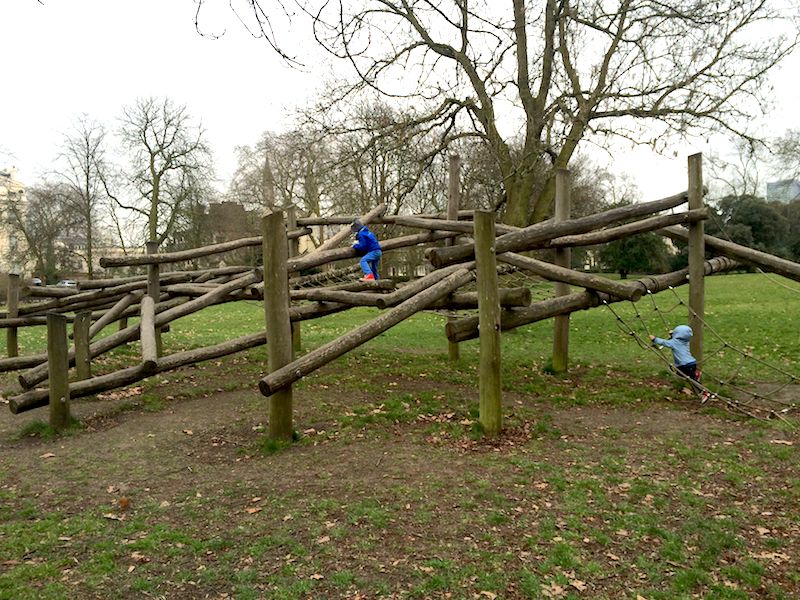 Nature Playground near Gloucester Gate Playground entrance
Did you know there's also a London nature playground near the Gloucester Gate playground entrance?
What's near this Regents Park Playground Gloucester Gate?
Broad Walk cafe is a 5 minute stroll from the Gloucester Playground.
London Zoo is not far either, an 8 minute walk to the main entrance.
Visit:
Queen Mary's Rose Gardens
the Japanese Garden island
the Triton fountain, and
the Boy and Frog statue in the Inner Circle, off Chester Road.
Find information about all these things at the Regents Park information map as you enter the park, or ask at the information park deck.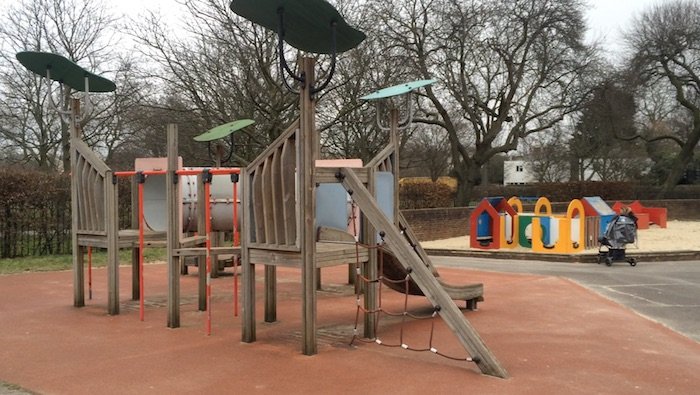 THE INSIDE SCOOP: Gloucester Gate Regents Park Playground for Toddlers in London
Correct at time of publication on Roam the Gnome. Please check with venue for updates. We apologise in advance if there have been any changes we are unaware of. All prices in British pounds, unless otherwise stated
Regents Park Address for Gloucester Gate park: Cnr Gloucester Gate and Outer Circle, Regents Park
Entry: Free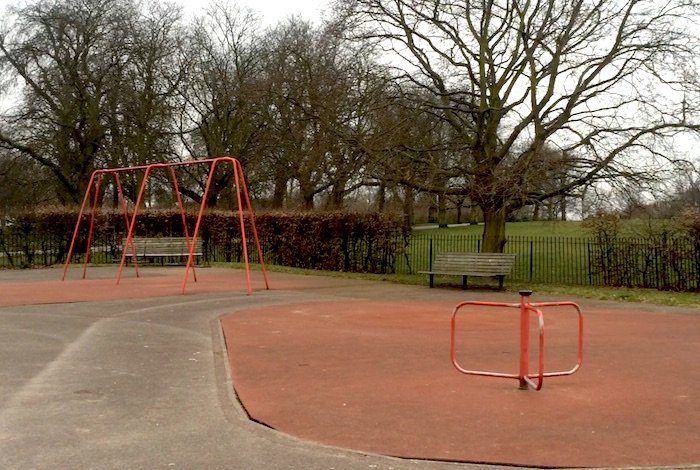 Regent's Park Opening hours
The Regents Park playground opening times are 9am to 5pm
Map of Regent's Park Gloucester Gate Playground
Wondering where is the playground in Regents Park? Take a look at the google map below.
Facilities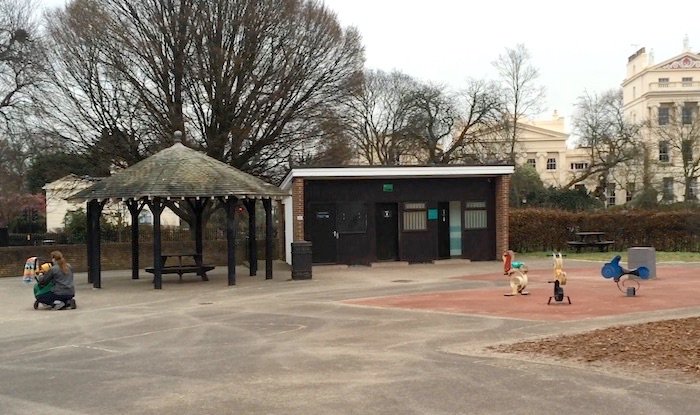 Gloucester Gate Regents Park toilets?
Children's toilets including an accessible toilet
Baby change facilities in the communal area of the girls' toilet.
Sadly, no cafe kiosks truck or park deck chairs as yet in Gloucester playground.
Toadstool Rating: Gloucester Gate London

Looking for MORE FUN THINGS TO DO in London with Kids?
Click the links in blue below for more London tips.