INSIDE: Take a look at this Fun Nature Playground in London – Jubilee Gardens Playground.
We love a good Nature Playground.
This find, spotted from our capsule on the London Eye, goes straight to the top of our list of cool architecturally-designed play spaces for kids.
The sign on the gate says "Adventurers must be under 11 years old, AND accompanied by a parent" but I don't think this policy is policed regularly.
This playground near London eye is a teenager's dream hangout zone.
I don't blame them. I wanted to join in too!
Jubilee Adventure Playground is a SUPER DOOPER FUN climbing playground for all ages. We'd rate it as one of the best parks in London for kids.
Find details of how to get to Jubilee Gardens Playground & more below.
Disclosure: This article contains affiliate links. If you make a purchase after clicking on one of these links, we may receive a small commission at NO extra cost to you.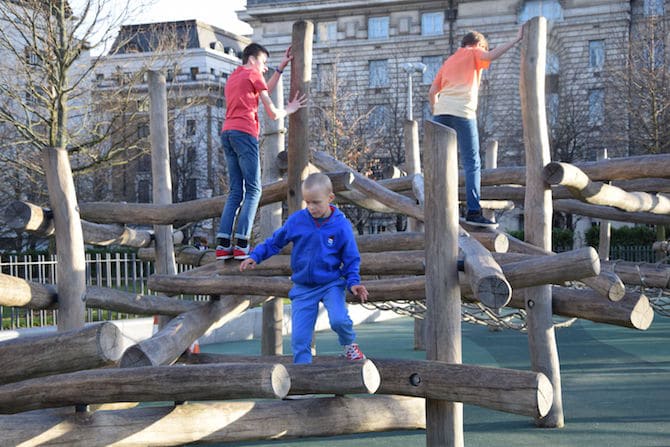 Guide to Jubilee Gardens Playground London
This playground near London Eye is also cool because once again, it sits smack bang in the middle of classical Victorian buildings.
Jubilee Gardens playground is in the Top 5 on our List of the Best Playgrounds in London, even better because it's one of the FREE things to do in London with kids too.
---
RELATED: Ultimate Guide of best things to do in London with kids!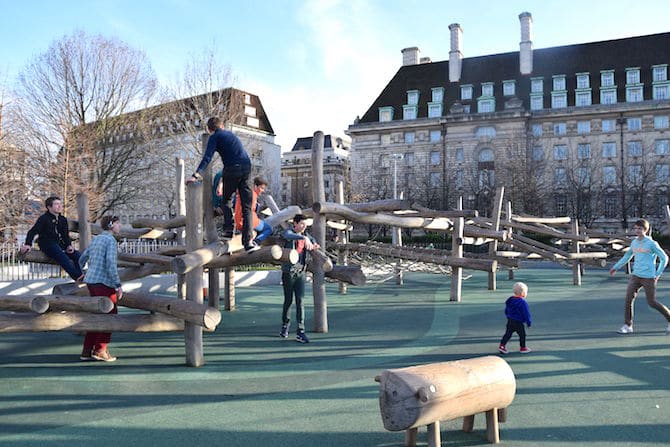 London life!
Roam the Gnome and I were instantly transported into the world of Mary Poppins, with chimney spouts, arched brick windows with shutters, decorative wrought iron railings, and buildings shaped like my childhood drawings.
Standing among these architectural beauties, I felt a big sprinkle of temporary POSHNESS rain down upon me!
One can dream of a Royal life from time to time, can't one!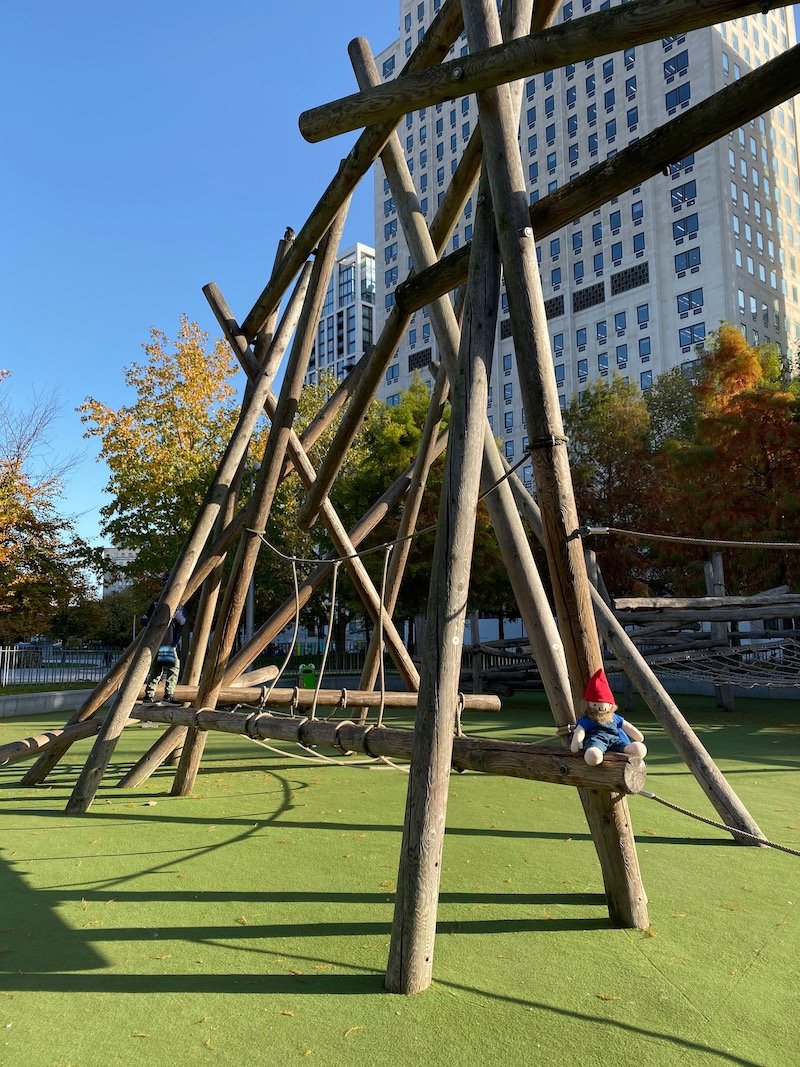 Jubilee Park Playground London: Activities for 7-11 year olds
Jubilee playground is divided into two sections.
The main structure for the older children is a series of large logs criss-crossed and bolted together to form a wonderful 100-metre long web of walking planks with rope nets and planks the kids can use on their quest to scamper from one end to the other.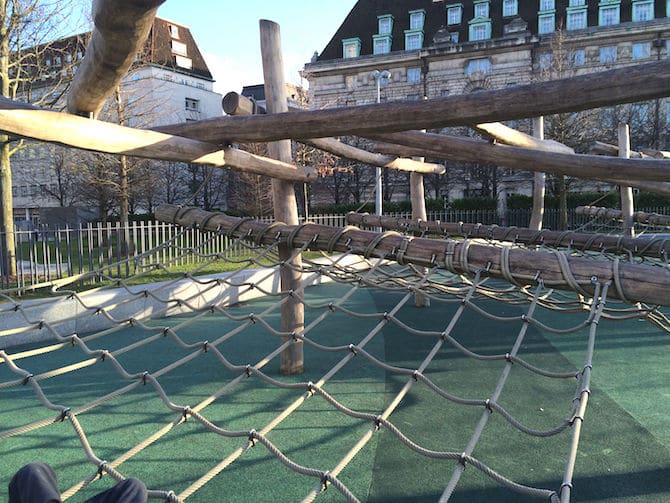 Rope nets at Jubilee Play London
Teenagers love to 'hang' on this structure, climbing up and sitting right on top.
This playground near London Eye is a modern day version of how we climbed trees, finding hidey-holes and perch seats in the branches for our private kid-only conversations.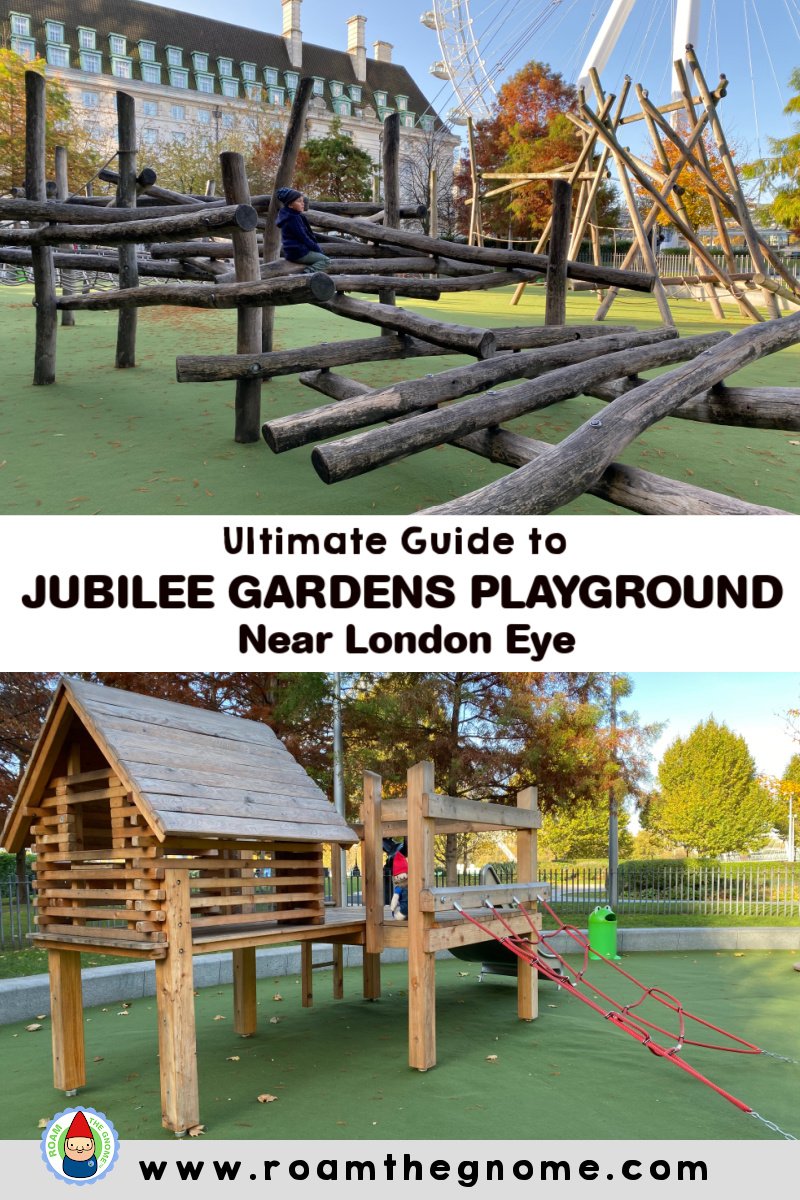 Jubilee Playground in London with Toddlers & 3-6 year olds
Visiting London with toddlers?
Smaller kids have a toddler playground, a miniature version to the right of the big one.
There's also a fort with slide.
At Jubilee Gardens London, there's a:
walk-the-plank swing log
smaller version of the giant net, and
two rope swings.
A barnyard of wooden animals gather by the front gate, ready to "greet" this younger bunch.
RELATED: Visit this Unique Playground in London – It's THREE playgrounds in one!

THE INSIDE SCOOP: Jubilee Park London Eye
Correct at time of publication on Roam the Gnome. Please check with venue for updates. We apologise in advance if there have been any changes we are unaware of. All prices in AUD dollars, unless otherwise stated
Jubilee Gardens is a public park on the South Bank in the London Borough of Lambeth.
Created in 1977 to mark the Silver Jubilee of Elizabeth II, the site was formerly used for the Dome of Discovery, and the adjacent Skylon during the Festival of Britain in 1951.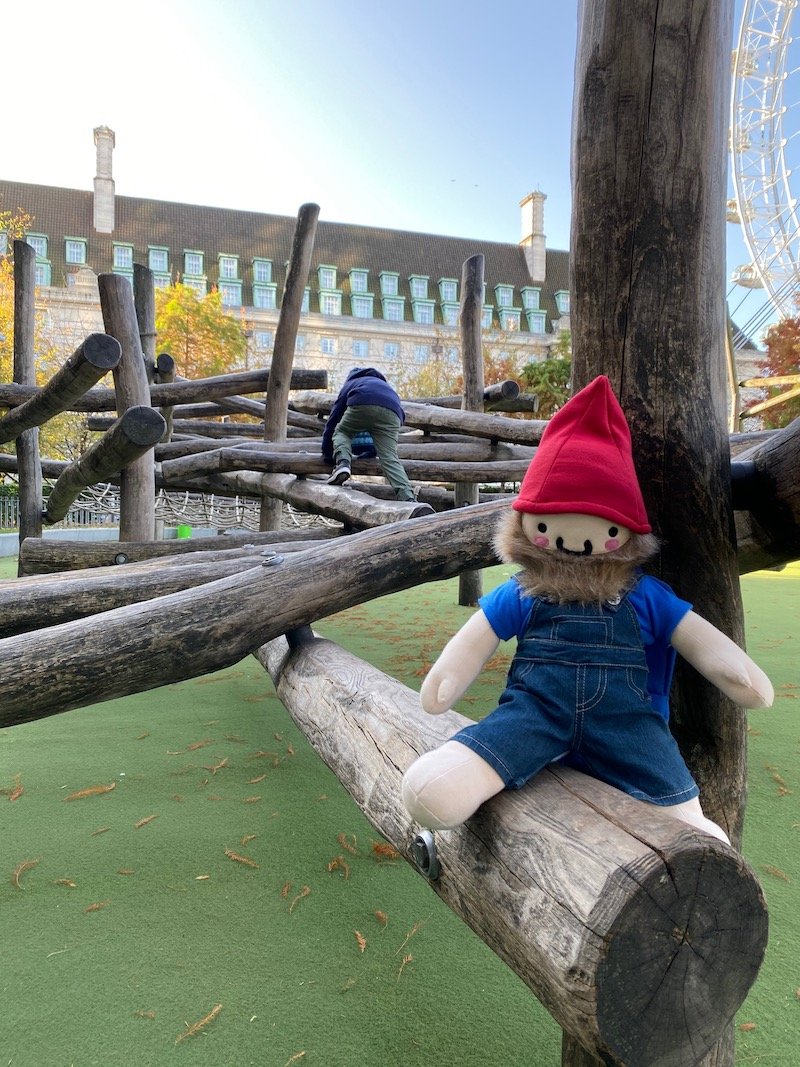 Jubilee gardens redevelopment inclusions
The brand new Jubilee gardens playground was made as of the redevelopment to turn the area from a concrete carpark into a sustainable green space for the community with:
new flower beds
granite pathways and seating edges
97 trees and
a contemporary playground.
Jubilee Gardens South Bank was built in 2012.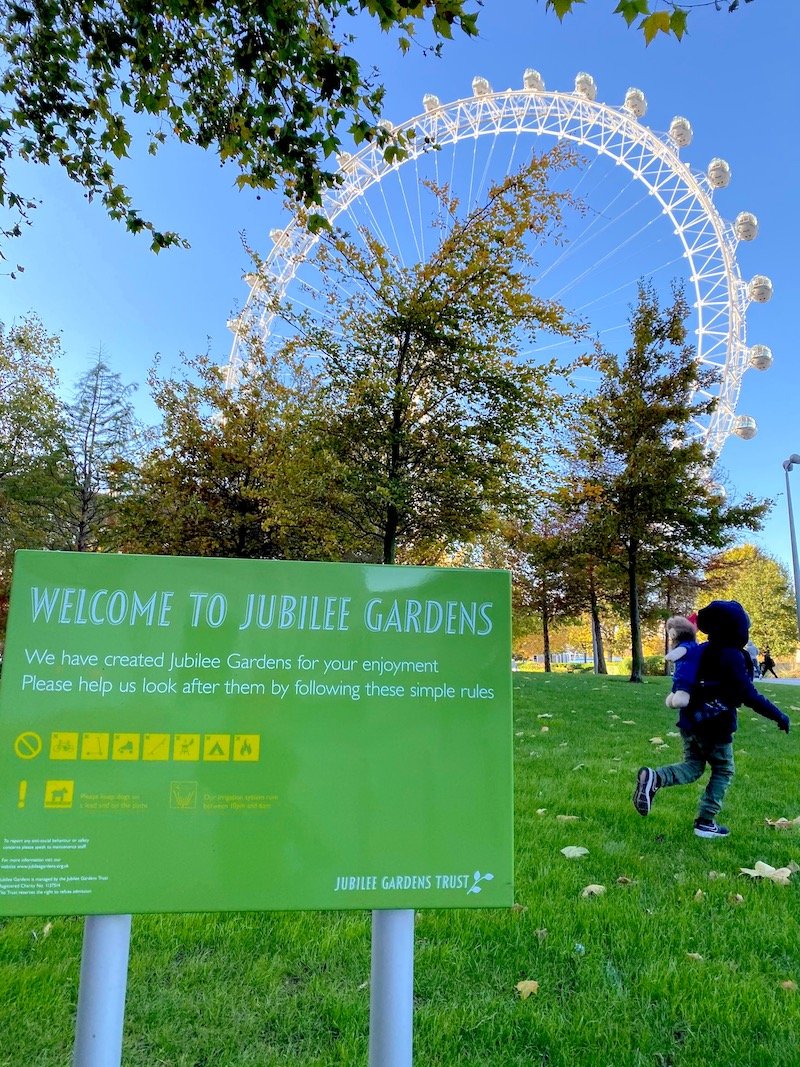 Jubilee Gardens Address:
Jubilee Gardens South Bank is located at Jubilee Gardens, Belvedere Road, Waterloo, London, SE1.
This playground near London Eye is located on London South Bank opposite the Houses of Parliament.
Email: Click here
Website: Click here for information about Jubilee Gardens Southbank
Opening Hours: This adventure playground London is generally open from dawn until dusk every day.
Entry Fees: FREE entry!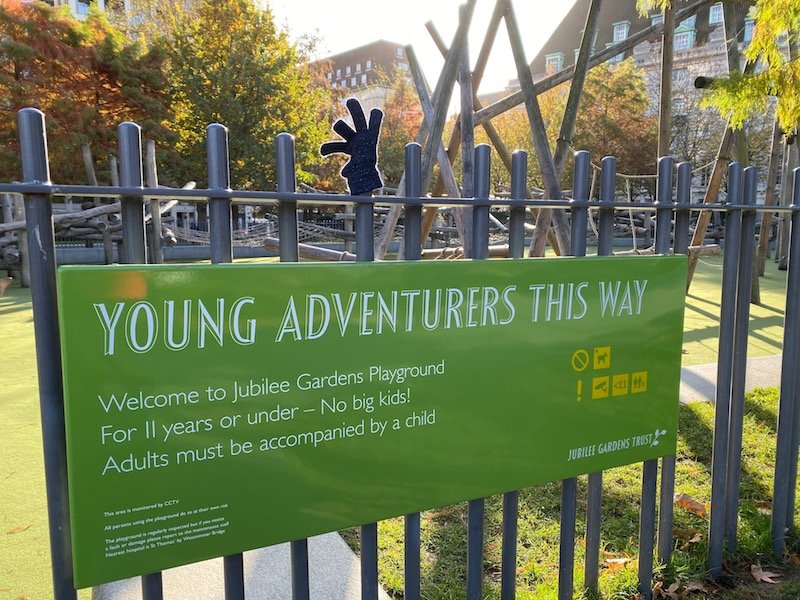 How to get to Jubilee Gardens London Adventure Playground
By tube: Jubilee Gardens adventure park London is located within easy walking distance from several London Underground stations: Waterloo, Embankment, Charing Cross, Blackfriars and Westminster. TheJubilee Line tube near London Eye has disabled access.
By rail: Train stations near London Eye are Waterloo, Waterloo East, Charing Cross and Blackfriars.
By boat: You can travel to the Jubilee Gardens on the Thames Clippers. Exit at London Eye Pier.
By bus: Bus routes include The Riverside Bus (RV1) and sightseeing tour buses. Visit TFL to plan your journey to Jubilee park London.
By car: Please note that Jubilee Gardens childrens playground is within the Congestion Charge Zone.

Car Parking near London Eye and Jubilee Gardens
As well as meter bays located around the streets of South Bank, there are numerous car parks near London Eye including:
the Hungerford Car park
the Hayward Gallery Car Park
National Theatre Car Park and
The Union Car Park.
Map of Jubilee Park Adventure Playground
Facilities at Jubilee Park London Eye
Toilets: The nearest toilet facilities to this childrens park are located by the North West corner of the Gardens. These facilities are open from 10am daily and are charged. Please note these are not owned or managed by the Jubilee Gardens Trust.
Disability access: Limited
Closest ATM: Southbank shops
Shade: No. BYO hat and sunscreen
Enclosed: Fenced all round.
Ground cover: Artificial grass
Picnic tables: No, but plenty of seating around edge of playground.
Water Bubblers/fountains: Yes
Scooters and Bikes: No
Dogs: No

More Things to Do Near London Eye
For more things to do near London Eye, visit southbanklondon.com
Or check out our list of attractions near London Eye. London South Bank activities include:
Florence Nightingale Museum
SEA LIFE Centre London Aquarium
The London Dungeon
Shrek's London Adventure
London Duck Tours
Namco Funscape
There's LOTS of places to see near London Eye.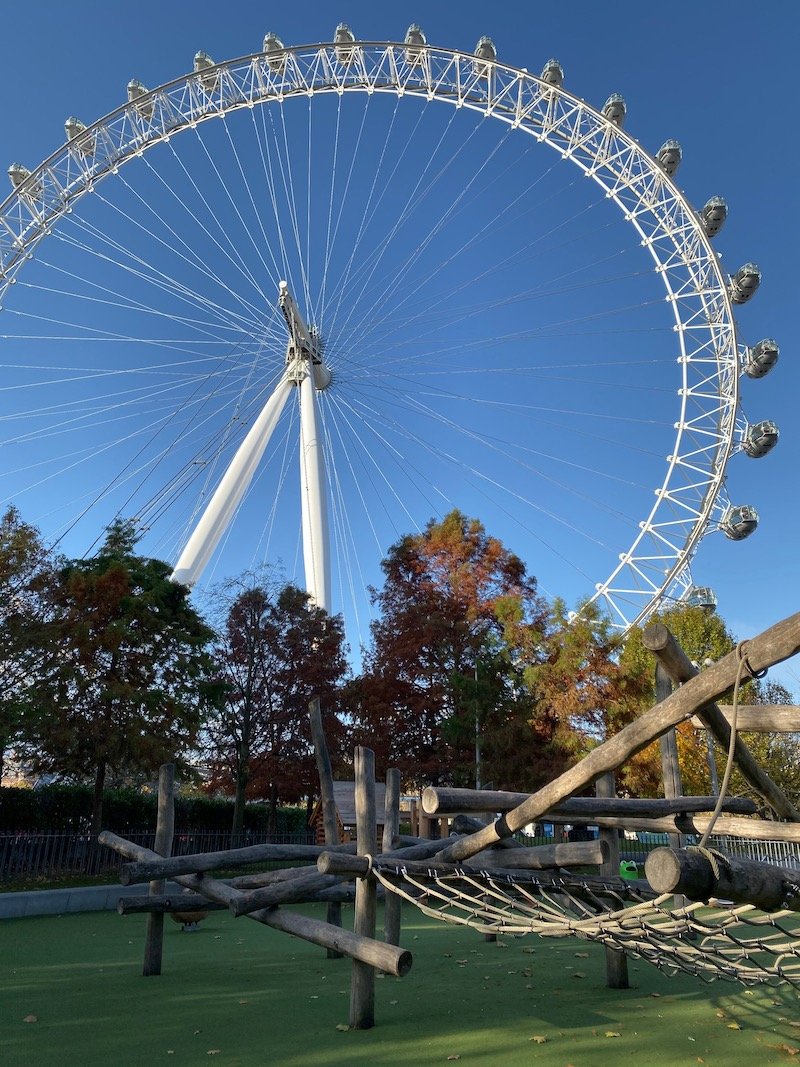 Places to eat near London Eye
If you are looking for places to eat near the London Eye, Southbank has lots of different dining options.
No.1: South Bank restaurants
Walking just a few yards along the Thames past the London Eye you will find:
Gillrays steakhouse and bar at the Marriott Hotel County Hall
Great British Fish and Chips
Pret a Manager
Shippo cafe
The closest coffee shops to Coca-Cola London Eye are Zen Cafe and Starbucks, both located on Belverdere Rd. Tokyo Bakery is there too.
No.2: Royal Festival Hall eateries
Heading the other direction towards Royal Festival Hall, you'll find:
a Pizza Express near London Eye at the Royal Festival Hall, Unit 3 The White House, 9c Belvedere Road, London, SE1 8YP.
Le Pain Quotidien
Honest Burgers Southbank
Wagamama
Riverside Terrace Cafe
Skylon restaurant
Strada Southbank, classic Italian restaurant
No.3: Afternoon Tea near London Eye
If you are in need of a boost, eat the Mary Poppins Afternoon Tea near London Eye at the Shard with magnificent views of the city! Served daily from 1pm to 5pm, the afternoon tea is priced at £49 per person.
More details here.
Or enjoy a budget afternoon tea at Canteen, at the Royal Festival Hall for £12.50.
Children welcome. Daily, 2.30pm to 5pm.
You'll enjoy a selection of fresh sandwiches:
Ham and mustard,
Egg mayonnaise and watercress, and
Homemade soda bread rolls with Smoked salmon and cream cheese.
Plus:
scones with homemade jam and clotted cream
a piece of freshly baked cake of the day, and
a hot pot of tea
---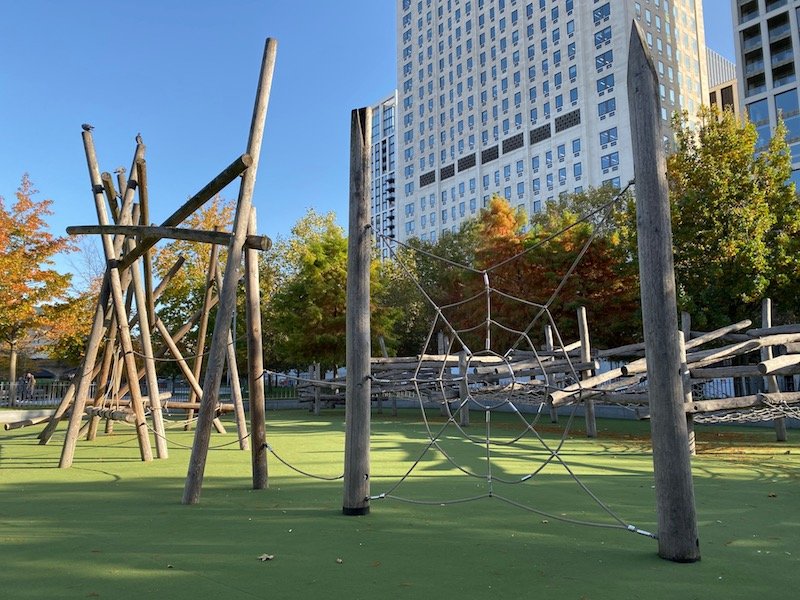 London Hotels near London Eye
Our pick of the bunch.
Coming soon!
Toadstool Rating: Jubilee Adventure Playground London
In London for children school holidays?
Head straight here in the early morning to beat the crowds.

Looking for MORE SUPER DOOPER FUN Places to Visit and Things to Do with Kids in LONDON?
Click the links in blue below for more London stories