INSIDE: Everything you need to know about booking a Santa Claus Village Reindeer ride.
Planning a Lapland Christmas trip to see the REAL SANTA?
You must include all the Christmas activities in the snow, especially one that involves a sleigh ride behind Santa's famous reindeer.
Because a reindeer sleigh ride is on every child (and adult's) Christmas experience bucket list!
Cross this one off in Lapland.
Take a sneak peek below for details of the Reindeer Farm Santa Claus Village Finland.
Disclosure: This article contains affiliate links. If you make a purchase after clicking on one of these links, we may receive a small commission at NO extra cost to you. For transparency, this reindeer ride was gifted to us by Visit Rovaniemi. However, all opinions are our own.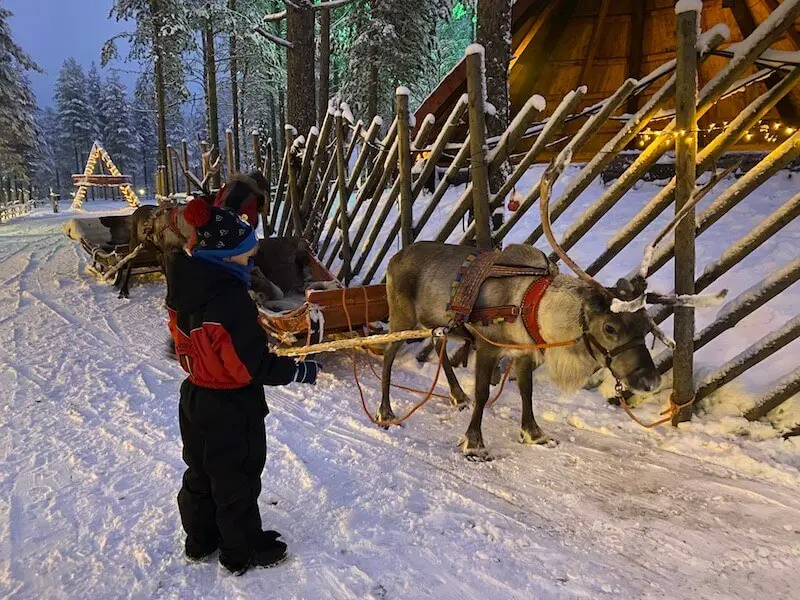 Guide to Best Santa Claus Village Reindeer Ride
The best reindeer ride Rovaniemi has to offer in the Santa Claus Village itself.
If you are looking to book a reindeer sleigh ride in Lapland, the reindeer ride operated by Santa Claus Reindeer is the most accessible, behind the Main Office of Santa. (Santa's official residence in the Santa Holiday Village)
Follow up a visit to the big man himself with a reindeer ride in Santa's backyard.
You may, or may not, see Rudolf, but you'll definitely see his teammates.
Hot tip: Reindeer do not like their antlers being touched but are more than happy for you to pat their rump. Steer clear of unexpected antlers. Those things could be lethal!
---
RELATED: The Complete Guide to Santa Claus Holiday Village activities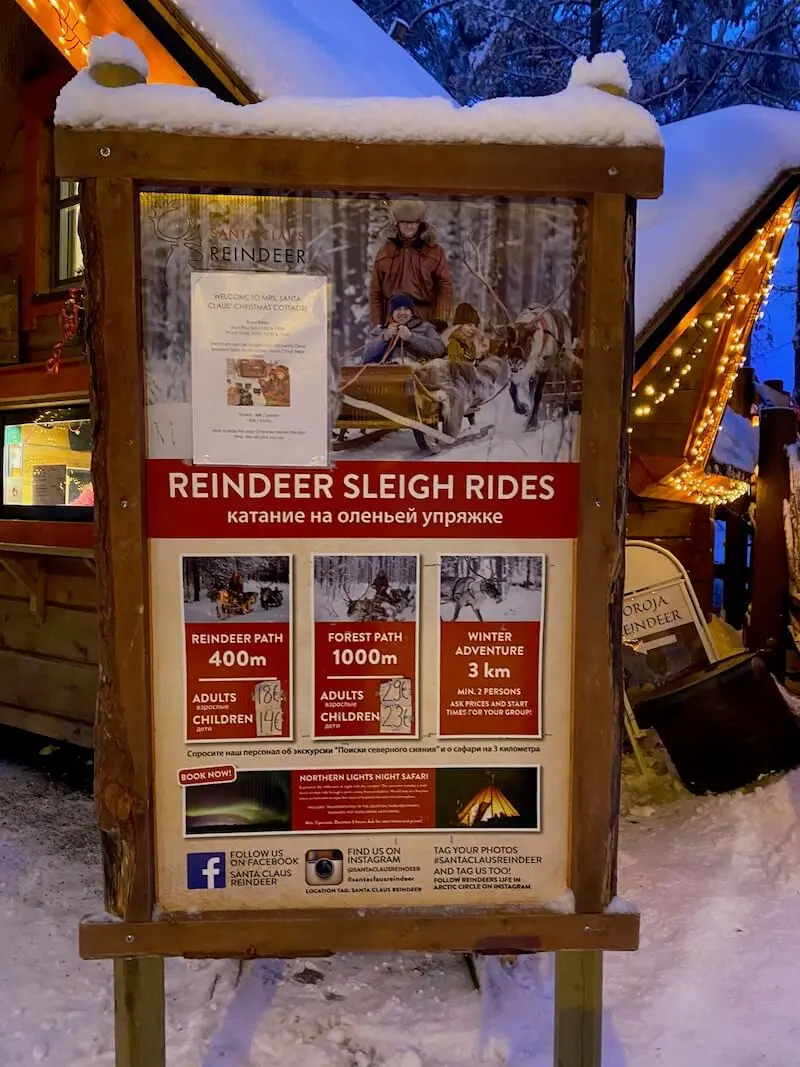 Book Short Reindeer Rides Lapland Style!
Reindeer rides are much, MUCH slower than we expected.
In fact, the reindeers of Santa Claus plod along at their own pace.
Much unlike the Husky dogs that pulled us at the speed of light.
A short ride along the forest path was plenty of time to soak up the once-in-a-lifetime Christmassy experience.
Book short reindeer ride experiences (between 5 minutes and 15 minutes long) on the day.
They run on demand from 10am until close.
The wait is never very long.
Stay warm by the fire pit out front until it's your turn.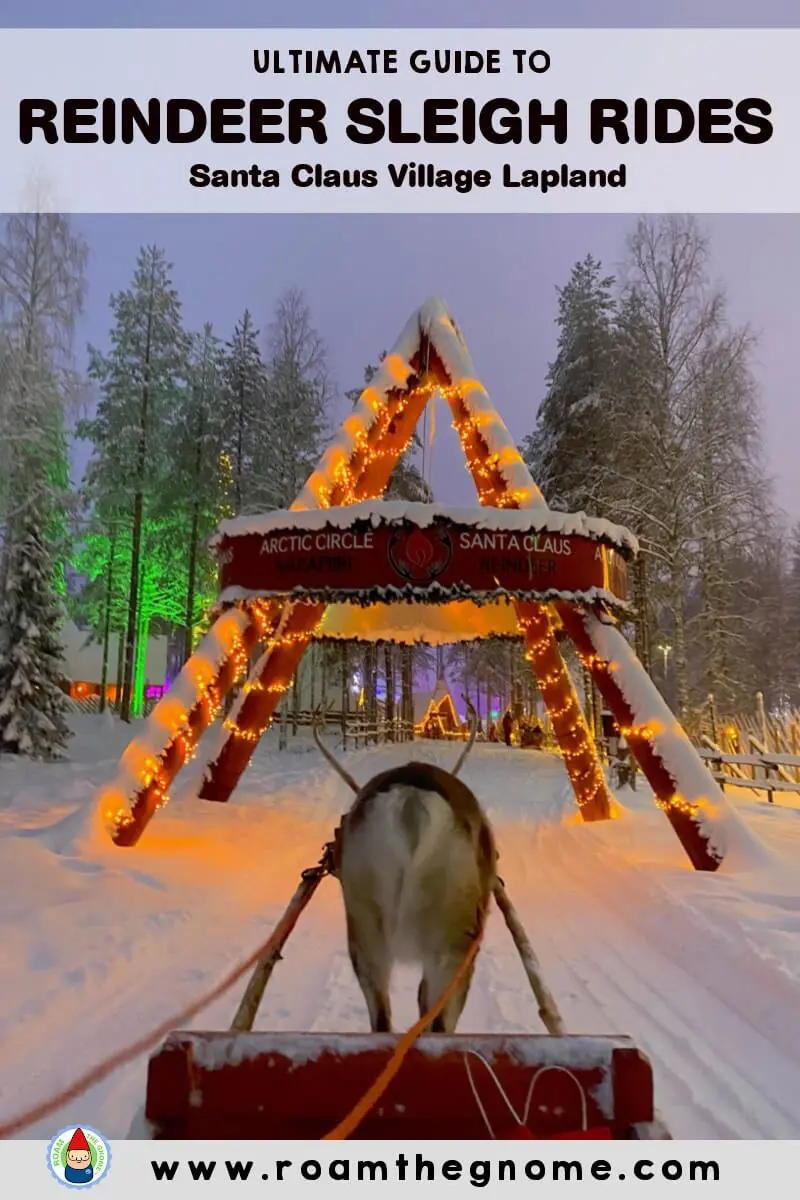 Santa Claus Village Reindeer Rides in Lapland for Kids
A reindeer ride is well suited to smaller children who are happy to sit in the sleigh with a loved one, bottoms warmed by a reindeer hide underneath and cosy blankets on top.
A sleigh ride pulled by reindeer through snowy forest is romantic, and a must-do for honeymooners.
But for those who thrive on speed, a husky or snowmobile is better suited.
Hot tip: Reindeer Driver's Licence
Anyone over 5 years can instruction from the driver and learn the ropes of driving reindeer sleights.
Apply for and purchase a Reindeer Driver's Licence after your ride for 5 euro from the office.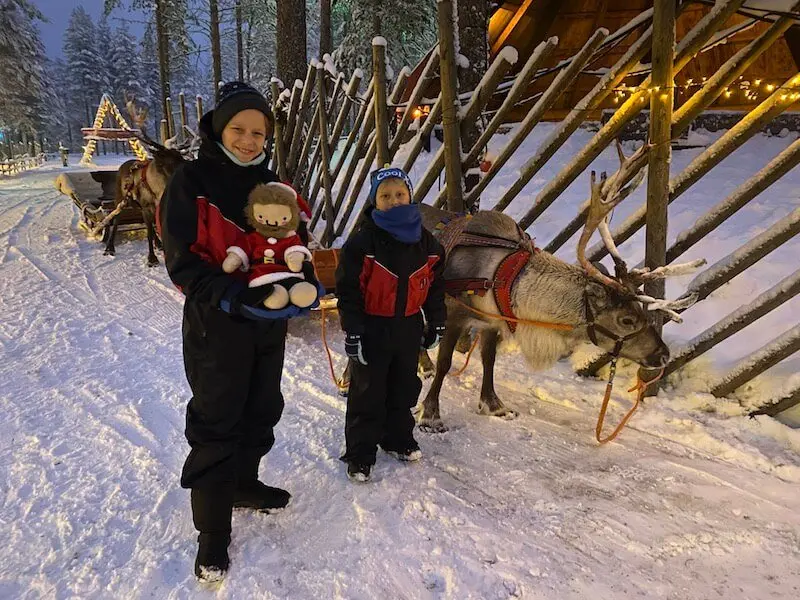 Santa Claus Reindeer Safaris
If reindeer rides are your thing, book a longer 35 minute Reindeer safari.
The Winter Adventure Reindeer safari starts in the same place as the short rides, at the Santa Claus Reindeer Office in Santa Claus village, right behind Santa's office.
This 3 km long ride goes deep into the forest, so dress warmly.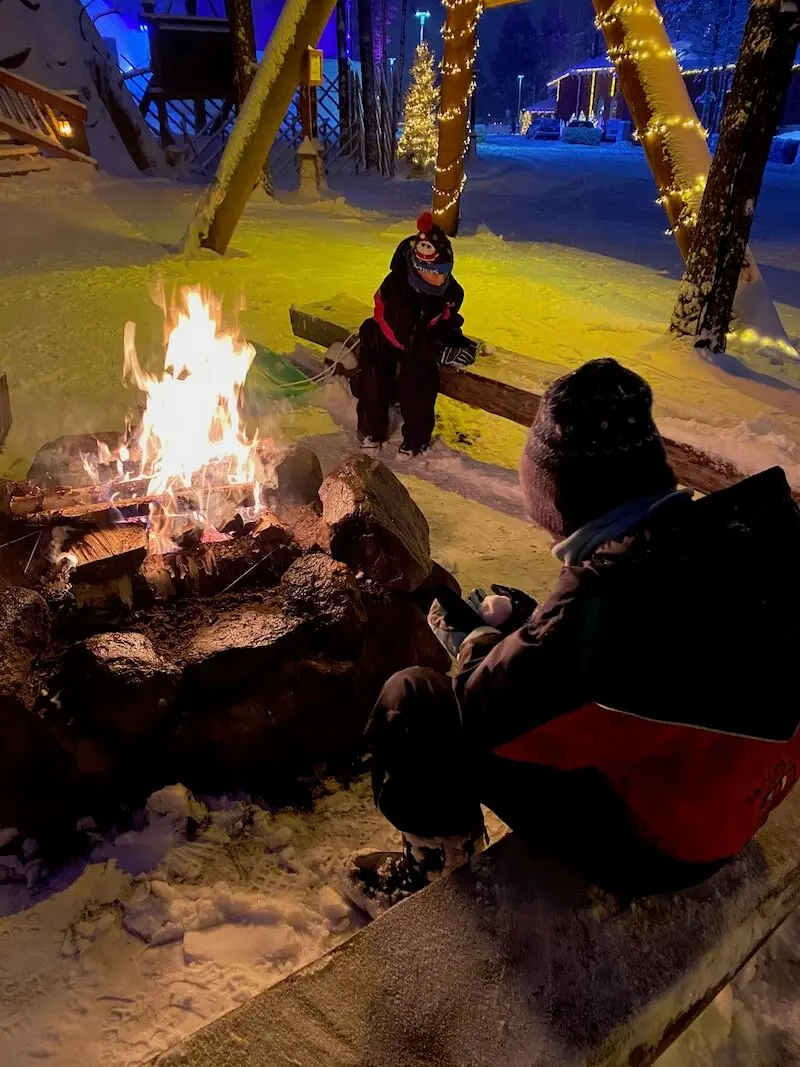 Reindeer Ride Rovaniemi Finnish food experience
Enjoy a drink of hot juice – a Finnish favourite, and tasty sausage cooked on the open fire after your ride.
This reindeer safari in Rovaniemi departs at 9am and 3pm during the November to January months once snow has arrived.
From late November, until end of January, the afternoon departure time is 4pm.
Morning safari start time changes to 10am from February to April.
Prices in 2020:
Child 55 €
Adult 70 €/person
(Minimum 2 passengers to embark on this trip.)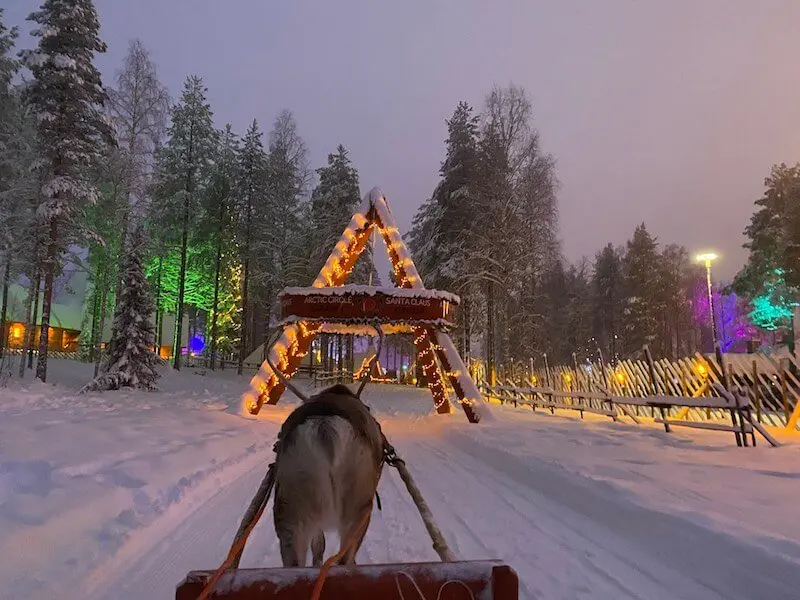 Reindeer sleigh rides on the Arctic Circle Crossing
This reindeer ride takes you across the Arctic Circle crossing line, led by your trusty reindeer through an archway monument marking the fact.
It's possible to have an official commemorative photo taken here by one of the Santa Claus reindeer team.
Enquire at the office when you book.
Cost:
14 € / photo
Includes Certificate of Crossing the Arctic Circle also.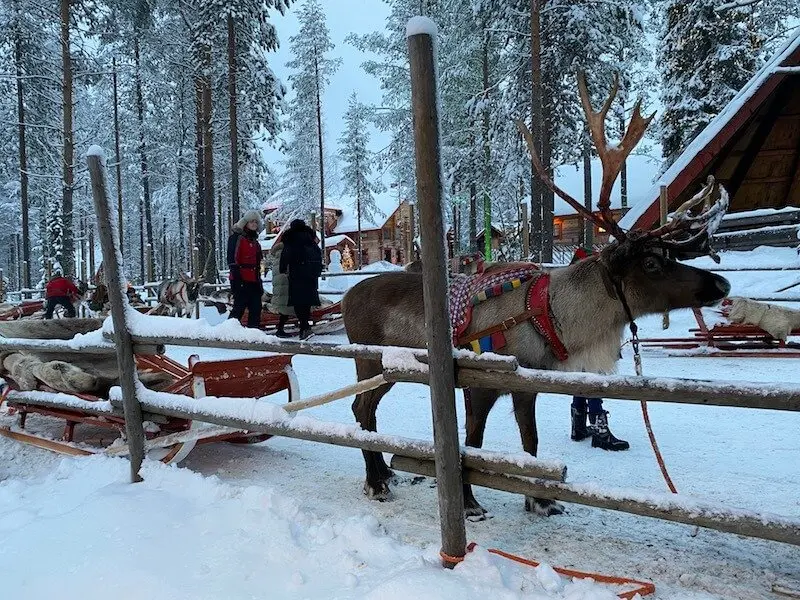 THE INSIDE SCOOP: Fun Reindeer Sleigh Ride Rovaniemi
Correct at time of publication on Roam the Gnome. Please check with venue for updates. We apologise in advance if there have been any changes we are unaware of. All prices in EURO, unless otherwise stated
Santa Claus Reindeer Address: Joulumaantie 13, Rovaniemi
Website: Click here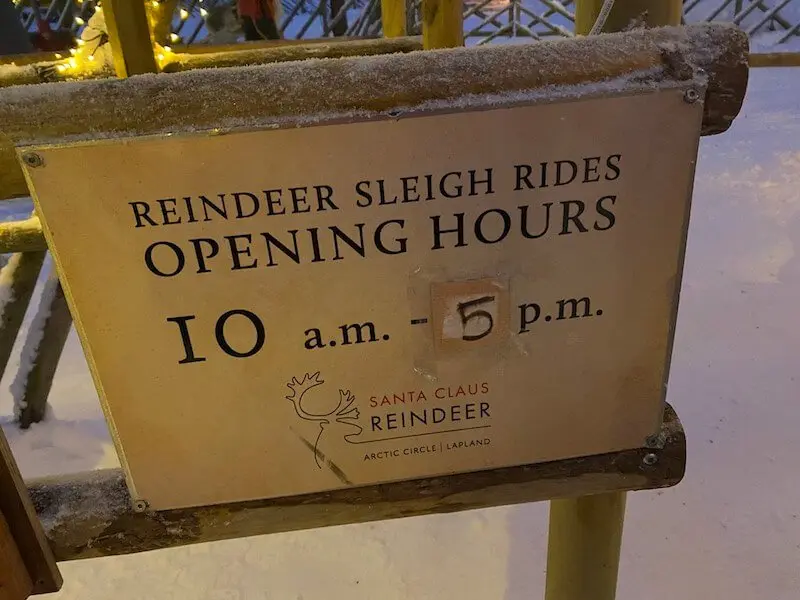 FAQ ABOUT A REINDEER SLEIGH RIDE AT SANTA VILLAGE
Santa's Village Reindeer Opening Hours
Santas Reindeer is open from 10am to 5pm during the Christmas season
Check the Santa Claus Reindeer website for updates on reindeer visits and rides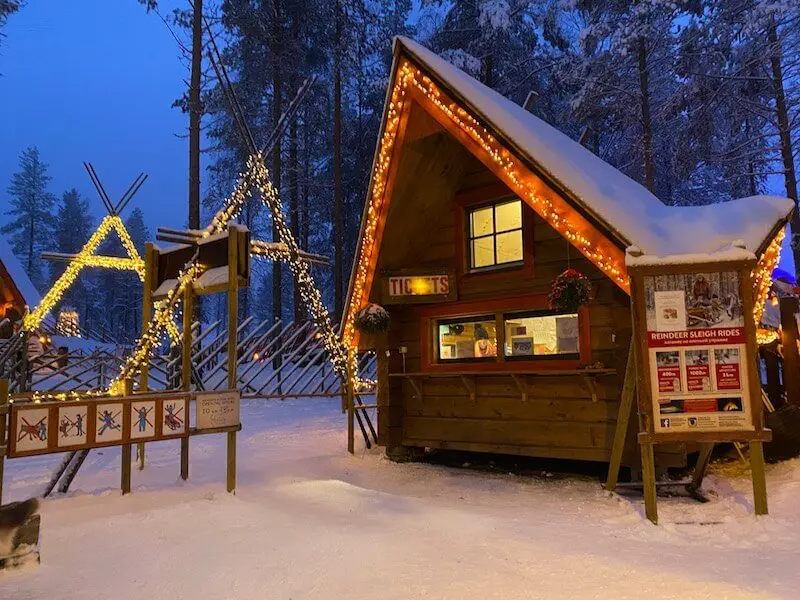 Where to book tickets for Reindeer Sleigh Rides in Lapland?
To book short reindeer rides in Santa Village, walk up to the office. (Pictured above)
Book and pay at the desk.
Reindeer Ride prices in Lapland
How much is a Reindeer ride in Lapland?
It all depends on the length of the trail you choose.
Bookings for one of these two short reindeer experience not required.
Reindeer Path – 400 metres long
Approximately 5 minutes
Children: 14 €/person Adults: 18 €/person
Forest Path – 1000 metres long
Approximately 15 minutes
Children: 23 €/person Adults: 29 €/person
NB: Child's price is for children between ages 3-12.
Under 3-year-olds can take the ride free of charge.
Children 12+ pay adults prices.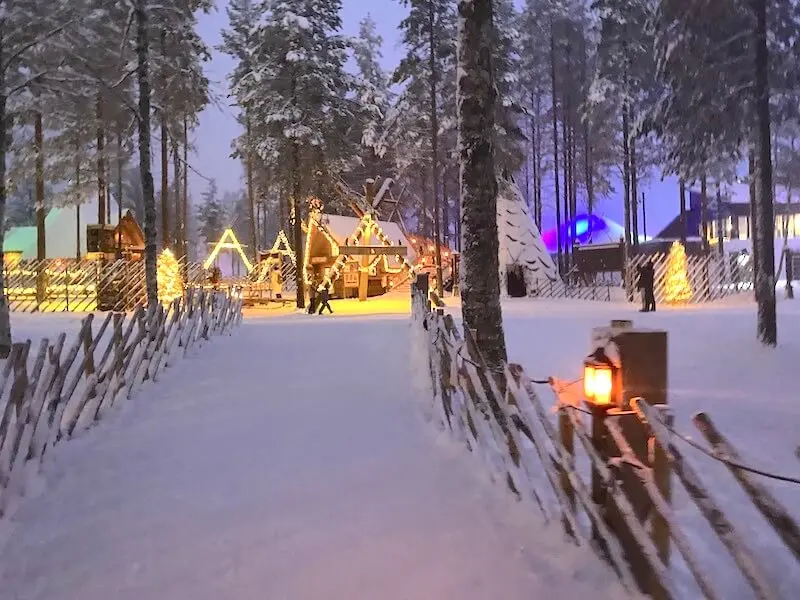 Where to find Santa's Reindeer at Santa Claus Village
Take a look at the picture above to see the pathway leading to Santa Claus Reindeer office from the Santa Claus main square area.
The Santa Claus reindeer ride at Santa Village can be found right behind Santa's Main Office and the Iittala outlet store building.
Click here for details of how to get from Rovaniemi to Santa Claus Village.
(Also includes details of how to get from Helsinki to Rovaniemi on the Santa Claus Express train, and by plane.)
Map of Santa Claus Reindeer in Village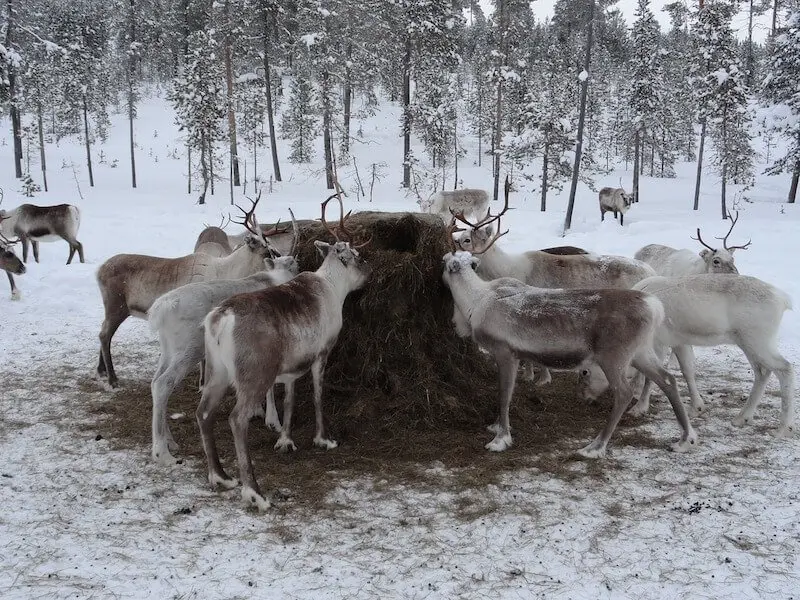 Image credit: Jan Hertecant from Pixabay
Visit a Reindeer Farm Rovaniemi
There are also different companies, based in Santa Claus Village, that offer reindeer safaris.
Join this tour to visit a traditional Reindeer Farm in Lapland.
On this reindeer safari Rovaneimi style, you'll spend three hours:
Learning about Finland reindeer herding and the herding lifestyle
Feeding and patting these magical animals
A short sledge ride in your own sledge, plus warm tea and biscuits are included in the price.
Raitola Reindeer Farm Rovaniemi Finland
Your other options to see Lapland reindeer in their natural habitat are:
Raitola Husky and Reindeer farm near Rovaniemi,
a tour to the Reindeer fence
Reindeer Safari Northern Lights Chase
Another option is to book a Northern Lights Reindeer safari
Depending on the weather, you may or may not see these streaks of magic across the sky, but you will have had an experience to remember.
It's also a chance to talk with a Reindeer herder, and learn all about the Reindeer's seasonal cycle.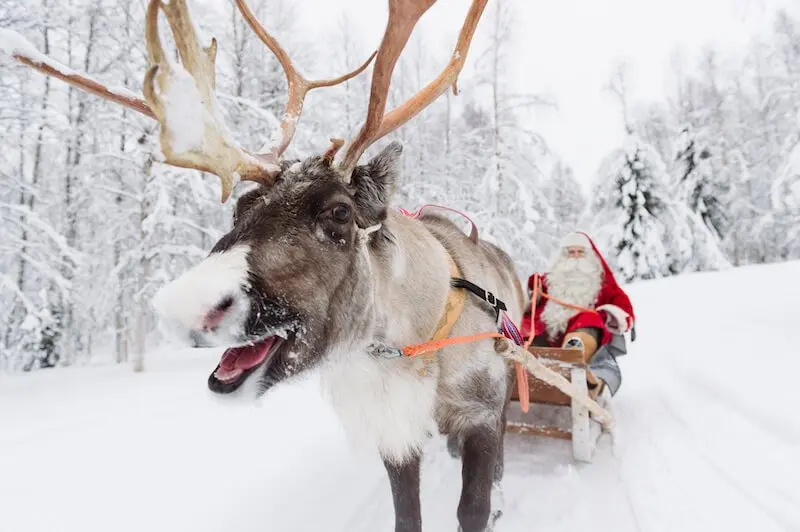 Image credit: Visit Rovaniemi
FREQUENTLY ASKED QUESTIONS ABOUT SANTA'S REINDEER
No.1: Do male reindeer have antlers?
Yes, but so do female reindeers.
There's a belief in some circles that Rudolf the Red Nosed reindeer might actually be female, as Rudolf is almost always seen in pictures with a full set of antlers in the early winter season of Christmas.
But male reindeer shed their antlers each year in late autumn.
No.2: Are all reindeer female?
No. Reindeer are both male and female.
But Santa's reindeer are likely to be female, because of the above facts.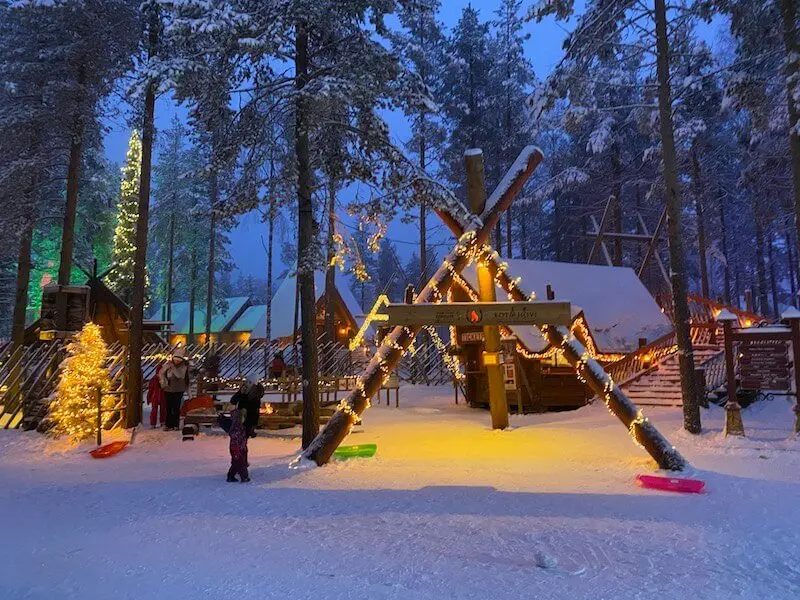 No.3: Can you ride a reindeeer?
The answer to Can you ride reindeer is no.
Reindeers would not like that very much.
No.4: Are reindeer mammals?
Yes. According to this teacher's guide, mammals have these shared traits:
hair or fur on their bodies
are warm-blooded
most are born alive
the young are fed milk produced by the mother's mammary glands; and
they have a more complex brain than other animals.
Credit: Source in link above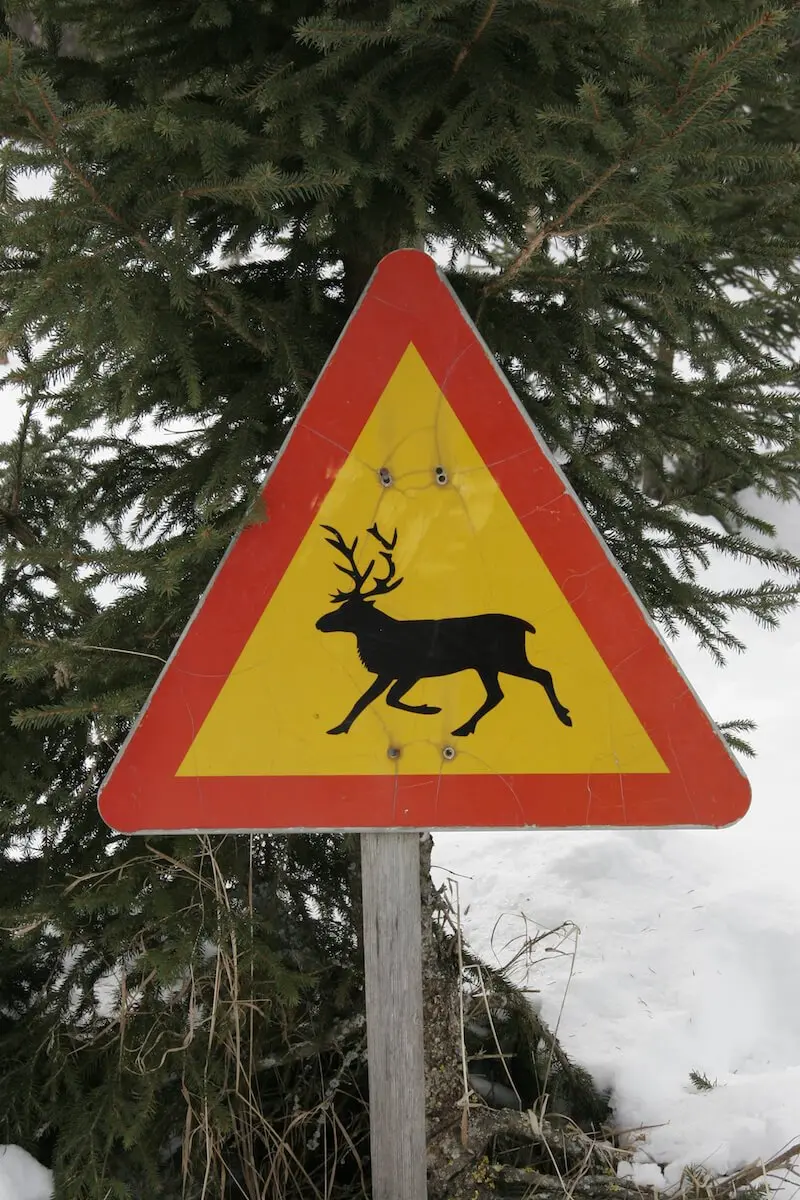 Image credit: Visit Rovaniemi
No.5: Can reindeer fly?
And HOW do Santas reindeer fly?
The answer to that is that they can only fly with Santa's magical dust sprinkled on them.
Fun Fact: How did Santa Claus came to be associated with flying reindeer?
Santa needed a way to transport the gifts to all the children in the world and a truck simply wouldn't do.
As he lives surrounded by snowy forests, a sled towed by his reindeer pets was the obvious choice but the only way to arrange the logistics of visiting every child around the world in one night was to find a magical solution.
So he called on Tinkerbell to help, and she shared her pixie dust with him, so he could FLY over all the trees, cities, and houses in triple time.
Problem solved.
No.6: Are reindeer hairs hollow?
It's true.
The top layer of hair on a reindeer is hollow.
It acts as an insulator to keep reindeer warm during the cold winters of Lapland Finland.
No.7: What is the edible reindeer food recipe?
How to make reindeer food bags, that is also delicious for the local bird life, simply mix together:
1 cup of oats
1/2 cup of shredded coconut
1 cup of rice bubbles
1 cup of sunflower seeds
1/4 cup of hundreds and thousands confectionery (nonpareils)
1/4 cup sugar glitter or sugar sprinkles from cake decorating shops
Give it a good stir, then take a cup of it and sprinkle it outside on your lawn on Christmas eve.
No.8: Magic Reindeer Food poem
Here is the Reindeer dust poem:
Sprinkle on the lawn at night
The moon will make it sparkle bright
As Santa's reindeer fly and roam
This will guide them to your home!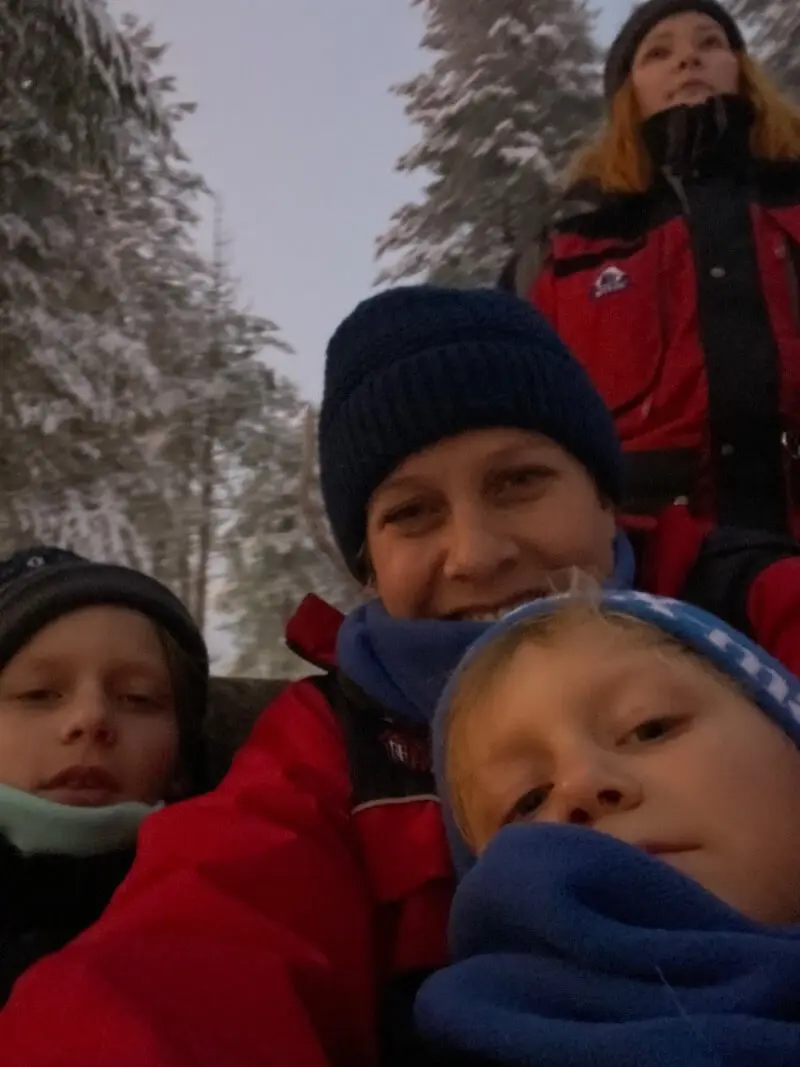 Toadstool Rating: Reindeer sleigh ride in Lapland
The boys couldn't wait to take a reindeer ride at the Santa Claus village reindeer farm.
Ned was less enthused when he realised the slower than expected speed of a reindeer ride…
(He preferred the speed of the Arctic Circle snowmobile park skidoos, and the lightning speed of the husky ride)
But Jack was kept entertained the whole way round by the antics of the extra reindeer friend who tagged along with us, his head – and antlers- right by ours!
(Watch the video above to see what we mean!)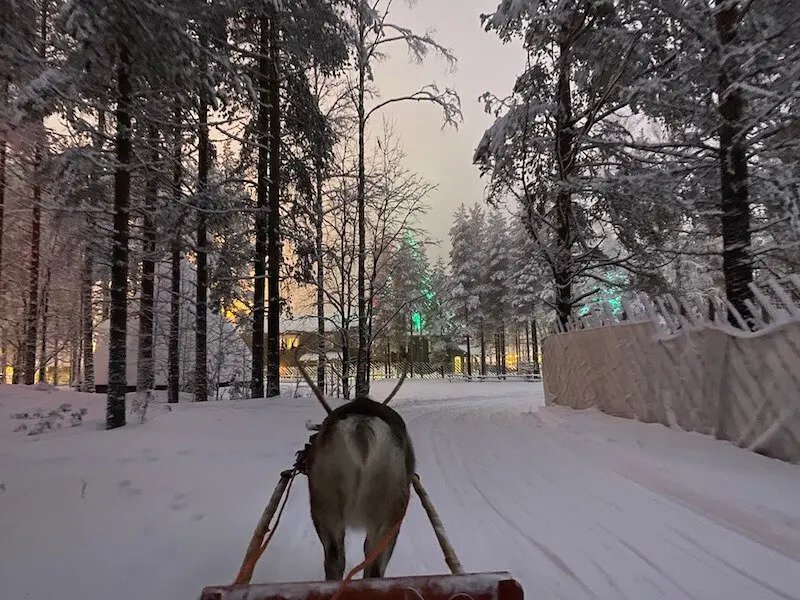 MORE INFORMATION ABOUT SANTA CLAUS HOLIDAY VILLAGE Rovaniemi
Click the blue links for more Lapland activities