INSIDE: Roam the Gnome's Epic Guide to Visiting the OFFICIAL SANTA CLAUS POST OFFICE in Lapland!
Did you know you can visit the MAIN SANTA POST OFFICE in Rovaniemi, Lapland in REAL LIFE?
You can.
The Santa Claus Main Post Office is located in Santa Claus Village Lapland, just metres from the Arctic Circle crossing line.
TAKE A LOOK INSIDE BELOW.
Disclosure: This article contains affiliate links. If you make a purchase after clicking on one of these links, we may receive a small commission at NO extra cost to you. Thanks also to Anne, from Visit Rovaniemi for introducing us to the Post Office elves!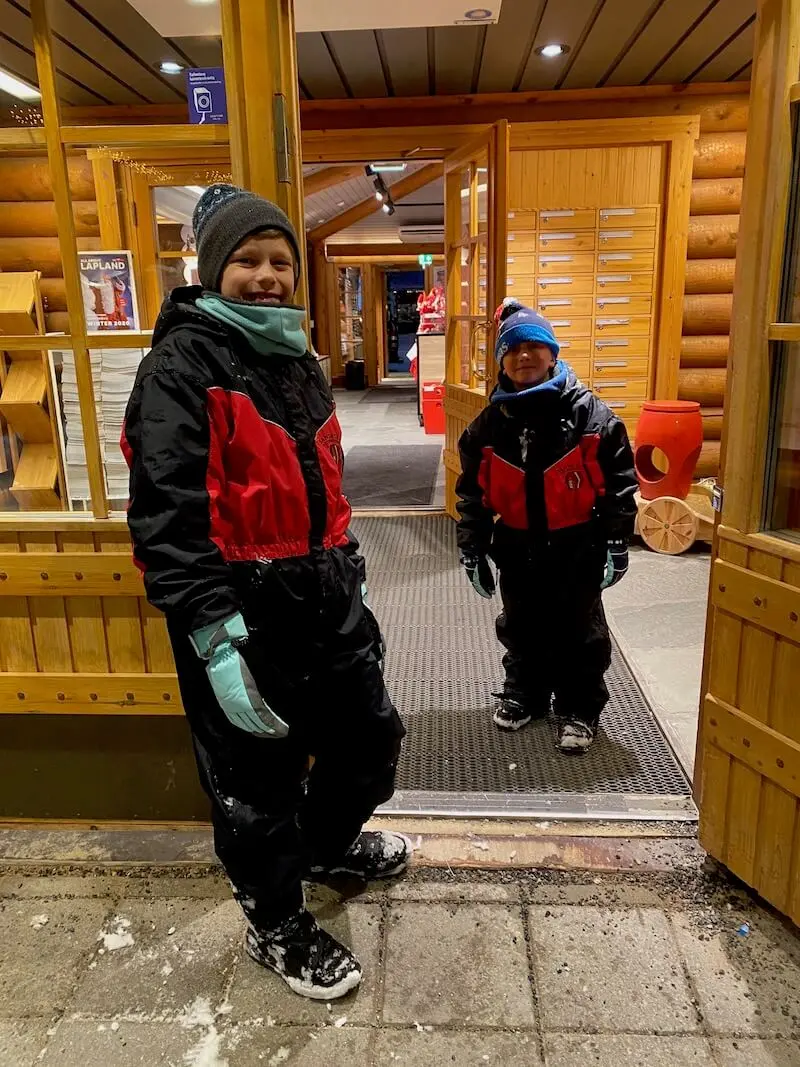 Guide to Visiting the Santa Claus Post Office in Lapland
Santa's Post Office in Finland is found almost as far north as you can go, save for a few small towns at the very top of Lapland.
If you've ever wanted to write a letter to Santa and get a reply from the Big Man himself, THIS is the place to send your mail.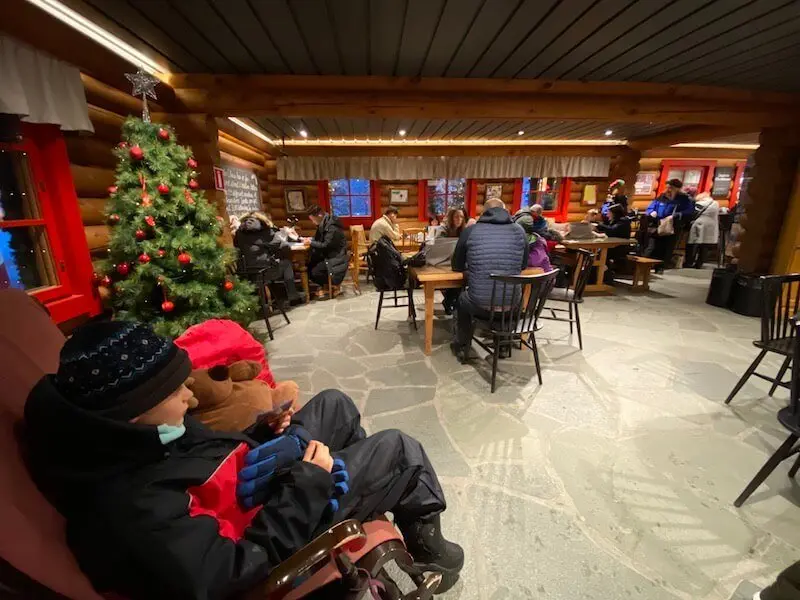 Main Post Office for Santa
The Official Post Office at Santa Village Lapland is operated by the Finnish Postal Service.
Santa Claus Main Post Office is open 365 days a year.
It's Christmas ALL YEAR ROUND in these parts.
But the post office does experience a surge in visitors during November, and December in the lead up to Christmas Day, that's for certain.
---
RELATED: Everything you need to know about Planning your Lapland holiday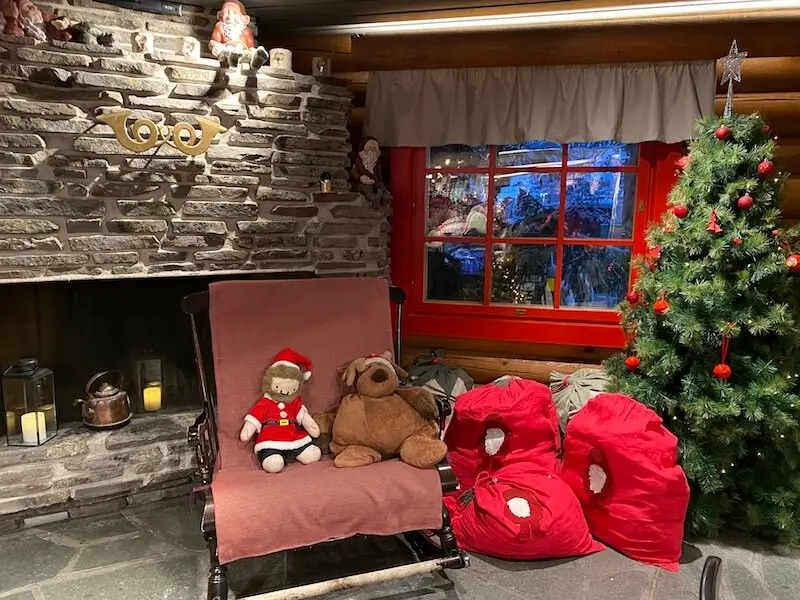 Take a Christmas Trip to Santa Claus Village
Visitors to the Official Post Office in Lapland's Santa Claus Village come from:
Germany
France
Spain
Great Britain
Italy
Russia
Asia
America,
with a sprinkling of guests from those far away places, Australia and New Zealand too.
Between them, Mail Office elves speak around 10 different languages so no-one ever feels left out or misunderstood.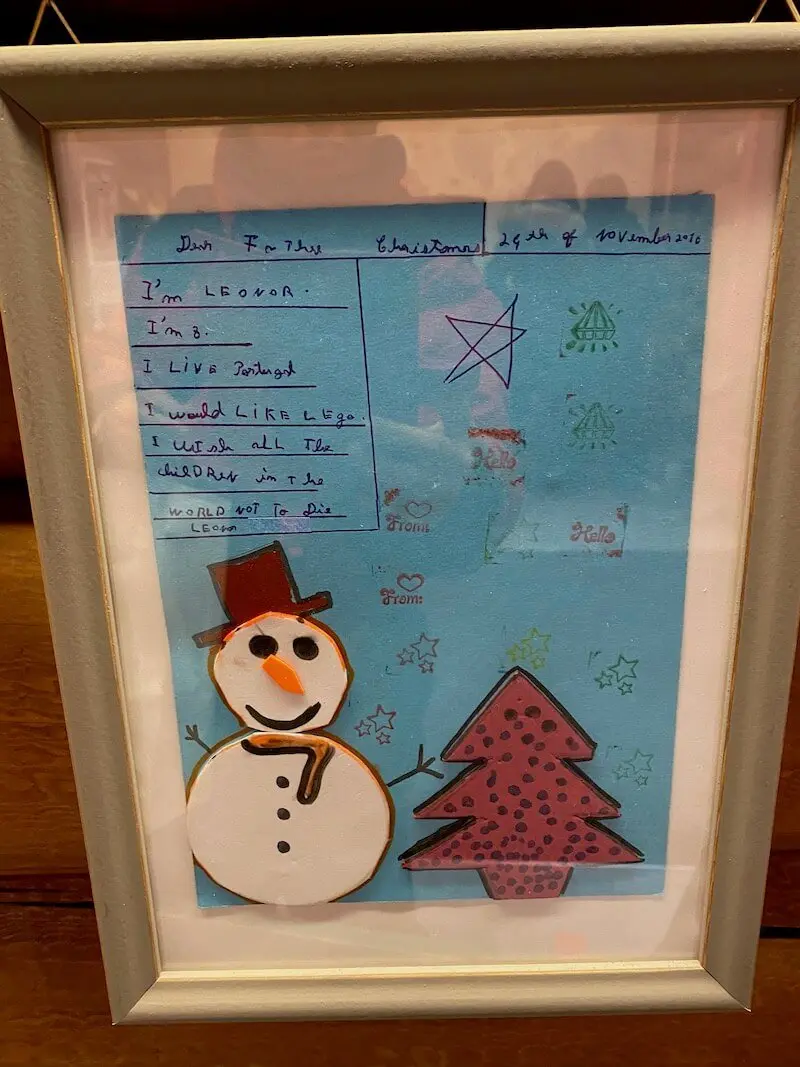 Yes, You Can Meet Santa in Lapland!
Most visitors to the post office come because they've made the trek to see Santa in Lapland in real life, and want to see where all the letters, including the ones they've posted over the years, actually go too.
They also take a trip to Santa Claus Village to join in all the fun Santa Christmas activities such as:
Husky riding
playing in the Lapland snow
sliding on a sledge down the snowy hills
visiting Snowman World, and
But the main reason is to see THE BIG MAN HIMSELF.
Hot tip: Santa is NOT in the Post Office, but resides year round in the MAIN SANTA CLAUS OFFICE, just 100 metres away from the Official Post Office to the left.
It's free to visit.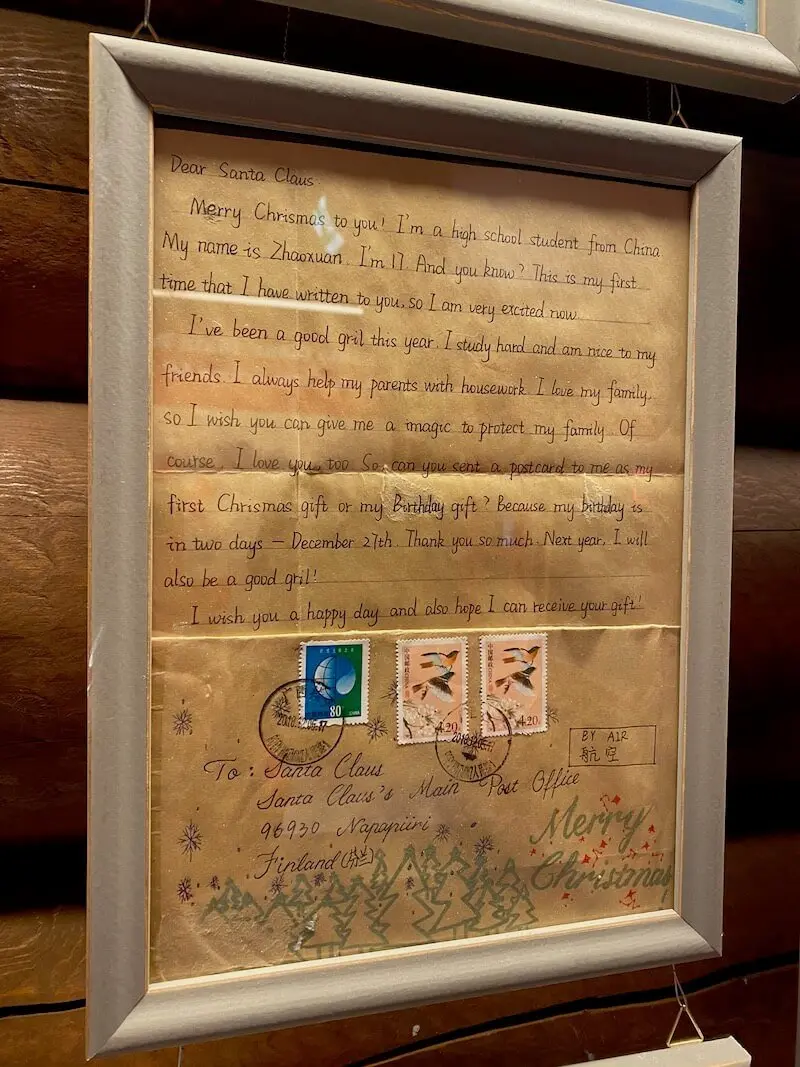 Over 1/2 million letters each year arrive for Santa!
In a normal year, over 500,000 letters from children (and adults) around the world arrive here for Santa.
Surprisingly, there's LOTS of letters from older teenagers and adults too.
Most of these kinds of letters come from Asia, India and Sri Lanka, where Santa is seen as a kind benefactor to all, regardless of age.
Sometimes, the post brings gifts FOR Santa himself.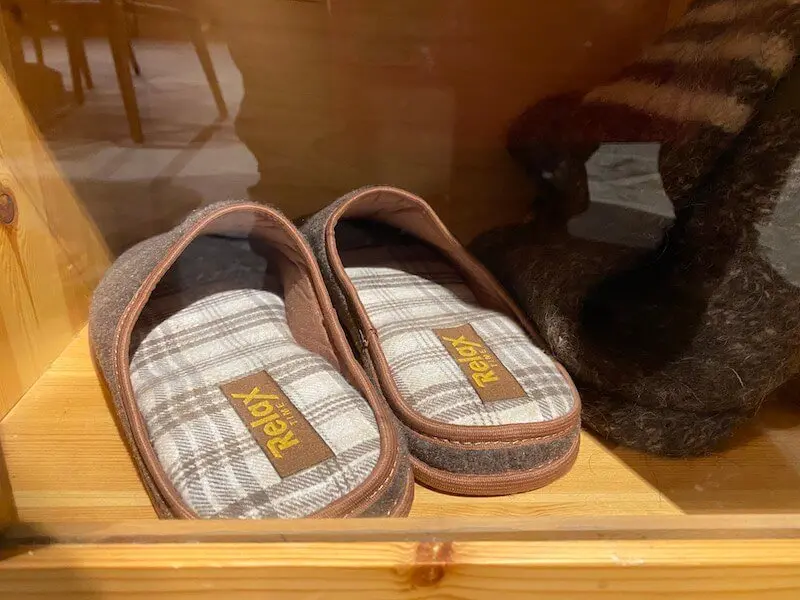 Rovaniemi Post Office Displays
Gifts FOR Santa arrive at the Post Office too!
The best ones he receives each year are on display in the cabinet by the counter.
No.1: Cosy Slippers for Santa
I heard his favourite ever gift was a pair of cosy slippers, just his size.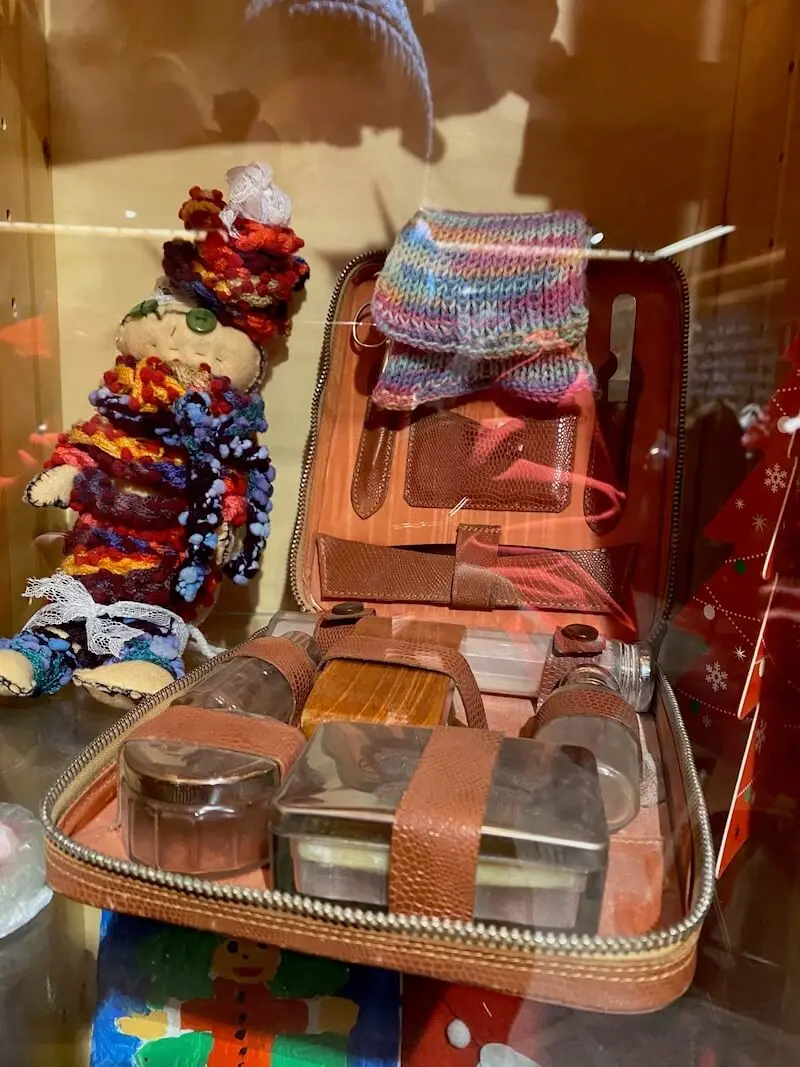 No.2: Shaving Kit for Santa
But this shaving kit must be the most useful!
No.3: Handmade Dolls
I do like the handmade doll he received too.
Take a look above!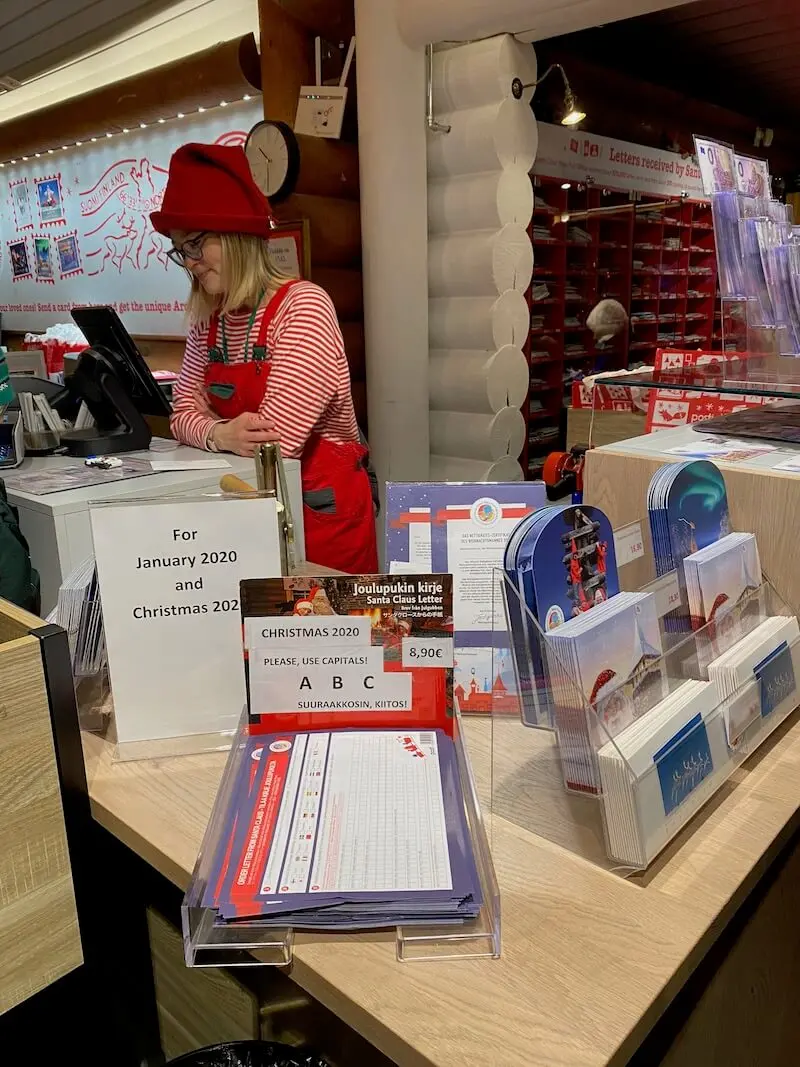 Santa's Elves in Lapland Post Office
Santa's elves in the Santa Post Office are kept very busy all year round.
They spend their time helping Santa to answer all the letters, and assist collating all the lists of children's Christmas wishes.
They also serve the thousands of customers who come to take a peek at the real Santa post office when they visit Santa in Lapland.
Sometimes, they have the privilege of helping first-time writers on "how to write addresses and where to put the postage stamp".
(Or if you are really lucky and can visit Lapland someday, you can deliver your letter to Santa in person at the Main Office!)
They also offer all the normal post office delivery options including post office shipping, post office tracking, and Father Christmas post.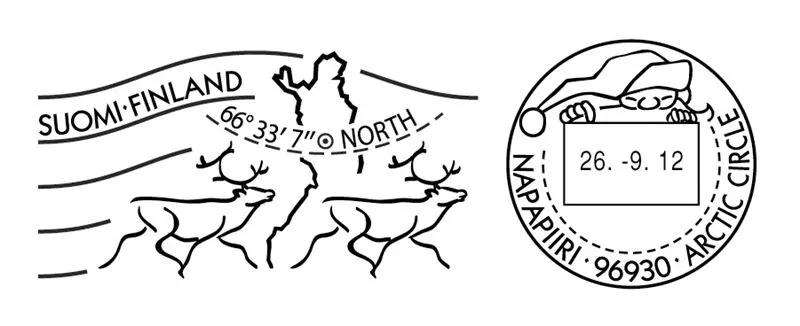 The Official Santa Postmark Stamp
Did you know that the main Post Office for Santa has it's own unique postmark?
The current postmark, featuring Santa Claus and his reindeer, was introduced in 2012.
Letters sent from the official post office of Santa are stamped with this specially-created Arctic Circle postmark.
It's the only Santa Claus postmark available anywhere in the world.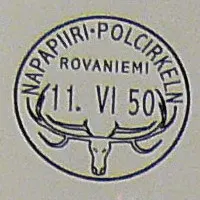 The very first Arctic Circle's special postmark was created in honour of a visit to Rovaniemi by Eleanor Roosevelt.
This Arctic Circle postmark featured a reindeer's head, as pictured above.
Click here to see all the different postmarks that have been used since that time.
How do I get the Santa postmark on my letter?
Head inside the Rovaniemi Post office and you will find not just one Santa post box, but two.
Pick the correct Santa mail box, either the one for regular mail, or the RED Chrismas mail box, and pop your letter in.
You don't need to do anything special to get the postmark, except buy a postage stamp for your letter from one of the elves, then post your letter as normal.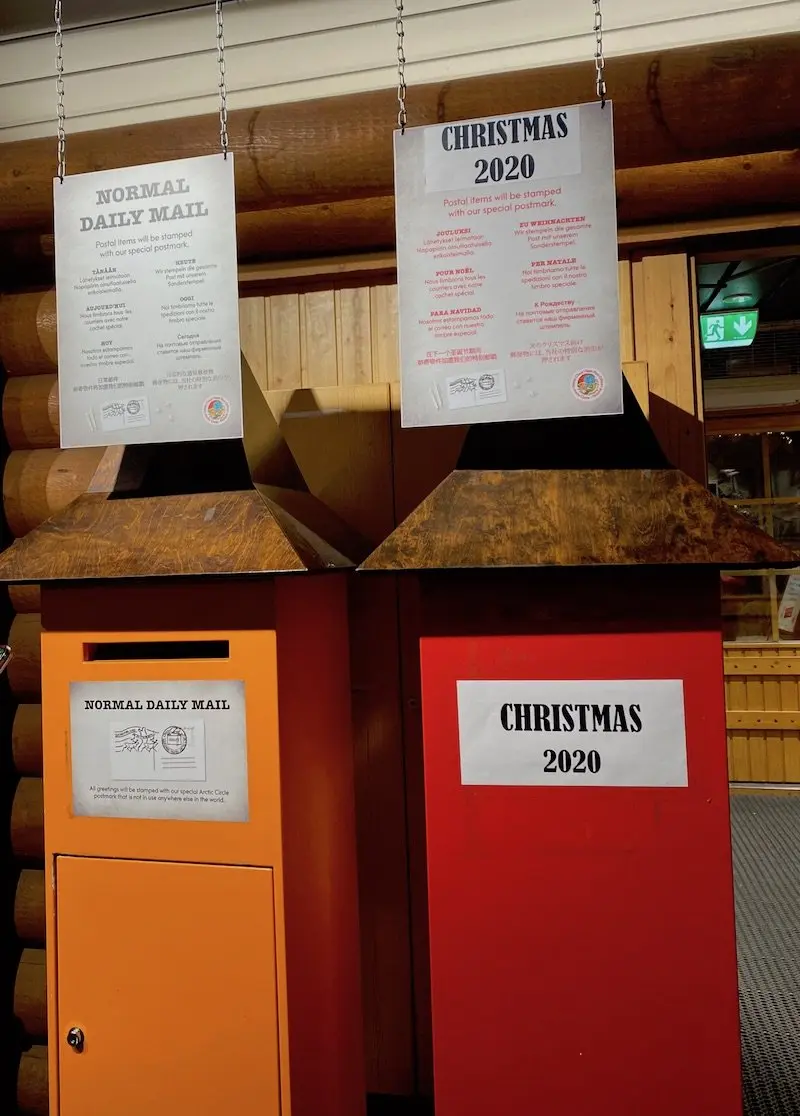 Put Post into the Santa Post Office Boxes
The Arctic Circle stamp will be automatically stamped on all outgoing post, no matter what the destination, or when it's posted.
Lots of visitors write a letter home FROM the Santa Claus Main Post Office, just to prove they've really been there, but don't want their letters arriving till much later.
If this is you, be sure to put your letter in the RED box with the sign CHRISTMAS mail.
The elves keep all Christmas post on hold until later in the year and post it so that it will reach its destination in good time.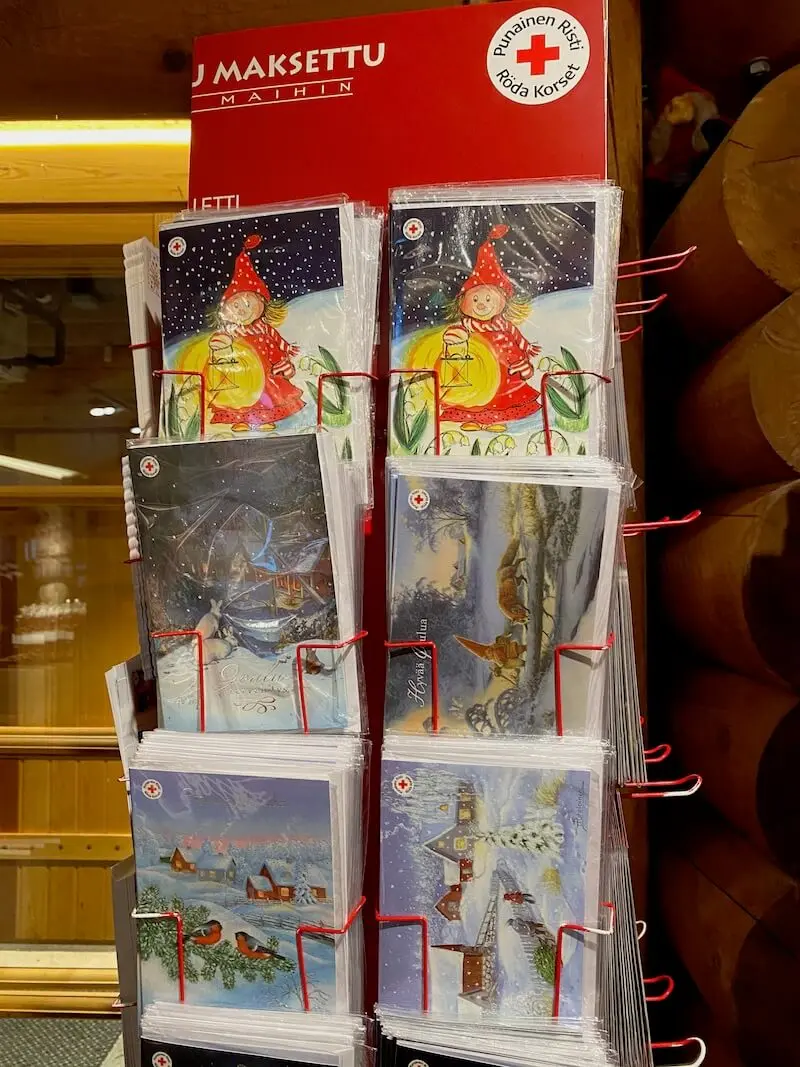 8 Fun Things to Do at Santa's Post Office in Lapland
No.1: Wander around the Post Office Shop in Rovaniemi
Choose gifts and souvenirs from their delightful range of stationery, cards, Lapland souvenirs and more.
There's even a dedicated section of Christmas and Santa stationery, including letter writing kits and Christmas cards.
This is where you can buy Christmas cards, pens and paper to write to your people.
Don't forget to buy stamps for your letters and cards!
(See below for our Santa Post Office Shopping Guide to see a sneak peek of what you can buy in the Post Office Shop in Lapland.)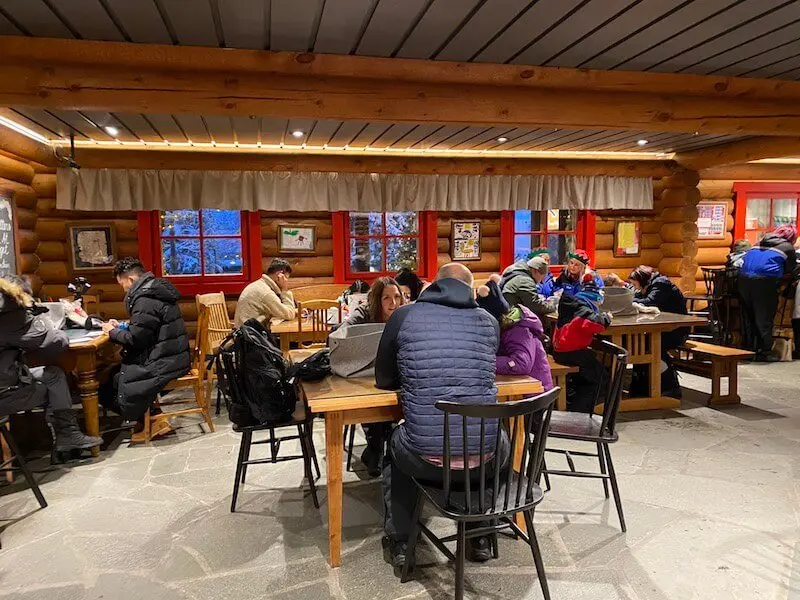 No.2: Write a letter to your friends and family from the Arctic Circle
Take a seat in Santa's family room area, and write your cards and letters to a friend or family member.
Pop on the stamp, and post it in the box.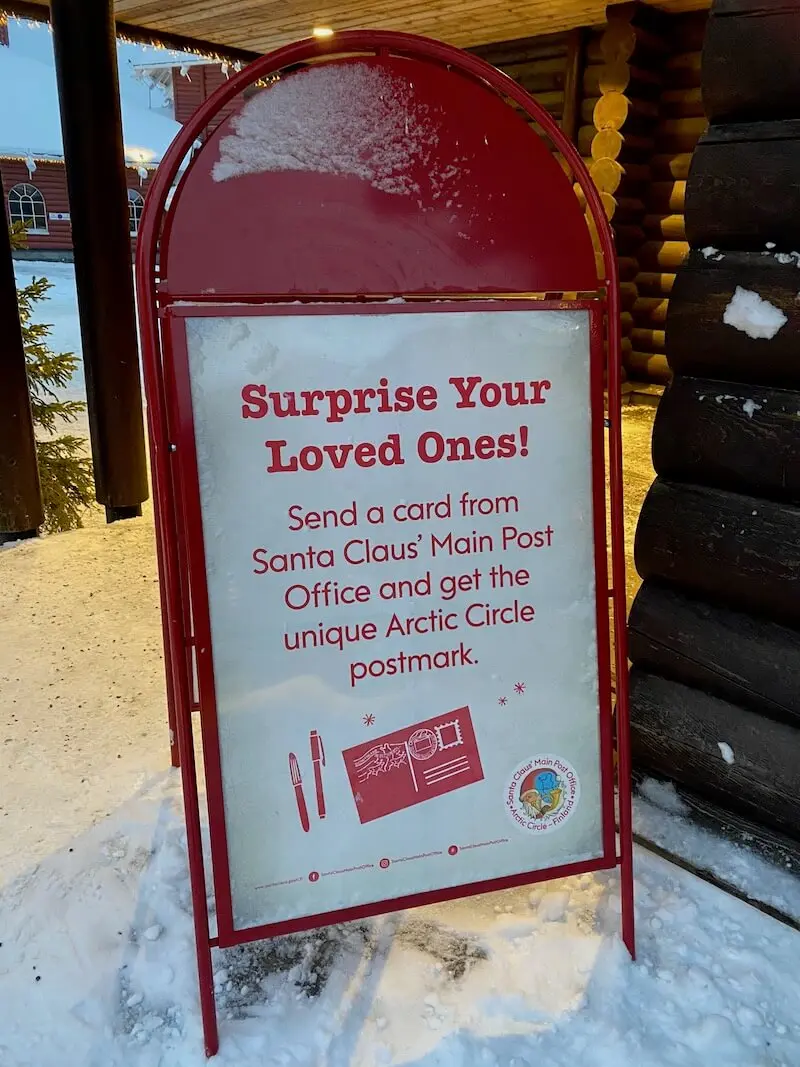 Wait to hear the excitement from your friends when they receive it, complete with the special one-of-a-kind postmark!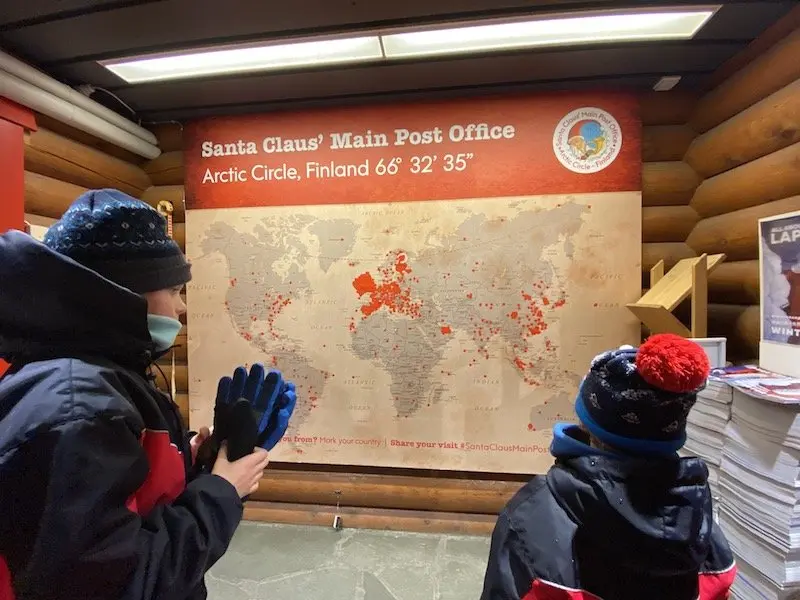 No.3: Add a red spot to mark your Home Town on the wall map
Just inside the entrance, you'll see the official Santa Post Office map, tracking where all the visitors to the post office come from.
Peel off a red dot sticker and add your home town.
We were surprised to see only a few stickers from Australia.
The UK was by the far the most common place.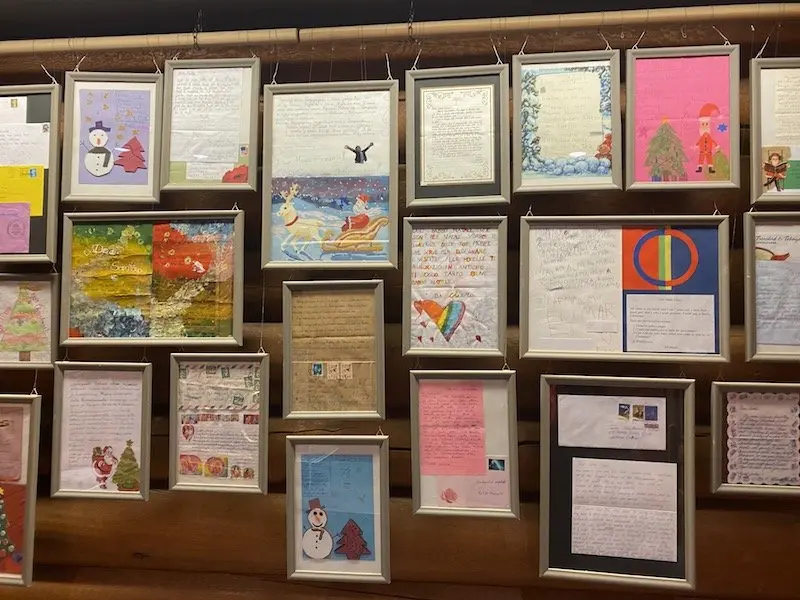 No.4: Take a peek at the Wall of Letters to Santa near the entrance.
The postal elves keep extra special lovely drawings from those who write.
Elves put a selection of these notes in frames for visitors to read.
Ones on display are changed from time to time.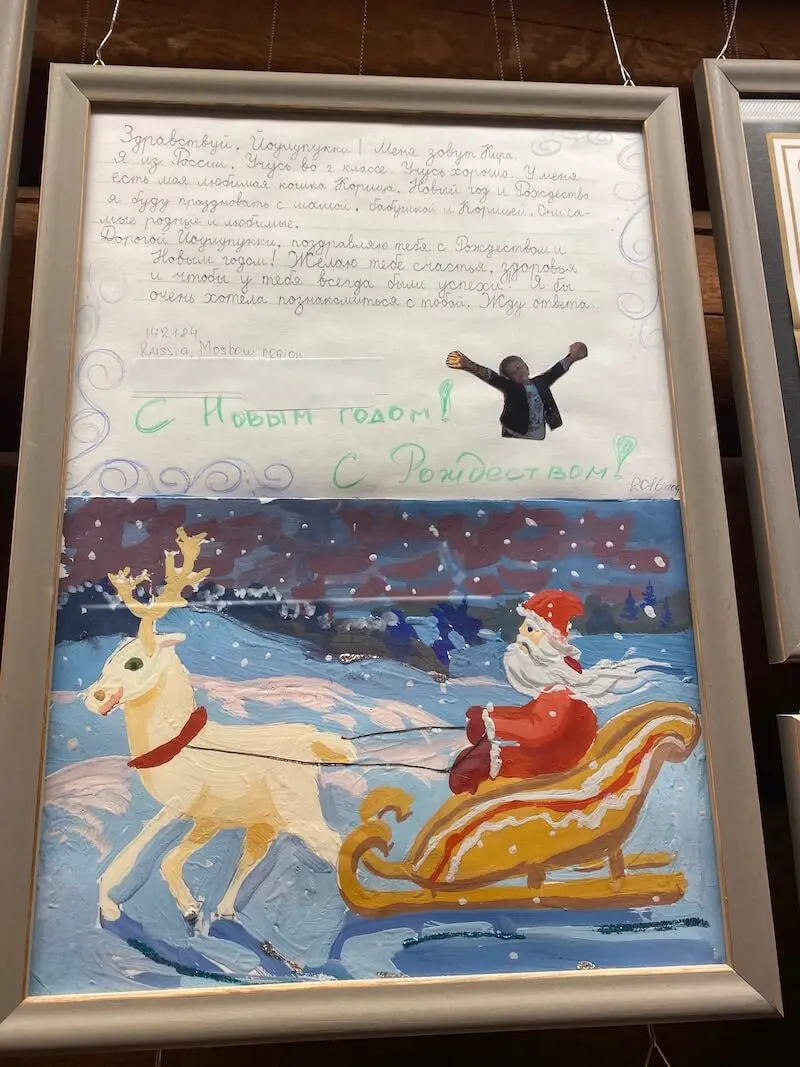 Many children and adults draw, doodle and collage on their letters.
Some paint pictures for him too.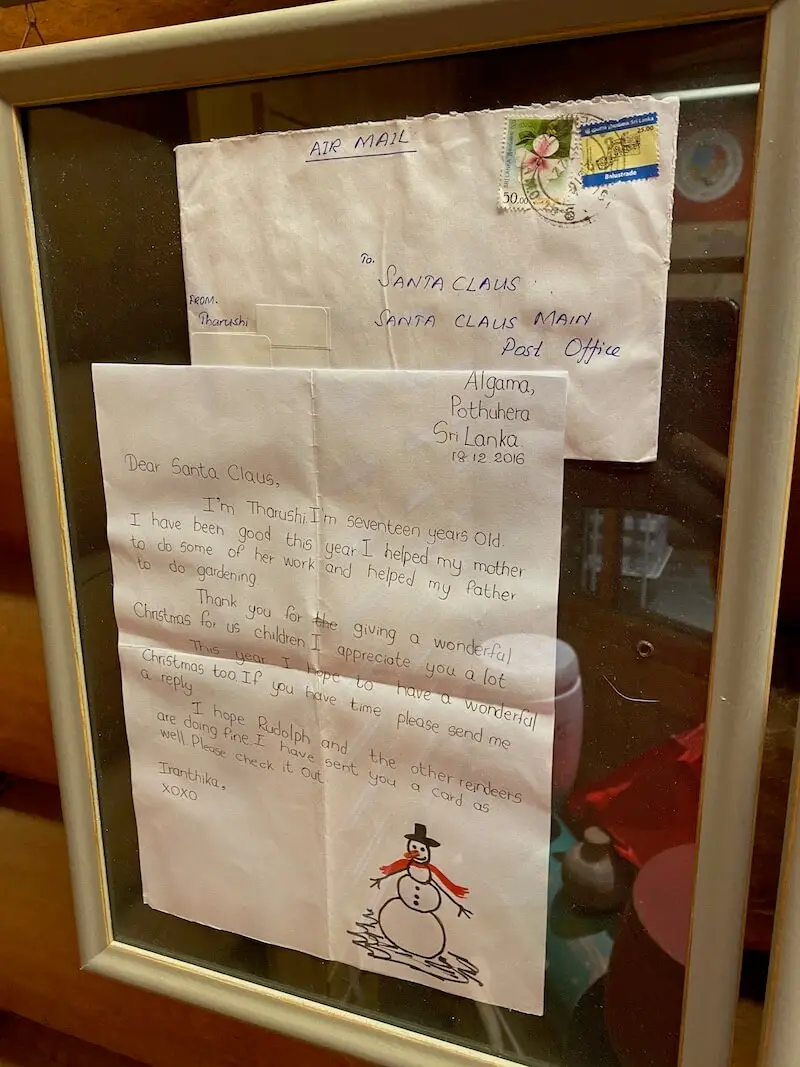 If you are lucky, your letter might end up there one day too!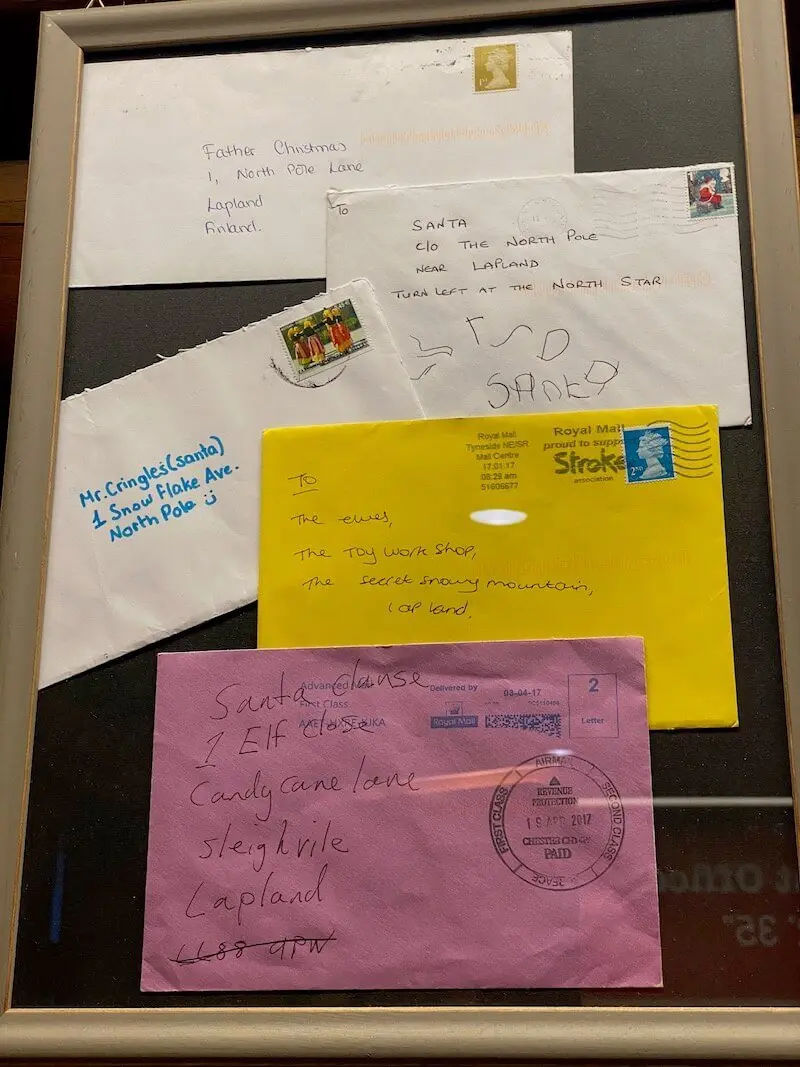 No.5: Look at the Envelopes addressed to Santa
Letters to Santa always get to him, even when they don't have any kind of proper address at all.
Here's just a few examples:
Santa Clause, 1 Elf Close, Candycane Lane, Sleighville Lapland!
The Elves, The Toy Workshop, the Secret Snowy Mountain, Lapland
Mr Cringles, 1 Snowflake Lane, North Pole
Santa, c/o the North Pole. Turn left at the North Star.
The last one brought nostalgic happy tears to my eyes!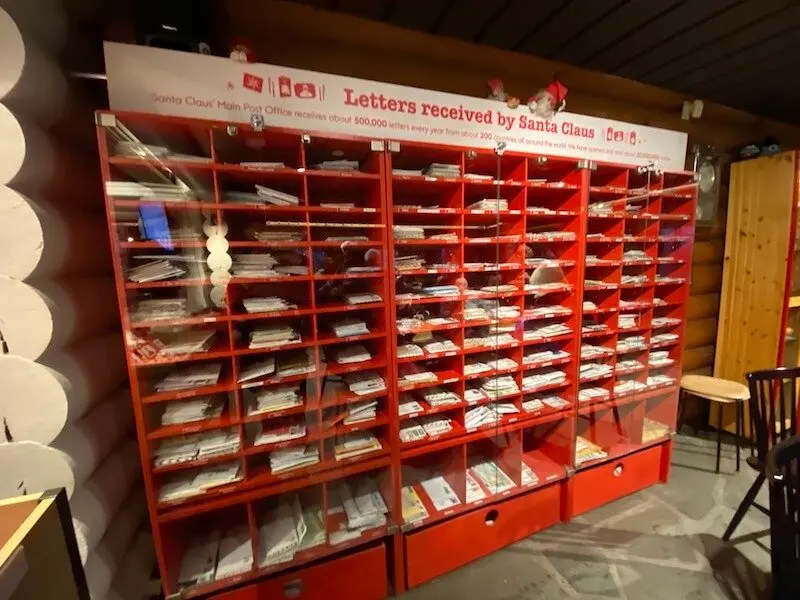 No. 6: Take a peek at the Letter Cabinet too
Are there any letters from your country in the collection?
It's worth a look.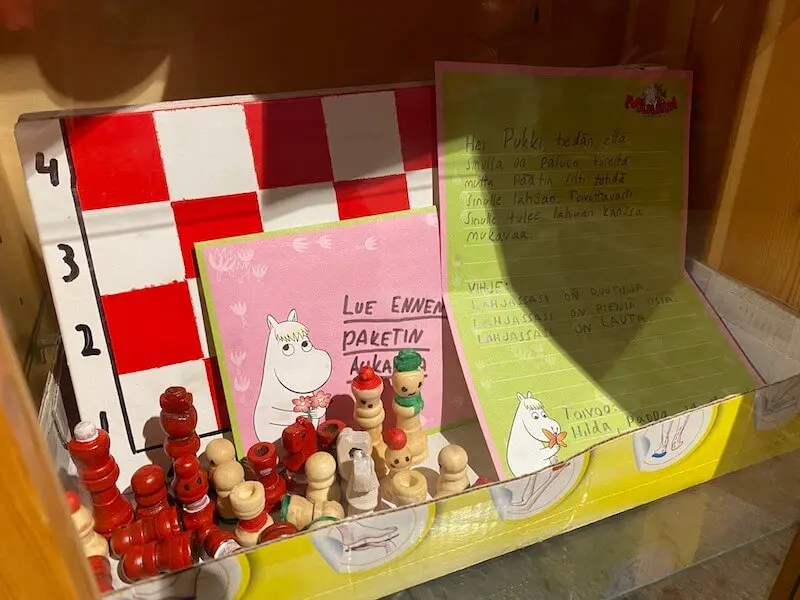 No. 7: View Santa's Cabinets of Gifts
The gift cabinet is my favourite thing in the room.
This is where the elves keep a selection of special gifts that have been sent TO Santa over the years.
One little girl made this hand-crafted Moomin inspired chess set for Santa and his best elves, although her letter states she's worried he won't have enough time to play.
She's hopeful he will find some time though!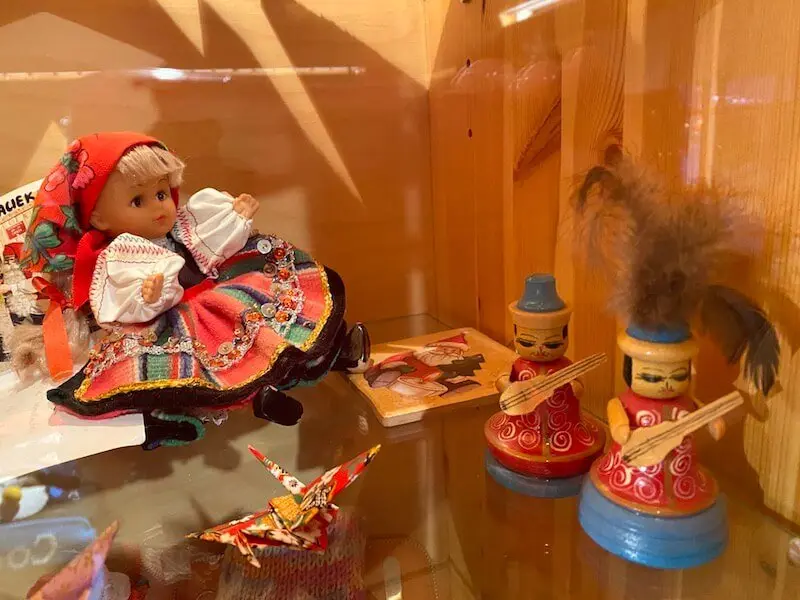 Traditional dolls & customary gifts
People send traditional dolls and gifts too, including this Japanese origami crane.
He's been given knitted socks, and gloves to keep him warm, and lots of yummy food snacks too.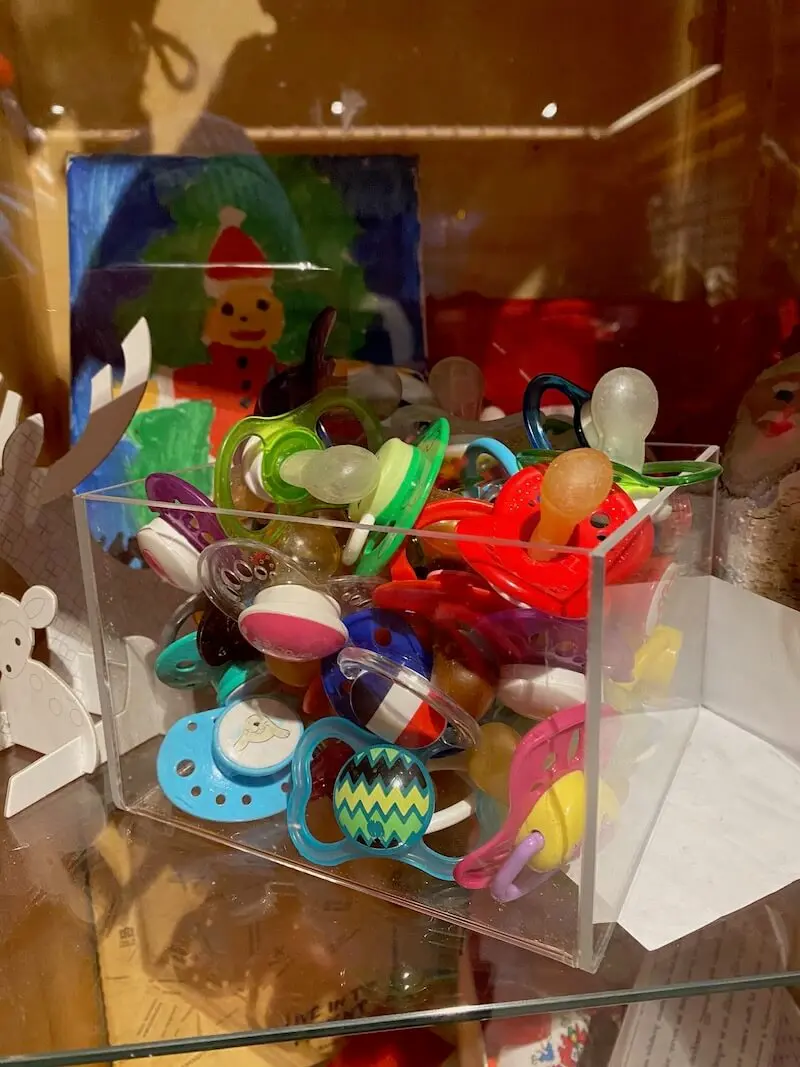 No. 8: See the funniest thing in the post office
Yes, it's true.
Santa receives many, many, many dummies and pacifiers each year.
These are posted by the very young children who send their favourite dummy to Santa as proof they should be on the good list for being so big and brave to finally let it go.
Santa is definitely visiting them!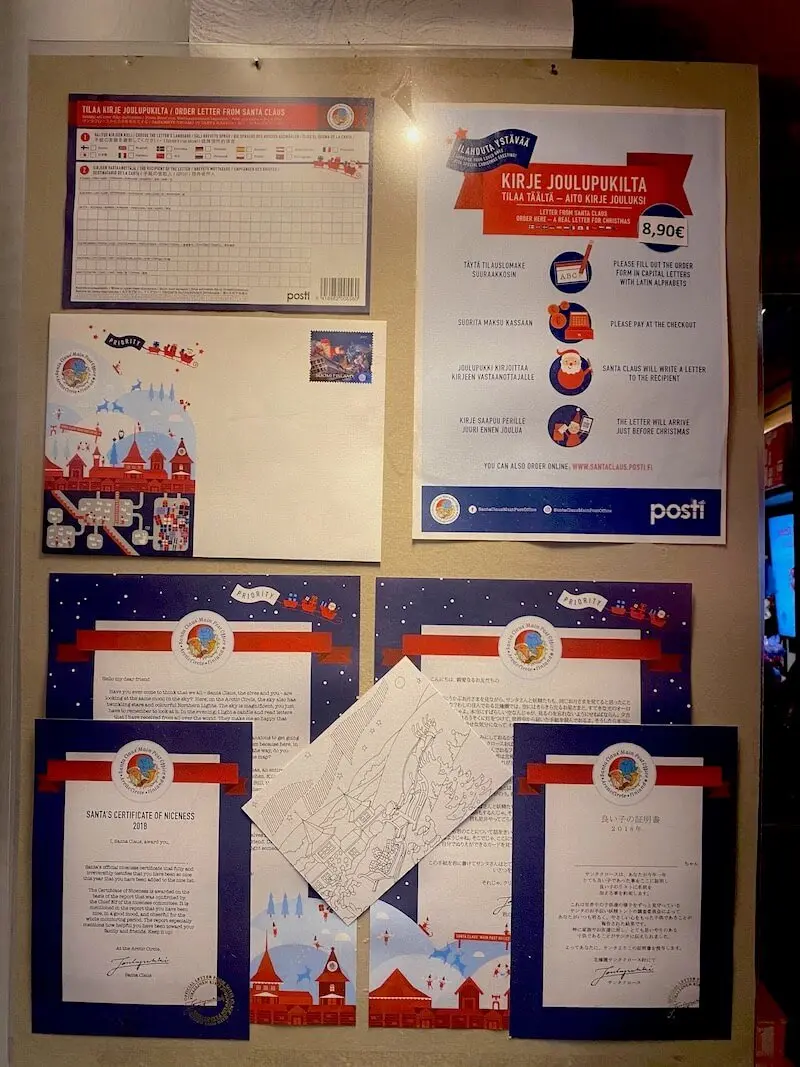 No.9: Order your Santa Letter
You can even order your Santa letter in store, and have it sent anywhere in the world, along with a Certificate of Niceness.
Or send a gift from Santa to be delivered at the right time!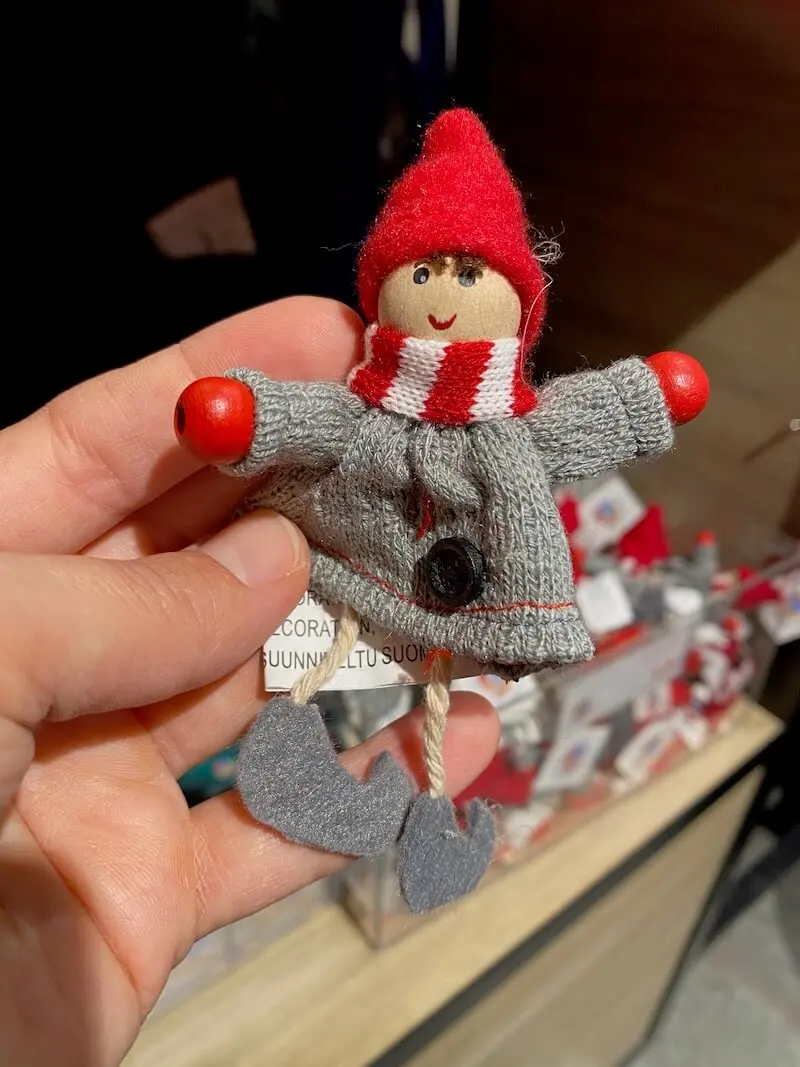 SHOPPING AT THE OFFICAL SANTA POST OFFICE ROVANIEMI
The shop is a treasure trove of Christmas gifts and Lapland Santa souvenirs.
Take a look at some of the things you might find to purchase.
Hot tip: Don't miss this place to shop in Santa Village.
There's LOTS of one of a kind Lapland souvenirs here.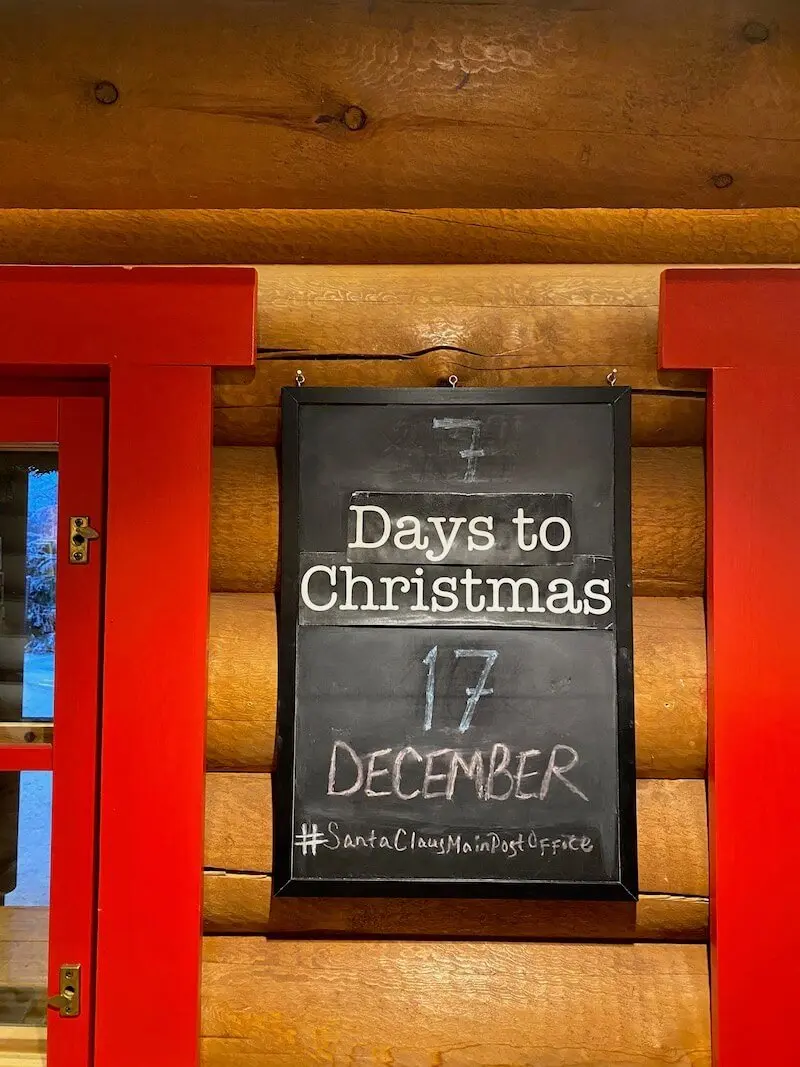 Frequently Asked Questions – How do I send a letter to Santa?
If you want to send a letter to Santa Claus this year AND get a reply, we have all the tips.
Fun Fact: Did you know that Santa's Main Post Office in Lapland has received almost 20 MILLION LETTERS from almost 200 countries since 1985?
Write a letter to Santa AND get a reply!
The best way to write a letter to Santa and get a reply is to click this link.
This will take you to the Official Santa Post Office page, where you can set up a personalised letter delivery from Santa to your child or children via the Finnish Postal service online shop.
These official letters from Santa can be ordered from around mid year. These Personalised letters from Santa are a real treat.
A postcard from Santa features the current Arctic Circle stamp postmark that has a picture of Santa on it.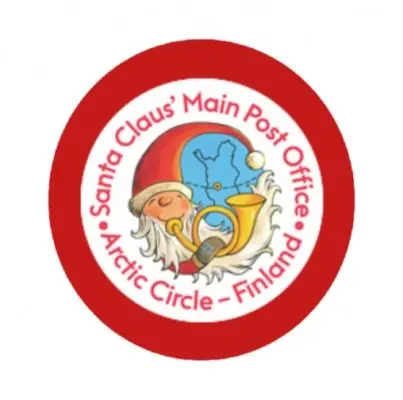 Order Santa Post Office Merchandise
You can also order merchandise from the Official Santa's Post Office too, including:
a Reindeer soft toy
A Santa Post Office Santa Hat with bell and Santa Post Office logo (for adults and children)
Santa Claus Main Post Office Christmas Calendar
Durable cotton tote bags in red or blue with Santa Post office logo (seen above)
Special suitcase belts
Red or blue tube scarves with Post Office Logo
Touch screen pens with post office logo.
They make the perfect gift for a Christmas lover.
You can also write your wish list and post letter to Santa at at any time of the year.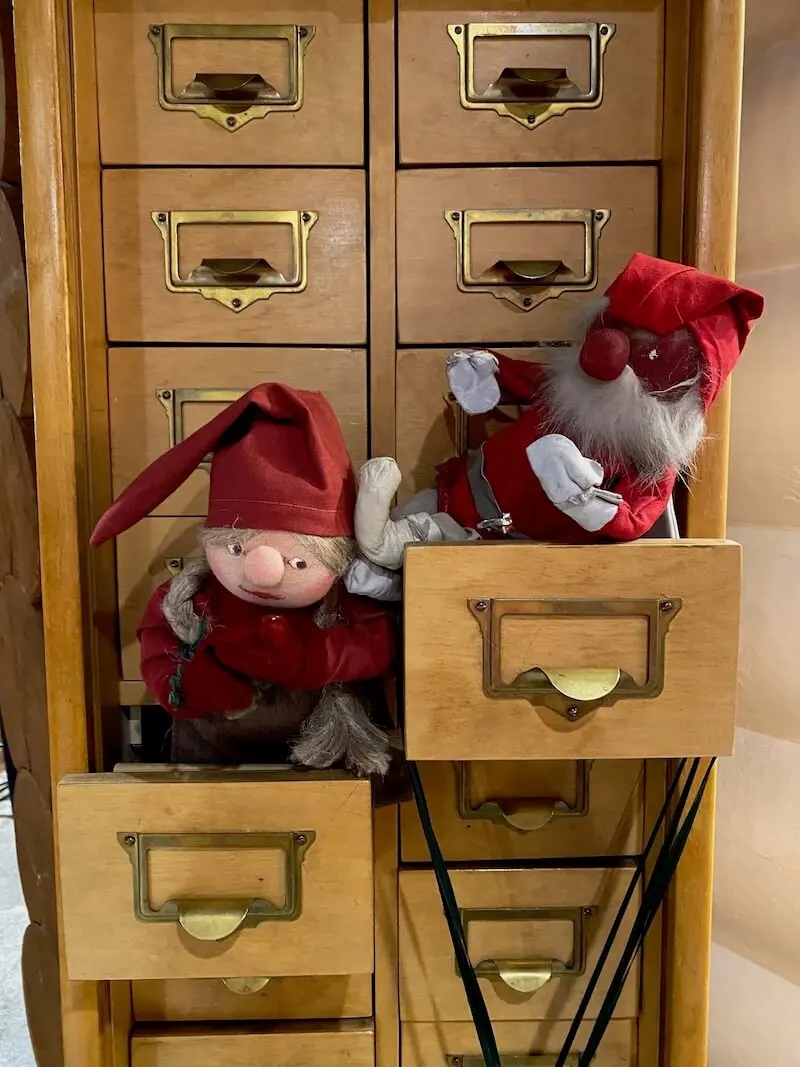 Where to send letters to Santa?
Post office Santa Address:
Wondering where to post letter to Santa? The official post office address for Santa is:
Santa Claus Main Post Office, Tähtikuja 1, 96930 Rovaniemi, Finland
What is Santa's postcode?
Add the postcode 96930 (in Finland) when you write to Santa.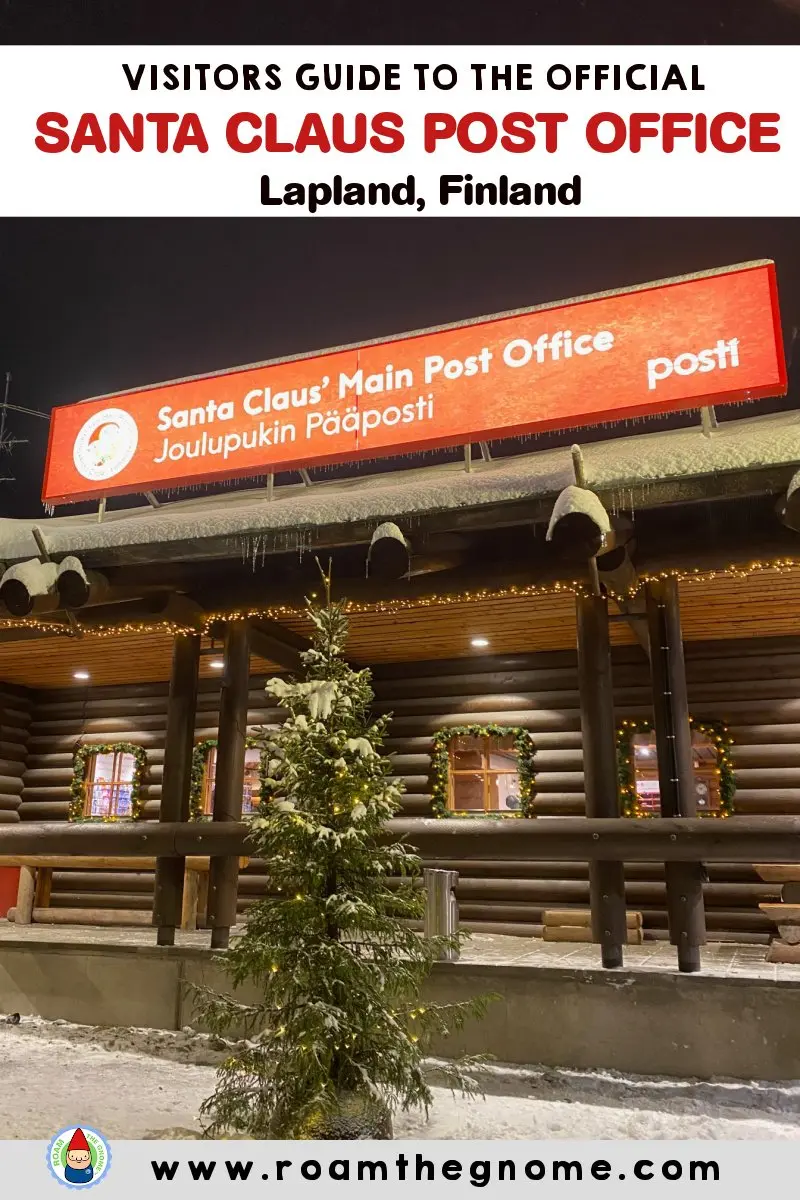 What is Santa's email address?
Santa's email address is: [email protected]
What is Santa Claus Home Address?
Oooh, we can't tell you Santa Claus offical address in the forest, but did you know you can visit in person?
Click the link at top of page to look inside Santa's Main Office in Lapland.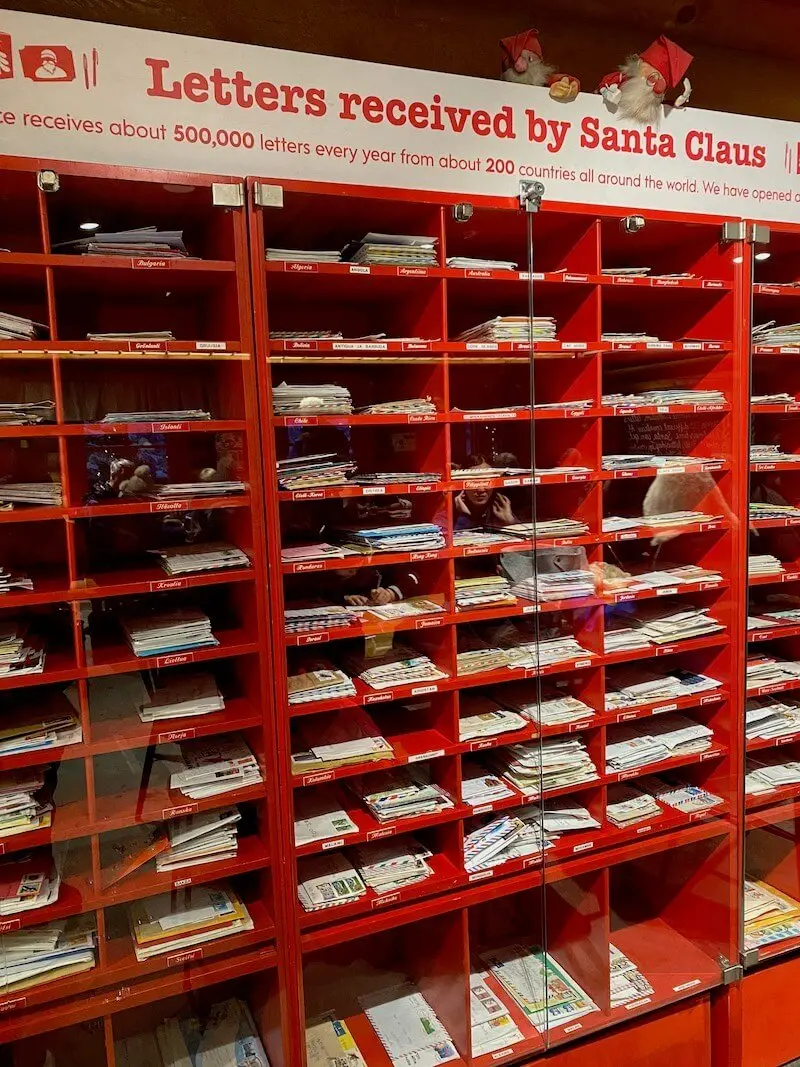 THE INSIDE SCOOP: Santa Post Office Rovaniemi
Correct at time of publication on Roam the Gnome. Please check with venue for updates. We apologise in advance if there have been any changes we are unaware of. All prices in euro, unless otherwise stated
Santa Claus Village Post office address: Santa Claus Main Post Office, Tähtikuja 1, 96930 Rovaniemi, Finland
Santa Claus Post Office Rovaniemi website: Click here
Santa Claus post office hours
All the normal post office services are available:
From 7th January until 31st May: 10am to 5pm
From 1st June to 31st August: 9am to 6pm
From 1st September to 30th November: 10am to 5pm
From 1st December to 6th January 9am to 7pm
Open Christmas Eve, Christmas Day and New Years Eve from 9am to 5pm
Open New Years day from 12 noon to 5pm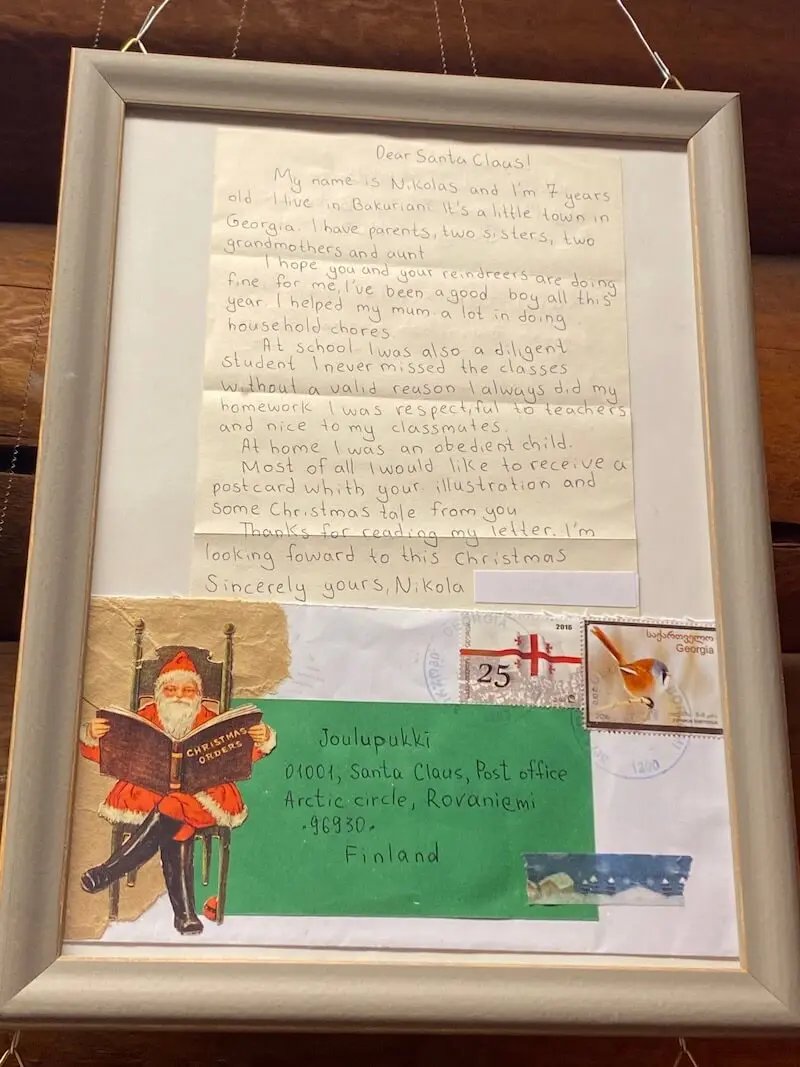 How to get to Santa Post Office Santa Claus Village
Click here for directions from Rovaniemi to Santa Claus Village.
Includes how to get to Rovaniemi from Helsinki too.
Hot tip: The most fun way is to travel on the Helsinki to Rovaniemi Train – the Santa Claus Express Lapland!
Santa Post Office Map
Toadstool Rating: Santa Claus Main Post Office Arctic Circle Finland
It's a once-in-a-lifetime experience to visit the REAL post office business where all Santa's letters are delivered to.


Looking for More Things to Do at Santa Claus Holiday Village?
Click the blue links for a sneak peek at these Christmas activities in Lapland