INSIDE: Roam the Gnome's Epic & Helpful Guide on How to Save Money for Travel!
I wish I had a Genie's lamp, or a trust fund, or a pile of money stashed beneath my mattress.
Truth is, I don't.
But I do have a MONSTER-SIZED desire to travel.
The only way to solve that problem was to learn how to save money for travel.
I've spent my whole life saving, then travelling, then saving, then travelling.
Now I travel with two kids and a Gnome, so I need to save more.
Here's a round up of our best tips for saving money for travel so you can visit all your bucket list destinations (like the German Christmas markets pictured above!)
Disclosure: This article contains affiliate links. If you make a purchase after clicking on one of these links, we may receive a small commission at NO extra cost to you.
>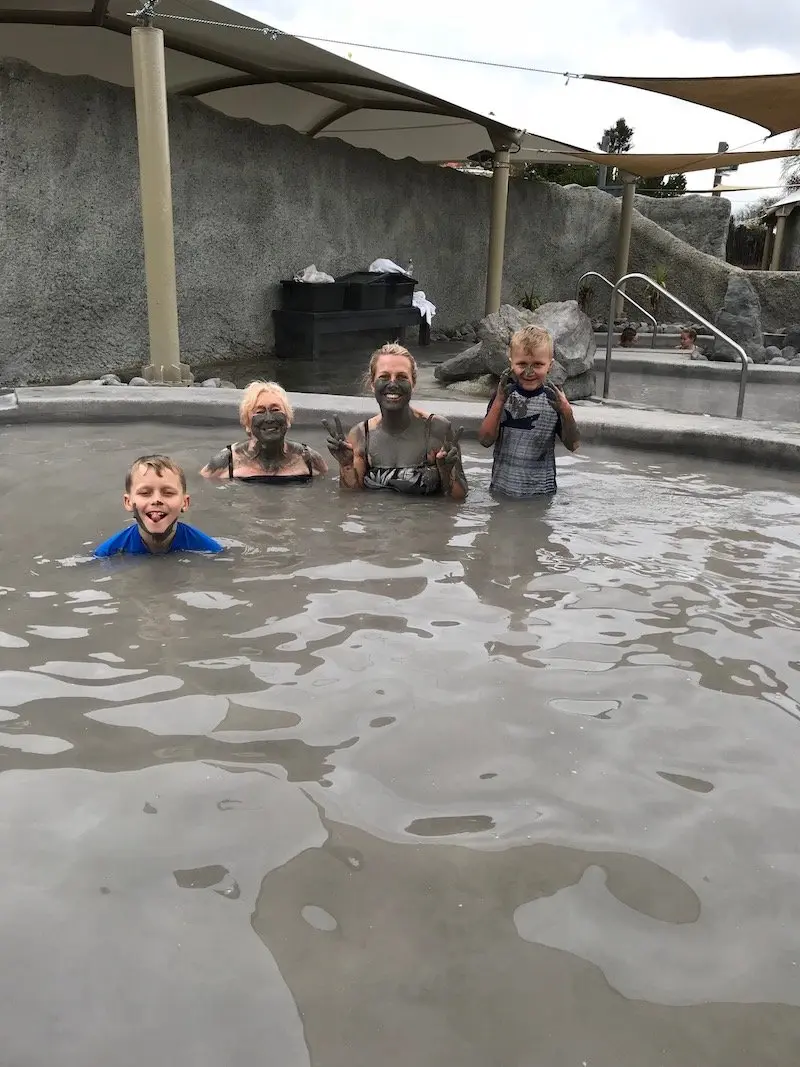 Hells Gate Geothermal Park Mud Spa, Rotorua NZ
How to Save Money for Travel
Correct at time of publication on Roam the Gnome. Please check with venue for updates. We apologise in advance if there have been any changes we are unaware of. All prices in US dollars, unless otherwise stated
I've come to realise there are two equal parts to this equation.
1. Cut my expenses
2. Earn MORE income for travel
You can do one, or the other, but to boost that bank account exponentially, I suggest doing a bit of both.
Want to know more?
These are my savings tips and tricks to build your travel fund every single day!
(Don't say 'one day'. Say 'today' and start traveling sooner.)
---
RELATED: How to Travel with Kids on a Budget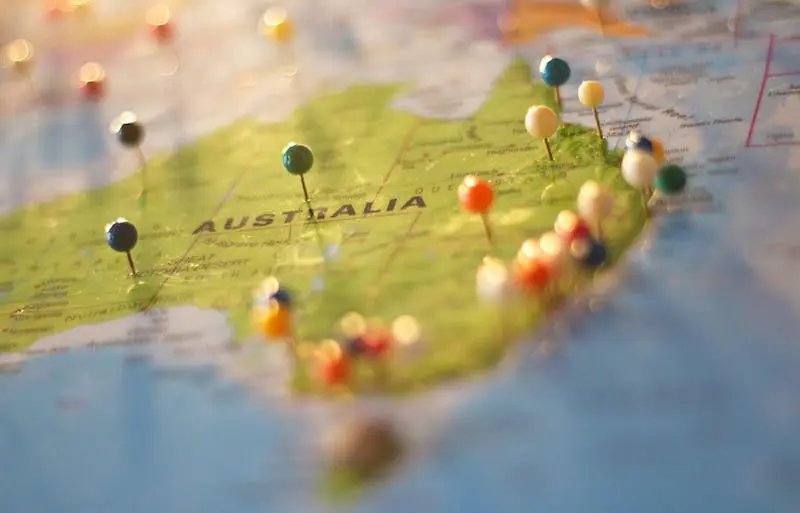 Image credit: Catherina Sousa via Pexels BY CC0
PRACTICAL WAYS TO SAVE MONEY FOR TRAVEL
I'm a minimalist by nature, and I HATE to waste money that could have been better spent on travel.
I rarely shop, but when I do, I've finally learned it's much better value to pay a bit extra upfront to buy quality things that last.
That is true for clothes, furniture, white goods, technology…
(Want to know the quickest way to drain your travel savings? Head to the shopping mall. These places cast a magic spell on even the most determined saver. AVOID THEM at all costs.)
When I do spend cash, it's on experiences:
good food
adventures with friends and family
fun days out, and
trips to places I've never been before.
But I also love FREE stuff.
Swimming in our local river is my favourite thing to do, and it costs nothing.
I've also learned to distinguish between needs and wants, stick to a budget and carry cash for my splurges.
(Here's an example: I need watermelon for the kids lunch boxes. I want the chocolate block as an after dinner treat.)
If I don't have the cash in hand, I don't buy it.
If you've ever wondered how to save money to travel to Europe, or to travel the world for a year, or how to save money for a trip fast, read on.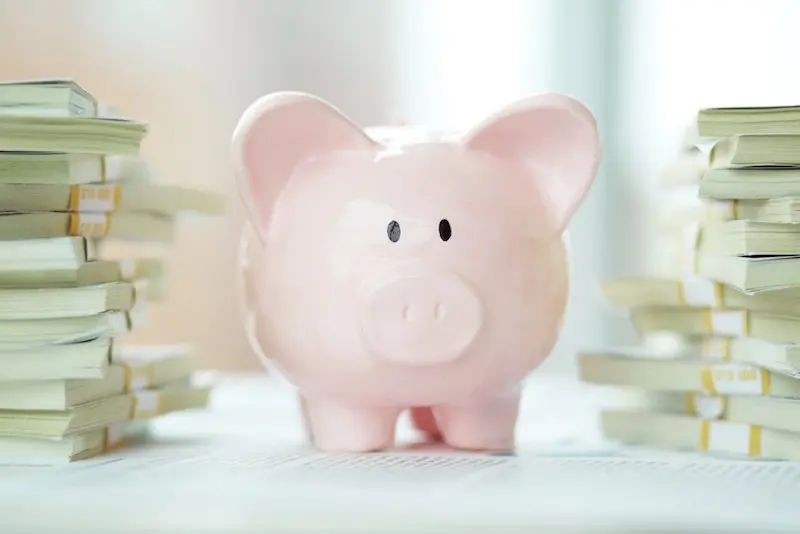 Image credit: Lena Thelander via Flickr CC BY-2.0
Part One: REDUCING EXPENSES
A note before we begin.
I save because I love to save, but also because I hate waste.
I don't buy magazines because I can borrow them for FREE from the local library.
Ditto reading the latest must-read book.
(A library card is my best friend).
I don't buy DVDs anymore because I don't want to store them, but will buy the same movie on iTunes for the kids ipad if we love it.
I also love to support my local video shop (yes! we have one of these relics!), but wait a few weeks till the new-release movies drop to $3.
If I wait long enough, these DVDs turn up on the library shelves for free too.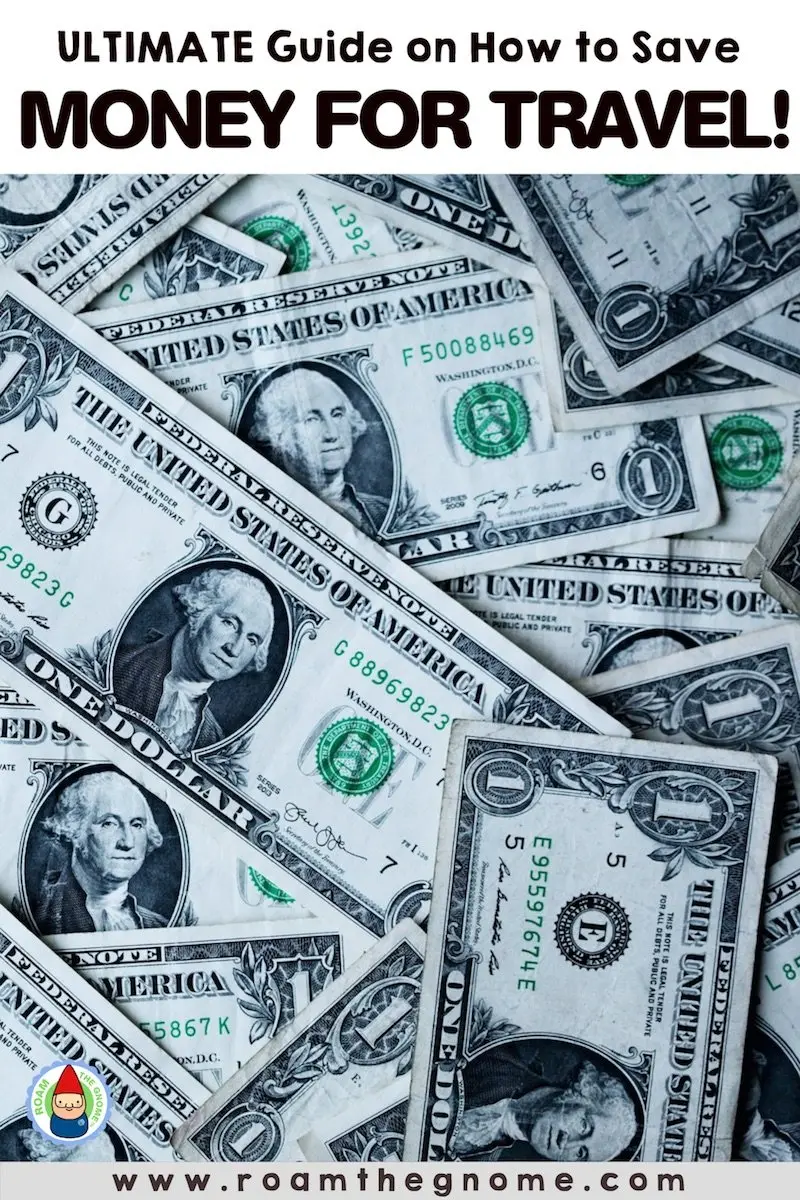 Hand me downs & joyful splurges
My friends know I'm happy to receive their hand-me-downs, and I love digging through a good second hand stall for treasure.
My saving though, never gets in the way of living a great healthy life.
I won't skimp on eating well, and while I won't eat out every week, when I do visit a restaurant, I buy what I want to eat, NOT the cheapest thing on the menu.
I can make sausages into a delicious meal my kids love, but we also eat lamb shanks some weeks.
I just won't spend money on junk, or any stuff I'll recycle to the op shop in the next few months.
That money is better put away for travel.
How I love saving for travel in every way, shape and form.
Here's how I do it.
---
READ MORE: Our top tips on how to plan family travel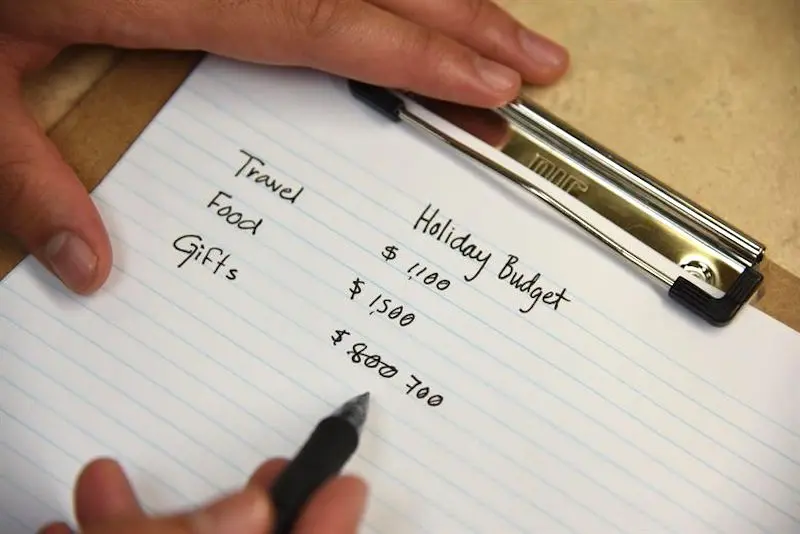 Image credit: Airman 1st Class Anne McCready via USAirforcePhoto CC
Set a Monetary Goal
The best motivation for saving money is to set a goal for the exact amount you need for a dream trip.
Write up a list of all possible travel expenses:
flights
accommodation
spending money
meals and drinks, and cash for street food finds
entry tickets to attractions
shows you want to see
transport costs on ground
incidentals such as medicine or clothing you need to purchase for the trip
passport renewals or visas, and
the all important travel insurance.
(We use Covermore travel insurance company. You can also compare travel insurance company prices for different destinations here.)
Once I have a definite figure, I add a little for safeguarding, then I count the weeks between now and when I want to leave, and work out a weekly budget figure.
PS: I've also learned lots about how to save money ON travel. (Check the guide above for tips)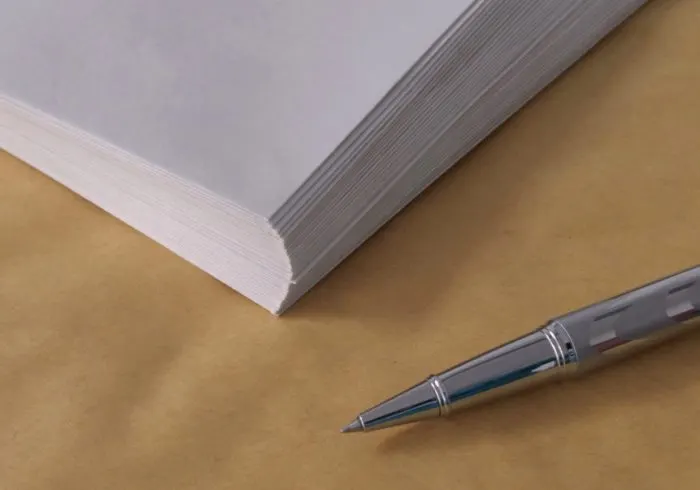 Image credit: Source unknown
Write a Budget
Then I make a realistic budget.
This figure lets me know exactly what I need to save each fortnight to make my trip a reality.
My travel goals come true because of this one key piece of paper.
How to make a budget
From my very first "pay check" from my first job at Coles supermarket – actually, a wad of cash in a small dusty-yellow envelope pay packet – I've budgeted and saved.
I have NO idea where I learned this skill, but it definitely was not from my free-spending mum and dad.
(In fact, only recently, I've finally taught my mum these skills, and she is now thrilled to have money for all her monthly bills ready and waiting in the bank before they are due.)
Each week, I would come home and take out the cash, and separate it into envelopes.
Some for things I wanted to buy, some for things I needed to pay, but most for my savings account.
I'm a Taurus, so perhaps it's ingrained?
Any cash left over went into my purse as 'fun money' to buy treats, or hot chips!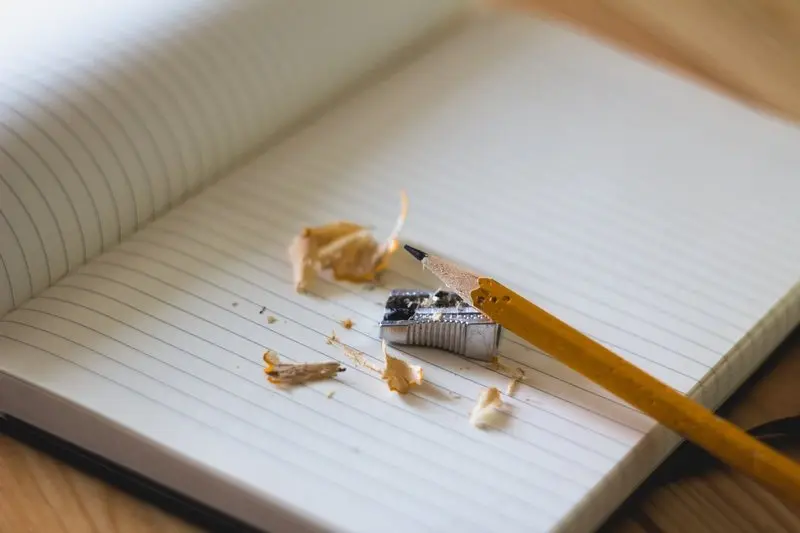 Image credit: Pxhere BY CC0
Saving money for travel and life
This budgeting hack has become a lifelong habit.
These days, I visit and check on my budget at least once a week to balance the accounts, so I ALWAYS know where my money is going.
I have four accounts:
a general "daily living" account
a "savings" account
a "business" account and
a "mortgage savings" account.
The first thing I do each time I'm paid is to shift my savings first – my travel savings into my savings fund, and an amount to keep growing my mortgage account.
I set these payments automatically so they are gone from my daily living account before I can spend them.
I also have a regular sum automatically moved from my daily living account to my business account. This amount is put aside for my monthly bills so I'm never left short.
In fact, this is another form of savings, as I've often saved more than I need for electricity, phone and car service bills.
I move any excess to my travel fund every few months.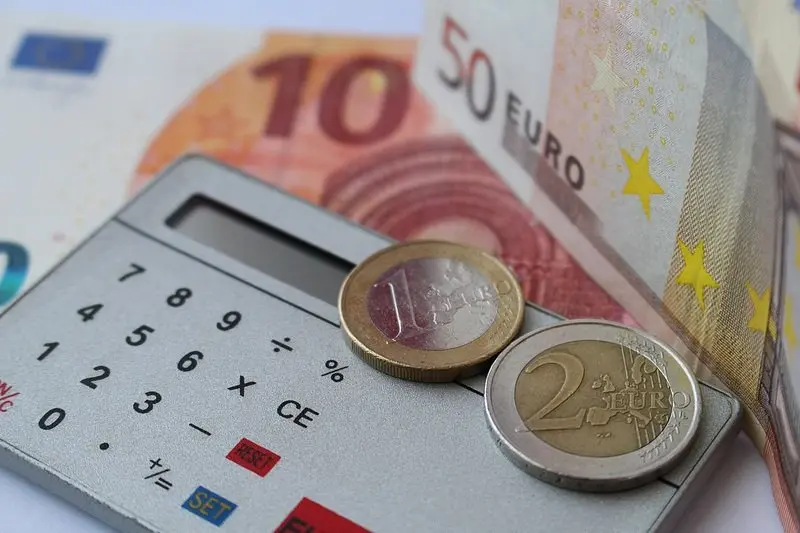 Image credit: Pxhere BY CC0
How to work out your yearly expenses
How do I know how much to put aside for bills?
Easy. I tallied up ALL my expenses and bills for the year into one, then divide this by 52 to get a weekly amount.
I save an amount for:
our next trip (as above)
electricity
phone and internet
car servicing
car insurance
contents insurance
adobe subscription
cub scouts fees
life insurance
web hosting
the mower man
rent
swimming lessons, yoga or gym membership
petrol
the weekly food shop
my hair appointment four times a year
a small amount for birthday gifts
another moderate amount to cover Easter eggs and birthday presents for my boys, and
$1000 to cover Christmas presents, Christmas decorations and food.
I also include a yearly amount for tyres, car repairs, $800 for school holiday expenses beyond my normal budget ($200 per term break), and about $1000 total for unexpected household expenses.
Put the bills money aside
I put this aside each fortnight BEFORE I can touch it.
Lastly, I allocate a fortnightly amount just for FUN!
This is cash money I use to go out to dinner, to buy takeaway when I can't be bothered to cook, to buy a new lipstick or mascara, to pay for my boy's haircuts, or school photos, or to have my eyebrows threaded.
I take this cash out from the fee-free ATM once a week, and dip into it as necessary.
Any leftovers at the end of the fortnight go back to my travel fund.
Learning to budget is by far the best tip I can give you on how to save money for travel.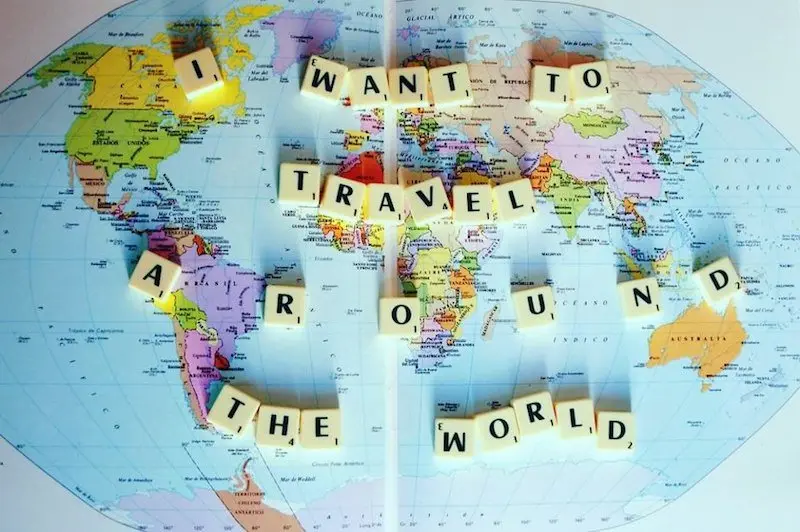 Image credit: Original source unknown
Make a Travel Dream Board
Intention is a big part of manifesting a dream into reality too, so it's very helpful to build a dream board.
The first step in making a dream board is to collect a bunch of old magazines, travel brochures, colourful flyers, leaflets, and photos.
Cut out any words or pictures that catch your eye, or make sense for the goal of this trip.
How to make a Travel Vision Board
Grab a glue stick and a large white piece of cardboard or a foam core board from Spotlight, and arrange the pictures and words on the board aesthetically.
This board needs to light a spark of motivation in you, and keep it burning, so make it pleasing to YOUR eye.
When you are done, hang or blu-tack it to a prominent wall. (I have mine on the wall in front of my toilet door.)
Every single time you stare at this poster, and focus your mind's eye AND energy on it, you are sowing a seed to bring this dream into reality.
(or use this Vision Board kit)
I do believe intention and manifestation works properly only when combined with "energy".
You know that positive whole-body shiver feeling you get when you hear a song, or read a paragraph or quote that touches you?
(I get these kind of all-knowing shivers when I drive through the underpass near my home, and see a plane take off or land in super close proximity. This truly thrills me!)
Try to RECREATE THAT SENSATION in your body with your own imagination when you are looking at the dream board and picturing an upcoming trip.
I'm convinced that doing this adds a supercharge to my manifesting powers in making my dreams come true!
Image credit: Slgckgc via Flickr CC BY-2.0
Quick wins for Saving Money
Save all your $2 coins and put them in a coke bottle.
When it's filled, you'll have saved somewhere between $800 and $1000.
There's a Jetstar airfare from Gold Coast to Tokyo right there.
Or, collect every $5 note you receive, and put all these $5 notes in an envelope in your top drawer.
They add up quicker than you realise.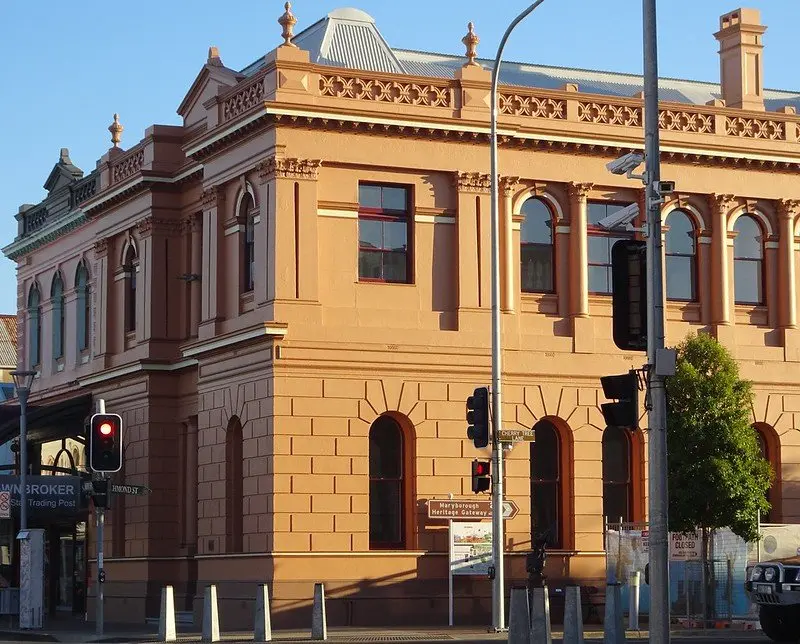 Image credit: Denisbin via Flickr CC BY-ND 2.0
Helpful tips on now to save money for a trip
Set up your bank accounts properly
Spend a bit of time researching the best banks for your cash if you want to start saving money to travel.
Choose a fee-free account and make sure they have readily accessible ATM's you can withdraw from for free too.
I HATE paying that $2.50 withdrawal fee when I have to use a different ATM than my own. It sucks!
Make use of automatic scheduling and move all those savings from your budget OUT of your normal daily living account as soon as cash hits the bank.
Do not be tempted to spend this cash ever or you'll have to replace it from your savings account.
Boo hoo.
Ditch all but one credit card
Pay off all your credit card debts as quick as you can, then close all but one.
Reduce this credit card limit down to $2000 (or $1000 if you prefer) so you have it there for travel emergencies, but also as a way to hire cars, and put down deposits on hotel bookings.
I don't own a credit card at all (on principle), and it's painful at times when I need to hire a car and a Visa or Mastercard debit card won't do, even though the money is in the bank.
It's dumb.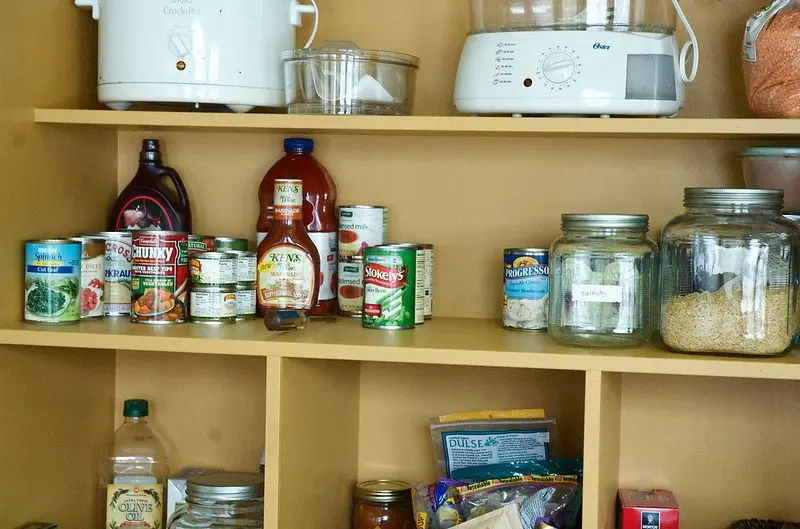 Image credit: Jodmichelle via Flickr CC BY-SA 2.0
Reduce Household Bills
Set a realistic food budget.
Aim to trim it by $20 each week, then save the difference. (That's $1040 right there.)
Write a weekly menu.
I aim to cook a good proper meal at least 4 nights a week: Monday, Tuesday, Thursday and Sunday.
We eat ready-made pizza or toasted sandwiches on Wednesday nights when the boys go to Cub Scouts.
I eat the leftovers for lunch most weekdays.
The boys visit their dad Friday & Saturday.
If you want to get organised, use this meal planner book. It's a guide to planning meals and staying on track.
Cook more than you need.
Spaghetti bolognaise meat sauce turn into tomorrow's lasagne, nachos, or savoury mince wraps, and my boys love to gobble up any extra plain pasta with grated cheese for breakfast!
Freeze what you don't use.
Shop online so you only buy what you need.
Then pick it up at the scheduled time to avoid delivery charges.
Shop the specials.
Get to know the sale cycle, and buy multiples of your favourite products when they go down in price.
I pick up boxes of my favourite Carmen's Breakfast Porridge (this one) when the multipack box reduces to under $4.
Every cent counts.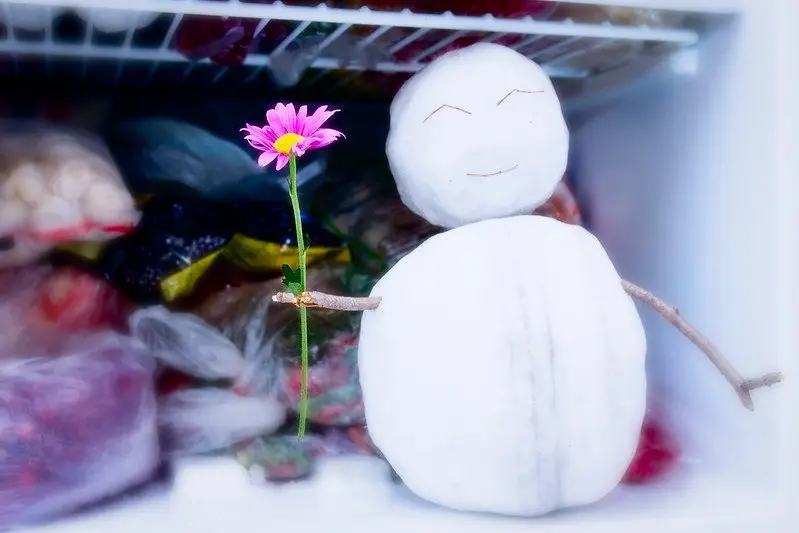 Image credit: Andrew Gomzyakov via Flickr CC BY-SA 2.0
Buy a deep freezer.
We buy meat and chicken in bulk, then divvy it up into individual packs for later.
We buy frozen goods on special for the school holidays munch feasts.
I freeze bread and raisin bread, so we don't ever run out, and can always whip up a cheese toastie as a last resort.
Shop once a week for groceries.
No more, no less.
Take cash and don't be tempted to use the plastic for any extra treats.
Shop at Aldi or Costco budget supermarkets.
Honestly, these supermarkets are a lifesaver.
Anyone who wants to save money for travel needs to break the Coles or Woolworths supermarket habit, and pick up all the basics here instead.
You can easily save $10, $20 or $50 a shop.
That quickly adds up!
I usually do a small shop at our regular supermarket or the health food shop about every 10 days to pick up the extra bits I can't get at Aldi.
Write a shopping list, and stick to it.
I put the shopping list on my fridge, and add to it when things run out.
Then I go get these things on my next supermarket shop.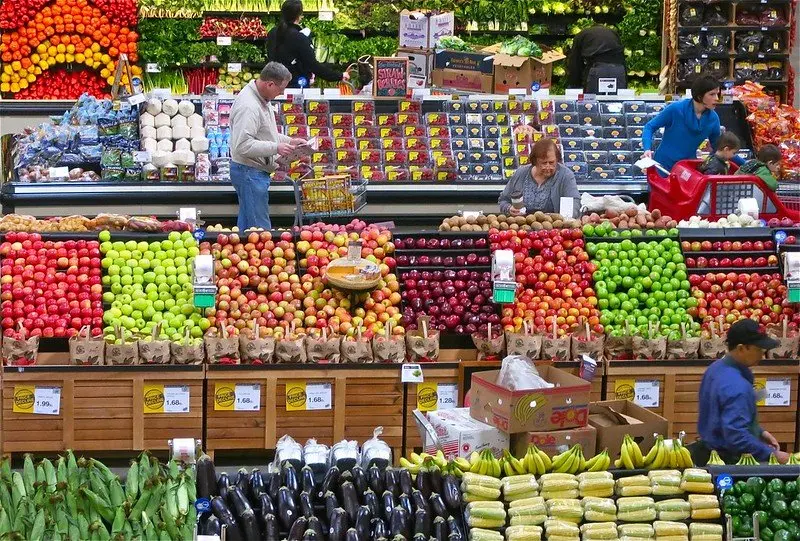 Image credit: Dean Hochman via Flickr CC BY-SA 2.0
Set a timer for your supermarket visit.
You can't overspend when you've only got 25 minutes to get it done.
Once a month, shop your pantry & freezer
One week each month, make a pact to use up ALL the stuff in your pantry and freezer before buying more.
It's a fun creative challenge to make meals from a mish-mash of what's left over, but the payoff is a week's food budget to put straight into your savings.
Check in with your utility providers
Take the time once a year to call all your utility providers and ask whether or not you are getting the best deal. 9 times out of 10, you'll reduce the price.
Do this across all providers and you've just saved up to $1000 or more for a trip.
Call your bank
The latest tip I heard is to call your bank, and ask them to refund your account keeping fees.
Not every bank will do it, but some will.
I've heard of people receiving a lump sum of more than $500, 4 years worth of bank fees repaid to them.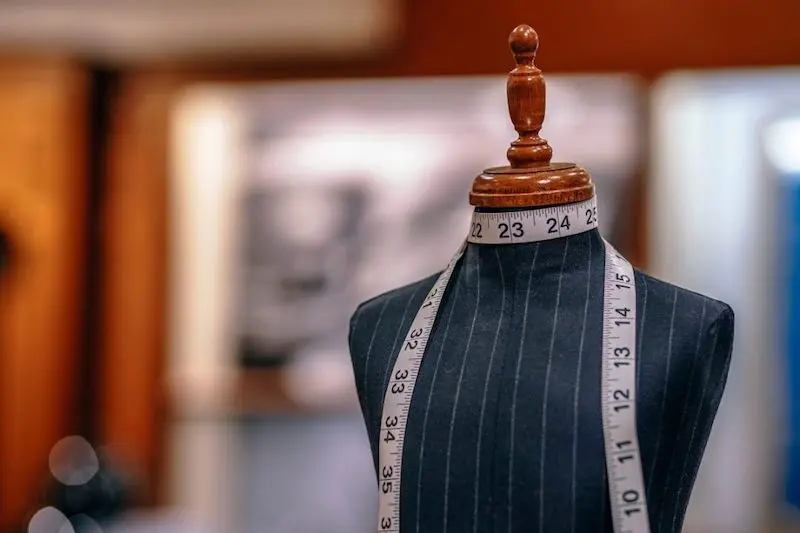 Image credit: Source unknown
Clothing & Shoe purchases
I finally worked out that it makes sense to spend more at the outset on good quality clothing that lasts. Took me years to realise that.
But never pay full price.
Wait a week or two, or three, and the clothing you covet will likely reduce, sometimes by HALF.
Sign up to your favourite clothing shop newsletters
Keep an eye on clothing prices by signing up to receive the newsletter from your favourite brands.
I love dresses from:
Country Road
Katies
Elk clothing
Review
Gorman
LazyBones, and
Birds Nest.
I receive a newsletter every week with their new releases, AND end of line sales or seasonal sales.
I also check their facebook pages from time to time for sales notifications.
There's a new sale every week.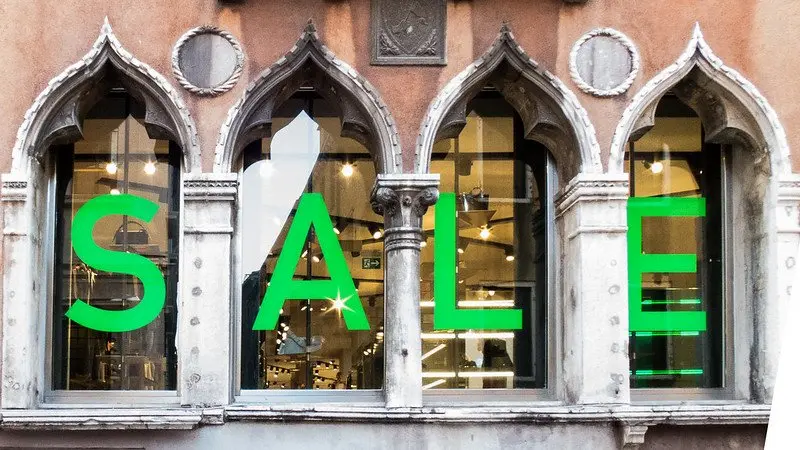 Image credit: Helge Thomas via Flickr CC BY-2.0
Work out your size
Visit your favourite clothing shops, and work out your size at that particular store or brand.
When you spot a sale, you can buy that dress or outfit online with confidence.
Never pay full price
Sales happen ALL THE TIME.
Last year, I was stung paying $80 for a new dress for an event.
A week later, it was on sale for $25.
I nearly cried.
Yes, there's a risk the dress you love might not be available in your size when it goes on sale, but I bet there's one somewhere.
Ask the staff to find it for you, and ferry it to your local store.
Again, NEVER pay full price.
There's no need.

Image credit: Pip R.Lagenta via Flickr CC BY-ND 2.0
Clothing swap meets
If being stylish is a necessity, find other ways to revamp your wardrobe than buying new:
swap with friends
op shop, or
build a capsule wardrobe and change it up with recycled accessories.
Follow my friend Nikki at Styling You for great tips.
Set a yearly spend
Ultimately if you want to know how to save money for travel, clothing and shoe purchases need to be limited.
Give yourself a yearly spend, and don't go over it.
Image credit: Elycia via Flickr CC BY-2.0
Learn what works for you, and stick with it
I'm a bit of a style tragic, in that I missed the gene.
I find it really helpful to cut out pictures from magazines of the outfits and combinations I love. Then I put this all onto a big table and look for the themes.
I can see I'm drawn to:
red and blues
plain colours over patterns
natural fibres and apron style dresses
V-neck shapes on dresses and tees, that slim my figure.
I love:
big chunky resin necklaces
red beads
wooden bangles
cuffs
wool scarfs
silver rings
delicate rose gold chains
leather sandals
Saltwater sandals too.
Knowing this about my likes and dislikes helps to me make sure my clothing purchase stays true to my essence, and I don't regret my purchase straight afterwards.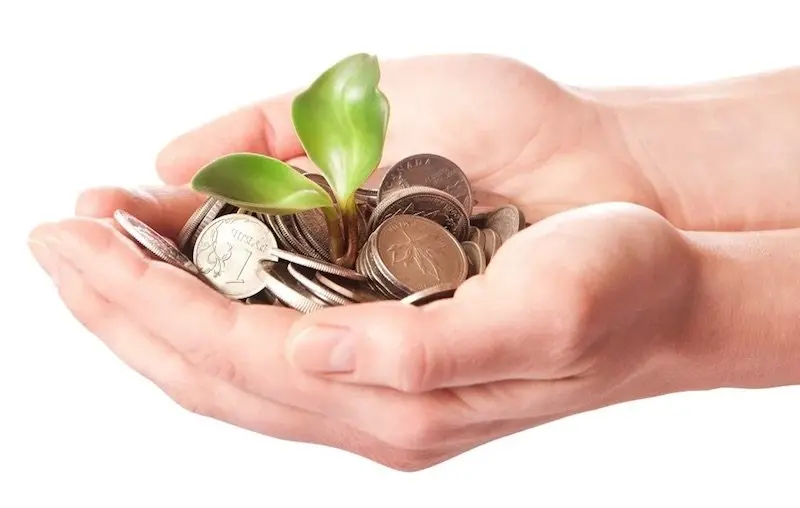 Image credit: Source unknown
Part Two: HOW TO MAKE MORE MONEY
The only downside to minimising your expenses is that in some ways it can shrink your potential.
I'd much rather MAKE MORE MONEY than have to feel constrained, or live on such a strict budget that life is no fun.
"Making more money" can be a super fun challenge, and I'm totally motivated by the dollar signs when it involves saving for a big trip.
Here's few new ways to save money for a trip:
Start a side-hussle.
I love Chris Guillebeau's Side Hustle School Project.
My favourite story of late is an Australian girl, Georgia Norton Lodge, who draws pencil sketches of people's homes to save money for her own house.
She's earned over $6000 this past year and is working to make it her full time gig.
Could YOU draw sketches of:
the contents of someone's luggage
a drawing of a person's travel collectables
a still life of someone's souvenir purchases, or
a watercolour painting of their favourite destination, to fund your next adventure?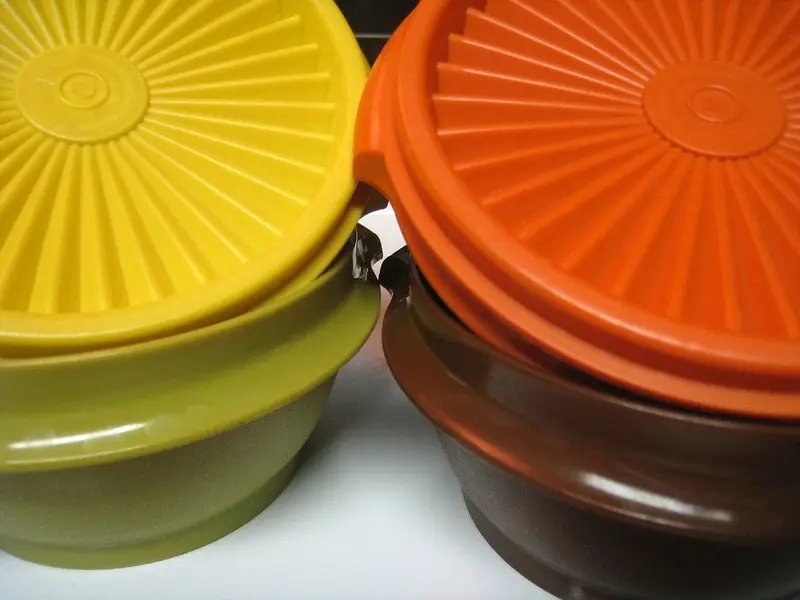 Image credit: Katy Warner via Flickr CC BY-SA 2.0
Sell Tupperware.
When I was working full time as a teacher, and pregnant, I joined Tupperware to make some extra cash for my maternity leave.
Some weeks I made more selling plastic containers than I did from my full time teaching day job!
I saved $5000 over 6 months, reorganised my entire pantry cupboard with sets of Modular Mates
I use to this day, and took my daughter on a couple of surprise weekend trips, including one to Sydney to see Billy Elliot at the Capital Theatre.
If you, like me, don't want to contribute to the plastic problem on this planet any more, sell something else on commission.
Young Living & Doterra oils sell like hotcakes in the hippie town where I live, and you could make a fortune selling stainless steel lunch tins here too.
Find a product and business that resonates with you and your town, and sell that.
Teach English online.
VIPKids allows you to pick your own hours, and be your own boss as you teach English to kids between the ages of 4-12 who are based in China online in a one-to-one format.
You must have a Bachelor's degree.
I've not done it, but I know lots of people who do it just to save for their next trip.
Pick up a casual job at a local weekend food truck market.
It's fun, it's busy, and the hours pass quickly.
You might even get a free dinner! (or leftovers to take home.)
Babysitting is a great job if you have kids at home.
What's one or two more?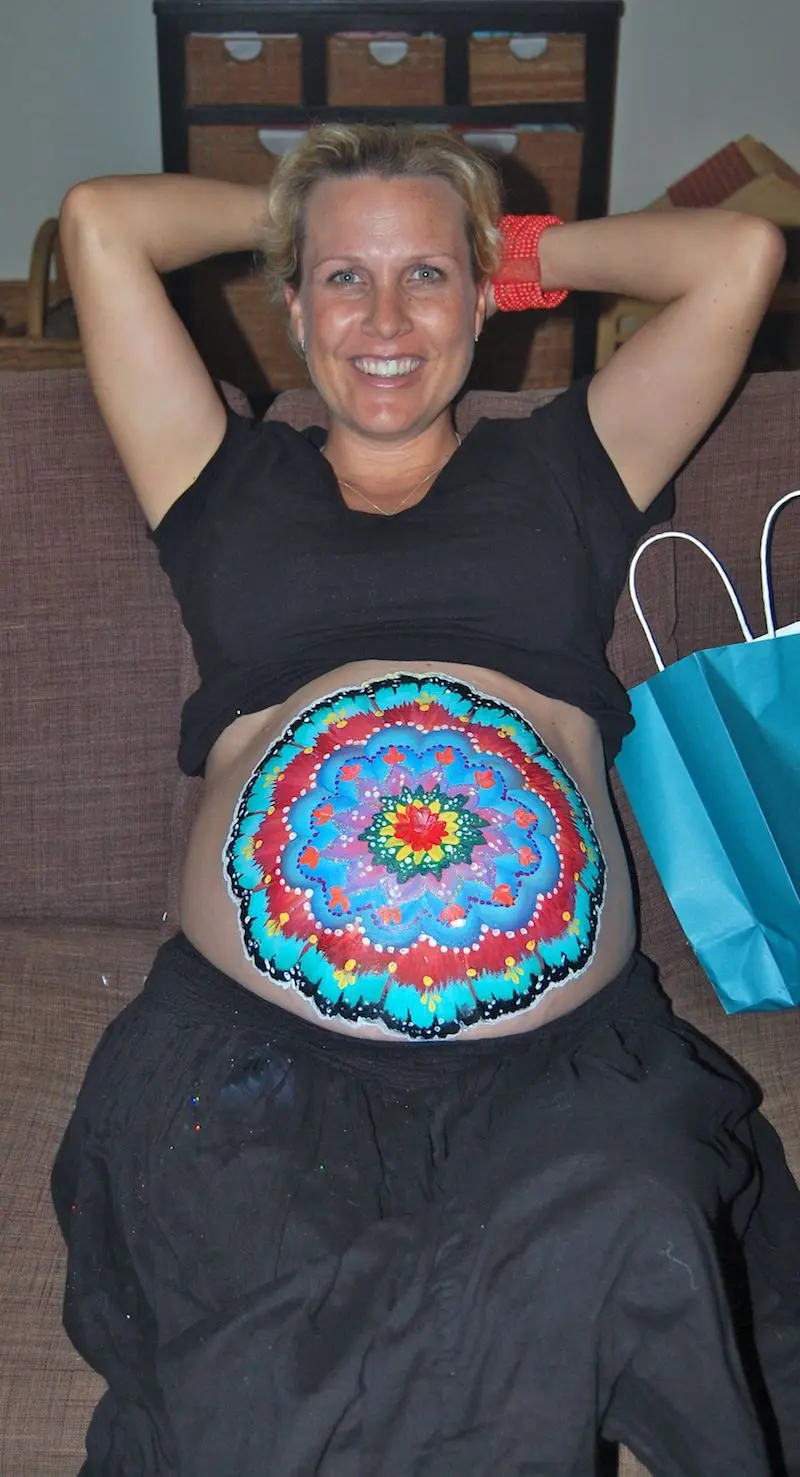 Offer your talents and skills to friends and family.
I'd give anything to have my own talented cook who loves to make delicious dinner.
I'm sure there are people out there who would happily make dinner for me, for a fee. (Note to self: start looking).
Love to sew, or iron, or build wood furniture, or garden, or build compost piles, or nurture a veggie garden, or paint pregnant bellies?
My friend Robyn Janetzki paints pregnant bellies at 'blessingways' or baby showers with the cutest motifs.
She painted my belly twice!
Make a simple ad, or put the word out among friends, and see if anyone responds.
Set up an AirBNB, and offer your spare room in your house to travellers who want a local experience.
But don't rent out the whole house as investment income.
That's not what AirBNB is about.
(This disruptor startup is destroying the fabric of communities, by pushing all the local workers, creators and artists out of town, reducing the amount of available long-term rentals for families, and increasing the cost of housing to breaking point in places like Byron Bay, New Orleans and Venice.)
AirBNB is good when it's used as it was designed for, as a way for travellers or tourists to meet and stay WITH locals in their own homes, so they can help build community and show off their local area attractions, but not so good when it's used for greed.
Or for people who want to rent out their house to fellow travelers while they are away, and vice versa.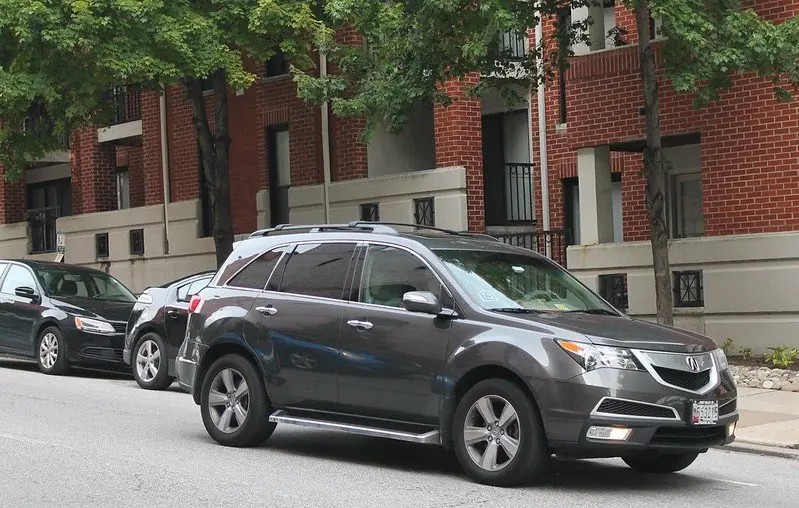 Image credit: Elvert Barnes via Flickr CC BY-SA 2.0
Become an Uber driver.
Drive fellow explorers in your spare time for cash.
Busk on the street.
My friend's 18 year old son plays sax and guitar in a local tourist town from time to time.
In two hours, he regularly earns $200 or more.
Yes, you'll likely need a licence but not always.
Failing that, ask around at local cafes and restaurants. They might be happy for you to provide entertainment each Friday night for a fee.
Run a craft workshop for adults or homeschoolers.
Or host a regular playgroup, or teach a skill.
I've run hundreds of creative arts workshops, and hosted crafternoons for friends on:
felting
hand-carved stamping
sewing and embroidery
simple doll making
quick and easy seasonal crafts for kids, and
a full 10-week course on creativity for women.
These kinds of workshops fill my soul, AND my wallet.
---
RELATED: The Best ART and CRAFT Workshops Around the World for Travelers who want to join in & make stuff!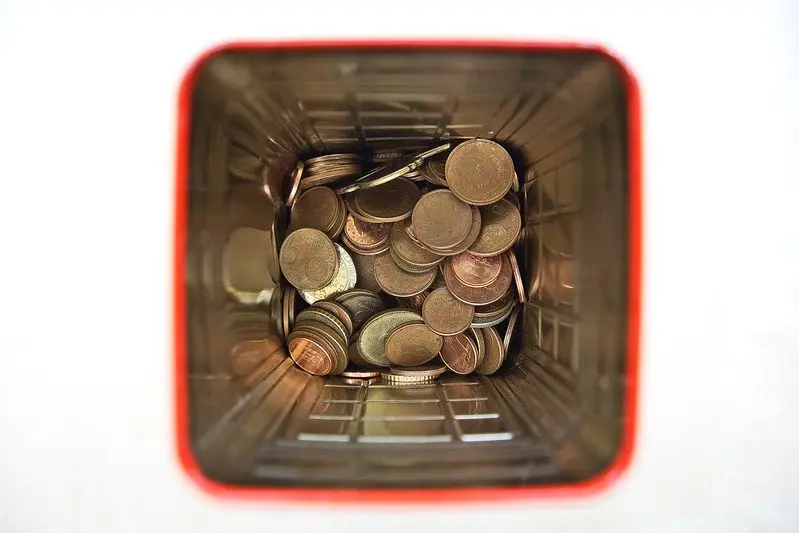 Image credit: Hernan Pinera via Flickr CC BY-SA 2.0
Need more tips on how to save money for travel?
I'll be adding more money saving tips to this list of how to save money for travel every now and then, so check back to see more new ideas for saving money for travel.
Start saving. It's simple.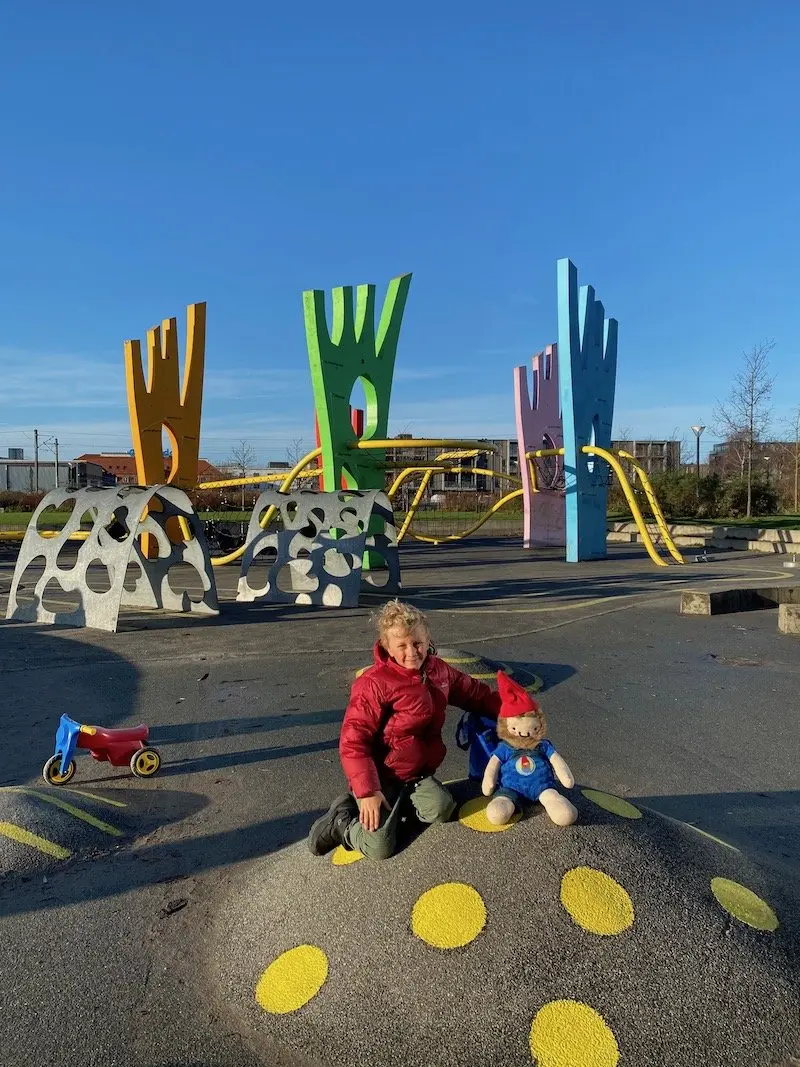 Looking for more helpful money tips?
Click the blue links for more travel tips below