INSIDE: Roam the Gnome's Guide to the Colosseum with Kids – Includes the best Colosseum tours for families.
The Colosseum, or Coliseum, is Rome's Number One rated attraction.
This monstrous oval amphitheatre, built of concrete and sand, is situated in the centre of the city of Rome, was built back in 70 AD, and officially opened in 80 AD Fact.
Here's a fact for you.
The Colosseum is the largest amphitheatre EVER BUILT.
Want to know the best way to take the kids to see the Colosseum in Rome?
Read our guide to the Colosseum with kids below!
Disclosure: This article contains affiliate links. If you make a purchase after clicking on one of these links, we may receive a small commission at NO extra cost to you.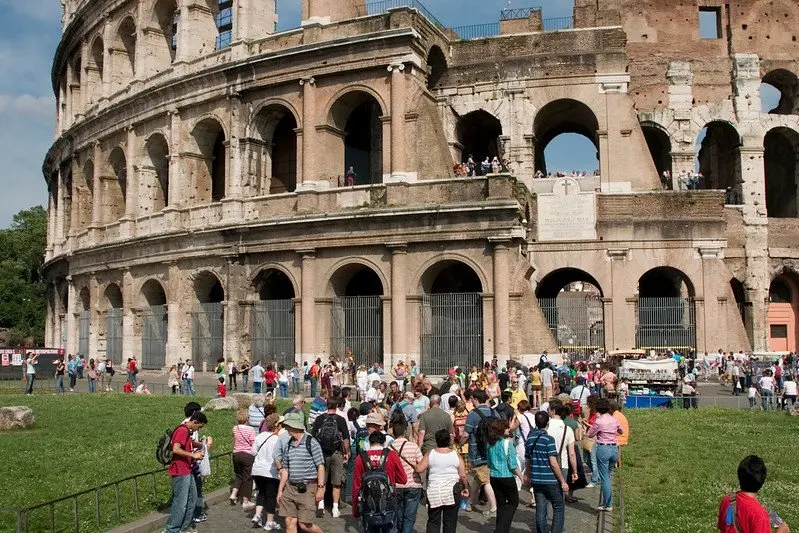 Image credit: Jimmy Harris via Flickr CC BY-2.0
Explore the Roman Colosseum for Kids, World's Largest Amphitheatre
If you are wondering what to do in Rome with young kids in tow, the best Rome attractions are usually NOT the major tourist destinations.
Especially if the Rome attractions require visitors to be quiet and/or peaceful.
(Anyone been brave, or silly enough, to visit the Vatican or Sistine Chapel with kids? Not us, unless we were on this 3 hour private tour and wouldn't need to queue, with the kids, until we all turned old and grey from the stress of keeping them out of mischief. )
In fact, sometimes it's easier to avoid the large-scale or popular landmarks and Rome tourist attractions, or postpone a visit to the most popular Rome attractions 'till the kids get older'.
No sane person wants to deal with a child's full blown tantrum in one of those historical and magnificent places.
(I definitely don't want to become the spectacle for the crowd!)
That's when a family friendly tour of the Colosseum can help.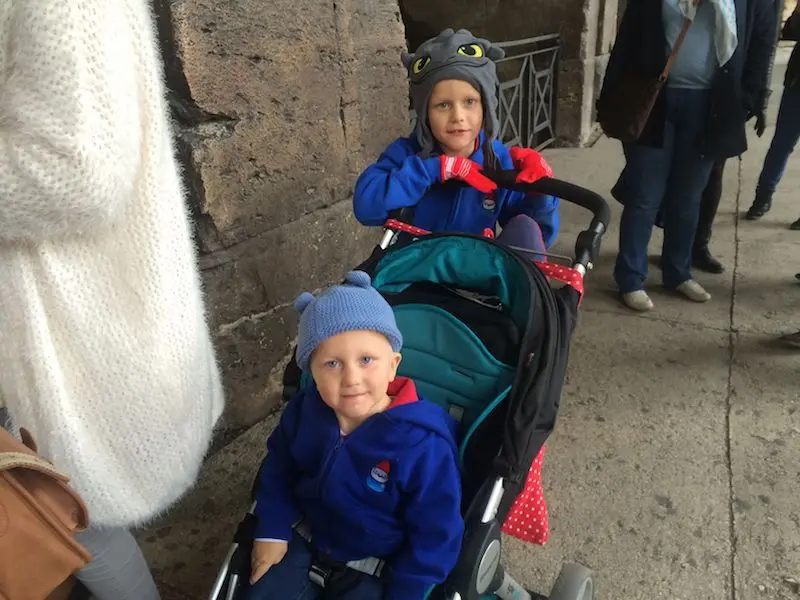 Take a Family Friendly Rome Colosseum Tour for Kids
A tour guide can get you in quickly, and keep you moving when there's bottlenecks of crowds.
But more importantly, a good tour guide has the ability to capture the kids attention and draw them in, keeping them engaged and busy at this ancient Roman empire tourist attraction.
A lively tour guide, who has the heart and soul of a storyteller, can share the stories and the Roman Colosseum facts for kids in a way that makes them feel what it must have been like to sit in the audience.
A good storyteller can help kids experience what it would have been like for Gladiators in the maze of holding rooms down below, as they prepared for battle against giant beasts like lions and panthers, knowing their freedom and indeed, their life depended on the outcome of the next few minutes.
A good tour with a lively tour guide is gold, and worth every cent.
It's definitely the best way to see Colosseum with young ones.
Best Colosseum Tours for families
Looking for a Roman Colosseum tour for kids?
Here's a few of the best Colosseum tours for kids on offer through Get your Guide.
Tour Option 1: Book this Skip-the-Line COLOSSEUM for Families Tour with GELATO!
Tour Option 2: Skip the Line Colosseum Tour for kids 6-12 years, with role-playing, games, imagination, visuals, and challenges
Tour Option 3: Best Selling Best of Rome and Colosseum adventure for kids
Image credit: Matt Brisher via Flickr CC BY-2.0
MORE of the Best Things to Do in Colosseum
No.1: Visit the Colosseum Arena Floor
Access the arena floor through the gladiators' gate.
Feel what it would have been like as they waited to enter the arena in front of thousands of people waiting for a gory show.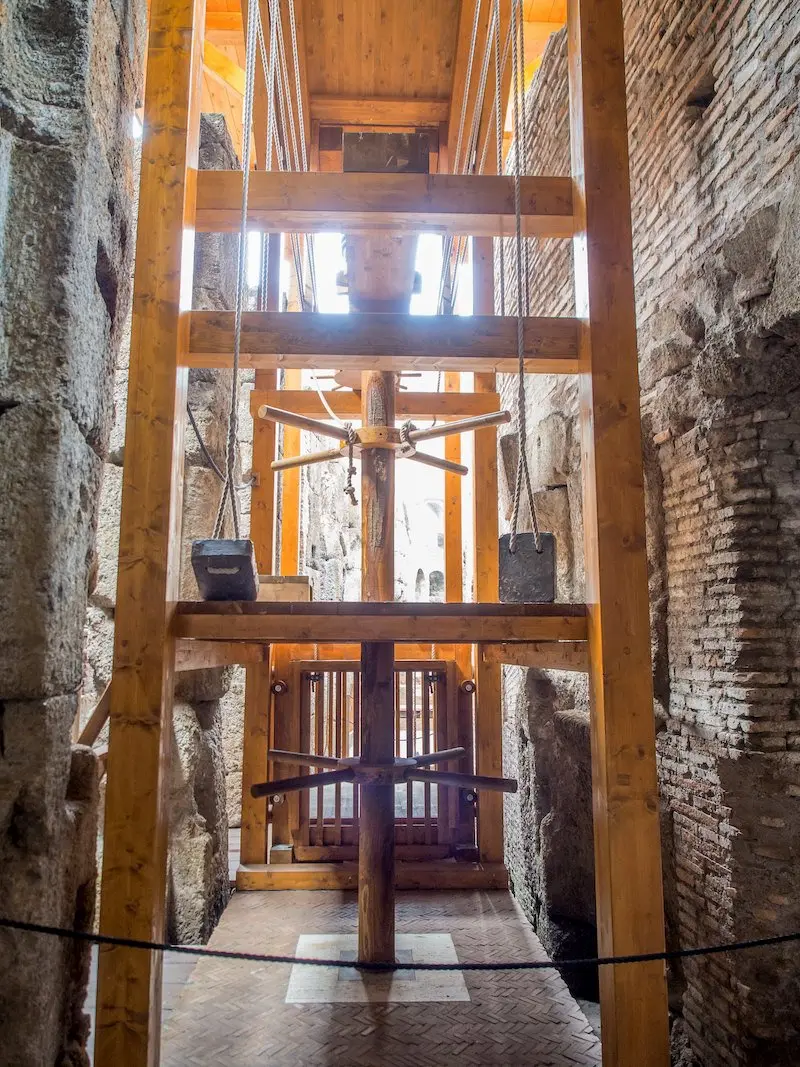 Image credit: Matt Brisher via Flickr CC BY-2.0
No.2: See the Colosseum dungeons
Check out the view of the dungeons.
This is where the gladiators waited for their turn to battle.
It's also where the wild animals were held.
You can even see the recreation of the elevator that lifted the animals into the arena. (Pictured above)
No.3: Visit the Roman Colosseum Gift Shop
Looking for unique Rome souvenirs for family and friends?
Don't miss this curated collection of unique Italian souvenirs and gifts.
See details below.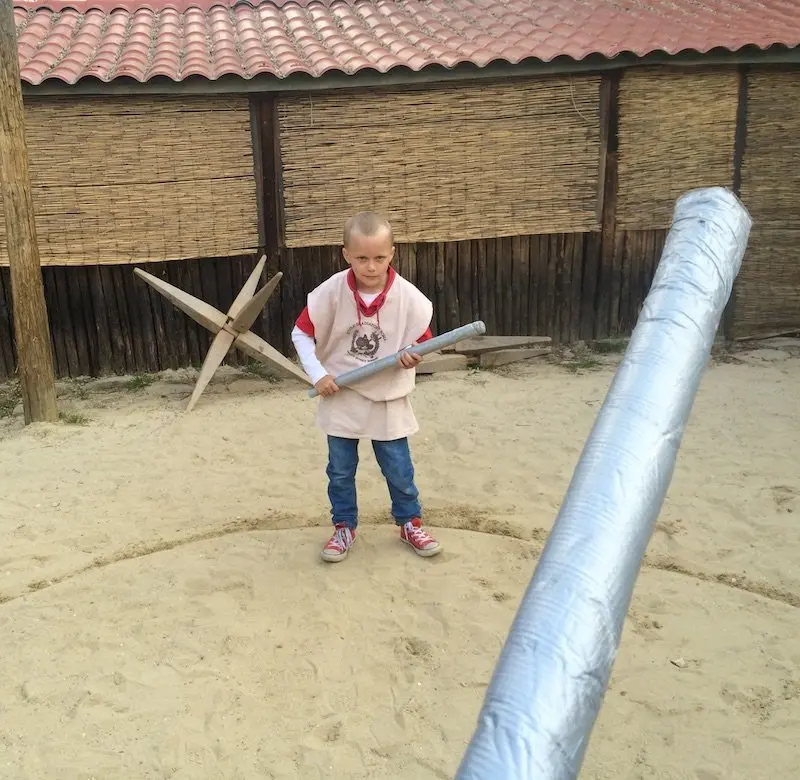 Best Tourist Attractions in Rome for Kids? Gladiator School in Rome
The best tours in Rome are immersive experiences that can help you visit iconic historical places in a way that captures the kid's imaginations.
We prepared for our Colosseum visit by joining a "Gladiator School Training" session at the Gladiator School of Rome, complete with a visit to the Gladiator museum and a lesson in Colosseum history for kids.
The Gladiator school in Rome is about 10 minutes walk from the Colosseum on the historic Appian Way.
The whole Rome Gladiator experience remains in our TOP 5 THINGS TO DO WITH KIDS AROUND THE WORLD.
We'll NEVER forget it.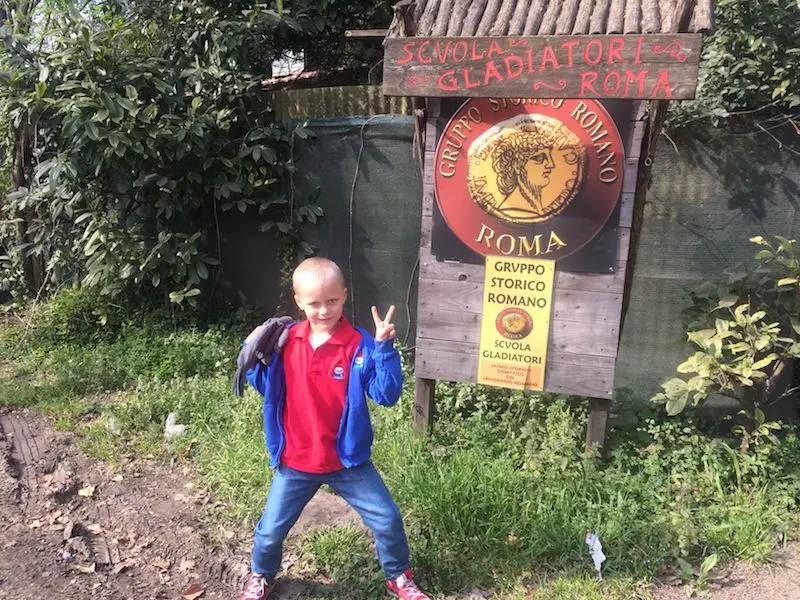 Things to Do in Rome with Kids: Gladiator Tour in Rome
This is the link to the Get your Guide Tour we did.
This Rome tour is the only way to access this experience unfortunately.
Heads up: The Gladiator School tour in Rome costs a small fortune for one person but the price per person does get cheaper when you book for two, or three, or four.
For us, it was so worth every cent, as our Gladiator school tour ended up as a PRIVATE TOUR, with only our family in the group.
Hooray for small wins!
Roam the Gnome, Ned, Jack and I followed up our epic morning of Gladiatorial combat with a trip to the Colosseum later in the day.
To SEE the look of wonder on Ned's face when he realised THIS PLACE was THE PLACE where those Gladiatorial battles really happened…
THAT was a pinch-me moment.
It's for moments like this that I take the kids travelling far and wide, despite the expense.
Nothing can beat it.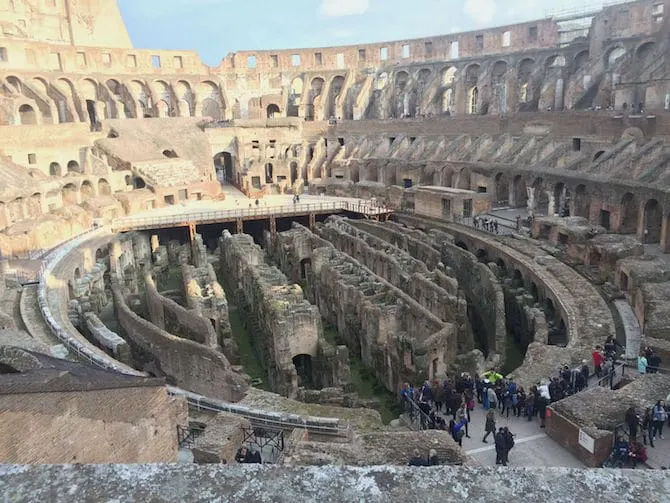 More on The Gladiator Tour Experience
The experience of being a Gladiator, in full practice dress, gave Ned a way in to understanding the history and significance of this historical attraction.
A morning spent playing 'gladiators' in costume was a tangible adventure he could refer to.
This immersive Rome tour for kids definitely helped him connect this crumbling artefact from our human history with the real life battles that occurred at the Colosseum.
He and I spent our time at the Colosseum deep in conversation about:
where the battles would have taken place
who would have been watching, and
in what area the Gladiators would have waited before their skirmish.
Our Vote for Best Thing to do in Rome with Kids!
The experience of Gladiator-ness at the Gladiator School made our visit to the real Colosseum even more mind-boggling.
There's no way the impact of this world-renowned site would have been so huge on Ned, Jack and myself without it.
Check latest prices on the Gladiator School Tour in Rome here.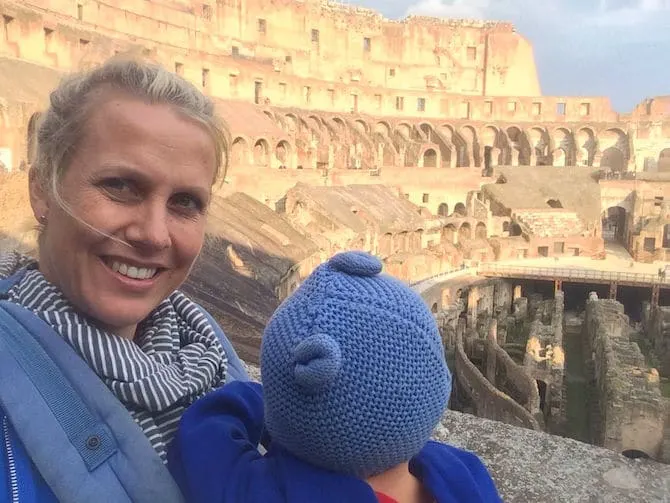 FAQ about the Colosseum in Rome
Where is the Colosseum located?
The Piazza del Colosseo is in the centre of Rome, close to the Roman Forum and Palatine Hill.
It's a 21 minute walk from the Trevi Fountain, a 25 min walk from the Pantheon, a 16 minute car trip from Piazza del Popolo, and 20 minutes by car from the Vatican.
What is the Colosseum?
It's a monumental 3-tiered Roman amphitheater, where they once held Gladiatorial battles to the death.
What are the Rome Colosseum hours of opening?
It opens daily at 8.30am.
For details on closing times, see the INSIDE SCOOP below.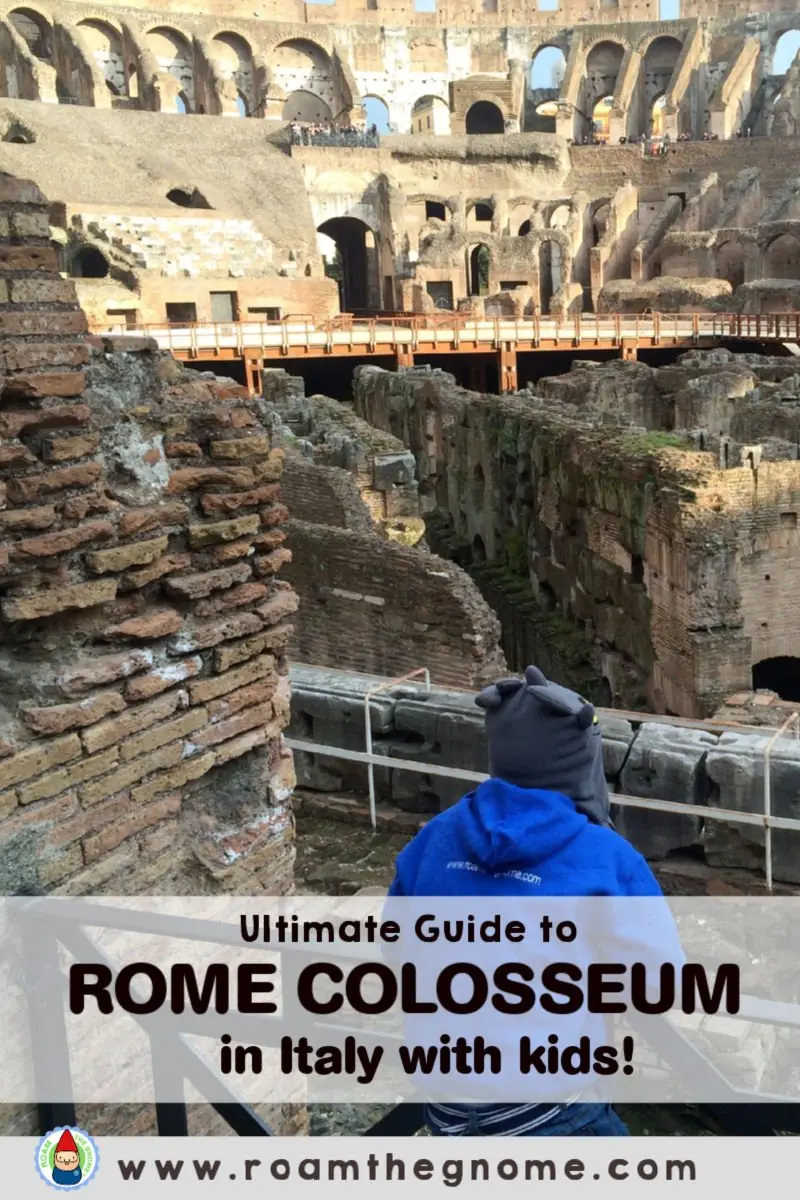 Best Rome Colosseum Facts for kids
Here's a few history insights and interesting facts about the Colosseum for kids.
No.1: What was the Colosseum used for?
The Colosseum was used for gladiator fights and hunting simulations involving ferocious and exotic animals.
No. 2: How many people can fit into the Colosseum in Rome?
70,000 people could fit into the Colosseum at the height of its fame.
That's more than the Ascot Racecourse, and only slightly less capacity of the amount of people who fit in the Old Trafford in Manchester.
No.3: Why was the Colosseum built?
The Colosseum was built to both entertain AND distract the population and so entry was FREE!
No.4: What are the special features of the Colosseum?
There was an underground theatrical system that used hoists, ramps and trapdoors to surprise the audience with the unexpected appearance of the animals, gladiators and scenery props

Image credit: Sean MacEntee via Flickr CC BY-2.0
No.5: How long did it take the Romans to build the colosseum?
It took the Romans less than 10 years to build.
That's an epic feat considering they only had primitive tools and machinery.
No.6: Who designed the Colosseum architecture? How old is the Colosseum?
According to Wikipedia, construction began under the emperor Vespasian in AD 72 and was completed in AD 80 under his successor and heir, Titus.
No.7: Who built the Colosseum? How long did it take to build the Colosseum?
60,000 Jewish slaves were called in to build the Colosseum using marble and limestone for the ornate outside walls of the amphitheatre.
It took them between 6-8 years to finish.
No.8: Why is it called the Flavian Amphitheatre?
The emperors of the Flavian dynasty were the instigators of this huge undertaking.
No.9: How big is the Colosseum?
According to Wikipedia, the Colosseum is 189 meters (615 ft / 640 Roman feet) long, and 156 meters (510 ft / 528 Roman feet) wide.
The round arena floor base is 6 acres, or 24,000 square metres .
No.10: Live Cam Rome Colosseum
Here's a fun thing to have a look at before you arrive.
The LIVE cam of the Rome Colosseum!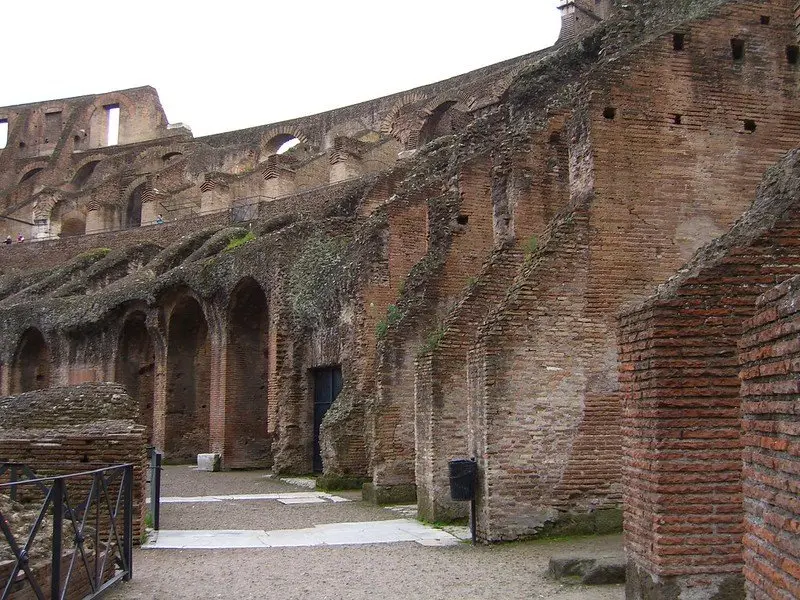 Image credit: Eric Molina via Flickr CC BY-2.0
Roman Colosseum Gift Shop
The Roman Colosseum Gift Shop sells Rome Colosseum souvenirs including:
a huge selection of books about the Colosseum history
children's books about the Colosseum
specialist publications
Colosseum guidebooks
t-shirts
Colosseum pencils,
gadgets and puzzles, and
tote bags.
There are actually three Colosseum book shops inside:
two on the first level, and
one on the second.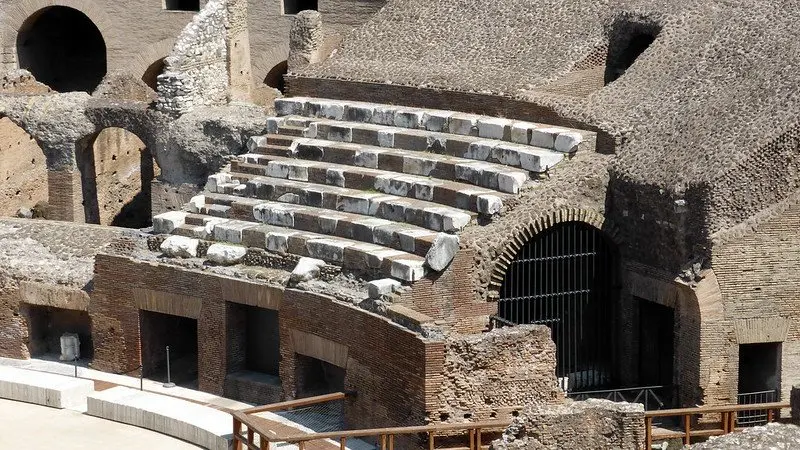 Image credit: Sean MacEntee via Flickr CC BY-2.0
THE INSIDE SCOOP: Tips for Visiting the Rome Coliseum for Kids
Correct at time of publication on Roam the Gnome. Please check with venue for updates. We apologise in advance if there have been any changes we are unaware of. All prices in EURO, unless otherwise stated
Address: Piazza del Colosseo, 1, 00184 Roma, Italy
Telephone: Switchboard: 06 7740091
Colosseum Official Website
Click here for the official Colosseum website. (It's hard to find!)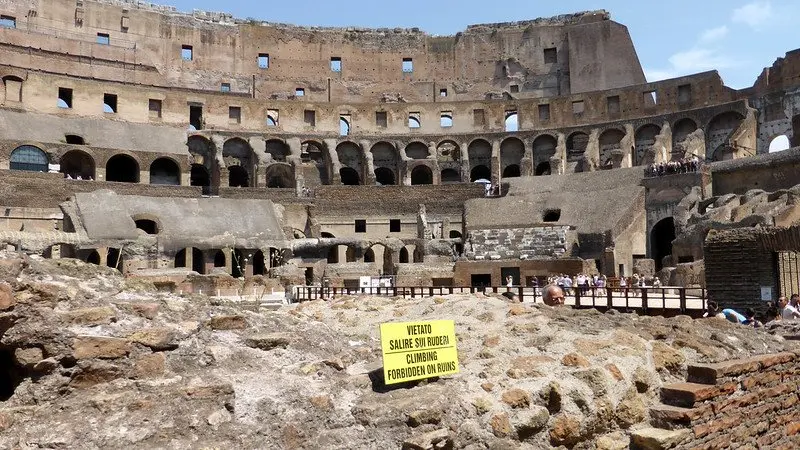 Image credit: Sean MacEntee via Flickr CC BY-2.0
Rome Colosseum Hours
The Rome Colosseum Opening Hours are as follows:
The Coliseum opens daily from Monday to Sunday at 8.30am.
The Coliseum closes according to the following schedule:
8.30 am – 4.30 pm
from January 2nd to February 15th
last entry at 3.30pm
8.30 am – 5pm
from February 16th to March 15th
last entry at 4.00pm
8.30 am – 5.30 pm
from 16th March to the last Saturday in March
last admission at 4.30pm
8.30 am – 7.15 pm
from the last Sunday in March to August 31st
last entry at 6.15pm
8.30 am – 7.00 pm
from September 1st to September 30th
last entry at 6.00pm
8.30 am – 6.30 pm
from October 1st to the last Saturday in October
last admission 5.30pm
8.30 am – 4.30 pm
from the last Sunday in October to December 31st
last entry at 3.30 pm
The Coliseum is closed on January 1st and Christmas Day, December 25th.
However, we recommend to always check the official website for temporary closures before planning a visit.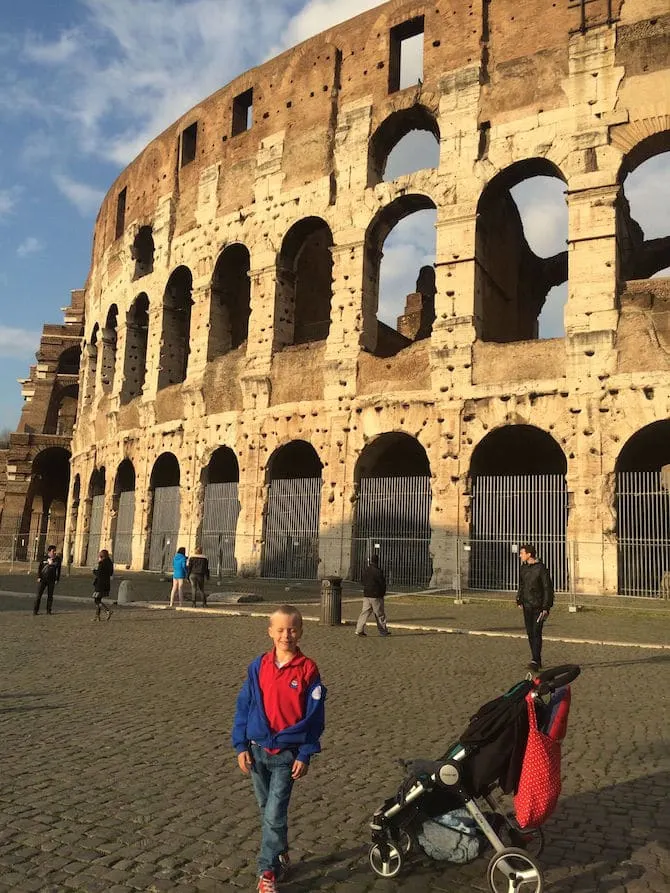 Rome Colosseum Tickets
Is colosseum free for under 18?
Yes, there's free entry to the Roman Colosseum for kids under 18 (EU and non-EU)
Reduced rate: EU citizens between 18 and 25 years of age in possession of a valid form of photo ID
Colosseum, Forums and Palatine ticket (from January 1, 2020)
Full rate € 16.00; Reduced rate € 2.00
Ticket valid for 1 day with 1 entrance to the Colosseum and 1 entrance to the Roman Forum / Palatine / Imperial Forums archaeological area.
Admission to temporary exhibition/s included.
Forum Pass SUPER ticket (from 1 January 2020)
Full rate € 16.00; Reduced rate € 2.00
Ticket valid for 1 day with 1 entrance to Roman Forum / Imperial Forums / Palatine archaeological area and SUPER sites (subject to daily maximum visitor capacity).
Admission to temporary exhibition/s included.
Full Experience ticket (from January 1, 2020)
Full rate € 22.00; Reduced rate € 2.00
Admission to Colosseum with Arena or Underground levels, Roman Forum, Palatine, special SUPER Sites and Imperial Forums.
Ticket valid for 2 days with 1 entrance to the Colosseum and 1 entrance to the Forums and Palatine area.
Admission to temporary exhibition included.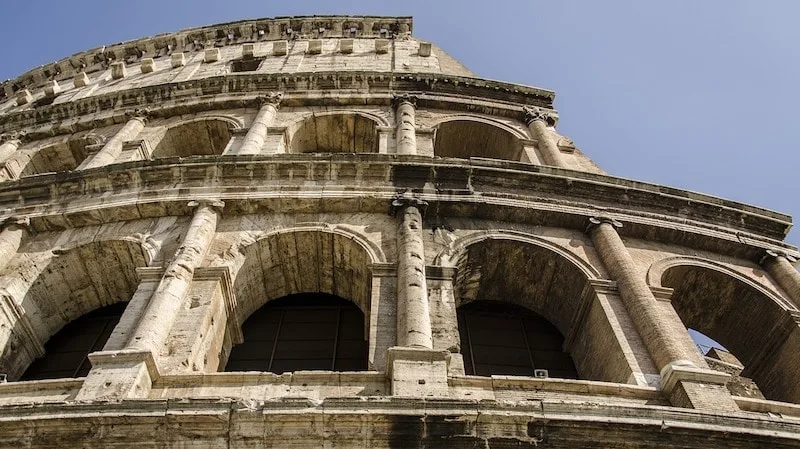 Image by Martin Hudec via Pixabay
When is the low season at the Colosseum?
The high season is usually in:
April
May
June
September
October
December
weekends.
Low season times are:
January to March
July
August
November
Tips for Visiting the Rome Colosseum for Kids
We strongly advise pre-planning your visit and booking your tickets before you go. This is not a skip-the-line ticket. You will have to wait in the entry queue.
Estimated Colosseum wait times without skip-the-line tickets are about an hour and a half, especially during the weekends and holidays.
If you are travelling with kids, take a look at the tour options and skip the line Colosseum tickets above or below.
Walk up entry tickets can also be bought at the ticket offices of the Palatine in Via di San Gregorio n.30, or in Piazza Santa Maria Nova 53 (200 meters from the Colosseum).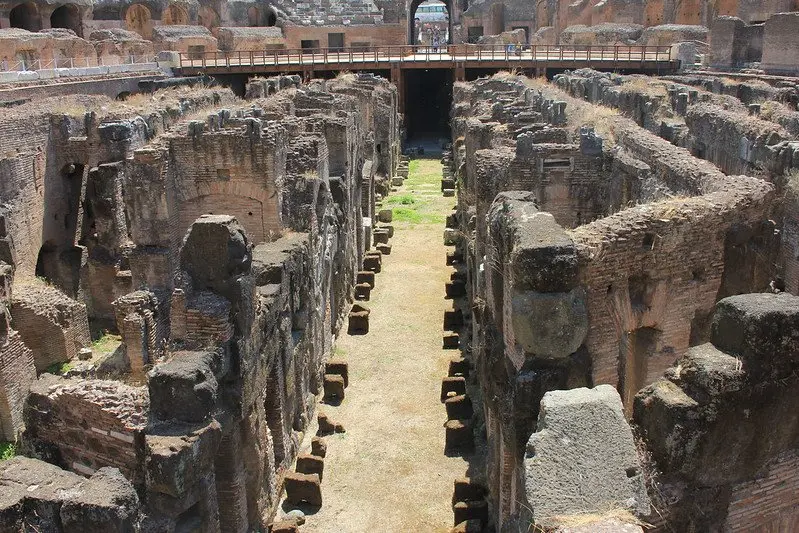 Image credit: Navin75 via Flickr CC BY-SA 2.0
MORE Rome Colosseum Tour Options
Looking for more of the best Colosseum tours?
Take a look at our picks of these Rome tours with kids.
Rome: Skip-the-Line Colosseum and Arena Floor Guided Tour
Skip the Colosseum entrance line and take a 1.5-hour tour of this iconic Roman landmark. Access the usually off-limits arena floor, and see where the gladiators once stood.
Rome: Colosseum Skip-the-Line Guided Tour
Only have an hour? Join this guided tour where you'll explore the 1st and 2nd tier of the mighty Flavian Amphitheatre.
Colosseum Tickets Skip-the-Line (own pace)
Want to wander at your own pace but don't want to stand in the long queues to get in to see this iconic landmark?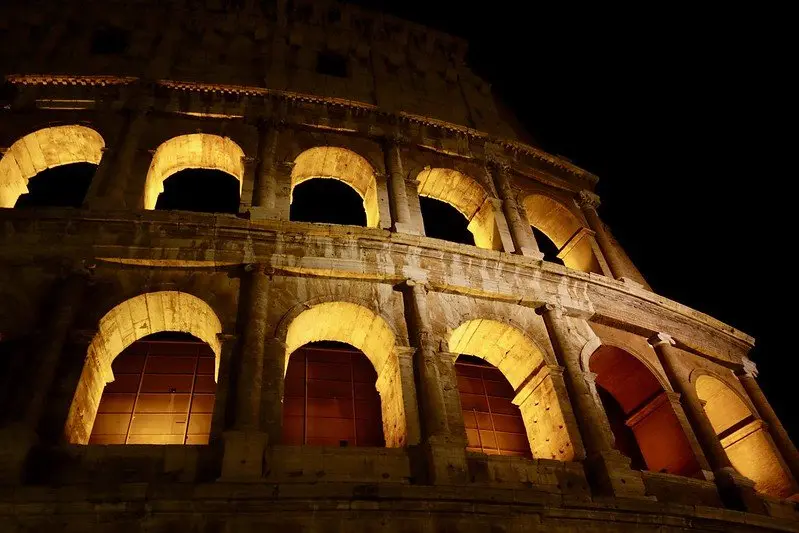 Image credit: Sonse via Flickr CC BY-2.0
Visiting the Colosseum by Night Tour
Just for something different, why not visit the Colosseum on a night tour, and see the Colosseum from a different perspective?
This VIP Colosseum Underground and Arena Tour by Night lets you experience the Colosseum with absolutely no crowds in a small group with your own personal expert guide to share all the gory stories.
Colosseum Discount Tickets with Roma Pass
The cheapest way to enter the Colosseum is with a Roma Pass for either 48 or 72 hours.
The Roma Pass also gives you free use of the city's public transport system, and discounts on services and activities.
Please note Roma Pass holders must now make a reservation to enter the Colosseum.
This costs €7.50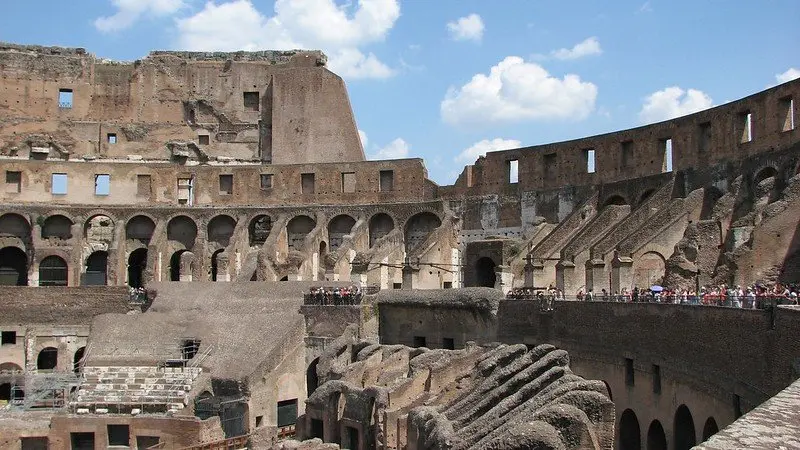 Image credit: Joe Anderson via Flickr CC BY-2.0
Colosseum Free Entry
There's free entry on a few days a year, thanks to the Italian Government.
That's free entry for all visitors to the site during opening ordinary times. It is not possible to book this ticket.
Free admission days are posted on this website.
Map of the Colosseum (Coliseum)
How to get to the Colosseum in Rome
By Metro: Line B stop Coliseum
By Bus: Number 75, 81, 673, 175, 204
By Tram: Number 30
Where is the Colosseum Entrance?
Hot tip: Follow the crowds!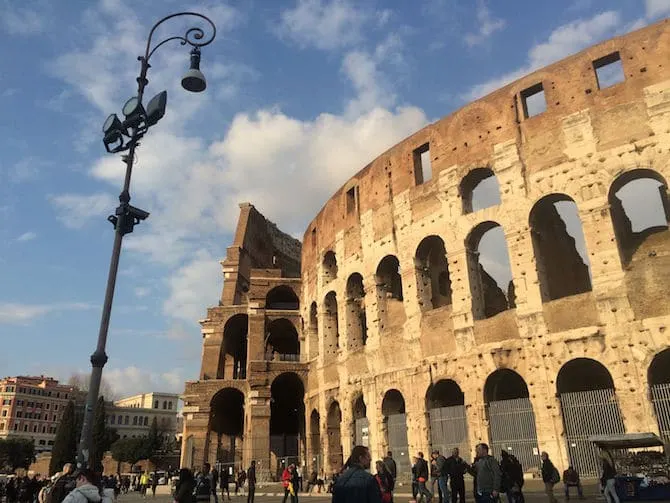 Access & Facilities at the Rome Coloseum
The Rome Coliseum is accessible to visitors with disabilities, pregnant women, strollers and elderly.
The entrances to the monument, placed along Via dei Fori Imperiali are equipped with ramps.
The ground floor Amphitheatre is accessible to all. The first floor is accessible via elevators.
Two wheelchairs are available, one for the ground floor and the first floor.
There are bathrooms on site as well as vending machines for hot and cold drinks.
Photography and videography is allowed without flash or lights.
Where to eat at the Colosseum with kids?
Save your hunger and make your way to Pizza Florida after your visit for a taste of the best pizza in Rome!
Hot tip: DO NOT buy exorbitantly priced ice cream from any of the ice cream stalls near the Colosseum. It's daylight robbery.
Walk a few hundreds metres in any direction to find a local gelateria and pay half the price!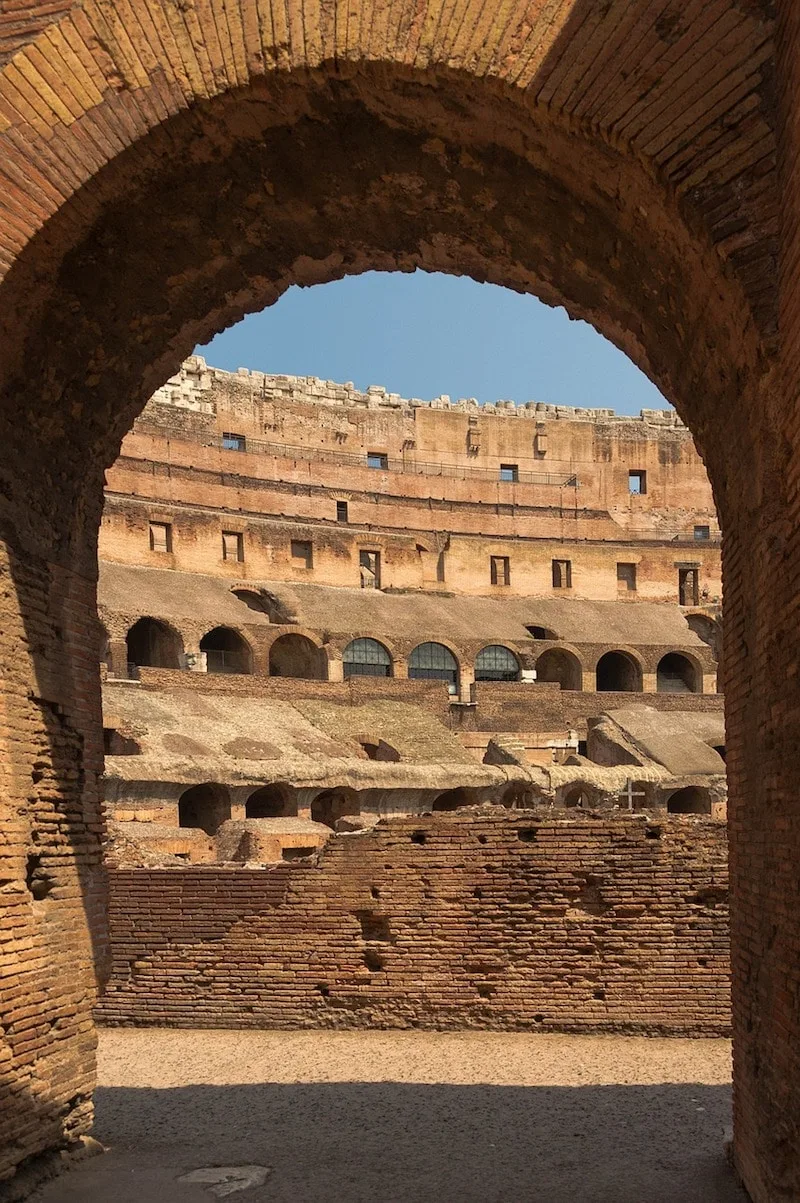 Security at the Colosseum Rome
Please note: for security reasons it is strictly forbidden to enter with:
backpacks
camping gear
bulky bags
luggage or trolleys.
Medium and small size backpacks are allowed but must be screened by metal detectors, as any other bag.
All bags must be opened and visually inspected by the Urbe Security Institute, responsible for the entrance inspection.
Due to new security measures, it is necessary to arrive at least 30 minutes before the reservation at the ticket desk.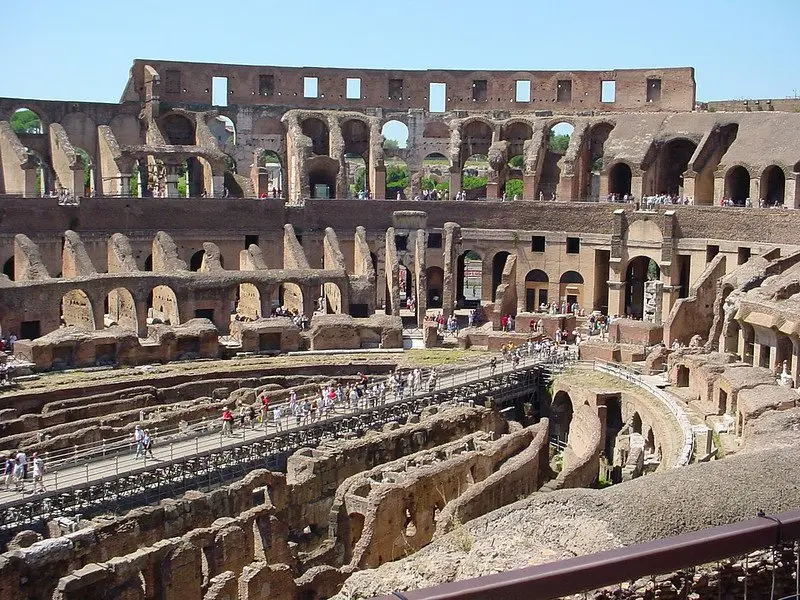 Image credit: Ted via Flickr CC BY-SA 2.0
Toadstool Rating – the Roman Colosseum for Kids
Wondering what to do in Rome with kids?
There's really no way you can visit this antique city without stopping by the Colosseum.

Looking for More Things to do near Colosseum for kids?
Click the links in blue below.