INSIDE: Everything you need to know about Villa Borghese Bike Rental in Rome
Looking for things to do in Rome with kids?
THIS was one of our favourite family travel adventures ever.
The Rome Villa Borghese Gardens is home to a Hire Cart Stand, called Bici Pinico.
This Villa Borghese bicycle rental hire cart stand has a selection of electric-powered 'riscios' or rickshaws for hire, along with regular bicycles, and mountain bikes.
We hired one.
Take a look at this adventure in Rome for kids below!
Disclosure: This article contains affiliate links. If you make a purchase after clicking on one of these links, we may receive a small commission at NO extra cost to you.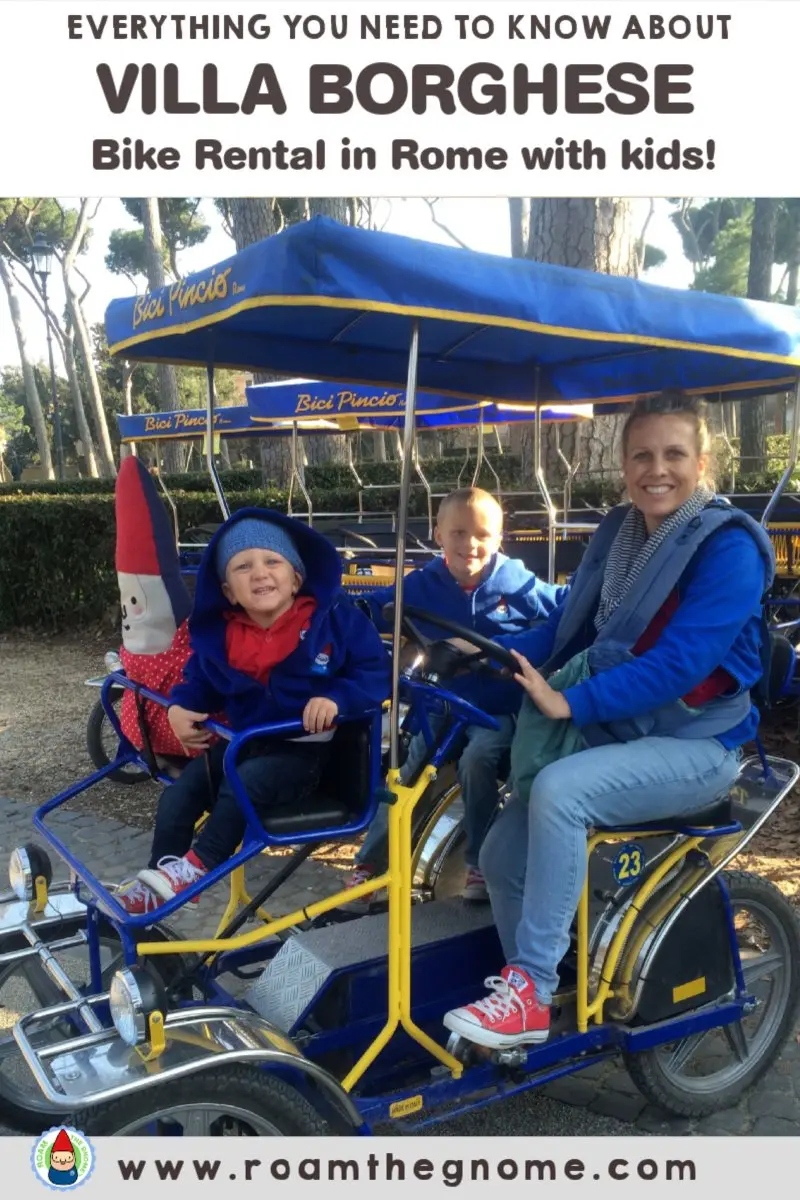 Everything you need to know about Rome Villa Borghese Bike Rental
The best way to explore Rome Villa Borghese gardens is with electric-powered Pedal Cars!
The pedal car Riscios come in two sizes:
the two-person standard for 12 Euro per hour, or
the Riscio Max which seats four, for 20 Euro per hour.
Elsewhere in the Rome Villa Borghese you can also hire stand-up 'Segway' scooters too.
We hired a two-person pedal car Riscio.
Jack and Roam the Gnome sat up front in the small carriage seat, while Ned and I peddled.
---
BOOK NOW: Take a personalised E-Bike Tour of Villa Borghese Gardens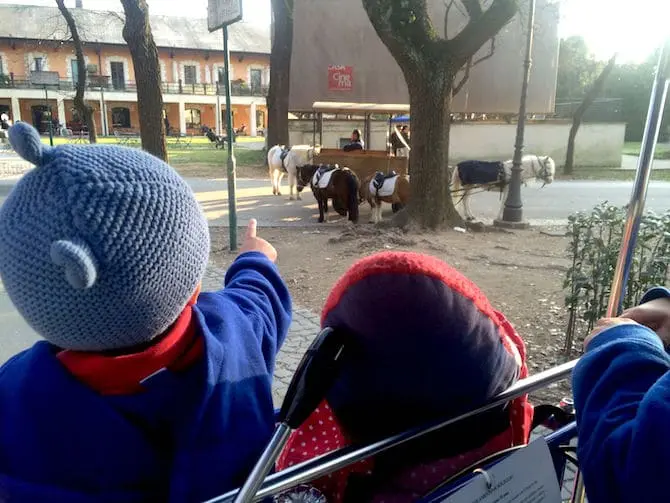 About Bike Rental Villa Borghese Gardens
Both seats on the two-person Riscio have a driver's steering wheel, although only the left-hand side driver's wheel works to steer.

The Riscio's electric power kicks in as you begin to pedal, so you don't have to do much at all.
Thankfully, as the wide paths and roads that meander throughout Rome Villa Borghese are long and you can travel long distances in no time at all.
But be warned!
Villa Borghese Bike Hire warning!
These Riscio's don't stop once you've turned them on!
Stopping the Riscio involves one person keeping their foot on the brake at all times.
Forget, or let go, and you'll have a runaway Riscio tearing down the streets into oncoming tourists!
I only risked this once, leaving Ned on brake duty, while I hopped off for a quick pic of the view over Piazza del Popolo, but it was an anxious moment!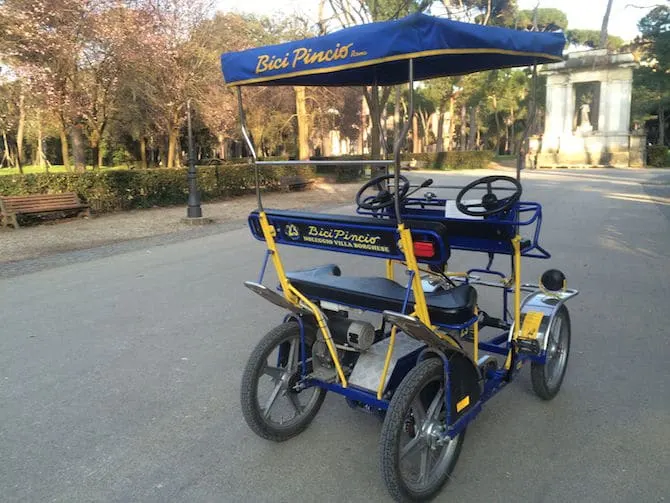 How long do I need Villa Borghese Gardens Bike Rental?
One hour's hire was plenty of time for us.
This was enough time to:
scoot around the outskirts of the park
spot the playground
find the Bio Parco zoo entrance
spy the building housing the kid-friendly old-fashioned pinball games arcade and the amusement rides
race other Riscio-driving families!
laugh and wave at our compadres whizzing about on Segways, AND
take in the views over this magnificent old Roman city.
This adventure is definitely one of our top three things to do in Rome with kids, and definitely the best way to see Villa Borghese with kids!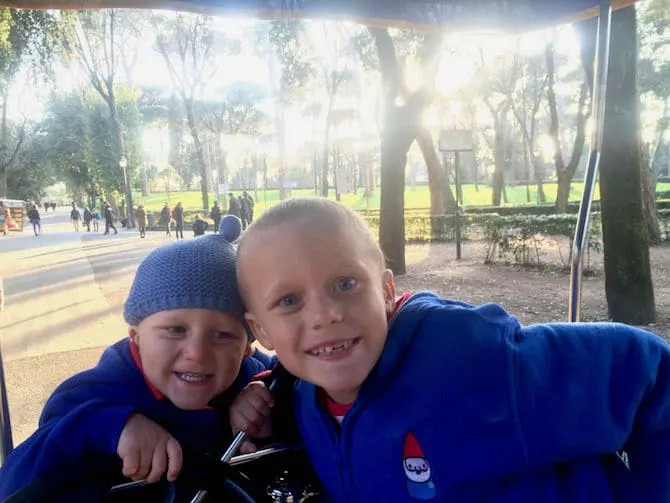 Rome Villa Borghese Rent a Bike Tips
Choose which end of the day you'd like to visit.
The early morning and the late afternoon are less crowded, so you'll have less bodies to navigate around on your drive/ride.
We visited these Rome attractions in the afternoon around 2.30pm which gave us plenty of time to take a ride on a Riscio, AND
take a pony ride
play a small number of quaint arcade games and ride the miniature rally cars, and
run off steam on the timber playground nearby.
There's also the Borghese Gallery to explore (buy tickets here), the Bioparco Zoo, & the cinema.
Read the guide below for more of what to see in Villa Borghese.
---
RELATED: Big Guide of the BEST THINGS TO DO IN VILLA BORGHESE WITH KIDS!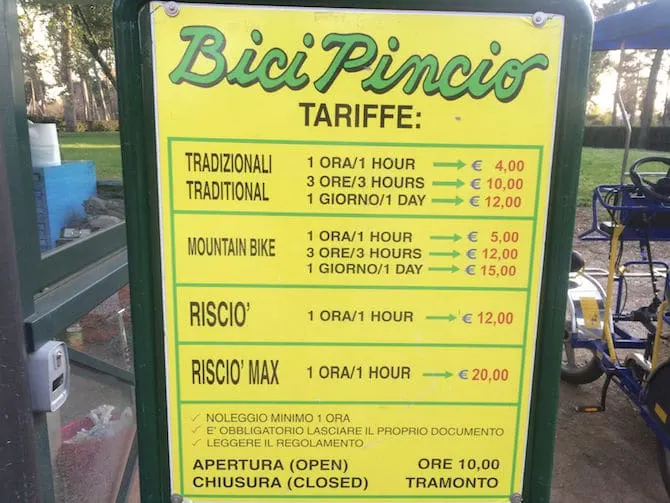 THE INSIDE SCOOP: Bike Rental Borghese Gardens
Correct at time of publication on Roam the Gnome. Please check with venue for updates. We apologise in advance if there have been any changes we are unaware of. All prices in euro, unless otherwise stated
Address: Piazzale Napoleone I
Telephone: Servizio Giardini 06 6710 9312 – 06 6710 9315
Villa Borghese Gardens Opening Times: 10am to sunset
Villa Borghese Gardens bike rental fees
Electric pedal cars (2 persons) – 12 Euro for one hour
Electric pedal cars (4 persons) – 20 Euro for one hour
No booking needed.
Please note, cash only.
Villa Borghese Segway Rental
1 hour Rome Segway PT rental costs €15 per person and includes:
Segway PT model i2 rental
Helmet
Complimentary map
Taxes
Pick them up at Villa Borghese, Piazzale delle Canestre
Website: Click here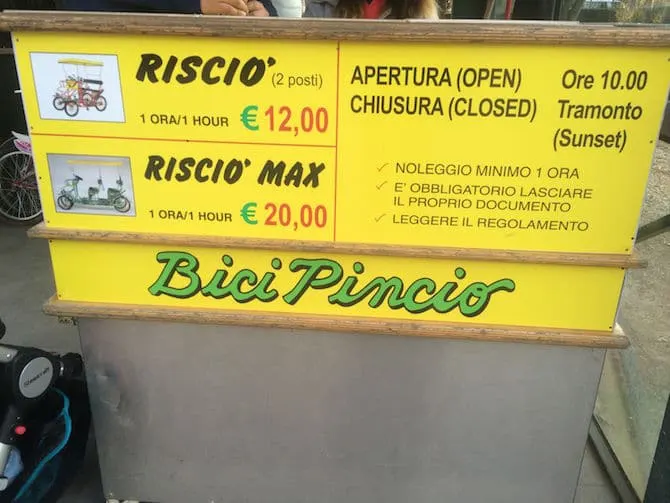 How to get to Villa Borghese Gardens Bike Hire
On foot: 5 -10 minutes walk uphill from the Spanish Steps, and Piazza Del Popolo.
By Metro: Metro Line A (Flaminio and Spain) stops
By Train: FS station (Rome-Viterbo) to Piazzale Flaminio
By Bus:
Bus stops in via Fiorello La Guardia and square S. Paulo: 490,495,89,160,61
Bus stops in via Pinciana height Galleria Borghese: 223, 910, 53, 63, 83, 92, 360.
By Taxi or Uber: Villa Borghese is easily accessible by taxi or uber.
Entry points to the Rome Villa Borghese Park:
Via Aldrovandi
Via Raimondi (2 inputs)
Via Pinciana (2 inputs)
Piazzale San Paulo
Piazzale Flaminio
Piazzale Cervantes
Villa Borghese Map
Toadstool Rating: Villa Borghese Park Bike Rental
The best fun you can have in Rome on a sunny day, high above the chaos of this vibrant city.

Looking for MORE SUPER DOOPER FUN places to visit in Rome?
Click the links in blue for more Rome tips below.