INSIDE: Roam the Gnome's review of the BEST of the Rome tours for kids – the Gladiator Tour Rome at Gruppo Storico Romano.
Rome, lovely Rome. A divine juxtaposition of old and new, culture and religion, gelato and pizza.
It's a WOW spot of historical significance and impressiveness.
Visit:
the Colosseum
the Piazza Navona
the Pantheon
the Spanish Steps
the Trevi Fountain…
Everyone needs to go at least once in their lives.
But our top tip for travelling in Rome – find things that can help you go a little deeper with your understanding about this magnificent place.
Take tours. Book experiences. Join activities.
MOST IMPORTANTLY. Lock in a Gladiator Training Session.
Take a look below at our experience of the best Gladiator Tour Rome has to offer.
We guarantee you'll love it as much as we did!
Disclosure: This article contains affiliate links. If you make a purchase after clicking on one of these links, we may receive a small commission at NO extra cost to you.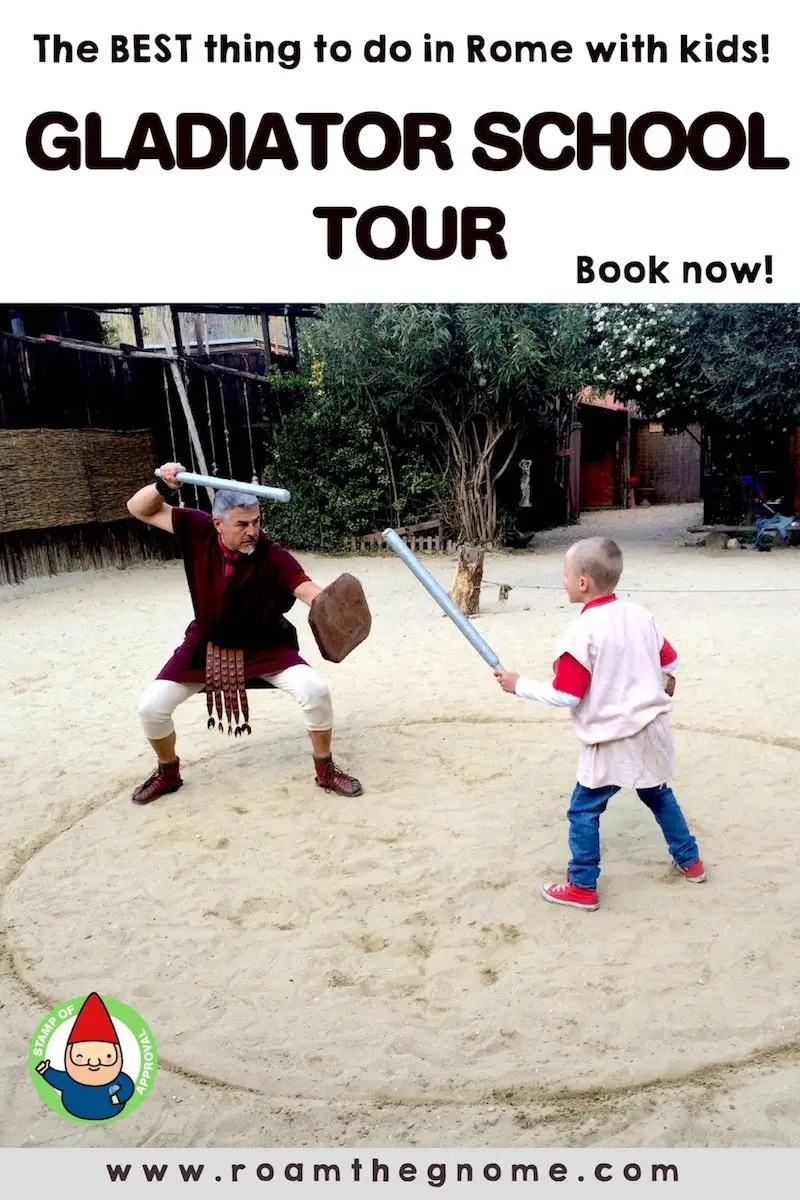 No.1 of the Best Rome Tours with Kids and Families
This IS number one of the best Rome Tours for kids.
The Gladiator training tour at the Gladiator School in Rome is held at the Gladiator School located right off the Appian Way, this Gladiator Museum and Arena is about 10 minutes Taxi or Uber from the Coliseum
---
Check latest prices: BEST Gladiator Tour Rome experience (the one we did)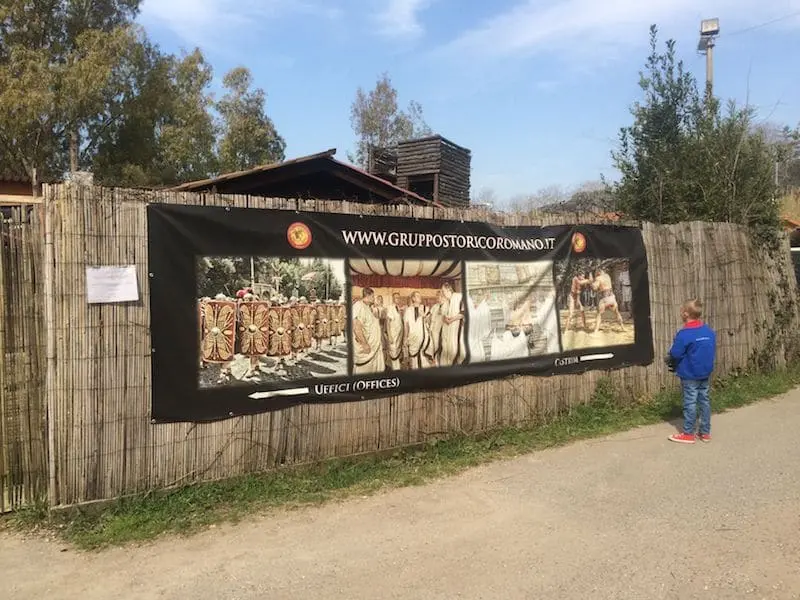 BEST Gladiator School Rome Experience
While we were often warned, "There's not much for kids in Rome or children activities in Rome", we found plenty of fun adventures for visiting Rome with children.
When you are in the know, there IS a lot of stuff to do in Rome for kids and families.
The best bit is that most of these places are JUST outside the main city centre.
Right on the cusp, but still well within walking distance as long as you have a stroller or pram with you.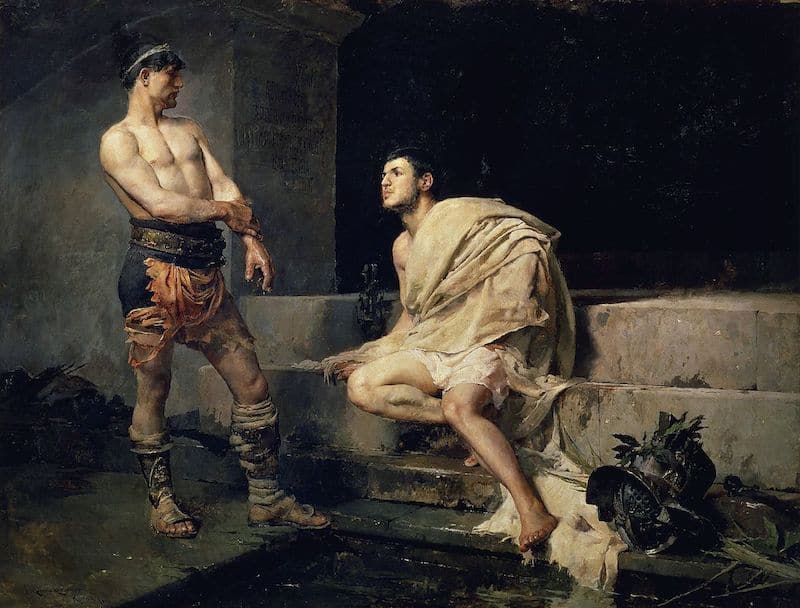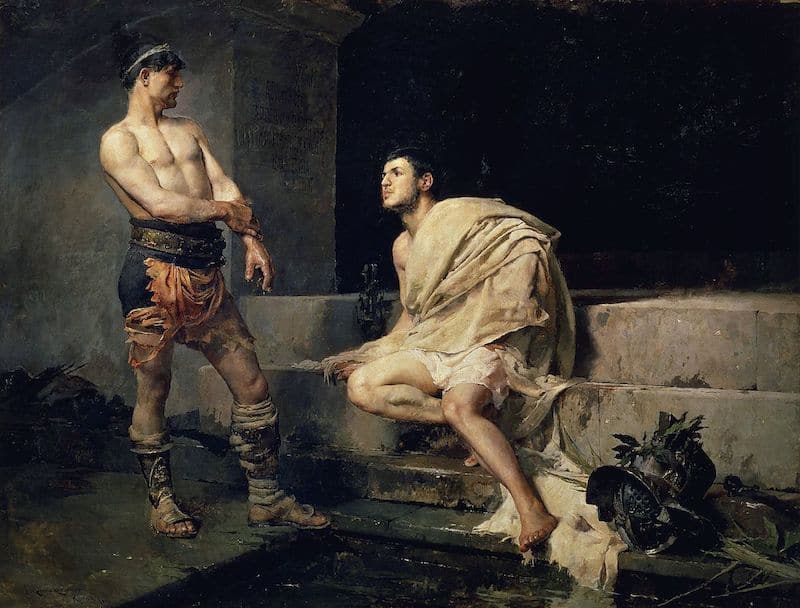 Image credit: Wikipedia CC BY-1.0
BEST THINGS TO DO AT GLADIATOR TRAINING ROME
The biggest challenge is condensing the historical facts of Italy's capital into kid-friendly conversations and stories.
Let's face it, Roman history is GORY.
(Actually, 7 year old boys LOVE that!)
And it's often not that easy to break down the historical facts when you are not 100% sure of them yourself!
So finding THIS experience, the Gladiator Training in Rome, was the number one highlight of our Rome visit and a history lesson in one.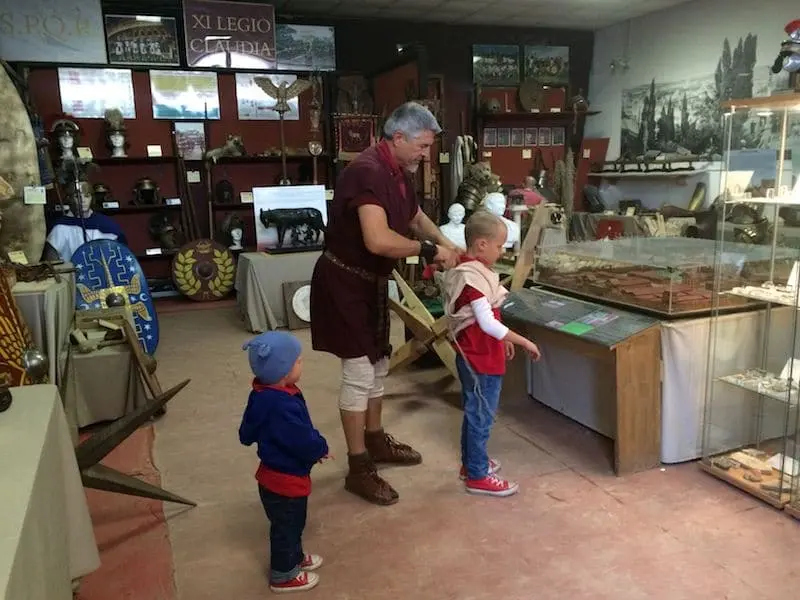 No.1: Gladiator Training Rome Storytelling & Activities
Ned, Jack and I were treated to a hands-on interactive storytelling session, complete with a mini history lesson in the Roman Historical Museum located on site.
All Gladiator School trainers are members of the Historic Group of Rome.
These people live and breathe early-Roman life through re-enactments and gatherings with fellow history buffs.
Ned was dressed in a customary Gladiator tunic complete with belt, authentic leather gloves to protect his all-important hands for combat, and was appointed his very own (foam) training sword.
We both:
tried on Roman Gladiator Armour, and
held a real Roman Gladiator Shield.
---
RELATED: Read our Rome Shopping Guide to find out where to buy a Gladiator Dress Up Costume for Kids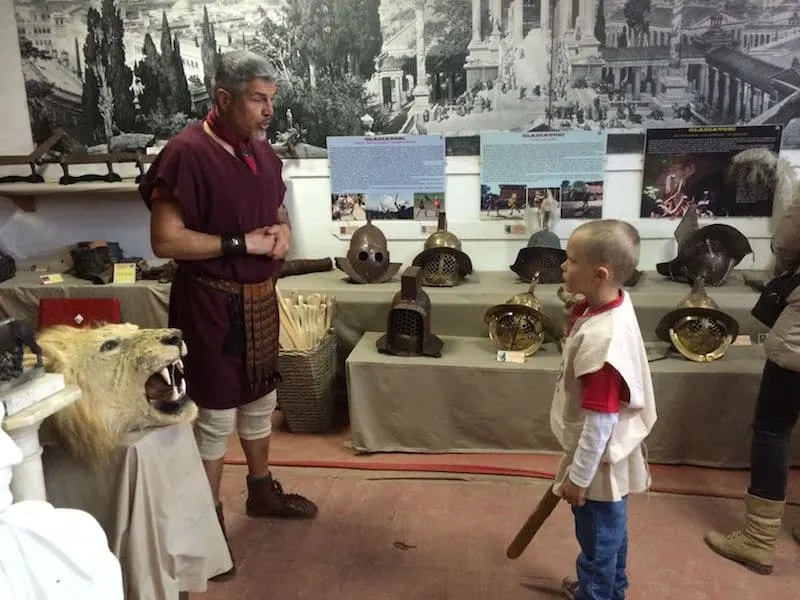 No.2: Inside the Rome Gladiator Museum
The Gladiator Museum in Rome is room full of historical treasures including:
Legionnaire helmets
Roman weapons
bust
shields and
as you can see, even a stuffed lion's head.
The most important lesson I learned here is that getting dressed up and playing the part of a real life person is THE BEST way to help a child make connections between the ancient Roman places he's been visiting (eg Colosseum), and what actually happened there, thousands of years ago.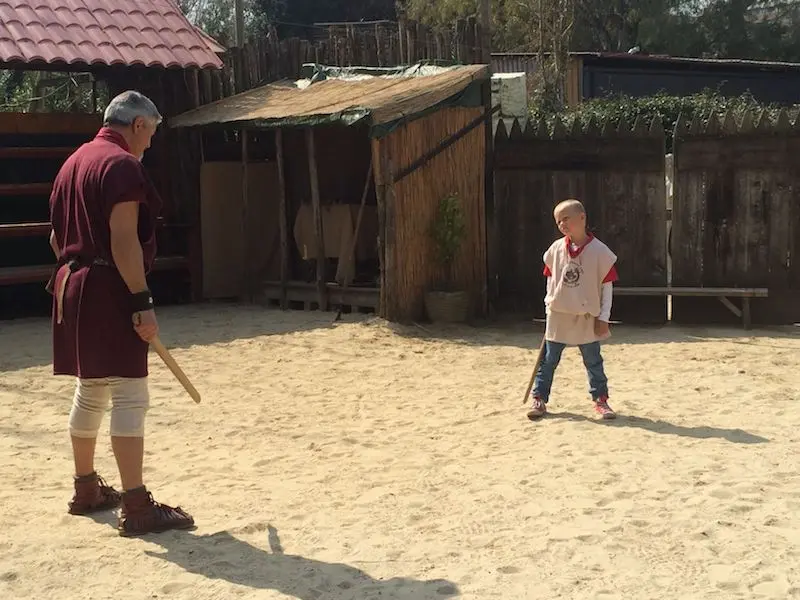 No.3: Gladiator Practice at Gladiator School in Rome for kids
After the museum visit where you've been clothed, it was time to start the REAL Gladiator training practice.
Practice first, before facing up to a chosen opponent in the tournament ring with gladiator games and a re-enactment of gladiatorial combat.
It's optional to join in the actual "fight" but it's tame.
The Gladiator trainers make it fun, and gauge the confidence (and possible fear) in kids and adjust their tone to their level.
The Gladiator battles are the highlight of the day for everyone, especially when the kids win the day!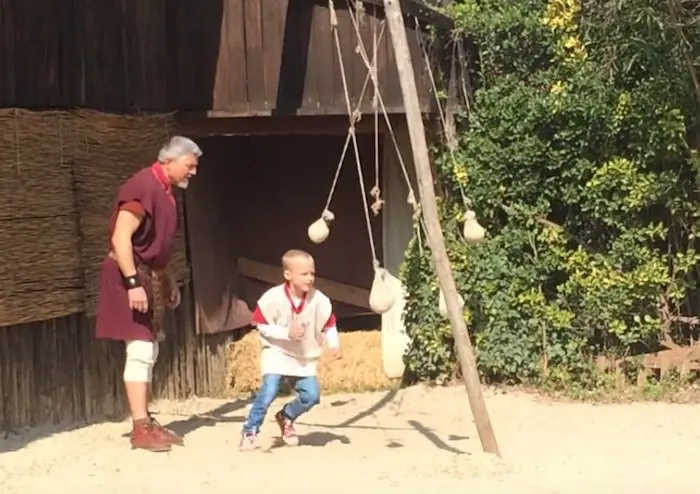 Image: Video still
Gladiator School in Rome Training Regime
Thank goodness I brought Ned's ventolin, just in case.
Gladiator practice is hard work.
He:
skipped
jumped
dodged hanging bags
ran
did 100 push ups, and
built implements of war.
I was puffed watching him!
This Gladiator training is not for the faint-hearted.
Older kids would do well to have a bit of a thick skin to cope with the rigorous instructions and firm tone of the trainer.
(It's all in jest and part of the storytelling experience of course)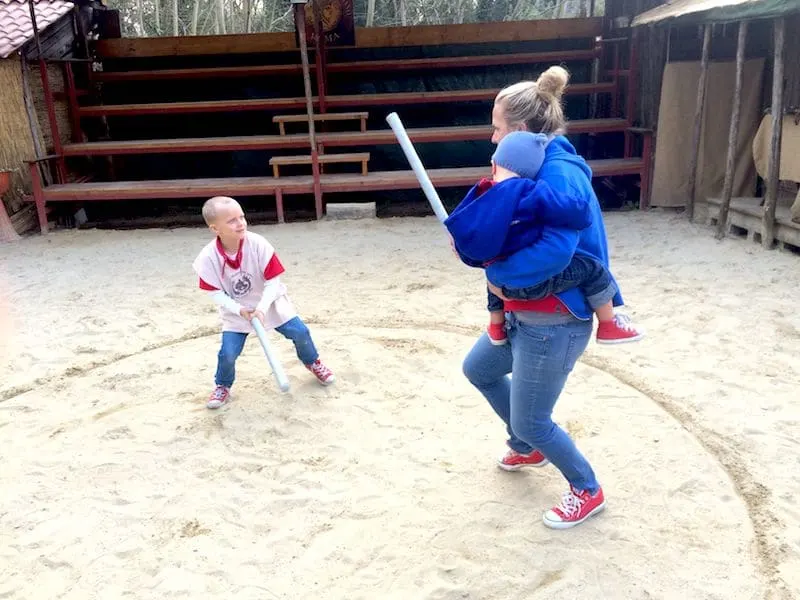 No.4: Fight to the Death at Rome Gladiator Tours for Kids!
Ned, at 6, did have a few tears at one point, just before he was about to 'enter the ring' for battle.
(He told me he was missing his pet turtle at home!)
Our guide Pierro, playing the Legionnaire Marco, was quick to comfort Ned and show a soft side.
It was at this moment, when Ned was a little bit scared of the actual fighting in the arena, that Pierro decided the best way forward was for Ned to battle his mum first.
That's right.
Pierro pulled me and Jack into the ring, and let Ned practice against US!
This was the perfect solution.
Ned was quick to show how easily he could defeat me with child on hip!
He was not shy to battle me, that's for sure.
Look at his face.
Those swings were brutal!
We played a few Ancient Rome Games, and Gladiator Fighting Games in the lifelike Gladiator Arena.
We engaged in Gladitorial combat
Watch the video to see how we managed with that!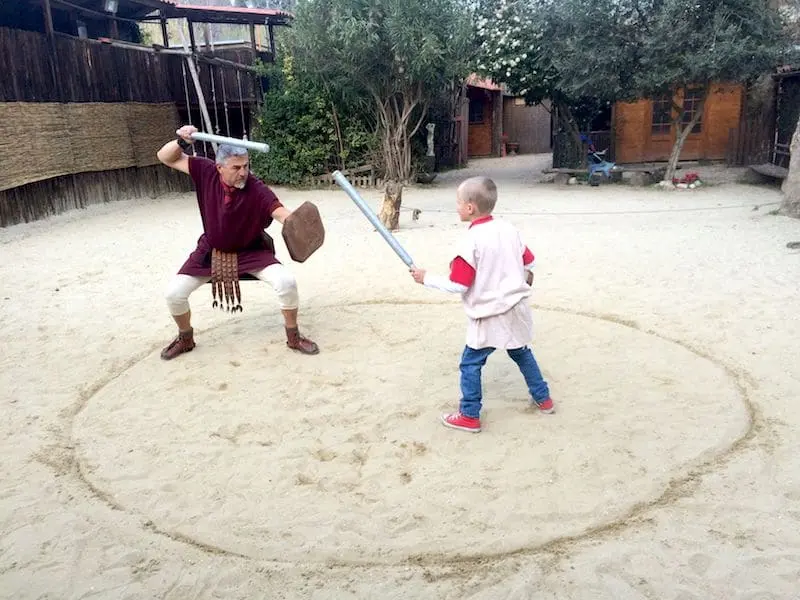 No.5: Gladiator for the Day Rome Championship
Then it was time for Ned to battle Marco, the Legionnaire, in a battle to end all battles.
The prize for the winner? Freedom.
It was amazing how strong and powerful an opponent Ned could be against a fully grown man!
(It helped when this generous man was able to play it down for said kid, and let him triumph!)
Pierro made my day, with his kindness and encouragement of 6 year old Ned.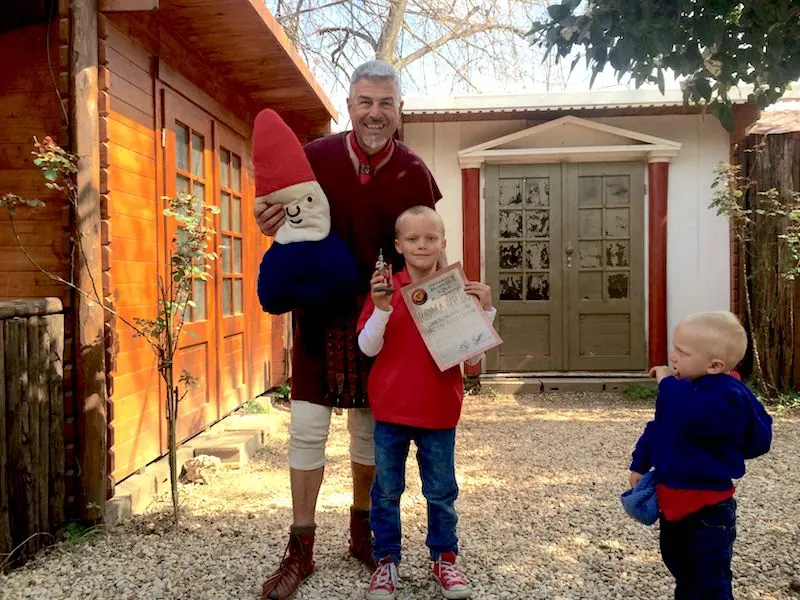 No.6: Win a Prize at Gladiator School in Rome
The victor of Gladiator School receives a prize for his or her efforts.
Ned was gifted his own Gladiator ornament to take home.
All other participants receive a certificate of accomplishment as a memento of the day.
He did too.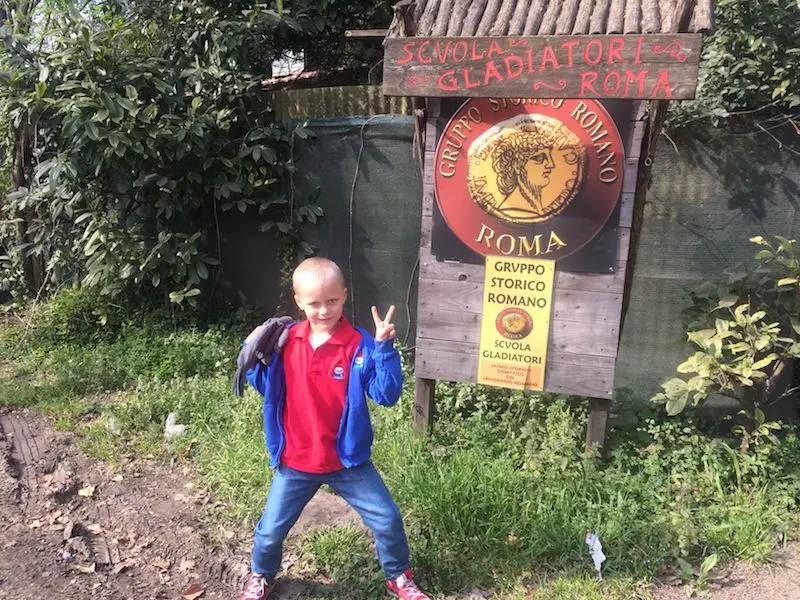 Two of the Best Family Activities in Rome
If you are looking for things to do in Rome with kids over 5 years old, we highly recommend this tour of Gladiator Training in Rome.
From here, head straight to the Colosseum like we did.
(Click here for a guide to the Colosseum for kids)
Linking the two activities together helped Ned to make connections between this play, and real life.
The best!
Best Rome Tours for Kids? Gladiator Tour Rome
Take a sneak peek at the video above to see our Rome Gladiator School experience.
I apologise for the length of our video of the Gruppo Storico Romano Gladiator training in Rome.
Skip to the best bits.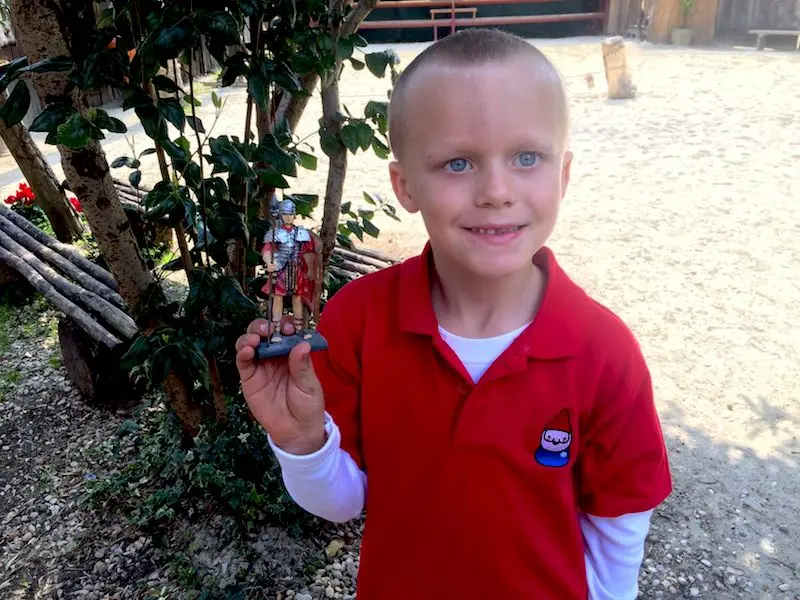 THE INSIDE SCOOP: Rome Gladiator Tour
Correct at time of publication on Roam the Gnome. Please check with venue for updates. We apologise in advance if there have been any changes we are unaware of. All prices in US dollars, unless otherwise stated
Bring a bit of Roman history to life! Enrol the kids in Gladiator School and let them be a Gladiator for a day in Rome.
Address: Gruppo Storico Romano, Via Appia Antica 18-00179 Rome.
Telephone: 1 (702) 648-5873
Gladiator Tour times:
Varied, but at least two or three times a day.
We started at 9am.
Tours run at 1pm, 3pm and 5pm, depending on the season and demand.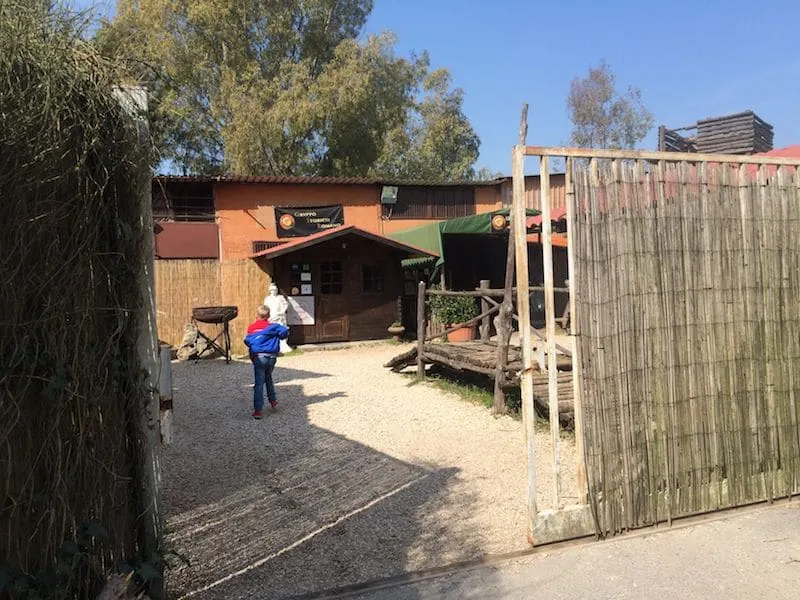 Rome Tours for Kids – Gladiator Training cost?
This Gladiator Training tour experience at Gruppo Storico Romano must be booked through a Tour company.
Book your tour here with Get Your Guide.
Compare prices on Viator here. (coming soon)
The Gladiator school in Rome for kids tour includes:
a drink
the two-hour class and lesson
hire of gladiator clothing and weaponry, and
a choice of lesson times during the day.
You'll also be given:
the opportunity to visit the Historical Museum
chance to view Roman artefacts and delve deeper into Roman life.
Entrance fee to the museum is included.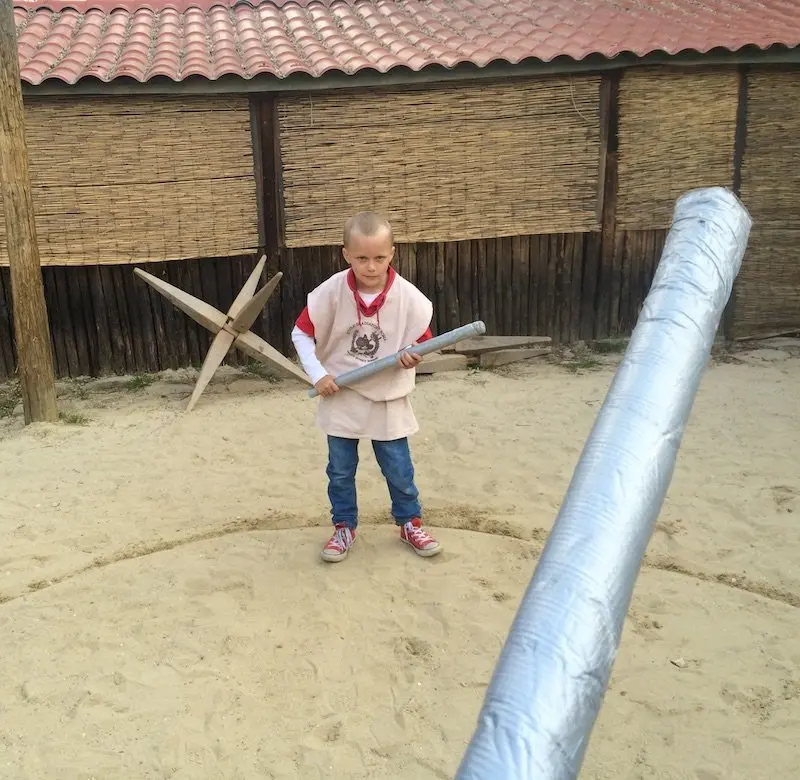 Gladiator Tours Rome with Get your Guide Tours
Be warned.
A single tour ticket is outrageous at $220 AUD (about $150 US or €130 Euro) but this price does reduce significantly the bigger your group.
Two people in your group will each pay around $160 AUD each. ($110 USD, or €95 Euro)
If there are four in your group, tickets start from $125 AUD per person. ($85 USD, €75 Euro)
It definitely pays to find some friends!
Super luckily for us, we were the only booking for THIS particular time slot.
That meant we had a personalised session, and Pierro was kind enough (and tolerant of Jack cruising about the place) to let me join at times in to help Ned!
If you are a watcher, not a joiner, it's free to watch friends or family free of charge from the viewing platform.
But don't miss out.
Join in! You won't regret it, but you may regret sitting out while the kids have all the fun.
I mean, when else in your life will you be able train as a Gladiator, a la Russell Crowe?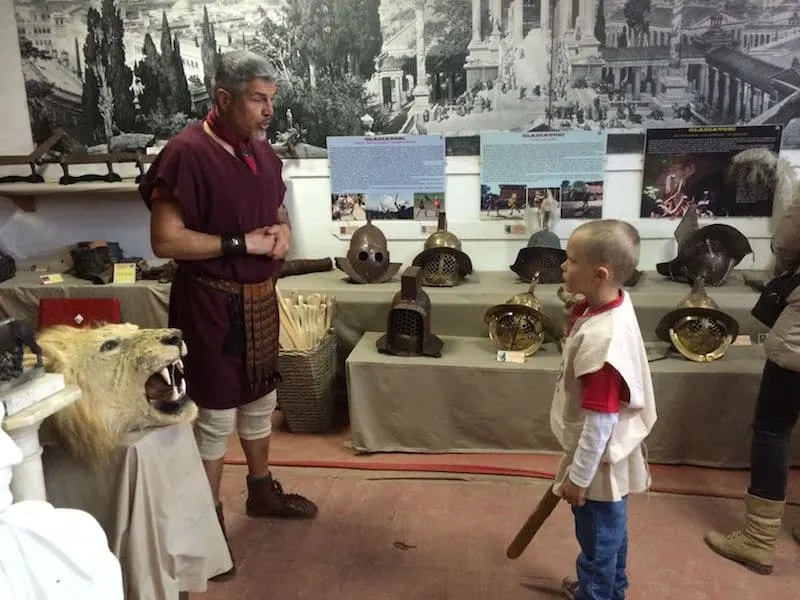 FREQUENTLY ASKED QUESTIONS ABOUT THE GLADIATOR TRAINING SCHOOL
How to reduce the cost of the Gladiator Training School experience?
If anyone know of a facebook group or website where you can find other singles to share costs with at times like this, let us know.
The single supplement for travel always makes me a bit cross.
It feels discriminatory to those of us who either travel alone, or alone with kids, a put down to those don't fit the traditional configuration of two parents and two kids scenario, or married couple.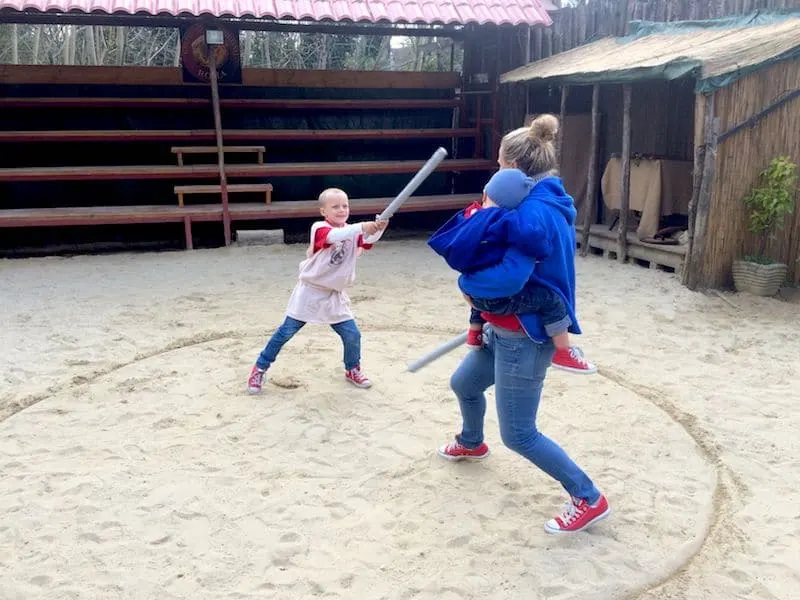 Can you book the Gladiator tour independently?
I tried to book and pay for this independently, as Ned was going to be the only one who could participate.
Jack was too young to join in, and as we didn't have another adult travelling with us, I had to supervise Jack and couldn't join in.
I asked my Italian speaking AirBnB host if he might call the Gladiator school on my behalf to enquire about booking over the phone or just rocking up in person to pay at the door, as my ability to speak Italian is non-existent.
He rang, and was told that the only way to participate was to book and pay for tickets in advance through a tour company.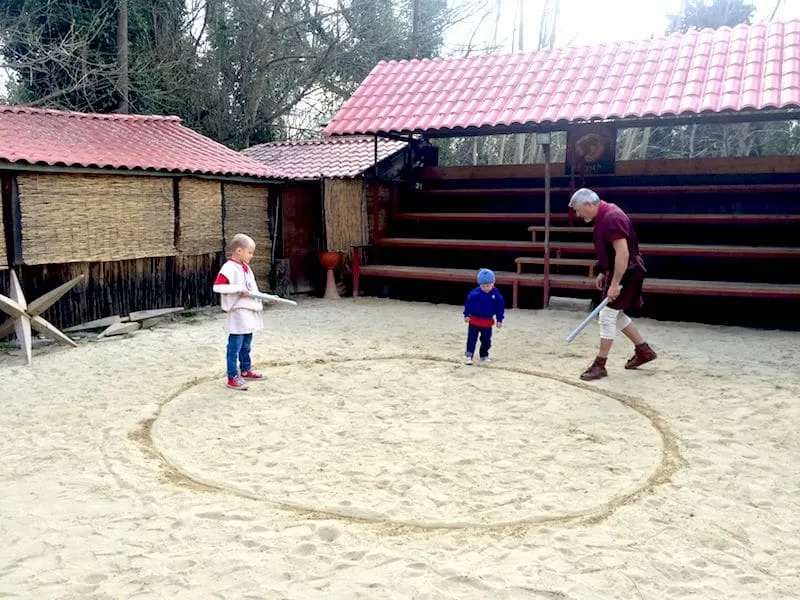 How to get to Gruppo Storico Romano Gladiator Training Rome
Nearest bus station: Via Appia Antica Travicella (lines 118 or 218)
By taxi or Uber:
The Gladiator School is about a 15 minute taxi ride from the Colosseum down a maze of dusty streets.
Be sure to give your driver firm directions and carry a map with you to avoid a long-distance run-around.
Gruppo Storico Romano Map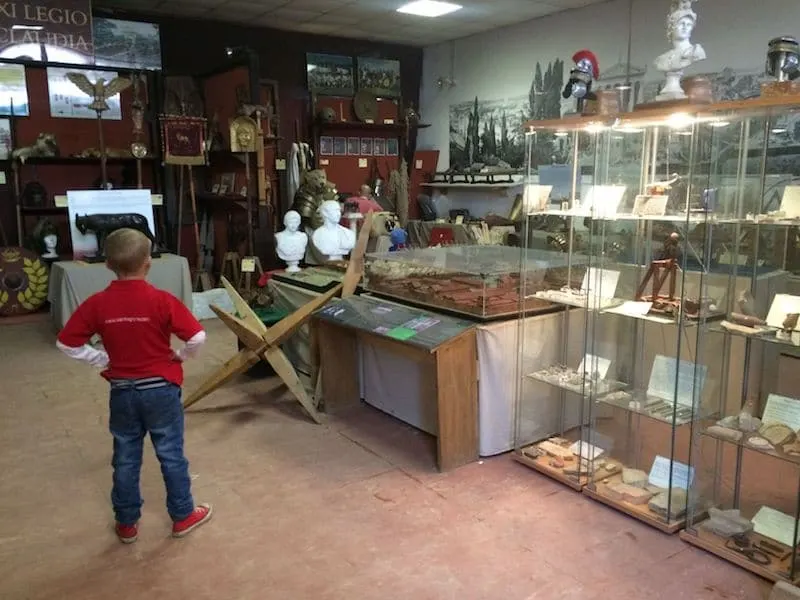 Toadstool Rating – Review of Gladiator Training Rome Tours with kids
Would be book the Gladiator School for kids again?
YES.
In a second.
It was the BEST money ever spent on a 'tour', and worth every (expensive) cent.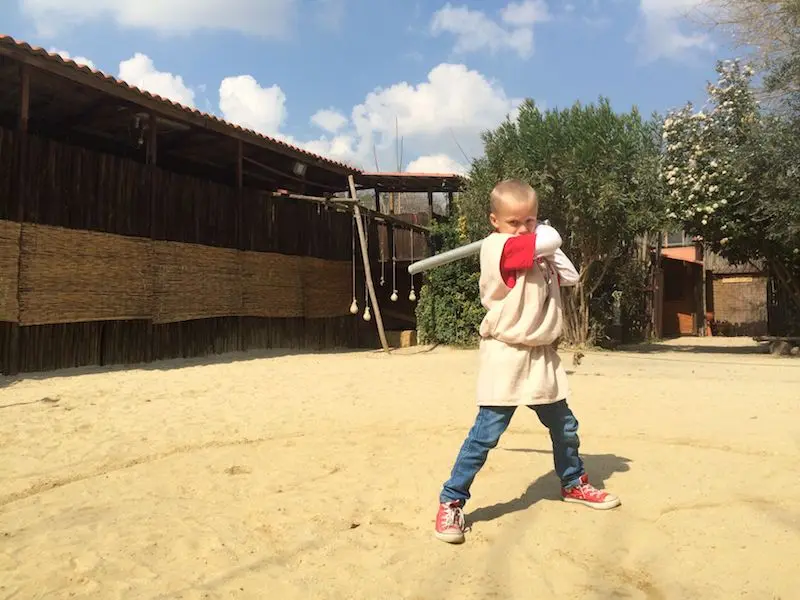 Is Rome good for kids?
I'd vote YES!
Especially if you take them for a round of Gladiator Training on our pick of the best Rome tours for kids.
This experience continues to be one of our Top Five travel experiences.
I'm not sure it will ever lose its' spot!

Looking for MORE SUPER DOOPER FUN things to do in Rome with kids (and shopping in Rome too)?
Click the links in blue below.