INSIDE: The ULTIMATE GUIDE on what to buy in Rome including the best Rome souvenirs and unique Rome souvenirs you won't find anywhere else.
Looking for things to buy in Rome for souvenirs and gifts for friends and family?
Here's the ultimate list of our 'What to Buy in Rome' shopping ideas.
We've included:
the best toys to buy in Rome (and our favourite dress up costume souvenir ever!)
where to go leather shopping in Rome
the best Italian food souvenirs to buy in Rome
where to go clothes shopping in Rome
the best market in Rome for handmade goods
the best things to buy in Rome on a budget
what to buy in Italy for those who have everything
We love to search for unique things to buy in Rome that you can't buy anywhere else.
We hope you might find it useful too.
Best of luck on your treasure hunt for the best Italy souvenirs!
Disclosure: This article contains affiliate links. If you make a purchase after clicking on one of these links, we may receive a small commission at NO extra cost to you.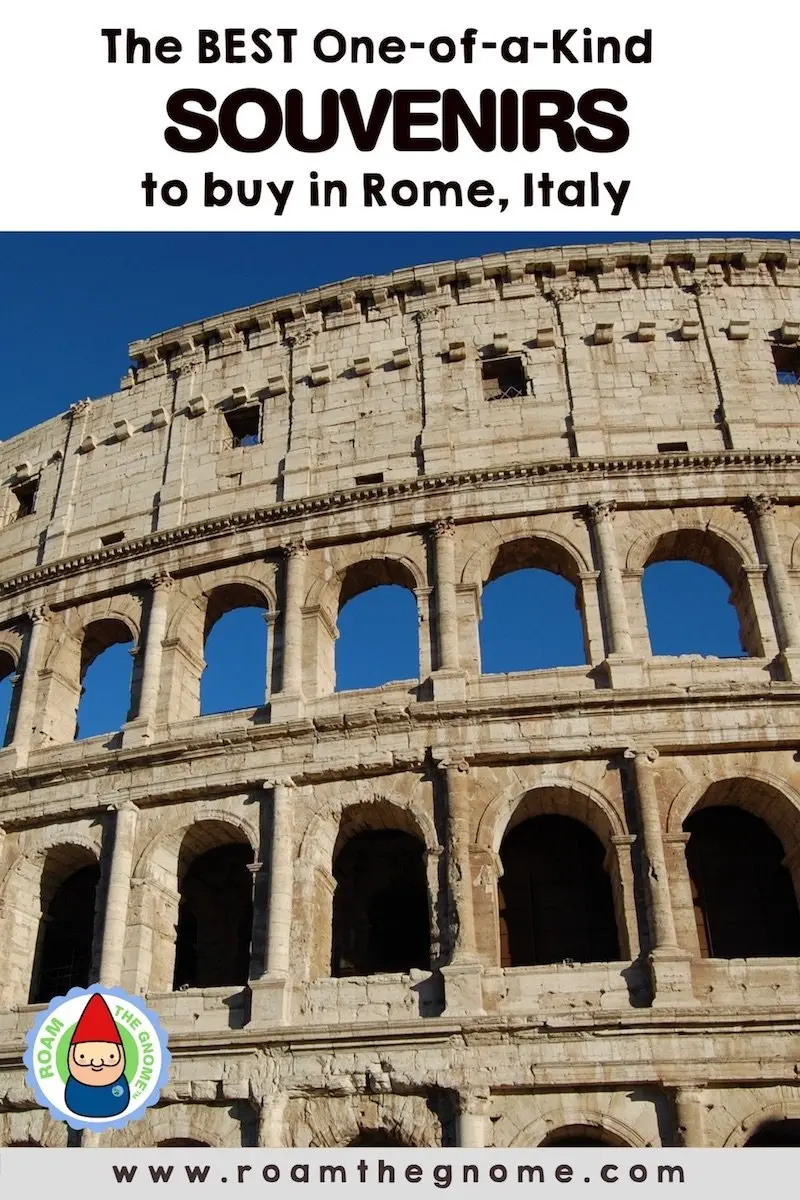 Must Buy Rome Gift Ideas & Best Rome Souvenirs for Kids
When travelling in Rome with kids, it's highly likely that a big chunk of your souvenir shopping time will be limited to what you can see and do with kids in tow.
That's why these Rome souvenirs ideas are helpful.
We will point you in the direction of the best shops in Rome to buy gifts for other family members, neighbours, and friends too.
We've included what we think is the best toy store in Rome for super cute mementos and keepsakes
Plus, just in case you fancy picking up a beautiful Italian leather handbag or two, we've included a link below to our fave shopping street in Rome too.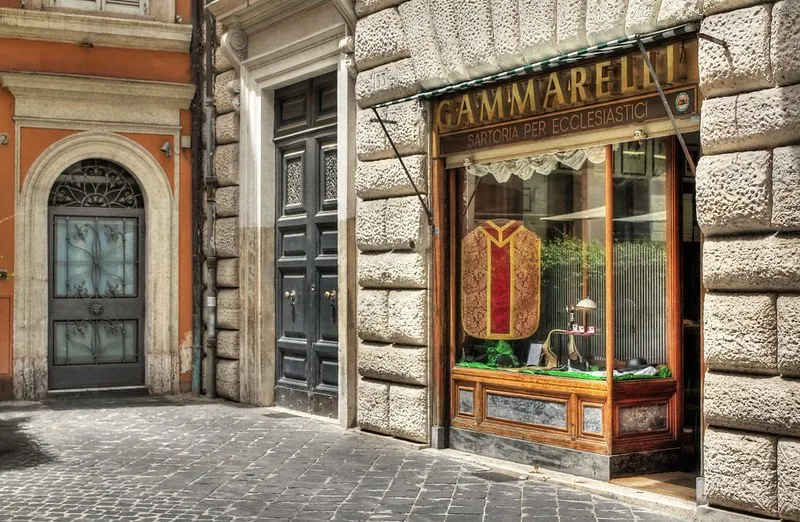 Image Credit: Ronnie R via Flicker CC BY-SA 2.0
Your Questions about Shopping in Rome answered
Correct at time of publication on Roam the Gnome. Please check with venue for updates. We apologise in advance if there have been any changes we are unaware of. All prices in EURO, unless otherwise stated
We'll try to answer your questions:
What are good souvenirs from Rome?
What is Rome famous for shopping?
What souvenirs can I bring back from Italy?
Where should I go shopping in Rome?
Are shops closed in Rome on Sunday?
The best Food souvenirs from Rome?
What to Buy in Rome for Kids and Families
The only one we can't answer is "What to buy in Rome Airport?".
We don't know.
But when you do, please let us know and we'll add a section to the post.
The list of the Best Souvenirs from Rome starts below, in no particular order.
But starting with MY personal favourite!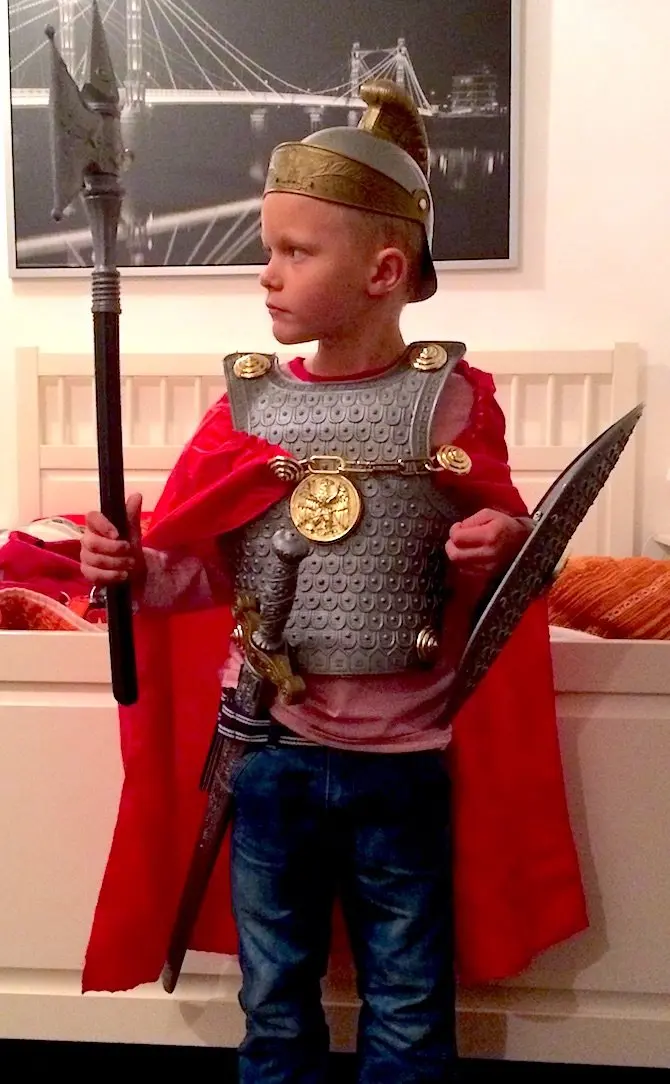 No. 1: ROMAN GLADIATOR SUIT DRESS UP COSTUME
The Best of all the Rome Souvenirs!
We spotted these plastic Gladiator Suits from time to time as we wandered the streets of Rome, but it wasn't until after THIS amazing Gladiator Training experience that Ned decided he needed a Gladiator suit of his own.
At around 15 Euro, it wasn't the cheapest souvenir we've ever bought, but it was definitely the most loved souvenir from this trip to Rome.
We've listed this Gladiator costume at the top of our things to buy in Rome for good reason.
To this day, it sparks memories and conversations of that wonderful time of that awesome family adventure.
(PS: For those who asked, this is the Gladiator School tour we booked. It's not possible to book directly.)
In fact, just the other day, Ned passed it on to Jack, who LOVES a good dress up costume.
Jack's first words…
"Does that mean I get to battle the Roman gladiator now?"
Hunting for souvenirs to buy in Rome for kids?
Find a shop selling these.
Where to find a gladiator dress up costume in Rome?
Our hot tip is to check out the Rome souvenir shops near the Vatican, and on the streets around Castel Sant'Angelo for the best prices on these Gladiator dress up costumes.
There was a remarkable price difference in price for these Gladiator dress up costumes, and this area was the best and cheapest by far.
---
RELATED: Watch a recreation of a Gladiator Show at the Museum of the Roman Legionary in Rome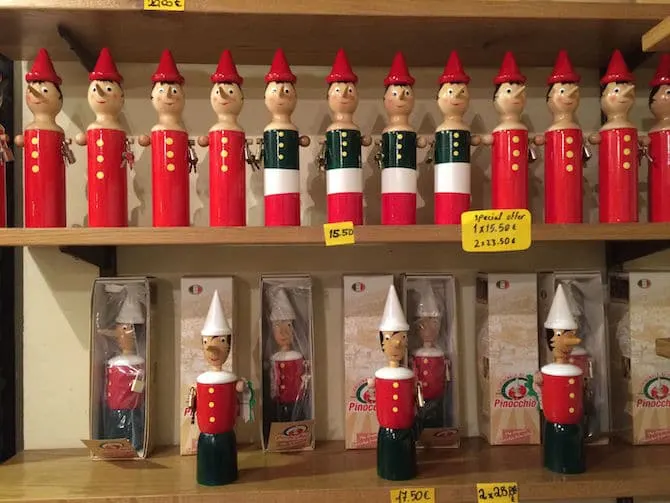 No. 2: PINOCCHIO TOYS ROME
There's no way you can visit Rome without meeting at least one Pinocchio doll you can't leave behind.
A wooden Pinocchio doll is the ultimate Italian souvenir for all ages.
Everyone loves this little rascal, which is why we vote this the best Rome souvenir shop for all ages.
This Pinocchio toy shop near the Trevi Fountain is the spot to gather up a bunch of Pinocchio-inspired toys and souvenirs in one swift go.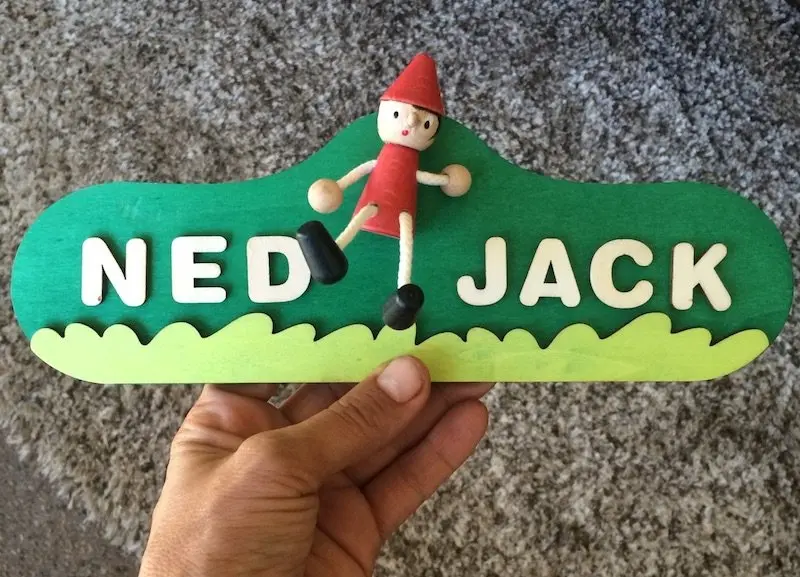 Personalised door sign with Pinocchio
We bought a personalised bedroom door sign with a Pinocchio doll on it from this Pinocchio store in Rome.
I bought a large one and put both their names on it, as they shared a room.
But silly me, it wasn't long after we returned home that Jack moved into his own room.
I should have bought two separate ones.
Despite this Rome souvenir shopping fail, this Pinocchio souvenir still rates as one of Ned and Jack's best gifts from Rome, and is a lovely reminder every day of the wonderful trip we took to Rome.
There's a reason why Pinocchio toys are popular souvenirs from Italy.
They are so cute!
We loved this Pinocchio shop in Rome and as our AirBNB apartment was less than 50 metres away, we visited daily!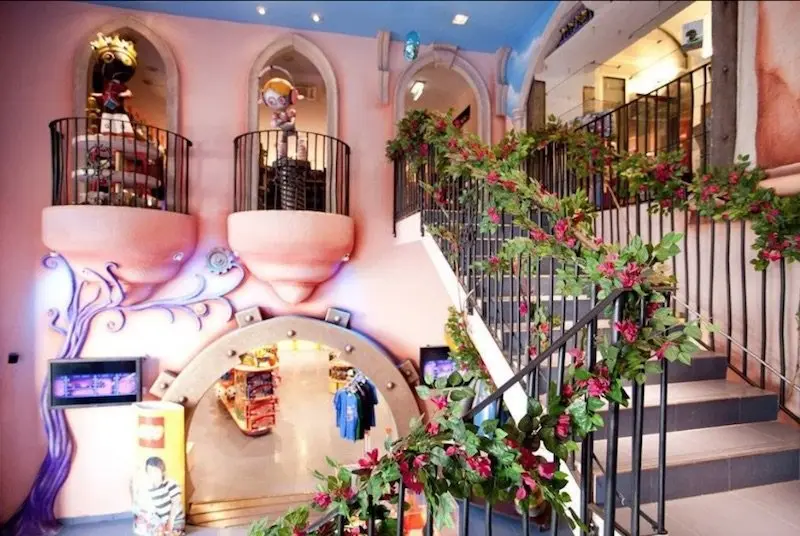 Image Credit: Little Big Town Rome toy shop
No. 3: ITALIAN TOY BRANDS AT LITTLE BIG TOWN TOY SHOP IN ROME
At Little Big Town Toy Store, we recommend walking straight past the everyday brands of toys you can find in any good toy store, and seek out the range of Italian toy brands you can buy to take home.
Little Big Town stocks Italian toy brands including:
Spryza
Air Hedz
Flitter Fairies
Play Foam
Magic tricks packs by Marvin Magic!
Italian Toys make unique gifts from Italy.
You can also find more Pinocchio toys at Little Big Town, as well as Pinocchio t shirts, posters, and Pinocchio souvenirs in Rome.
If you need Italy souvenirs solutions for a child back at home, stop by Little Big Town Rome toy shop.
They stock some of the best things to buy in Italy for kids.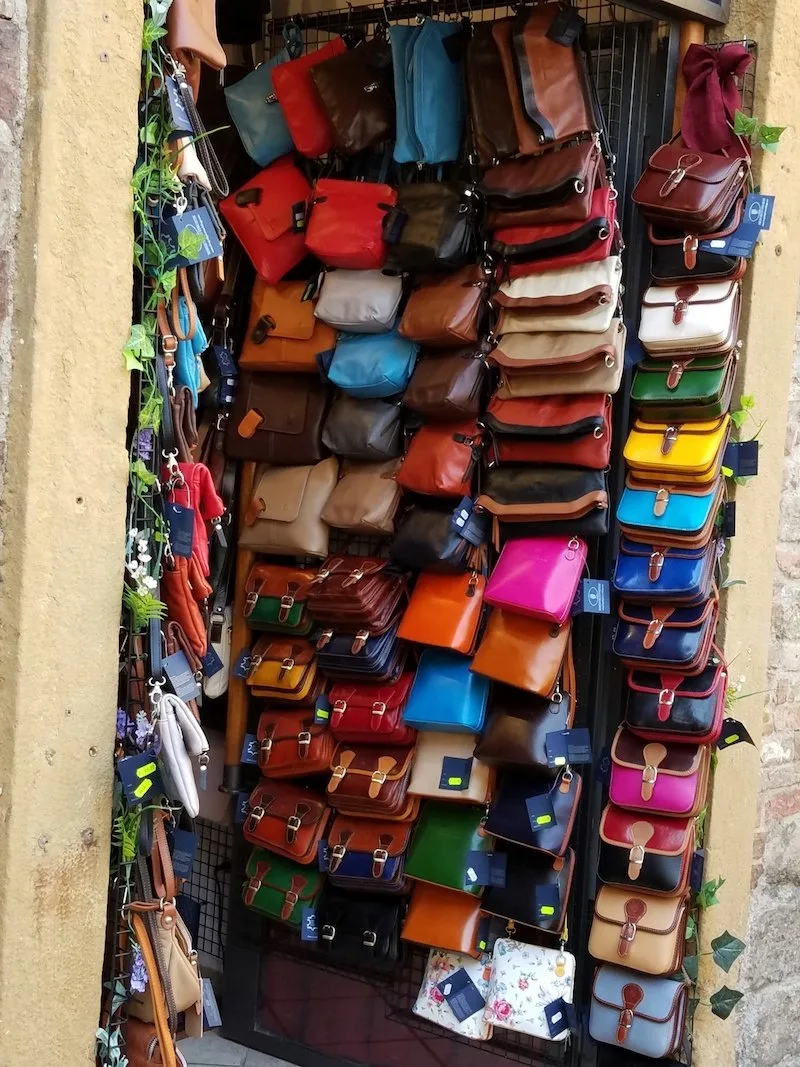 Image Credit: Linnaea Mallette via CC BY-1.0
No. 4: BEST ITALY SOUVENIRS? BUTTERY SOFT LEATHER HANDBAGS & LEATHER PURSES
Looking for where to buy leather in Rome?
The best shopping in Rome for leather goods (including the best handbags in Rome) is on this street.
This street is the best place for affordable shopping in Rome on a budget too.
We stumbled upon this Rome shopping street accidentally, after many hours and days of searching long and hard for affordable or cheap leather handbags in Rome.
(We didn't find a Rome leather market anywhere, despite searching high and low.)
This spot has the best leather shops in Rome for leather handbags and leather products that we found, and we can't wait to go back.
If you are planning to buy leather goods in Rome too, don't miss a visit to this street.
There's so many unique Rome souvenirs ideas here too.
Quality leather bags in Rome, of all shapes and sizes
Leather gloves
Leather shoes
Leather wallets
Leather purses
Leather shoes
More Rome Leather Goods such as Leather keyrings
Wondering what to buy in Rome for family and friends? Wonder no longer. Take home these Italy souvenirs for everyone in the family, young and old.
If you love shopping, and want to explore more of Rome's shopping streets, why not book a 1/2 day shopping tour of Rome with a personal shopper?
This Get your Guide tour gives you three different shopping routes to choose from.
Minimum of two people to book.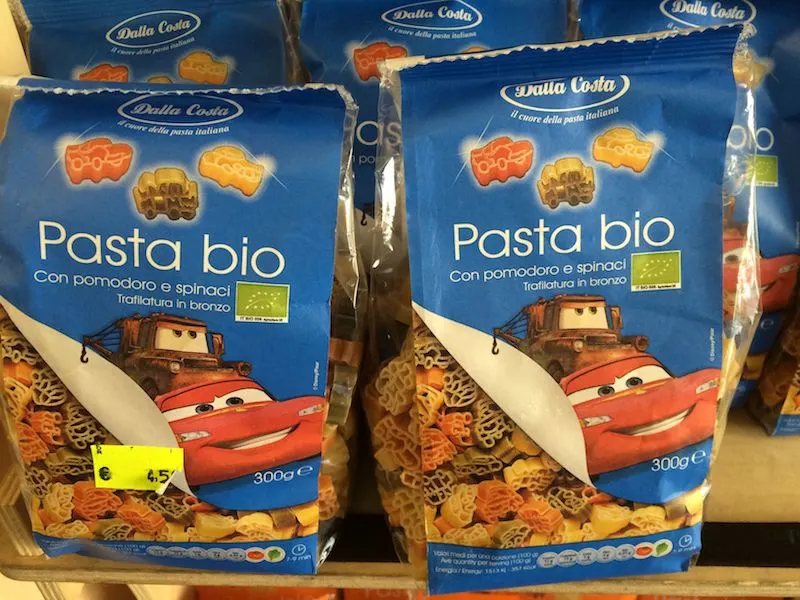 No. 5: UNIQUE GIFTS FROM ROME? FUN ITALIAN PASTA PACKETS!
My kids couldn't believe their eyes when they saw these bags of fun Italian pasta shaped as Disney Cars pasta.
At just over 4 EURO a packet, this Disney pasta was not your normal everyday pasta that's for sure. Yikes!
But yep, these fun Rome food souvenirs went straight into the suitcase for the journey home.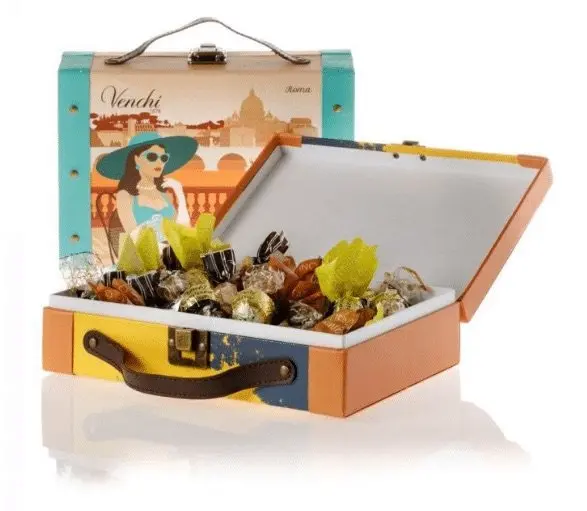 No. 6: THE BEST CHOCOLATE SHOPS IN ROME
Continuing on the 'Souvenirs you eat' theme, a monster-sized jar of Italian Nutella wouldn't go astray. (Nutella is an everyday food here!)
Nor would Italian chocolate.
If you are in a hurry, the Little Big Town Toy Store above has a wall of chocolate for sale on the ground floor near the counter, all wrapped up and ready to go.
If you are really stuck for what to buy in Rome for a particular someone, I'm sure they'd be more than happy with this.
But if you really love chocolate, head to Venchi Italian chocolate shop.
Venchi chocolate shop specialities include:
a salted white chocolate bar
a unique orange peel chocolate bar
hazelnut truffle
their iconic milk chocolate bar with whole hazelnuts.
They have:
a range of boxed chocolates
chocolates in tins, and
experiential kits that are filled with Venchi chocolates in different sizes including chocolate bars, chocolate snacks, and gianduia bars.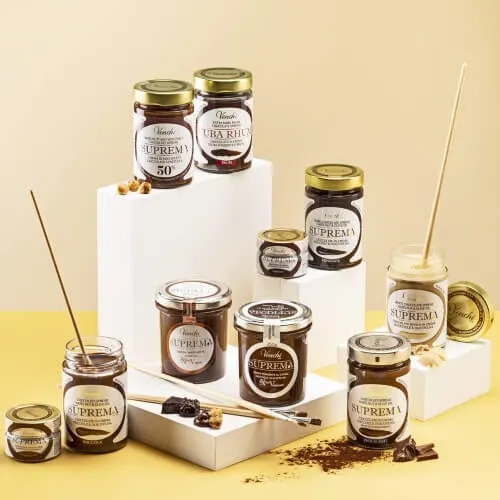 Venchi Chocolate spreads
They sell a best selling range of chocolate spreads including a white chocolate and hazelnut version.
Plus,
dark chocolates
milk chocolates
chocolate truffles
pistachio chocolates
chocolates with hazelnuts and,
chocolate cigars.
Venchi chocolate is a must buy in Rome.
Guaranteed a box of chocolates will be top of the list of the favourites souvenirs your bring back!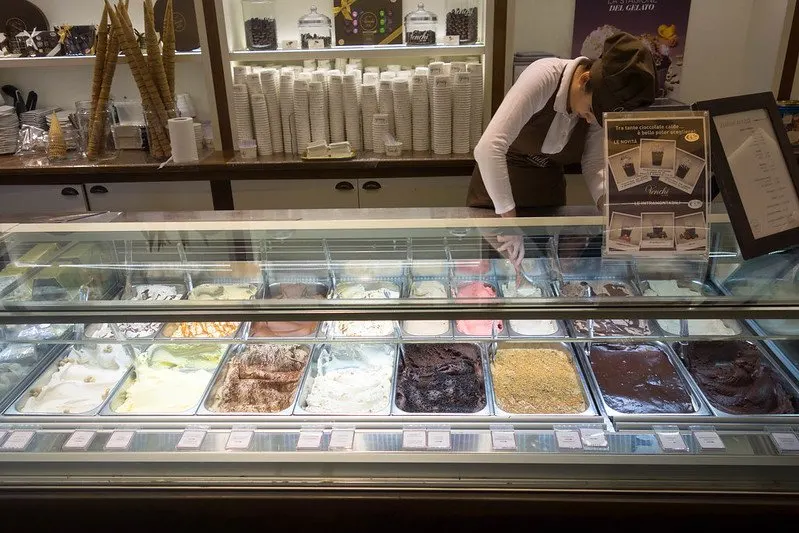 Image Credit: Kent Wang by Flickr CC BY-SA 2.0
Venchi Gelato bar
There's three chocolate shops selling Venchi chocolates in Rome where you can try their Gelato too.
Addresses for Venchi Chocolate and Ice Cream
Via del Corso, 335, Trevi Fountain 00186
Rome Via Della Croce 25/26, Piazza di Spagna Rome 185.
Rome Pantheon, Via degli Orfani, 87, Rome 186
There's another one at Eataly (see below) so you could cross off two Rome souvenir shopping spots in one go.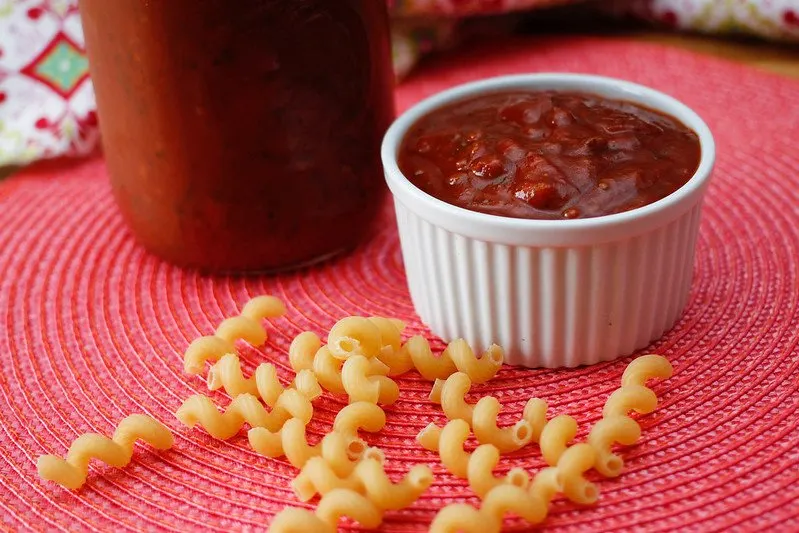 Image credit: Tomato Pasta Sauce with Pasta by Marco Verch under Creative Commons 2.0
No. 7: GOURMET FOOD SOUVENIRS FROM ROME
The best Rome food souvenirs can be found on shelves inside unassuming cafes and delicatessens in the city.
Buy up big on Italian pasta in all shapes and sizes, coffee, Italian sauces, olive oil, and rosy red tomato-fuelled pasta sauces.
Authentic food products are the best souvenirs from Italy for foodies.
If you want a bit of Rome food shopping inspiration, read this post on the Top 10 Italian Dishes to eat in Rome with teenagers. Hungry teens are a reliable source when it comes to good food!
Then, buy all the ingredients at Rome supermarkets and deli's, so you can cook these dishes at home too.
Address: Try Caffe Castroni – Via Ottaviano, 55, (Via Germanico) 00192 Rome.
Open: daily.
If you want to start trying some of those top 10 Italian dishes in real life while in Rome, book Rome's Best Private Family Food Tour.
You'll spend three hours walking the streets of Rome, (and playing a couple of games along the way) trying 10 different typical Italian dishes along the way, including a scoop of delicious Italian gelato!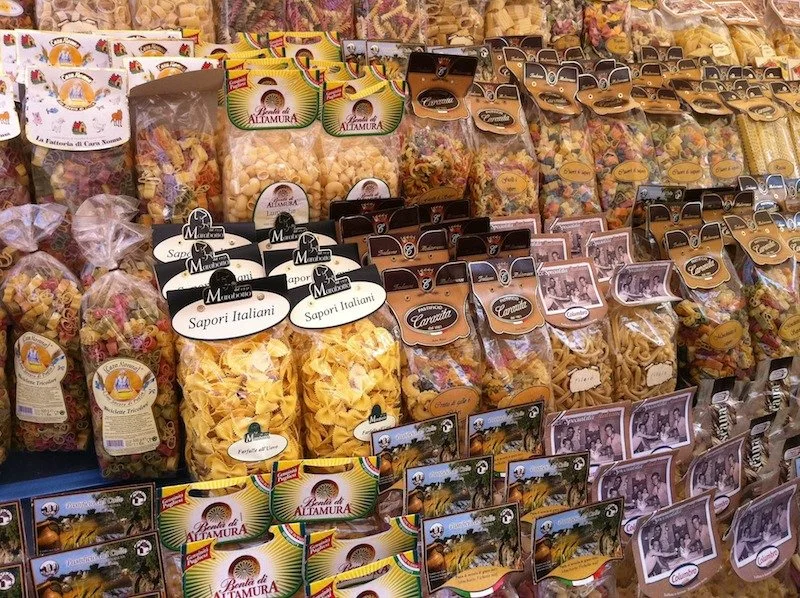 Image credit: Public domain
No.8: EATALY FOR MORE ROME FOOD SOUVENIRS
Love food?
Want to find more authentic Italian Rome food souvenirs to take home so you can cook all your Italian favourites?
Visit this three-storey food supermarket to find every kind of Roman food souvenir including:
rice and pasta products
olive oil, balsamic vinegar, salt, spices, pasta sauces
preserved foods including olives, capers, pickles, pate, sauces, pesto, cured meats
sweet treats including biscuits, festive sweets, jams, cake mixes, muesli, cereals
Italian sweets such as nougat and almond pastries, fruit pastilles, Leonsnella candies, liqourice
red wine
Chocoholics will love their range of delicious Italian chocolate souvenirs.
Strangely, you can also buy soaps, detergents, cosmetics, washing up liquid and aloe vera juice if you want to buy quirky Italian souvenirs.
Eataly's range of Italian food products are excellent souvenirs to bring home from Italy.
Address: Piazzale XII Ottobre 1492, 00154
Open: Daily, 9am to midnight.
How to get there: Metro B – Piramide stop
---
READ MORE: Foodies visiting Rome will love Pizza Florida – it has the best pizza in Rome!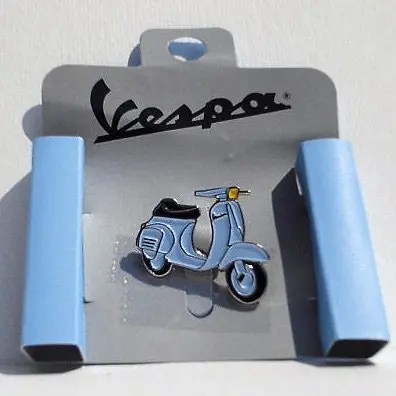 No. 9: STILO E STILE ITALIAN STATIONERY
Do you adore Italian stationery?
Then bookmark this shop.
Stilo e Stile Italian stationery store is home to my favourite stationery item in the world: letter seals and lacquer wax.
But there's so much more to buy at the Stilo e Stile shop in Rome:
fountain pens and ball point pens by Italian company Montegrappa
Aurora fountain pens and roller pens, inks and cartridges
Delta Srl writing instruments
Mechanical pencils
Vespa branded cases, wall clocks, key rings, enamel pins, and Vespa alarm clocks
Leather pen holders
Calligraphy pens and accessories
Inks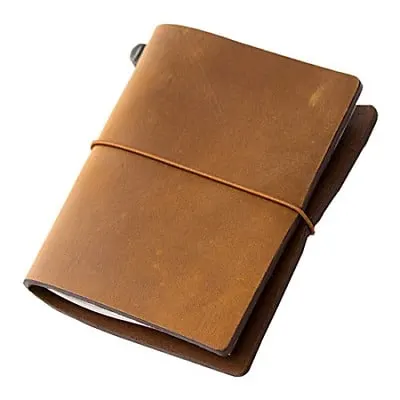 Midori Traveller's Notebooks
They also stock Midori Traveler's notebooks.
The Hemisferium vintage scientific instruments including solar clock compasses, and perpetual calendars are the perfect Roman souvenir gift for that hard-to-buy person.
Address: Via Galila 101a, Roma Lazio
Open: Monday to Saturday. 9am to 1pm, and 4pm to 5.30pm.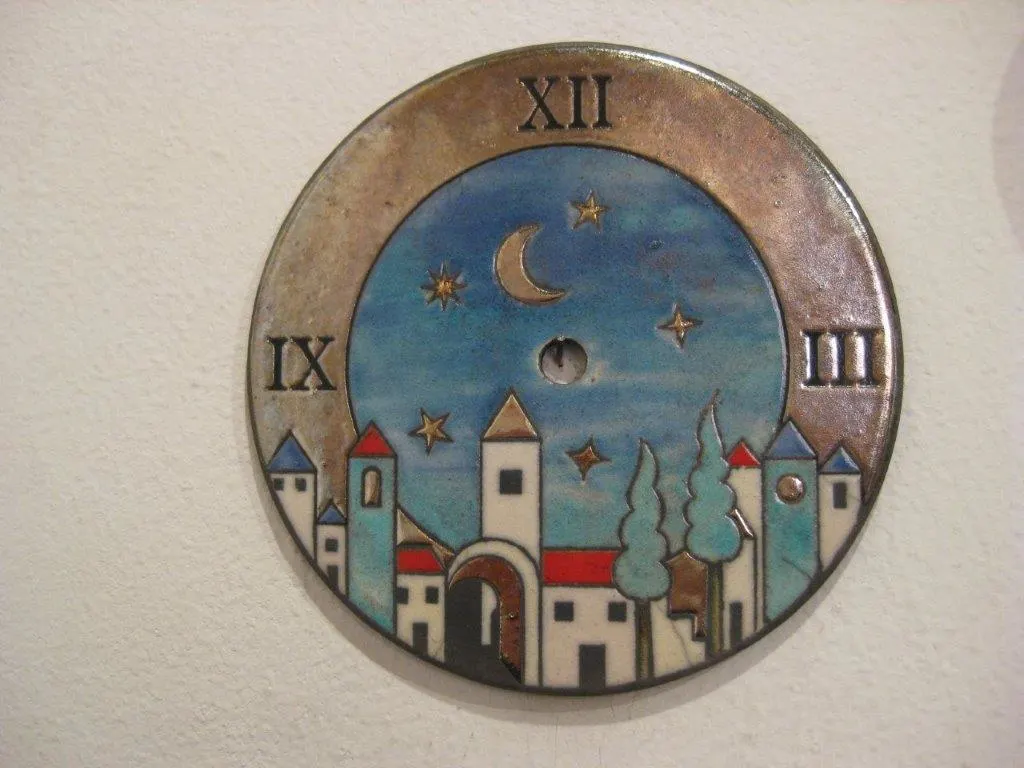 No. 10: COOL THINGS TO BUY IN ROME AT CERAMICA RAKU
Ceramica Raku (also known as RAKU Ceramic Center Rome Arts Crafts) sells handmade, one-of-a-kind ceramic pendulum clocks, ceramic watches, and ornaments.
Raku is a particular style of ceramics, where pieces are painted with raku colors including oxides and glazes.
Pop by the shop to buy a unique piece of Rome you'll love forever.
Address: Located on Via dei Pastini 20, 00186 Rome, Italy
Telephone: + 39-06-6787682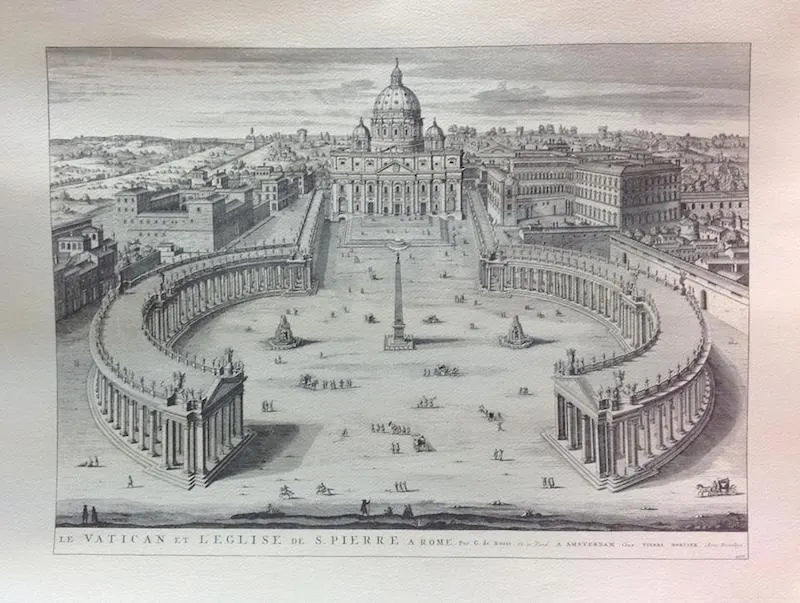 Image credit: Prints from Rome via Souvenir Cornici e Stampe
No.11: PRINTS FROM ROME – ANCIENT ROME SOUVENIRS
This is the place to buy a memorable quality souvenir of your time in Rome.
Prints from Rome sell original Antique prints of Rome, and modern limited edition etchings and antique engravings, in both black and white, and sepia tones.
You will find reproductions of famous Rome illustrations that feature drawings of ancient historical buildings and the architecture of famous Rome locations including:
the Trevi Fountain
the Pantheon
the Capitol
the Colosseum
the Spanish Steps, and
Piazza Navona.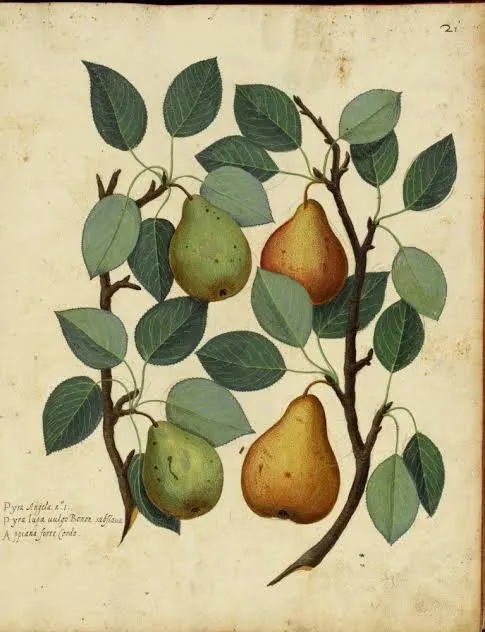 Botanical illustration, medieval Italy by Ulisse Aldrovandi.
Prints of Famous Italian icons
In this unique shop near the Piazza Navona, you can find sketches of:
botanicals
flowers
animals
Pinocchio
vespas
Italian breakfasts
Fiat cars
hand painted Lambretta and wasp scooters, and
Madonnas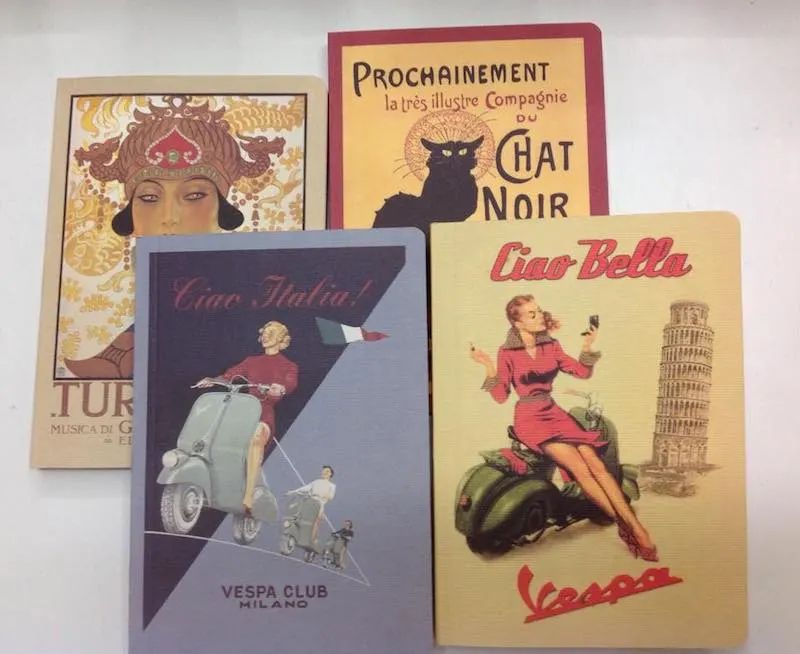 Image credit: Prints from Rome via Souvenir Cornici e Stampe
Roman Souvenirs on a budget
Plus, Roman souvenirs for every budget including:
calendars
greeting cards
postcards to frame
guides and photo books of Rome.
Plus bronze statues, ornamental busts of Roman leaders, Roman Centurion helmets and Gladiator helmets, and a tonne of maps to frame for your living room wall!
Opened in 1975, the Prints from Rome shop continues to be run by the owner and his daughter.
Address: Via Della Cuccagna 19, 00186 Rome
Telephone: +39 06 6875822
Open: 10am to 7.30pm
Facebook: Click here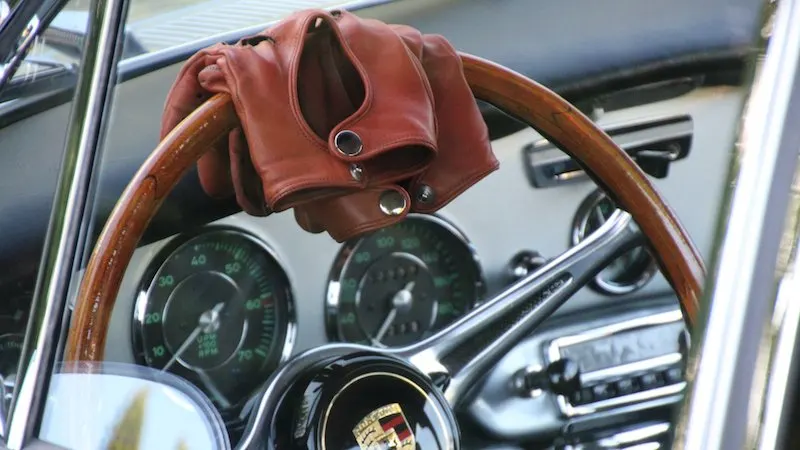 Image credit: Creative Commons Zero – CC0
No.12: MERCATO MONTI URBAN MARKET FOR UNIQUE SOUVENIRS FROM ROME
This Roman market a few steps from the Colosseum is the ideal place to collect beautiful, unusual handmade things from Rome designers including:
stylish leather gloves
bags
handmade jewellery
Rome fashion
accessories
perfume
skincare
art prints
illustrations
artworks
footwear
dresses
brooches
ring stands
leather wallets
purses, and
quirky ornaments.
Want to know where to buy scarves in Rome? This is the spot.
You might also find handmade ceramics and pottery in Rome here too.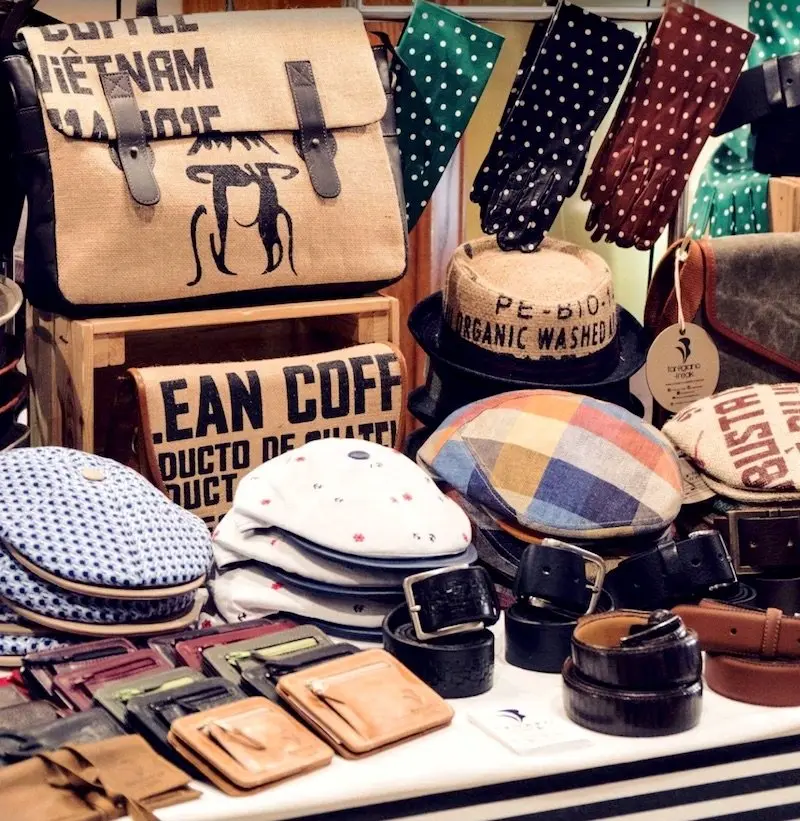 Image credit: Mercato Monti via Google Maps
This is the place to find the BEST GIFTS from Rome.
If you want to go clothes shopping in Rome, or want to find the best handbags in Rome made by local craftspeople, pop it on your Rome itinerary.
Meet the designers, talk to the shop keepers, and support local talent in this market.
It's the place to be if you are a young Italian fashion designer, or a lover of vintage style, so the people-watching is on point too.
Keep up to date with the latest news on designers, features on artists, new stallholders, upcoming events and more on Facebook.
Address: Via Leonina 46, Rione Monti – Rome . conference hall of the Grand Hotel Palatino
Open: Saturday and Sunday, 10.00am – 8.00pm. All weekends from September to July.
Entry: Free admission.
How to get to Mercato Monti Urban Market
Metro: B stop Cavour.
Buses 117: Via dei Serpenti , 75 Via Cavour- 70, 64, 60, 40 Via Nazionale
---
RELATED: Our Review of the Porta Portese markets in Trastevere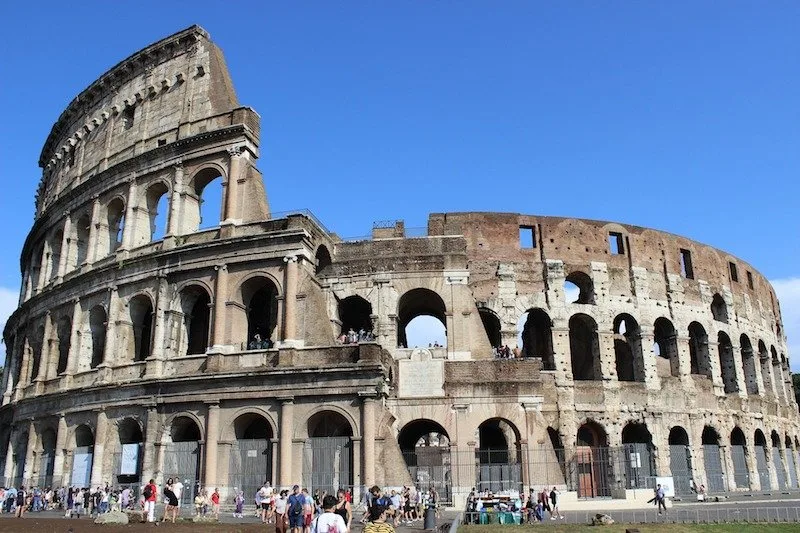 Image credit: lolsanches from Pixabay
No.13: UNIQUE GIFTS FROM ROME BY TREVIMAGE PHOTOGRAPHY
Want to find awesome photography prints of Rome to take home for your living room walls?
This is the place to find high resolution photography of Roman historial sites, and you'll find it just near the Trevi fountain.
Trevimage sells everything from magnets and small frames, right up to giant sized prints for the biggest rooms in the house, and all at reasonable prices.
Carlo de Gori is the man behind the camera, and he loves to share stories about his Rome with anyone who comes in through the door.
Address: via degli avignonesi 29/a (Via del tritone), 00187 Roma Lazio, Rome.
Open: Monday to Saturday 10am to 8pm
Website: Click here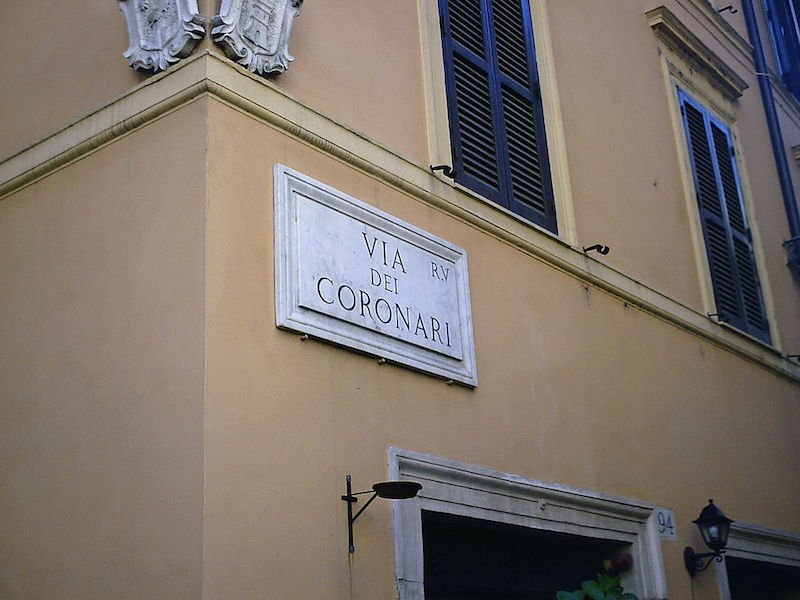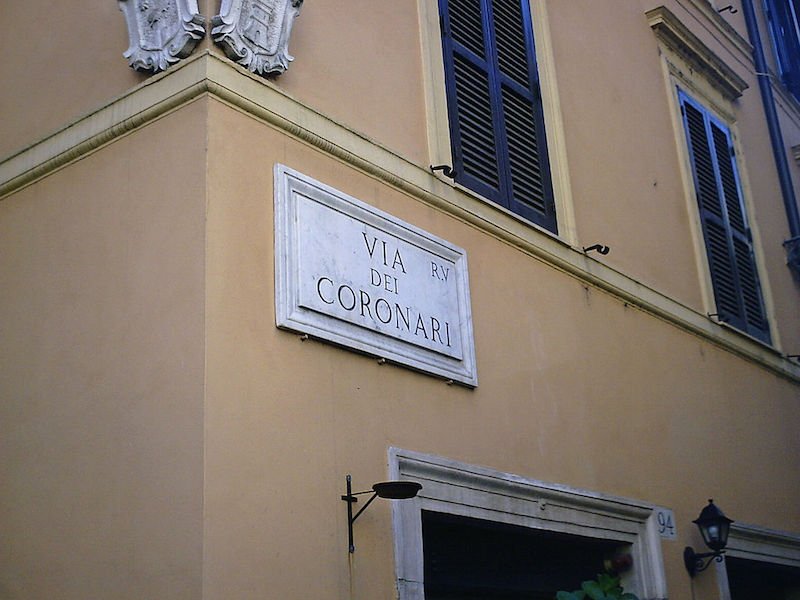 Image credit: Wikipedia via Creative Commons
No. 14: ROMAN ANTIQUES & DESIGNER GOODS
Via dei Coronari is the picturesque spot in Rome to find all the best antique stores in one narrow laneway.
Tucked away behind Piazza Navona, we suggest you take a wander for the sheer charm of it!
Ancient cobblestones
window shopping
Italian fashion
It's a romantic stroll done a peaceful historical street reminiscent of old Rome.
The street is named for the rosary beads ("corone" in Italian) that visitors bought from the shops on the street on their way to the Vatican to visit St. Peter's Tomb.
There's a bunch of pizzerias, gelaterias, and souvenir shops en route too.
---
BOOK NOW: Take a Baroque Rome Walking Tour around this area, and enjoy an ice-cream at one of Rome's oldest ice creameries.
Image credit: Roberto Radimir
No. 15: BEST ROME BOOKSHOP FOR THE AVID READER
Altroquando is the best kind of bookshop.
Filled with unique and unusual finds in both Italian and English, they stock a range of coffee table books featuring:
Italian design
Italian homewares style
Handmade stationery and craft
Italian gourmet cooking, and Italian home cooking
Film and cinema
Travel and art
Photography and
Illustration.
The best bit?
It's open till 1am weekdays, and 2am on Saturday and Sunday!
Altroquando opens at 10.30am daily.
Address: Via del Governo Vecchio, 82, 00186 Rome.
Website: Click here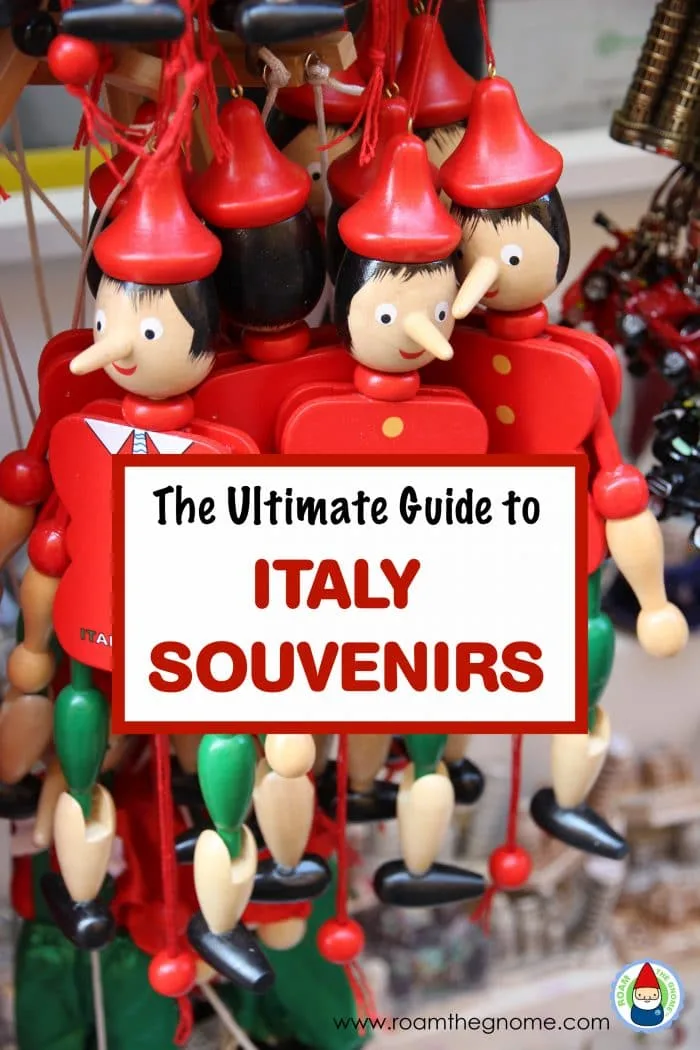 THE INSIDE SCOOP: Shopping for Rome Italy Souvenirs off the beaten track
If you are looking for Italy souvenirs, we suggest digging a little deeper than the main shopping streets in Rome (Via Del Tritone, Via Del Corso) and walking the back streets.
It's our tip for finding awesome souvenirs to buy in Rome too.
Our explorations on foot near the Vatican led us straight to the souvenir shop where we bought Ned's plastic gladiator training suit at half the price we'd seen earlier.
And we would never have found the little Pinocchio shop hidden on a back lane without our relaxed meandering.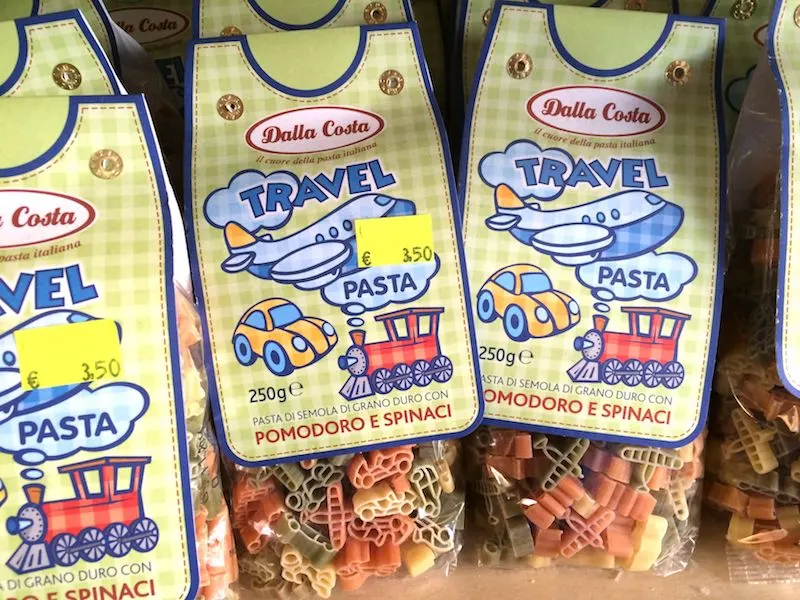 How to Find Unique Gifts to Buy in Rome
Wandering the backstreets of Rome is the best way to find the best souvenirs from Rome that you've not seen elsewhere.
Avoid sticking only to the multinational stores on the main road.
The best treasures are tucked away where rents are cheaper.
Shopping Rome – City Map for Italy Souvenirs
Looking for MORE SUPER DOOPER FUN things to do in Rome?
Click the links in blue below.