INSIDE: Roam the Gnome's Guide of Things to do in Borghese Gardens
Villa Borghese Gardens are Rome's best kept secret!
The Rome Villa Borghese Gardens is a hidden gem, north of the city and high up above the Piazza dei Popolo.
The Borghese Gardens cover an area of over 197 acres or 80 hectares, and is the third largest park in Rome.
Roam the Gnome, the kids and I were gobsmacked to find this gigantic open-space park in the centre of the city.
It's THE place for families travelling with kids to get away from the hustle and bustle of busy Roman streets, tourists, and pickpockets at train stations. The Borghese Gardens gave us the space to catch a breath.
There's tonnes to do here too.
Take a look at the best things to do in Borghese Gardens below.
Disclosure: This article contains affiliate links. If you make a purchase after clicking on one of these links, we may receive a small commission at NO extra cost to you.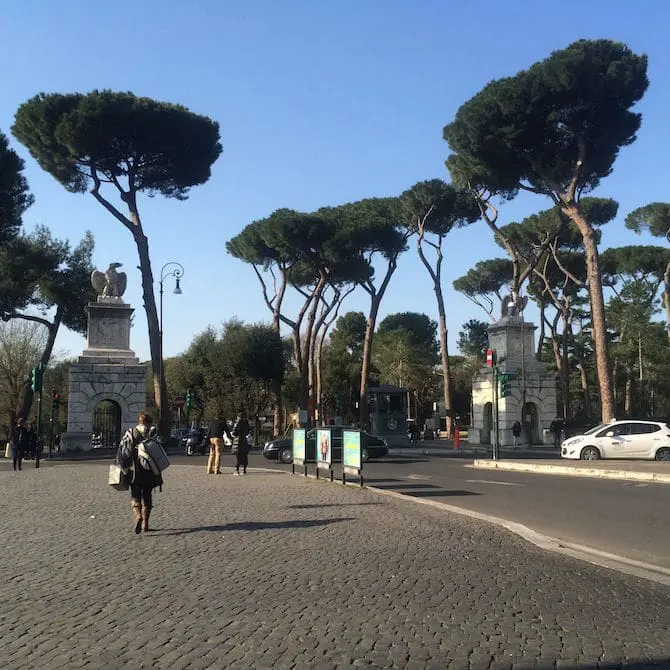 BEST THINGS TO DO IN BORGHESE GARDENS ROME
Villa Borghese Gardens is the Hidden Gem of Rome.
The Villa Borghese Gardens contain historic buildings, and a replica of Shakespeare's Globe Theatre built in 2003.
Sculptures and statues stand on every corner.
There are also museums and art galleries and walking tours of the well known Galleria Borghese.
There are also things in the Borghese Gardens that is of most interest to children and those on family vacations.
Plus spectacular views of the city of Rome, and the ancient Piazza del Popolo obelisk and Roman square.
You won't run out of options.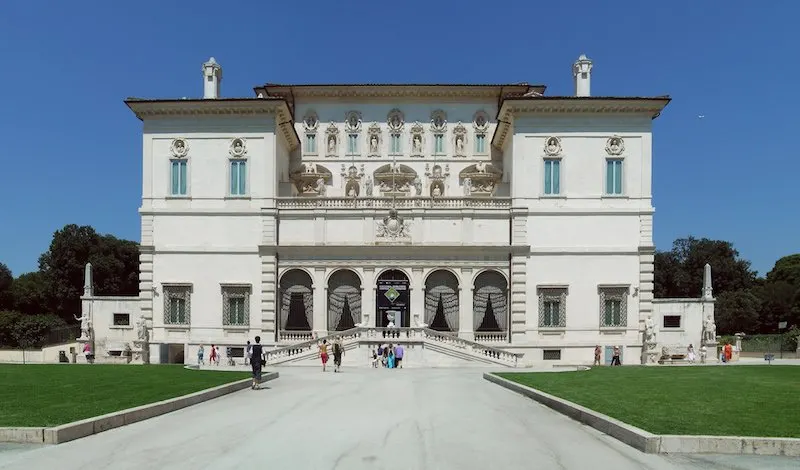 Image credit: Alessio Damato via Wikipedia CC BY-3.0
No.1: Borghese Museum and Gallery
The prestigious Galleria Borghese art gallery in Rome, Italy, is housed in the former Villa Borghese Pinciana.
Find artworks by Tiziano, Raphael, Caravaggio, Rubens and Botticelli on the first floor.
There's mosaics of gladiators in battle and rare Roman sculptures by Bernini and Canovas on the ground floor.
Book Borghese Gallery tickets here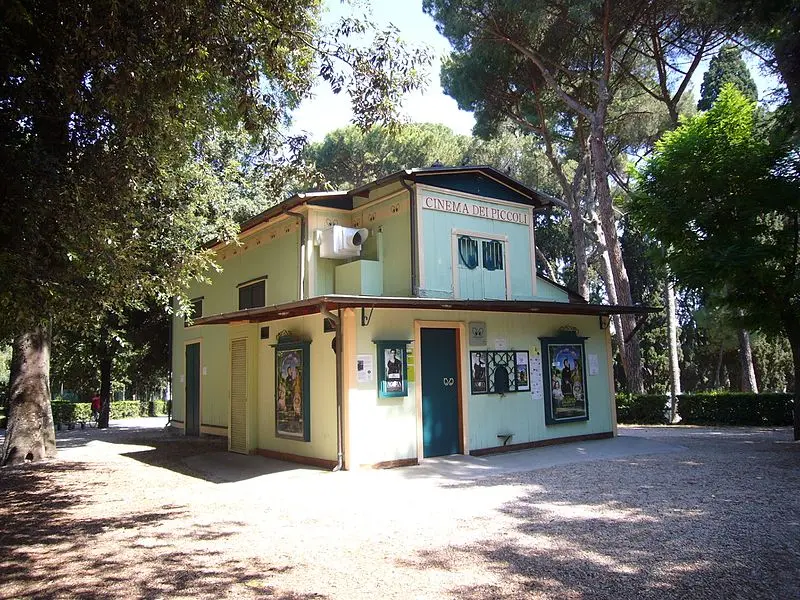 Image credit: Lalupa via Wikipedia CC BY-3.0
No.2: Cinema House – Cinema Dei Piccoli
Famous as the smallest cinema in the world, this cinema in the Borghese gardens shows both children's flicks and adult movies too.
Take in a show.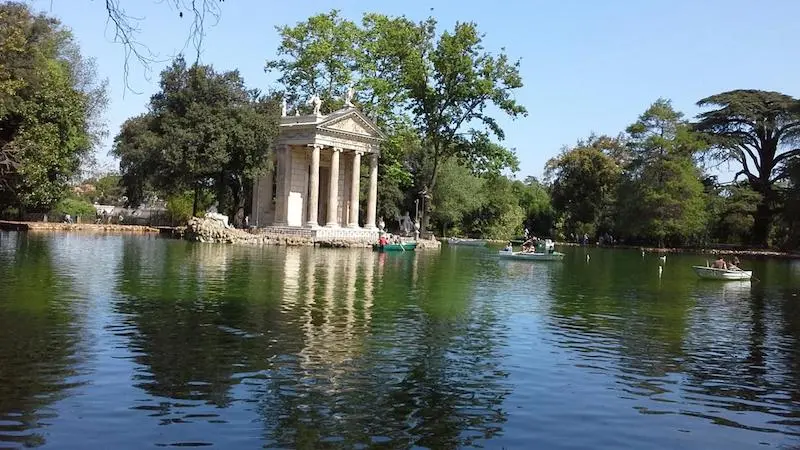 Image credit: Laghetto di Villa Borghese
No.3: Lake Garden and Temple of Aesculapius
Visit the antique Temple of Aesculapius in the gardens.
It's a ancient Roman sight to behold with imposing columns and sculptures on the roof.
No.4: Villa Borghese Boat Rental – Noleggio barche nel "Laghetto di Villa Borghese"
This is where you can hire a boat at Villa Borghese to row around the lake, accompanied by friendly ducks.
At only €3 per person to hire the rowboats in Villa Borghese, for around 20 minutes ride time, it's a cheap thing to do in Rome with kids.
Look for the sign that says "Barche"
(Barche in Italian means boat)
Click here for their facebook page.
No.5: Water Clock at Villa Borghese
The working Water Clock fountain in the Villa Borghese gardens was created for the Paris Universal Exposition of 1867, where it won numerous awards for it's cleverness.
See it in the gardens, reimagined as a fountain by architect Gioacchino Ersoch in 1873.
Image credit: Antonino Mancuso
No.6: Aviary and Secret Gardens
The beautifully symmetrical "Giardini Segreti" secret gardens house a pavilion called "l'Uccelliera," (the Aviary).
This pavilion building was constructed to house a prized collection of rare and exotic birds.
Find it in the backyard of the Museo e Galleria Borghese, alongside the walkway Viale dell'Uccelliera.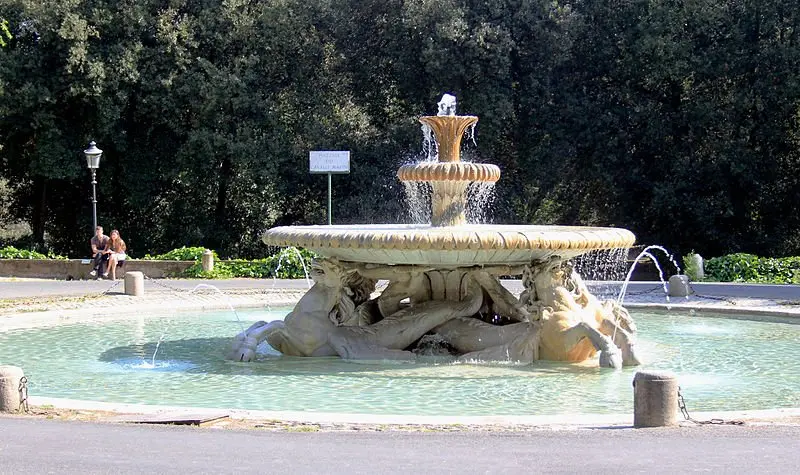 Image credit: Karelj via Wikipedia CC BY-1.0
No.7: Fountain of the Sea Horses
The Fountain of Sea-Horses at Villa Borhgese gardens was designed by the painter Cristoforo Unterperger and carved by sculptor Vincenzo Pacetti.
Take a seat on one of the few benches around, and admire it for a time!
Address: Viale dei Cavalli Marini, 00197 Roma RM, Italy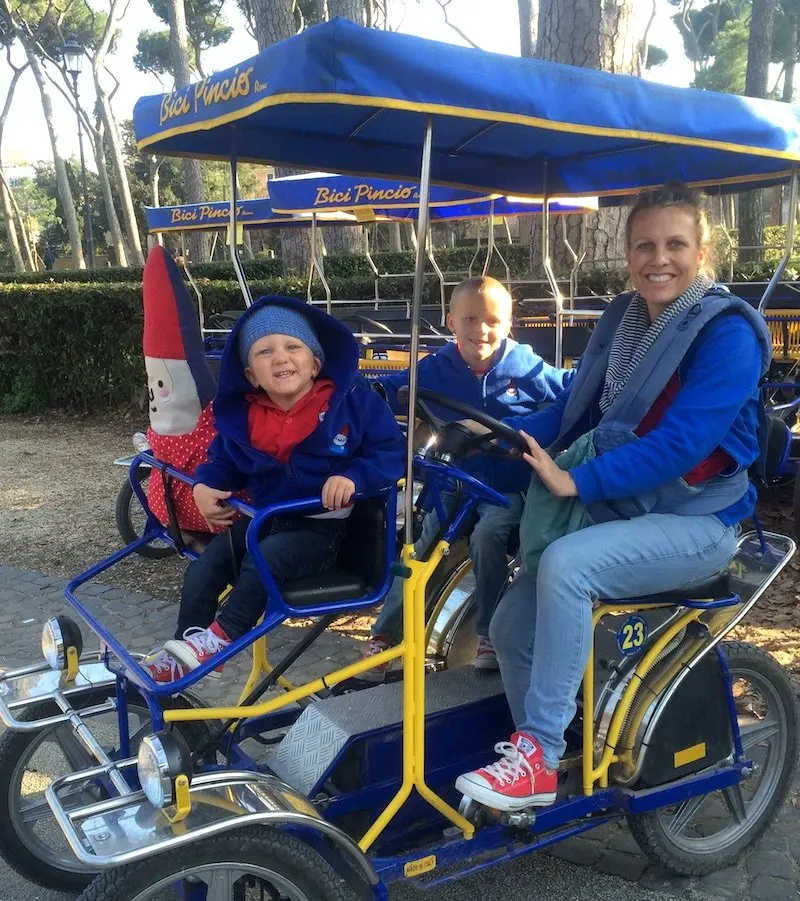 No.8: Villa Borghese Bike Rental
The whole family will be enraptured by the prospect of riding a motorised pedal car around the manicured gardens, waving hello to everyone you pass.
It's a magnificent adventure.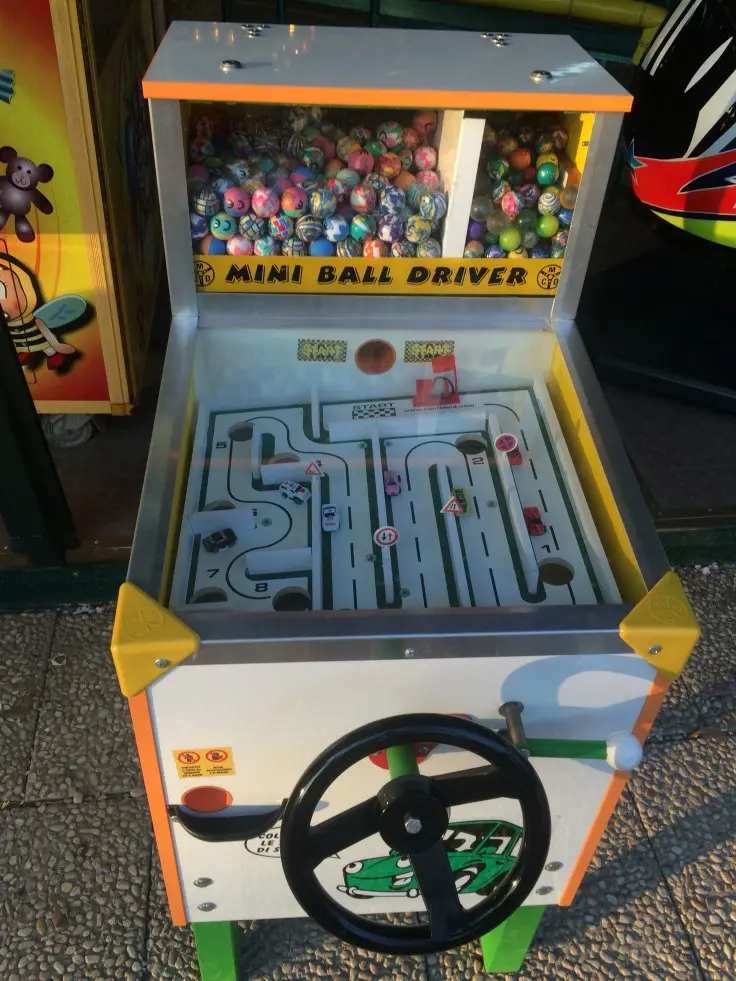 BEST THINGS TO DO IN VILLA BORGHESE WITH KIDS
Ride the Borghese gardens train around the park to see all the sights, then stop off here:
Villa Borghese Games Arcade
The kids will be thrilled with the old-fashioned open-air games arcade
Bioparco Zoo
Bioparco Zoo – a 17-hectare (42-acre) zoological garden located in the northern part of the original Villa Borghese estate in Rome, Italy.
Opened on 5 January 1911, the zoo was designed to hold exotic animals for display.
But after falling into disrepair, the zoo was transformed into a Bioparco di Roma in 1998 and currently is home to around 1,114 animals of 222 species.
Casina di Raffaello (play centre for children)
Head to this top spot for kids in Rome.
There's workshops, art, AND a fabulous book shop & souvenir shop.
Find details of these three activities at Villa Borghese for kids, and more in this guide of 13 things to do in Villa Borghese gardens with kids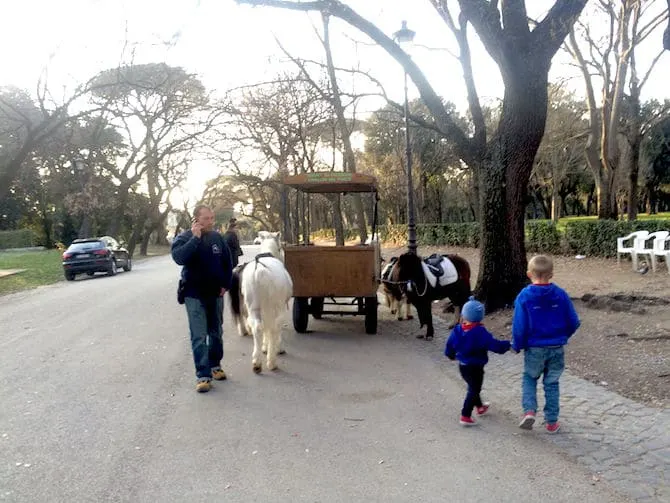 THE INSIDE SCOOP: Rome Villa Borghese Italy
Correct at time of publication on Roam the Gnome. Please check with venue for updates. We apologise in advance if there have been any changes we are unaware of. All prices in euro, unless otherwise stated
Address: Piazzale Napoleone I, Rome
Telephone: Servizio Giardini 06 6710 9312 – 06 6710 9315
Entry points:
Via Aldrovandi
Via Raimondi (2 inputs)
Via Pinciana (2 inputs)
Piazzale San Paulo
Piazzale Flaminio
Piazzale Cervantes
The Spanish Steps lead up to this park and there is another entrance at the Porte del Popolo next to Piazza del Popolo, not that we could find it!
This is one time we'd suggest turning on your data roaming and follow your google map right to the entrance. The Villa Borghese Gardens are hidden in plain sight!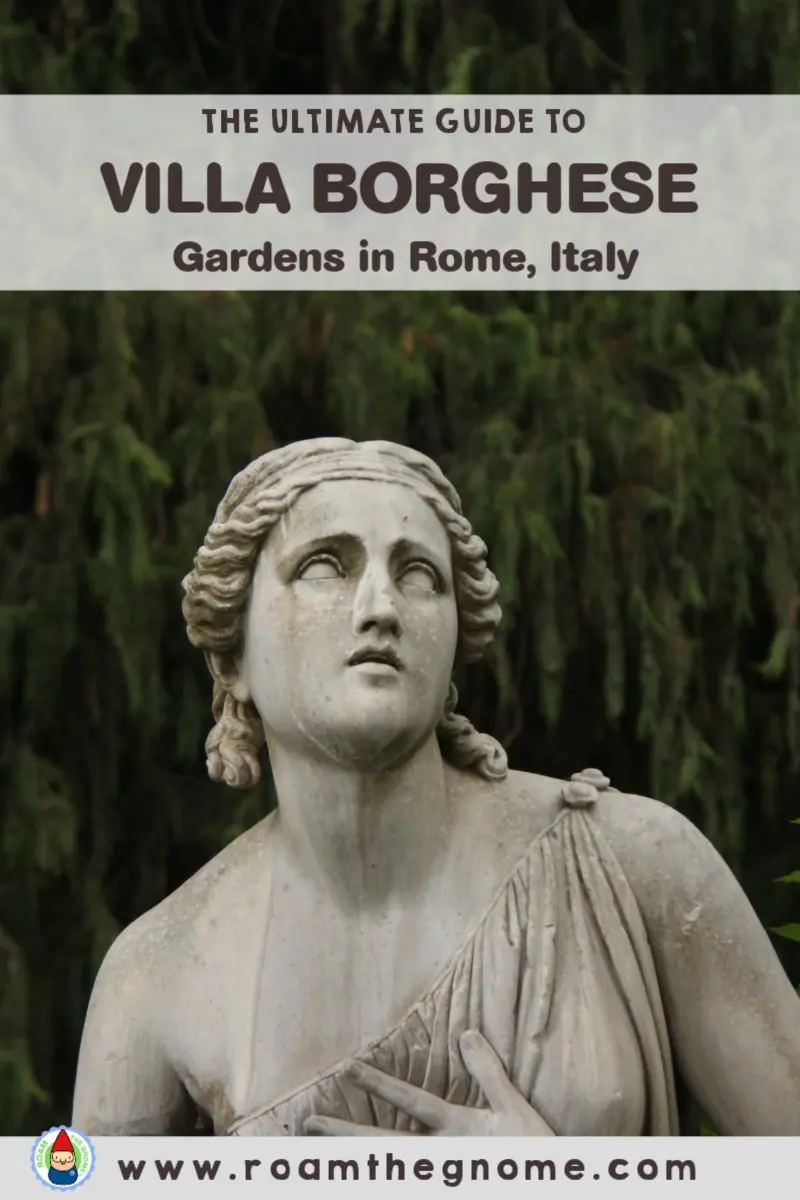 Villa Borghese Gardens Opening Times
The Villa Borghese Rome is always open.
Some gated areas close at sunset.
Villa Borghese Entry fees
Is Villa Borghese free? Yes. Admission to the Villa Borghese Rome is free.
Some attractions within the Villa grounds attract a fee, for example:
Villa Borghese bike hire
Villa Borghese zoo entry
Villa Borghese gallery entry.
Villa Borghese Gardens Map
Toadstool Rating: Villa Borghese Gardens Rome
If you are in Rome visiting the Roman Forum, Vatican City, the Vatican Museum, Sistine Chapel, and Piazza Navona, add this park in Rome to your list.
This is up there with the best free things to see in Rome.
In fact, you might agree it's the best surprise find on the itinerary!

Looking for MORE SUPER DOOPER FUN places to visit in Rome?
Click the links in blue for more Rome tips below.