INSIDE: Roam the Gnome's Guide to The Farm Byron Bay menu & things to do for kids
The Farm Byron Bay is one of the best places to visit in Byron Bay with kids.
It's a wide open space, with farm animals, exquisite gourmet food & snacks, coffee and chai on the go, AND a rustic playground.
What's not to love?
But the highlight is eating there.
Take a sneak peek at The Farm Byron menu (and things to entertain the kids too) .
Disclosure: This article contains affiliate links. If you make a purchase after clicking on one of these links, we may receive a small commission at NO extra cost to you.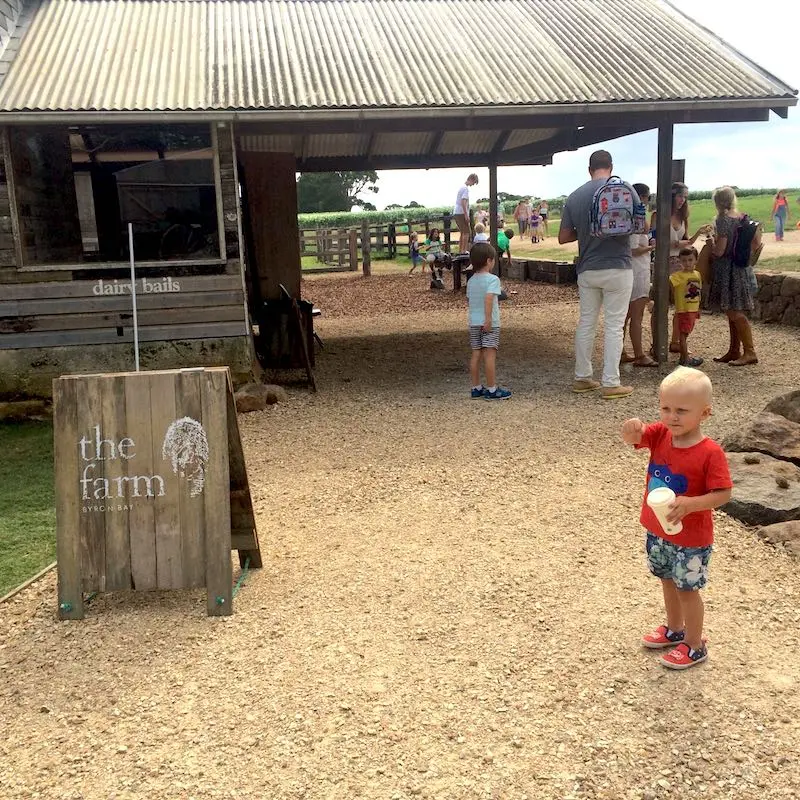 Best Things to do at The Farm Byron Bay New South Wales
The Farm is an initiative of Tom Lane (heir of the Oroton fashion empire) along with his yoga-teacher and marketing-savvy wife Emma, and their family.
Wanting to give something and to build a community around sustainable farming and food production, the Farm delivers on their personal promise to:
provide 100% chemical and spray free food
collaborate with local producers to offer cheeses, breads, and other locally-grown foods to visitors and residents of the area
provide space and time for health initiatives such as Farm Yoga
provide workshops such as Permaculture, Fermentation (DIY Kombucha…yum!), and flower arranging
host children's school holiday activities
The Three Blue Ducks Restaurant and Cafe is thriving, there's flowers and cheese and produce to snap up to take home, the pigs have had piglets, and the chickens are squawking happily!
It's good, it's abundant, it's fresh, and it's real!
---
RELATED: The Ultimate Guide of Things to Do in BYRON BAY with kids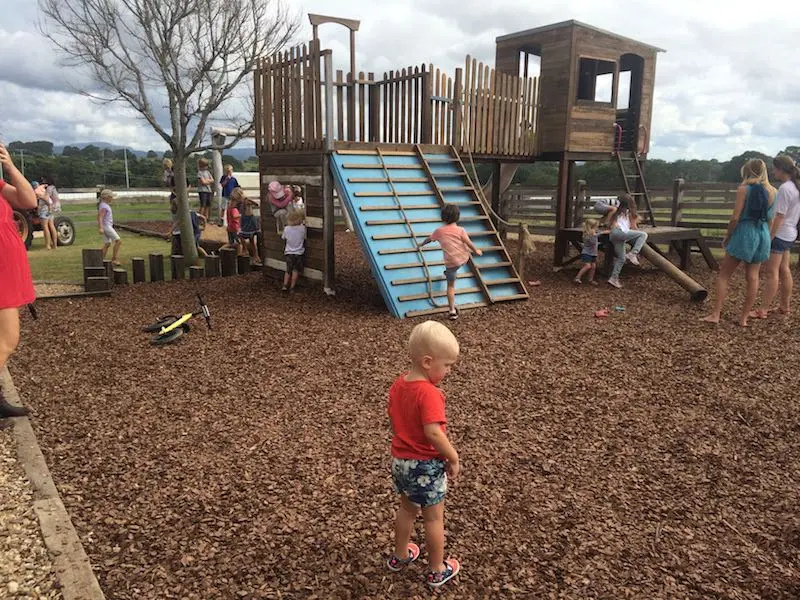 The Farm Byron Bay NSW Playground
Kids (and parents) love the playground.
This rustic handmade timber play space is one of Byron's best playgrounds for kids.
Kids can climb, swing, head up the ladder into the cubby, balance on the upright logs, slide and play on the retired tractor.
It's within sight of the cafe and restaurant, so older kids can play while you eat.
If you have young kids, grab a takeaway coffee, and a pastry, and keep watch over the little ones while you chat with friends.
---
RELATED: The Macadamia Castle Byron Bay is the best day out for kids in Byron Bay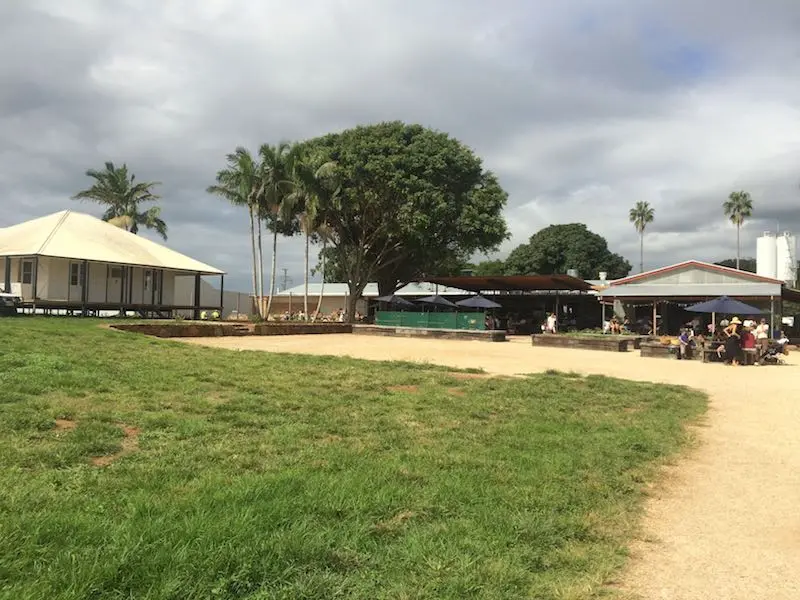 WHATS ON AT THE FARM BYRON BAY
No.1: The Farm Byron Bay Kids Activities
Farm Kids School Holiday Programs take place every NSW School holiday break.
Book the kids in for a session:
Mini Farmers
Farm Kids Veggie Workshops
Farm Kids Animal Workshops, and more.
---
RELATED: Looking for things to do in Byron Bay when it rains? Visit Circus Arts Circus school in Byron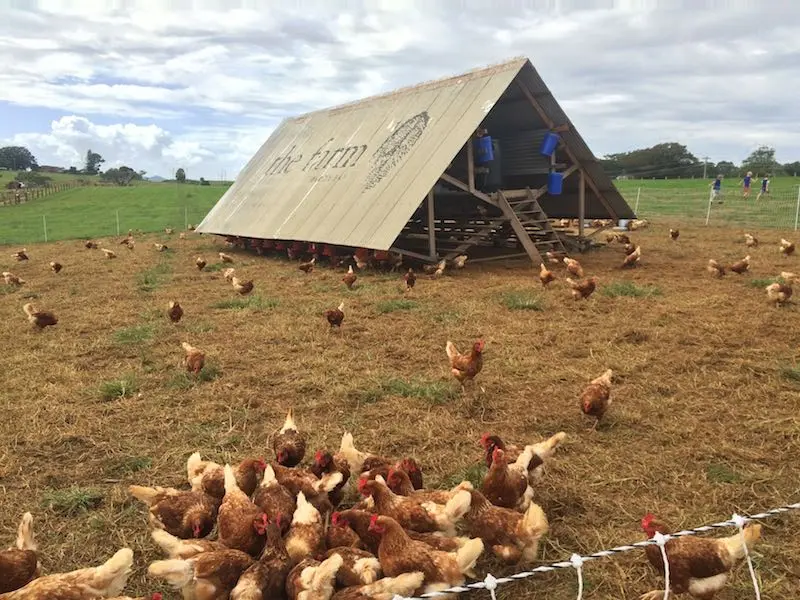 No.2: Animals at the Farm at Byron
Say hello to their 400 odd Bond Brown chickens, the family of English Large Black pigs, the farm's herd of beef cattle, and their two Farm Mascots:
Braveheart the Scottish Highland Cow, and
his mate Silence, the lone sheep on the farm.
Book Now: Byron Bay Hinterland & Banglow Full Day Guided Tour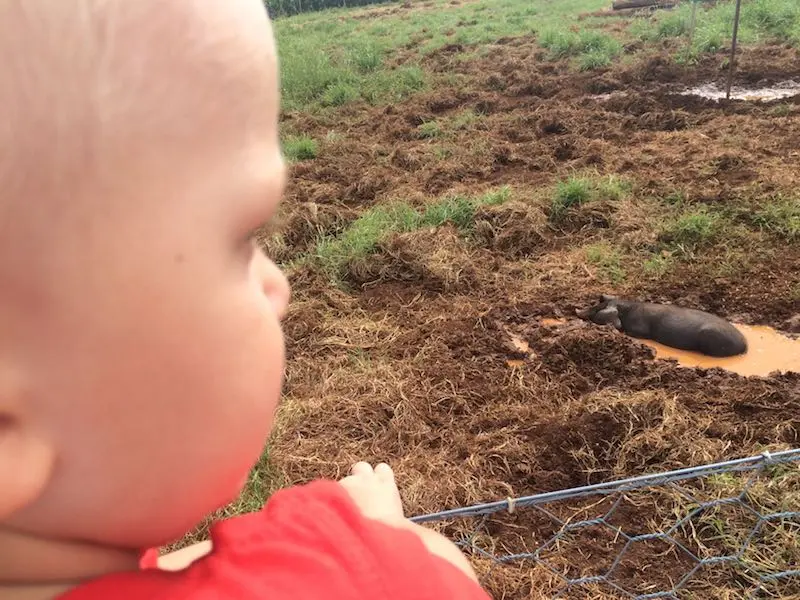 No.3: The Farm Byron Bay Workshops for Adults
Book in to learn:
sourdough bread baking with the team from The Bread Social
basic beekeeping techniques for keeping bees in your backyard & find out all about the ingenious Flow Hives, designed locally by a father and son team. Taste honey from the hive too!
farming industry techniques
You can also book a Farm Tour by horseback!
These happen Monday to Saturday, at 7am, 8.30am and 10am.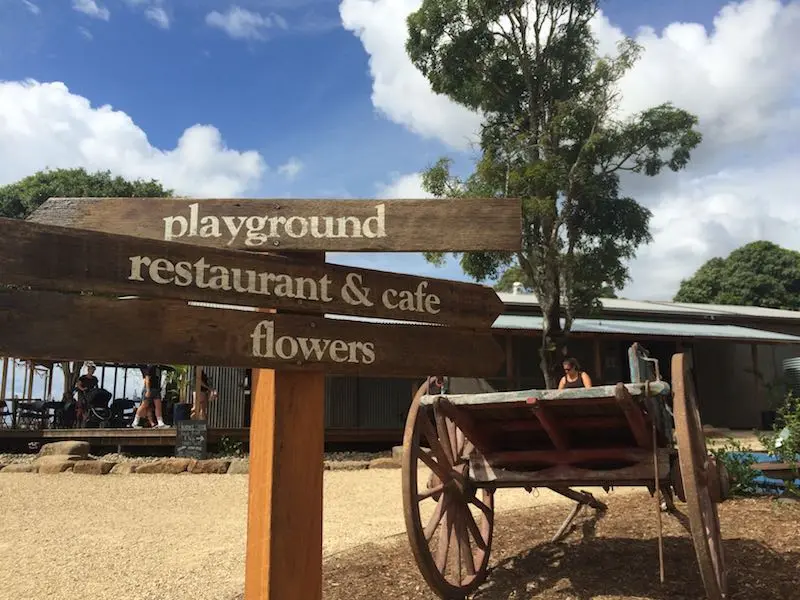 THE FARM BYRON BAY FOOD
Situated on a 32-hectare site just as beyond the Byron exit turnoff, The Farm is already a little village community all to itself, an offshoot of the thriving green community of Byron Bay township.
This cafe restaurant farm combo is VERY popular with local school mamas, as well as the Byron and Bruns creatives who work from home and need regular face-to-face meet ups before going stir crazy.
For those of us tagging kids along, there's nothing better than bringing your kids to a cafe that actually invites them in with a big charming rustic playground, melt in your mouth berry muffins, and local ginger beer.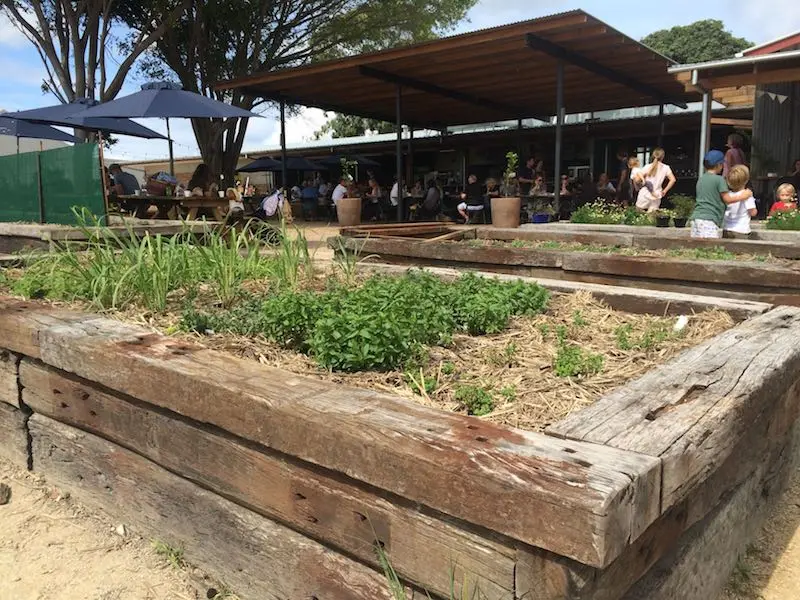 THE FARM BYRON BAY RESTAURANT THREE BLUE DUCKS
Three Blue Ducks Byron Bay
The Three Blue Ducks restaurant came about when five mates decided to go into business together to build not just a restaurant, but a following and a community of people who love good food.
Their salads are bright, colourful and divine.
No.1: The Farm Byron Bay Breakfast Menu (& lunch)
Try their Coconut Porridge with banana compote and Byron Glow granola, or their XO mushrooms with scrambled eggs, shallots and sourdough.
Or a free range bacon and egg roll with cheese, slaw, bacon relish and chilli.
The dishes are drop dead gorgeous, and so is the presentation.
Drop in for Breakfast or Lunch from Monday – Sunday.
Open at 7am until 2pm.
Click here for the The Farm Byron Bay breakfast menu
No.2: The Farm Byron Bay Menu for dinner
The Farm Byron Menu at Three Blue Ducks includes things such as:
slow cooked lamb shoulder with chimichurri and eggplant curry
farm green vegetable curry with ginger, coconut, tatsoi, and brown rice
Brooklet spring chicken with corn, macadamia miso, barley and salsa verde
The atmosphere here at night, when the hoards of day trippers have gone, is magical and romantic.
Click here for the Farm Byron Bay dinner menu
They even have a KIDS MENU for 'Ducklings'!
Dinner is served on Friday through Sunday from 5pm until late.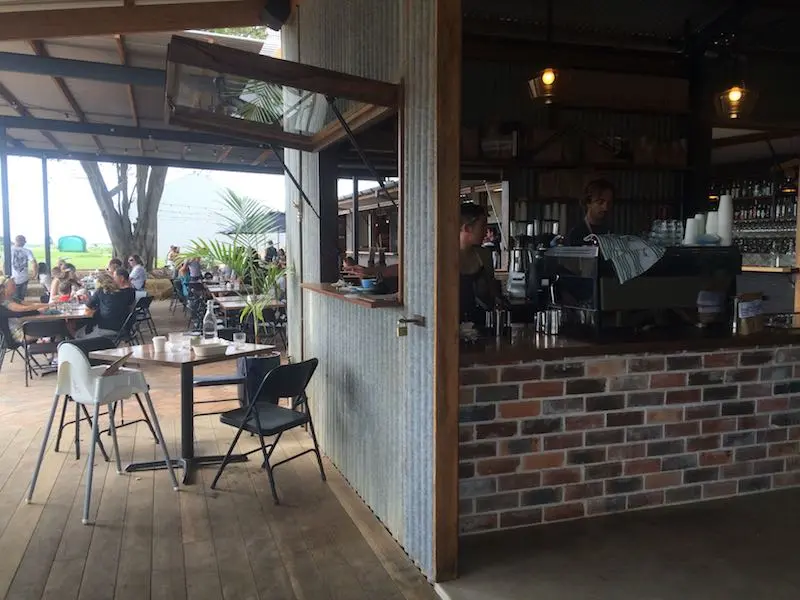 No.3: The Bread Social at the Farm
The Bread Social bakery whips up gorgeous loaves of bread and daily treats.
This artisan bakery is famous for:
Pain au Chocolat
Danish pastries
Biodynamic sourdough loaves
Spelt bread
Ciabatta bread
Lemon Meringue tarts
Cinnamon custard scrollio
Christmas mince pies
Raspberry tarts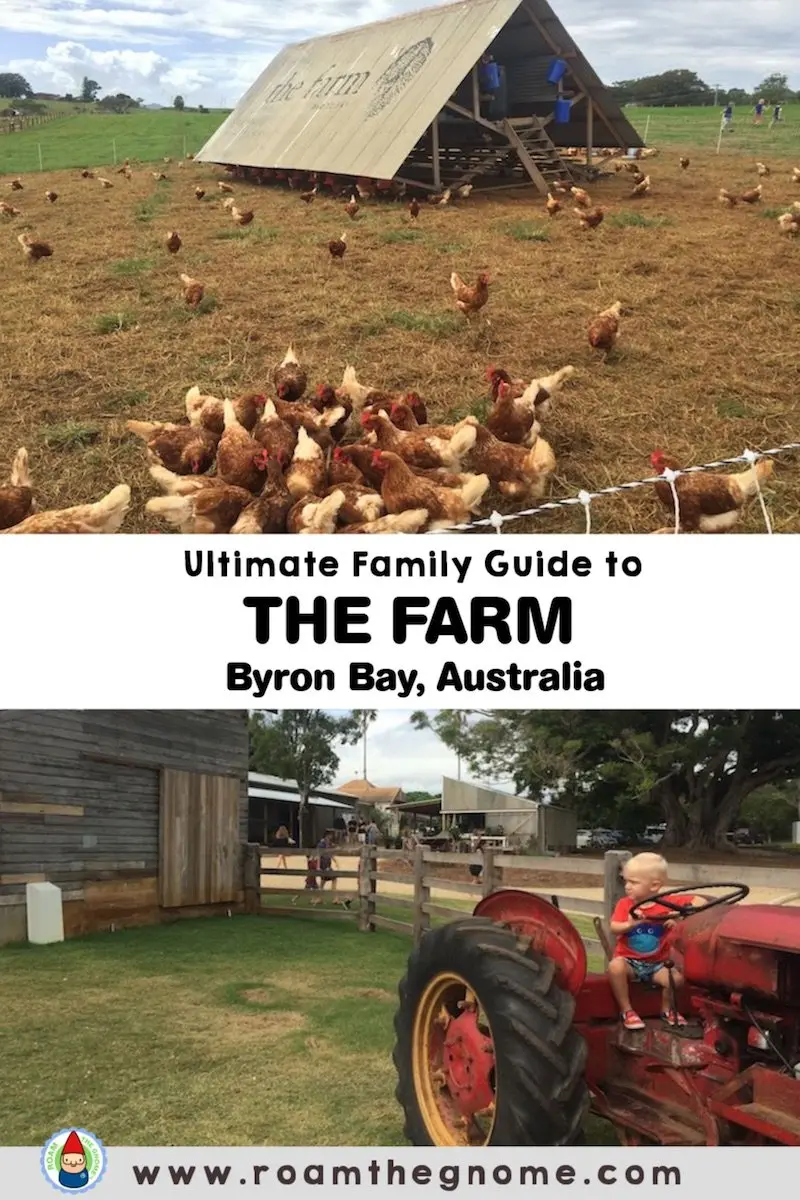 No.4: Baylato Gelato
Right next to the playground, you'll see the Dairy Bails, home to Baylato Gelato.
Pick up a sweet treat:
home made gelato
healthy smoothies
mini pancakes, and more.
Opening hours: Friday-Sunday (10am – 2pm)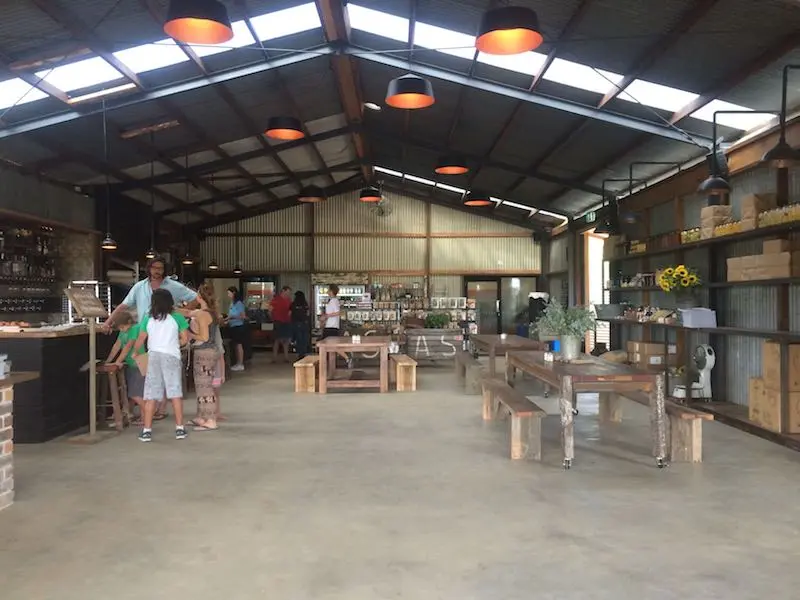 THE FARM GIFT SHOP & PRODUCE STORE
Stop by the Produce Store to pick up gifts including:
Three Blue Ducks cookbook
Muesli
Coffee
Bottled Sauces
Tea Blends
Farm Art (hand drawn illustrations of things around the Farm)
Jute and leather tote bags
The Farm caps
The Farm t-shirts
The Farm Community coffee table book
The Farm Hoodie
The Farm onesie for babies!
No.1: Artisanal produce
There's locally grown and artisanal made food for picnics & road trips including:
small goods from Salumi
Byron Bay Cheese Co delicacies
pickled foods and drinks from Peace Love & Vegetables
Visit the Garden Shed nursery to buy indoor plants, gardening books, home decor items, baskets, pots, cut flowers, and more.
No.2: Flowers at the Farm
Unfortunately, Flowers at the Farm is no longer.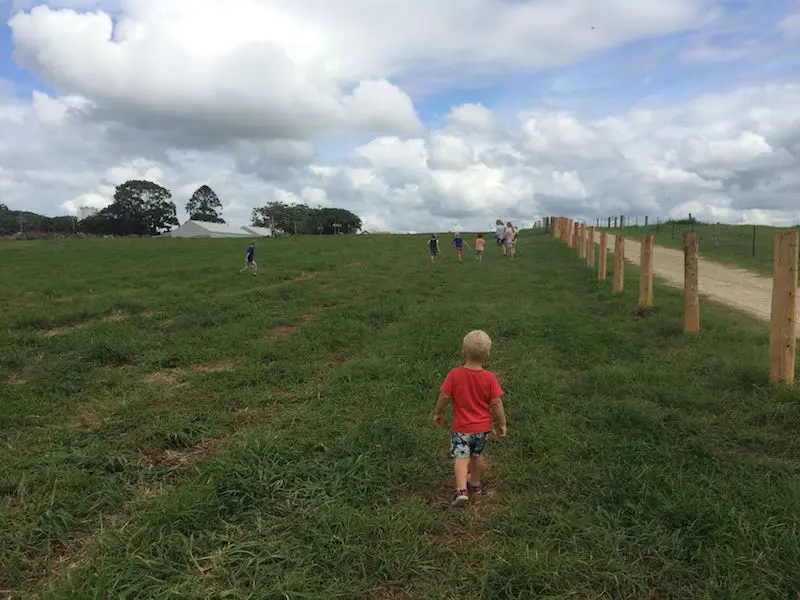 THE INSIDE SCOOP: The Farm at Byron bay
Correct at time of publication on Roam the Gnome. Please check with venue for updates. We apologise in advance if there have been any changes we are unaware of. All prices in Australian dollars, unless otherwise stated
Address: 11 Ewingsdale Road, Ewingsdale New South Wales, 2481
Telephone: 02 6684 7888
Website: Click here
Email: [email protected]
The Farm Byron Bay Opening Hours
7am to 10pm
7 days a week
Entry Fees: FREE!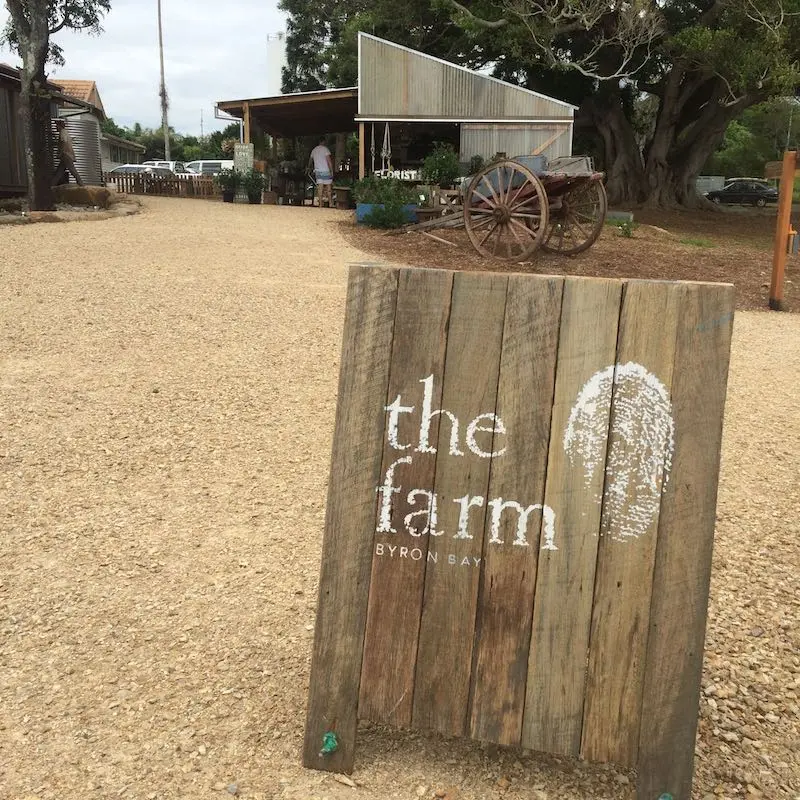 How to get to The Farm in Byron Bay
From Ballina and Gold Coast
Take the Byron Bay exit (30 minutes from Ballina, and approximately an hour from the Gold Coast).
Head towards the round about on the Byron side of the highway.
At the round about take the first exit onto Woodford Lane.
In 200m, turn right at The Farm.
From Byron Bay
From Jonson Street (main street) driving north, turn left onto Lawson Street.
At the round about, take the second exit onto Shirley Street.
Follow Shirley Street (which turns into Ewingsdale Road) for 8.5kms until you reach the round about.
Take the fourth exit onto Woodford Lane. In 200m turn right at The Farm.
Parking at the Farm
There's plenty of free car parking out front of the Farm in their sealed car park.
Map of the Farm Byron
Toadstool Rating Guide: Byron Bay The Farm
A must visit attraction in Byron.


Looking for more fun things to do in Byron Bay shire?
Click the blue links below for more Byron Bay Shire attractions.