INSIDE: Everything you need to know about buying edible flowers Australia style!
When I can't buy airplane tickets, I buy pretty things instead:
super cute colorful dresses
bright statement earrings (THESE CYMK earrings from Owl Workshop are my latest find)
adorable red and white toadstool ornaments to add to my collection.
But there's nothing I like to buy more than pretty things to EAT!
Living near the health-conscious hippy town of Byron Bay in Australia, it's easy to find gorgeous multi-coloured cakes with edible flowers in almost all our local health food shops, bakeries, and cafes. (Vegan cakes too)
These edible fresh flowers for cakes take morning tea to another level.
Eating becomes an enchanted pleasure!
Wondering where to buy edible flowers for cake decorating, want to know where to buy edible flowers for drinks, or searching for edible flowers so you can make one of those divine focaccia bread decorated with garden art that were doing the rounds a while back?
We've rounded up a list of the best places to buy edible flowers in Australia.
Take a look below for details of both fresh edible flowers and dried ones too.
Disclosure: This article contains affiliate links. If you make a purchase after clicking on one of these links, we may receive a small commission at NO extra cost to you. Image credit: Devi Puspita Amartha Yahya on Unsplash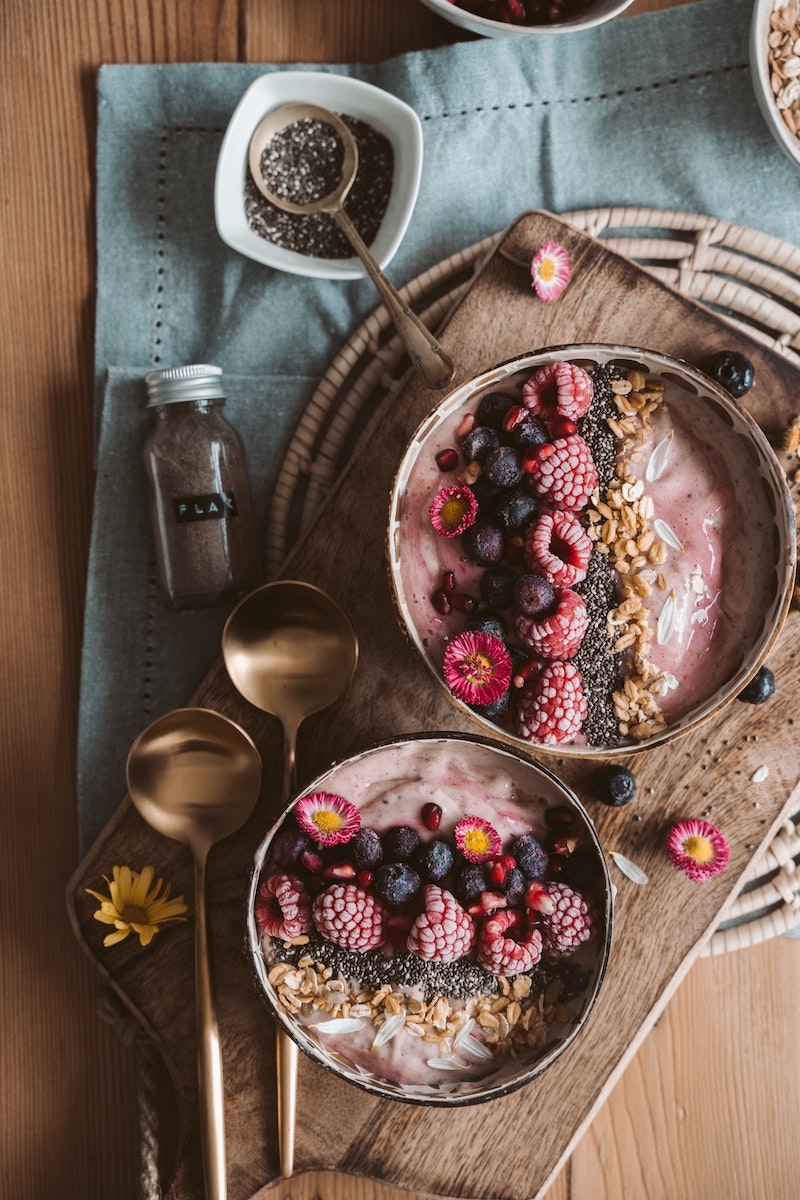 Image credit: Taryn Elliott via Pexels
THE INSIDE SCOOP: Where to Buy Edible Flowers Australia
Correct at time of publication on Roam the Gnome. Please check with venue for updates. We apologise in advance if there have been any changes we are unaware of. All prices in AUD dollars, unless otherwise stated. All content and media on Roam the Gnome is created and published online for informational purposes only. It is not intended to be a substitute for professional medical advice and should not be relied on as health or personal advice.
Flowers are gorgeous edible cake decorations, but there's a caveat.
Be certain to buy edible flowers from reputable sources for your cake decorating, smoothie bowls, cocktails, drinks & charcuterie boards.
Some flowers can be poisonous to humans, so unless you are 100% confident in what you are doing or are accompanied by a edible plant specialist, it's best not to pick things from the garden, willy nilly.
Also, be sure to only use pesticide and chemical free edible flower petals in anything you want to eat.
If you like gardening, why not start an edible flower garden of your own?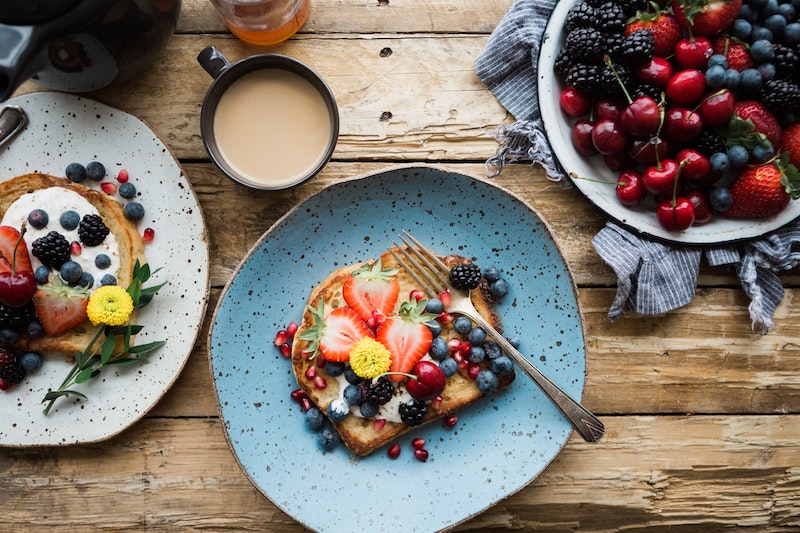 Image credit: Brooke Lark on Unsplash
Common Edible Flowers List (Flowers you can eat)
Eating flowers should be a national pastime.
Edible flower petals add a dash of whimsy and good health to every meal.
In days gone by, this habit was much more common, but thanks to instagram, edible flower garnish displays are on the way back.
Hooray for that.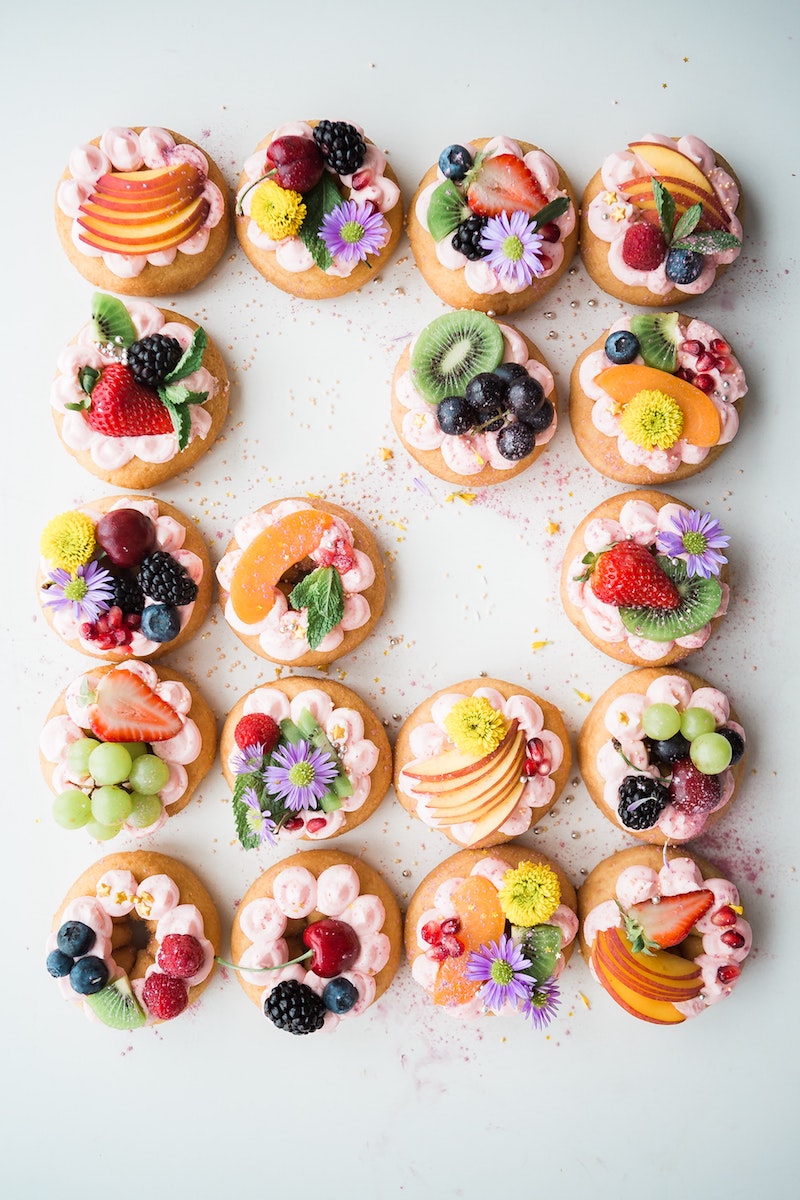 Image credit: Brooke Lark on Unsplash
What flowers can you eat?
There are many types of edible flowers all around the globe, some of whom are medicinal as well as pretty.
Here is a list of the most common edible flowers names from A to Z.
borage flowers
calendula flowers
carnations
chamomile flowers
chive blossoms/chive flowers – these purple edible flowers top of the list of cute!
chrysanthemum flowers
cilantro flowers
citrus blossom
clover
dahlia flowers
daisies
dandelions – late spring blooming
day lily flowers
dianthus
elderflower blossoms
fennel blossom – licorice flavor, good for meat dishes
fringed dianthus
geranium flowers
hibiscus flowers
hollyhock
honeysuckle flowers
impatiens
jasmine flowers
kale flowers – yellow edible flowers
karma orchids – delightful plate garnish
lavender flowers
lemon verbena
lilac flowers
mallow flowers
marigold flowers or gem marigold flowers (calendula)
mint
nasturtiums – peppery flavor
pansies
pea flowers
peach blossoms
peony flowers
primrose flowers
roses
sage
shirley poppy
snapdragon flowers
strawberry blossoms
sunflowers
violets
viola
IMPORTANT: Here is a list of poisonous non edible flowers. Keep it handy.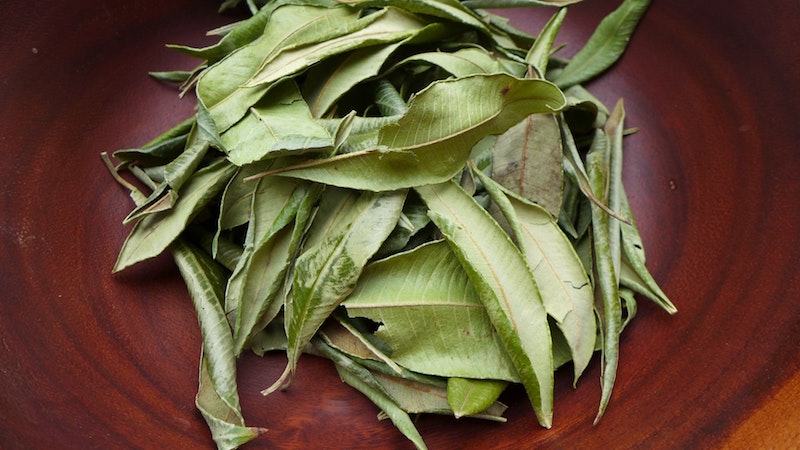 Image credit: Tea Creative│Soo Chung via Unsplash
Edible Australian Native Flowers
Are there any edible Australian flowers native to this land?
There are a couple.
Native honeysuckle flowers are one, Lemon myrtle another.
Can you eat lemon myrtle flowers?
The answer is yes.
It's safe to eat the fruit, the flowers and the leaves of a lemon myrtle tree.
(But not the essential oil of course. That's toxic)
Is the Lilly Pilly edible?
Are Lilly Pillies edible? They are.
But only the fruit.
Eat it fresh from the tree if you dare to risk the lightly sour taste, or try your hand at making lilly pilly jams, sauces and cordials too.
You'll often find jars of these treats at local fetes in Australian country towns.
If you want to know more about Australian native flowers you can eat, and Australian bush tucker plants, check out this facebook page dedicated to Australian Native edible flowers.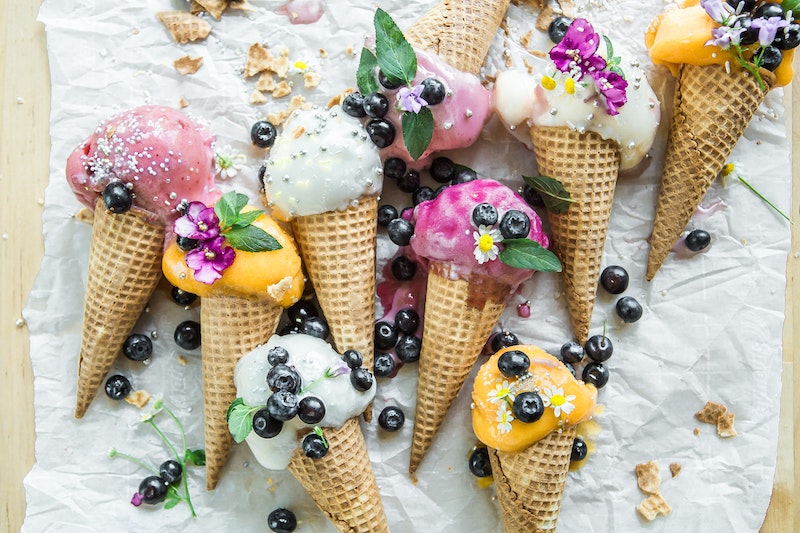 Photo by Brooke Lark on Unsplash
FAQ: What flowers are edible for humans?
No.1: Are pansies edible?
Can you eat pansies?
Yes, you can. They are a gorgeous purple flower that looks great in salads, and as a garnish.
They taste similar to lettuce.
No.2: Are Marigolds edible?
Are marigold flowers edible?
Yes, marigolds have edible orange flowers with a tangy citrus flavour.
Add them to your sodas and icy cold soft drinks.
Can you eat marigolds straight away?
Wash them first, then throw the heads into salads, or add them to your fruit salad.
No.3: Are violets edible?
Are violas edible?
Yes, you can eat the entire thing.
No.4: Can you eat rose petals?
Are rose petals edible? Absolutely.
Rose petals from all 300 odd species of plants are edible.
Hot tip: The best rose petals to eat are the ones that come from sweet smelling plants. Just like strawberries.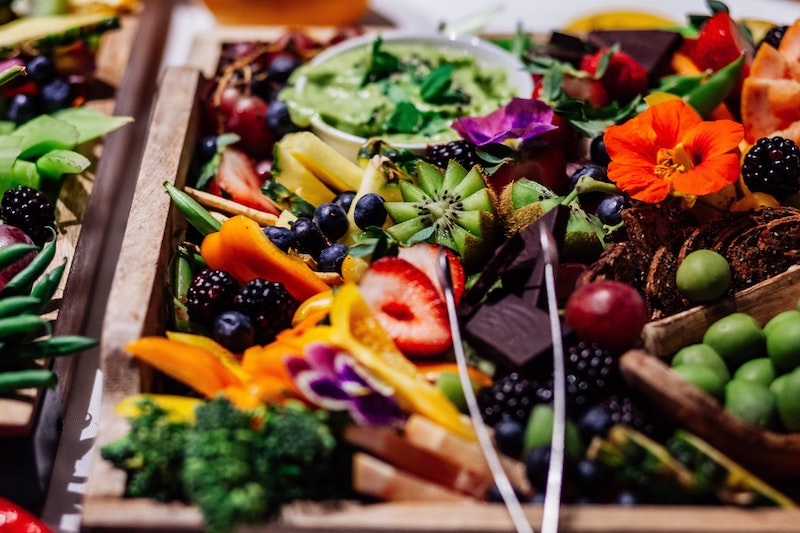 Image credit: Danielle MacInnes via unsplash
No.5: Are nasturtium flowers edible?
Yes, you can eat the flower AND the whole plant.
The green round flat leaves taste somewhat like rocket leaves – a little peppery.
The flowers are sweeter so that combined with their bright orange colour makes them the ideal edible flower for cake decorating.
No.6: Are orchids edible?
According to ATTRA, "the blooms of all orchids are considered safe for consumption, although some types can definitely irritate the stomach".
The advice is to stick to the genus Dendrobia – these edible orchid flowers are used around the world as a garnish and ingredient in recipes such as:
stir fry dishes, in sauce recipes, and boiled for tea in many Asian countries
dipped in batter and deep-fried in Thailand
cakes and desserts garnish in Europe
salad dishes and sugar-coated orchid candies in Hawaii
No.6: Which Hibiscus flowers are edible?
Stick with the roselle or Hibiscus sabdariffa for good measure.
No.7: Can you eat violets?
Yes, it's another of the edible flower range.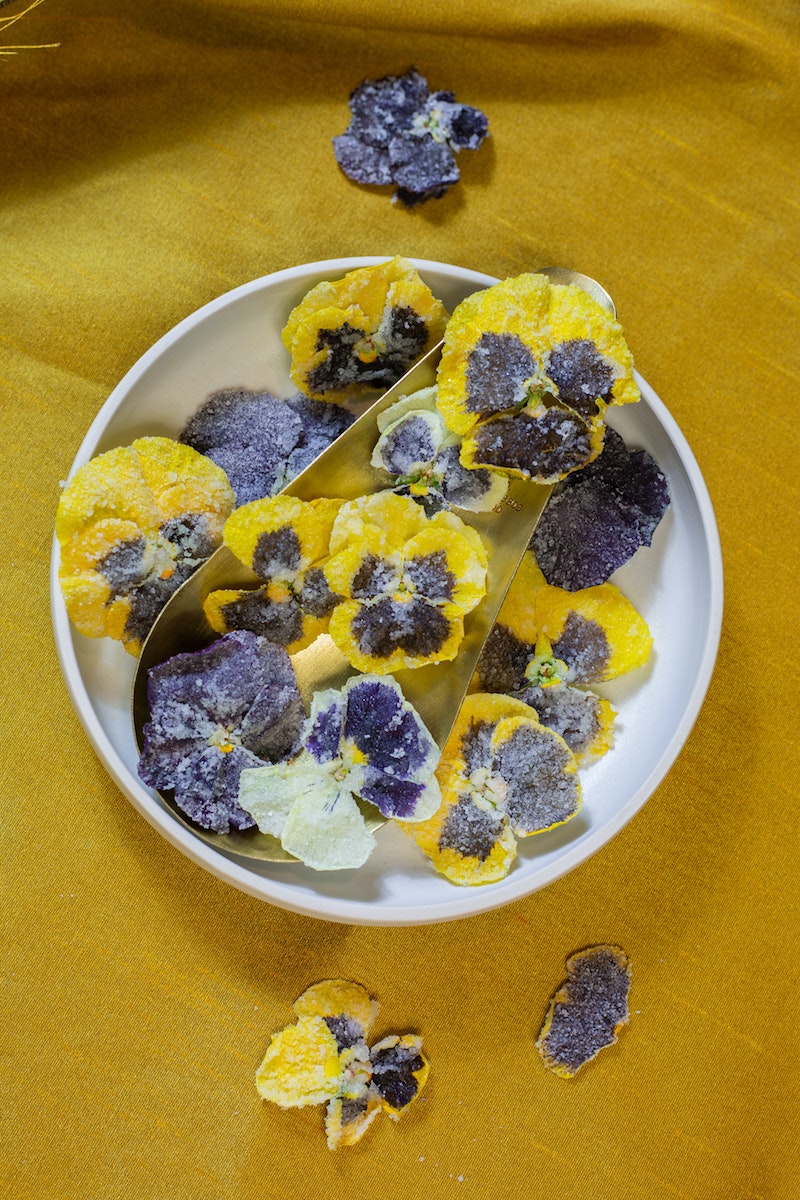 Image credit: Mahdis Mousavi via unsplash
Do edible flowers taste good?
It depends on the flower.
Some are sweet (roses).
Some are bitter. (quite a few of them.)
Most don't taste of much at all.
The best tasting edible flowers are the sugar candied edible flowers of course!
Are edible flowers expensive?
If you compare edible flowers to other foods by weight, YES.
They are outrageously dear.
But as you only sprinkle a dash or two of edible flower petals into your drinks or onto your cakes and treats, the price is nothing to worry about.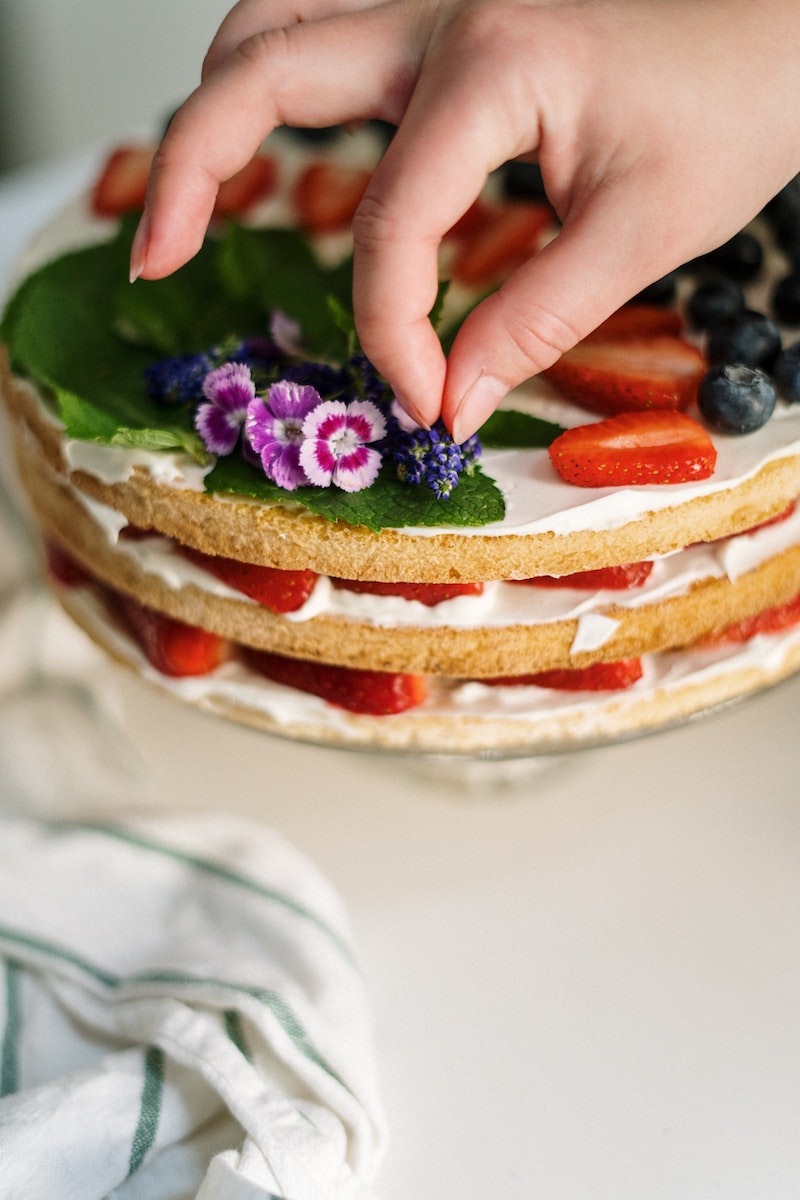 Image credit: cottonbro via Pexels
WHERE CAN I BUY EDIBLE FLOWERS FOR CAKES AND DRINKS?
Looking for where to buy edible flowers for cakes and edible cocktail flowers?
Skip the florist display in major supermarkets and grocery stores.
These are NOT flower petals you want to eat. (Chemical sprays and fertilisers make these flowers a no-go zone)
Try the fresh produce section of large supermarkets and grocery stores (where the fresh herbs are kept), as well as the refrigerated section in:
local independently owned fruit and vegetable stores
small locally owned grocery stores (these people often have connections to local growers, farmers and food producers)
farmers markets
Asian grocers.
You can always ask your local florist, gourmet platter maker, or wedding cake baker for tips on where to buy edible flowers near you.
Edible cake flowers can be purchased all over Australia, but online sources are your best bet.
Check below to find a list of our favourite suppliers.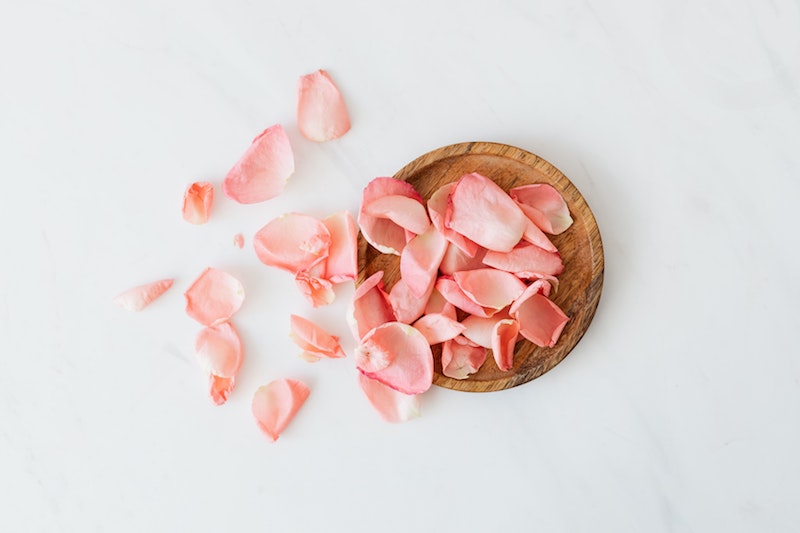 Image credit: Karolina Grabowska via Pexels
Edible Flower List of Shops Guide
Try these grocers, supermarkets, online stores, storefronts, and independent food producers.
No.1: Where to buy organic edible flowers in Australia?
Try:
Petite Ingredients for organic fresh edible flowers delivered anywhere in Australia, and freeze dried edible flowers too
Sprout House Farm sell 100% organic flowers grown in a natural sun environment, harvested to order on the day of delivery (not delivered to WA or Tasmania as yet unfortunatelly)
Harris Farm is another good place to try. They have stores throughout NSW and one in Queensland at Clayfield.
No.2: Where to buy edible rose petals in Australia?
Want to where to buy edible roses?
Here is the big list of where to buy edible rose petals in Australia
No.3: Where to buy edible lavender flowers in Australia?
Mt Baimbridge Lavender sell culinary lavendar
Herbies sell Lavender flowers to add to sweet shortbread biscuits, meringues and ice cream
Herb Cottage is another spot selling edible lavender for cooking
Add lavender flowers to:
scones and bread
biscuits and cakes
casseroles, baked poultry, and stews
chutney, relish, marinades
ice cream
cordial
jams and jellies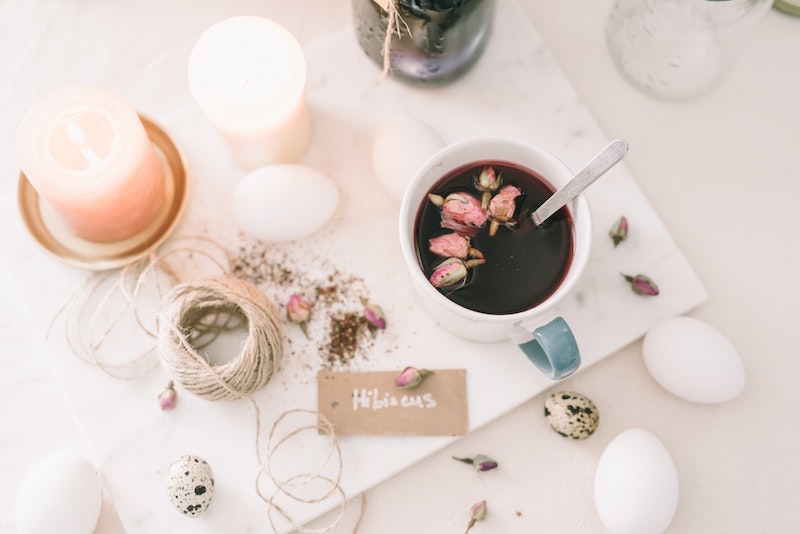 Image credit: Olya Kobruseva via Pexels
No.4: Where to buy edible hibiscus flowers in Australia?
Find edible hibiscus flowers at iHerb
Pick up 100% organic whole hibiscus flowers at Life of Cha
The Tea Hut sells 100% certified organic crushed Hibiscus flowers that are perfect for tea AND garnishes
No.5: Where to buy edible orchids in Australia?
Unfortunately, there is no local source as yet.
We'll keep you posted.
No.6: Where to buy edible violas
Head back to Petite ingredients to find fresh edible viola flowers in stock. They come in a mix of colours.
Simply Rose Petals sells a 200ml jar of freeze dried edible violas in mixed colours too
You can plant your own too. Buy edible viola seeds here
No.7: Where to buy edible chrysanthemum
Head to any good Asian food grocer to find dried chrysanthemum on a budget.
It's a much loved Chinese herbal drink, similar in popularity to chamomile tea in Australia.
If you don't have any luck, check out Just Go shop.
Teas.com.au stocks a common yellow colour variety of dried edible chrysanthemum that is sweet to the taste
Try The Tea Hut too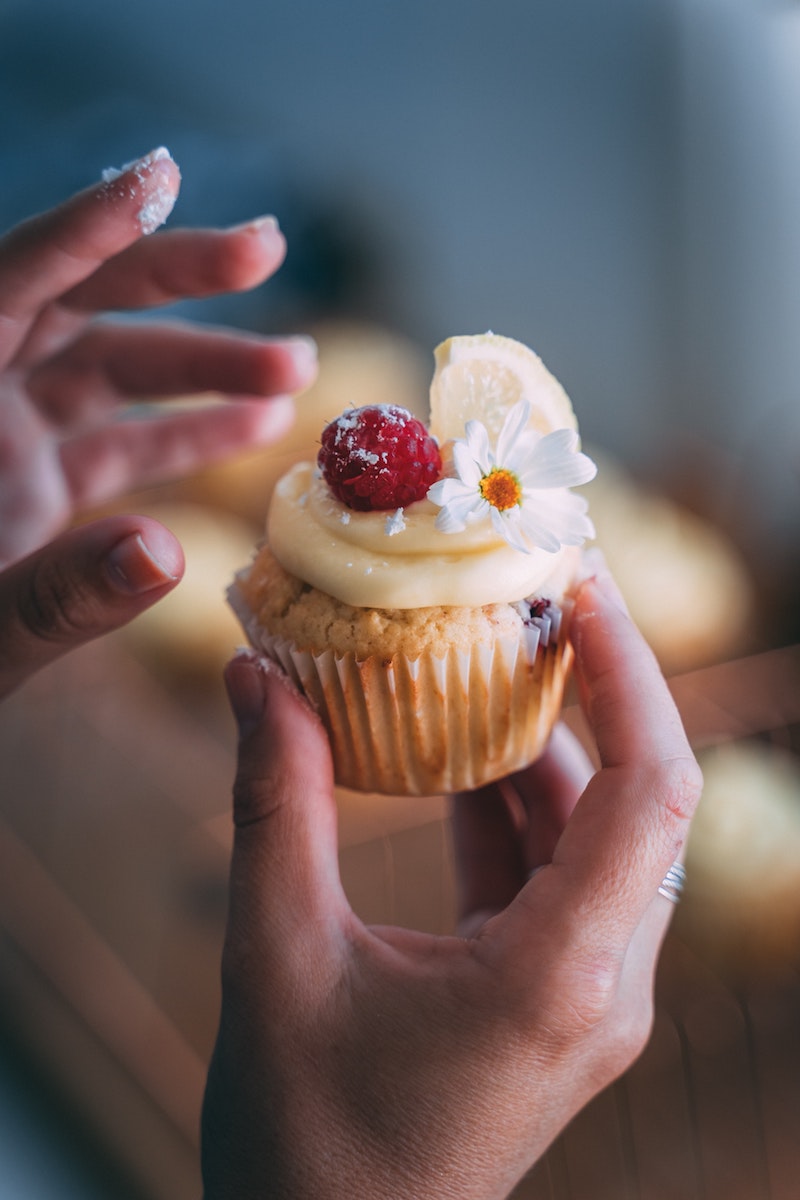 Image credit: Taryn Elliott via Pexels
Fresh Edible Flowers Australia Wide
Wondering where to buy FRESH edible flowers?
Here's a couple of the popular edible flower sellers in most of the Australian cities.
Where to buy Edible flowers Sydney
Try Sydney Produce markets – Australia's leading fresh fruit, vegetable and flower wholesale markets and home to Paddy's Markets. Find these markets in Buildings A, B, C and E at Sydney Markets, off Parramatta Road, opposite the Sydney Olympic Park. Open Monday to Friday from 6am to 11am for the public.
Fruitologist at 151 Bondi Rd in Bondi – call before you visit
Piccolo Farm in Thirlmere, on the outskirts of Sydney.
Maloneys grocers often have edible flowers in store – there's a store in Surry Hills, Woollahre and Coogee
Edible flowers Byron Bay
Byron Bay Organic Produce – currently supplying commercial quantities of certified organic flowers to restaurants. Call to enquire on 02 6684 7007
Byron Herbs – click here for their stockists (these are other potential places that sell edible flowers in Byron Bay)
Barefoot Farm sells their two varieties of dried edible flowers at Eltham Valley Pantry (712 Boatharbour Rd, Eltham NSW)
Summerland Farm Shop in Alstonville – you'll find Barefoot Farm edible flowers here too, in amongst the range of local produce, fruit and veg, herbs, plants, oils, macadamia nuts and more (Summerland Farm is an awesome Byron Bay day out with the kids!)
Edible flowers Brisbane
Visit the Pretty Produce farm north of Brisbane in Ferny Glen. The farm is open every Friday to Sunday, from 10am to 3pm. Buy edible blooms via their online portal here
Basilea Farm sells handpicked edible flowers direct to the public. Edible flower packs are delivered direct to local green grocers and independent fruit & veg shops in Brisbane city and surrounding suburbs, including Moreton Bay. Order online and collect from your nearest retail outlet or have them delivered to your home.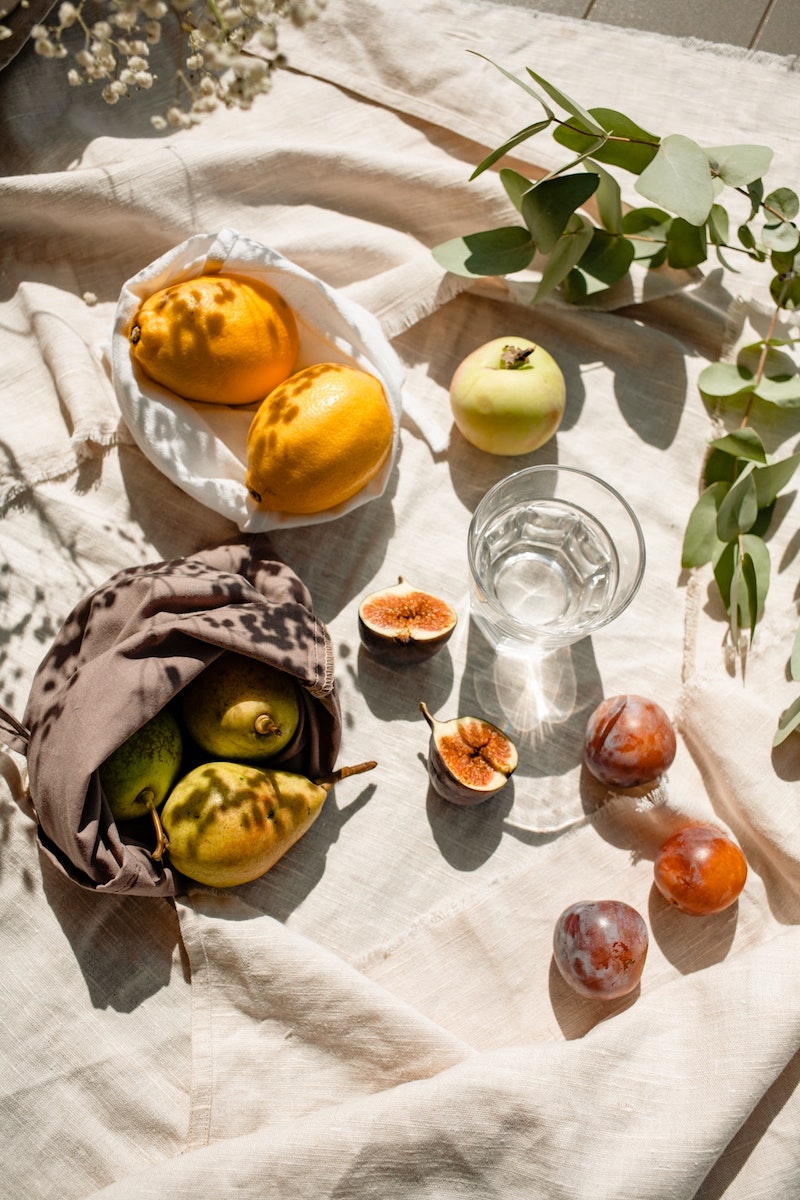 Image credit: Polina Kovaleva via Pexels
Where to buy Edible Flowers Melbourne
Flowerdale Farm is a Melbourne food producer. Find their edible flowers in the David Jones Foodhall 299 Bourke Street Melbourne.
IGA supermarkets are a good bet (try IGA Renaissance in Hawthorn)
Toscano's quality fruiterers stock edible flowers. .
Ask in your local fruit shop if they can order them in
Edible Flowers Perth
Edible Flowers Adelaide
Settle Petal edible flowers can be purchased at Jagger Fine Foods, Adelaide Central Market. Custom and wholesale orders of 3+ fresh punnets or dried flowers can be arranged by contacting SP before COB Monday on 0487 895 679
Edible flowers Canberra
Try:
Belconnen markets
Fyshwick markets
Alternatively, ask in your local fruit and vegetable grocer if they can order some in.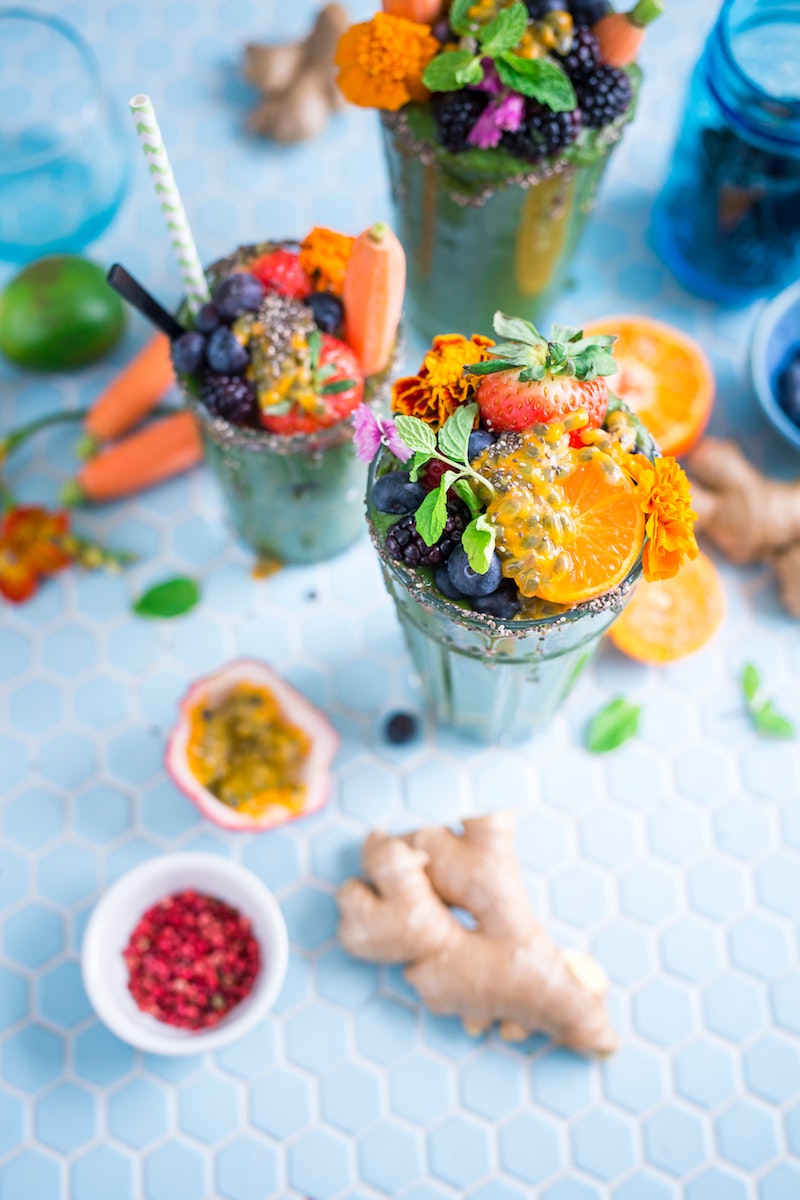 Image credit: Brooke Lark on Unsplash
FAQ: Where to buy fresh edible flowers in Australian supermarkets?
Edible Flowers Woolworths supermarket?
The only edible flowers in Woolworths are the sugar flower cake toppers.
These edible cake toppers are made with sugar, maize starch, egg white powder, and colours (102, 129, 132).
Hot tip: If you are in South Africa though, then you CAN buy edible fresh flowers in Woolworths supermarkets!
Edible Flowers Coles supermarket?
Unfortunately, Coles doesn't usually sell edible flowers either.
Edible Flowers Bunnings?
The only edible flowers Bunnings stocks are Mr Fothergill's Mini Pansy flower seeds.
You have to grow them yourself.
A top long-term solution, but not if you need them now.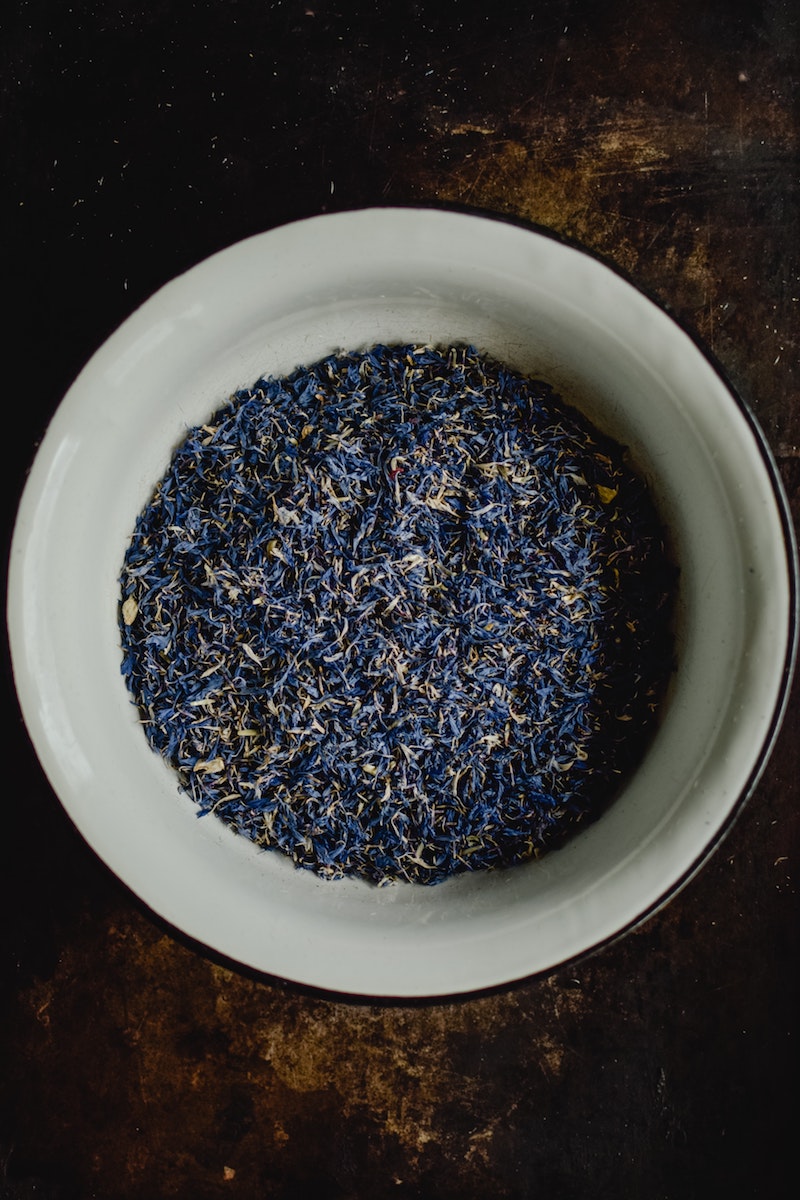 Image credit: Eva Elijas via Pexels
Where to buy dried edible flowers
Read our guide to buying freeze dried edible flowers in Australia.
It's everything you need to know.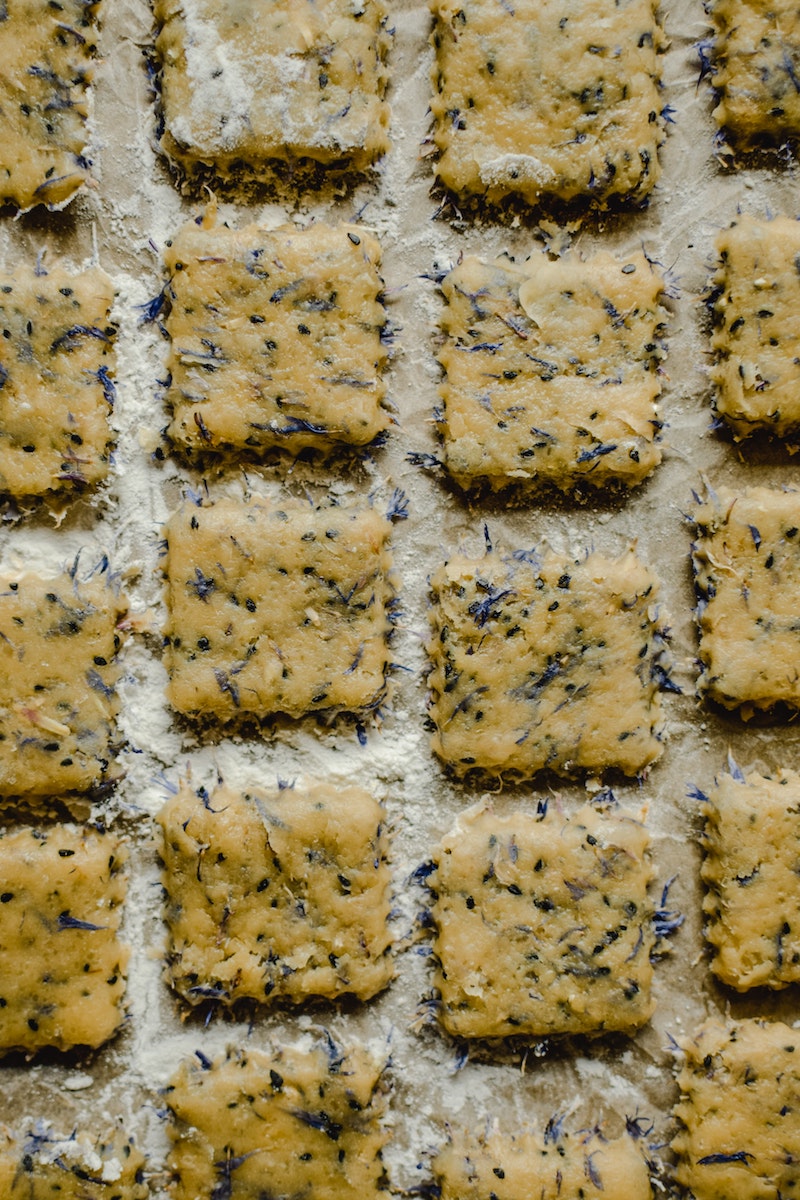 Image credit: Eva Elijas via Pexels
25 Creative Ideas on How to Use Edible Flowers in Recipes, Meals & More.
Add edible blooms to your green garden salads – one of the most common additions to a Spring salad is the edible Nasturtium flower.
Make edible flower tea – rose petal tea is simply divine for a high tea experience with friends
Make sun tea – pop a handful of pretty edible flowers in a mason jar with a lid, add a tea bag, and fill it with water to the top. Stand it outside on a ledge and leave it for 24 hours to infuse the flavors.
Make elderflower cordial
Freeze them in ice cubes for a bit of pretty in your cold summer drinks
Pop them on top of your iced donuts
Make edible flower jam and rose petal honey
Add their color and flavors to oil and vinaigrettes
Garnish a wedding cake or cupcakes
Add them to your rice paper rolls or spring roll mix
Make edible flower sugar for cake decorating with natural colours, or sugared edible flowers for crunchy cake toppings
Search pinterest for recipes with edible flowers – there are hundreds!
Open topped sandwiches with cream cheese filling are perfect for chives and edible flowers too
Learn how to preserve edible flowers – preserving edible flowers is easy. Bake them on low in the oven or sun dry them too.
Try baking with edible flowers – hunt down the best edible flower cake recipes or try making a rose baklava. Yum and beautiful!
Try cooking with edible flowers – you can add them to your tagine, or throw a handful into a pilaf!
Sprinkle freeze dried edible flowers over ice cream
Make edible flower toffee lolly pops
Freeze edible flowers in homemade lemonade popsicles
Top your homemade pannacotta dessert with edible flowers
Make delicious smoothie bowls (amazebowls) with all the fruit, and an edible flower garnish
Throw a few on top of your potato or pumpkin soup, or make DIY tacos and top them with a colourful flower garnish
Make edible flower vinegars
Decorate a cheese plate or charcuterie board (or even better, a chocolate charcuterie board) with all the colours.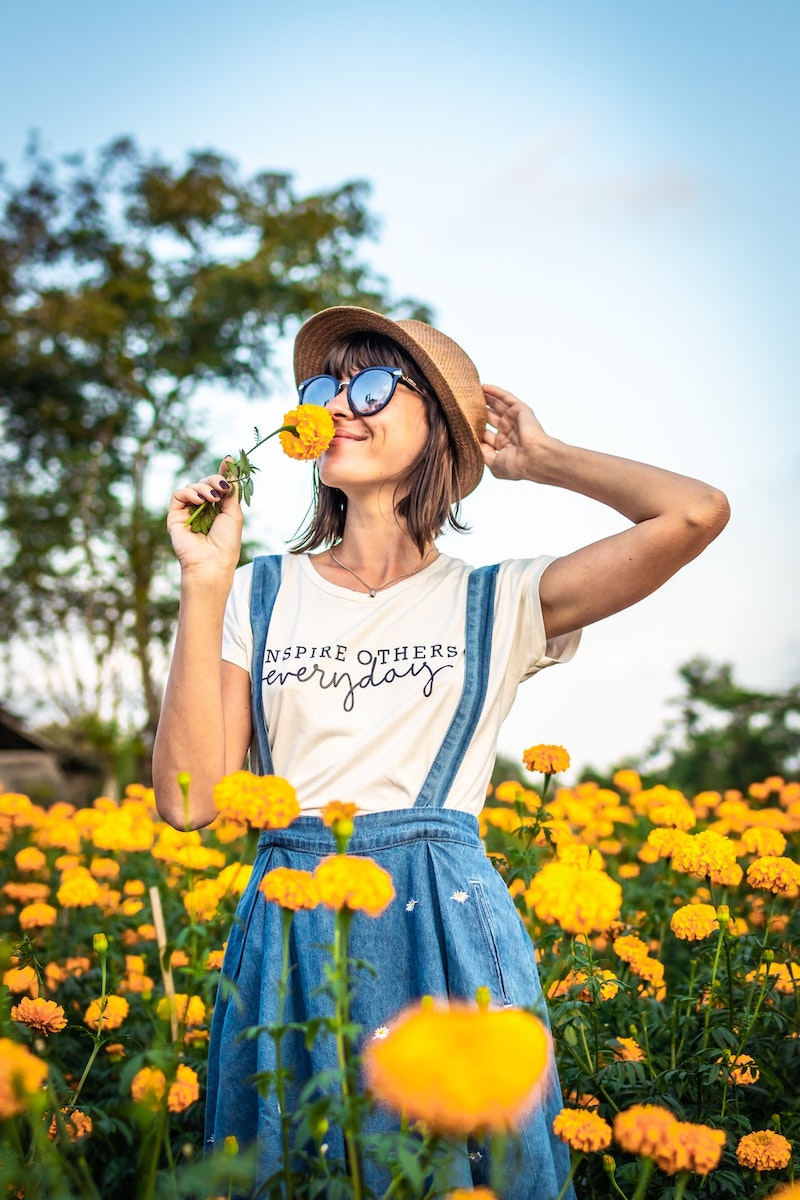 Image credit: Artem Beliaikin via Pexels
FAQ: Storing edible flowers
No.1: How do I store fresh edible flowers?
Keep your fresh edible flowers in the fridge in the crisper.
No.2: How long will my fresh edible flowers last?
Depending on variety and season, and storage, different varieties of fresh edible flowers last between five days and three weeks.
Most last around 10 days max.
No.3: How long will my dried edible flowers last?
Most commercially packaged dried edible flowers can be stored for up to two years before eating as long as they stay out of the direct sun (so they keep their colour)
Keep them in a tightly sealed jar to be sure.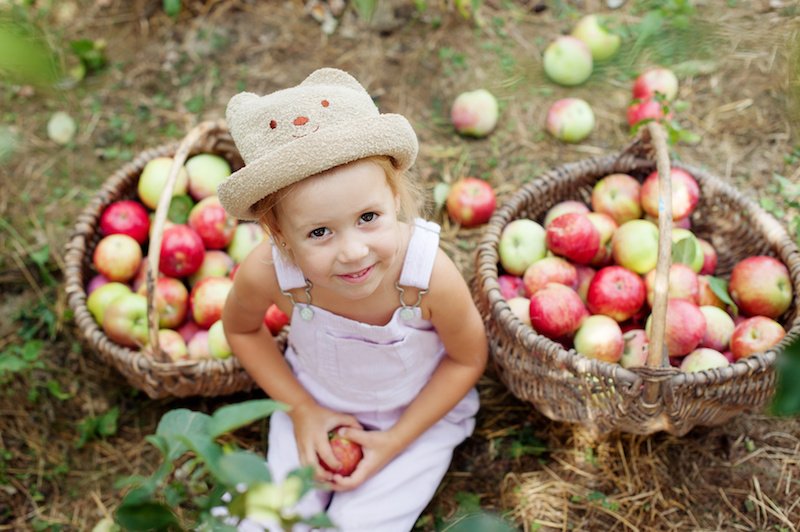 Looking for more fun food ideas?
Click the blue links below for more food recipes and tips