INSIDE: A Sneak Peek inside St Kilda Adventure Playground Melbourne.
PIRATE Ships? Yes.
MONSTER slippery dip? Yes.
An in-ground jumping trampoline with TRAFFIC CONTROL?
YES!
There's a push button to set the timer before kids jump on!
Everyone gets a fair go.
Parents everywhere breathe a sigh of relief of thanks for this awesome invention & addition to this community playground in Melbourne.
Visiting Melbourne with kids? Take a look inside!
Disclosure: This article contains affiliate links. If you make a purchase after clicking on one of these links, we may receive a small commission at NO extra cost to you.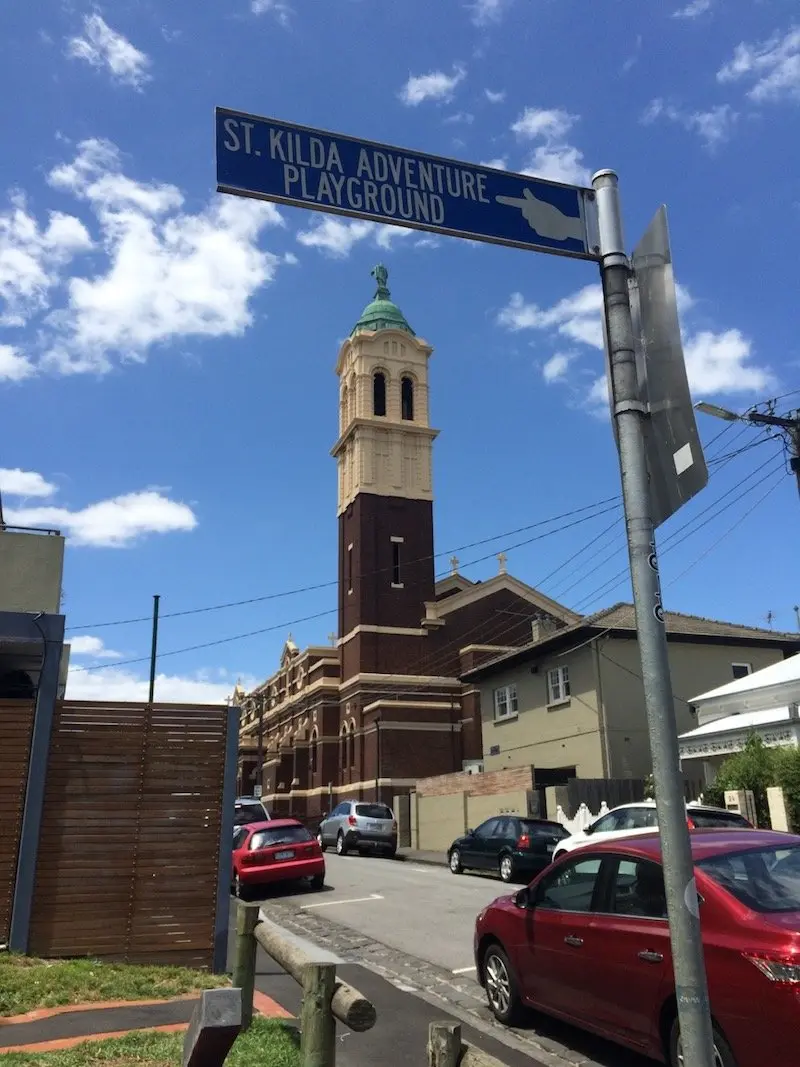 St Kilda Adventure Playground Melbourne
Anyone with a tendency to be a helicopter parent should scratch St Kilda Adventure Playground in Melbourne off the list.
This adventure playground in Melbourne is NOT your normal playground.
It's a community playground where children can:
explore
dig
plant
climb, scale, and slide down fireman poles
sing, dance, laugh
hammer, and build cubbies from loose parts.
BYO Beach Toys & digging tools. (Check out these cool toys for the sandpit)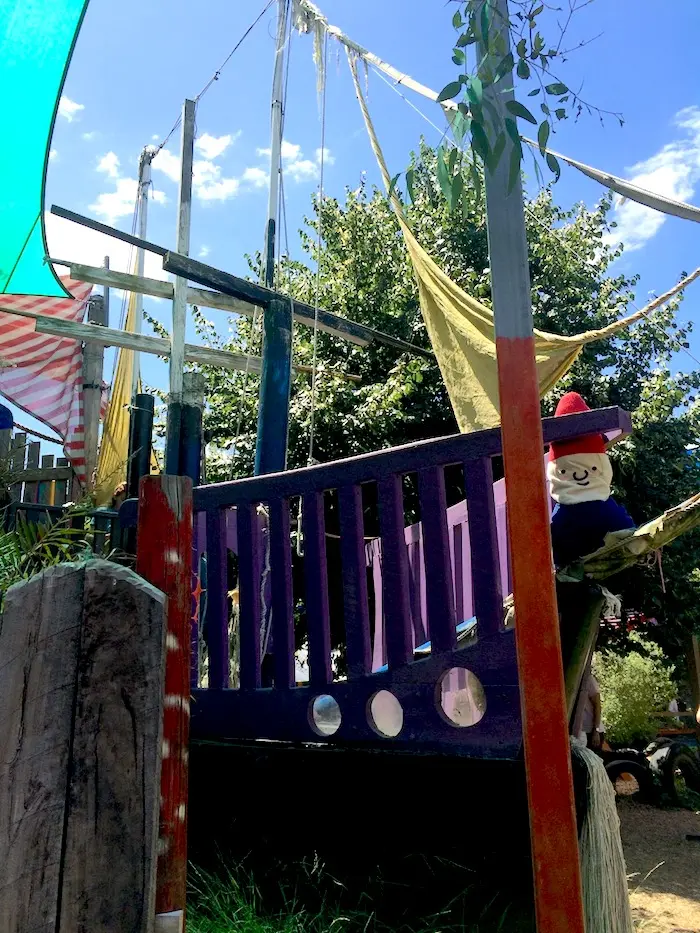 Risky Play Welcome at St Kilda Adventure Playground St Kilda Vic
This community playground in Melbourne is manned by staff during opening hours.
The playground equipment is mostly timber, handmade-style, and rough around the edges.
Painted in bright rainbow colours, there's an element of risky play and controlled danger here.
Kids LOVE it.
So do local parents.
This playground attempts to recreate somewhat the elements that many of us grew up with, especially the freedom to build, create, climb and play with whatever we lay our hands upon.
Sanitised playgrounds BORE OUR PANTS OFF.
This organic one excites the kids with all the possibilities for imaginative thinking, and creative construction potential!
---
Book Now: The Official Neighbours "Ramsey St" Set Half-Day Tour with Exclusive Access (BEST SELLER)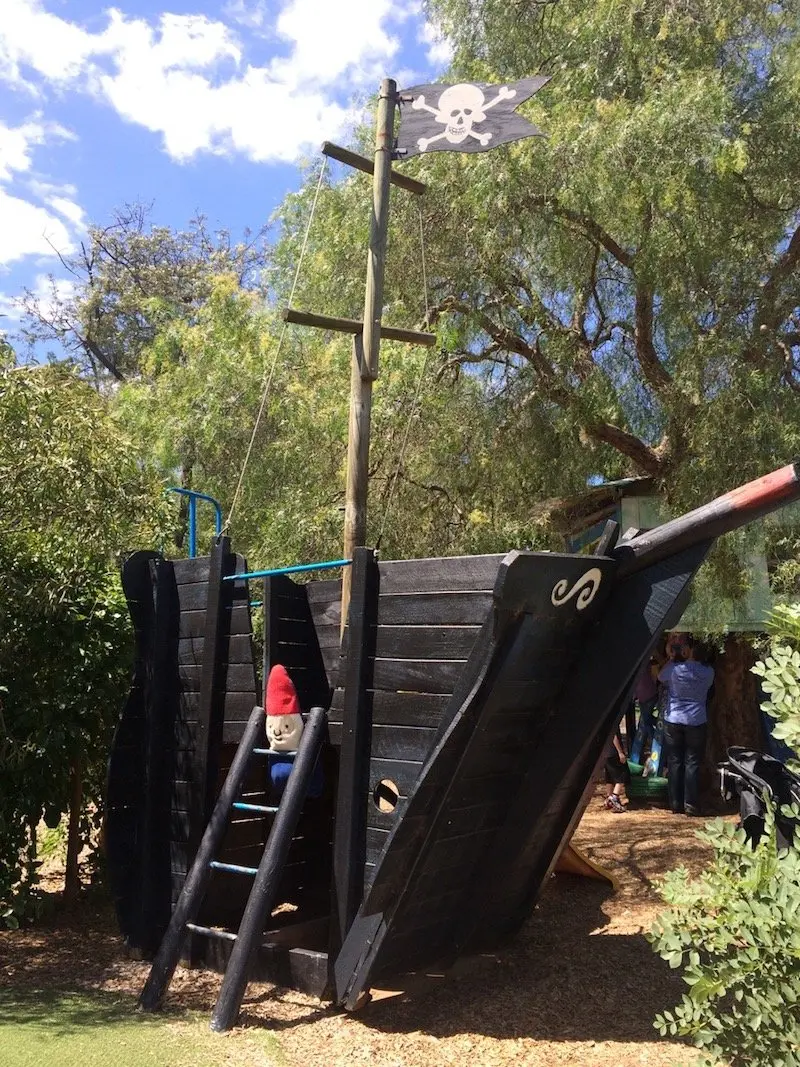 Pirate Ships Galore at St Kilda Playground
Yes, there's TWO pirate ships.
And more.
Kids can explore:
the big airplane
the wooden horse and a dinosaur
trees to climb up high
a go-kart path
the steep giant silver slide! (This was the highlight!)
swings and a tunnel slide
giant tractor tyres
gardens
scramble nets
the rainbow cubby house
skateboard pipe
giant castle-themed sand pit
mini basketball court
natural play spaces
shop fronts
the castle with stairs up and stairs down, and fireman poles too
---
Check Latest Prices: Book a Tour to Ride the Puffing Billy Train in the Dandenong Ranges!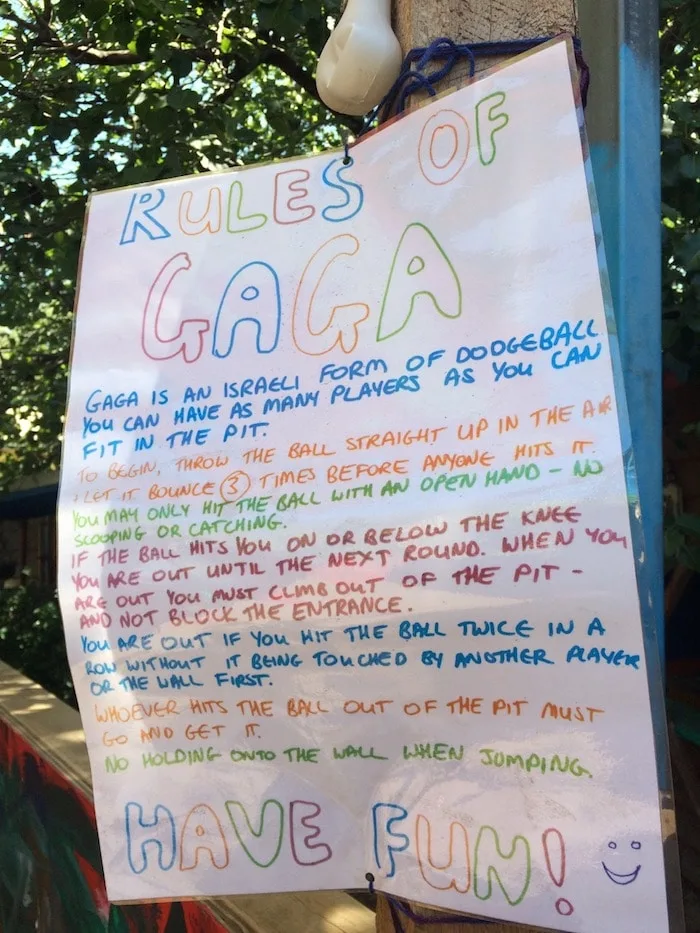 Things to do at the Adventure Playground St Kilda
Visit the chooks, make new friends, and play a game of Gaga (Israeli dodgeball) in the purpose built pit.
Rules above!
---
Check latest prices: Melbourne Hop On Hop Off Bus Tour & River Cruise 24 hour tickets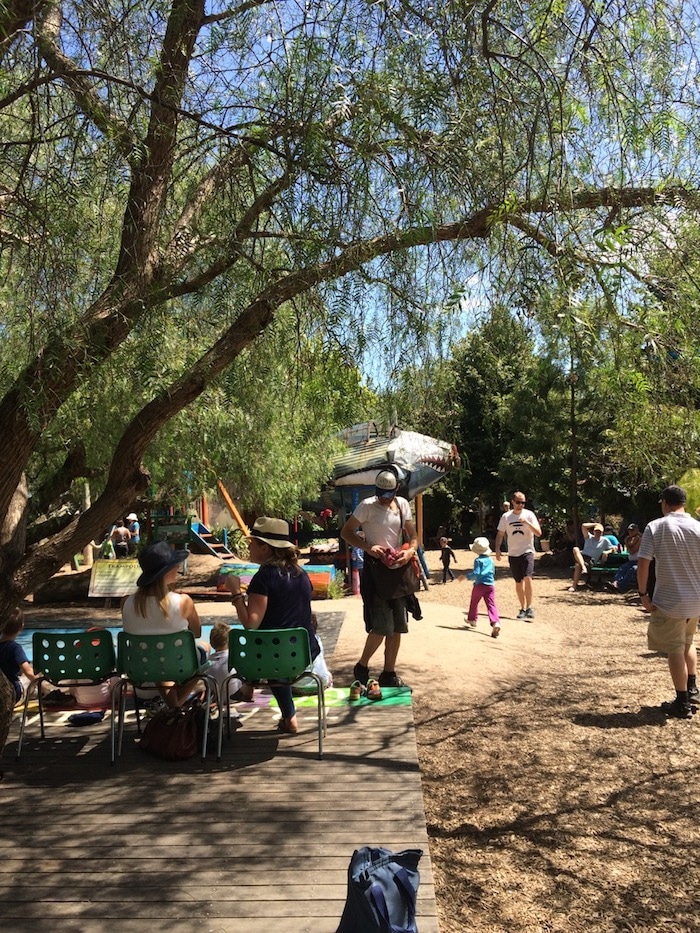 Fenced playground in Melbourne
St Kilda Playground in Melbourne is an unstructured playground with plenty of opportunity to use loose parts for imaginative play.
St Kilda adventure park is fully fenced so families can find a spot to sit in the shade to catch up with neighbours or friends, or stake out a spot on one of the wooden platforms and relax, while the kids explore and adventure.
Best suited for kids aged 5-12 years.
Keep a close eye on the littlies.
Young toddlers and smaller children may need active supervision at St. Kilda adventure playground to help them avoid falls and mishaps.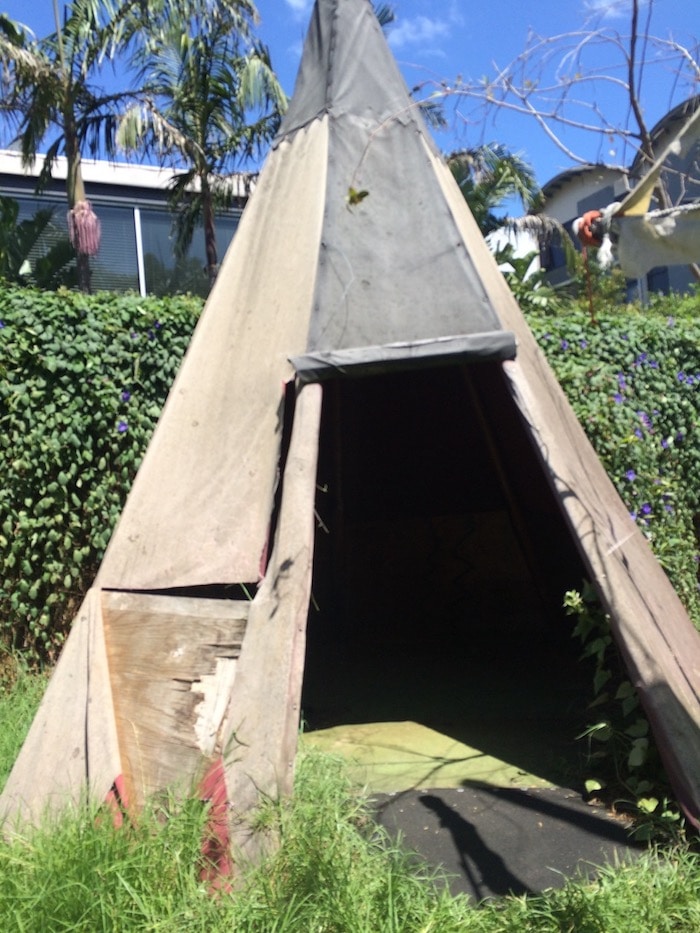 Junk Food Free Zone
You can bring snacks and water, but the playground is a Junk Food Free Zone as the Community Playground's mission is to bolster healthy lifestyles and active movement for local and visiting kids.
All sweet, fatty or fast food must be consumed before entering.
---
RELATED: Amazing List of Healthy Road Trip food & snacks (perfect for picnics & playgrounds)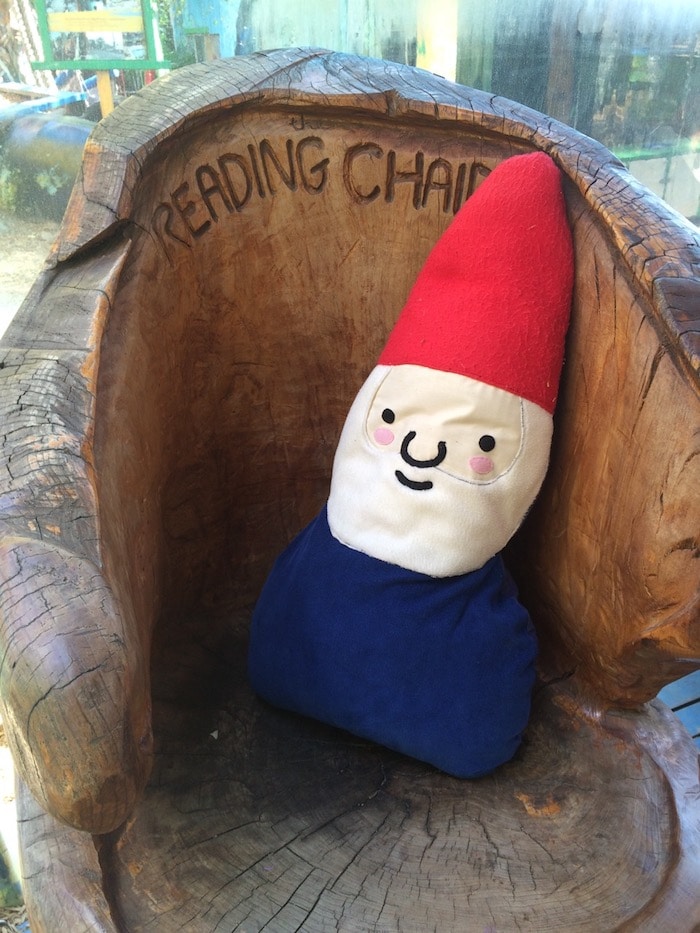 Quiet Zones
There's also dedicated imaginative play set ups, and quiet reading zones at St.Kilda adventure playground too.
So it's not all wild and wooly!
In Ground Trampoline at the Adventure Playground St Kilda
The trampoline rules help all the kids to share and take turns.
Sometimes the trampoline is empty, but other times, the queue is LONG.
Ready, Set, Go!
Kids love to push the GO button when it's their turn, and jump their heart out until the light changes.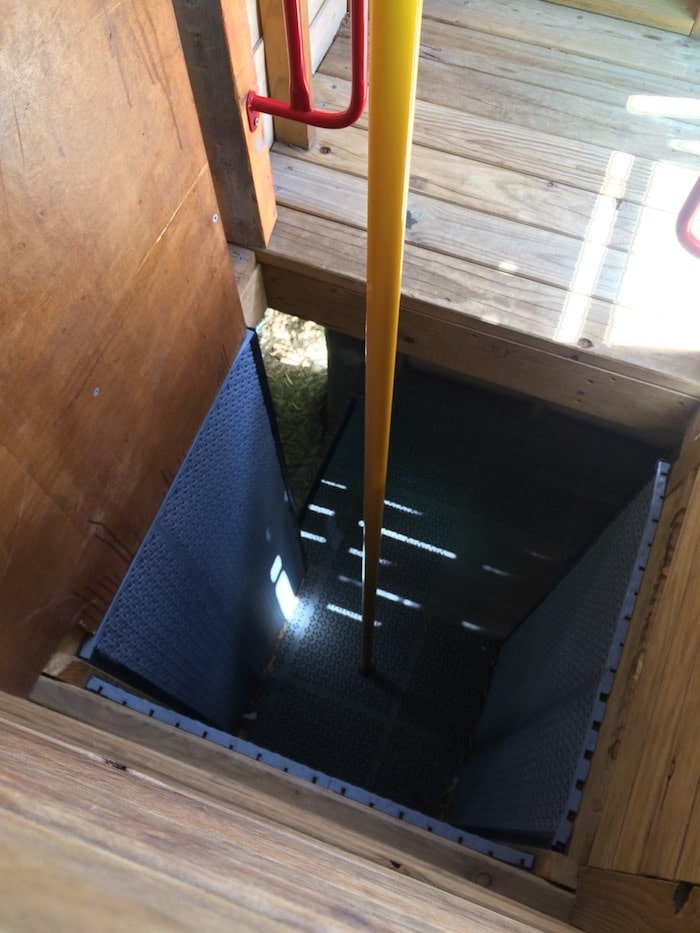 Adventure Park St Kilda Playground for Kids in Melbourne
Take a look at these pics below to see some of the fun activities for kids at St. Kilda Playground around the yard.
The fireman pole is popular!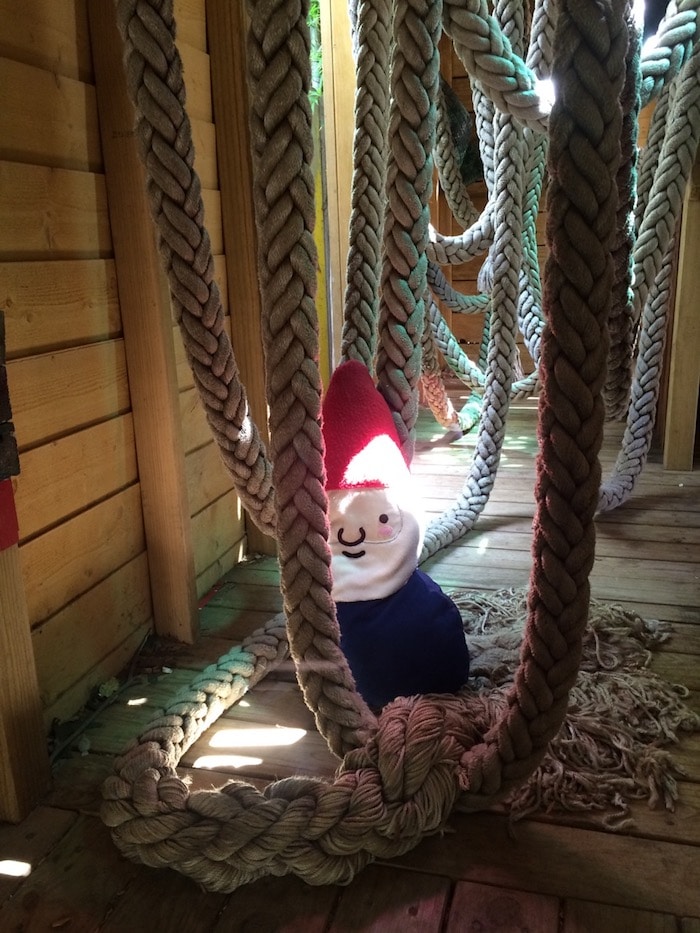 Pirate ropes below deck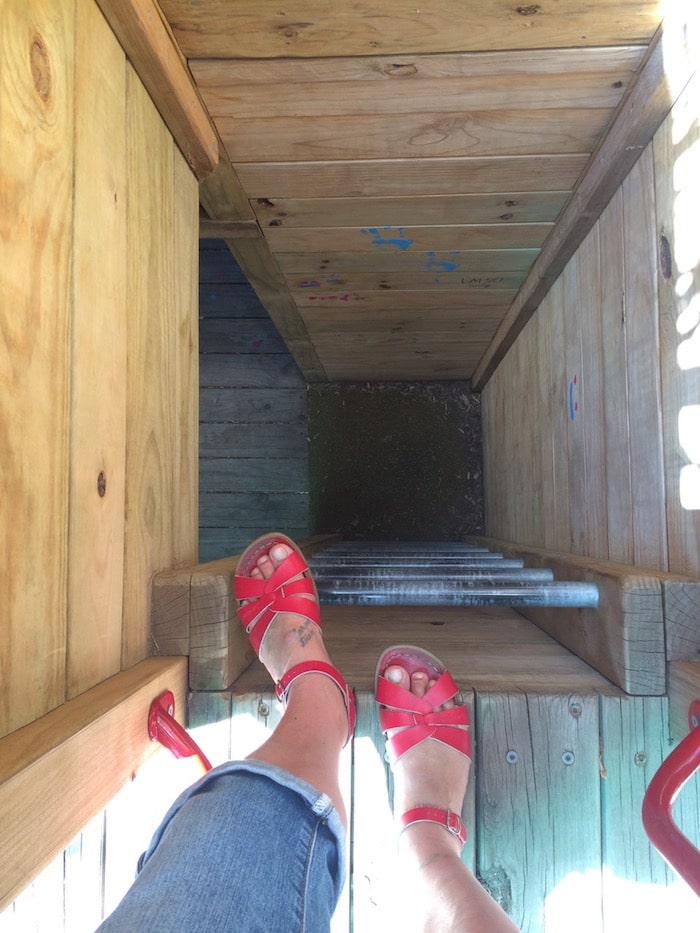 Climbing ladders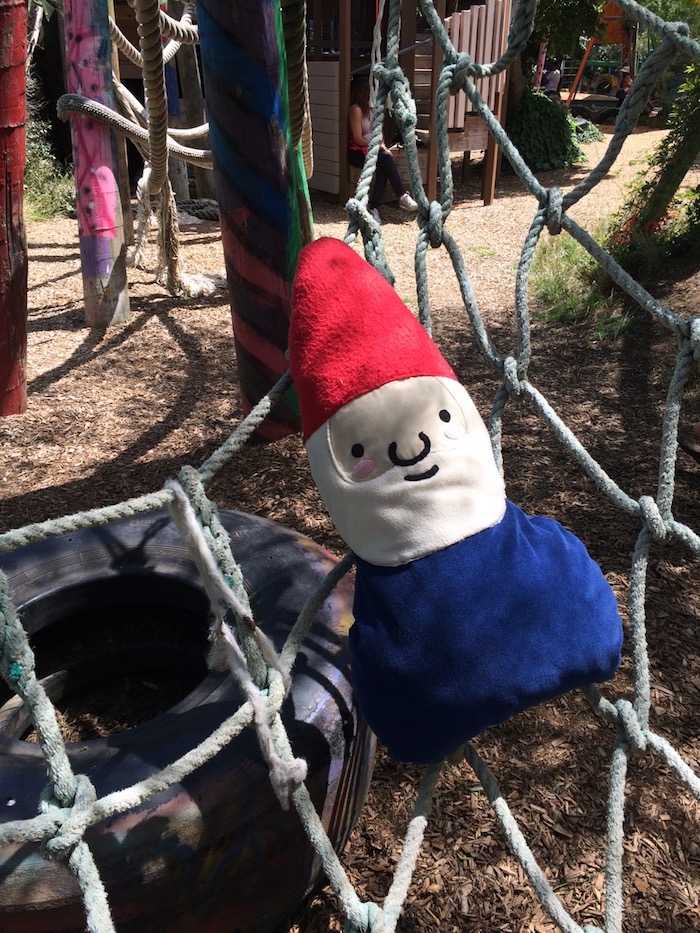 Rope Nets
Even Roam the Gnome couldn't resist!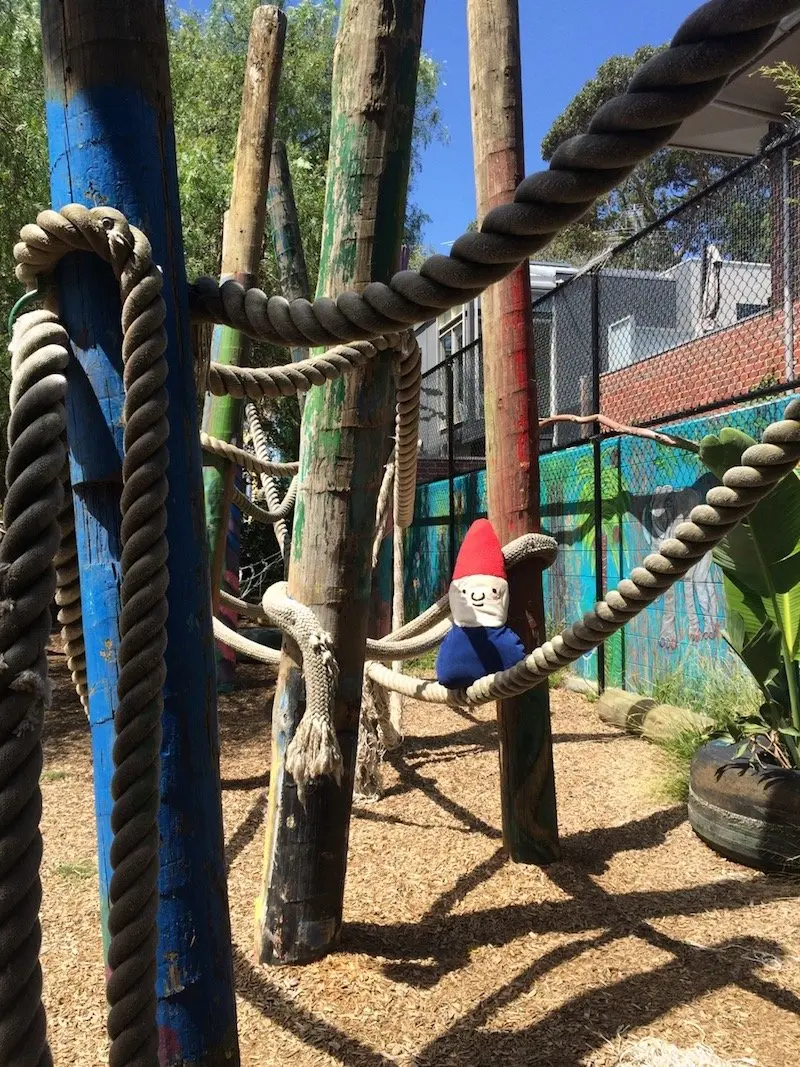 Parkour ropes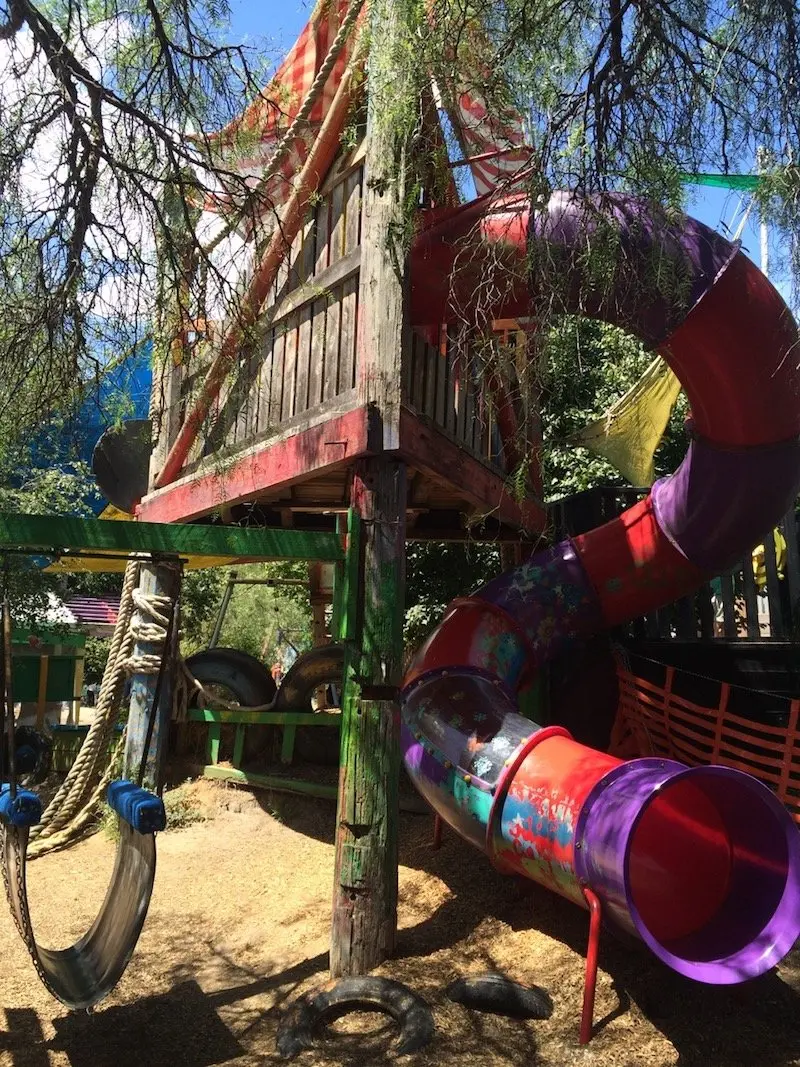 Slides & Swings
There's plenty of things for children to do in Melbourne at this park, including slides, and swings.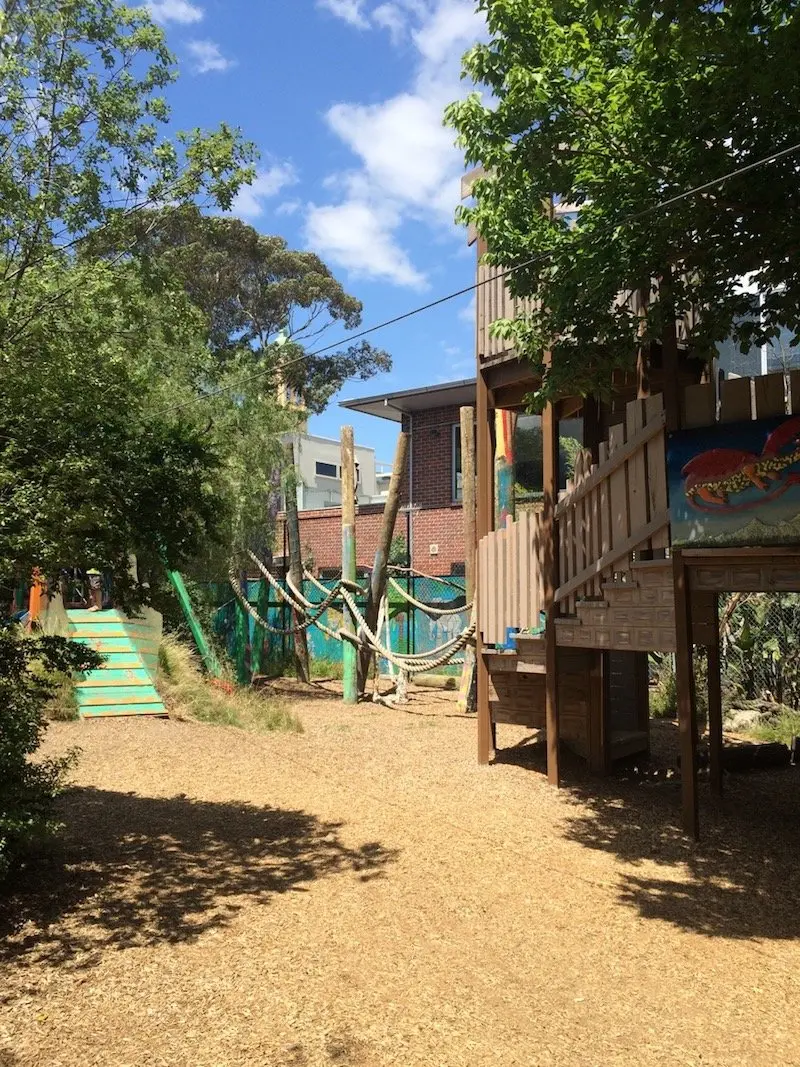 Gross motor and fine motor development
There's stairs to climb, and mountain sides to traverse.
This set up is perfect, with all the uneven surfaces that rise and fall, heave and ripples, for kids who are developing their spatial awareness, motor skills, left and right brain consolidation, and midline integration.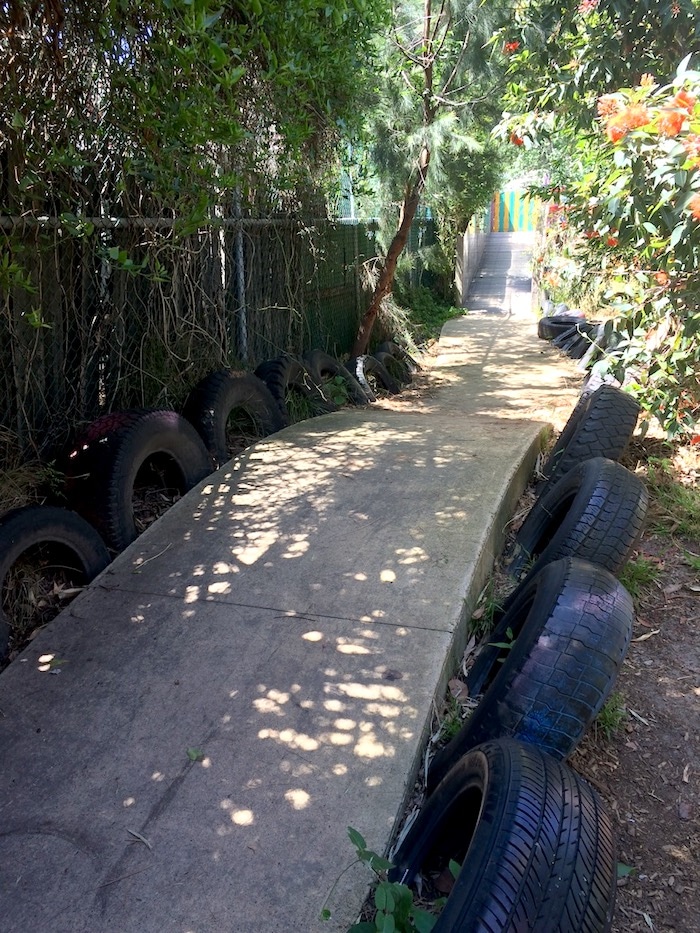 Roadways for Moving Vehicles & Scooters
Watch out for speed demons on these undulating tracks.
Shop Play
This is a popular spot for younger kids who love to play shops, restaurants, and cooking.
Kids learn how to negotiate, take turns, share, and more.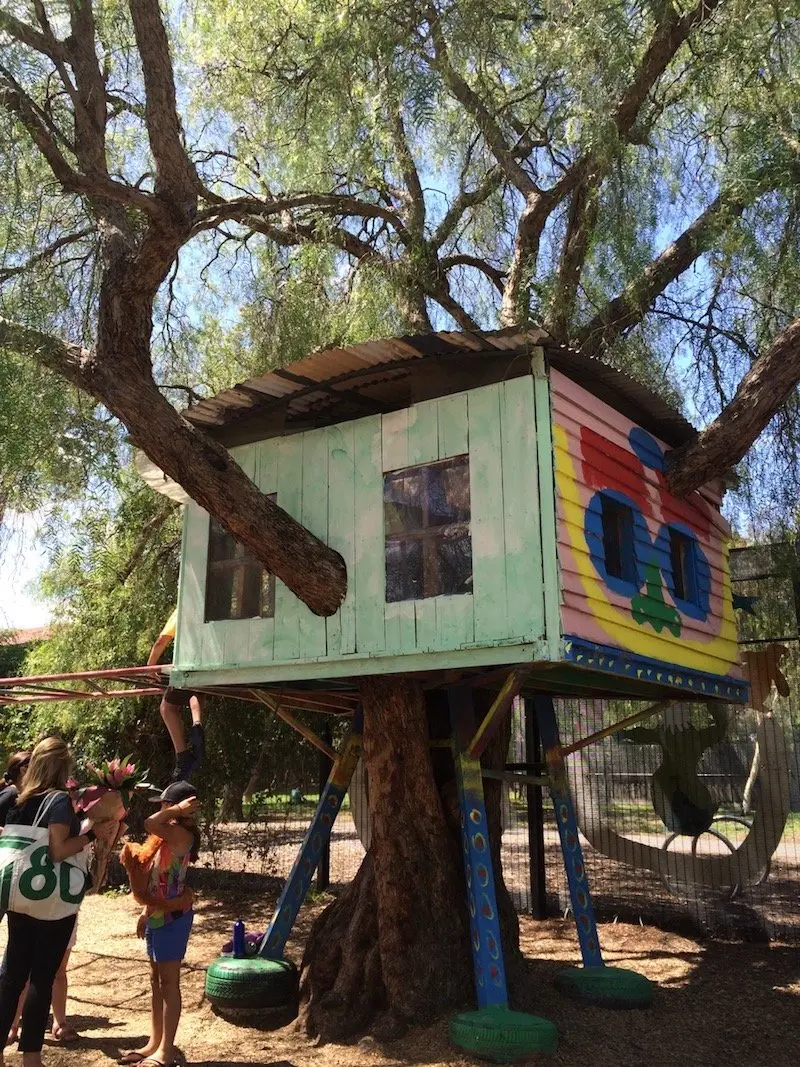 Giant Treehouse at St Kilda playground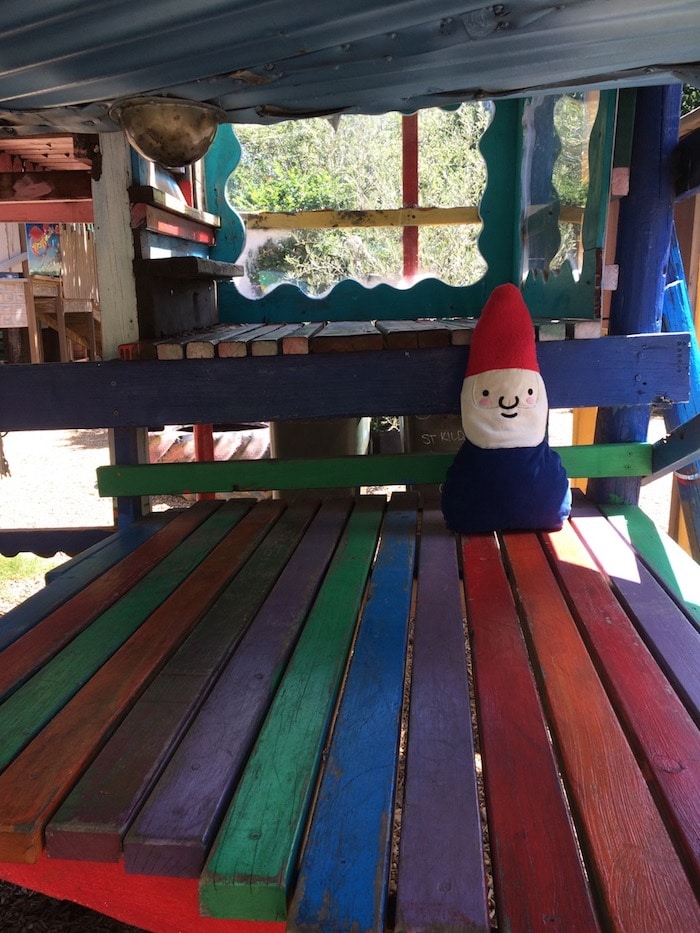 Painted inside and out
Is there anything cooler than a rainbow cubby treehouse?
Kids think not!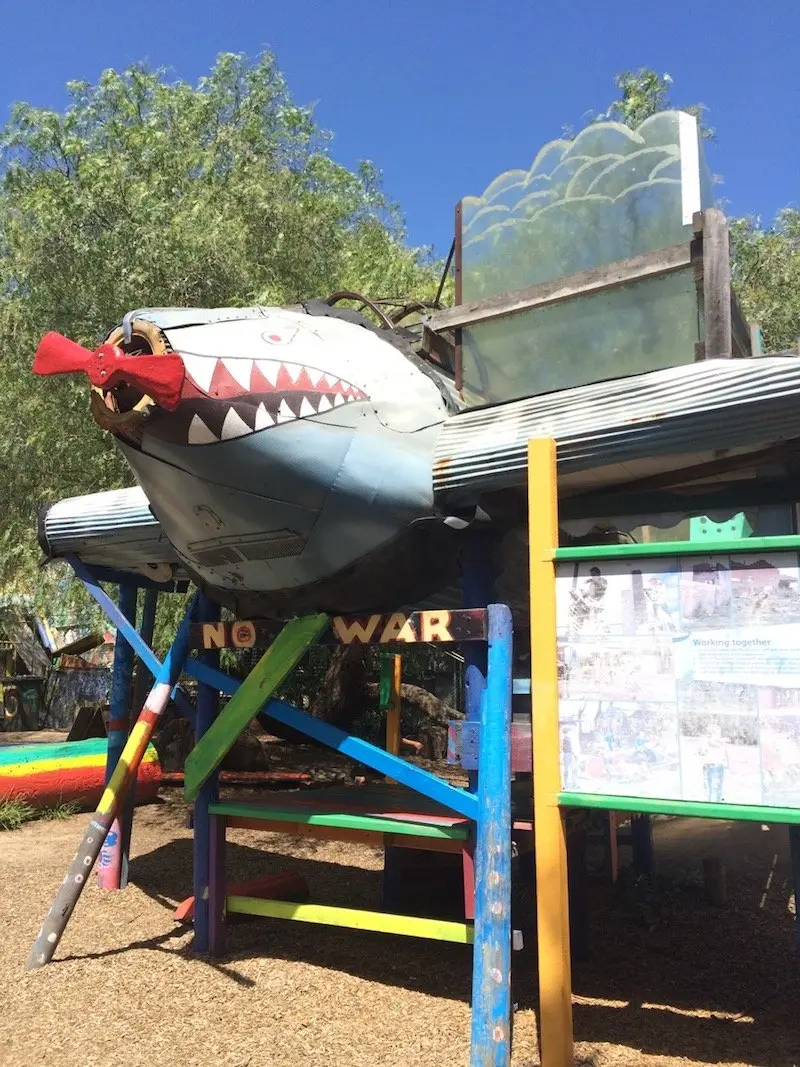 THE INSIDE SCOOP: St Kilda Playground Melbourne
Correct at time of publication on Roam the Gnome. Please check with venue for updates. We apologise in advance if there have been any changes we are unaware of. All prices in AUD dollars, unless otherwise stated
Address: St Kilda community playground is located at Neptune St St Kilda Melbourne 3182.
Website: Click here.
Telephone: (03) 9209 6348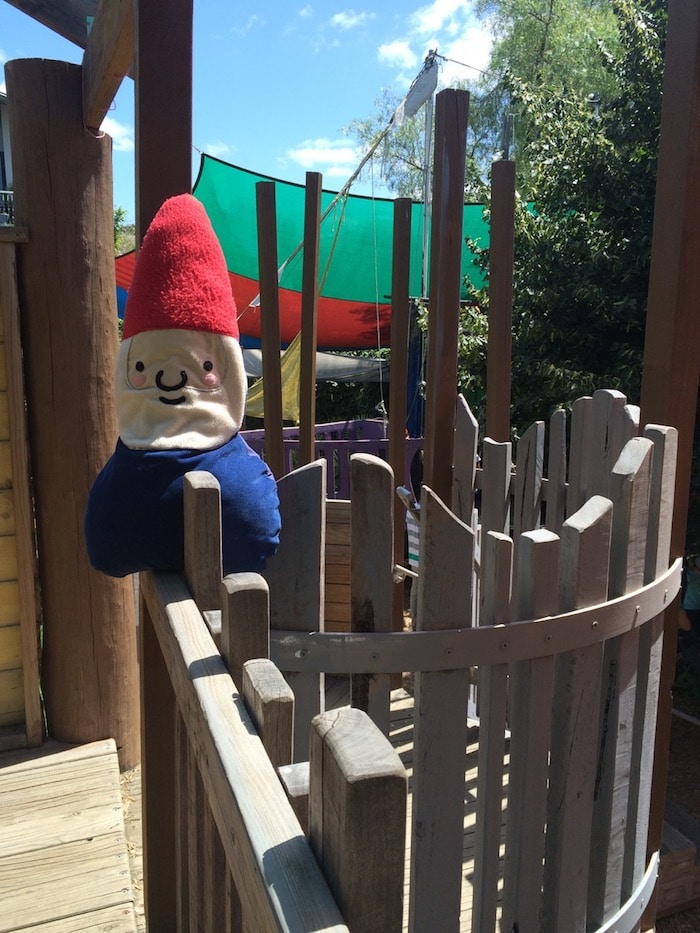 St Kilda Adventure Playground opening hours
We strongly recommend calling the playground directly before you go, to check opening times and avoid disappointment.
St Kilda Adventure Park Melbourne opening hours are:
School Holidays: 12 noon to 4.30 pm
School Term Monday – Friday: 3.30 pm to 5.30 pm
Saturday and Sunday: 12 noon to 4.30 pm
Public holidays (excluding Good Friday): 12 noon to 4 pm
The playground will be closed from 24 December for the Christmas/New Year period and will re-open 2 January.
St Kilda Adventure Playground Entrance fee
Is St Kilda playground free? YES!
The St Kilda Community Playground is FREE for all to enter.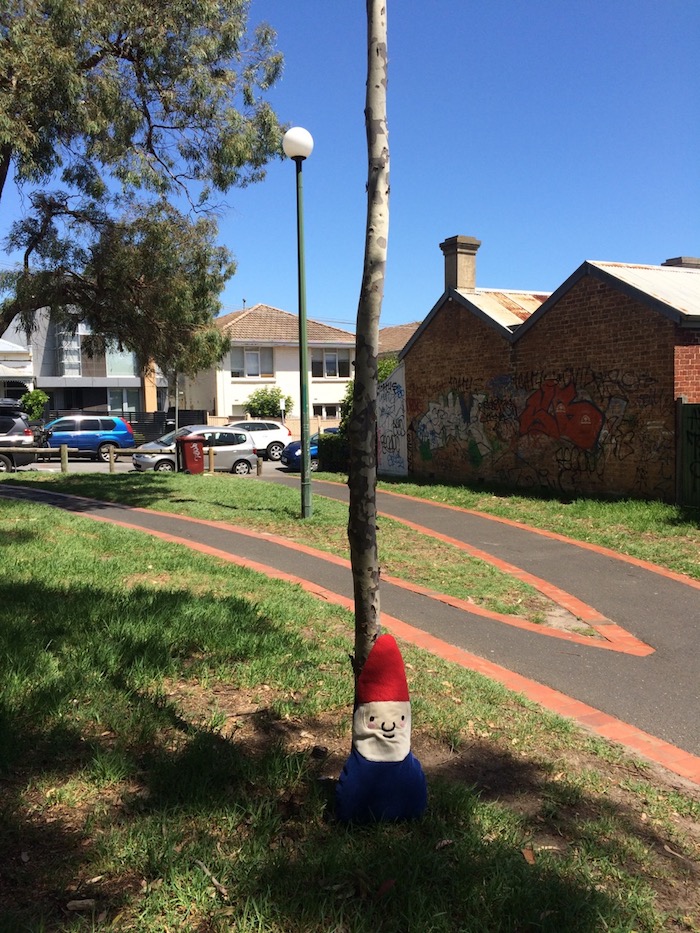 How to get to St Kilda Playground Melbourne
By Tram to St Kilda:
Via Trams 3a, 16, 96.
Exit at the corner of Fitzroy Street and Grey Street and walk from there.
By Car:
7.5km from the Melbourne CBD.
About 15 minutes drive.
St Kilda Adventure Playground Parking:
Limited street parking in surrounding streets.
Car park with ticketed parking on the corner of Princes and Pattison streets.
NB: Street parks may be limited to one hour use.
St Kilda Playground Map
Facilities at St Kilda Adventure Playground
Toilets: Yes, including baby change table
Disability access: Yes
Shade: Yes
Enclosed: Yes
Picnic tables: Yes
Electric BBQs: No
Water Bubblers/fountains: Yes
Scooters and Bikes: Yes
Dogs: No dogs are permitted in the playgrounds.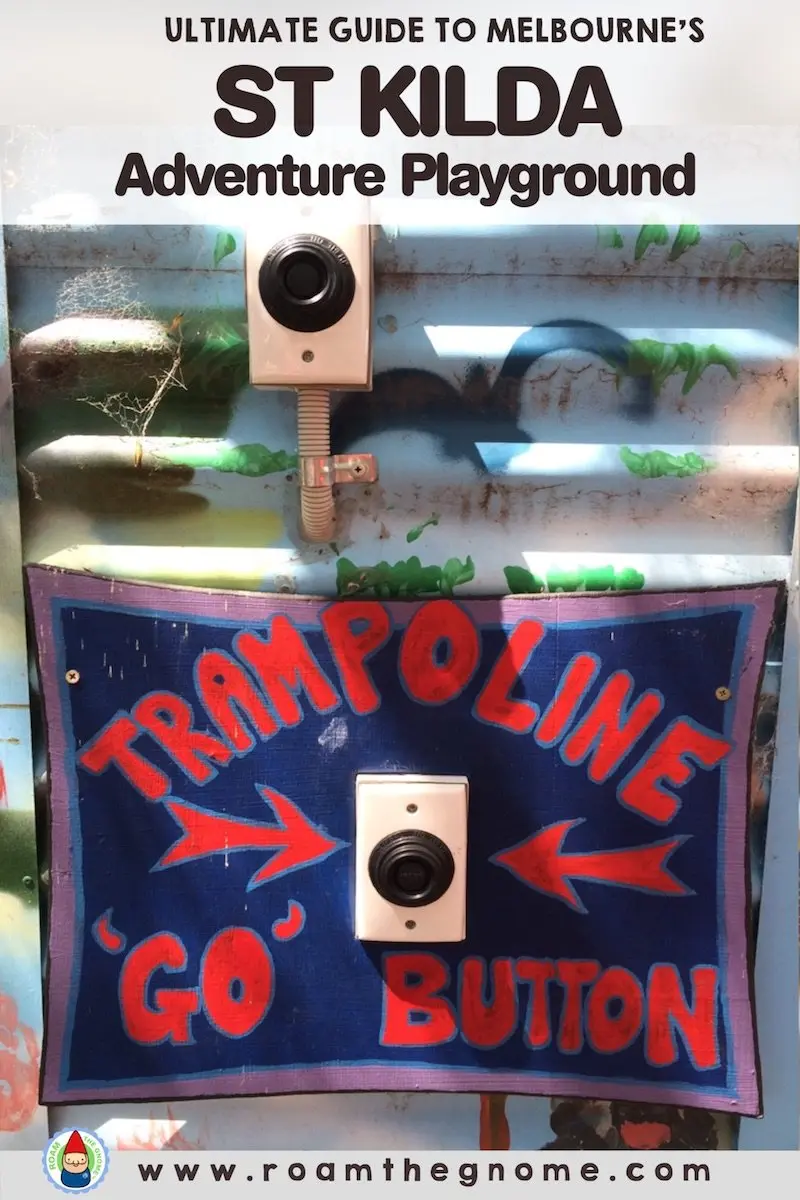 Conditions of Entry:
Adults are only permitted in the playground when accompanying a child or children.
Remember that you are entering the backyard of local families and children.
No alcohol, smoking or drugs are permitted in the playgrounds
Respect others privacy by only taking photos of you and your family or group in the playground.
NB: There's another St Kilda Playground in South Australia, with a giant flying fox. Find details of the St Kilda Playground Adelaide here.
Toadstool Rating: Best of Melbourne Playgrounds in St Kilda
A winner of a playground in South Melbourne near Port Philip!
It's a top spot for a party, or take part in the activity choices already on offer.

Looking For More Things to Do in Melbourne with Kids?
Click the blue links below for more Melbourne attractions for kids.