INSIDE: Everything you need to know about the Explora Museum Rome Italy.
If are looking for things to do in Rome with kids, you MUST visit the unparalleled children's museum, Explora Il Museo – Dei Bambini Di Roma, in Rome.
This is our family travel favourite of the tourist attractions in Rome for kids.
This gigantic children's museum is filled with hands on activities for the kids and you don't need to speak Italian to enjoy it.
The Rome Explora Children's Museum is huge, and it's still growing!
But do make a booking as soon as you can.
It's very popular with local families.
Take a look inside below.
Disclosure: This article contains affiliate links. If you make a purchase after clicking on one of these links, we may receive a small commission at NO extra cost to you.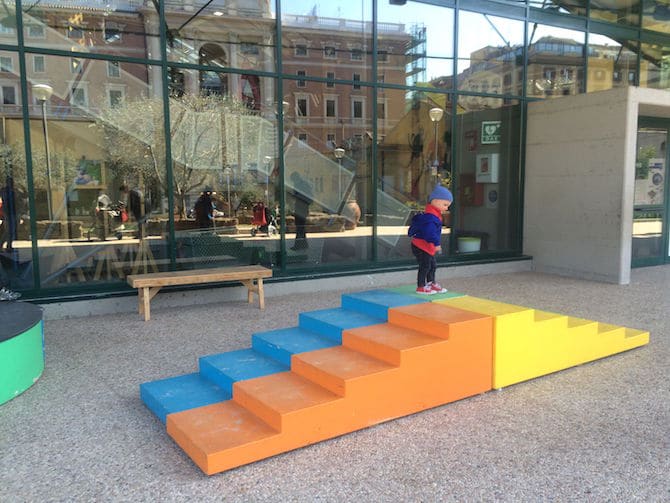 Explora Museum Rome
The Explora Kids Museum in Rome, near Piazza del Popolo square and Villa Borghese, fills two levels and has a bundle of thematic exhibition stations and rooms to explore.
Exhibitions are created for all the various age groups, so there are some things better suited to older kids, and some for the younger.
Toddlers won't care though. They'll have a go at most things.
Hot tip: Check the symbol charts on each activity at Museo Explora for suggested ages for each exhibit or area.
---
RELATED: 13 Best Things to Do at Villa Borghese (it's very close to Explora Museum)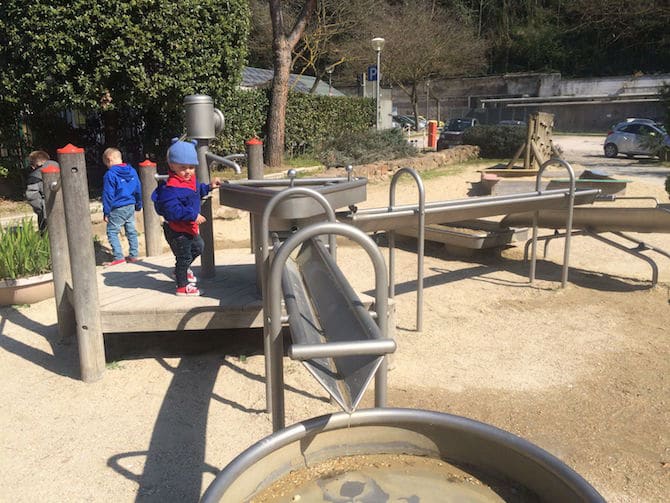 Explora Kids Outdoor Play
A bonus is that there's a FREE children's garden with a water play station, and sandpit outside the main building.
Children can play here while waiting for their session to begin.
---
BOOK NOW: Kid Friendly Highlights of Rome Tour with Gelato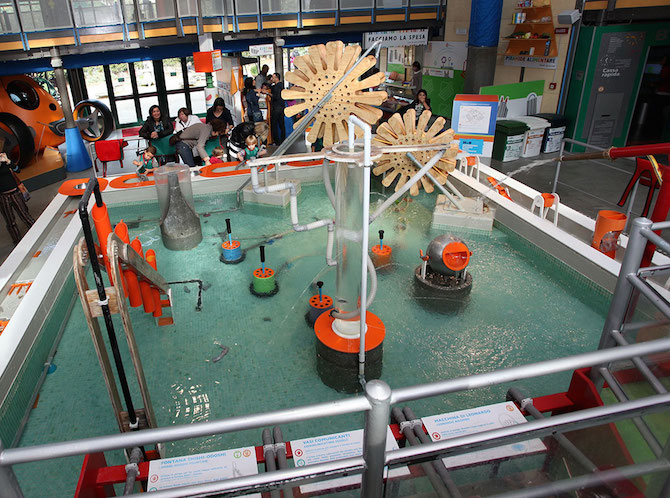 No.1: Rome Water Play Games is the No.1 Activity!
The absolute highlight, and the one things you should not miss, is the Water Games Tub which dominates the building!
Here you and the kids can play with water:
join pipes to make the water run
swirl vortexes
pour and catch water, and
experiment with this fluid substance.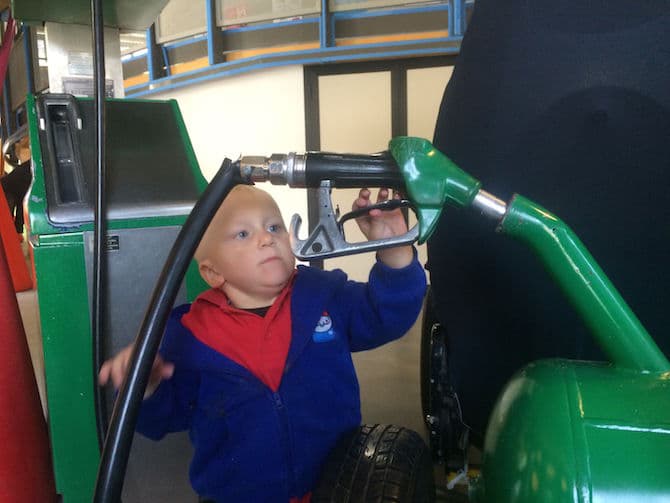 No.2: Must Do Activity at Explora Roma: 'Economiamo'
There's a super dooper fun interactive exhibition on the sensible use of money – spending, saving, and donating.
Register for the game (with English subtitles)
Receive a printed paper ID wristband which loads and collects your points as kids complete 'jobs' (eg filling up a petrol tank).
In doing the activities, kids earn money to save or spend at the pretend "café" or "shops" stations in the game.
---
RELATED: ULTIMATE GUIDE OF THINGS TO DO IN ROME WITH KIDS!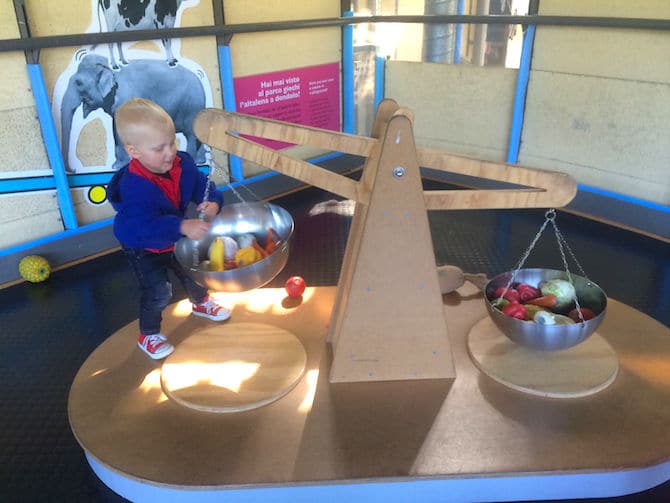 More of What's on at Explora Rome
Here's a quick overview of some of the exhibits you'll find for all ages.
No.1: Pari
An interactive journey and game throughout 11 game stations and physical activities focused on three themes:
stereotypes
rights and duties
equality and uniqueness
No.2: Made in Explora Maker Space
Made in Explora is a maker space that offers educational activities for all kids, including the younger age group 3-6 years.
Kids can learn about science, technology and art through a hands-on approach, which concentrates learning on experience through observation and experimentation of different materials.
Take a look at the windows of the Explora Museum when you walk in to see some of the creativity and inspiration made inside these walls.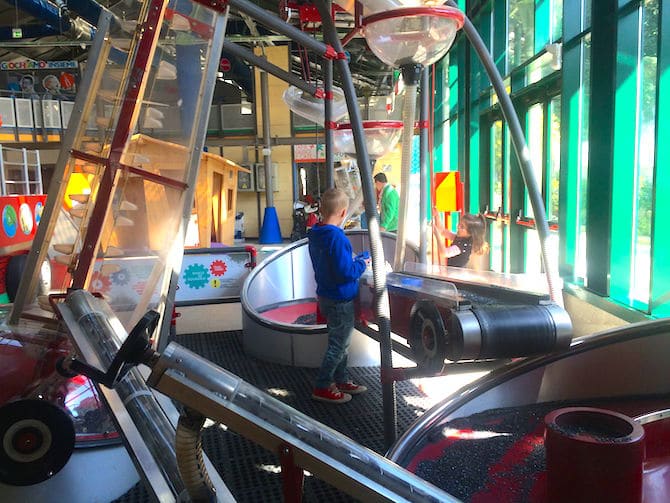 No.3: Team Play
A colossus Archimedes screw sits in the centre of this contraption.
Kids can:
move the conveyor belt, and
twist the cranks to move containers of ball bearings up AND down AND around to complete the loop.
Working alone is futile. Kids must help one another in self managed "teams" to operate all of the instruments and make this thing happen!
As Ned will tell you, it's epic fun!
No.4: That Strong Wind
Discover the forces of the wind in this interactive play space.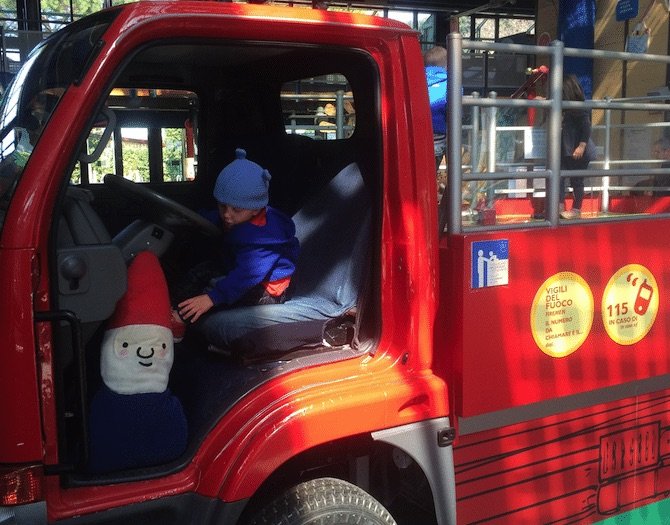 No.5: Be a Firefighter
Dress up in real fireman's outfits and jump in the driver's seat to explore this life-saving profession
No.6: Next Stop Explora
Become the driver of the Explora 'train' and learn all about the age of train travel
No.7: What I Eat – I choose, I discover, I buy
A play-based supermarket experience giving the children an opportunity to explore what it means to eat a balanced diet in a fun way.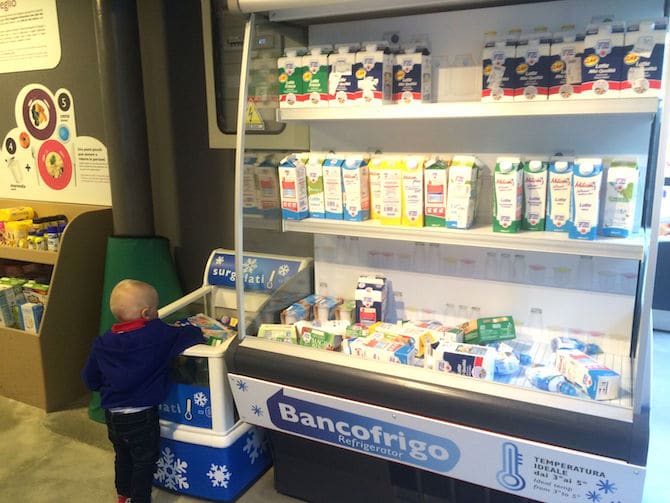 No.8: Play Kitchen
A play based pretend kitchen asking, "What shall we cook today?"
Kids can play with lots of loose parts and props to 'cook' and 'bake'.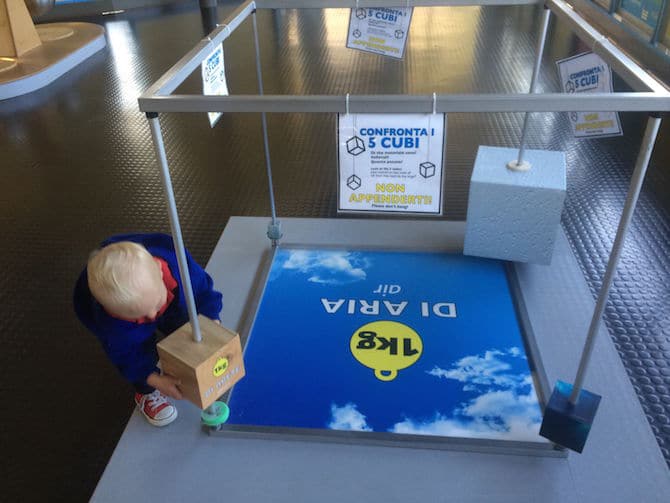 No.9: Weights and measures
Children can develop their skills in maths and science through fun games, activities, and exercises.
Like this cube challenge above.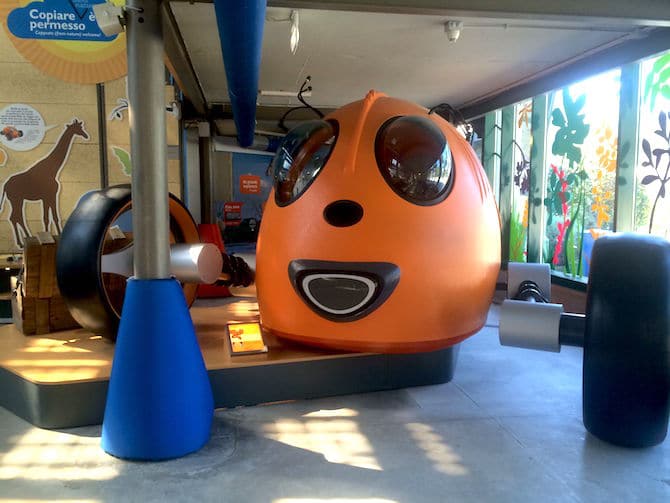 No.10: Step inside the Bionic
A giant insect-like contraption sits on one side of the building on floor level.
It's the place to learn how scientists look at structures and processes in nature in order to obtain technological solutions applicable in the technical field.
No.11: In the garden
In the Garden is an opportunity to play 'gardens' and growing play fruit and vegetables, with play props.
It's a chance to find out what grows where around the world.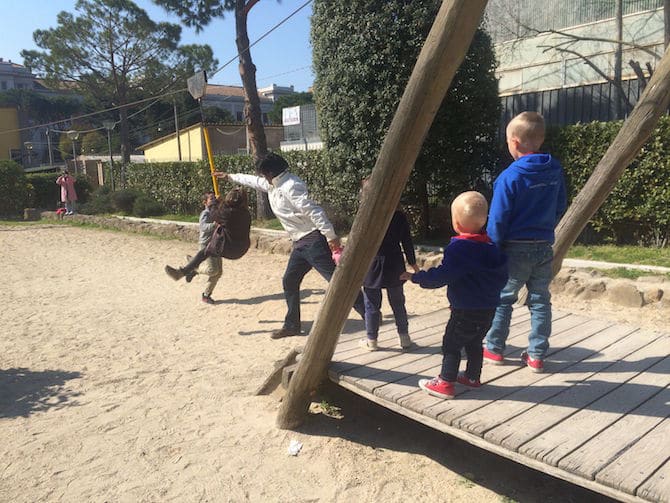 No.12: Zipline & Play in the Outdoor Green Area
When the session finishes, let the kids expel any excess leftover energy on the climbing frame, and a zip line outside.
The Explora Garden is open to all and free of charge.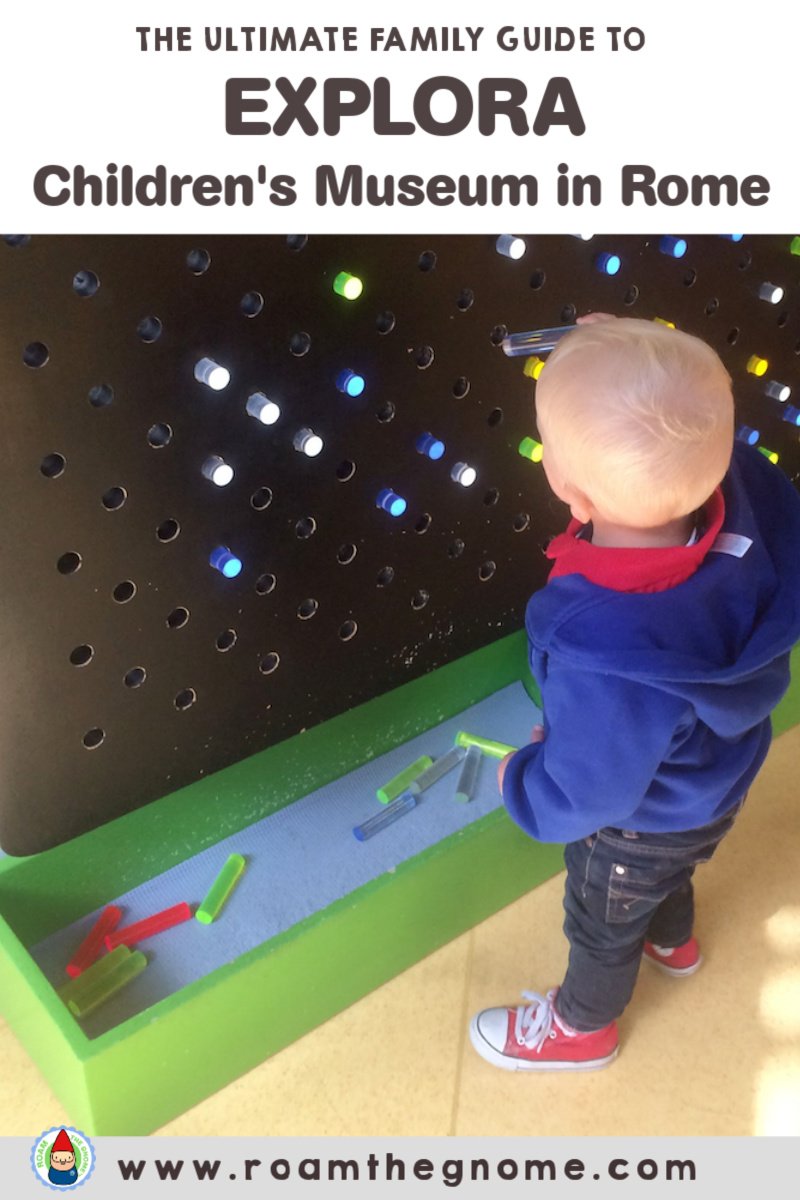 More Things to do at Explora Museum
Throughout the Children's Museum, find:
construction toys
wooden cubby houses and wooden animal shapes to hide in
costumes and dress ups, and
musical instruments to play.
There's also places to hide, places to craft, and places to explore.
It doesn't matter if you don't speak Italian.
Most staff have a grasp of English and can help you out, or try and interpret the symbols on the signs at each activity.
Most activities are fairly self explanatory, and when you can't work it out, laugh at your efforts!
Explora Toddler Time
Roma Explora also has a dedicated Small Explorers area dedicated to those under 3.
There's soft block play, light box play, mazes, puzzles and more.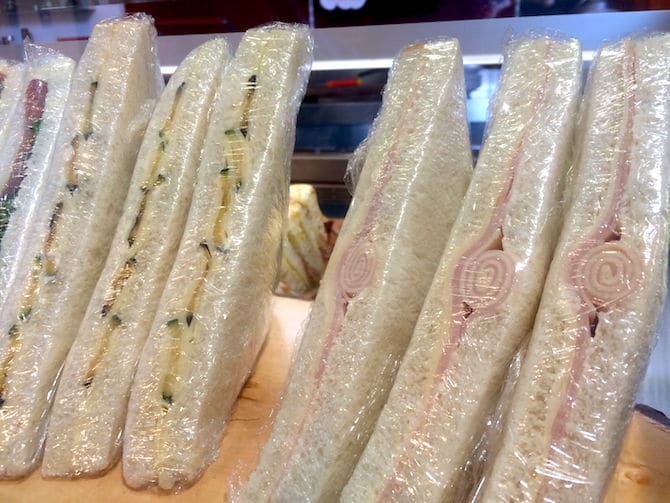 Where to eat in Rome with kids
There's a delicious and cheap family-friendly café on site in the foyer of the museum.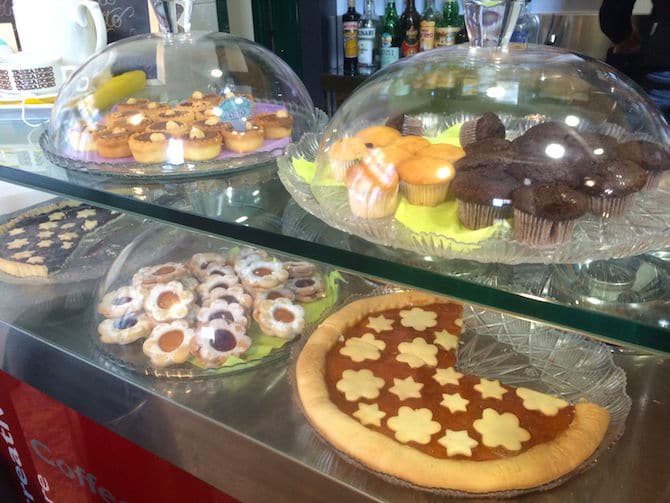 Explora Museum Cafe in Rome
Staff are super helpful and there's fun food options for the kids including:
simple sandwiches kids love
cakes
muffins
tarts
chips and crisps
fruit selections
Explora Pizza restaurant
If you're hungry for something more substantial, there's also the Roman headquarters of the Antica Pizzeria da Michele restaurant.
Eat pizza to your heart's content.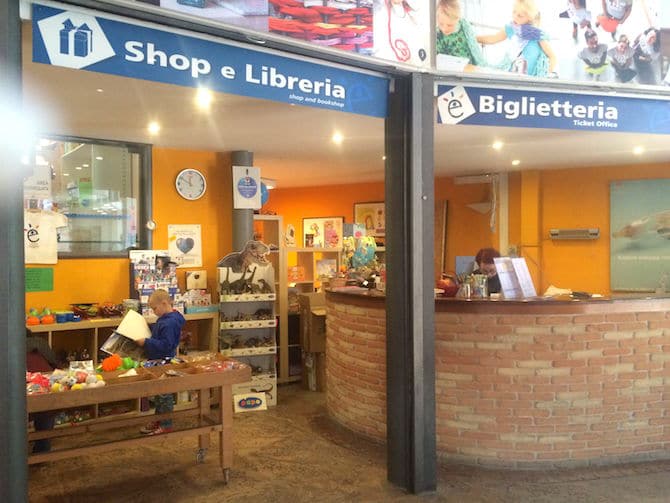 Best Toy stores in Rome? Visit the Explora Shop & Bookshop
If you are planning on shopping in Rome for the kids souvenirs, you'll love the Explora Museum Shop.
The shop and the library has 3 floors of:
educational and scientific games
pocket money toys
a wide selection of books dedicated mainly to children
CDs and DVDs
stationery products
gadgets, and
tonnes of souvenir and gift ideas from Rome too.
Look for the Explora branded folding cup, and buy a few for easy to carry gifts for kids.
These cups came in handy so many times during our stay in Rome, and we use them at home too.
The shop and bookshop are open from 9.30am to 7.30pm daily, except Mondays.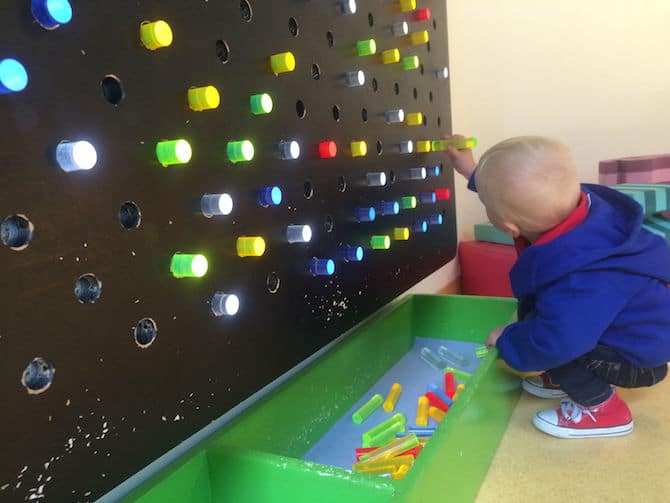 THE INSIDE SCOOP: Rome Explora Museum
Correct at time of publication on Roam the Gnome. Please check with venue for updates. We apologise in advance if there have been any changes we are unaware of. All prices in Australian dollars, unless otherwise stated
Address: Explora is in Via Flaminia 80/86, in the centre of Rome. It's just a few minutes walk from Piazza del Popolo.
Telephone: + 39 06 3613776
Email:[email protected]
Ticketing: [email protected]
Facebook: Click here
Website: Click here
Explora Opening Hours
There are four 'shifts' each day from January to July, and again from September to December. Book your session online to avoid missing out. Places fill quickly.
1st session: 10am – 11.45
2nd session: 12:00 – 13.45 (1.45pm)
3rd session: 15:00 (3pm) – 16:45 (4.45pm)
4th session: 17:00 (5pm) – 18:45 (6.45pm)
Note August openings (winter) have three sessions only, starting at 12pm.
The museum is closed Mondays (see website for details), Christmas Day, New years day, and for winter break.
The Rome Children's Museum may be closed on other days – check website for details.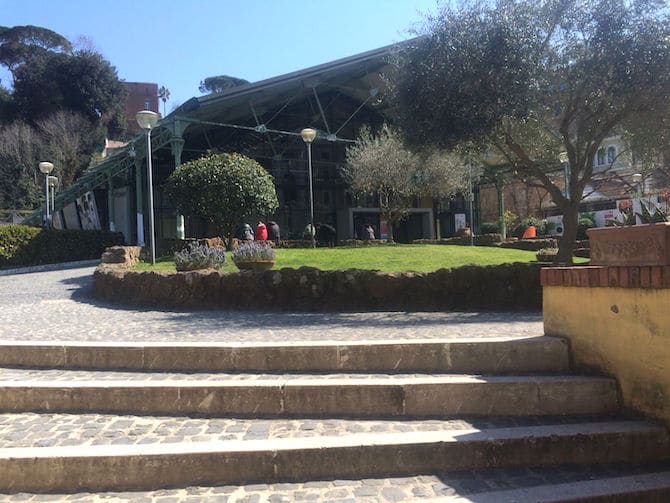 Rome Explora Tickets
Babies 0-12 months FREE
Toddlers 1-2 years – 6,00 Euro
Children 3+ years – 9,00 Euro
Adults 18+ years – 9,00 Euro
1st Thursday of the month, excluding holidays – 7,00 Euro per person from 3+ years
The admission price includes 1 hour and 45 minute session.
It is not permitted to leave and re-enter the museum during this time.
Children must not be left unsupervised in the museum.
As this is the best thing to do in Rome with kids, we suggest booking your tickets as early as you can.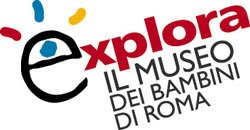 How to buy Explora Tickets
Book your Explora Museum Tickets here
Purchase Explora museum tickets ahead of time to secure your spot.
Pre-purchase booking of your tickets is:
recommended on weekdays,
mandatory on Saturdays and holidays
Bookings are kept up to 10 minutes from the time of entry.
If you do not show, your tickets will be voided, and they may be resold to a walk in customer.
Please be on time, or call if you are running late.
No refunds will be made.
Change to reserving tickets for sessions at Explora Museum
It's no longer possible to make a reservation booking ahead of time, and pay for these tickets at the ticket office in the building on the day.
The ticket office remains open for purchase of last minute tickets during the opening hours from 11.00 to 19.00 from Tuesday to Friday, subject to availability of seats.
If there are spots available for you to purchase tickets at the ticket office on the day, a link will be sent via SMS to your cell phone.
This allows you to download the electronic ticket (the data provided, including the mobile number, is used only to provide the ticket issuing service).
Kitchen Workshops
WORKSHOP IN KITCHEN is a special workshop that takes place in a space adjacent to the exhibition pavilion on Saturday, Sunday and holidays from October to June.
Workshops run for 50 minutes and cost €10 euro per person.
For children the entrance fee to the museum combined with the cooking workshop is 7.00 euros.
Check the calendar for vacancies. Reservations required.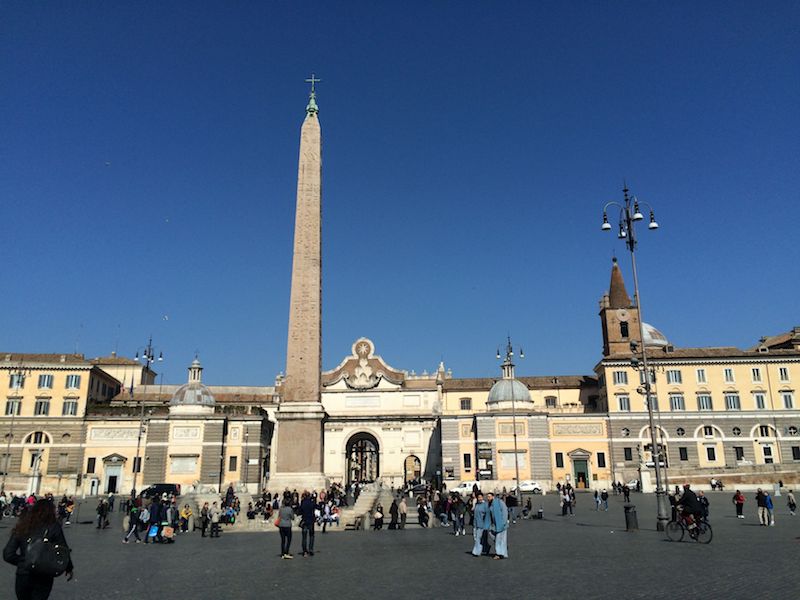 How to get to Explora Museum in Rome?
By Car
Explora has a reserved parking for visitors in via Flaminia 86, with access from Via DA Azuni or Via Flaminia.
The parking lot is open from 8am to midnight, 7 days
If you use the browser, you can type "Via Domenico Alberto Azuni, 1" and proceed straight until you enter the car park.
By Foot: Explora is a short walk from Piazza del Popolo
By Tram: 2, 19
By Train: Rome-Viterbo – p.le terminus Flaminio
By Metro: Line A – stop Flaminio
Facilities
Facilities include toilets, baby change table, and water fountains.
Map of Explora Museum for Kids
Toadstool Rating: Explora IL Museo Dei Bambini Di Roma
You don't need to wonder what to do in Rome with kids anymore! Especially if you are in Rome with toddlers.
This Rome museum for kids aged 1 to 12 years old is a no-brainer. Book a ticket now.
Hot tip: You should also book this Colosseum & Ancient Rome Family Tour for kids.

Looking for MORE SUPER DOOPER FUN places to visit in Rome?
Click the links in blue for more Rome tips below.