INSIDE: The Ultimate Guide to the Pinocchio Store Rome Italy.
When travelling with the kids, we regularly find ourselves shopping for small nicknacks and souvenirs to bring home for our family, close friends, the boy's school teachers, the neighbours, and their classmates.
In Roma Italy, we didn't have to look far at all to find a suitable souvenir shop.
Just 25 metres from our quaint AirBNB apartment in a cobbled alleyway, we stumbled upon THIS adorable Pinocchio Toys shop in Rome.
The Pinocchio Rome Toy Store is very easy to find, as this Pinocchio Toy Store is just metres away from one of Rome's great icons, the Trevi Fountain.
Find all the details below.
Disclosure: This article contains affiliate links. If you make a purchase after clicking on one of these links, we may receive a small commission at NO extra cost to you.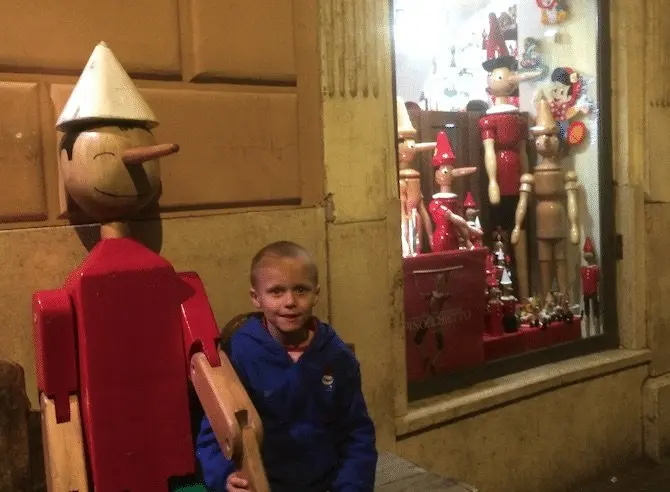 Life Size Pinocchio Doll at this Pinocchio Store Rome!
Look out for the life-size Pinocchio sitting on the chair outside in Rome.
My boys were smitten at first sight – by the bigger-than-lifesize Pinocchio seated out front.
Ned made friends instantly!
But inside the shop was where the true treasure lay.
The PINOCCHIO Toy shop in Rome is is the cutest Italian Toy Shop we've ever seen!
You'll want to buy Pinocchio toys en masse!
---
BUY NOW ON AMAZON: Pinocchio "Real Boy" Magic Wooden Puppet Costume Dress up for kids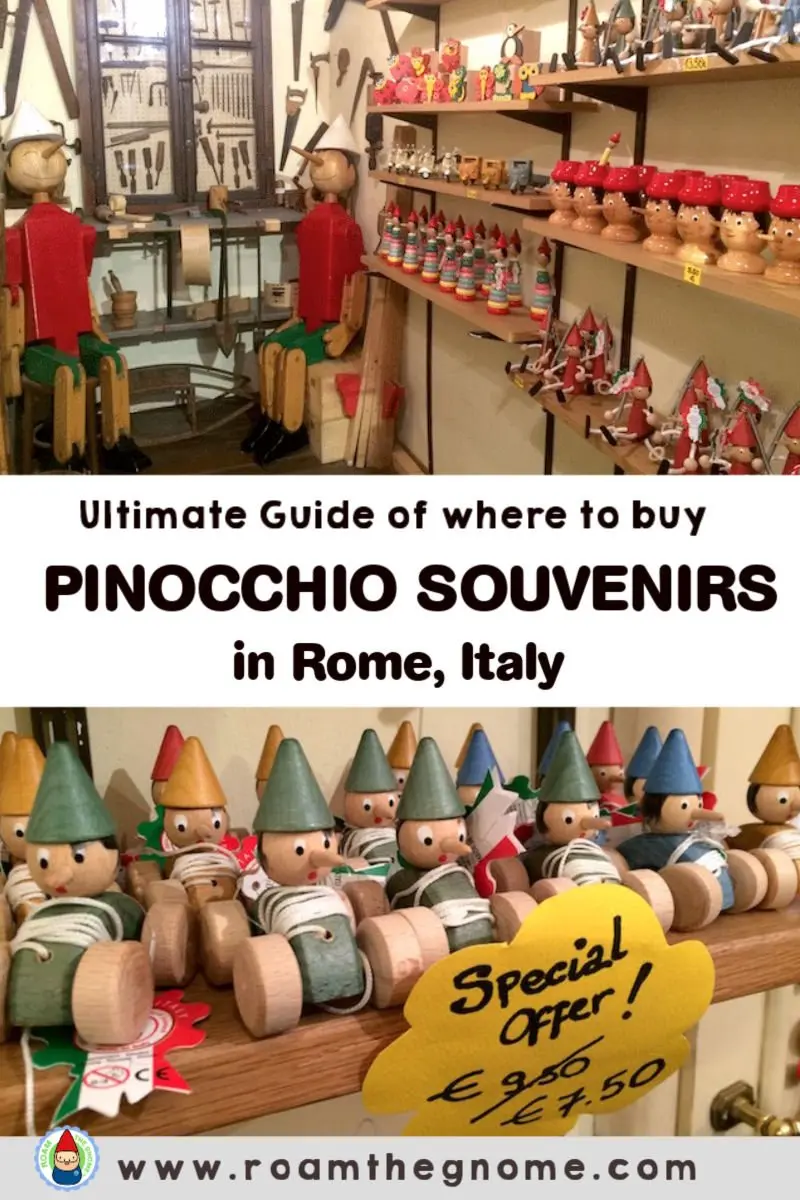 Things to do in Rome with Kids? Visit Boutique Pinocchio Rome!
Shelf, after shelf, after shelf, of wooden Pinocchio dolls, as far as the eye could see.
There were all kinds of Pinocchio souvenirs in stock.
If you are looking for wooden Pinocchio dolls, a Pinocchio costume, or one-of-a-kind Pinocchio gifts, you will surely find them here.
---
BUY NOW ON AMAZON: 20″ Wooden Pinocchio Doll made in Italy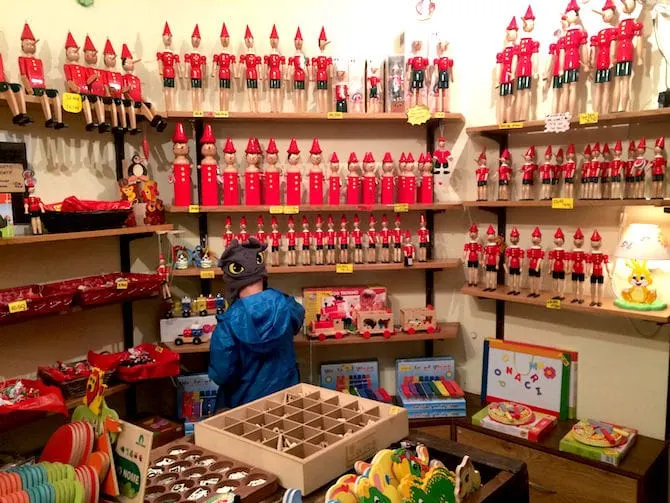 The perfect souvenir in Rome is an Italian Pinocchio Doll
Here's a few of the things for sale in the Pinocchio store:
Pinocchio dolls in all shapes and sizes, from 10cm right up to almost two metres tall!
Pinocchio postcards that were so beautiful, they warranted framing. (Two of mine hang in the bedroom.)
Original Pinocchio dolls from the Pinocchio Maker in Collodi
Pinocchio Money Banks
Pinocchio Dolls that bounce above baby cots or bassinettes
Pinocchio Jewellery Holders
Pinocchio Baby Stackers
Pinocchio stationery including pens, notebooks, and letter sets
Pinocchio paperweights, and bottle openers too!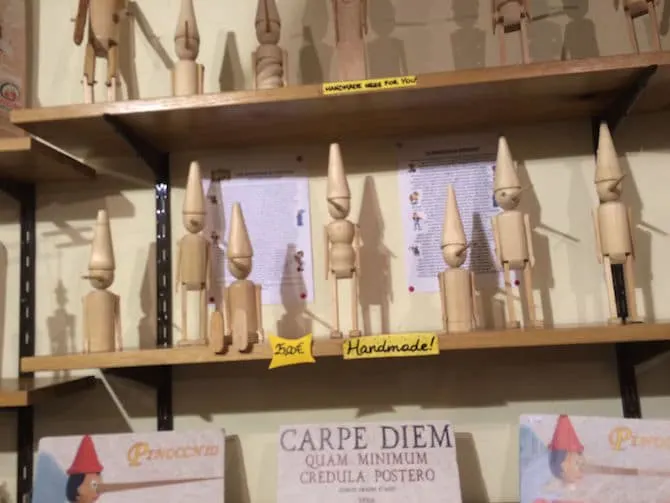 Unique Pinocchio dolls
While most of the Pinocchio dolls and the Pinocchio toys for sale in the Pinocchio Toy shop were painted the traditional red and black, this Pinocchio Toy Store also kept a range of handmade natural Pinocchio dolls too.
These were unexpectedly enchanting!
More Pinocchio toys for sale
The Pinocchio Toy shop also stocked a range of other toys too, including:
musical instruments
carved candle holders
rainbow coloured necklaces and bracelets for kids, and
puzzles.
---
BUY NOW ON AMAZON: A delightful Pinocchio Pandora Dangle Charm for your bracelet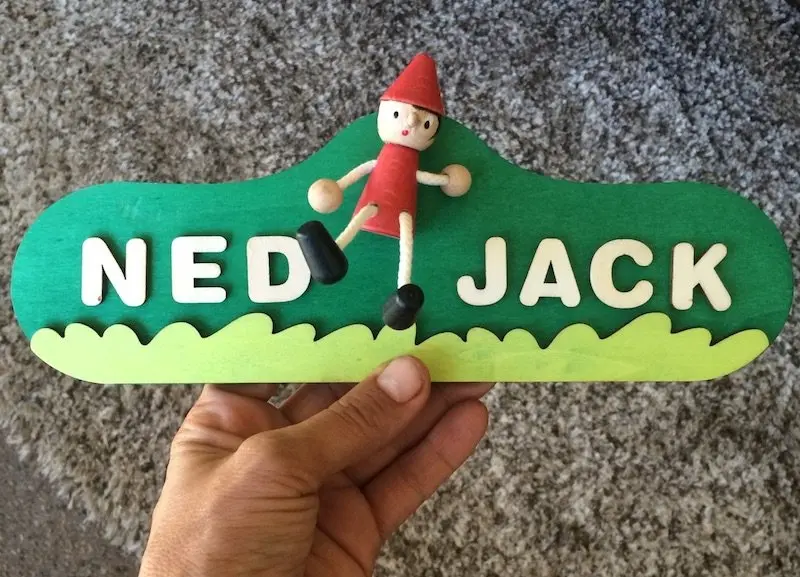 Best Souvenirs from the Pinocchio Toy Shop in Rome
We chose a Pinocchio wooden name plate for the door of Ned and Jack's bedroom.
We also collected one of these for each of the children in our extended family.
In hindsight, I should have bought two separate door name plates – one for each child – as they no longer share a room.
I've left it on Jack's door as I still LOVE this souvenir from Rome.
I've got my eye on a life-size Pinocchio Wooden Doll on our next trip!
---
BUY SIMILAR ON AMAZON: Pinocchio Toy Figure Doll Fridge Magnet made in Italy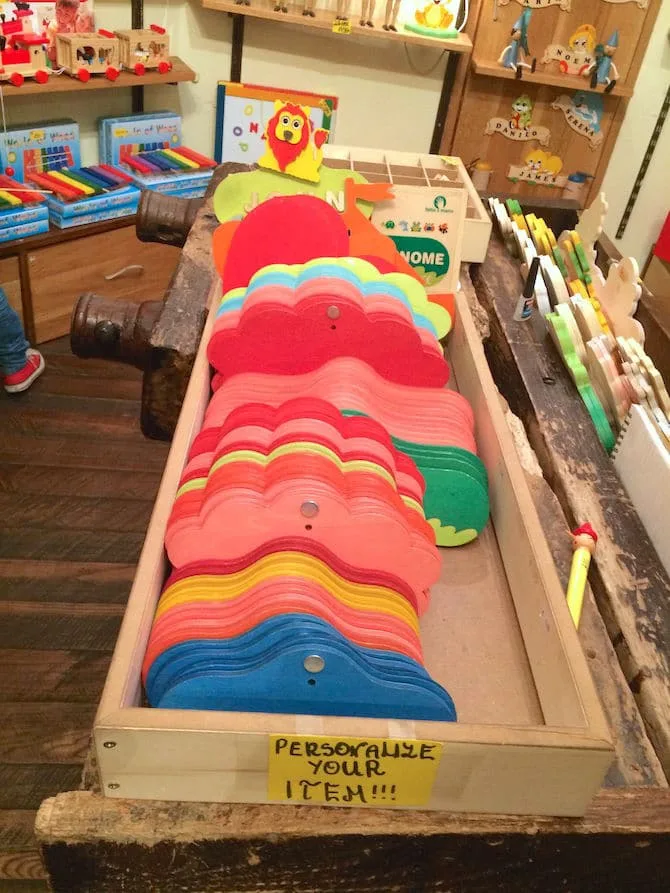 Visit The Pinocchio Shop Online to find Pinocchio Dolls for sale
If you are not in Rome, but want to add to your collection of Pinocchio wooden dolls and Pinocchio toys, click this link for details about the online shop.
(You'll also find 8 Fabulous Facts about Pinocchio that you might not yet know, plus interesting titbits about this puppet who turned into a real boy in the Pinocchio fairy tales, AND a whole bunch of Disney Pinocchio Toys & Ornaments you can buy.)
But put a visit to this shop in Rome on your Family Travel Bucket list too.
Did you know Vecchia Falegnameria Pinocchietto was established in 1927?
This shop is almost 100 years old.
It's super gorgeous in person and everyone needs to visit Rome at least once in this lifetime, surely!
Hot tip: You can find more Pinocchio souvenirs in Little Big Town toy store in Rome too.
---
BUY NOW ON AMAZON: Walking Pinocchio Figurine, one of 6 collectibles by Medicom Toys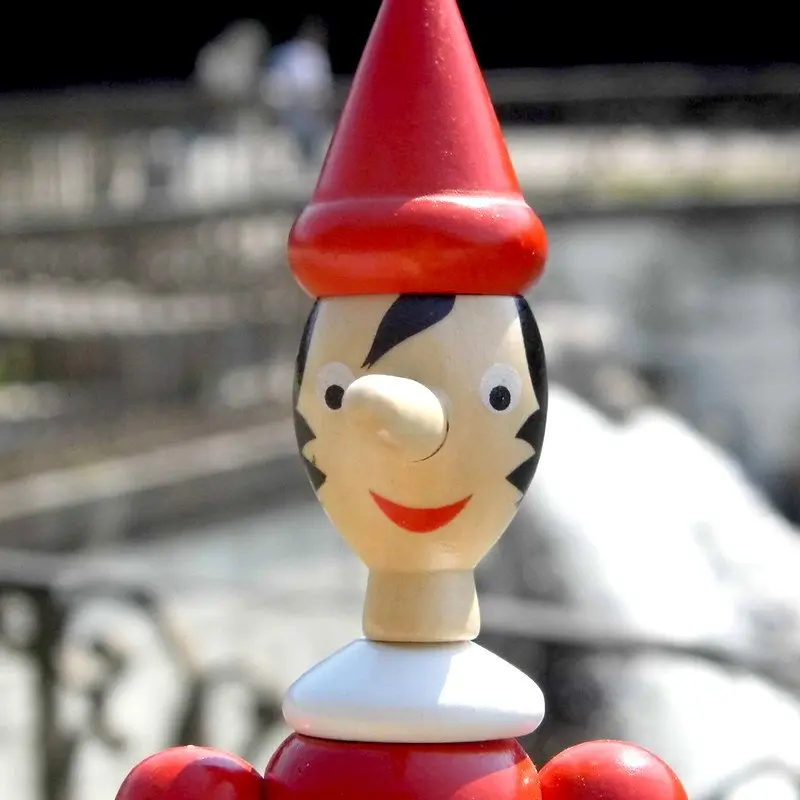 Image credit: Salvatore Vastano via Flickr CC BY-ND 2.0
FREQUENTLY ASKED QUESTIONS ABOUT PINOCCHIO
No.1: Why is Pinocchio so popular in Italy?
I couldn't say it any better than the writer, Alessandro Gallenzi who wrote:
"Carlo Collodi's story of a wooden puppet that dreams of being a real boy –
and has a reputation for telling a few fibs –
is imprinted in the soul of every Italian."
Pinocchio has been read or told to Italian children since it's release in 1883.
Thanks to the animated feature film by Disney made in 1940, every child around the world now knows the story of Pinocchio.
It's become the most adapted story of all time.
No.2: How do you say Pinocchio in Italian?
Have a listen to the pronunciation of Pinocchio in the audio clip above.
No.3: What is the Pinocchio origin?
According to Wikipedia, Pinocchio is a fictional character and the protagonist (leading character) of the children's novel The Adventures of Pinocchio, written in 1883 by Italian writer Carlo Collodi.
Pinocchio's nose is his best-known characteristic. It grows in length when he tells a lie.
The story is set in a villa in Collodi, where Carol Collodi spent his youth, in 1826.
This villa is now named Villa Pinocchio.
No.4: What is the Pinocchio Rome connection?
The author sent his manuscript to a newspaper editor friend in Rome to see if he would be interested in publishing it.
He did.
The story began.
No.5: Is Pinocchio from Rome?
No, Pinocchio is from Collodi.
Carlo Collodi is the pen name of the author Carlo Lorenzini (1826-90).
Collodi is the town where Carlo's mother was born. Collodi is 3.5 hours north of Rome.
---
BOOK NOW: Spend a Day in Pinocchio's Footsteps on this private tour of Pinocchio Park & other Pinocchio attractions in Collodi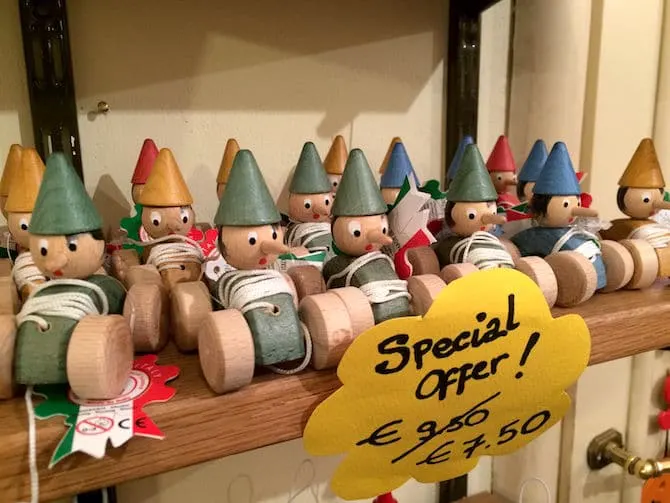 THE INSIDE SCOOP: Pinocchio Rome Shop
Correct at time of publication on Roam the Gnome. Please check with venue for updates. We apologise in advance if there have been any changes we are unaware of. All prices in euro or US dollars, as stated
Address: Pinocchio Shop Rome – Via Del Lavatore, 93/94 ROMA
Telephone: 06 69924431
Email: [email protected]
Website: Click here for details of the online shop
Entry fees: Free
Opening Hours:
We believe, based on our own experiences, that this shop is open seven days a week.
From experience, this shop seems to open from around 10-11am till late (7 – 8 pm)
But remember, this is Rome.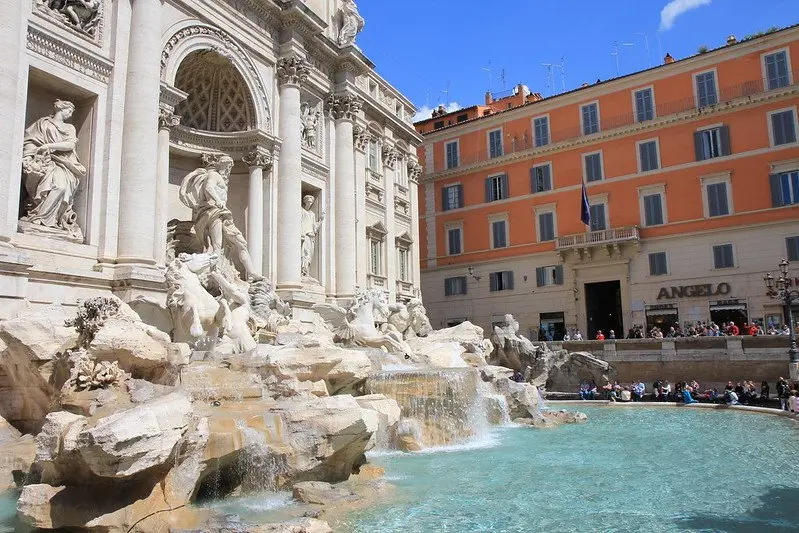 Image credit: Sakena via Flickr CC BY-2.0
When is the Pinocchio Toys Roma shop open?
The Pinocchio Toys Shop was open every time we passed (early morning, noon, AND night) but we can't guarantee the hours for 100% certain.
The Pinocchio Rome shop staff were unable to clarify either.
It seems the opening hours may be somewhat flexible!
What we'd suggest is that if the Pinocchio toys shop is not open when you visit, enjoy a Nutella crepe or an Italian hot chocolate in one of the cafes in the same street, and try again in an hour or two.
If you walk towards to the Trevi from the Pinocchio shop, the Bar Trevi bar & cafe on the right hand corner, just metres before the Trevi does AMAZING hot chocolate, and has creme filled Cannnoli Siciliani for around £3 too!
Hot tip: The Best Pizza in Rome can be found at Pizza Florida, just a 10 minute walk away.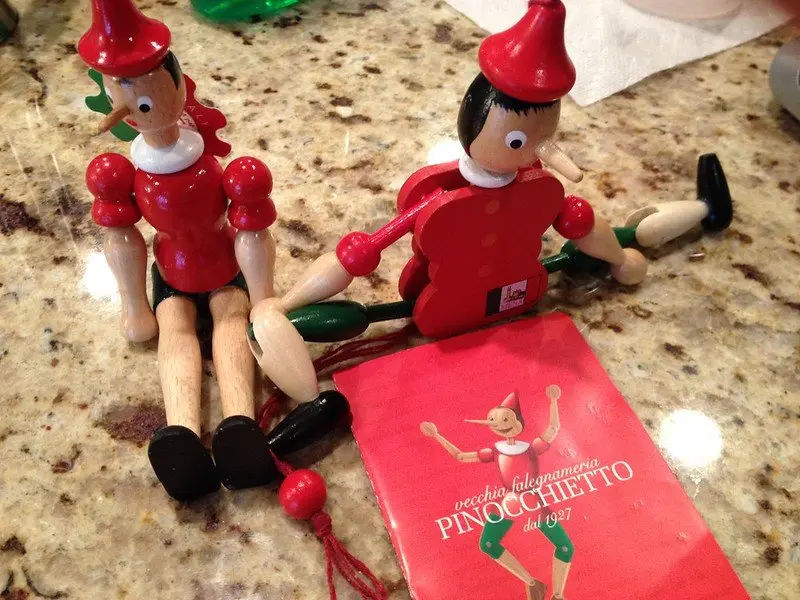 Image credit: Elaine Moore via Flickr CC BY- 2.0
How to get to the Pinocchio Toys Store in Rome
The first step to find the Pinocchio Toys Shop is to make your way to the Trevi Fountain.
A main road, Via Del Tritone, runs parallel to the Via del Lavatore street, and it takes just a few minutes to walk from the Trevi Fountain bus stop to the Trevi Fountain.
Plenty of buses run along this street, so you will have no trouble getting there.
Once at the Trevi Fountain, walk along the Via del Lavatore towards the Giardini del Quirinale for two blocks.
You will see the Pinocchio Toys shop on the second corner on your left.
Have fun in there!
Map of Pinocchio Shop Rome on Via del Lavatore 93/94
Toadstool Rating – Pinocchio Store in Rome
The most adorable shop in Rome deserves a visit.
Pop in.
Dare you to leave empty handed.

Looking for MORE SUPER DOOPER FUN things to do in Rome with kids (and shopping in Rome too)?
Click the links in blue below.