INSIDE: Roam the Gnome's Guide to Piazza Del Popolo Rome.
In the north of the city lies the glorious Piazza del Popolo, a gigantic open-air public square whose name means 'People's Square" .
The Piazza Del Popolo is situated on the northern gate of the old city, at Porta Flaminia.
The size of this piazza draws those visitors and locals alike who wish for a bit of breathing space from the narrow crowded Roman streets, or to find somewhere the kids can let off some steam.
Piazza del Popolo is one of Rome's centre hubs for street art and street entertainment too, and we highly recommend a visit.
Take a peek below!
Disclosure: This article contains affiliate links. If you make a purchase after clicking on one of these links, we may receive a small commission at NO extra cost to you.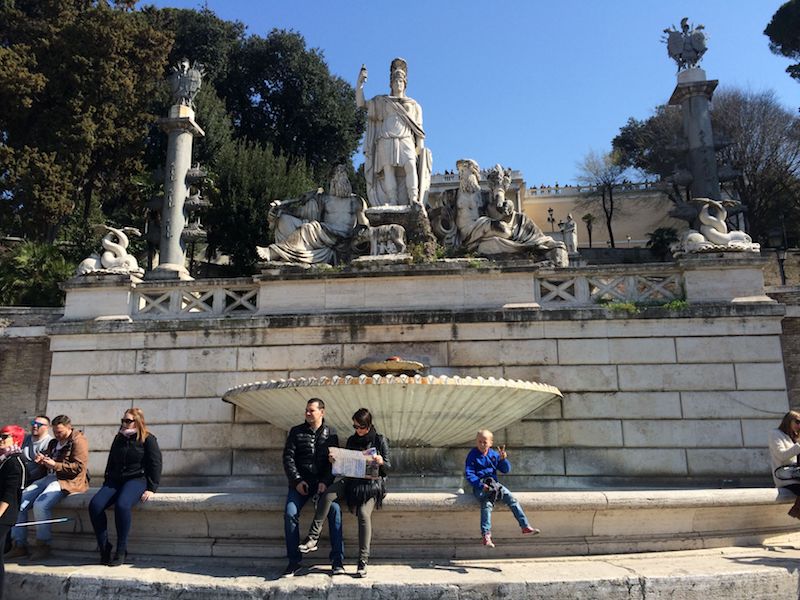 Facts about Piazza del Popolo Rome Attractions
Here's a bunch of Piazza del Popolo facts & interesting titbits about Ancient Rome creations.
No.1: Piazza del Popolo History
The Piazza del Popolo is the starting point for Via Flaminia, the road that leads to modern day Rimini.
Before public transport became readily available, travellers en-route to Rome would take their first glance of the city right here at the Piazza del Popolo – and what a view!
No.2: Piazza del Popolo Obelisk
The 76 feet Flaminian obelisk, placed here in 1589, is one of Rome's most spectacular features.
This Egyptian Obelisk is of 13 ancient obelisks in the city, and the second oldest one.
---
BOOK NOW: Join a 3 hour Sunset Tour of Rome's historic piazzas, an insider's look at history & intrigue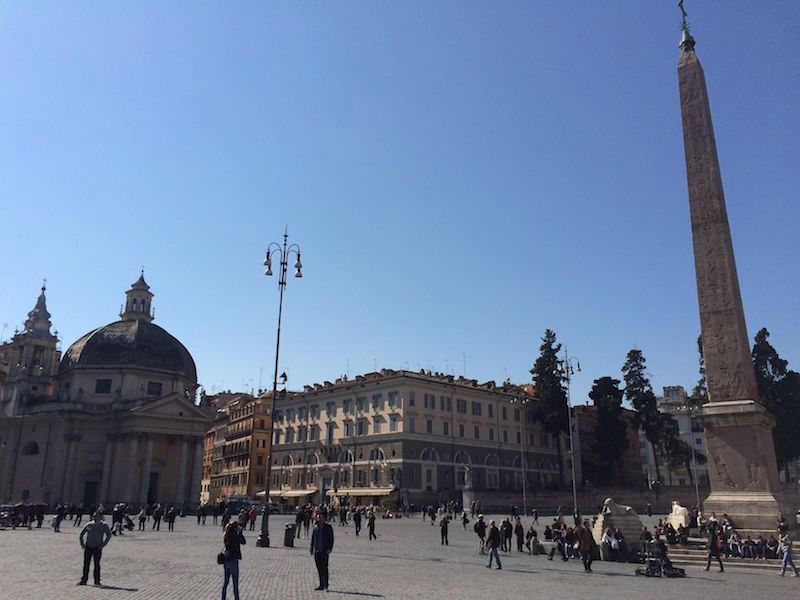 No.3: Piazza del Popolo Church
Standing on the north side of the square, the Parish Basilica of Santa Maria del Popolo church was the first church that travellers from outside Rome came upon after their journey towards the city.
Visit this Augustinian church to check out the ornate decoration of the two chapels, one of which was built and designed by the artist Raphael.
Fun Fact: The church is home to two canvases by Caravaggio from 1600.
There's another church next door, Church of Saint Mary in Montesanto, and together they are often called the Twin Churches.
No.4: Piazza del Popolo Statues & the Rome Piazza del Popolo fountain
Take a look at the ancient statues and fountains in the square.
Fontana del Nettuno, the Fountain of Neptune, can be found on the west side of the square.
This statue is of Neptune, with his trident, flanked by two tritons.
Four mini fountains, with a lion on each pillar, sit in the centre of the square.
This is called the Fontana dell' Obelisco.
---
Book Now: Take a private 3.5-hour golf cart tour of Rome, Follow in the footsteps of Tom Hanks' character from the movie "Illuminati"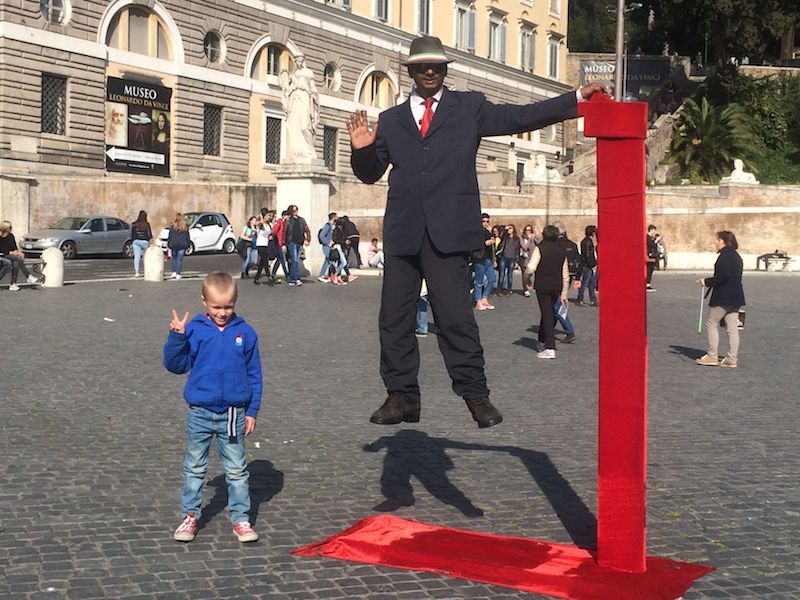 Street Entertainment at this Roman Square
Check out the free street entertainment.
There's always something interesting or clever happening to captivate or charm both kids and adults.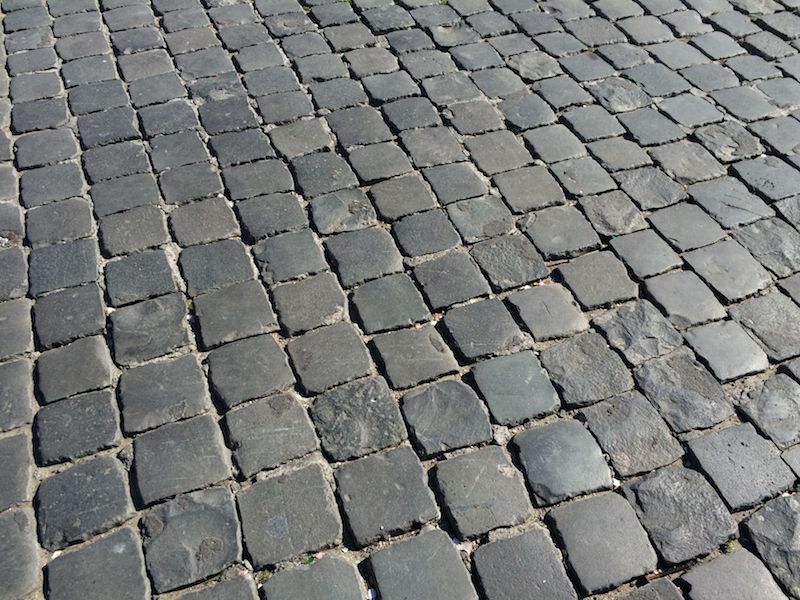 Piazza del Popolo Restaurants
There are also many open-air restaurants surrounding the piazza.
Jimmy's Eatery is good for pizza and pasta on the go with kids
La Vita E un Mozzico is a good sandwich shop to pick up lunch
Ristorante Pizzeria Popolo Caffe is a relaxed spot for Italian and Mediterranean dishes everyone will like.
Try Gelataria dei Cracchi for the delicious gelato with unusual flavors
Piazza del Popolo Shopping
There are plenty of Rome souvenirs shops and fashion boutiques nearby, south of the Piazza, on both Via Del Corso, and Via del Babuino.
Find Gap, Nike, Sephora cosmetics, Zara, and the LEGO store in Rome within 5-10 minutes walk.
The best thing to do is wander, and head in when a shop takes your fancy.
Look out for PuntoPelle if you are looking for Leather Jackets in Rome.
The Birkenstock shoe store can be found at Via del Babuino, 165.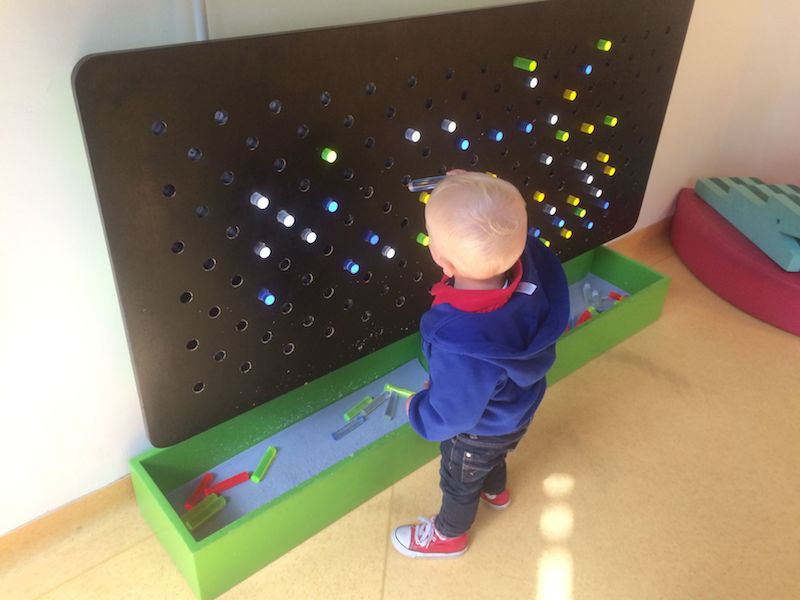 Best Things to Do with Kids in Rome? Explora Children's Museum!
The best thing about the Piazza del Popolo?
It's just a hundred metres or so from the Rome Children's Museum, Explora!
If you are travelling with kids on a family vacation, you must put this place on your itinerary.
Be sure to prebook your ticket before you arrive, or you might miss out on your preferred session.
Explora Museum for Kids is No.1 of the best things to do in Rome with kids with hundreds of hands on activities, play equipment, and an outdoor playground too!
They also have a small family friendly cafe attached with sandwiches, snacks and coffee if you are hungry.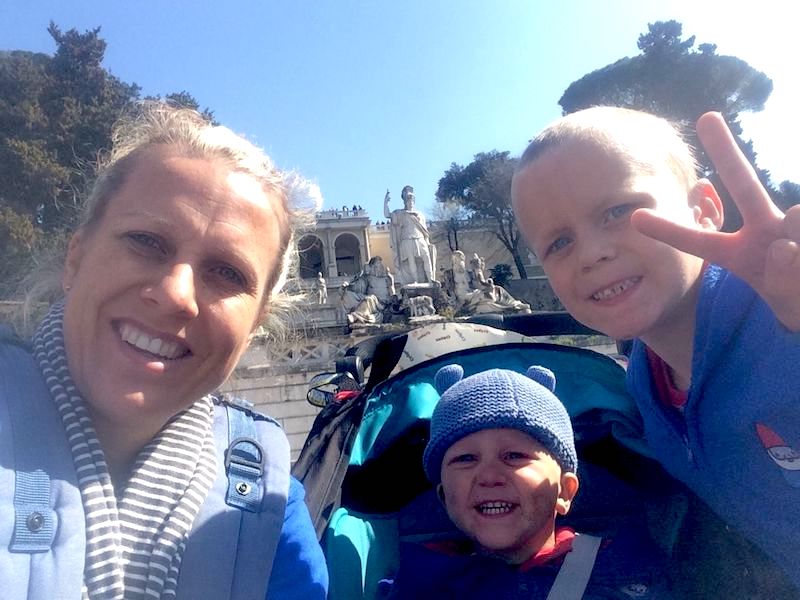 More Things to Do near Piazza del Popolo
Piazza del Popolo in Rome is just a few hundred metres from the Spanish steps.
It's also an uphill climb away from the gorgeous Villa Borghese gardens.
We highly recommend visiting Villa Borghese with children.
Check out the 10 best things to do in Villa Borghese with kids here.
This piazza in Rome is within walking distance or a short taxi ride to:
Sistine Chapel & the Vatican Museum
Roman Forum and Colosseum
Piazza Navona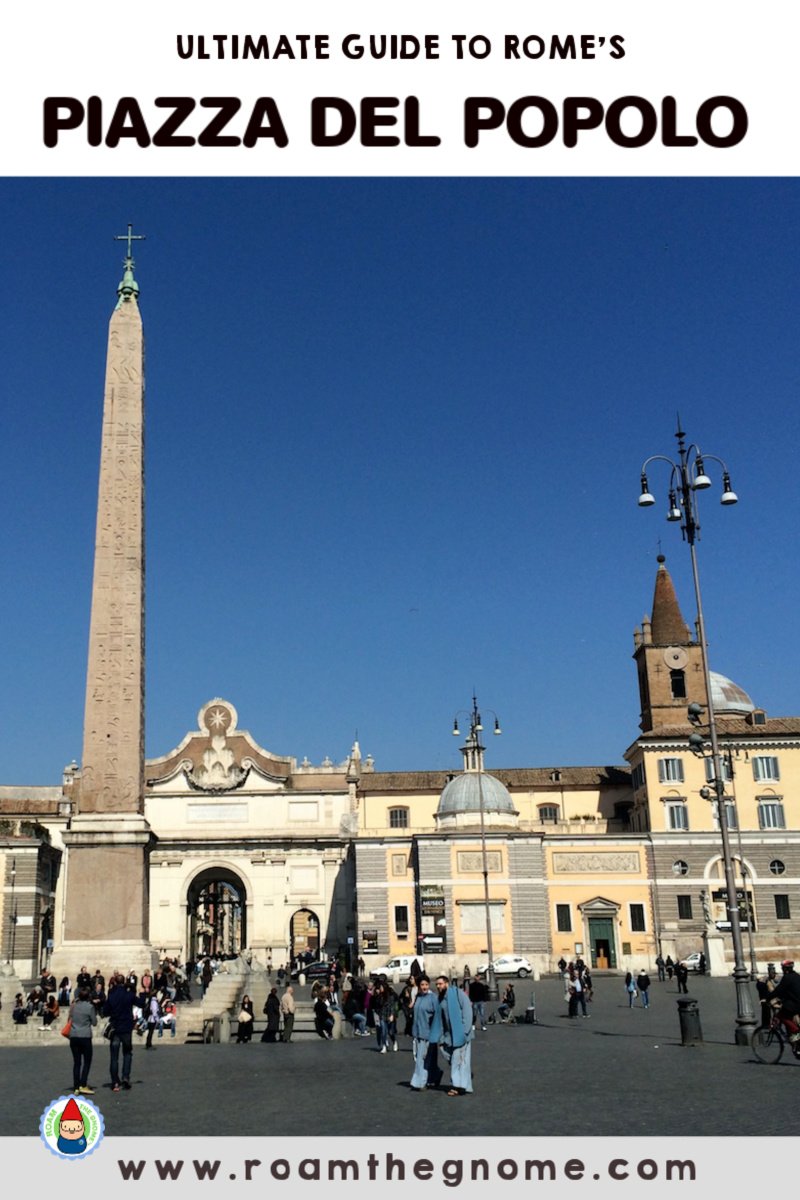 THE INSIDE SCOOP: La Piazza del Popolo Rome Italy
Correct at time of publication on Roam the Gnome. Please check with venue for updates. We apologise in advance if there have been any changes we are unaware of. All prices in euro, unless otherwise stated
Address: The square is located between via del Corso and Piazzale Flaminio.
Opening Hours: Open all hours
Entry Fees at the Piazza del Popolo: Free entry.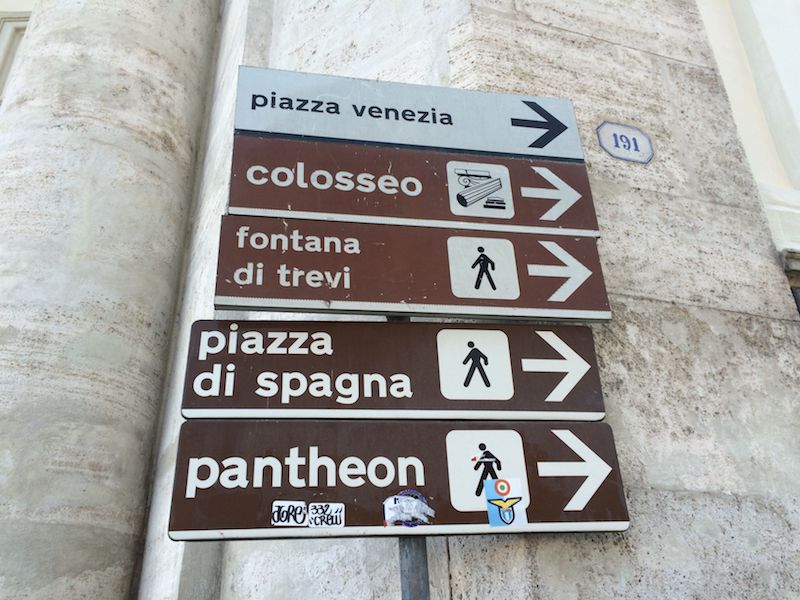 How to get to Piazza del Popolo
On foot:
The Piazza del Popolo lies at the northern end of Via del Corso.
It's a 30-odd minute fast-paced walk or a longer stroll from the Trevi Fountain. But if you like shopping in Rome, it's going to take you a little longer!
By Metro: Metro line A: Stop 'Spagna' or 'Flaminio'
By Bus: Bus No. 88, 95, 117, 119, 490 or 495
By Taxi or Uber: Piazza Del Popolo is easily accessible by taxi or Uber.
Frequently Asked Questions
How long is it from Piazza del Popolo to Trevi Fountain?
It's a 16 minute walk via the busy Via Del Corso, the main shopping street in Rome, but only if you browse the store windows!
Piazza del Popolo Map
Toadstool Rating: Piazza del Popolo in Rome
Our favourite open air square in Rome, but it's almost as if this is one Rome tourist attraction that didn't make the memo!
We adore the Piazza del Popolo, and can't wait to head back to Rome with the kids to visit again!


Looking for MORE SUPER DOOPER FUN places to visit in Rome with kids?
Click the links in blue for more Rome tips below.