INSIDE: A sneak peek into our favourite Auckland City play area, Myers Park Playground!
Combining Art, Design and Play, this award winning playground is up there among the best of the Kids Activities Auckland has to offer.
Myers Park Playground Tops our List of Kids Activities in Auckland!
Take a look and see why!
Disclosure: This article contains affiliate links. If you make a purchase after clicking on one of these links, we may receive a small commission at NO extra cost to you.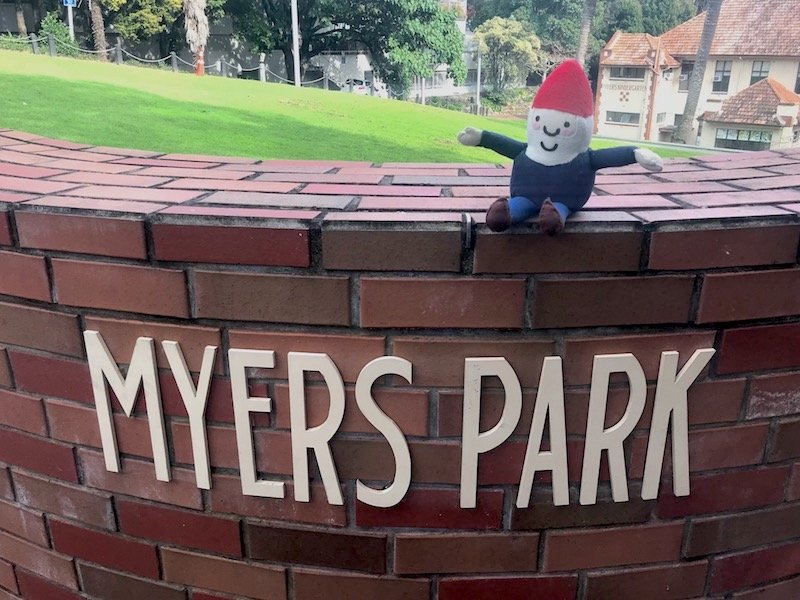 Guide to Myers Park Playground
Pop the Myers Park Playground on your bucket list of things to do with kids in Auckland.
It's definitely worth a look.
Smack bang in the centre of the city, this green oasis of beautifully designed play equipment has stuff for all ages to do.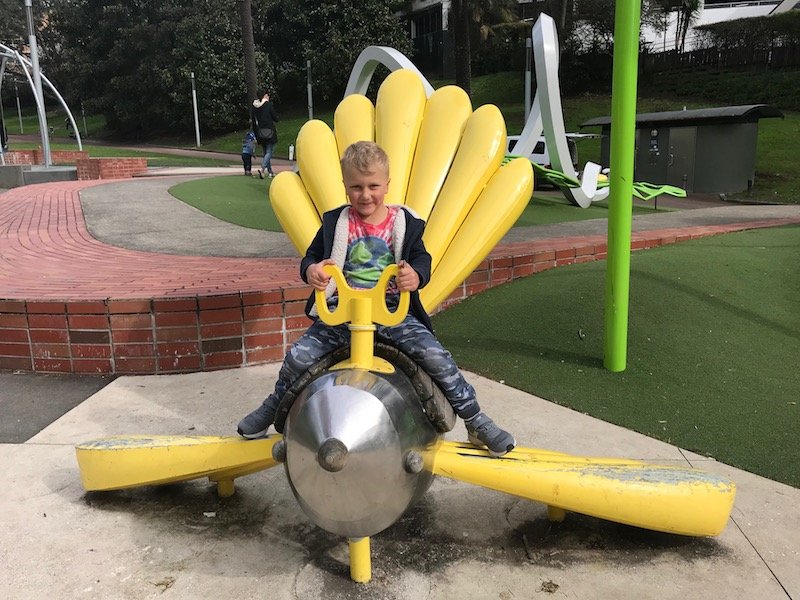 Myers Park is just 5 minutes walk from Aotea Square at Sky World Entertainment Centre, and the yummy hole-in-the-wall food stalls opposite.
Auckland Art Gallery and Auckland Library are nearby too.
---
RELATED: The Big List of the BEST Things to do in Auckland with kids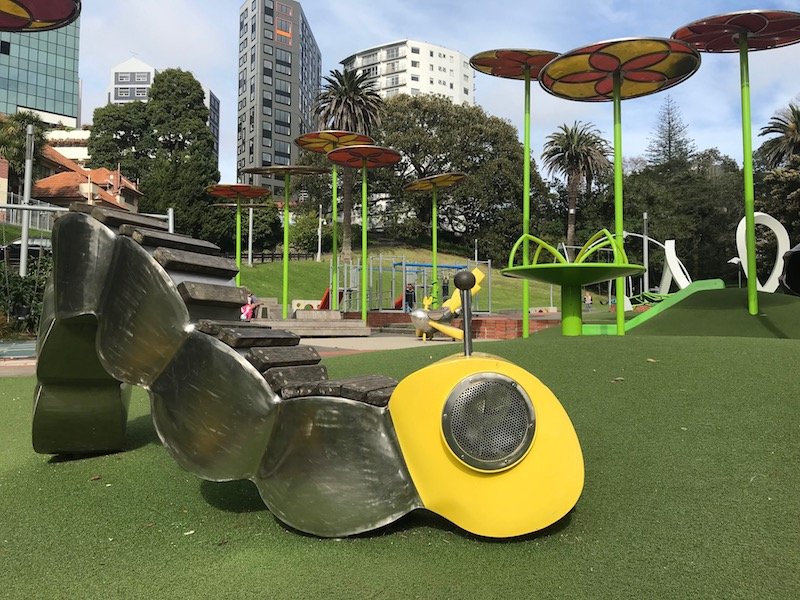 Things to do in Auckland for Toddlers
Toddlers and preschoolers will love the animal sculptures.
Can you find the birds, the snail, and the caterpillar?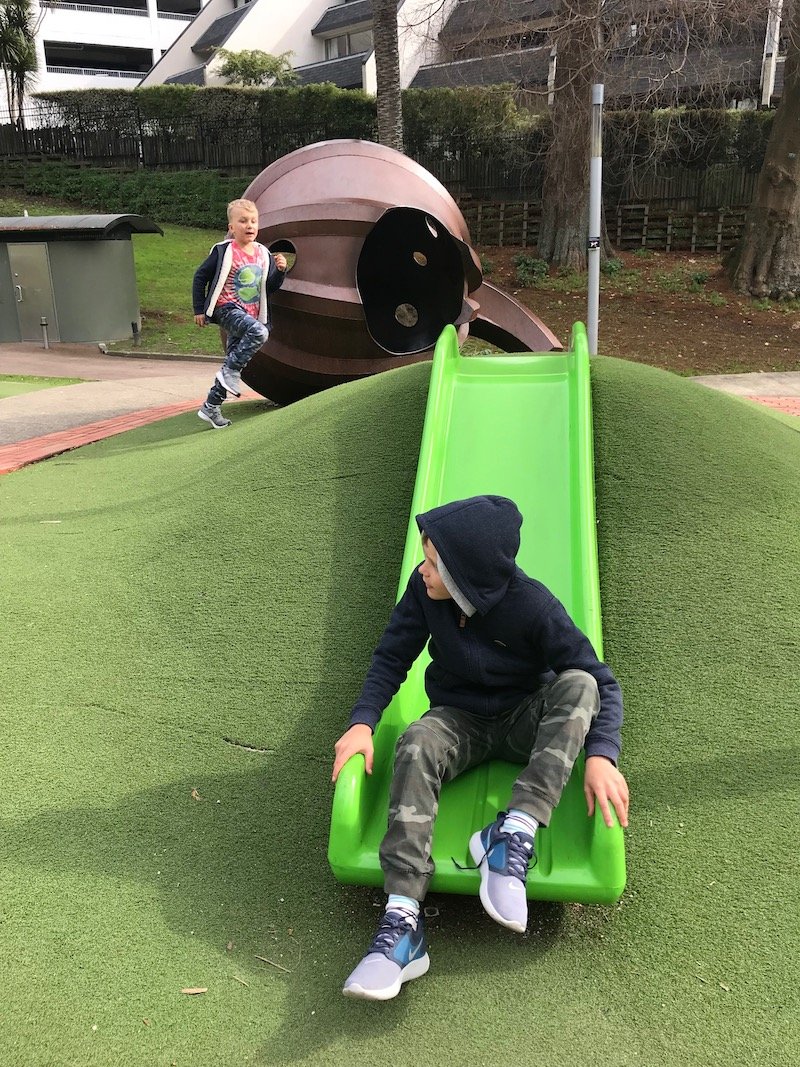 Myers Park playground equipment for toddlers
The play equipment at this Auckland playground is a little unique, a modern twist on old favourites.
There's:
spinning disks
a giant squash pumpkin slide
toddler swings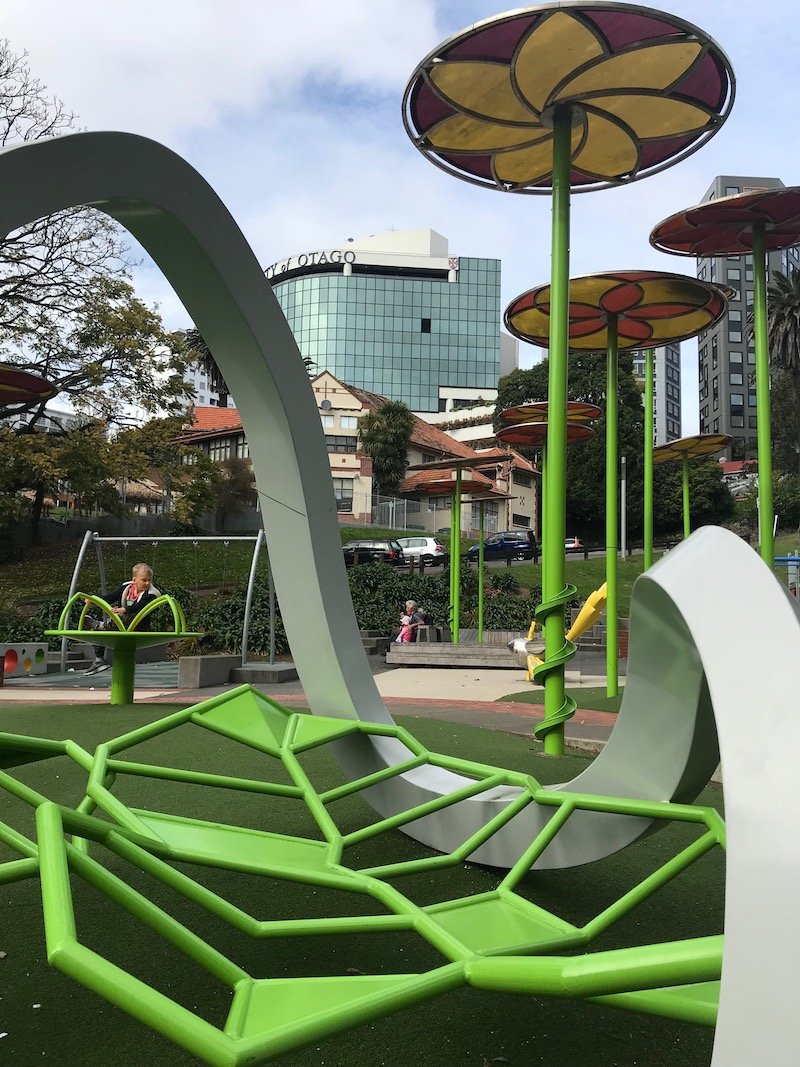 And…
giant reimagined "leaves" to climb over and around, and
soft artificial grass to soften any falls.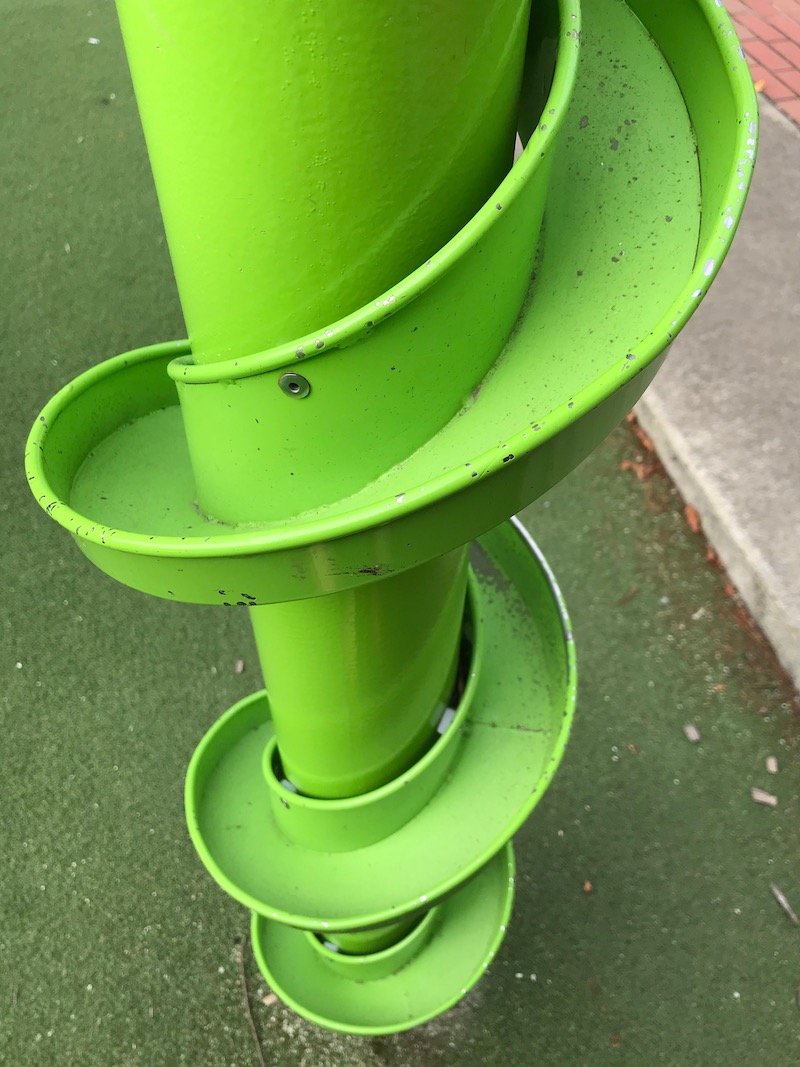 Marble Run
BYO marbles to run down the spiral marble runs.
Find one on a Flower Petal pole.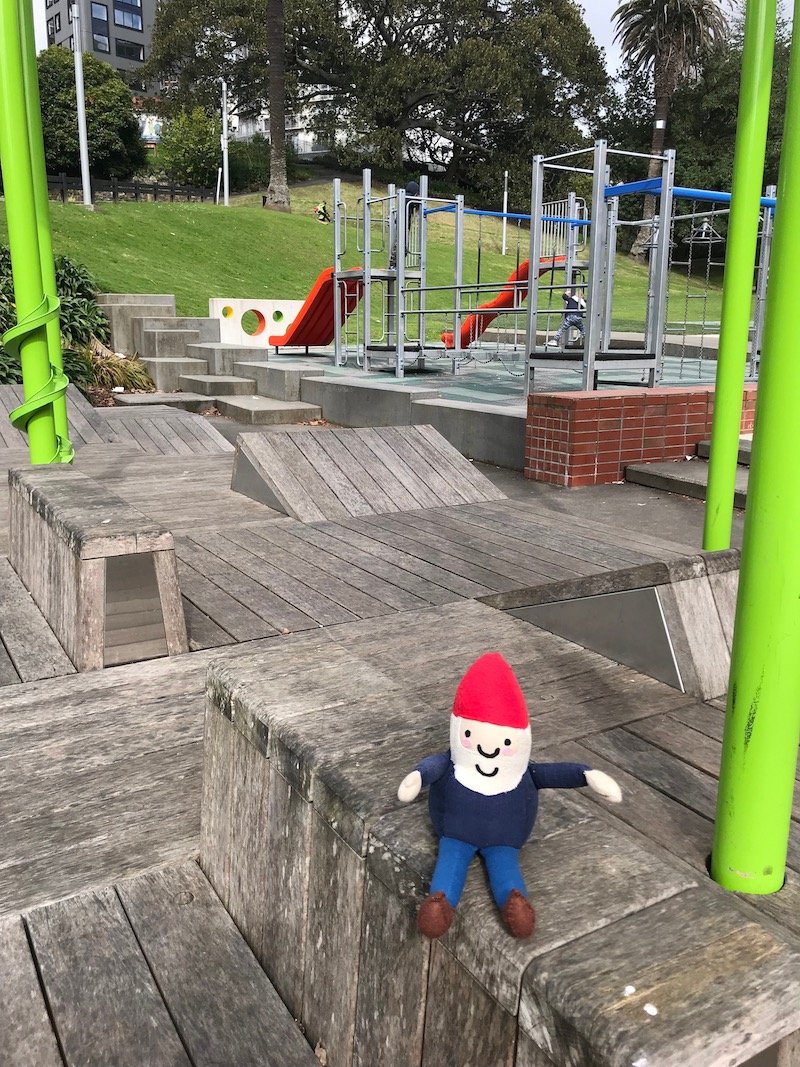 Best Playgrounds in Auckland for Older Kids and Teens?
Older kids and teens won't be bored at Myers Park Playground either.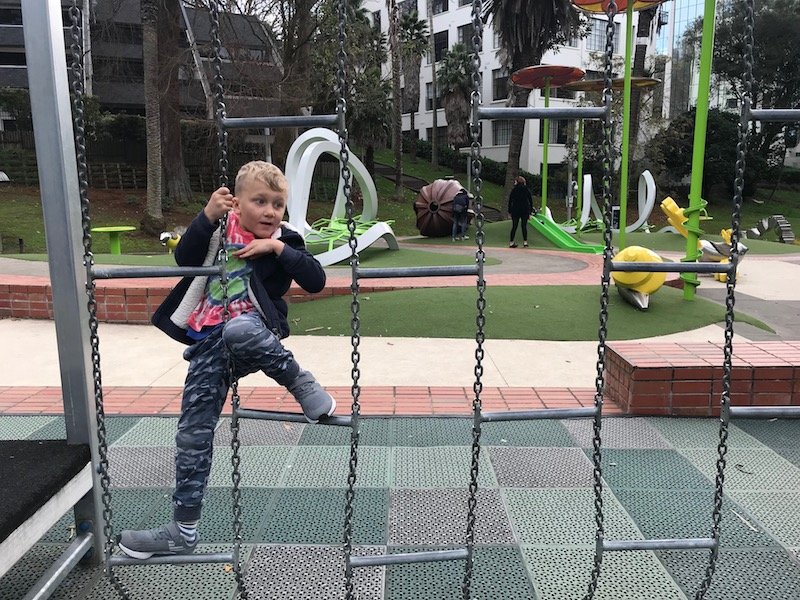 Parkour is the name of the game here, with:
a climbing gym with slides
chain ropes, and
balance beams.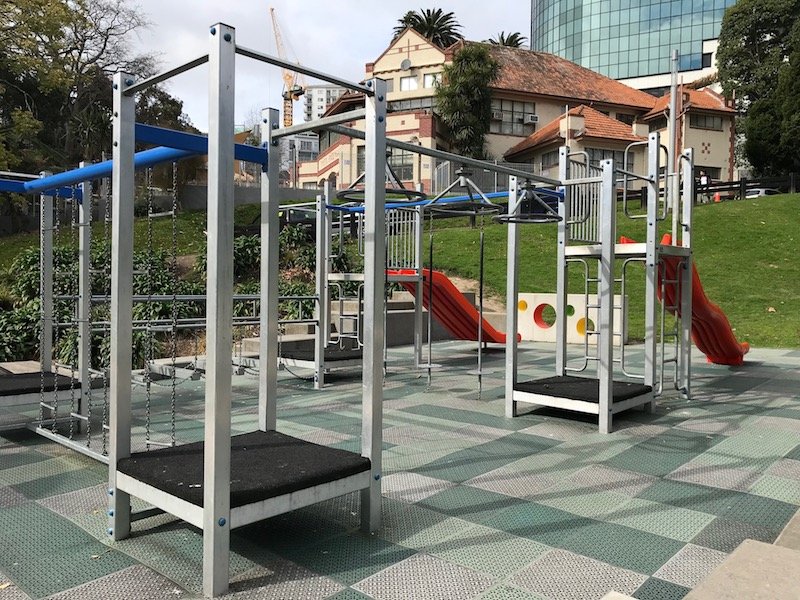 Climbing frame
See how long it takes the family members to get around this without touching the floor.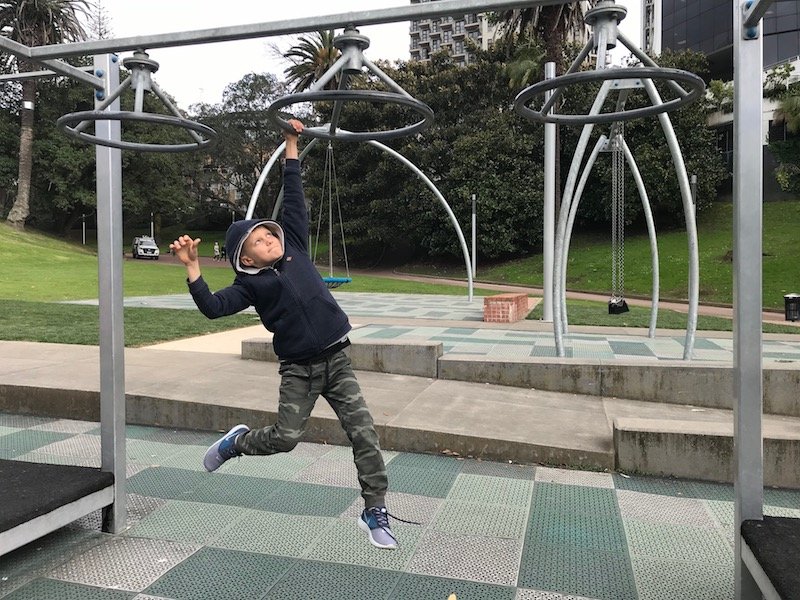 Monkey Bars
Try the monkey bars with a difference.
Watch out – those metal circles move unexpectedly!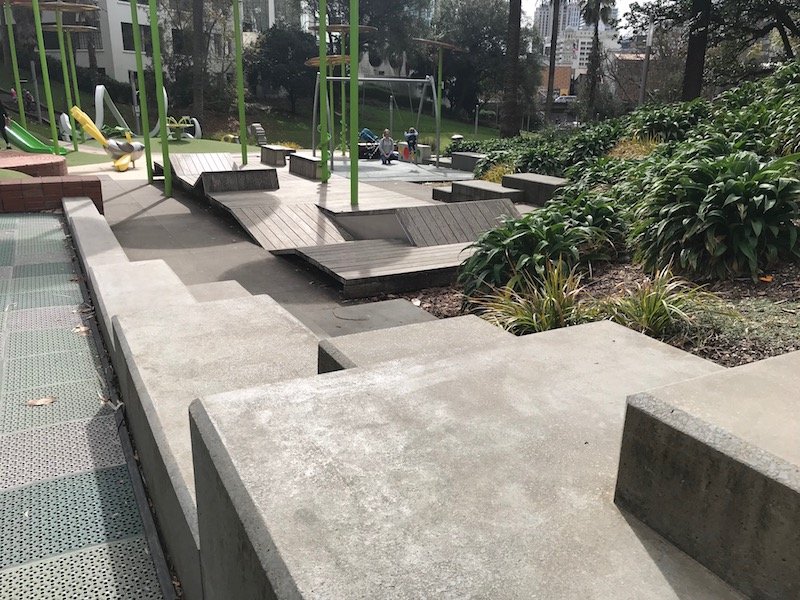 Concrete Step Parkour
Nearby, the giant concrete steps, and the wooden platform with ledges and angled rises, challenge for the most nimble of feet.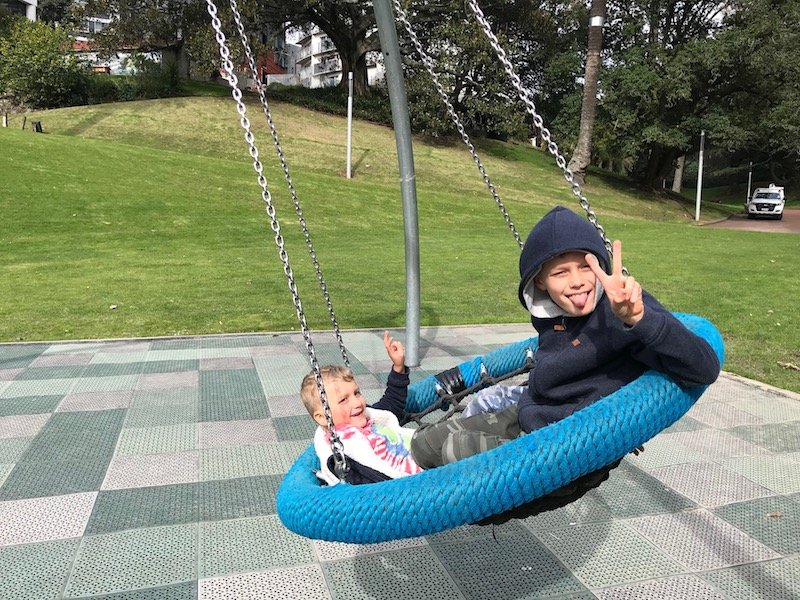 Basket Swing
My boys loved the spider web swing – super LONG chains help it swing super dooper high!
I loved the rubber mat flooring underneath the climbing frame and swings.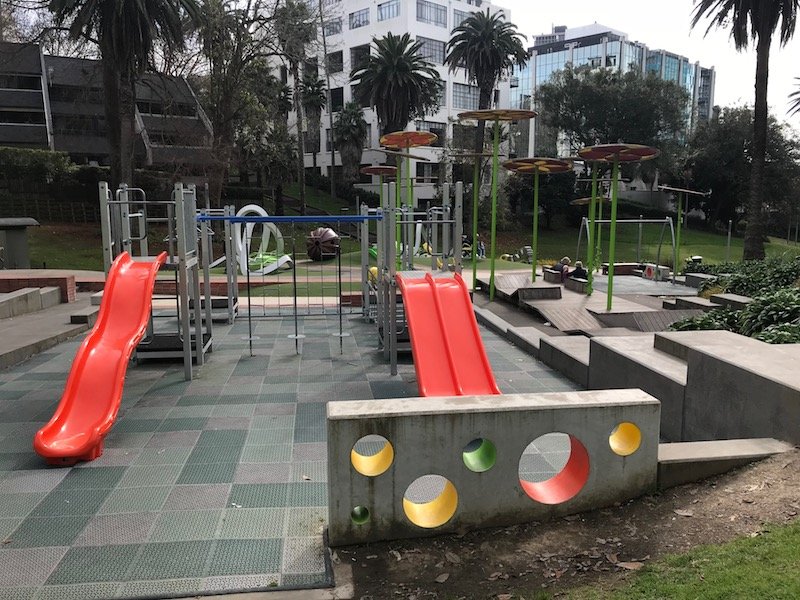 Where to eat near Myers Park Auckland
Head downhill to Sky World Entertainment Centre on Queen street, and cross the street to find a row of yummy fast food options.
Or BYO picnic.
There's plenty of vintage-style bench seating, lush green grass for your picnic rug, and city views to boot.
THE INSIDE SCOOP: Myers Kids Playground
Correct at time of publication on Roam the Gnome. Please check with venue for updates. We apologise in advance if there have been any changes we are unaware of. All prices in NZ dollars, unless otherwise stated
Address: The Myers Park Childrens Playground in Auckland City is located at Upper Queen Street Auckland.
Access from Upper Queen Street, just south of Scotia Place and opposite City Road, via the link pathway to Greys Avenue. The entrance is in front of the Myers Park Kindergarten building.
You can also enter Greys Ave, or under the bridge at Mayoral Drive.
Opening Hours: Sunrise to sunset
Entry Fees: Free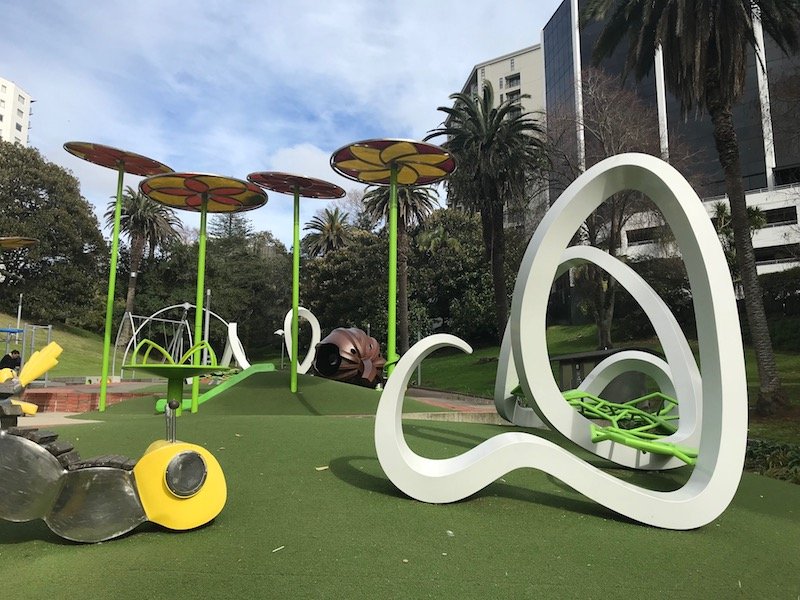 How to get to Myers Park Playground Auckland City
By Bus: Click here for bus timetables
By SkyBus: Catch the Sky Bus from the airport to the City. Exit the bus at Queen street.
By Foot: Myers Park playground is in the centre of Auckland CBD. It's 5 minutes walk from the Sky World Entertainment Centre.
By Car: Click here for google map directions from your location
Auckland City Parking
Limited on-street paid parking, or try one of Auckland's parking bays near Queen street. Close to the Civic Car Park.
Myers Park Auckland Map
Facilities at the Best of the Auckland Playgrounds
Disability access: Yes
Closest ATM: Queen Street
Water Bubblers/fountains: Yes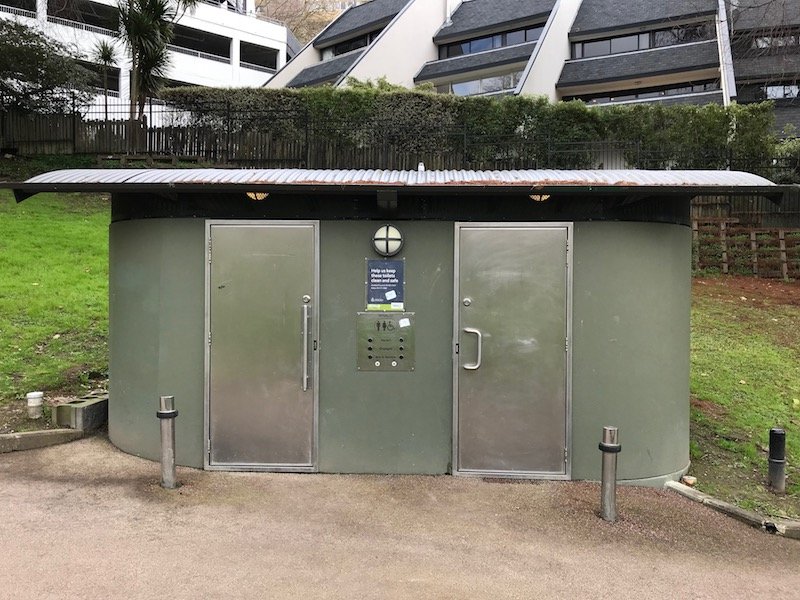 Toilets: Yes including baby change table (call Auckland Council if there are any issues with cleanliness)
Shade: Trees surround the Myers Park playground, but there's no shade structures over the playground itself.
Enclosed: No. Not fenced but surrounded by buildings and greenery.
Ground cover: Rubber floor mats, artificial grass, brick pathways
Picnic tables: Yes
Electric BBQs: No
Scooters and Bikes: Yes
Dogs: On leash only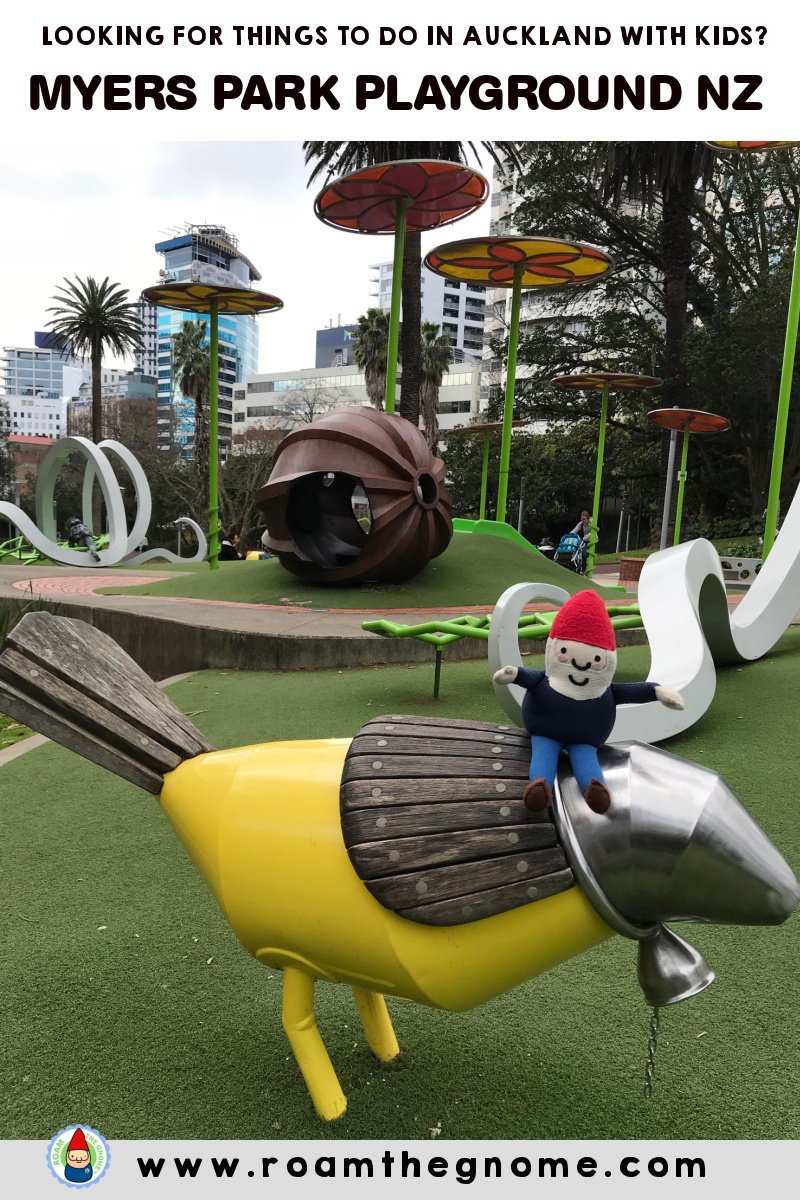 Toadstool Rating – Myers Park Playground Review
YES! Do stop by and bring a picnic to this inner city playground

Looking for More Things to Do in New Zealand for Kids?
Click the blue links below for more Auckland attractions.