INSIDE: Why you should take the kids to Odyssey Sensory Maze Auckland.
Get ready for a wild time at the Odyssey Maze Auckland!
We can't show you any photos of our visit through the Odyssey Maze in Auckland.
There aren't any.
No cameras allowed.
But that's kind of good.
We wouldn't want to spoil the surprise of these fun Auckland activities!
Take a look below for more details we can share, including how to get to Odyssey Sensory Maze.
Disclosure: This article contains affiliate links. If you make a purchase after clicking on one of these links, we may receive a small commission at NO extra cost to you.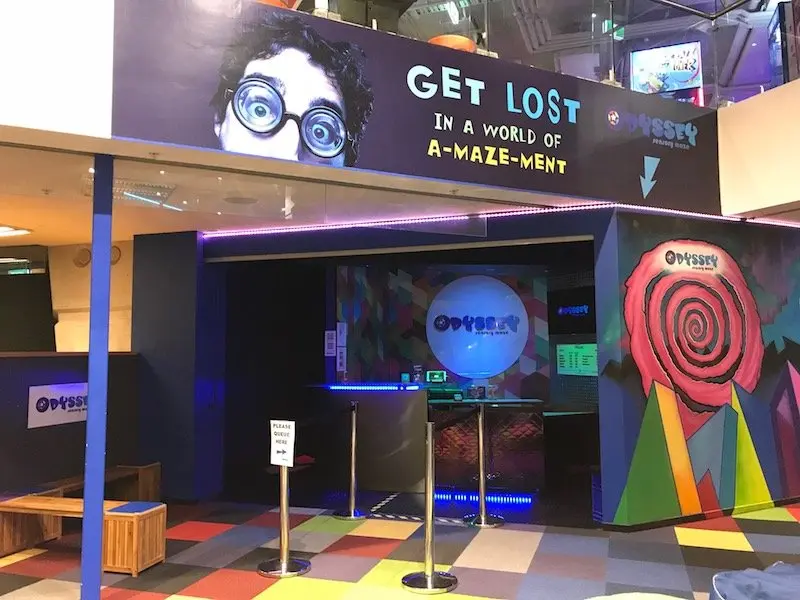 Guide to Odyssey Sensory Maze Auckland
The Odyssey Sensory Maze in Auckland City was a last minute surprise find – a tiny ad on the LAST page of a tourist brochure.
We almost missed the notice.
Odyssey Auckland is NOT cheap, and you'll be in and out under an hour, BUT for laughs, crazy new experiences, and shared memories, it's worth every cent.
Buy the Crazy Goggles for $2.50 a pair.
It adds another dimension.
Warning: if you are claustrophobic, or scared of the dark, do not enter.
You also need to have good knees! There's crawling on hands and feet involved.
There was definitely a moment or two when I had to slow my breathing, and keep hold of my anxiety, so I didn't freak out!
Thank goodness for those years of calm yoga breathing practice me.
Without that, I might have been tempted (more than once) to wave my hands at the 'Help' camera and seek assistance to get out.
Stat.
---
RELATED: The Big List of the BEST Things to do in Auckland with kids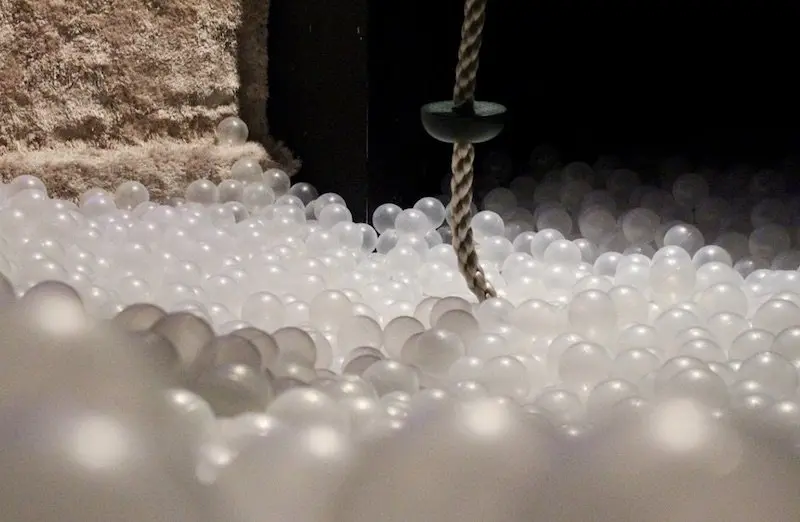 Image credit: Odyssey Maze Auckland
Good For Kids? Our Odyssey Sensory Maze Review
Were the boys scared?
NO. Not in the slightest.
They thought this was the BEST thing they've ever done. (A pretty big call.)
There's different sensations, smells, feels, challenges and experiences in each 'land' and the element of surprise was so strong, they couldn't hang around for too long before moving on.
Without giving too much away, the Swings, and the Commando Crawl were hot favourites.
(I've no idea of the real names of these zones, but these fit perfectly.)
A Sea of Glowing Orbs was best of all.
I definitely had to stop the kids racing ahead, or we would have been out in 10 minutes.
Hot tip: The one-hour package where you can go through the activities as many times as you like would have been better value than normal entry. I'd definitely take that option next time, then, after the first run through, the kids can go back and revisit their favourite zones to spend more time and play.
---
Book Now: Odyssey Maze tickets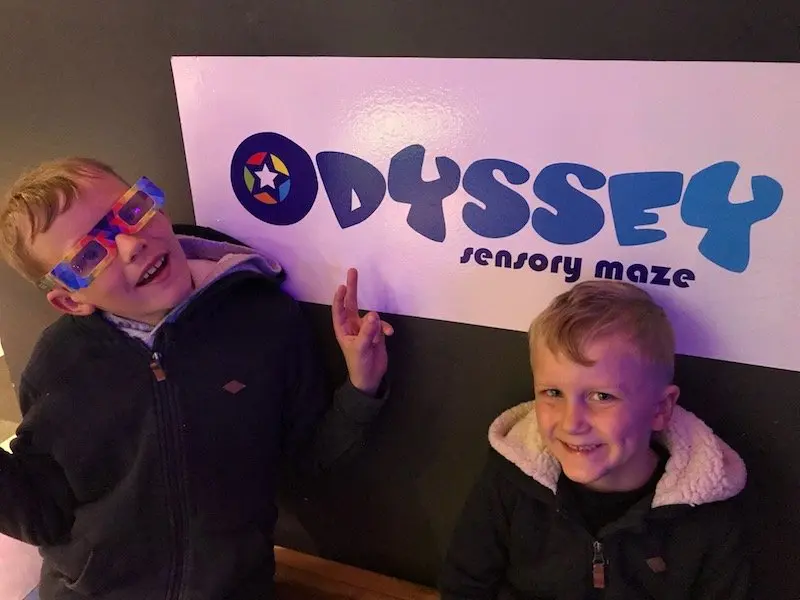 THE INSIDE SCOOP: Odyssey Maze Auckland
Correct at time of publication on Roam the Gnome. Please check with venue for updates. We apologise in advance if there have been any changes we are unaware of. All prices in NZ dollars, unless otherwise stated
Address:
Odyssey Sensory Maze in Auckland is located inside the Sky World Entertainment Centre, next to the busy Aeotea Square.
It's in the same building as Imax Queen Street Cinemas, on the lower basement level. 291-297 Queen St, Auckland CBD.
Telephone: 093651145
Email: [email protected]
Website: Click here.
Odyssey Sensory Maze Opening Hours
Open 7 days a week
Odyssey opening hours are 10am to 10pm.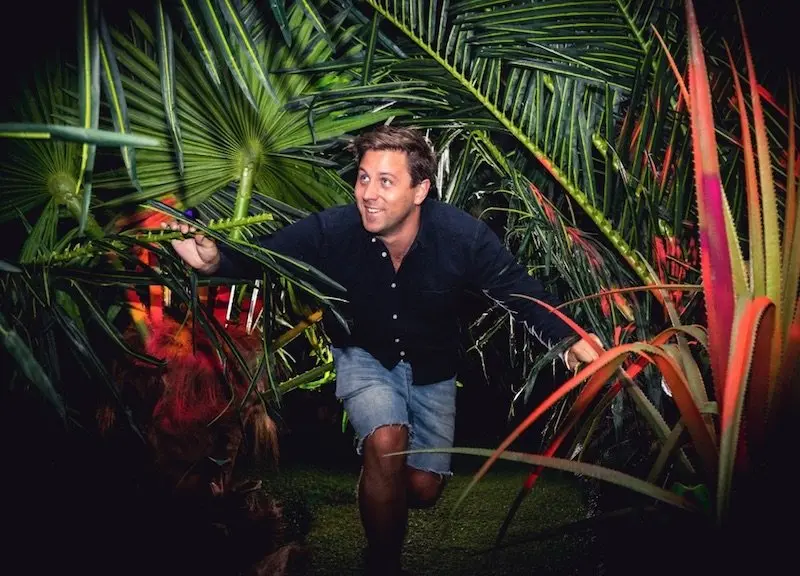 Image credit: Odyssey Maze Auckland
Odyssey Sensory Maze Price
Get Lost One-Time Entry
Adult $32
Child 5-15 $22
Family (2A, 2C) $99
Child under 5 FREE
Get Lost One Hour Entry & Crazy Goggles**
Adult $37
Child 5-15 $27
Family (2A, 2C) $119
**Unlimited rounds through the maze for an hour, plus a pair of crazy goggles.
Odyssey Sensory Maze goggles
NB: You can buy Odyssey Maze goggles for $2.50 separately also.
Odyssey Sensory Maze deals & discounts?
Looking for Odyssey Maze deals or an Odyssey Sensory Maze promo code?
Buy discount tickets to Odyssey Auckland or Queenstown online via Get your Guide, and save.
$27 adults
$25 students (with ID)
$22 children (5-15)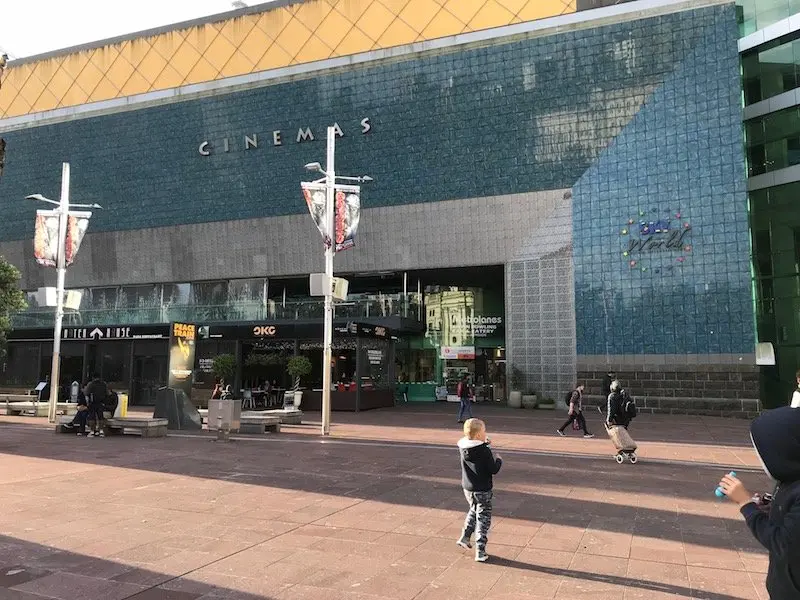 How to get to Skyworld Entertainment Centre in Auckland
Auckland Airport is an easy 45 minute drive away by bus, car or taxi.
By Train: 10 minute walk from Britomart – Auckland's central bus and train station in New Zealand
By Bus:
Bus 7055, 7056, 7058 and 7059 stop at Skyworld.
Bus timetables can be found on the Auckland Transport website or call 09-366 6400 for details
By Car: Click here for directions from your location
Skyworld Parking
Sky World Entertainment Centre offers about 900 parking spaces. Entry at Greys Ave and Mayoral Drive.
Odyssey Maze Map
Odyssey Sensory Maze Queenstown
Yes, there's an Odyssey Indoor Maze in Queenstown too.
Odyssey Maze Queenstown is located on Shotover street in the heart of the city.
Go to the reception desk in the sub-basement for check-in at Odyssey Sensory Maze.
Toadstool Rating: Auckland Odyssey Sensory Maze
It's expensive.
Very expensive.
BUT it's a once-in-a-lifetime adventure.
Loads of laughs which makes the price worth it.
(Although they should drop it a little. That would increase our rating to 5 toadstools)

Looking for More Things to Do in Auckland for Kids?
Click the blue links below for more Auckland attractions.