INSIDE: The In's and Out's of the Waldorf Apartments Auckland for families.
A clean and tidy, budget-priced, family-friendly hotel just 5 minutes walk to Auckland's best playground for kids, and all the fun attractions Auckland has to offer?
This is every family travel lover's dream accommodation.
Book us in.
Read our guide to the Waldorf Apartments Auckland city below to find out more.
Disclosure: This article contains affiliate links. If you make a purchase after clicking on one of these links, we may receive a small commission at NO extra cost to you.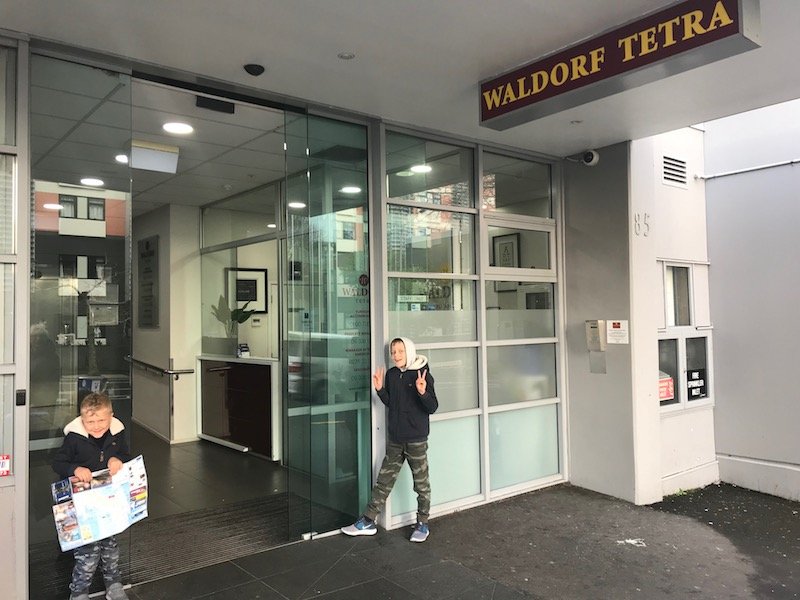 Guide to Waldorf Apartments Auckland City Accommodation
The Waldorf Tetra Apartments sit high up on Wakefield Street, between the two main roads in Auckland's CBD.
You couldn't want for a better location for this budget friendly family accommodation, except for the fact the walk home from the city is all uphill!
Be prepared to stop and catch your breath, at least once or twice.
The Waldorf Tetra serviced apartments were a delightful surprise.
These Auckland apartments are super kid friendly, with quaint bedrooms with fluffy cloud-like bedding, a small lounge area with separate dining table, and a kitchenette with open plan shelving.
Jack's first task of the day?
He organised and sorted our road trip snacks – muesli bars, potato chips, corn chips and salsa, seaweed crackers, and mini chocolate bars – onto these cupboard shelves.
By type!
---
RELATED: The Big List of the BEST Things to do in Auckland with kids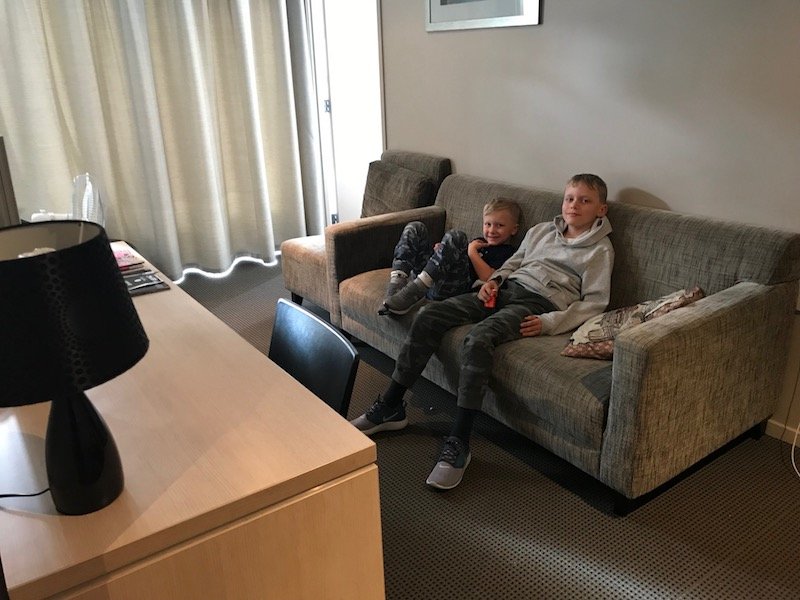 FREE Wifi at the Waldorf Apartment Auckland accommodation
There's FREE wifi so everyone can catch up with what's happening on Facebook and Instagram, or play a round of Fortnite.
Or you can watch Sky TV.
It was the first time in a decade I've caught up with all the latest music videos.
I loved that more than I ever thought possible!
I do believe, despite the entertainment options on offer, that my wrestle-loving, tumbling boys might have been the loudest in the peaceful and quiet Waldorf Tetra hotel building, despite my pleas.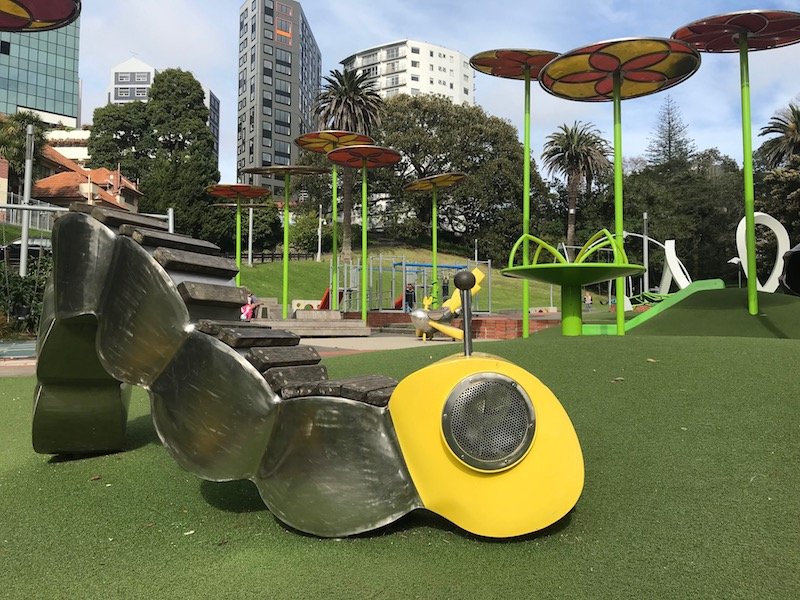 Myers Park Playground
But, back to that playground.
The Waldorf Tetra Hotel is 5 minutes walk to the beautifully designed Myers Park playground.
If you are travelling in Auckland with family and children, do not miss it.
It's the best city playground we've EVER seen!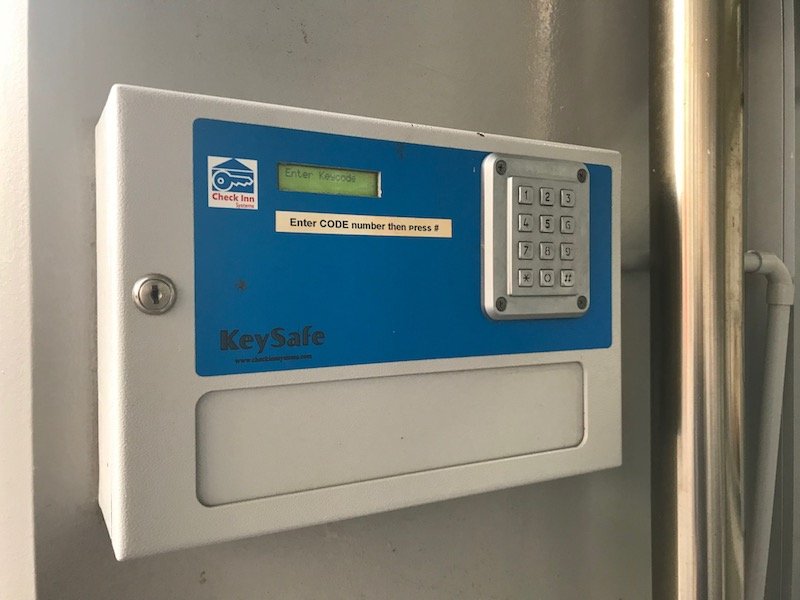 Late Check In at Waldorf Tetra Apartments Auckland
If you plan to arrive late at Tetra Waldorf apartments, you'll be given a code via email a few days before you travel.
The code is for the keysafe lockbox at the front entrance of the hotel (pictured above).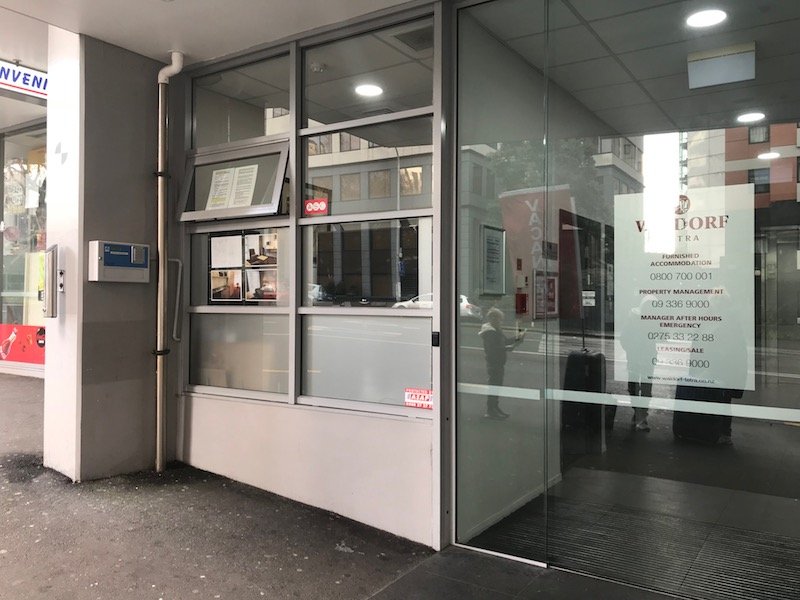 Finding the keysafe lock box at Waldorf Apartments in Auckland
This will give you access to your room keys, and entry through the main doors after hours.
Take a look at the photo above to find the location of the lock box by the doors.
Where to eat near Waldorf Apartments
Nearest takeaway coffee and food options are just a 5 minute walk away.
Head down Symonds street, then turn left on Wellesley St east, and walk until you hit Queen street Auckland.
There's plenty of quick eats & restaurants on Queen Street, opposite Sky World Entertainment Centre and near Sky Tower.
THE INSIDE SCOOP: Waldorf Tetra Serviced Apartments
Correct at time of publication on Roam the Gnome. Please check with venue for updates. We apologise in advance if there have been any changes we are unaware of. All prices in NZ dollars, unless otherwise stated
Address: Waldorf Tetra Serviced Apartments are located at 85 Wakefield St, Auckland CBD 1010, New Zealand
Telephone: 09 336 9000
Email: [email protected]
Website: Click here.
Cost: From $99 NZ per night, depending on room type. We paid $450 NZ for three nights in a Superior two bedroom apartment. A bargain price for Auckland hotels.
They have one and two bedroom apartments available.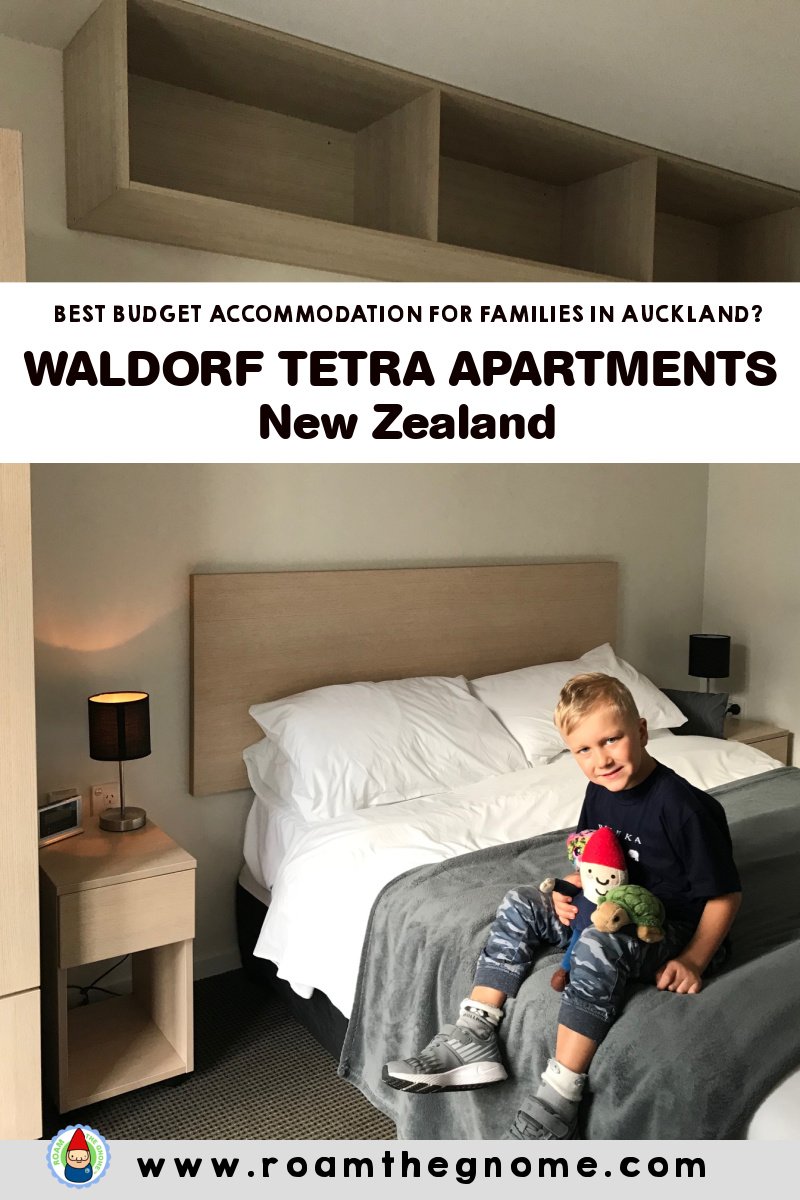 How to get to Waldorf Tetra Apartments Auckland
By Bus:
Take the SkyBus from Auckland Airport. Be sure to ask the ticket seller at the airport to find out the closest stop to the hotel.
Evidently, there are two routes into the CBD and we caught the wrong one.
Our bus driver dropped us back at the Skybus transit lounge on Queen street, so we had an uphill walk with all our luggage to find the hotel. You need the bus that goes along Symonds Street.
Exit at the closest stop to the Wakefield street intersection.
SkyBus runs every 10 minutes during peak times – $18 each way.
By Shuttle:
SuperShuttle is a reliable and cost-effective airport transport service.
Please book directly by visiting their website or by calling (NZ toll free) 0800 SHUTTLE or 09-522-5100.
By Car: 22 minutes drive from Auckland airport via State Highway 20. Click here for directions.
Waldorf Tetra Apartments Parking
Waldorf Tetra hotel has offsite parking in the Symonds St Car Park .
Charges apply – Pay at Reception for the best rate
Map of Waldorf Tetra Apartments Wakefield Street

Facilities at Waldorf Tetra Serviced Hotel Apartments
Disability access: Yes
Closest ATM: Queen Street
Laundry Facilities: On site, downstairs
Note: A weekly Housekeeping Service is offered to those staying in these serviced apartments in Auckland more than 7 days, to leave you to enjoy the comforts of our apartments without the disturbance of daily housekeeping.
Toadstool Rating – Waldorf Tetra Auckland Apartments Hotel
The best budget friendly hotel and short stay apartments Auckland has to offer for families, near a cool playground.

Looking for More Things to Do in New Zealand for Kids?
Click the blue links below for more Auckland attractions.