INSIDE: Everything you need to know can be found in our overview of MOTAT NZ.
No matter how hard he tried, Ned could not work out how to spin the dial correctly on the old telephone.
His most successful try was with an UPSIDE DOWN thumb!
Watching him struggle brought my mum and I to tears of laughter.
It's not that long ago that these telephones were the norm, but modern kids have never faced the struggle.
Equally strange, I'd forgotten how long it took to call a friend!
This fun experience is just one of the fun things to do at MOTAT Museum of Transport and Technology.
Find all the details of this awesome Auckland museum for kids below.
Disclosure: This article contains affiliate links. If you make a purchase after clicking on one of these links, we may receive a small commission at NO extra cost to you.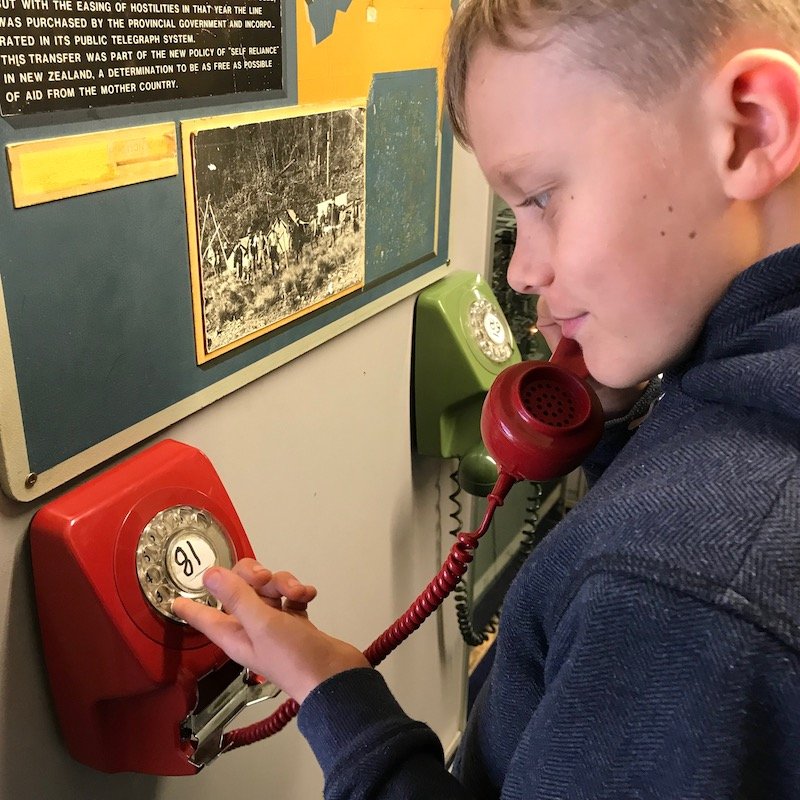 Complete Guide to Auckland MOTAT NZ
The Telecommunications Shed #4 was the highlight of our visit, with fun activities such as being able to call one another on vintage dial phones.
My mum tried her hand, once again, at the old-school switchboard.
50 years after she'd been given a job as a switchboard operator, with no experience at all, and left to fumble her way through a day of patching person to person, she giggled at the absurdity of it all.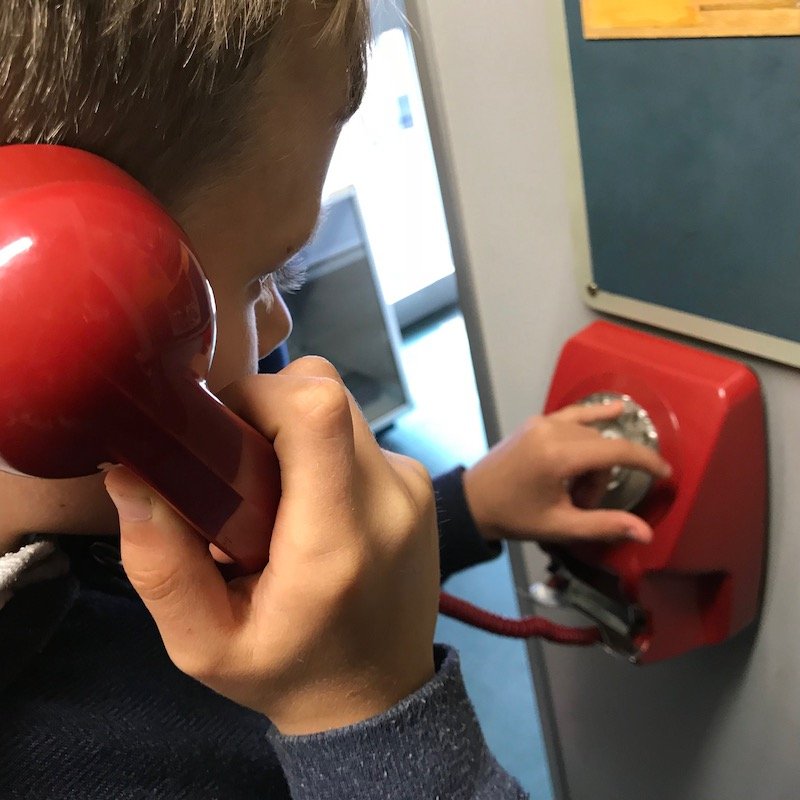 Our day was made hearing old familiar telephone ring tones, and watching the boys delight as they dialled one another on phones 70 and 71.
But this was just the first shed.
Motat 1 has nine sheds of activities in total on this site.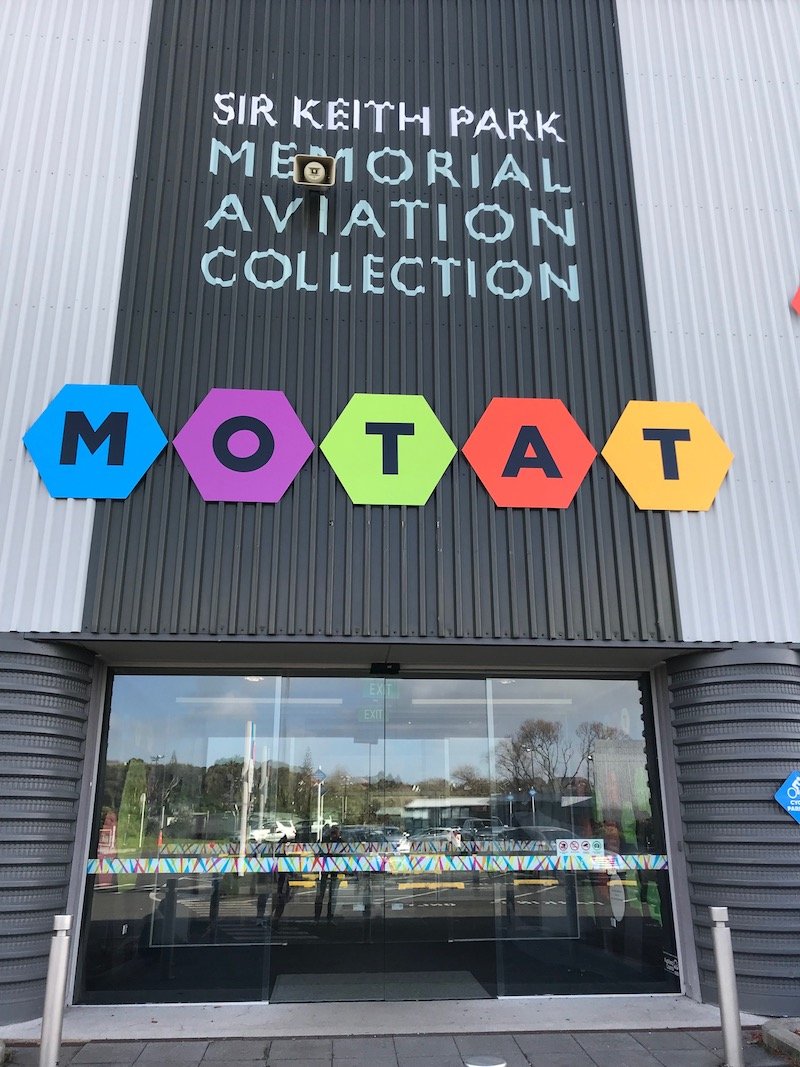 Hot tip: Motat Aviation Hall
PLUS another shed at Motat 2, the Motat Planes exhibition hall, just a tram ride away.
This Motat Aviation Hall is filled with giant airplanes, including the monstrous Short Sunderland V NZ 4115.
---
RELATED: Monster List of Things to Do in Auckland with kids!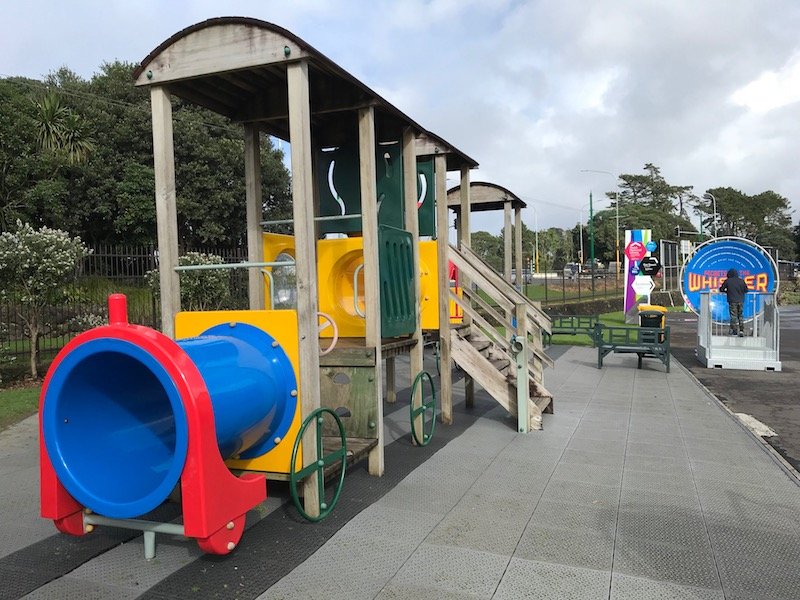 Best Things to do at MOTAT Auckland
Here's an overview of all the MOTAT activities and attractions the whole family will enjoy.
The first thing you'll see is the train playground.
This outdoor playground in Auckland is centrally placed between the sheds, so no doubt you'll be back here again and again if you are travelling with toddlers in New Zealand!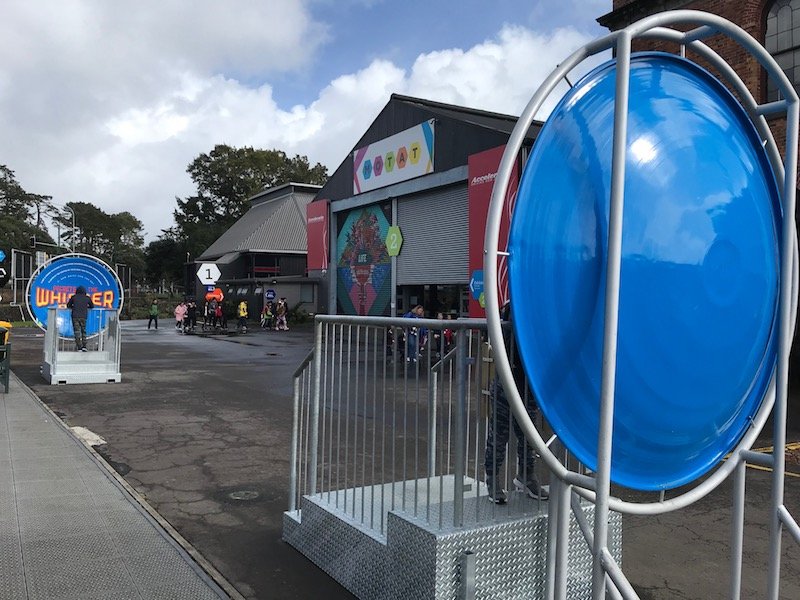 Whisper Experiment
The second thing you'll see upon entry is the WHISPER sound reverberation experience.
Send one child to one disc, and the other to the one far away, and let them see if they can hear one another's quiet words!
Then it's time to head to Shed 1.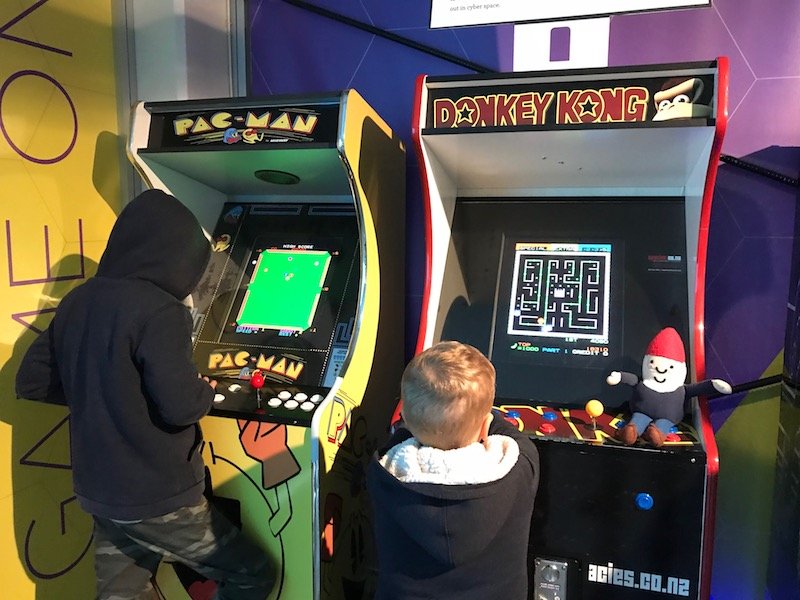 No.1: Get Smart Exhibition
Hall 1 is home to the Get Smart exhibition, a look at the evolution of technology in New Zealand.
Kids can play old school arcade games here, including: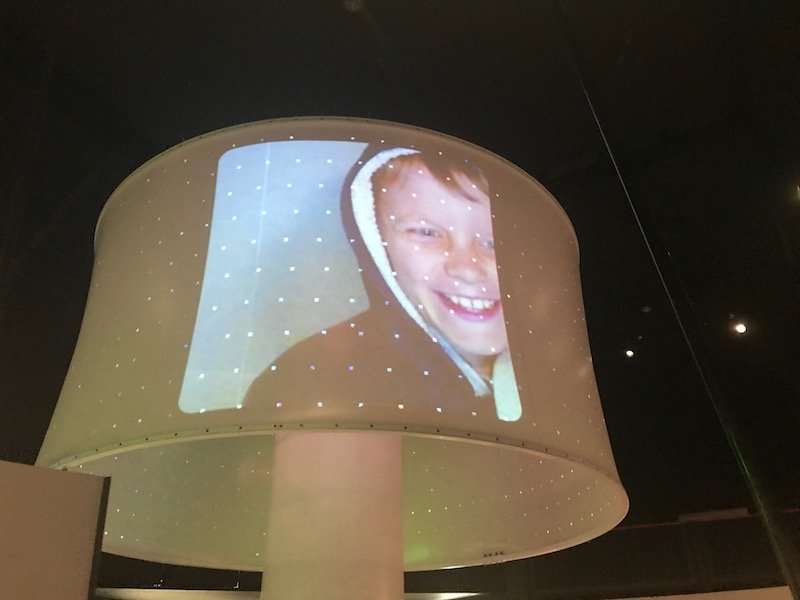 MOTAT Face Space Exhibition
But the most popular part of Get Smart is the chance to take a selfie and watch it reappear in miniature on the FACE SPACE.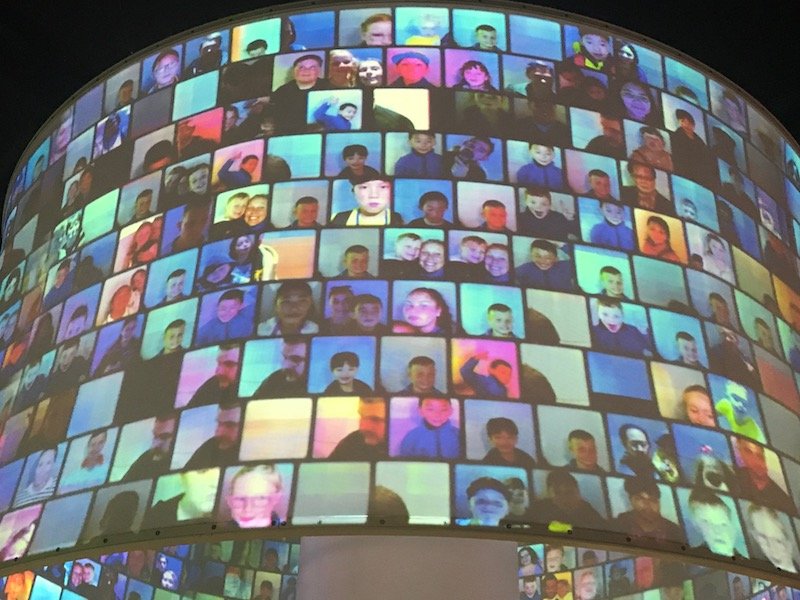 Can you spy us?
Look for Jack and I, right in the centre of the pic above!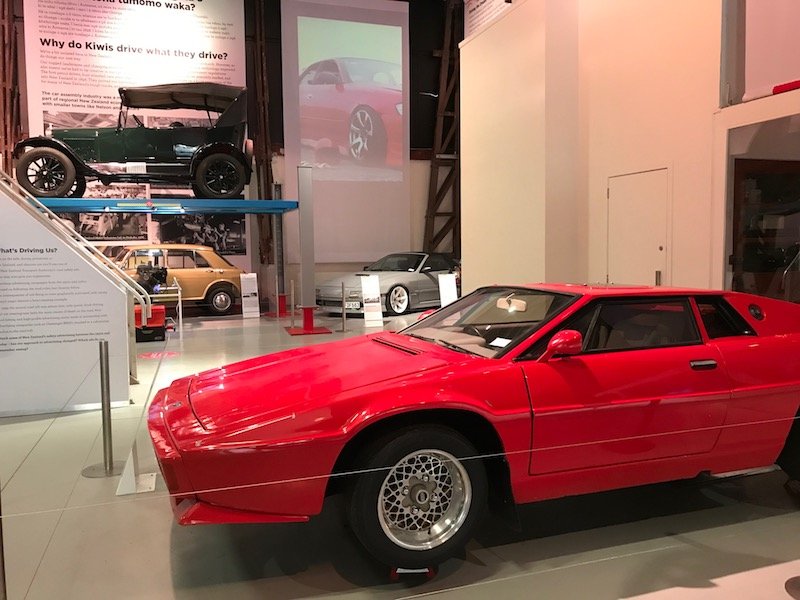 No.2: MOTAT Accelerate exhibition
Hall 2 is home to "Accelerate", Driving New Zealand's exhibition of NZ vehicles from past to present.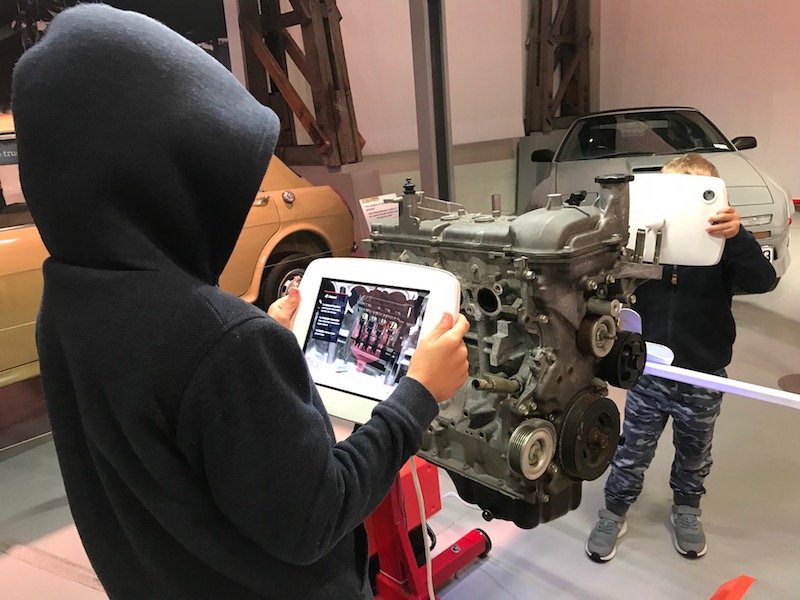 MOTAT VR experience
The boys LOVED this Virtual Reality engine activity, where they could learn about the parts of the engine that make a car go.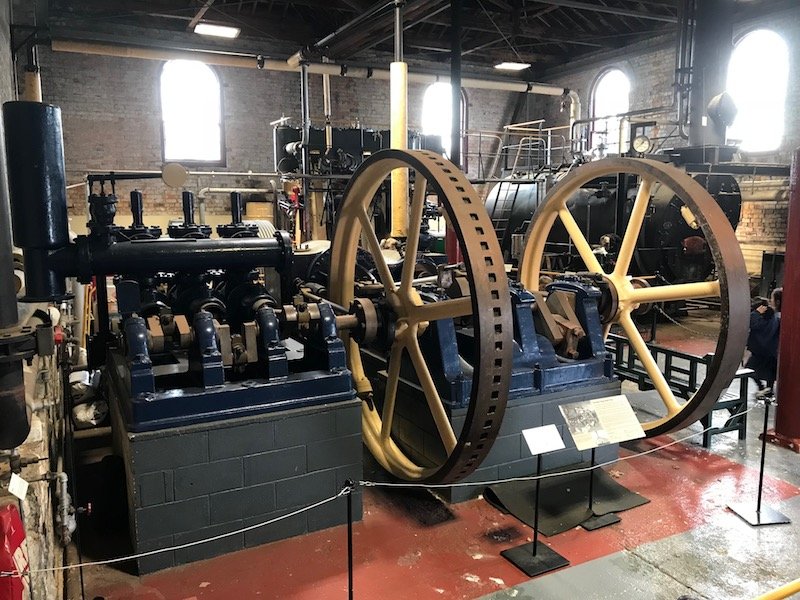 No.3: The Pumphouse MOTAT
Hall 3 houses the Pumphouse.
It's home to the Beam steam engine, a piece of New Zealand's history.
This steam engine machine was responsible for supplying clean water to Auckland residents from Western Springs back in 1877!
It's awe inspiring to read its' history.
No.4: MOTAT Telecommunications Hall
Hall 4 at MOTAT is where you'll find the vintage phones.
AND plenty of other hands on activities that kids will love.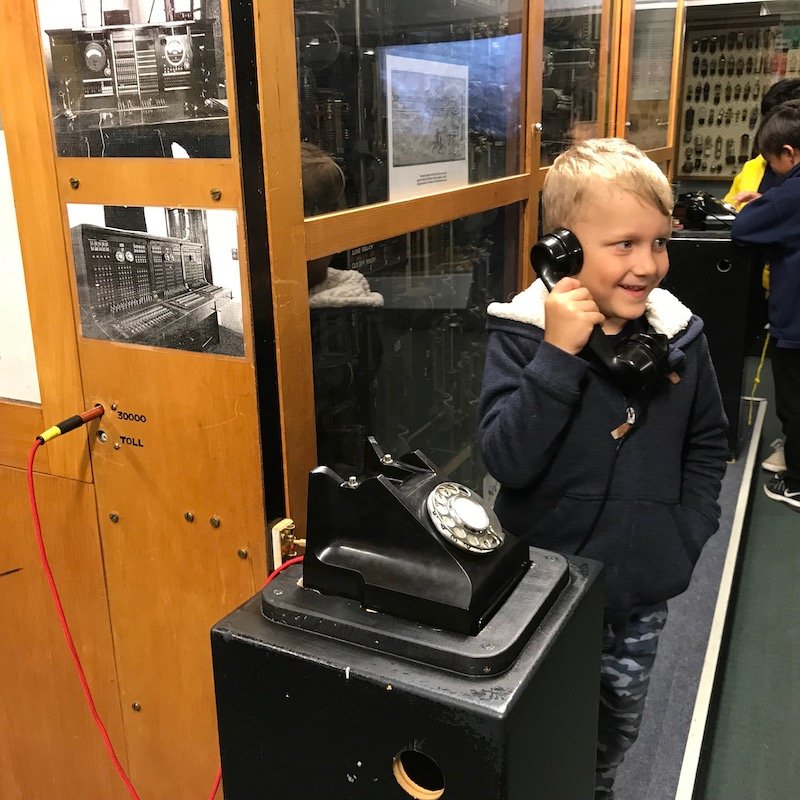 Telephone activities for kids
Let them:
have a go on the rotary phone like Ned did
decipher morse code
answer the phones on the switchboard, and
chat to one another through the phone lines too.
There's a Print Shop, open on Sundays to showcase this labour-intensive art from yesteryear, making newspapers and highlighting the skill of letter writing.
If you visit, you can take home a hand printed souvenir of your time there.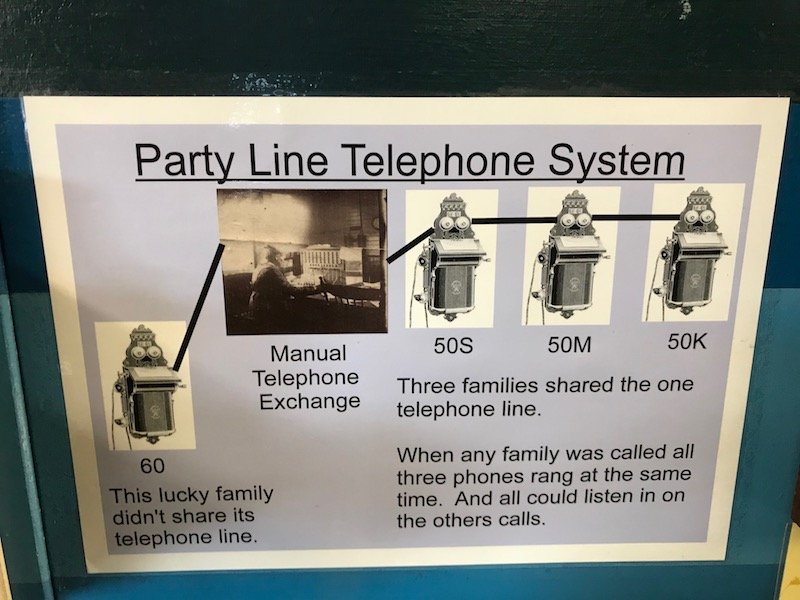 MOTAT Firehouse
Take a peek inside the Fire Station nearby, full of a historical collection of New Zealand's earliest firefighting equipment.
You can read the displays to learn the history of New Zealand's heroic and courageous firefighters.
See these fire equipment pieces up close:
vintage gas masks
medals
old school fire alarms and more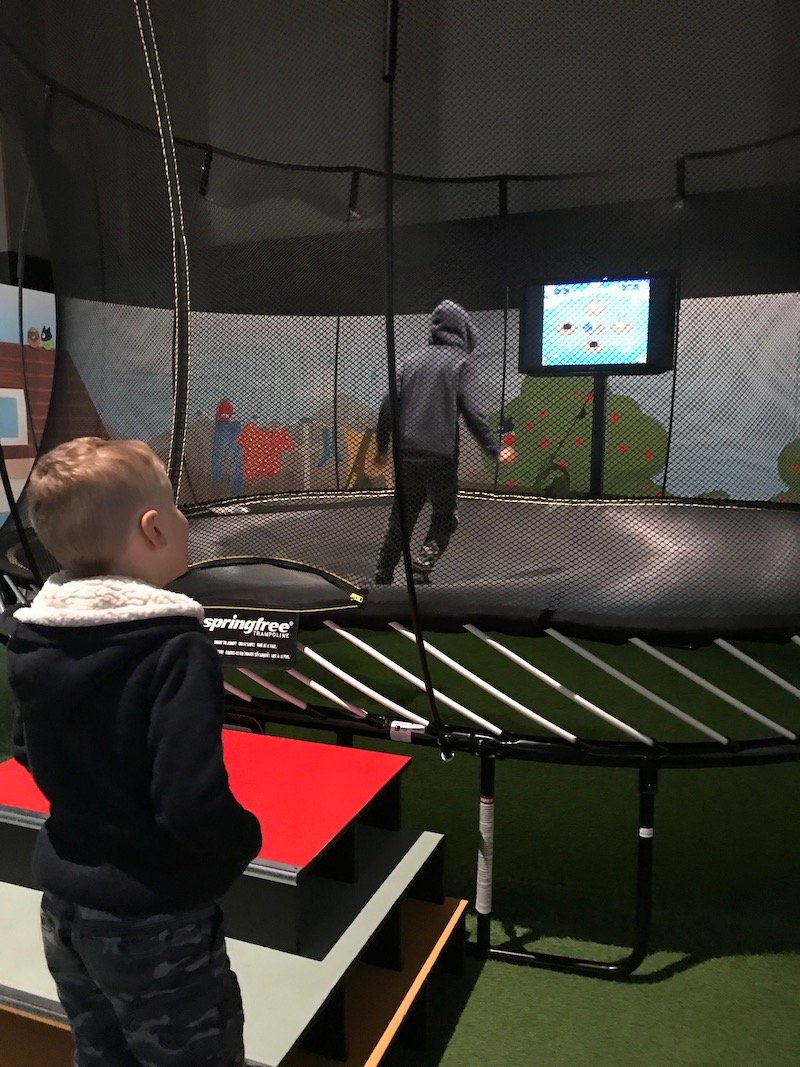 No.5: MOTAT Machine Makers
Hall 5 is full of fun hands-on activities that showcase innovation for life.
Kids can:
play a video game by jumping on a Springfree Trampoline
play with simple machines and life-size human pulleys
build bridges
make craft
race the wheels
play the drums, and more.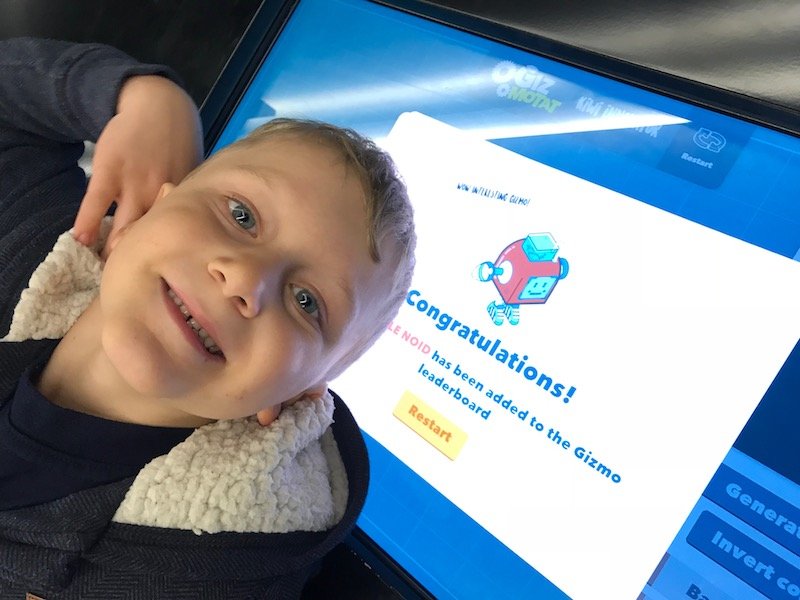 Design a Robot activity
Kids love the design a robot game too.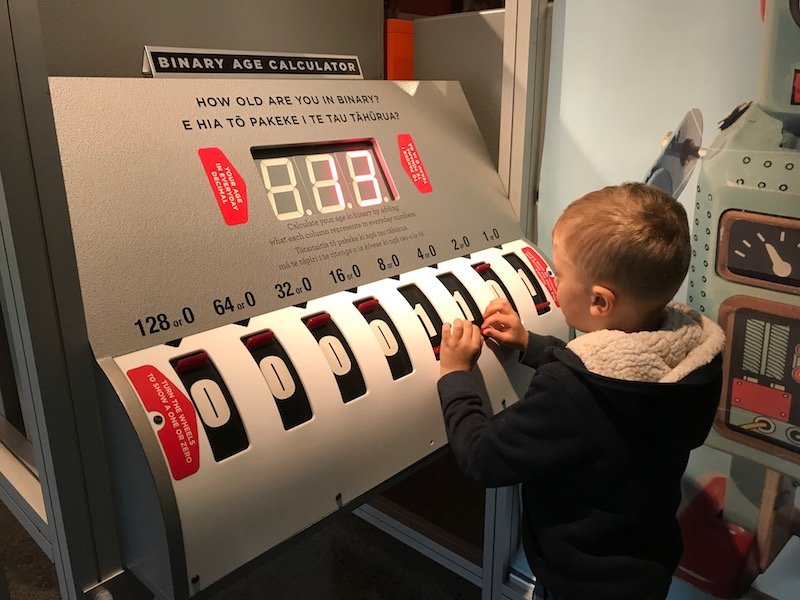 No.6: Explorium
Hall 6, the Explorium, has all kinds of science activities for kids too.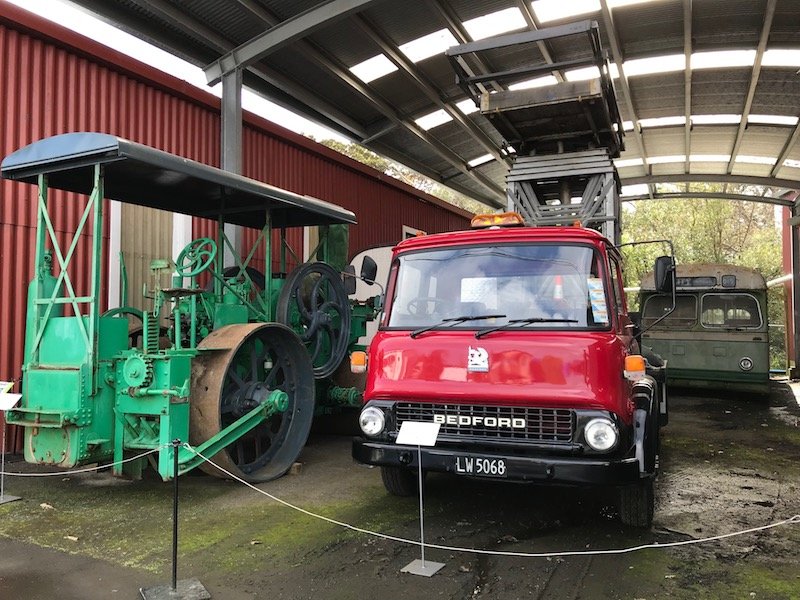 No.7: MOTAT Trams Barn
Hall 7 is the Trams Barn full of vintage trams and motors.
It's the place to learn about the restoration work of Tram Trailer 21, and discover the history of Auckland's tramway.
No.8: Road Transport Hall
Hall 8 is the Road Transport Workshop.
It's home to MOTAT's extensive automobile collection.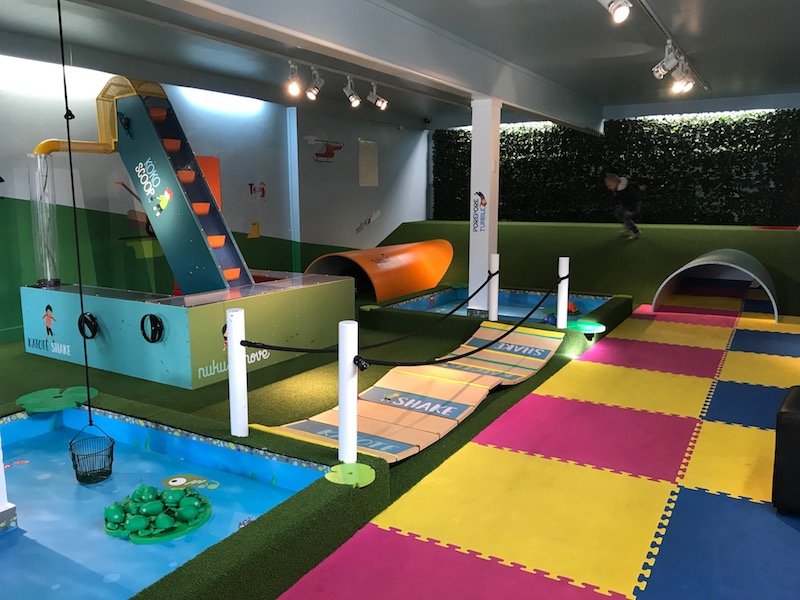 No.9: MOTOTS
Hall 9 is MOTOTS, a hands-on activity space for the under 5's.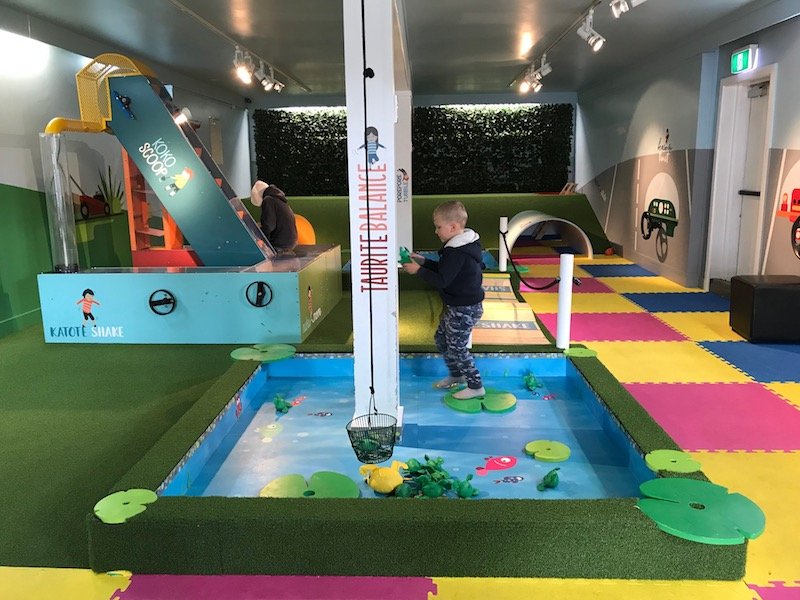 There's plenty of room for adults to sit and watch, so enjoy a bit of down time while the kids play.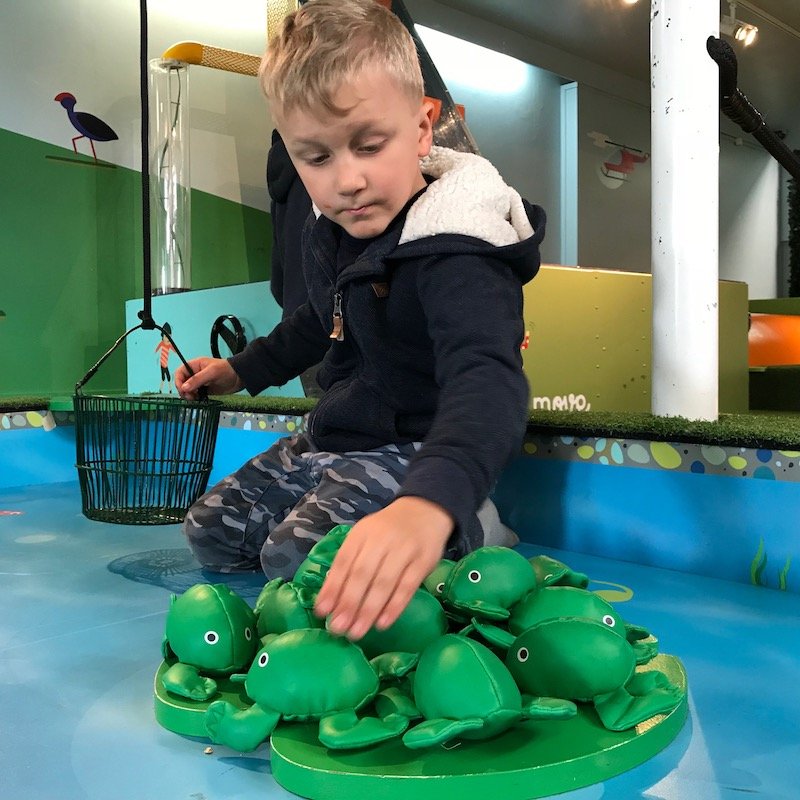 Things to do at MOTAT for toddlers
Kids can play with:
wooden airplanes on pulleys
a weighing and measuring balance game with green frogs trying to escape the pond
a shaky bridge to cross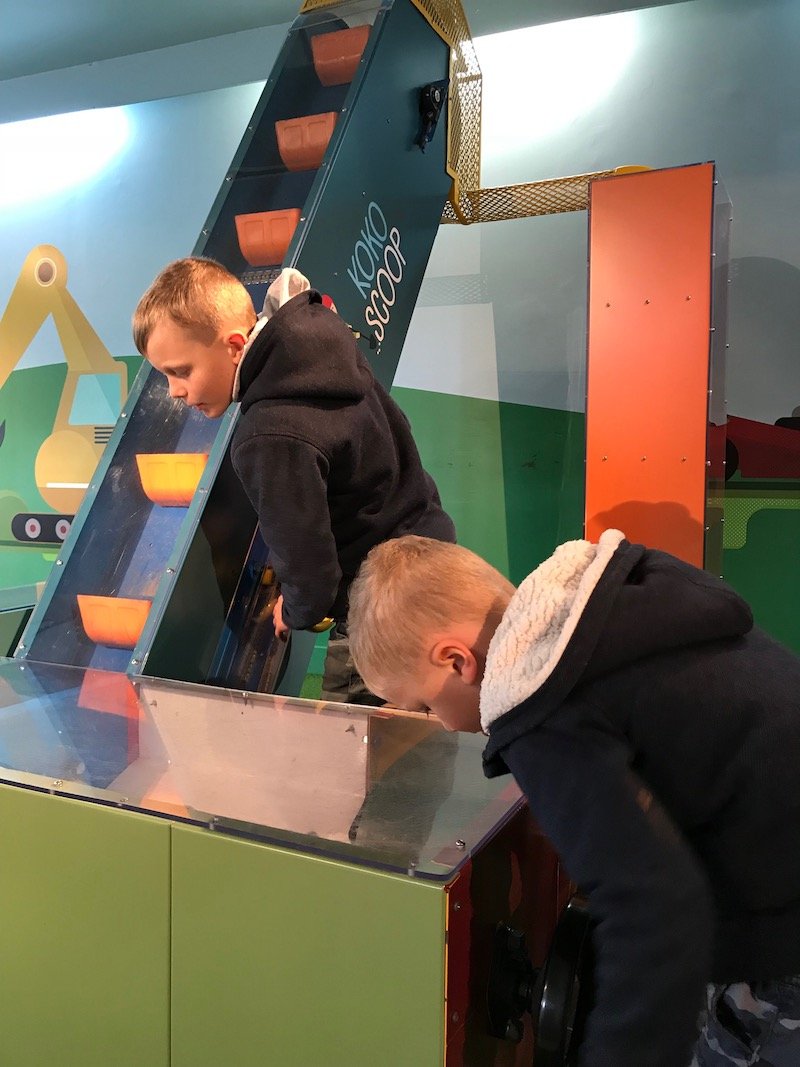 Shake and Scoop
The highlight of this room is the Shake & Scoop activity, where kids crank the wheel and watch the scoop pick up the balls, and wobble it to make them rain down again.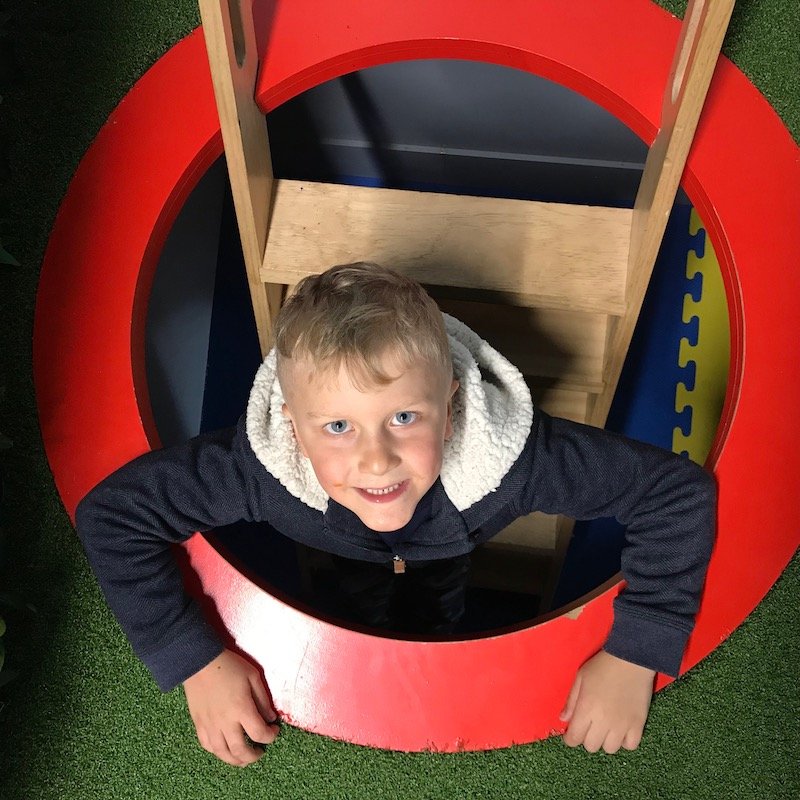 MOTAT play area for kids
At the bottom of the indoor garden creation, there's a complex of rainbow light-beam fuelled tunnels to climb through too.
Even my 10 year old loved it!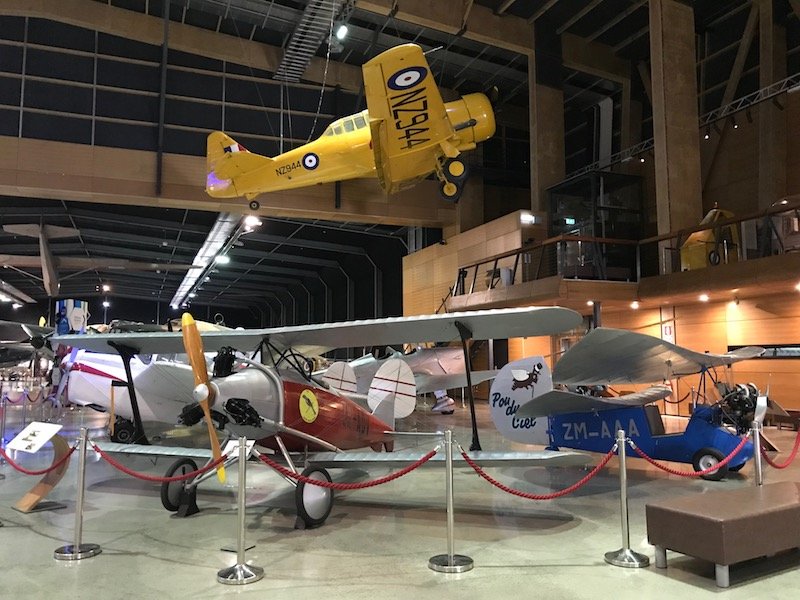 MOTAT Aviation Hall
There's so much to see at the MOTAT Aviation Hall.
Giant aircraft and planes, vintage uniform displays, and the odd press-a-button experience to bring it all to life!
Read our separate guide to the MOTAT Aircraft Hall here.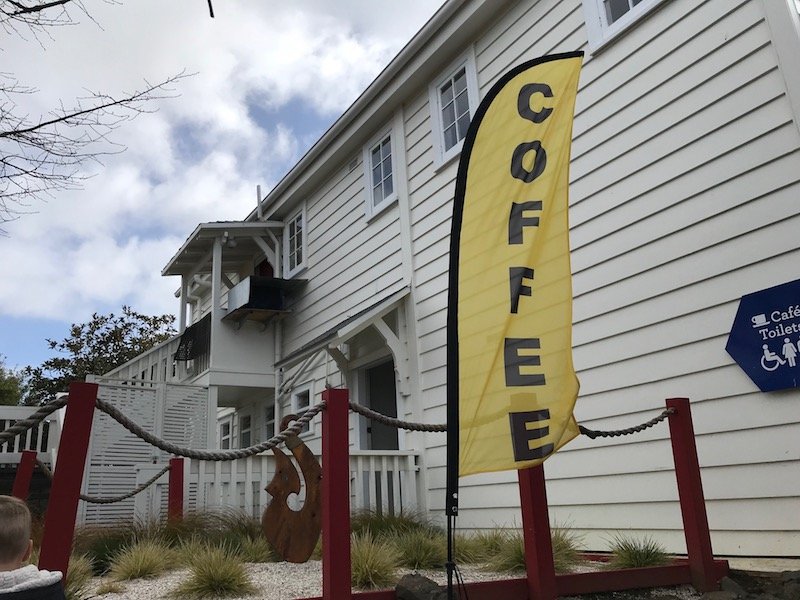 MOTAT Cafe
Getting hungry as you wander around all these fun exhibitions?
Head to MOTAT Araroa Tearooms Cafe.
The Araroa Tearooms Motat Cafe is opposite Waitakere Station.
The entrance to the historical Cropper House near the Model Railway.
Read our guide to the MOTAT cafe (includes menu and pics).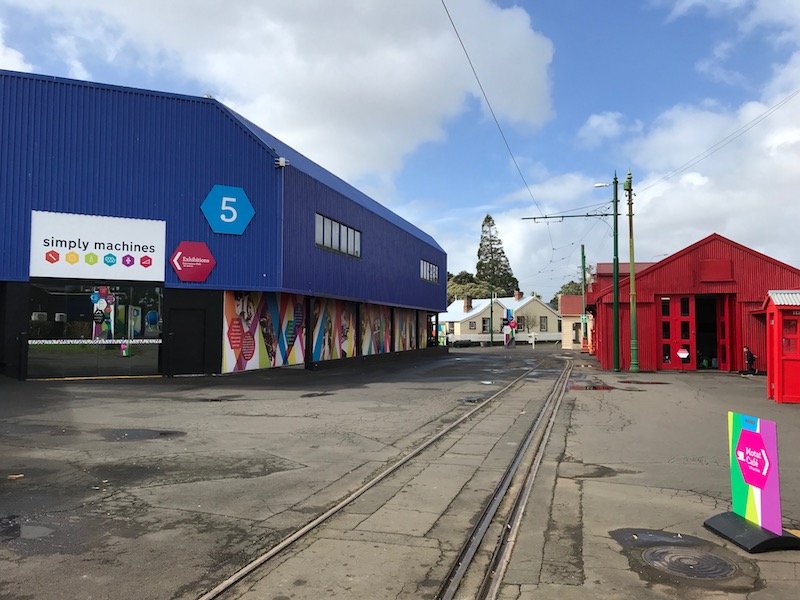 MOTAT Museum Weekend Experiences
Weekends at MOTAT go all out with themed events and things to do.
Every Sunday, the Blacksmith Forge fires up, the Print Shop comes to life, there's hands-on demonstrations of vintage arts and crafts, and heritage horse and carriage rides.
There's also random fun, like Science Saturdays and Sundays, Bubble Weekend experience, or Motat Lights Night Light illuminations.
Click here to see the Events Calendar.
MOTAT School Holidays
Check the website for current school holiday activities at MOTAT too.
Arts and crafts workshops, as well as performing arts activities are popular.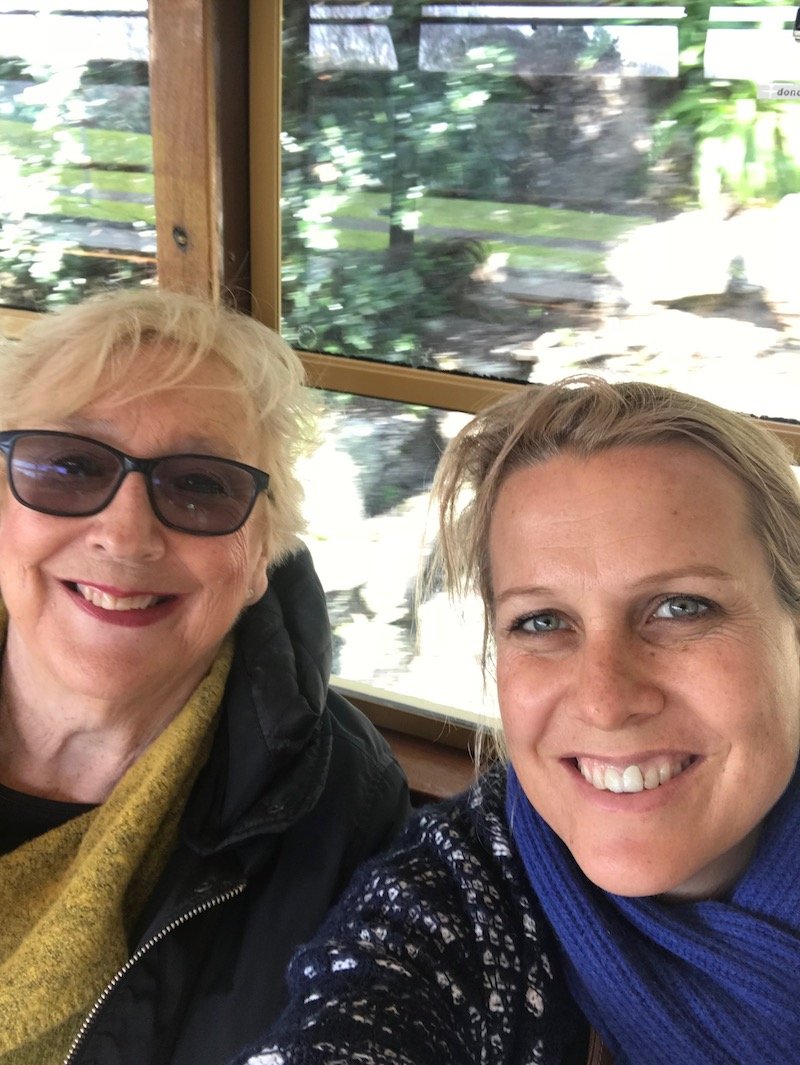 MOTAT Events (MOTAT Halloween & MOTAT Christmas)
MOTAT frequently hosts fun seasonal events including:
MOTAT Halloween
MOTAT Christmas lights
MOTAT Movie Nights
The Great MOTAT Bear Hunt
Like the MOTAT Facebook page to keep an eye on upcoming events.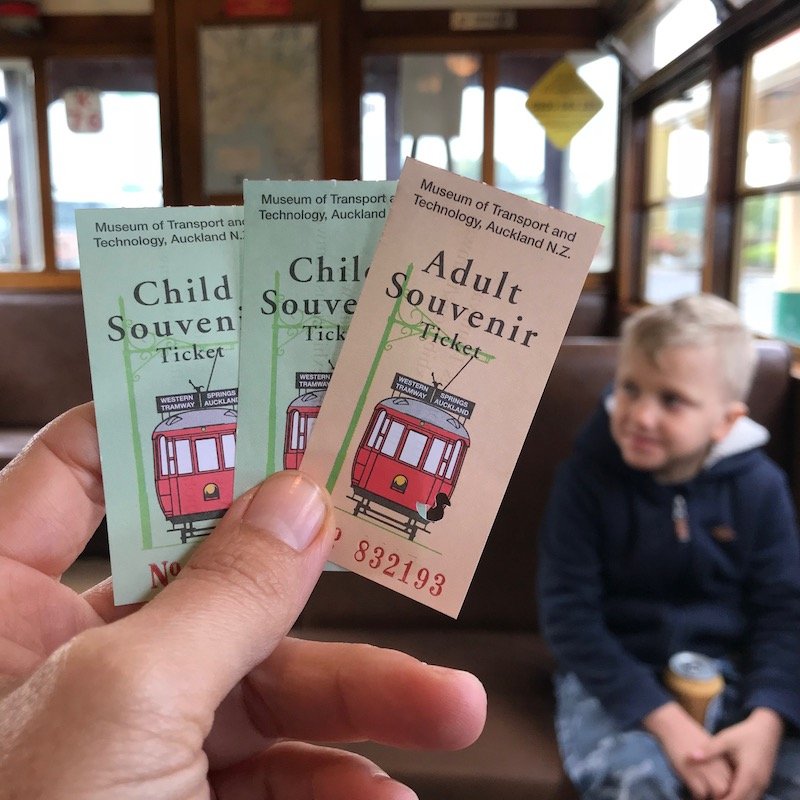 The Motat Tram
A return tram ticket is included in your Motat admission fee, so you can get from MOTAT 1 to MOTAT 2 Aircraft Hanger, and back to the parking lot.
Tram stops are situated at:
MOTAT's Great North Road Entrance
Motions Road Corner
Auckland Zoo and
MOTAT's Meola Road site.
A request stop is also situated midway along the Western Springs Park edge on Great North Road, and outside The Auckland Performing Arts Centre (TAPAC).
Services generally leave every 30 minutes when operating, more often when necessary.
For the latest MOTAT tram timetables operating times view the tram timetable at the MOTAT shop.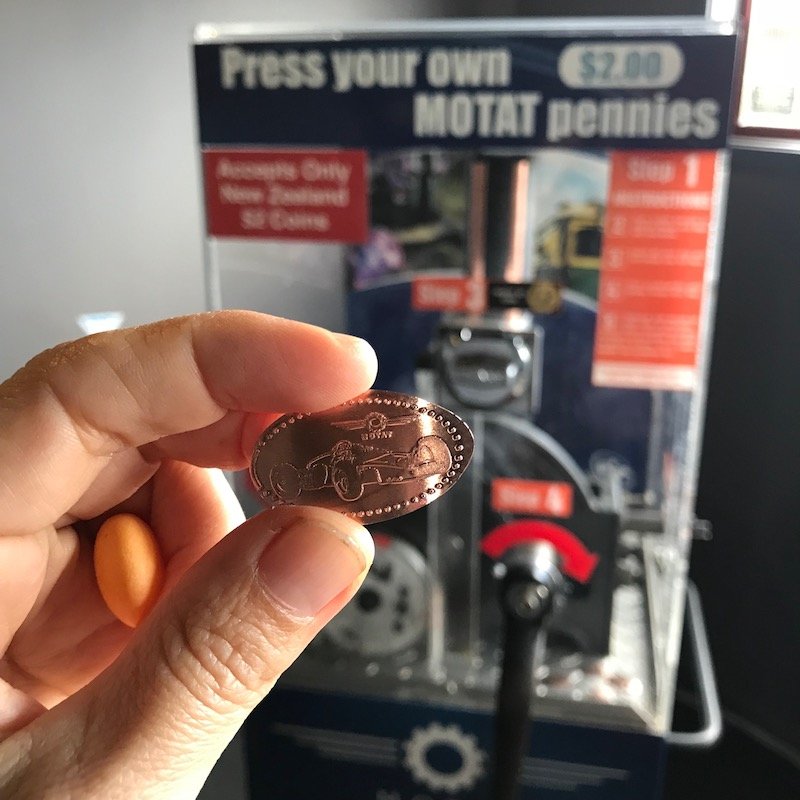 Inside the MOTAT Shop
The main MOTAT shop is located at MOTAT 1.
This MOTAT gift shop stocks:
a range of branded MOTAT merchandise
a variety of fun and educational toys
science kits
puzzles
Crazy Scientist Packs (Balancing robots, Cosmic Rockets, Thinking Putty)
transport and vehicle models
Aircraft models
Kiwiana gifts and souvenirs
Motat Gift Shop at Aviation Hall
The MOTAT store at M2 has a great selection of aviation, rail and military themed models and books, plus a Souvenir Penny machine.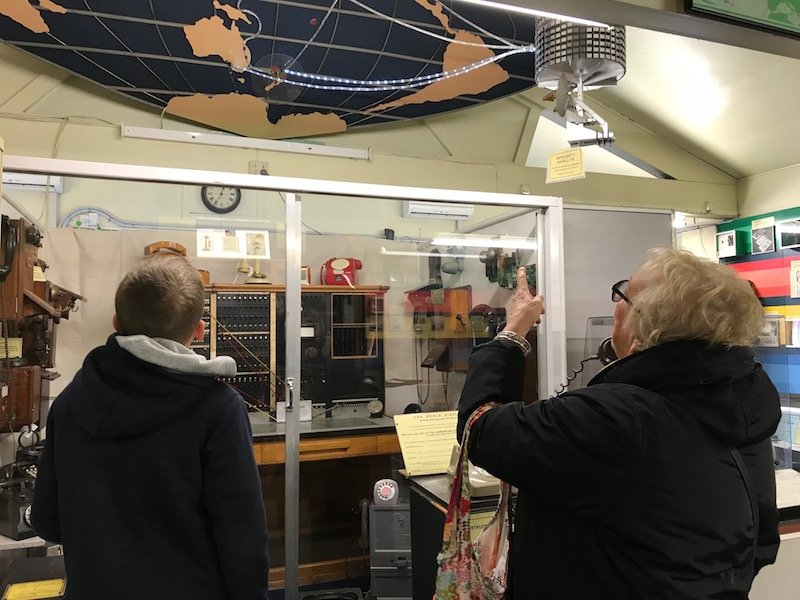 THE INSIDE SCOOP: MOTAT NZ
Correct at time of publication on Roam the Gnome. Please check with venue for updates. We apologise in advance if there have been any changes we are unaware of. All prices in NZ dollars, unless otherwise stated
MOTAT, Auckland's Museum of Transport and Technology, is New Zealand's largest transport, technology and social history museum.
Spread across 40 acres, MOTAT is the place to explore and discover the achievements that have helped shape New Zealand.
MOTAT Address: The Motat address is 805 Great North Road & Meola Rd, Western Springs, Auckland 1022
Telephone: The MOTAT phone number is +64 9 815 5800. Freecall 0800 668 2869
Website: Click here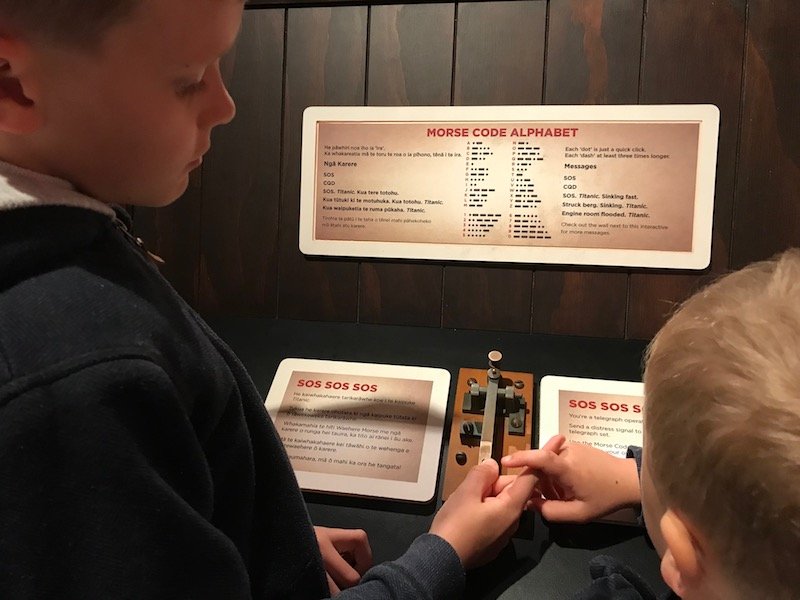 MOTAT Opening Hours
Motat hours are 10am – 5pm
Open 7 days a week (excluding Christmas Day)
Last entry into the Museum is at 4:30pm.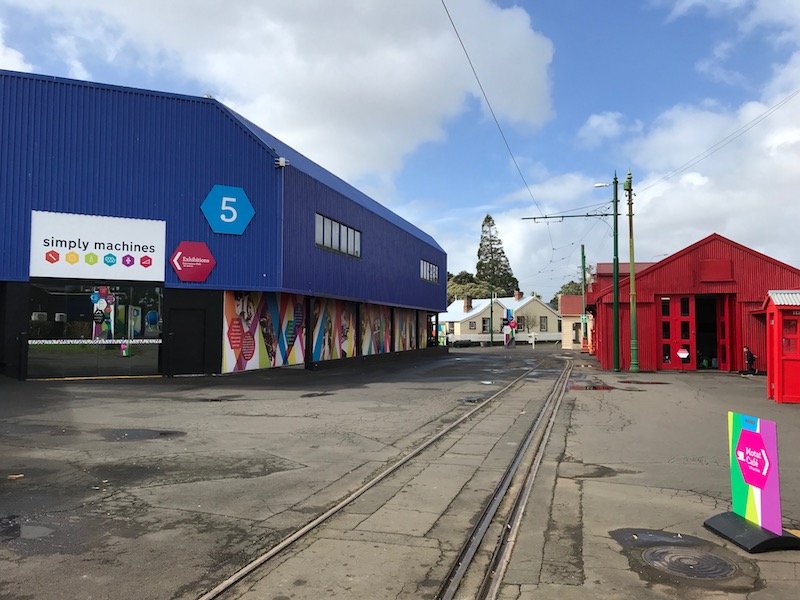 MOTAT Prices
Motat Auckland prices are:
Adults $19 NZ
Children (5-16 years) $10 NZ
Student with ID $10 NZ
Overseas Senior Citizen $10 NZ
Family Pass $45 NZ (2 adults and up to 4 kids)
Under 5s FREE
MOTAT Discount Entry
If you are worried about the cost to visit Motat, you'll be pleased to know there's many places to grab a discount code or voucher.
The Auckland A-Z tourist magazine has a discount coupon for Motat. 25% off adult admission.
GrabOne
Hello Auckland (you do need to give your email to get the code)
Book Me (search Auckland discounts for all kinds of attractions)
AA Members save 20% on full priced MOTAT general admission
NB: Motat free entry does not apply to tourists.
MORE MOTAT Deals
Annual passes start from $45 NZ for an individual and $95 for a family.
So if you want to visit more than once, this is a good deal.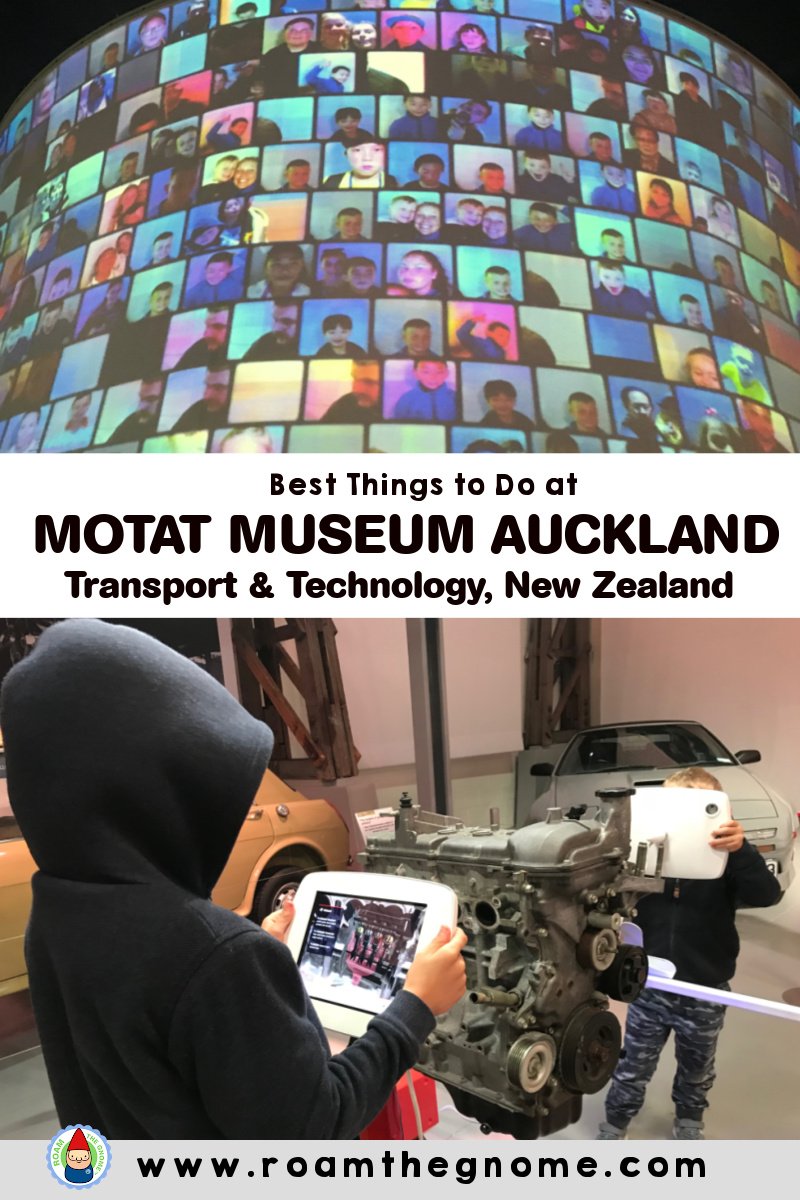 How to get to MOTAT Museum in Auckland
By Car, Bus or Taxi: Click here for details
Motat Parking
Park for free at MOTAT 2 Aviation Display Hall
Purchase your MOTAT entry ticket here and catch the MOTAT vintage tram to and fro between the two sites for FREE.
Find limited parking for this NZ museum at M1 on Stadium Road and along Great North Road.
MOTAT Map
Facilities at MOTAT Museum of Transport and Technology Auckland
Toilets: The parent's room facilities include changing tables; chairs; a kitchen sink and microwave; hand sanitiser; and a small 'time out' area for overwrought children.
Disability access: Yes. Click here for details.
Closest ATM: Credit card and EFTPOS facilities available.
Closest playground: Western Springs playground is on the northern side of the lake. Access by one of the park's walkways, or from Motions Road.
Shade: Limited
Enclosed: Yes
Picnic tables: Yes. Picnic Areas are in front of Tram 91 and on the historic Village Lawn at our MOTAT Great North Road, and in front of the train station at MOTAT Meola Road.
Water Bubblers/fountains: Yes
Scooters and Bikes: No
Dogs: No
Notes: There's FREE public WIFI at Motat.
Toadstool Rating – MOTAT New Zealand
Motat Museum Auckland NZ was an unexpected surprise! A MUST DO for families.

Looking for More Things to Do in Auckland New Zealand for Kids?
Click the blue links for more Auckland activities below.