INSIDE: Everything you need to know about finding the best putt putt Mini Golf Auckland has to offer!
If you are looking for mini golf courses in Auckland, you've come to the right place.
There's quite a few, each with their own unique theming.
Our favourite is the Lost in Time mini golf in Auckland CBD.
It's top of our list of things to do in Auckland on a rainy day, along with a visit to Time Out Game Zone.
Find all the details for this fun indoor Mini Golf activity in Auckland for kids (and more) below.
Disclosure: This article contains affiliate links. If you make a purchase after clicking on one of these links, we may receive a small commission at NO extra cost to you.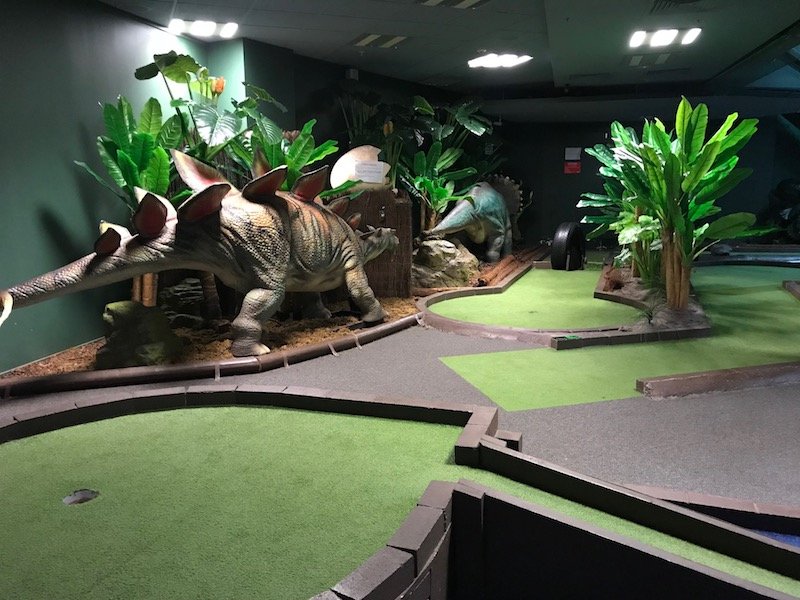 GUIDE TO THE BEST MINI GOLF AUCKLAND COURSES
No.1: Lost in Time Indoor Mini Golf Auckland City
World school your kids as they play.
Lost in Time mini golf Auckland city takes kids on a journey through New Zealand history.
Skedaddle past the battlefields of World War One, and putt past the gold mines of Waihi.
The historical story being part of the unique experience is why this is the best indoor mini golf course around.
Indoor Dinosaur Mini Golf Auckland
You also play among the DINOSAURS at Lost in Time mini golf by Lilliputt.
Meandering the lush forests of pre-colonised New Zealand when dinosaurs ruled the earth.
Who doesn't love a fake dinosaur?
They never grow old.
More Liliputt Mini Golf courses in Safari and Ice Age themes can be found in other places in New Zealand too. See below for details.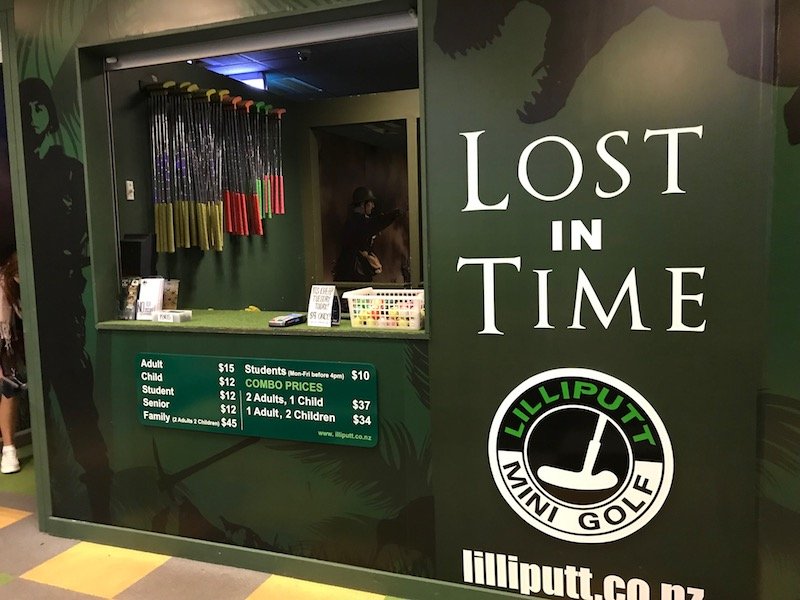 THE INSIDE SCOOP: Dinosaur Mini Golf in Auckland City
Correct at time of publication on Roam the Gnome. Please check with venue for updates. We apologise in advance if there have been any changes we are unaware of. All prices in NZ dollars, unless otherwise stated
Address: Lower Basement Metro Centre, 291-297 Queen Street, Auckland CBD New Zealand (SkyWorld Entertainment Centre, next to Aotea Square)
Telephone: 09 368 4141
Website: Click here
Opening Hours: Monday to Sunday 10AM – 10PM
Entry Fees: Buy online and save.
Adults $15 NZ
Child/Student/Seniors $12 NZ
Family – 2A, 2C $45 NZ
Family – 2A, 1C $37 NZ
Family – 1A, 2C $34 NZ
Mini Golf Discount Tickets: Cheap Tuesday, $9 for everyone. Not valid school and public holidays.
How to get to Lost in Time Mini Golf Auckland
By Bus: SkyBus to the Auckland CBD from the Airport. Bus stop is across the road on Queen St. Local buses, exit on Queen St at SkyWorld.
By Car: SKY WORLD is located in the heart of Auckland CBD and edge of iconic Aotea Square.
Skyworld Parking
The Civic car park is the closest car park to Aotea Square and SkyWorld.
Mini Putt Auckland Location
Facilities at Lilliputt Mini Golf Course Auckland City
Nearest takeaway coffee and/or food options: Lots of menu choices at the Food Court on Level 1
Toilets: Yes, public toilets with baby change table can be found in SkyWorld Entertainment Complex.
Disability access: Yes, but internal stairs.
Closest ATM: Inside SkyWorld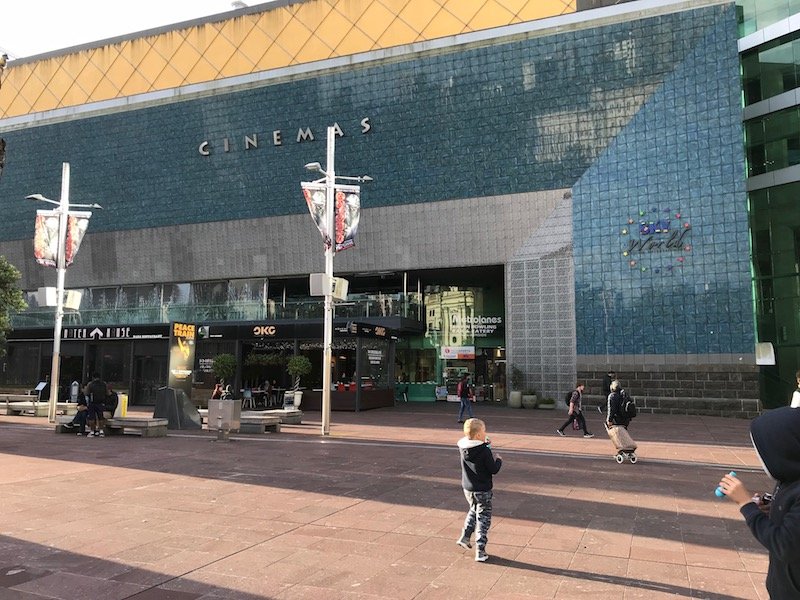 MORE Things to do in Auckland on a rainy day
Tucked away on the lower level of SkyWorld Entertainment Centre, this dinosaur putt putt is by far the best mini golf Auckland has to offer on a rainy day.
It's not just the Dinosaur putt putt golf.
You can fill a whole day at SkyWorld.
It's Auckland's largest indoor entertainment hub in the Auckland CBD, filled with Auckland tourist attractions.
Best Things to do in SkyWorld Entertainment Centre Auckland
At SkyWorld, there's:
Our favourite fun experience for the whole family – Odyssey Maze
Time Out Game Zone, a multi-level arcade full of the best of the best Arcade Games, Sports Games, Shooting Games, and Retro Games (PacMan anyone?)
MetroLane Indoor Bowling
Event Cinemas, with Gold Class
Plus, Auckland's only IMAX cinema.
Fill your wallet before you come.
(If you are looking for our big list of free things to do in Auckland, click here. Coming Soon.)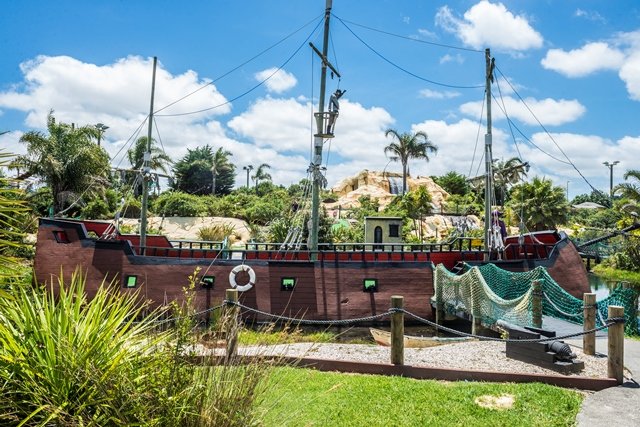 MORE SUPER FUN MINI GOLF IN AUCKLAND
No.1: Treasure Island Mini Golf Auckland Airport
Treasure Island adventure golf is the original putt putt golf in Auckland.
Head to this themed pirate putt putt golf to:
putt over the pirate ship centrepiece of the park
putt past roaring waterfalls
putt through haunted treasure caves, and
putt past shark infested waters!
Located at Auckland Airport, Treasure Island has two 18 hole fantastic courses:
Blackbeard's &
Captain's.
This Auckland airport putt putt golf is located at 1 Uenuku Way, Mangere, Auckland 2022, New Zealand
For ticket prices and bookings, click here
NB: They host birthday party events here
---
RELATED: Monster List of Things to Do in Auckland with kids!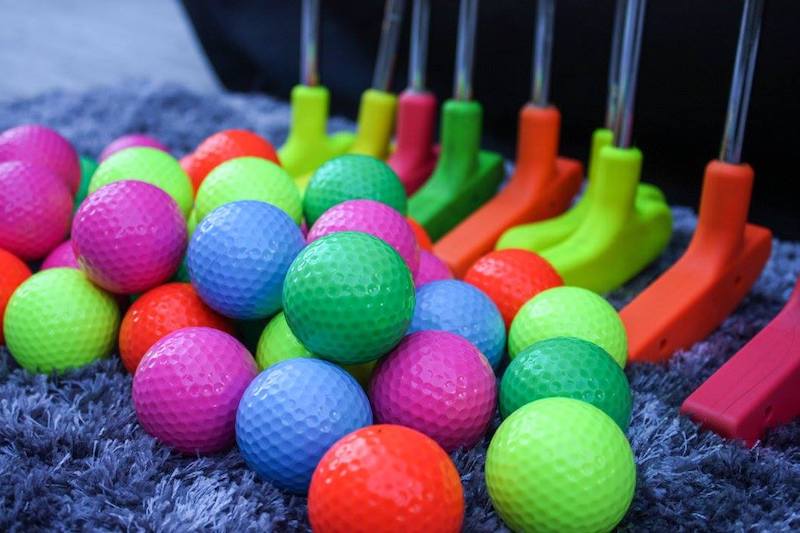 No.2: Glow in the Dark Mini Golf Auckland
Gloputt Mini Golf is the first UV mini golf course in Auckland.
Fully indoors, the 16 hole mini golf course is illuminated with glowing technicolour neon lights along the pathways and throughout the golf course.
Gloputt glow in the dark putt putt is located at 28 Barrys Point Road, Takapuna, Auckland 0622, New Zealand
Click here for opening hours and ticket prices
(NB: They host birthday parties)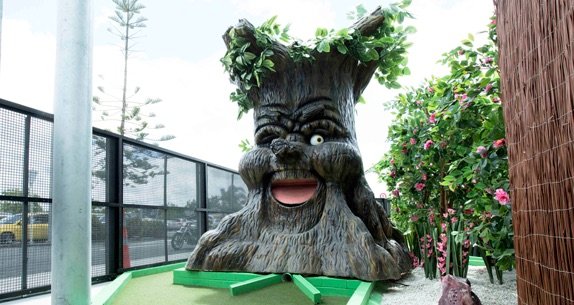 No.3: Lilliputt Mini Golf West Auckland – Dragon Quest
The backstory of this mini golf course is that someone has stolen the Dragon's eggs and she is not happy!
Your task is to find the eggs and take them back, before she stomps all over the land of Golftania.
Here, you can:
meet Lore, the talking tree
find your courage to go over the Troll crossing
visit village of the white rabbit.
Open Sunday to Wednesday from 10 am – 7 pm, and Thursday to Saturday from 10 am – 9 pm
Dragon Quest mini golf is located at 3058 Great North Rd, New Lynn, Auckland
For ticket prices, and bookings, click here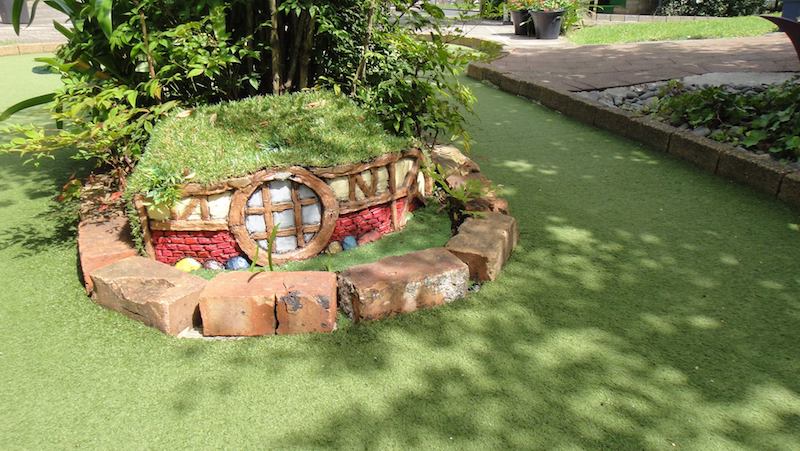 Image credit: Enchanted Forest Putt Putt
No.4: Enchanted Forest Mini Golf Onehunga
Enchanted Forest has 18 full length mini golf holes in the natural surrounds of a shaded and tree-lined park.
Look out for totem poles, volcanoes, and unusual sculptures.
The 13th hole is the highlight!
This is the spot where both kids and adults are encouraged to smash the golf ball as hard as you can!
Enchanted Forest putt putt golf is located at 61 Selwyn Street, Onehunga, Auckland 1061, New Zealand
For ticket prices and opening hours, click here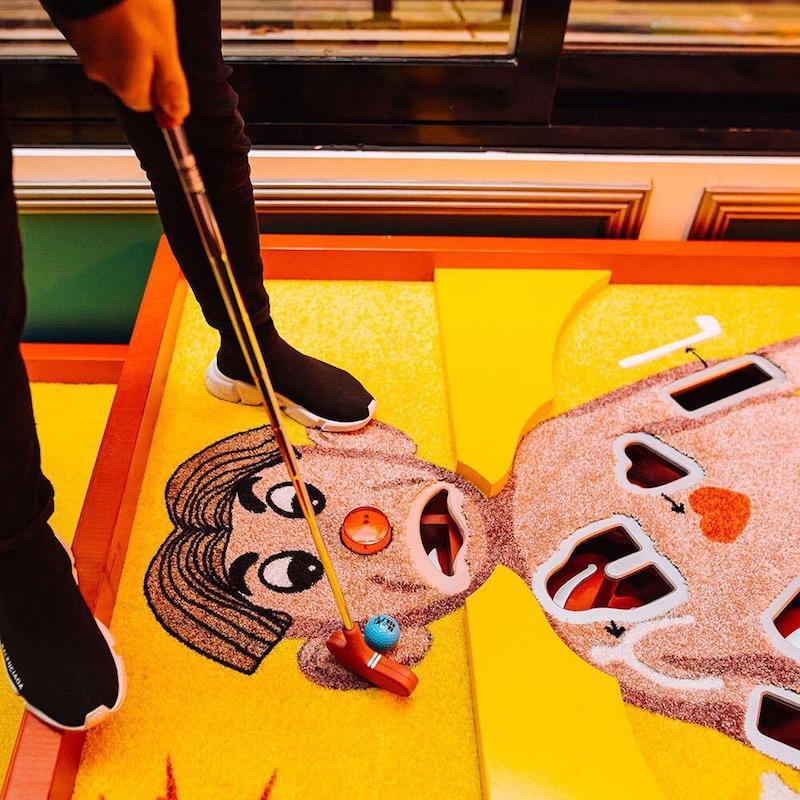 Image credit: Holey Moley Golf Course NZ
No.5: HOLEY MOLEY Mini Golf Auckland CBD
This is fabulous mini golf for adults in Auckland, with 27 UNIQUE holes!
Holy Moly putt putt is a place to reminisce and putt around all your favourite pop culture icons including:
the Simpsons
the Operation Game
"Teevel" Knievel
scary clown faces
Hobbit holes
The Big Lebowski abode
the Flintstones
Jaws
Super Mario
Gran's house, and more.
It's cute, quirky, colourful, cartoony, and hilarious.
Plus, they have tunes, a spectacular cocktail menu (served with lollies on the side), and beers on tap.
Find it at 204 Quay Street, Auckland CBD, Auckland 1010, New Zealand
For pricing, opening hours, and booking tickets, click here
Fun Fact: Why is mini golf called putt putt? According to Terry Drinkwater, Mini-golf is called putt-putt because the only club used is a putter and the only type of shot is a putt.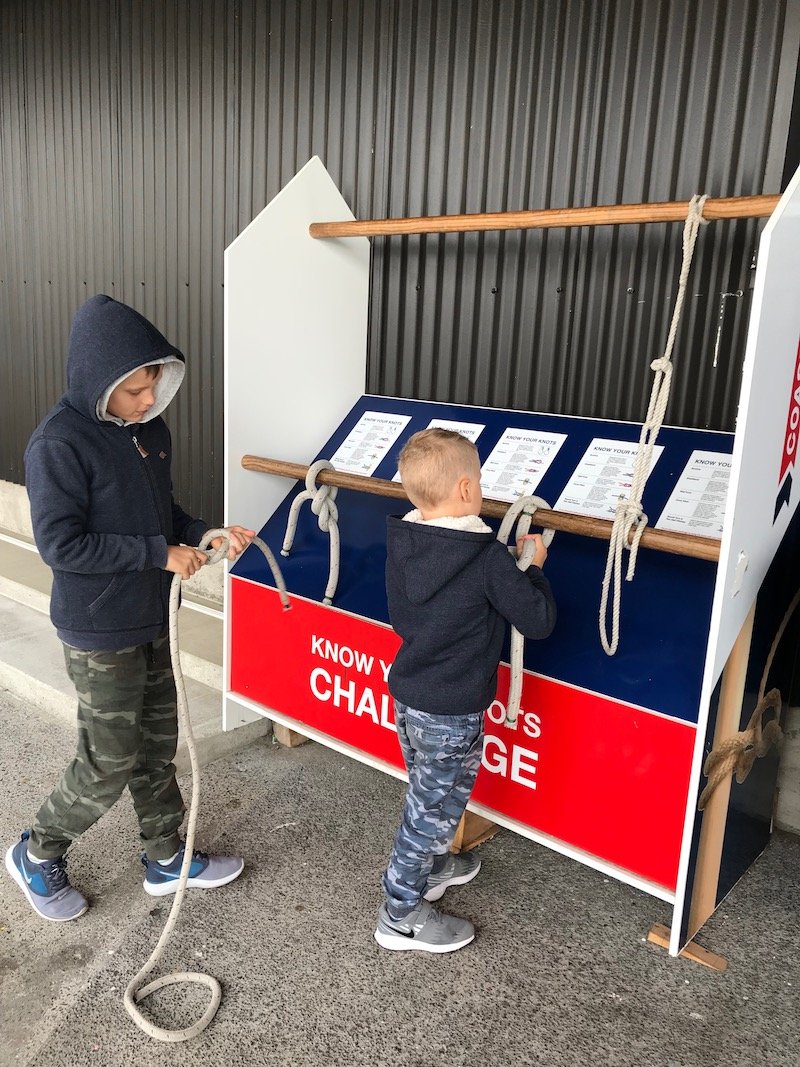 Looking for More Things to Do in Auckland for Kids?
Click the blue links for more Auckland activities below.