INSIDE: Everything you need to know about taking kids to the London Eye experience.
Asking the question, should I book the London Eye experience with children?
Should we, or shouldn't we, take a ride on the giant cantilevered observation wheel on the South Bank of the Thames River in London?
That was a question I asked myself.
It's not cheap to ride with kids in tow, and I didn't want to waste money we could have used for other attractions in London.
I was desperate to know was it worth it?
After LOTS of research into London Eye discount pricing, and money-saver deals, we booked a GUIDED TOUR on the London Eye!
It was the best decision ever. Read below to see why…
Disclosure: This article contains affiliate links. If you make a purchase after clicking on one of these links, we may receive a small commission at NO extra cost to you.

Guide to the London Eye Experience
Take a Ride Up High on the London Eye with Children!
The Millennium Wheel is the real name of this modern London icon.
It's said to be the most popular paid tourist attraction in the United Kingdom, with over 3.75 million visitors annually.
London Eye Experiences are a chance to see iconic London views from a birds eye view.
---
RELATED: The ULTIMATE List of Things to Do in London with Kids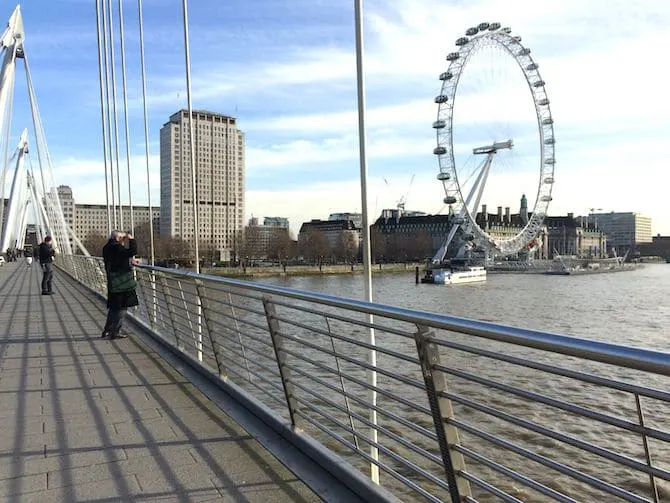 London Eye Fast Track – The ONLY way to go!
If you are visiting London eye with kids, three words: Fast track entry.
Don't wait in the queues with kids.
We pre-booked our London Eye fast track tickets and tour with a private guide, arrived 15 minutes before boarding as requested, and were given a special spot to wait in the main reception area (the Eye Lounge).
The kids entertained themselves before the London Eye tour by making friends with the other kids who were also in our group.
A few minutes before boarding time, we met our London Eye tour guide, who then led our motley crew up to the loading platform, and onto the capsule for 360 degree views of top London sights.
Easy peasy, lemon squeezy.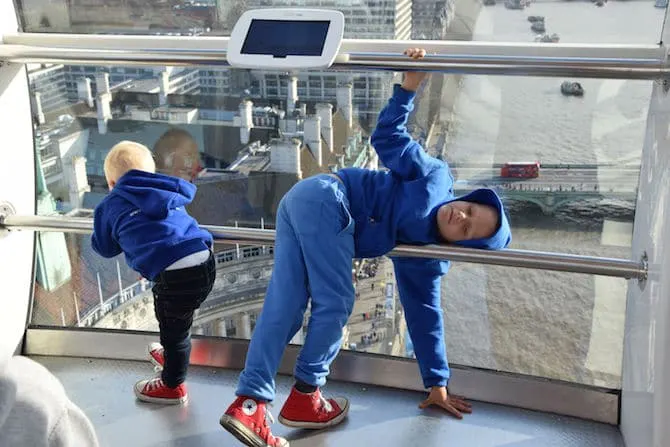 Best London Eye Kids & Family Activities
No.1: Complimentary 360° Mini-Guide
This round map (that folded down to look like a slice of pizza) helped Ned and I to navigate our way around the London we saw in front of us, spotting buildings including the Dome of St Paul's Cathedral, Tower of London and Buckingham Palace.
It's a fab keepsake of your trip to London too.
No.2: Entry to the Coca Cola London Eye 4D Experience
The fun of the London Eye for children doesn't stop at the end of the ride.
The follow up is a special 4D cinema movie experience. The London Eye 4D Experience is the first live action, 4D attraction film ever produced in the UK and contains the first ever 3D aerial photography over London.
Both my boys LOVED this bonus activity, and so did I.

Extra Inclusions – VIP Champagne Experience with Guide
No.3: Specialist Guide providing commentary.
Our guide was a jolly fellow, with a love of England and full of stories that gave us insight into the history but also the quirks of the buildings and landmarks we could see.
This in-person live commentary was far more captivating and FUN for Roam the Gnome, myself AND the kids than a taped recording could ever be.
I was worried that the kids might get a little fidgety or bored on a 30-minute circle of the sky, but they both tuned in from time to time.
Of course, at other times, they stared out the window, laid on the floor to peer over the edge, or showed off their flexible bodies and gymnastic skills on the silver handle bar, but as they were quiet, no one batted an eyelid!

No.4: Opportunity to Ask Questions
On this private guided tour, we had lots of opportunities to ask questions about the London sights and attractions we were seeing, as we spotted them.
Ned is a chatty kid who loves to know everything, so he was so happy to have a captive audience in the guide!
No.5: Fabulous Stories & London Eye information for kids
This London Eye tour was not filled with boring information.
Our guide told us insider stories about movies that have been made in London (Bridget Jones and James Bond fans, listen up), where life-changing and heroic events have occurred, plus he gave me tips on where to take the kids next!
MORE Facts about London Eye!
The London Eye has featured in international feature films such as:
Fantastic Four: Rise of the Silver Surfer
Harry Potter and the Deathly Hallows
Wimbledon
Thunderbirds, and
Paddington the Movie.
The London Eye has been seen in well known TV programmes such as:
The Simpsons
Doctor Who
Sherlock and
The Apprentice too.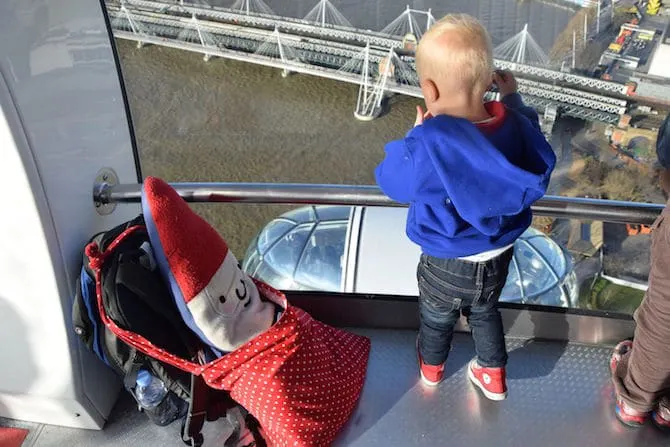 What can you see from the London Eye view?
From this London Ferris wheel, you can spy:
the MI6 Spy headquarters
the iconic Big Ben
Westminster Abbey where Kate and Wills were married
Cleopatra's needle
Buckingham Palace
Nelson's Column, and
Trafalgar Square.
On a clear day, you can see about 40 km away from the top.
The best London attractions for kids to spot are located close to the edge of the Thames River.
They'll have no trouble catching sight of the Tower of London, or the Tower Bridge, or anything built along the water's edge.
Kids will likely have more difficulty spotting the London sights that reside further back in amongst the city buildings
BUT they will be happily fascinated by the river ferries, the bridges, and the people watching, both on the ground and in the capsules on either side of you.
Be sure to have your royal wave at the ready!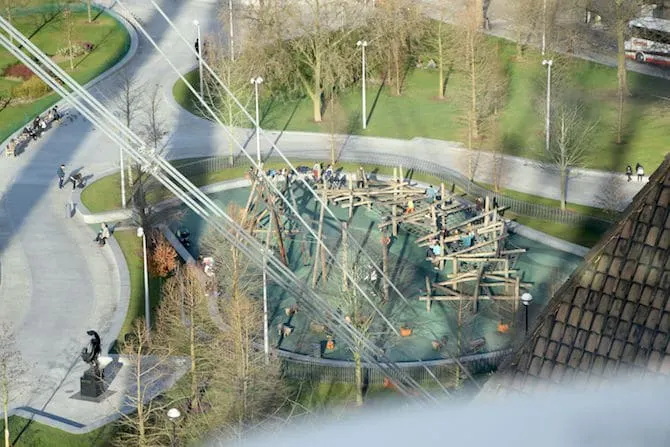 Jubilee Gardens Playground near London Eye
Look out for the very cool nature playground as you complete your circle journey.
We had NO idea this existed before our London Capsule trip.
What a find!
It's recently had a renovation too.
Head there next.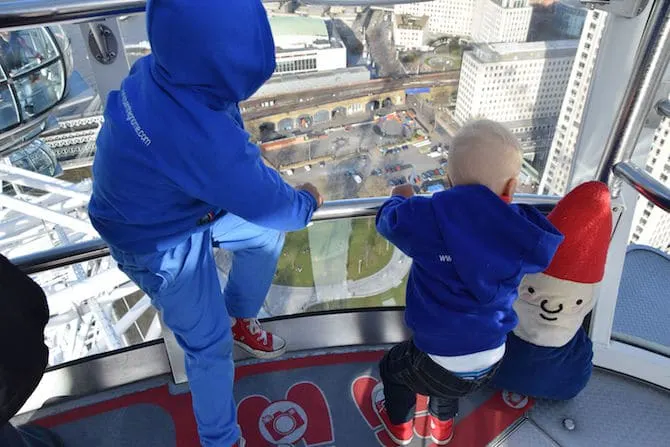 Cafes near London Eye?
The closest coffee shops to Coca-Cola London Eye are:
Both cafes are located on Belverdere Rd.
Looking for a restaurant near London eye? Check out these options:
Gillrays at the Marriott Hotel County Hall
Locale, Belverdere Rd
Skylon, Royal Festival Hall

London Eye Facts for Kids
Take a look at this fun London Eye information for kids.
No.1: What is the London Eye?
The world's tallest cantilevered observation wheel, that sits on the banks of the Thames River running through the centre of London.
No.2: How tall is the London Eye?
Wondering how high is the London eye?
It's a GIANT SIZED 135 metres tall (or 443 foot!)
That's equivalent to 64 red telephone boxes piled on top of each other!
No.3: Diameter of London Eye?
The wheel has a diameter of 120 metres, or 394 foot.
The 80 spokes laid together would stretch for 6km – the distance from Trafalgar Square to Canary Wharf.
No.4: When was the London Eye built?
Built during 1999, it officially opened to the public in March 2000.
It was supposed to be open for just five years, but has been such a hit with both locals and tourists alike, it remains.
No.5: How much did it cost to build the London Eye?
HOW MUCH did the London Eye cost to build?
Get ready for it!
An eye-watering sum of £75 million pounds!
But never fear, it quickly recouped all that sum by selling tickets to ride.
It took seven years and the skills of hundreds of people from five countries to make the London Eye a reality.
No.6: Why was the London Eye made?
The London Eye was built as a 21st Century landmark, and has quickly become one of London's most recognised symbols.
Locals and visitors alike have a soft spot for this breathtaking feat of engineering.
The London Eye receives more visitors annually than ancient wonders of the world like the Taj Mahal, Stonehenge and even the Great Pyramids of Giza.
No.7: What is the London Eye used for?
Tourism mostly.
Also corporate events such as Year End celebrations, new business proposals, private parties for birthdays, 21st celebrations, 40th and 50th birthday parties, and engagements.
You can even book a wedding on the London Eye in your own private capsule, beautifully decorated with fresh flowers, for up to 14 guests!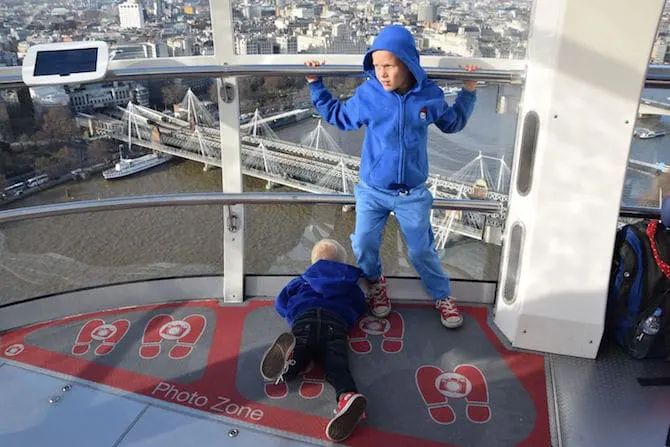 London Eye inside capsule
Frequently Asked Questions & More London Eye Pictures
No.1: Where is the London Eye?
Very very close to Big Ben!
Just a 10 minute walk from Big Ben across the Westminster Bridge in fact.
You couldn't find a more central location for this famous London wheel ride.
No.2: How much is the London Eye?
How much is it to go on the London eye?
It depends on what you want to do, and when.
Take a look at THE INSIDE SCOOP below for details of individual tickets, family ticket prices, and combo deals.

No.3: How long does the London Eye take?
Wondering how long is the London Eye ride?
It's a 30 minute slow spin all the way around from start to finish.
No.4: Whats the best time to ride London Eye with kids?
What's the best time to go on the London Eye with children?
We rode in the daytime on a lovely Spring sunny day.
Our best bet for the London Eye with children is to do the same.
You see more and further.
No.5: Can you visit London Eye at night?
You sure can!
A night time trip on the London Eye lets you see London city all lit up!
No.6: Does the London Eye stop?
Technically no, it doesn't need to stop as it moves so slowly (0.9 km per hour, or a ruler length every second) people can hop on and off without a hassle.
From time to time, the wheel will pause to help load or unload people with disabilities or the elderly.
No.7: What is the Eye Lounge?
It's the area above the ticket office, where – if you buy a fast track ticket – you can buy a drink as you wait to board your capsule.
No food or snacks available.
No.8: What else can you do at London Eye?
Join a VIP wine tasting tour, or for those with a sweet tooth, the VIP Hotel Chocolat chocolate tasting tour lets you taste delicious truffles and handmade chocolate!
No.9: How many people can fit in a capsule?
Up to 25 people, young and old, can be accommodated in a capsule with plenty of room to move about.
The London Eye can carry 800 guests per rotation – equivalent to 11 London red double decker buses.
No.10: Do you have to book the London Eye?
Yes. most definitely.
In advance is best.
There may be a chance for walk ins, but save time by purchasing ahead.
No.11: Is the London Eye worth it?
Yes. At least once, for the views of London from up high.
You can't see London like this from anywhere else.
No.12: Can you buy a London Eye Souvenir photo?
Souvenir Photographs are available from the 4D Experience and London Eye.
Pose for your photo at the end of your London Eye experience!
View and purchase your images in the gift shop and at the Photo Desk in the ticket hall.
Hot tip: Pre-book the Souvenir Photo Package online after selecting your entry tickets and save 20%.
Package includes:
2 Souvenir Photos
Photo book
Keyring
Magnet
Our Video of the London Wheel
Want a sneak peek into the London Eye experience?
Watch our video above.
THE INSIDE SCOOP: London Eye for Kids
Correct at time of publication on Roam the Gnome. Please check with venue for updates. We apologise in advance if there have been any changes we are unaware of. All prices in British pounds, unless otherwise stated
London Eye address: The London Eye location is Riverside Building, County Hall, Westminster Bridge Road, London, SE1 7PB
Telephone: 44 (0)870 990 8883 or 0333 321 2001
Website: Click here
Email: [email protected]
London Eye Opening Hours
The London Eye times are as follows:
9.30am Ticket Office opens.
10.00am first rotation.
The London Eye closing time varies throughout the year but usually between 18:00 and 20:30.
Open daily except Christmas Day (25 December)
The London Eye 4D experience closes 15 minutes prior.
Please click here for current details.

LONDON EYE DISCOUNT TICKETS
Looking for London Eye deals, or cheap London Eye tickets?
Take a look at these London Eye offers:
No.1: London Eye Private Tour with Personal Guide
This is the London Eye tour we chose, after looking at ALL the options to find the best value, with the least wait time, and queues. Avoiding time in queues is my hot tip for travelling with toddlers and kids.
This tour includes fast-track priority access to the London Eye with a live professional guide inside your private pod, dedicated to your own VIP small group flight.
Price also includes:
4-D cinema experience
Souvenir London Eye 360-degree viewing card
Complimentary access to the VIP Champagne bar
Meet your guide at the VIP Experiences meeting desk which is located inside the London Eye building.
Prices start from £37 per adult (approx $69 AUD ) and £33 ($60 AUD) per child. Infants under 2 are FREE. (NB: subject to change).
No.2: London Eye VIP Tickets (Guided Tour)
The London Eye with Champagne VIP Guided Tours start from £41.00 adults and children.
Children under 3 can travel for FREE in the London Eye Champagne pod with you, but must still have a 'ticket' to ride. Include them in your booking.
No.3: London Eye 2 for 1
Look out for specially marked packs of Kelloggs cereal and snacks for London Eye 2 for 1 vouchers from time to time.
The other place to find London Eye 2 for 1 tickets is via Days Out Guide when you travel with the National Rail.
Click here for details including terms and conditions.
No.4: London Eye Combo deals
Choose a combo deal of family-fun combining the London Eye with children, plus one attraction from this list:
Madame Tussauds
Big Bus London
Shrek's Adventure
SEALIFE London Aquarium
London Dungeon
Tickets to all attractions must be used within 90 days.
You can also buy a combo with London Eye and TWO of the attractions listed above. Click here for details.
MORE LONDON EYE DEALS
London Eye and River Cruise
Buy a London Eye River Cruise deal, including the 4D cinema from £33 per person.
REGULAR LONDON EYE TICKET PRICE
The standard London eye price on the door starts from:
£30 for adults (16+), and
£24 for children.
Save money by buying online (from £27 adults, and £22 children)
Children under 3 are FREE!
There are no London eye concessions for pensioners or the elderly.
There are London Eye student tickets.
No.1: London Eye family ticket
These start from from £30 for adults (16+), and £24 for children at the door.
Family standard tickets are a little cheaper if you buy online:
From £26 adults, and
£20 children.
You must book a minimum of one adult and two paying children aged 3 or older.
Children under 3 are FREE!

LONDON PASSES & VOUCHERS
No.1: London Explorer Pass
The London Explorer Pass includes the London Eye.
Save up to to 40% off entry fees for top London attractions with this pass.
Select a 3, 5 or 7 choice credits package.
Enjoy huge savings vs. attraction gate prices.
No.2: London Eye vouchers
Book London Eye tickets for a gift.
Print their ticket & pop it in a gift card.
No.3: London Pass London Eye
Please note, the London Pass DOES NOT include the London Eye.
How to get to the London Eye Experience
By Tube:
The closest tube to London Eye? It's within easy walking distance from several London Underground stations: Waterloo, Embankment, Charing Cross and Westminster.
Waterloo is the closest tube station to the Coca-Cola London Eye. Waterloo is about five minutes walking distance. Exit the station following signs for the South Bank.
Embankment and Charing Cross stations are close together on the north side of the River Thames. Both tube stations are a ten-fifteen minute walk to reach the Coca-Cola London Eye. From the station, cross over Hungerford Bridge.
Westminster tube station is the closest station to Big Ben and the Houses of Parliament. From Westminster tube station, take exit one and follow signs for Westminster pier.
By Train:
The closest rail stations to the Coca-Cola London Eye are Waterloo and Charing Cross.
Waterloo is the closest rail station to the Coca-Cola London Eye. Waterloo is about five minutes walking distance; take exit six for the South Bank and follow the signs.
Charing Cross is about a fifteen minute walk to the Coca-Cola London Eye. Cross over Hungerford Bridge
By Bus:
Buses to the Coca-Cola London Eye include the 211, 77 and 381. The Coca-Cola London Eye is on most London sightseeing bus tours and on the RV1 route that connects the London Eye to the Tate Modern and Covent Garden
By Car: If possible, we suggest going by public transport. Driving is a hassle in London.
Car Park near London Eye
The closest car park is at the Southbank Centre
Alternative car parks are also available within walking distance of the London Eye.
Please note that the Coca-Cola London Eye is within the Congestion Charge Zone.
Coca Cola London Eye Map
London Hotels near London Eye
Details coming soon!
Toadstool Rating: London Eye for children
Guided tour definitely the way to go! Every family needs to take this trip at least once.

Looking for things to do near London Eye?
Click the links in blue below for more London tips