INSIDE: Roam the Gnome's Guide to the Ultimate Freakshakes Canberra style to BLOW YOUR TASTEBUDS AWAY!
Take one chocolatey nutella-fueled milkshake, and put it in a giant mason jar.
Add MORE gooey lashings of NUTELLA so it overflows, and drips lusciously down the sides of the jar.
Top it with nutella-coated salty pretzels, a burst of vanilla mousse, and pretzel dust, and what have you got?
Freakshakes Canberra style are the world's best crazy milkshake, that's what.
Try this one, OR one of the other Freakshakes on the Patissez menu below.
Take a look.
Disclosure: This article contains affiliate links. If you make a purchase after clicking on one of these links, we may receive a small commission at NO extra cost to you.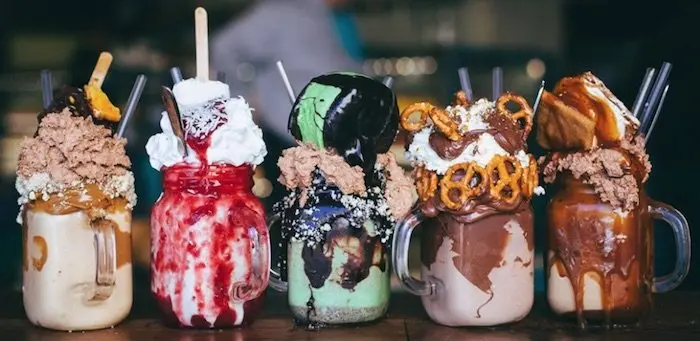 The Ultimate Patissez Freakshake Canberra Style!
Patissez Canberra is the home of the original and trademarked FreakShake.
The one & only place in the whole wide world where you can get a 100% real deal FreakShake ™ experience.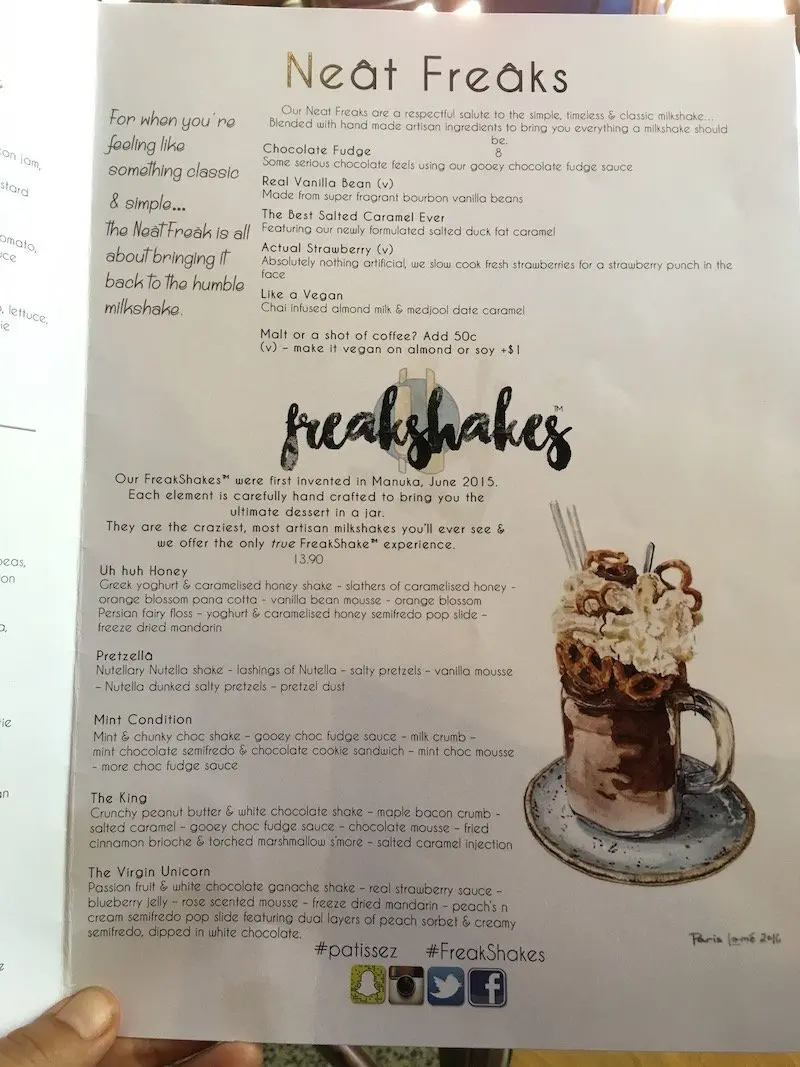 The Patissez FreakShakes Canberra story
Back in June 2015, the girls behind Patissez took the humble Australian milkshake and flipped it on its' head.
The addition of wild toppings so enormous that people drew a gasp when they saw them on Facebook and Instagram, sent social media into meltdown.
The humble milkshake was no longer enough.
People now wanted to EAT their dessert milkshakes, with an assortment of:
brownies
pretzels
puff pastry, and
toasted marshmallows on top,
All these bonus ingredients then drowning in amongst ladles of Nutella, gooey peanut butter, and strawberry sauce coulis.
The FreakShake is now Patissez's signature dish, one they are proud to have invented.
This is not a fad.
Freakshakes Canberra way are a specially crafted combination of fun flavours to satisfy even the sweetest tooth!

We tried a FreakShake!
At $14 a pop, it's a special once-in-a-lifetime hand-crafted dessert-in-a-jar loaded-milkshake treat, but we had to do it.
It's the Canberra way.
(The Freakshake price can freak people out though!)
Jack ordered the delicious Pretzella, described above.
Ned chose the Mint Condition.
That's a Mint and Chunky Chocolate shake, with a gooey choc fudge sauce, and
milk crumb
mint chocolate semifredo and chocolate cookie sandwich
mint choc mousse,
topped with even more choc fudge source.
You bet right.
They couldn't finish them, SO I DID.
Hot tip: If you take the kids, don't bother ordering one for yourself if you can handle waiting a few minutes to sink your teeth in. Guarantee they'll start to feel a bit sick after just a few bites!
Was it fun? Yes
Was it worth the wait? Yes
Would we recommend a visit to Patissez Canberra for a Freakshake?
Yes.
You only live once.
---
Love Chocolate? Make a DIY Chocolate Charcuterie board for your next picnic!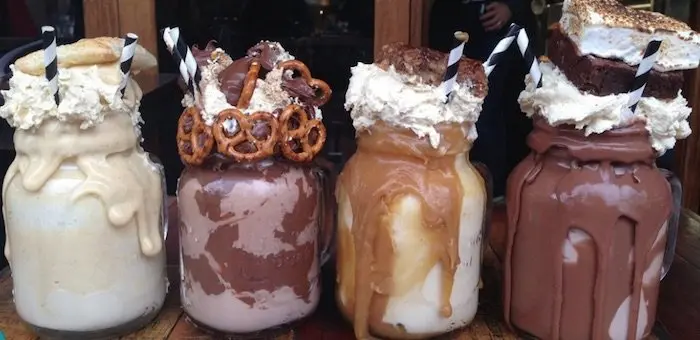 Patissez Freakshakes Menu
It's not even worth considering the Freakshake calories.
If you are in, you need to be ALL IN.
Travel to pick one of these Freakshake flavours, and dig in deep.
Uh huh Honey freakshake
Greek yoghurt and caramelised honey shake
Pretzella freakshake
Nutty nutella shake and pretzels
Mint Condition freakshake
Mint and chunky choc shake
The King freakshake
Crunchy peanut butter and white chocolate shake, with a maple bacon crumb and salted caramel
The Virgin Unicorn freakshake
Passionfruit and white chocolate ganache shake, with real strawberry sauce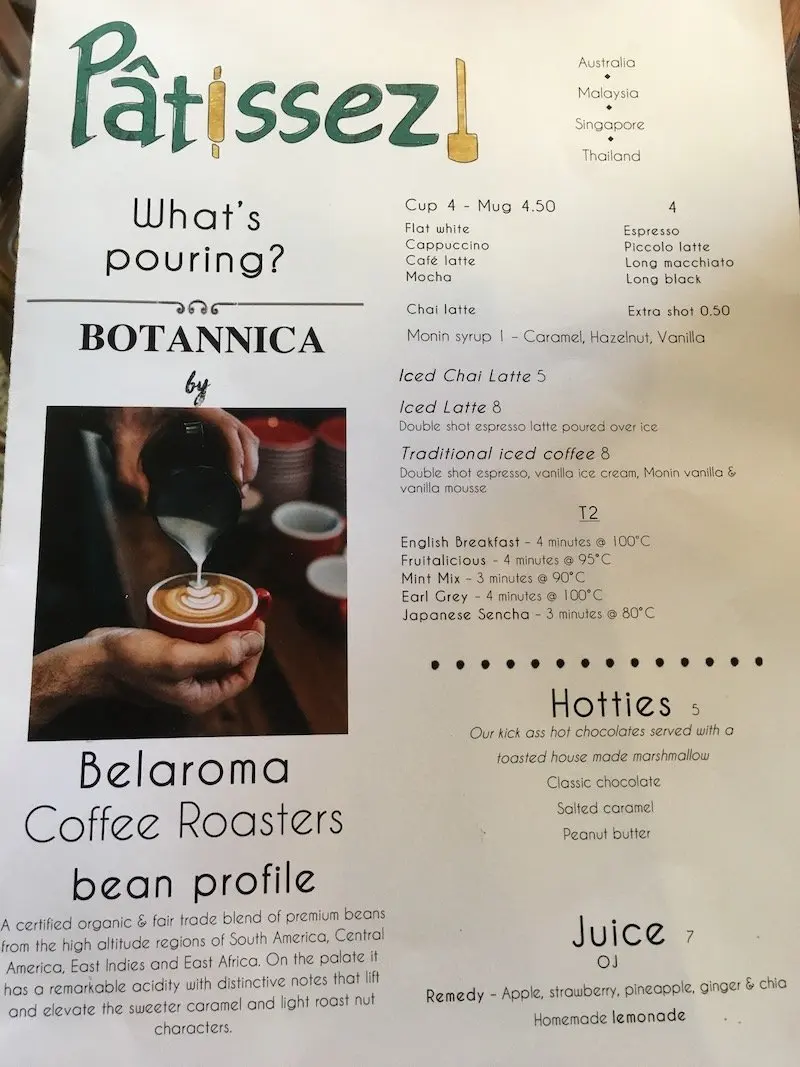 Patissez Menu Drinks (more than crazy milkshakes!)
Not in the mood for a freakshake milkshake?
Order a homemade "Hottie" hot chocolate instead.
They come in three flavours, including:
classic chocolate
salted caramel
peanut butter
Or grab a Belaroma Coffee, something from their tea menu, or a fresh juice.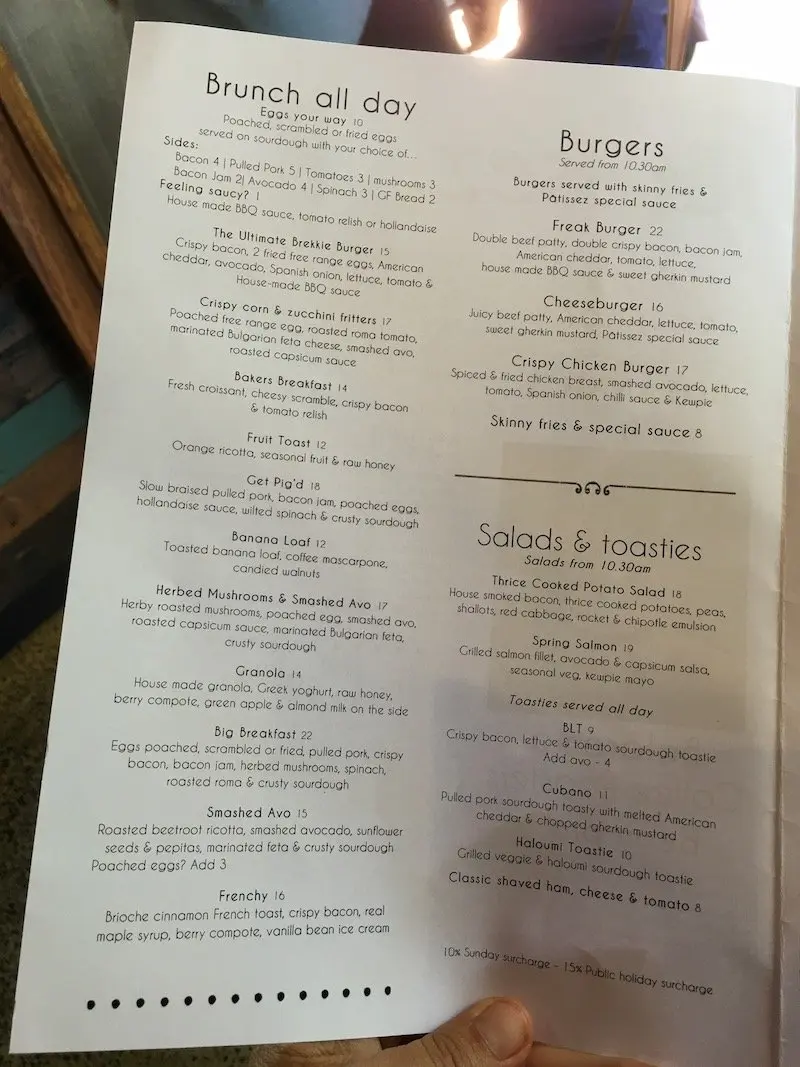 Patissez Manuka All Day Brunch Menu
Our advice: GO for a Canberra FreakShake.
STAY for the food.
Patissez has a range of savoury goodies including the popular herby roasted mushrooms & smashed avo dish.
The Patissez Canberra menu has an all day brunch breakfast, featuring:
fresh croissants
smashed avo
granola
french toast
banana loaf
fruit toast bread with ricotta, seasonal fruit and honey
From 10.30am, you can also order:
a bunch of burgers
skinny fries and sauce
salads
toasties, and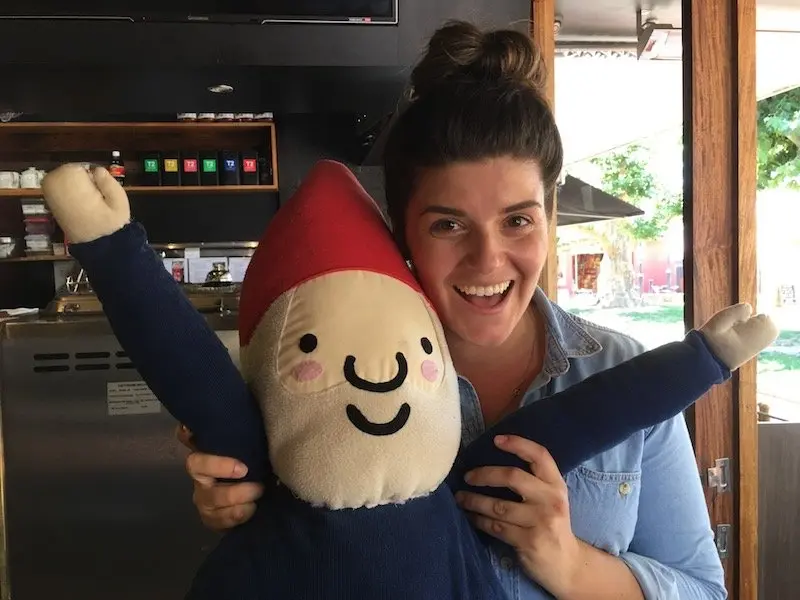 The Inside Scoop – Canberra Milkshakes for Kids
Correct at time of publication on Roam the Gnome. Please check with venue for updates. We apologise in advance if there have been any changes we are unaware of. All prices in AUD dollars, unless otherwise stated
Address: Manuka Patissez, 21 Bougainville St Griffith Manuka, Australian Capital Territory ACT
Telephone: 02 6156 3413
Email: [email protected]
Website: Click here
Opening Hours at Patissez Canberra
All week, 7 days
7.30AM to 4.30PM
How to get to Patissez Manuka
By Bus:
Catch Bus 4/6 or Bus 2/3 from the CBD direct to Manuka.
Stop is Captain Cook Cresent, after Canberra Ave.
Short 5 minute walk to shops from here.
By car: 9 minutes drive from the CBD via Commonwealth Avenue
Parking near Patissez in Manuka: Paid street parking available in the local shopping street area.
Map of Patissez Cafe location
Facilities at Patissez Australia
Toilets: Yes
Disability access: Doable if you sit outside.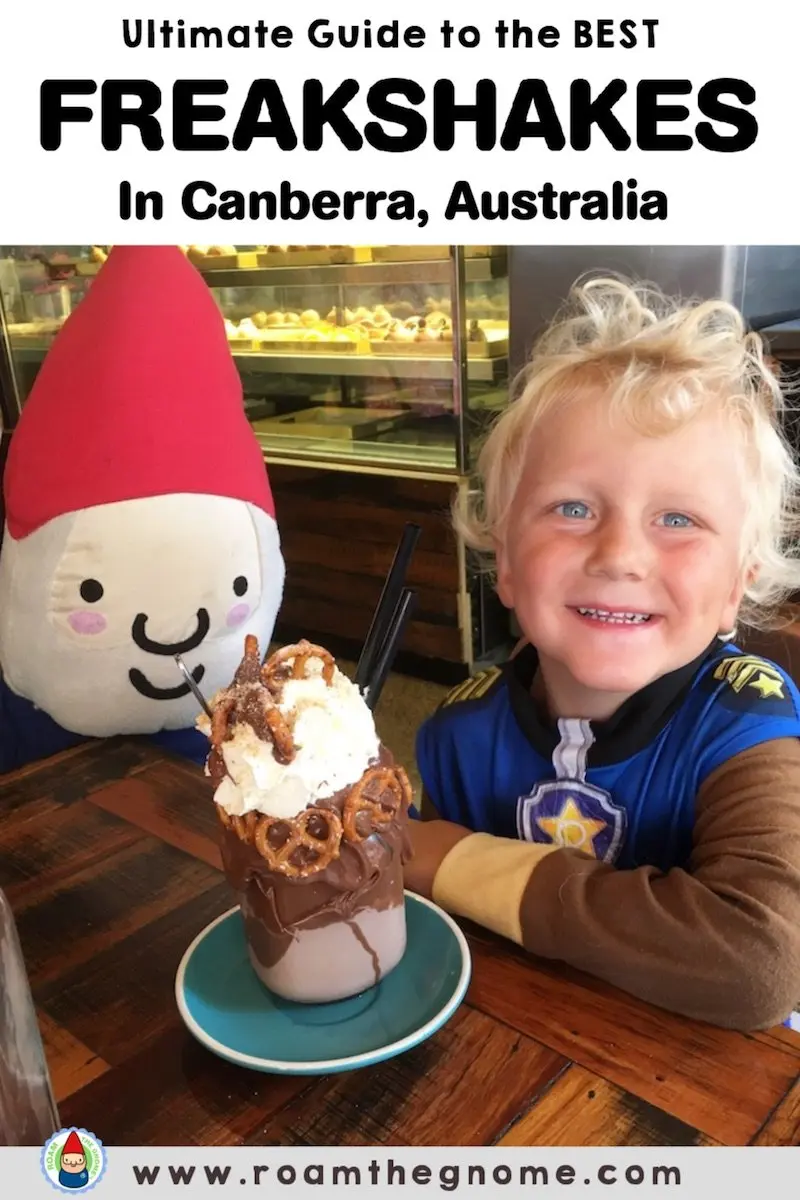 Toadstool Rating – Freakshake Canberra.
Sugar Nazis should SKIP these Canberra milkshakes.
Crazy shakes are not for everyone! (Only fun people need apply.)
Looking for MORE SUPER DOOPER FUN places to visit in Canberra with kids?
Click the links in blue below for more Canberra attractions.