INSIDE: The Household Cavalry Museum in London lets the kids see behind-the-scenes of a real Royal job!
If your kids LOVE horses, you might like to take them behind the scenes to see the troopers from the Queen's Life Guard ceremony working with the horses in the original 18th century stables.
Peek through the glass at this living museum in London to see real people doing their job of caring for, and preparing the horses for the daily ceremony.
The stables are separated from the main museum by a glazed partition and nothing else.
If you visit during school holidays, there's family activities too.
It's the best alternative to the crowded Buckingham Palace Changing of the Guard ceremony with the same pomp!
Sneak a peek into Royal Life at the HOUSEHOLD CAVALRY MUSEUM with kids too.
Take a look below for all the details
Disclosure: This article contains affiliate links. If you make a purchase after clicking on one of these links, we may receive a small commission at NO extra cost to you. Main image credit: Kim via Flickr CC BY SA 2.0
Guide to the Household Cavalry Museum Attraction in London
The Household Cavalry mounted regiment have protected successive kings and queens from rebels, rioters and assassins for nearly 350 years.
The Changing of the Queen's Life Guard daily ceremony has remained broadly unchanged for over 350 years.
---
RELATED: The Big List of Best Things to Do in LONDON with Kids
Best Things to do at Royal Household Cavalry Museum with Kids
No.1: See the Household Cavalry Regiment in action
Take a look at:
the hourly sentry changes
daily morning guard changes, and
the daily afternoon Garrison Inspections to see just how much detail is involved in being a member of the Royal Protection team
No.2: Watch the horses being cared for
All the horses here are on duty.
Depending on the time you visit, you might see them:
being brought in to the Household Cavalry stables
groomed
fed and watered
their hooves oiled and shoes checked
their saddles adjusted ready to go on guard, or
the stables themselves being cleared or washed down.
You'll smell the freshly polished tack, and the distinctive aroma of the working stables too.
You can touch the 200 year old stable stalls too.
No.3: Take a FREE audio visual tour (included in ticket price)
Take an audio-visual tour on a handheld interactive touchscreen guide.
It is available in 8 languages (including English, Chinese, Russian and Portuguese.).
The touchscreen MP3 player outlines the Household Cavalry's history and achievements with soldiers describing what it is like to serve in the regiment today on ceremonial or combat duties.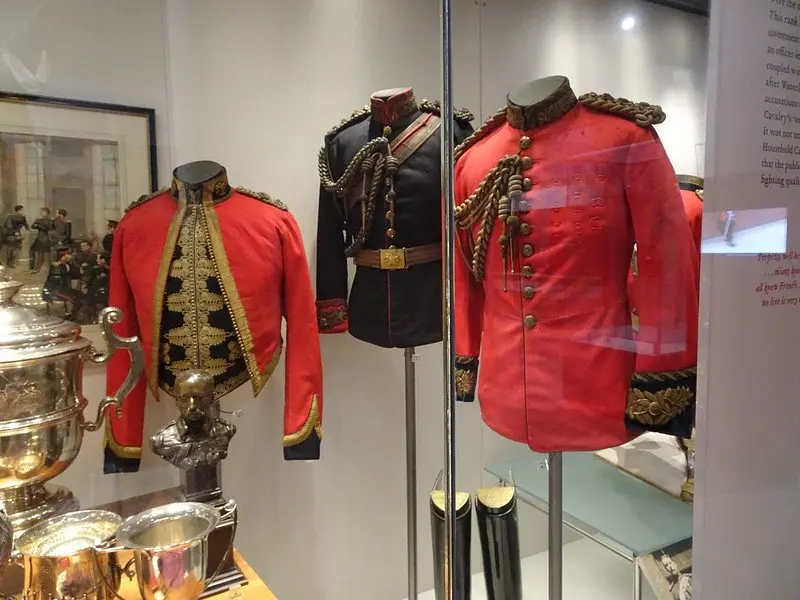 Image credit: Ealasaid via Flickr CC BY 2.0
MORE of The Household Cavalry Museum London for kids
No.4: Dress up in Household Cavalry uniforms
Try on one of the real Queens Life Guard uniforms.
The Household Cavalry Regiment uniforms consist of a tunic, cuirass and helmet, and the Household Cavalry beret.
Are you ready to protect the Monarch at home and abroad in the Household Cavalry dress uniform?
No.5: Watch a video
Take a look at the video explaining:
where the horses come from
how they are chosen
why so many of them are black, and
how they are cared for and trained.
No.6: Visit a Historic Building
Visit one of London's most historic buildings, The Household Cavalry Museum sits within Horse Guards in Whitehall, dating from 1750.
No.7: Look at the Royal Collection of Treasures
See the collection of rare and unique treasures (many on display for the first time) including:
ceremonial uniforms
royal standards and gallantry awards
musical instruments
horse furniture
silverware by Fabergé
two silver kettledrums given to the regiment in 1831 by William IV
the pistol ball that wounded Sir Robert Hill at Waterloo
Modern additions to the collection include Jacky Charlton's football cap – he did his national service with the regiment and Sefton's bridle – the horse that was injured in the 1982 Hyde Park bombings.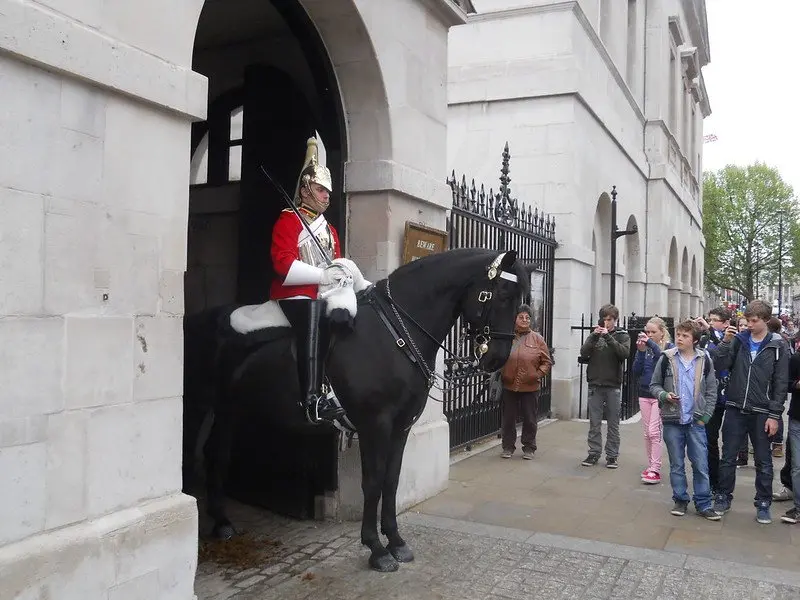 Image credit: Mikey via Flickr CC BY 2.0
Learn about the Household Cavalry Museum Horse Guards
No.1: Study Horsemanship
Learn about the techniques our soldiers use to master their horses and complete the gruelling preparations for regimental inspections.
No.2: Interactive Displays
Engage with interactive displays
No.3: Hear talks by the Household Cavalry Life Guards
Hear first hand accounts of how troopers are chosen, and what is involved in their rigorous training regime
No.4: Check out the battle kits
See inside an up-to-date kit of what each trooper takes into battle, highlighting the dangers they face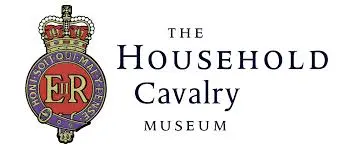 The Household Cavalry Museum Events
Arts & Crafts Workshops & School Holiday events for kids
Take part in regular art and crafts workshops, and Under 5's Mini Trooper sessions on school holidays and weekends.
Click here for upcoming events.
Visit the Household Cavalry Museum Shop
Visit the shop to buy your own copy of "Nimrod – A Cavalry Black" picture book.
This picture book gives a fascinating insight into the world of the Household Cavalry horse and is a perfect gift for horse lovers of all ages.
They also sell Household Cavalry gifts including:
commemorative bears
Battle of Waterloo ornaments
figures and models
signage
textiles
mugs and cups
t shirts and clothing
camouflage gear
postcards, pictures and paintings
jewellery
toys
Household Cavalry christmas cards
Facts and History about the Household Cavalry Regiment
The Household Cavalry regiment was formed in 1661 under the direct order of King Charles II and now consists of the two senior regiments of the British Army:
The Life Guards, and
the Blues and Royals.
Troopers have two roles:
as a mounted regiment (on horseback), they guard Her Majesty The Queen on ceremonial occasions in London and across the UK and are a key part of the Royal pageantry;
as an operational regiment we serve around the world in armoured fighting vehicles.
They currently have units deployed on active service in Iraq and Afghanistan.
Their fighting capacity is matched by our strategic role in international peace keeping and humanitarian operations.

THE INSIDE SCOOP: Household Cavalry Barracks
Correct at time of publication on Roam the Gnome. Please check with venue for updates. We apologise in advance if there have been any changes we are unaware of. All prices in British pounds, unless otherwise stated
The Museum is situated in Horse Guards, the heart of ceremonial London, with access off Horse Guards Parade.
Address: The Household Cavalry Museum, Horse Guards, Whitehall, London SW1A 2AX
Telephone: 020 7930 3070
Website: Click here
Email (guest relations): [email protected]
Household Cavalry Museum opening times
Open Daily to the public, 7 days a week
10am – 6pm April to October
10am – 5pm November to March
(Closed 24th -26th December 2016).
Last admission 45 minutes before closing.
The Changing of the Queen's Life Guard takes place daily on Horse Guards Parade at 11am (10am Sundays). The Daily Inspection takes place at 4pm (Front Yard Whitehall).
Daily Ceremony:
The Changing of the Queen's Life Guard takes place daily on Horse Guards Parade at 11am (10am Sundays).
The Daily Inspection takes place at 4pm (Front Yard Whitehall).
Household Cavalry Museum Prices
Adults: £8.50
Children (aged 5-16) and Concessions: £6.50
Family ticket (2 adults & 3 children): £22.00
How to book Household Cavalry Museum Tickets
Book tickets here.
How to get to Household Cavalry Museum
Nearest underground stations: Charing Cross, Westminster and Embankment
The museum is within very easy walking distance of Trafalgar Square, Parliament Square and Downing Street, St James's Park and Buckingham Palace and the Embankment piers.
Visit these London tourist attractions nearby:
The Guards Museum
Churchill War Rooms
National Gallery
National Portrait Gallery
Trafalgar Square
Westminster Abbey and the Houses of Parliament
The Queen's Gallery
The Royal Mews
Map of the Royal Household Cavalry Museum
Toadstool Rating: Household Cavalry Museum with Kids

Looking for MORE of the best museums in London for kids?
Click the links in blue below for more London ideas.