INSIDE: The Best of Homemade Toys for toddlers & kids – How to make a stick man.
I wanted to make some easy nature crafts for kids, and thought of a simple doll using sticks from nature.
And that is how Mr Stick Man, the World Adventurer was born.
Of course, no world adventurer could embark on his travels without a backpack satchel, so I made one.
I think I fell in love with him when I sewed it in place.
Does he remind you a teensy bit of Harrison Ford as Indiana Jones?
Or perhaps Crocodile Dundee Mick in all his outback finery?
One thing is for sure.
Adventure, here we come.
Make your own stick man too, with our instructions below.
Disclosure: This article contains affiliate links. If you make a purchase after clicking on one of these links, we may receive a small commission at NO extra cost to you.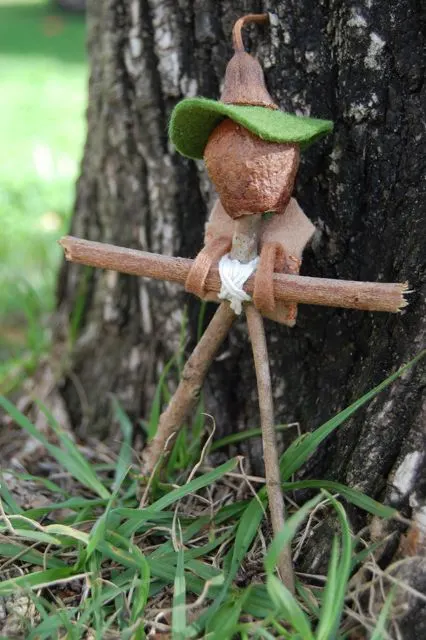 Guide to Easy Homemade Toys for Toddlers & Kids: Mr Stick Man
Time: 5- 10 minutes. Another 20 minutes sewing time for his adorable backpack if you choose.
Difficulty: Easy as pie, but so worth the effort!
If you've ever wanted to know how do you make toys, and want to try your hand at making homemade toys for toddlers, this is a really good place to start.
Making kids toys can be as easy as this!
Hot tip: Did you know there's a book called Stick Man, a wonderful Christmas themed picture book written by the incomparable Julia Donaldson & illustrated by Axel Scheffler of the Gruffalo fame. It's a great resource for building on this craft activity for kids.
---
BUY NOW ON AMAZON: Stick Man by Julia Donaldson & Axel Scheffler
DIY Homemade Toys for Kids: How to make a Stick Man
Correct at time of publication on Roam the Gnome. All prices in US dollars, unless otherwise stated
This is the most simple tutorial on how to make toys for kids.
I guarantee you won't find anything as quick and easy as this!
But stick dolls are adorable, and ALL kids love them!
Step One:
Find a Y stick in your garden or local park, and also a second stick in about the same width/size for his arms.
A Y stick is a stick like the one pictured above. Simply, a branch that has split to make two arms, into a Y shape.
They are plentiful!
Once you see one, you'll see them everywhere.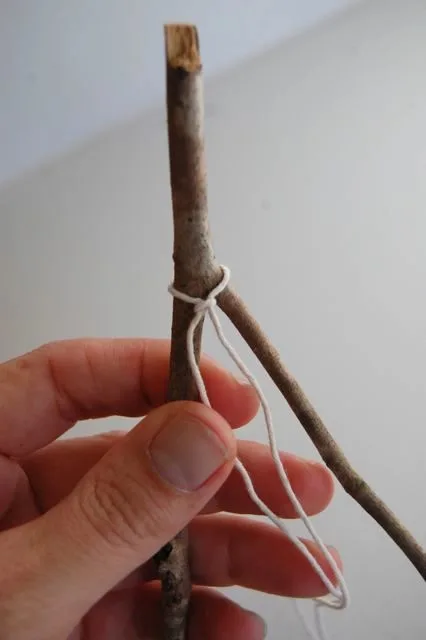 Step Two:
Make a slipknot in the centre of a 30 cm piece of kitchen or linen string.
Turn the Y stick "body" upside down and place it above the join.
You can have the kids help you, to develop their DIY fine motor skills.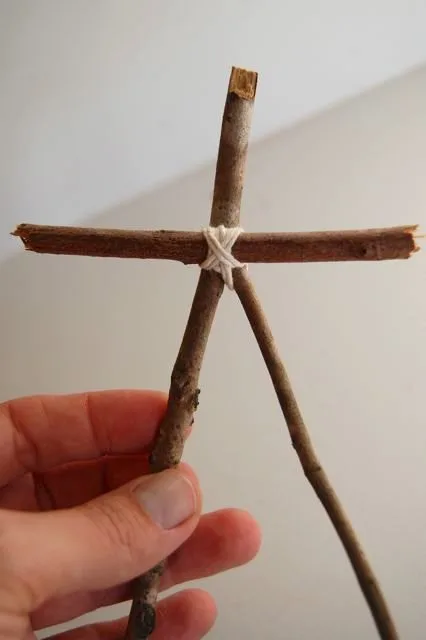 Step Three:
Place the "arm" stick across the body.
Use both lengths of string, first one then the other, to tie the arms in place with diagonal movements.
Tie a knot at the back to secure.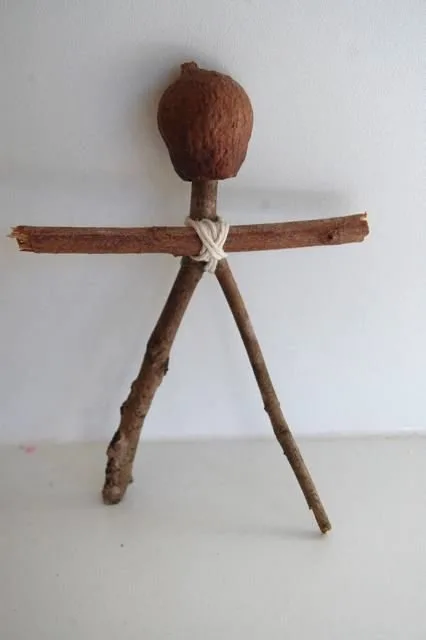 Step Four:
Add a seedpod for the head.
I used a piece of beeswax to hold it in place.
(I used a giant gumnut. You could also use a big wooden bead.)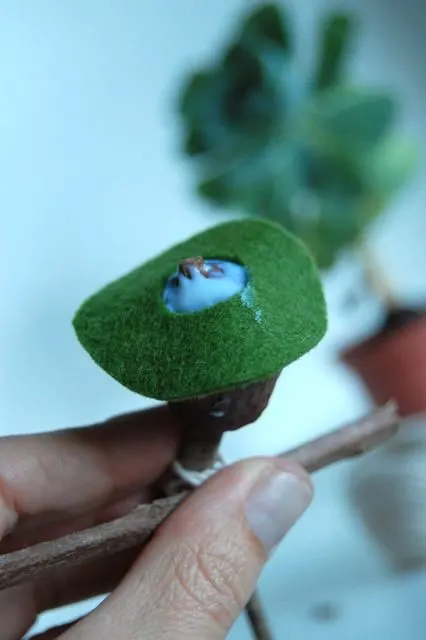 DIY Toys for Kids: How to make Mr Stick Man's Felt Hat
Step Five:
To make his hat, cut a small felt circle about 3 cm in diameter.
Cut a small whole in the centre.
Put a generous dab of PVA glue onto the top of the seedpod.
Place the felt circle on top of the seedpod and hold it firmly in place for 30 seconds to secure.
Step Six:
Add a small ring of PVA glue around the edge of the inner felt circle, then fix a smaller gumnut seed to the felt to complete his hat.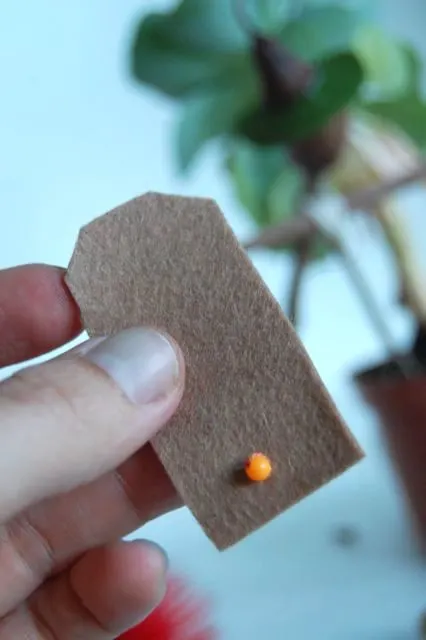 Crafting Toys for Kids: How to make Mr Stick Man's Satchel
Step One:
Cut a small rectangle from felt 3. 5 cm wide, and 8cm long.
Trim and round all four corners of the rectangle piece of felt using sharp scissors.
Sew a small bead about 0.5 cm from one end of the felt on the narrow side.
This will be the clasp or button to close the bag.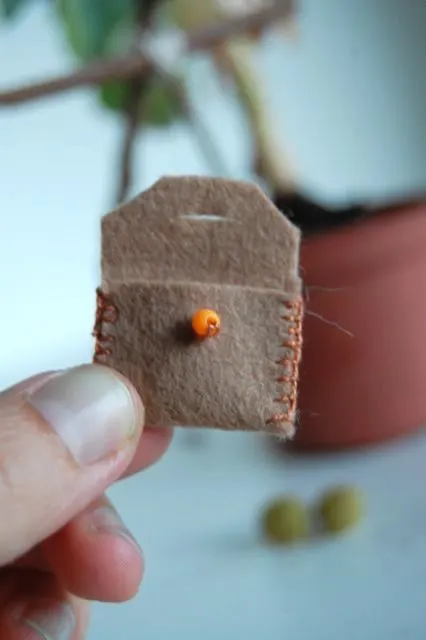 Step Two:
Fold the felt in half with the bead facing you, then jiggle the felt so that the bottom of the felt sits moves up about 1.5 cm higher at the back than at the front. \
This 1.5 cm piece will then fold over the front of the felt to become the satchel flap.
Cut a small incision where the flap overlaps the bead, so that the bead can poke through.
Blanket stitch both sides closed.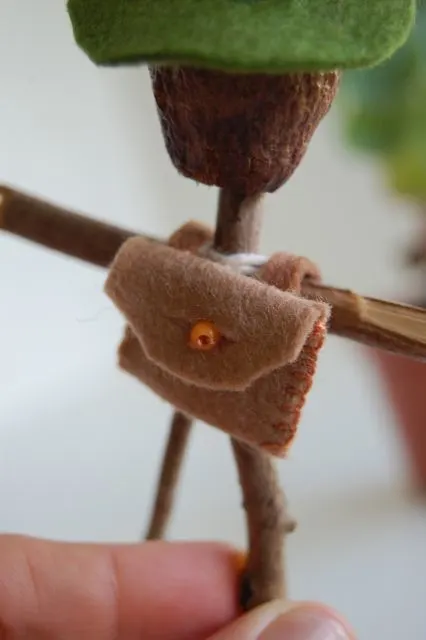 Step Three:
Cut two 4 cm long by 0.5 cm wide strips of felt for the straps.
On the back of the satchel, sew one end of one strap in place, about 1/2 cm from the base.
Repeat this step with the second strap.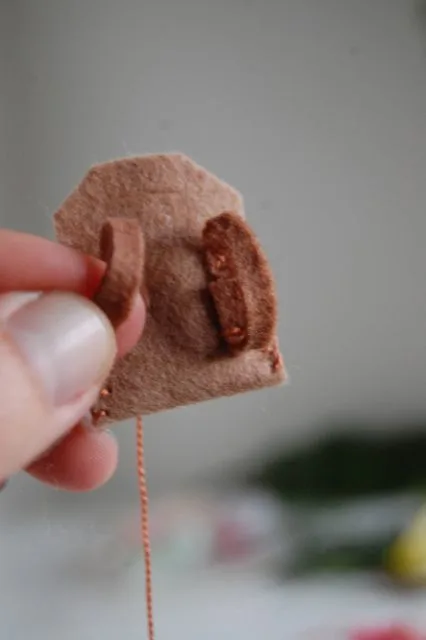 Step Four:
On the first strap, create a small loop, then sew the top of this loop to the top of the satchel, about 0.5 cm from the top edge.
Slide the satchel over one of Mr Stick Man's arms.
Then repeat.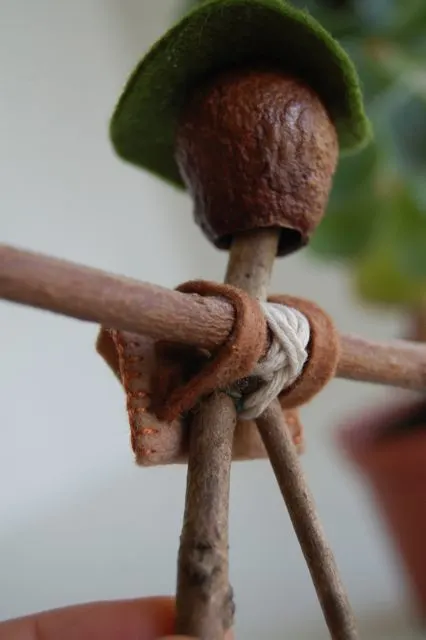 This last step is a little tricky as you have to sew the strap in place while it is on Mr Stick Man.
Be mindful not to be too rough, so you don't break the stick arms.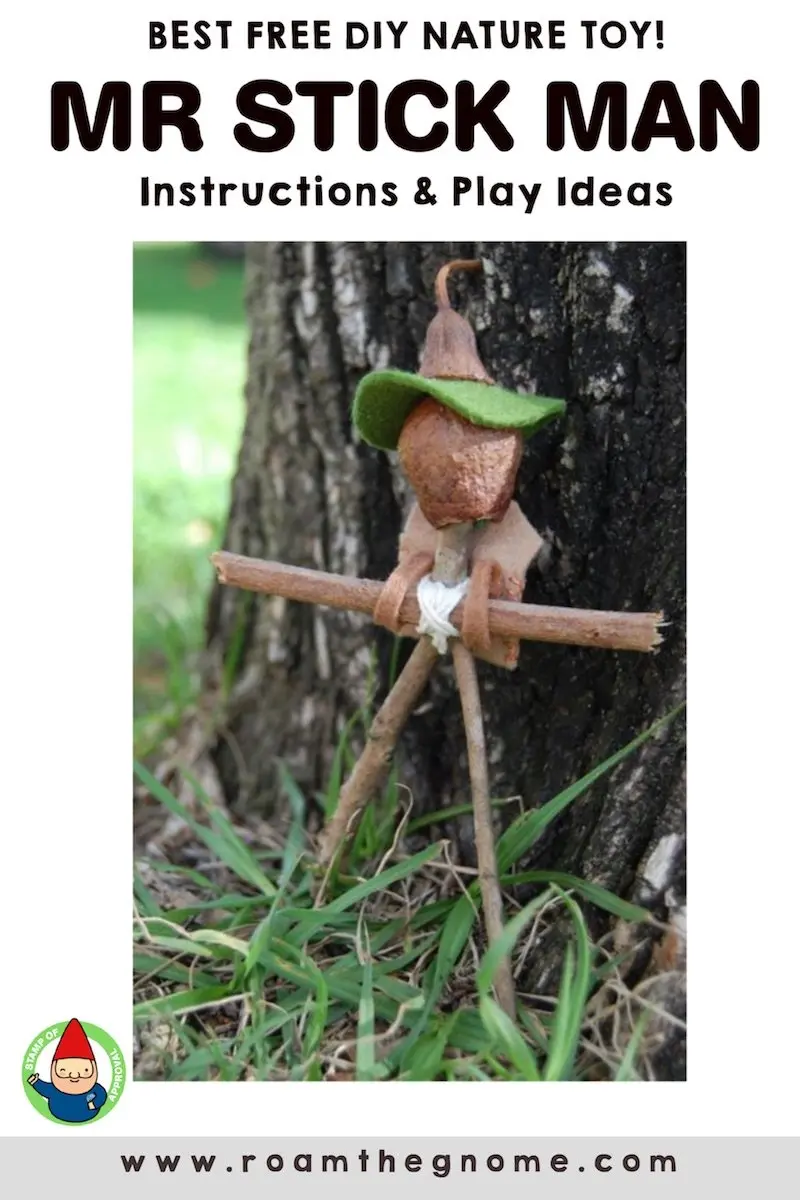 Easy Nature Crafts For Kids: Adventures with Mr Stick Man
When Mr Stick Man's hat is dry, he'll be ready for adventures, like:
climbing tree mountains
scaling treacherous cliffs
digging for treasure, and
whatever else Mr Stick does.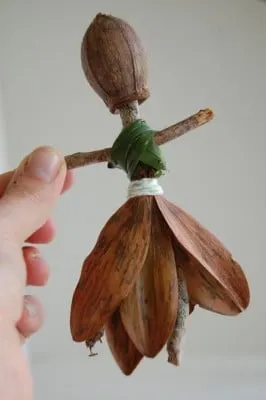 Easy Homemade Toys for Toddlers – Girl Variation
Make a Stick Doll Girl version too. You can't get any easier tutorial for making toys for toddlers.
Variations
Make the basic doll from a Y stick.
Tie four or five dried leaves around the waist, evenly spaced, for the skirt
Use long strands of grass or flax to make her top by weaving it diagonally around and around the T intersection under the head.
You may need a dab of glue or a tiny piece of beeswax to secure the ends of the grass or flax in place.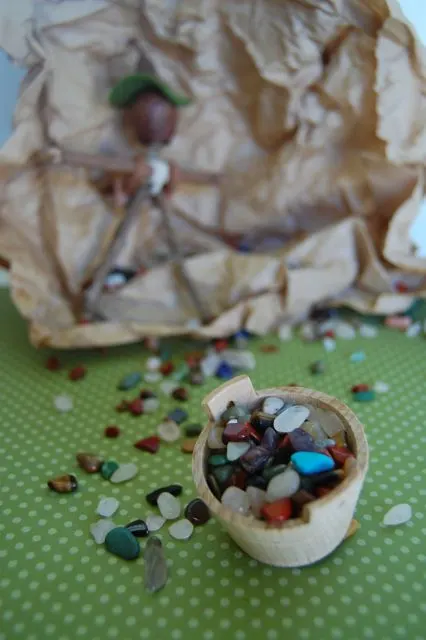 How to make educational toys at home for preschoolers
Stick men (and Stick women) can be used in all kinds of nature play.
These DIY toys for toddlers & preschool aged kids can be used in so many different ways.
Try one of these ideas:
use Mr Stick Man to tell stories and act out simple puppet shows to babies, toddlers and preschoolers
use Mr Stick Man in simple imaginative play scenarios where he goes walking in a 'field of grass' or 'over rocky ground' or 'down to the seaside' – this is a great way to encourage kids to join in sensory play with simple toddler toys
use Mr Stick Man to guide children's behaviour (eg, "Mr Stick Man is wondering where your other shoe has gone. Can you help him find it?", or "Mr Stick Man says that Jack is ready to leave the table")
More Ideas using Nature Play Toys Made from Sticks
pop Mr Stick Man on your nature table, in various situations, to bring nature into your home (eg Seasonal Table, Dinner table decoration)
make more props and toys for Mr Stick Man – tiny chairs and tables from cut branches, weave him a tiny blanket with wool scraps etc
build or create Mr Stick Man his own 'doll house' indoors or out. He'd love a home made in an old tree branch or wood offcut.
use Mr Stick Man as inspiration for drawing and painting activities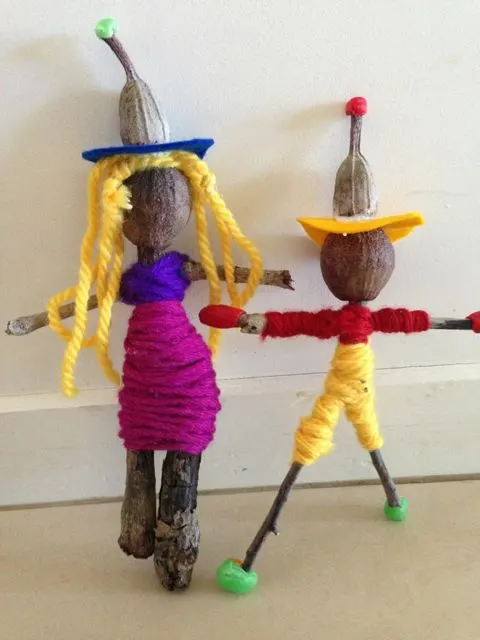 These ones were made by friendly readers of the blog. Aren't they cute!
Toadstool Rating: Easy Nature Crafts for Kids
Find more craft ideas for kids here.
Coming soon – more homemade childrens toys and DIY toys for kids, including DIY Waldorf toys (I'm a former Waldorf Steiner Kindergarten teacher)

Looking for more things to Make and Do?
Click the blue links for more making ideas