INSIDE: Everything you need to know about Hong Kong Airport playground for kids.
Travelling with kids?
Want to know, "Is there a playground at Hong Kong airport?"
Say a big HI-FIVE to the kids play area at Hong Kong International Airport.
The Hong Kong Airport Playground might not be that flash – it's simply a 'fenced' carpeted area with some very basic brightly coloured play equipment – but SOMETHING is better than NOTHING.
Hooray for international airports that care for their traveling families!
Take a look.
Disclosure: This article contains affiliate links. If you make a purchase after clicking on one of these links, we may receive a small commission at NO extra cost to you.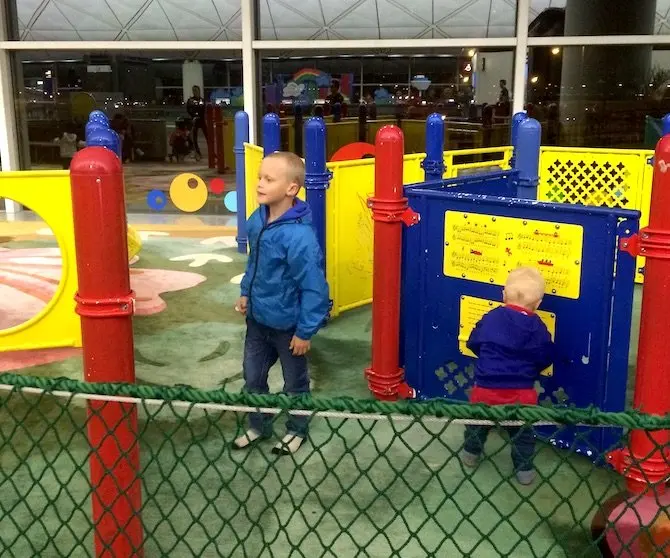 Hong Kong Airport Playground Play Area at Terminal 1
This play area, between Gate 23 and Gate 25, located in Terminal 1 Departure Lounge, Level (L6) lets the kids:
laugh, and make instant friendships with kids from all over the world
interact with other kids
skip, hop, jump and run
play music
climb through tunnels, and
play hide and seek with all the other kids who are waiting (not-so-patiently) for their plane to take off.
MORE Hong Kong Airport Playgrounds & TV Lounges!
There are a total of SEVEN children's play areas or children's TV lounges at Hong Kong airport, both in the restricted area in Terminal 1, and Midfield concourse.
The other Hong Kong playground in the airport near Gate 41, Departures Level 6.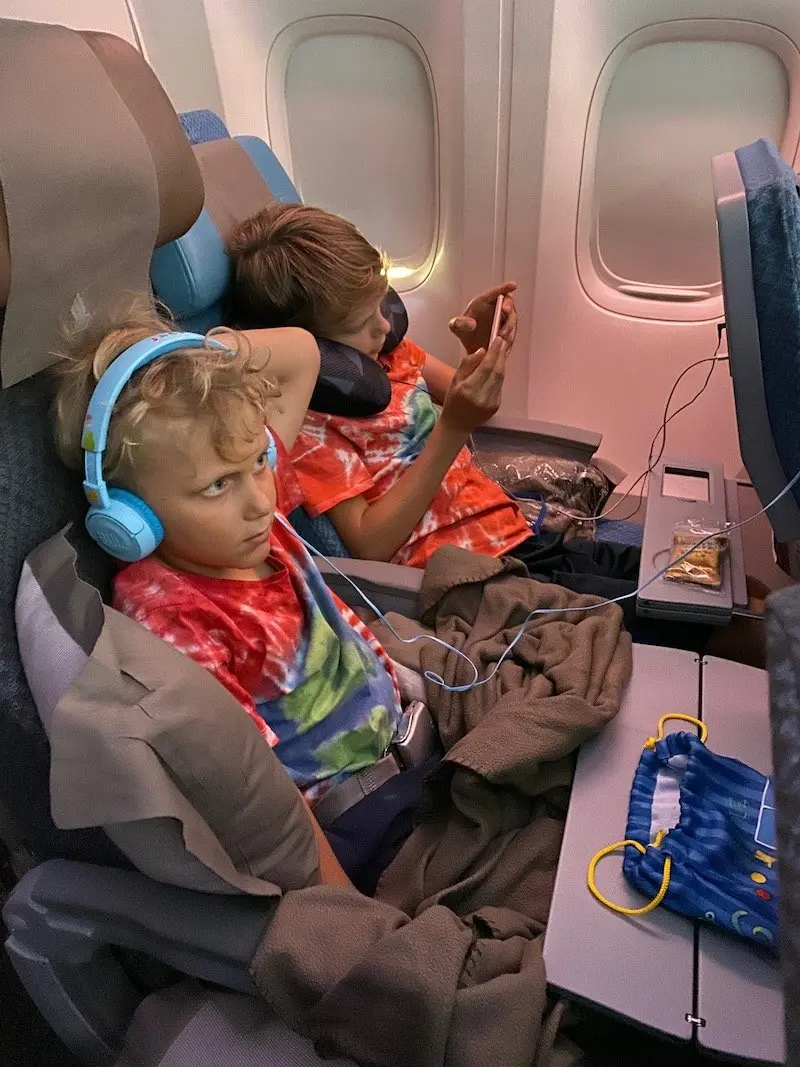 Children's TV Lounges at Hong Kong Airport
TV lounges are available at most of the play areas for kids to watch cartoons while they wait to board their flights.
A number of toys and games are also available to keep them entertained.
Find these TV lounges at HK airport:
Near Gate 1, Departures Level L6
Near Gate 212, Departures Level L6, Midfield concourse
Near Gate 210, Departures Level L6, Midfield concourse
Near Gate 5, Departures Level L6
Near Gate 60, Departures Level L6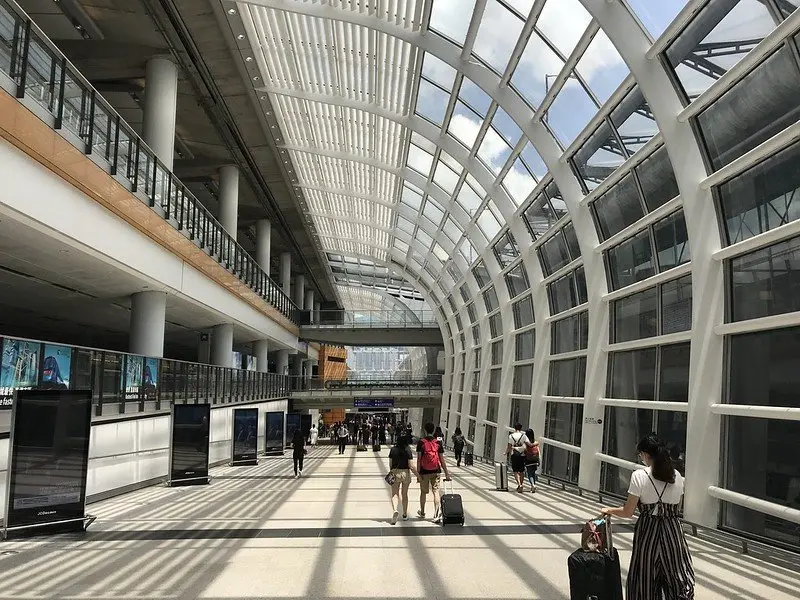 Image credit: Kevin Krecji via Flickr CC BY-2.0
What to do in Hong Kong Airport with kids?
MOVEMENT is the goal.
Not more sitting.
I'd rather walk them up and down the Hong Kong airport area concourse to keep them active, then plonk them down in front of a screen before it's really necessary.
TV lounges are our last resort.
Most toddlers & busy active young kids don't like to sit still, and screen time attention span only lasts so long, so save it for ON the plane.
Teens, on the other hand, can play or watch non-stop, and live for a long plane trip with none of the normal daily distractions that limit their viewing time.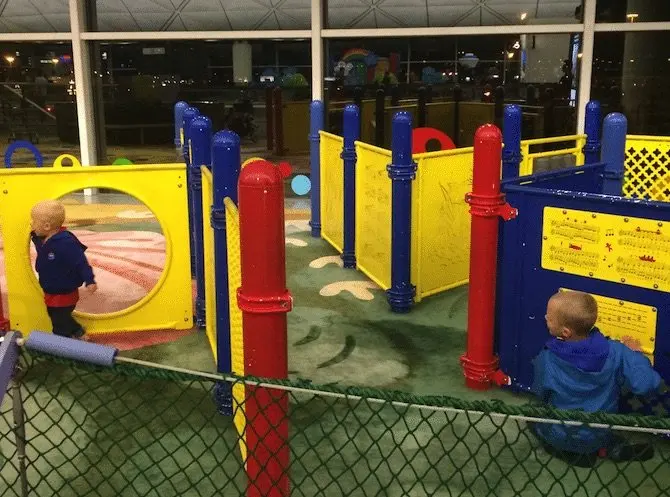 Tips for Flying with a Toddler and Kids
Roam the Gnome and I agree that the best travel tip for those flying with children is to make sure they can run off steam for as long as possible, right up to, or as close to the moment of boarding.
This HK playground area allows them to do that without disturbing the peace and quiet of those travelling without kids.
That's a win-win for everyone!
Make use of Hong Kong Airport Facilities
Hot tip for family travel: If you are flying at night, another good tactic is to make use of the free shower facilities at Hong Kong airport, and give the kids a hot shower.
Put them in clean pyjamas before you board to send the right signal that it's winding down time, ready for bed and sleep.
---
RELATED: 11 Excellent Tips for Traveling with a Toddler on a Plane (tried and tested!)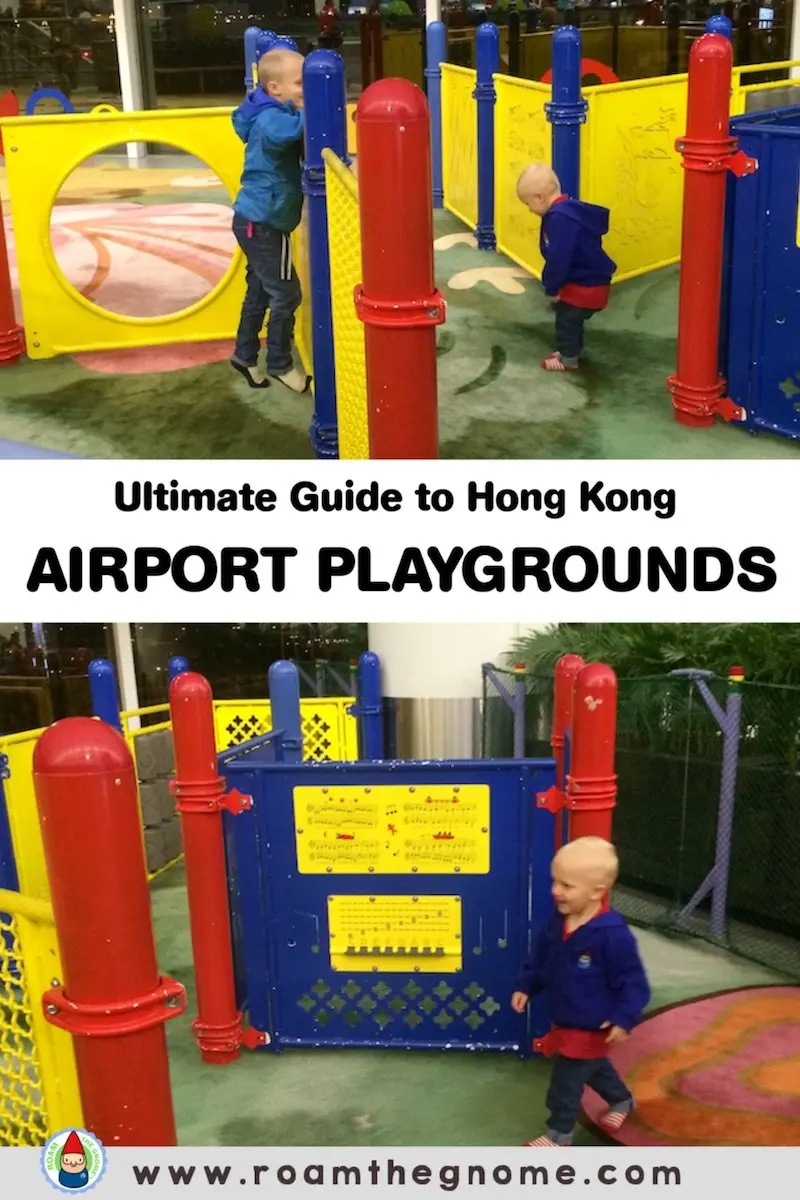 Preparing for a flight with kids
Adult travellers who want to prepare for their flight can read, play music, sit, play on their devices, sleep or chat in the child-free areas.
While those of us with kids, can rejoice in meeting up with other families who are about to undertake the same challenge:
Getting the kids from one place to another with the least possible noise and disruption to others.
Parents who travel with children lay their best plans to get through the flight in one piece, without the children:
crying
wriggling
annoying other passengers
throwing toddler tantrums
kicking the seats of the people in front
moaning that they "can't sleep sitting up"
having a wee accident or doing a smelly poo
complaining they are hungry for the 100th time
complaining of being bored
spilling all the in flight meals service food or drink over the seat, or each other
needing MORE or different entertainment choices (as if 100 different family movies and TV shows aren't enough)
feeling scared of turbulence, and having a meltdown
Thank goodness that flying is only a teeny tiny part of overseas adventures, as fun as it can be, or we might never leave home.
An airport playground, like this one in Hong Kong, helps families to achieve their goal of making the journey as smooth as possible by wearing the kids out before they board!
Good stuff, Hong Kong Airport!
(May there be more like you around the world.)
---
RELATED: 17 Best Toddler Activities for the Plane Trip that will save your sanity!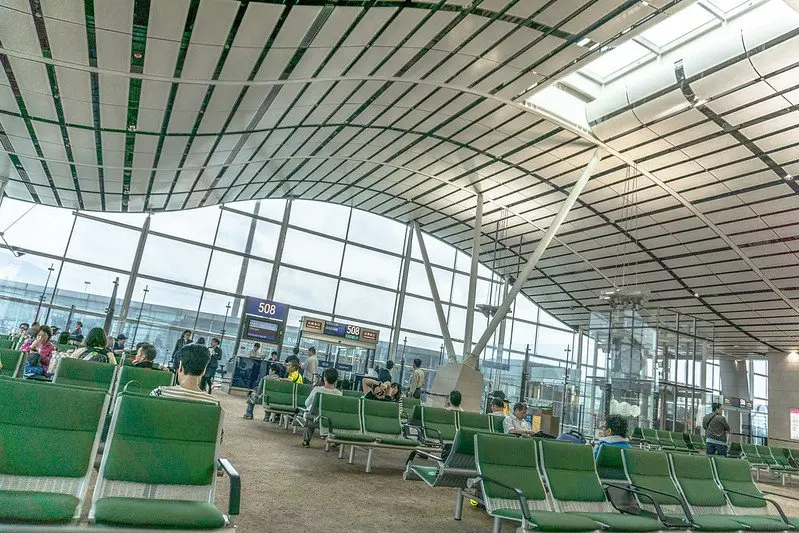 Image credit: IQRemix via Flickr CC BY-SA 2.0
THE INSIDE SCOOP: Hong Kong International Airport Playground for Kids
Correct at time of publication on Roam the Gnome. Please check with venue for updates. We apologise in advance if there have been any changes we are unaware of. All prices in HK dollars, unless otherwise stated
Address: 1 Sky Plaza Rd, Chek Lap Kok, Hong Kong
Telephone: +852 2181 8888
Website: Click here

Opening Hours:
Open during airport's opening hours
Entry Fees: Free!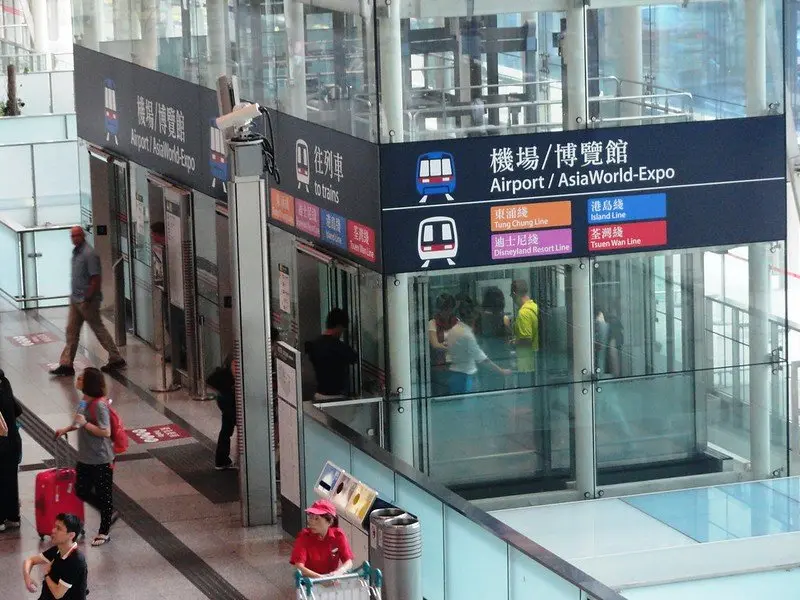 Image credit: Fabio Achilli via Flickr CC BY-2.0
How to get to Hong Kong airport
By Airport Express:
Travel between the Hong Kong airport and Central in just 24 minutes on the Airport Express
Trains depart at approximately 15-30 minute intervals from 5:54 am to 00:48 after midnight, 7 days a week
Buy an Octopus card to qualify for Airport Express discount tickets
Prices from the airport to Hong Kong station start from HK$110 adults, and HK$55 children on the Octopus card, or HK$115 adults, and HK$57.50 children with a smart ticket
Prices from the airport to Kowloon station start from HK$100 adults, and HK$50 children on the Octopus card, or HK$105 adults, and HK$52.50 children with a smart ticket
By Bus:
Click here for the bus routes and fares from Hong Kong international airport into the city
Find the bus stops at Hong Kong airport here.
By Taxi or Car:
Need a taxi into Hong Kong? Head to the Taxi station near the left-hand ramp outside the Arrivals Hall.
Click here for details of what color taxi you need to hire to get to your destination in Hong Kong
Map of Hong Kong International Airport
Toadstool Rating (by the kids)
The opportunity for kids to run around in freedom with a little bit of silliness before a flight?
Priceless!


Looking for More Things to Do in Hong Kong with Kids?
Click the blue links below for more Hong Kong attractions on Hong Kong Island, Kowloon, The New Territories and Lantau Island