INSIDE: Roam the Gnome's Guide of Awesome Things to do in Villa Borghese with Kids
The Villa Borghese Rome was an unexpected hidden treasure on our last trip to Rome!
Not that finding the entrance was very easy…
Although we could SEE the walls of the Rome Villa Borghese from the Explora Children's Museum, we wandered half the city trying to find our way up to an entrance gate!
But what awaited us when we arrived at Park Villa Borghese, more than made up for the detour!
The Villa Borghese is a hotspot of Rome museums and cultural institutions, and is often referred to as "Museum Park".
Adults can enjoy sculptures, art galleries, and the Globe Theatre but it's the kid's stuff we love.
If you're wondering where to go in Rome with kids, take a look!
Disclosure: This article contains affiliate links. If you make a purchase after clicking on one of these links, we may receive a small commission at NO extra cost to you.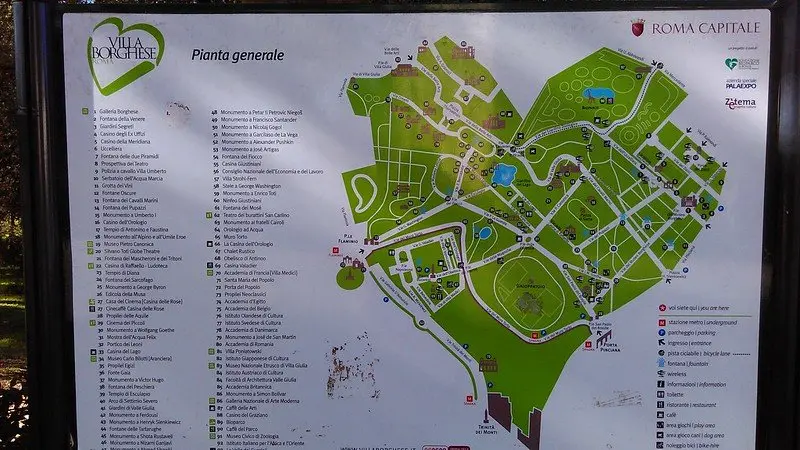 Image credit: Andres Gomez Garcia via Flickr CC BY-2.0
13 BEST THINGS TO DO IN VILLA BORGHESE WITH KIDS
If you are looking for things to do in Rome with the kids, join in these super fun activities at Villa Borghese Rome!
Adults and kids may also appreciate the Villa Borghese Museum or want to purchase Borghese Gallery tickets
Or join a tour of the gallery and gardens with Skip the Line tickets.
There's quite a bit to see at Borghese Gallery for kids, including taking a look at masterpieces by famous Italian artists including Bernini, Raphael, Titian, Correggio and Caravaggio.
Look out for the mosaics of gladiators in battle!
It helps if you have a personal interest in Roman and Greek mythology, as well as the history of Rome during the Ancient and Modern times, so you can share lively stories with the kids to focus their attention.
Hot tip: There is NO Villa Borghese Gardens entrance fee. Pay only for tickets to the Museum, Gallery, Cinema and rides etc.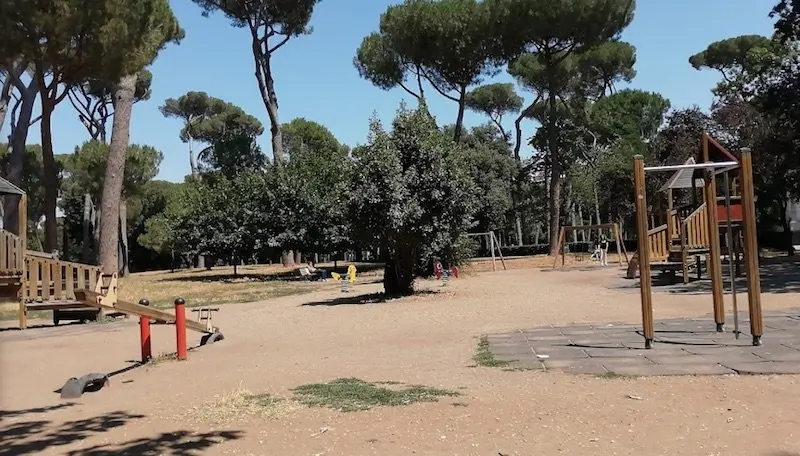 Image credit: Douglas Lara
No.1: Villa Borghese Playground
Visit the Villa Borghese playground near the Edicola Della Musa building.
(Map ref. 26)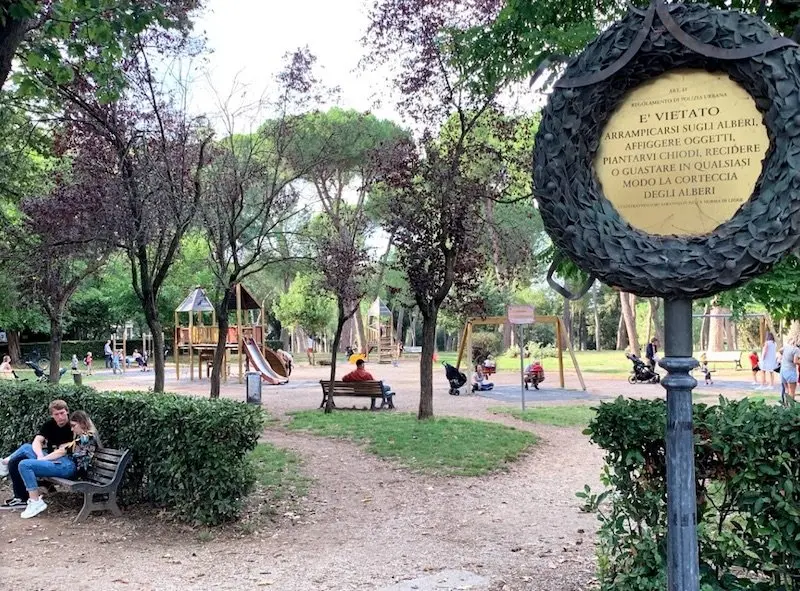 Image credit: Michael McRoberts
Cute Rome Playground surrounded by trees
This playground on the corner of Viale J.W. Goethe and Viale del Museo Borghese is surrounded by trees and has:
two sets of swings
rocker swings for toddlers, and
one central timber castle-like playground with two turret-style platforms.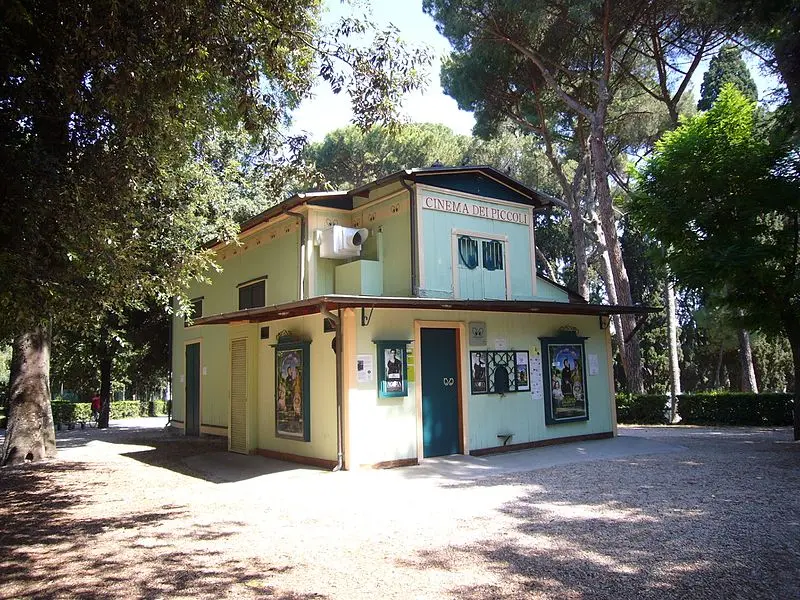 Image credit: Lalupa via Wikipedia CC BY-3.0
No.2: Watch a Movie at the World's Smallest Cinema
Take in a film at the world's smallest cinema, the Cinema dei Piccoli, at Villa Borghese Park in Rome.
Find this tiny freestanding building near Villa Borghese's southern entrance during the day, and be treated to a children's film.
Arrive in the afternoon or evening, and the films showing are more likely to be for grown-ups.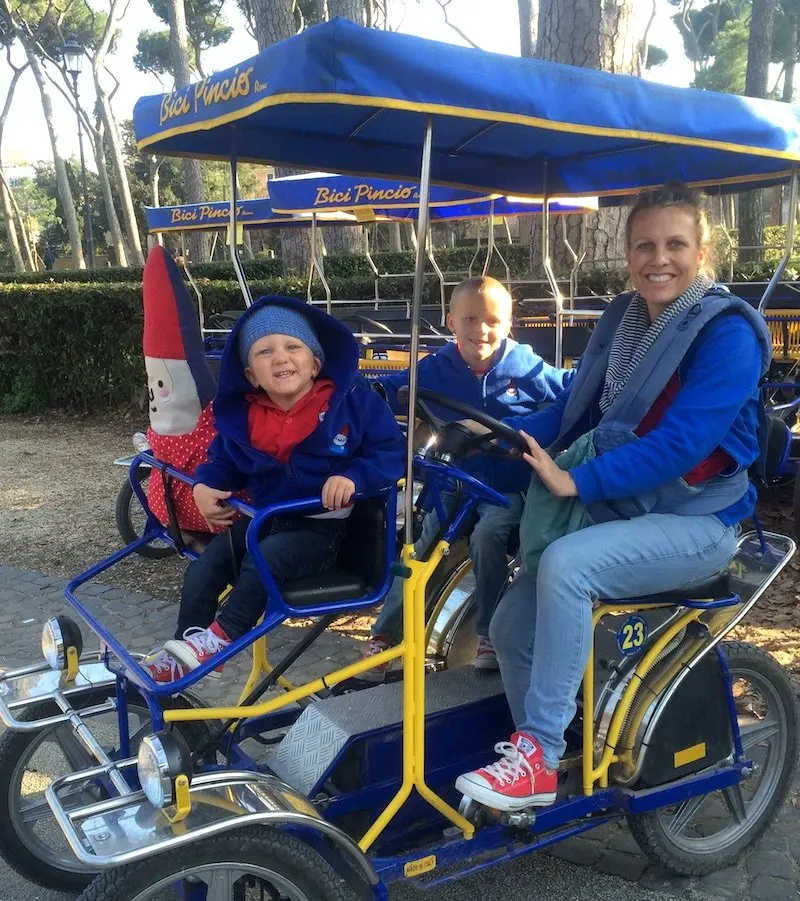 No.3: Villa Borghese Bike Rental
Hire an electric-powered pedal car to drive around the Villa Borghese Rome gardens.
This is a laugh a minute fun, and a great way to interact with other visitors and tourists in Rome, as you say hi to each and every person you pass, and hear their greeting back.
On your journey round, head to the lookout area where you can see the Piazza del Popolo obelisk and Roman square.
It's a spectacular historical view.
Hiring one of these Villa Borghese bikes is by far the best thing to do at Villa Borghese.
Be sure to bring cash to the hire booth.
No.4: Scoot on a Segway.
A number of hire carts in the grounds offer Segway scooter transport.
For those with older children, Segway cruising might just be a notch cooler than family travel on an electric pedal car.
No.5: Hop on the Villa Borghese Train
If hiring an electric pedal car or segway is not your thing, jump onboard the Villa Borghese train for a spin around the grounds.
Operating daily from 10.30am until sunset, board at one of three stops around the park.
We recommend riding the Miniature Diesel train around the Rome Villa Borghese at least once to check out all the views without the stress of navigating!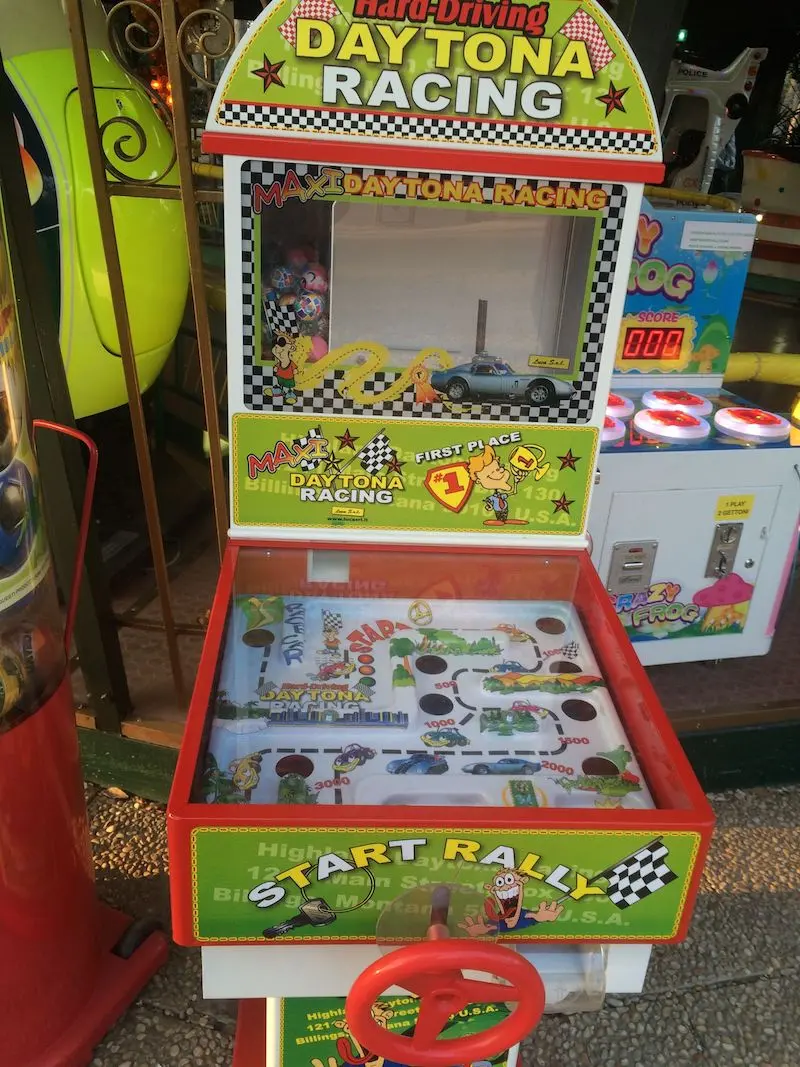 No.6: Villa Borghese Arcade Games
Step back in time at this unexpected retro arcade game hall, Piccolo Slalom, in Park Villa Borghese, Rome.
A smallish hall filled chocka-block with retro-style pinball machines, and coin-operated amusement rides, all surrounding a miniature electric-powered car racetrack.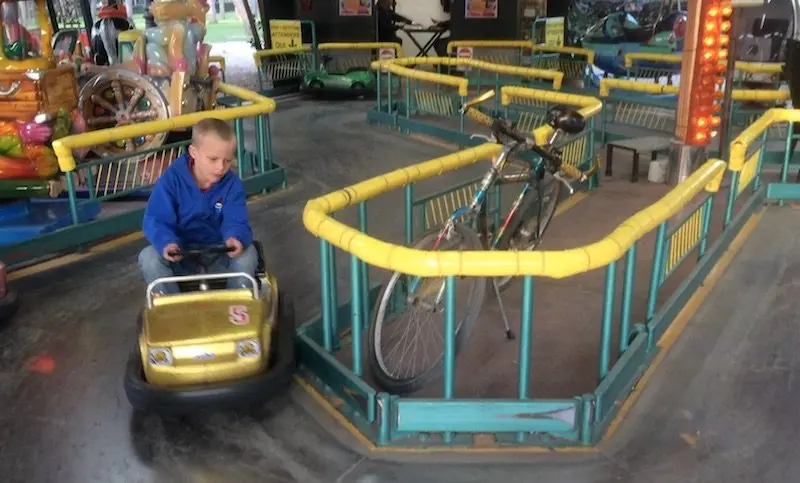 Car ride
My seven year old was in heaven!
Be sure to have LOTS of Euro.
Attractions and rides in the Games Arcade are pay-per-play or pay-per-ride.
They only take cash, although are happy to exchange the cash for the tokens you'll need to ride and play.
The hut is open every day from 10:30am to sunset.
Piazzale Napoleone I. Piccolo Slalom is located across from Cinema dei Piccoli,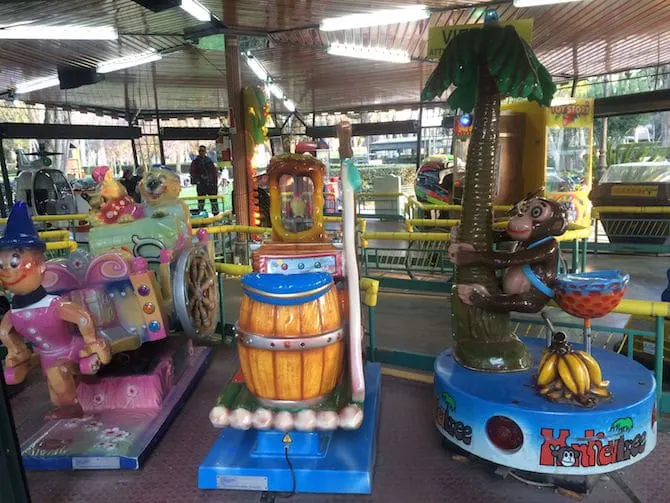 No.7: Villa Borghese rides for kids
Give in this time, and let the kids try out a few of the coin-operated amusement rides.
There's all kinds of vintage Italian rides to have a go on, restored and ready for kids to try them out.
The rides are located at the same old fashioned game parlour as above.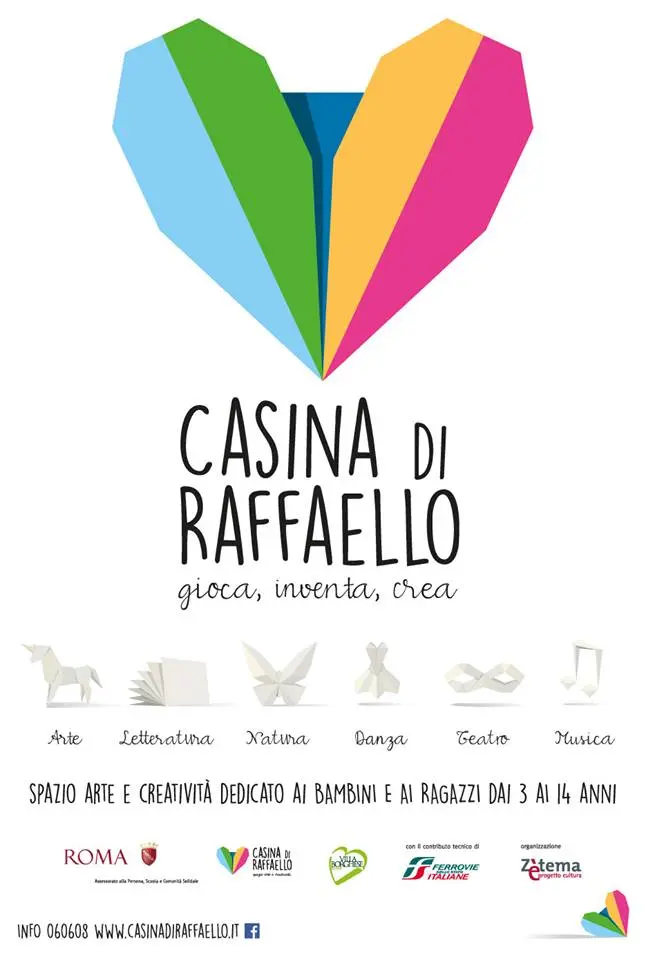 No.8: Visit Casina di Raffaello ~ Ludoteca "Playroom" Recreation Center.
Stop by the Rome attraction, Casina di Raffaello ~ Ludoteca "Playroom" Recreation Center.
It's at No. 22 on the map.
There's a:
toy library
reading room
play areas
creative rooms where you can draw and paint and dress ups.
Outdoors, there's a wooden playground village with cubby houses, a gigantic seesaw, and a life size musical instrument (wood flute) to play.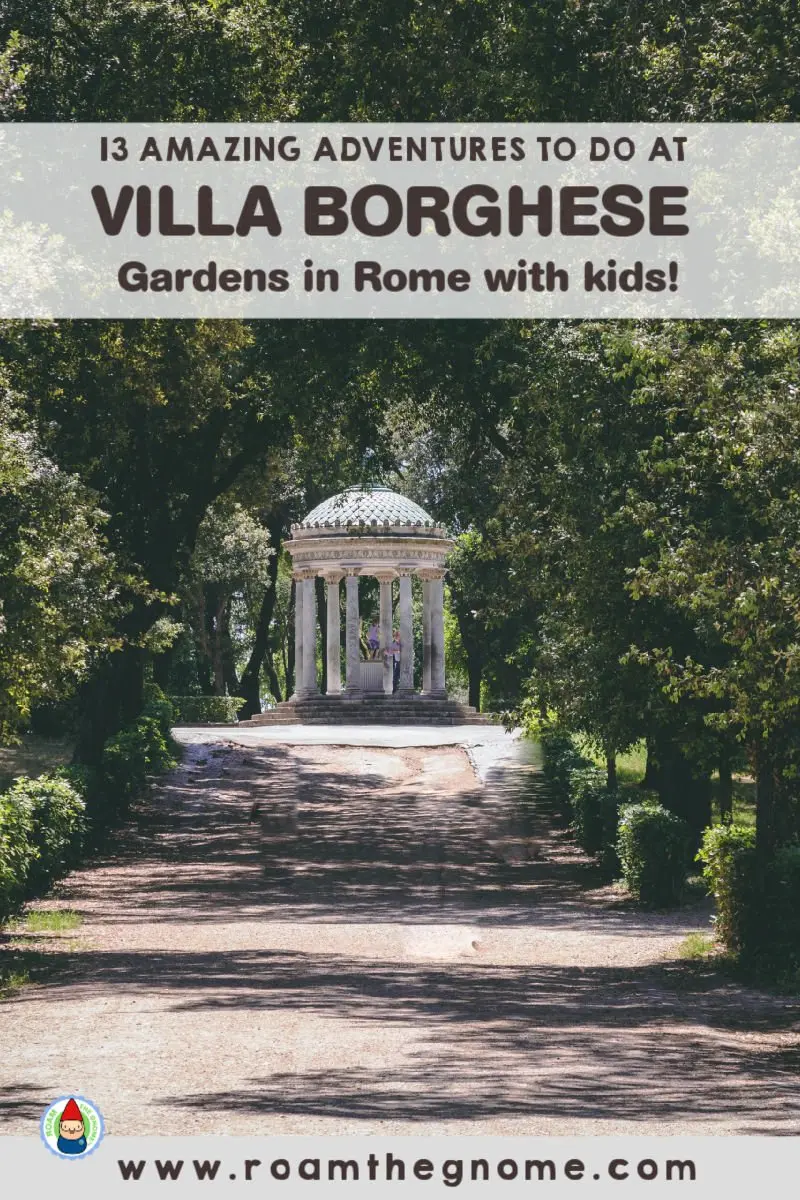 THE INSIDE SCOOP: Casina di Raffaello
Tickets are 7 Euro for adults, and 5 Euro for reduced tickets.
Open daily from 9.00am to 19.00 for children from 3 years old.
Call 060608 for bookings. Address is Viale della Casina di Raffaello (Siena square)
Find all the current details of opening hours, days of operation, price changes etc here.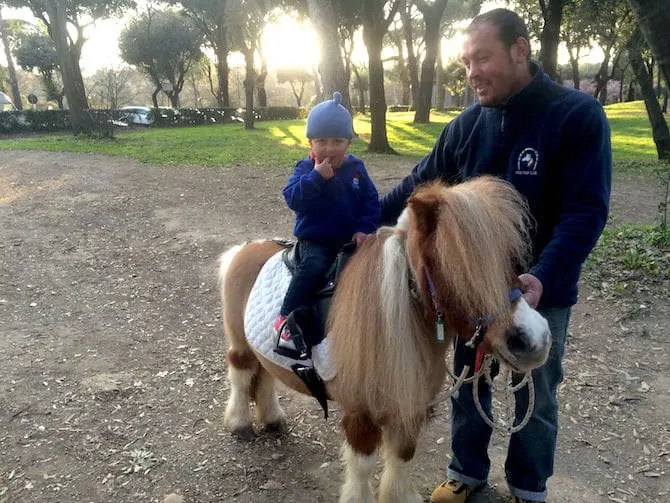 No.9: Take a pony ride
Another mode of transport for the kids inside Villa Borghese.
It's a lovely spot to get up close with a Shetland.
Find the ponies on Viale J.W. Goethe.
This activity operates on Saturdays and Sundays from 10:30am to sunset.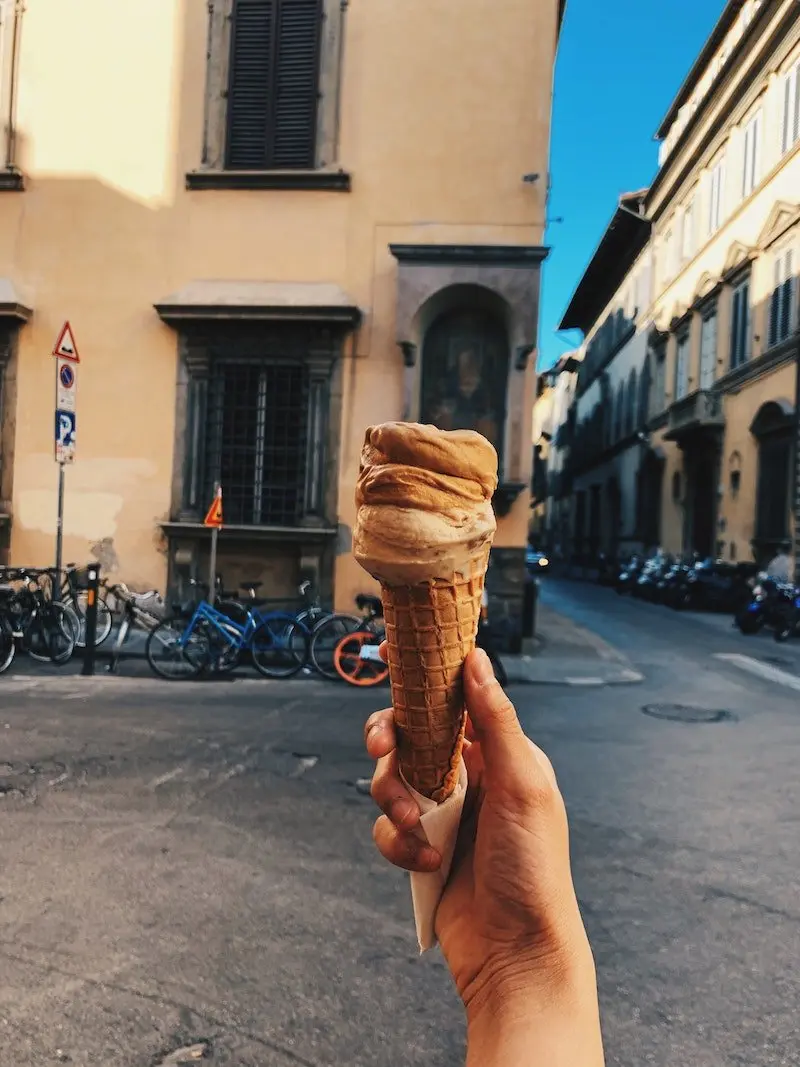 Image credit: Vanessa via Unsplash
No.10: Eat Gelato
The closest gelateria to Villa Borghese is Bellamia Gelateria on Corso d'Italia, 33.
Head out the gates at Porta Pinciana and turn left, then walk 500 metres.
It's a five minute walk.
Their all natural gelato is worth it.
Choose from creamy gelato in flavors such as chocolate, coffee, pistacchio, and stracciatella, or fruity flavours such as lemon, mango, and strawberry.
They also sell a soft coconut yoghurt, and granita drinks in lemon or strawberry too.
Buy kids size, medium scoop and large scoops in either cup, cone or tub.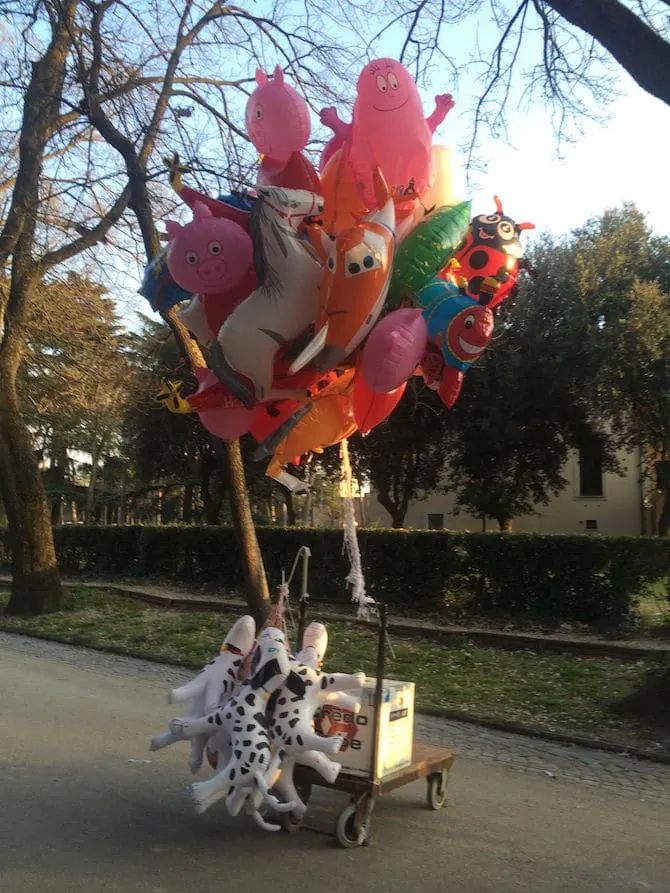 No.11: Buy a cute helium balloon
Why not?
It's the Italian thing.
Helium balloons are a whole lot of fun for just a few euros.
Be sure to hang on tight.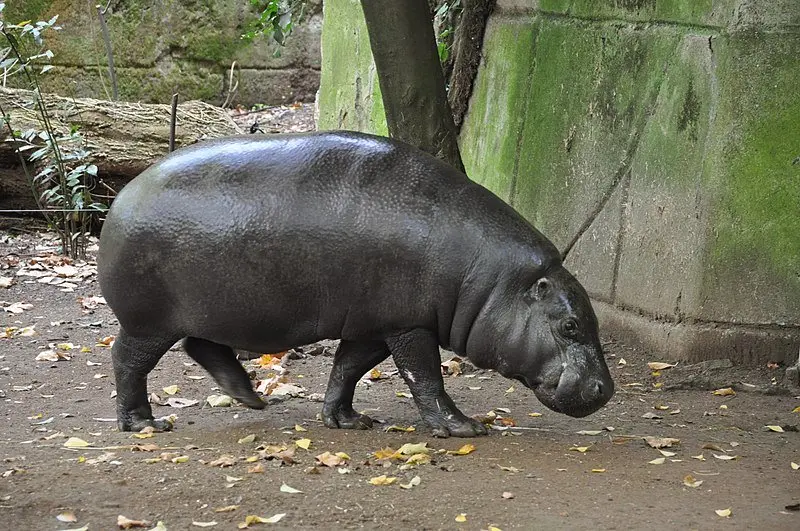 Image credit: Zoo Institutes via Wikipedia CC BY-SA 4.0
No.12: Visit Villa Borghese Zoo
Bioparco di Roma is one of Italy's largest and oldest zoos, 17-hectares in one corner of Villa Borghese Gardens, and home to over 1000 animals from more than 200 species.
The Zoo is open every day of the year, except Christmas Day.
See lions, lynx, leopards, tigers, chimpanzees, giraffes, bears AND elephants in the centre of Rome, plus loads more.
Where to eat at Bioparco Zoo inside Villa Borghese Park
You won't go hungry or thirsty, with
three coffee bars;
a restaurant;
picnic areas;
"Caffè del Parco", with a coffee bar, self-service and a roof garden;
Click here for Bioparco Zoo opening hours, current Bioparco Zoo ticket prices, and more.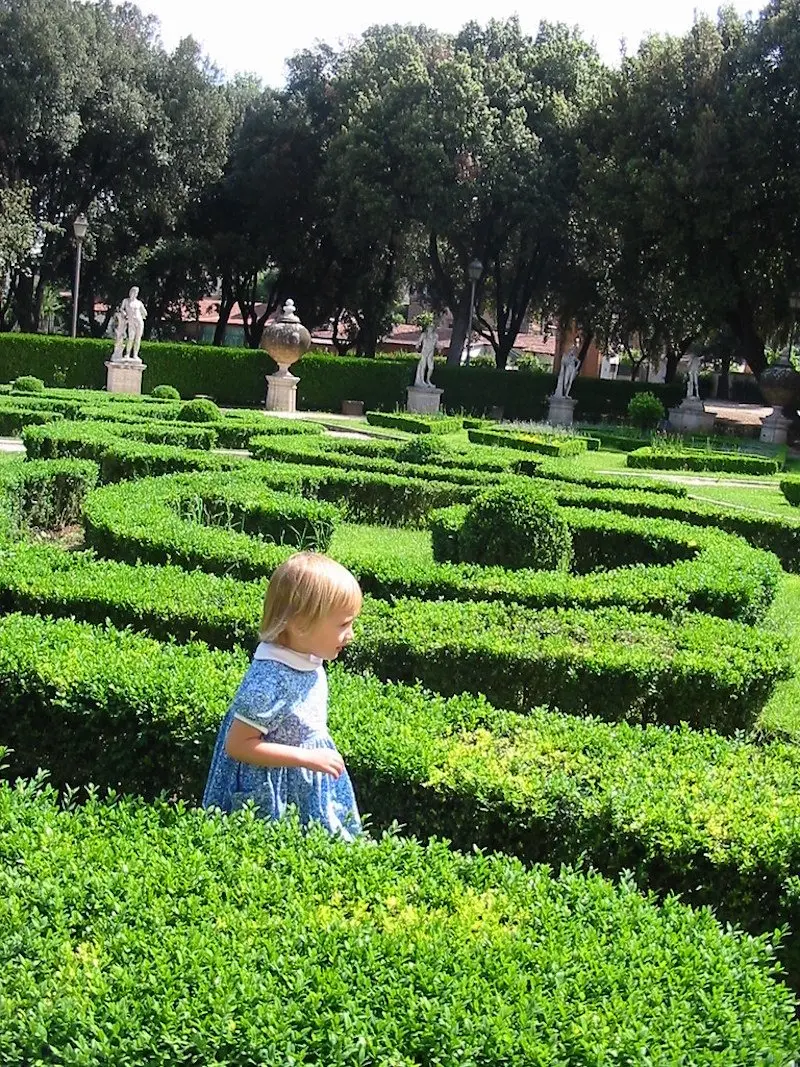 Image credit: Yannick Carer via Flickr CC BY-SA 2.0
No.13: Visit the Labyrinth Maze at Villa Borghese Gardens
There is said to be a labyrinth maze in the park, but unfortunately, the location cannot be determined.
Please let us know if you find it, so we can add it to the list.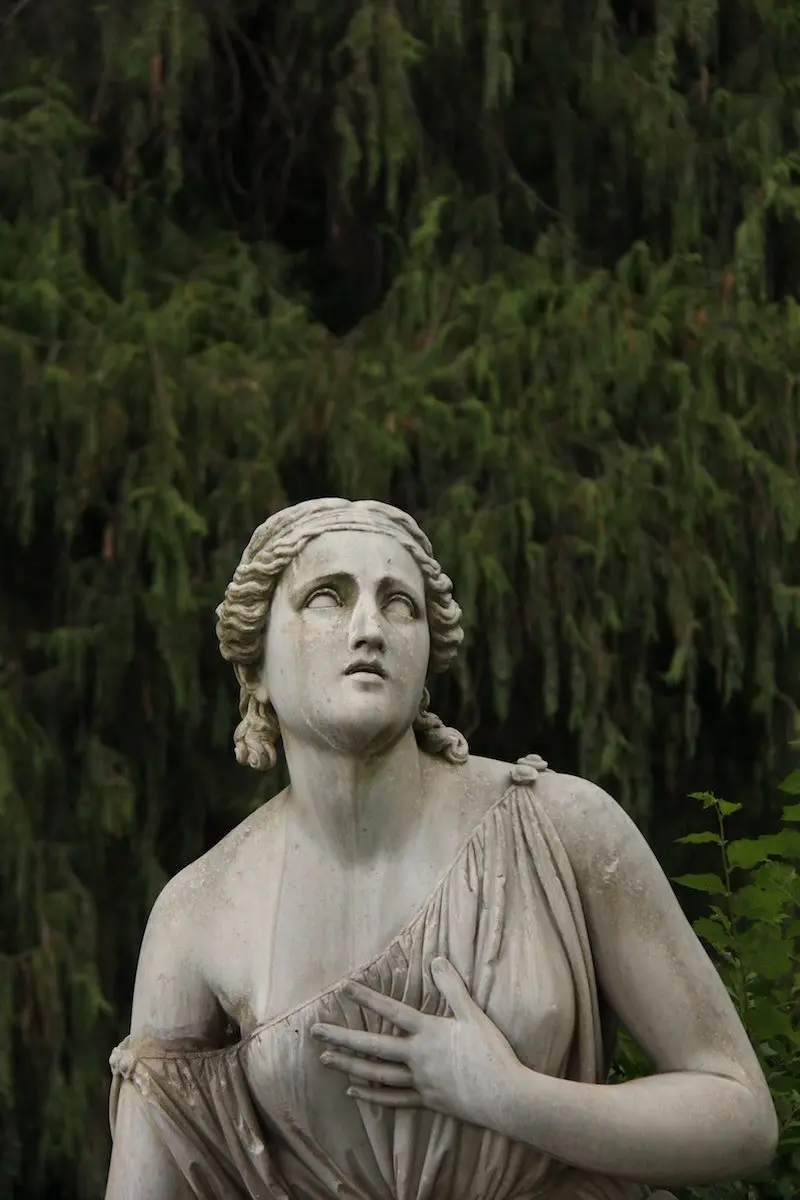 Image credit: Antonia Felipe via Unsplash
THE INSIDE SCOOP: Villa Borghese Kids Stuff
Correct at time of publication on Roam the Gnome. Please check with venue for updates. We apologise in advance if there have been any changes we are unaware of. All prices in euro, unless otherwise stated
Address: Piazzale Napoleone I, Rome
Entry points:
Via Aldrovandi
Via Raimondi (2 inputs)
Via Pinciana (2 inputs)
Piazzale San Paulo
Piazzale Flaminio
Piazzale Cervantes
Telephone: Servizio Giardini 06 6710 9312 – 06 6710 9315
Villa Borghese Gardens Opening Times:
The Villa Borghese Rome is always open.
Some gated areas close at sunset.
Villa Borghese Entry fees
Admission to the Villa Borghese Rome is free.
Some attractions within the Villa grounds attract a fee, for example bike hire, zoo entry, Villa Borghese gallery entry.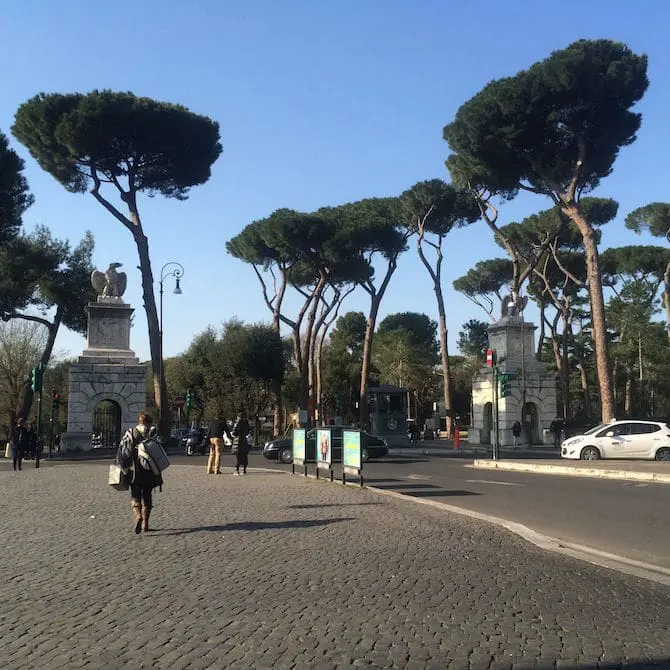 How to get to Villa Borghese Gardens
On foot: 5 -10 minutes walk uphill from the Spanish Steps, and Piazza Del Popolo.
By Metro: Metro Line A (Flaminio and Spain) stops
By Train: FS station (Rome-Viterbo) to Piazzale Flaminio
By Bus:
Bus stops in via Fiorello La Guardia and square S. Paulo: 490,495,89,160,61
Bus stops in via Pinciana height Galleria Borghese: 223, 910, 53, 63, 83, 92, 360.
By Taxi or Uber: Villa Borghese is easily accessible by taxi or uber.
Villa Borghese Gardens Map
Toadstool Rating: Villa Borghese Rome for Children
Definitely one of the top 5 places to visit in Rome with kids.

Looking for MORE SUPER DOOPER FUN places to visit in Rome?
Click the links in blue for more Rome tips below.