INSIDE: The 20 Best White Christmas destinations for families to put on the Christmas bucket list.
Looking for the best White Christmas destinations around the world?
There are our Top 21 destinations for Christmas vacations if you are hoping for a traditional snow white Christmas feel, and, fingers crossed, ACTUAL SNOW!
These days, with climates rising worldwide, there's no guarantees for a snowed in Christmas, even in Northern Europe.
But these are the best places to spend a White Christmas if you want a YES answer to the question, "Will it snow for Christmas?"
We've included ideas of things to do in each place that make it the Best Christmas Vacations for families.
Disclosure: This article contains affiliate links. If you make a purchase after clicking on one of these links, we may receive a small commission at NO extra cost to you.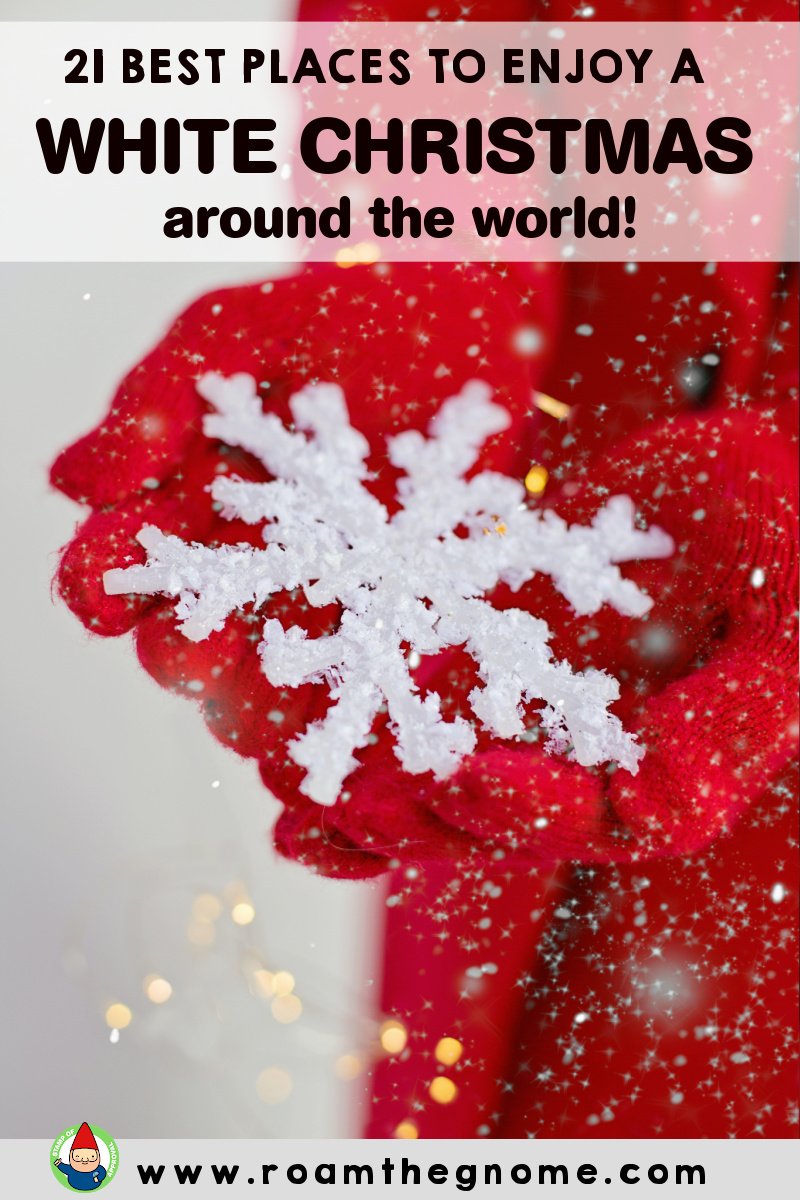 THE INSIDE SCOOP: 21 OF THE BEST WHITE CHRISTMAS DESTINATIONS
Correct at time of publication on Roam the Gnome. Please check with venue for updates. We apologise in advance if there have been any changes we are unaware of. All prices in AUD dollars, unless otherwise stated
Take a look at at all the BEST Christmas holiday destinations around the world to build a LIFETIME of family memories.
This list is full of Christmas destination ideas and the best countries to visit for Christmas.
Hot tip: Book as early as you can. Christmas vacation destinations sell out quickly.
Important Things to Take on a Christmas Vacation
There are THREE very important things to bring to your White Christmas vacation:
Family Christmas Stockings
Favorite Christmas decorations, and
Mischievous Picki Nicki Elf Baby Twins ( a cuter version of Elf on the Shelf!)
If you don't already have them or are looking to upgrade in time for a trip, here's a few you might like.
Best White Christmas Stockings
Best White Christmas Ornaments (NEW)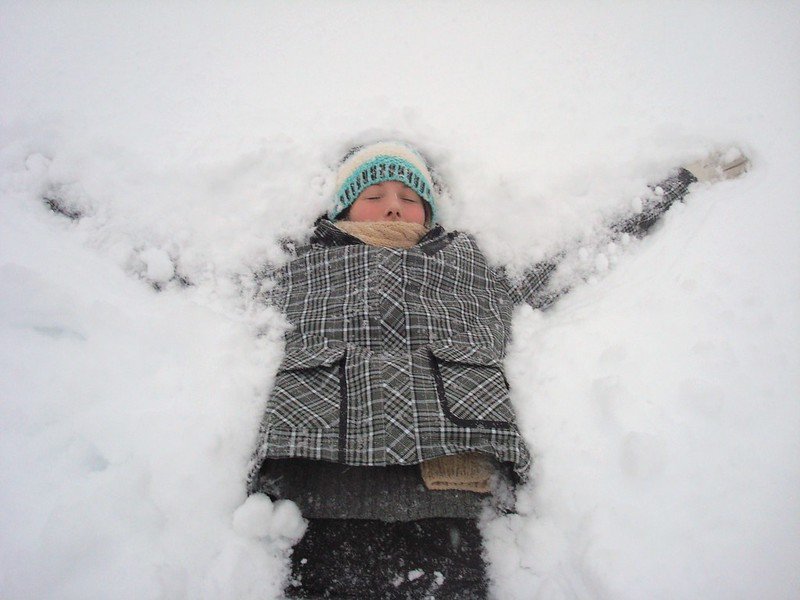 Image credit: Jocelyn Durston via Flickr CC BY-2.0
EUROPE WHITE CHRISTMAS
Best Places for a White Christmas in Europe
Northern Europe is where we'd hedge our bets for a Snow White Christmas as it's one of the best.
Think Winter Christmas decorations, Christmas markets and atmosphere.
Europe is not the cheapest destination, so plan ahead, book your hotels and flights as far out as you can so you get the pick of the bunch, and save at least double what you'd initially planned.
We've listed the best places to spend Christmas in Europe, including the best Christmas towns in Europe.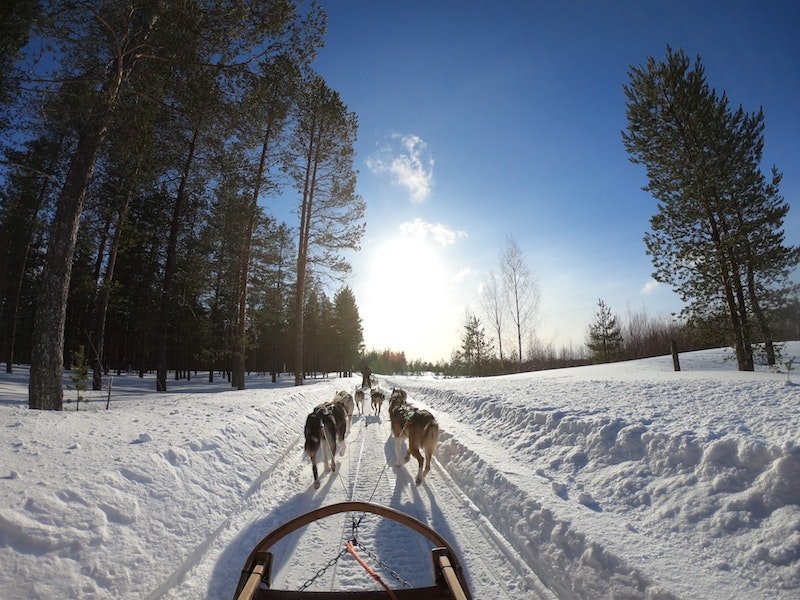 Image credit: Lars Ley via Pexels
No.1: Rovaniemi Lapland Christmas Village (Finland)
Lapland is top of the list of the best Europe destinations for a White Christmas experience, and Rovaniemi is the ULTIMATE White Christmas destination.
WHY?
Because Rovaniemi is known worldwide as THE Official Home Town of Santa Claus, and the Santa Claus Village.
That alone is why this is the BEST place for a White Christmas during the holiday season.
A Lapland White Christmas also almost certainly means -20° to – 40° celsius (- 4 – to – 40 fahrenheit) so if it doesn't snow in Lapland, it's not snowing anywhere!
It's almost the only place with guaranteed snow these days.
Lapland is the best place for a white Christmas with kids too.
We visited when the boys were 7 and 12.
Christmas in Lapland was the best vacation of our lives!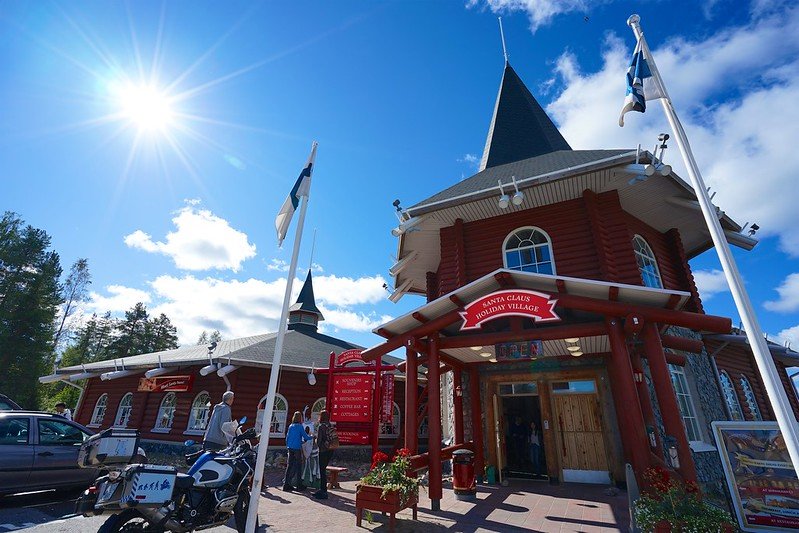 Image credit: Ken Kum via Flickr CC BY-SA 2.0
When in Lapland for Christmas, you can:
Head to the Main Office of Santa Claus to see Santa and his elves
Visit the Official Santa Claus Village Post Office to send Christmas Cards home to your family and friends
Take a trip out at night to see the Northern Lights Auroras
Head to Snowman World to play in the winter playground, ride the ice tube slides, be wowed by the ice and snow sculptures, and have a drink at the Ice Bar in Snowman World.
Enjoy a day at Santa Park theme park, the underground play area for toddlers and preschoolers
Say hello to the Polar Bears at Ranua Wildlife Animal Park
Take a reindeer ride around Santa Claus Village, or to a reindeer farm
Ride a snowmobile through Lapland forests
Go ice-fishing on a frozen lake
Meet Lapland ELVES in real life in a snowy forest! (The BEST tour we've ever done with kids)
Cross the Arctic Circle line of latitude, right in the centre of the Santa Claus Village (Pick up a certificate to prove it!)
Visit the Arctic Circle Husky Park and take a husky ride on a dog sled
And if you stay at the Santa Claus Holiday Village, you can bake gingerbread cookies with Mrs Claus in kids club, and eat traditional Finnish food for lunch and dinner too.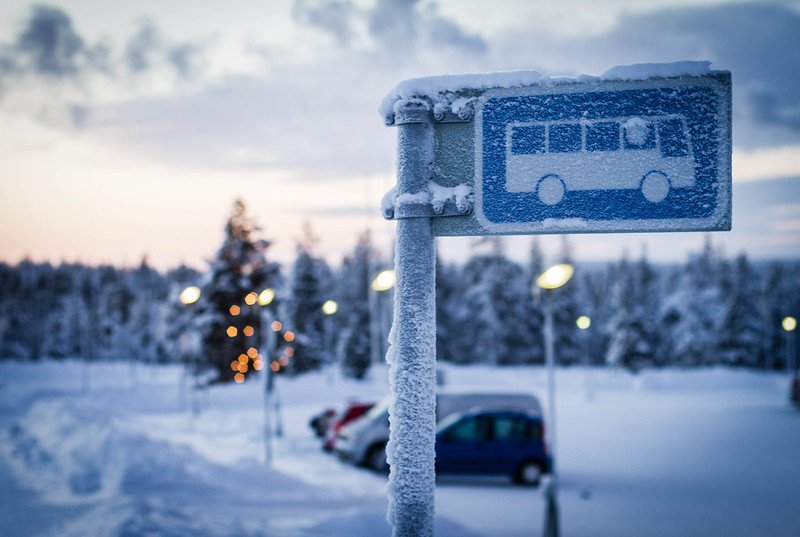 Image credit: Maeva Pensivy via Flickr CC BY-ND 2.0
No.2: Saariselkä Lapland Finland
Saariselkä is a busy ski village located in Northern Lapland, about 260 km north of Rovaniemi.
The village is home to around 350 residents who welcome visitors with open arms.
You can:
ride a snowmobile into the snow-covered wilderness to Lake Inari
hop on a reindeer safari
take a husky-drawn sled ride, or
toboggan down the northernmost toboggan run in Finland under the aurora borealis Northern Lights.
Book your stay at the Holiday Club Saariselkä so you can swim in the indoor heated pool, and visit the Angry Birds Activity Park on site.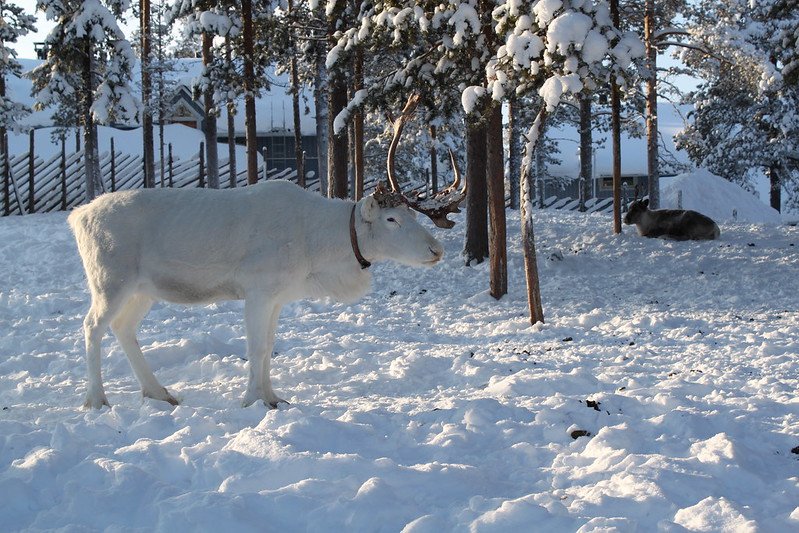 Image credit: Jann Kuusisaari via Flickr CC BY-2.0
No.3: Levi Finland Christmas
A Christmas in Levi Finland is fun for the whole family.
Visit the Levi Christmas Market to buy authentic Finland souvenirs.
Or visit Santa and Mrs Santa in Levi on a guided tour of their secret cabin, led by Santa's elves.
Mrs Santa is a hell of a storyteller, and shares her favourite Christmas stories, and she'll serve you a warm Christmas drink, and gingerbread cookies she made herself.
Book at stay at any one of the Levi cabins and you can arrange a PRIVATE VISIT from Santa Claus to your cabin!
One of the highlights of a visit to Levi at Christmas is spending time at the Tonttula Elves Village and Lodge hotel, just 8 kilometres away from Levi.
The magical forest there is home to the tunnel that leads you to the Hidden Huts, and you can visit the Gingerbread House, the Elves School, and the Wise Elf's House.
Book a tour with the Elf in the Yellow Dress, and she'll take you there.
You may even meet one of Roam the Gnome's Gnome relatives!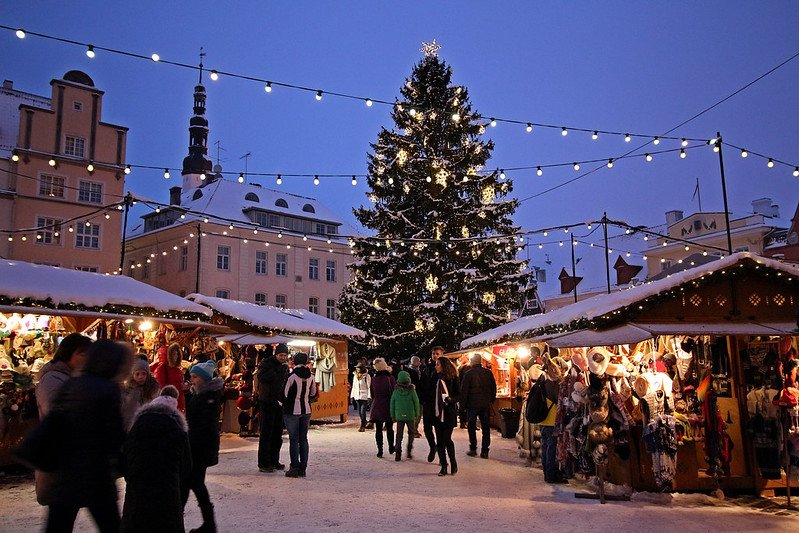 Image credit: Marit & Toomas Hinnosaar via Flickr CC BY-2.0
No.4: Tallinn Estonia Christmas
Visit the beautifully preserved Tallin Old Town to delight in the looping cobblestone streets and castle spires inside this medieval walled town filled with 14th and 15th Century architecture.
Visit the C.R Jakobson Farm Museum program, "Christmas on the Farm" to:
bake bread in the mill and taste it
feed and pet the farm animals
play traditional Estonian games in the barn
make Christmas crafts, and
take a ride on a pony if it's snowing.
Want to go Christmas shopping in Tallinn?
There's Christmas markets at:
Alatskivi Castle
the Tartu Christmas Fair
the Christmas Fair at the Tartu Exhibition Fair centre, and
the cosy, historic Tallinn Christmas Market in Tallinn's Medieval Town Hall Square.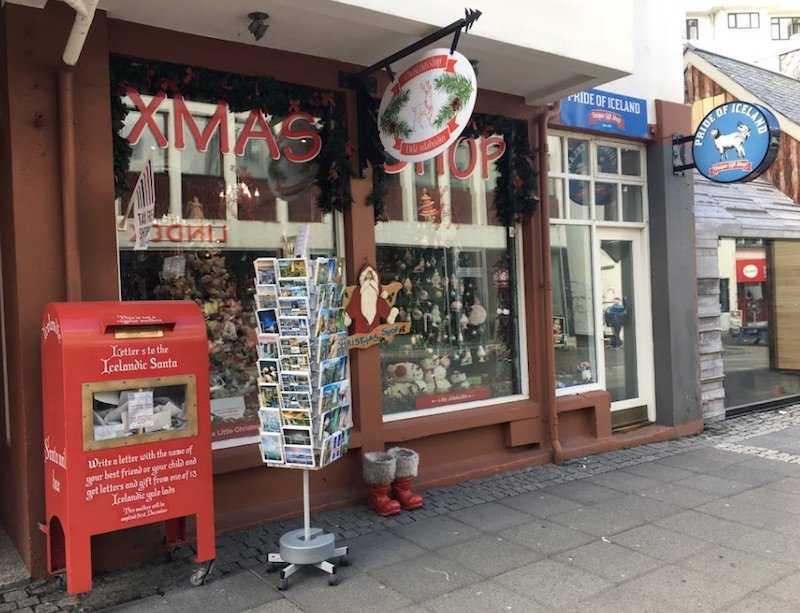 Image credit: James Castle
No.5: Iceland Christmas
Expect a crisp white blanket of snow in Iceland for your snow white Christmas adventure.
Iceland is the place to go ice skating on the frozen Reykjavík Pond if you have your own skates with you.
If you don't, hire skates and take a whirl on the seasonal Christmas ice skating rink in Ingólfstorg square.
You can:
do a family hike on a glacier
explore Iceland by snowmobile
drive the Golden Circle loop road if weather permits, and
if you are lucky, spy the Northern Lights.
Don't miss the Christmas market in Hafnarfjörður for traditional Icelandic Christmas ornaments and gifts.
Take a 20 minute bus ride with the locals to shop till you drop.
You can do more Christmas shopping in Reykjavik around Laugavegur street "Wash Road", the main shopping street in town.
Look out for traditional Icelandic woollen jumpers featuring Icelandic design patterns.
(The Icelandic Handknitting Association on Skólavörðustígur can give you tips.)
You can also visit Jólagarðurinn (The Christmas garden), ten minutes by car from the town of Akureyri.
The fire-engine red gingerbread style house houses Christmas decorations from all over the world, plus traditional Icelandic Christmas crafts and ornaments, and Icelandic handicrafts made by local makers.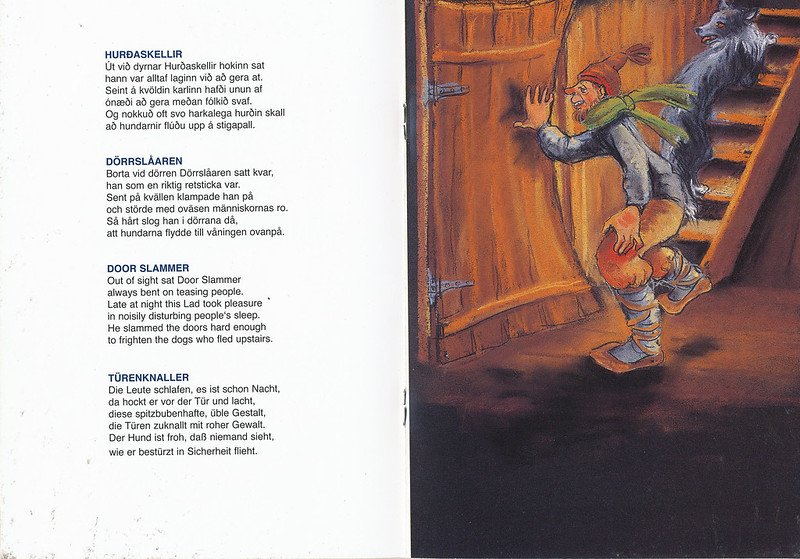 Image credit: My Lil' Rotten via Flickr CC BY-ND 2.0
Fun Fact: The Yule Lads
Santa Claus himself doesn't feature in an Icelandic Christmas, but you will hear folk stories of the mountain-dwelling characters called the Yule lads.
These 13 mischieveous pranksters are wily and full of naughtiness most of the time, stealing stuff from one and all.
The English translations of their names are hilarious and tell of their misdeeds.
Here's a few examples:
Spoon-Licker
Sausage-Swiper
Window-Peeper
Door-Slammer
Candle-Stealer, and
Pot-Scraper.
But one by one during the last 13 nights before Christmas, they come to town to deliver small gifts to children who have left their shoes on the windowsill in anticipation of their coming.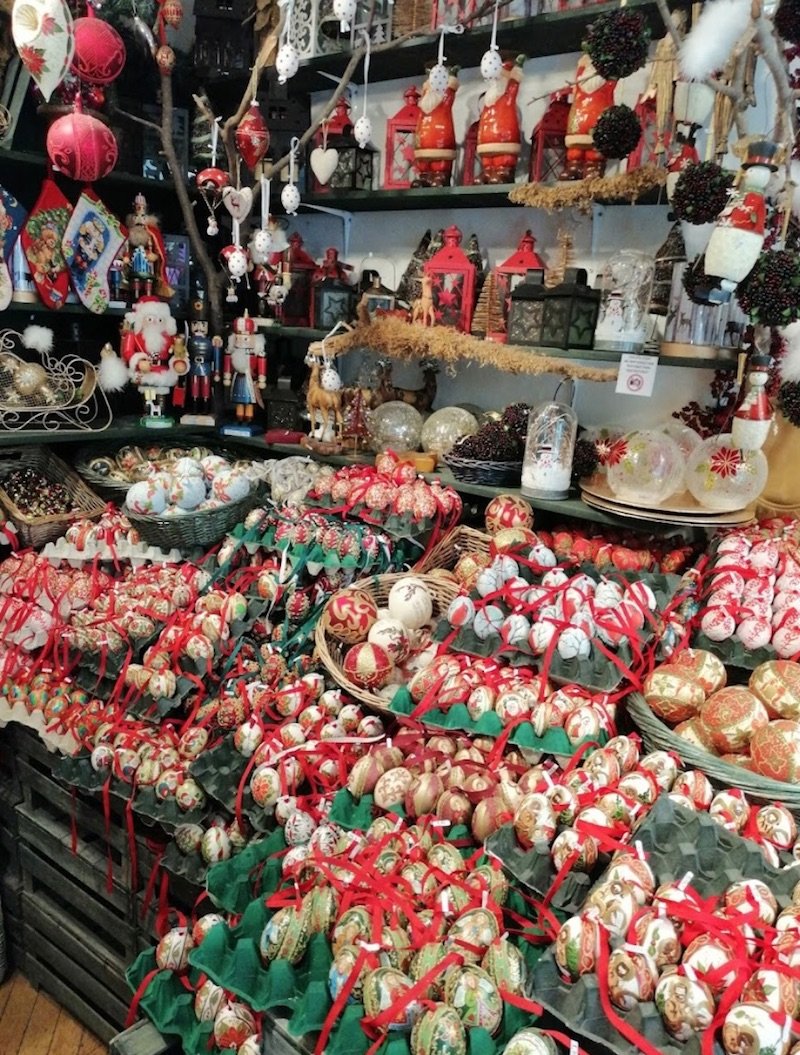 Image credit: Ivan Gonzalez
No.6: Salzberg Austria Christmas
Salzburg is a fairy tale destination any time of the year, but at Christmas it's next level charming.
Enjoy mulled wine as you wander the Salzburg Christkindlmarkt from November to January.
This market at the Dom and Residenzplatz in the heart of Salzburg's World Heritage listed Old City is one of the best Christmas markets in Europe.
Visit the Salzburg Christmas Museum to see the eleven Christmas themed displays showcasing the changes in Christmas over the last few centuries.
While in Salzberg,
take a Sound of Music tour
ride the Untersberg Castle Cable Car
enjoy a Christmas horse-drawn sleigh ride
hear the church bells
shop along the main Getriedegasse shopping street, and
eat all the Christmas market food including sausage and cheese.
Find the "Christmas In Salzburg" store on Judengasse 11, Salzburg, A-5020, Austria to buy a traditional hand-painted Christmas egg,
Be sure to take part in at least one of the Advent events around Salzburg.
Book tickets for the Salzburg Advent Singing to hear the delightful folk music and Alpine melodies that have enchanted visitors for over 70 years.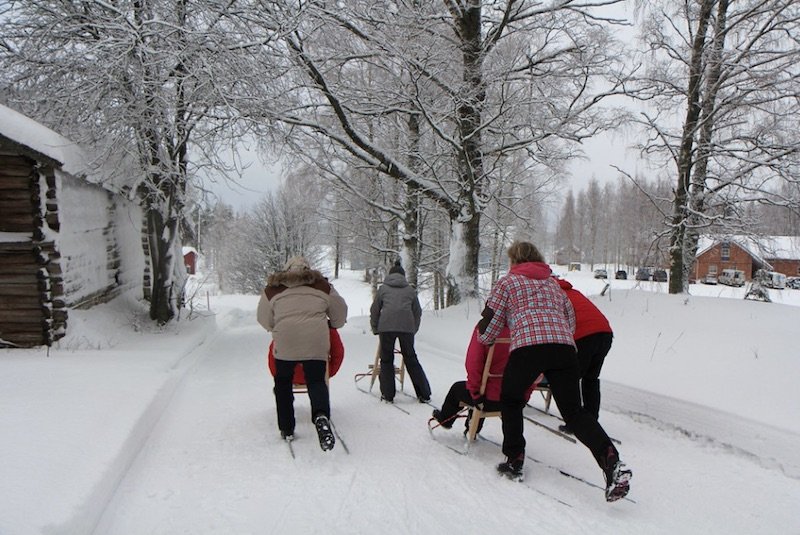 Image credit: Finland Lakeland via Flickr CC BY-2.0
No.7: Røros White Christmas Norway
Visit the UNESCO World Heritage town of Røros at Christmas time, and you'll have the chance to have a go on a kick-sled, the best, most fun way to get around town.
There's Røros Husky dogsledding, snowmobiles to ride, and romantic sleigh rides under a sheepskin rug to enjoy.
Visit the Røros Christmas market to enjoy shopping surrounded by the wintery magic of frost covered windows, colourful houses, strung garlands, glowing lamplights, elegant Christmas trees all in Nordic surrounds.
Eat gingerbread, and spy the Gingerbread houses around town.
Do try the gløgg, the Scandinavian version of mulled wine.
Enjoy a typical Norwegian White Christmas in the town that inspired the most popular Disney movie ever, Frozen.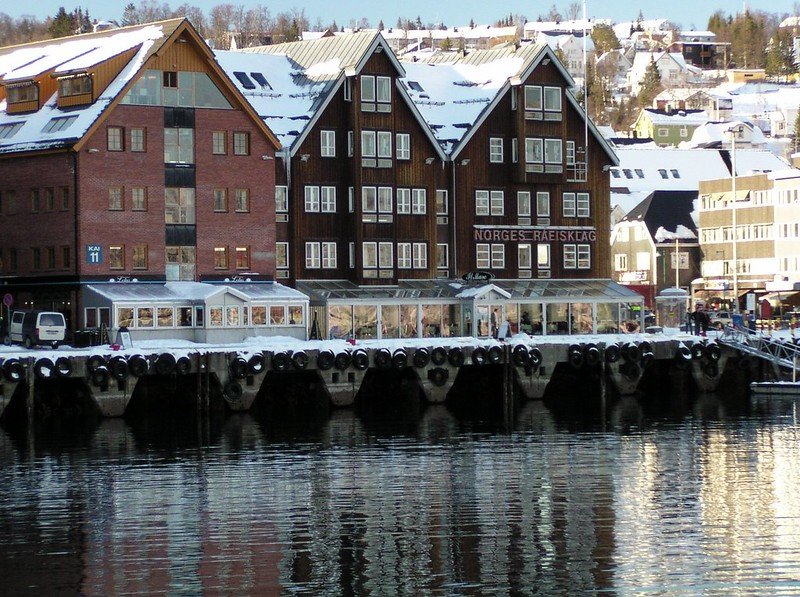 Image credit: Lars Tiede via Flickr CC BY-2.0
No.8 Tromsø Norway Christmas
The largest city in the northern part of Norway, Tromsø is located 350 kilometres north of the Arctic Circle, and it's cold and dark.
The sun sets in late November and doesn't rise again until late January, making this one of the best places in the world to be dazzled by the beauty and illumination of the town's Christmas lights, AND the Northern Lights Auroras.
Take time to visit the big Christmas tree in the Stortorget City Square, and enjoy the Christmas markets there to buy local homemade food and handicrafts.
Look out for:
woollen Norwegian clothes, and
gifts and souvenirs made by the Indigenous people of the Arctic, the Sami.
Looking for that special Christmas experience?
Stop by the "Blåst" glass blowing studio to make your own glass Christmas decoration.
Eat a traditional Norwegian Christmas dinner on Christmas Eve to taste the traditional steamed ribs of salted lamb (pinneskjøtt) and roasted pork (ribbe).
Hot tip: Kids will be thrilled to spot the whales in the fjords. Book a tour.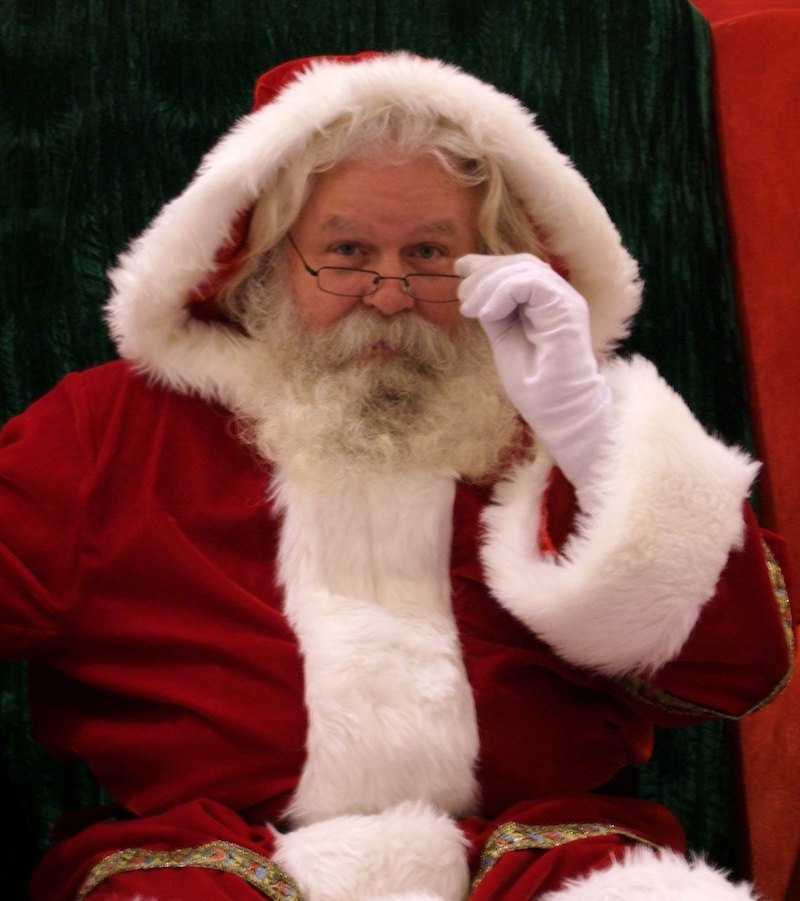 Image credit: Lady Dragonfly via Flickr CC BY-2.0
BEST UK WHITE CHRISTMAS DESTINATIONS
There's not many places in Britain to experience a White Christmas these days, unless you are lucky enough to be in London on the very rare occasion of a snow flutter.
The cities up north are the place to go.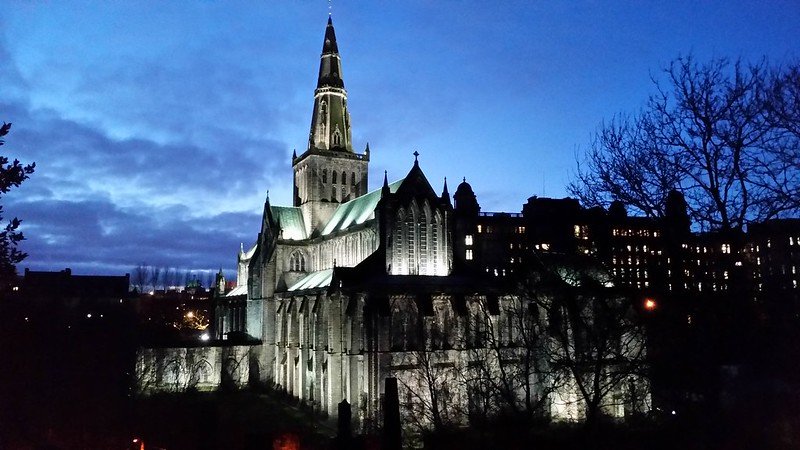 Image credit: Michael Curi via Flickr CC BY-2.0
No.9: Glasgow Scotland Christmas
Visit the Glasgow Christmas markets in George Square and St Enoch Square to immerse yourself deeply in the Christmas spirit of the UK.
The St Enoch Square markets are held in the beautifully dressed Christmas village of over 50 seasonal chalets featuring:
local crispy duck rotisserie
bratwurst sausage
crepes, and
hog roast.
George Square is the Christmas market under the giant Christmas tree for hand-crafted artisan products and handmade treasures.
Kids will love sliding down the classic Helter Skelter ride and galloping around the ageless carousel, and meeting Santa as he wanders near the Advent Calendar.
And it wouldn't be Christmas without a panto show!
Book into one of the local productions retelling a classic tale of old such as A Christmas Carol or Cinderella, or a modern laugh-a-minute play.
Look out for old school showings of classic Christmas movies at the Glasgow Film Theatre including "It's a Wonderful Life" and The Nutcracker ballet.
The highlights of a Glasgow Christmas trip are:
joining Santa School at Scotland Street School, to learn crucial Santa skills in case of a dire missing Santa emergency, and
The Irn Bru Carnival, a festive tradition for local families in Glasgow who love this giant indoor funfair.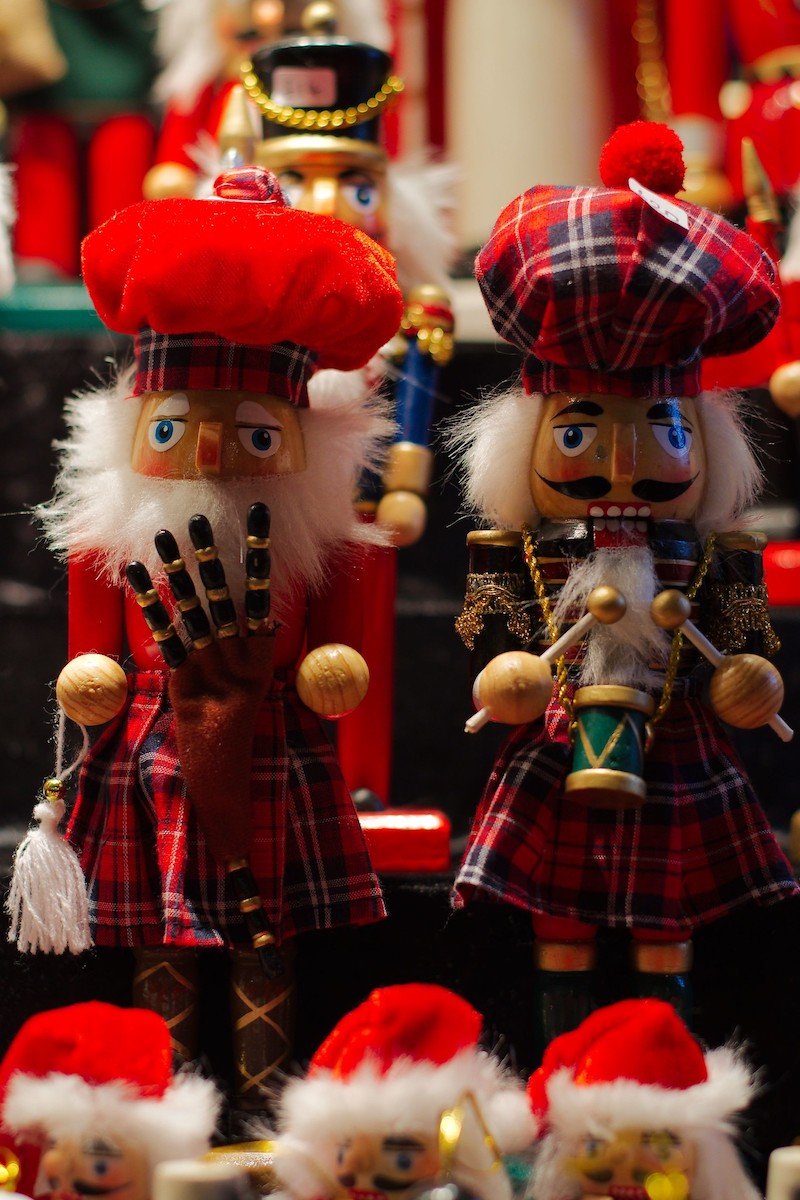 Image credit: Magnus Hagdorn via Flickr CC BY-SA 2.0
No.10: Edinburgh Scotland Christmas
The best reason to visit Edinburgh at Christmas is to enjoy the Edinburgh's traditional and romantic Christmas Market at East Princes Street Gardens.
Located in the heart of the City of Edinburgh, you'll find:
local crafters selling their handcrafted goodies
handmade Christmas goods
artists and their unique wares
Christmas gift shops selling the best UK ornaments, and
delicious Christmas food.
It's all under the gaze of the giant Big Wheel and Star Flyer.
Santa Land in East Princes Street Gardens features:
a Christmas Tree Maze
the Santa Train, and
family-friendly rides including the Race-a-Rama, Carousel, Candy Cane Bunjees, Chair-O-Planes, Helter Skelter, Reindeer Ride, and a Rollercoaster.
Castle Street is home to Santa's Grotto, The Balloon Ride and Autodrome too.
There's no need to go anywhere else.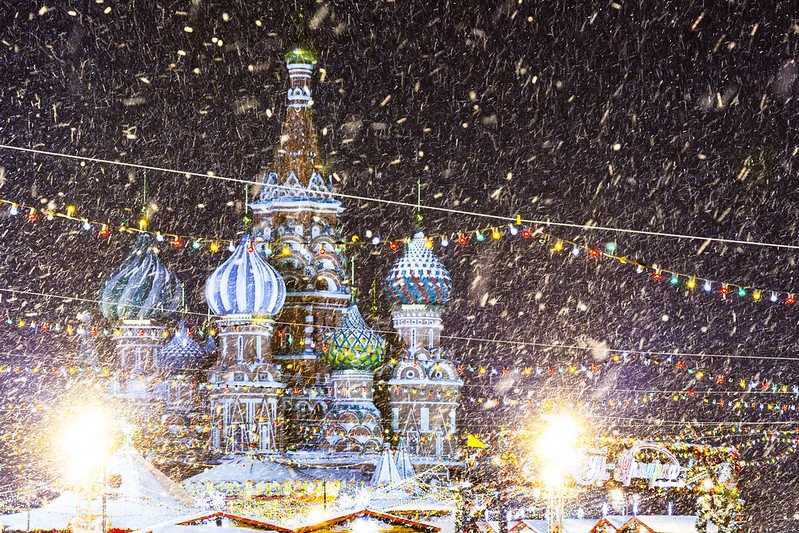 Image credit: Sergey Norin via Flickr CC BY-2.0
St Basil's Cathedral in the Red Square, Moscow.
RUSSIAN CHRISTMAS
No. 11: Moscow Russia Christmas
"Journey into Christmas" is Moscow's ode to the spirit of Christmas, and there's plenty to do.
Tverskaya Square hosts children's workshops and events including:
the chance to decorate the Christmas tree
learn to sew dolls
cook candies and
ride the carousel.
Around the area, you'll also find opportunities for kids to engage in animation tutorials and workshops for toddlers.
Tverskoy Boulevard is another place to stop to give the kids a chance to try figure skating, snowboarding, and hockey for free, with tutors on hand to give all the tips.
Don't miss the biggest Christmas bauble in Russia, the 17 metre high illuminated treasure in Manezh Square, and the 100-metre long ICE SLIDE for all ages!
Collect all the best Russian souvenirs including:
brightly coloured Pavloposadskie shawls and scarves in typical Russian patterns, and
at least one Cheburashka toy, a famous Russian toy with big ears.
Detskiy Toy Store
Don't miss shopping at the famous 'Detskiy mir' children's retail store, the six story department store.
You can shop, eat lunch at the food court, and visit the small museum of toys from Russia's history.
Check the view of Moscow from here, and if you visit on a weekend, take part in free children's entertainment.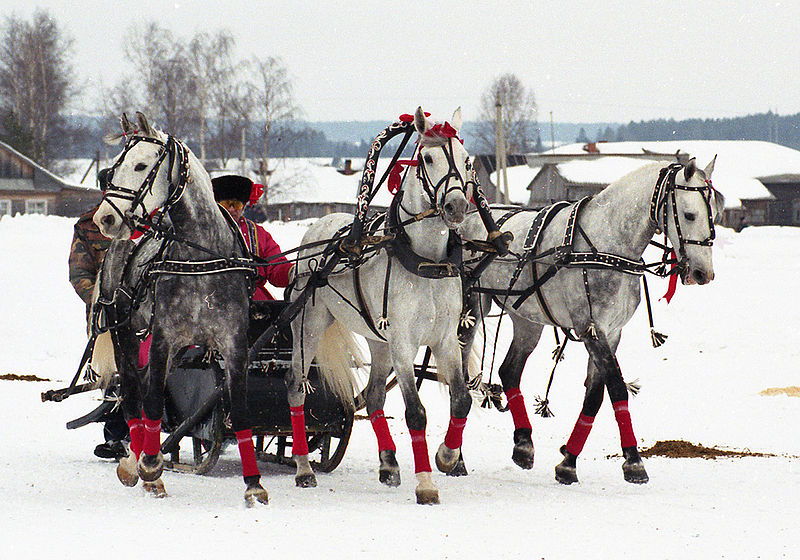 No.12: St Petersburg Russia Christmas
Be wowed by the Christmas decorations and traditional lights of St Petersburg city in Russia.
Ride in a traditional troika, a carriage drawn by three horses harnessed side-by-side, and then explore Pavlosk Palace, the magnificent neoclassical mansion is one of Russia's most iconic symbols.
Meet with a Russian Father Frost in the Palace square, and watch him dance in an open air show.
See a rendition of the "The Nutcracker" or "Swan Lake ballet in one of the regal theatres, the Mariinsky, Mikhailovsky or the Hermitage Theatre, enjoy a performance of Russian folk music at the Music Hall, or check to see if the circus is in town.
Shop at The Galeria Mall in St Petersburg.
The Christmas atmosphere is strong here, and if you are looking for authentic Russian souvenirs including Matryoshka dolls (also called Russian Tea Dolls or Babushka dolls), head to the ground floor.
You'll find more traditional Russian gifts too.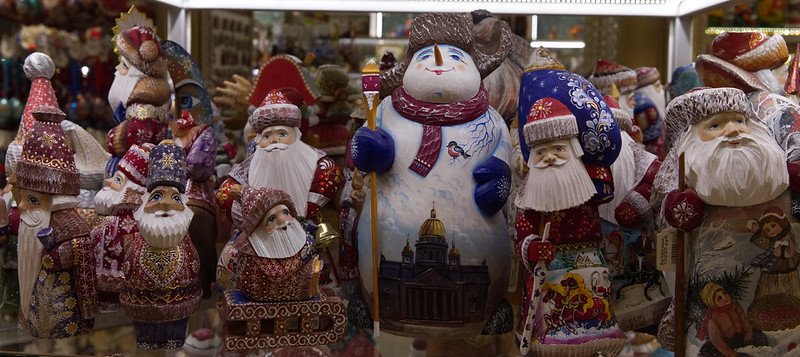 Image credit: Ronnie Macdonald via Flickr CC BY-2.0
Christmas Fair in Pionerskaya square
Don't miss the Christmas Fair in Pionerskaya square to:
see silly jesters
spy Gypsies in their colourful clothes
skate on the ice rink
enjoy daily entertainment and impromptu concerts
buy folk craft and Christmas fare, and
enjoy the Christmas cheer.
Open daily from midday to 11pm for the two weeks prior to Christmas.
You can also visit the International Winter Festival, go ice-skating, and Krestovsky Island reindeer farm.
Visitors to St Petersburg should also see Catherine Palace to see the gold-tipped opulence of this magnificent building, and St Isaac's Cathedral with a blanket of snow.
Did you know that most Russians follow the Julian Calendar, so Christmas for them falls in early January instead of the traditional 25th December.
Religion and food are equally important at this festival.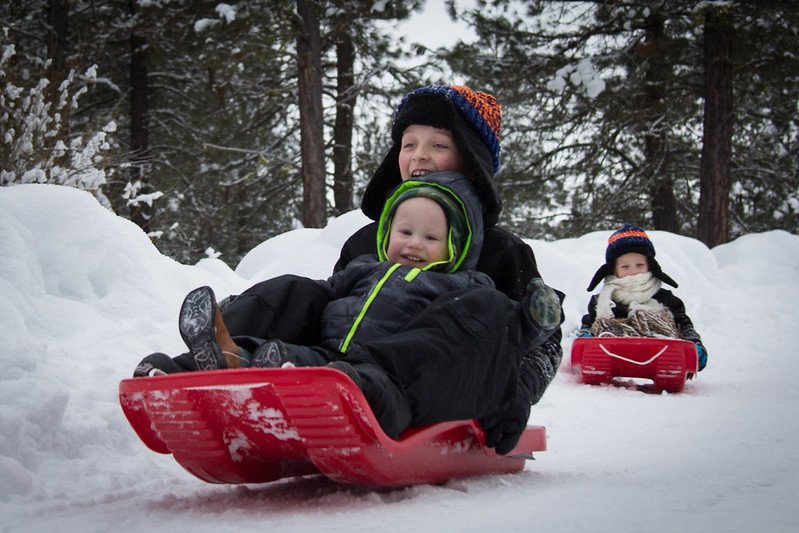 Image credit: Tyler J Bolken via Flickr CC BY-2.0
WHITE CHRISTMAS IN AMERICA
There's not too many places that can guarantee a White Christmas in North America, but these American cities are your best bet.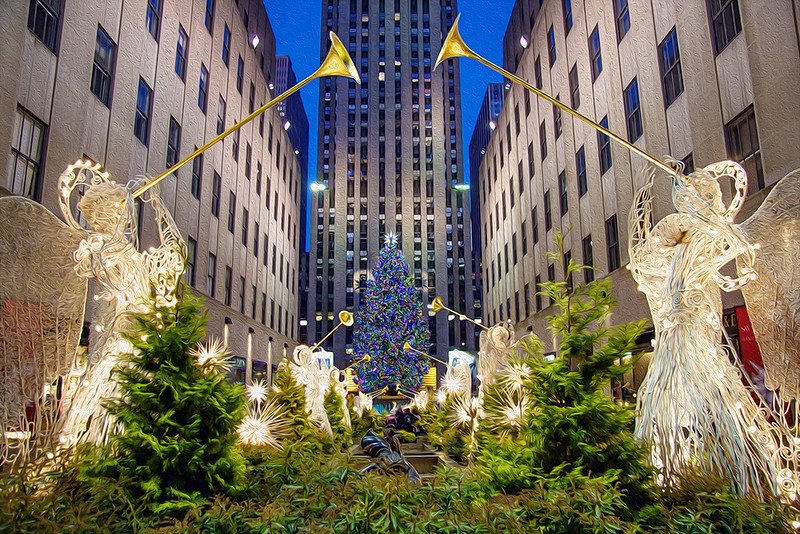 Image credit: June Marie via Flickr CC BY-SA 2.0
No.13: New York City Christmas
These are the top things to do in New York at Christmas:
No.1: Rockefeller Christmas Tree
See the giant Rockefeller Center Christmas tree, looking down over the Rockefeller Center Ice Skating rink.
It's covered in over 50,000 lights, and has a Swarovski crystal star on top!
No.2: Radio City Rockettes Christmas Show
Book tickets to see the Radio City Rockettes Christmas show.
It's worth every cent.
No.3: Bryant Village Market
Visit Bryant Village Winter Village to shop for all your best New York Christmas ornaments and NYC gifts and souvenirs.
You can eat for the silly season here too, with gingerbread, waffles, frites, mulled wine, and pretzels galore.
No.4: Union Square Market
Union Square market is another good Christmas shopping destination for lovers of handmade and artisan goods.
Columbus Circle Holiday Market is your other go-to for delightful NYC shopping adventures.
No.5: Holiday Handmade Calvacade
Don't miss the Holiday Handmade Calvacade at either the Chelsea market, or the Brooklyn Historical Society, presented by the NY Handmade Collective and Etsy.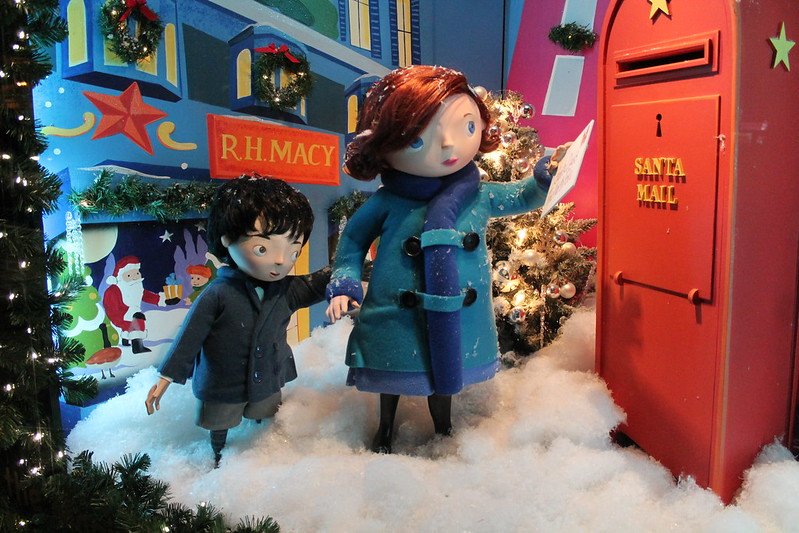 Image credit: Elvert Barnes via Flickr CC BY-SA 2.0
MORE of the Best Things to do at Christmas in New York City
No.1: Macys & Barneys White Christmas Window Displays
Spend a day touring the best New York City Department Stores including Macys, Bloomingdales, Barneys White Christmas and Saks Fifth Avenue.
The beautifully decorated Department Store windows deserve your attention too.
Hot tip: Macy's Santaland is THE place to see Santa among hanging snowflakes and yuletide decor.
No.2: Brooklyn Bridge
Walk the Brooklyn Bridge on a wintry night to see New York City in full lit glory.
No.3: Ice skate on Wollman Rink in Central Park.
It's the done thing in the movies!
Take a spin too.
No.4: Grand Central Station Christmas
Wander through Grand Central Station and browse their Christmas collections at the Grand Central Holiday Fair in the majestic Vanderbilt Hall.
The decorations are fun too.
No.5: New York Botanical Gardens Christmas
See a bunch of NYC monuments made out of plants at the Holiday Train show at New York Botanical Gardens
No.6: Carnegie Hall Christmas Shows
Enjoy a Carnegie Hall Christmas Holiday spectacular of some kind.
Take in an opera, hear the orchestra, and delight in Christmas favorites by top rated performers.

Image credit: Richie S via Flickr CC BY-2.0
No.7: Dyker Heights Christmas Lights
Take a bus ride to Dyker Heights to see the holiday lights, life-size toy soldiers, blow up Santas and revel in the Christmassy atmosphere
No.8: Tallest Christmas Tree in New York
Take a peek at the 30 foot Christmas Tree and all the festive decor at The Palace Hotel (Lotte New York Palace) on Madison Avenue.
No.9: Rolfs Christmas Decorations
Rolf's German restaurant in the Gramercy Park neighbourhood is an instagrammer's dream destination during the weeks leading up to Christmas, when the restaurant ceiling is decked out with THOUSANDS of Christmas lights and Christmas decor.
Make a booking.
Drink the egg nog.
And order up the seasonal roast suckling pig with crispy potato cakes.
Hot tip: Dress warmly for a New York winter. You'll be surprised by how chilly the wind through the streets can be.
READ MORE: The ULTIMATE GUIDE to the Best Things to Do in New York City with Kids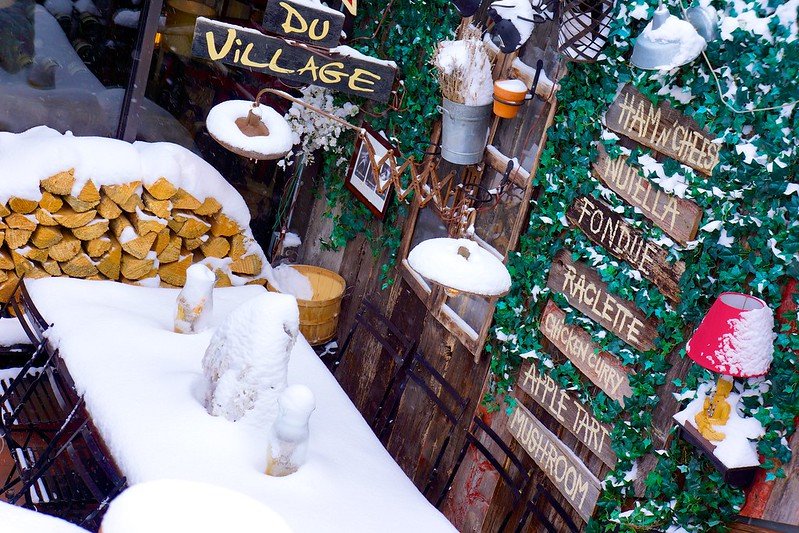 Image credit: Nicolas de Camaret via Flickr CC BY-2.0
No.14: Aspen Colorado Christmas
The best city in American for a Christmas ski vacation, Aspen is the place to go if you also want to spot celebrities on Christmas vacation.
The best things to do in Aspen at Christmas include the 12 Days of Aspen celebrations with:
Holiday stocking decorating at the St. Regis hotel
teddy bear story hours
Ice skating with Santa's elves
holiday music
free film nights
holiday crafts, and
fun photo booths.
Watch the Little Nell Christmas Tree lighting and join in with the carolers singing all the best Christmas jingles. Stop in at The Little Nell afterwards for their world famous HOT CHOCOLATE!
Look out for Santa on his annual ride around town when he takes a lift on the Aspen fire truck!
Or pick one of these:
ride a snowmobile through the National forest
take a sleigh ride to Pine Creek cookhouse restaurant
go for a snowshoe walk with friends
go tubing on Whoa Nellie Hill, or try ice skating on the Snowmass Base Village plaza outdoor ice rink in front of Limelight Hotel Snowmass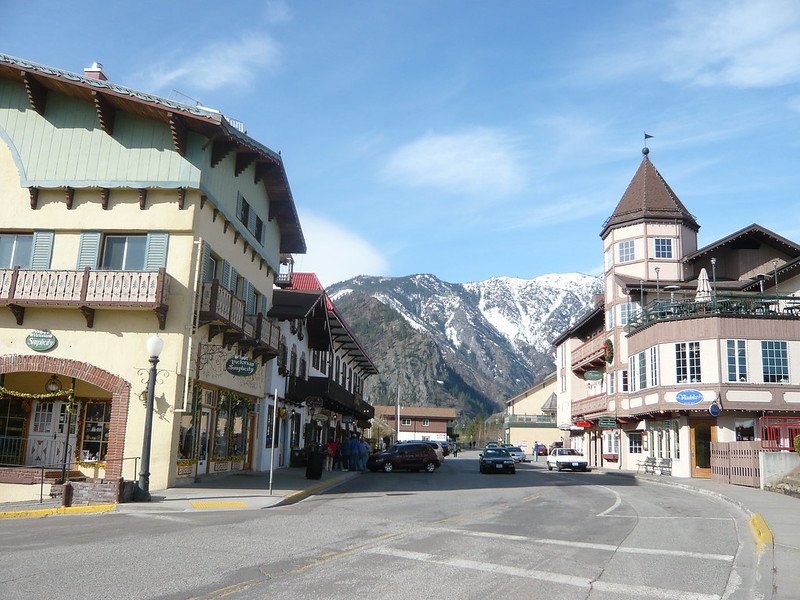 Image credit: JBColorado via Flickr CC BY-ND 2.0
No.15: Leavenworth Washington Christmas
This Bavarian-inspired town was once named the Ultimate Holiday town in America. It's number one of the famous Christmas places in the USA (along with the Bronners Christmas store in Frankenmuth, Michigan)
Leavenworth is nestled in the Cascade Mountains and is most famous for the "Village of Lights" holiday illuminations that turn on at Thanksgiving and stay on until Valentine's Day.
The Christmas Lighting Festival complete with over 500,000 lights, seasonal music and a visit from Santa himself is held on the three Advent weekends leading up to Christmas Day.
The number one thing to do in Leavenworth is to shop at the annual Bavarian-style Christkindlmarket held in Front Street Park, and the Leavenworth Festhalle.
Add to your collection of handmade Christmas ornaments, eat all the best Bavarian foods, and soak up the Christmas atmosphere.
Our tip is to book tickets to one of the Christmassy concerts in town to hear harps, handbells, string instruments and all the voices.
While you are here, be sure to take the kids tubing or sledding on Leavenworth Ski Hill, on a sleigh ride or dog sled.
Eat all the Christmas baked goodies at Bavarian bakery including Christmas stollen bread and rye bread.
And take the kids to the Leavenworth Nutcracker Museum to see ALL the Christmas nutcrackers.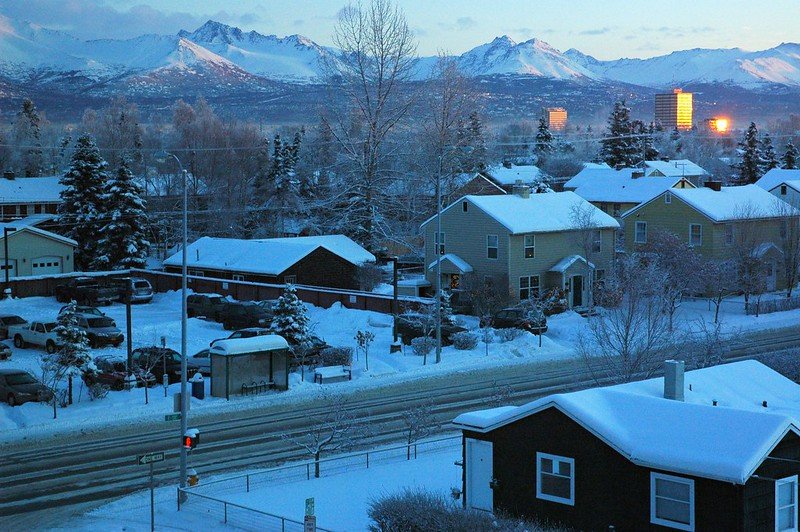 Image credit: Wonderlane via Flickr CC BY-2.0
No. 16: Anchorage, Alaska
Head to downtown Anchorage to experience the fairyland of Alaska.
Enjoy time at the Reindeer Farm, be in place for the holiday tree lighting in Anchorage Town Square on the day after Thanksgiving, and take a ride on the Holiday Train on the Alaska railroad.
The most heart-warming Christmas tradition is to take a look at the five-pointed Christmas Star light on the slopes of the Chugach mountains.
The lights go on after Thanksgiving, and stay on until the last musher hits the finish line on the famous Itidarod dog sled race.
While in town, visit the Anchorage museum, the Alaska Native Heritage Center, and the Alaska Museum of Science and Nature.
Take the kids to see the Alaskan animals including moose, wolves, reindeer and eagles that make their home at the Alaska Zoo, and the Alaska Wildlife Conservation center.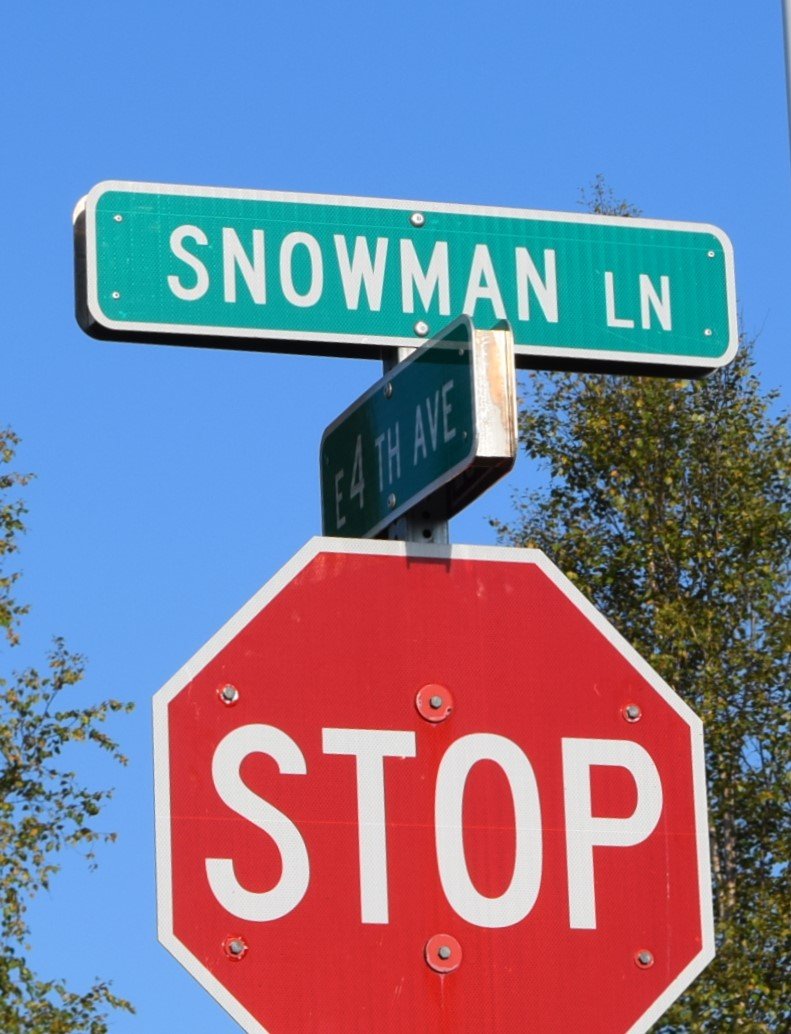 Image credit: Haydn Blackey via Flickr CC BY-SA 2.0
Fun Fact: North Pole Alaska
Fun Fact: Did you know there is a town in Alaska called THE NORTH POLE?
It's a real place, where the streets are decorated year round with Christmas embellishments and decor including:
holly
candy canes
lights, and
bunting.
Even the streets are appropriately named!
Visit Santa Claus House, the red and white gingerbread cottage for all the best Christmas decor, gifts, clothing, toys, collectibles and more.
The Sweet Shop sells mouth-watering handmade fudge, cookies, chocolates and every kind of Santa candy.
Do take a selfie in Santa's Sleigh parked in front of the World's Largest Santa, at 50 feet tall.
Pick up 'Made in North Pole' gifts and souvenirs for friends and family. Post them home to have them stamped with a genuine North Pole postmark!
The North Pole is a little over 6 hours drive north of Anchorage.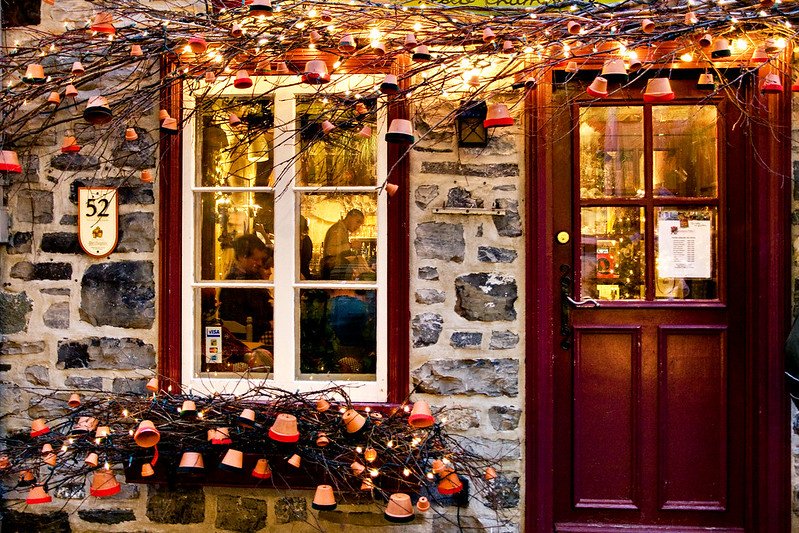 Image credit: Artur Staszewski via Flickr CC BY-SA 2.0
WHITE CHRISTMAS IN CANADA
Here's a few of the best places to visit at Christmas in Canada.
Canada is up there as one of the best Christmas destination places in the world as it's so quaint and they have some of the best snowy Christmas markets outside of Europe.
No.17: Quebec Canada
Visit Quebec City's Quartier Petit Champlain for a White Christmas out of the movies.
This is a town with both traditional Canadian and European influences, with a high snowfall rate.
Here's a sneak peek!
Christmas Market in Old Québec
Shop at the Christmas Market in Quebec Old Town from the charming wooden stalls under falling snow. There's choral singing, a festive atmosphere, and performances.
Eat all the best German style food including bratwurst, mulled wine, and gingerbread.
Find it at 2, rue des Jardins Québec, QC, G1R 4S9
Visit the real Santa Claus, and take some time out in the Kindermarkt dedicated area for kids.
Look out for special performances and activities for kids, and the enchanting Ravensburger chalet.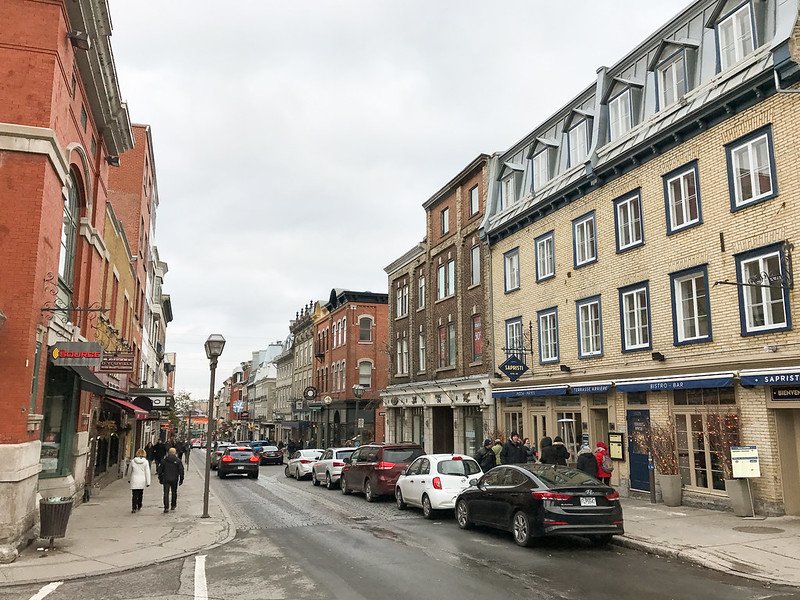 Image credit: Lou Stejskal via Flickr CC BY-2.0
Here's a list of more ideas for your Quebec itinerary.
Stroll along Rue Saint-Jean through one of Québec City's signature quartiers, Faubourg Saint-Jean.
Place de l'Hôtel-de-Ville is THE spot to evoke a holiday atmosphere.
Stop in at La Boutique de Noel, the magical Christmas winter wonderland. It's the home of elegant and hard-to-find Christmas decorations, nativity sets, vintage baubles, and Christmas collectibles.
Wander the Quartier Petit Champlain district, the most elegantly decorated suburb in Quebec, with holiday lighting and bunting draped over the historical architecture of these narrow streets. It's like A Christmas Carol in real life. Wondering how to get to Petit Champlain? Ride the funicular cable car to lower Quebec city to get started.
Take the kids ice-skating at the Place d'Youville in view of the magnificent fortress wall, Saint-Jean Gate
See the Life Size nativity scene at the Basilica in Old Quebec.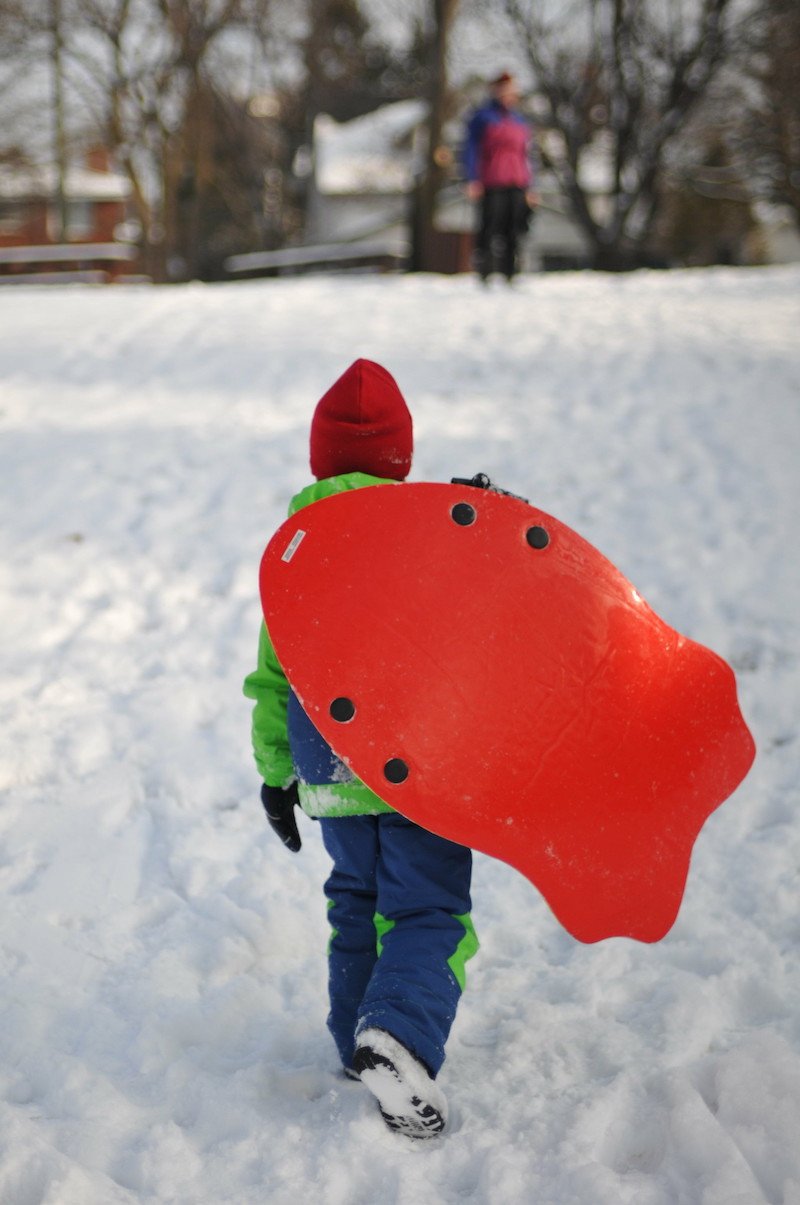 Image credit: QUOI Mediagroup via Flickr CC BY-SA 2.0
No.18: Ottawa, Canada
Canada's capital of Ottawa is another place to see snow at Christmas.
Be sure to see the Christmas Magic of Lights festival, a drive-through holiday light display with all the best Christmas characters including elves, snowman and Santa himself.
There's more lights at Parliament Hill, including the magical Winter Lightscapes projection show on Parliaments Centre Block.
Head to the Canadian Museum of History for the lighting of the giant outdoor Christmas tree, and delicious hot chocolate.
There's also a four-day Christmas market held here in the Grand Hall. Shop for all the best local gourmet foods, handmade crafts, and artisan gifts.
Visit the Ottawa Farmers market in the weeks before Christmas, and the Originals Ottawa Christmas Craft Sale for more of the same.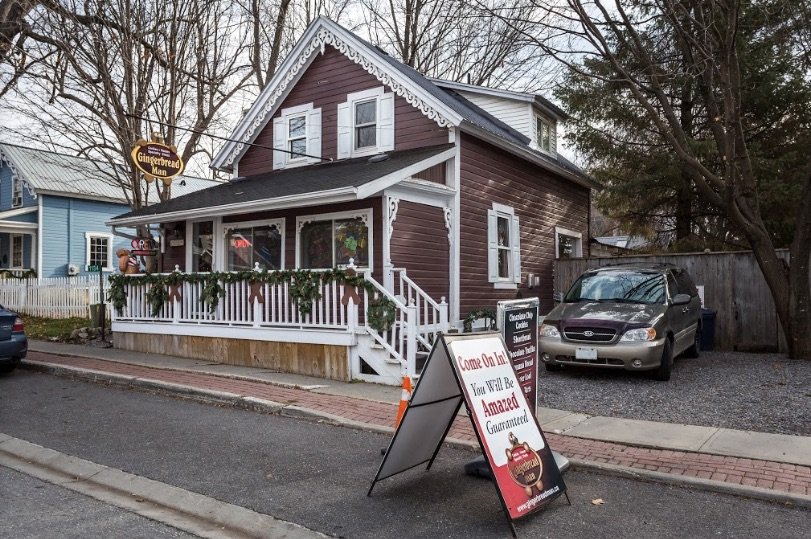 Image credit: Scott Hill
The Gingerbread Man
Make a detour to the Christmas themed "The Gingerbread Man" dessert shop at 1134 Tighe Street, Manotick for all the best Christmas gingerbread treats and gifts such as gingerbread kits, gingerbread dog houses and peanut brittle.
See the two giant Nutcrackers as you enter.
They are super cute!
Find a Christmas Candlelight service, a recital of the Nutcracker ballet, Ottawa Chamberfest Christmas concerts and holiday entertainment including Handel's Messiah.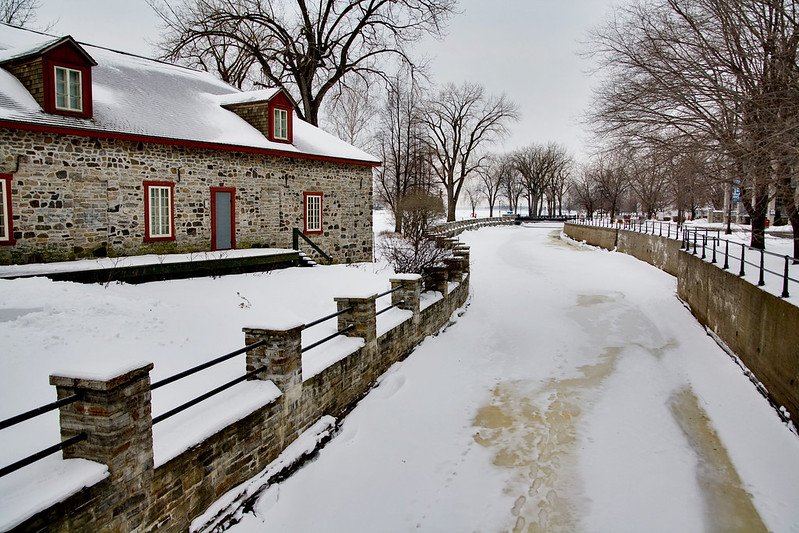 Image credit: Artur Staszewski via Flickr CC BY-SA 2.0
No.19: Montréal Canada
Another Northern hemisphere town where you can be like Elsa and Anna, and build a snowman, is Montreal.
It's a gorgeous city that celebrates Noël in a unique way, with a Santa Claus parade.
A city tradition, Défilé du Père Noël, the official name for the parade, has been a yearly event since 1925.
Nab an early spot along Ste. Catherine street to watch the floats pass by, one after the other.
The other special event is the annual Christmas in the Park festival.
"Noel dans le Parc".
You can ride in a cart accompanied by a storyteller to ply the tales of old.
And,
See the happy sheep
Warm yourself by the communal fire pit
Meet the Traveling Santa and Mother Christmas in their single wheel house
Enjoy carnival entertainment and street theatre with wild and wacky performers, and
Join in a Torchligth walk.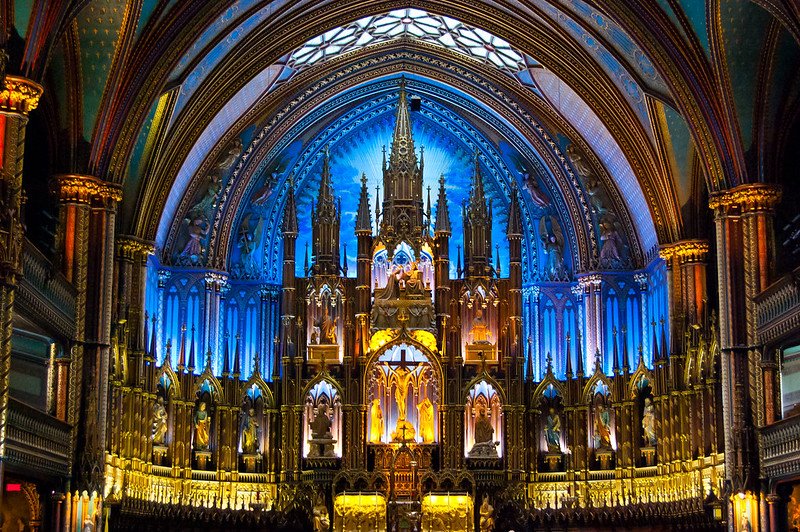 Image credit: Ryan Hyde via Flickr CC BY-SA 2.0
Other Montreal Christmas events include:
Luminothérapie is a light installation with interactive play elements for the public. It's Montreal's largest public art competition.
Visit the Nutcracker Outdoor Market for handcrafted Christmas gifts, home decor, crafts and souvenirs, or the Montreal Christmas Village at Atwater market to shop for family and friends.
Christmas Fireworks at the Old Port in Old Montreal blast off on one day each weekend throughout December and early January.
Christmas Mass at the largest church in Canada, St Joseph's Oratory is a must-do. An alternative is the Christmas Mass at Notre-Dame Basilica in the Old Town of Montreal. Fees apply.
Visit the German Christmas Market of Old Quebec for a little European magic.
While you are in Montreal with kids, visit the Old Port of Montreal, the Old Port Science centre, and the new obstacle course activity playground for kids just outside.
Olympic Park, Grevin Montreal wax museum, and the Biodome de Montreal are more fun places to take the kids in Montreal.
Image credit: Ruth Hartnup via Flickr CC BY-2.0
No.20: Whistler Canada
Take time out and enjoy a traditional Canadian Christmas in the quaint snow-covered ski village of Whistler.
The Village square is home to the Winter Wonderland light display with over 5000 strings of lights decorating the town and ramping up the Christmas feels.
The trees out front of the Fairmont Chateau Whistler are spectacular.
Whistler Olympic Plaza is the spot to see street entertainment, and singalongs with the Whistler singers too.
Tangle Tree playground near Starbucks is a fairytale wonder too.
There's sleigh rides, and dog sledding rides, ice skating, a tube park plus a Whistler Tree Adventure course.
Take the kids to the Whistler conference centre to find the pop-up entertainment zone just for kids. There's mini putt putt, table games, bouncy castles and inflatables, plus a cafe lounge area for parents.
Whistler of course is famous for the ski mountains so be sure to:
ride the gondola for a view from the top
go snowmobiling
try snow shoeing
fly on the winter ziplining, and
go skiing and snowboarding too.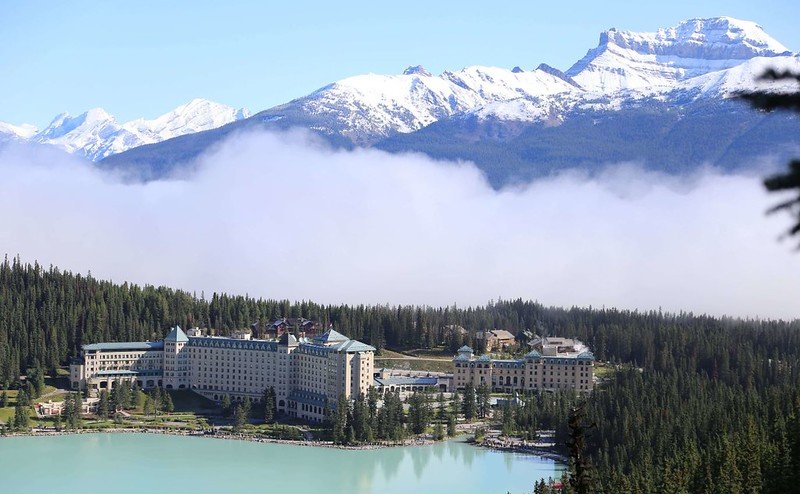 Image credit: Trekking Days via Flickr CC BY-1.0
No.21: Fairmont Chateau at Lake Louise in Canada
Last but not least, is the plan to spend Christmas at the spectacular Fairmont Chateau on Lake Louise. Order a hot chocolate and drink in the views.
Take part in all the complimentary activities that are included in a White Christmas bucket list adventure at Fairmont Chateau including:
Ice skating on Lake Louise
Bavarian ice curling
Hockey
Sledding
Board games
Bingo, includes hot chocolate and cookies
Card games
Nature walks
Hot tub soaks
Christmas movies on the big screen
Roast marshmallows on the evening campfires or sit in front of the gas fire pit on the Lakeview terrace to soak up the views
Facepainting fun, or have your likeness drawn by a caricaturist!
Meet Bow the Bear, the hotel's mascot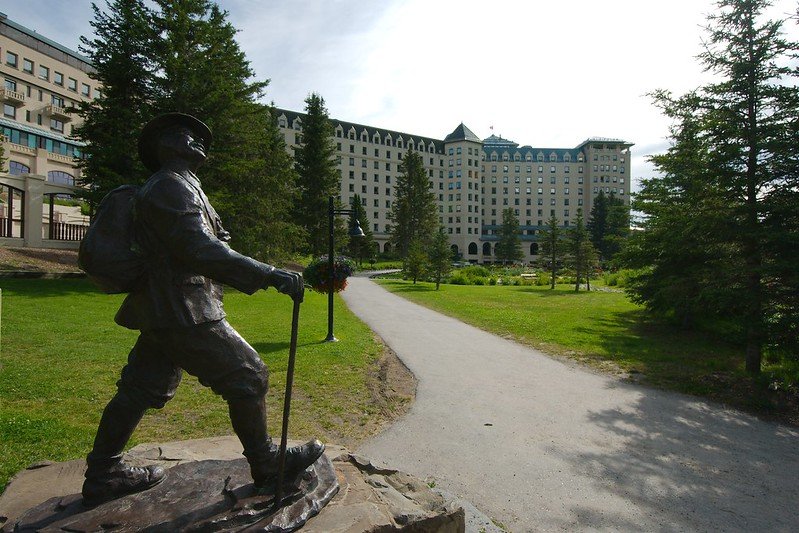 Image credit: Sebastian Launay via Flickr CC BY-2.0
Plus there's Christmas Craft workshops for kids
They can make:
Christmas cards
Christmas ornaments
Christmas stockings
simple jewellery, and
gingerbread houses.
Fees apply for the craft workshops.
Other activities include:
choir practice
campfire and games
outdoor winter games in the snow
sledding
pajama parties and
a photo scavenger hunt.
(Fees apply)
Join in the hotel activity to help find Santa's reindeer, as they have escaped and need your help to guide them home!
Meet Santa, who arrives by sleigh to the front of the hotel to hear last minute wishes, and possibly bring each child a tiny surprise.
You can also book a family sleigh ride with the Brewster Family.
Ride through the wilderness surrounding Lake Louise, all tucked up on cosy seats covered with wooly blankets to keep the frost from your toes. It's a cosy Christmas card image brought to life!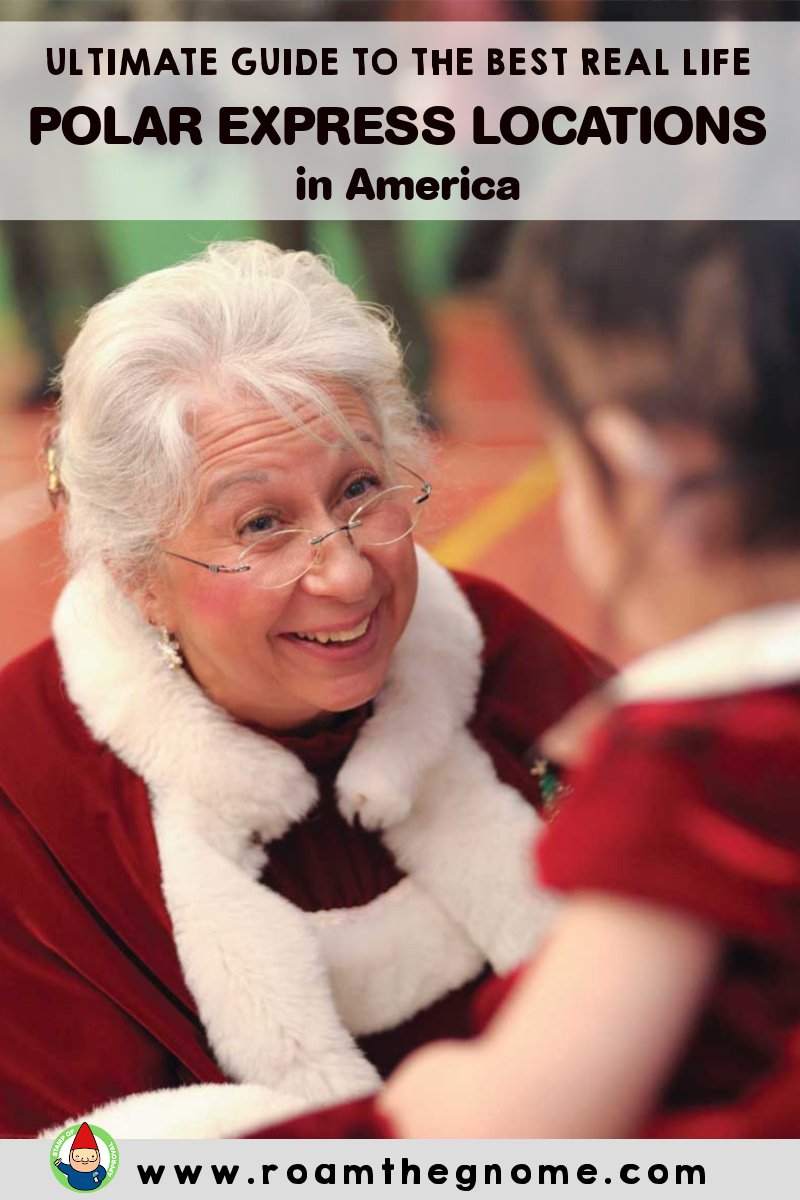 The Complete Guide to the Best POLAR EXPRESS Train Rides in America.
Did you know you can ride on a Polar Express train?
These Santa Express train rides let you experience the fun and Christmas cheer from the Polar Express Movie in REAL LIFE!
There's hot cocoa, Christmas carols, a reading of the Polar Express Train book, AND a chance to meet Santa, his elves, and perhaps even Mrs Claus.
There's so many Polar Express Train rides to choose from.
Take a look at our comparison guide to find the best ones.
Click here for details of the best Polar Express Train Ride locations in America.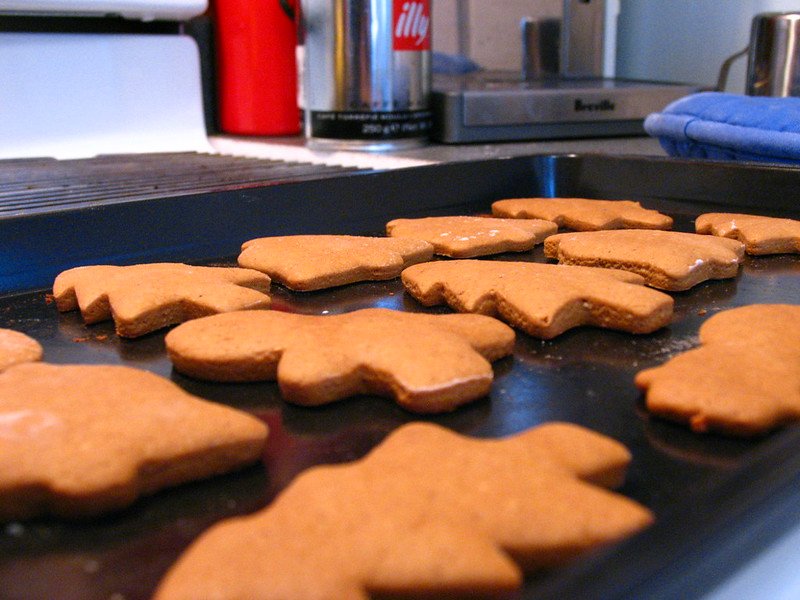 Image credit: Jean-Pierre G via Flickr CC BY-2.0
Want to know about More Fun Christmas Experiences?
If you enjoyed reading about these Polar Express train ride locations, here's more top Christmas destinations & ideas for you.