INSIDE: Roam the Gnome's visit to the Hong Kong Hello Kitty Cafe!
Hong Kong has super cute cafes and restaurants hidden throughout the city.
This one, the Le Petit Hello Kitty Cafe Hong Kong is a tiny hole-in-the-wall shopfront deep in the Food Hall basement of the SOGO Department Store in Causeway Bay.
Take a look!
Disclosure: This article contains affiliate links. If you make a purchase after clicking on one of these links, we may receive a small commission at NO extra cost to you.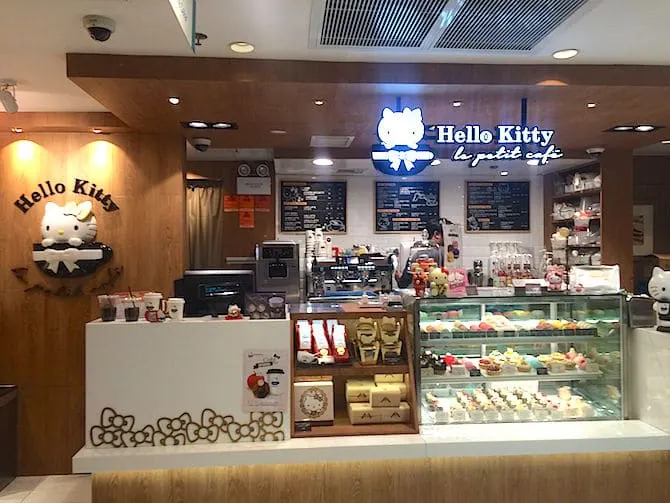 SOGO Department Store Food Hall Treats!
The SOGO Food Hall itself is a wonder filled with lots of Japanese and Asian inspired food vendors, some of whom you might already be familiar with, such as
Beard Papa
Mother's Crepes, and
Milk Top.
There's a curry restaurant, Hokkai ramen, and the SOGO Cafe ready to serve you breakfast, lunch or dinner.
Hong Kong souvenir shopping
Head to the supermarket and grocery aisles to buy all kinds of things, including Hong Kong souvenirs.
packaged and fresh foods to cook at home
souvenir gifts & packaged gift boxes of chocolates and food souvenirs
snack food
baby food options, and
cold drinks.
You could spend hours wandering around this food hall in SOGO Causeway Bay!
Hello Kitty Cafe is located on the far wall, on the outside aisle of the food market hall on the right if you walk anti-clockwise.
Hot tip: Ask for directions at the information desk. However, if they tell you there's no Hello Kitty cafe in store (wrong!), ignore them as we did, and find it yourself.
---
RELATED: The Best Must Try Foods in Hong Kong for Kids and Families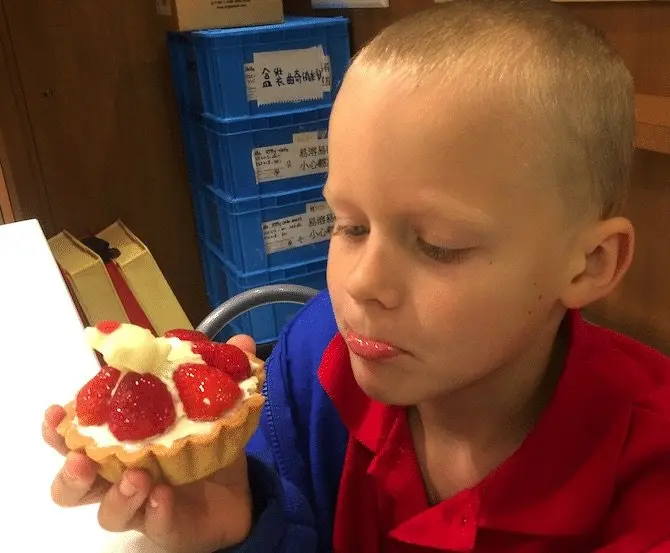 SUPER DOOPER Cute Food at Hong Kong Hello Kitty Cafe!
The Hello Kitty Cafe Hong Kong is NOT your cheapest way to have coffee and cake.
There's definitely a premium price to be paid for the fun of a Hello Kitty feast but hey, we're all about fun when we travel!
We budget all year at home, so we can splurge on the SUPER DOOPER FUN attractions and things to do, and that includes trying cakes, sweets and desserts at cute cafes!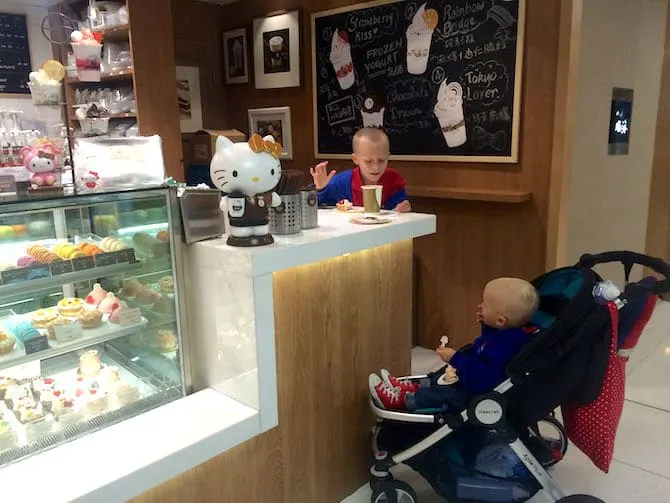 Hello Kitty Cafe Menu
There are so many cakes and desserts in the cake display to try.
Mousse in three flavours (chocolate, hazelnut, red bean/green tea, blueberry)
Cheesecake
Chocolate cakes
Red and green apple cakes
Hello kitty shaped biscuits ($HK 10 each)
Hello Kitty Macaroons (starting at $HK 28)
Hello Kitty cupcakes Kitty Cafe Food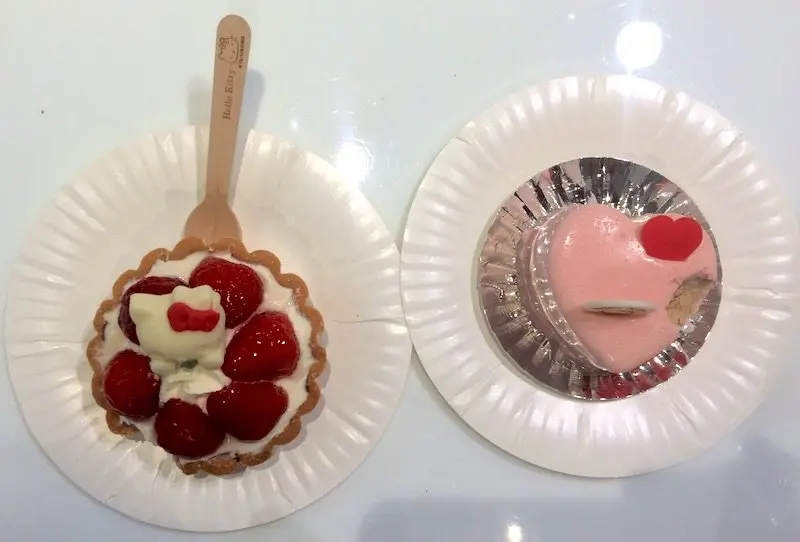 Ned tried a Strawberry Tart that had a little Hello Kitty chocolate sitting in the cream.
Jack and I shared a love-heart strawberry mousse cake.
The mousse was small, but the texture and flavor was out of this world, and definitely worth a second visit to eat it again!
Dine in at Hello Kitty Cafe
I was a bit put off by the paper plates.
I can deal with wooden spoons and takeaway cups, but surely when you are paying a premium, a china plate for the cakes, and a Hello Kitty ceramic mug for the coffee is the least they can do to make the experience a little more worthwhile.
Hello Kitty novelty mugs never go astray for the kids either.
But this cafe is not about the sit-down experience.
There's only a very small side counter where you can pull up one of three stools to sit on, and these are not easy to come by unless you go early.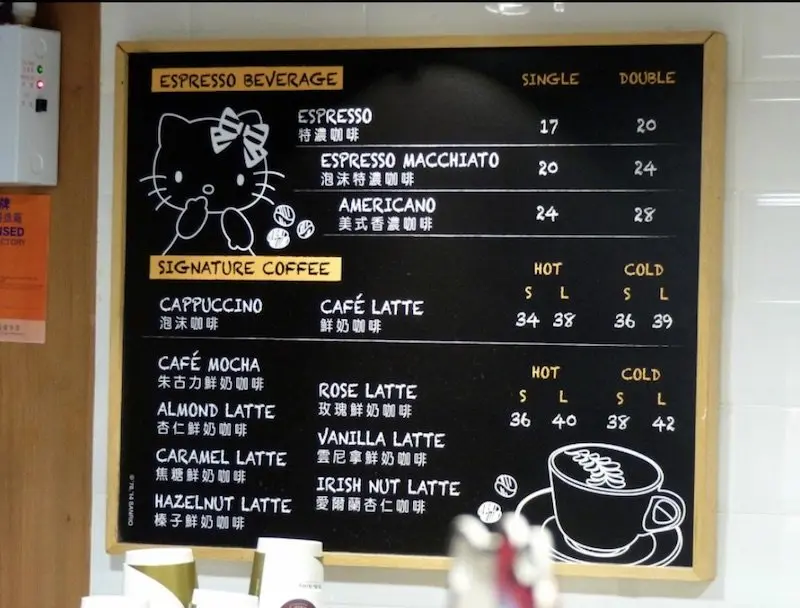 Hello Kitty Cafe drinks
Try a specialty coffee. Coffee drinks include:
Cafe Latte
Cappuccino
Cafe Mocha
Almond Latte
Vanilla latte
Malt latte
Hazelnut latte
Hello Kitty tea menu
They serve tea too:
lemon tea
camomile
citrus tea
mint tea
earl grey tea
chocolate mint truffle tea
jasmine tea
breakfast tea
rose milk tea
almond milk tea
traditional Hong Kong milk tea
---
BUY NOW on Amazon: Super cute Hello Kitty ceramic mugs two pair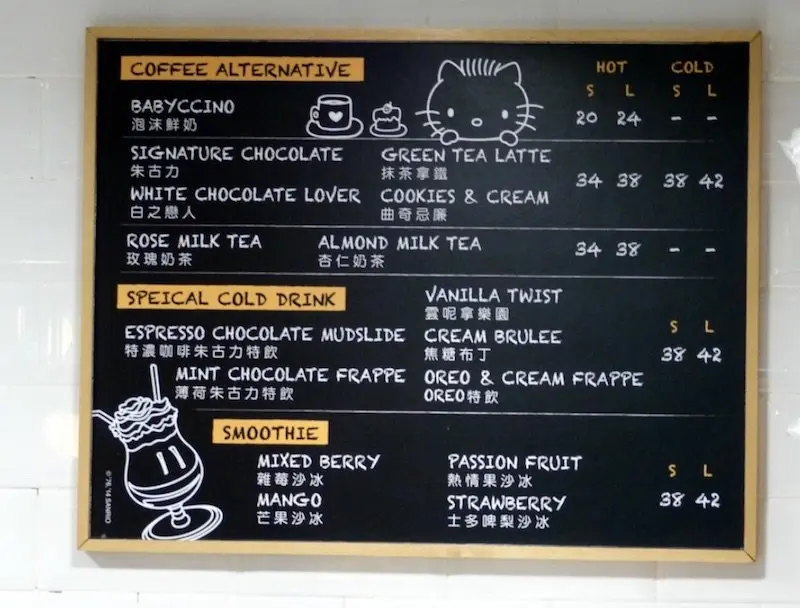 Or one of these Hello Kitty drinks:
signature hot chocolate drink
white chocolate lover
green tea latte
cookies and cream
smoothies – mixed berry or passionfruit
They serve special hot drinks including apple tea or ginger twists.
And special cold drinks including iced apple tea, iced peach tea, iced lemon tea, iced lychee tea, expresso chocolate mudslide, mint chocolate frappe, vanilla twist, cream brulee, and oreo and cream frappe
Kids will love the babychino!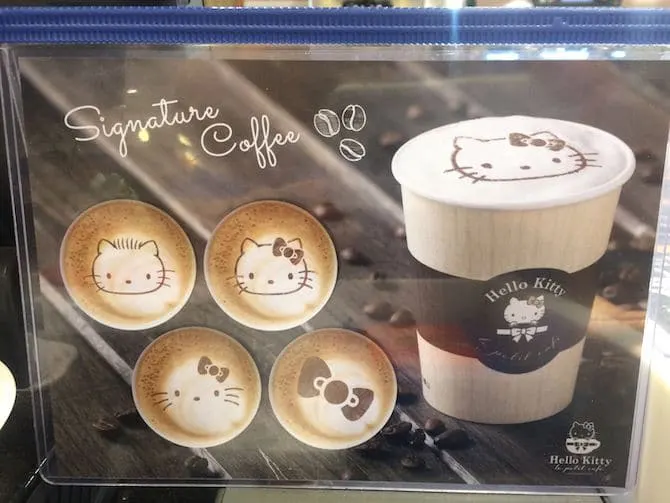 Hello Kitty Cafe Hong Kong Signature Coffee
How can you resist a coffee with a Hello Kitty insignia?
It is IMPOSSIBLE!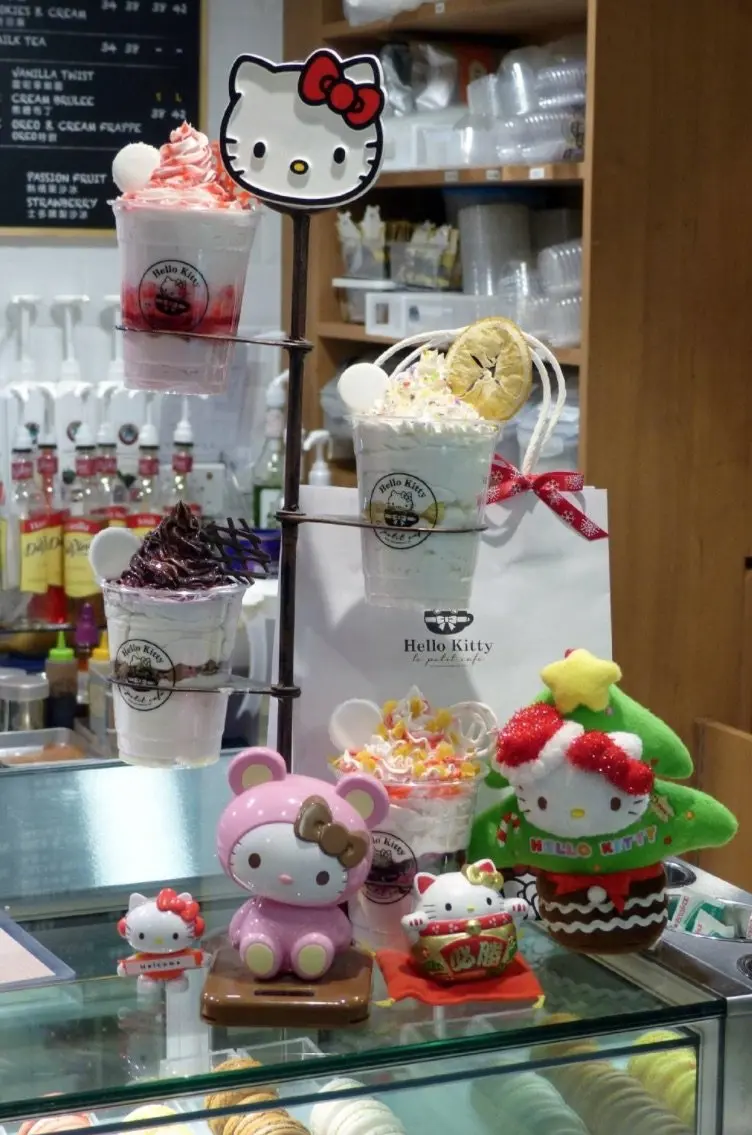 Hello Kitty Cafe Merchandise
Ned and Jack were given a free gift of a Hello Kitty paper fan to take home.
Staff don't always offer these things to English speaking tourists if they are shy about explaining why to you, so it does pay to ask if you see these 'souvenirs' around.
Unless of course, you prefer to travel lightly.
Sometimes, we defer simply because we don't want to add to the world's rubbish problem if we don't really love the thing on offer.
There wasn't any other Hello Kitty cafe souvenirs to buy at this shop, but it's only a tiny kiosk, so there's no room to display them.
Hello Kitty Souvenirs at Sanrio Gate SOGO
You can find cute Hello Kitty souvenirs & gifts upstairs at Sanrio Gift Gate in SOGO Department store. (Shop 6, 7th floor) including:
cute Hello Kitty tote bags (like this one)
cheap Hello Kitty car accessories
baby Hello Kitty clothes
Hello Kitty socks
Hello Kitty computer mouse pads (so you can see Hello Kitty while you work!)
Hello kitty mug sets
Hello kitty aprons
big Hello Kitty plush toys
coloring Hello Kitty games
Casio Hello Kitty watch styles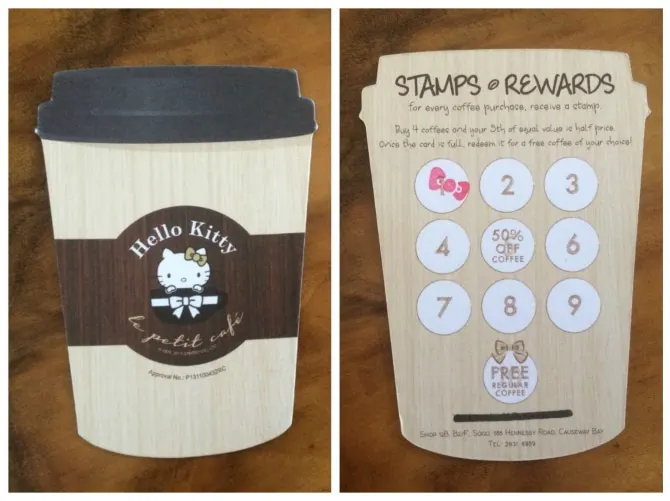 Hello Kitty Cafe in Hong Kong Rewards Card
If you plan on stopping by this cafe in Central Hong Kong at least a few times during your stay, be sure to say YES to the Rewards Card.
That's one free coffee in every 10!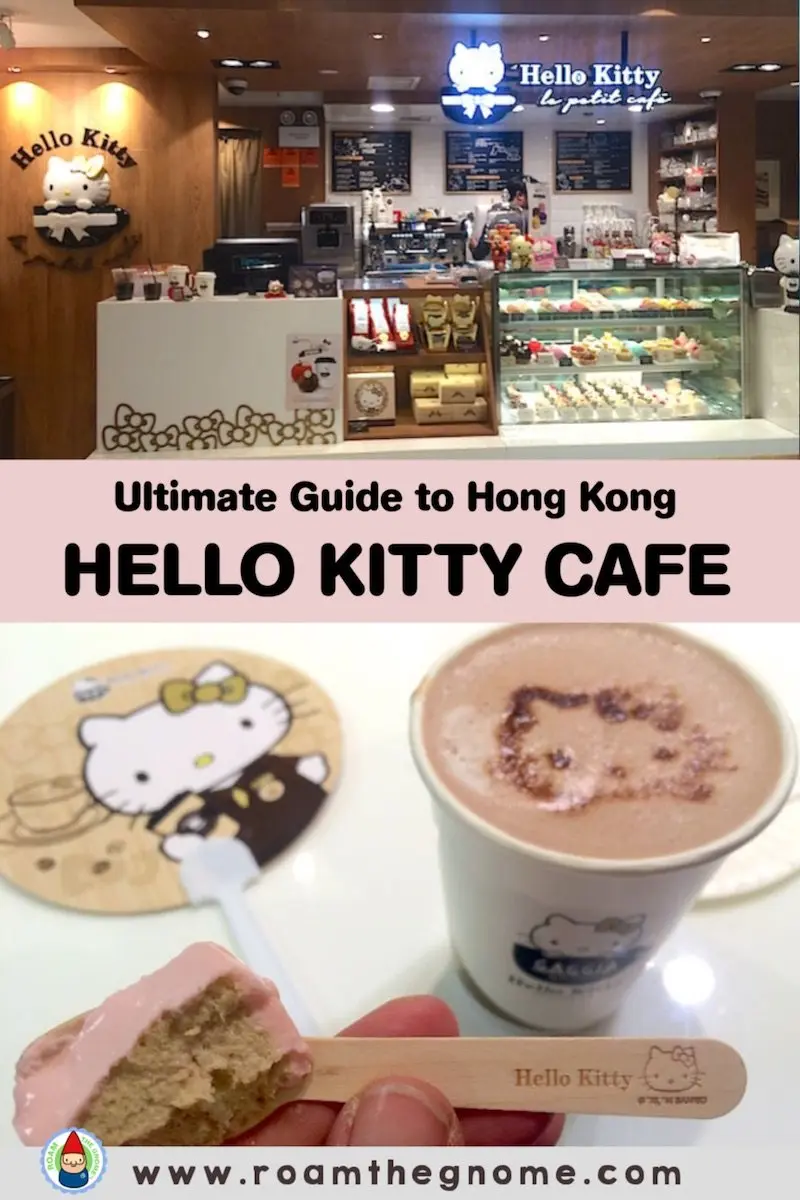 Shopping at SOGO
If you can find a minute for yourself, The SOGO Department Store is worth a wander too.
They stock all the BIG brands:
Burberry
Celine
Coach
Gucci
Hermes
OMEGA
Saint Laurent
Tiffany & co
Chanel
Dior
Estee Lauder
Georgio Armani and more.
Plus have floors and floors filled with lavish and luxe children's clothing, toys & stationery, leather goods, homewares and home furnishings, handbags, shoes, and fine craft supplies too.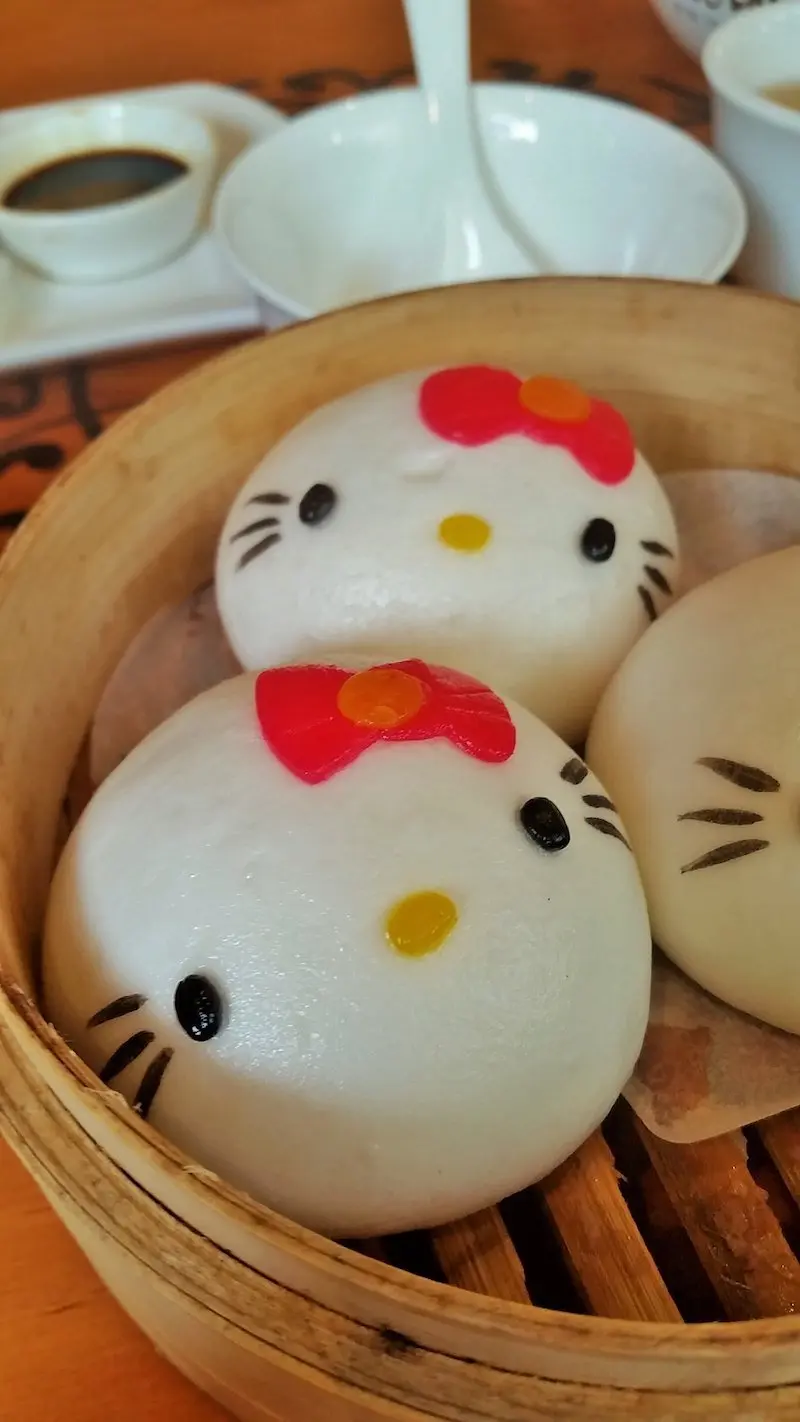 Image credit: Mike via Flickr CC BY-SA 2.0
More HELLO KITTY restaurants in Hong Kong
There are three other HK Hello Kitty cafe outlets and restaurants in Hong Kong. This is the smallest but the most accessible.
Otherwise, visit:
Le Petit Hello Kitty Cafe Hong Kong #2
2A Hart Ave, Tsim Sha Tsui, Hong Kong,
The Hello Kitty Secret Garden
The Hello Kitty garden can be found at 19 Ormsby Street in Tai Hang (Ph: 28082868)
The Hello Kitty Dim Sum Restaurant in Hong Kong
Want to try Hello Kitty Cuisine Hong Kong style?
Head here to this Hello Kitty themed restaurant for Hello Kitty Chinese cuisine with a difference!
My gosh, the Hello Kitty dumplings are CUTE!
Shop A-C, G/F, Lee Loy Mansion, No.332-338 Canton Rd, Yau Ma Tei, Hong Kong.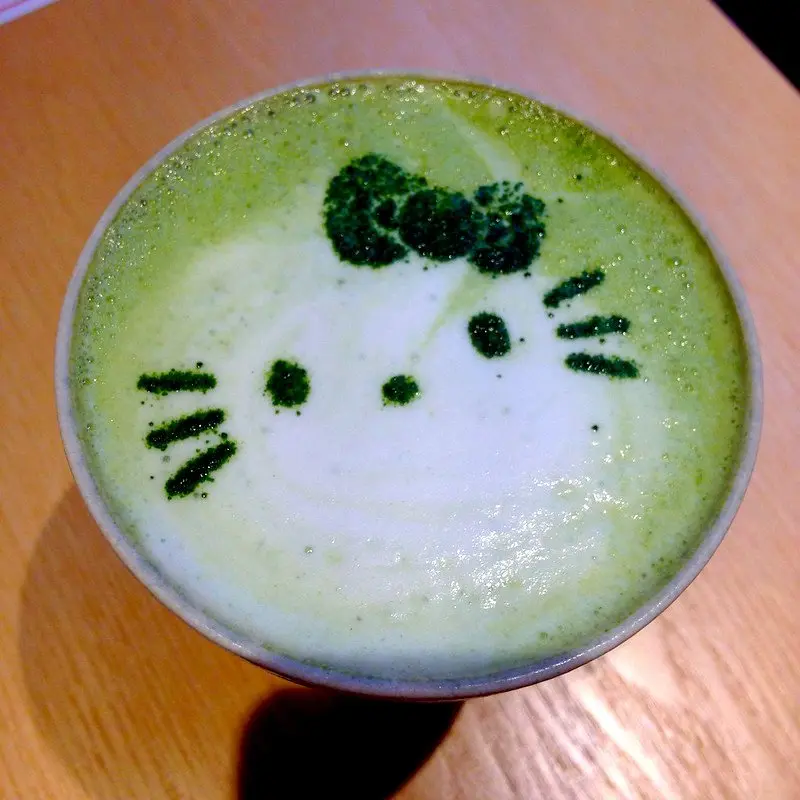 Image credit: Nina Childish via Flickr CC BY-ND 2.0
THE INSIDE SCOOP: Hello Kitty Hong Kong Cafe
Correct at time of publication on Roam the Gnome. Please check with venue for updates. We apologise in advance if there have been any changes we are unaware of. All prices in HK dollars, unless otherwise stated
Address: Shop 12B, B2/F, SOGO Department Store, 555 Hennessey Road, Causeway Bay
Telephone: 852-28318959
Website: n/a
Email: info@hellokittycafe.com.hk
Hello Kitty Cafe Opening Hours:
Officially, 10am till late (6pm ish)
The store opens at 10am and not a minute sooner.
Plan your visit for early in the day so that the food hall is not too crowded.
Hello Kitty Cafe Hong Kong prices:
It's not a cheap date!
Expect inflated prices because of the Hello Kitty logo.
But it's cute, and as a bucket list experience, why not?
How to get to Hello Kitty Cafe in Causeway Bay
Where is the Hello Kitty cafe, and how do I get there?
By MTR: The closest MTR station is Causeway Bay. Head to SOGO Department store – it's a one minute walk following this route.
Find the lift at SOGO Department store and make your way to the B2 floor, then wander the outside aisle of the food hall until you spy the Hello Kitty Cafe.
By Car: Click this link and add your departure point for directions
Parking:
Parking available onsite.
Redeem your purchases for a free parking coupon. (T&C's apply)
Map of Hello Kitty Cafe in SOGO Department Store
Toadstool Rating: Hello Kitty Cafe Hong Kong Causeway Bay
One for the Hello Kitty fans!
And our hot tip is to not miss the Hello Kitty Dim Sum restaurant either.


Facilities at SOGO Department Store
Toilets
Public Telephones
Baby change table in the nursery corner
Looking for More Things to Do in Hong Kong with Kids?
Click the blue links below for more Hong Kong attractions on Hong Kong Island, Kowloon, The New Territories and Lantau Island