INSIDE: Looking for the Best Shibuya Cafe? Visit the Tokyu Hands Cafe Shibuya to enjoy a Japanese cafe with a difference.
The Best Shibuya Cafe to put your feet up is inside Tokyu Hands Shibuya.
This Cute Japanese Cafe is a Shibuya Cafe, Gallery Space and Workshop space all in one.
Disclosure: This article contains affiliate links. If you make a purchase after clicking on one of these links, we may receive a small commission at NO extra cost to you.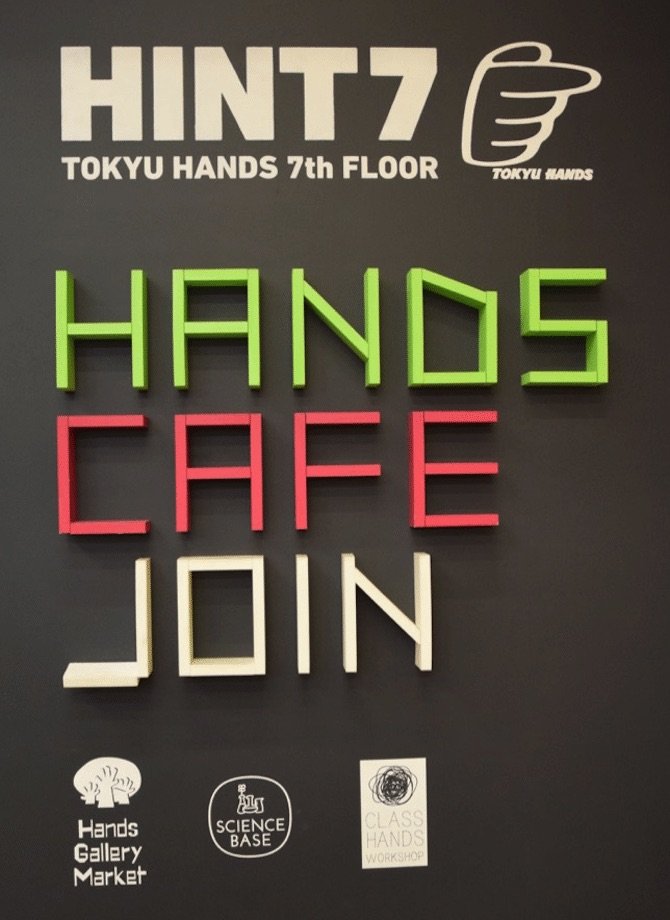 Guide to Eating at Tokyu Hands Cafe Shibuya
When you've had enough of Shibuya shopping, and need a cup of tea boost, head to the elevator in Tokyu Hands Shibuya and take it right to the top.
The Tokyu Hands Cafe inside Tokyu Hands Department Store is on the 7th floor.
The concept of HANDS CAFE is to "SHAKE HANDS".
Hands Cafe Shibuya has been designed as a place where customers and staff can build a new community together, using creativity and imagination as the powerful force to birth new ideas with each other.
This is a place where you can join in a workshop using a variety of materials to learn new skills and create fun projects together.
---
RELATED: Big List of the Best Things to do in Tokyo With Kids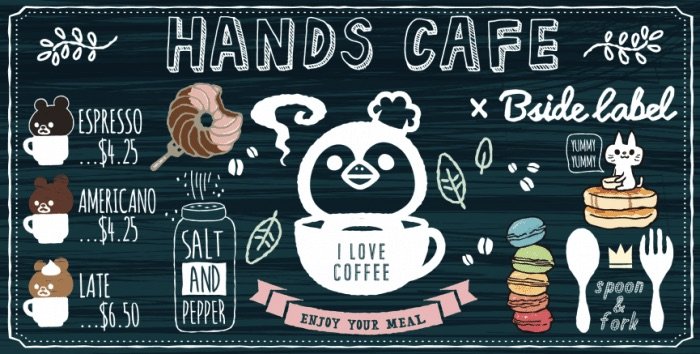 Tokyu Hands Cafe Menu at Tokyu Hands Shibuya
The Hands Gallery & Hands Cafe is on the 7th Floor of Tokyu Hands Shibuya.
Customers to the store can eat a wholesome meal from the self-service café, , and grab a gift or a trinket for themselves on the way out.
The Hands Cafe drinks menu includes:
Ice coffee
Cafe Latte
Ice Cafe Latte
Espresso
Earl Gray tea
Ice Earl Gray tea
Darjeeling tea
Green Asian shower – Green apple and lemongrass soda
Melon soda
Coffee Float
Cream soda
Hot Cocoa
Ice cocoa
Beer
The Hands Cafe menu includes:
Simmered Egg Omelette rice with demi-glace sauce
Salmon and Avocado Bowl with Wasabi
Pasta with chorizo and cream sauce
Peperoncino of chicken and broccoli
Side dishes include French Fries, Fried chicken and Smoked chorizo
They have a kids set menu too, including sweet curry rice, hot vegetables, fried potato wedge, octopus-shaped sausage, and vanilla ice cream.
If you are looking for good places to eat in Shibuya, head on up.
The Hands Cafe Sweets Menu for dessert includes:
Thick Fluffy pancakes with berries
Thick Fluffy pancakes with maple syrup & whipped cream
Coffee and Chestnut of Mont Blanc Cake
Pound Cake with Royal Milk Tea flavoring
Matcha green tea and black sesame Japanese-style cake
Florentin Pie Millefeuille Style
Mango & Peach Trifle
Ordering a meal at the Japanese coffee shop, Hands Cafe Shibuya, and shopping for handmade products while you wait for your meal to arrive, is a dream scenario for crafty visitors to Japan.

Tokyu Hands Cafe Limited Time Collaborations
Some Hands Cafes also offer limited time collaborations with some of Japan's unique brands, such as the Pickles the Frog or Funassyi.
While not known as one of the themed cafes in Tokyo, they do sell very cute food from time to time.
Take a look at the Hands Cafe Facebook page to see what's currently in store. (see below)

Tokyu Hands Cafe Craft Workshops at Hint7
Part of the floor space at Hands Cafe Shibuya is shared with Hint7 workshop area.
At HINT7 on the 7th floor of Tokyu Hands Shibuya, there is a Science Space for displays of succulent plants and science supplies, and workshops of all kinds.
The best bit for craft lovers amongst us is that we can join in too!
It's a fully-equipped place to play with and gather creative ideas and try new things.
Ask in-store about their workshop schedule, or check the Hands Cafe Facebook page for event details.
Workshops are in Japanese, but most crafty people will be able to get the gist and follow along using gestures and sign-language!
Japan, Land of Handmade Goodness
Japan, more than any other country we've been to, has been embracing the ethos of handmade goods forever.
As a culture, Japanese people are known to revere quality and durability, presentation and aesthetics, and the abilities of the human hand to create beautiful things.
Spending time in Japan with a family as a 15 year old, and again as a 19 year old, I observed the care and time taken with every little task done by hand.
Three things caught my attention:
How a Japanese mother presented the food in her children's bento lunch box
How a Japanese sister sewed a tiny felt character doll
How a Japanese friend decorated a linen sunglasses case with perfectly symmetrical Sashiko embroidery
In recent years, handcrafts have boomed in popularity across the world, and in Japan, just like elsewhere, women (and men) are returning to the simple crafts and hobbies that their grandmothers (and grandfathers) held dear.
At Tokyu Hands Shibuya branch, the Hands Cafe Gallery (attached to the Hands Cafe) is a space for professional and amateur creators and makers to display and market their goods for a limited time.
It's exciting to see giant corporations and department stores harnessing this maker energy and acknowledging it by providing creative spaces for makers to sell their goods.
The Tokyu Hands Tokyo Shibuya Shopping Store Guide
Of course, you can't visit the Hands Gallery Market at Tokyu Hands Department Store without checking out the rest of this unbelievable shop.
Work your way down BY THE STAIRS, so you don't miss a thing!
Take a peek inside Tokyu Hands Shibuya below to get an idea of just some of the things you can buy.
READ MORE: A Comprehensive Guide to Tokyu Hands Store departments (Ikebukuro)
No.1: Hardware
No.2: Japanese pens & Japanese stationery
No.3: Japanese Food and Japanese Candy
No.4: Japanese Drinks
No.5: Random Japanese Kitchenware
No.6: Indoor Plants & Garden
No.7: Japanese Bikes
No.8: Japanese posters and signs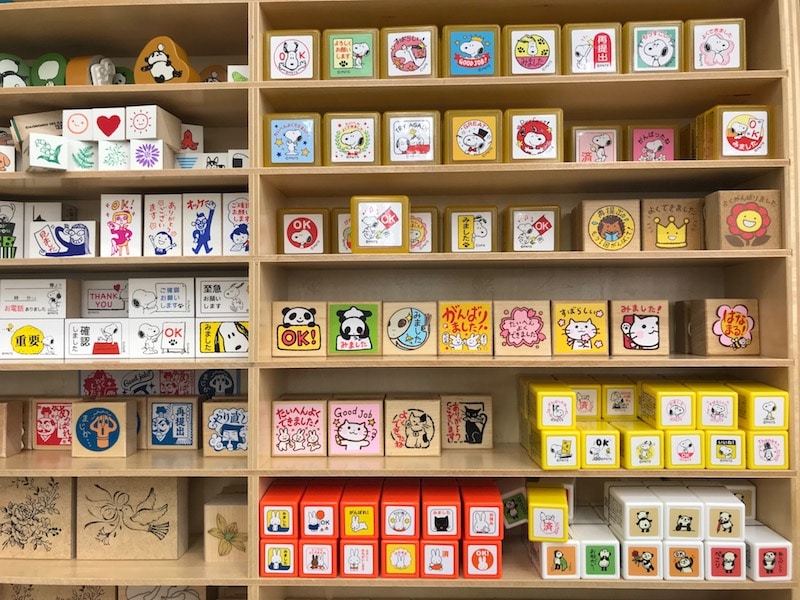 No.9: Japanese craft supplies

No.10: An endless supply of MT WASHI TAPE!

No.11: Keyrings and notebooks
No.12: Japanese stickers
THE INSIDE SCOOP: Tokyu Hands Cafe in Shibuya
Correct at time of publication on Roam the Gnome. Please check with venue for updates. We apologise in advance if there have been any changes we are unaware of. All prices in yen, unless otherwise stated
Address for Hands Cafe in Shibuya: 12-18 Udagawa-cho, Shibuya-ku, Tokyo
Opening Hours for Hands Cafe: 10:00~20:30
Telephone: (+81)03-5489-5111(auto responder)
Hands Cafe Website: Click here
Tokyu Hands Shibuya Website: Click here
How to get to Tokyu Hands Shibuya
By Train: TBC
By Foot: 7 minutes on foot from Hachiko Exit of Shibuya Station
Map of Hands Cafe Shibuya
Toadstool Rating: Hands Shibuya
We love Tokyu Hands Shibuya Cafe because who doesn't love it when a shop supports HANDMADE and hand-makers?
10 Toadstools to the Management for this venture.

Looking for MORE SUPER DOOPER FUN places to visit in TOKYO?
Click the links in blue below for more Tokyo tips