INSIDE: Everything you need to know about Best Auckland Markets, plus Craft Markets and Farmers Markets in New Zealand.
We LOVE markets.
Especially CRAFT and handmade markets.
We plan our travel itineraries to ensure we will be in town on the weekend to visit the best local markets to find unique hand crafted treasures.
New Zealand markets, especially the ones with the added bonus of local food producers showcasing their delicious wares, are up there with some of the best markets we've ever been to.
Take a look at our guide to craft & handmade markets in Auckland, Wellington, Christchurch, and more (& Farmers markets too) below.
Disclosure: This article contains affiliate links. If you make a purchase after clicking on one of these links, we may receive a small commission at NO extra cost to you. Main image – Queenstown markets by AnneHsiao.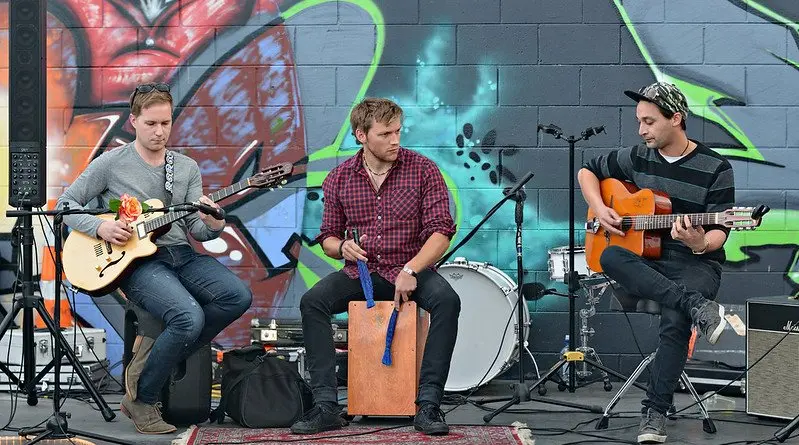 Image credit: Ben via Flickr CC BY ND 2.0
THE INSIDE SCOOP: Guide to the Best Markets and Fairs in New Zealand
Correct at time of publication on Roam the Gnome. Please check with venue for updates. We apologise in advance if there have been any changes we are unaware of. All prices in NZ dollars, unless otherwise stated
We've gathered the best of the best markets from around New Zealand including the best craft markets Auckland has to offer, and we've put them all right here, so you can bookmark them to visit too.
Happy market shopping!
Image credit: Xiquinhosilva via Flickr CC BY 2.0
BEST AUCKLAND MARKETS SATURDAY & SUNDAY
The best markets in Auckland start here.
If you love markets, you might also love this giant list of the best New Zealand craft cooperatives and art galleries selling original New Zealand art and handmade goods.
---
RELATED: The Best New Zealand Artist Cooperatives & Art Gallery Shops in New Zealand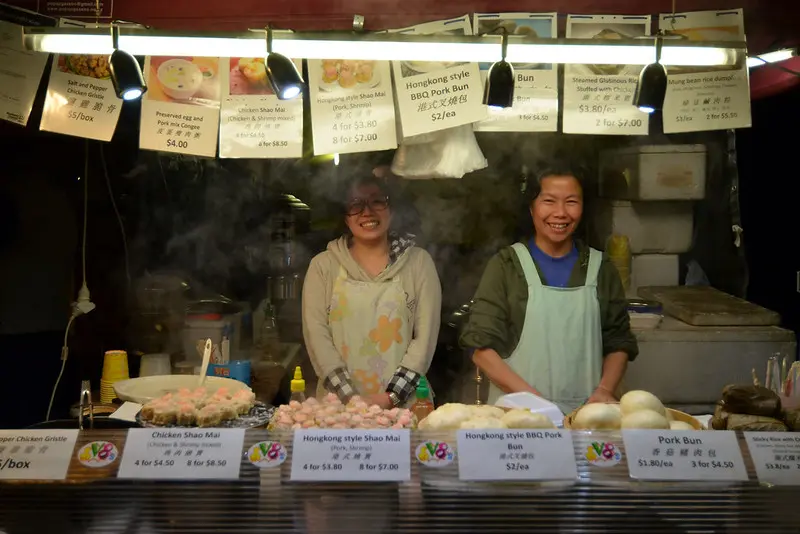 Image credit: Jamjar via Flickr CC BY 2.0
No.1: Auckland Night Markets
Every single night of the week, you can visit the best Auckland markets – the Auckland Night Market in the CBD!
These undercover all-weather markets are held in different locations around the city all week long.
There's FOOD.
These Auckland food markets have tonnes of street food stalls selling Thai, Chinese, Vietnamese, Japanese, traditional Kiwi delicacies and more.
There's something from every region in the world.
Find fashion, toys, and entertainment.
The atmosphere buzzes!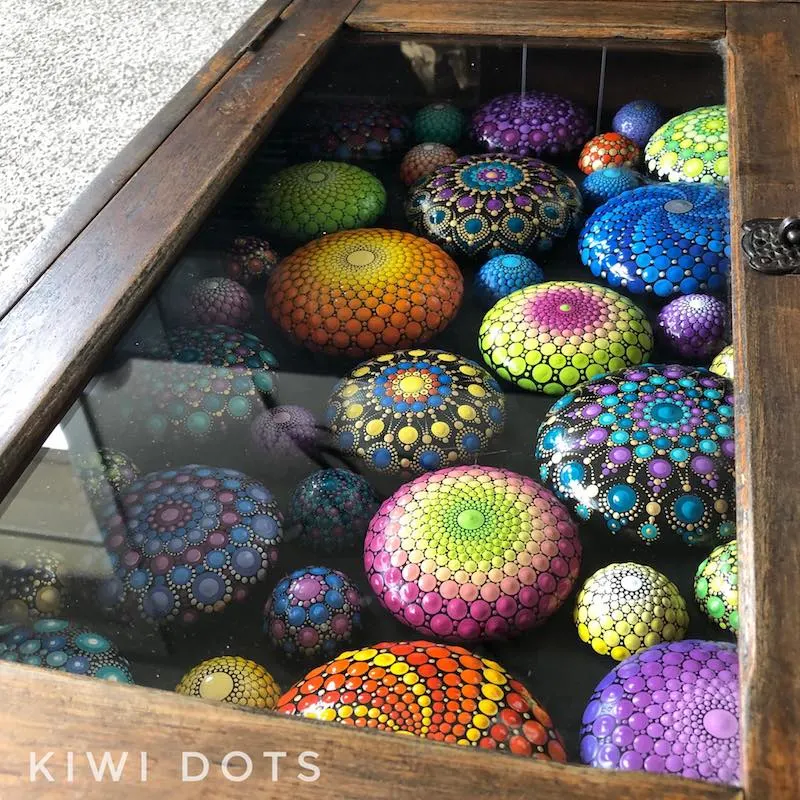 Image credit: Kiwi dots, Crafternoon Tea Albany market
No.2: Crafternoon Tea Market
Crafternoon Tea Markets are a boutique market brand featuring the best of New Zealand made, including:
Kauri wooden bowls
plants and hangers
handmade soap
cool glass necklaces
NZ designed jewellery
beauty products, skin care
handmade sandwich wraps
book bags
jams and pickles and sauces
toys and handmade sock puppets, and
the most beautiful painted stones by Kiwi Dots.
Look out for the super cute 'book rooms' at these delightful Auckland markets!
Meet the New Zealand artists and makers, join a crafty workshop (string art, or kodetama making anyone?), and hang out with like-minded people while enjoying a few hours of unique New Zealand shopping.
Plus there's hot chocolate, soup, sweet treats and some of the best New Zealand gift shopping.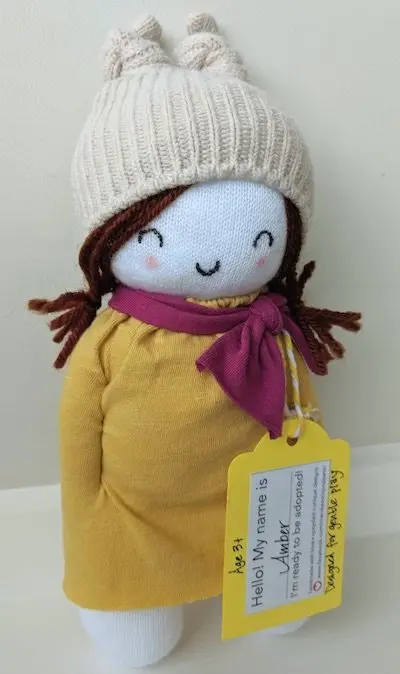 Image credit: Manika upcycled sock puppet
Markets dates
Albany NZ Made Market: Shopping & Food trucks. 1st Saturday of the month. Albany Hall, corner of Library Lane, Albany
Kingsland Makers Market: NZ arts and crafts. 3rd Saturday of the month. Trinity Hall. 400 New North Rd, Kingsland, Auckland 1021
Grey Lynn NightMarket: food, shopping, music. Grey Lynn Community Centre. See website for dates.
Pop Up Big Design Market: See website for dates and locations.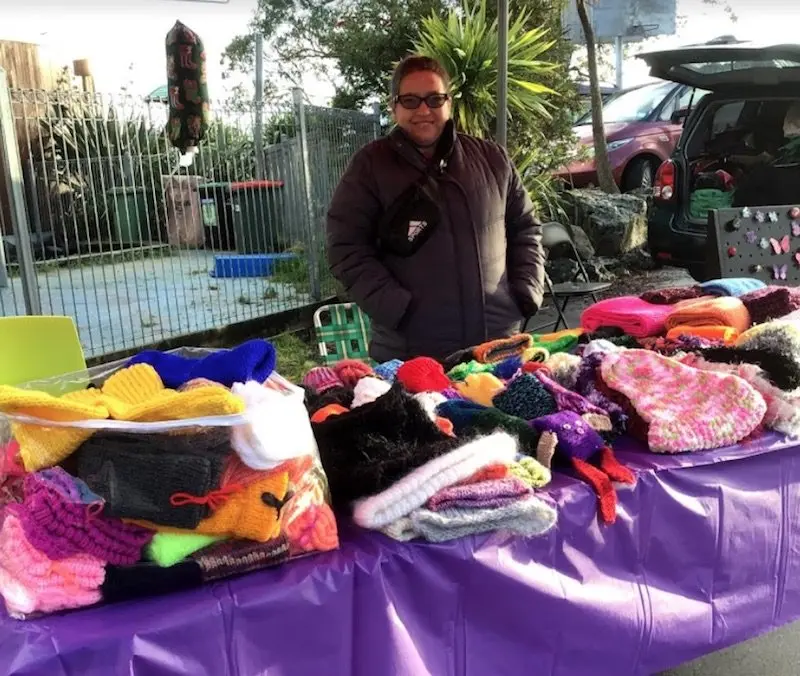 Image credit: Rachel Hubber
No.3: Wesley Auckland Market
Auckland's largest flea and food market, with tonnes of treasure hunting options.
These flea markets in Auckland have stalls selling new and used clothing, toys, bric a brac, electrical, produce, garden tools and more.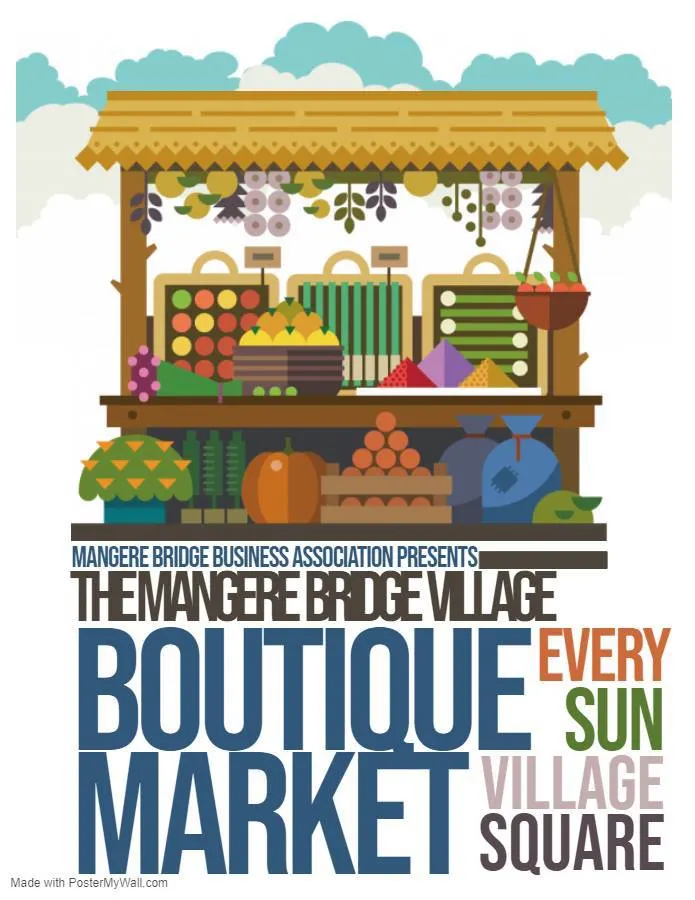 No.4: Mangere Bridge Boutique Markets
This is a sweet community market, with stall holders selling everything from:
scented diffusers
fun tea pots
fresh flowers and plants
freshly baked New Zealand biscuits, cakes and slices
minerals and crystal
jewellery boxes & handmade jewellery,
plus awesome food stalls and fresh produce.
Stop by these Auckland Sunday markets for a lovely morning adventure.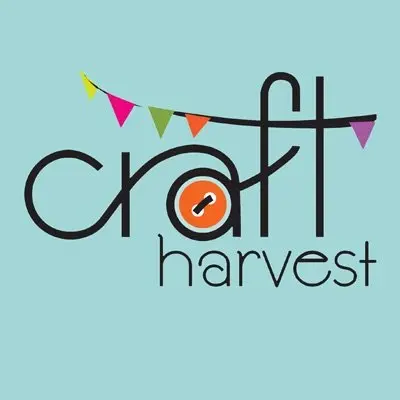 No.5: Craft Harvest Markets
A monthly market for craft and handmade goods, next to the Parnell Farmers Market.
Look for the gorgeous Kuros Craft stall selling beautiful needlefelted cats and dogs!
Anna, the Stitch Girl sells soft baby books, cloth sandwich wraps, hair scrunchies, baby bibs, aprons and wet bags for swimming gear.
These Saturday Auckland markets are a delight.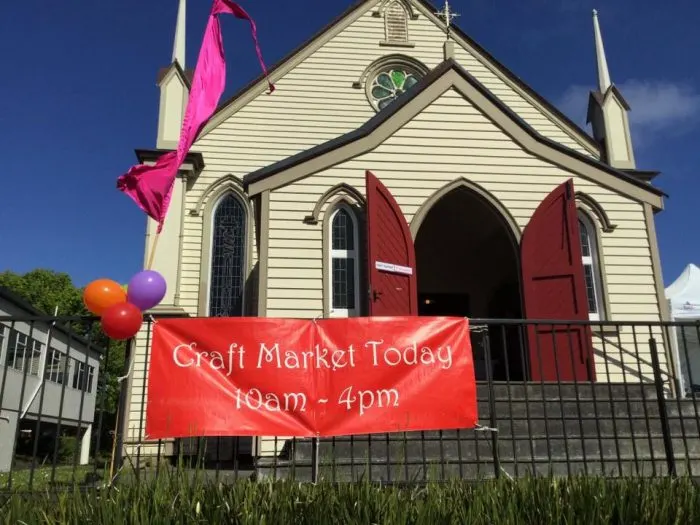 No.6: Mt Eden Village Craft Market
Handcrafted goods from around 50 local crafters.
Second Saturday of each month from 10am to 4pm.
These Auckland Saturday markets are quaint, with an oldie worldie feel.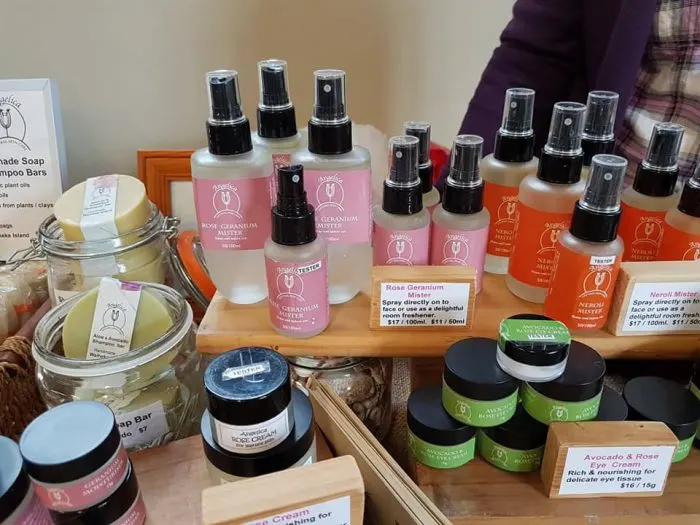 No.7: Waiheke Ostend Market
A fun friendly, vibrant, diverse and interesting place for young and old and people from all walks of life with stalls inside the hall, and on the reserve.
Bring your empty tummies to eat burgers, samosa's, pizza, local breads and pattiserie, crepes, hungarian bread, and yummy Turkish fare.
Pick up all your New Zealand souvenirs:
local art, crafts and cards
organic skincare products and soaps, and
award winning books by local authors.
There's jumping castles for kids, lucky dips, and storytelling too!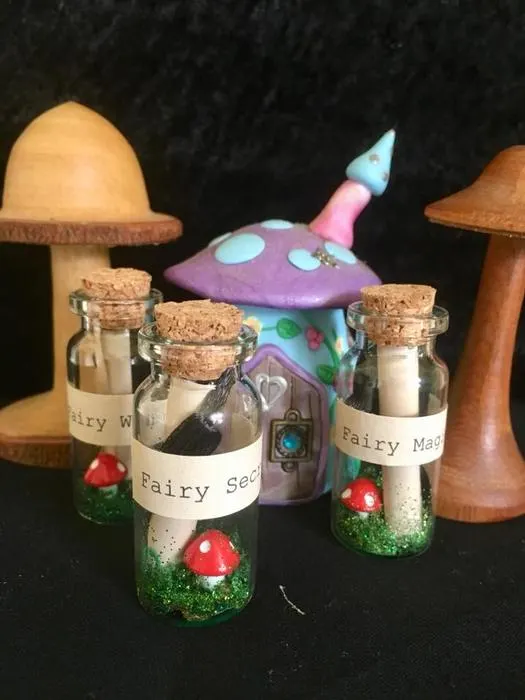 Image credit: General Collective
No.8: General Collective Market Day
THESE are the markets for design lovers, and modern crafters.
Check out their amazing vendors and some of the best, most original products ever seen at a market.
They have FOUR different Auckland markets to choose from:
General Collective Lifestyle and Design market
the General Collective Boutique market
the Connect market, and
the General Collective Kids Market too.
Take your pick!
Hot tip: Read our guide to the best things to do in Auckland with kids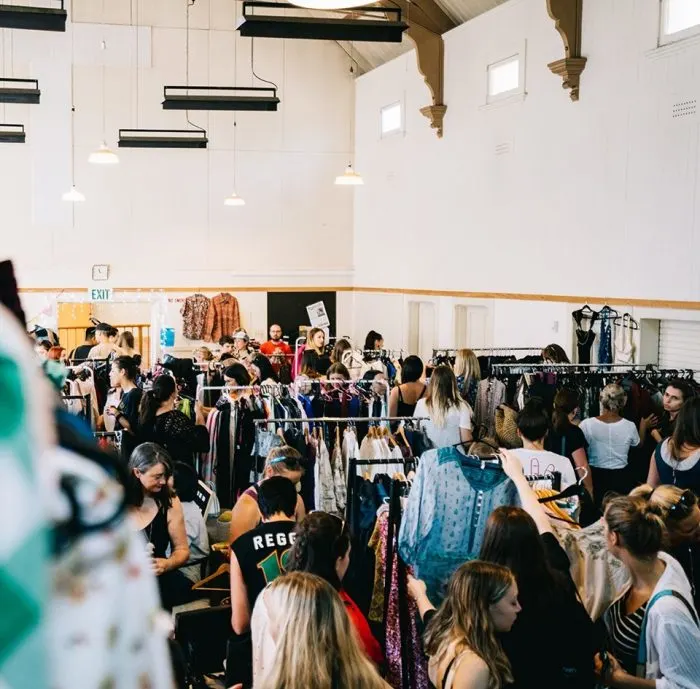 Image credit: Slow Saturdays
No.9: Slow Saturdays
A sustainable market for lovers of pre-loved fashion.
Rummage through this pre-loved clothing market and find bargain buys to keep your wardrobe fresh. Cash only.
MORE Auckland Weekend Markets
Just in case you are still looking for a creative market in Auckland, google these to add to your Auckland shopping guide.
Coatesville Country Market – 100 odd stalls, with Auckland street food, jewellery, fashion, homewares, and art on the 1st Sunday of the month.
Birkenhead Artisan Market
Manly Village Markets
Titirangi Village Market
Avondale Sunday Market
Otara Flea Markets
Howick Village Market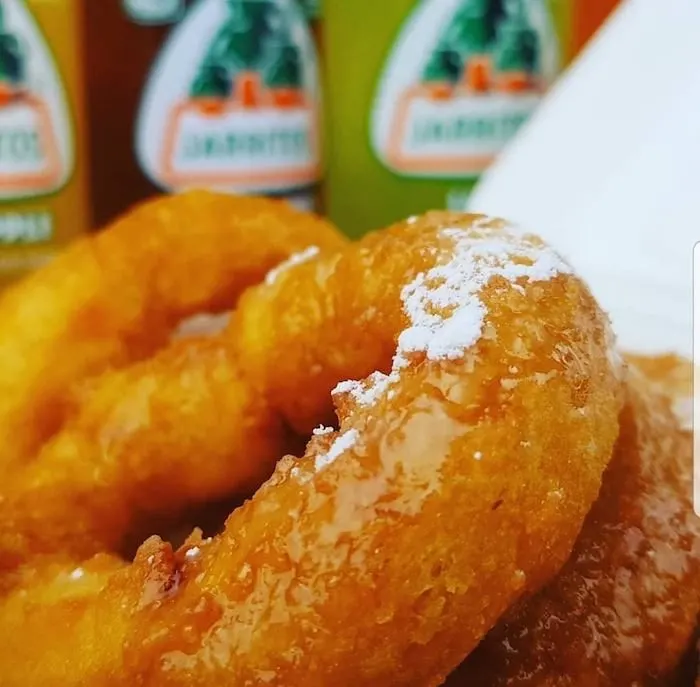 Image credit: Rotorua Night Market
BEST ROTORUA MARKETS
No.1: Rotorua Night Markets
Rotorua Night Markets have a small selection of handmade New Zealand crafts but it's more about the food trucks.
There's sweet and savoury food from around the globe, including traditional New Zealand 'kai' (dinner).
Pumpkin donut anyone?
Enjoy entertainment and music to boot.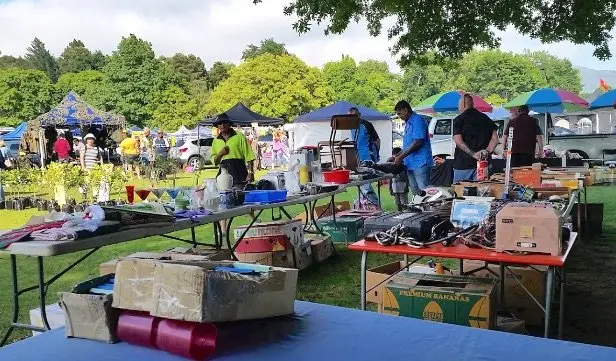 No.2: Rotorua Soundshell Craft Market
30 years strong, the Soundshell market in Rotorua has it all.
handmade crafts
bric a brac and collectibles
fresh flowers and plants
clothing, knitwear, scarves, beanies
hand carved Maori statues and jewellery
greenstone and paua jewellery
handmade soap
Kauri and Rimu timber homewares
second hand goods
cakes, baked goods, and if you are lucky – pavlova!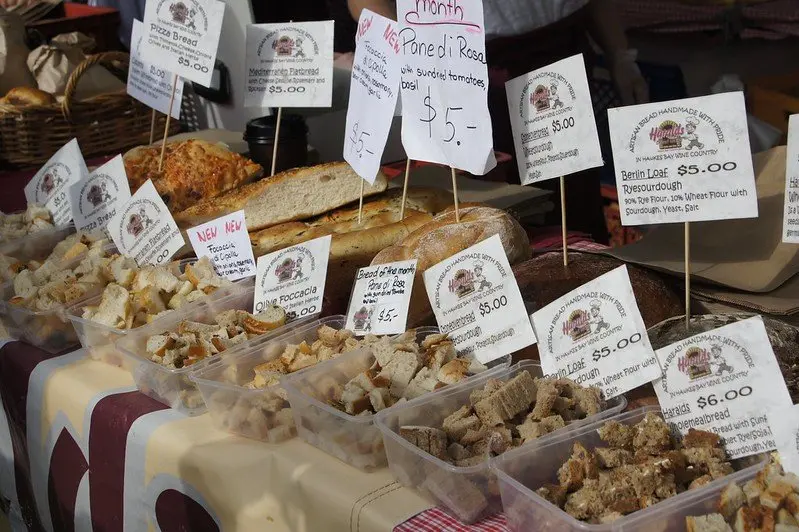 Image credit: itravelNZ via Flickr CC BY 2.0
BEST HAWKES BAY MARKETS
No.1: Hawkes Bay Farmers Markets
The Hawkes Bay Farmers Market at the Hastings Showground is not to be missed.
Take a look at our review here.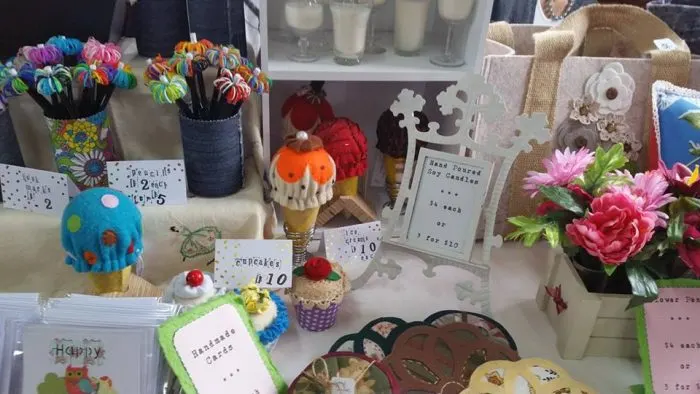 Image credit: Magpie Markets
No.2: Magpie Market Napier
The best craft market in Napier is the Magpie Market. This all weather indoor market is held on the first Saturday of the month in the Meeanee Hall.
This is a lovely community market, similar to a church fete, or school fair.
Find:
original art
beautiful crafted pieces – decoupage hearts, lace, hand warmers, cameo pendants, kids beanies, New Zealand wool
jewellery
hand-made chocolates
beauty products, soap, handwash, skincare,
toys
Kiwiana homewares
collectibles and curios
gourmet oils, bottled sauces, local honey, dukkah, garlic infused salt, garlic pepper, white and red wine stock, jam, pickles, recipe books
beeswax wraps and other beeswax products including beeswax and lavender furniture polish
books, and
clothing.
Enjoy a coffee and a treat from Heaven's Bakery Caravan. Keep the kids happy with a sausage sizzle.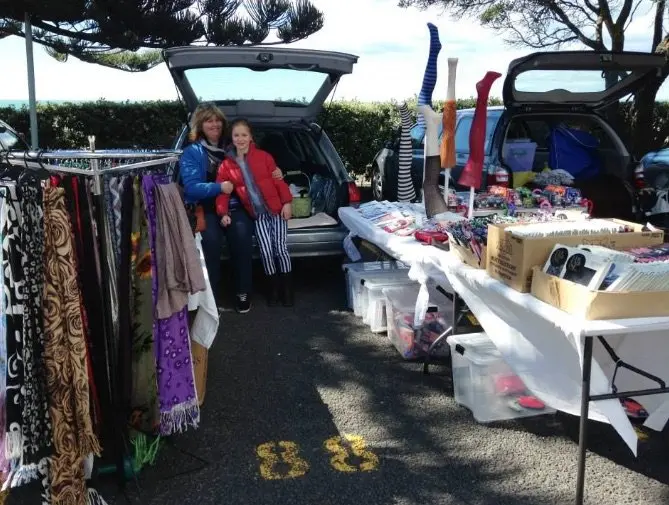 Image credit: Napier Sunday Market
No.3: Napier Sunday Market
60+ stalls line up inside the Marine Parade Domain to share their wares with visitors and locals.
Find collectibles and bric a brac, local handmade crafts, arts, homewares, fresh fruit and veg, t-shirts, food stalls and coffee!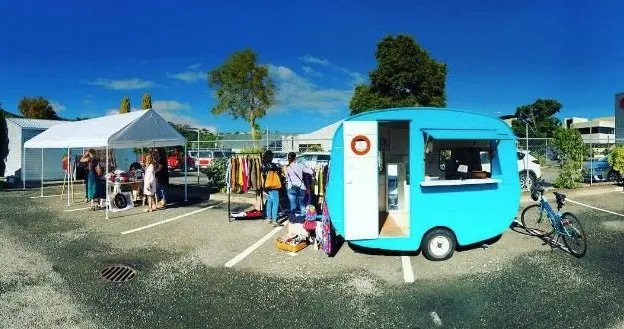 Image credit: Sarah Bell
Other Markets & Fairs in Hawkes Bay
There are other markets and fairs held in the Hawkes Bay region.
Some are monthly, others happen once a year.
Google search these markets for current dates:
The Ossian Street Vintage Market for vintage, collectibles and secondhand goods. Last Sunday of every month. 9-1pm. Ossian St, Ahuriri.
Napier Wellbeing Market
Tahaenui Christmas Fete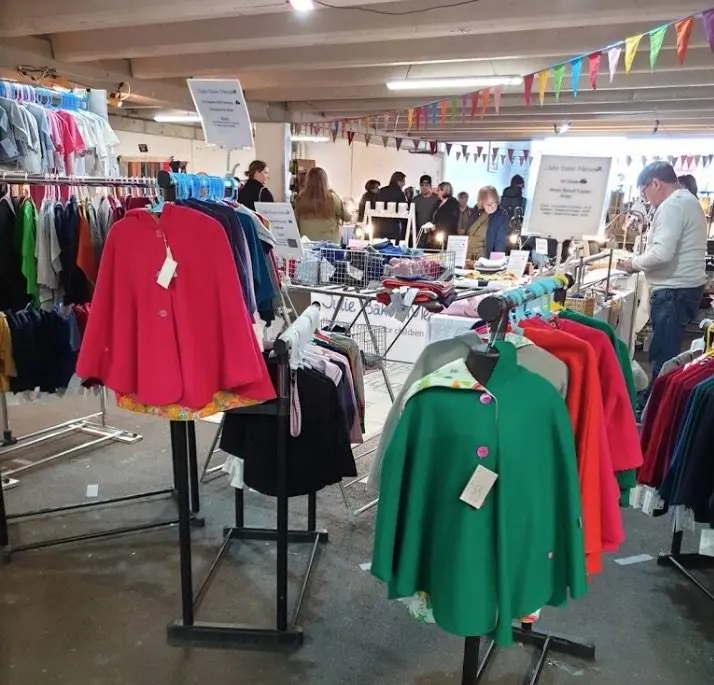 Image credit: Kin Kin
BEST WELLINGTON MARKETS
No.1: Wellington Underground market
All weather undercover market in Wellington.
Rainbow bunting brightens up this dreary space, and the atmosphere bubbles happily away.
Find:
clothes, and capes
sheepskins and sheepskin boots,
handmade tote bags, shoulder bags
art prints, Wellington city art
antiques, curios, lamps
silver jewellery
Latin hot sauces
Maori art and crafts
glass art
toys
sleeping cat ornaments,
plus Kiwiana souvenirs of all shapes and sizes.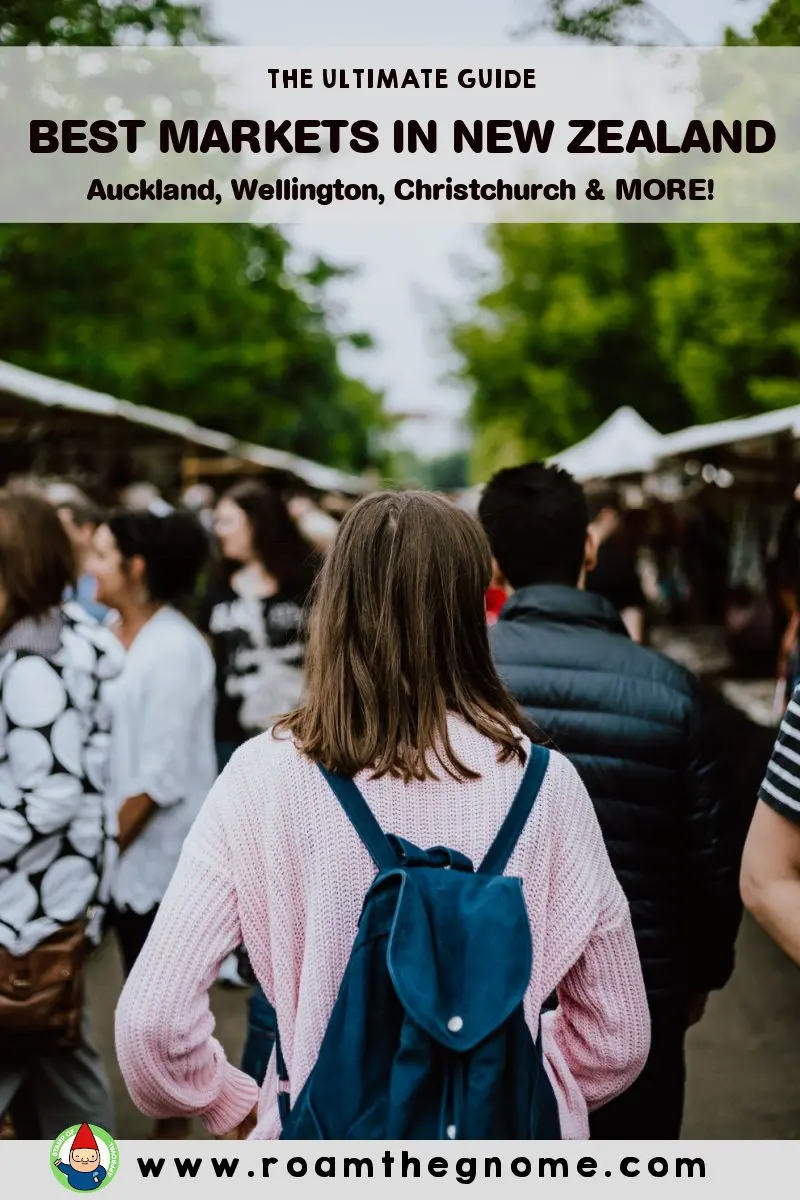 Look out for the brightly coloured coats made from pure NZ wool blankets!
Plus there's a whole bunch of food stalls selling Chilean, California sushi, Candyfloss, paella, pizza, and sweet baked goodies.
You can even walk away with a henna tattoo, or freshly threaded eyebrows.
Supporting local artists, designers and small businesses.
Look out for the Underground Market Showcase Weekends (held over three different weekends each year, on both Saturday and Sunday), and the Wellington Christmas markets held in the four weekends before Christmas (also both days.)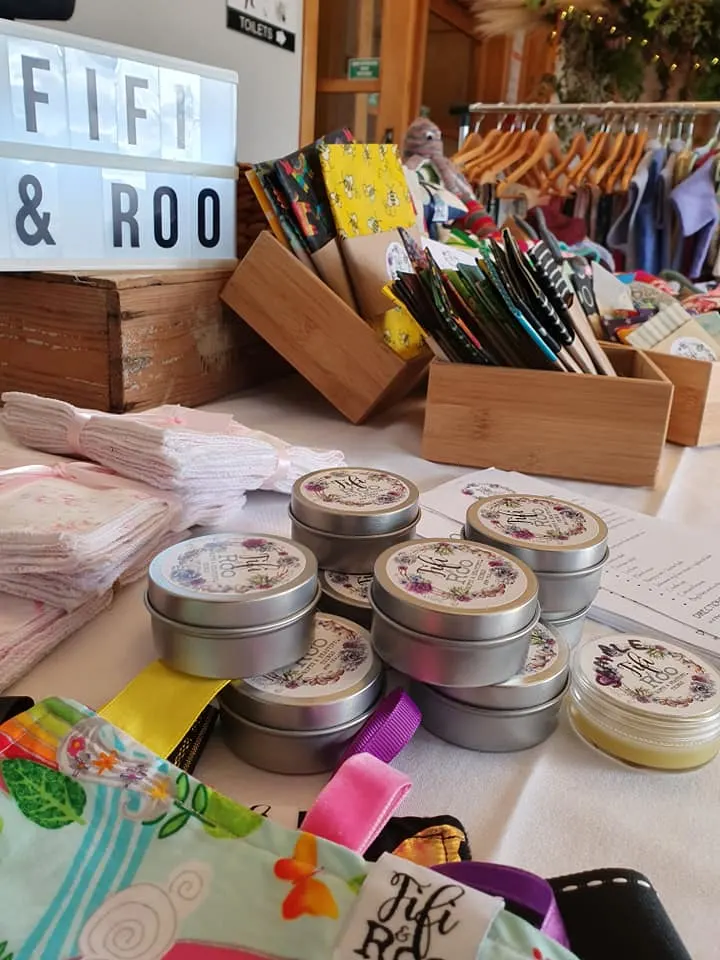 Image credit: Craft Central Wellington markets
No.2: Craft Central Markets Wellington
Craft Central brings affordable, artisan, locally handcrafted products to you through amazing markets.
With free workshops, imagination stations for the kids, food and live music on site it is a great day out for everyone.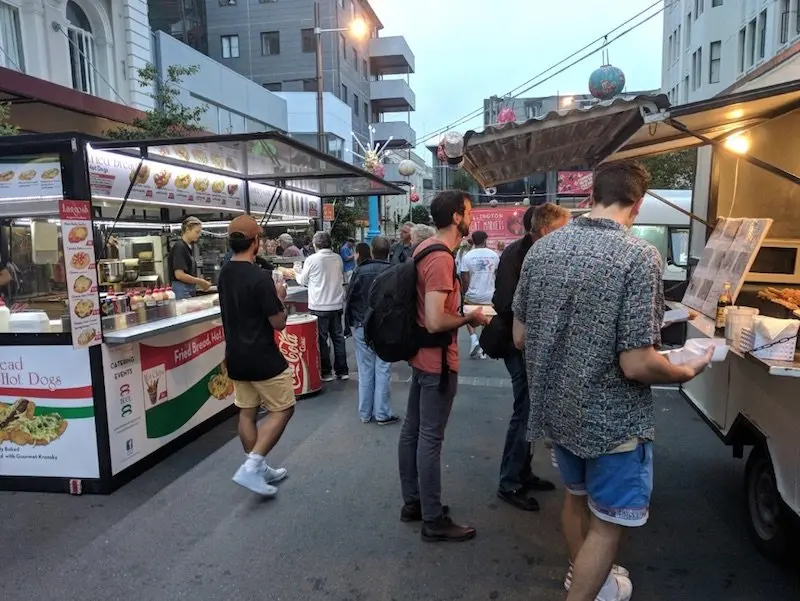 Image credit: Mike Riversdale
No.3: Wellington Night Market
A street food market with a fun vibe, and live music, this is discovering Wellington through your plate.
Try BBQ pulled pork baps, Korean kimchi cold noodle salad, a butter chick wrap from Roti Bay, samosas, Vietnamese pho, a Boom burger, and finish with a delicious waffle with ice cream and caramel topping from Wafflicious!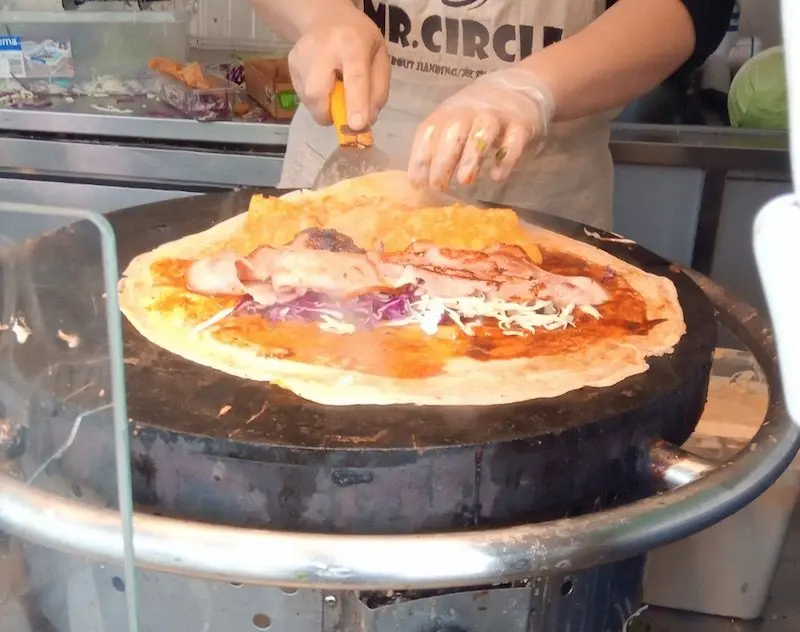 Image credit: Lee Banyard
No.4: Harbourside Market Wellington
Harbourside Market is the oldest and most popular market in Wellington.
This farmer's market has:
Vegetables, Fruit, Herbs, Flowers
Fresh Fish, Modern Deli Meats
Bread & Confectionary
Fresh Cheese
Preserves and Chutneys
Nuts, Eggs
Homemade Cordials
Handmade Chocolates
Hot tip: Read our guide to best New Zealand Chocolate & Artisan chocolates
Skip breakfast and wait until you get here.
There's delicious hot foods & proper coffee to wake you up.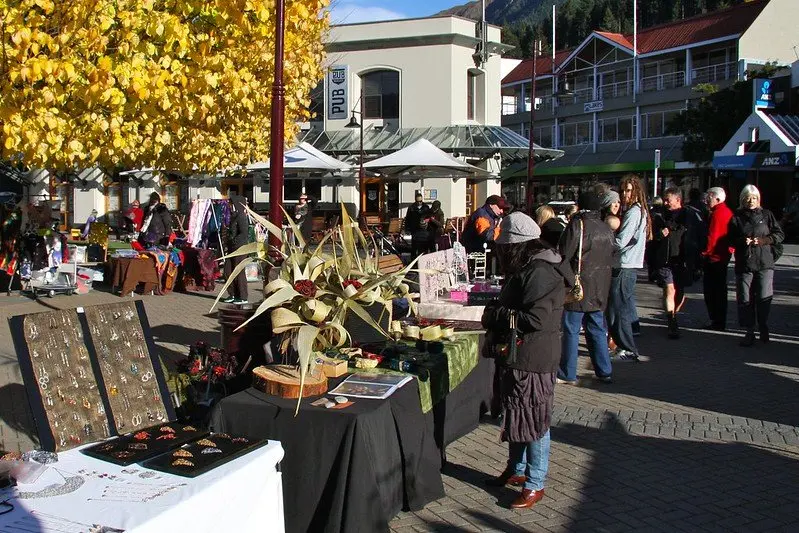 Image credit: itravelNZ via Flickr CC BY 2.0
BEST QUEENSTOWN MARKETS
No.1: Remarkables Market Queenstown
Small weekly market with local artisans offering local produce, takeaway foods, crafts, gifts and New Zealand souvenirs.
Enjoy live music, and enjoy a brunch of coffee and street food from the market, surrounded by the spectacular scenery!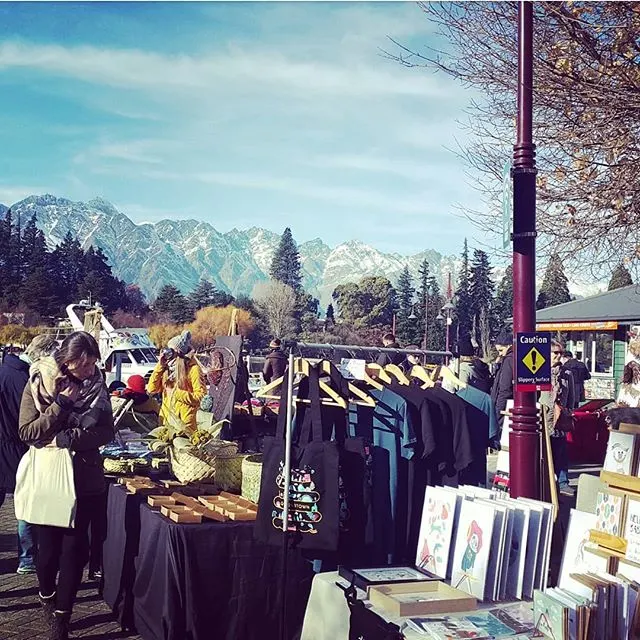 Image credit: Queenstown Market Gallery
No.2: Creative Queenstown Arts and Crafts Markets
A wide reaching market with artists and crafters coming from around the South Island, from as far away as Nelson, Christchurch, Dunedin, Invercargill and the West Coast to sell their quality handmade Art and Craft.
Find:
Art, photography
Maori carvings
Wooden homewares
Metal arts
Fibre arts
Jewellery, soap, skincare
Pottery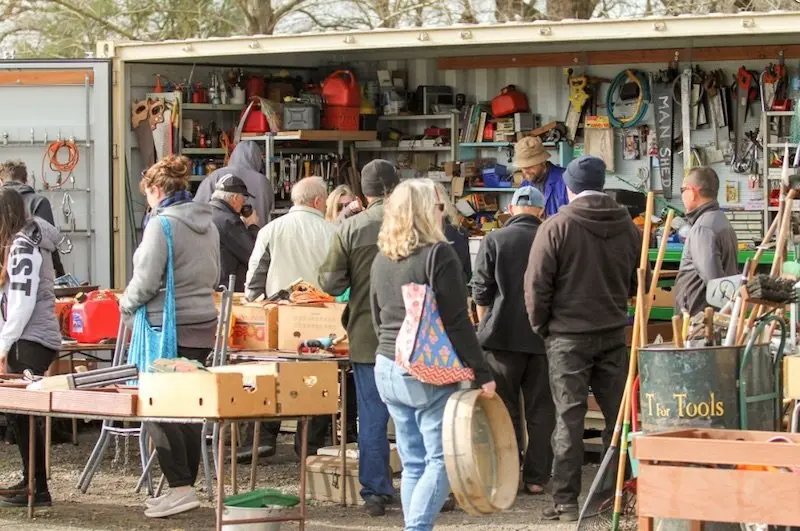 Image credit: Riccarton Markets
BEST CHRISTCHURCH MARKETS
No.1: The Riccarton Market Christchurch
Riccarton Market is New Zealand's largest outdoor market with 200 stalls. It's a major Christchurch tourist attraction.
Find all kinds of treasures and the odd bargain including:
fresh fruit and vegetables
second hand goods
furniture, clothing
art and wooden height charts from Little Miss Viking
handmade soaps, teas, oils, and body scrubs from Naturalus
plants and trees
wrought iron gates
Handcrafted hats, scarves and shoulder shawls from Treasured Items
food and beverages.
Take a look at the variety of their stall holders!
Entry, parking and entertainment is free.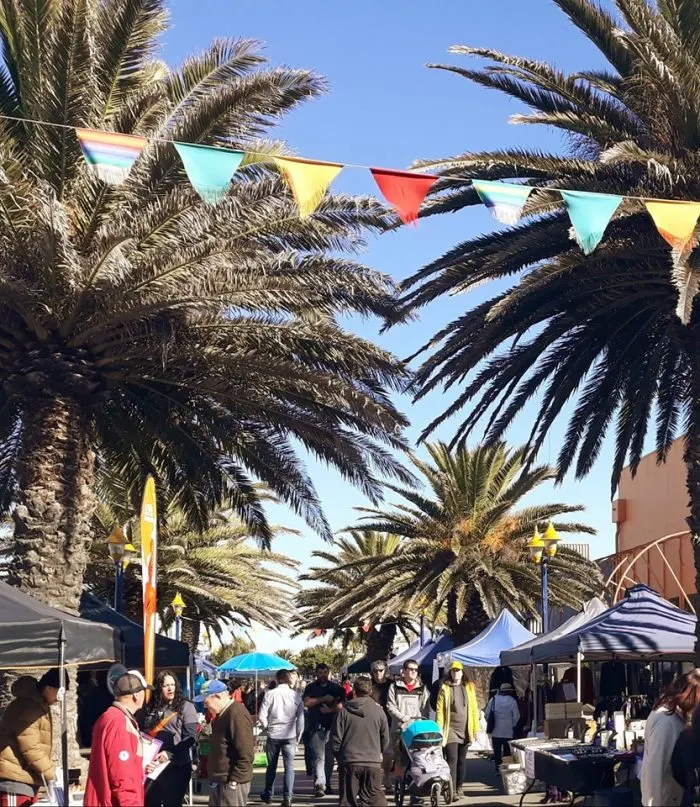 No.2: New Brighton Seaside Market
New Brighton Seaside Market has a warm & enjoyable atmosphere.
With live entertainment, delicious food, a great variety of stalls, events, games and activities for the littlies and free face painting.
Look out for:
Angie's German baking
Jerry and George's Artisan Bread
Canadian doughnuts
Hangi foods
Kevin's pounamu greenstone jewellery
Ginny's natural bath products
Malaysian noodles
Kuya Boy's BBQ
Aunty Bees wax wraps
knitted bears and toys
Stone Artz carvings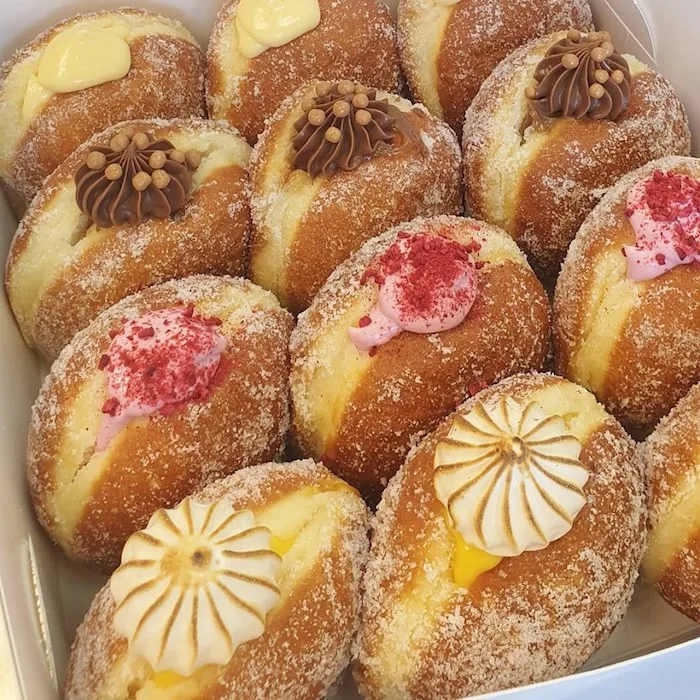 Image credit: GrownUp Donuts
NEW ZEALAND FARMERS MARKETS
If you like markets, you might also like Roam the Gnome's Guide to the Best Farmers Markets in New Zealand, including the best Auckland Farmers Markets.
(Tip: Visit La Cigale French markets, and Oratia Farmers market)
A NZ Farmer's Market is the place to buy bottled foods, sauces, jams, pickles, homemade cakes, lolly cake, popular New Zealand biscuits like afghans, and more from local Kiwi food producers.
Plus, it's the place to eat yourself silly!
---
RELATED: The Ultimate Guide to New Zealand Snacks and Drinks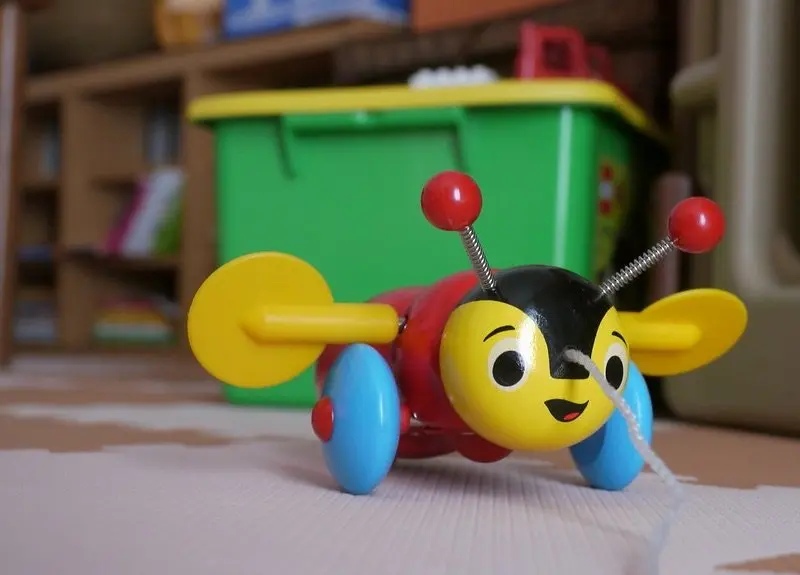 Image credit: Source unknown
THE COMPLETE GUIDE TO NEW ZEALAND SOUVENIRS
Roam the Gnome's Guide to the BEST Souvenirs in New Zealand is a whopping collection of unique and authentic Kiwi gifts and souvenirs.
Plus ideas for Maori cultural gifts, where to buy greenstone jewellery, and a fabulous list of suggestions for Kiwiana gifts too!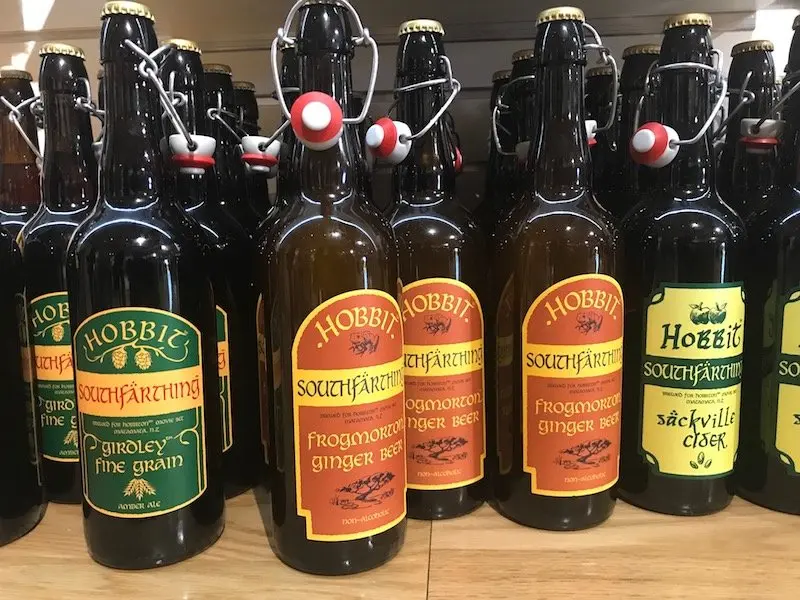 Looking for More Shopping & Things to Do in New Zealand for Kids?
Click the blue links below.