INSIDE: Roam the Gnome's Museum of Childhood London review.
This child-friendly museum in Bethnal Green sits at the TOP of our list of SUPER FUN places to visit with kids in London.
Plus, The London Museum of Childhood is FREE!
Who could ask for more?
A family visiting London with kids can easily spend 1/2 a day here, but if my kids had their way, we would have stayed ALL day.
There's that much to see and do, at this museum for toddlers and kids including:
kids activities
themed children's trails where they can collect a leaflet, set off on a walking tour, find all the different historical objects throughout the museum and note down their answers
art and craft workshops
interactive exhibits
a play area with opportunities to play with old school games and vintage toys
YUMMY food to eat
Plus, there's a beautiful bookshop & toy shop to browse as you leave.
Don't miss it. Details below.
Disclosure: This article contains affiliate links. If you make a purchase after clicking on one of these links, we may receive a small commission at NO extra cost to you.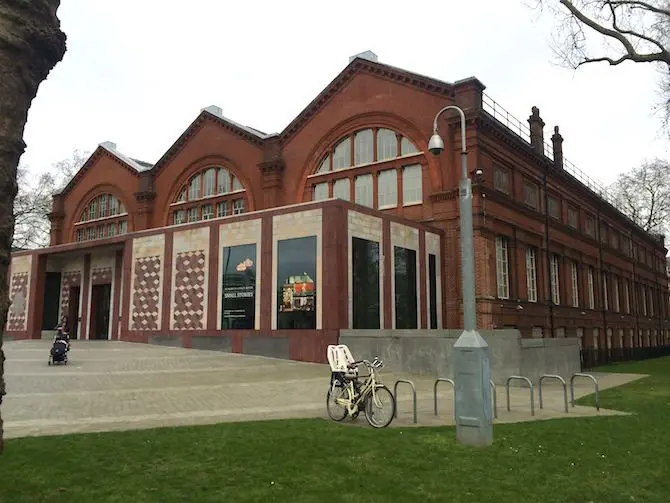 Guide to the The Museum of Childhood London Review
The Museum of Childhood London is arranged into four main galleries:
the Front Room Gallery
the Moving Toys Gallery
the Creativity Gallery on the Ground Floor, and
the Childhood Galleries on the first floor, along with the Special Exhibition space.
Download a map of this Games & Victorian Toys museum in London here
---
RELATED: The Big List of Best Things to Do in LONDON with Kids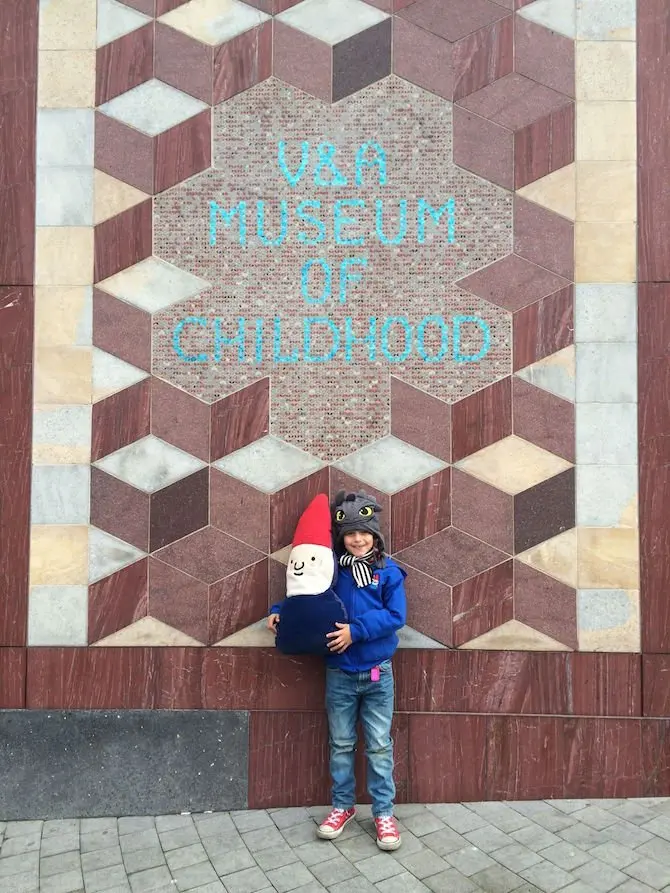 Front Room Gallery at the V and A Museum of Childhood London
This was our first stop, and luckily we arrived just as the staff were conducting demos, and setting up games and childhood toys for the kids to play with.
---
RELATED: The Ultimate Guide to the BEST London Playgrounds for Kids (NEW)

Mr Potato Head
It's such fun to see the old-school vintage toys from MY childhood reappear.
But equally fun to see the boys play with them with such gusto!
The child in all of us didn't want to leave this room, ever.
But soon enough, it was time and we headed off to explore the rest of the museum.

Creativity Gallery at the V & A Museum of Childhood Bethnal Green
One of the goals of the museum is to inspire imagination and creativity in children.
They do this by giving them new, interesting and expanded opportunities to play, which they can use to fire up their own adventures.
On the left hand side of the building, this interactive gallery has four sections to look at the ways children express their creativity:
Imagine
Be Inspired
Explore
Make it Happen
Then gives them chances to do so.

V&A Museum of Childhood Sensory Pod
The Sensory Pod, a multi-sensory space in the Creativity Gallery, with it's rainbow light beams, was SUPER FUN!

Make Believe
The dress up/storytelling space with the spinner guide in the Make Believe area at the far end captured Ned's imagination for a while too.

Moving Toys Gallery at Bethnal Green Toy Museum
Around the corner, we headed into the second gallery, Moving Toys exhibition, divided into four sections:
Pushes and Pulls
Springs and Cogs
Circuits and Motors
Look See.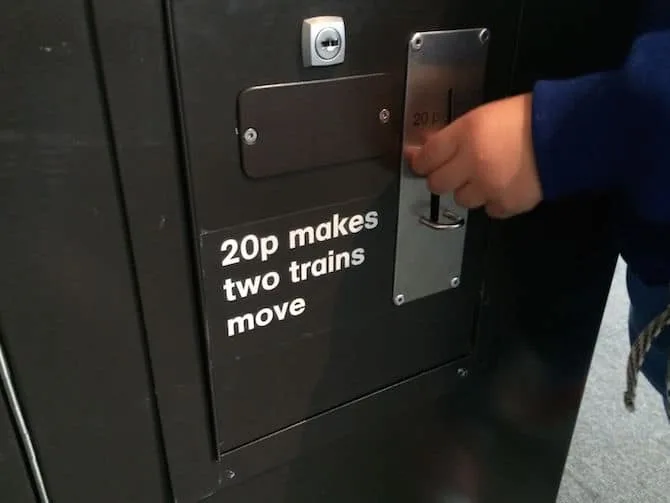 Moving Toys for kids
The Moving Toys Gallery has a wide variety of interactive activities for children to engage with, including:
Victorian rocking horses they can ride on
Robbie the Robot
a peep show, and
zoetrope.
Touchscreen interactives featuring moving toys games and quizzes are also situated throughout the gallery.

The highlight?
Model trains they can watch go round, and round, for 20p.
There's also plenty to see:
pull-along toys
complex clockwork and battery-operated toys.
optical toys that create visual special effects.
robotic toys
jigsaw puzzles
push and pull toys worked by strings – jumping jacks, yoyos, pull along toys, wrestling pairs, collapsing animals, spinning ballerinas and gymnasts, jumping jacks, and spinning monkeys
moving and changing pictures cabinet (Phenakistocopes or Fantascopes from 1830 -1840)
structures where wooden cars, marbles, and Meccano vehicles roll around some kind of track from top to bottom (sometimes YOU build the track!) in the Gravity, magnetic and spinning cabinet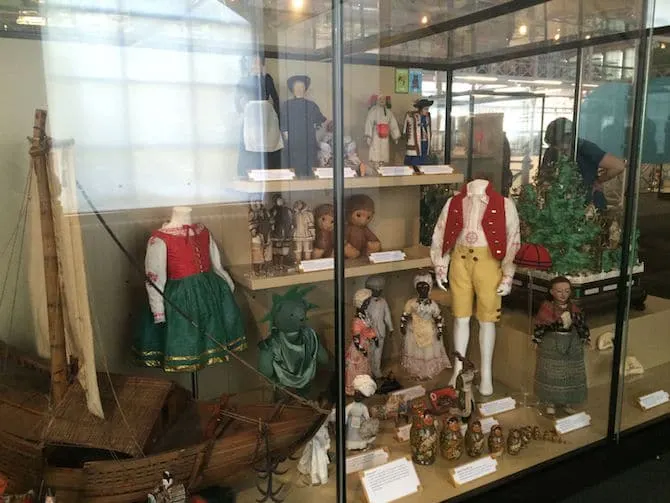 The Childhood Galleries at Bethnal Green Museum of Childhood
The Childhood Galleries, located on the First Floor, has four sections that explore a different aspect of childhood:
what home means
how babies are cared for
what children wear, and
what children will be when they grow up.

Museum of Toys collections
There's collections of:
Old World historically and culturally important dolls and teddies
Victorian dollhouses and ride-on toys

More Vintage Victorian toys and mid-century toys
teddy bears, tea parties and other mid-Century Toys
model steam engines
zoos and circuses – animal toys, jigsaws, books
trains and vehicles – including Melody train!

And more…
Fisher Price Toys
seaside toys – bucket and spades, shovels, sifters, plastic trucks, floaties, swim rings
musical instruments and toys for special occasions, including weddings, christenings and parties.
examples of toys related to magic and fortune telling including magic sets, wands and tricks.
On the left side of the building, children can:
try on shoes to try on from throughout the ages
dress up and drive a bus
cook in a play kitchen with a dining table, and
explore Lego.
There's also an under 3's area at the back of the building.

Victorian Playground Games at the Bethnal Green Museum of Childhood
On the right side of the building, The Good Times area of the Childhood Galleries has a seaside area with large sandpit for children to play in.
Nearby was an accompanying jukebox, and an interactive Punch and Judy toy puppet theatre with Punch and Judy puppets to play with.
Hammock chairs were at the ready for mums and dads who need a "seaside" rest!
There was also Board game tables with checkers and chess.
Fun Fact
Did you know that in the 1700's, the nobility visited health spas, many of these were on the coast?
It was from here that the 'seaside holiday' concept took shape.
Soon there was a whole seaside entertainment industry that continues today with:
donkey rides
amusements on the pier
bandstands
English rock candy, and
candy floss.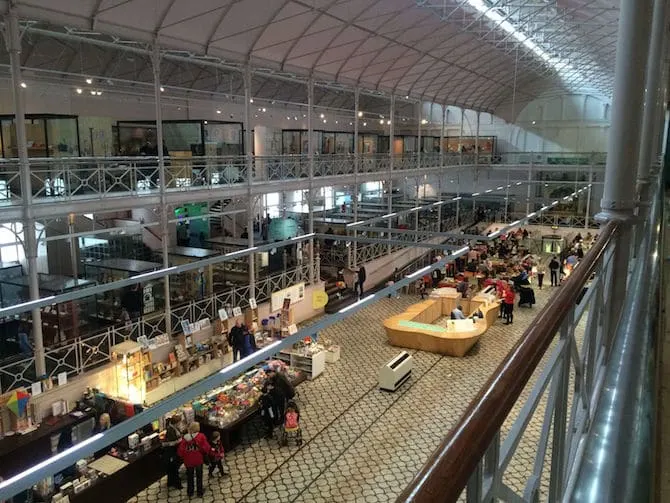 The Childhood Museum Cafe Benugo
Cafe Benugo on the Marble Floor at the back of the museum is open from 10am to 5pm.
They sell:
lunches
fresh sandwiches
salads
cakes
award-winning coffee
a kids 'pick and mix' menu.
We were really impressed with the range of 'take-away' foods on offer – healthy, delicious AND reasonably priced.
That's another thing to love about kids museums.
If there's a cafe on site, it's always well priced and affordable, including drinks.
Highchairs are available from Benugo café.
Please do not eat, or let children eat, in the museum galleries.
For visitors wishing to eat their own packed lunch, outdoor picnic tables are located in the Museum's grounds.
There is also a picnic area inside the museum you can use for your snacks and drink breaks.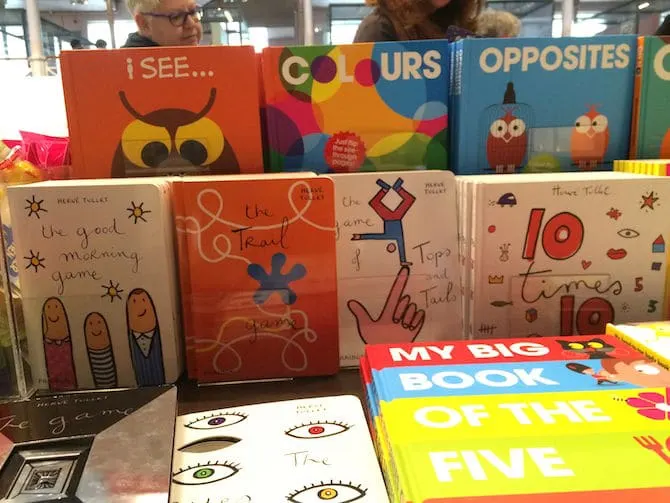 The London Museum of Childhood Shop
Do not pass by the Museum of Childhood London shop.
A plethora of SO many lovely things for kids and adults including:
a range of beautiful children's books, including classics such as Anne of Green Gables, Little Women, a Christmas Carol and Treasure Island
design books
science books
homewares,
aprons and tote bags
Peter Rabbit soft toys
V & A London bus t shirts
Custom prints
Queen Victoria decorations (& Prince Albert decorations too)
Christmas ornaments
colouring in pencils, and craft kits
inflatable toys and mini cooper toy cars
wooden bird whistles and puzzles
Winnie the Pooh toys
London souvenirs
Plus fun toys, some of which the kids might be able to buy with their pocket money.

V& A Museum of Childhood Events
The Museum runs free, drop-in, all ages activities for families every day, including:
tours
storytelling
table games, and
arts and crafts.
You can pick up a Montessori family backpack at the front desk, and explore the museum using one of their trails.
Children under 12 must be accompanied by an adult.
Look out for a volunteer team member (blue shirt) if you have any questions.
Exhibitions at Victoria and Albert Museum of Childhood
Next to the Childhood Galleries is an exhibition space.
When we visited, the current exhibition was "At Home in a Doll's House – Small Stories".
This was a chance to take a peek behind closed doors of the tiny inhabitants of 12 of the Museum's most treasured doll houses through audio, lighting, and life-size recreations of some of the rooms.
Plus a specially commissioned Dream House where 20 of London's best artists and designers were commissioned to create a magical miniature room.
An opportunity to see an exhibition is the cream on top. Click here to see the line up of current exhibitions.
Victoria and Albert Children Museum Sleepover
From time to time, the museum hosts museum sleepovers.
Check the website for details.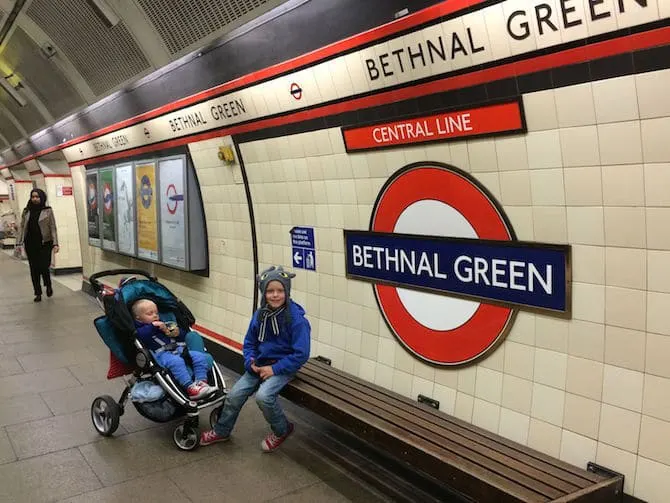 THE INSIDE SCOOP: Children's Museum London UK
Correct at time of publication on Roam the Gnome. Please check with venue for updates. We apologise in advance if there have been any changes we are unaware of. All prices in British pounds, unless otherwise stated
Heads up: The V&A Museum of Childhood is currently closed for a massive transformation from East London's first museum into a Museum of Design and Creativity for Children, Families and Young People.
Keep in the loop here.
Address: V&A Museum of Childhood London, Cambridge Heath Road, London. E29PA.
Telephone: 020 8983 5200 (Switchboard)
Website: Click here
Opening Hours:
Open daily 10- 5.45pm. Last entry 5.30pm.
Closed December 24-26, and 1st January.
Hot tip: Plan your arrival for after 2pm to take advantage of a quieter experience with no school groups present.
Entry Fees: ADMISSION IS FREE!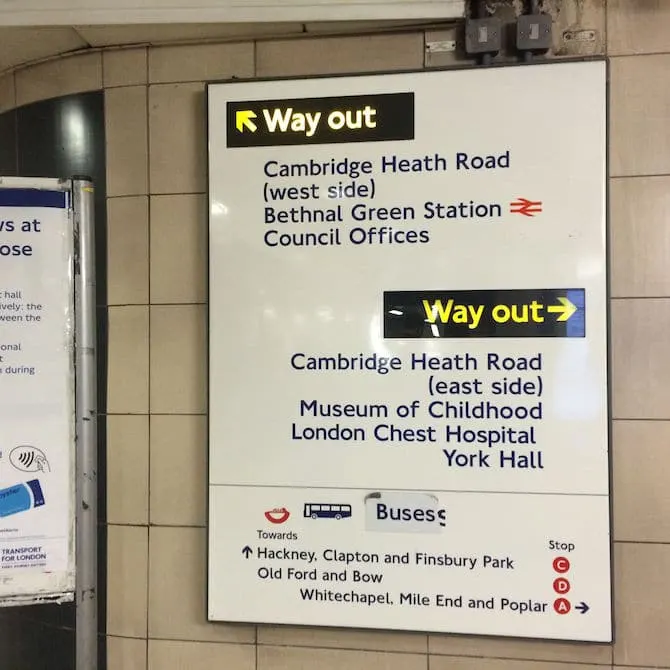 How to get to Museum of Childhood by train, bus or car
By Tube
Underground, Bethnal Green, Central Line, Zone 2
The Museum is less than five minutes walk from Bethnal Green Underground station.
By Overground
The Museum is a short bus ride or 20-25 minute walk from Shoreditch High Street (Bus 8 or 388) and Whitechapel (Bus 254 or 106) Overground stations.
By Rail:
The Museum is less than 10 minutes walk from both Cambridge Heath and Bethnal Green railway stations.
The nearest main line station is Liverpool Street, which is less than a five minute Underground journey from Bethnal Green.
By Bus: D6, 106, 254, 309 and 388 stop outside the Museum and 8, 26, 55 and 48 stop nearby.
By bike: The Museum is less than a five minute cycle ride from Regents Canal. Bike stands are available in the Museum grounds. A Barclays Cycle Hire docking station is situated across the road from the Museum.
By Car: The Museum is not in the congestion charging zone.
Museum of Childhood parking: The nearest pay and display bays can be found on Cambridge Heath Road.
Map of the London Children's Museum Bethnal Green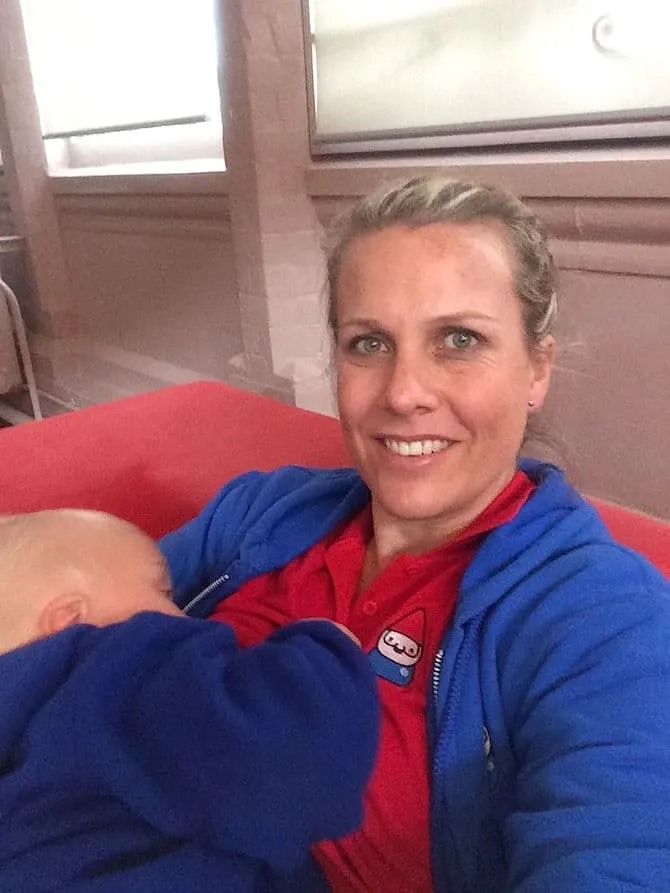 Facilities at London Children's Museum
There's a few lounges and chairs dotted around where you can discreetly breastfeed while your other kids play. Breastfeeding is welcome anywhere in the Museum.
Toilets are located on the Lower Ground Floor.
Baby changing facilities, nappy bins and family-sized cubicles are available in both the male and female toilets. The Quiet Room on the Lower Ground Floor has an en-suite family-sized toilet cubicle and a bottle warmer.
A buggy park is located near the stairs in the Front Room Gallery. Items are left at the owner's risk.
The front lift can access all floors, including:
the Lower Ground Floor (for access to toilets and baby changing)
Ground Floor (entrance / exit, shop and cafe)
Mezzanine (Moving Toys and Creativity galleries) and
First Floor (Childhood galleries).
Children's Parties
The Museum of Childhood London hosts children's parties!
A private room is available for hire on Saturdays and Sundays from 10am – 1pm or 2.30pm to 5.30pm and they provide all the activities to keep the kids entertained.
These activities can even be themed! (Popular themes include Puppets, Superheros, Pirates, or Princesses.) Click here for details.
Free Wifi!
Free WiFi is available throughout the Children's Museum London UK Museum.
Socials
Check out the Museum Facebook page to keep up with current events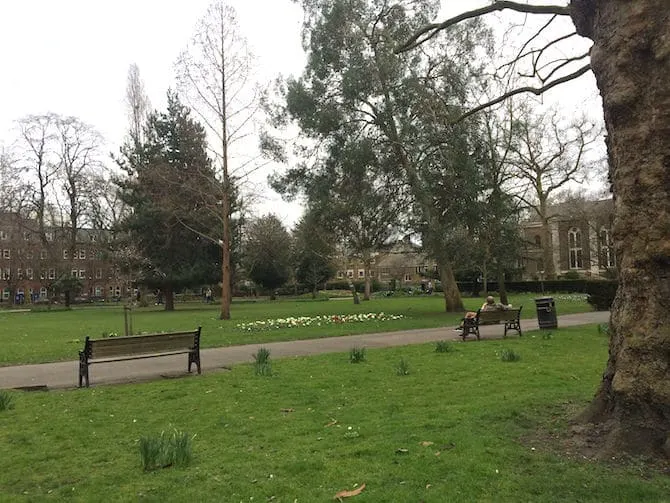 Hot tip: Just outside the Children's Museum London UK, on your left as you head back towards the station, is this lovely park. Nice spot for a post-museum run.
Toadstool Rating: Children's Museum London UK
We definitely recommend this Children's Museum London UK if you are in London with kids.
Underline that statement.
The Museum of Childhood London totally deserves a SUPER DOOPER FUN double-5 toadstool rating.

Looking for MORE fun museums in London for kids?
National Army Museum
Madame Tussauds Wax Museum
Imperial War Museum
Museum of London
Postal Museum
BEST of the London Museums for Kids!
Take a look at these museums for kids in London with kids activities.