INSIDE: Everything you need to know about Mullumbimby Pool. Season 2020-2021
Escape the tourist trap and crazy traffic of Byron Bay and hang out with the Mullum locals in a super-relaxed vibe at the Mullum Pool.
Visiting the Mullumbimby pool is a unexpectedly super fun day out, just 20 minutes drive from Byron Bay, and 10 minutes from Brunswick Heads, especially when combined with a visit to these regional towns.
Hot Tip: Inflatable Sunday's are back on at the Petria Thomas Mullumbimby Pool from 12-2pm.
Kids can swim, climb, slide and play on the blow up inflatable jumping castle, hovering over the deep end of the pool.
Local kids LOVE this fun adventure!
They blow it up during school holidays too. Check the details & more below.
Disclosure: This article contains affiliate links. If you make a purchase after clicking on one of these links, we may receive a small commission at NO extra cost to you.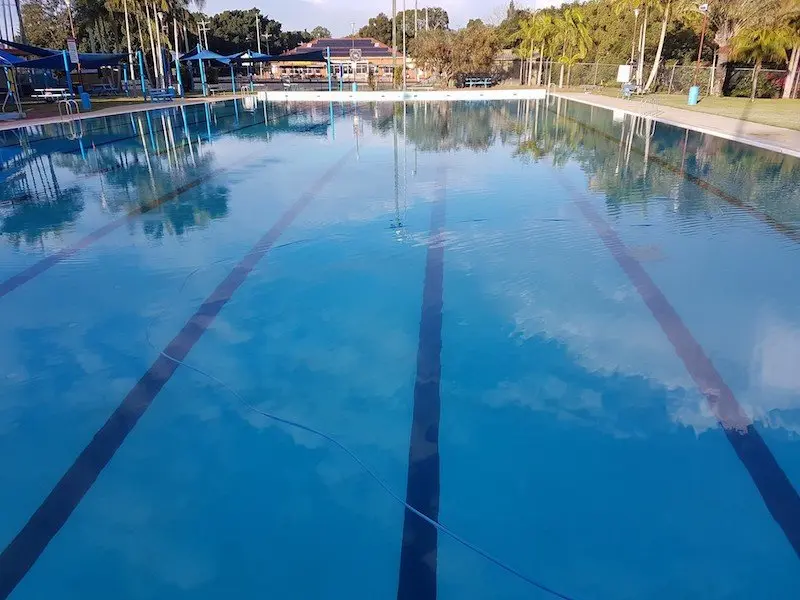 Guide to Mullumbimby Pool
The Mullumbimby Pool is our favourite community pool in the Northern Rivers.
The Olympic Pool is the centrepiece of the complex, it's blue water shining like a diamond in the centre of this cool country town.
The Mullumbimby Pool is staffed with life-guards, young and old, who help keep watch over the little ones in the pools, as well as keeping an eye on general safety around water.
(Supervision remains the responsibility of the parent or carer).
---
BOOK NOW: Byron Hinterland & Bangalow Full Day Guided Tour
Mullumbimby Swimming Pool for kids
Kids are happy to splash about and play with new found friends in the shaded kids pool.
Sadly, there's no water park for toddlers like the one at Tweed Aquatic Centre at Murwillumbah.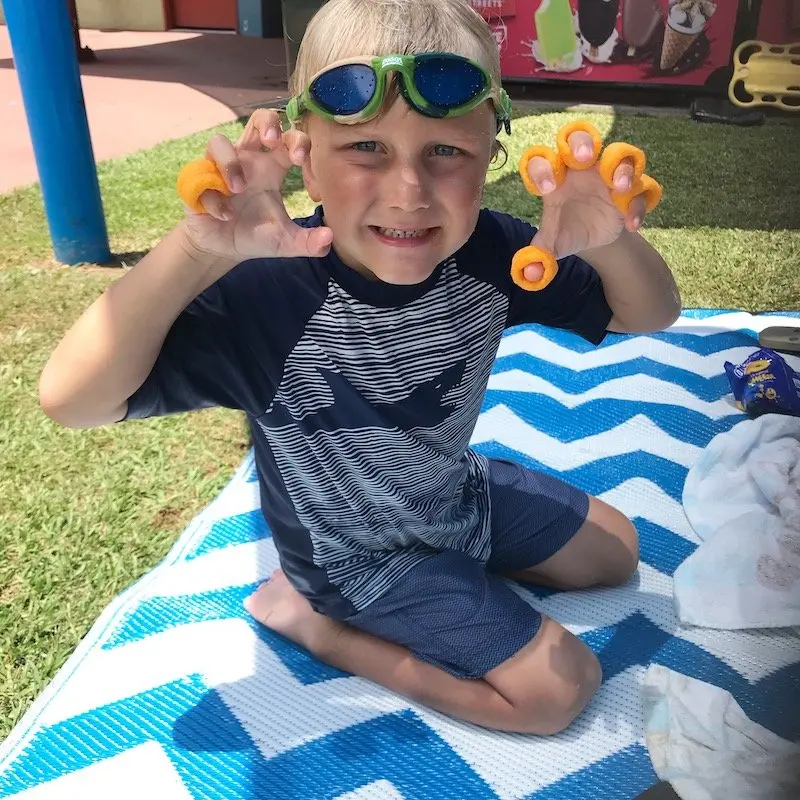 Picnic at Mullumbimby Petria Thomas Swimming Pool
There's grassy areas to sit and picnic, and lots of shade.
Plus, picnic tables all over the grounds, and a shaded spectator stadium where you can park your things on really hot days.
Bring your own water bottles, and holiday treats like the addictive Cheezels!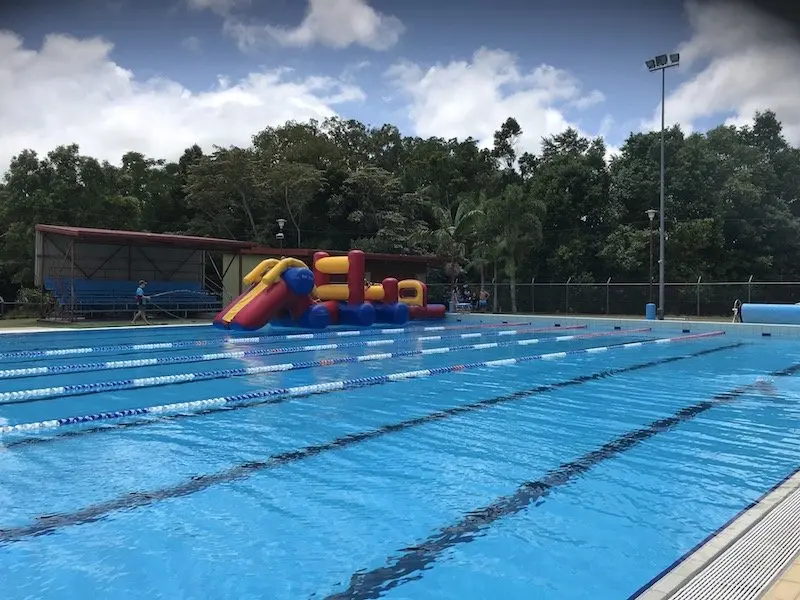 Giant Inflatables at the Mullumbimby Petria Thomas Pool
On Tuesday, Thursday and Sunday throughout the pool opening season, Mullumbimby Pool has a special treat just for the kids.
One of two Giant Inflatables is blown up by staff.
Kids can spend two solid hours:
running along the obstacle course
slipping and sliding down the slide, and
diving into the cool water of the Olympic Pool.
It's an extra $4 per child to play on the Giant Inflatable. Pay at the front desk when you enter.
Kids are given a wrist band to show they are good to go.
Mullumbimby Pool inflatables operate from 12pm – 2pm.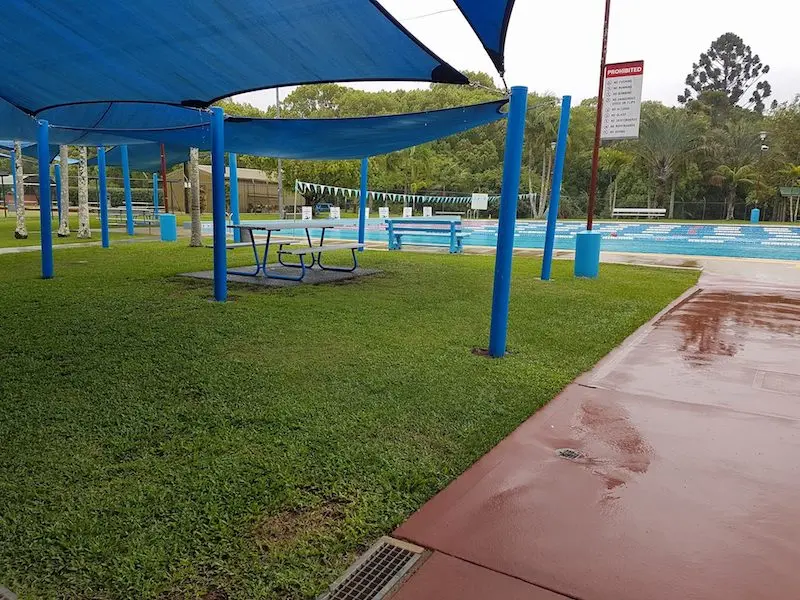 What to do in Mullumbimby on a hot day?
We love Mullumbimby Pool (or Mullum Pool as the locals call it).
During summer, we hang out here day after day, especially when the Mullumbimby pool temperature is roughly 23°-24°C warm.
It's a super budget day out for families in Byron and beyond, and the kids LOVE it.
---
RELATED: Best Things to Do in Byron Bay with Kids (Complete Guide)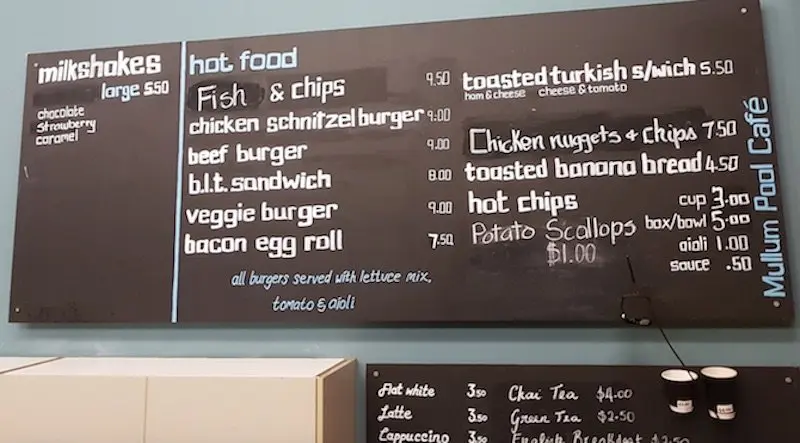 Mullumbimby Pool Cafe
There's a cafe on site with the kids' favourite cheese-topped hot dogs, and hot chips
($5 a box!)
Purchase tomato sauce or aioli extra for dipping.
I have it on good authority that the Beef Burger is tops too, but I'm a fan of the toasted turkish bread sandwiches with ham and melted cheese.
Hot sweet potato fries have recently been added to the menu.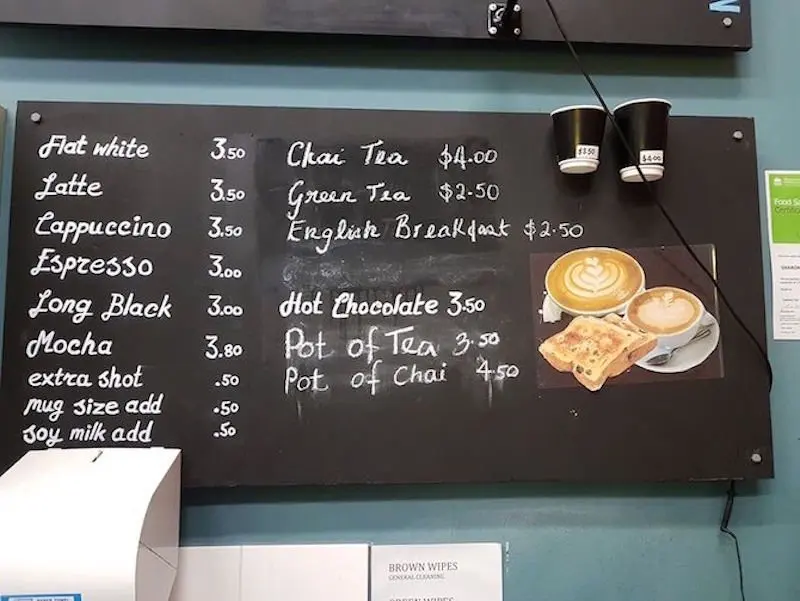 Mullumbimby Pool Menu for Drinks
There's coffee and chai for the mums and dads, plus hot chocolate for when the weather turns cold!
Or order one of their classic milkshakes in strawberry, chocolate or caramel.
MORE Things to do in Mullumbimby with Kids
If you are holidaying in the Byron Bay region, bring the kids to Mullumbimby Pool early in the day for a swim, then spend the hours after lunch wandering the shops of main street.
Mullumbimby is in the midst of a groundswell of upward movement, but still retains old school charm.
There's a bunch of:
well-stocked op shops to check out
multiple bookshops
a craft cooperative
yoga venues
fancy boutique-style dress shops
stylish homewares
three bakeries, and
the best health food stores around – Santos, and The Source Bulk Food Mullumbimby.
Mullumbimby Chocolate shop
DO NOT MISS the Mullumbimby Chocolate Shop (Shop 1/104 Dalley Street) – it's our special treat each holidays.
I give the kids $5 each spending money and they choose from a worldwide and retro selection of sweets, lollies and chocolate choices.
Mullumbimby Cafes
Stop by one of these Mullum cafes for an after-lunch refreshment before they close:
the Empire Cafe at 20 Burringbar St, Mullumbimby
the PureMelt Chocolate Lounge at 2/53 Stuart St Mullumbimby, or
The Rock & Roll Coffee Company at 3/55 Burringbar St, Mullumbimby
Federal
Head home via the sweet town of Federal in the Byron Bay Hinterland, with a stop at Crystal Castle to walk the labyrinth if you have time.
Stop in at DOMA Japanese in Federal if it's open. The food is epic!
Other Pools in Byron Shire
Ballina Pool has two GIANT slides and a water park area for toddlers
Byron Bay pool has the best views in town! It's right next to the Main Beach carpark, and you can see the ocean. There's a shaded toddler and kids pool at one end.
Unfortunately, there is no Bangalow Pool although the town has a committee fundraising for one to be built.
---
RELATED: Ultimate Guide of BEST Things to do in Mullumbimby with Kids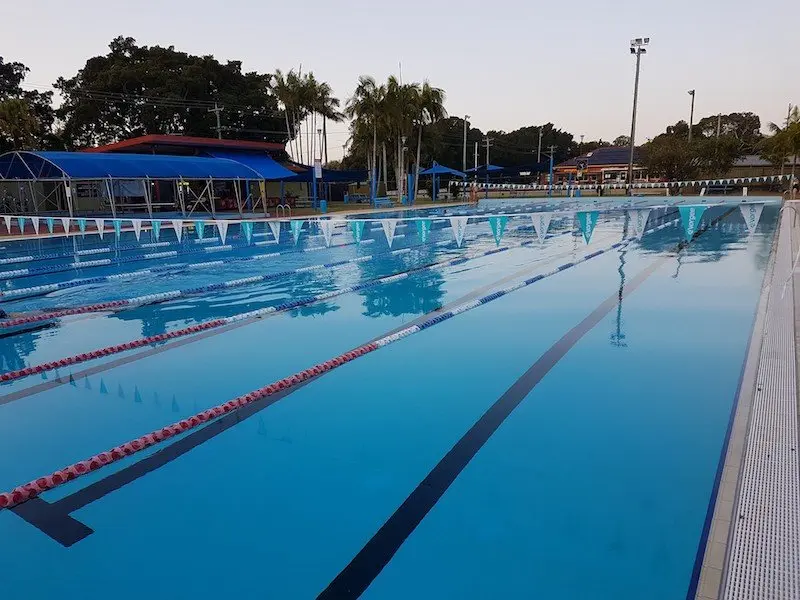 THE INSIDE SCOOP: Mullumbimby Swimming Pool
Correct at time of publication on Roam the Gnome. Please check with venue for updates. We apologise in advance if there have been any changes we are unaware of. All prices in AUD dollars, unless otherwise stated
Telephone: Contact (02) 6684 2494.
Please call to confirm current opening hours before you go.
Location of Mullumbimby Pool: Mullumbimby Petria Thomas Swimming Pool is located on Jubilee Ave in Mullumbimby, to the right of the Bowls Club.
The pool is operated by the Byron Shire Council.
Mullumbimby Pool Opening Hours
2020-2021 season at Mullumbimby Pool runs from September 2020 until late April 2021.
Operating 7 days.
Mullumbimby Pool opening times are as follows:
October to March
Monday to Friday – 6am to 7pm
Saturday 7am to 6pm
Sunday 8am to 6pm
September & April
Monday to Friday – 6am to 6pm
Saturday – 7am to 5pm
Sunday – 8am to 5pm
Swim Club operates on Friday nights.
Mullumbimby Pool Prices (2020-2021 season)
Adult: $4.50
Concession (with concession cards) $4.00
Child: $3.70 (2-18 years)
Spectator: $3.00
Child under 2 year: FREE
Children with disabilities, and carers with companion card: FREE
Unfortunately, there's no family pass.
Discount Ticket Books
Adult 25 visits $95; 15 visits $57
Child 25 visits $78; 15 visits $47
Concession 25 visits $78; 15 visits $51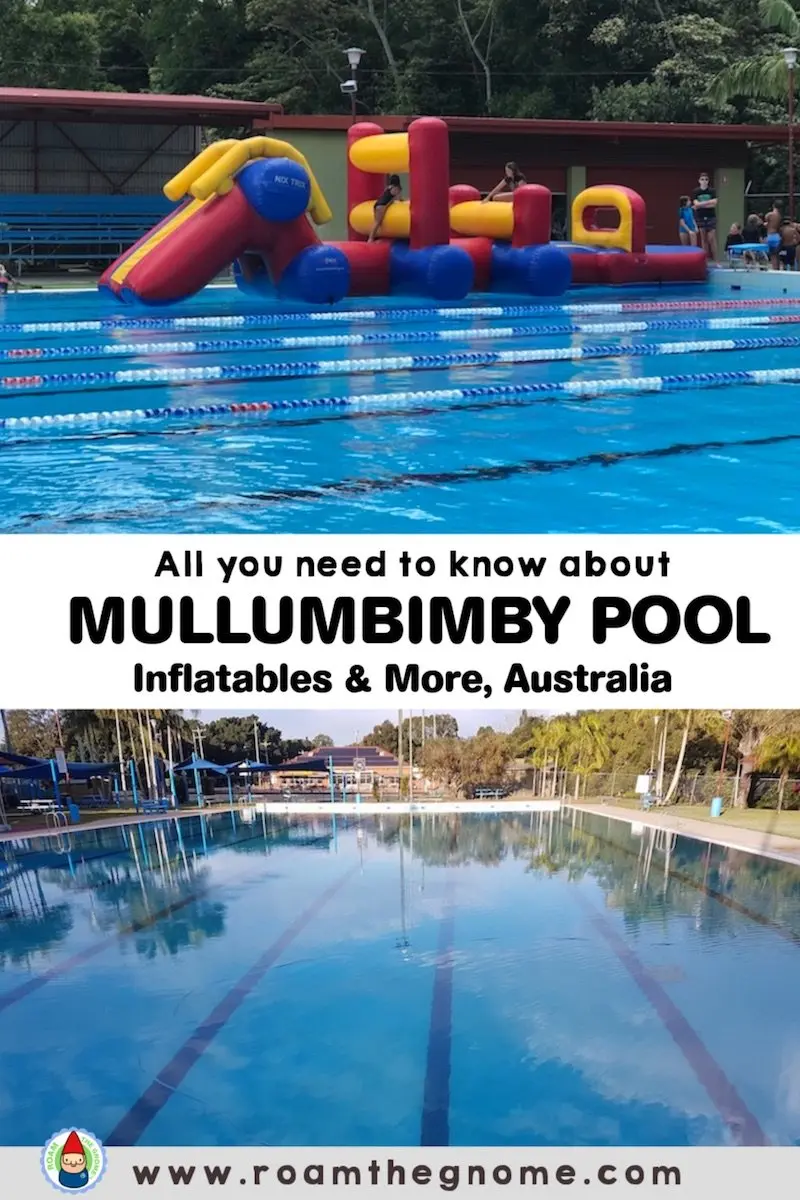 How to get to Mullumbimby Pool
By Bus:
Route 645 travels from Ocean Shores to Brunswick Heads, Mullumbimby and Byron Bay (and return).
Bus stops at River Terrace Bus Zone, near the Post Office
Walk from there to the pool (5 minutes)
By Car: Click here to add your location for google map directions
How far is Mullumbimby from Byron Bay?
21.5km from point to point.
The drive takes about 25 minutes.
Mullumbimby Pool Map
Toadstool Rating – Mullumbimby Pools
$7.70 for a full day of fun in the sun for a child, including TWO HOURS jumping on the Giant Inflatable straight into the water.
That's unbeatable value around these parts.
The Mullum pool is awesome for a fun, cheap day out in Byron Bay region.

Looking for more fun things to do in Byron Bay shire?
Click the blue links below for more Byron Bay Shire attractions.