INSIDE: Roam the Gnome's Family Guide of the best things to do in Mullumbimby with kids
Planning a family holiday to Byron Bay region?
Take a day trip to Mullumbimby and the Byron Hills.
This region is one of the most beautiful in the area, and there's more than enough to fill up a day, or a week!
Plan a trip to coincide with Mullumbimby Music Festival, one of Australia's best music festivals for families. The Mullum music fest has unprecedented access to local and international artists, and a chilled vibe.
We recommend wandering the Mullumbimby shops, and checking out the fashion and handmade goods too.
Take a look at the fun things to do in Mullumbimby, including local events and activities below.
Disclosure: This article contains affiliate links. If you make a purchase after clicking on one of these links, we may receive a small commission at NO extra cost to you.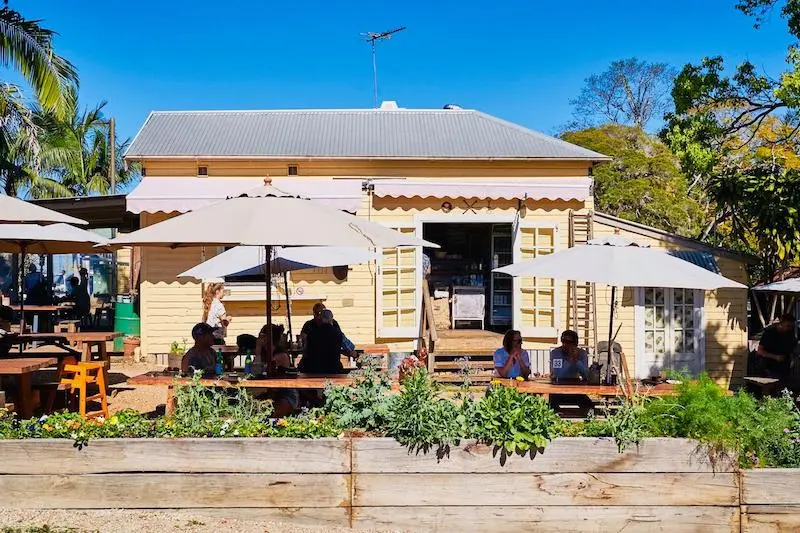 Image credit: Doma Cafe Federal Village
BEST THINGS TO DO IN MULLUMBIMBY NSW
Correct at time of publication on Roam the Gnome. Please check with venue for updates. We apologise in advance if there have been any changes we are unaware of. All prices in AUD dollars, unless otherwise stated
Here's the best list of things to do around Mullumbimby.
Visit the Mullumbimby Information Centre for more ideas on things to do in Mullum too.
No.1: Federal Village & Doma Cafe
This cute Byron hills town is home to Doma Japanese restaurant.
Stop for a wander around the main street to stretch your legs as you explore, let the kids run wild on the playground or in the nature play area, then check out the DOMA menu for lunch.
Be warned: It's very popular and there will be a crowd.
The food is worth the drive!
(About 22 mins from Mullumbimby via Coolamon Scenic drive and Goonengerry Road)

Address: 3/6 Albert Street, Federal NSW 2480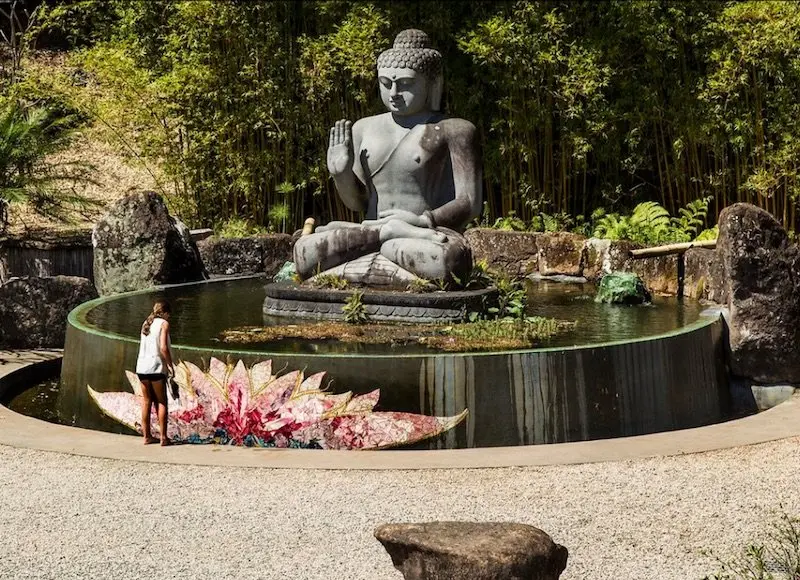 Image credit: John via Flickr CC BY-SA 2.0
No.2: Crystal Castle Mullumbimby
Stand between two of the tallest crystals on earth, or sit INSIDE an amethyst cave "dragon egg".
That's just TWO of the magnificent experiences at Crystal Castle Byron Bay.
Wander the rose quartz spiral labyrinth, visit the playground, and wander the Shambhala gardens to see the Giant Buddha.
Touch the spinning quartz ball in water, and snap an obligatory selfie in front of the Wings to Eternity Mural.
Before you go, enjoy a snack at the cafe, or mosey around the bookshop for gifts and souvenirs.
Click here for details including entry prices.
Crystal Castle should be on your list of must do things to do Mullumbimby style.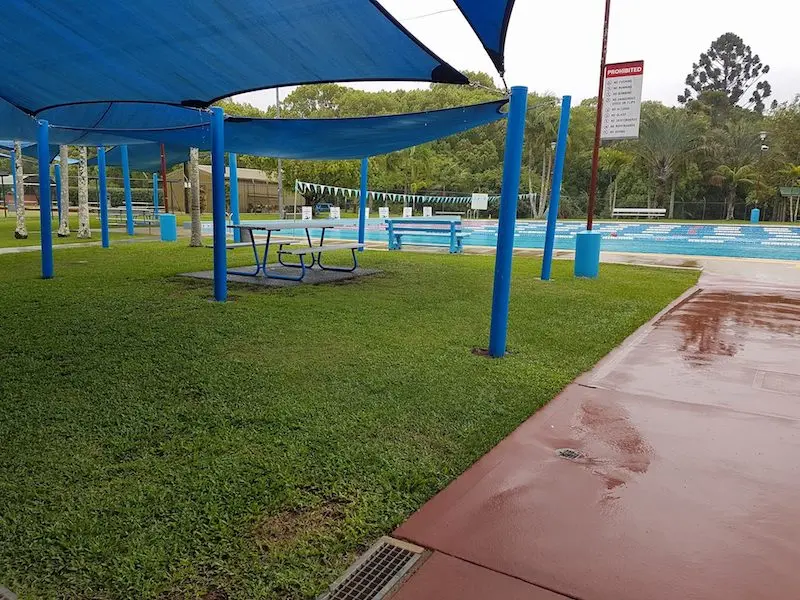 No.3: Mullumbimby Swimming Pool
Visiting Byron on a hot day during your family holidays? Join the locals at Mullumbimby pool in the Brunswick Valley.
It's a retro style community pool with a 50 metre pool, and a smaller one for the kids.
We LOVE the Mullumbimby pools, and visit often, eating hot sweet potato fries from their kiosk for an afternoon snack before dinner.
If you are lucky, it might be inflatables day!
(Includes entry fees, opening hours, & more)

Address: Mullumbimby Petria Thomas Swimming pool, Jubilee Ave, Mullumbimby.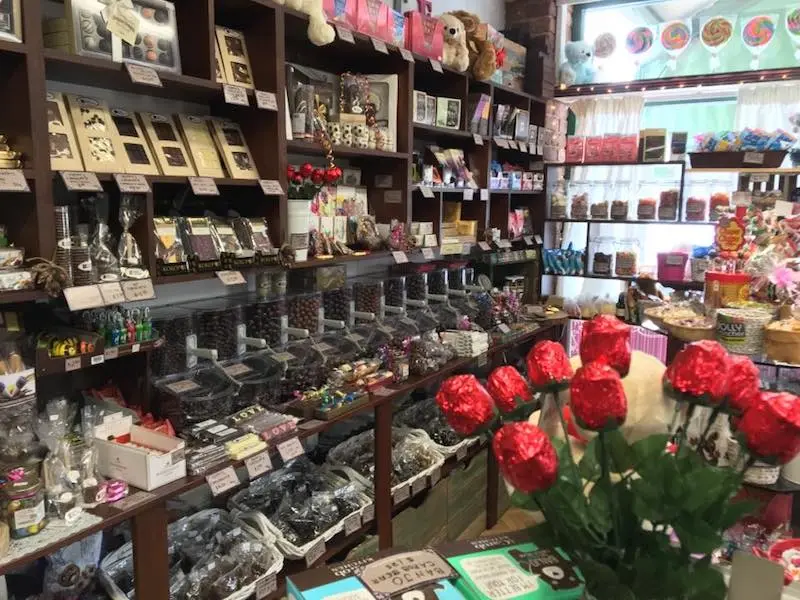 Image credit: Mullum Chocolate Shop
No.4: Mullumbimby Chocolate Shop
One of the best treats for kids in Byron Bay is a visit to Mullum Chocolate Shop
This shop is much loved for their range of:
fudge
divine chocolates from around the world
penny candies
licorice
handmade chocolates
gobstoppers
Wonka bars, and
chocolate blocks in every kind of flavour and combination.
Be prepared to spend at least 1/2 hour OR MORE, while the kids make their choices!
Wonder What to do in Mullumbimby with kids no longer!

Address: Shop 1/104 Dalley St, Mullumbimby.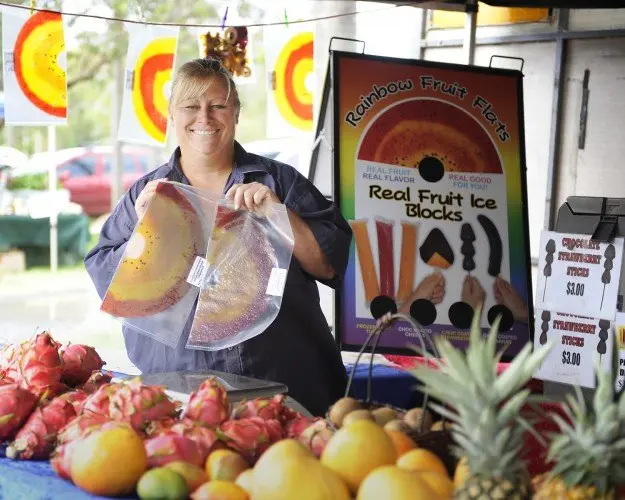 Image credit: Mullumbimby Farmers Market
No.5: Mullum Farmers Market
Looking for Mullumbimby things to do for foodies?
Pop by the Mullumbimby showgrounds on a Thursday morning from 7am to 11am.
Named as one of the top three markets in Australia in the 2019 delicious Produce Awards, it's not just about the food here, although that's the main reason to head down.
The Mullumbimby community vibe, the humble location at the base of glorious Mt Chincogan, and the live music make this a fun day out to experience the best of Byron and surrounds.
This one is less about the tourist, and more about the locals, so mingle with the crowd to gain real insight into the beauty of this place and its' people.
Pick up all your picnic goods including ripe red tomatoes, freshly baked sourdough, butter, creamy cheese, & ready to eat salads!
Do pick up a Rainbow Fruit flat for the kids from Monty's.
These natural roll ups fruit leathers are a healthy treat you won't forget.

Address: Mullum showgrounds, 51 Main Arm Road, Mullumbimby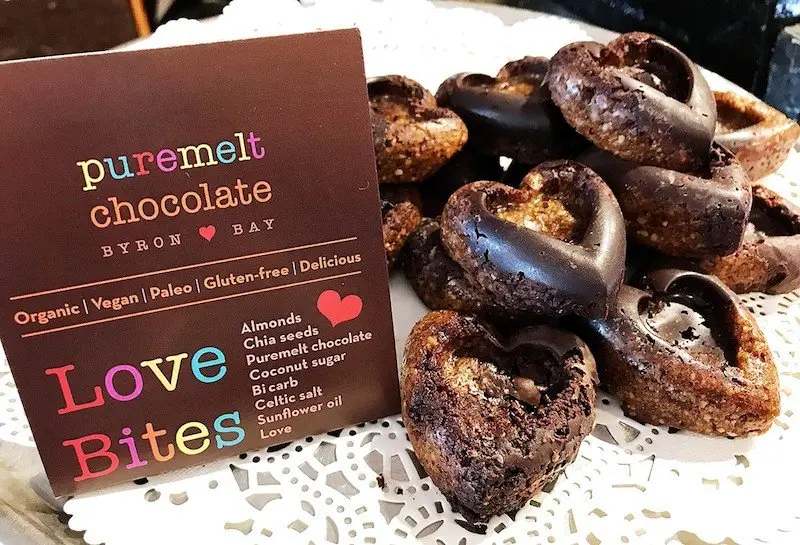 Image credit: PureMelt Lounge
BEST MULLUMBIMBY CAFES
No.1: Pure Melt Chocolate Lounge
Once the kids have their fill, it's time for some adult chocolating.
Pull up a seat and order one of their delicious cacao elixirs, or hot chocolates, and pair it with a Puremelt chocolate, brownie, or Love Bite.
You will not regret it!

Address: 2/53 Stuart St Mullumbimby, in the centre of town.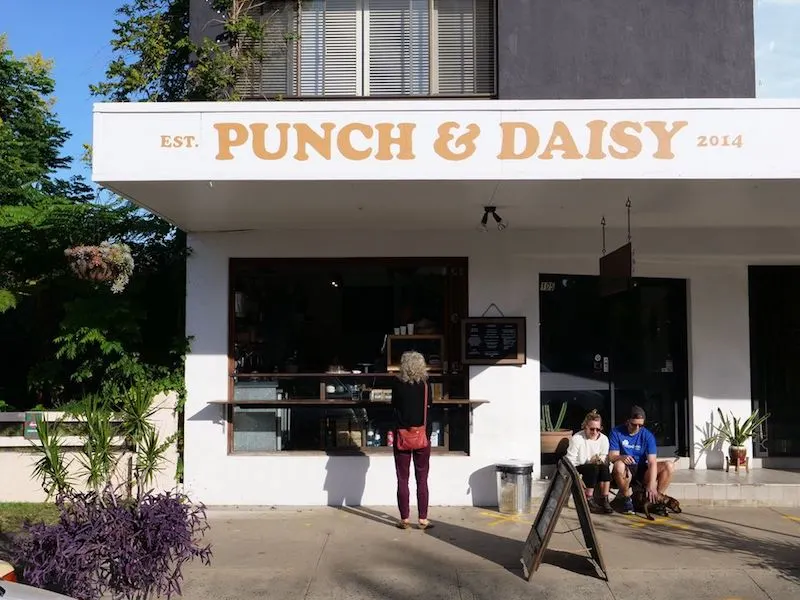 Image credit: Punch and Daisy Mullumbimby
No.2: Punch and Daisy Cafe Mullumbimby
Operating since 2014, Punch and Daisy Mullumbimby has a strong following with locals and out of towners.
Their organic buttermilk porridge with blueberries is just about the closest thing to authentic Finnish porridge.
Or you can opt for a coconut chia porridge with black tahini, mango, chilli and lime for a modern take on an old favourite.
Yes, they sell avo on toast, AND all the regular breakfast options too.
Lunch adds a few more token options, including burgers and fish cakes.
Or pick up a cake, a coffee and pull up a chair to snack in the sun.

Address: 105 Stuart Street, Mullumbimby.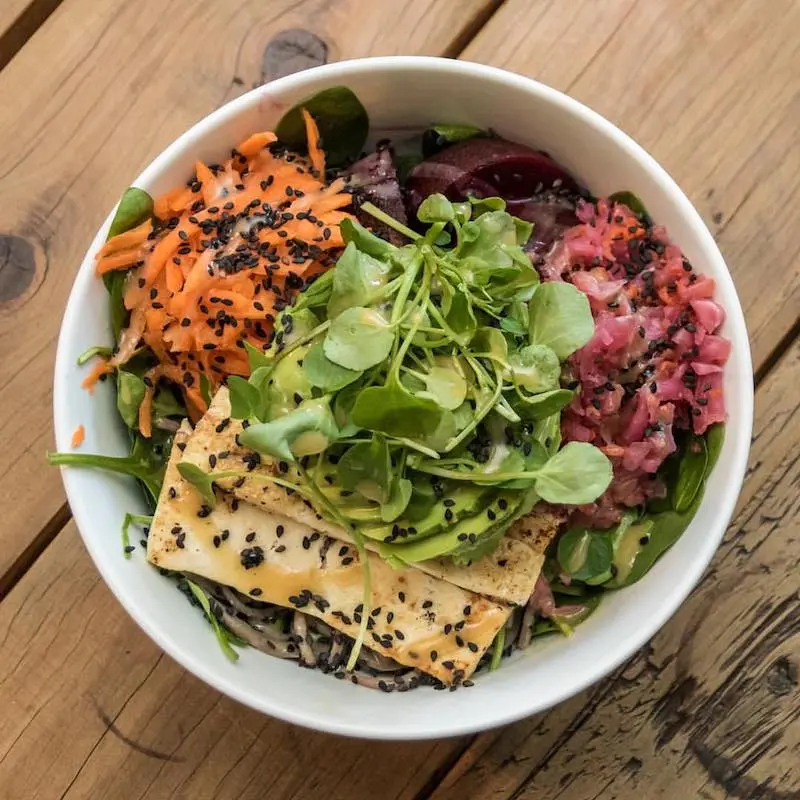 Image credit: Empire Cafe
No.3: Empire Cafe
Well known for breaky and burgers from 8.30am – 2.30pm.
Their Buddha Bowl of 100% buckwheat soba noodles, sauerkraut, sweet potato, spinach, avocado, pickled carrot and beetroot, tofu with sweet miso dressing and black sesame seeds is good health in a bowl.
But if you are after something sweet, the Bounty Acai is a crunchy choc and fruit combo. Add a dollop of peanut butter to boot.
These guys have a kids menu too, and a cool interior.

Address:20 Burringbar St, Mullumbimby NSW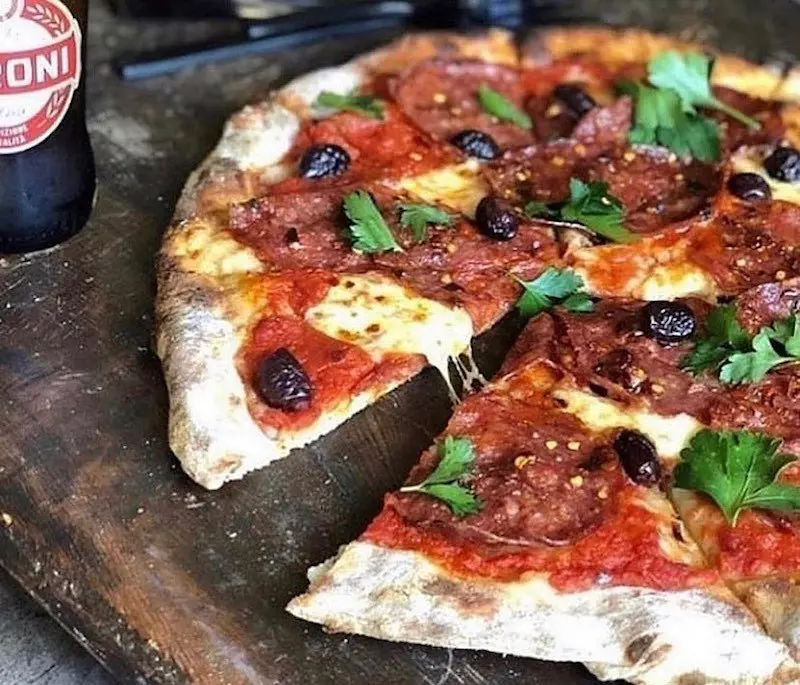 Image credit: Milk and Honey Pizza Mullumbimby
BEST MULLUMBIMBY RESTAURANTS
No.1: Milk and Honey Pizzeria
You can't say you've eaten pizza until you've tried a Milk and Honey pizza.
These things are legendary around these parts, especially their take on the Ham and Pineapple pizza. Gluten free bases available for an extra $3.
Proscuitto and Pear is a taste bonanza too.
Milk and Honey is at the roundabout as you reach town.

Address: 5/59a Station St, Mullumbimby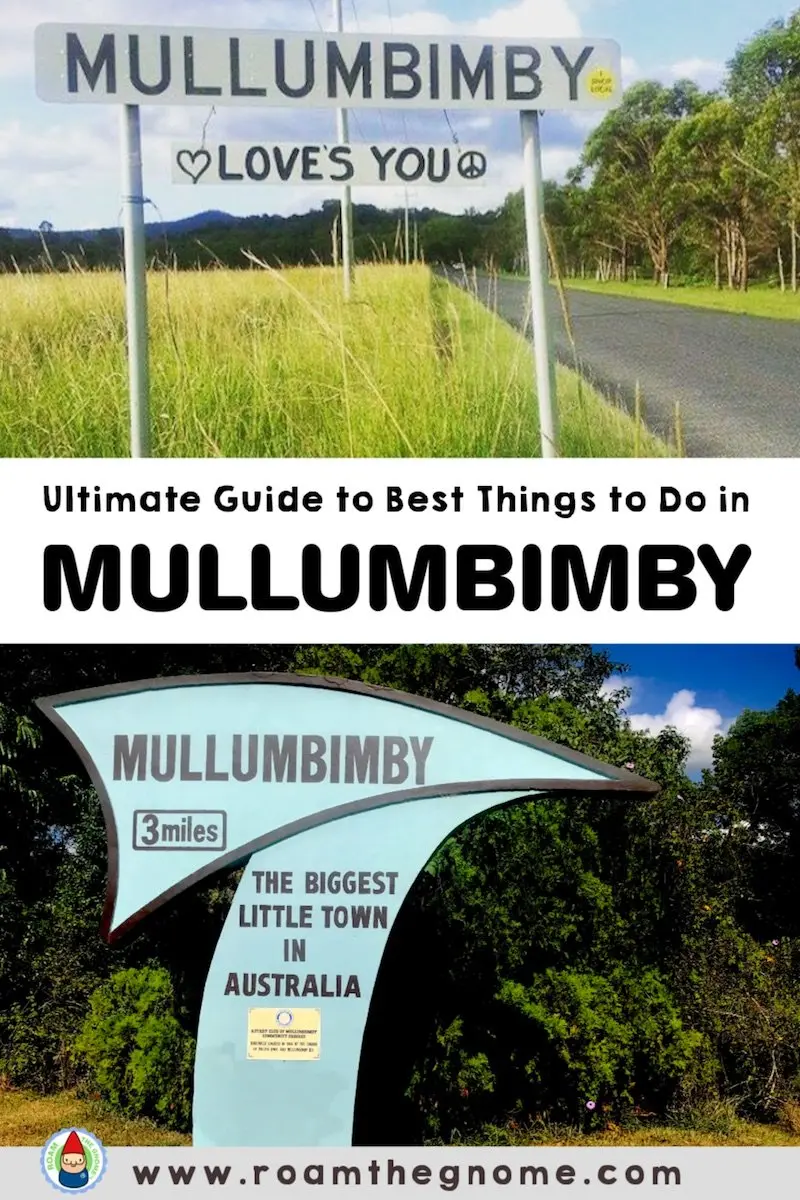 No.2: Izakaya Yu
This is the best Japanese restaurant with a real cosy Japanese yakitori bar feel around these parts.
Try the ramen, or the karaage chicken.
Go early, as it gets busy. Locals know the good food in town.

Address: 53 Stuart St, Mullumbimby.


Image credit: Yaman Mullumbimby
No.3: Yaman Mullumbimby
Pick up a pita pocket with:
freshly cooked falafel balls
green tahini
fresh salad
Israeli salad
pickles, and
sauerkraut.
You won't regret it!
Or try one of their plates, full of authentic Middle Eastern flavours.
The Hummus falafel plate is popular, but the Chicken plate with tumeric rice should be your go-to.

Address: 62 Stuart street, Mullumbimby. Look for it on Stuart Street, opposite Pure Melt lounge.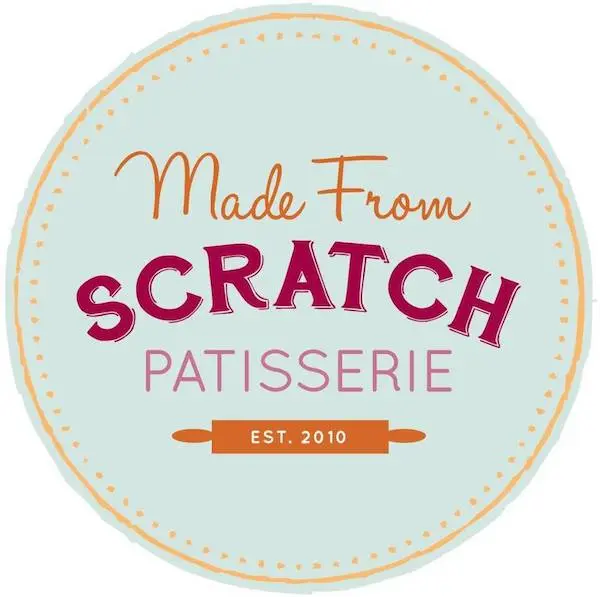 MORE OF THE BEST PLACES TO EAT IN MULLUMBIMBY AUSTRALIA
No.1: Scratch Patisserie
Don't leave town without trying one of the melt in your mouth concoctions from Scratch.
Everything is made with real ingredients, so you know it's good for you too.
Try their Almond Croissants, or profiteroles, or a baked custard tart.
Pick up one of their hot drinks to go (Bun Coffee Organice Hot Chocolate, or a Matcha Latte can't be beat.)

Address: 5/108 Stuart Street Mullumbimby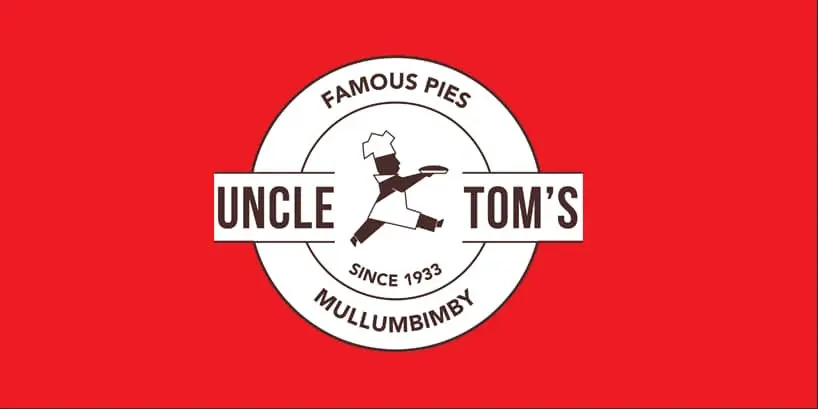 No.2: Uncle Toms Mullumbimby
A well known institution around these parts, having been in business selling pies for more than 90 years, Uncle Toms Pies is located at the T intersection where the Old Pacific Highway meets the road into Mullum town, the "Gateway to Mullumbimby".
Pick up one of their popular pies:
Pepper steak
Steak and Mushroom
Minted lamb
Beef rendang
curried steak
butter chicken
vegetable mornay
curried lentil
chicken mornay
Or a spinach and feta roll, or a traditional sausage roll.
Sauce included!

Address: LOT 1 Gulgan Rd, Mullumbimby NSW 2482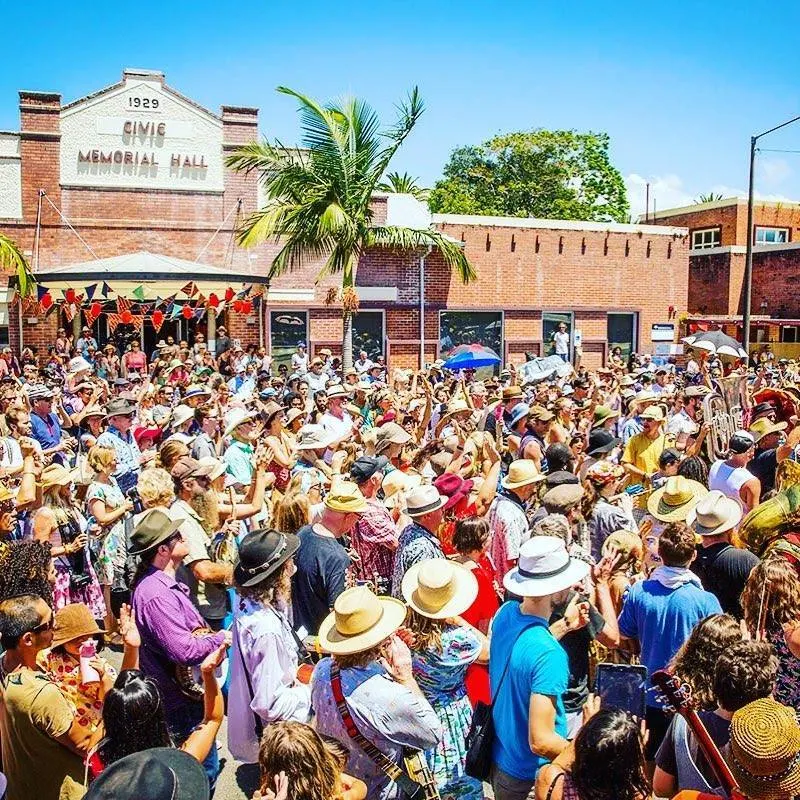 Image credit: Mullum Music festival
Mullumbimby Upcoming Events
There's PLENTY of home grown events happening in Mullumbimby.
One of the best ways to find them is to check the noticeboard outside Santos health food shop, and look on the shop windows around town.
No.1: Mullumbimby Music Festival
Mullum Music Fest is the main event, happening each November in this little town.
The Mullum Music Festival tag line is "The Biggest Little Music Festival in Australia"!
It's better than Bluesfest, with much more local access to the headlining stars.
And a hugely fun vibe, as you walk the streets and make noise!
Operating since 2008, it's a Byron shire event you should not miss.

No.2: North Coast Mud Trail
Once a year, local ceramicists around the beautiful Mullum and Northern Rivers region open their studios to visitors.
According to their website, this is an opportunity to:
meet the artists
discuss their work and processes
and find out what inspires these creatives to do what they do.
You can collect a hard copy of the brochure and map from the tourist office in Bruns, or find the interactive one on their website.
Bring cash!
There's a bucketload of treasures to buy for your home and office, if you are lucky enough!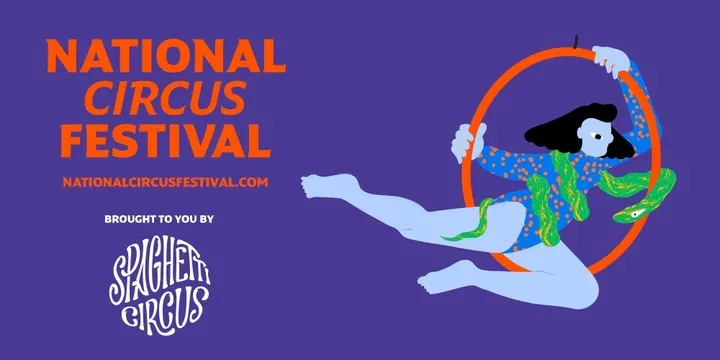 No.3: National Circus Festival Mullumbimby (Mullum Circus Festival)
This is a three day event held in September, and includes a training program for those who want to up their circus skills.
You can:
see internationally-acclaimed acts by Australia's leading artists at one of our big tops, aerial rigs, studios or under the fig trees
wander through a 25-metre inflatable globe
meet fun-loving and cheerful roving performers
check out the family play space, or
take up a position on a lounge at the outdoor cinema.
Map of Mullumbimby and Surrounds
Want MORE SUPER FUN things to do in Brunswick Heads and Byron?
Click the blue links below for more Byron Bay Shire attractions.