INSIDE: Looking for the best things to do in Brunswick Heads NSW? You've found it.
Old school charm.√
Cute cafes, antique shops, and coffee shops galore. √
An iconic old but effervescent pub, and one of Australia's highest-rated wine bar restaurants? √
And just 15 minutes north of Byron Bay?
We've compiled a list of the best things to do in Brunswick Heads.
This laid-back riverside town is on the up, and you need to visit before its overrun!
Take a look below for all the local's favourites.
Disclosure: This article contains affiliate links. If you make a purchase after clicking on one of these links, we may receive a small commission at NO extra cost to you.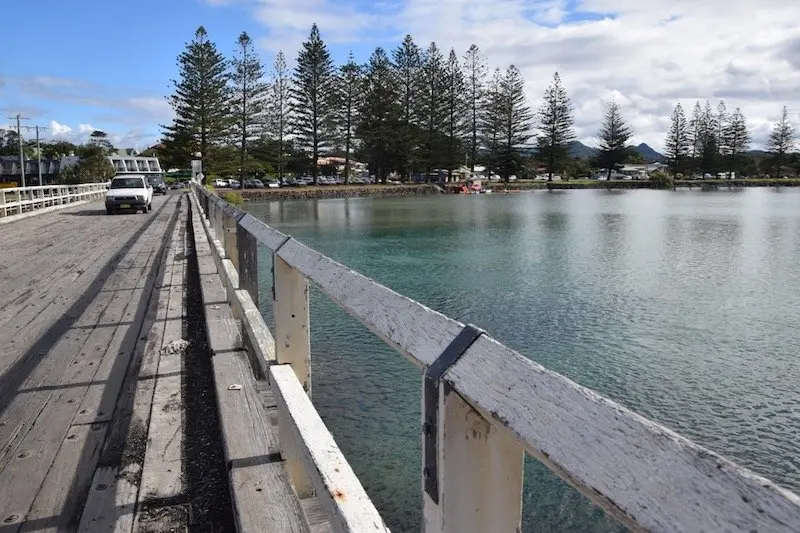 Guide to the BEST things to do in Brunswick Heads
What to do in Brunswick Heads?
Correct at time of publication on Roam the Gnome. Please check with venue for updates. We apologise in advance if there have been any changes we are unaware of. All prices in AUD dollars, unless otherwise stated
Look beyond the burgeoning crowds, and you can find some pretty "daggy" but definitely super cool stuff to do.
The town itself is a 4 minute drive from the highway turnoff, but you might as well be a million miles away.
Here's our favourite things you must do with kids when you visit our home town, and are looking for fun things to do in Brunswick Heads.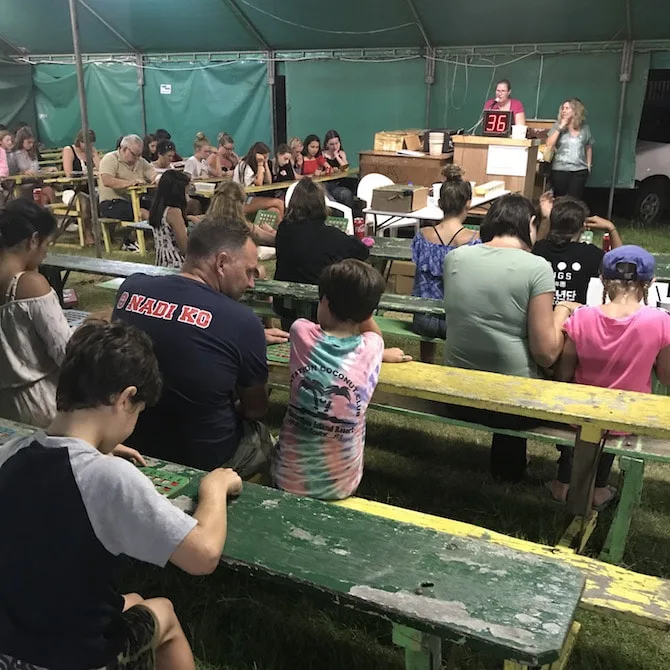 BEST THINGS TO DO IN BRUNSWICK HEADS
No.1: Housie at the Brunswick Heads Carnival
Housie is a game like BINGO, but it's Bingo's cooler cousin.
Played on cardboard bats, these boards have miniature plastic windows that you close over the numbers as they are called.
A Housie caller keeps things lively with unusual patterns to match:
the called numbers might have to create an X, a T, a W
there's even a call called 'possums in the roof' (any three on the top row, and the entire middle row horizontally.)
At 5 games for $1, (20 cents a game!), it's an old-fashioned game with an old-fashioned price tag.
Cash prizes, and jackpot rounds make this THE best fun you've had in years.
This annual event launches in mid-December at the Brunswick Heads carnival, on the night of the Christmas Market.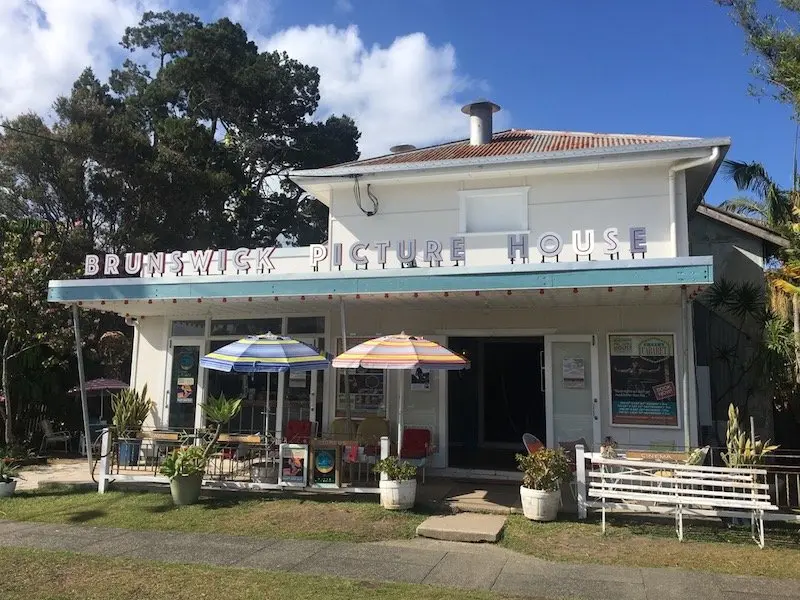 No.2: Brunswick Picture House
Dress up in your best costume outfit for a Film Event at the quirkily refurbished Picture House.
I've been in the audience of DIRTY DANCING when "Johnny" (one of the BPH Team) did his thing down the middle of the aisle, and cheered my heart out when "Baby" aced the lift!
And I've called on my inner "Sandy" during a showing of GREASE, singing along to all the hits in my sweetest voice while around me, the local 80's dance troupe "The Cassettes" bopped their way through a 50's routine.
They also have monthly Cheeky Cabaret shows where you WILL laugh your pants off.
Bring your grandma, but NOT your kids!
The Picture House has become THE place to be for:
super fun theatre
music
interactive community shows
kids holiday entertainment, and more.
Stop by at least once for some old-school fun!
Our tip: Catch Bunny Racket live, or score yourself and your kids a seat at Dr Hubble's Bubble Show.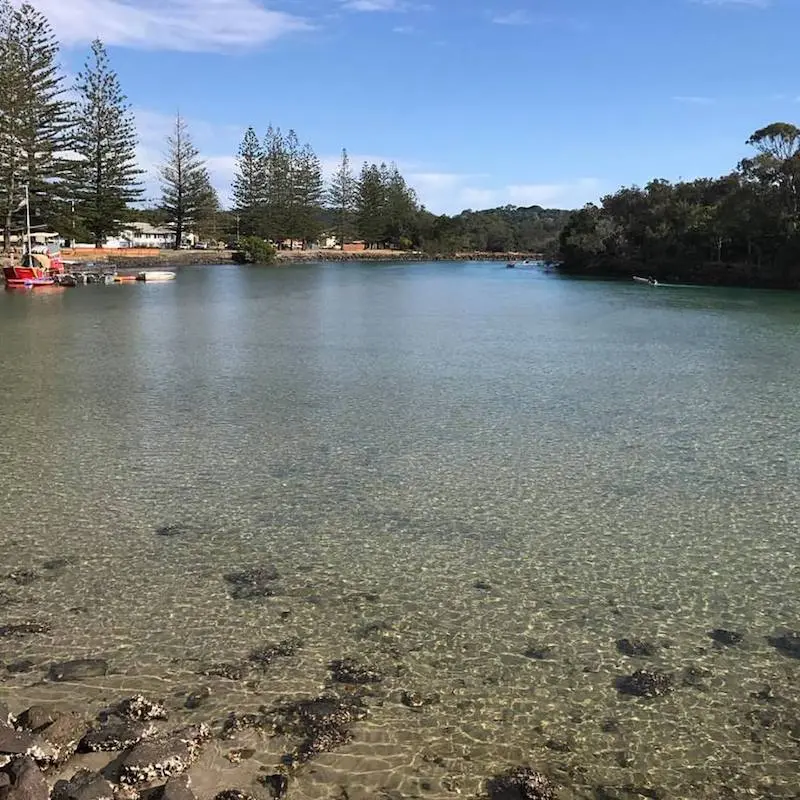 No.3: Brunswick Heads swimming spots
Top of the list of the best Brunswick Heads things to do is a river swim!
Do not leave town without taking a dip in the Brunswick River's crystal clear waters, shining emerald and turquoise, and catch a glimpse of golden sand under your toes.
This river is THE reason we live here.
It's made its' way into our hearts and our blood.
I think there's magic in these waters!
Watch as teens and dads challenge one another to jump from the car bridge into the depths below.
BYO blow-up inflatables to splash and float with your family at high-tide or
hire a stand-up paddleboard or kayak from the Pirate Ship.
It's the life, we tell you.
(Bet you never want to leave either.)
Hot tip: Brunswick Heads tide times
Go at high tide.
Or a king tide.
It's peak prettiness.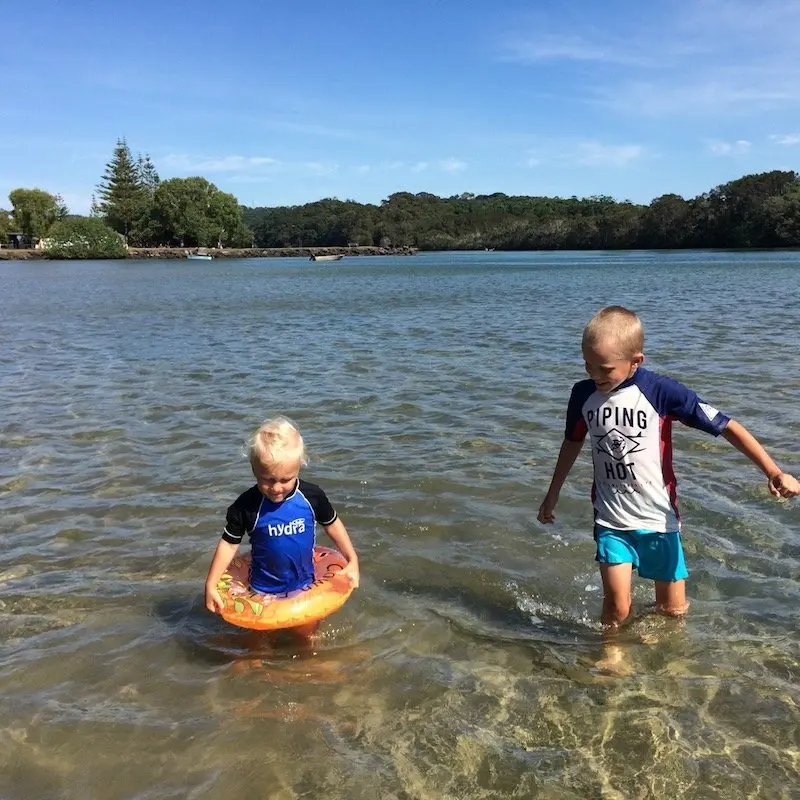 5 Best Brunswick River Swimming Spots
Wondering where to swim in Brunswick Heads in the Northern Rivers?
Want the secret to the best kid-friendly river swimming spots in town?
Set up your picnic rug and towels in one of these spots:
At the end of the little 'add-on' road leading into Massey Green (very end of Tweed St)
Beyond the memorial pines and the Cenotaph at Fawcett Street (walk through the dune pathway to find grassy areas)
Via the stairs opposite the Bruns Pub (and behind the blue playground) at Banner Park
Via the concrete boat ramp opposite the Bruns Pub (on the left where the car bridge starts)
Via the little pocket of sandy beach to the right of the car bridge. Step down via the sandbags.
There's a place to hire kayaks and canoes too.
Look out for the Pirate Boat, near the blue playground opposite the Bruns Pub.
---
Book Now: Enjoy a Sunset Eco Rainforest River Cruise on the Bruns River (with complimentary drink & tapas)
NB: You can take an Eco Cruise on the Bruns River in the early morning too. Details here.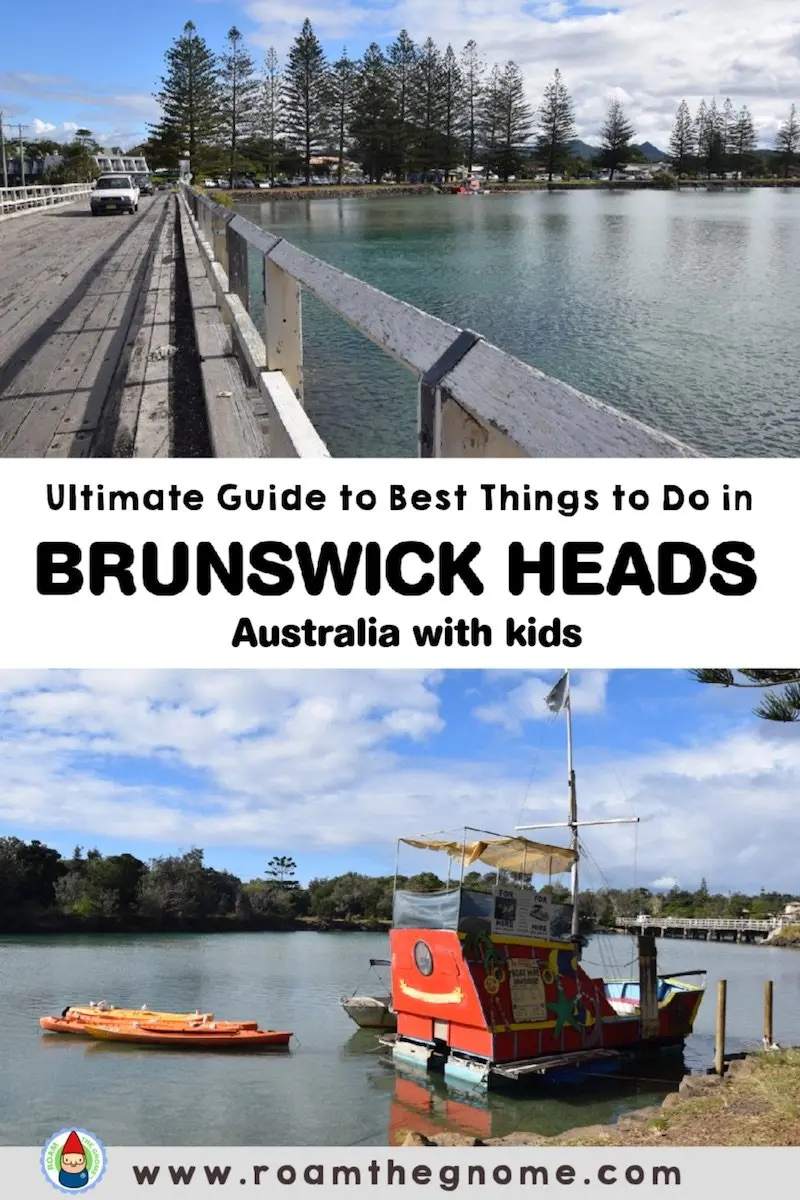 Brunswick Heads Beach for kids? Torakina Beach
If your kids love a little wave action, Torakina Beach, just over the car bridge to your left, is your destination.
Explore nature in this much loved swimming area on your family holidays.
Be sure to park in a designated spot.
The carpark rangers are not afraid to sting you with a steep fine if your car is out of bounds.
If you love surfing and want to catch a few waves on the coast, check out the Brunswick Heads surf cam for a view of the main beach before you go.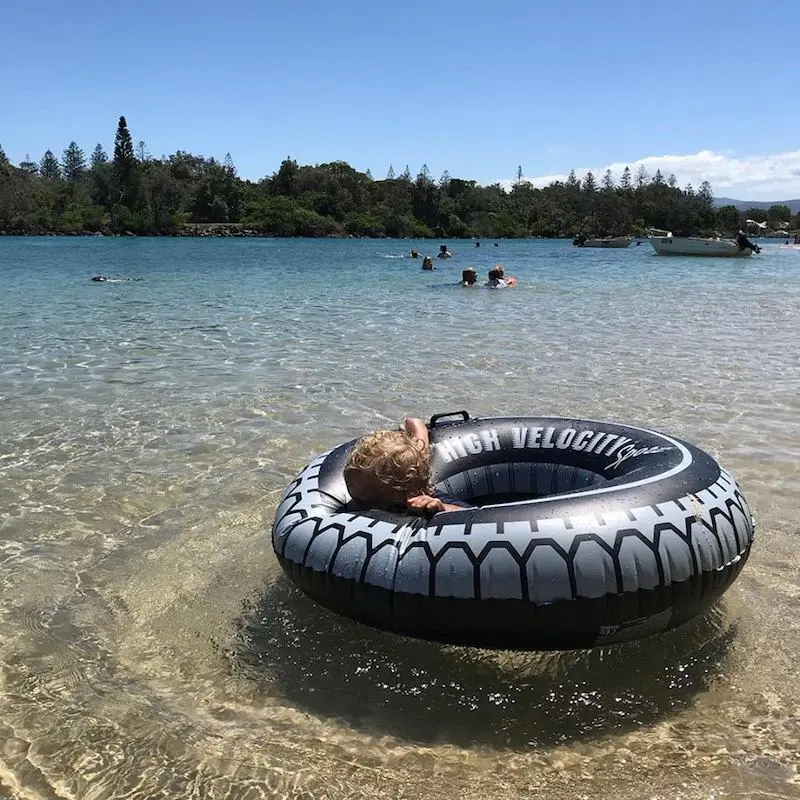 Christmas Beach Brunswick Heads
Don't visit Bruns without taking a short detour to this locals secret beach in NSW, accessed through the Brunswick Heads nature reserve.
Click here for all the details, including how to get here, and what to pack.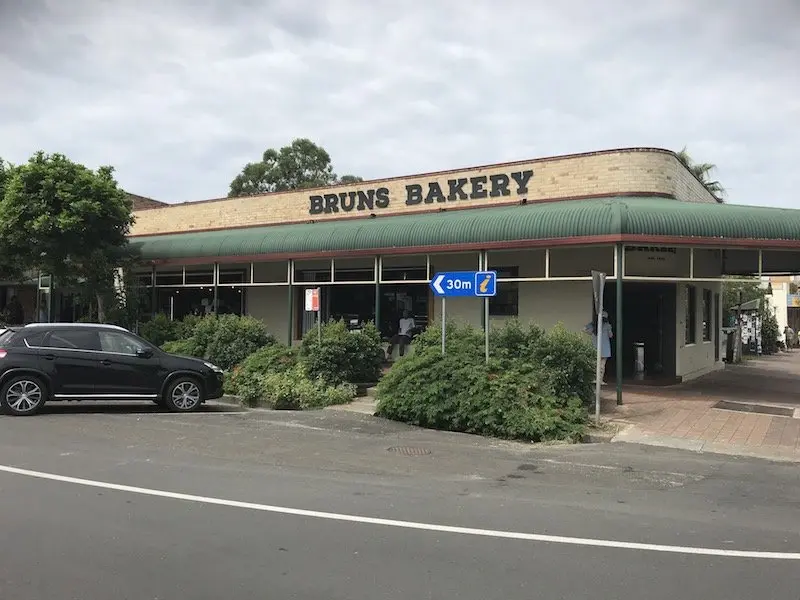 No.4: Brunswick Heads Bakery
Forget fashionable food.
Eat like we did as kids, at the best bakery around town.
If you haven't heard about the GIANT-SIZED slices of cake at the Brunswick Bakery, you have seriously been living under a rock.
Hop out now, and get yourself down to this shining star for:
an enormous Vanilla slice
a non-slimy custard tart
a Nutella-flooded croissant or donut, or
a slab of sponge cake.
FORGET LUNCH.
We go for the sweet stuff, although Ned swears by their Steak Pie.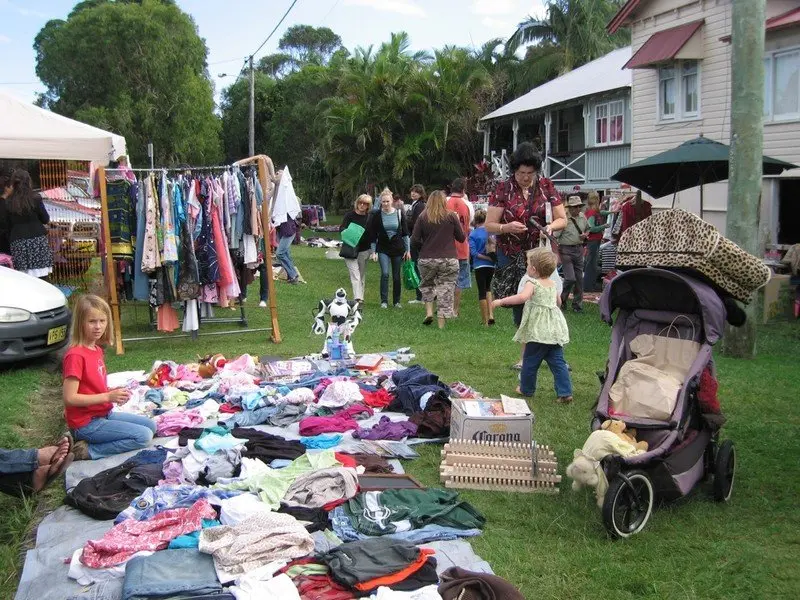 Image credit: Brunswick Heads Old and Gold
No.5: Brunswick Heads Festivals – Old and Gold Festival
If you covet all things olden, you'll fall in love with this.
The Annual Old and Gold Festival is held every year on the Saturday of the June long weekend.
The entire town comes alive with:
vintage collectibles
retro finds
local's second-hand goods for a gold coin or two
sustainable living displays
sausage sizzles and fete food
entertainment and buskers
All-day entertainment includes:
a Marble Rolling competition
Horse and Carriage rides
busking
entertainment
food trucks, and
Grandma's favourite cake stalls (bags the Lemon Slice).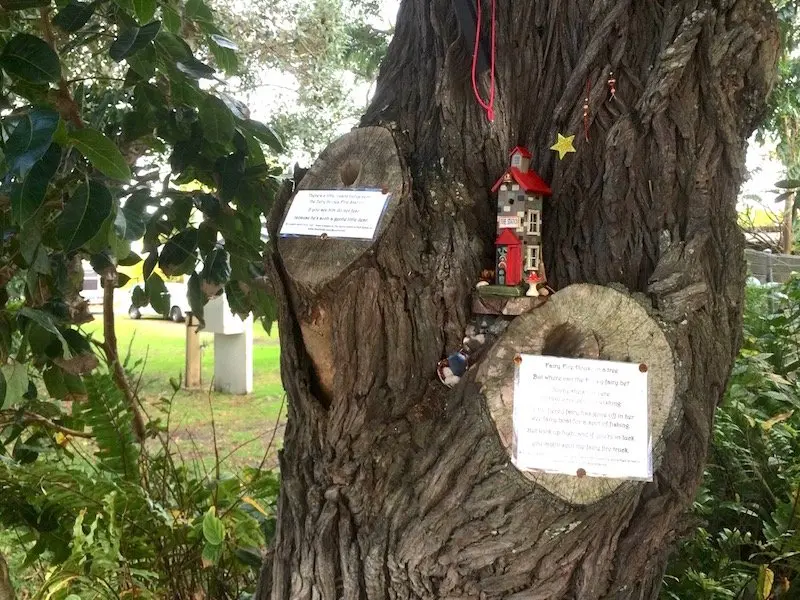 No.6: Brunswick Heads Fairy Trail Map
Explore the town with help of the local Fairy Trail.
Pick up a page of clues and a map from the Visitors Centre on Park Street, and wander your way around town finding all the fairy houses as you go.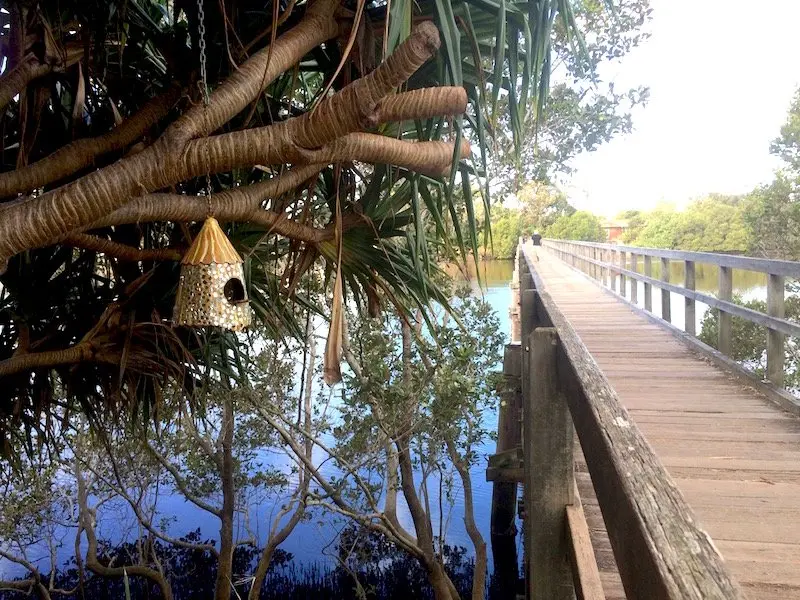 Brunswick Heads Fairy Trail Address
Find them tucked into all kinds of nooks and crannies, and these fairies have made their home out front of many community venues including:
the Fire Station
the Police Station
inside the Brunswick Heads library
restaurants
by the footbridge on both sides
shops, and
the local school.
This magical endeavour launched in 2016 and is still going strong.
Families and children LOVE it.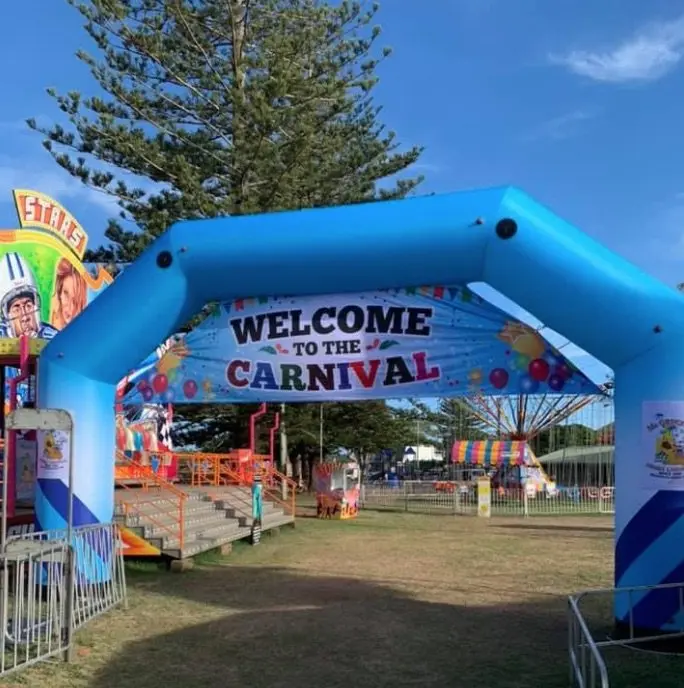 Image credit: McGregors Family Carnival
MORE Fun Brunswick Heads Events
No.7: "McGregors Family Carnival"
Housie continues to operate (volunteers willing) for 5-6 weeks over Christmas and New Year as part of the Brunswick Carnival and Sideshow Alley.
You'll also find these things at McGregors Family Carnival:
rides including the swinging chairs, giant slide, dodgem cars,
sideshow alley
popcorn, waffles, and fairy floss food trucks
hot dogs, dagwood dogs, and hot chips food trucks
jumping castle
meet characters such as Paw Patrol or Elmo!
Enjoy fireworks on the Christmas Fair night too.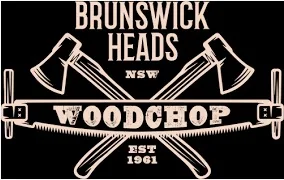 No.8: The Festival of the Fish n' Chips Wood Chop carnival
The Brunswick Heads Woodchop starts with the Festival of the Fish n' Chips
The Festival of the Fish 'n' Chips commences with the Twilight Markets on Banner Park.
The Festival of Fish and Chips continues with :
the Brunswick Heads Woodchop Carnival for Australian and international competitors
A mega fireworks display
The Brunswick Heads Woodchop competition includes approximately 34 events, including 2 Australian Championship titles.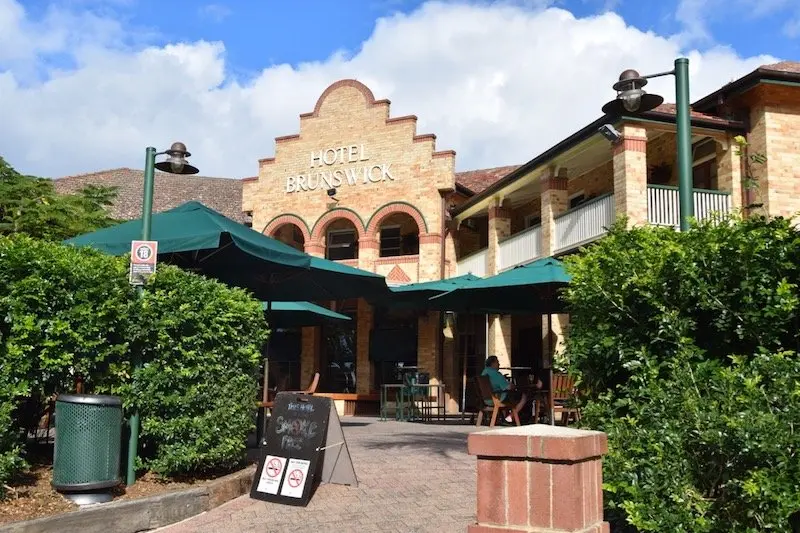 WHERE TO EAT IN BRUNSWICK HEADS
Best Brunswick Heads Restaurants?
No.1: Brunswick Heads Hotel & Pub
Eat at The Brunswick Pub.
They serve:
main meals
seafood
burgers
salads
pizza, and
bar snacks.
Hotel Brunswick Bar and Grill servings are gigantic, so share your parma and chips with the kids.
The Buffalo Chicken pizza with pesto is a hot favourite.
Let the kids roam free in the Kids Back Yard play area, with Australiana mural to boot.

Image credit: Fleet Restaurant
No.2: Fleet Brunswick Heads
If you love wine, or to beat the crowds to the hottest place around, get yourself on the waitlist for Fleet.
Co-owner Astrid McCormack has been nominated for MAÎTRE D' of the year in the Gourmet Traveller Awards more than once.
Book as far ahead as you can so you don't miss this elegant dining experience.
Find it at Shop 2, 16 The Terrace.
Near the Post Office, and opposite the primary school.

No.3: Yami Brunswick Heads
Try the falafel plate at Yami.
It's hummus, tahini, Israeli salad, tabouli, salsa, lettuce and pickles either in a pita pocket or on a plate.
Or their Melawach, a traditional savoury pastry accompanied with grated tomato, boiled egg & chilli or their famous halloumi burger!
Best Turkish food in the Northern Rivers!
No.4: Fish and Chips Brunswick Heads
The best fish and chips in Brunswick Heads is a toss up between the Bruns Pub, or Hoopers.
But we say Hoopers.
There's no comparison.
Image credit: Park St Pasta Bar
No.5: Fresh Pasta & Pizza at Park St Pasta Bar Bruns
Order freshly handmade pasta from the Park St Pasta Bar.
(Kids night is Tuesday night – half price meals for kids!)
There's no question that the best pizza in town is from Sticky Fingers
It's not the cheapest, but it is the BEST.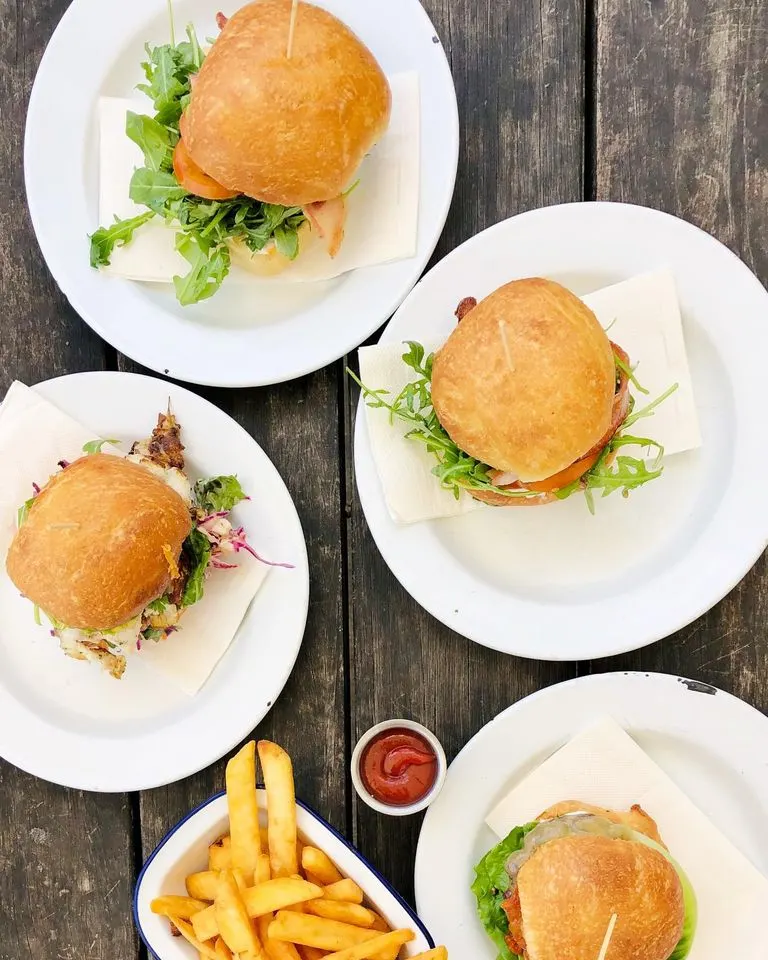 Image credit: Old Maids Burger Store
No.6: Old Maids Burgers
Old Maids Burger Store on Tweed Street is THE spot.
Locals love it.
So do visitors.
It's ALWAYS busy.
Try St Marie's Pizza next door too.
Same owners.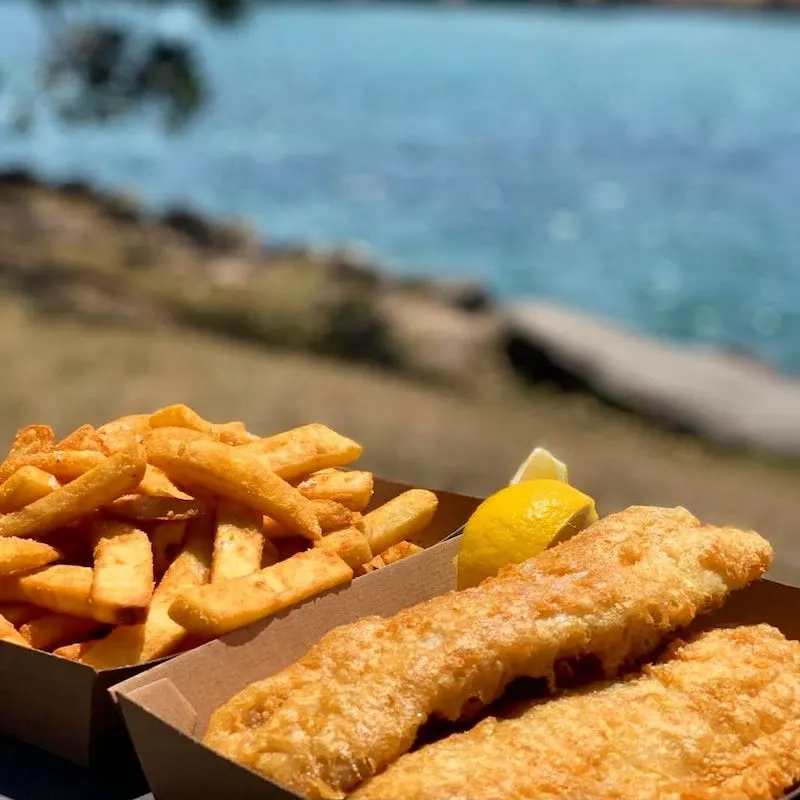 Image credit: Hooper's Burgers Fish and Chippery
No.7: Hoopers Brunswick Heads fish and chips
Or visit Hooper's Burgers, Fish and Chippery.
Their food is fresh, fast, and fabulous.
Seriously the best hot chips in town.
DON'T GO ELSEWHERE FOR CHIPS.
No.8: Brunz Indian Brunswick Heads
Head to the IGA in Bruns.
In the same complex, facing Tweed street, you'll find an Indian takeaway restaurant with all the goods.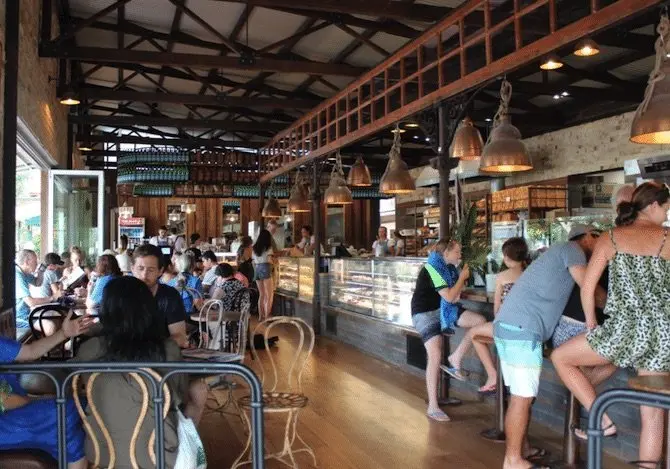 Best Brunswick Heads Cafes?
Grab your coffee at the Footbridge Cafe, or The Terrace cafe on the corner, or circle back to Bruns Bakery (pictured above).
The Footbridge Cafe is the most popular with locals, so it's a good bet.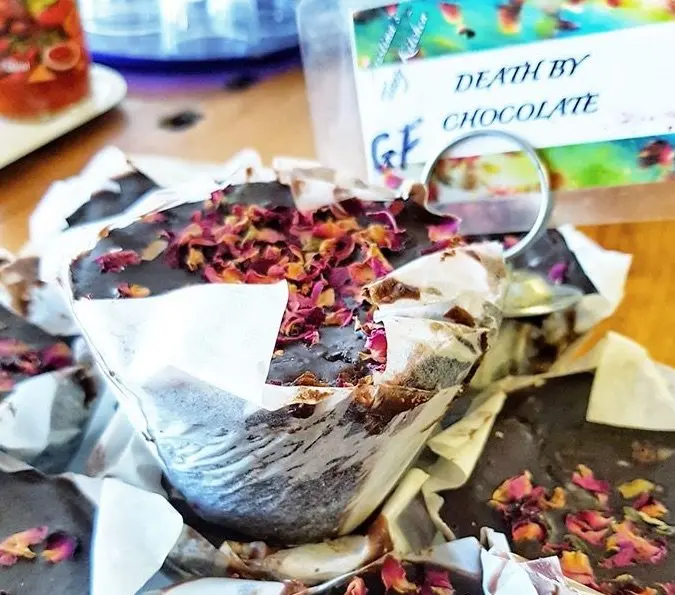 Image credit: Brunswick Heads Health Food Store
Best Brunswick Heads ice cream & treats?
No.1: Brunswick Heads Health Food Shop
You can also pop into the health food shop to pick up takeaway treats for afters.
Try the DEATH BY CHOCOLATE.
This petal covered, fudgey concoction sells out faster than they can stock it in the cake cabinet.
Get your hands on one today.
(I shouldn't tell you this, as now I can never get my hands on one!)

Image credit: Bernadis Gelato Brunswick Heads
No.2: Bernardis Gelato
Buy a scoop or two of Gelato from Bernardi's Gelato at 22 Fingal St.
Hot tip: Get the DARK CHOCOLATE GELATO.
They are famous for it.
Bernardi's Artisanal Gelato & Cafe is next to the health food shop.
Find it at 22 Fingal Street.
Bernardis Brunswick Heads is the BEST Value for money, and a local institution.
Don't be fooled by newcomers.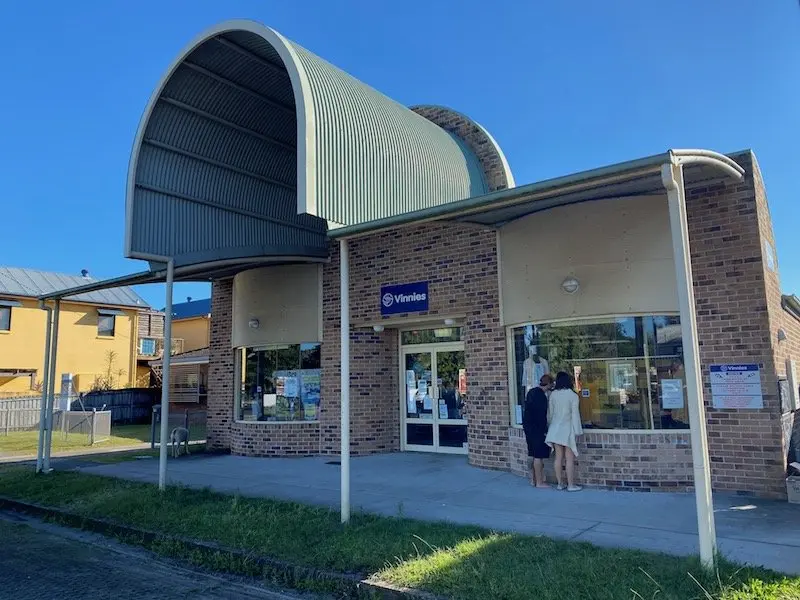 WHERE TO SHOP IN BRUNSWICK HEADS
No.1: Brunswick Heads Op Shops
For a tiny town, we have our fair share of good quality op shops.
There's St Vinnie's on the left of Fingal Street, and there's another one directly opposite at the entrance to the Memorial Hall.
A third one, the CAWI (Companion Animals Welfare Inc) Op Shop is in the same block of shops as the IGA on Tweed St/Old Pacific Highway.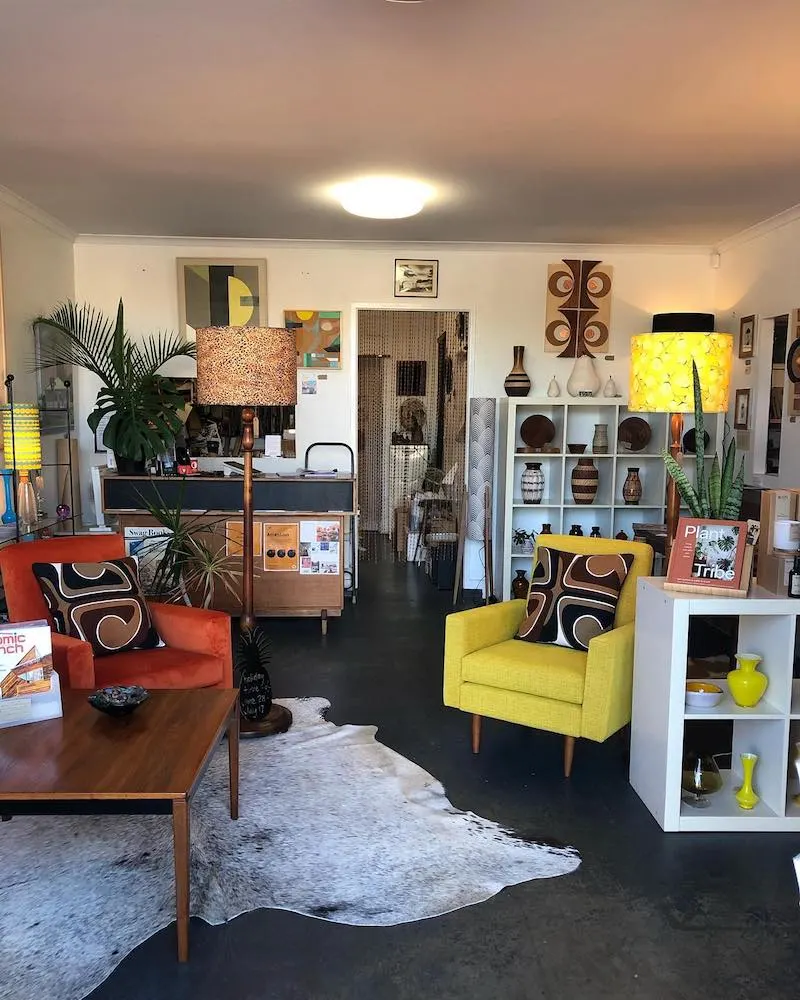 Image credit: Resould Bruns
No.2: Resould Brunswick Heads Retro Furniture
Resould Vintage Classic Modern has:
retro antiques
mid century sideboards
funky lamps, and
super cool kitsch memorabilia.
Plus loads of Parker furniture, and hand-crafted goods.
Find Resould at 48 Tweed St.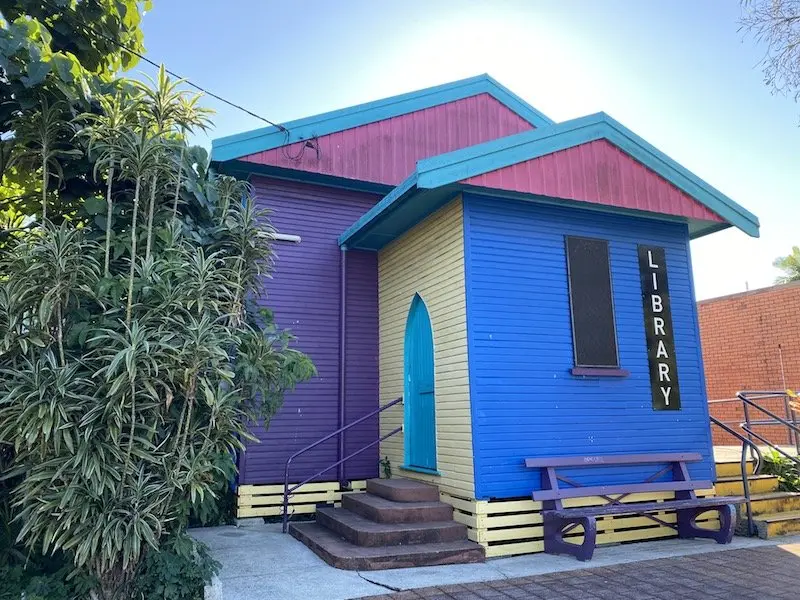 No.3: Bookshops in Brunswick Heads
If you're staying in town, and need a good read, pick up a second-hand novel or magazine at Network Video (3/7 Fingal St).
The Library has a rack outside the front door of old favourites for sale too.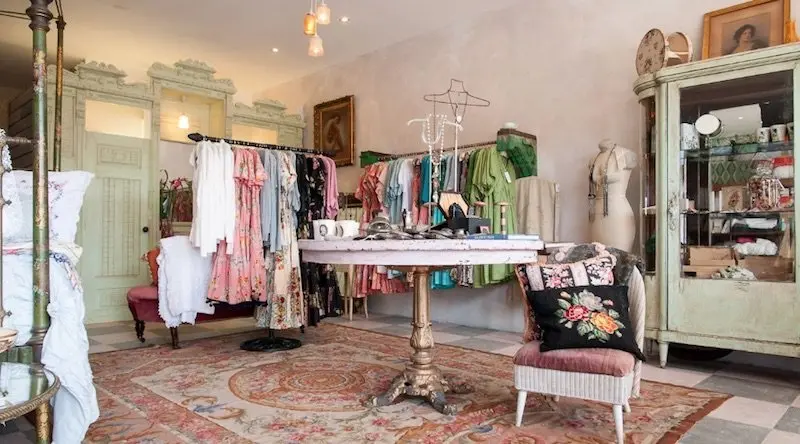 MORE of the Best Brunswick Heads Shops
Shop for cute stuff at any of these spots.
No.1: Lazybones (pictured above)
Find sweet, pretty dresses at our favourite dress shop, Lazybones.
Plus leather shoes, woollen tights, cute cardigans, all for the woman who loves stylish elegant design.
This is the flagship store.
1/8 Park St.

Image credit: Sunshine Trader Bruns
No.2: Sunshine Trader Brunswick Heads
This is one of the best shops in Brunswick Heads for the whole family, with a design edge.
Pick up:
birthday cards
fashion
children's clothing
good books
homewares
natural cleaning products from Koala Eco
fab hats and leather shoes
candles, ceramics and more.
Find it at 2/8 Park Street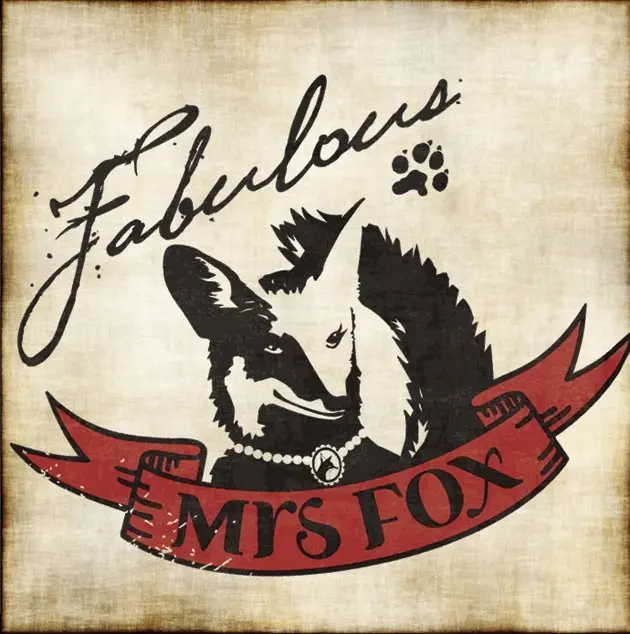 No.3: Fabulous Mrs Fox
You definitely need a sense of humour and irreverence to love this shop but if you have that, you'll adore it.
Find:
Acacia timber serving platters, perfect for DIY charcuterie boards (find savory ideas & a chocolate charcuterie board tips here)
cologne,
puzzles
teething toys
one of a kind fashion dresses
Saltwater Sandals
perfume oil
MOTEX tape writers and stamps
antiques such as scales and random rocking horses, and more.
10 Park St.
No.4: Violetta's shoes
Stylish presentation of leather shoes and quirky footwear.
This is one of the loveliest stores in town.
1/10 Park Street.

No.5: Jit Chong Brunswick Heads Pharmacy
Surprisingly, the local chemist is a beacon of stylish giftware including:
Butter London nail polish
Loom designs handwoven textiles, homewares, scrunchies, tea towels, bamboo straws, and jewellery
Reality Eyewear
Take a peek inside. You'll be glad you did.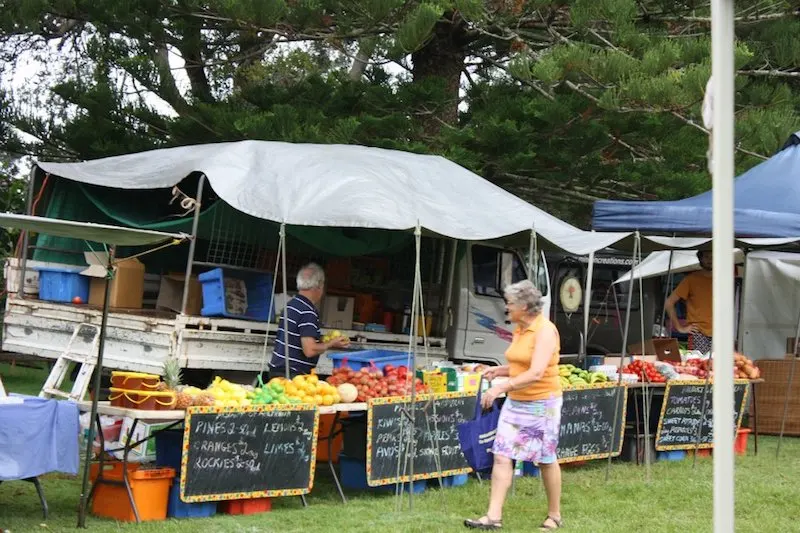 Image credit: BH market
No.6: The Monthly Brunswick Heads markets
Stop by the Brunswick Heads market on the 1st Saturday of every month to find all kinds of treasures, including:
fresh local produce
timber cutting boards
plants
soap
jewellery, and more.
Hot tip: Hungry? Try the Pizza Loca.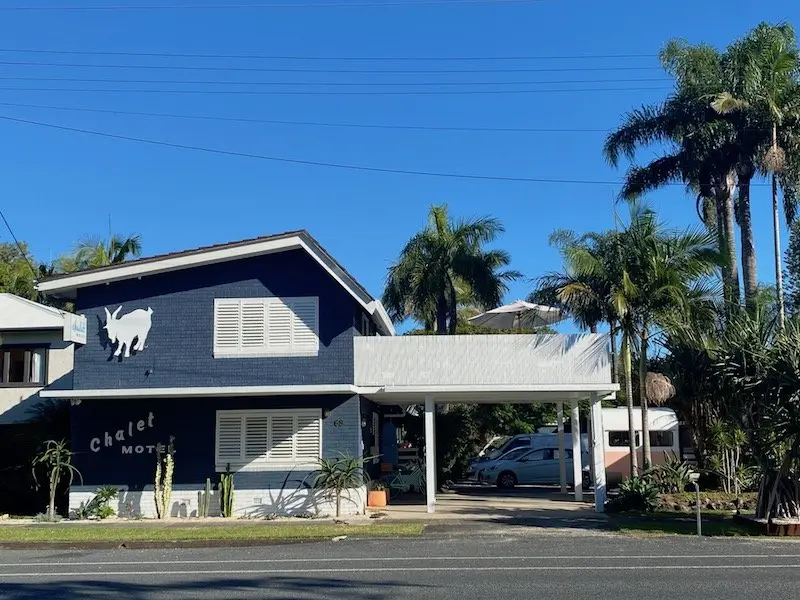 BRUNSWICK HEADS ACCOMMODATION
No.1: Brunswick Heads Hotels & Motels
These are the best places to stay in Brunswick Heads with kids.
The Sails Motel (pool pictured above)
Brunswick Heads Motel (has a pool)
Brunswick River Inn
Chalet Motel (has a pool)
All of these hotels are within 5 minutes walking distance of town and the river.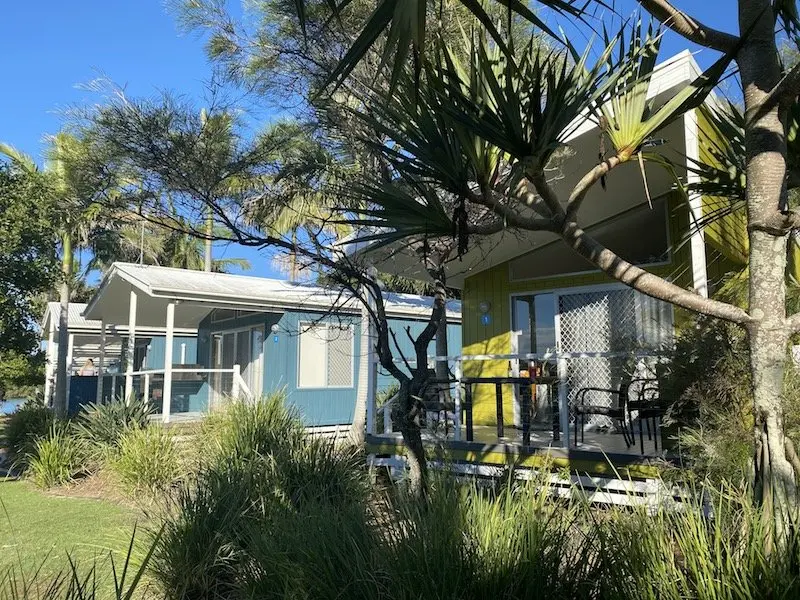 No.2: Brunswick Heads Holiday Parks (Now: Reflections Holidays Parks )
Reflections Holiday Parks have three caravan parks in Brunswick Heads.
Terrace Reserve Holiday Park cabins on the water, near the footbridge.
Massy Greene Holiday Park (on the other end of town, near the Caltex and War Memorial. Also right on the river, with lovely views)
Ferry Reserve Holiday Park (on the other side of the highway, so about a 10 minute walk into the main hub of town)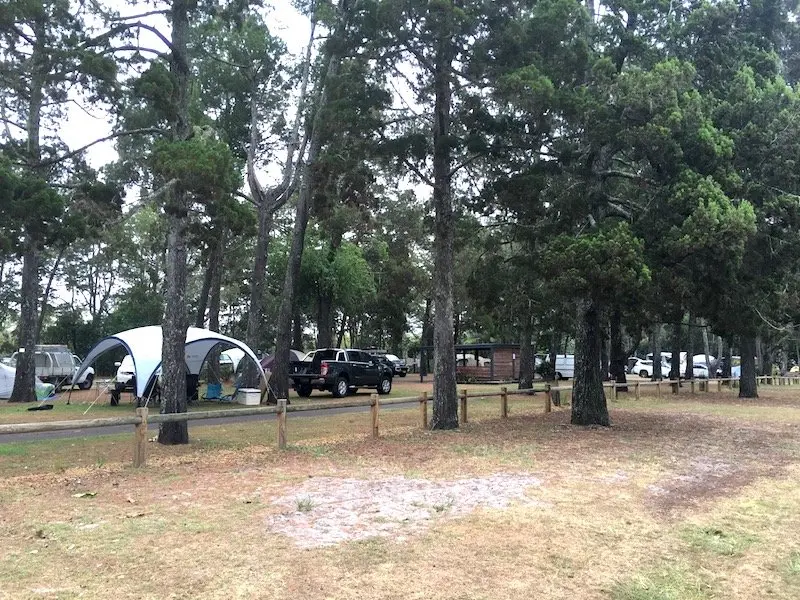 No.3: Best Brunswick Heads Camping Ground
Our pick of the best is Terrace Reserve, as the camping area is treed, and shady, and quiet but only two minutes walk to the main street.
This camping spot has stairs access to the best part of the river.
Launch your kayak easily from here.
There are two amenities blocks available, and the park runs along a residential road.
It's safe and secure for your belongings too.
No.4: Brunswick Heads Holiday Rentals
There's plenty of these too.
Contact the Tourist Office on 02 6685 1002 for information.
Brunswick Heads Map
Want MORE SUPER FUN things to do around Byron Shire?
Click the blue links below for more Byron Bay attractions