INSIDE: Why we LOVE Christmas Beach Brunswick Heads, and why you will too!
At the very end of a dusty corrugated road, you'll find a pathway to the most beautiful tropical beach you've even seen, and it's within 25 minutes drive of Byron Bay.
This secret local's beach doesn't look like much when you see it from afar, but I guarantee you, once you visit this Brunswick Heads beach, YOU WILL NEVER GO ANYWHERE ELSE.
Take a look below to see why CHRISTMAS BEACH Brunswick Heads is a local's fave!
(Plus directions!)
Fun Fact: It's also called Heaven/Harrys Hill/ Christmas Beach Brunswick Heads.
Disclosure: This article contains affiliate links. If you make a purchase after clicking on one of these links, we may receive a small commission at NO extra cost to you.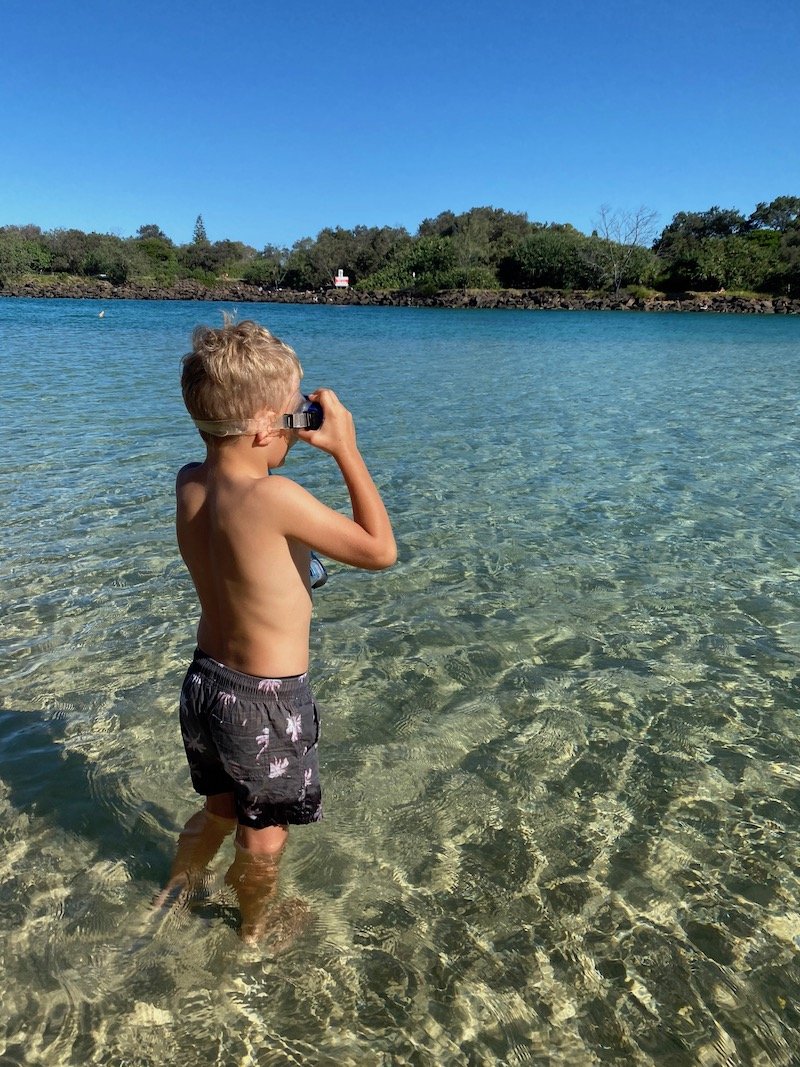 Guide to Christmas Beach Brunswick Heads
Christmas Beach Brunswick Heads on the north bank of the Brunswick River is a tropical island paradise, with CRYSTAL clear water of the topaz and emerald hues you only find way up north.
There's NO waves, except for the gentle sway after a boat leisurely glides by.
And, from November to March, the temps are delicious.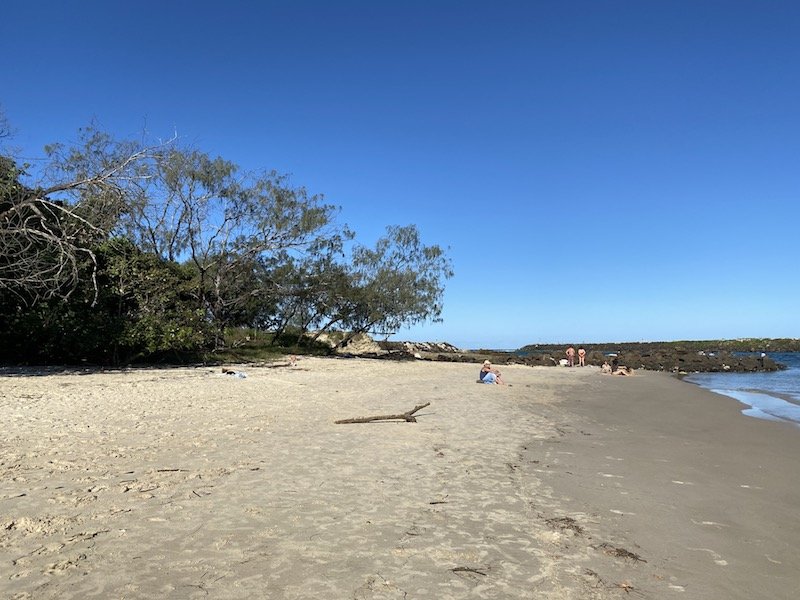 What to bring to Christmas Beach NSW
Take cover under the shade of the trees behind, and stay all day.
BYO (bring your own):
picnic food in an esky (here's a great guide full of ideas of healthy snacks & food for picnics and road trips)
snacks – fruit, carrot sticks, hommus and dips, crackers, bread sticks
lots of water in your reusable drink bottles, and
a good book.
If your kids are competent swimmers, and keeping one eye on them is enough, you might actually get a chance to read it.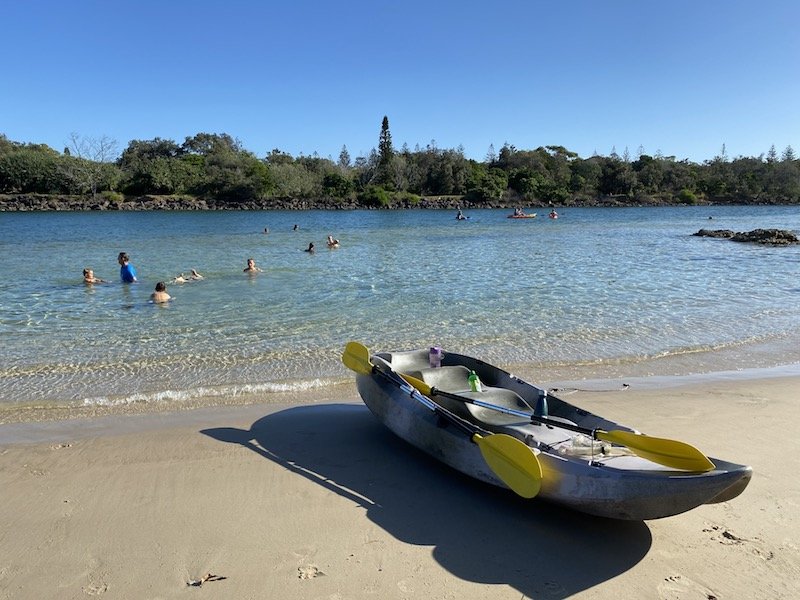 Snorkels, Masks & Kayaks
This is a top beach in Byron for kayaking, and practicing with snorkel and masks.
Don't leave them behind.
Paddle on over from the beach entry behind the Anzac Cenotaph.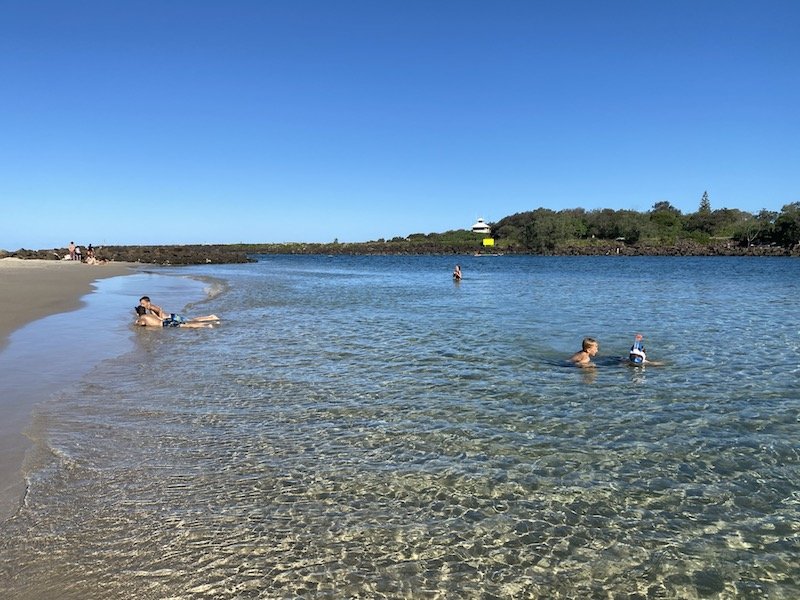 Byron's Secret Beaches
This place is a magnificent find, and trust me when I say you will never want to leave.
Side note: Every now and then, when the wind blows in the wrong direction, you get those pesky cornflakes in the water, or the water is not perfectly clear.
(If that's the case, head to our favourite Mullumbimby pool. During school holidays, they have inflatables to bounce on.)
Do be sure to come back when the weather improves, so you don't miss out on seeing this beach at its' best.
---
Hot Tip: Book a Sunrise Balloon Ride to see this beautiful scenic area from up high!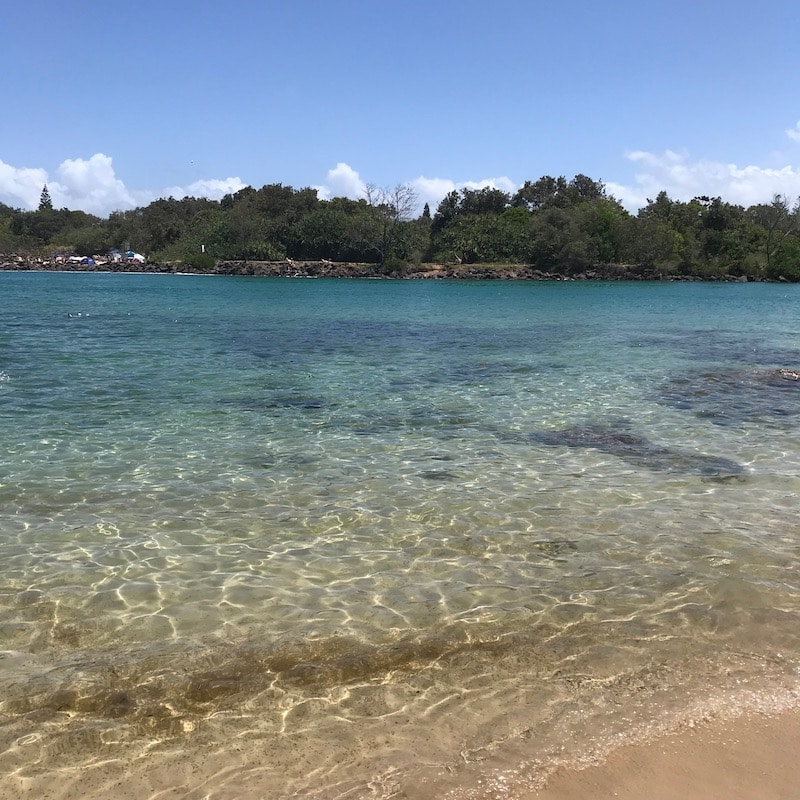 The Best Brunswick Heads Accommodation
Love Bruns and want to extend your stay?
Here's our favourite places to stay in Brunswick heads.
Best Brunswick Heads Camping and Cabins
Reflections Holiday Parks Terrace Reserve
Our pick. Right on the river. Best spot if you want to launch a canoe or kayak from the steps leading down to the water.
Massey Green Caravan park
Near the Mexican restaurant, and close to the best Brunswick Heads burger bar – Old Maids Burger Bar, and the very hip Saint Maries pizza bar too.
Ferry Reserve Caravan Park
On the opposite side of the highway. A 10 minute bike ride to town. Too far in our opinion.
Best Brunswick Heads Hotels & Apartments
All on the main thoroughfare. 5 minutes walking distance to everything.
Chalet Motel Brunswick Heads
Our favourite. You can borrow their cool mint-green bikes, complete with hessian baskets to carry your phone and towel, to get around town. Super cute hotel with retro, Palm Springs feel.
The Sails Motel Brunswick Heads
Right above the Saint Maries Pizza. Ok if you don't mind a bit of noise from revellers on weekends (or if you are one!)
Brunswick Heads Motel
Enjoy the pool out front, and the refurbed rooms.
The Brunswick River Inn
Seriously the best views of the Brunswick river and the footbridge from here, plus it's right above Trawlers and a few metres away from all the best Brunswick Heads cafes (The Footbridge is our pick), Hoopers Burger Bar, and In the Pink Gelato shop.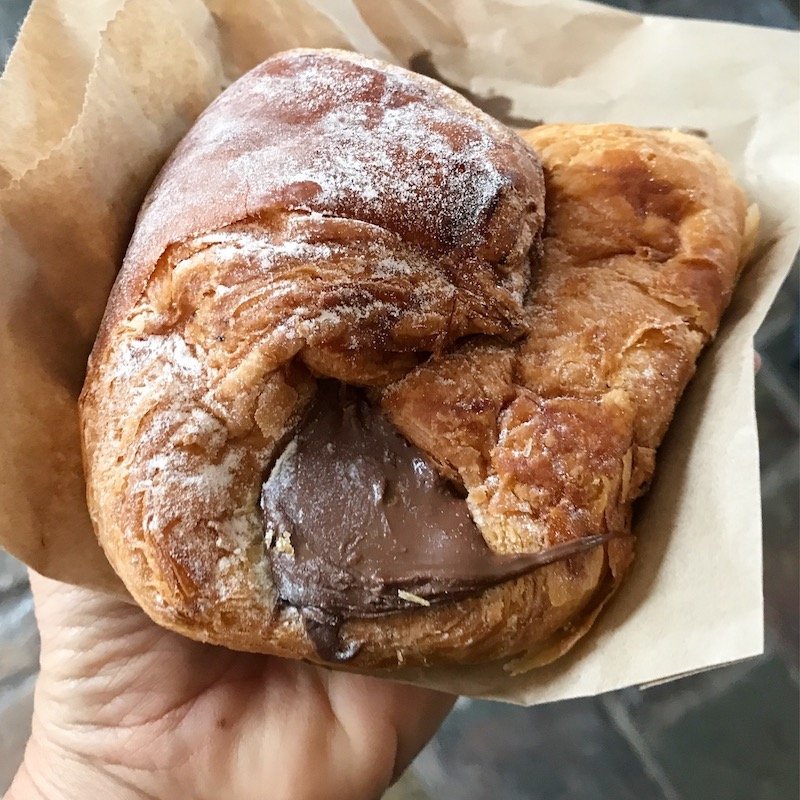 Best Things to Do in Brunswick Heads and Surrounds
The best thing about Bruns is that everything is in walking distance, including:
the iconic Bruns pub
the Bruns bakery (TRY THE NUTELLA CROISSANT)
the Bruns river
the footbridge (and the cafe of the same name!)
good coffee,
the Brunswick Picture House for holiday entertainment, and
the library when you need free wifi.
Take a look at our BIG LIST of things to do in Brunswick Heads with kids & family.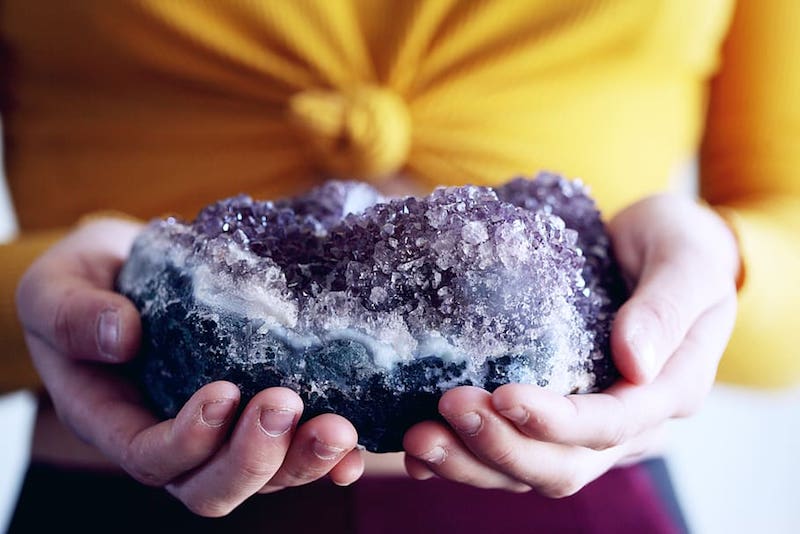 Hot tip: Crystal Castle Mullumbimby
If you have a car, don't miss visiting Crystal Castle, about 20 minutes drive from Bruns in the Byron hills near Federal and Mullumbimby. (Or book a Crystal Castle tour here)
It's the only place in the world where you can sit inside a giant AMETHYST CAVE!
---
BOOK NOW: Visiting Australia for the first time? Book this Australian Wildlife Tour (ask for a pick up from Bruns)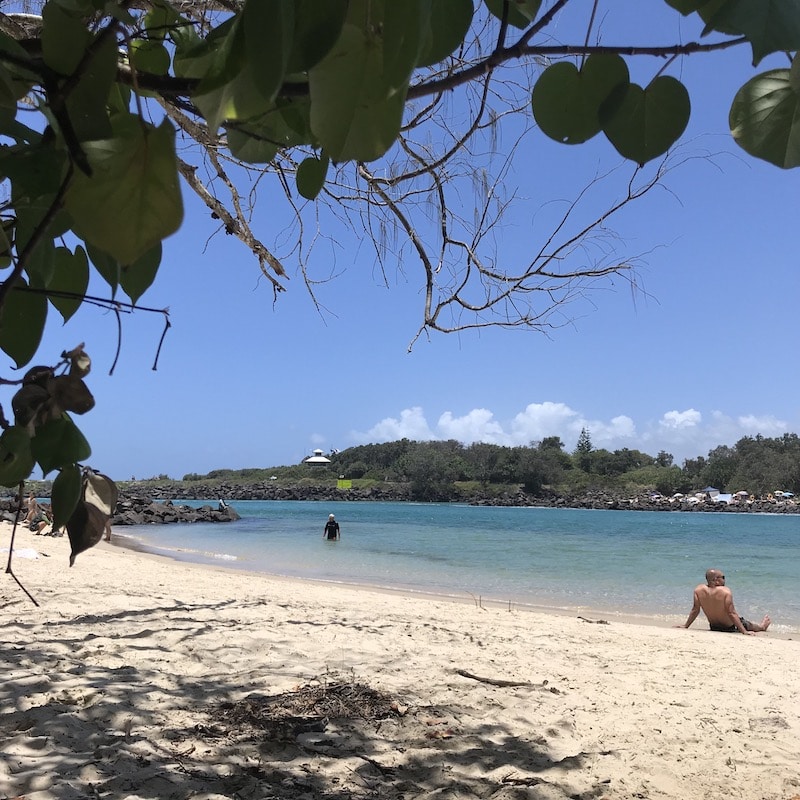 THE INSIDE SCOOP: Where is Christmas Beach Australia?
Correct at time of publication on Roam the Gnome. Please check with venue for updates. We apologise in advance if there have been any changes we are unaware of. All prices in AUD dollars, unless otherwise stated
NB: Sometimes people search for " Christmas Beach Byron Bay " but there's no such place. The beach is between Bruns, Ocean Shores and New Brighton.
Address: End of North Head Rd, New Brighton
Telephone: Ranger Station (02) 6620 9300 (Contact hours: 8.30am-4.30pm Monday to Friday) or call Byron Shire Council.
Contact: [email protected]
Website: Click here (National Parks)
Christmas Beach Opening Hours
Christmas Beach Brunswick Heads in the Brunswick Heads Nature Reserve is open daily, from dawn to dusk.
Christmas Beach may be closed times due to poor weather or fire danger.
Entry Fees: Free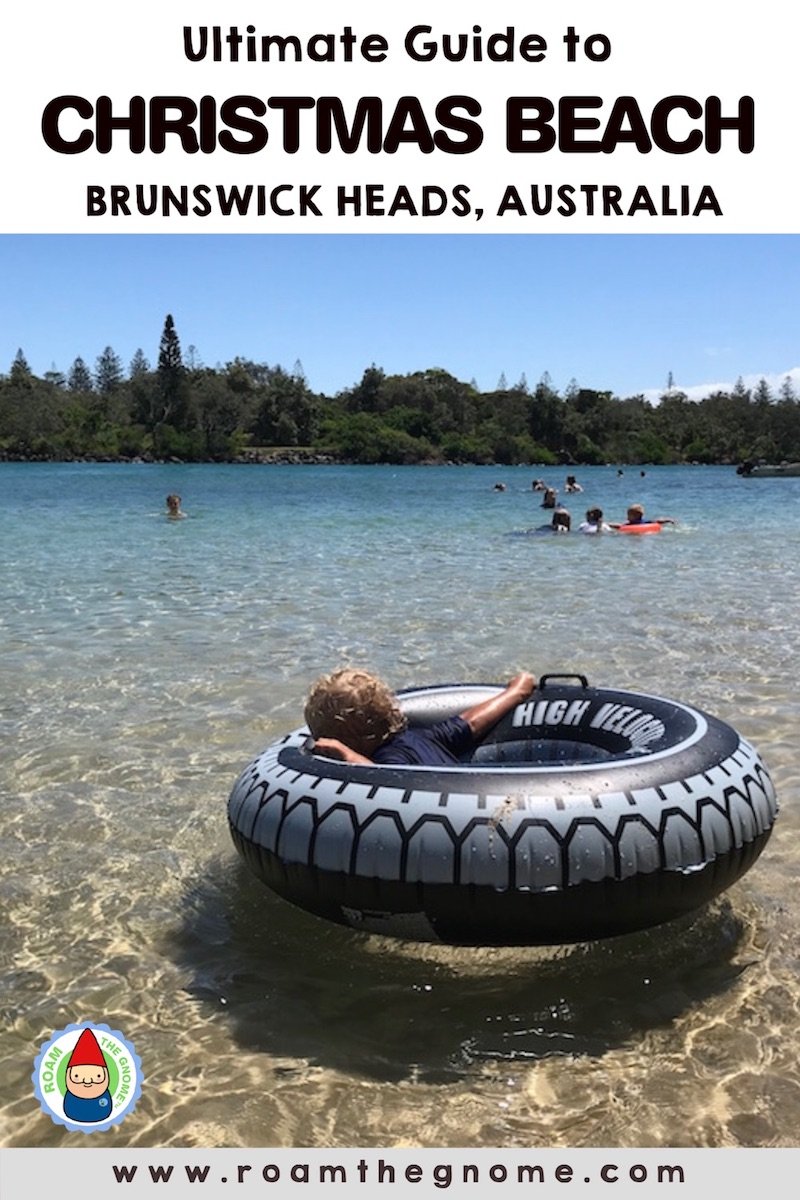 How to get to Christmas Beach
By Bus: Take the 645 bus from Ocean Shores to River Street, New Brighton and walk approximately 20 minutes.
By Car, or Bike from Ocean Shores:
Travel east along Orana Road.
At Warrambool Road roundabout, turn left to stay on Orana Road.
Continue along Orana Road, which becomes Strand Avenue.
Turn right onto North Head Road and drive all the way to the end of the gravel road, then park your car. (This is the Brunswick Heads nature reserve access road)
Walk 300 metres along the North Head track (starting at the toilet block).
Take the right fork at the sign to find stairs to access Christmas Beach.
A portable cart with beach wheels is not a bad investment if you plan to visit regularly, especially if the toddlers and younger kids can sit in it on the walk in.
By stand up paddleboard, or kayak:
Hire a board at the Pirate Ship opposite the Brunswick Heads hotel, and paddle round.
Or BYO board or boat for a build-your-own-adventure day.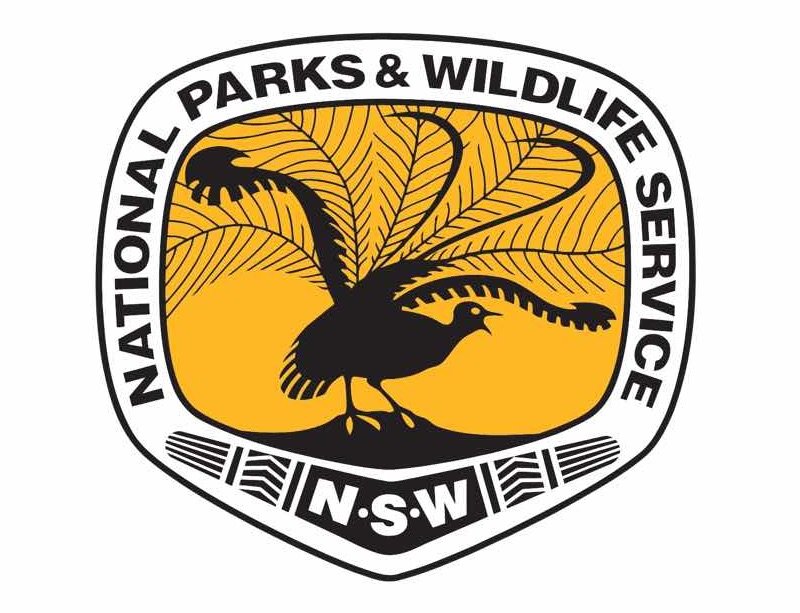 Where to Park at Christmas Beach
There's free parking for about 20 cars at the end of North Head Road.
Go early in summer.
Those who arrive by 8am, the best time of the day, get the best spot.
The car parking area fills up quickly.
Find more parking along North Head road on both sides as you enter.
Drive up to see how close you can get, and turn around to find a spot on road out if you have to.
Entry via Bushwalk
If you have kids in tow, you don't want to walk any more than you have to, especially on the return hike after a big day of swimming.
The beach track alone is long enough for little ones.
Note: Avoid this beach on public holidays.
Hot tip: If you are late risers, go after 12 when lots of the families depart for home and midday naps for kids.
Map of Christmas Beach (AKA Harry Hills Beach)
Facilities at Christmas Beach in Brunswick Heads
Nearest takeaway coffee: New Brighton, or Ocean Shores Shopping Centre on Rajah Road.
Toilets: At entrance to North Head track only.
Disability access: Limited. Sandy pathway and stairs at end of track to beach.
Closest ATM: Ocean Shores Shopping Centre
Closest playground: Water Lily Park, Ocean Shores
Shade: Yes, treed.
Enclosed: No.
Ground cover: Sand
Food options: BYO
Picnic tables: No
Electric BBQs: No
Water Bubblers/fountains: No. BYO water.
Scooters and Bikes: No
Dogs: No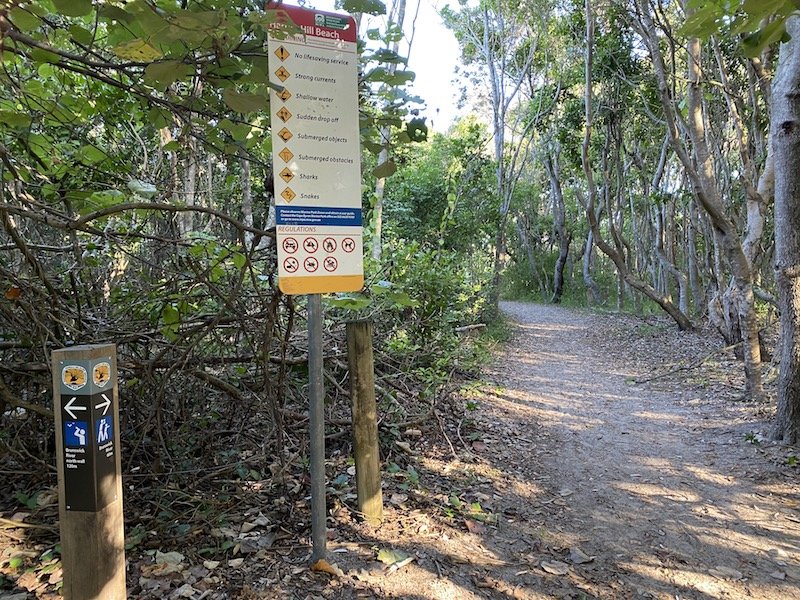 Toadstool Rating- Christmas Beach Ocean Shores
Best of the secret beaches NSW locals keep to themselves.
It's one of the best beaches near Byron Bay for kids too. We visit this beach often.
See you there!

Looking for MORE SUPER FUN Things to Do in BRUNSWICK HEADS & BYRON BAY?
Click the blue links for more Byron Bay & Bruns fun.