INSIDE: Roam the Gnome's Guide to the The Best Fun Hotels & Resorts for Kids and Families.
You know how we feel about Disney hotels.
And the super excellent Magic Castle Hotel in Los Angeles.
But there are a number of other hotel chains around the world that make it their mission to build FUN HOTELS for KIDS!
These are some of our favorites.
Take a look below and start planning your next trip!
Disclosure: This article contains affiliate links. If you make a purchase after clicking on one of these links, we may receive a small commission at NO extra cost to you.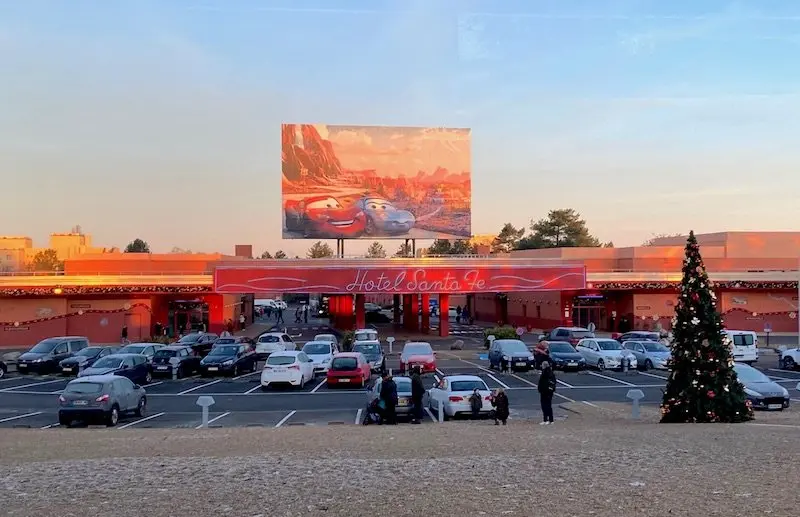 SUPER FUN HOTELS FOR KIDS AROUND THE WORLD WITH THEME PARKS & WATER PARKS
These are the best family hotel brands around the world.
You will NOT find better.
Book a stay without delay!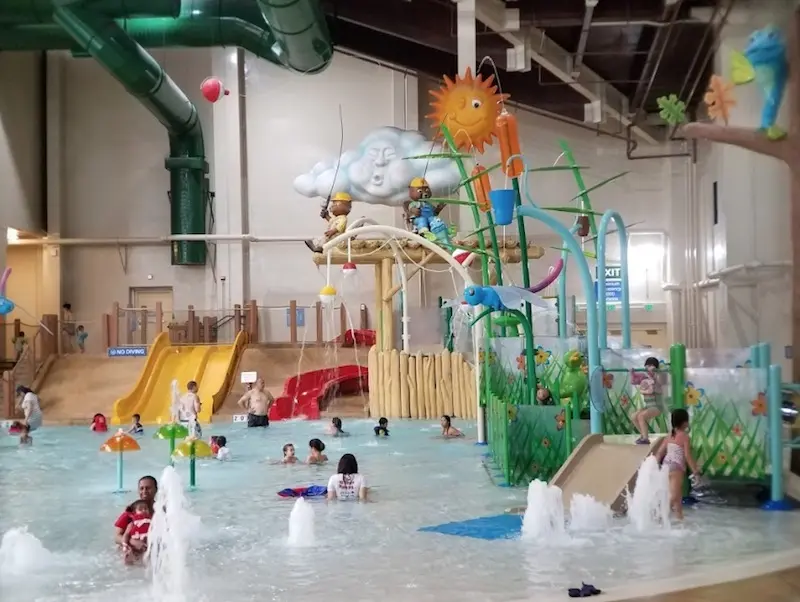 Image credit: Dan Dan
No.1: Great Wolf Lodge, California
The Great Wolf Lodge in California is the only indoor water park resort hotel in the state.
The Great Wolf Lodge in Anaheim has a giant wave pool, 14 different waterslides, four pools, a fort tree house with splash pad, and a surf simulator.
Kids can:
play a game of bowling or glow in the dark mini golf
challenge new friends in a laser battle
have their faces painted
play retro arcade games
complete a MagiQuest treasure hunt, and
head to a party in their PJ's.
The next best thing at Great Wolf Lodge California are the themed suites for families, with in-suite cave themed sleeping areas called Wolf Den suites!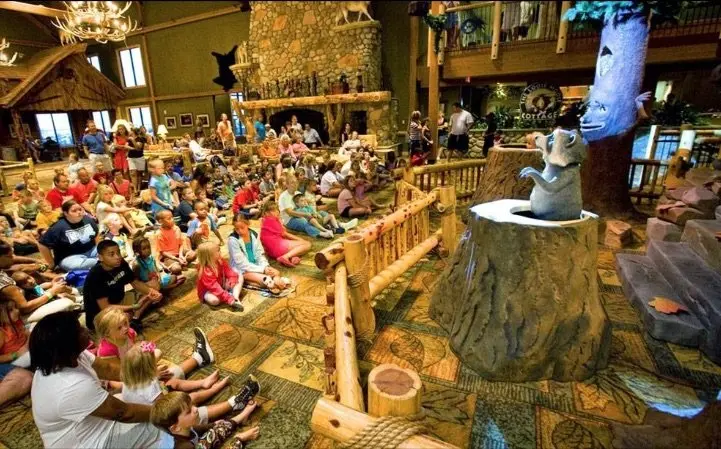 Great Wolf Lodge Character Breakfasts & Shows!
Book a character breakfast at The Loose Moose Cottage starting at 7:00 a.m. for morning fuel, and prime photo opportunities with Wiley and his pack.
Water park passes, kids activities, story time, a Forest Friends lobby show, the fitness center and wifi are all included in the price, making this a great value hotel stay.
You can find MORE Great Wolf Lodge hotels with different unique family attractions in:
Colorado Springs
Grand Mound
Scottsdale Arizona
Atlanta Georgia
Charlotte North Carolina
Grapevine Texas
Williamsburg
Chicago Illinois
Cincinnati Ohia
Kansas City Kansas
Boston Massachusetts
Pocono Mountains in Pennsylvania
There's also a Great Wolf Lodge in Niagara Falls, Ontario Canada.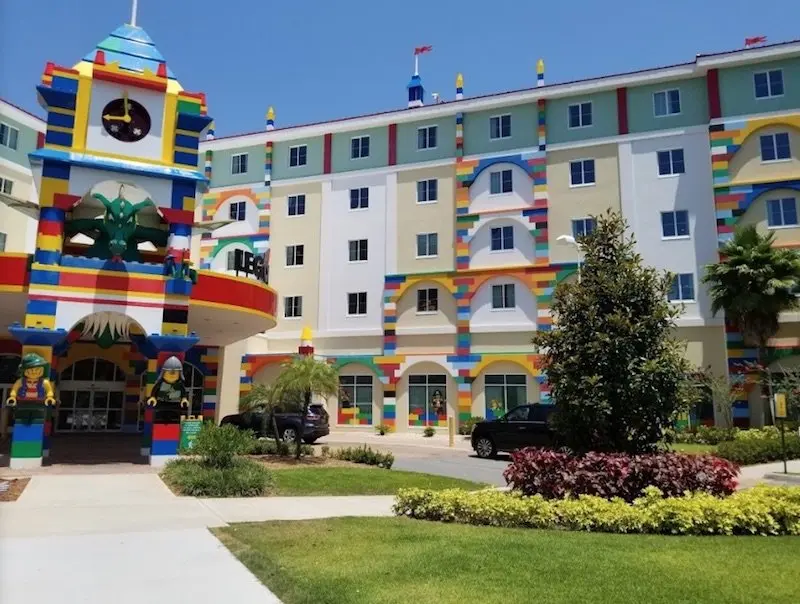 Image credit: Magda Enid Marrero
No.2: LEGOLAND Florida Resort Hotel, Orlando
Families with kids under 12 will love a LEGOLAND hotel stay.
The rooms are themed around popular LEGO themes and styles:
LEGO Ninjago
LEGO Pirates
LEGO Kingdom
LEGO friends, &
LEGO Adventure.
Hot tip: look out for the interactive elements and treasure hunts in the rooms!
You'll find single rooms, double rooms and family rooms with separate sleeping areas, and bunk beds and trundles in the kids room.
The LEGO Ninjago rooms, and the LEGO friends rooms are the most popular so book early to avoid disappointment.
Immediately distinguisable, the LEGO hotel is brightly colored with plenty of LEGO brick accents around the lobby, corridors and inside your room too, plus cool LEGO playgrounds for the kids!
AND live LEGO shows for kids, with interactive games, dancing, singing, and more!
You'll find LEGO bathroom amenities, delicious buffet breakfasts, and creative workshops on offer too.
Most of the LEGO hotels have their own LEGO water parks.
These interactive LEGO splash parks and pool areas are out of this world, and one of the highlights of a stay at Legoland.
Breakfast and dinner are served at the BRICK Family Restaurant.
A stay at LEGOLAND is the ultimate sleepover and staycation destination for kids and families.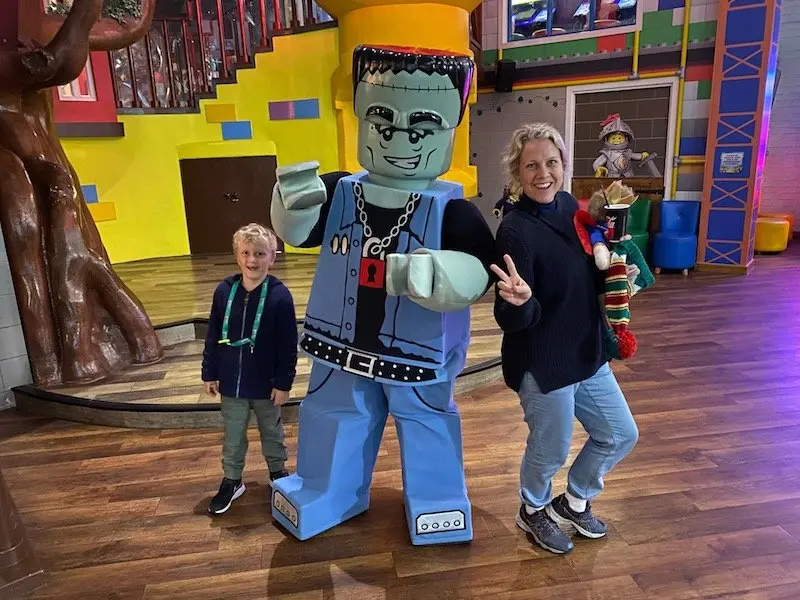 There's also more LEGOLAND hotels around the world. Find one near you!
LEGOLAND California Resort
LEGOLAND Resort Hotel Windsor (pictured above)
LEGOLAND Castle Hotel Windsor
LEGOLAND Holiday Village Deutschland
Hotel LEGOLAND Billund Denmark
LEGOLAND Japan Hotel Nagoya
LEGOLAND Malaysia Hotel
LEGOLAND Dubai Hotel (opening 2020)
No.3: Gaylord Hotels
If you haven't yet heard of the famous Gaylord hotels, you are in for a treat.
Each of the five Gaylord Hotels are themed around the famous attributes and icons of their destination.
No.1: Gaylord Opryland Resort Nashville
Gaylord Opryland Resort & Convention center is a 9 acre shopping and entertainment hub with its' own indoor river, cascading waterfalls and a under magnificent glass atriums.
You can take a boat ride through!
SoundWaves water park
The SoundWaves water experience is an indoor/outdoor resort water attraction over 4 acres with living walls, indoor sunbathing, looping water slides, kids water play zone, and a wave pool.
The hotel is right next door to the Grand Ole Opry too.
Christmas at any of the Gaylord hotels is a spectacular event!
But this one is out of this world.
ICE exhibition at Gaylord Opryland Hotel
The ICE exhibition at Gaylord Opryland is a snowy Christmas extravaganza with interactive themed ice sculptures carved from over two million pounds of ice!
There's tubing, ice skating, gingerbread decorating, a Christmas musical, scavenger hunts and Christmas themed feasts!
There's also over 2 millions of lights around the hotel, to amplify the Christmas atmosphere higher than ever before!
No.2: Gaylord Palms Resort & Convention Center Orlando
A 63 acre resort under giant glass atriums with Florida-themed decor and environments, plus shopping, restaurants, and the Cypress Springs Family Water Fun Park.
Just 10 minutes from Epcot, and 5 minutes to Disney's Hollywood Studios
No.3: Gaylord Texan Resort & Convention Center
Yet another signature resort built under breathtaking glass atriums, there's indoor gardens, walkways and plenty of good shopping and restaurant choices.
But the highlight here is the Paradise Springs pool and lazy river complex.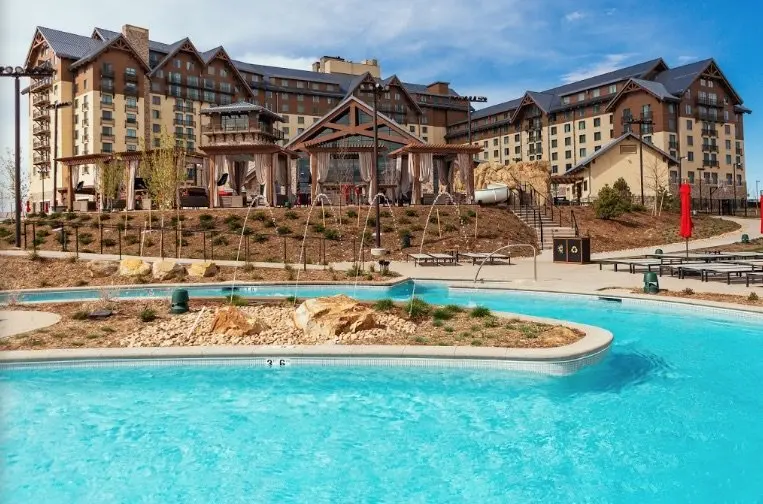 No.4: Gaylord Rockies Resort & Convention Center
The Aurora Colorado location gives this charming hotel a spectacular outlook towards the snow capped mountains.
The kids love the indoor and outdoor water complex with its' seasonal lazy river too.
No.5: Gaylord National Resort & Convention Center
This hotel is in Washington DC, and while the facilities are not as family friendly as the other Gaylord hotels, the one thing they do have is Christmas on the Potomac, with over 2 million holiday lights.
This year, the famous ICE exhibition themed around the Dr.Seuss book, How the Grinch Stole Christmas.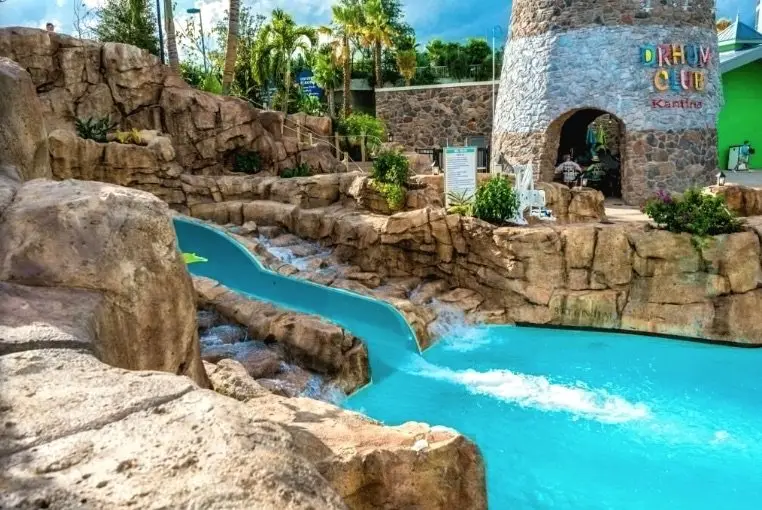 Image credit: Daniel Rivera
No.4: Universal Orlando Resort (Loews Florida hotels)
Stay at these Loews hotels in Florida for exclusive theme park benefits, but more than that.
These hotels have that extra special something for kids, and some of them appeal to the bucket list dreams of adults too!
No.1: Loews Portofino Bay at Universal Orlando Resort
A hotel with the charm and ambience of Italy
No.2: Loews Royal Pacific Resort at Universal Orlando Resort
Home to a lagoon style swimming pool in a tropical paradise
No.3: Loews Sapphire Falls Resort at Universal Orlando Resort
This is the newest onsite hotel near Universal Studios Florida, with island charm, blue waterfalls and a resort style pool with white sand beach!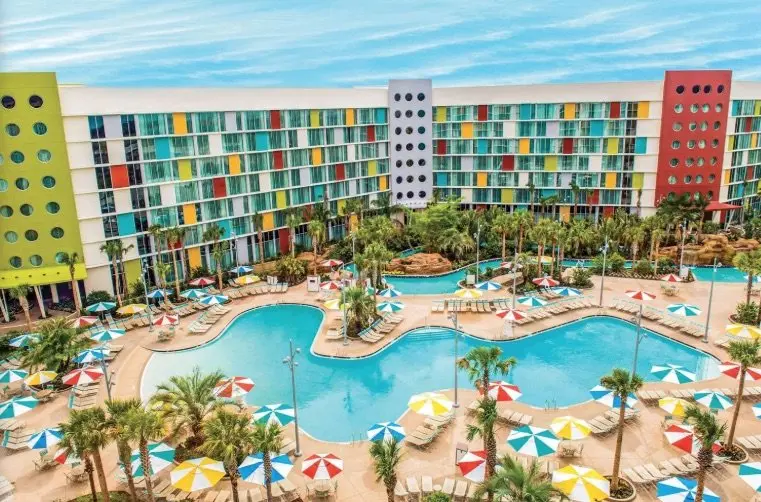 Image credit: Universal's Cabana Bay Resort
No.4: Universal's Cabana Bay Beach Resort
THIS is the most fun hotel in Orlando for families who love a retro vibe and a hotel inspired by classic Florida beach resorts of the 1950s and 60s.
There's a giant food court, two monster sized pools, a winding lazy river, a 10-lane bowling alley, and it's walking distance to Universal Orlando theme parks.
No.5: Universal's Aventura Hotel
This is the best hotel for teenagers in the area. It's the stylish grown up, with a pool, splash zone, fire pit and a virtual reality game room.
No.6: Universal's Endless Summer Resort – Surfside Inn and Suites
Part of the Universal's Endless Summer Resort, this is the place to stay for a relaxed vacation for kids of all ages, where the focus is on the theme parks.
The rooms are beach-themed, and the large surfboard shaped pool has a splash pad next to it.
There's a games room, and food court on site too.
No.7: Universal Endless Summer Resort – Dockside Inn and Suites
A sister hotel to the Surfside Inn, opening March 2020.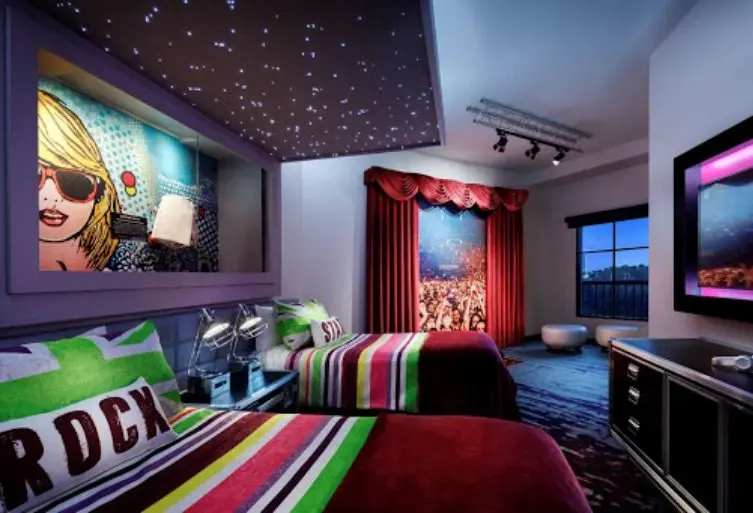 Image credit: Hard Rock Hotel Orlando
No.5: Hard Rock Hotel Orlando
Hard Rock Hotel at Universal Orlando Resort (also operated by Loews hotels) has FUTURE ROCK STAR suites.
Need we say more?
Yes.
There's Theme Park perks including:
skip the line passes
early admissions
complimentary water taxis along the waterways or take a free shuttle bus, and
priority seating at some of the restaurants.
You can check out a Fender Guitar and premium headphones and rock out in your room as long as you want with zero noise complaints.
Kids can join in:
ping pong tournaments
hula hoop contests
water balloon toss games by the Hard Rock Orlando pool.
There's also live music and a DJ.
The 12,000 square foot pool has a sand beach, interactive fountains and a play area for the children, plus a 260-foot pool slide.
Book the kids into Camp Lil' Rock activity center so you can eat dinner in peace, or let them eat while they watch cartoons at the Kids Crib at the kitchen,
Did you know? You can start your day with a wake-up call from one of your favorite Universal Orlando theme park characters and rock stars!

No.6: Hard Rock Hotel Bali
Hard Rock Hotel in Bali has the BEST pool on the island, with:
racer waterslides
a kids water park
a foam pit party
DJ's
kids olympics games, and
a sand-bottomed pool that is just right for lazy swims in the tropics.
We LOVE this hotel.
It's the best family hotel in Bali, without doubt.
(And we've stayed in LOTS of them.)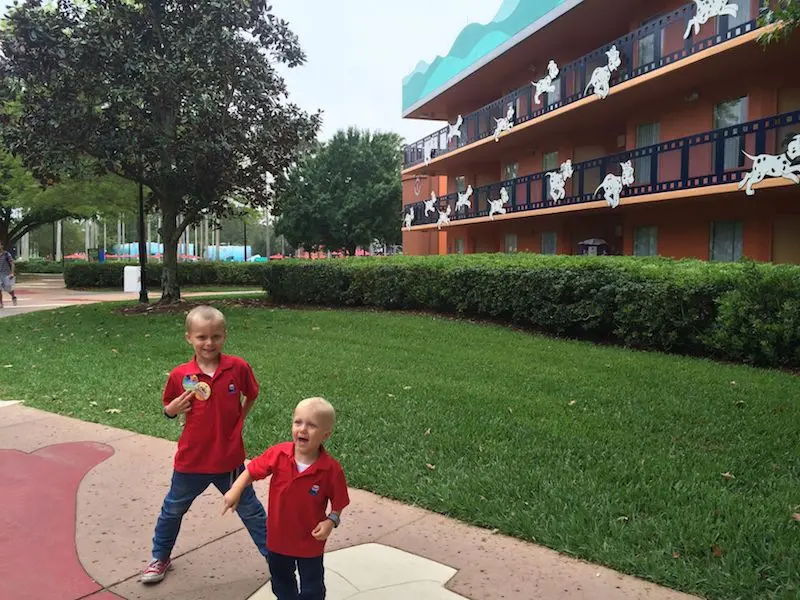 No.7: Best DISNEY Hotels
No list of the best hotels for kids around the world is complete without mentioning Disney hotels.
Here's a round up of ALL the Disney hotels you can stay in.
Or read our guide to the best Walt Disney World properties in Orlando within the resort boundaries.
(eg on property Disney hotels)
These are only ones to stay at if you want the full Disney magic experience!
(Disney hotels are always fun hotels for kids!)
WACKY THEMED HOTELS
No.1: Woodlyn Park, New Zealand
Ever fancied staying in one of two Hobbit Homes?
Or on a WWII Navy Patrol boat?
Or a railway carriage from the steam train era, built in 1918?
You can also enjoy a sleepover in a 1950's Bristol Freighter?
This aircraft achieved notoriety when it was hit by ground fire while flying in Indonesia 13 Oct 1965.
This theme hotel accommodation is just two minutes drive from the Waitomo Glow Worm Caves, on the North Island of New Zealand.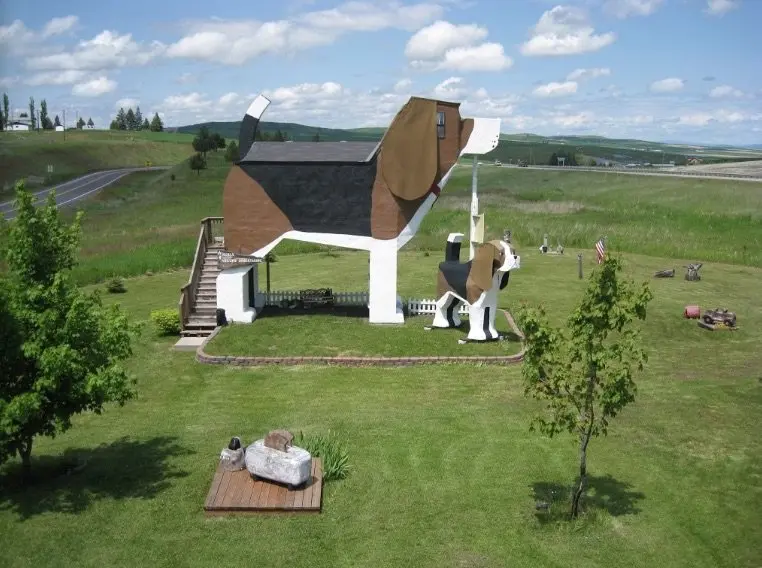 No.2: Dog Park Bark Inn
If your family are dog people, as well as fun adventurers, the Dog Park Bark Inn might bark right up your alley.
Dog Bark Park Inn is a bed & breakfast guesthouse inside the World's Biggest Beagle!
The Dog Park Bark Inn is a monster-sized beagle dog, fitted with:
themed bedrooms, and
a family friendly entertainment zone filled with board games and puzzles.
Look out for the dog's decorative furnishings – carvings by Dog Bark Park chainsaw artists Dennis & Frances.
Dog Bark Park is located in north central Idaho on US Hwy 95 at Cottonwood, Idaho.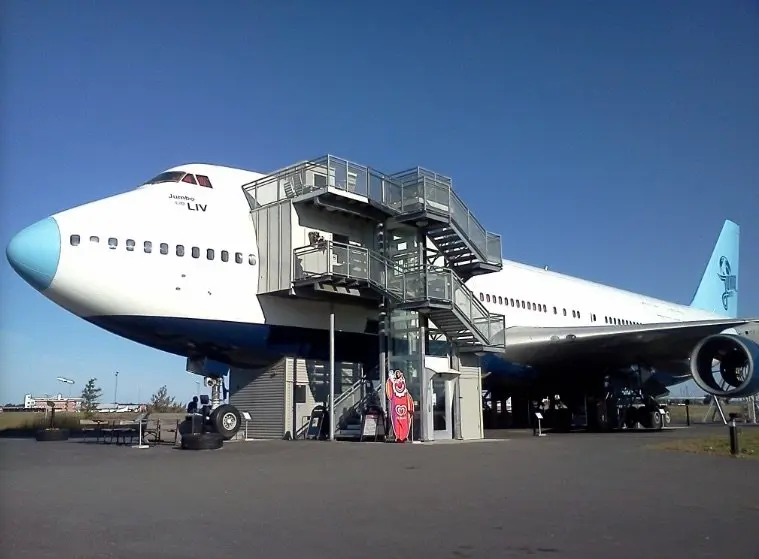 No.3: Jumbo Hotel, Stockholm
If you've ever wanted to travel first class to try out what it's like to sleep on a plane lying down, this is the next best thing.
The Jumbo Hotel is inside a repurposed Boeing 747 next to the Arlanda airport in Stockholm.
There's 29 rooms in total including:
dorms
doubles, and
triple rooms.
All rooms share the onboard facilities including full size showers, and toilets.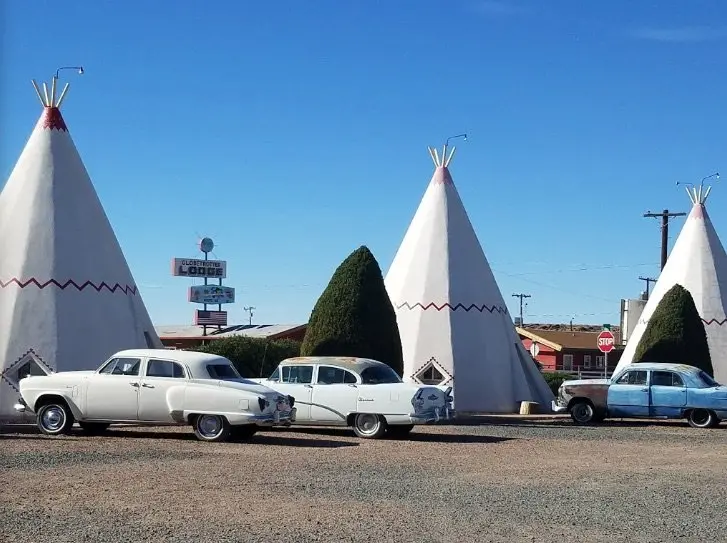 Image credit: Vikki Porter
No.4: Route 66 Wigwag Teepees
Did you know you can stay in one of the last remaining roadside motels shaped as a wigwam teepee?
Made famous in the Disney movie CARS, these teepee hotel rooms on Route 66 are 28-foot high, and made from concrete!
This motel chain in the United States was built during the 1930s and 1940s and have:
a full bathroom with showers
cable TV
heat and air conditioning, and
either one queen bed or two double beds.
The one pictured is at 811 W Hopi Dr, Holbrook, Arizona.
You'll find more Wigwam Motels in California and Kentucky.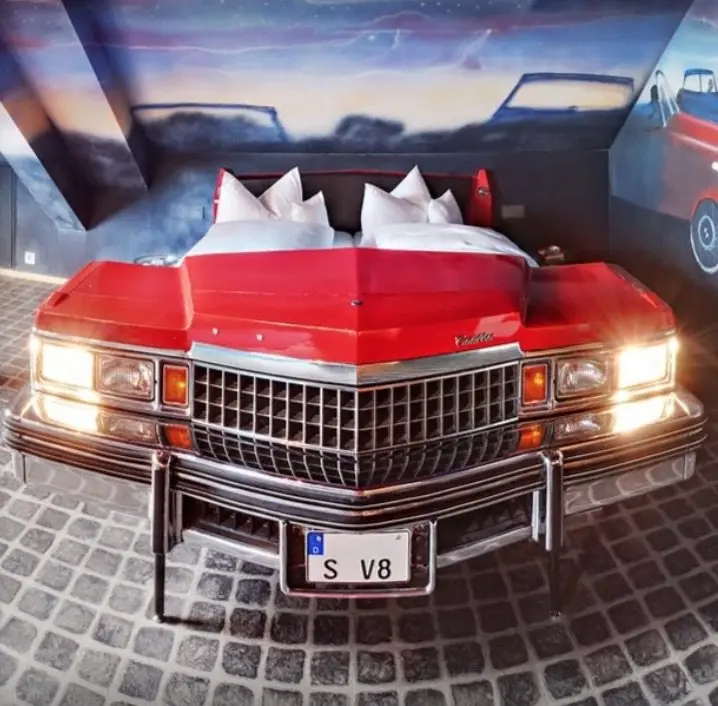 No.5: Drive-in Cinema Room at V8 Hotel
Continuing on the cars theme, you can stay at V8 Hotel in the Motorworld region of Stuttgart and watch motor racing from the comfort of your bed, a life-size Cadillac Coupe DeVille in the Drive In Cinema room.
There are 26 individual V8 themed rooms for petrol heads.
Our other favorites include:
the PanAm hotel room (of course!)
the British racing room
the Off Road room
the Workshop room, and
the very cool Route 66 room.
Enjoy a morning buffet breakfast, then head out to experience the Automobile Museum tour, or try driving one of the sports cars.
This is on our list of fun hotels for kids who love car racing!
Sensapolis Theme Park Stuttgart
If you are travelling with kids, head along the pathway by the lake to the indoor park SENSAPOLIS, an award winning theme park with:
indoor rock climbing
a flying fox,
a quirky nature-themed adventure trail
a 300 meter long e-kart track to ride
a huge pirate ship playground
a spaceship to explore
kid-size tractors to drive, and
16 different slides to ride!
The best thing to do is head into the magical and romantic fairy-tale castle.
Find:
sumptuous halls
moving portraits
costumes to dress up in
dark secret passages, and
a slide to the scary cellar!
Come back soon for our review! SO GOOD.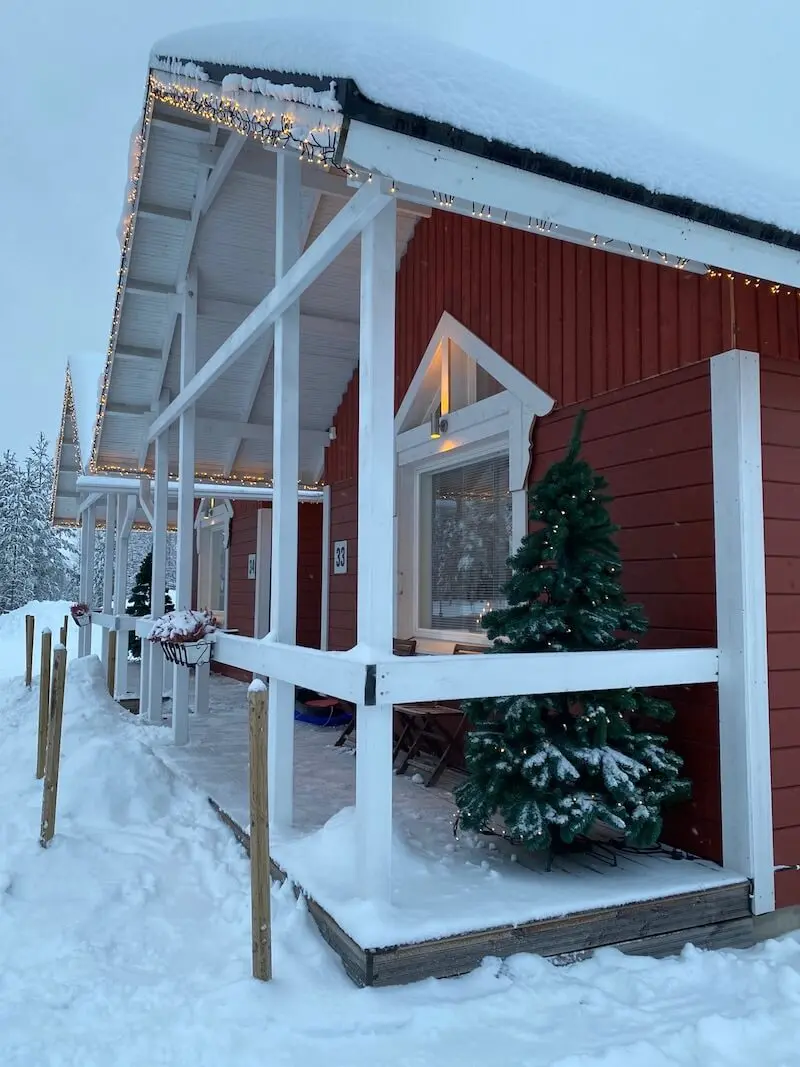 THE BEST CHRISTMAS HOTELS WITH SNOW!
No.1: Santa Holiday Village, Rovaniemi Lapland
The Santa Holiday Village is the ONLY place to go if you want to visit Santa in real life.
This is a bucket list trip, where you can:
take a husky ride
a reindeer ride
visit Santa Park theme park
eat dinner in the Ice Hotel restaurant
go ice fishing and hopefully,
catch a glimpse of the stunning aurora borealis (Northern Lights).
Book as early as you can to avoid disappointment.
Read our review of Santa Claus Holiday Village here.
Hot tip: Check out all our Rovaniemi Lapland stories here in our Visit Santa in Lapland section.
There's details on:
what to wear in Lapland
how to get to Rovaniemi
the Helsinki to Rovaniemi overnight train trip
husky riding
reindeer sleigh rides
Santa park, and more.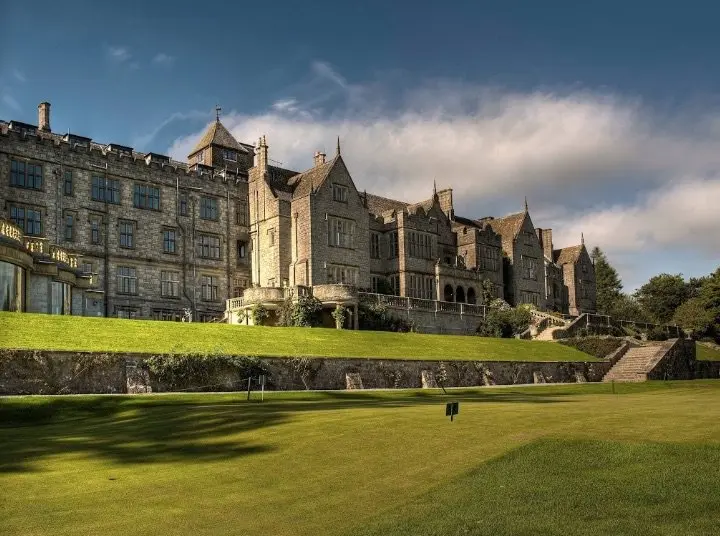 CASTLE STAYS
No.1: Bovey Castle at Dartmoor National Park in England
Stay at this English hotel near the Dartmoor national Park, and kids can call for Lego Room service where LEGO is delivered to your room by the Lego Concierge!
The castle itself stands in the centre of 275 acres of beautiful countryside within Devon's Dartmoor National Park.
The hotel has 60 bedrooms and 22 self-catering country lodges tucked away within the grounds.
At Bovey Castle, you can:
book an off road experience through the wilds in one of the 4×4 vehicles
shoot archery or try clay pigeon shooting
visit the deer park and feed the deer
watch a falconry display
During school holidays, kids can join in the activities at the Bovey Bears Den Club kids holiday program.
Another reason it's on our list of fun hotels for kids.

BEST ACCOMMODATION BOOKING SITES ON THE INTERNET
We encourage our readers to book these fun hotels for kids through the referral links we provide above, as this helps us to continue providing awesome insider information and sneak peeks inside all your favorite hotels and attractions to you for free.
We understand if you prefer to book a hotel direct.
If you do like to scan the net for the best prices to book your next fun hotels for kids, these are the best accommodation booking sites to use.
Booking.com
TripAdvisor
Agoda
Expedia
Trivago
Hotels Combined
Wotif
Kayak
AirBnB
Travel Zoo
TripADeal
LastMinute
Hotels.com
Travelocity