INSIDE: Roam the Gnome's Guide to Brunswick Heads Bakery
If you love cake as much as we love cake, it's time to head to the Brunswick Heads Bakery for a giant-sized slice (slab!) of your own.
Baked on site daily by their team of remarkable bakers, the cake cabinets here BULGE with yummy goodness.
Choosing what you'll eat will likely be the most difficult decision of your day and we guarantee you'll be back to make another challenging decision before too long.
"I eat cake because it's somebody's birthday, somewhere!"
Let's honour this quote with a feast at Bruns Bakery today!
Disclosure: This article contains affiliate links. If you make a purchase after clicking on one of these links, we may receive a small commission at NO extra cost to you.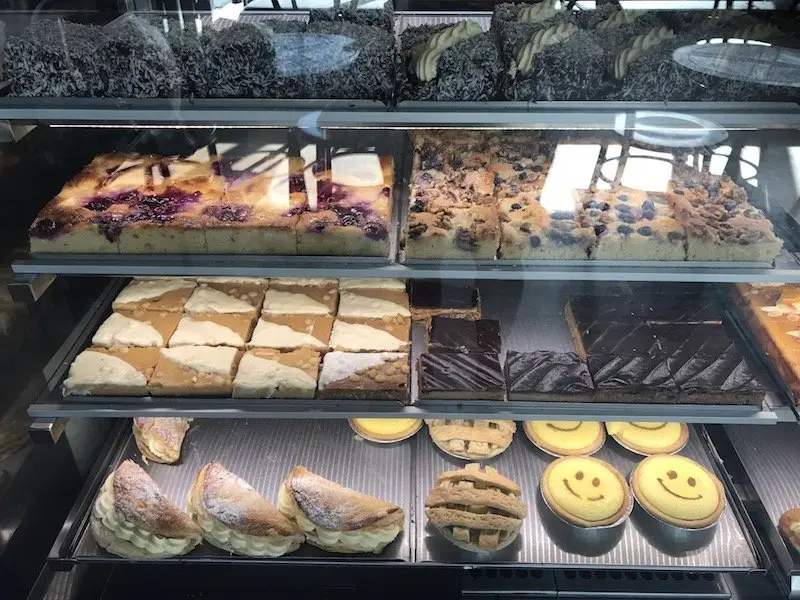 Brunswick Heads Bakery Cakes & Sweets Cabinet
Choose from a giant range of traditional good old fashioned bakery cakes and pastries, as well as modern updates on traditional favourites, including, but not limited to:
Lemon Meringue Pie
Fruit Flans
Sponge Cake
Cheesecake
Apple turnovers with fresh cream
Lamingtons, plain or with fresh jam and cream
Slices
Salted Caramel slice
Caramel and Macadamia Slice
Chocolate slice
Apple and Blueberry, or Pear and Raspberrry slice
French Vanilla Slice
Carrot cake slice
Red Velvet slice
---
RELATED: Best Guide of Fun Things to Do in Brunswick Heads with kids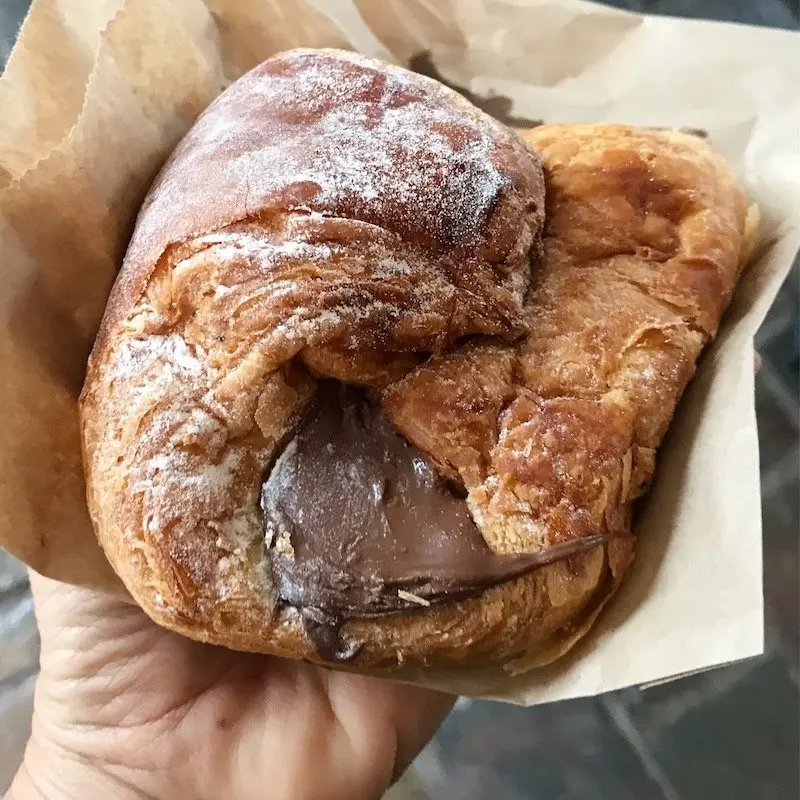 MORE Bruns Bakery Cakes
The extensive range continues…
Custard Tarts
Cream-filled buns
Danish pastries
Cupcakes
Tarts – Lemon Meringue, Fruite Flan, Blueberry, Raspberry and Caramel Macadamia.
Pavlova
Eclairs including chocolate ones, coffee ones AND nutella ones!
Cinnamon swirls
Muffins
BeeStings
Carrot Cake
Nutella donuts and jam donuts and iced donuts (ok, not cake, but close enough)
Nutella croissants (my personal favourite)
They even have the odd gluten free cake
Seating at Bruns Bakery
There's plenty of seating indoors, around the window ledges, and over by the coffee bar.
Or you can take your goodies around towards the back door and eat in that green haven.
Or head out the back to the grassed area between the bakery and the library. There's a bench seat, or plenty of space for a picnic rug.
Eat that cake, sip on that Barista-made coffee, and take in the surrounds of this modern bakery with legitimate old-school charm.
---
Book Now: Take a Morning Eco Rainforest Cruise on the Brunswick River with local guides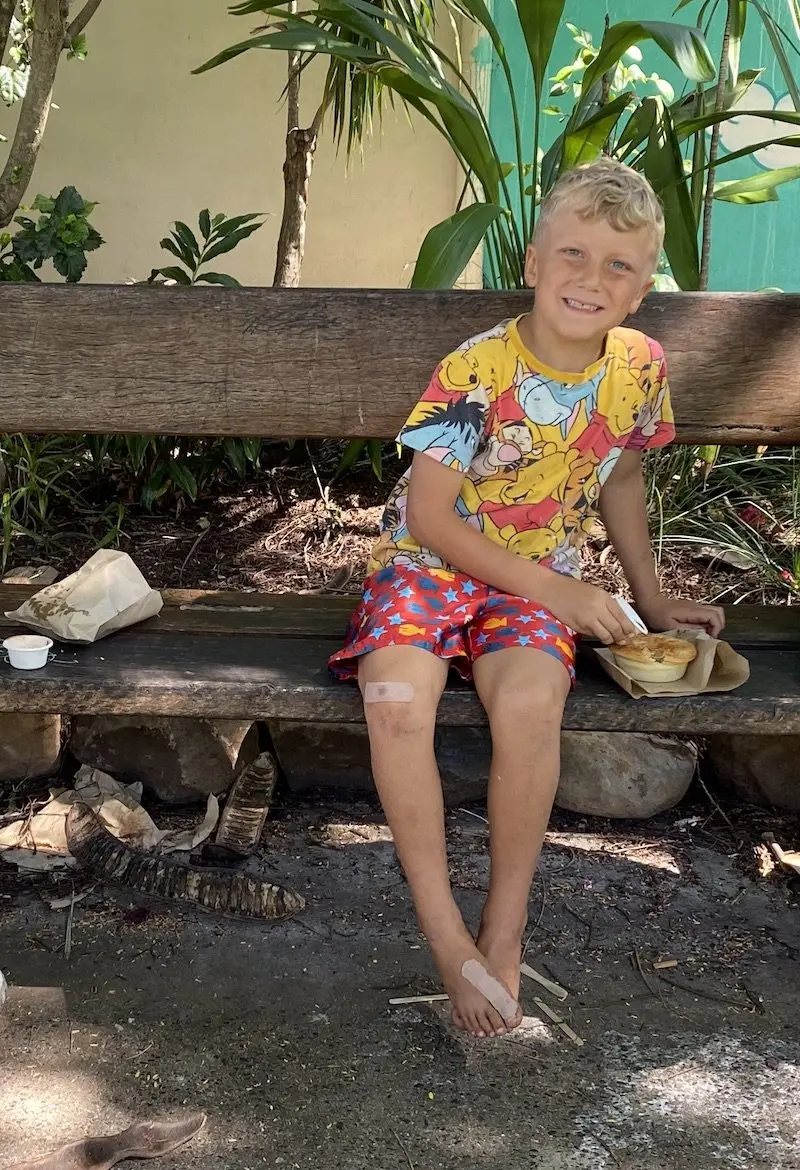 Bruns Bakery Menu
Pies, pastries, salads and sandwiches!
Sandwiches including chicken and pesto, salami and brie, or ham cheese and tomato on sourdough, or egg and lettuce on multigrain
Simple rolls – vegan or vegetarian salad, or ham and salad, or chicken and salad
Gourmet rolls – BLAT, Haloumi on Turkish, Roasted pumpkin on turkish, or Chicken schnitzel roll
Salads or fruit salad
Sausage rolls
Beef pies, and steak pies
Thai chicken or Mexican chicken pie
Lamb and Rosemary pie
Vegetarians can order a veggie pie, cauliflower & brocolli, or spinach and pesto pies
Vegans can order a Gado Gado pie, or a vegan rolls with sweet potato, spinach and macadamia nuts
They also have FAMILY PIES to take home for dinner.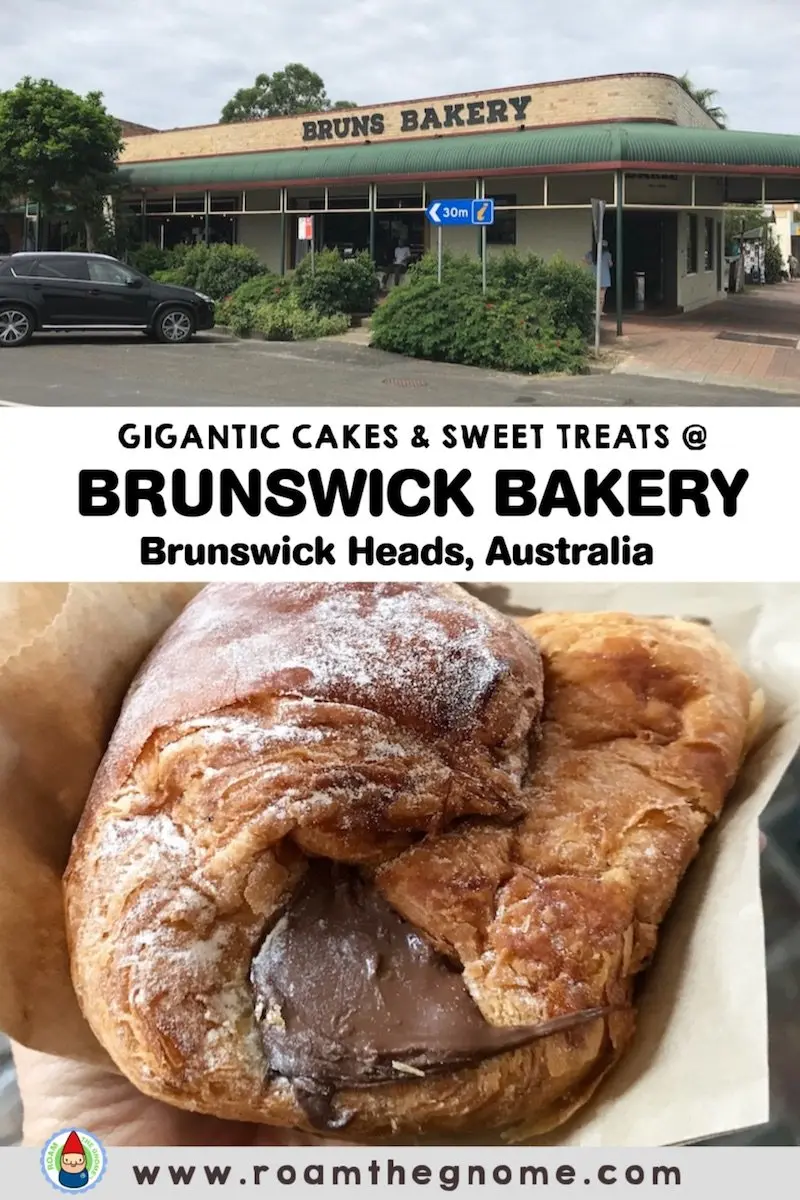 Theatre Kitchen
Kids can watch the bakers cooking these delicious savory pastries in the theater kitchen right in front of you.
My boys adore watching the bakers go about their day.
There's even window seating to keep a close eye on the proceedings!
Entertainment and good food – Bruns Bakery has it all.
Who owns Bruns Bakery Brunswick Heads NSW?
Word on the street is that the Bruns Bakery is co-owned by the same people behind the famous and much-loved Suffolk Park Bakery, in partnership with a local Bruns couple, and that would be right.
No wonder the NEW & IMPROVED Bruns Bakery was a big hit from the start.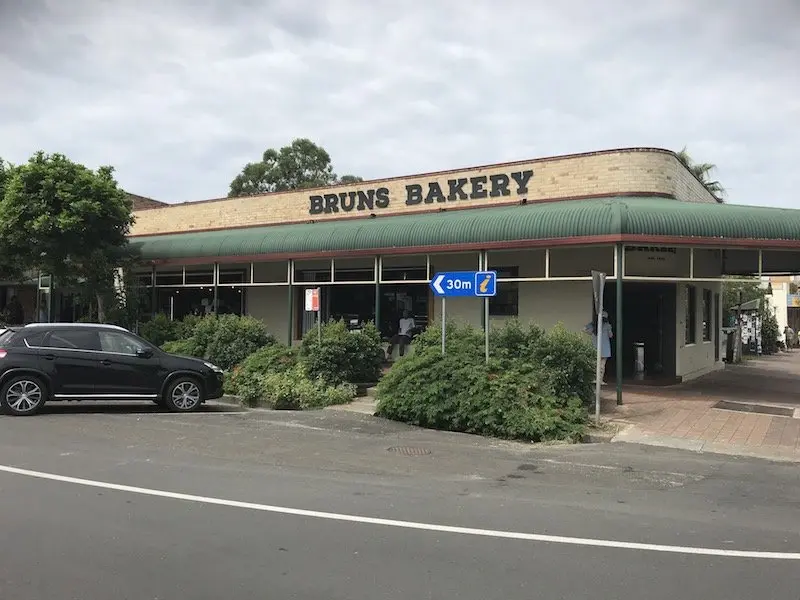 Brunswick Bakery Building
The Bruns Bakery is alive and well in the original building that has been around since 1950!
There's an element of old-world elegance and retro charm at Brunswick Heads Bakery, and the building ambience plays a big part.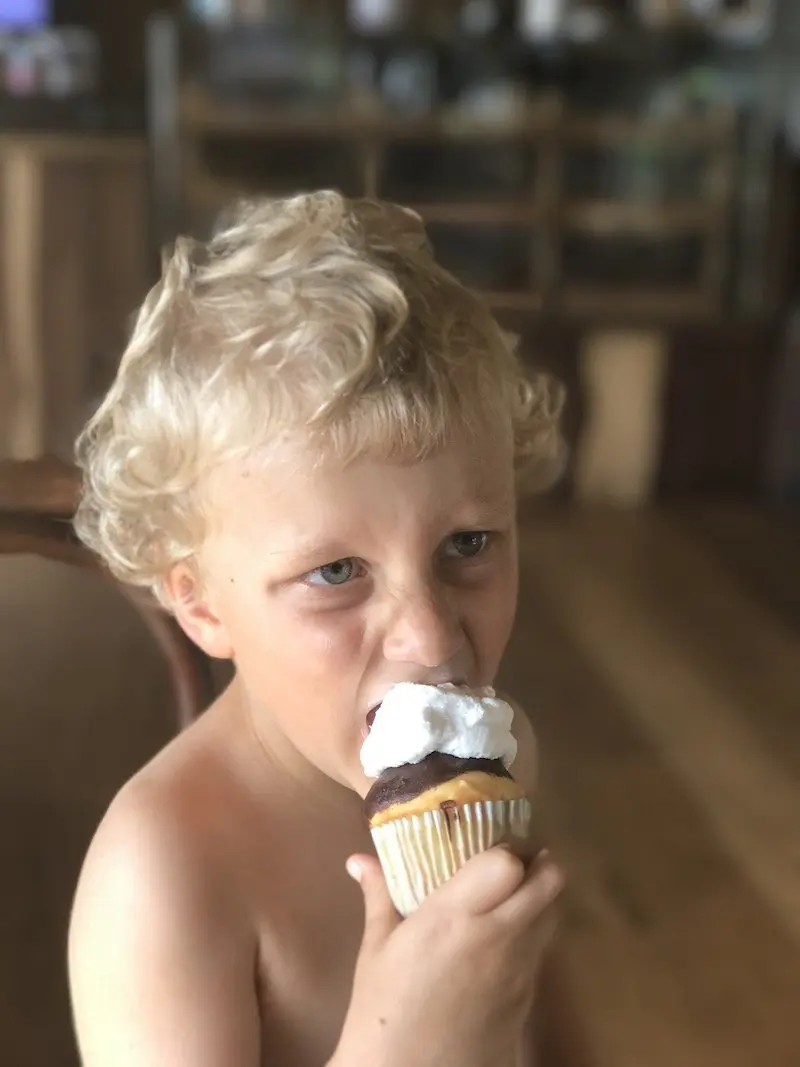 THE INSIDE SCOOP: Bakery Brunswick Heads
Correct at time of publication on Roam the Gnome. Please check with venue for updates. We apologise in advance if there have been any changes we are unaware of. All prices in AUD dollars, unless otherwise stated
Brunswick Bakery NSW Address: 15 Fingal St, Brunswick Heads NSW 2483
Telephone: 02 6685 1556
Email: Special request, or need to order a cake? Email the Bruns Bakery at [email protected]
Website: Like their Facebook Page to keep up with all the events.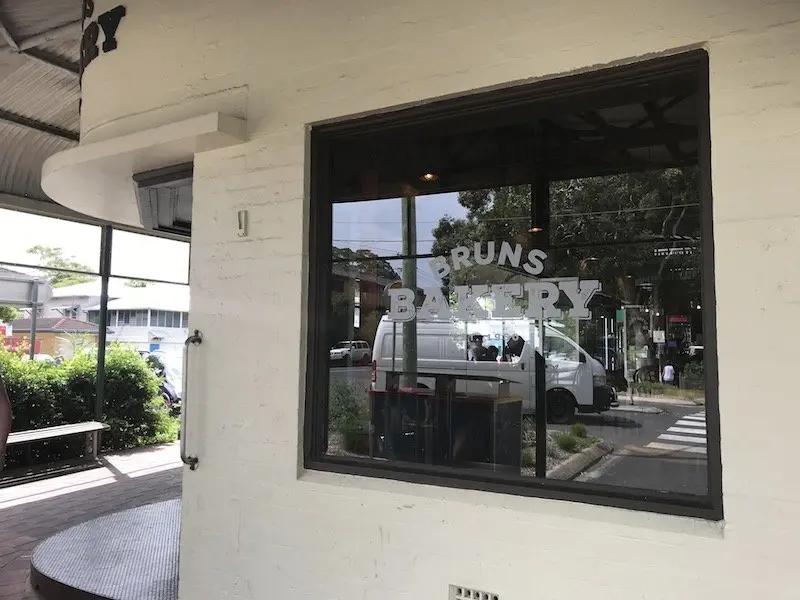 Brunswick Heads Bakery opening hours
Open from 5.30am to 5.30pm daily
Special late-night opening hours during the Christmas holiday season
Ask for details, or check the local Echo newspaper for times
How to get to Brunswick Heads Bakery New South Wales
The bakery is on the main street corner at the pedestrian crossing, opposite Brunswick Heads primary school.
By Bus: Bus Route 645, operated by Blanch's Bus Company, travels from Ocean Shores, Mullumbimby and Byron Bay to Brunswick Heads.
By Car: Click here to add your location for google map directions
FAQ: How far is Brunswick Heads from Byron Bay?
It takes around 20 minutes from the main road of Byron to Bruns, as long as there's no traffic getting out of town. The drive is 16km.
Brunswick Bakery Brunswick Heads NSW Map
Toadstool Rating: Bruns Bakery
Don't visit town without stopping in.

MORE Places to eat in Brunswick Heads?
No.1: Yami Brunswick Heads
A much loved spot for lunch, with mouth watering falafels, hommus and salads.
No.2: Fish and Chips Brunswick Heads
Visit Hoopers for awesome food, or Starfish next to the pub.
No.3: Brunswick Heads Hotel
HUGE meals but not the best food in town anymore.
Pizzas are awesome, and definitely your best bet.
No.4: Old Maids Brunswick Heads
THE most popular place for burgers. Don't miss it.
No.5: The Footbridge Brunswick Heads cafe
Opposite the red playground, this cafe is popular with locals.
Looking for more fun things to do in Byron Bay shire?
Click the blue links below for more Byron Bay Shire attractions.