INSIDE: The 7 Best Solutions & Toddler Wrist Strap strategies to save your sanity when traveling with kids.
We've traveled the world, but it finally happened close to home.
At the famous EKKA Country Exhibition Show in Brisbane.
My oldest boy Ned was separated from me in a giant crowd of swirling people, and in less than a turn of my head, he was gone.
I couldn't believe it.
At home of all places.
I stood there dumbfounded for a moment, with Jack sitting in the stroller in front of me, before kicking into action.
See what I did next…
Disclosure: This article contains affiliate links. If you make a purchase after clicking on one of these links, we may receive a small commission at NO extra cost to you.

Image credit: Stephen Dann via Flickr CC BY-SA 2.0
Lost Children & the Nightmare of Crowds
It was right on darkness.
We were three steps inside the gates of the Big Arena, and the nightly entertainment was minutes away from kicking off.
I knew that if I didn't find him soon, there's no way I'd ever find him in the throngs of people trying to exit the stadium all in one go.
My heart was racing.
I called in the security guards to help, and I stood still.
Afraid to move, as I didn't know if he was still behind me?, OR had been caught in the flow of people that pushed past me?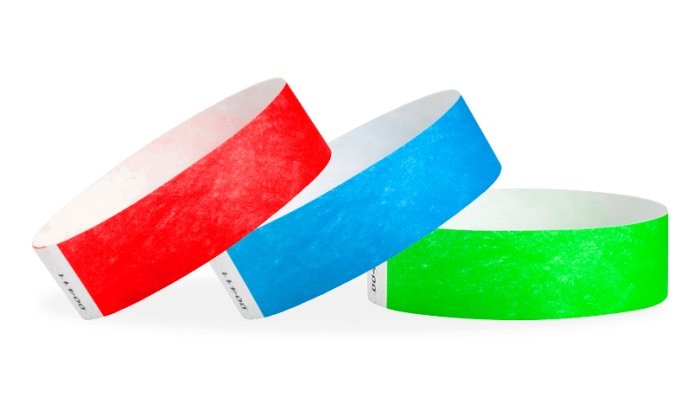 The Toddler Wrist Band
The only thing that stopped me from having a full blown anxiety attack was I knew he had child ID on him. It was the one thing that kept me sane in that moment.
A FREE wristband from the Police Beat on site at the EKKA, with my details and phone number handwritten on the inside.
This paper strap was discreet, and looked no different to a rides pass, and while they were designed to keep young babies and toddlers safe when they wander off unexpectedly, he was happy to wear it.
Eventually, someone would find him and call me.
I was sure of it.
I know the media like to play it up, and instil fear into every parent that kidnapping is a big problem, but if I know anything in this life, it's that people, by and large, are good.
Honest. Truthful. and Kind.
The chance of him being snatched for good were almost non-existent in this sleepy city.
I put my trust in the hundreds of other mamas sitting in the stands, and prayed one of them would find him and call me.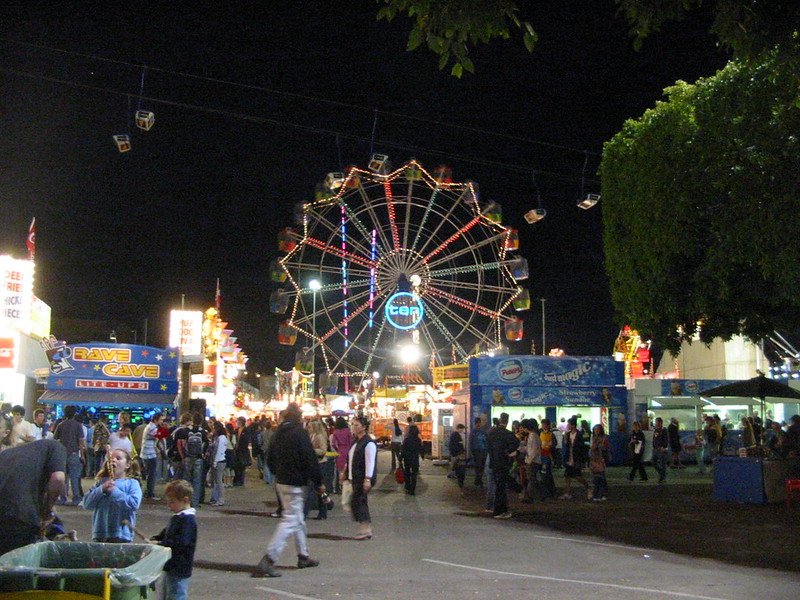 Image credit: Stephen Dann via Flickr CC BY-SA 2.0
5 mins… 10 mins…
But at the 10 minute mark, when I couldn't stand it any longer, I uprooted my feet and walked back towards the entrance through which we'd come, trying desperately to keep a field of vision both ways.
In that moment of dusk, minutes before complete darkness would engulf us all, I spotted him.
And him me.
He'd perched himself up high on a concrete wall, just inside the stadium, to keep a look out, and was waiting for him to come back.
All the discussions we'd shared about what to do if I ever lost him came back, and he remembered to stay still.
To stay put in one spot so that I could come back and find him.
He did just that.
We had no need for child ID.
This time.
But I'd never travel again without it.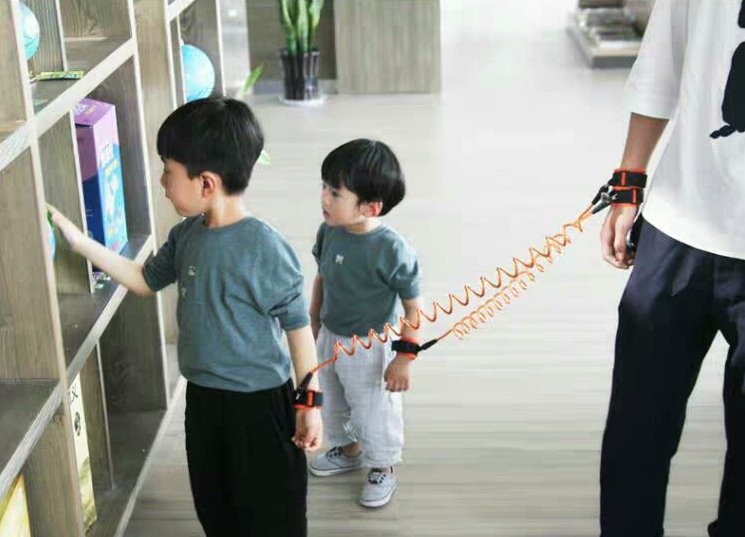 Image credit: Manufacturer
7 Child ID strategies to prevent losing your children when traveling out and about
I don't always have access to a ready-made toddler wrist band like the one we used at the EKKA, so we've found or come up with a bunch of other strategies to use.
Here they are.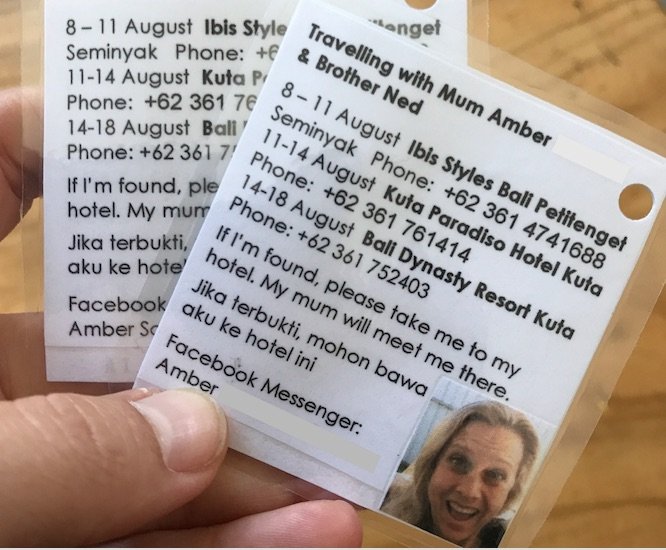 No.1: Child Identification Tag on a Clip or Lanyard
When we did our flying trip around the world a few years ago, I bought two new lanyards and attached a DIY laminated card.
The cards were 5 inches square (12.5 cm x 12.5 cm) and sat in between their singlet and their shirt to stop them scratching their skin.
These are a good strategy on cold days, but are not so comfortable on hot days when they aren't wearing a singlet.
Last year, we traveled to Bali and Tokyo, and both trips, the weather was warm.
Instead of lanyards, I attached the laminated cards to keychain clips.
I also made the card much smaller, and limited info on it to the necessities. They attached these cards to their shorts' belt loops, or to their pocket, and put the card inside the closest pocket.
You could also attach it:
to a dress strap on the back, or
if they are carrying a backpack, to that instead.
(I do prefer this child ID to be ON my kids somewhere if possible)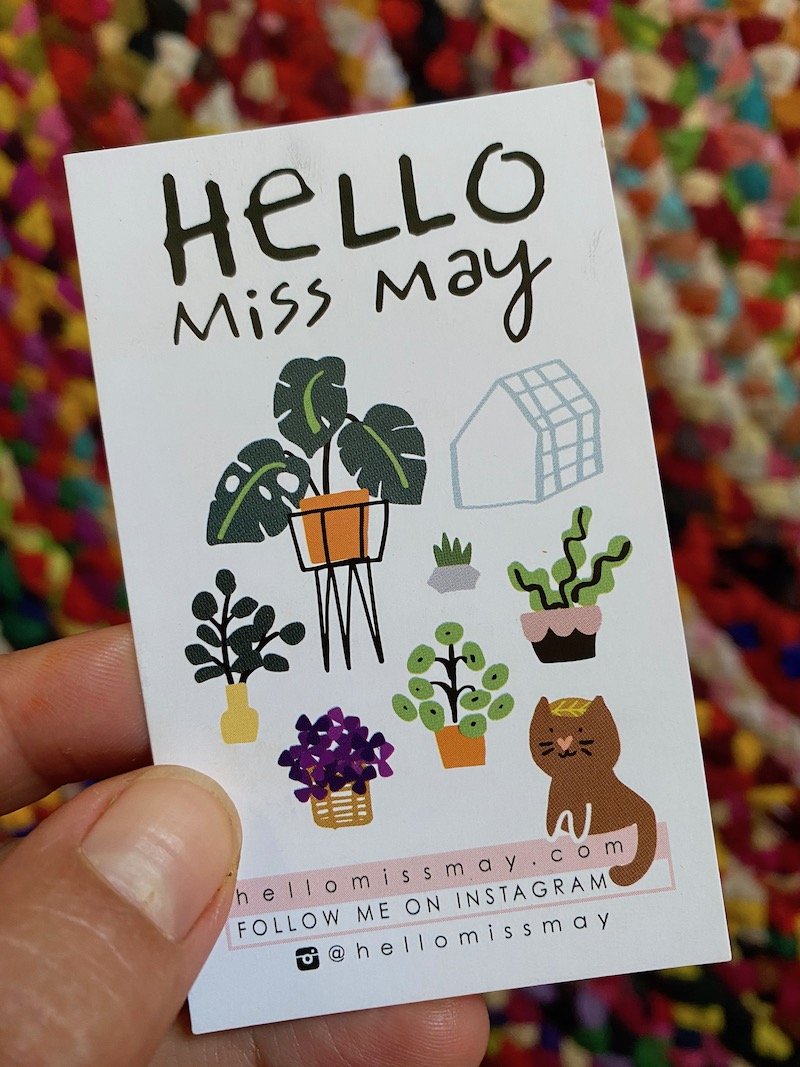 No.2: Business Card in their Pocket
I use this strategy every single time we go out and about, overseas and at home, when there are likely to be crowds or busy streets.
It's become our thing and the boys now ask me for my business card as soon as we arrive somewhere new for an adventure.
It's a simple strategy to make sure they have your name and phone number on their person at least.
Note: This strategy stops working if they go swimming in their shorts! We learned the hard way that business cards are not designed to swim.
Hot tip: always empty their pockets before you put them the wash!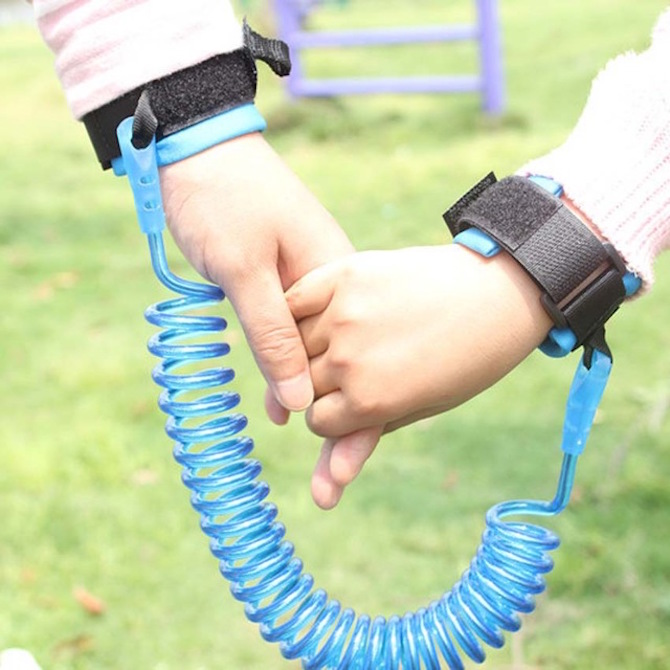 No.3: Anti Lost Child strap (Toddler Wrist Leash)
If you abhor those child harness backpacks or walking harness things, this child lost strap might be up your alley instead.
(I totally get that some kids need a kiddie backpack leash though, so do what works)
Anti-lost child straps attach to both your wrist and theirs.
If for some reason, you let go of hands, you are still attached to one another with a springy coil strap between you.
This kids wrist leash stretches to 1.7 metres long for safety and comfort.
The anti-lost wrist straps have a comfortable wrist strap cloth with a soft sponge pad, plus the child's wrist strap band has two adhesive pads that go one over the other to make it harder for them to remove when you are walking together.
You can also strap this toddler leash from you to their clothes, or from the stroller to their wrist if you prefer.
This anti-lost toddler wrist strap is my personal favourite for all children under 3.5 years in big busy cities, especially throughout Europe.
Buy Now on Amazon: Baby Child Anti Lost Wrist Link Safety Harness Strap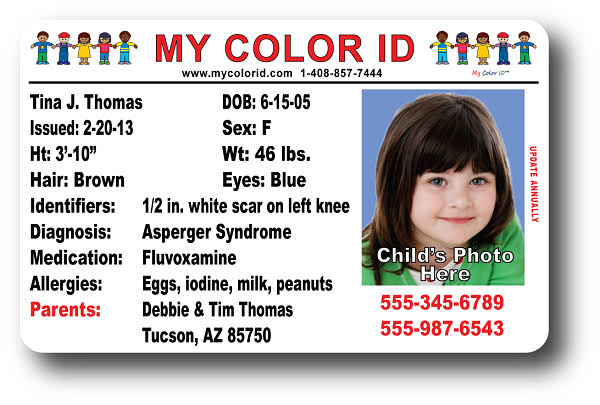 No.4: Child Identification Cards
There's a few companies including this one, that make small pocket-sized laminated kids ID badge cards featuring your child's photo, and your contact details.
Put this kids safety card in their pocket, and carry one with you too so you have an up-to-date child photo ID card of your child to show to police should you need it.
You could also try Etsy, or DIY one yourself.
Buy Now on Amazon: Custom Personalized Child Travel Identification Card for a Lost Child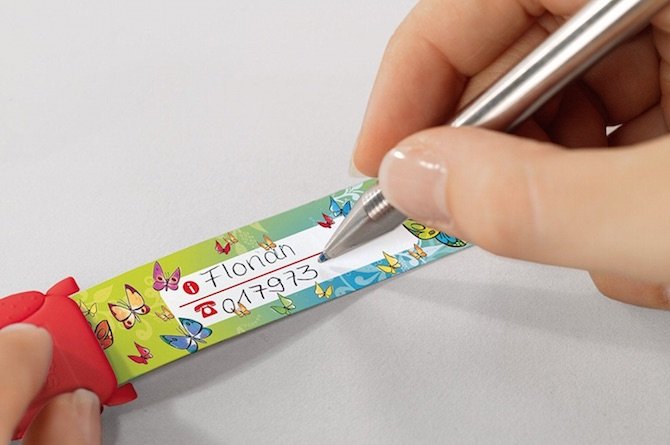 No.5: Fabric Travel ID Bands for Kids with Tamper-proof clasp
These Sigel Kids ID bands are made from super soft material finished with a tamper-proof fastening.
This anti lost bracelet wristband is:
waterproof
hypoallergenic
reusable, and
come in funky designs too.
There's room to write your name and contact telephone number only.
Buy Now on Amazon: Sigel Child Safety Wrist Band

No.6: Waterproof Paper ID bracelets for Kids Traveling
Goldistock Tyvek Kids ID bands are waterproof and durable with room to store your child's name (optional), your hotel name and/or flight number, two emergency contact numbers, and a note on your child's medical conditions or allergies.
Buy a kids ID bracelets travel pack in a set of 150 (smallest pack available).
They come in an assortment of 15 colors.
Share them with your friends, family, and fellow travelers.
Buy Now on Amazon: Waterproof Child Safety ID Wristband Safety Bracelet

Alternative: Stainless Steel Bracelet Anti Lost Wristband
The other alternative for a child safety wrist strap is a personalized stainless steel bracelet with diamond cut engraving.
This one looks less like an ID band, and more like jewelry, so it's less obtrusive.
People use these for medical alerts too.
Buy now on Amazon: MakeMeThis Plain ID bracelet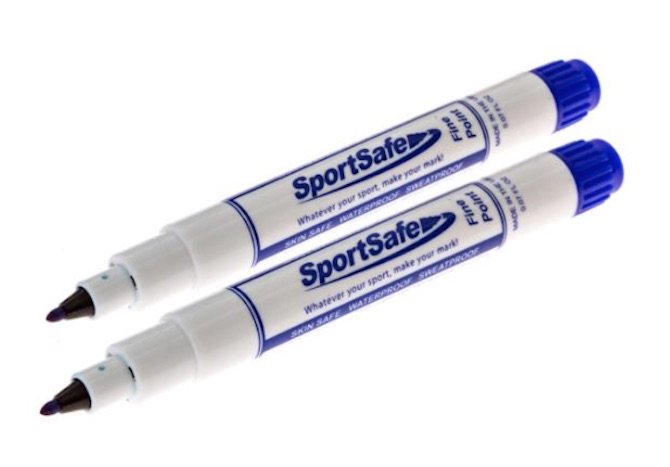 No.7: Back up plan – Write on their arm
If you don't have a lost child bracelet or any of these tools, take one of these pens everywhere you go.
These Sportssafe waterproof skin marking pens are used in triathlons, at festivals, and outdoor events.
Pop one in your shoulder bag or backpack, and you'll always have a way to help stop your kids from going wayward for too long.
Buy Now on Amazon: Sports Safe black pen to write on skin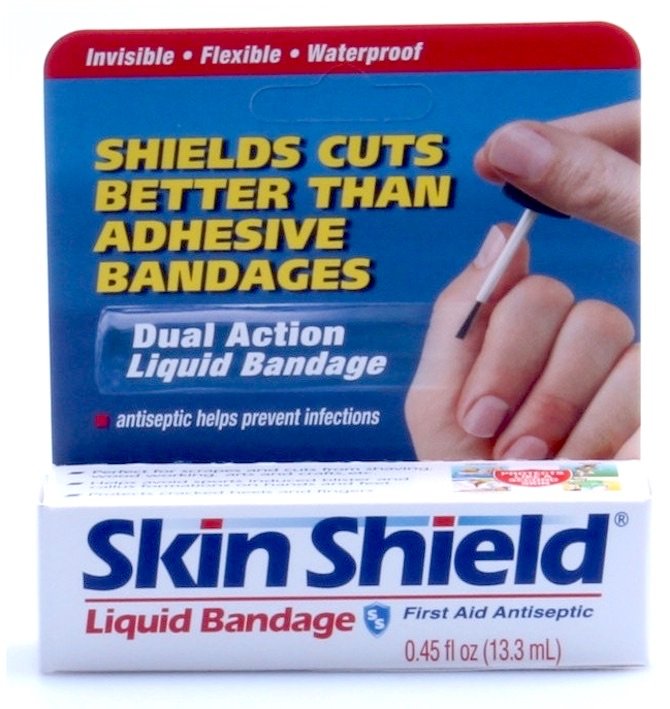 Liquid Bandaid Shield
There's one more trick if you don't have one of these pens.
You can always write on the inside of a child's arm with the words, "Please call my mummy on 0422630328".
Then paint over the phone number with a swipe of Liquid Bandaid (such as SkinShield Liquid Bandage).
The phone number will remain visible all day.
Buy now on Amazon: New-Skin Liquid Bandage

Image credit: Simon Sees via Flickr CC BY-2.0
Two More Travel Tips for an Anti-Lost Child
No.1: Give instructions on how to help on your child ID card
I asked myself, if the kids got lost, and someone found them, where are they mostly likely to take them?
My bet is the POLICE STATION.
But in somewhere like Japan, there are hundreds of police stations and police booths in a small area. Your chances of finding the right one is near on impossible.
Elsewhere in South East Asia or India, kids might find a police station to be a bit scary.
So this last trip, I made the suggestion to take the kids to the hotel we were staying at, and I would make a beeline for there too.
I then:
found a Translation Website
plugged in my sentence, and
wrote this suggestion on the card in Indonesian too.
Most hotels are often in a central tourist destination, and if it's a big established hotel, there's a chance it's well-known by locals and visitors alike.
Kids will feel a sense of security and safety, as well as familiarity once they arrive.
(This strategy likely won't work if you are staying at AirBNB's, small villas or cheap random cottages down hidden side streets.)
I also put MY picture on the card.
This way, there can be no confusion as to who is the actual parent.
I hope I never have to deal with a lost child in a foreign country, but if I do, I'm hoping this plan is a winner.

No.2: What to wear when traveling to prevent kids from being lost
Make the kids WEAR RED SHOES.
The BEST thing I ever did as part of our preparation for our round-the-world trip was to organise a 'uniform' of sorts for the three of us. (Packing tips coming soon!)

A uniform of blue jumpers, red t-shirts, denim pants both long and short, and red Converse shoes made dressing super easy with the least fuss from either child.
(It made washing really easy too, as well as managing different temperatures as we could just layer up or down, depending on what was needed.)

But unknown to me at the time, the real saviour was the RED shoes.
I will NEVER travel without RED shoes again.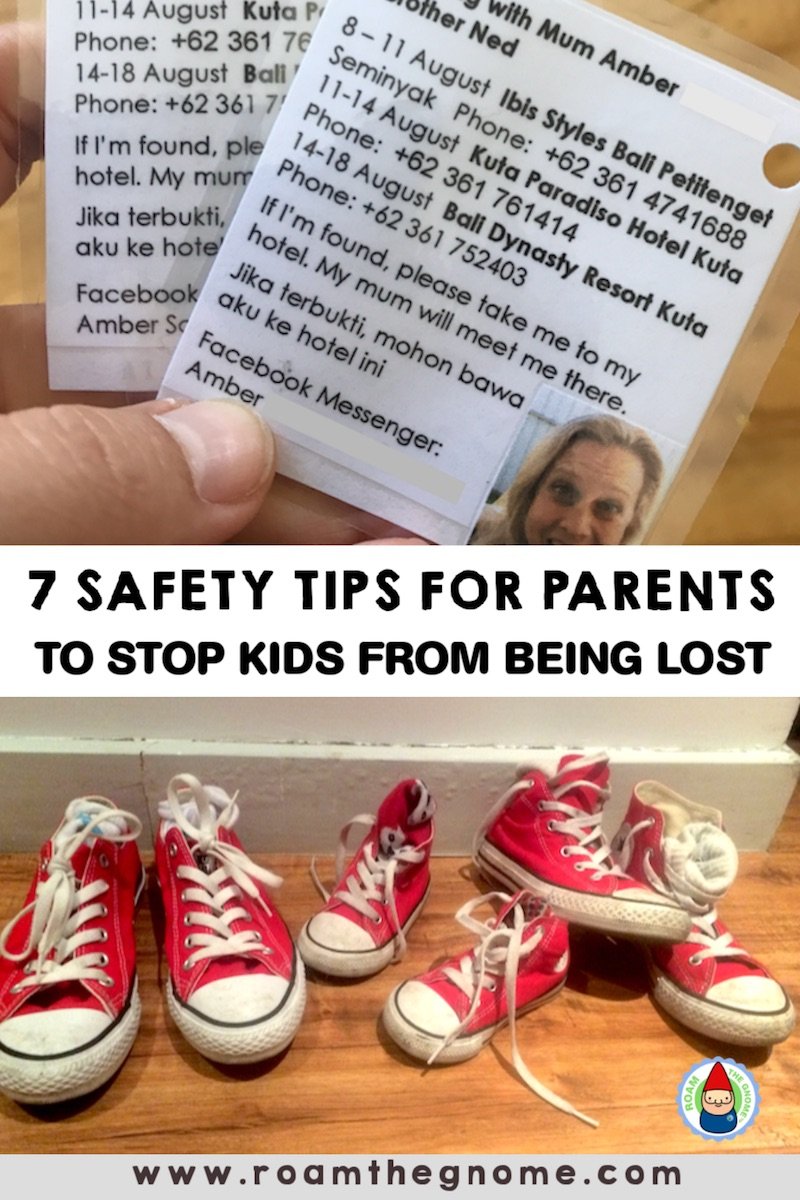 Setting boundaries at the playground
Chasing after two kids who always head in different directions is a momentous feat.
The only way I kept my sanity was to follow the younger one, and hope and pray that the bigger kid would do as he was told, and stay within particular boundaries I set, eg:
not to step beyond the fence line of a playground
not to leave the building
not to move onto other rooms in a museum or gallery until we all went together etc.
But every few minutes I'd look around for Ned to make sure he was ok, and still in sight.
Those red shoes?
I could SPOT HIM anywhere. I never knew that his shoes would be so helpful.
Evidently, it's very rare for kids to wear red shoes.
Or orange ones.
Or yellow.
So these brightly colored shoes stand out in a sea of grey and black and brown.
When I couldn't spot his face in the sea of faces, out popped the shoes (with legs attached) and voilá, there he was.
Just like magic.

Looking for MORE Roam the Gnome Travel tips & guides to cities for kids?
Correct at time of publication on Roam the Gnome. Please check with stores for updates. We apologise in advance if there have been any changes we are unaware of. All prices in US dollars, unless otherwise stated
Click the blue links below for more travel tips.