INSIDE: The Ultimate Guide to the Best Central Park Statues including the delightful Alice in Wonderland Statue.
Deep in the green surrounds of Central Park, we were astonished to find an Alice in Wonderland Statue. It appeared out of nowhere, and as a life-long Alice fan, I was delighted!
The 11-foot life-size bronze statue is a whimsical tribute to the characters of Lewis Carroll's classic storybook, Alice's Adventures in Wonderland.
The Alice in Wonderland sculpture in Central Park is but one of the awesome Central Park Statues in New York!
Take a look!
Disclosure: This article contains affiliate links. If you make a purchase after clicking on one of these links, we may receive a small commission at NO extra cost to you.

No.1: Alice in Wonderland Central Park Statue
See Alice perched upon a giant toadstool, with the Mad Hatter at her feet at this Central Park statue in New York.
---
RELATED: Big List of Best Things to do in NYC with Kids
Alice in Wonderland Statue Central Park friends
The March Hare, The Cheshire Cat, Alice's Cat Dinah, the bashful Dormouse, and the White Rabbit – who would not be the White Rabbit without his pocket watch, are also featured.
Dedicated on May 7, 1959 to the children of New York, the sculpture was commissioned by philanthropist George Delacorte as a tribute to his late wife Margarita
She had deep affection for the story of Alice and loved to read it to her children when they were young.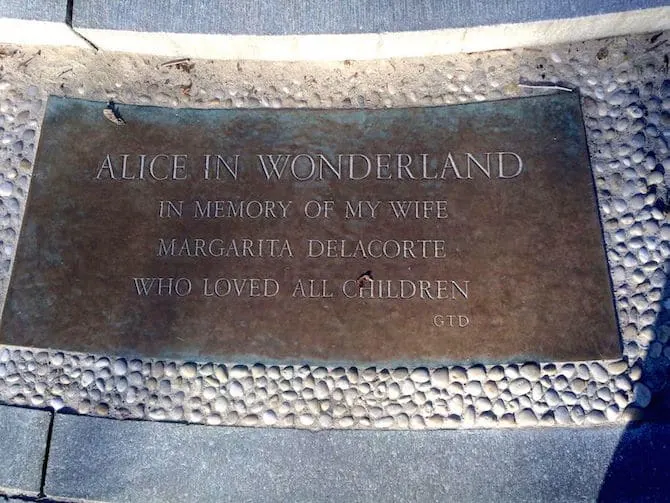 The Alice in Wonderland Statue New York is truly loved by all
The patina on the Alice Statue Central Park is evidence of the love this statue receives from locals and travellers of all ages.
My kids ran their hands over the New York Alice in Wonderland statue and Ned couldn't resist climbing in and amongst it, like the thousands of children before him have done, and will continue to do.

Alice in Wonderland sculpture creator
The Alice Statue Central Park was fashioned into being by Spanish-born American sculptor José de Creeft based upon the illustrations by John Tenniel in the first edition of the book. The designer was Fernando Texidor.
The dedication reads:
ALICE IN WONDERLAND / IN MEMORY OF MY WIFE / MARGARITA DELACORTE / WHO LOVED ALL CHILDREN.

MORE FABULOUS CENTRAL PARK STATUES
Looking for things to do in Central Park?
You can also stop by the Hans Christian Anderson statue which is to the west of the pond.
The statue of Hans Christian Anderson in Central Park depicts Hans as an older man, his friendly duck by his side, and a book of his fairytales open on his lap.
If your kids love the Little Mermaid, this is a chance to introduce them the man who wrote the story.
You can also find:
No.1: Balto Statue
Arguably one of the more famous statues in Central Park, and possibly one of the most famous statues in New York too, Balto husky dog was one of the lead dogs who helped transport vital medicine from mainland America to Alaska to help deal with a diphtheria outbreak that was causing havoc.
His inscription? Endurance · Fidelity · Intelligence.
An awesome motto for a hero.
Balto Dog Statue at East Dr (at 66th St), New York, NY. It's on the pathway leading you to the Central Park Zoo (Tisch Children's Zoo), standing on a rock near the bridge.
No.2: Eagles and Prey
Eagles and Prey, the oldest sculpture in Central Park, was dedicated in 1863!
No.3: Christopher Columbus statue in Central Park
The Christopher Columbus Statue at East Drive, south of The Mall, New York, NY
No.4: The Needle statue
Cleopatra's Needle Egyptian Obelisque is on 82nd street, west of the Metropolitan Museum of Art.
No.5: Literary Walk in the Mall
Literary Walk at the south end of The Mall is filled with statues cast of the great poets and writers including :
William Shakespeare
Robert Burns
Sir Walter Scott and
Fitz-Greene Halleck
No.6: Beethoven Statue in Central Park
Bust of Ludwig Von Beethoven, world renowned musical genius, can be found in the Mall (near the writers and poets)
No.7: Musical Clock in Central Park
Take the kids to see the Delacorte Musical Clock at the Central Park Childrens Zoo. There's:
two monkeys that ring the bell
a penguin who beats the drum
a hippo with a violin
a tamborine playing bear
a goat with pan pipes
a horn playing kangaroo
and an elephant with a concertina!
No.8: Best of the Rest
Traipse around and you'll find more Central Park statues and monuments dedicated to famous scientists, world country leaders, and soldiers who fought gallant battles in world war.
Plus, the Central Park fountain.
Frequently Asked Question: How many statues in Central Park?
There's a total of 29 Sculptures in Central Park altogether.

Central Park Sailboats Hire
While you are here, the nearby Conservatory Water Pond is the place where the cute mouse, Stuart Little, raced his model boat in the film of the same name.
Take the kids to this famous place in New York, the Central Park sailboats hire, and take the steering wheel on one of these remote controlled sailboats for yourselves!
(Kids can drive too, if they can handle the remote properly)

Where to eat in Central Park near Alice in Wonderland statue
No.1: Le Pain Quotiden New York City
If the kids are tired and hungry, and need a rest and refuel before more adventures, Kerbs Boathouse on the Conservatory Water Pond serves snacks, light meals and hot and cold drinks too.
This cafe is operated by Le Pain Quotidien.

THE INSIDE SCOOP: Alice in Wonderland Mushroom
Correct at time of publication on Roam the Gnome. Please check with venue for updates. We apologise in advance if there have been any changes we are unaware of. All prices in US dollars, unless otherwise stated
Address for Alice in Wonderland New York: East Side at 75th Street, north of Conservatory Water.
The Alice in Wonderland Statue Central Park is to the north of the Central Park sailboats hire on the Conservatory Water pond. You might recognise the pond from the movie Stuart Little!
Opening Hours: Sunrise to Sunset
Entry Fees: FREE
How to get to the Central Park Alice in Wonderland Statue
By Subway Train: Q train (Yellow line). Stop at Lexington Av – 63 St Subway Station
By Subway Train: 4, 6 Train (Green line): 72 Street or 77 Street Station
On Foot: Enter at the E 72nd St entrance and walk down the hill
By Taxi/Uber: Exit at E 72nd and 5th Avenue
Map for Alice in Wonderland NYC
Interactive Central Park Map: Find cafes, toilets, playgrounds and more here.
Central Park Restrooms
The Kerbs Boathouse is home to Central Park bathrooms too. Bathrooms (toilets) are hard to find in Central Park New York, so it's good to know there's some here.
Facilities at the Alice Statue in Central Park
Disability access: Yes
Shade: Shady trees
Enclosed: No fences. Keep an steady eye on small children near the water.
Ground cover: Concrete
Picnic tables: Yes – for Cafe patrons only
Electric BBQs: No
Water Bubblers/fountains: Yes
Scooters and Bikes: Yes
Dogs: On leash only.
Toadstool Rating – Alice in Wonderland Central Park
Alice in Wonderland is truly magical. But do remember that statues only keep the kids attention for so long. Be sure to stop off at all the Central Park playgrounds as you go.


Looking for MORE Things to Do in NEW YORK CITY with Kids?
Click the blue links below for more New York city ideas