INSIDE: The Ultimate Guide to a family stay at the Ikea Hotel Almhult Sweden.
Looking for Ikea hotels in Europe?
There is ONLY ONE.
If you are a dedicated IKEA fan, book a night or two at the IKEA HOTEL ALMHULT – the only one of it's kind in the world!
You won't regret it.
(It was one of the highlights of our recent Europe trip)
Take a sneak peek at our IKEA hotel stay below.
Disclosure: This article contains affiliate links. If you make a purchase after clicking on one of these links, we may receive a small commission at NO extra cost to you.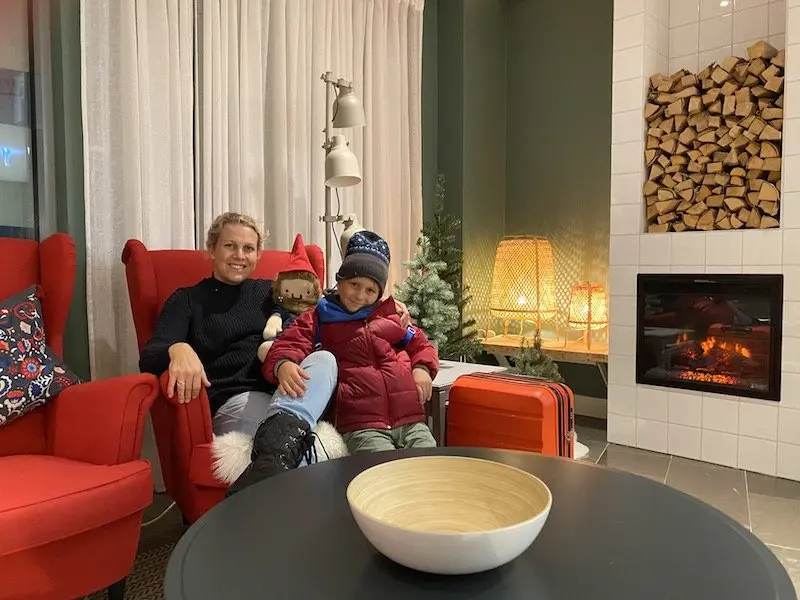 Guide to Ikea Hotel Almhult Sweden
The Ikea Hotel Älmhult was built on the land next to the original IKEA store.
(The first Ikea store building is now the home of the IKEA museum, so if a visit to this cool Swedish museum is on your bucket list, combine both adventures into one by staying here too.)
The hotel continues the same Ikea commitment to taking care of the environment.
This includes everything from using recycled cardboard signage, recyclable paper water cups, and an opt-in refresh service (they automatically clean rooms every 7th day of your stay, but are happy to do it whenever you request if you put out the sign on your door)
Another bonus – the basic prices.
The hotel is designed to be affordable for all budgets – business travel, and family travel too.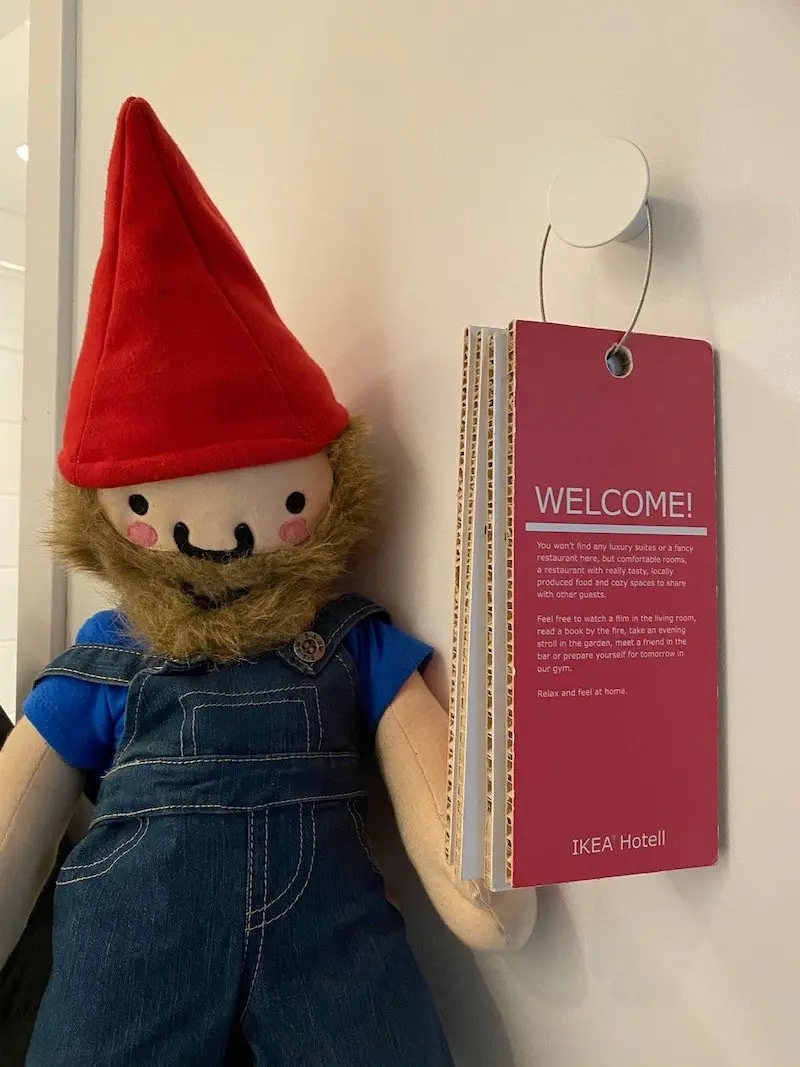 About Ikea Hotell Almhult , the Eco Friendly Hotel in Sweden
Don't come here expecting five star hotel rooms or lush VIP experiences.
The IKEA hotel is for those who long for simplicity and cosiness:
soft fluffy beds without the price tag
locally produced food without pomp and ceremony, and
shared lounging spaces to hang out in with family and new friends.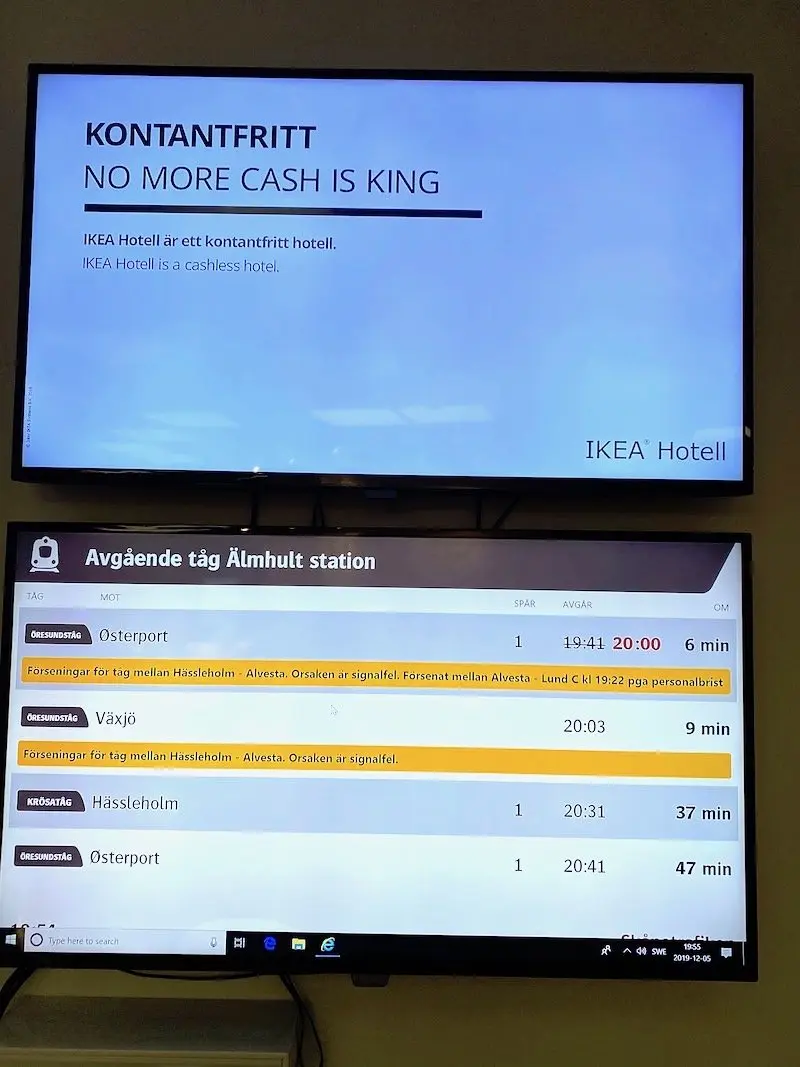 Kontantfritt
One of the unique features of the Almhult IKEA Hotel is that it is a CASHLESS hotel.
Making a purchase of any kind during your stay?
You must pay by card.
The new Swedish way is kontantfri (cash-free).
As the sign in the hotel says, "No more cash is King".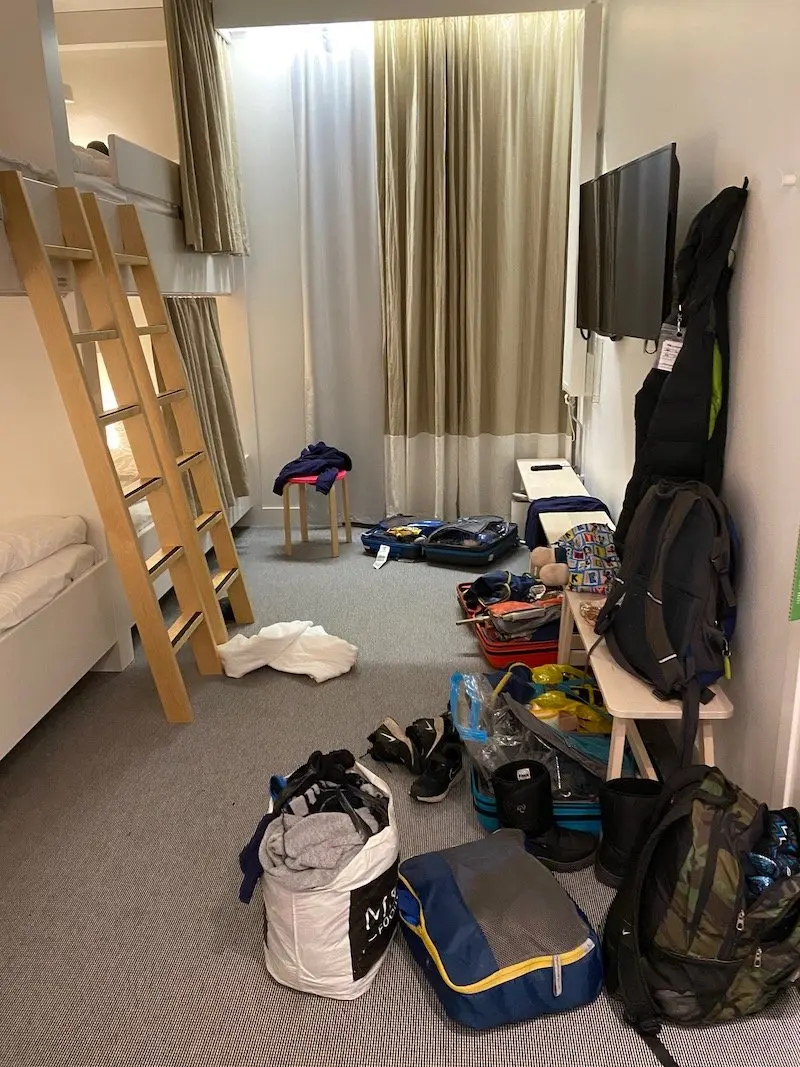 A sneak peek inside the IKEA Hotel Family Room Älmhult
On route to Santa Claus Holiday Village to see SANTA in real life, the culmination of our epic 6 week Europe train trip last year, we detoured a few hundred kilometres up and back from Copenhagen, with all our carry on luggage in tow, just so we could stay a night at the hotel.
There's no way a dedicated Ikea fan like myself could miss it when it was less than 200 km away from where we were headed!
We booked a family room for a one night stay.
We were the only family there during our stay, as the annual IKEA company conference was starting a few days later, and the hotel was filling up with conference delegates.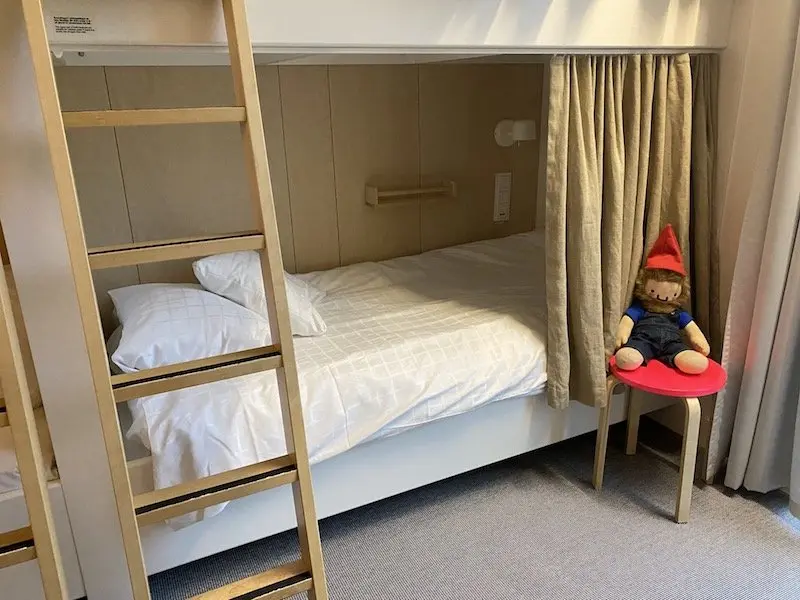 Ikea furniture!
The family room at the Ikea hotel is simply furnished, somewhat minimalist with a Scandi feel – all Nordic pine, beige and white.
The bed configuration is two-by-two bunk beds, to sleep a maximum of four.
Everywhere you look you'll find IKEA products you know, recognise and love.
(You can also book a little cabin room of just 4 square metres, tiny house style, or a traditional standard double room for adults with a "Grand Lit" bed.)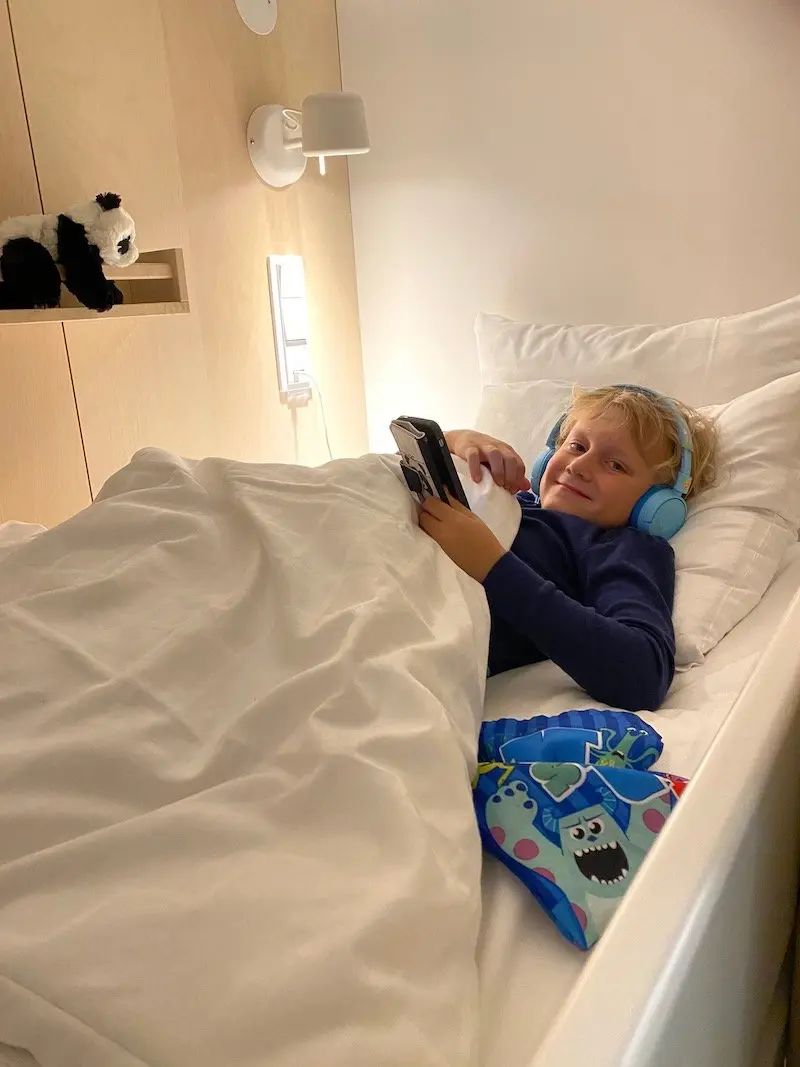 Room facilities
Each bed nook has a light, a shelf, power points, and a curtain so everyone can have their own little bit of privacy.
There's a few random Ikea side tables, and a couple of Ikea chairs you can move around and use to hold your stuff.
But it's the beds that need a special mention!
The doona (duvet) covers are as soft and fluffy as marshmallows or clouds in the sky, and I had one of the BEST night's sleep of our trip.
Staying here is like moving into a real life Ikea showroom display, except you get to SIT on the beds, AND climb the ladders!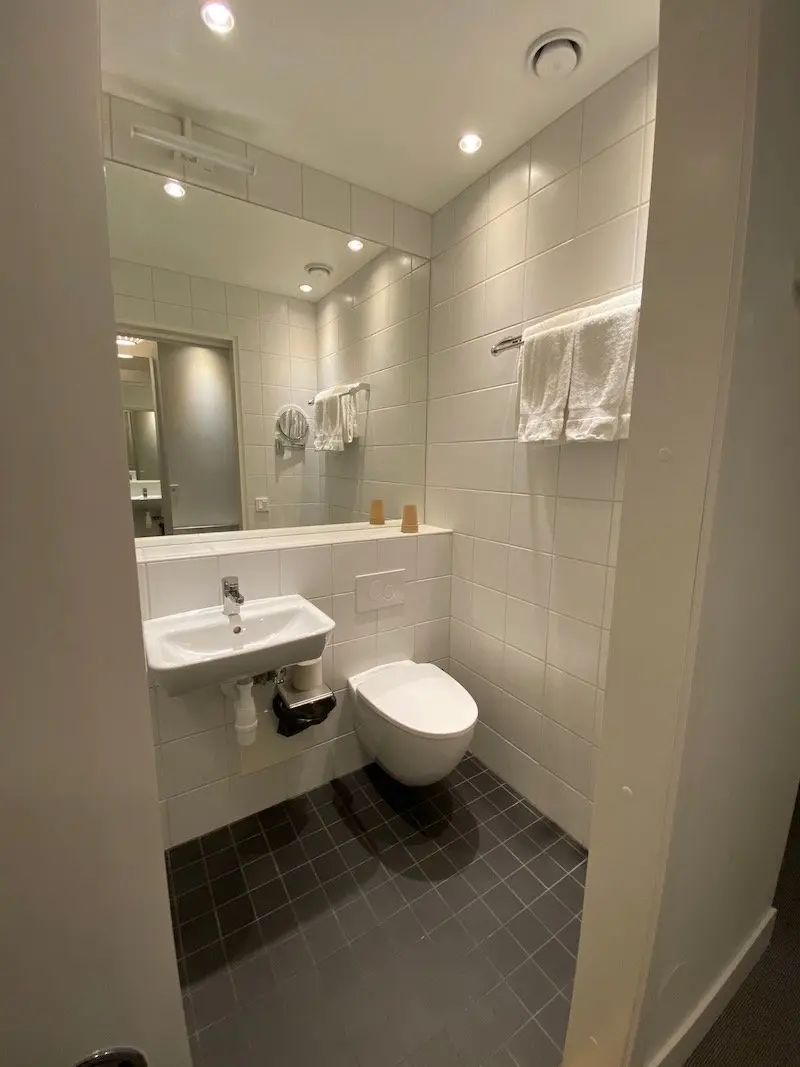 Ikea Hotel rooms
And the bathrooms are all white, with a splash of chrome.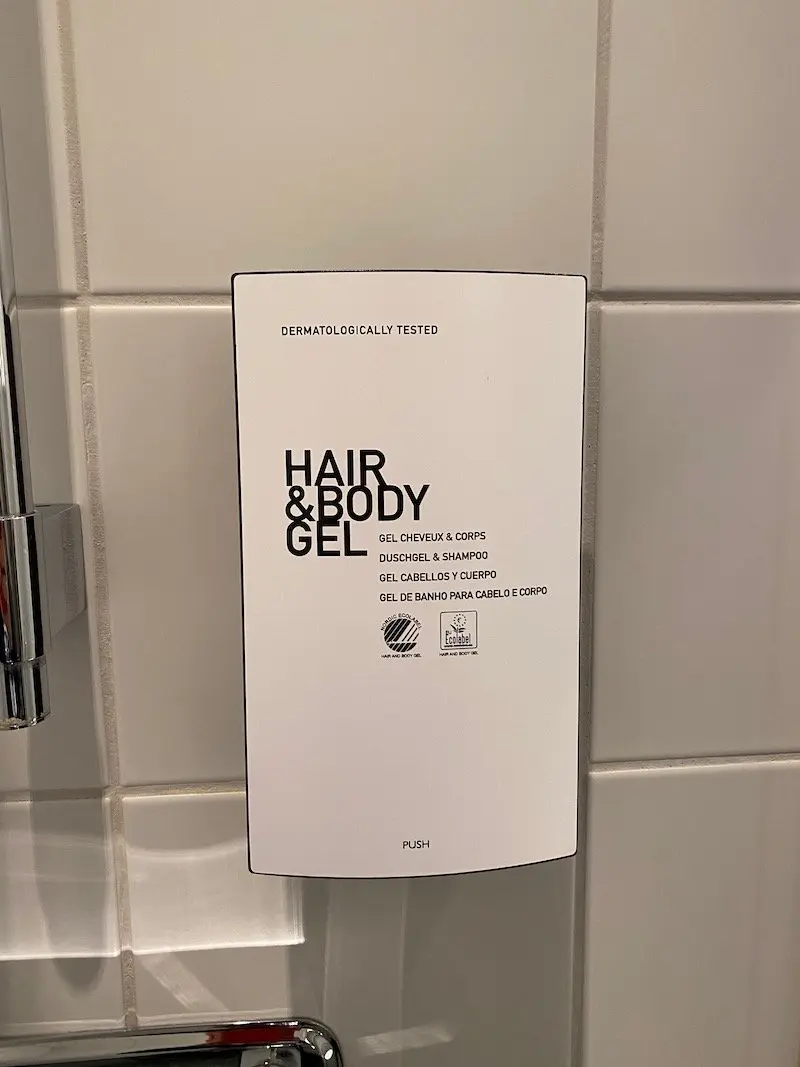 Ikea hotel amenities
The Ikea hotel bathroom has free amenities including:
brown paper cups for drinking (ready for the recycle bin)
gentle soap in a dispenser
hair and body gel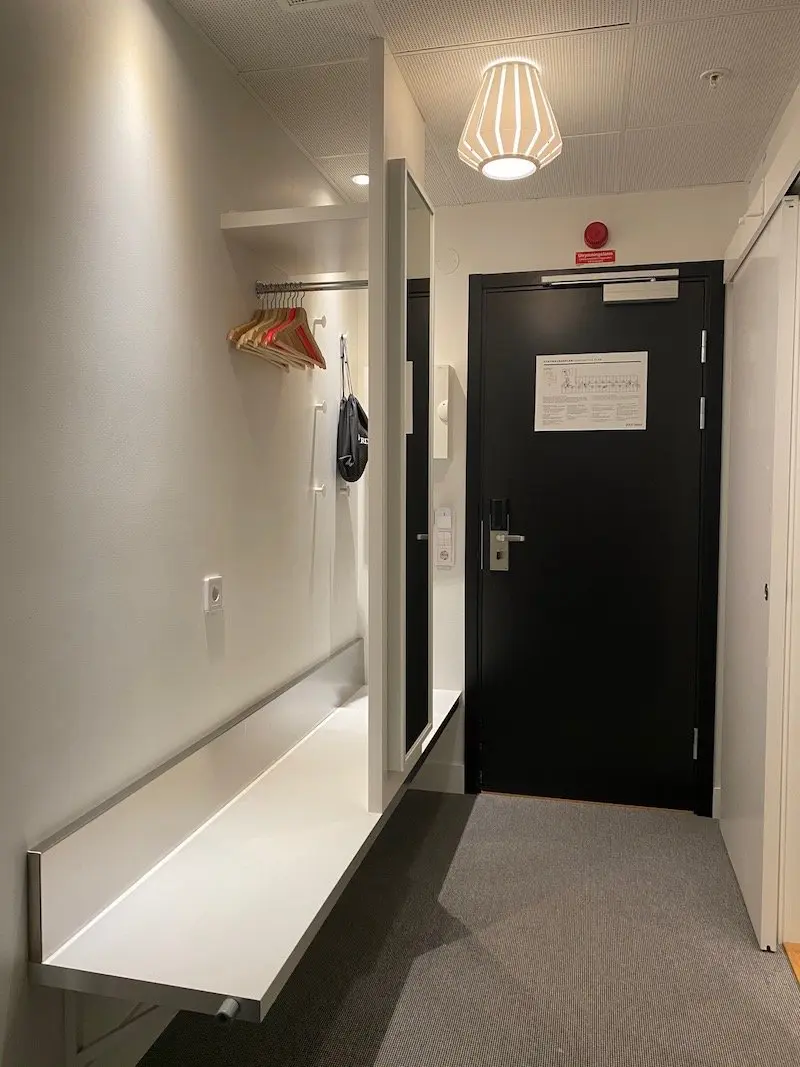 Hairdryer
There's also a hairdryer (hiding in that black bag above) so you don't need to lug one with you.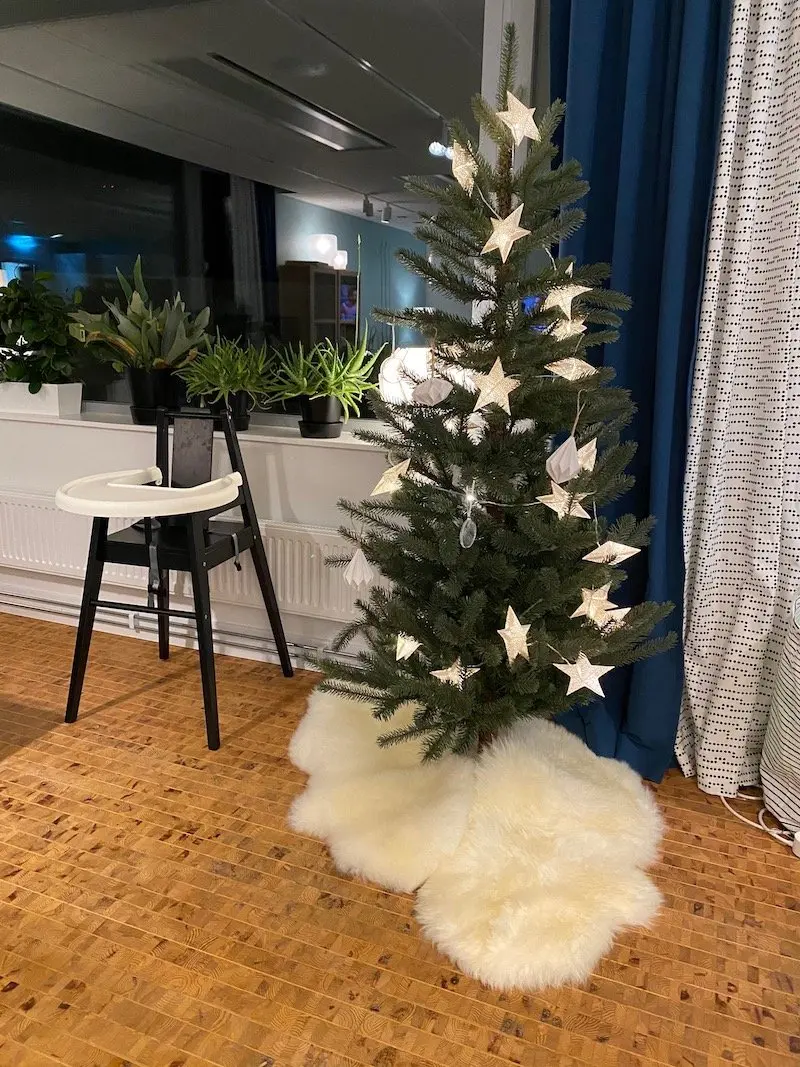 BEST THINGS TO DO AT THE IKEA HOTEL SWEDEN
No.1: Sit back in an IKEA lounge room
Sit back in one of the two IKEA lounges (on the first and second levels of the hotel) and chill out.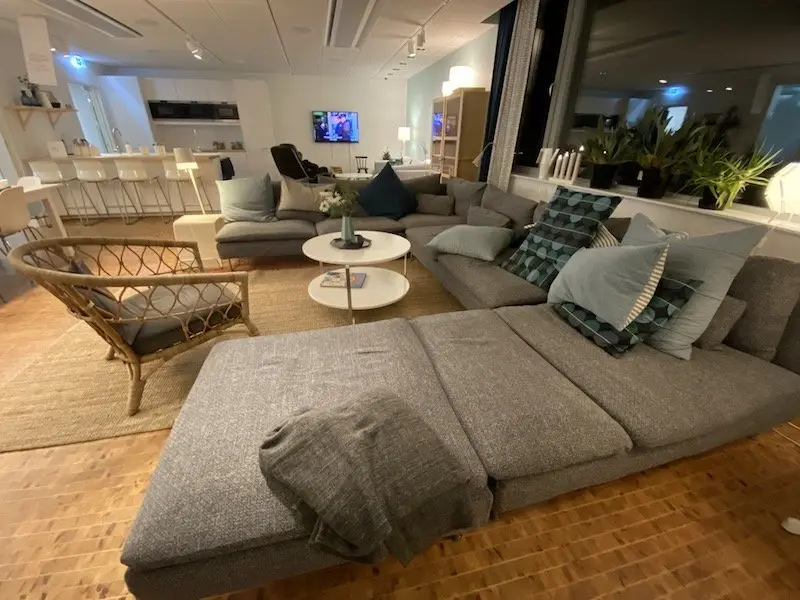 These IKEA hotel lounges are just like one of the lounge displays in the IKEA shop, come to life.
Regular IKEA shoppers will feel right at home!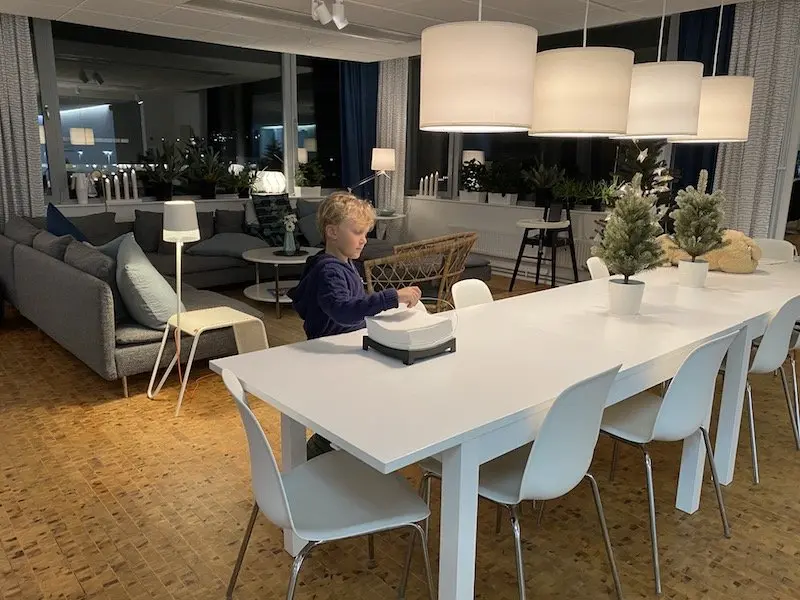 IKEA Home Decor
There's tables, and chairs, IKEA lamps, IKEA lounges, high chairs, kids toys, a kitchen, kitchen facilities..
AND everything you'd expect to find at home.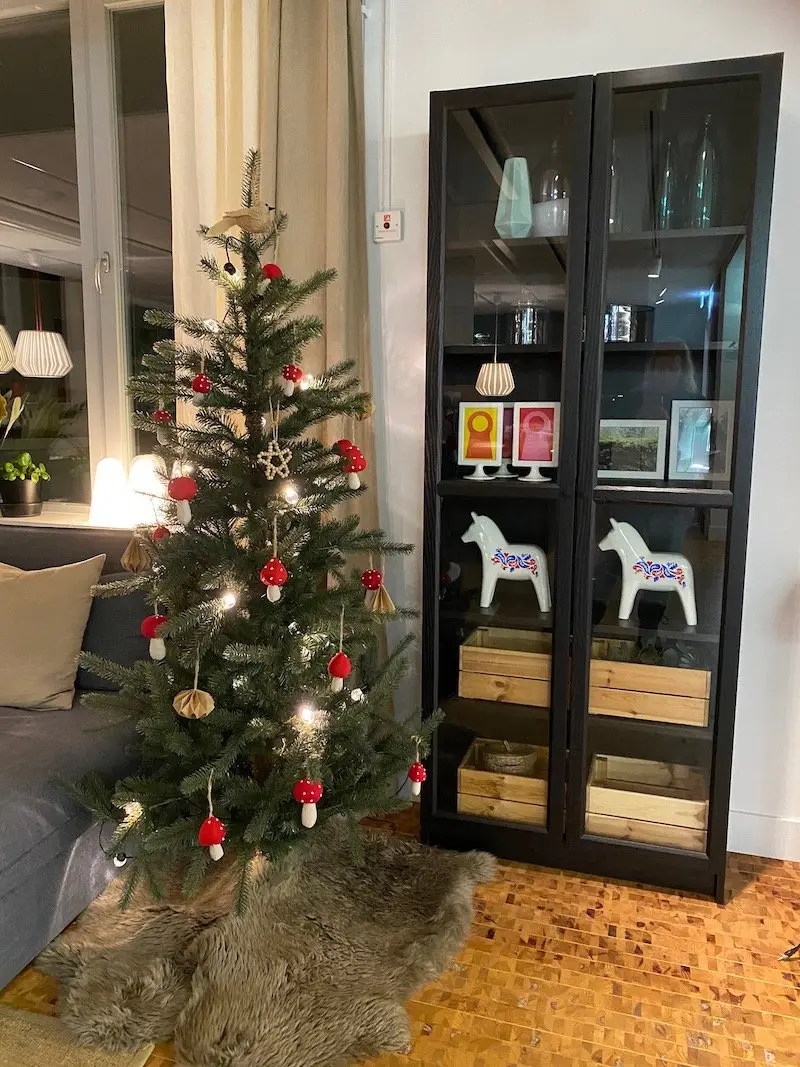 IKEA Christmas
If you visit at Christmas time, like we did, you'll find Swedish Christmas decorations, and trees all decked out Ikea style.
Hot tip: Here's a new idea for a Christmas Tree skirt. Surround it with lambswool skins, as in the pictures above.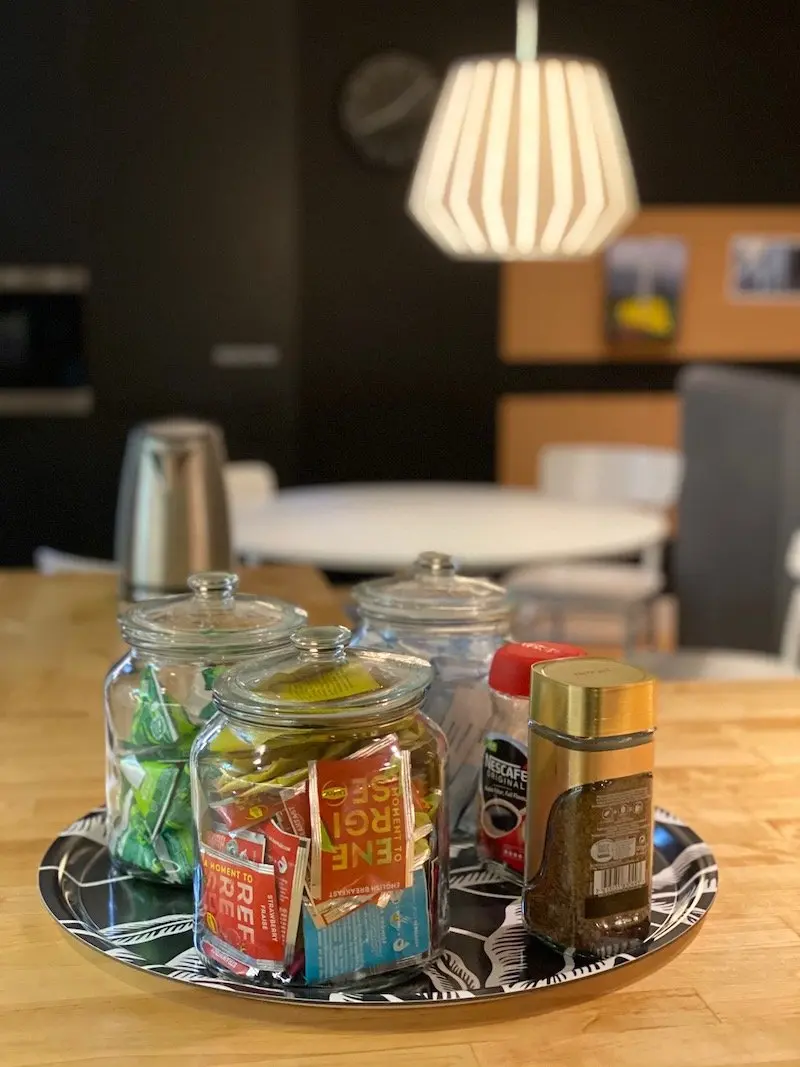 IKEA common areas
In the lounges, you can:
watch a movie
snuggle under a blanket from the blanket box
listen to a current playlist
warm up some food in the microwave
grab a chair at the office desk and work on an upcoming presentation, or
make yourself a complimentary cup of tea!
or collect ideas for your own IKEA home styling!
There's FREE WIFI throughout the hotel too.
Hot tip: Press the timer for power!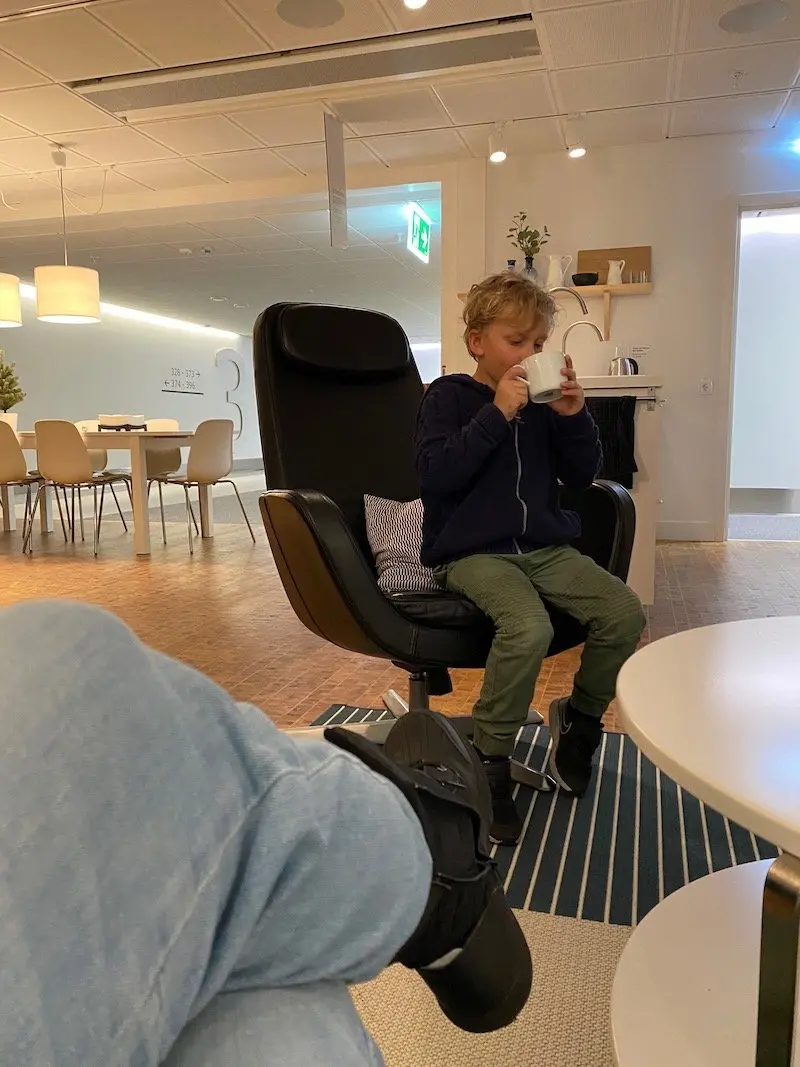 Hotel IKEA in Sweden
These shared living room spaces are the place to meet up with fellow Ikea hotel guests to share stories from around the world.
Or sip a warming hot chocolate before bed!
The IKEA hotel living room spaces are open to hotel guests 24 hours a day, but there's no alcohol or loud noises allowed, and guests in the lounge rooms must be quiet from 11pm.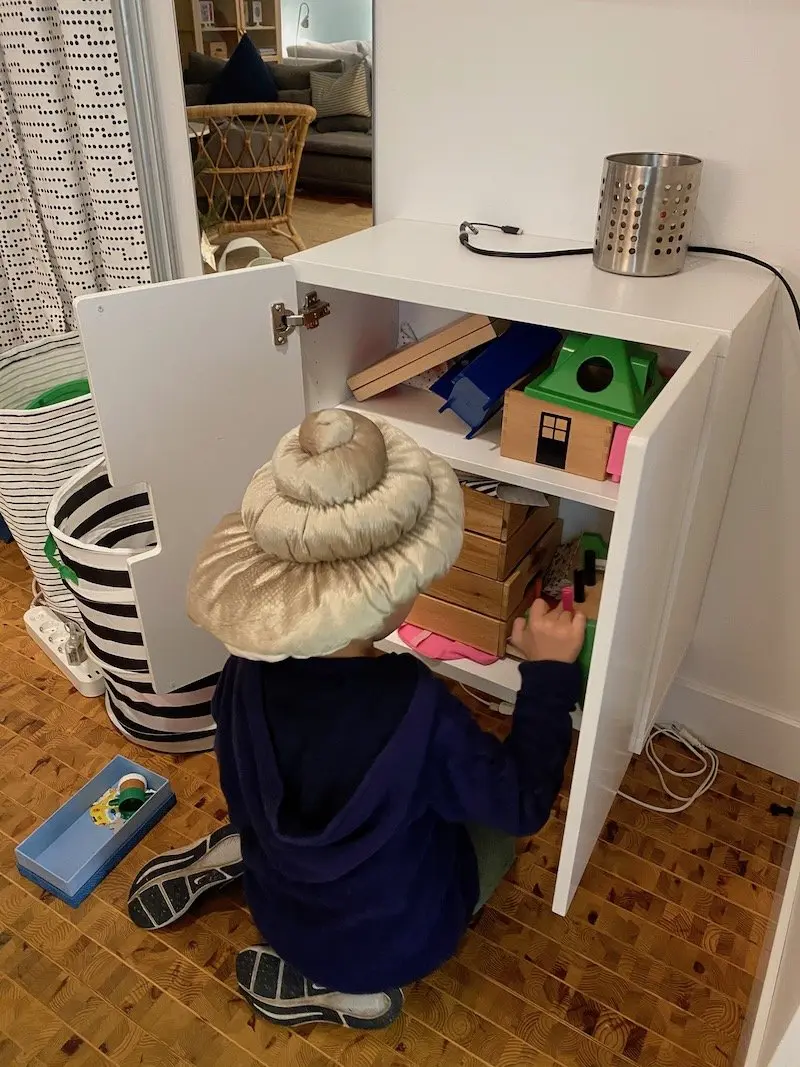 The Ikea Hotel for kids?
Although the hotel was designed for business people, there's a growing demand from tourists & families who want to visit the home of the original IKEA while in Sweden.
To cater for the younger guests, the IKEA lounge rooms have a cupboard full of IKEA toys including blocks, puzzles, doll house furniture, home corner items and dress ups.
In fact, you'll find just about everything you'd find in the toy section in an IKEA store.
Plus, art and craft materials such as paper, crayons and pencils to boot.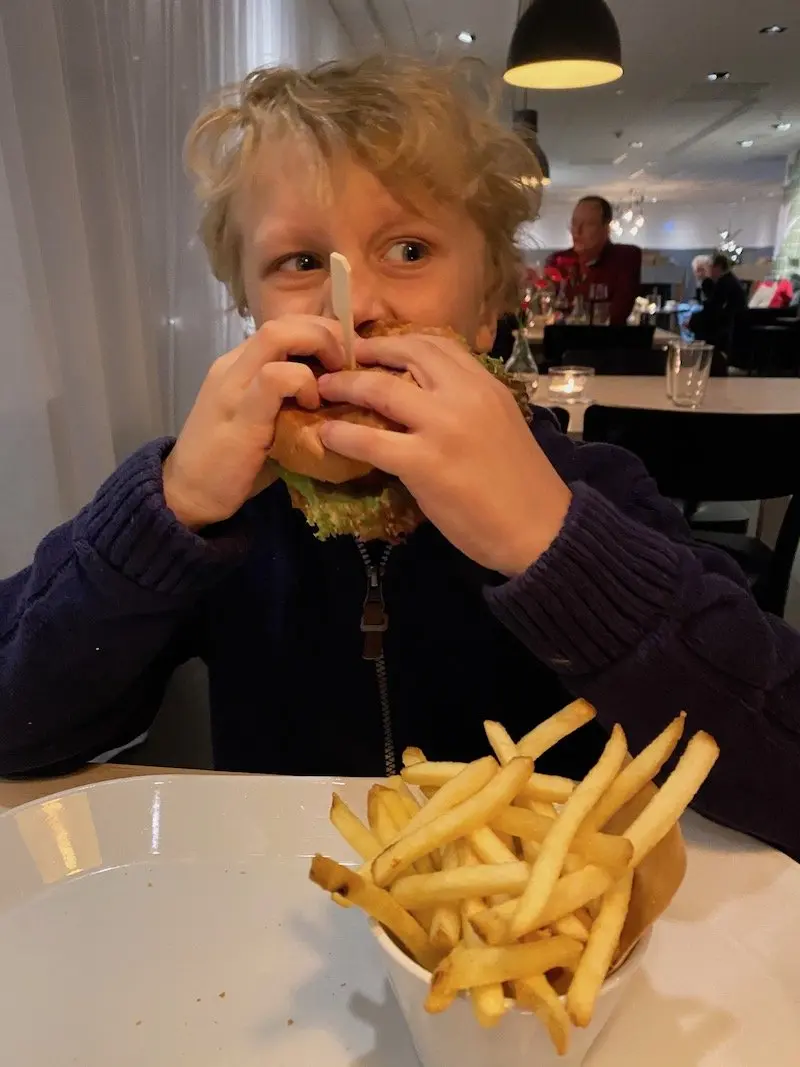 No.2: Eat at the IKEA Museum Restaurant
The surprising thing is that the IKEA hotel restaurant does NOT serve meatballs!
No, for that you have to visit the IKEA museum restaurant across the parking lot during opening hours.
The IKEA hotel menu is upmarket Scandanavian cuisine, and filled with a delicious array of local organic produce from the pantry of Småland .
Plus, there's a kids menu.
Waiters are kind, friendly and efficient.
Ikea Hotel Restaurant Hours
Lunch at Ikea Hotel
Lunch is served Monday to Friday 11:30-14:00
Between the hours 13:00-14:00 the lunch costs 80kr.
Dinner at Ikea Hotell
Dinner is served Monday to Sunday 16:00-22:00
Book a table on 0476-641200 or [email protected]
Hot tip: Find EVERYTHING you need to know about eating at the IKEA hotel in our separate guide here.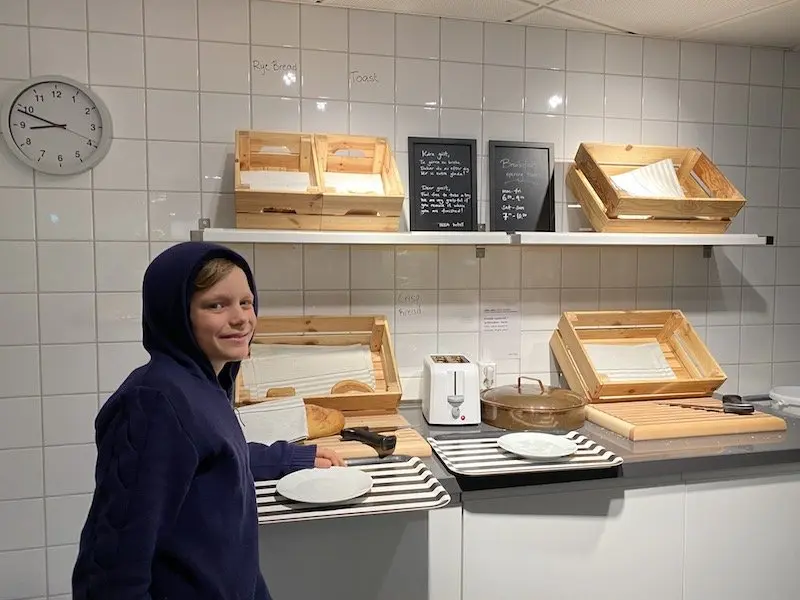 No.3: Eat FREE breakfast at the IKEA Hotel
An IKEA hotel stay includes FREE BREAKFAST!
Breakfast opening times are 6.30am to 9am Monday to Friday, and 7am to 10.30am on weekends.
(Read our guide – link in section above – to see what's on the breakfast buffet!)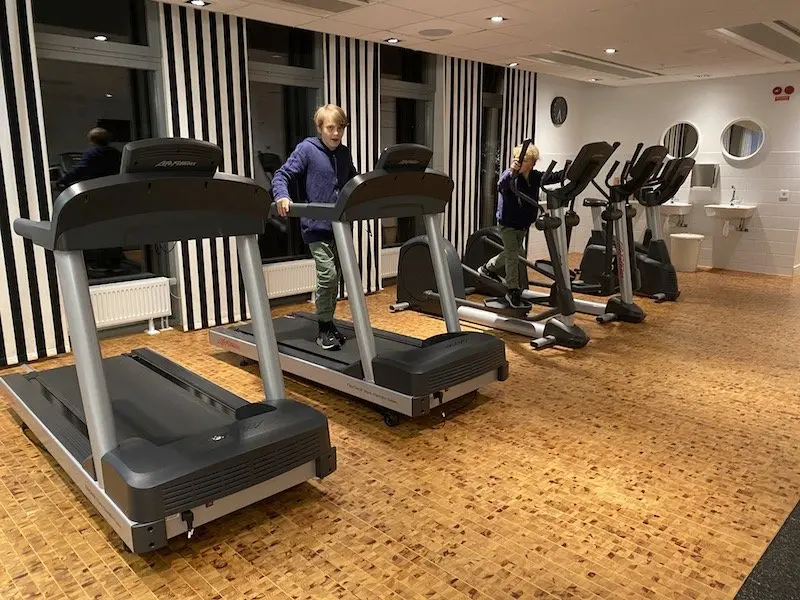 No.4: Visit the IKEA Hotel Gym and Sauna
There's a sign on the door that says – in Swedish and English:
"Well done! You've made it this far, the hard part is done. Enjoy your workout."
There's no retreating now, is there!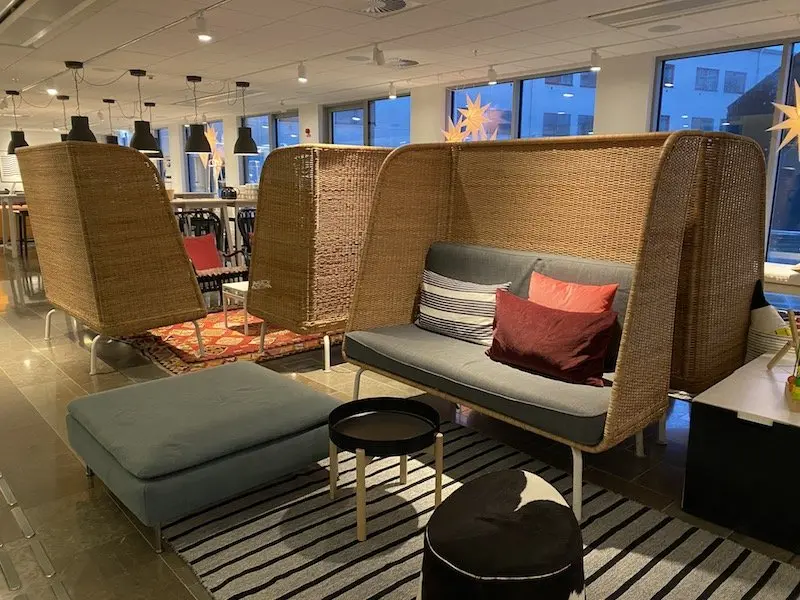 No.5: Hang out in the foyer area
The foyer area of the hotel has plenty of comfortable seating areas, nooks, high tables and stools, and places to while away the time with a morning coffee catch up.
It's also a favoured spot for those working, or staying in the hotel for a conference.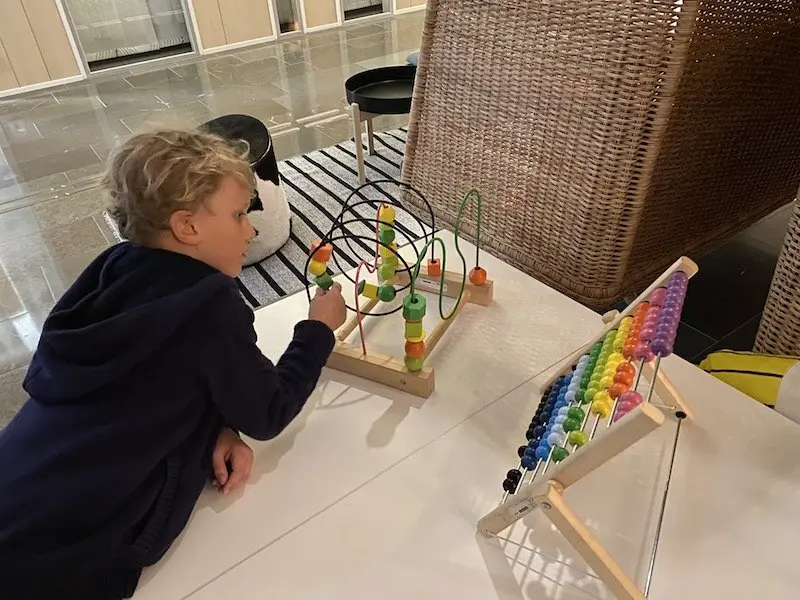 No.6: Play with IKEA kids toys
Look in the cupboards here to find more IKEA toys to keep the kids occupied while you rest your feet.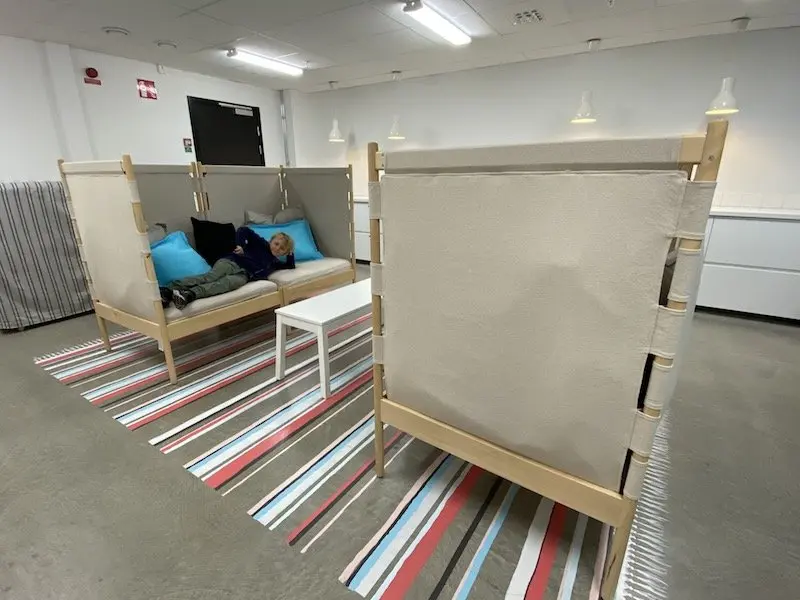 No.7: Wash ALL your clothes for FREE
Washing laundry when you travel in Europe is EXPENSIVE.
It's also arduous and time consuming.
So we couldn't wait to take advantage of the free IKEA hotel laundry room.
Check out the waiting area – the painted rug on the floor a fun touch!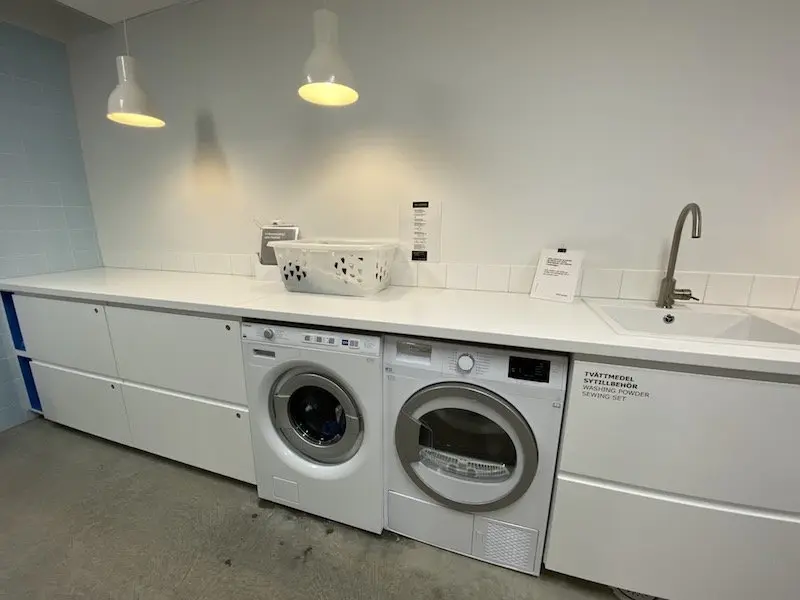 IKEA laundry room
The laundry is orderly and tidy, with easy to read signage in both Swedish and English.
Simple instructions for operating the machines are right there too.
(Always a good thing for those of us who are challenged by technology!)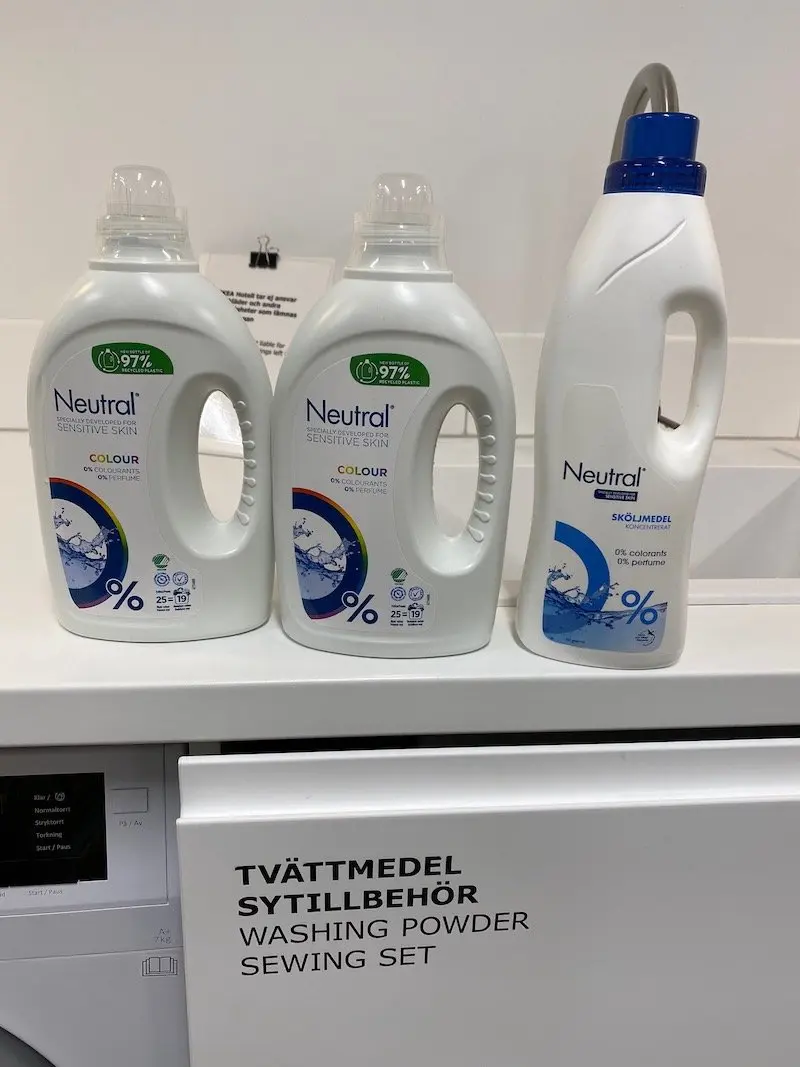 Bonus!
There's even FREE laundry detergent.
Could this hotel get it any more right?
What a pleasure it was to wash laundry in this hotel, strange as that sounds!
A welcome change for weary travellers.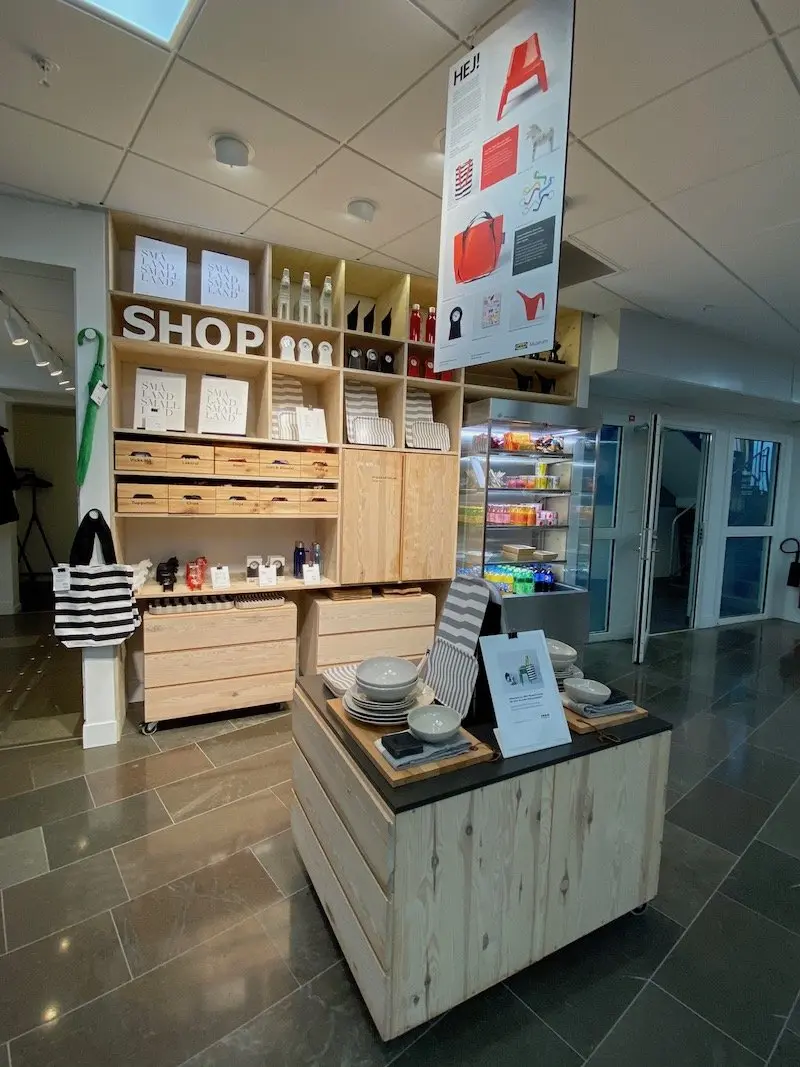 No.8: Pick up essentials at the Ikea Hotel shop
Looking for a late night sweet treat before bed?
Or need an emergency pen?
Head to the IKEA hotel shop in the foyer.
They sell:
Gott & Blandat chewy candy
Bilar Swedish candy in shapes of motorcars
Lakerol hard candies in licorice or eucalpytus flavour
chewing gum
regular chips and Rotfruktschips (vegetable chips),
Hot tip: Try the famous POLLY milk chocolate with a butter toffee and vanilla flavour.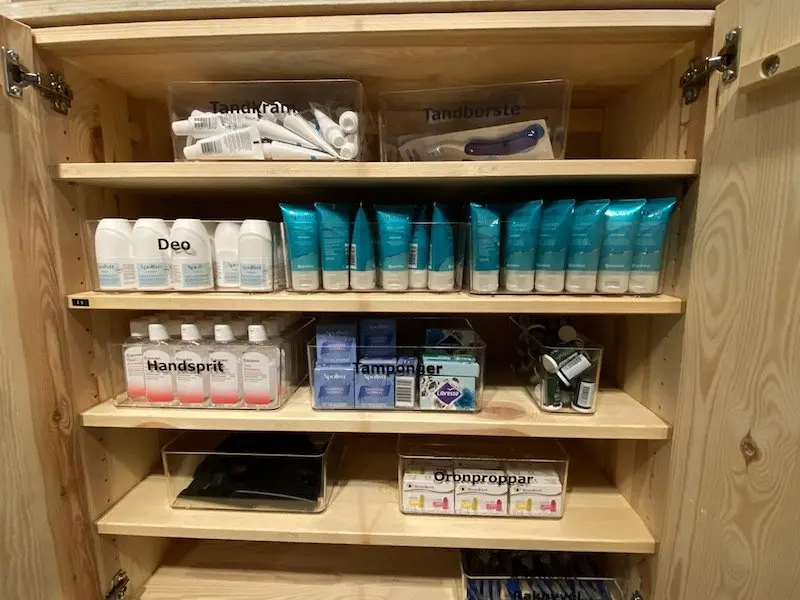 IKEA hotel store toiletries
Forgotten something?
You can purchase:
toothbrushes and toothpaste
razors
tampons
deodorant
comb or hairbush
shampoo and conditioner
earplugs (the hotel is quiet so you probably won't need them)
hand or skin lotion
lens solution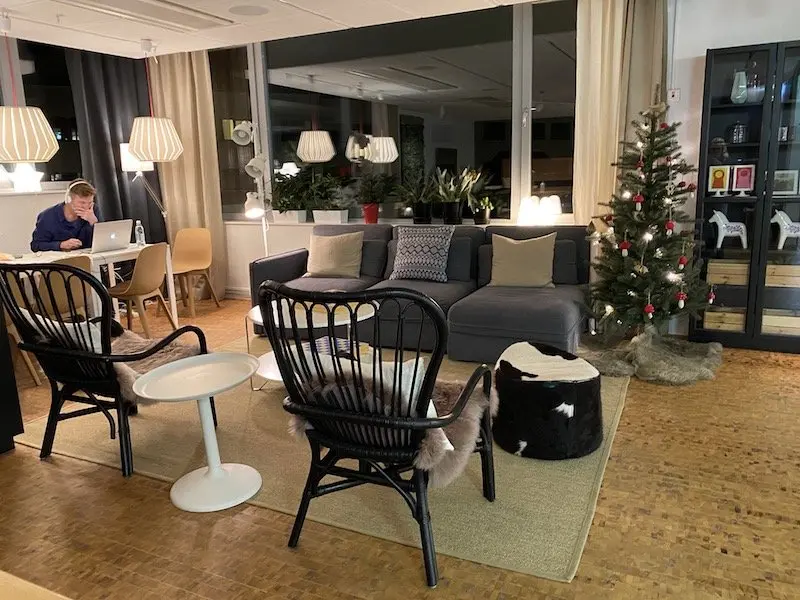 FAQ: What does the Ikea Hotel look like inside?
There's not a lot of colour in the accommodation part of the hotel.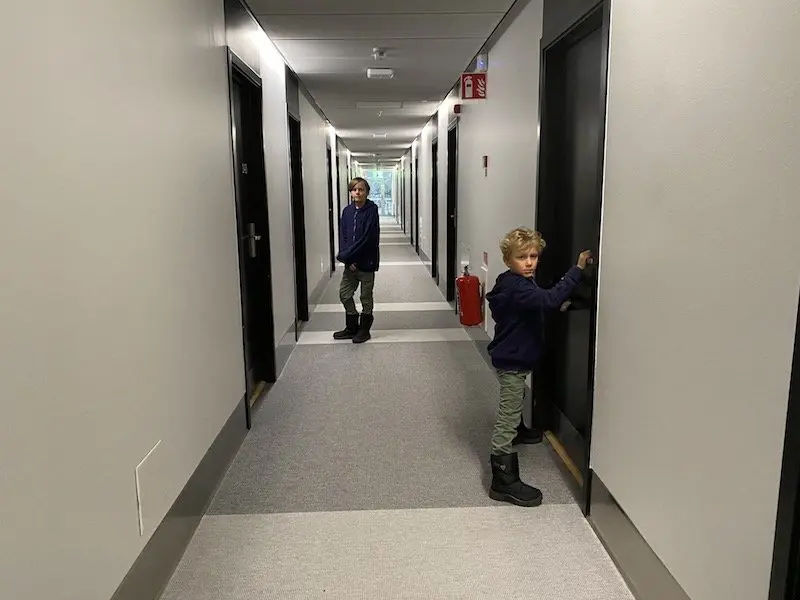 Monochrome styling at Hotell Ikea
The corridors between rooms, and the carpets are shades of white and grey.
It's simple, without excess.
(Although we'd love to see some of the IKEA artwork lining these walls!)
And while the rooms are sparse when it comes to colorful decor, there's an easy fix.
Simply head to the decorating cupboard in the foyer – pick and choose stylish accessories, books, vases, ornaments and more to decorate your hotel room to your liking!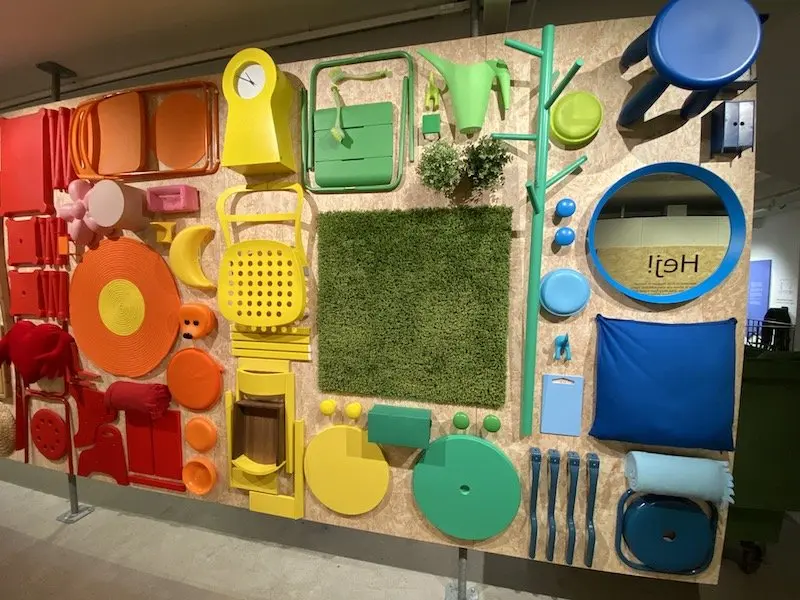 MORE THINGS TO DO IN ALMHULT SWEDEN
No.1: Visit the IKEA Museum Sweden
Do not miss the opportunity to visit the IKEA Museum, home to:
exhibitions featuring the history of IKEA
a timeline of product development from the start until now, and
an exhibition showcasing the talents and philosophies of IKEA owner and creator, Ingvar Kamprad
If you are an IKEA fan, this is a must do.
READ MORE: The Top 9 Things to Do at the IKEA MUSEUM SWEDEN
Hot tip: Check out the IKEA museum shop too
No.2: Stop by the Ikea Älmhult
East of Almhult, the Almhult Sweden IKEA store is a 5 minute bus ride or an easy 10 minute walk from the train station in the Almhult Retail park.
While every IKEA around the world has more similarities than differences, it's still a fun adventure to check them out and spot the unique things to buy in Ikea.
Remember to pick up Ikea Christmas decorations at the Ikea original store so you can add them to your travel souvenir ornaments.
Hot tip: If you love IKEA, and need more of a fix while in the country, visit IKEA Stockholm – it's the biggest Ikea in the world!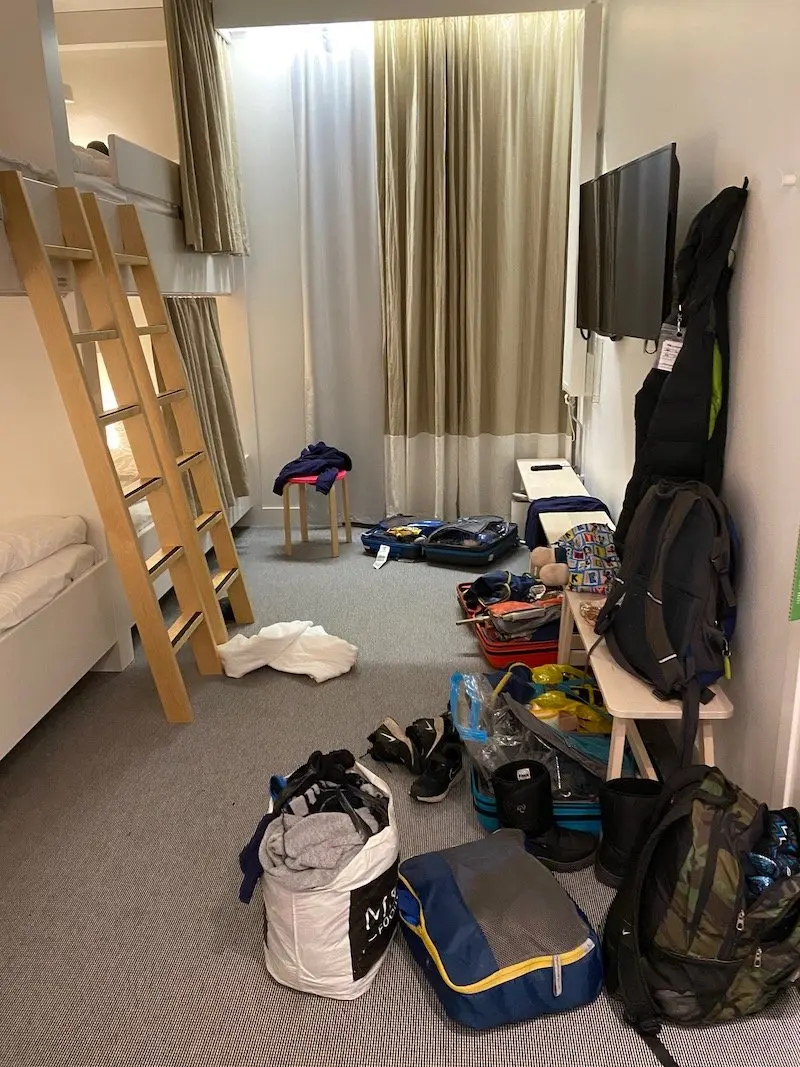 THE INSIDE SCOOP: Ikea Hotell Älmhult
Correct at time of publication on Roam the Gnome. Please check with venue for updates. We apologise in advance if there have been any changes we are unaware of. All prices in AUD dollars, unless otherwise stated
Ikea Hotel Älmhult Address: IKEA gatan 1, Box 700, SE 343 81 Almhult SWE
Ikea hotel website: Click here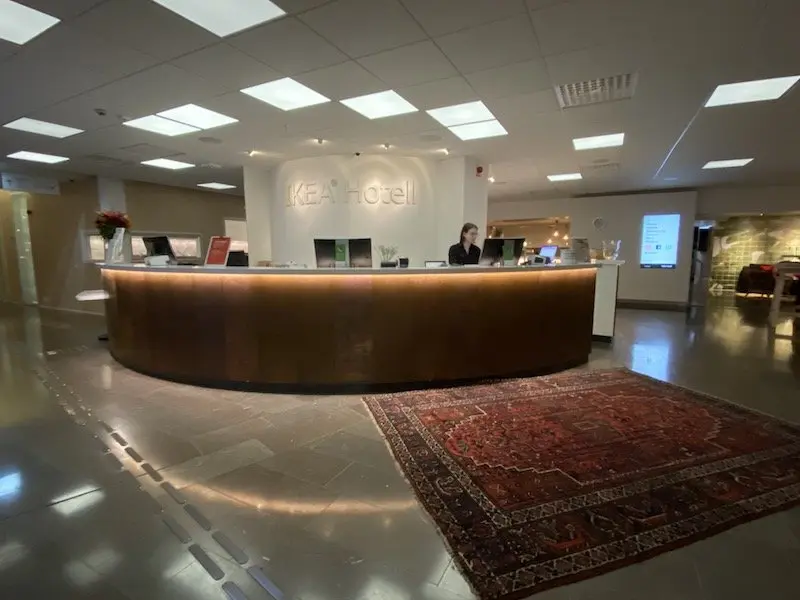 How to book the Älmhult Ikea Hotel Sweden
You can book online via the website above.
But it's not the easiest website booking system to navigate, and it may show no availability when in reality there is a room ready to go.
If this happens to you too, email the front desk
(The email address is [email protected])
Staff were very helpful, and booked the room on our behalf. You can also lodge special requests with them.
Prices per night start from around £80/$150 AUD/ $110 US.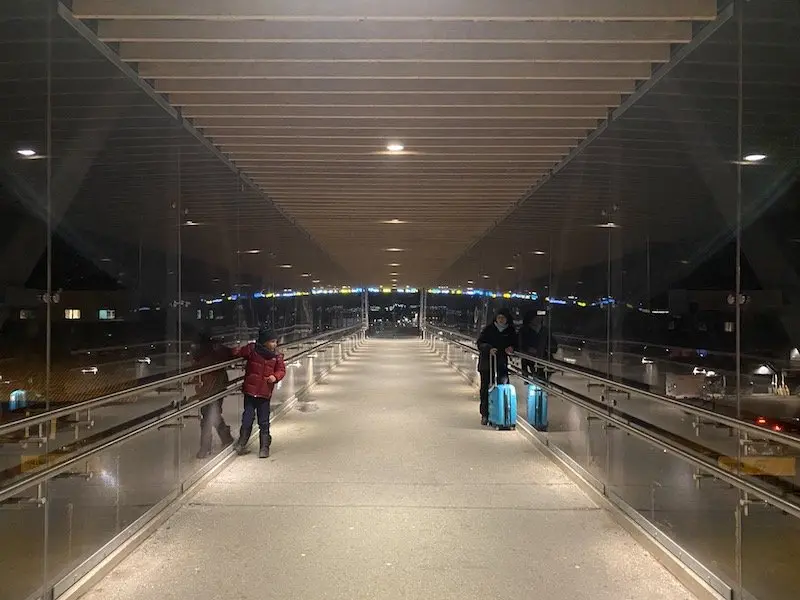 How to get to the Ikea Hotel in Almhult
How to get from Copenhagen to Almhult
Älmhult in Sweden is easily reached by train or car from Copenhagen and Copenhagen Airport.
The journey is approximately two hours.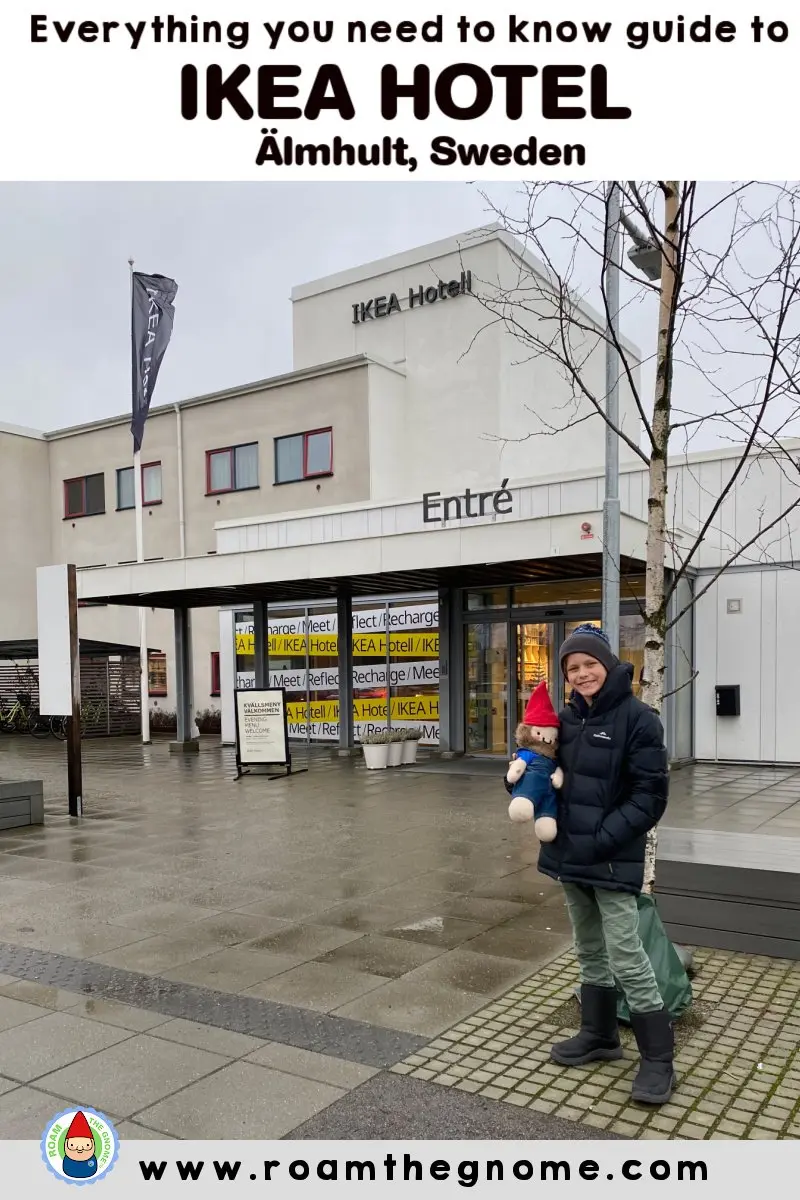 By Train:
Catch the Øresundtåg train. All trains stop at Copenhagen Airport (Kastrup), Malmö and Lund. (The train continues to Växjö and/or Kalmar.)
Tickets can be purchased at Copenhagen train station from the ticket counter, vending machines or online here or via Swedish railways. Tickets cost approximately SEK250 /€50 one-way. Our trip was included in our Eurail tickets.
Once you arrive at the Almhult train station, walk up the stairs, then cross the airbridge in the direction AWAY from the town.
If you arrive after dark, it feels a little lonely and desolate, but don't despair.
The hotel is not far at all.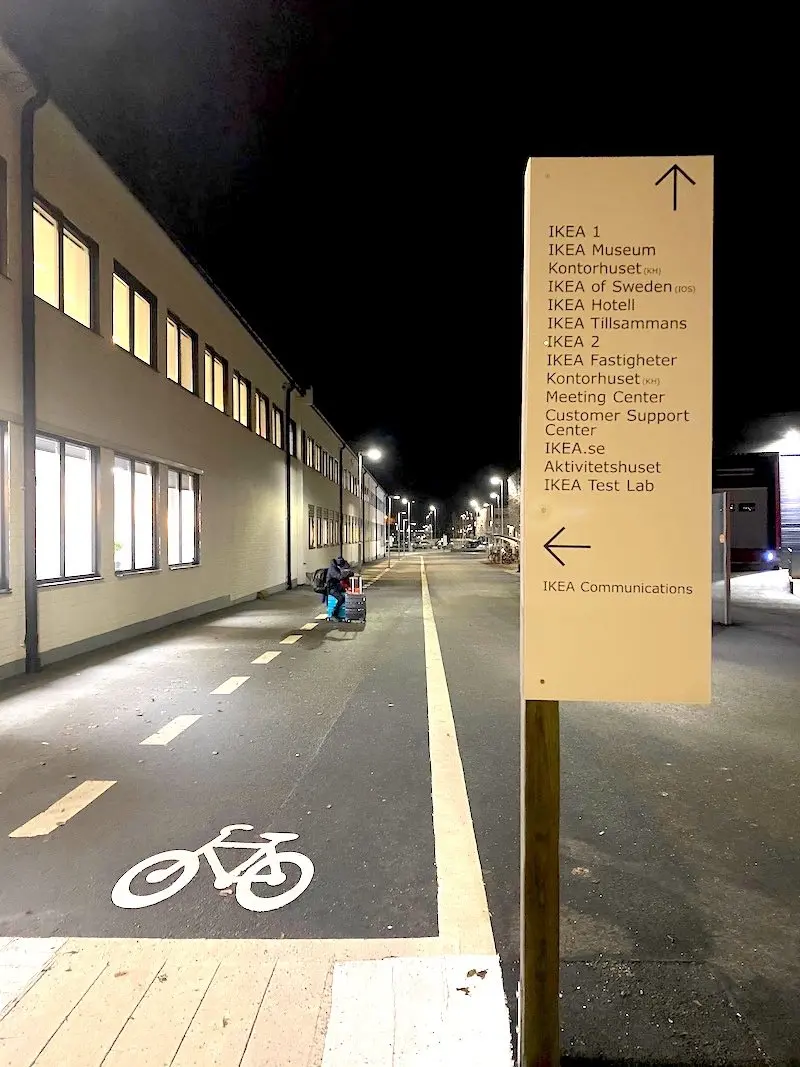 Where is the Ikea hotel?
Go down the stairs (or lift) and you'll see a long bitumen pathway heading towards a car park.
Follow this path until you reach the carpark.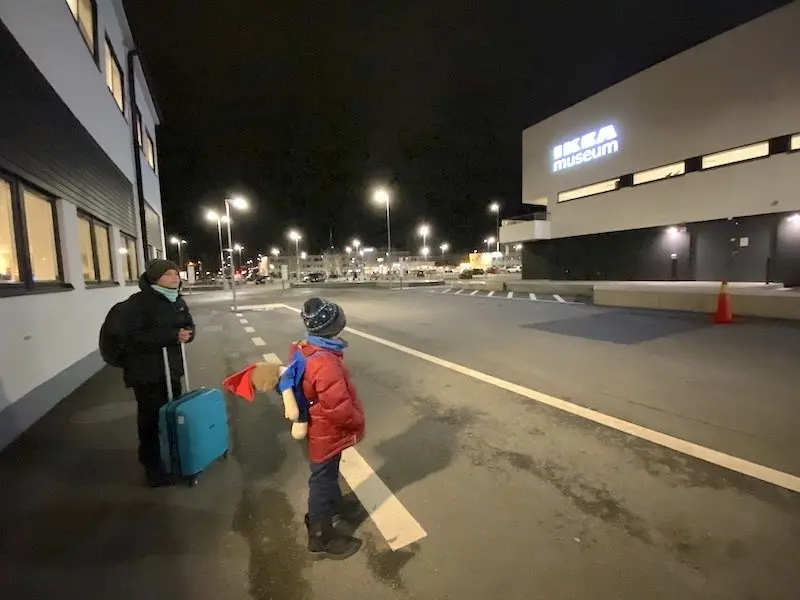 See the Ikea museum building
The Ikea Museum is in the large building to your right.
At the end of the path, when you reach the carpark with lights ablazing, you'll now see the Ikea Hotel in front of you.
Cross the carpark to find the entrance.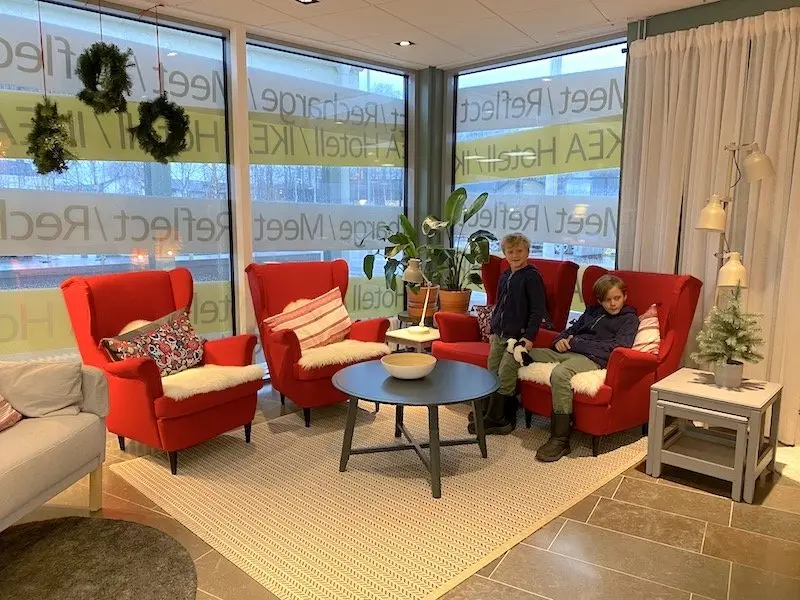 Returning via train from Almhult to Copenhagen:
Check the digital signboard in the hotel foyer for details of the next train to Osterport, Vaxjo, and Hassleholm, as well as bus timetables from the Ikea hotel to the Ikea shop in Almhult.
IKEA Hotell Map
Toadstool Rating: Ikea Hotel Review
Book at least an overnight stay in the best hotel in Sweden for Ikea fanatics.
Almhult is an adorable Swedish town, so we recommend spending the morning at the Ikea Museum and the rest of the day exploring by foot with a visit to the IKEA store squeezed in.

Looking for MORE Things to do in Småland with kids?
Yes, we know Småland is the name of the kids play area at IKEA. But did you know that Smaland is named after the region of Småland where the original IKEA is located?
Smaland is in the south of Sweden, an area that lies between Stockholm in the North, and Malmo in the South.